As a baby grows into a toddler, and a toddler into a cute little munchkin gradually entering proper childhood, the toys just keep on piling up. Apart from the cost, one wonders whether those toys actually serve any purpose besides keeping the kid amused and the parents with additional chores of scooping up scattered toys into storage. But a parent never stops worrying about their child's proper development, so they keep on searching for toys that will entertain, as well as stimulate their baby's proper development.
With all the knowledge and information at our fingertips, parents can get overwhelmed with information, tips, and tricks on proper child development. so much so, that we forget the basics. Growing up, most of us didn't have tons of easily breakable, collectible, action, and fairy set of toys to play with. Think about it. An here we are today, all fine and dandy.
Instead of trying to be the best parent, we can be by showering the child with endless educational toys and activities, we must address the development of sense, which the child will need above everything else. And luckily for parents, making a tool that will challenge the baby's sense of touch, sight, smell, and help develop their motor skills and hand-eye coordination can all fit into a single board.
Look around the house or visit your hardware store to make some of the most entertaining toys for your child, and here are 18 easy tutorials to get you started on this sensory quest.
1. Soft Sensory Board For Under 20 Dollars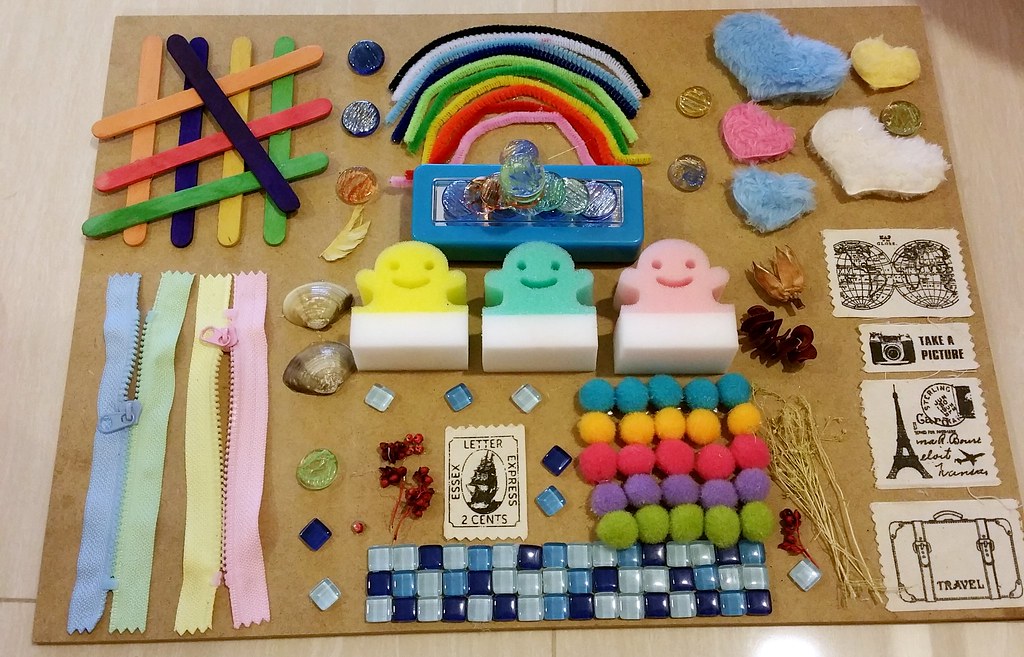 For under 20 dollars, this is a top-notch idea, especially considering how expensive ready-made sensory boards can be. With this customization, you are able to provide your kid with a host of textures, both soft and less soft. It's all finger-poking fun!
2. Montessori Fabric Sensory Board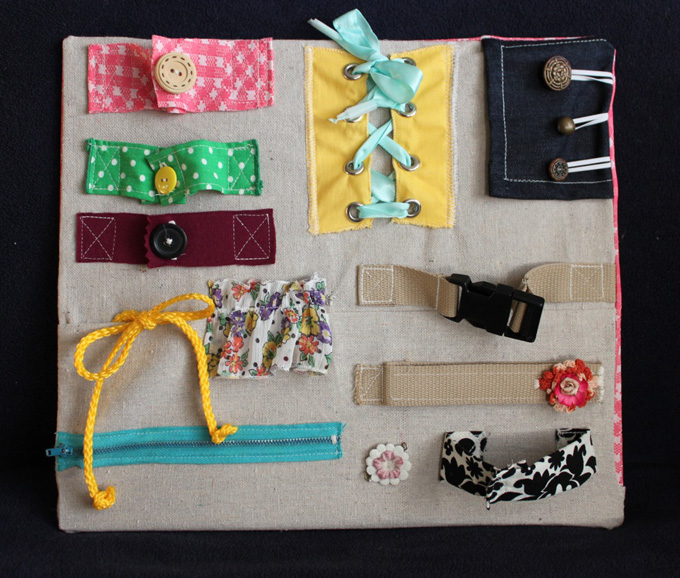 In Montessori, kids should usually get tactile boards in order for them to get a grip on textures (literally), and at the same time learn some practical skills like doing and undoing buttons, laces, zippers, etc. Here you have it all. Need we explain any further?
3. Car Dashboards Sensory Board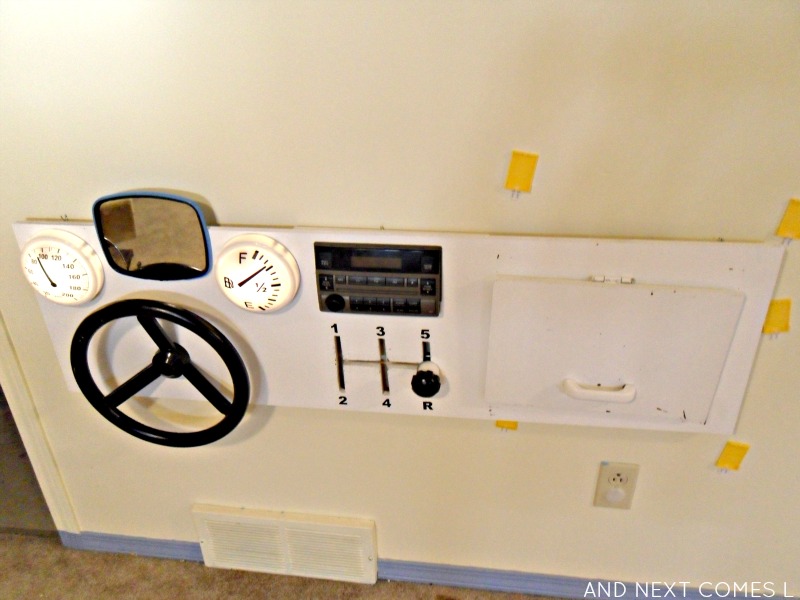 Speaking of practical life skills, it is never too soon for a child to take a sneak peek into the basics of driving. Before you know it, they might become a natural behind a steering wheel and with a stick, and you could have a Lewis Hamilton in your hands!
4. Zipper Board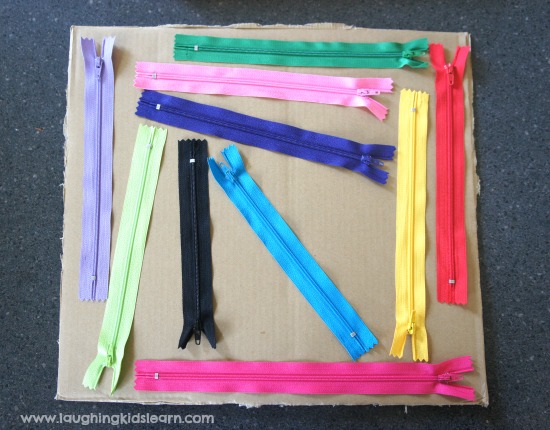 We mentioned above that one of the skills related to motor functions was opening and closing a zipper. Hence, it is fairly easy to make a board consisting only of zippers, preferably ones with different colors. It's a treat for both eyes and fingers!
5. Sensory Boards For Babies And Toddlers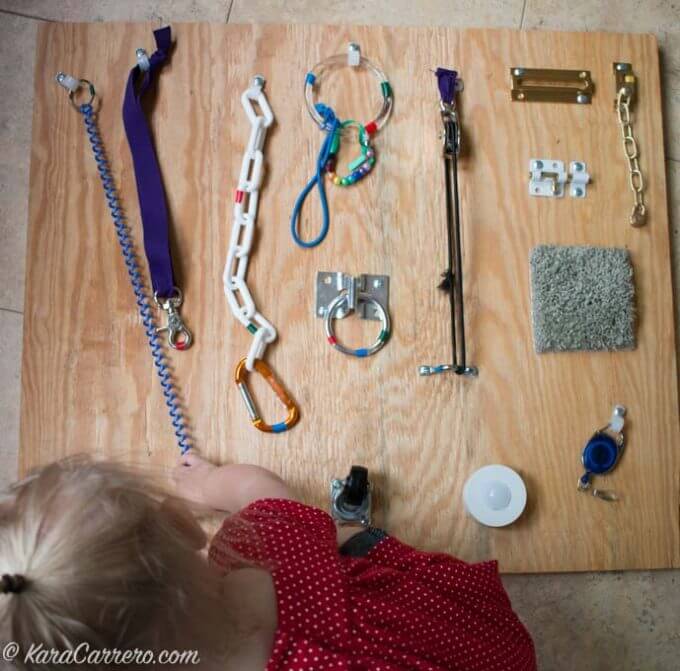 Some kids show a tendency of being handy by taking things apart around the house. As cute as this is, it causes a great deal of mess that needs taking care of (on top of the usual mess they make). So, if you want them to keep honing that skill, while causing no damage whatsoever, this is the way.
6. Toddler Activity Center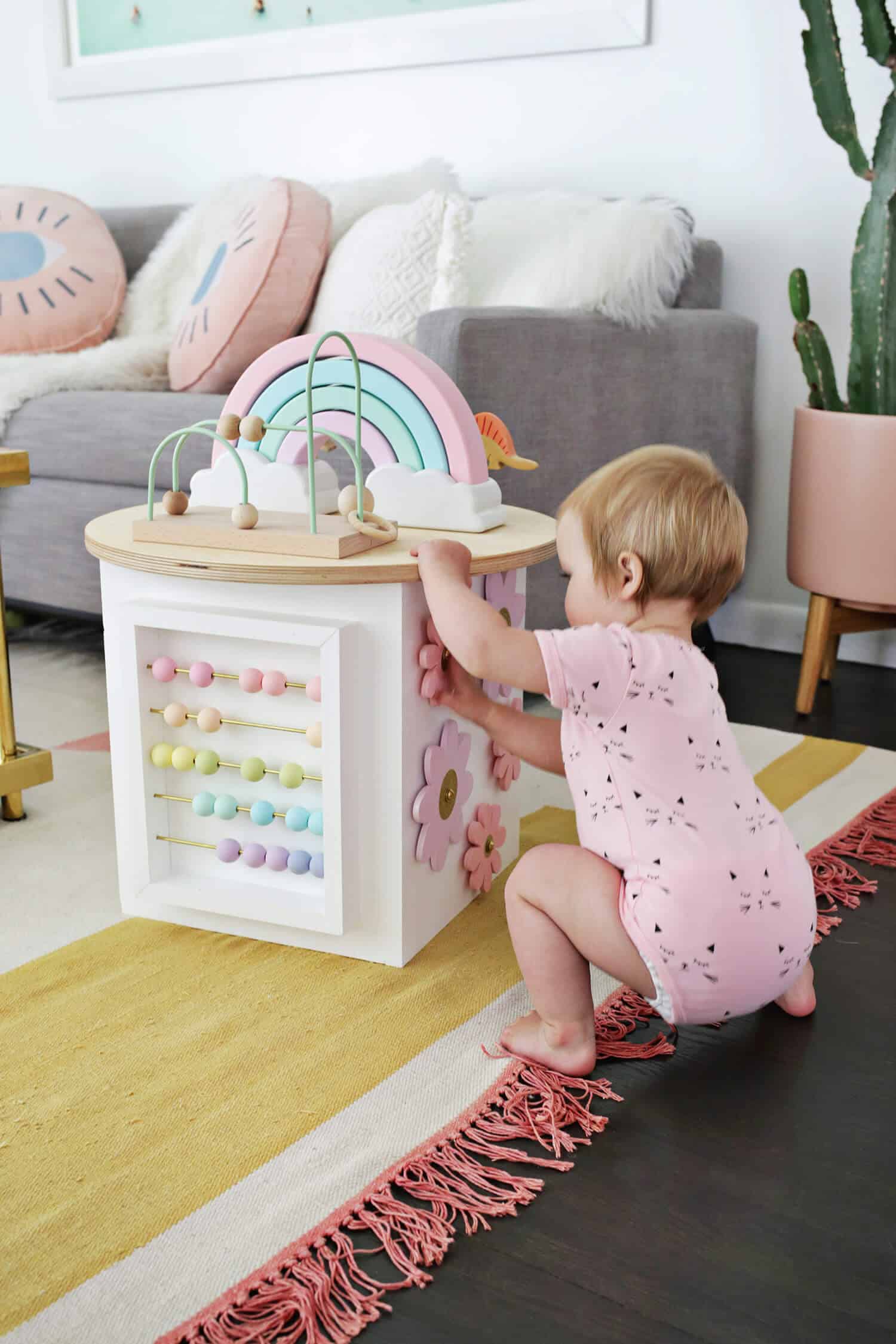 A sensory board doesn't necessarily need to be an actual board. If you feel like taking things a bit further, roll up your sleeves and make a whole toddler activity center. Yes, it takes a good deal of work, but it will all be worth the abundance of training amusement!
7. Customizable Pegboard Busy Board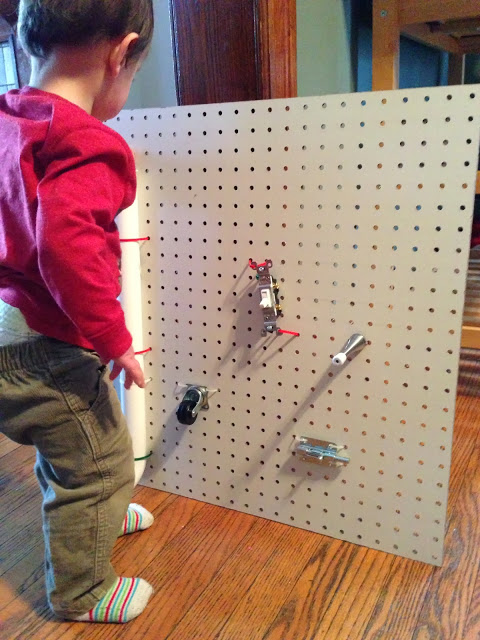 Some (or most) toddlers easily get bored with their toys, so instead of making a new sensory board each time your baby or toddler is no longer interested in the sensory boards, just change and replace some of the items on the existing one made from the pegboard.
8. Toddler Lock Peek-a-Boo Busy Board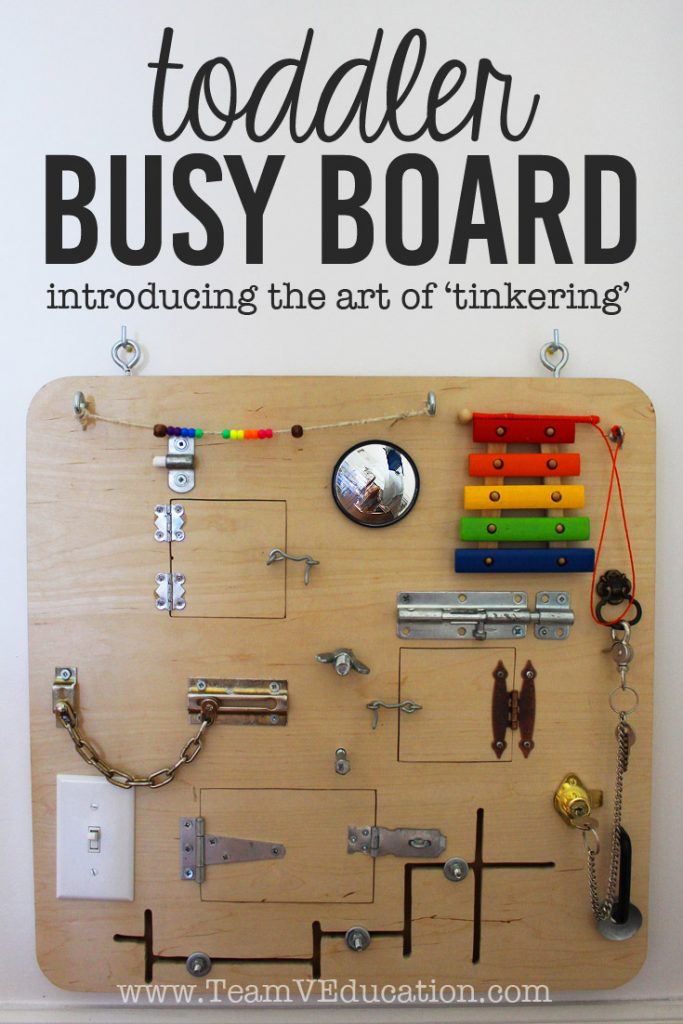 Babies love playing peek-a-boo, no matter where around the world they live. It is something magical for them about seeing something appear and disappear behind a cover. If your little one is also enchanted with the peek-a-boo game, you can make this sensory board with pictures hidden behind little doors for endless peek-a-boo fun.
9. Framed Sensation Board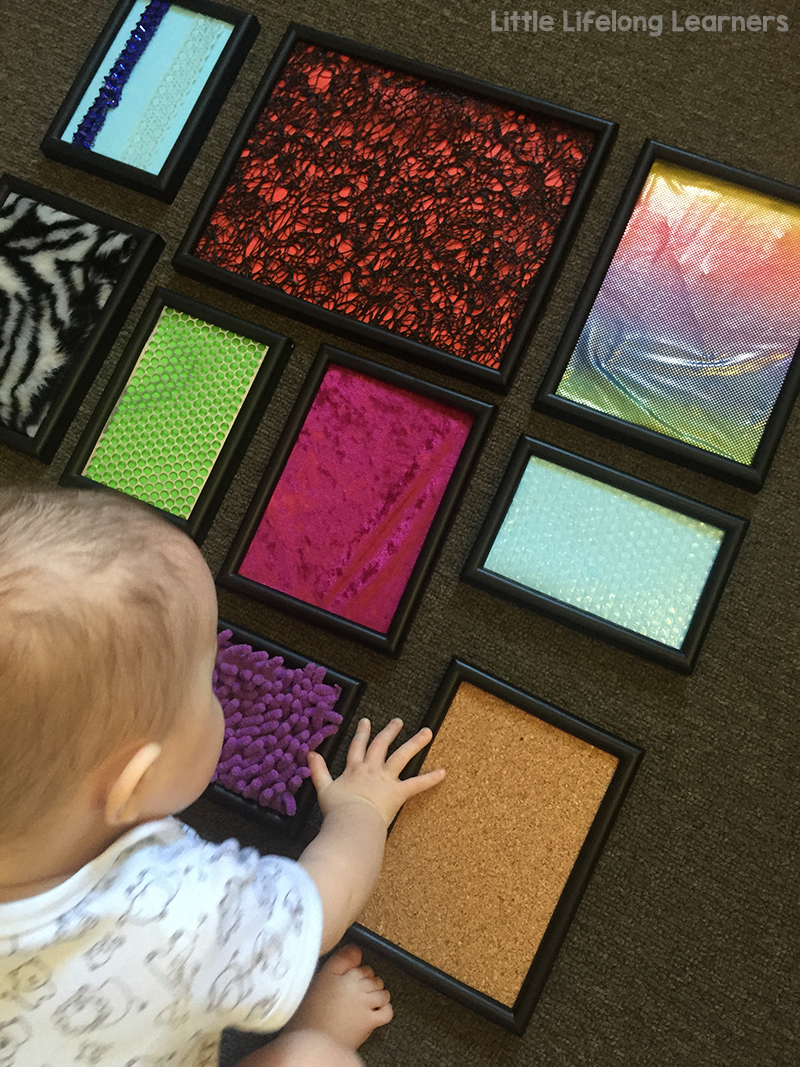 Developing our baby's sense of touch is often a neglected task among many parents. Yes, we give them plenty of od things to touch, but they're usually safe and soft. Don't be afraid to have your baby touch surfaces and textures that might not be pleasant. Make this framed sensory game with all types of textures and watch your child get amazed at every touch.
10. Playful Sensory Board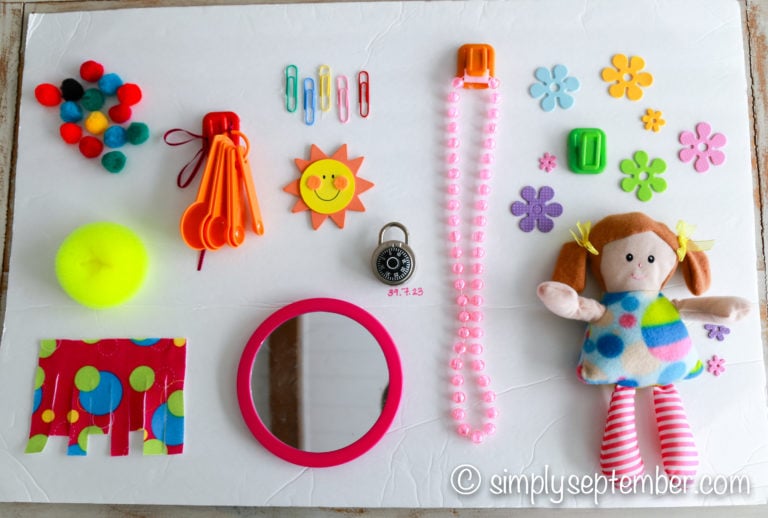 Reaching a certain age, babies and toddlers start having a favorite and less favorite things they want to play with. If your baby has reached this age, then instead of making a sensory board of latches and bells, make a sensory board like this, suited to the preferences of your baby. After all, we need our little ones to keep being interested in the activity they're doing, don't we?
11. Touchy Twisty Sensory Board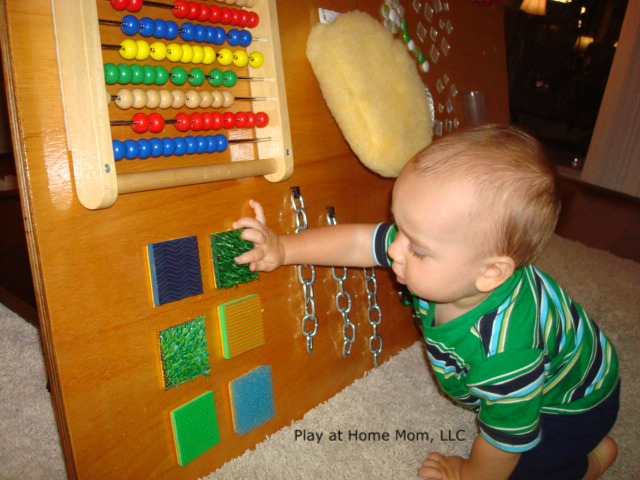 As we mentioned in the previous project, tactile development is very important. So if you think that just having different textures in a frame isn't challenging enough for your child, you can incorporate smaller samples on the busy board, like in this tutorial.
12. Old Hardware Sensory Board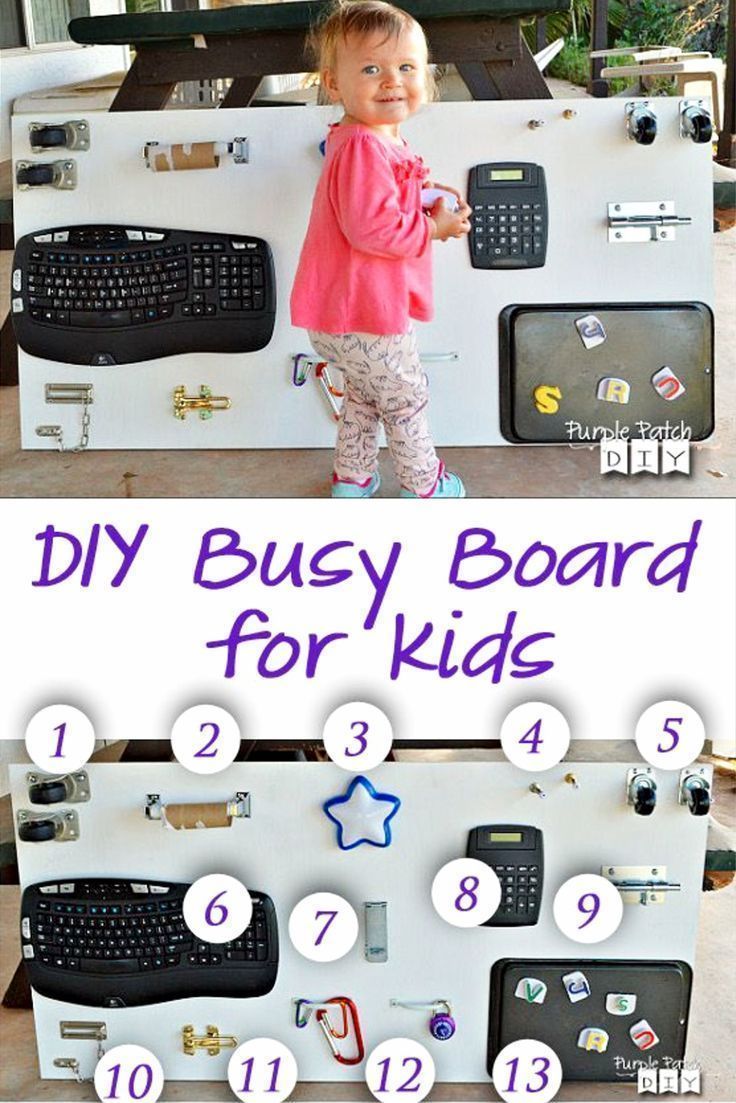 Looking to groom the new tech genius in the family? Or maybe you just have a lot of old computer parts you haven't gotten around to throwing away? Either way, here is a good way to make good use of that old computer hardware. You just know that the toddler will love pressing all those buttons (even if they don't do anything).
13. Peek-A-Boo Sensory Board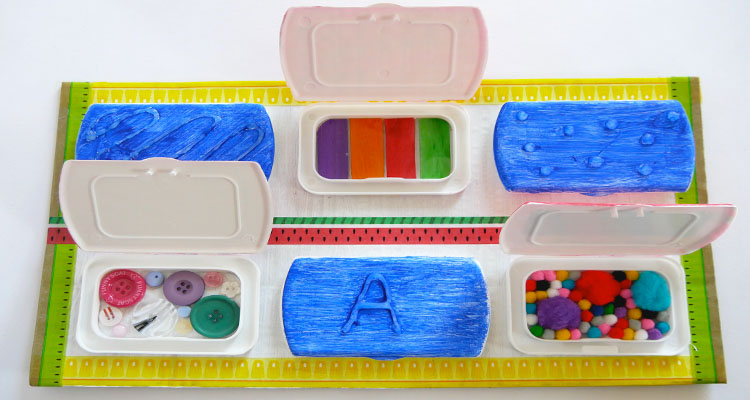 This peek-a-boo mini-board will be a great distraction for your baby when you travel and you can make it in minutes, with things we are absolutely positive you already have at home like cardboard, baby wipes lids and whatever texture you can think of. It's that easy.
14. Lock Busy Board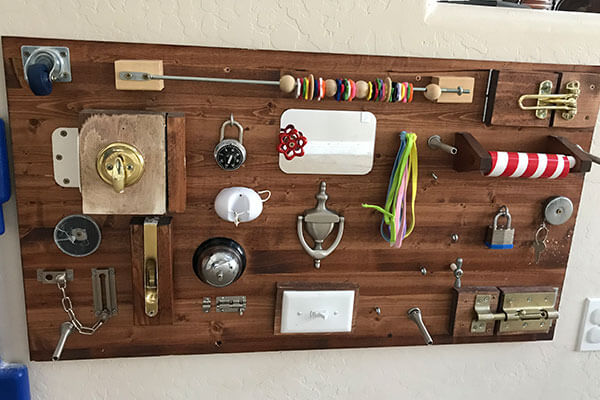 Why are so many of these sensory boards with locks and chains, you ask? Because they are probably the best basic tool to help develop fine motor skills for your baby.  And babies love the clinking and banging sounds they make as well.
15. Baby Busy Board For Home And For The Road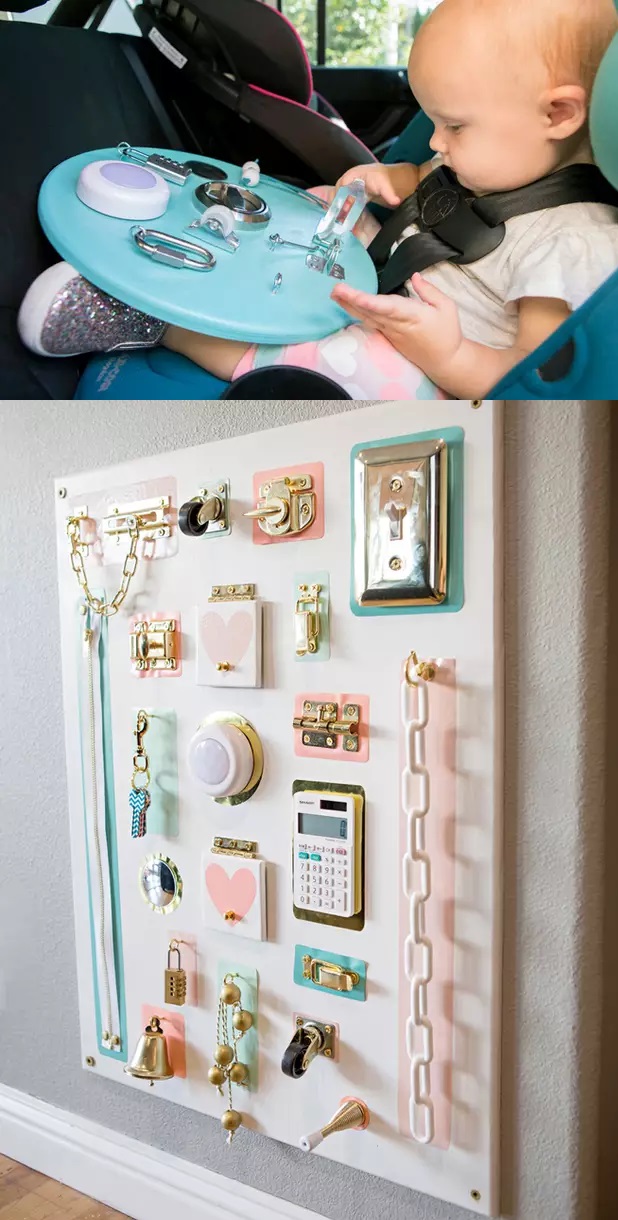 So far we've given you some of the basic ideas for sensory busy boards to make. This project is a level up in crafting skills for the parent, for sure, but you have a great tutorial for making two (or one) sensory boards that have a little bit of everything, one for home and one for the road.
16. Activity Board For Toddlers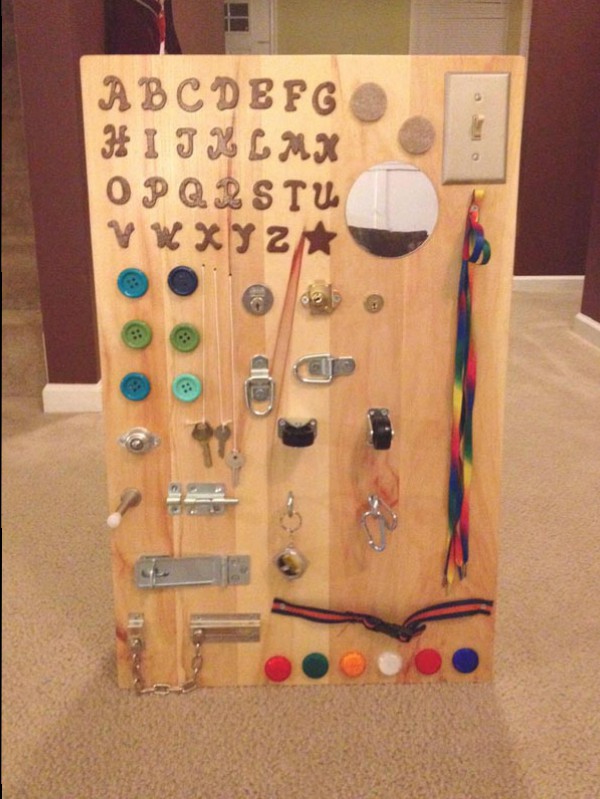 Visual stimuli aren't just colors, but also shapes. Letters are also shapes, in a way, and adding them to the busy board is a great incentive for your toddler to start at least differentiating the letters of the alphabet early on, trough play, which is by far the best way of learning.
17. Portable Hardware Busy Board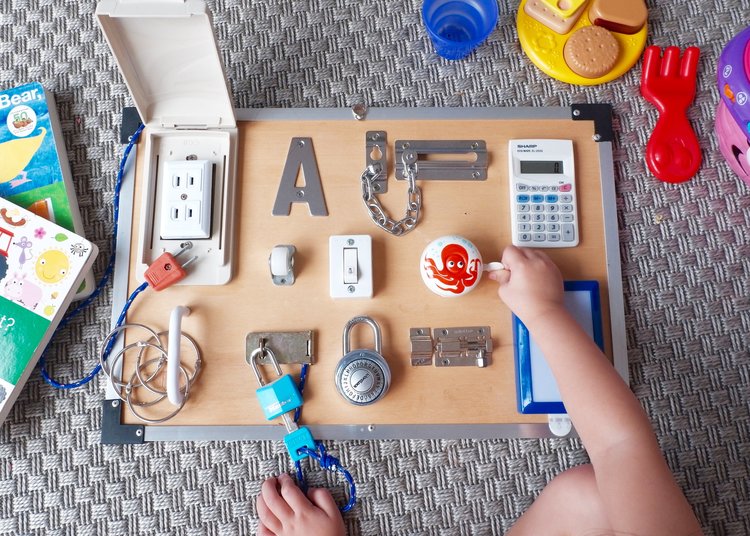 Another smaller board that will certainly appeal more to baby boys and their daddies, especially if the daddy is somewhat of a handyman. A few door latches, a switch, and even an old calculator are just about enough (not quite sure about the socket, but… It's ok, we guess…)
18. Toddler Tactile Musical Busy Board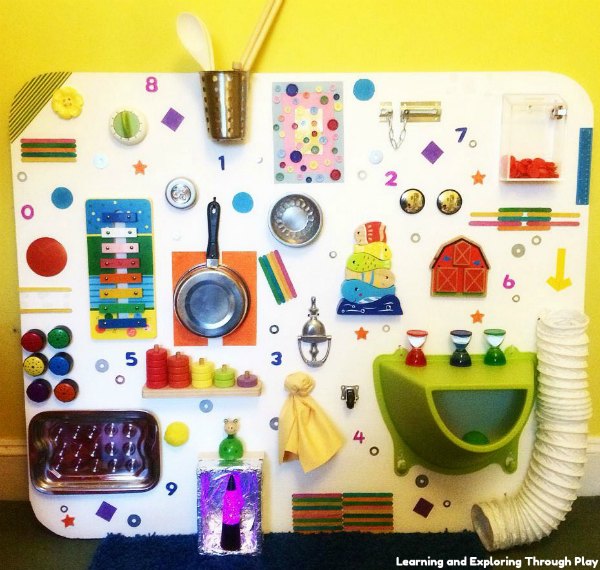 Finally, when creating your sensory board, first and foremost, go with the things your baby reacts to the most, and throw in not so popular items. Make the board as colorful and diverse as you can, without overdoing it. Loke this one, who has a little bit of pretty much anything we covered so far.
That all the ideas we have for you for now. We hope these ideas will help you keep your child entertained, and developing properly, even without them realizing. And the most important point: fewer toys – more free space. What are your ideas for and experiences with a sensory board? Share your thoughts and suggestions in the comments.