Colors are all around us, but did you know that we weren't always able to use them? Commercially available paints as we know them today have actually been around for a century or so. And even then, the color palette wasn't as rich and versatile as today. Today we have the luxury of having to choose from all the colors of the rainbow and any imaginable combination and hue in-between. And that doesn't go only for paint colors or clothes, but for our hair as well.
Now we can express ourselves in whatever style we like, from the darkest black to the brightest yellow, and even in multiple colors. In fact, you don't even have to choose, you can do all of the colors in a magical rainbow-colored hair dye.  Now, the reasons you might choose this may differ, but you can't deny that this bold hairstyle is deserving of every respect it can get.
There are a couple of ways you can go around doing your rainbow hairstyle. One, you can do a hidden peek-a-boo rainbow dye, you can choose 3 or 4 darker or lighter colors instead of all seven. Then you can do ombre, a small section, a few strands, or the entire hair. Really, the possibilities are endless.
If you're considering doing some rainbow hair, here are a few ideas to get you excited about the look.
1. Rainbow Highlights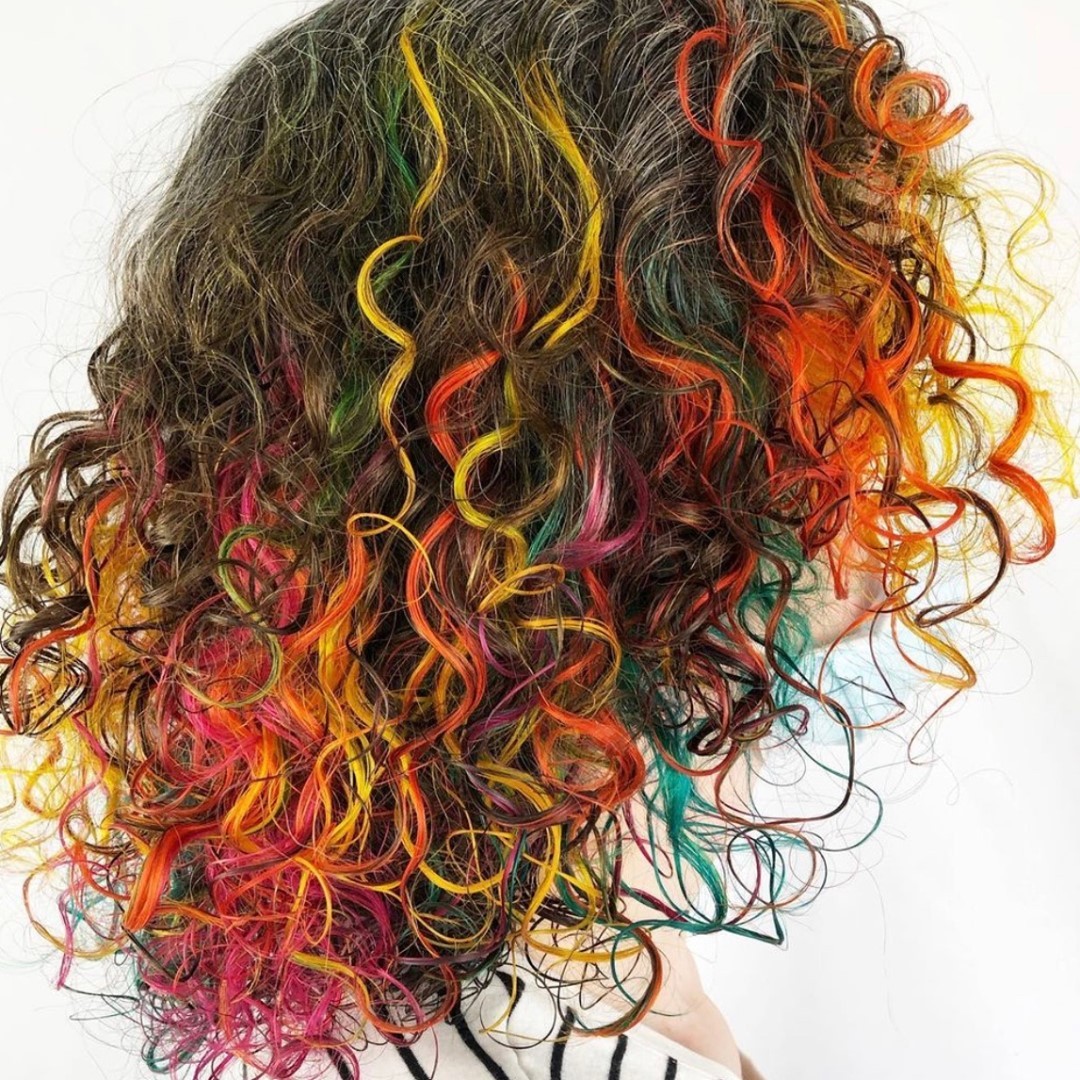 It is always good to start off small when testing a new hair color. Highlights are a fun way to go about it and when you do multiple colors the result can be pretty amazing. It looks good on long straight hair, but if you have wavy or curly hair the rainbow effect is much more remarkable.
2. Layered Streaked Rainbow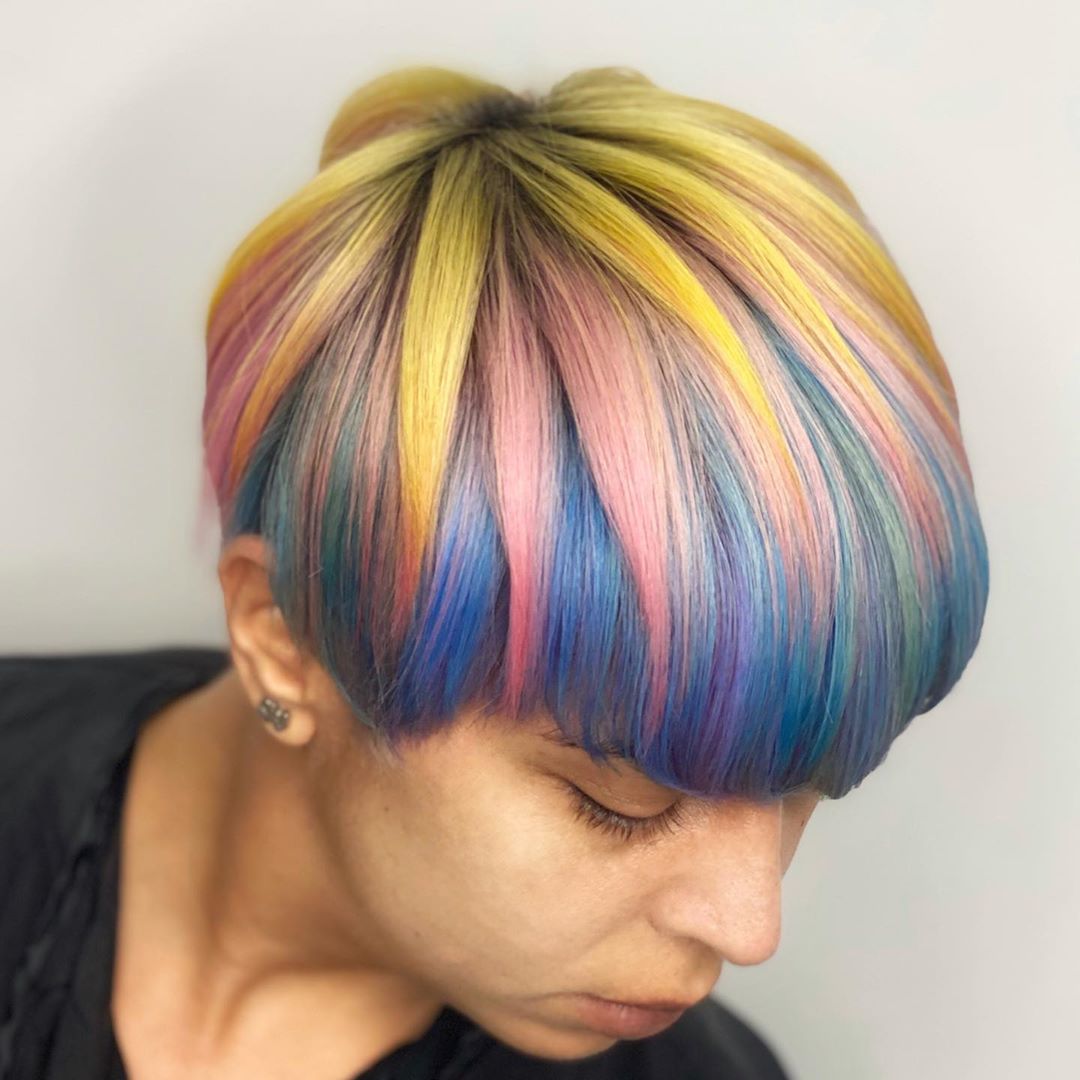 Thicker neatly arranged streaks give the feel of a rainbow is bursting out of you color by color. It is a good choice if you have a short bob and want to make it more playful and vibrant.
3. Hidden Side Rainbow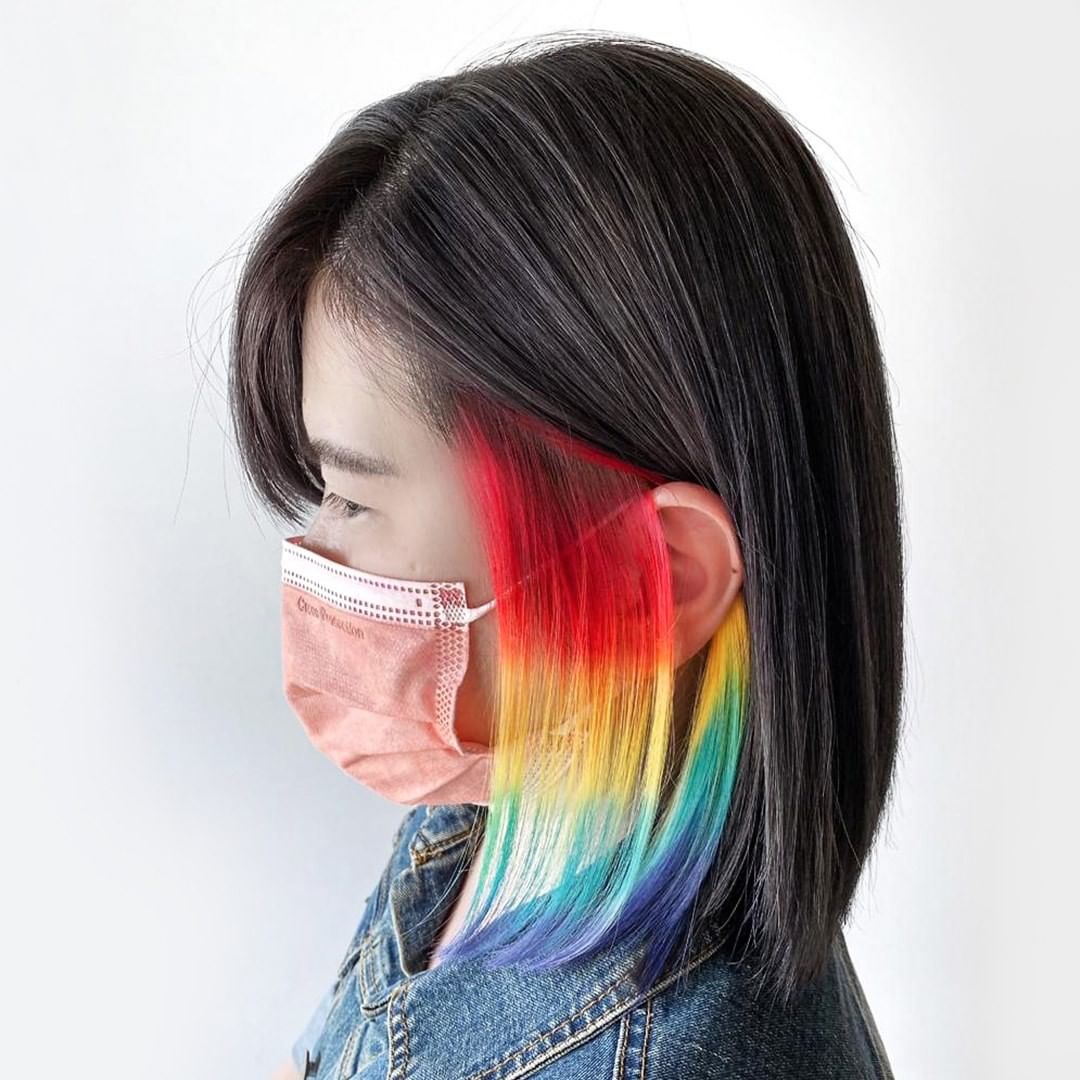 When you don't have the opportunity to experiment with different hair dyes because life gets in the way, there are a few peek-a-boo hidden options you can sneak in your colorful side in the workplace. This is one of them, a thin layer of hair dipped in rainbow colors.  Don't forget to keep the hair down until the end of work hours.
4. Red Prism Rainbow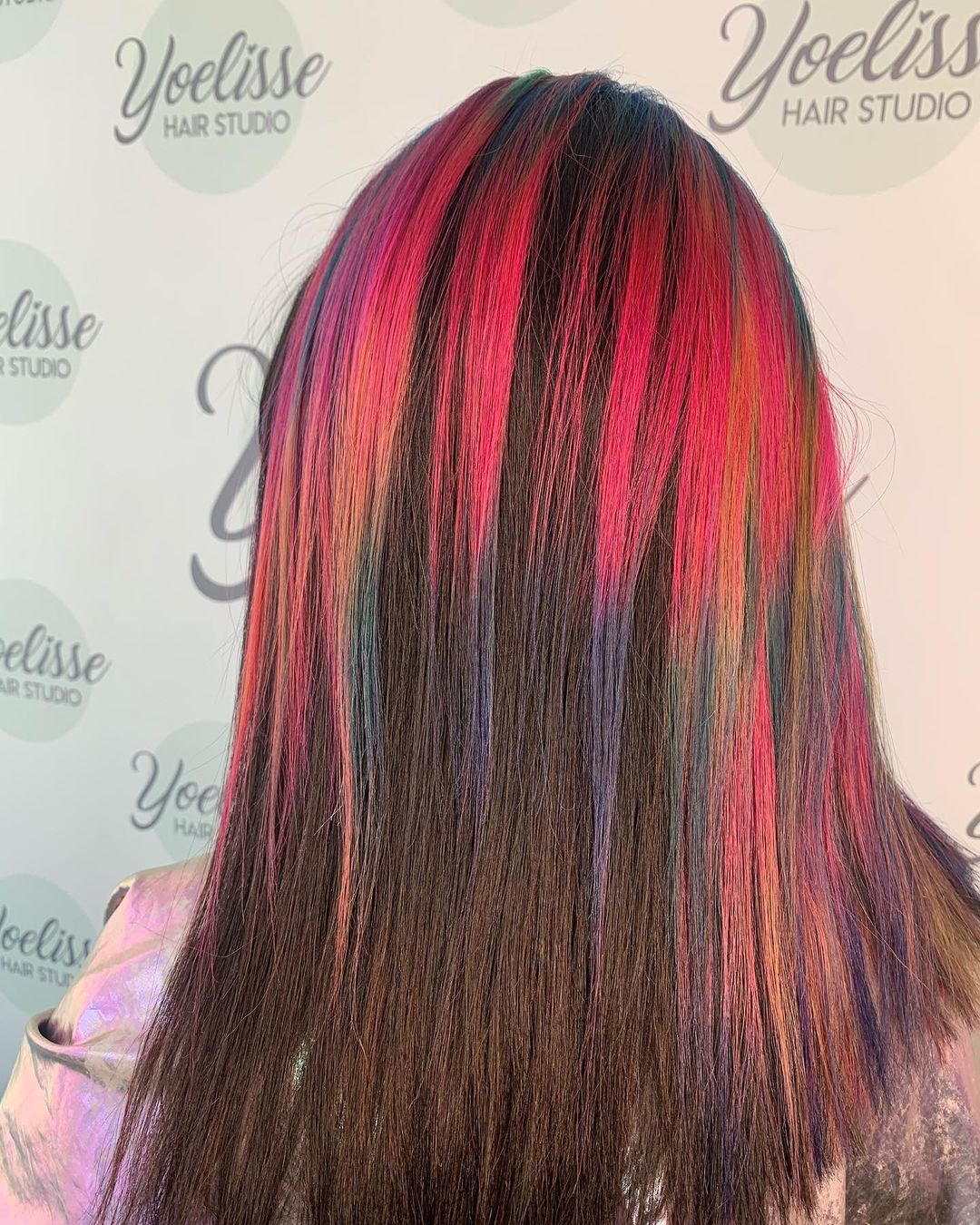 Doing the top layer in rainbow colors gives you a bit more freedom to play around with the sections. You can easily part the dyed and not-dyed hair in the middle and turn your hair into a color chameleon.
5. Lines of Pastel Rainbow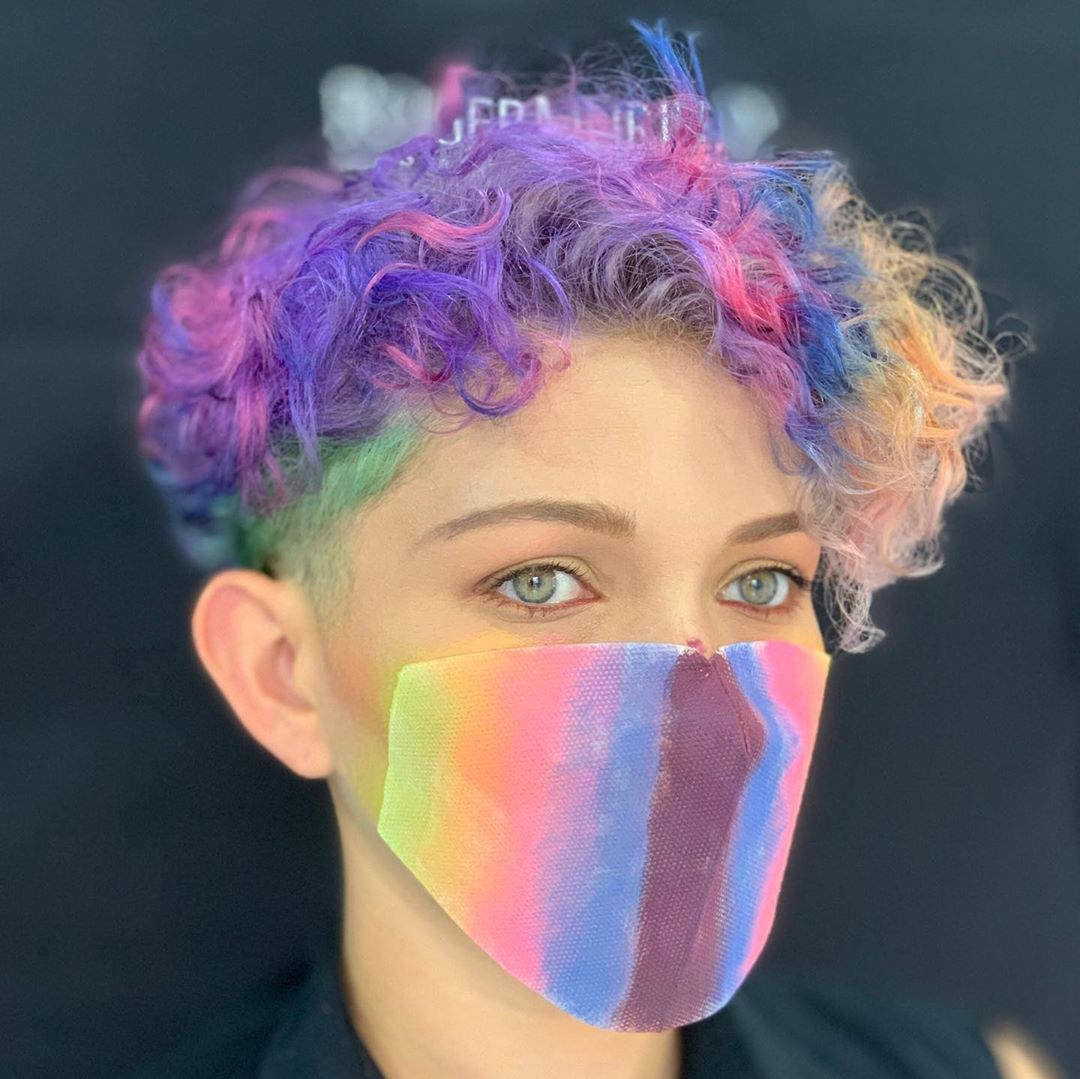 When doing a section of hair in different colors, you usually go vertically, from the roots to the tips. But, with rainbow hair, you can go side to side, engulfed in all your favorite colors.
6. Waves of Rainbow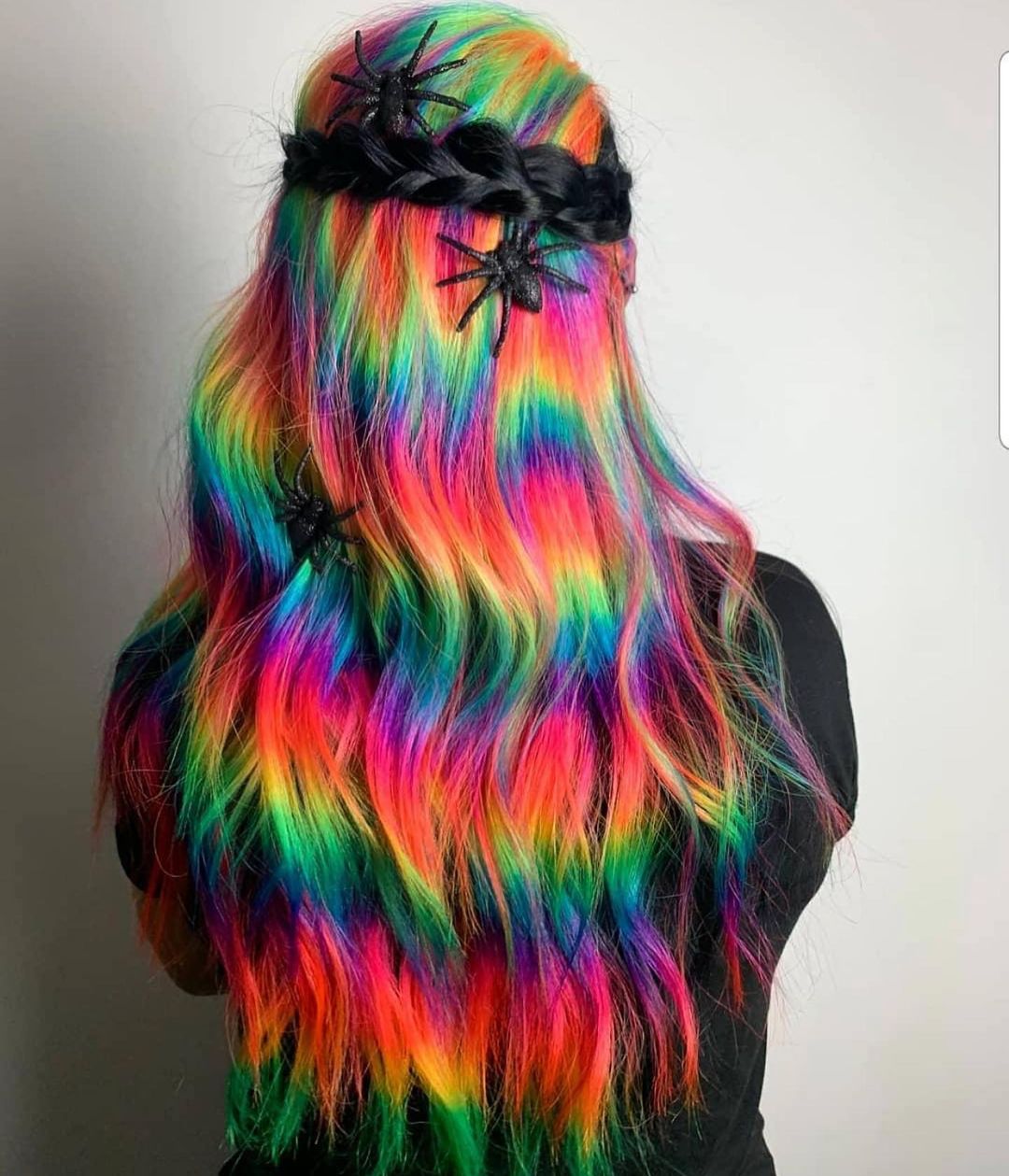 This neon rainbow hairstyle is something you can lose yourself gazing at the mesmerizing flow of colors. It truly looks like rainbows sliding down a waterfall. A truly daring and beautiful hairstyle.
7. Warm-Cold Rainbow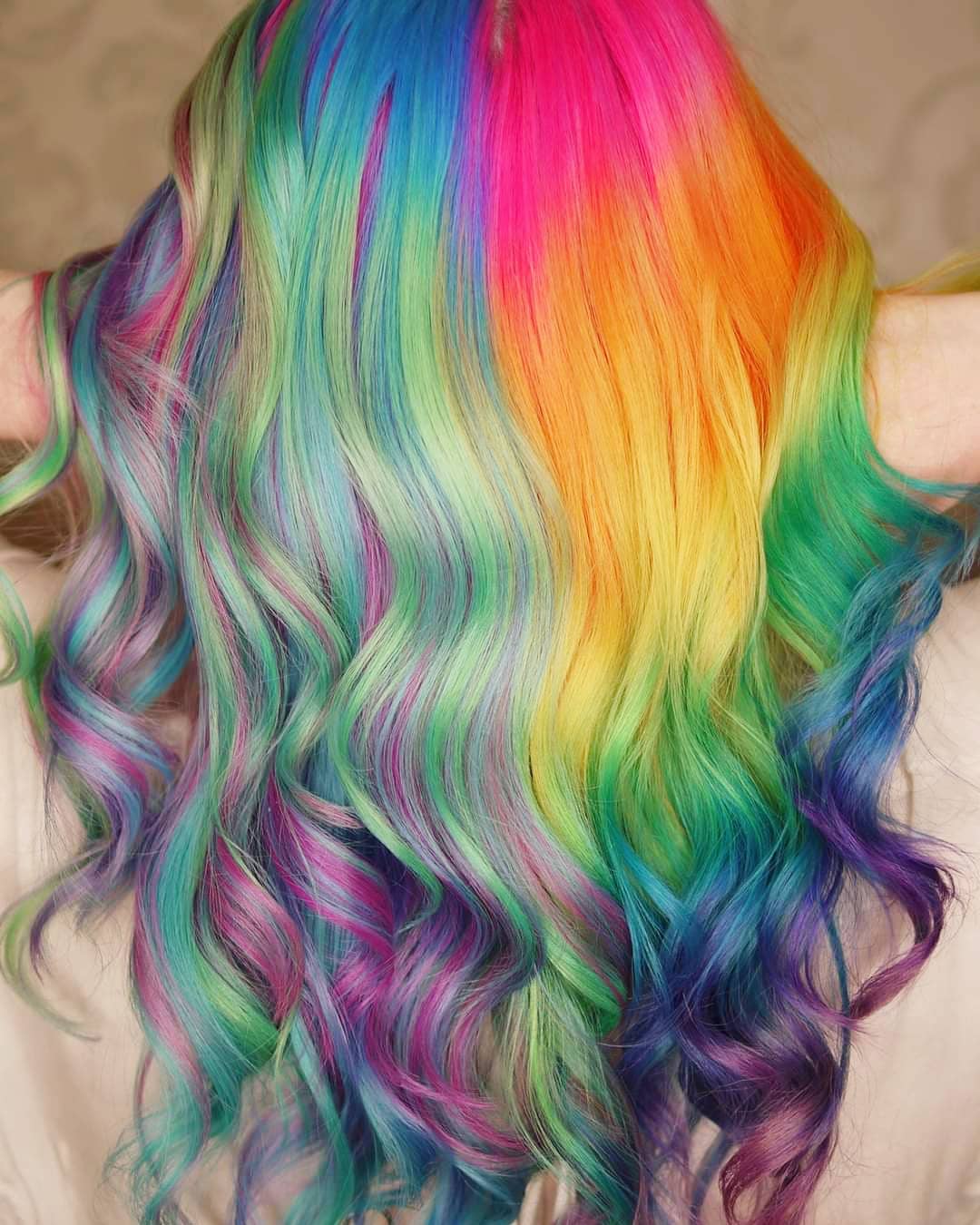 When you combine two hair dye trends you can end up with something pretty wondrous, like in this case. The rainbow hair with the half-and-half trend gives you this half warm half cold mixture of your favorite colors.
8. Ombre Rainbow Dipped Box Braids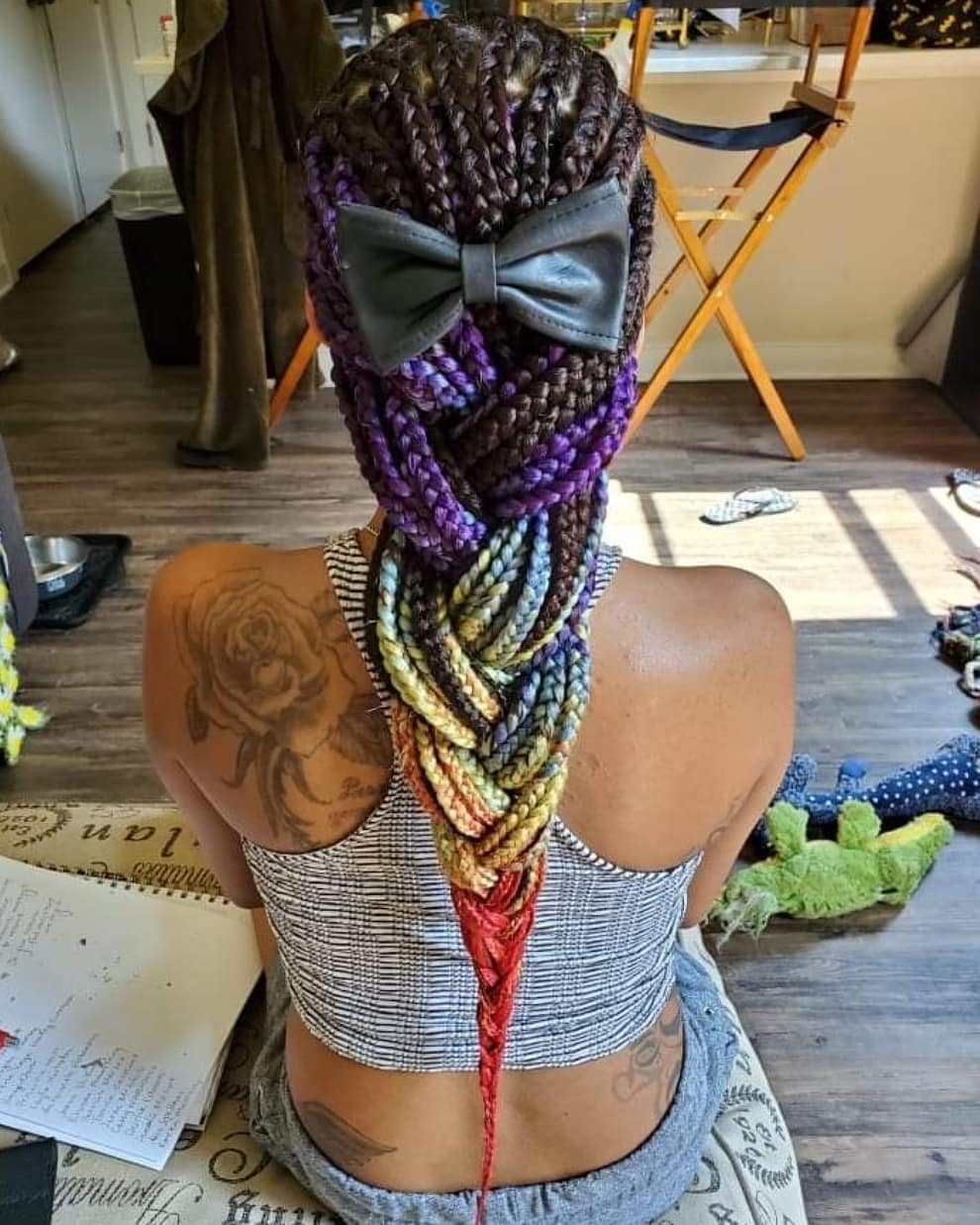 Protective hairstyles such as the ever-popular box braids are already pretty stylish, but they also have the potential to be colorful as well. Usually, you might see box braids braided with colorful extensions or ribbons, or you can try something like this braided rainbow. Keep the roots a natural color and let the rainbow slide down the braid.
9. Plasma holographic Rainbow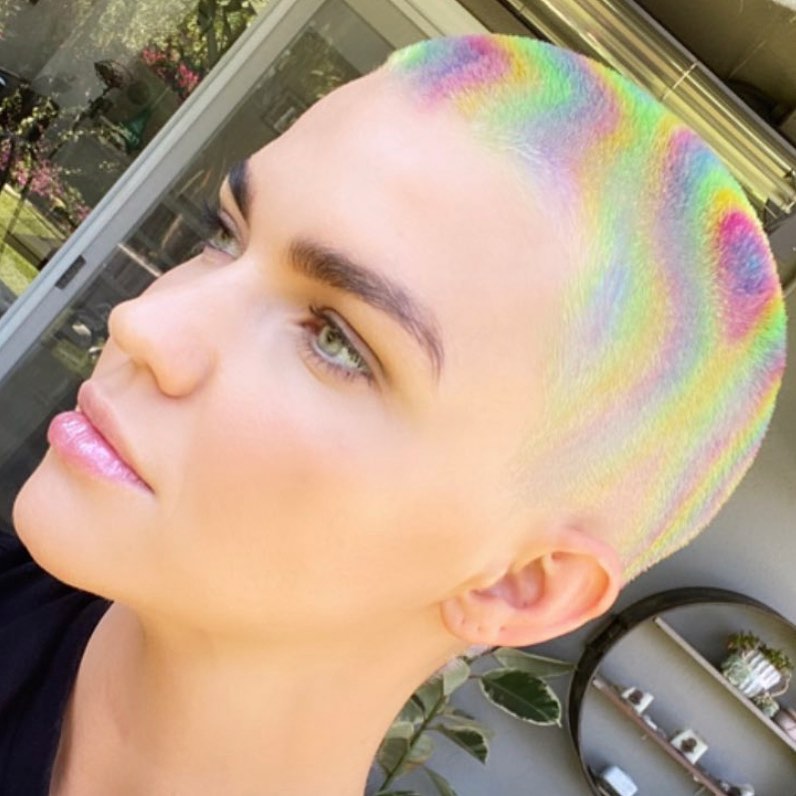 While longer hair gives you much more options for hairstyling, shorter hair offers a lot more room to play around with dye. Just take a look at this holographic rainbow buzzcut. Sure, you might achieve this effect on long hair, but it still won't match this kind of color flow.
10. Wispy Streak Of Rainbow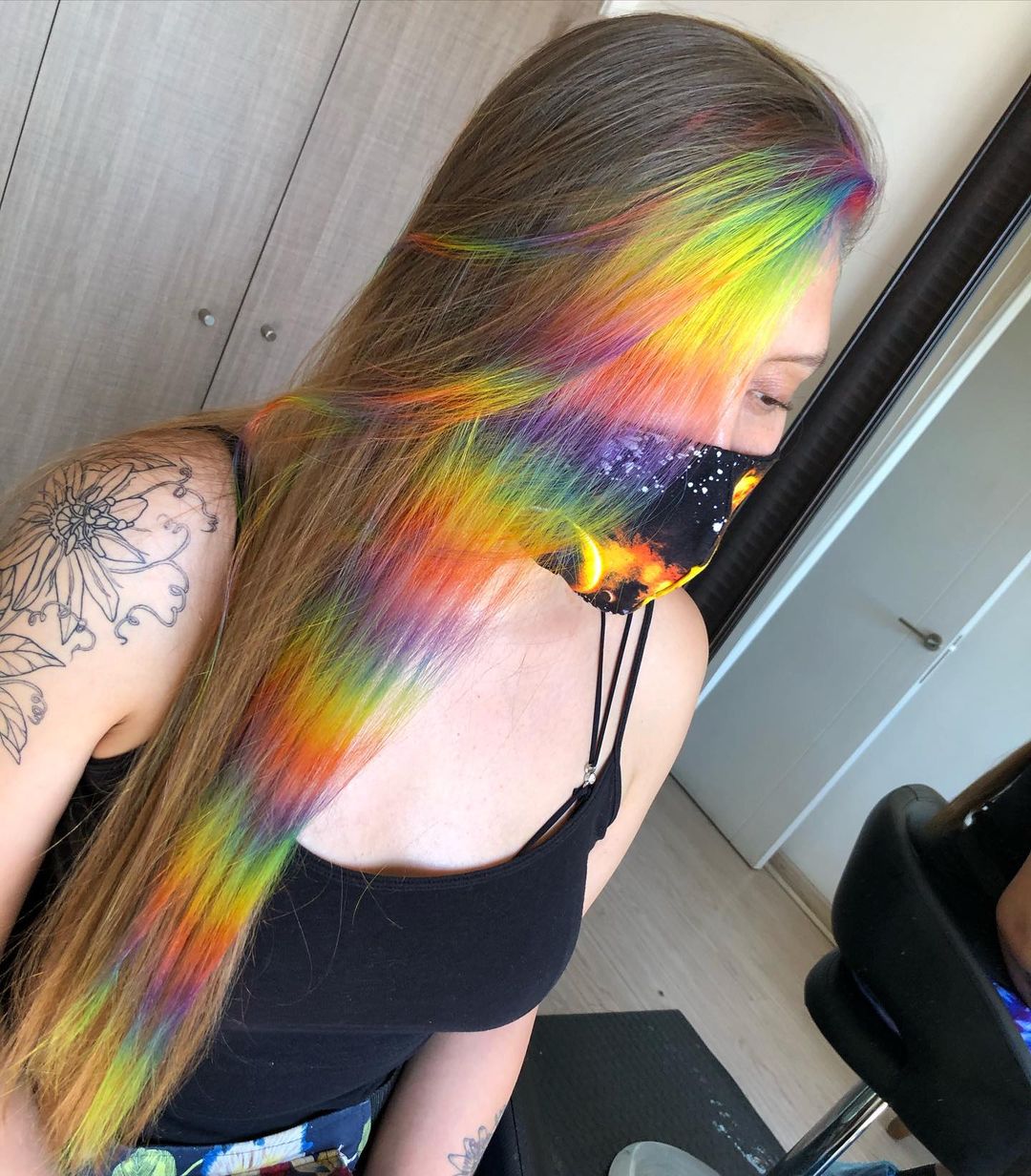 We've seen what loud rainbow colors can do, and how to make your rainbow inconspicuous in a way, but how about making it out there but more subtle. Using toned down colors and doing just chunkier streak, you too can have this look. It's like a prism rainbow touching your hair, which is sure to make people do a double-take.
11. Black With Peek-A-Boo Rainbow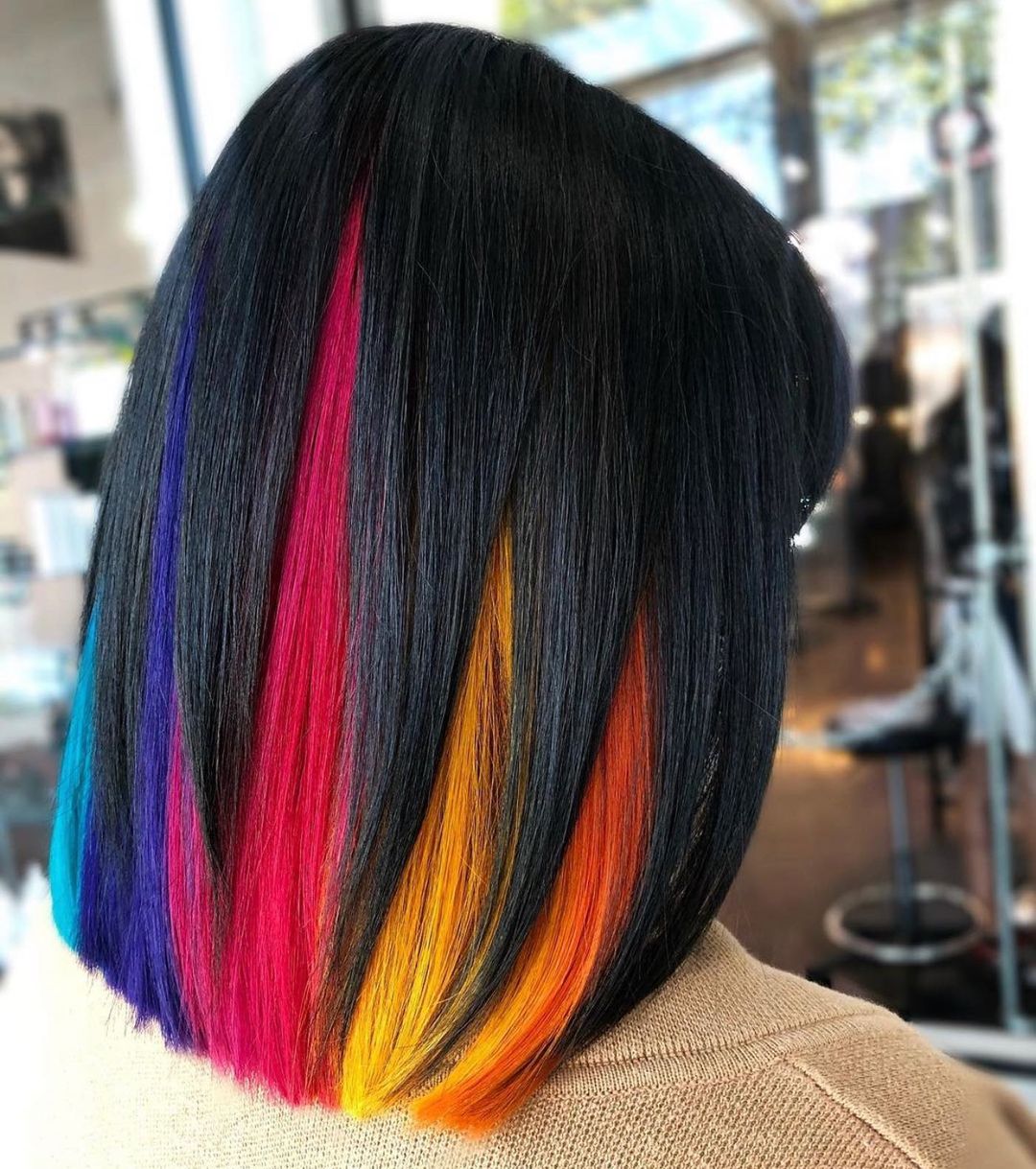 Here is another hidden rainbow hairstyle that might intrigue you. bold sectioned colors of the rainbow on the bottom layer, covered by a strong zig-zag edged hairline, that reveals bits of the hair without having to move it around. A nice compromise between hiding it completely and going all out.
12. Geometric Shapes With Touches of Color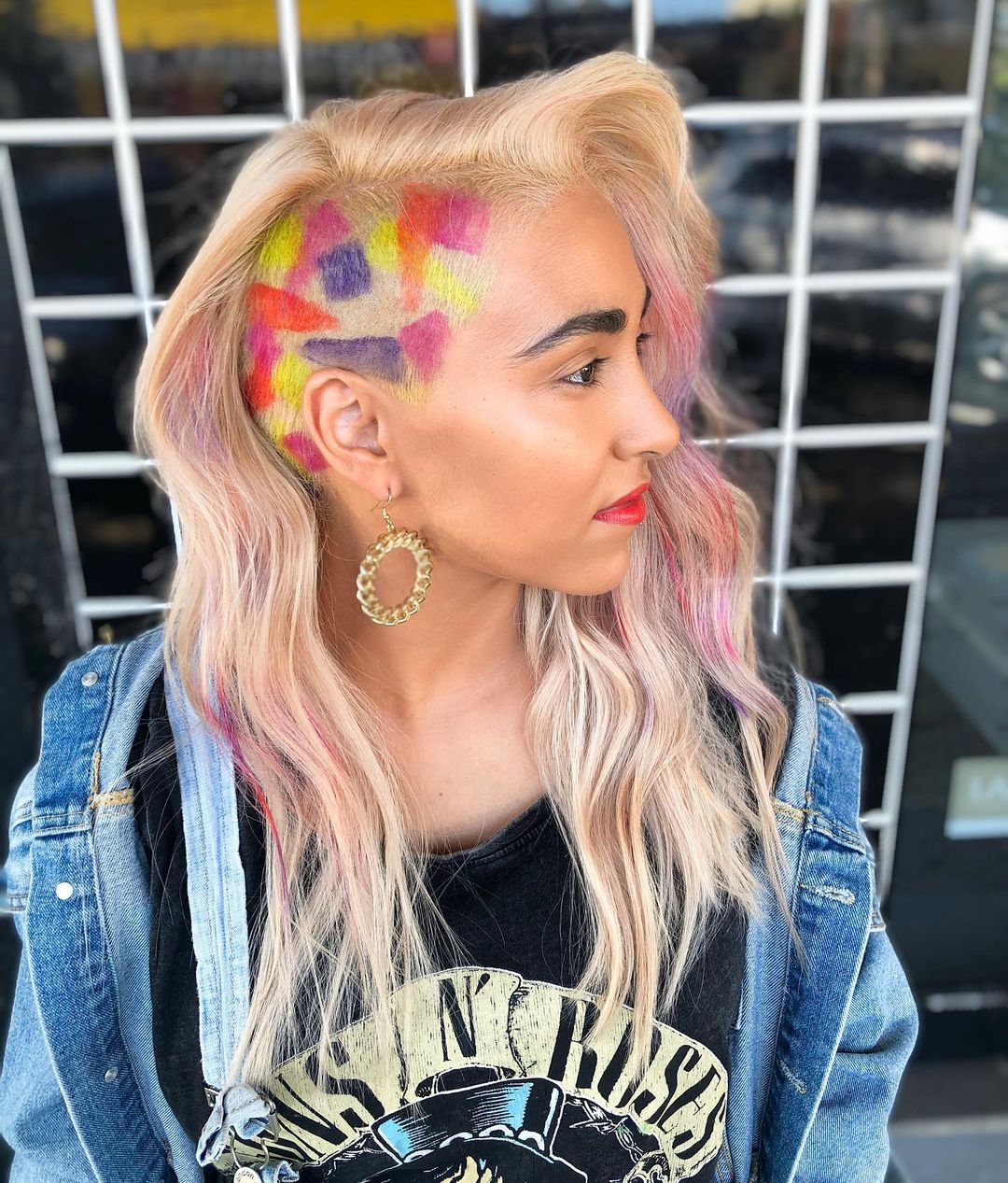 Choosing to have a Skrillex haircut (half-shaved head) is already a pretty bold hairstyle, and adding anything to it makes that much edgier, even if you do some colorful geometric shapes on the side that complement the soft streaks of color in the hair.
13. Diagonal Neon Rainbow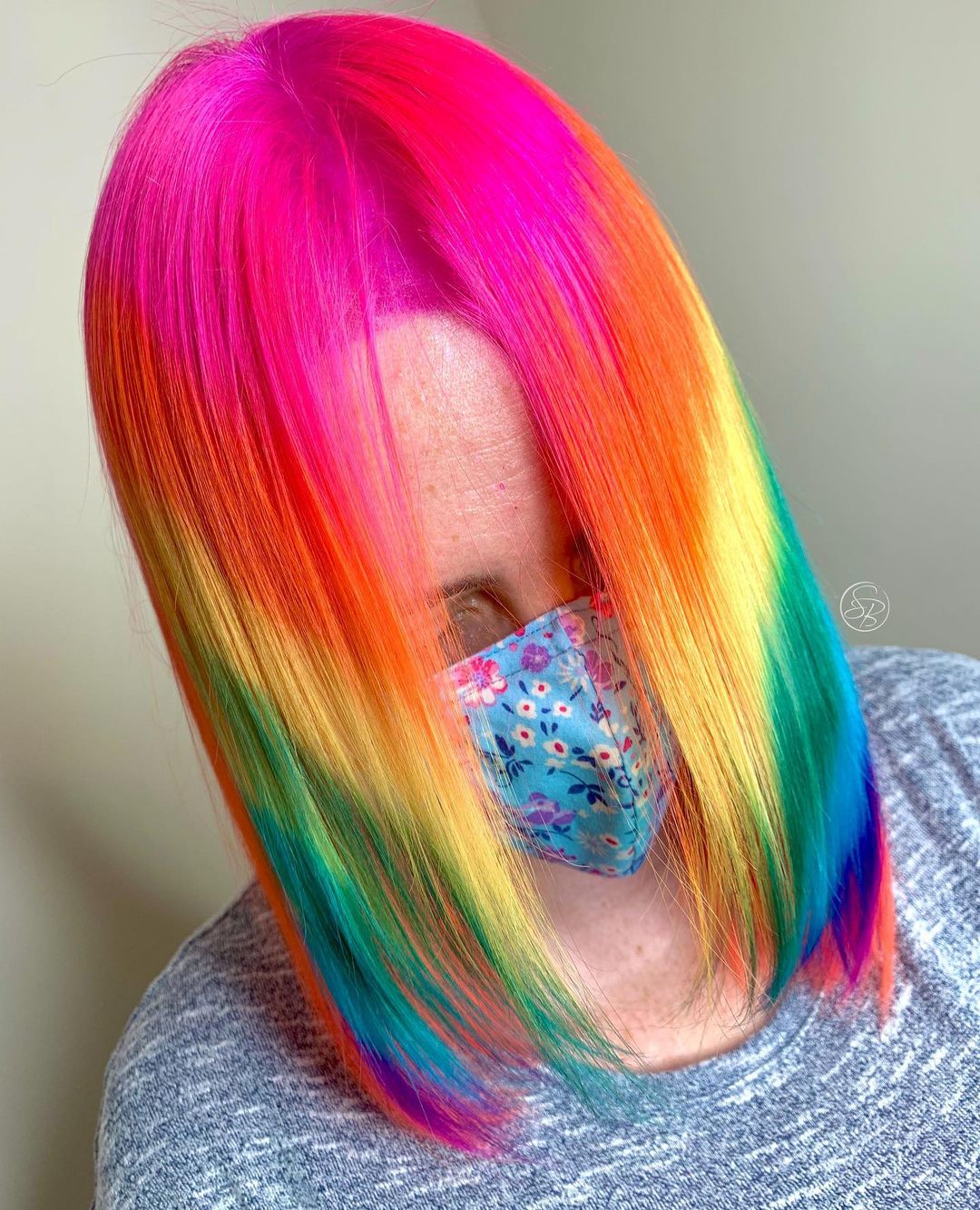 Having a bright neon rainbow hairstyle will draw the eye no matter what, yet you could double that effect and highlight your face even more by doing the lines of the rainbow slightly tilted forward.
14. TWA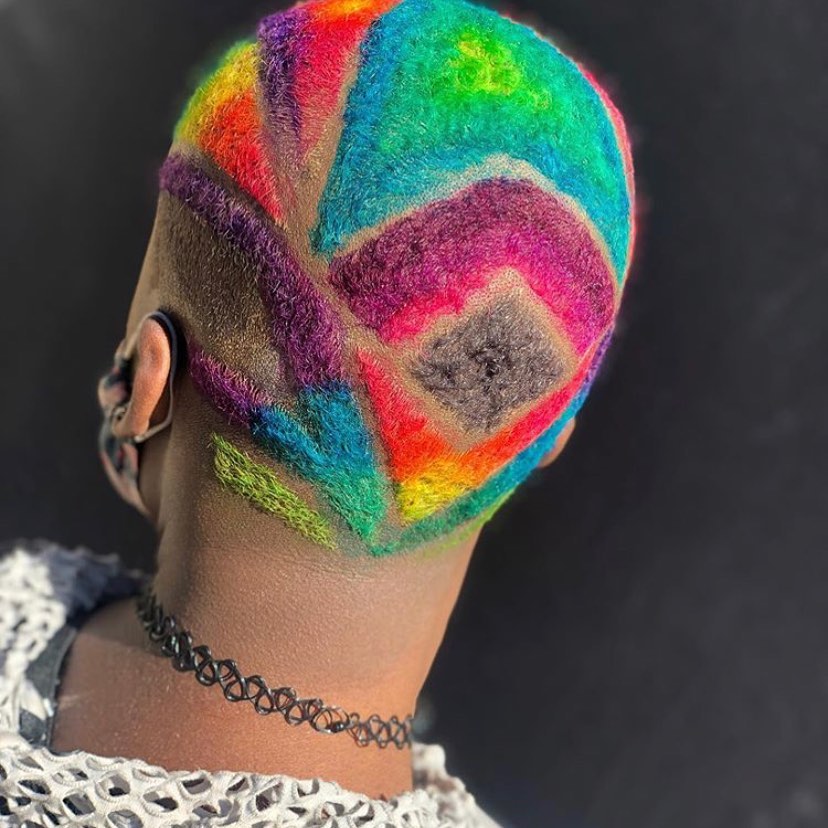 Since you already have a TWA or a similar buzzcut, you can and should play around with some hard parts cuts, creating lines and shapes on your head, turning a normal cut into a masterpiece. No masterpiece is complete without at least a touch of color, and you can make yours in all the colors and look fabulous.
15. Purple And Green Rainbow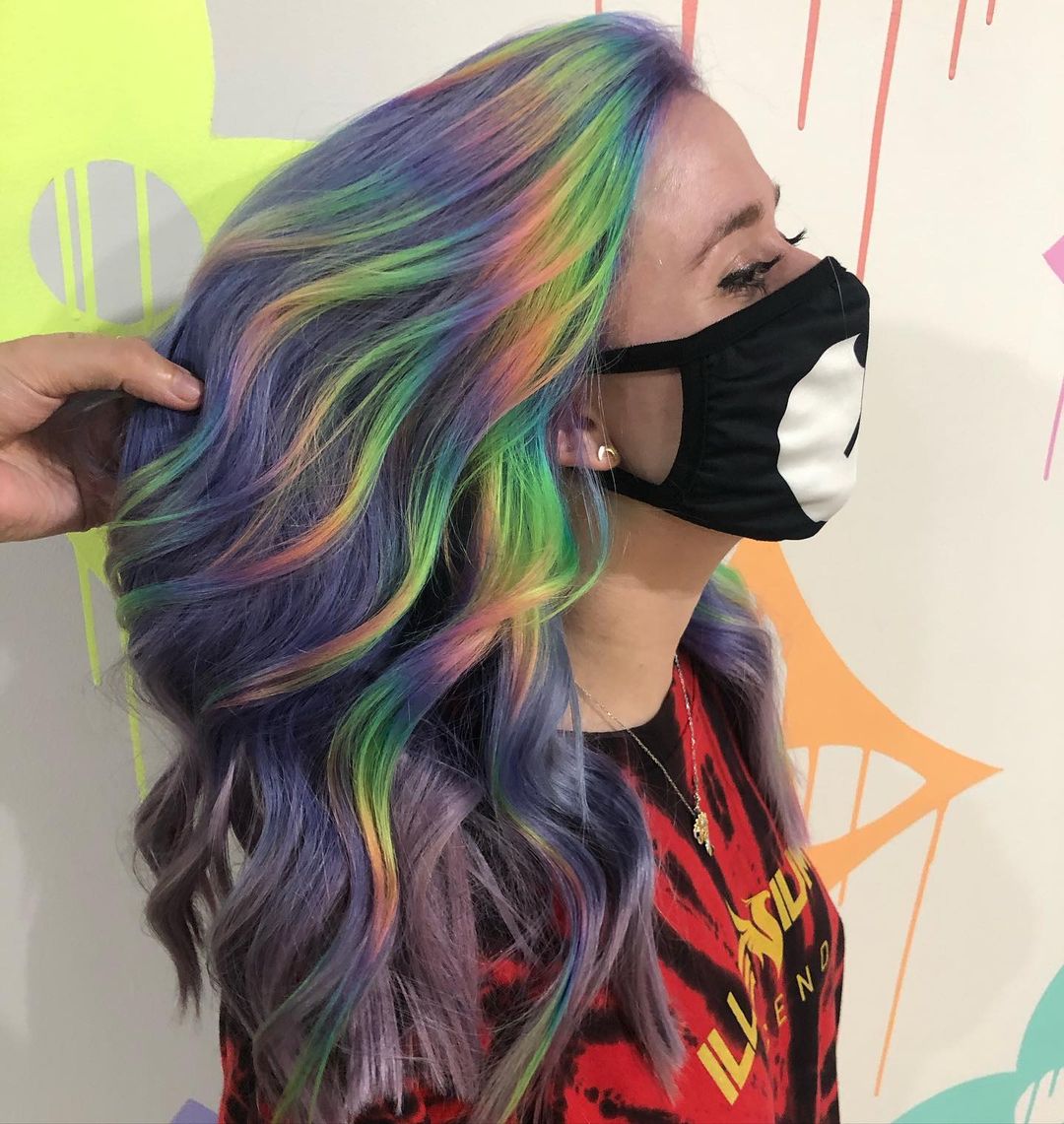 As we mentioned, the rainbow hairstyle doesn't have to contain all the rainbow colors. Just a few well-selected ones will do. Like in this ashy violet base with a few balayage streaks of green and orange, making the rainbow flow with your hair.
16. Rainbow Under Lavander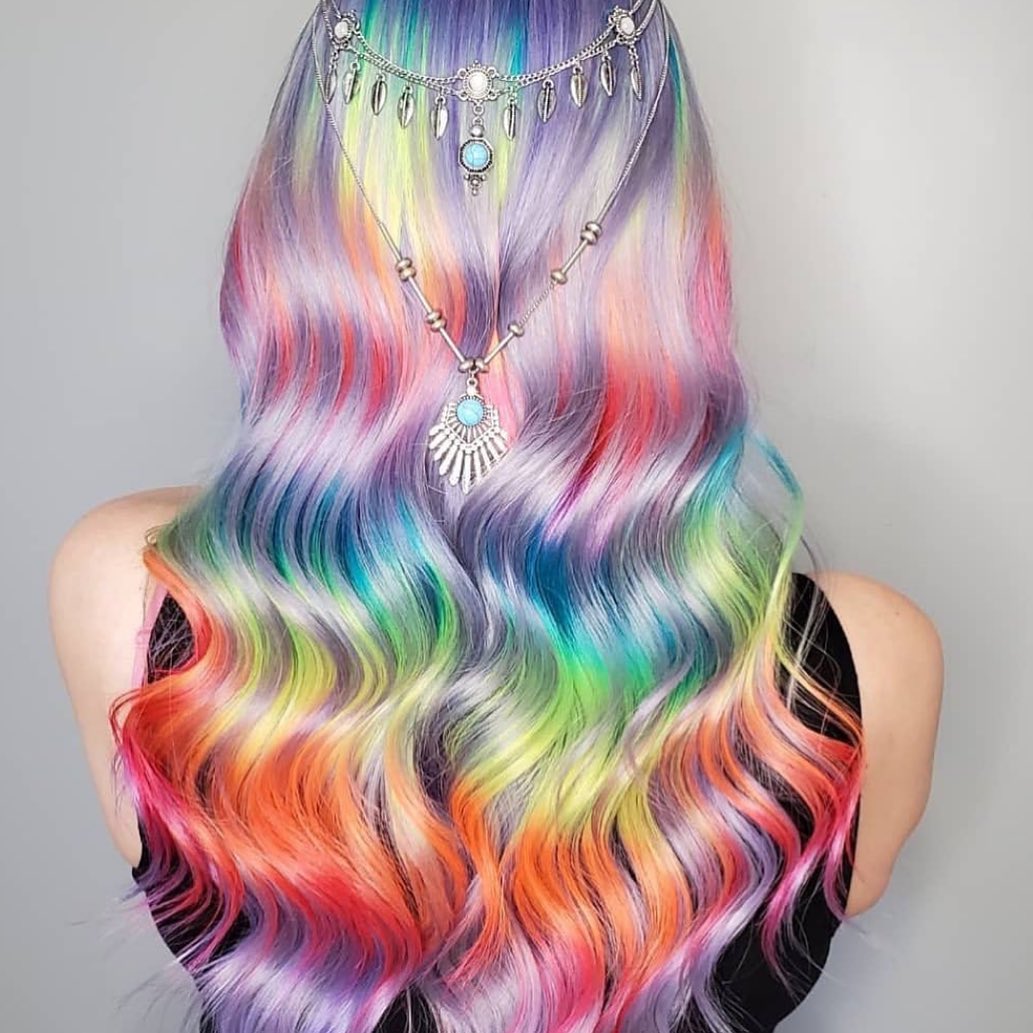 For our last rainbow hairstyle, we give you this dreamy example of soft lavender highlight waves that let the rainbow peek through from beneath. The color combo is something even the most modest among us would wish to have at least for a day.
That's all the rainbows we have for now. Would you go for a rainbow hairstyle? Which one was your favorite? Leave us your ideas in the comment section below.