PuppyFind is a website that allows responsible breeders to list their dogs for sale. Theoretically, breeders list their dogs for free, unless they want to communicate with buyers. For buyers, the website serves as a great marketplace for finding their perfect puppy companion.
You can find your puppy completely free. Using the website and finding your puppy is easy, and it will take you only a few minutes to sign up.
The website, which is now Puppies.com, operates since 2003. Before that, it was known as PuppyFind.com. It is the same website. For almost 20 years, it continues linking people to the perfect puppy, from sellers across the country.
How does it work?
The website is operational nationwide. Breeders can list their available puppies for a commission. The national website allows them to list the breeding dogs for sale. For buyers, it is free to browse listings and to list. Yet, if buyers want to contact the good breeder, one of the parties has to pay a fee. That can fall either to the buyer or to the breeder.
If the buyer is the one paying, he needs to pay $5.99 for 30-day access. For breeders who are serious about trying to sell available puppies, they pay a fee to make access to their listings more readily available. Breeders that list one litter of puppies, can pay a monthly fee of $29.99. For those who want to list longer, the fee goes lower to $19.99 per month.
The website charges breeders every month until the said reputable dog breeder tells them to stop. Why does it work better than lists like Craig's List, for example? Well, simple, because PuppyFind gives you a national audience and people looking for purebred dogs, which are more expensive.
All of the breeds on the list are recognized by the American Kennel Club.
How to search for breeders?
PuppyFind gives potential buyers a couple of ways to search for their perfect puppy. One way is by searching breeders by location. You can search for countries in the United States and Canada.
Another way to search for puppies is by specific breed. The breeds are listed alphabetically, and clicking on each letter will open up breeds beginning at the said letter.
Get the Right Puppy For You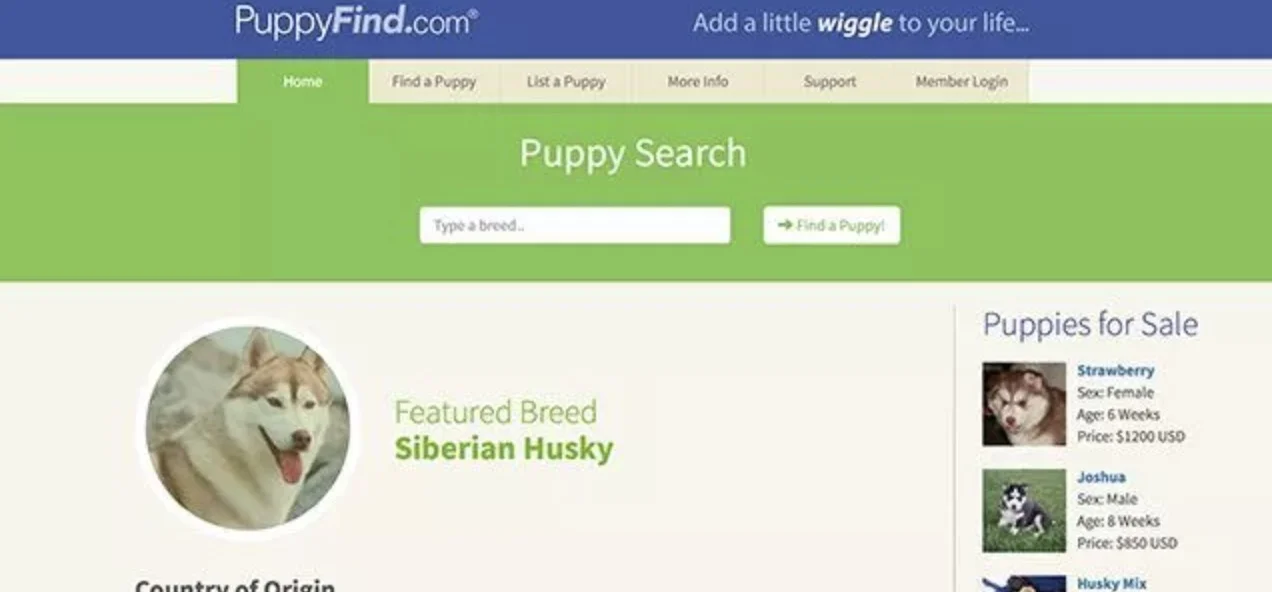 If you want to find a perfect dog breed for you, just use the breed matchmaker. This is one of the best features of the website. The unique feature allows any potential buyer to find the specific breed according to lifestyle and personality needs.
When you use the breed matchmaker, you need to answer the following questions:
What size range is OK?
How much grooming is OK/
Playfulness preference?
Do you need a watchdog?
Do you want an active dog?
Is trainability important?
How much barking is tolerable?
Do you want a cuddly pup?
And of course, what outdoor space do you have. Do you have any other animals? Other dogs? Cats? Or do you have dog allergies?
Once you enter all the information, the system will look for the perfect breed for you. And in 99.9999% of the cases, they guess right.
When you use PuppyFind and you want to search for mixed or designer breeds, select "designer + purebred" or "designer". This will cause mixes containing the selected breed to show up in the search.
What to do if you cannot find enough puppies?
This is a common problem for some people. You enter the information you want and the website doesn't deliver many results. If you are not finding enough puppies, you can do a couple of things.
First and foremost, change the distance dropdown to a larger radius. Of course, you can always select a different breed. If you want, you can change your location to a different city.
Once you change the search parameters, you will definitely get more results. Once you have the parameters that suit your search, click the "save this search" button, and the website will notify you anytime new puppies are available based on those specific criteria.
Before you get a puppy
It is always a good idea to ask questions about the healthy puppy you want to get. If you are a buyer, here are some questions you can ask the reputable breeder about your potential new canine companion.
What kind of lifestyle does the breed require?
What are some common personality traits?
What about grooming requirements?
Are there any common health issues?
Do they give any health guarantee?
May I see and visit where the puppies are raised?
How many litters do you have annually?
What type of food do you feed the animals?
What immunization protocol do you follow?
Do the puppies have any type of socialization prior to being sent to a new home?
Do you require spray/neuter contracts on your pet quality puppies?
If I am not able to keep the puppy, what is your policy?