A ponytail. It is the probably the first hairstyle we learn as girls and the simplest neat hairstyle a long-haired woman can sport. It takes seconds to make and touch up, a. Due to its simplicity, it's often not considered a very classy, grown-up hairstyle. Perfect for workouts and workdays, not so much for special, classy events. Unless you boost it.
Often underrated, the ponytail is actually a pretty good base for creating some pretty amazing, head-turning hairstyles. Combined with various braids and hair accessories, the ponytail can easily be turned from drab to glam.
There are many ponytail styles that are well known, like the french-braided ponytail, the pull-trough, the bubble pony and a couple of others anyone can make when they have a few more minutes to spare for their hair. Yet, for a trullygreat boost in style and elegance, you would probably need a bit more complicated combinations, like the one we have for you her.
Let's take a look at some truly stunning ponytail looks.
1. Beach Waves Ponytail With Loose Side Braid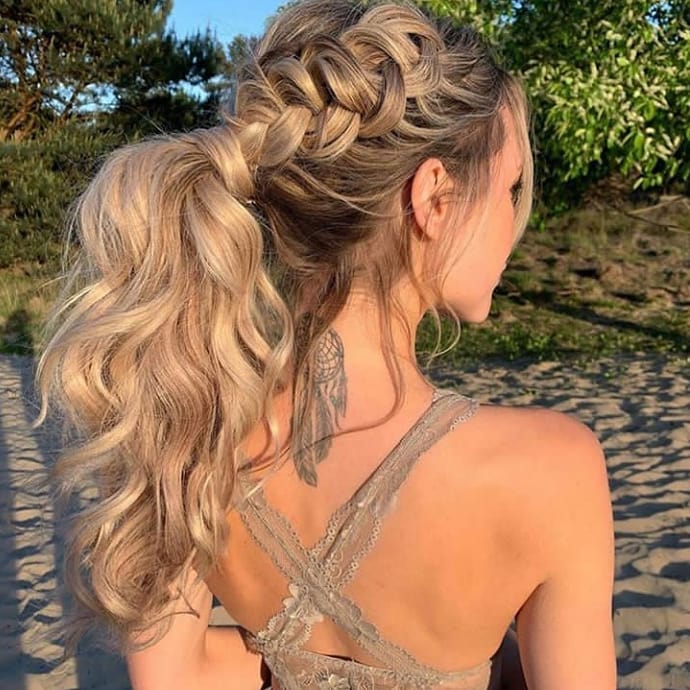 Even the basic hairstyles look good when you sport some nice bach waves, so you don't need much to make the ponytail special. Tied at medium height, with a wrapped around strand, combined with a loose side braid and you're ready for some fun times ahead.
2.  Fishtail Braid Into Side Bubble Ponytail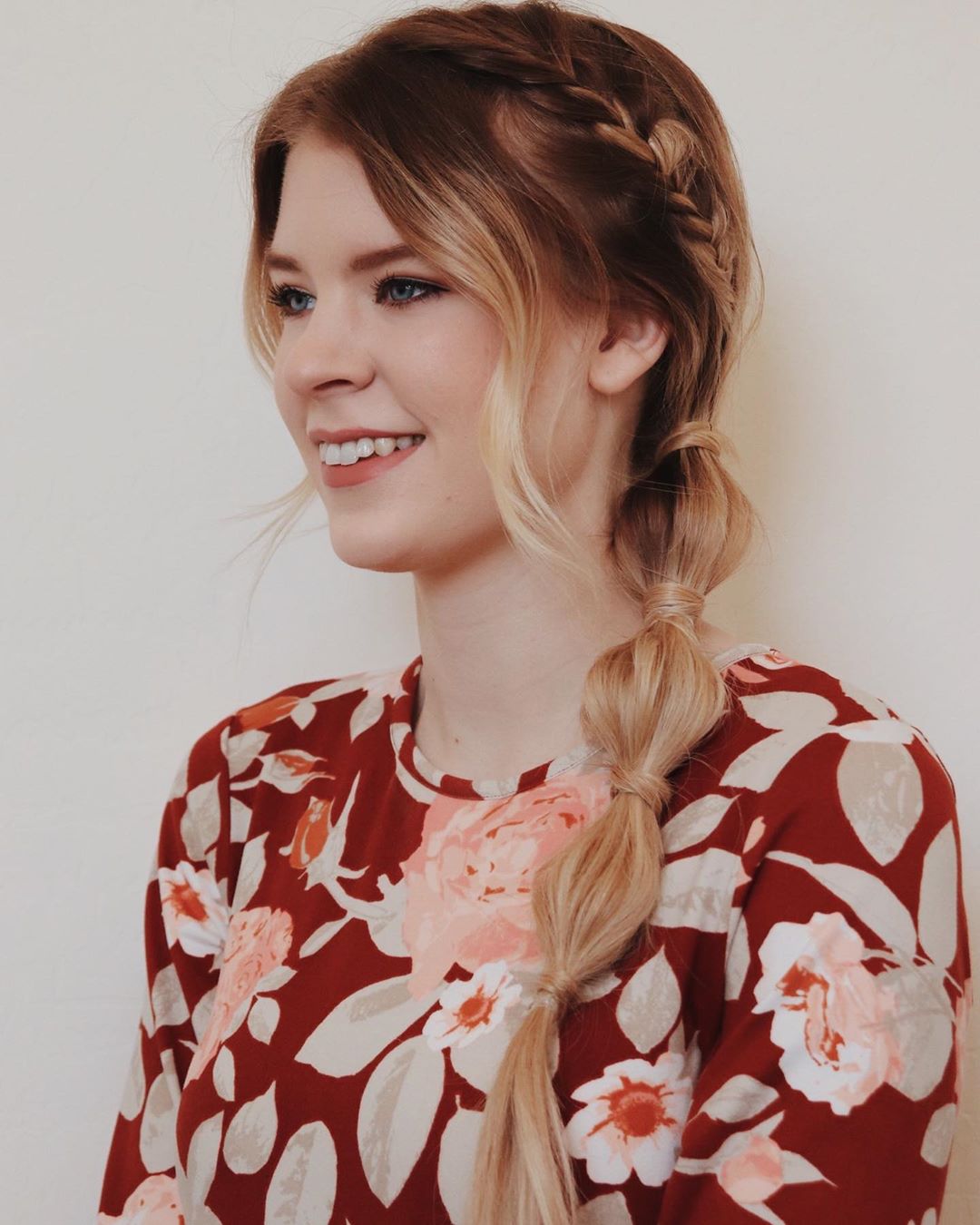 Here is a cute boho-hairstyle that's simpler than it looks. A single side fishtail braid going to a side low bubble ponytail wrapped with thin hair strands. A youthful, playfully everyday look.
3. Cornrow Ghana Braids Into High Wrapped Pony
All protective style braids are incredible as they are, like the box or ghana braids. Styling them can be a bit tricky though, but when tied in a high ponytail with a thicker wrap, they are more manageable and neat.
4. Upside Down Braid Into Top Curled Ponytail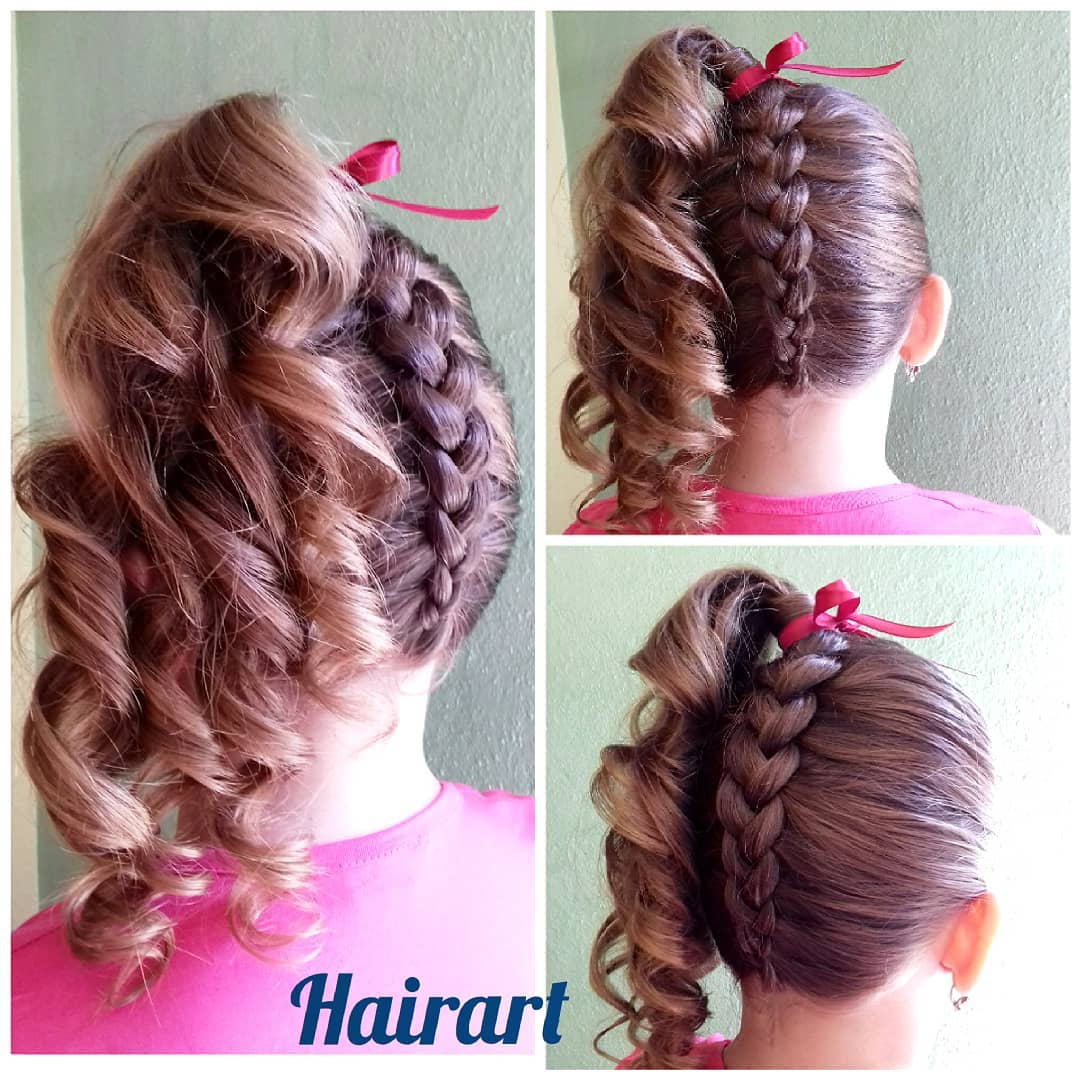 Upside don braids are another way to pump up your hairstyle, and it's a sweet look for girls as well. Combine it with a high ponytail and add some curls with a flat iron. Your bubbly hairstyle is done.
5. Slick Downstring Ponytail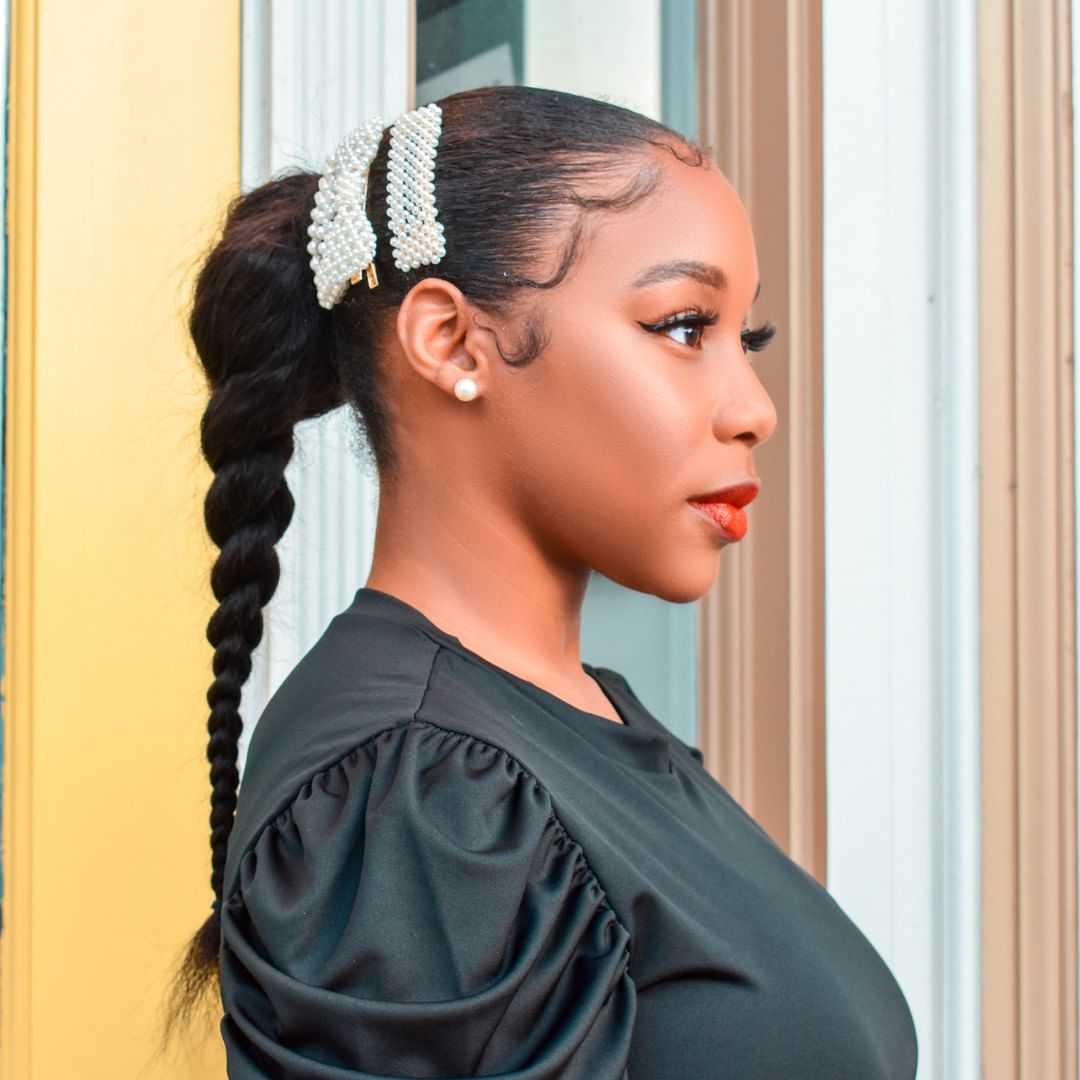 In braided ponytails, usually the braid has the same width all the way down.  To change it out, you can try making a wider base close to the scull spiraling down to a narrow tied tip. Like this elegant drawstring ponytail in a twisted braid. Slicked back hair and some sparkly hair accessories, and you are ready to attend any special event of the day.
6. Double Braided Low Tied Ponytail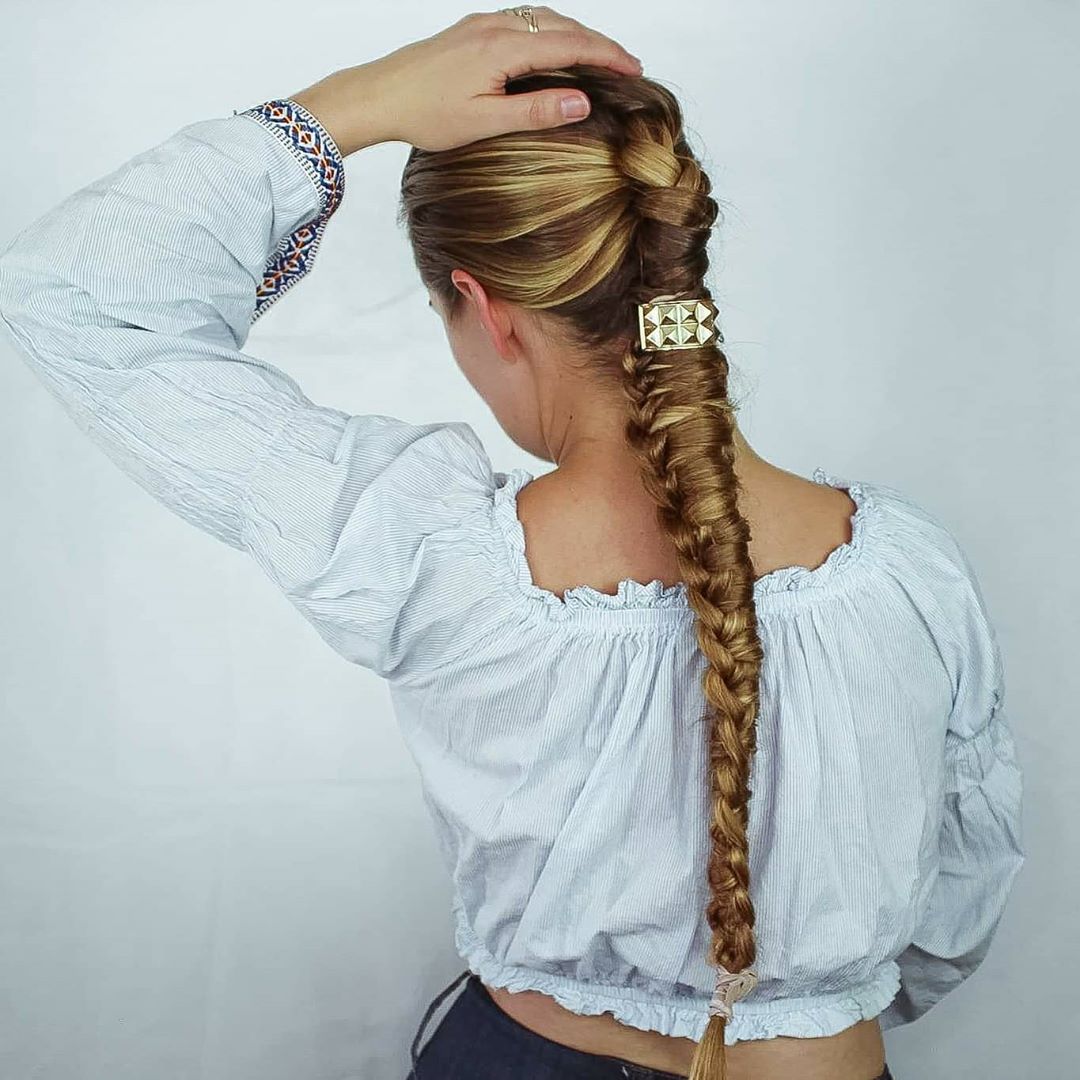 With so many braids and new ones being invented all the time, experienced braiders can't help but try and combine different braids. And the results are often jaw-dropping. Like this double braided ponytail, with slickness and texture, you can't help bat stare at.
7. Criss-Crossed Strand Low Ponytail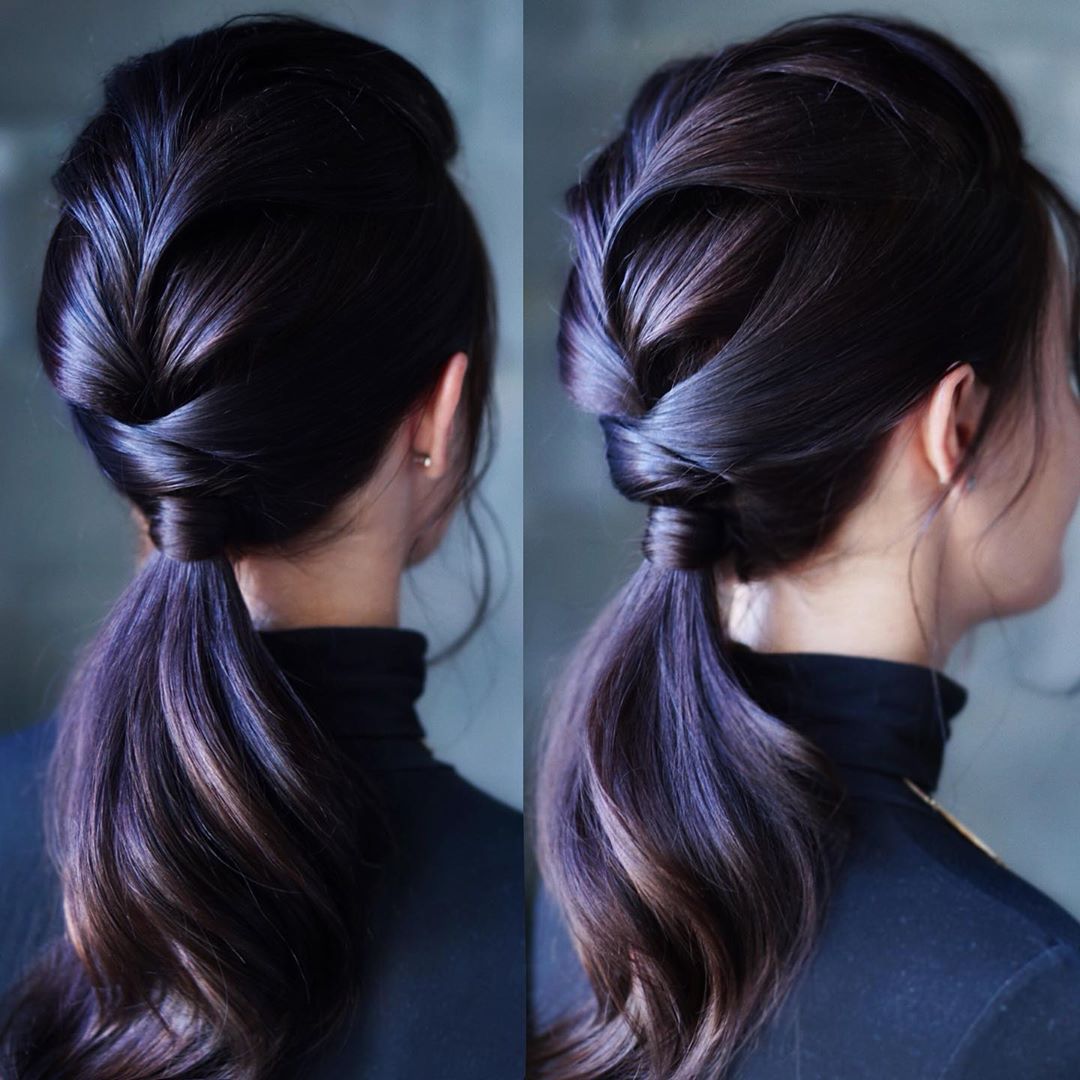 At times, simple is better. This hairstyle is a great choice for workdays,  or maybe formal meetings when you need a hairstyle between every-day and elegant. A loose low ponytail with wrapped base and simple criss-cross braid above it. Just enough to add texture without wasting too much time to do it.
8. Carousel Ponytail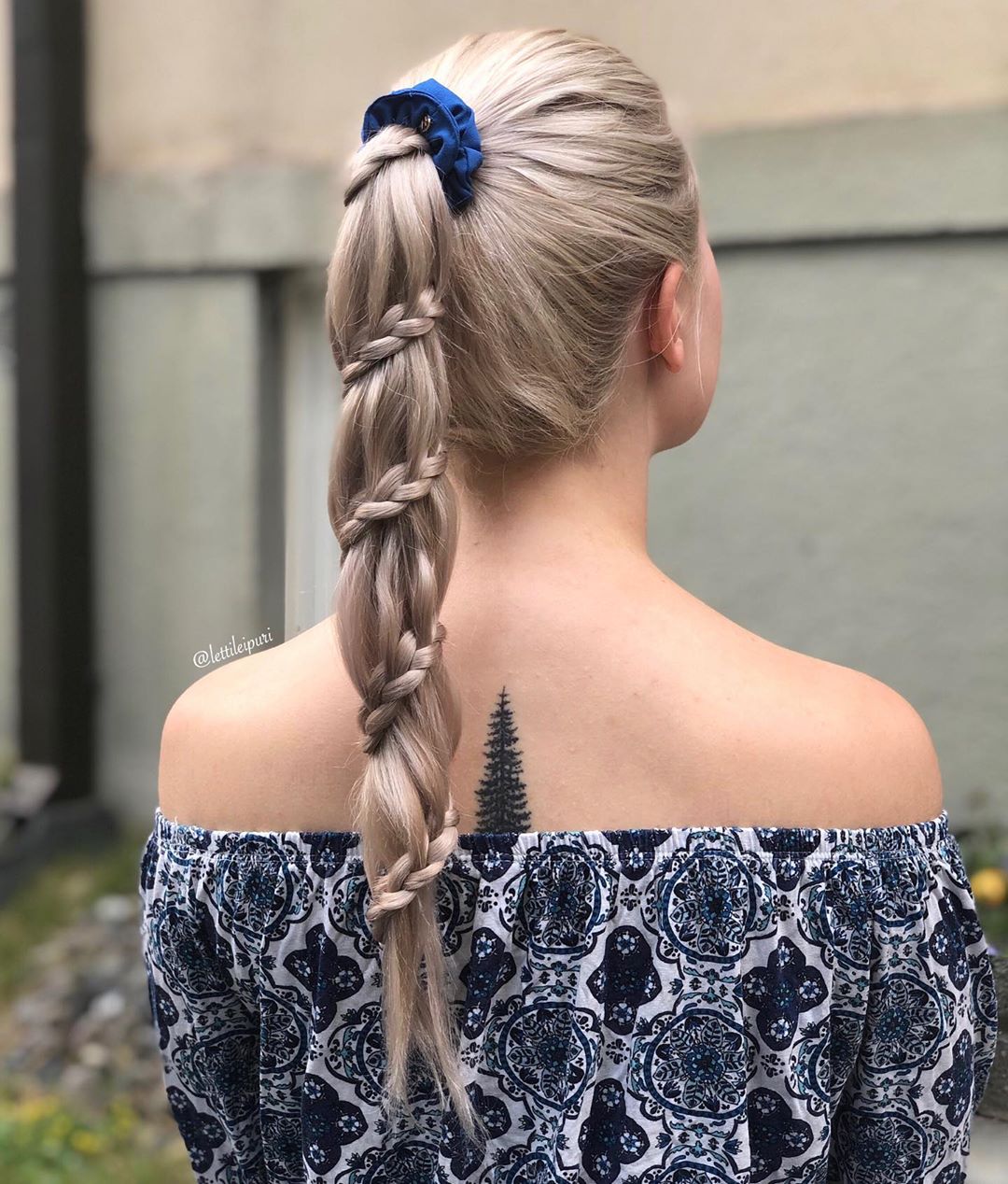 Speaking of new hairstyle combinations, here's one of them. We've seen braided ponytails and single braids tied with loose ponytails. Here is a single braid twisted around a ponytail. A fun carousel ponytail you have to try.
9. Slicked Back Bubble Ponytail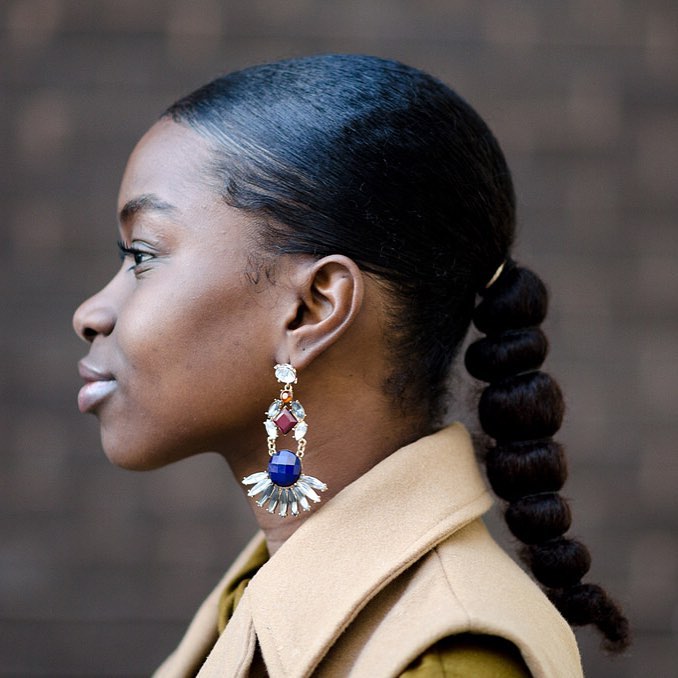 For a work-hairstyle when you have natural hair, a ponytail isn't usually the first choice. The sharp African natural hair could come loose and become quite wild during the day. Unless you do something like this. Tight slicked back hair with neat low bubble ponytail.
10.  Feather Ponytail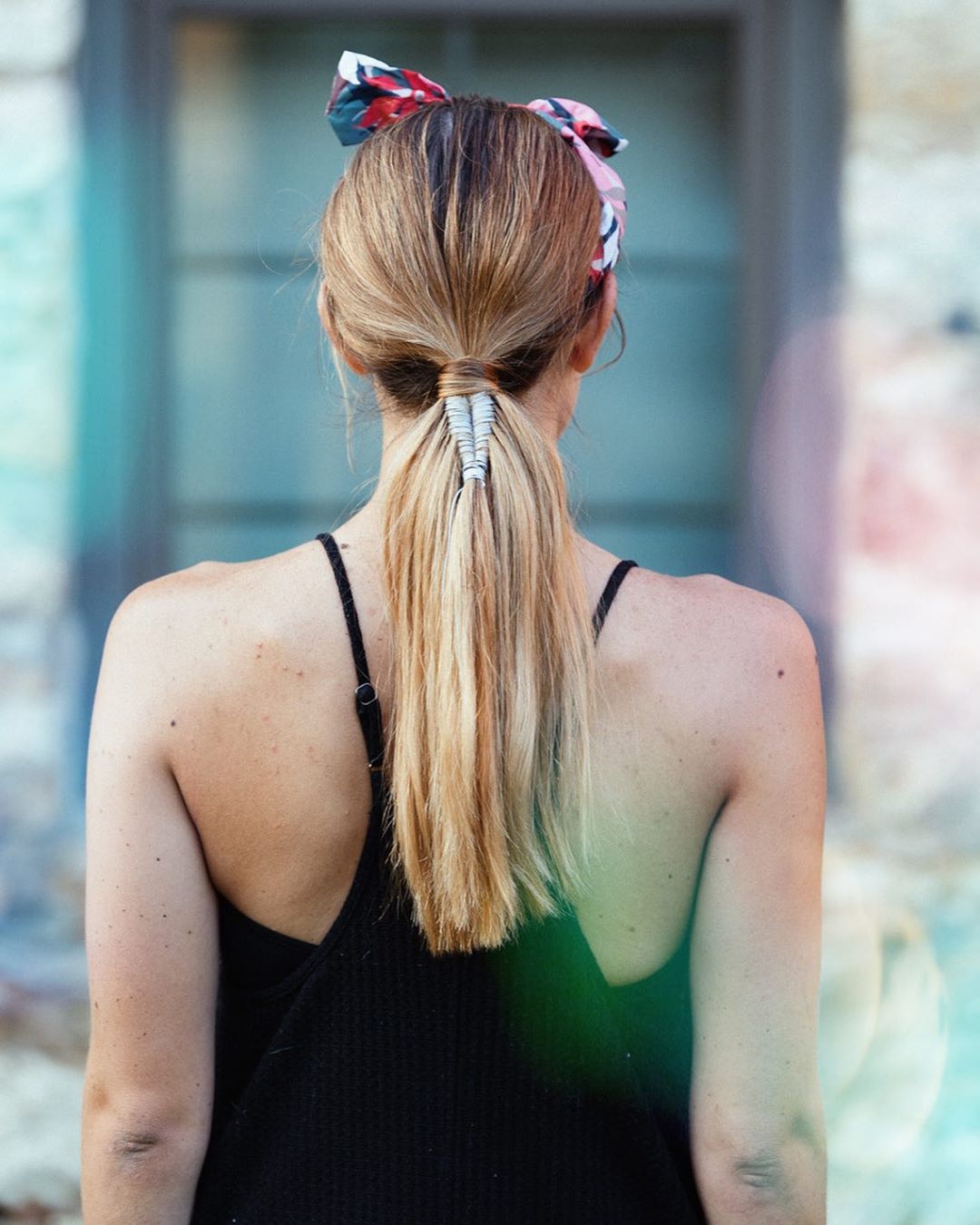 Here's another recent development in ponytail hairstyles. The feather ponytail. The name is obvious and the beauty of this hairstyle is that you really have to look at it to see it. It gives great volume to the ponytail and just enough spice.
11. Braided Woven Chunky Ponytail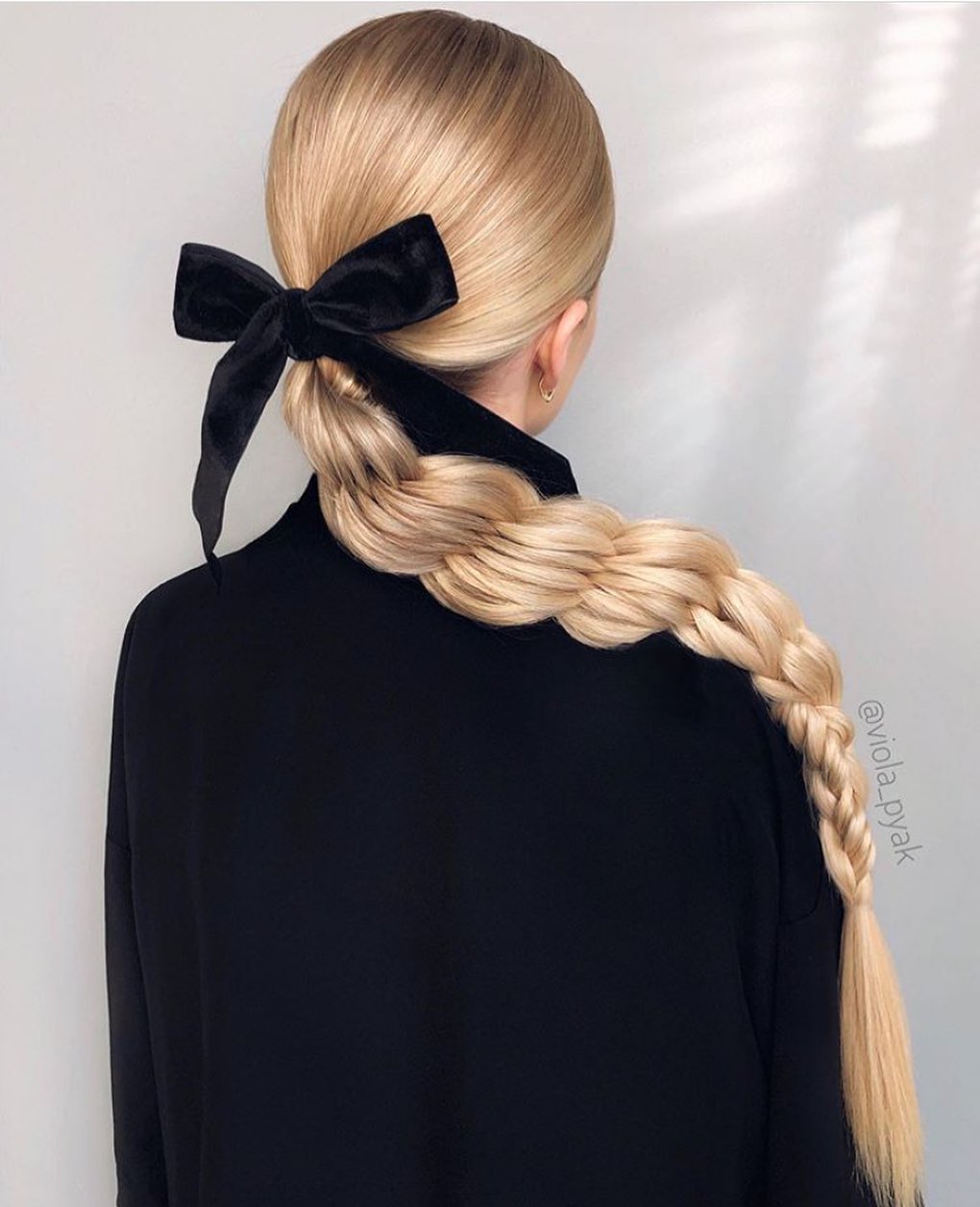 The way this ponytail is woven and intertwined is a true masterpiece. We couldn't find the name of this intricate, voluminous braids, but we hope they become more popular fast.
12. Dutch Braid With Stacked braids On Low Messy Ponytail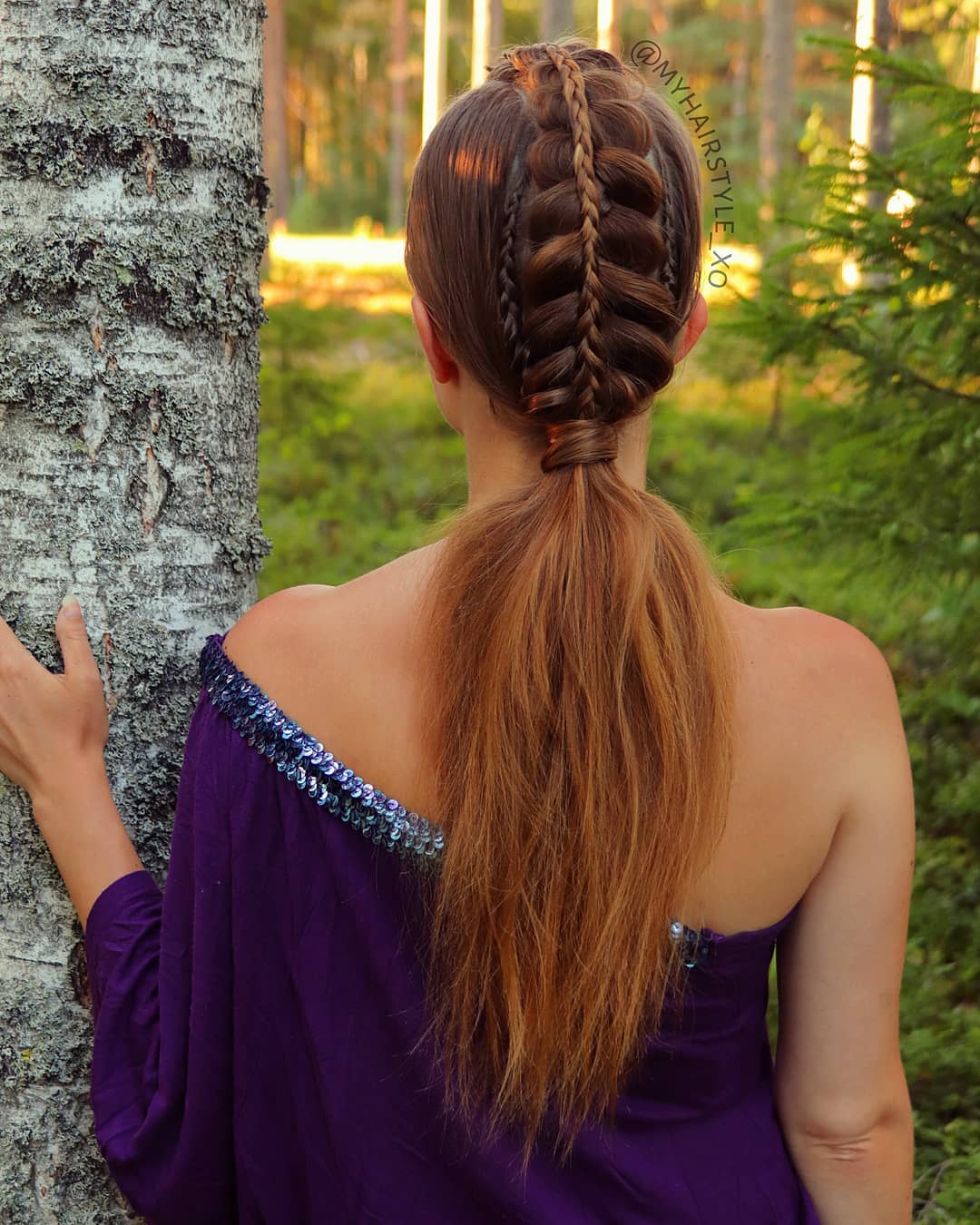 The ponytail in this hairstyle may be just messy, but it is crowned with a masterful combination of fine stacked braids. Combining chunky and thin dutch and French braids, this look is one for the books.
13. Ramrod Ponytail
We've heard the expressions "stand ramrod straight" and "hair standing on end" but we've rarely seen a ramrod standing ponytail. Well, now you have as well. This's like the pipe braid, only without the braids. Stunning.
14. High Ponytail With Cornrows And Colorful Extensions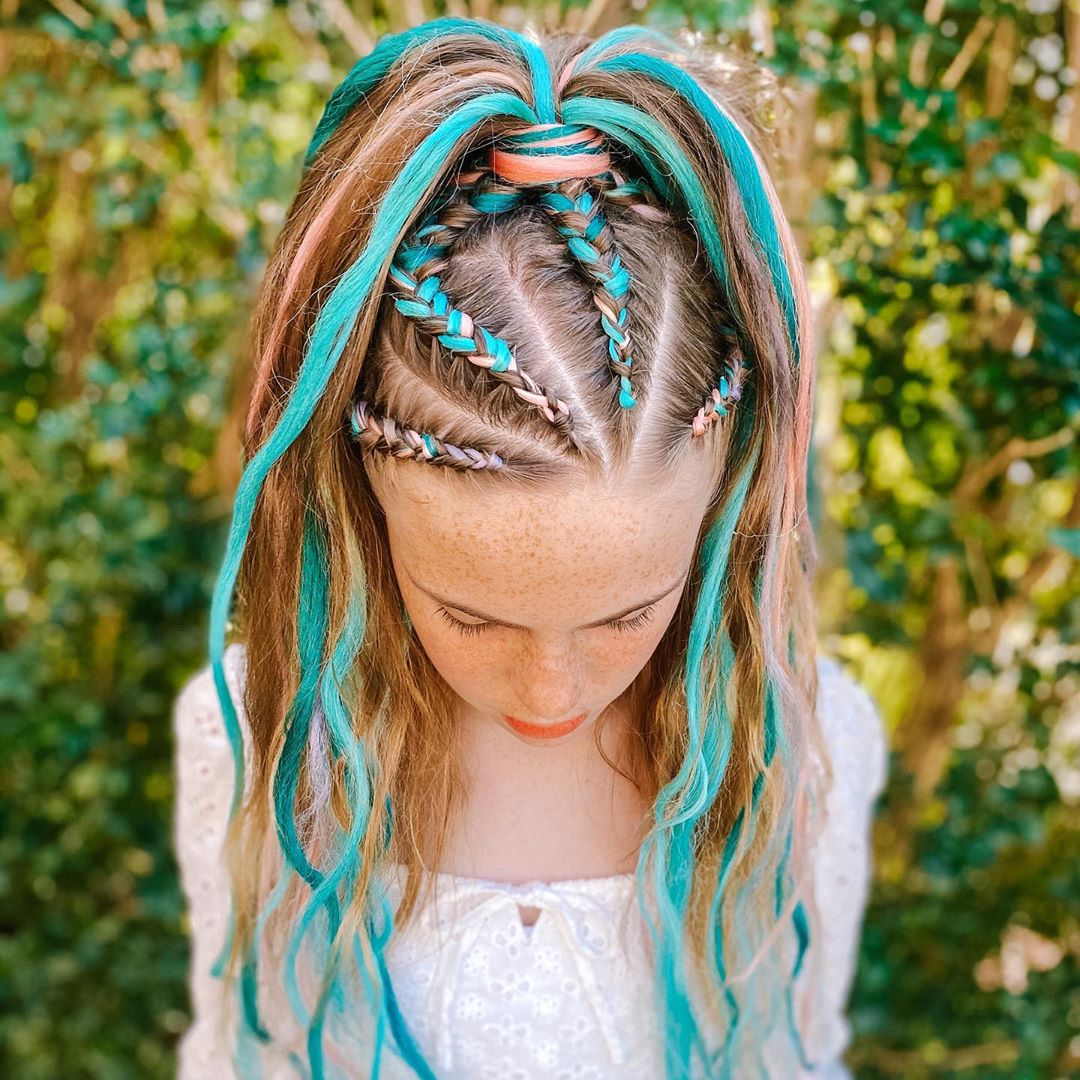 Cornrows and loose ponytail has become I common favorite combination and if you wear it often, here's a tip on how to make it more exciting. Add some brightly colored extensions and tie the ponytail high. It's like a colorful waterfall, anyone would enjoy styling.
15.  Pull-Through Mohawk Ponytail With Flowers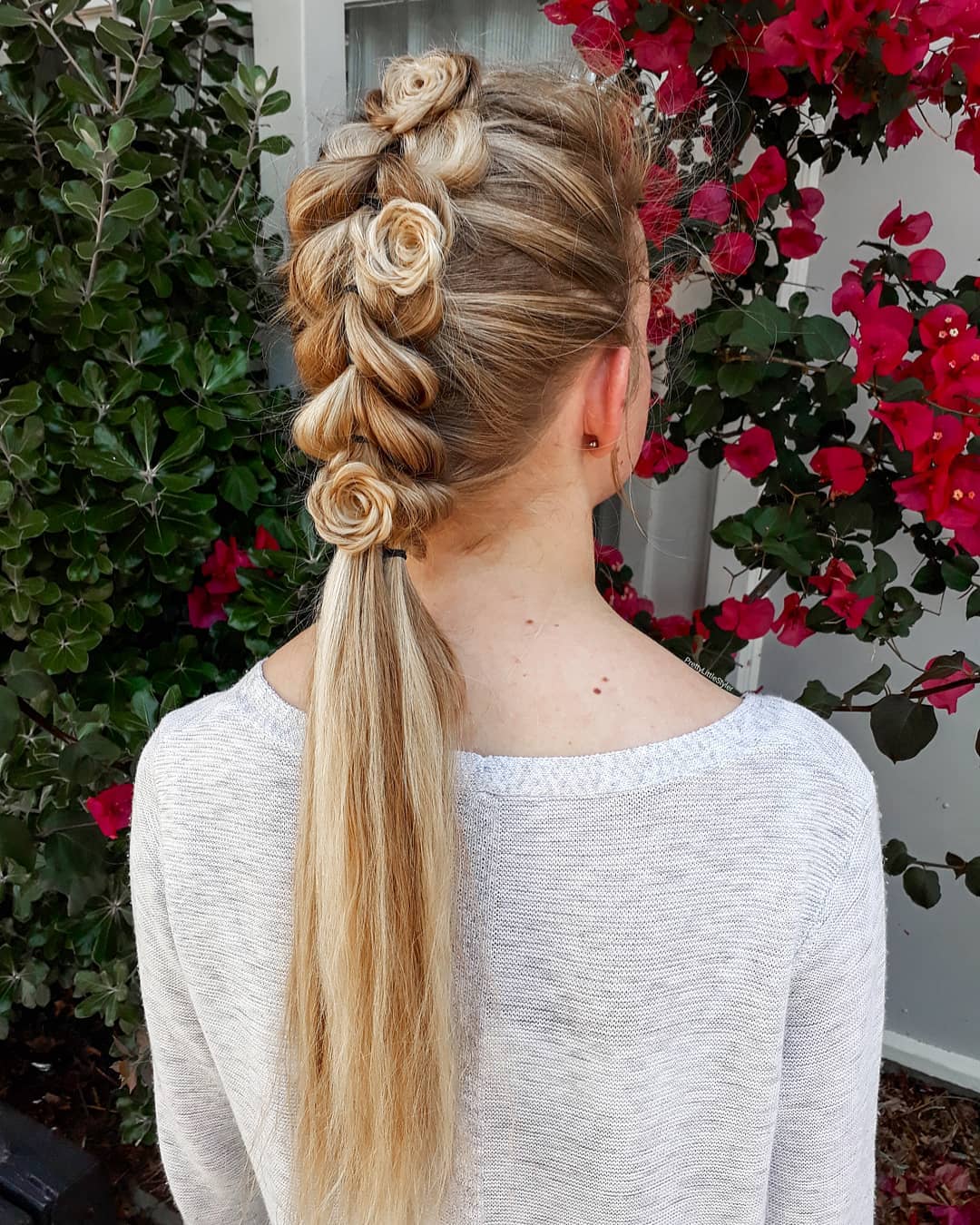 Fauxhawks can be elegant too. This pull-through braided fauxhawk does look quite elegant, paired with a few hair roses here and there, the result is a chick ponytail great for formal events and celebrations.
16. Natural Hair Invisible Ponytail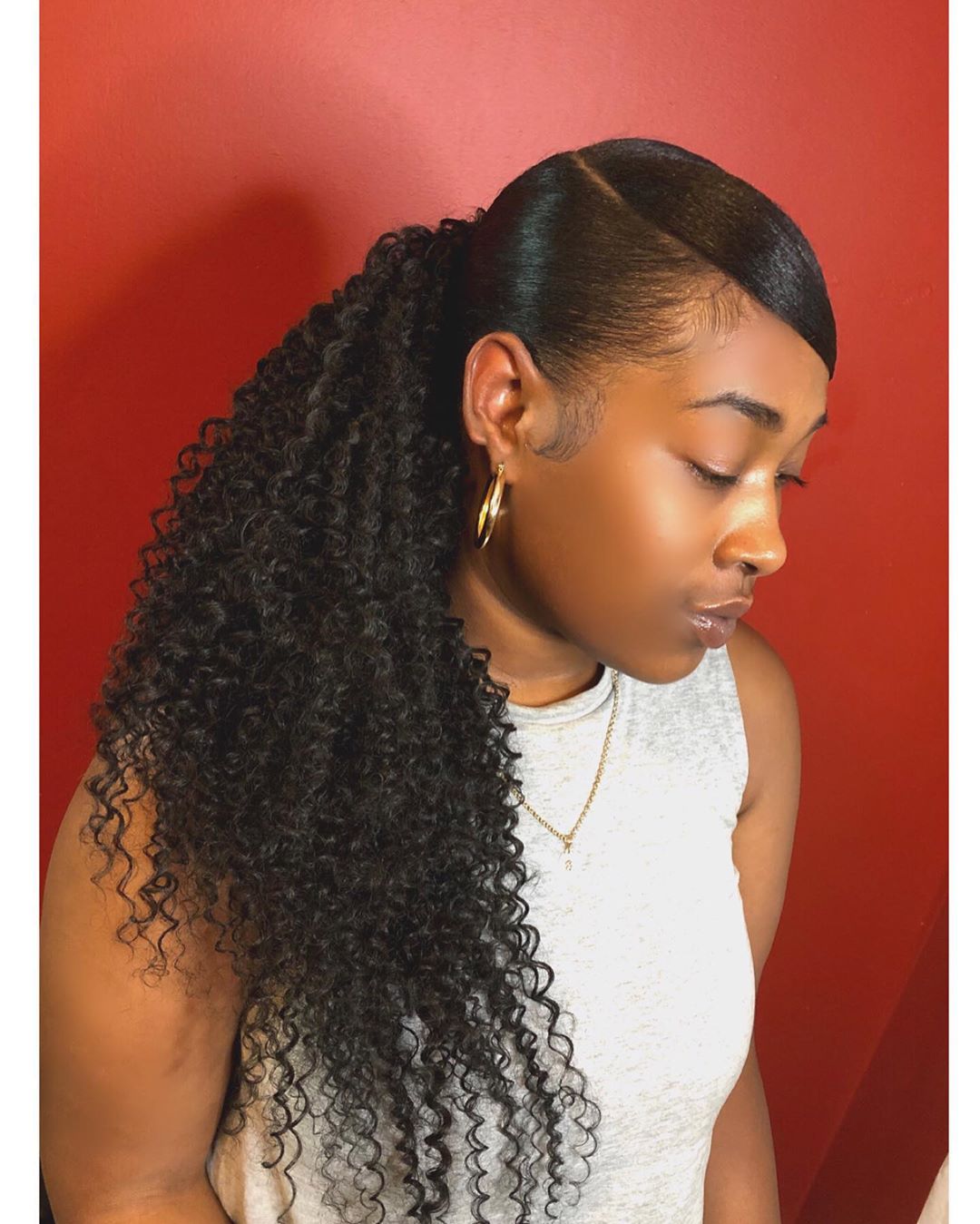 As we mentioned, loose ponytails on natural hair can get quite wild and messy. Which is fine if that is the look you're going for. Yet, even then you can achieve an elegance few can match. This invisible ponytail with sliked back hair and side slicked bangs is the envy of all straight hair ladies.
17. Corset Style DNA Braid With Loose Ponytail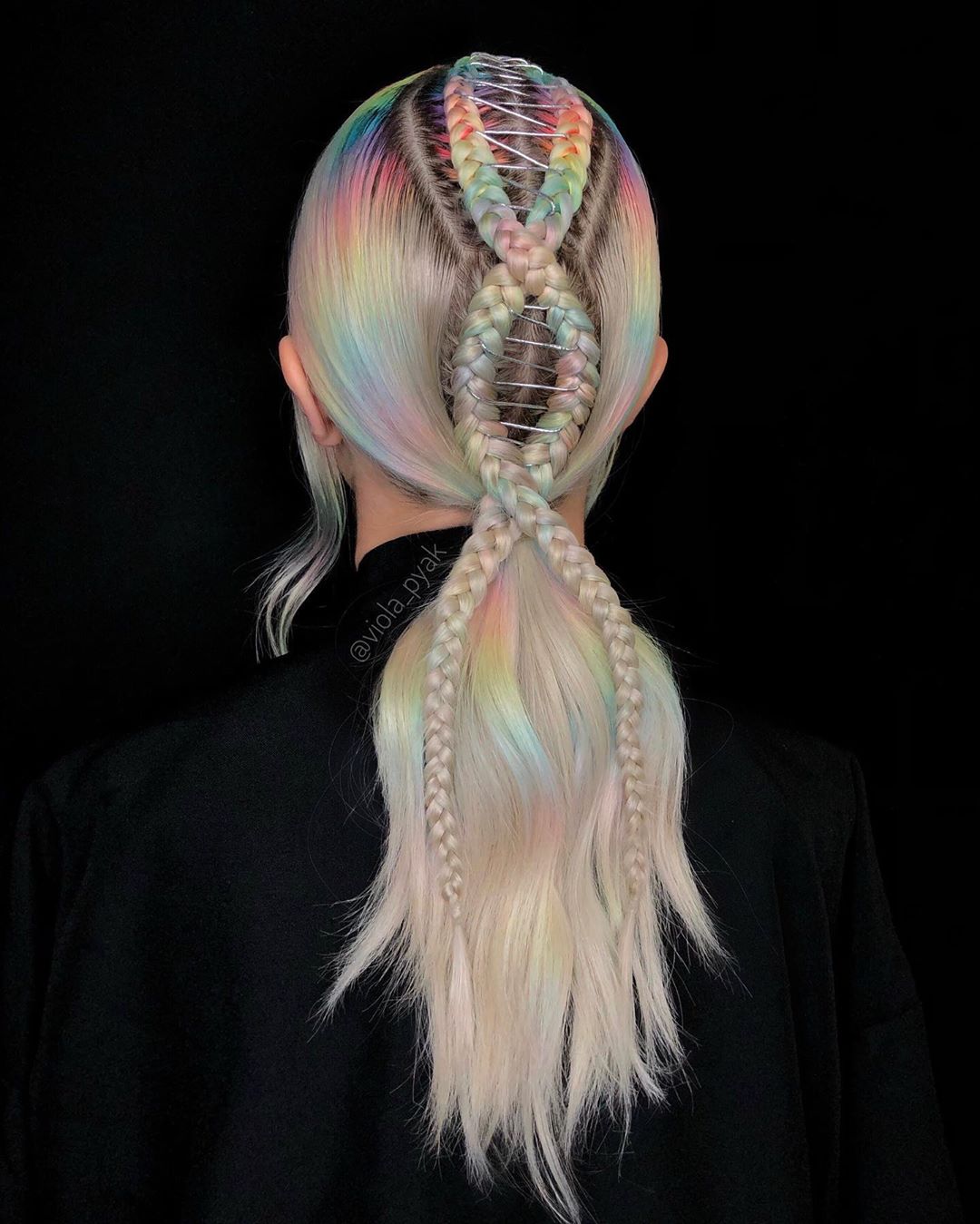 Talk about a double cortex. A stunning corset braid that looks just like a DNA strand, matching with a prism colored hair and loose low ponytail, and you have a hairstyle that's out of this world.
18. Diamond Braided Ponytail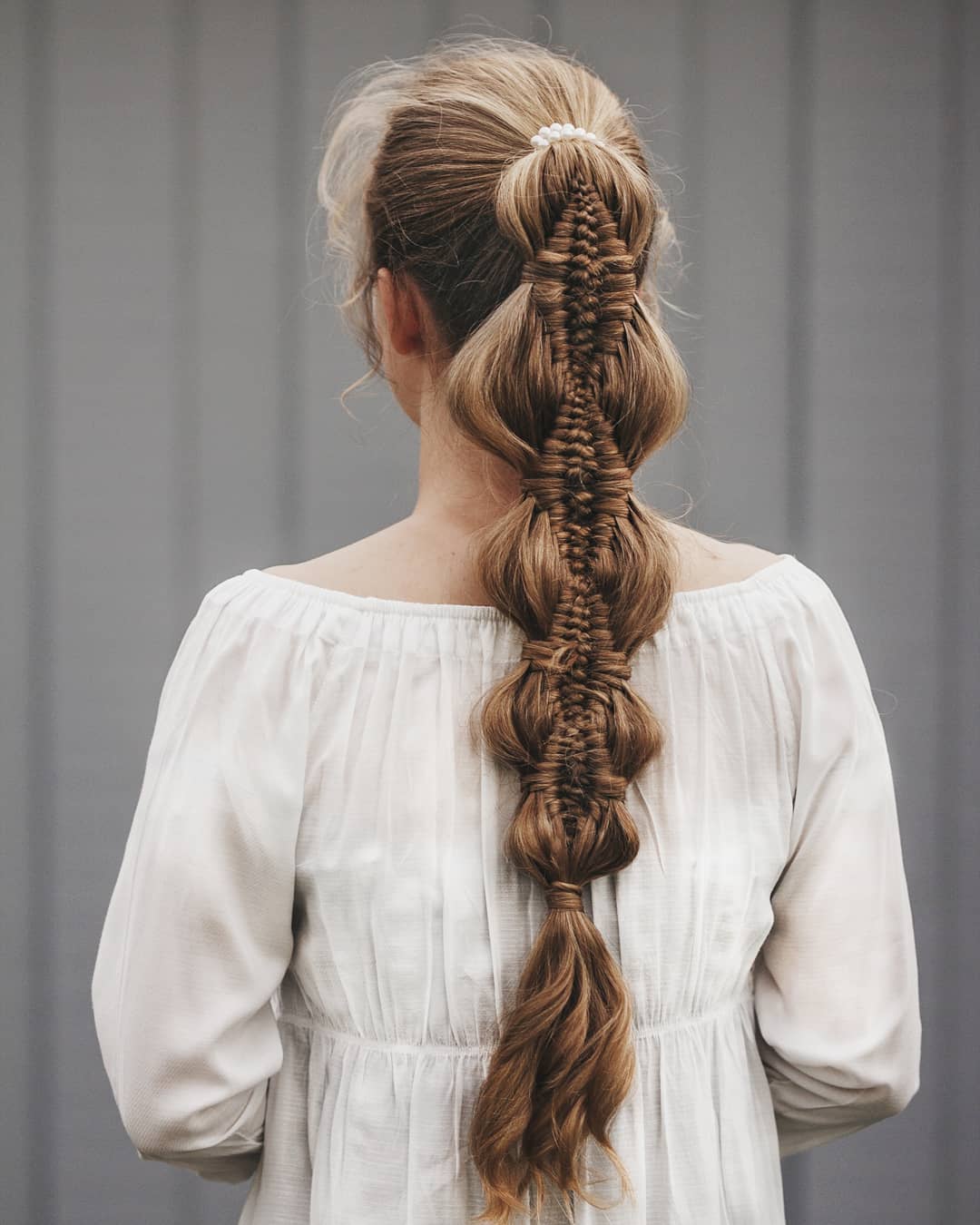 Here is another newcomer on the braid scene. The intricate diamond braid. Woven into the ponytail, it is a true gem of hairstyles.
19. Simple Bridal Criss-Cross Wrapped Ponytail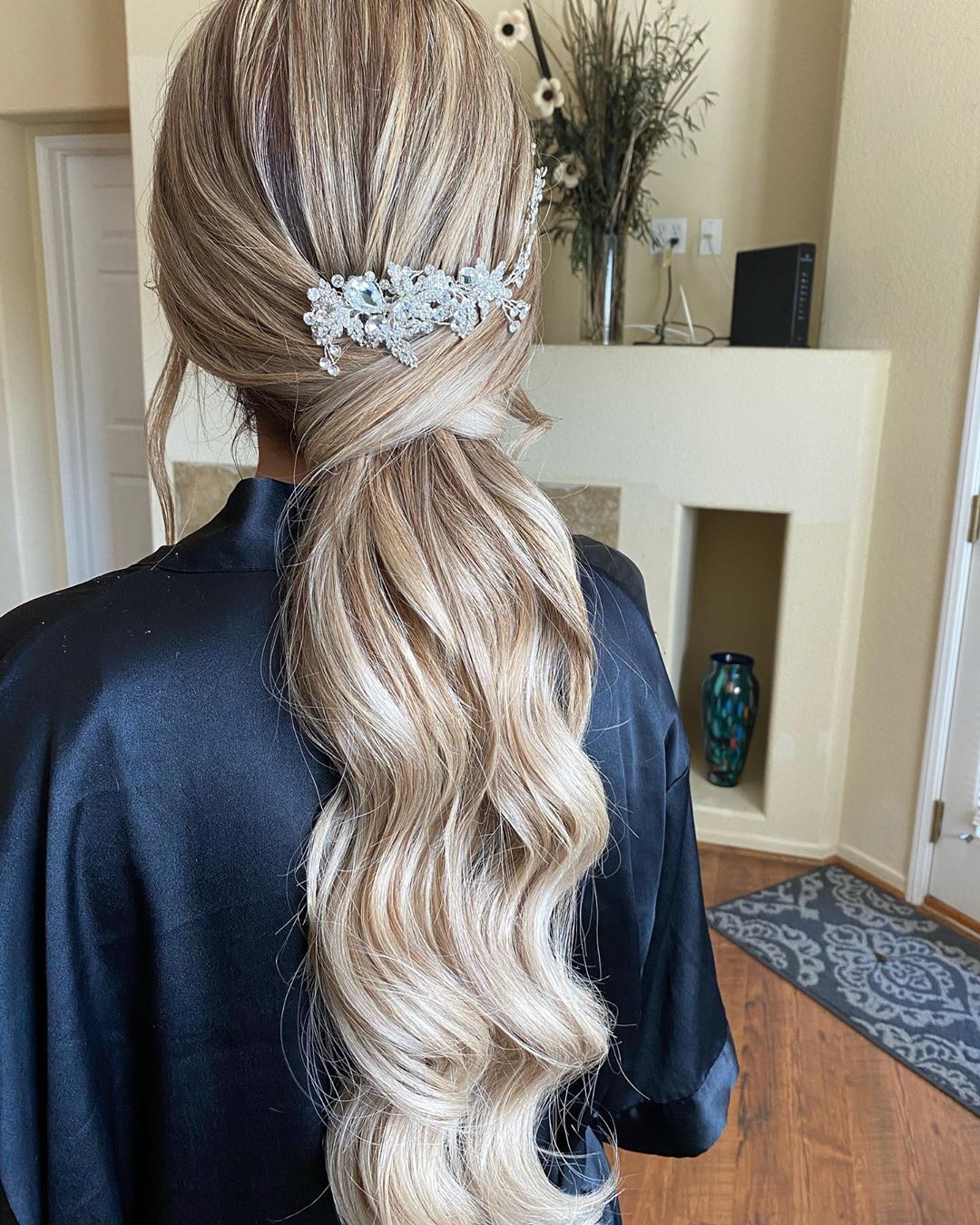 When we think of bridal hairstyles, we usually think of elaborate, yet elegant updos. That doesn't have to be the case. Just look at this stunning loosely wrapped ide ponytail, crowned with a jeweled Barrett. A special hairstyle for a special day.
20.  Waterfall Zigzag Ponytail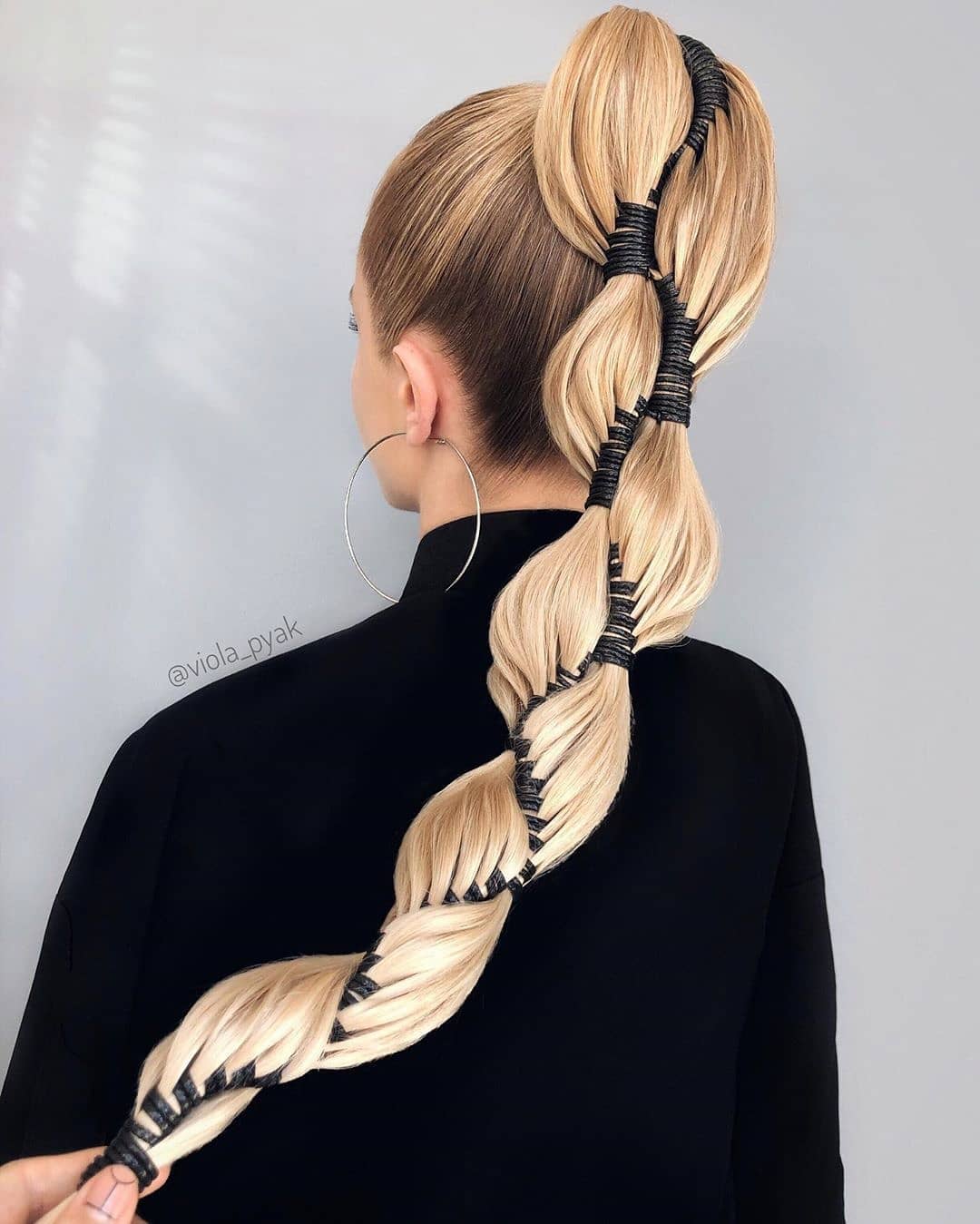 For our last ponytail we give you this trippy zig-zagged ponytail. Doesn't it look amazing? Two sections twisted with each strand connected to the opposite one, creating a uniformed textured ponytail with no braid in sight. Wow.
That's all the lovely ponytail hairstyles we have for you for now. Did we convince you that ponytails are not boring? What is your favorite ponytail style? Give us your thoughts and suggestions in the comment section below.