Traditionally, the choice of hair dye has always been various hues of already existing hair colors like blond, brunette, or ginger. Today that dye pallet has been greatly extended with hues and colors that are not the only natural, but you would never think of trying on your hair or even thought that they would actually look good. Hair dye colors like yellow, orange, gray, purple, blue, green, and pink, formerly seen only on cartoon characters are now available for all of us, and not just as wigs.
During the fall season, warmer hues are more popular than colder ones and this year there is one hair dye color that has been at or near the top for quite a long time. The precious peach hair color. Most would say that the reason for the huge popularity pink hair has gained over the past few years has been because it is the hair color of many anime characters. Since around March 2020, when everyone around the world was in one form or another forced to stay home, some people tried getting that peppy pink hair at home, without any professional help. The result for most was ending up with some peach hair.
So, peach hair rose up on the hair trend scale and became one of the more popular hair colors of the year. No wonder, it is a quite nice hue. If you're not one of the thousands who have dawned the peachy crown during the quarantine, you should really consider trying it.
Keep in mind that it is not exactly an easy hair color to achieve at home from the first try. You might need dyeing your hair a few times before you get the color you want, especially if your natural hair is on the darker shade. There are ways to shorten the process by bleaching your hair first, but that does tend to damage the hair far more than a few coats of dye, which is why it is not quite recommended.
Also, before you decide on a peach hue, make sure to do a good color comparison between it and the color of your skin tone.  And how many peach hair colors are there? Well, quite a few shades and combinations, and here we'll show you several of the more popular ones.
1. Solid Peach Jagged Cut
To get this peach tone, make sure that you have the best base for this color hue. It is a real peach tone, with the right hue to enjoy. The jagged cut will only contribute to the cool, modern, and fresh unique style you have always had. Combine it with the right lipstick tone to get the perfect look.
2. Violet and Peach Half And Half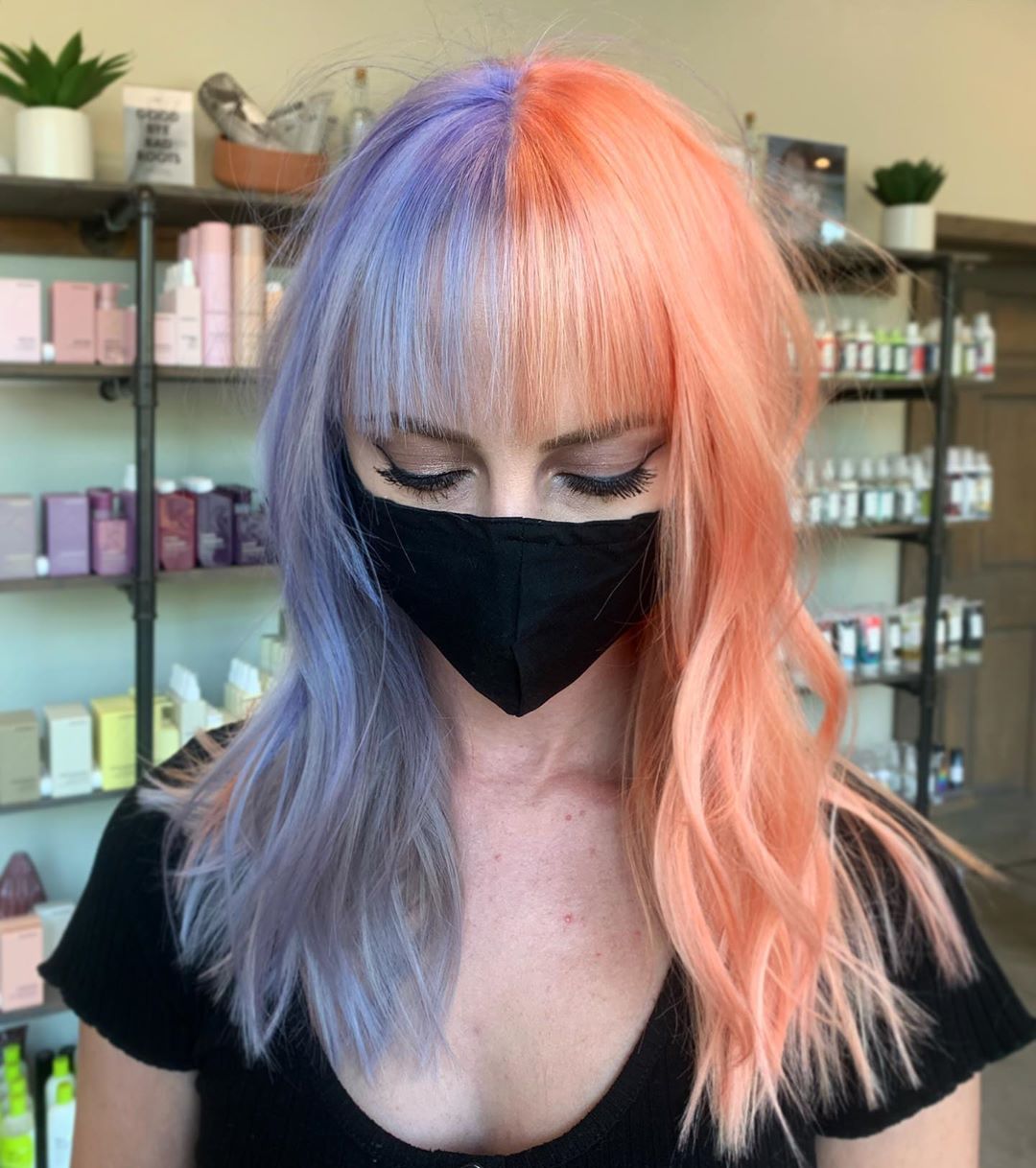 Half violet, half peach. If you can't decide on which color to choose, choose both and combine them in half. Like this, you will have both colors to enjoy as you have always wanted. It will be unique, yet cool and stylish at the same time. And as a bonus, it gives you a unicorn feeling.
3. Pastel Peachy Pink Curls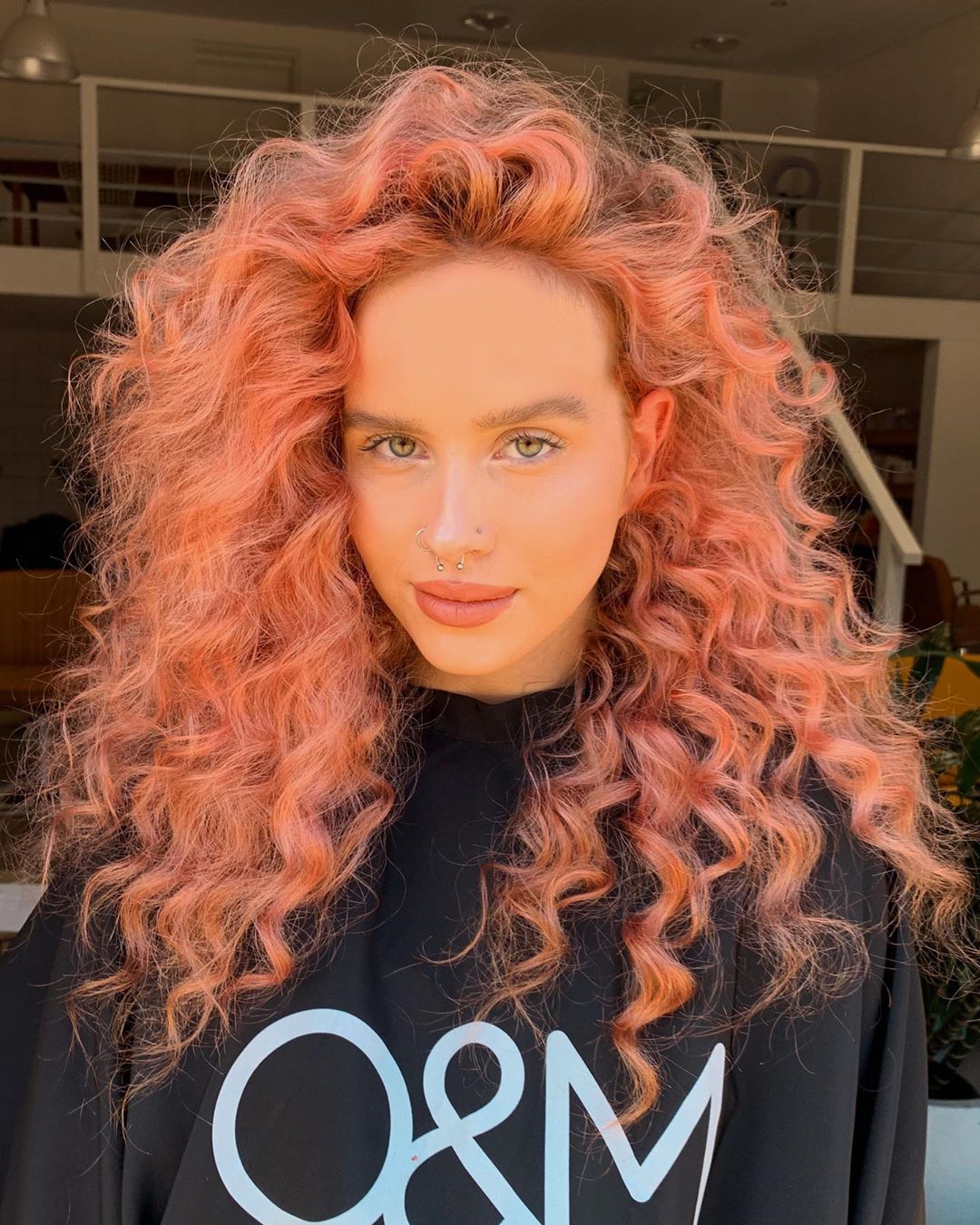 Enjoy your curls in a new vibrant peach color. It is unique, it is sexy, it is stylish. Simply dye your hair peach and let your curls flow freely down on your back. It will give you volume and fullness, as well as brightness and spring freshness wherever you are.
4. Baby Peach To Purple Balayage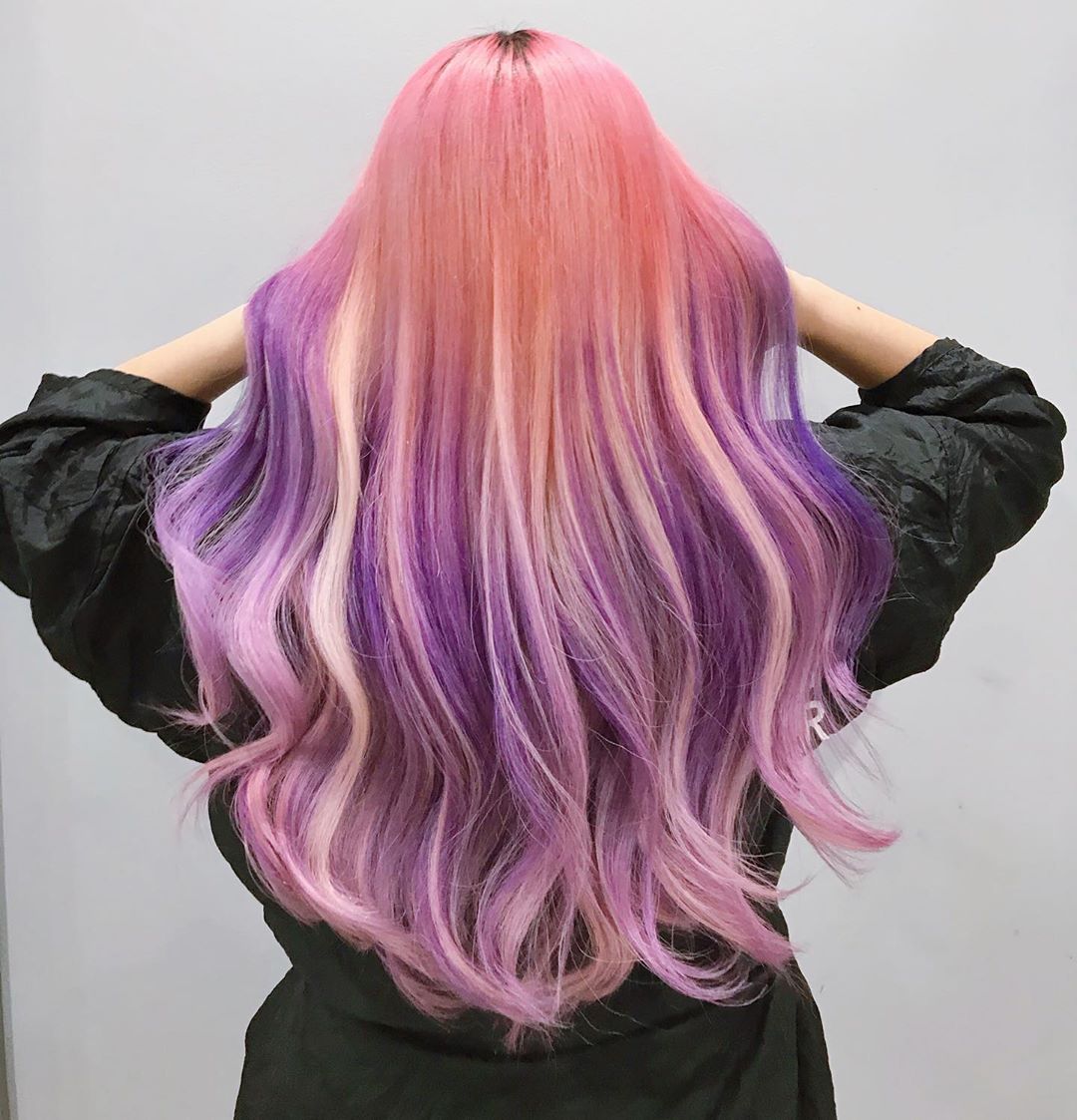 Many of you enjoy the baby hues and tones. This idea is perfect to fit exactly them. Baby peach hair on the top, slowly radiating in purple tones to the bottom. It's unique, it's eccentric, it's sexy, it's all you have ever imagined. And now, it is possible.
5. Half Peach Bangs On Brunette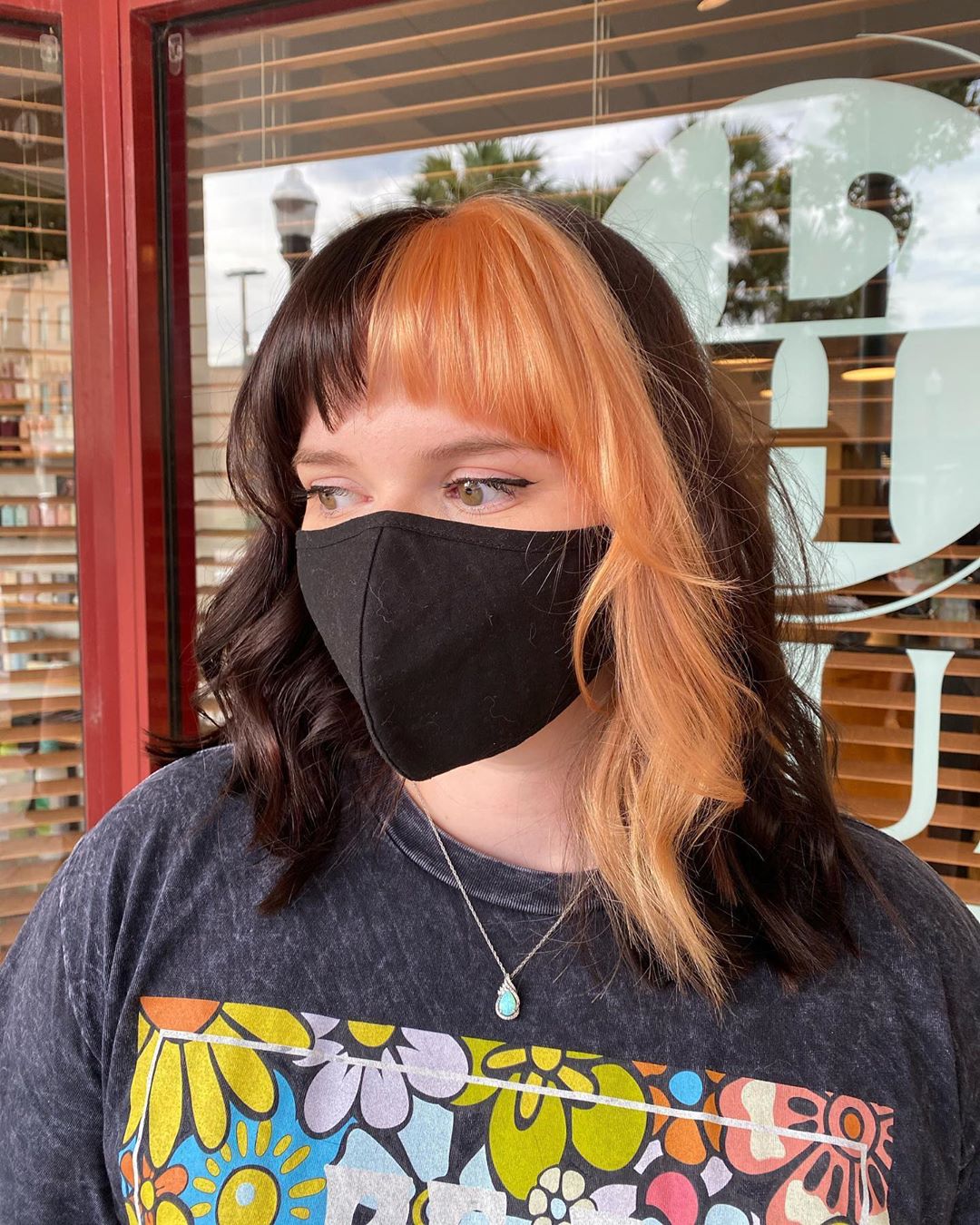 Whenever you want to add some freshness to your brunette, this is a perfect way to do it. Dye half of your bangs peach and let the rest of the hair brunette. You will be unique and cool and fully enjoy your refreshed style, especially in these times when wearing a face mask is a must.
6. Soft Peach Ombre Tips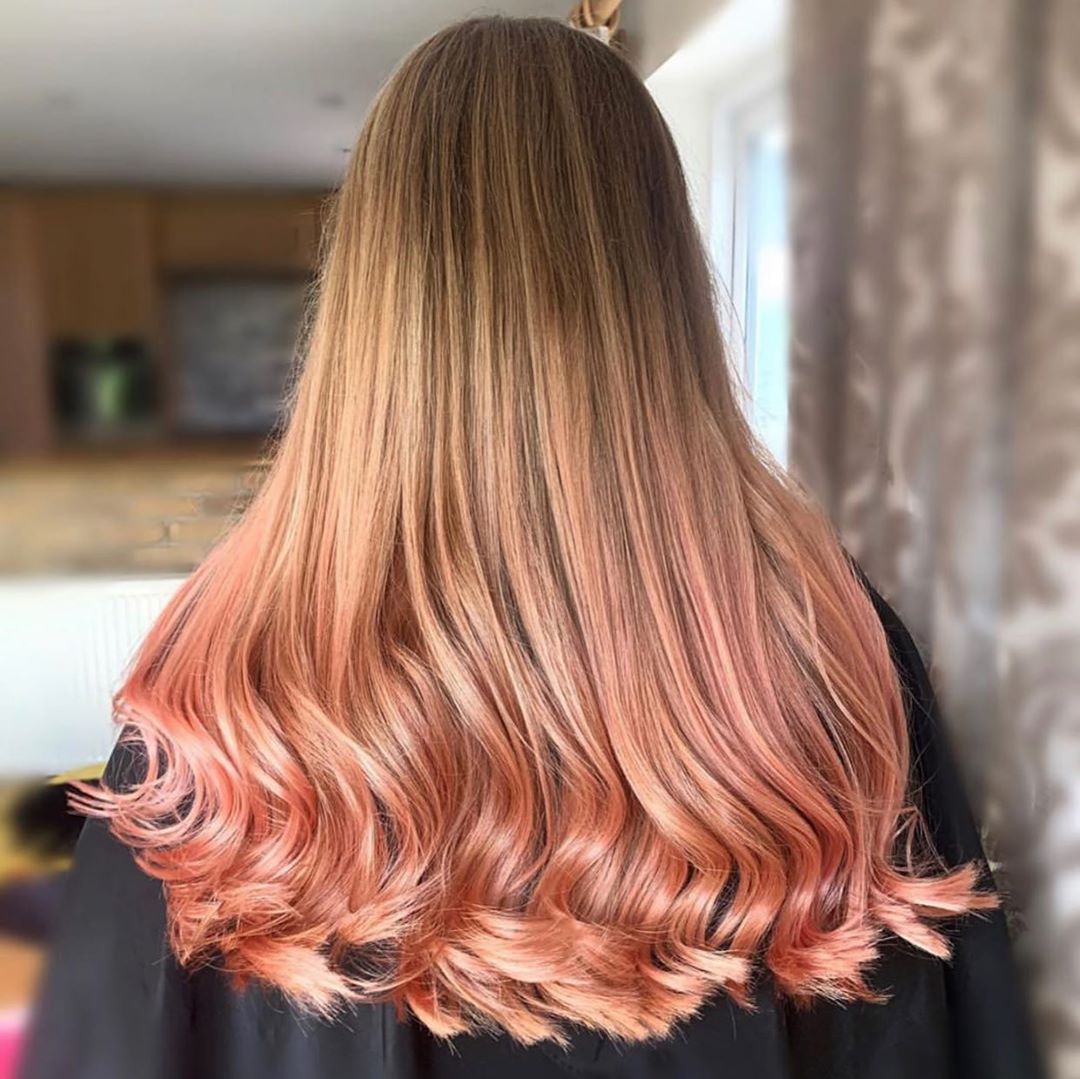 Here is another gradually radiating tones for your perfect hair color. Your ombre hair can slowly become peach to the bottom by balayage into peach hues. It may take a little more effort, but it's definitely worth it.
7. Pixie Peach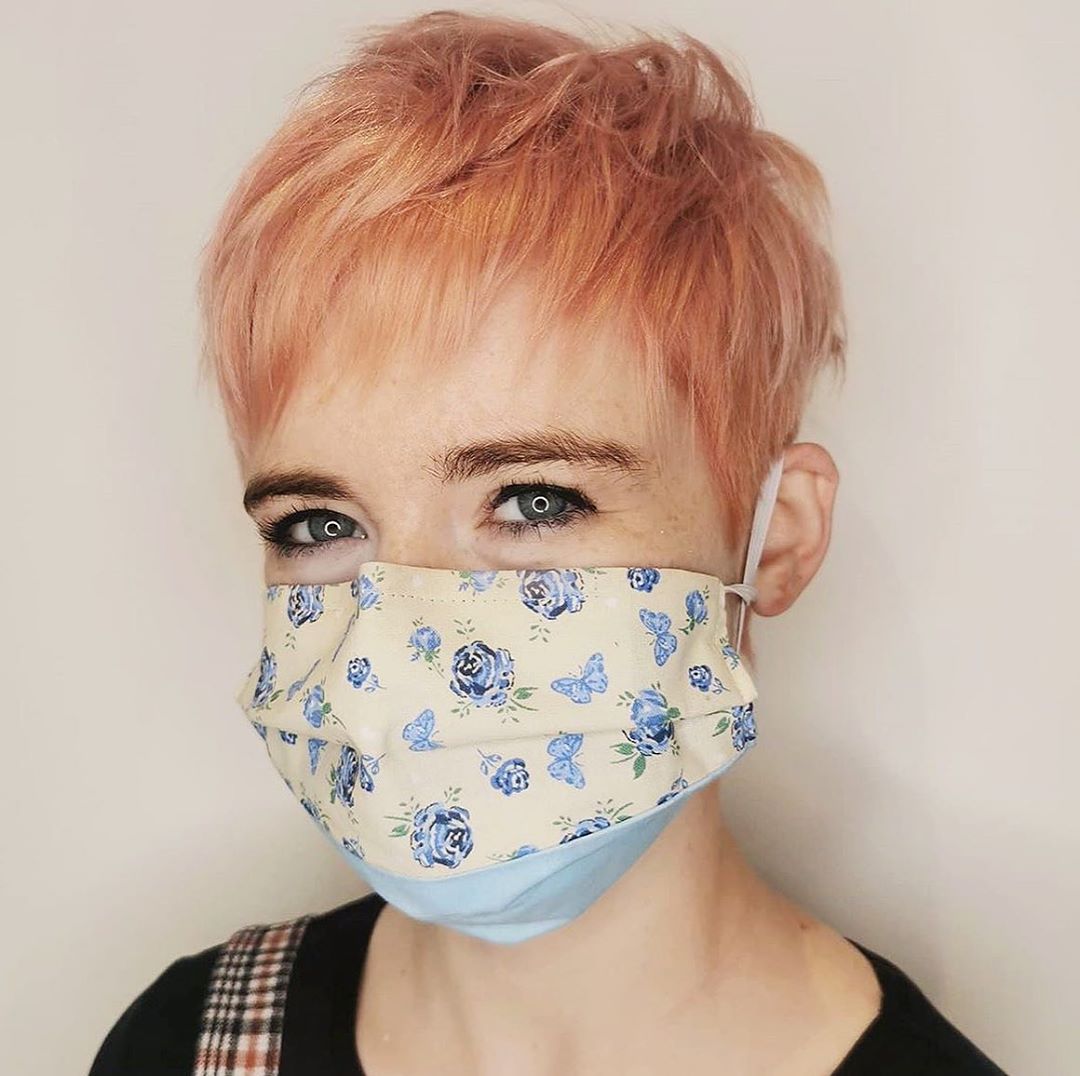 If you love playing with your length and color, here is how to be modern and sexy in these difficult times. Have a pixie haircut, dye it in peach, and ruffle it around with seemingly no order. It will take its own shape and form that best suits your face to make you glow wherever you are.
8. Peaches And Cream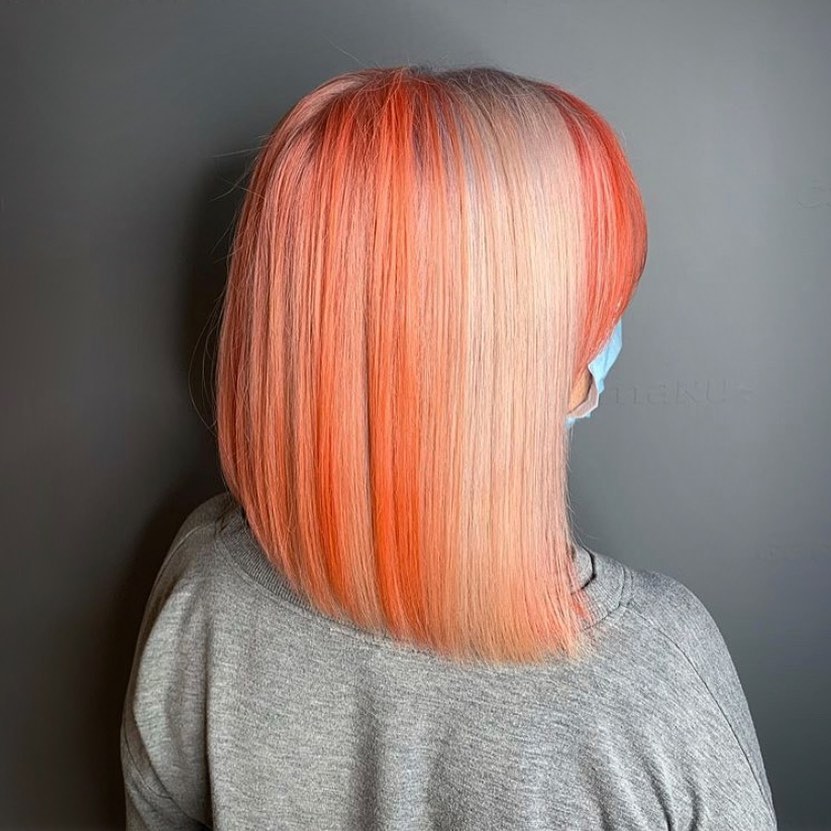 Sometimes your hair color doesn't need to be all in one tone. This is an example of how to make it two-toned and still look well combined and styled. Since peach and cream go together perfectly, this is a great way to combine these tones and get your perfect peach cream hair for your new look.
9. Peach Highlights On Brunette Honey Balayage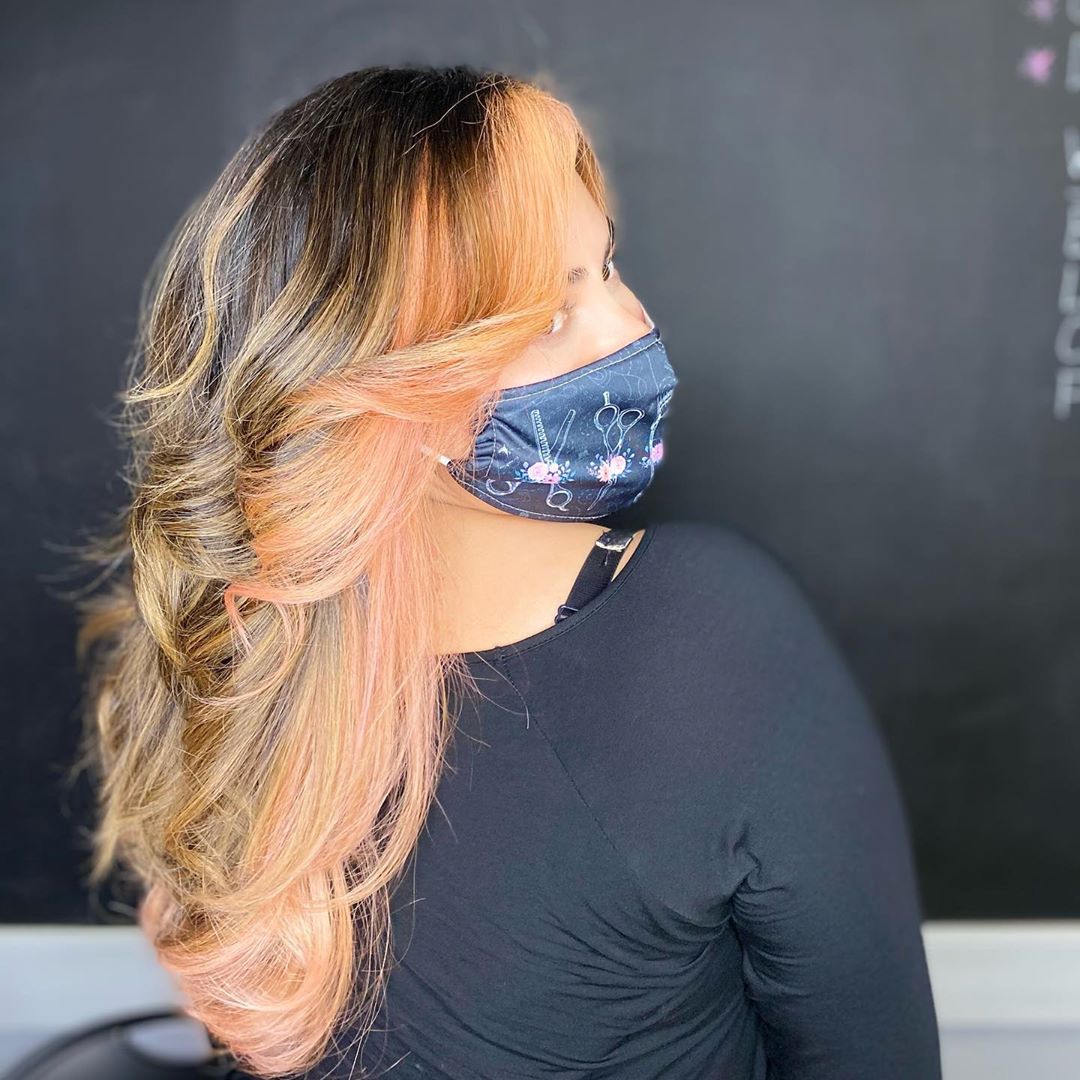 If you get tired of being brunette with honey ends, add some color to your style. Dye some peach tones to your tips or the under part of the hair and let it layer naturally so that you get the perfect blend of colors and tones. It will suit you perfectly and make you feel fresh and special.
10. Unicorn Peach With Dark Pink Highlights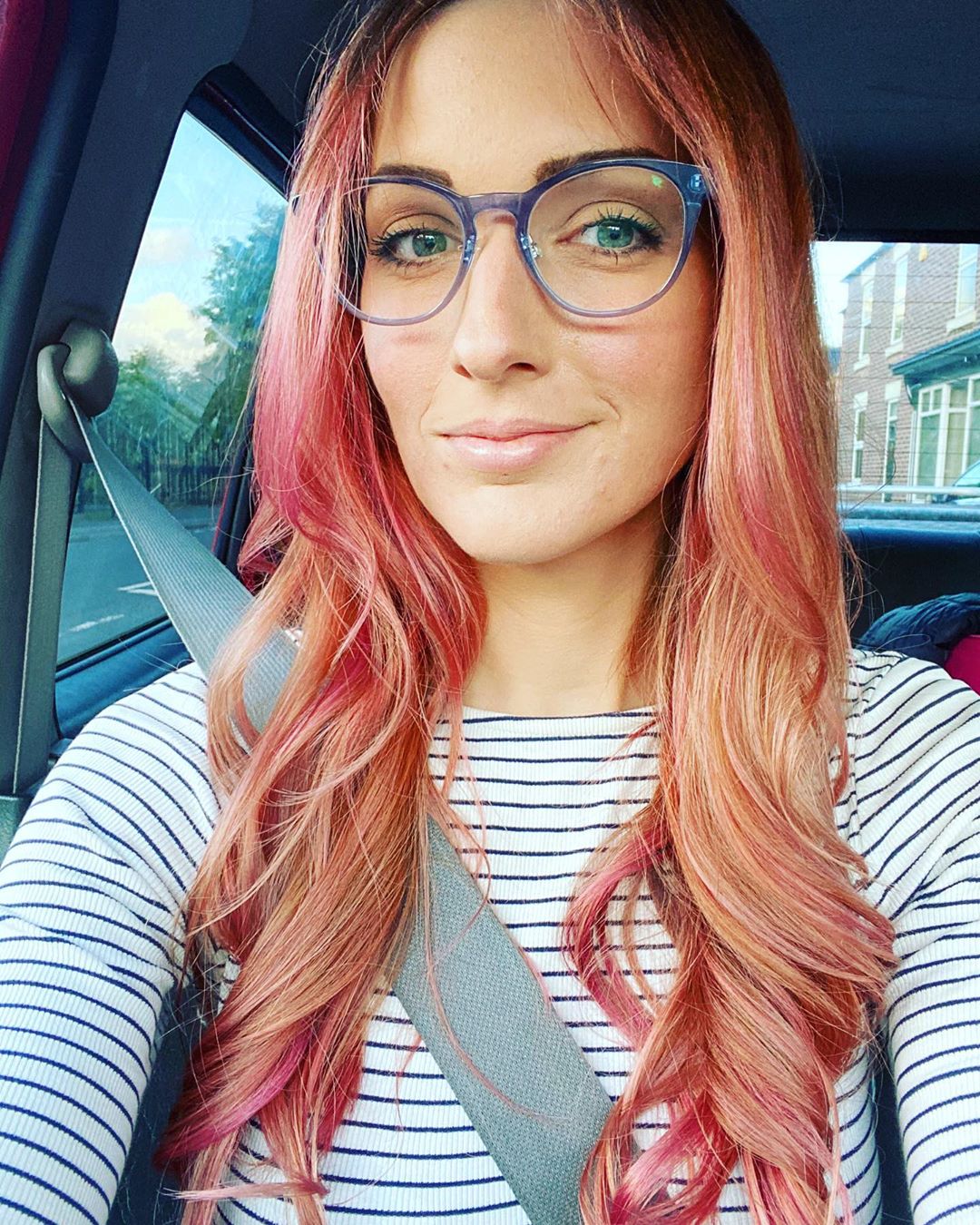 Unicorns are so in this season, that even peach hair can be called unicorn style. All you need to do to get the unicorn element is to dye some dark pink highlights into your peach trims and let them blend evenly with the rest of the hair. It will create the look you have always wanted.
11. Neon Peach Pixie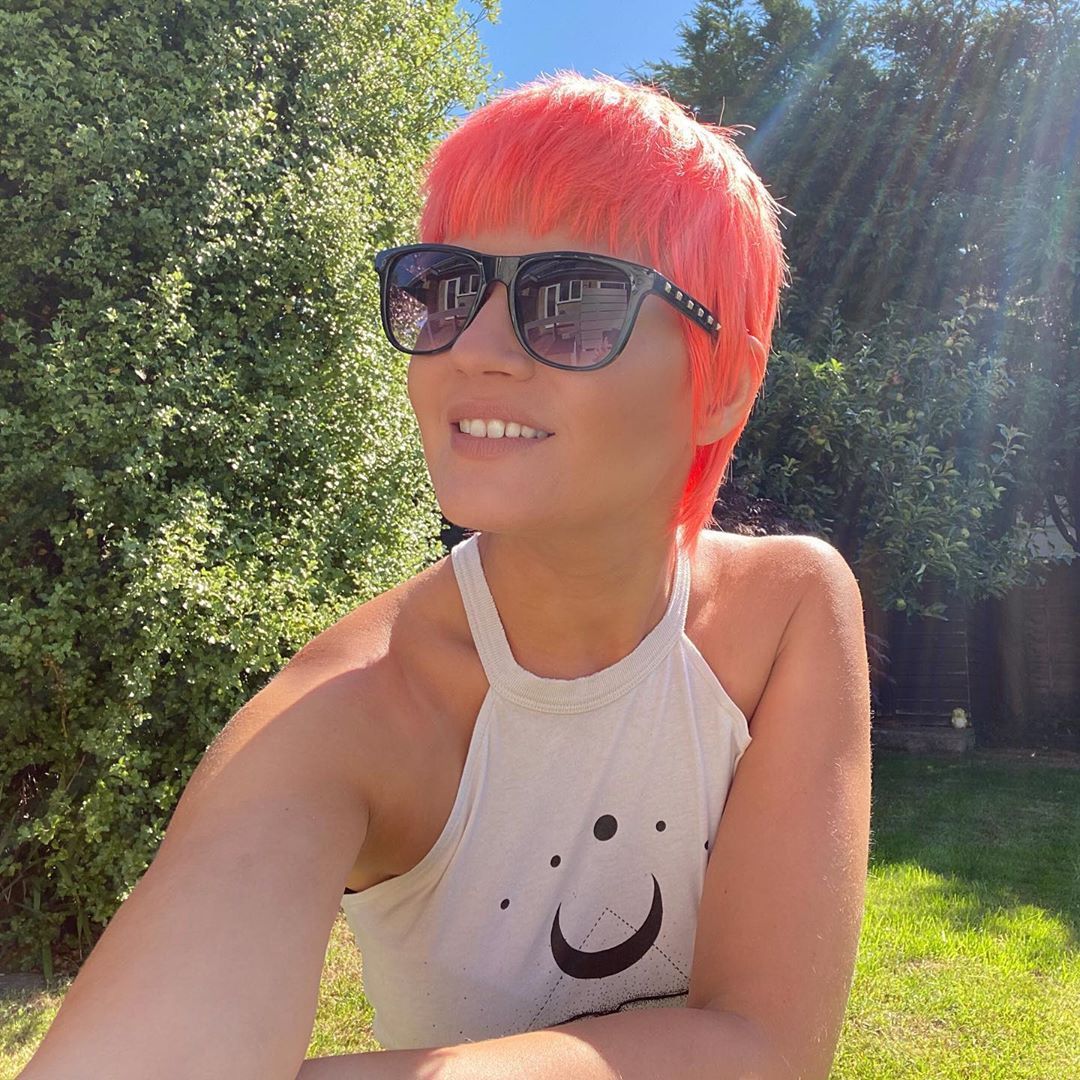 Neon is slowly getting into style and everyday life. So, this neon peach pixie style is one of the most modern and popular styles you can think of. It is sexy, cool, popular, and unique, so you better enjoy it as much as you can and as long as you can before it fades away.
12. Sun-Kissed Peach Hue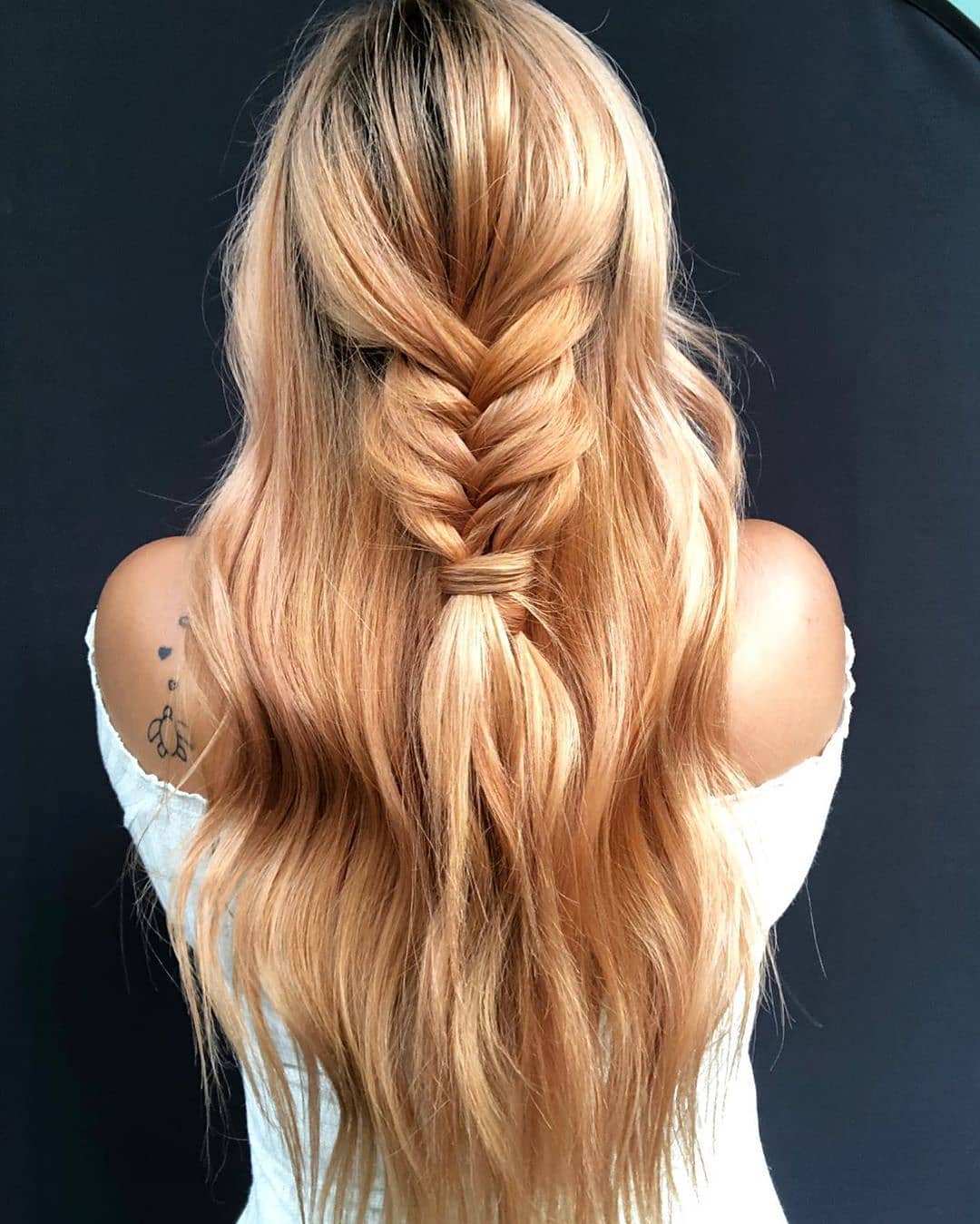 Not everyone loves strong peach tones. Sometimes all you need to feel fresh is the slightest tone of new sunshine in your hair. With a simple minimal peach hue, you will get sun-kissed toned hair and feel perfectly happy with your old-new hairstyle.
13. Peachy Hues Of Fall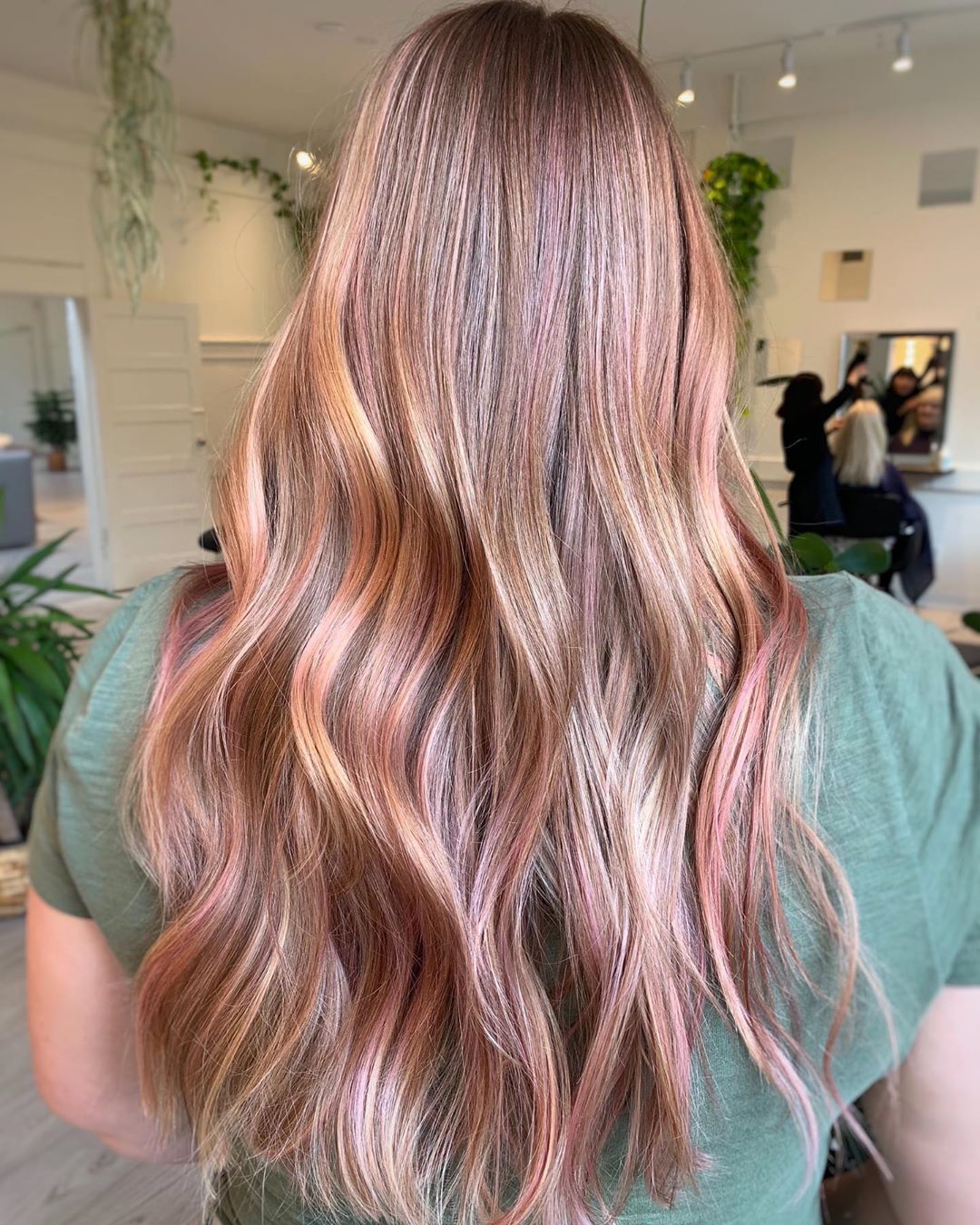 PEach is usually considered a spring color, but with the right tone, it can easily become a fall trend. Combine peach tones with darker red and pink hues to get the perfect fall look this season. You can be stylish and modern all at once.
14. Neon Dark Peach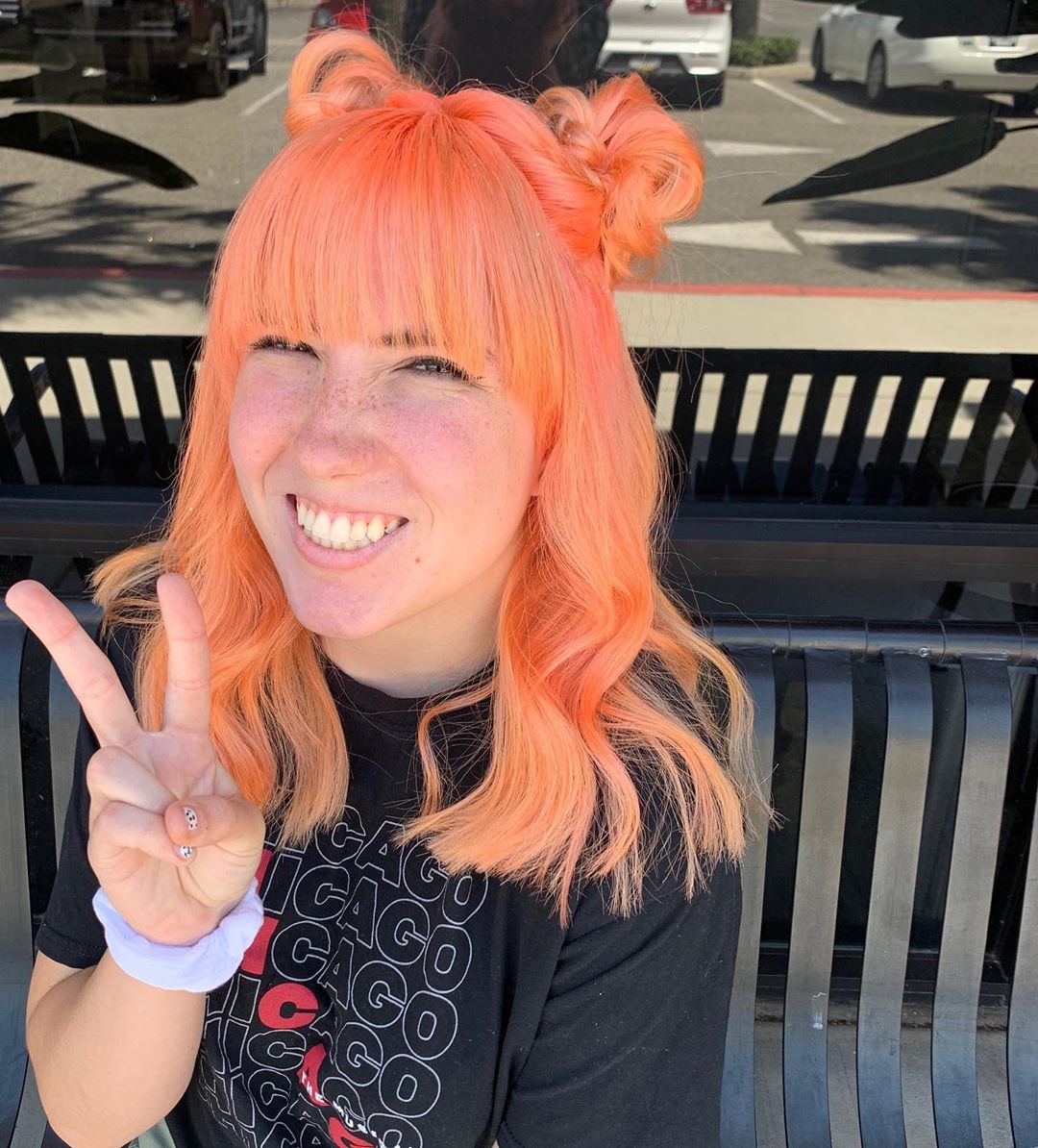 This idea is perfect for the younger generations. It is neon, it is peach, it is cool. Even if you add fringes, some Minnie Mouse pigtails, and off you go to the perfect outing there is for you. You can wear this style at school or while hanging out with friends without being seen as a clown. So, enjoy it!
15 Soft Peach With Pink Highlights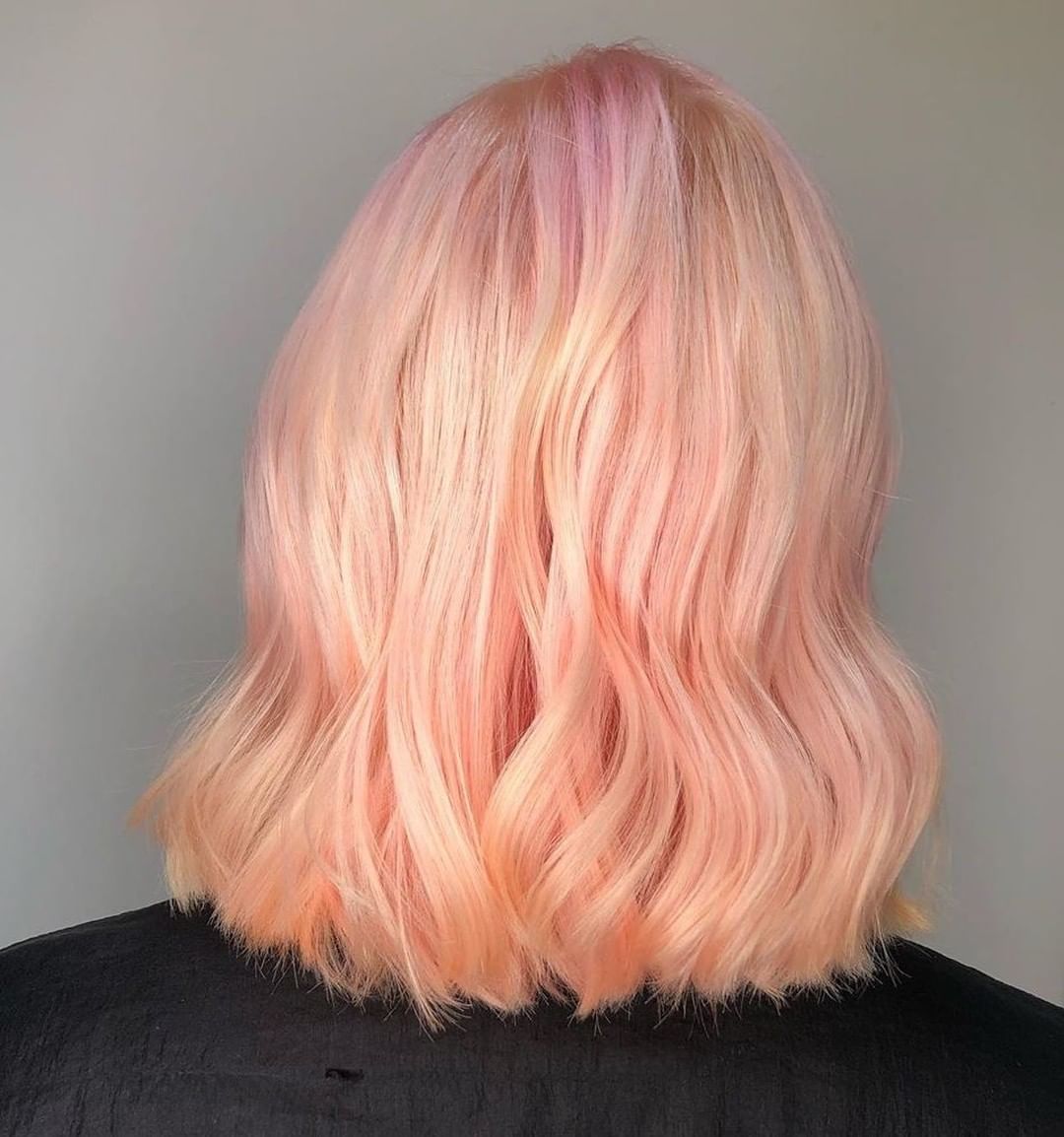 Blond, but not really totally blond. This is perfect for you. Add some peach hue to the blond dye and create this soft peach color. Add some soft pink stripes to make it even cooler and unique and break the blond-peach blandness.
16. Peachy Balayage on Amber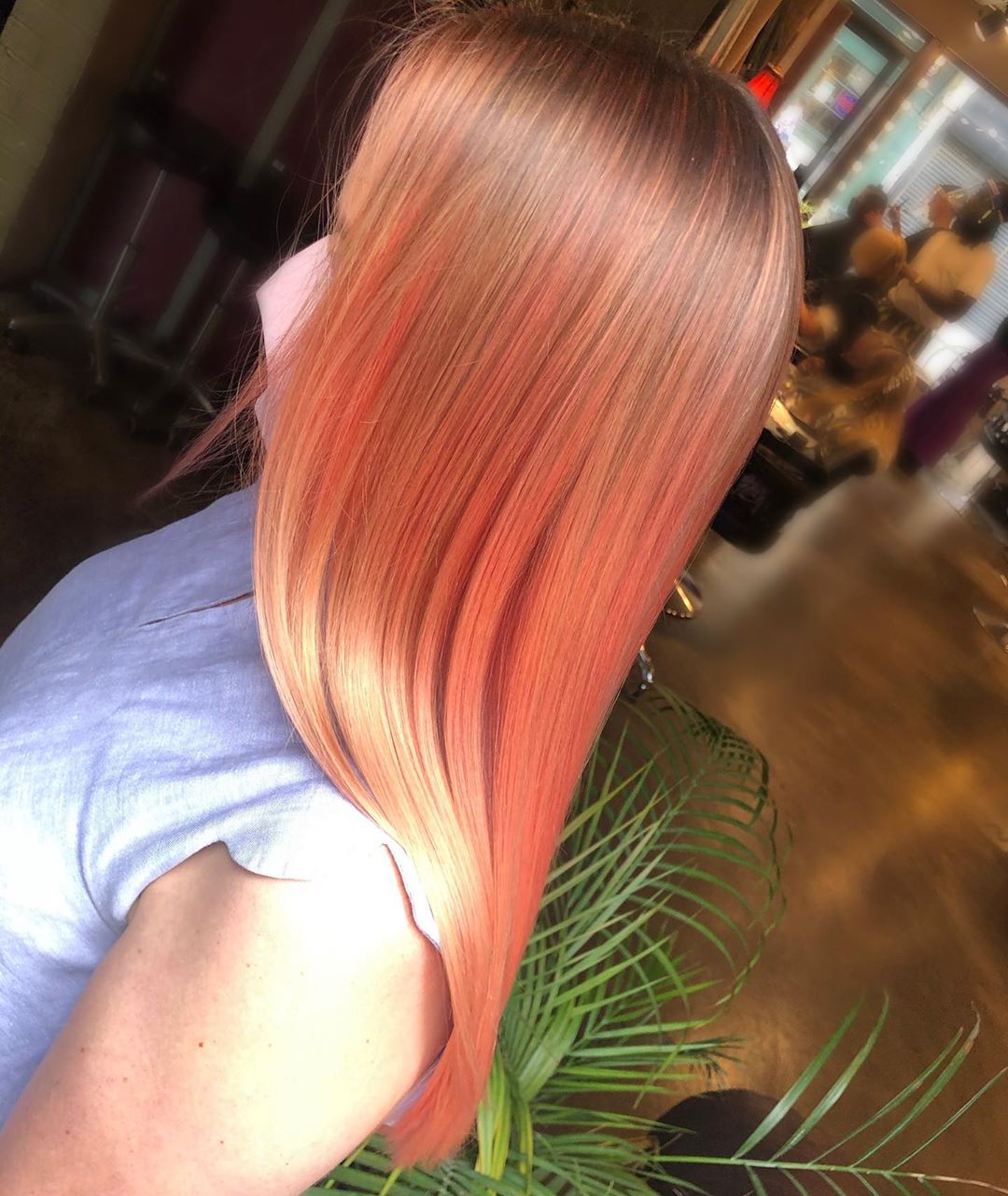 Once you get bored of your amber hair, balayage it with peach. It may take a while to get a full peach hair, but it will be interesting to gradually tone it and let the other get used to your new style.
17. Peach and Yellow Spikes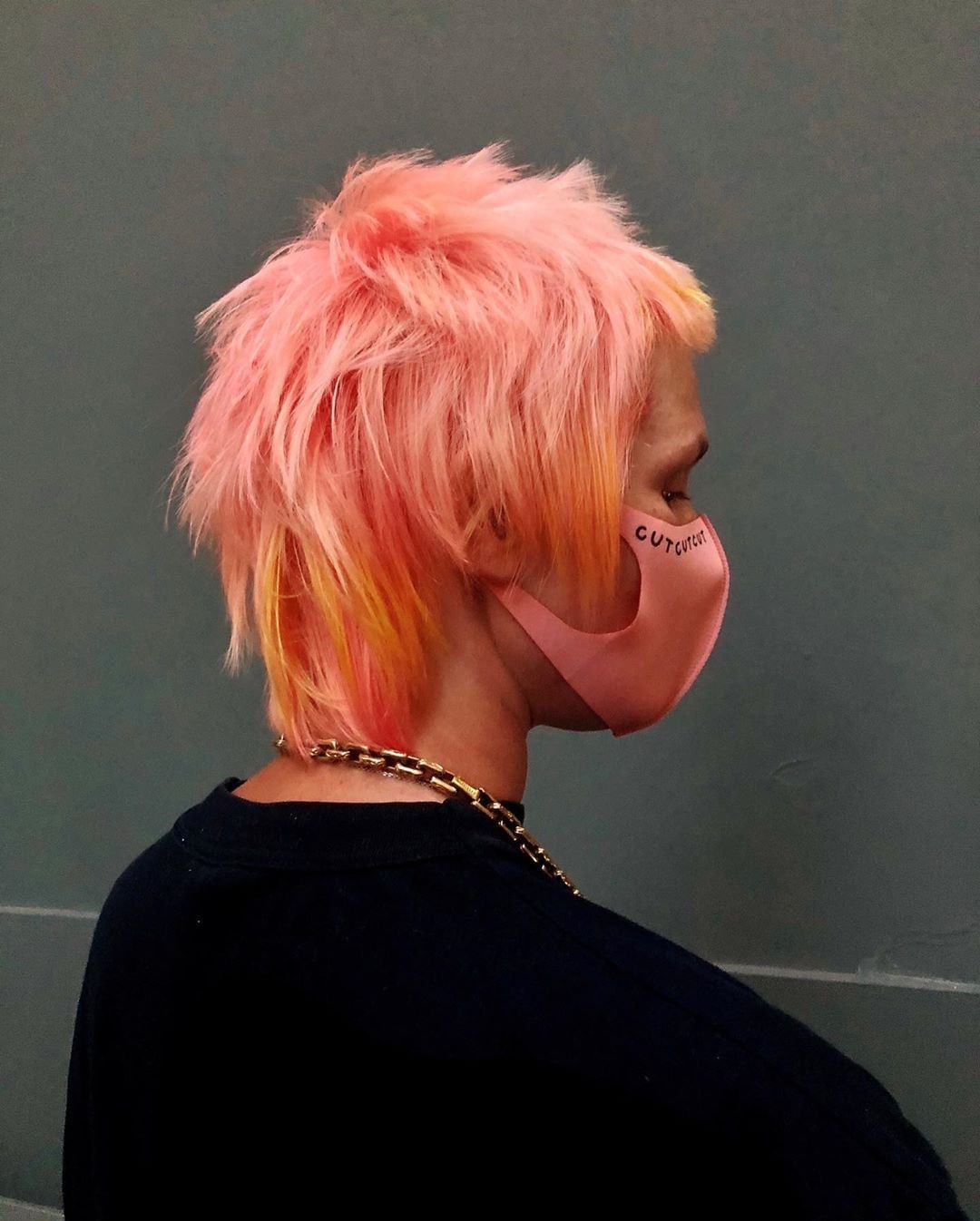 For the brave ones, this idea is perfect to get into your brand new style. Dyed peach hair with yellow spikes will no longer be considered a parrot color, but rather a modern and cool look of a young brave woman. Enjoy it to the max!
18. Platinum With Peach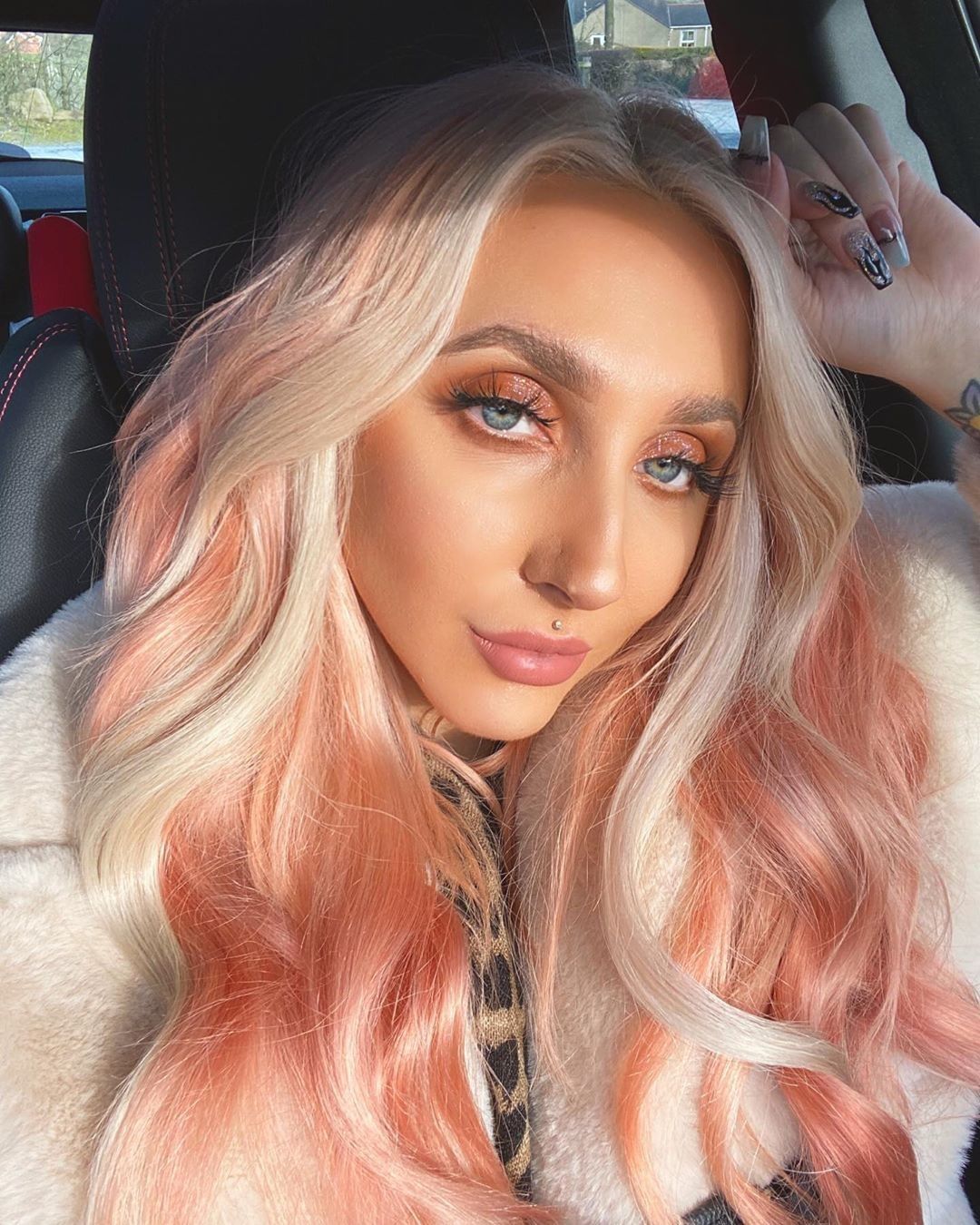 Play around with your platinum hair as long as you like. This peach added tone will give it a new charm and make it look fresh and sexy throughout. Combined with the right makeup and outfit it will be a perfect addition to your elegant style.
19. Coral And Peach Balayage Combo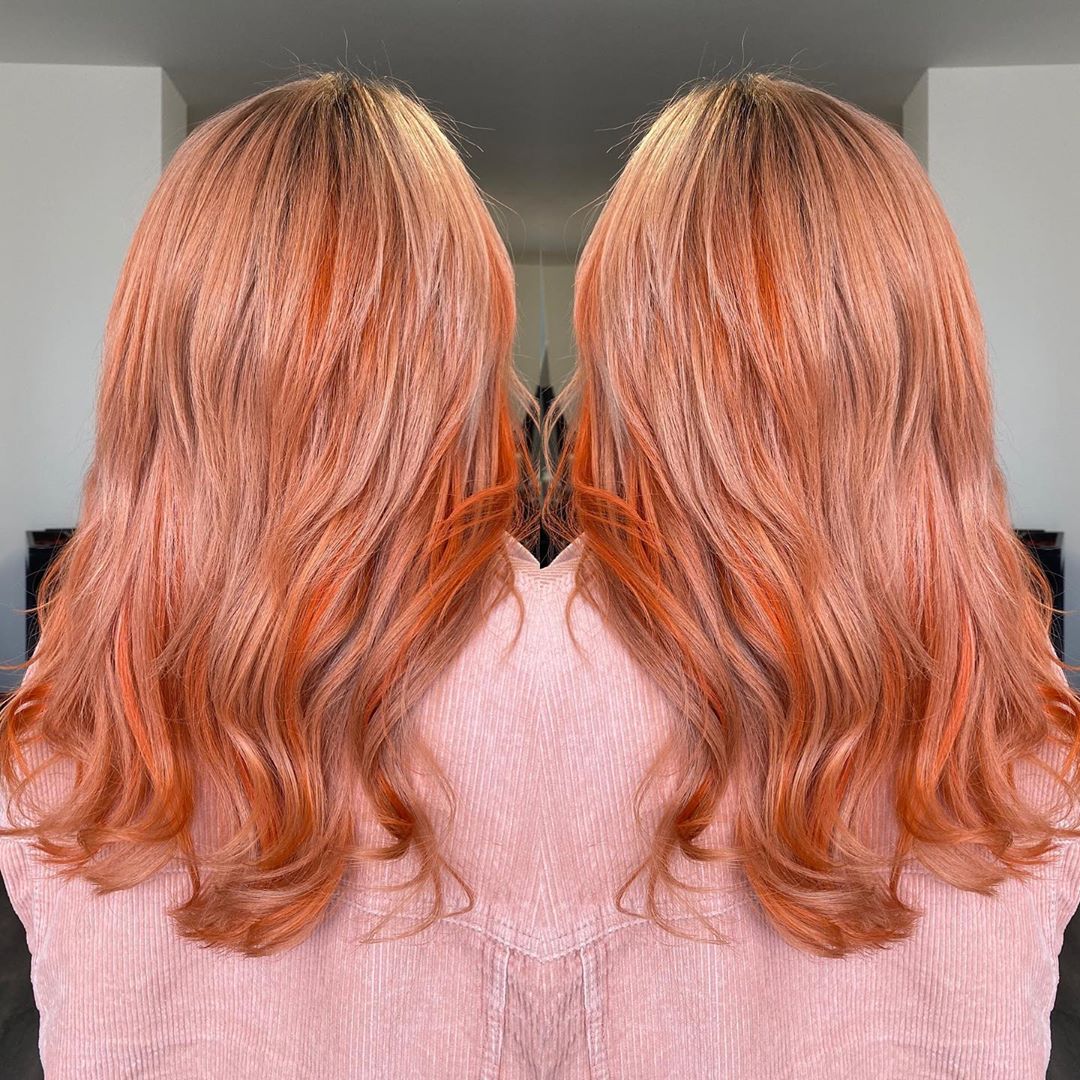 Coral, beige, and peach make the perfect combination to get a look of a modern, subtle peach hair. It is a blend of natural and modern patches and a perfect blend to make you look sexy, trendy, and stylish in your elegance.
21. Ashy Peach
Well, even peach can look ashy with the right hues and tones. This is an idea to show you how to style it to be the perfect solution for your two biggest wishes. Play with it until you get what you have imagined. And remember, it's not out of style to be modern and unique.
These were the ideas we chose for you. If you have some other of your own, you can share it with us in the comment section below. Or you can simply leave a comment.