No one likes to air out their laundry in public, but sometimes we have no choice. That is when you need to have a good outdoor clothing line to hang all those freshly washed clothes on. Now, you might think that in dis day and age, with clothes washers and dryers readily available, as well as neat foldable clothing racks, outdoor clothing lines may be obsolete. Now quite.
Some consider that air-drying your laundry is a much better alternative to using dryers, giving you benefits you'll never get from plugged in dryers. Among the more popular arguments about drying clothing on a line are that you get to spend some time outside, getting a bit of exercise and piece at the same time, no static and smells, the white clothes get whiter in the sun and probably the best of all, you cut on the electricity bill.
Again, the argument is mute if you don't have space where you can air-dry your clothes, but if you don, here are some ideas on great outdoor clothing lines.
1. Lennon Lines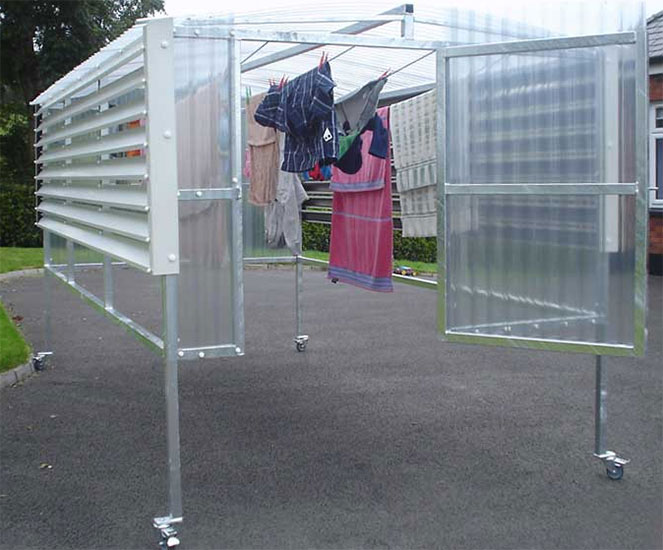 Usually, we save the best for last, but this time we thought we ought to start with it. These Lennon lines are like a greenhouse for drying clothes. Their benefits are almost infinite. They save money, allow you to dry your clothes outside all year long, extend the life of your clothes, they are environmentally friendly, have a child-friendly design, and basically make life easier for you.
2. Sturdy Wood Frame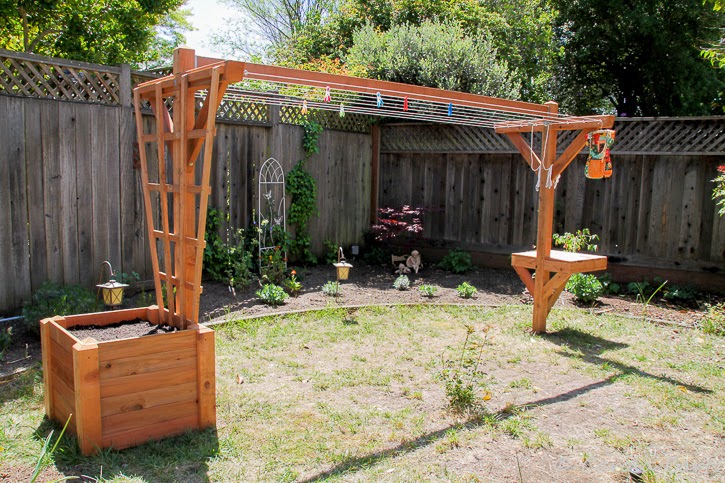 When choosing or building a clothing line, one of the things you must keep in mind is height. It must be comfortable for you and adjusted to your height. Also, sturdiness. No one wants a flimsy clothing line, which is why this beautiful old-school style clothing line is made from solid redwood, with self on one side for putting the laundry basket on, and a nice little flower bed for decor on the other.
3. Bird Feeder Post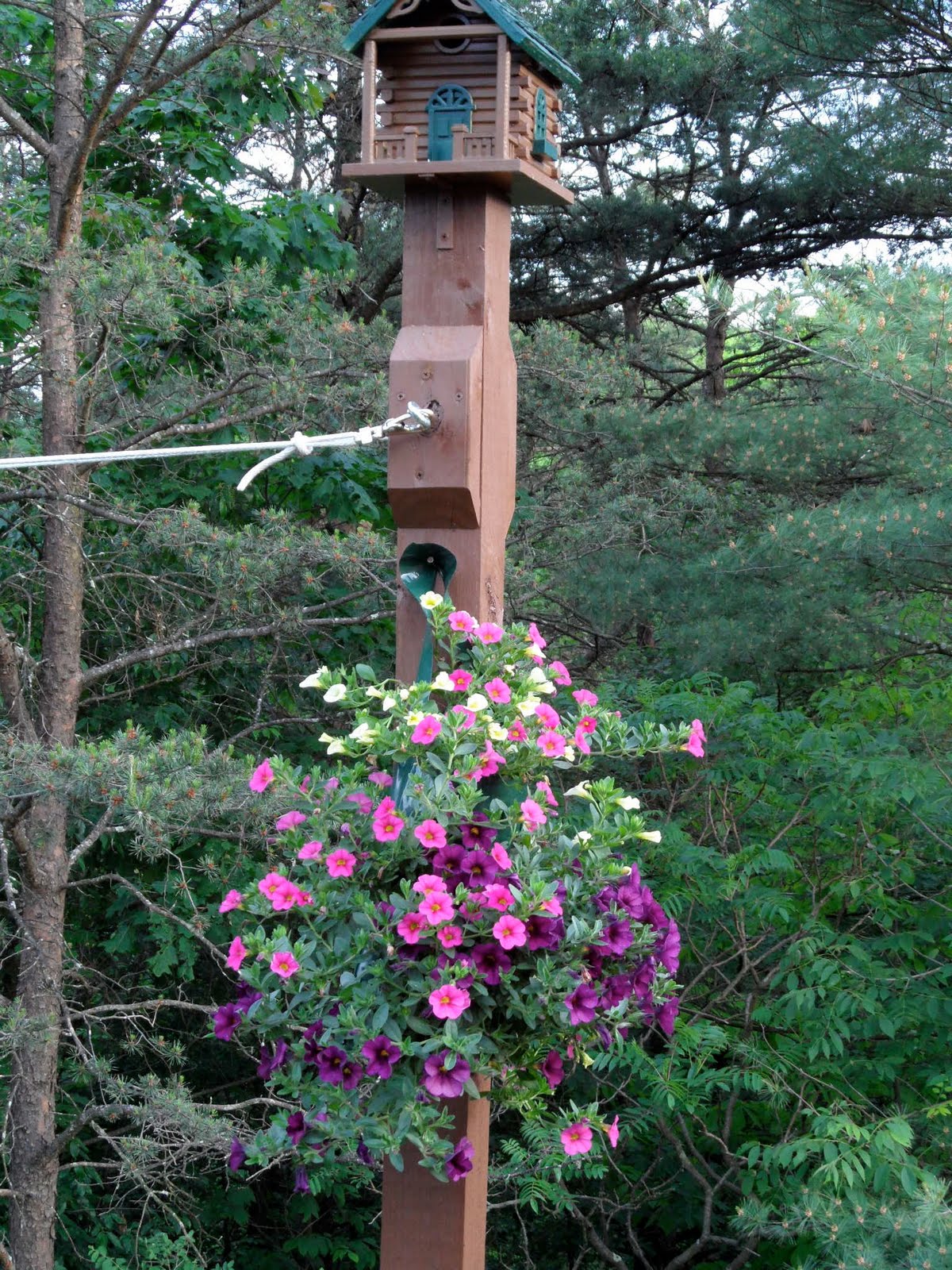 This is a clothing line bird lovers can definitely appreciate. A two for one, a clothing line, topped with lovely flowers, and yes, a bird feeder house. Wouldn't you just love listening to a bird's chirping while hanging your clothes to dry?
4. Pulley System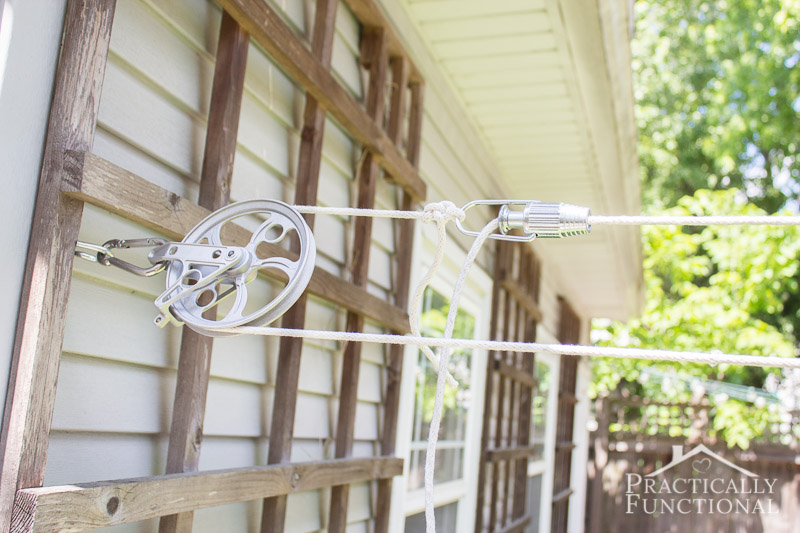 A simple clothing line with a pulley system is a great choice if you have a longer yard and you don't want to take up space on the green. Mounted at a reasonable height, you can hang all your clothes without actually walking along that line,. Just pull and move on to the next piece of clothing. Easy, practical, and space-saving.
5. Gazebo Style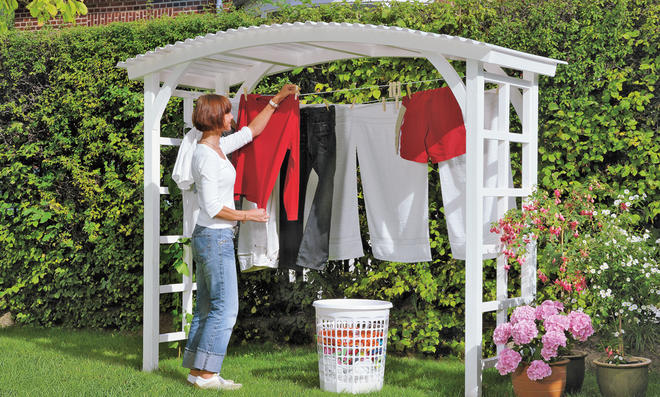 There something about the smooth race of the gazebo that gives some extra elegance to the yard. we\re not saying to hang your clothes in a gazebo, but you can make a smaller version of the same, that will be both decorative and functional for the yard. And if you put a small bench at the bottom, it just might work as a small gazebo.
6. Wall Mounted Double Folded Rack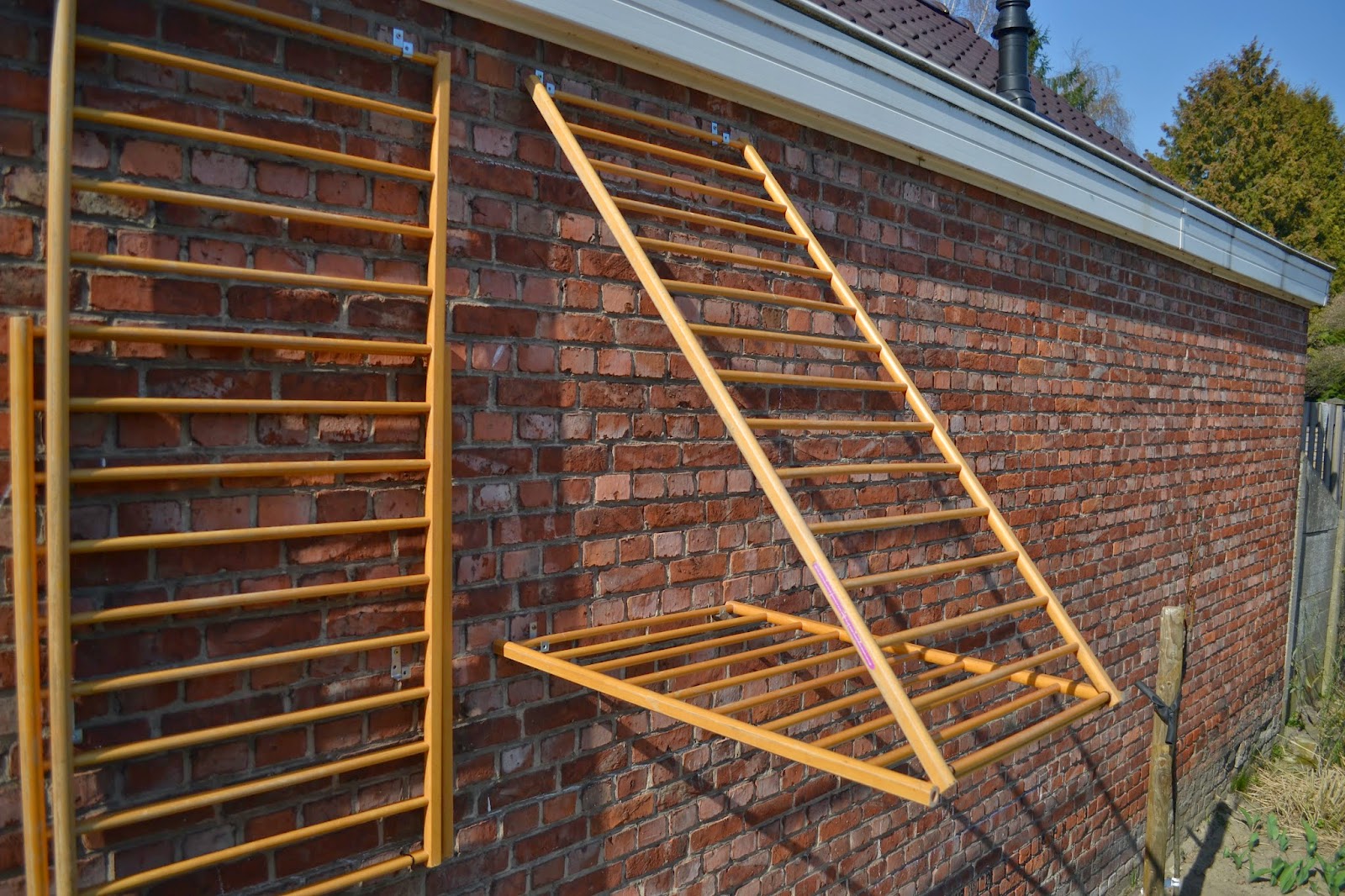 Even people with huge yards would probably agree that taking up a space of the yard with clothing lines or rack is not the smartest choice. And it will look better if you can tuck away the clothing racks after use, like these interesting and foldable wall mounted clothing lines.  Once you're done, all you have to do is close it to the wall.
7. Wall Mounted Wood Beam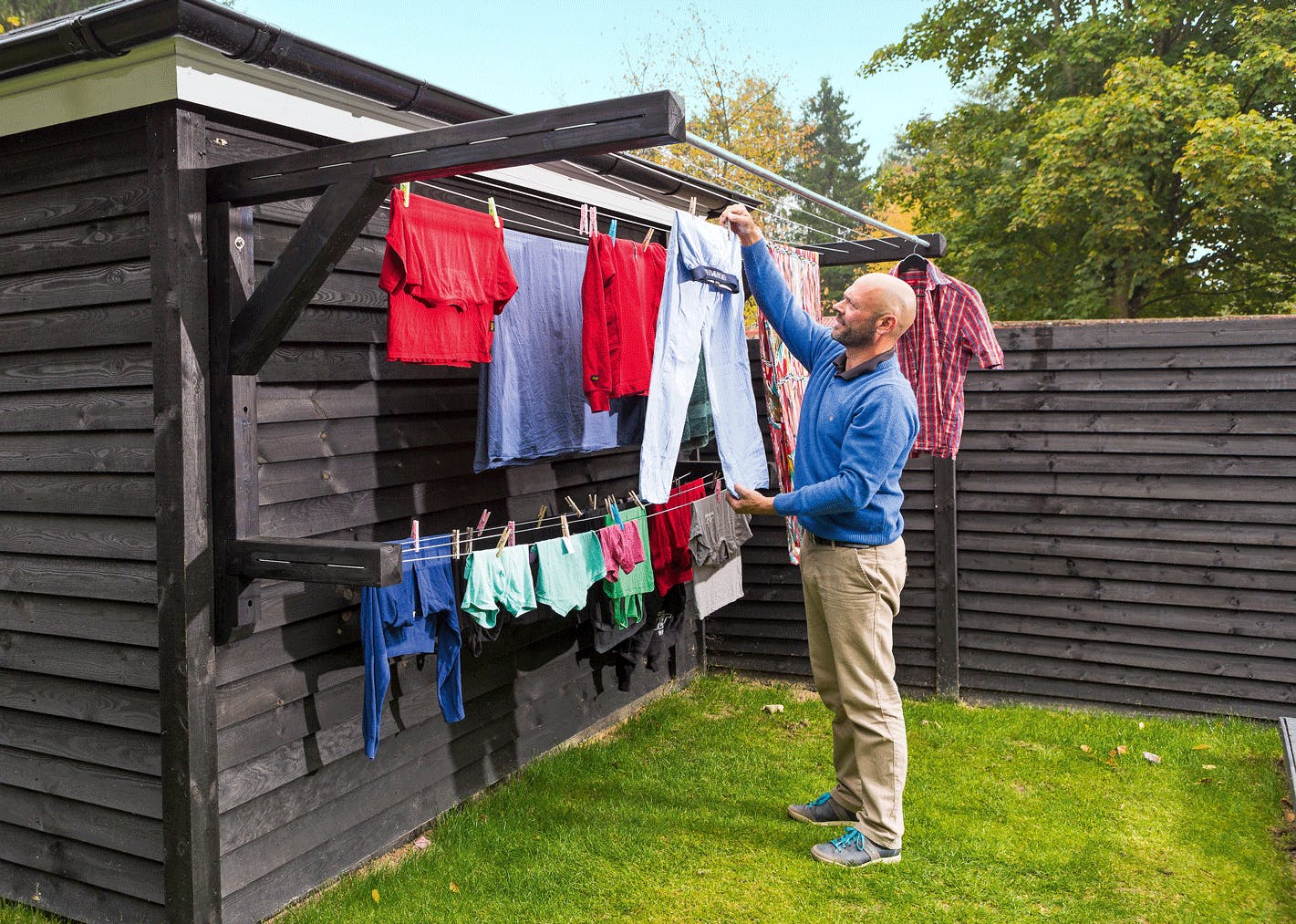 If the previous project didn't catch your eye, thinking it's too flimsy, but you still liked the concept, then this idea will probably be more to your liking.  It has the same space-saving features as the previous one, only without the folding, So these clothing lines are static but don't take much spare nonetheless.
8. Garden Trellis Clothes Line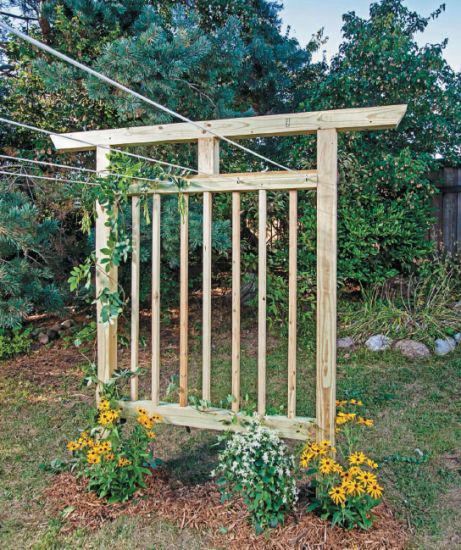 Who says you can't have a trellis covered in greenery and functional clothing line on one? Placing two trellises at a certain distance is the first step. The second is connecting them with one or a few lines. You're ready for a colorful clothing hanging experience.
9. Garden Posts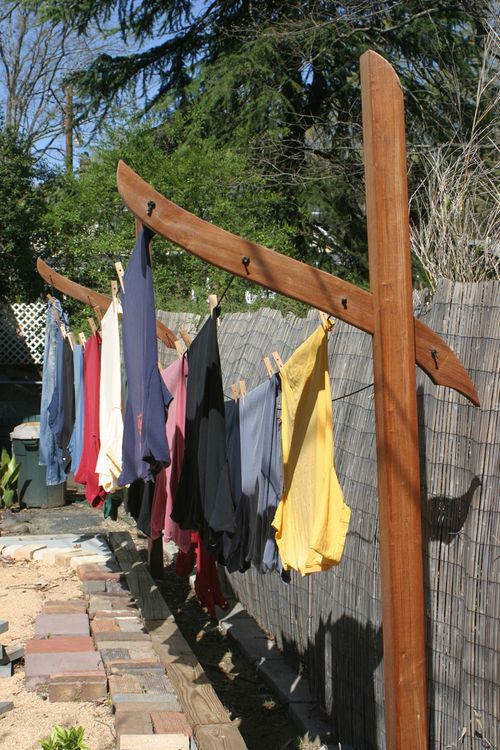 Sometimes we forget that an object can be used in different ways. Take this wooden clothing line. It looks like some kind of garden sculpture you might have around. Take it, string up some clothing lines on it, and you have a modern clothing line.
10. Invisible Clothes Line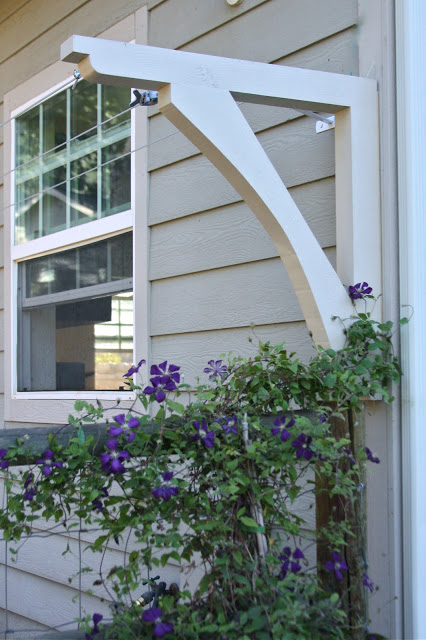 If you're part of a home-owner association, you might be faced with some rules that are absolutely absurd. For instance, some say you can't hang up clothes on a line that is visible from other houses. In that case, you might want to reply with something like this, an invisible clothing line. Well, not exactly, but by extending the lines between two flower pots, you can safely say that the line is very hard to spot.
11. Rotary Rack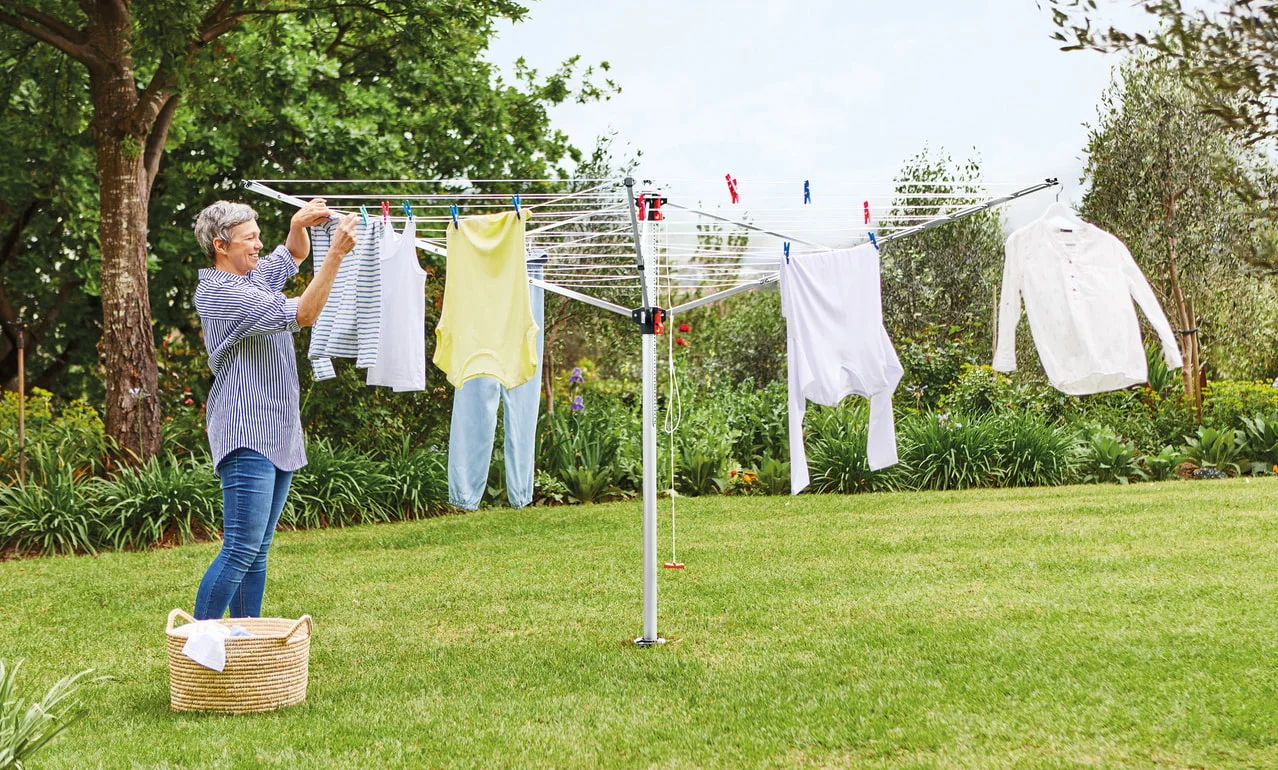 A rotary rack is a classic with a very smart design, allowing a lot of space to hang clothes and to be aired out evenly. It does take up a lot of space, but the plus side is that you can get creative with it. For example, with a bed cover, you can turn it into a fun yard tent for the kids. They'll certainly love it.
12. Retractable Bench-like Clothes Line
This retractable clothing line is great since it can easily be fitted or removed from any wall inside or outside your home. Meaning, once your clothes are dried out, you can take it off and put it away. It really doesn't take up space at all.
13. All-weather Line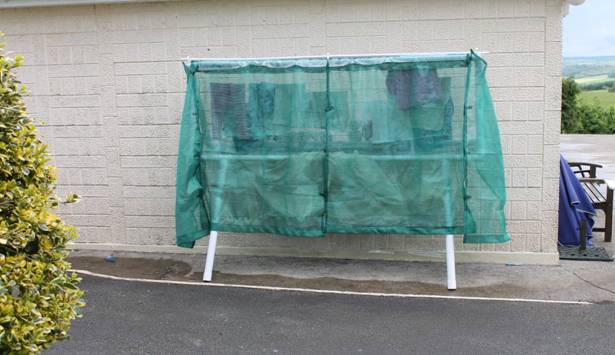 The greatest concern about drying your clothes outside is rain or bad weather. You can't always predict that, and by the time you react, you just might have to rewash all your clothes. All that work for nothing. That's where this handy all-weather clothing line with cover comes in handy. The material will not only protect the clothes from rain, but it also intensifies the heat from the sun, speeding up the time it takes for the clothes to dry.
14. Canopy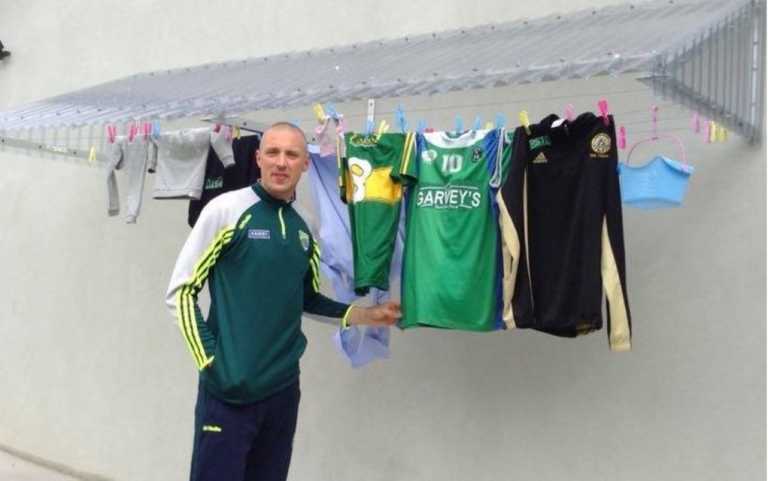 If we can put canopies in the yard so we can enjoy the outdoors while the weather is not ideal, what prevents us from making a canopy to protect the clothes on the clothing line? Nothing, really. Keep that in mind for your next backyard project.
15. T-Post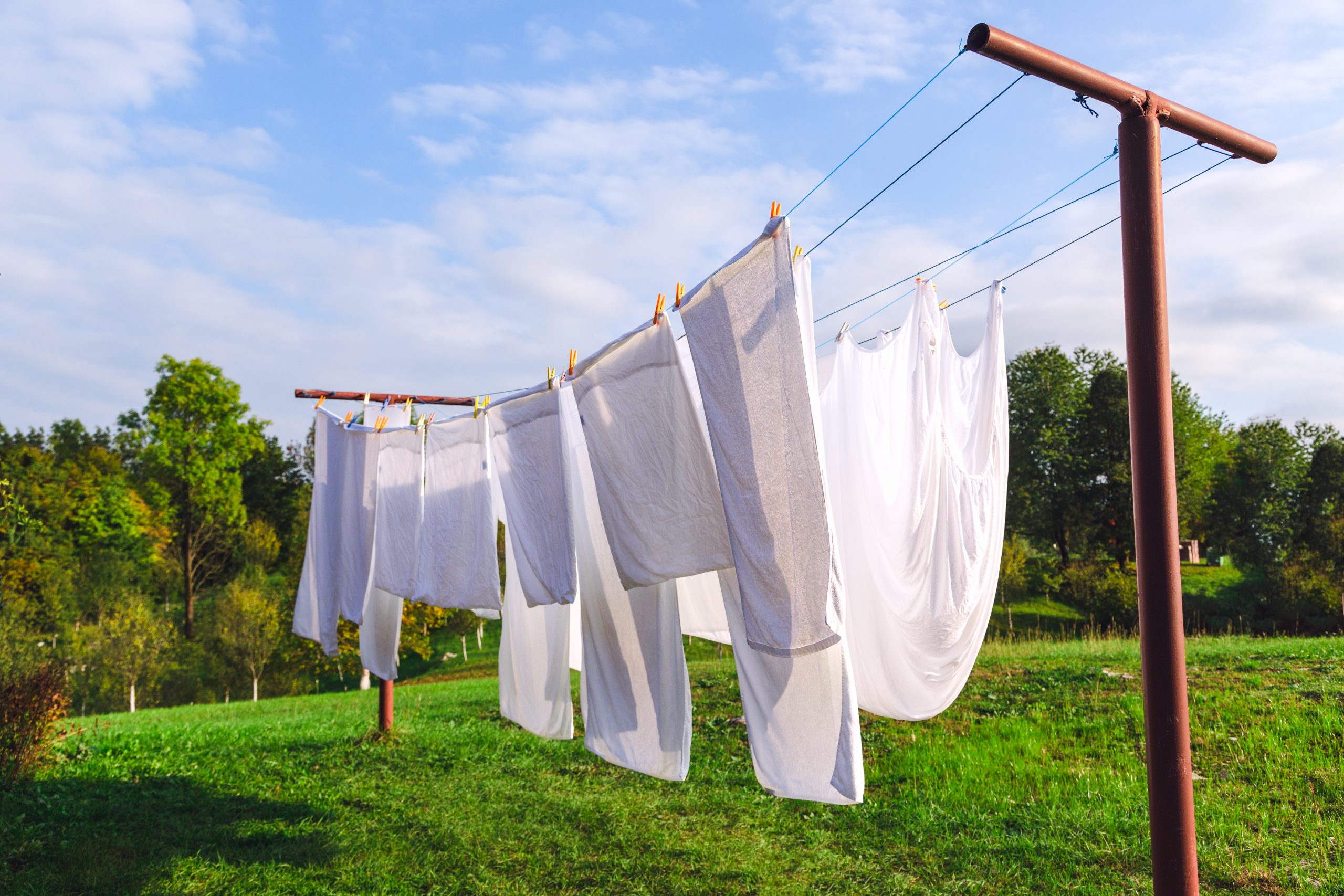 We're ending our list with another all-time classic, the T-post clothing line. The great thing about the simplicity of this clothing line is that the posts on their own don't take up much space, and the top part can be made at any length to accommodate as many clothing lines as you might need.
With global warming and electricity prices at an all-time high, you won't be surprised if you start to see more and more people drying their clothes outside. And what do you think of these clothing lines? What are your suggestions? Leave us your thoughts in the comment section below.