Imagine waking up to the beautiful sound of singing birds in your backyard or balcony. A melody so peaceful that puts a smile on your face. Seeing these feathered creatures up close and personal is bliss for sight and soul. There's a possibility for you to enjoy these gifts from nature. Now have a chance to get to know your native birds.
The best way to invite birds to your backyard or balcony is by providing them with food. Easy and creative bird feeders that they will certainly appreciate, especially during the cold winter days. You don't need to buy a birdfeeder, because with these tutorials you can make one yourself.
May you have melodic and joyous birding!
1. DIY Tin Can Flower Bird Feeder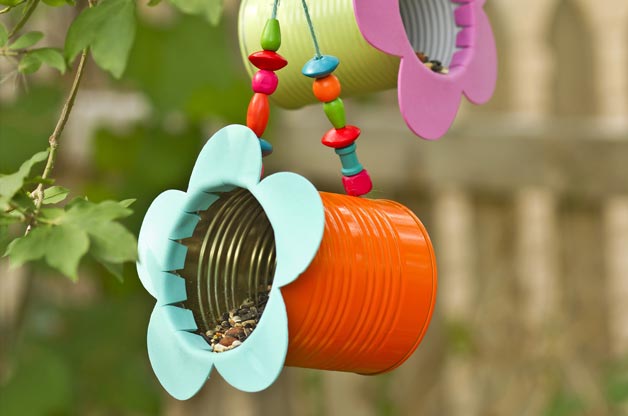 What a great way to fill up the bird's bellies. And they are so simple to make. All you need is repurposed tin cans. You can hang them on your balcony or in your backyard's trees. The design is so beautiful and colorful, yet so simple crafted. A great way to enjoy wildlife at its best.
2. DIY Popcorn And Cranberry Bird Feeder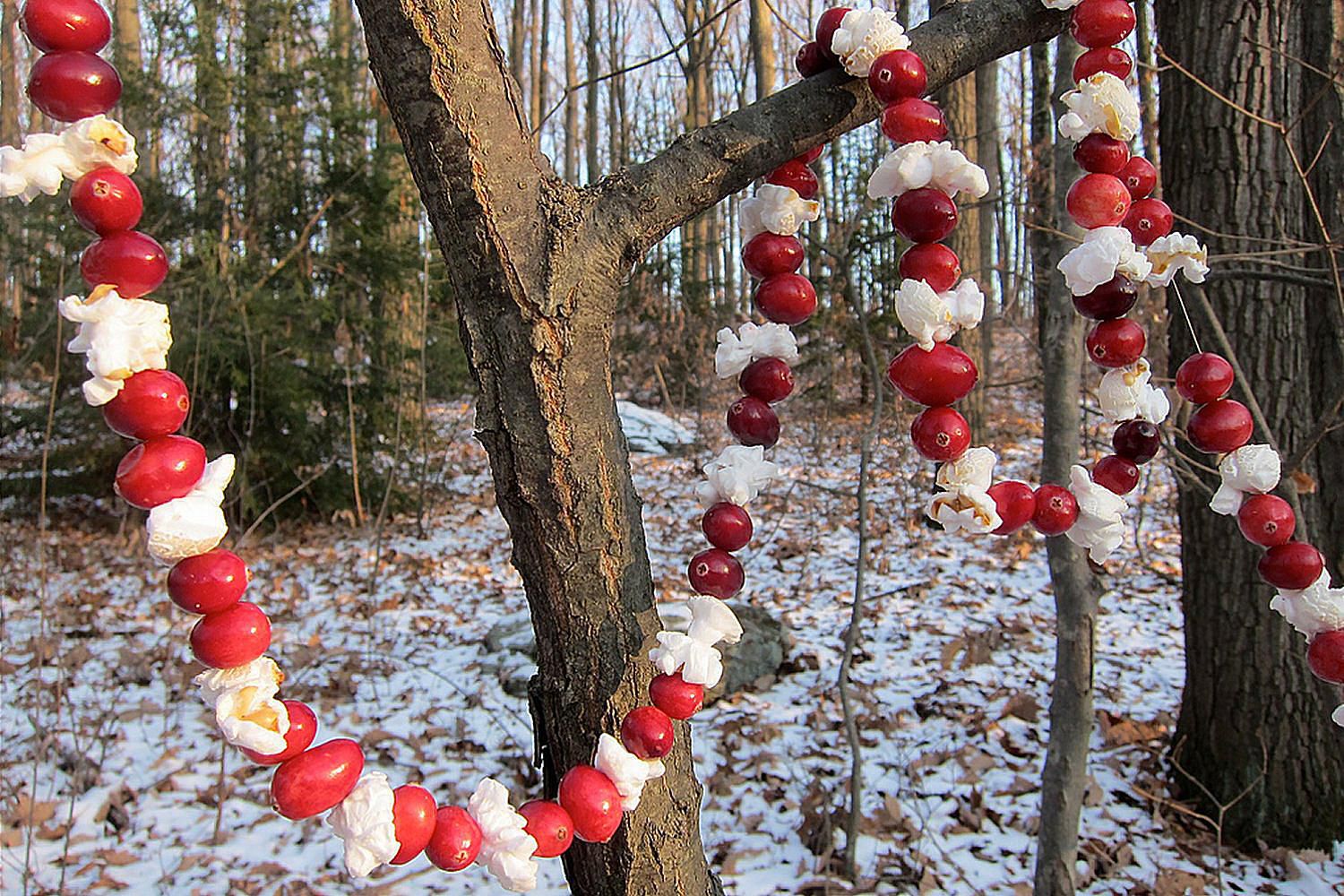 Such a beautiful decoration and a clever way to help the birdies out in search of food. These delicious strands are economic and easy to make. All you need is a string, ribbon or twine, and a needle to attach the food. You can even add extra fruits, like blueberries, grapes, raisins. Trust me, the birds will be forever grateful!
3. DIY Stale Bread Bird Feeder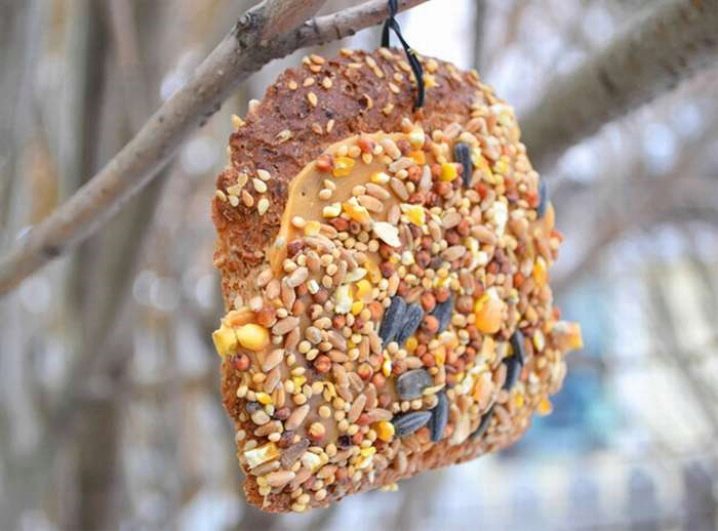 A perfect treat for the little feathered creatures. And such tasteful ingredients! Birds adore peanut butter and birdseed. Prepare these delicious treats and scatter them among your trees and gardens. It will be music to your ears!
4.  DIY Plastic Bowl Bird Feeder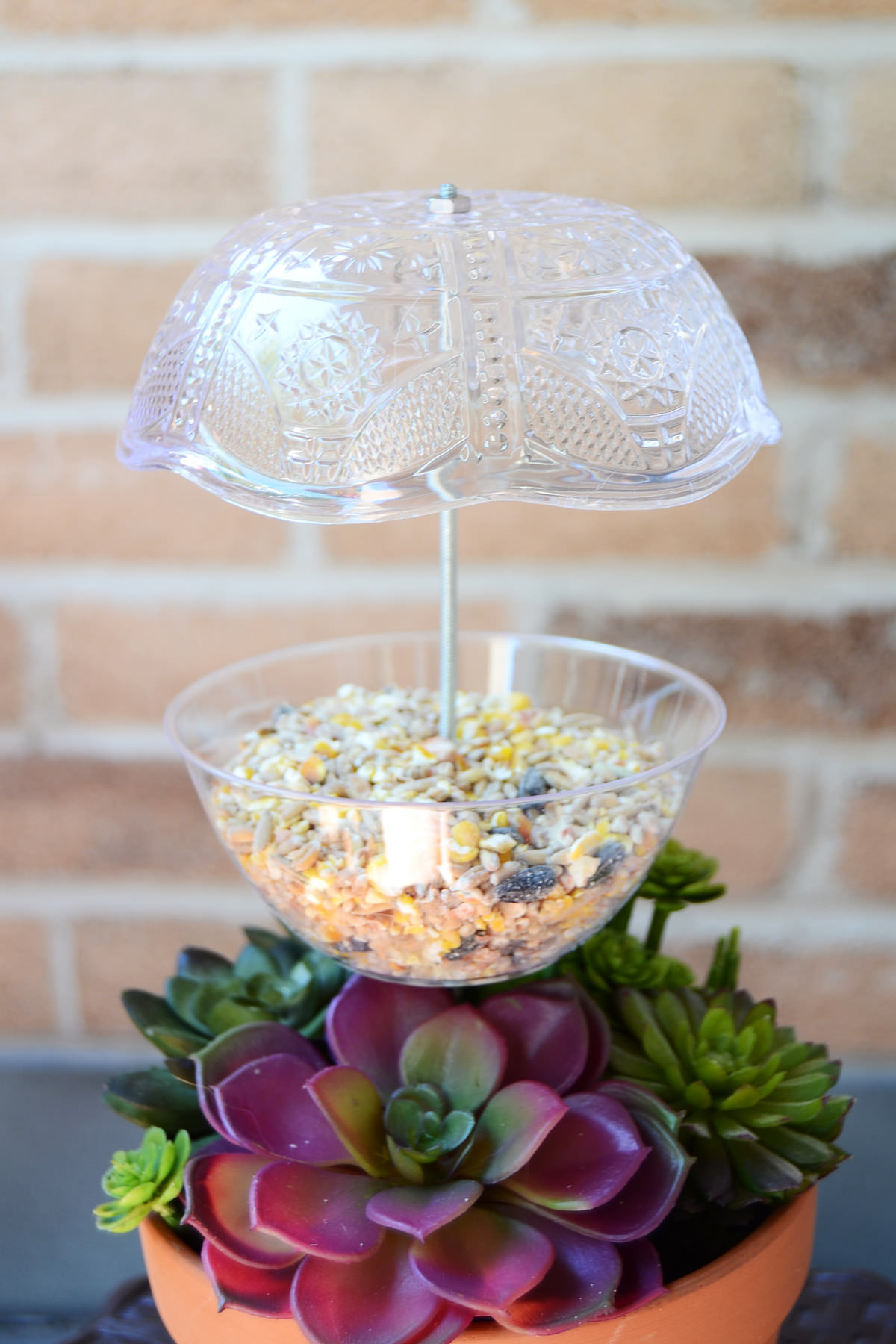 So simple, yet so beautiful. You can make this plastic bowl bird feeder in a couple of steps. It comes in two versions, one that hangs the other can be stuck into a planter. The local birds will be fed thanks to you and for a reward, you'll hear the sound of chirping and singing.
5. DIY Orange Cup Birdfeeder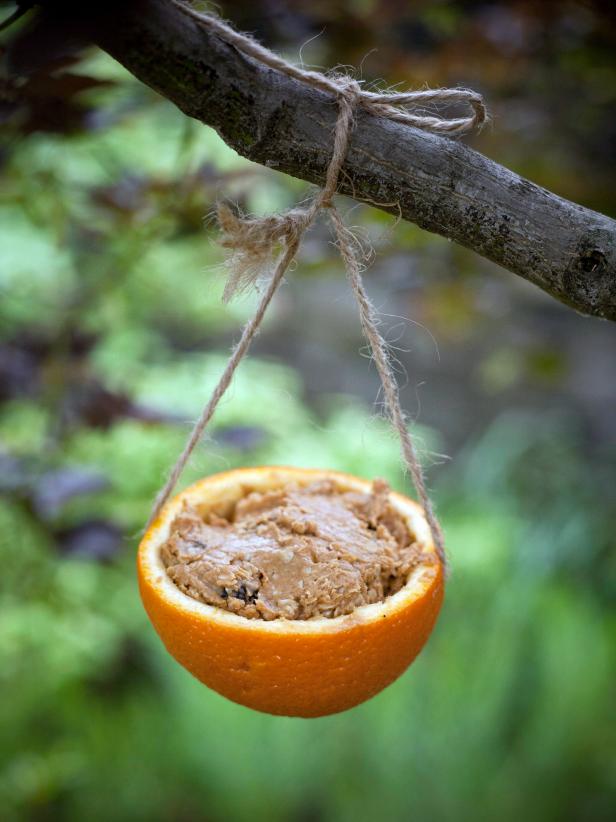 You can attract birds in your garden by simply slicing an orange in half and removing the inside. Moreover, it's a lovely ornament for your trees. You can fill the cups with different kinds of bird food. This type of design won't last long, but it's easily replaceable, especially if you are fond of eating citrus fruits. And they smell great too!
6. DIY Popsicle Stick Birdfeeder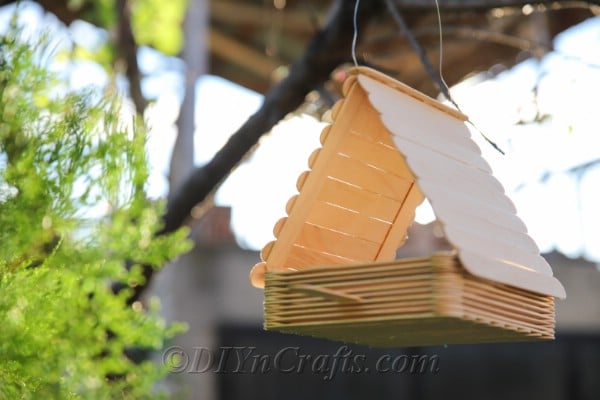 This adorable craft doesn't require any special skills at all. The kids will love it! All you need to have is popsicle sticks and glue. It's a perfect place for feeding or nesting. And a beautiful addition to your home!
7. DIY Cheerio Bird Feeder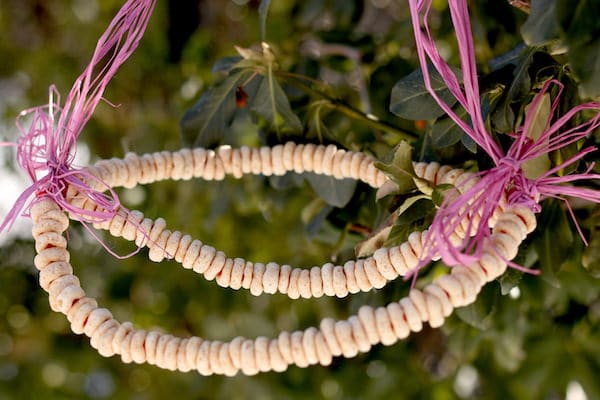 Feeling bored? Here's an idea! Grab your box of cheerios and start threading. In a matter of minutes, you'll create a birdfeeder design. The birdies will sense this delicious treat and will come to your garden faster than the speed of light.
8. DIY Mason Jar Hummingbird Feeder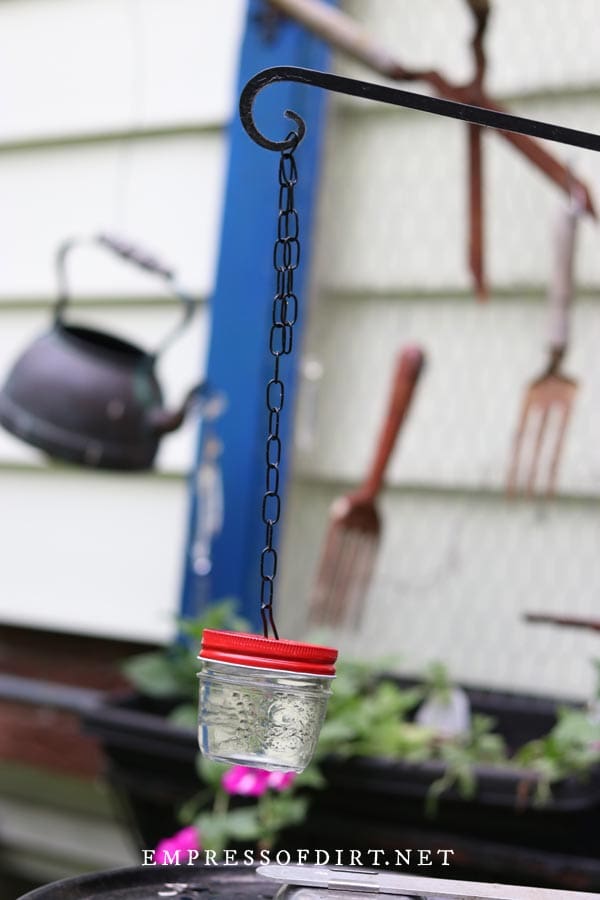 Do you live in an area with hummingbird habitats? If yes, then with this tutorial you can invite these majestic creatures into your garden. The hummingbird feeder is a liquid feeder. You can place as many feeders as you please, and make sure you use red lids for the jar because hummingbirds feed by sight and red color attracts them. Fill the jar with feed, assemble the lid, and hang it up! Easy-peasy!
9. DIY Birdfeed Ice Ornaments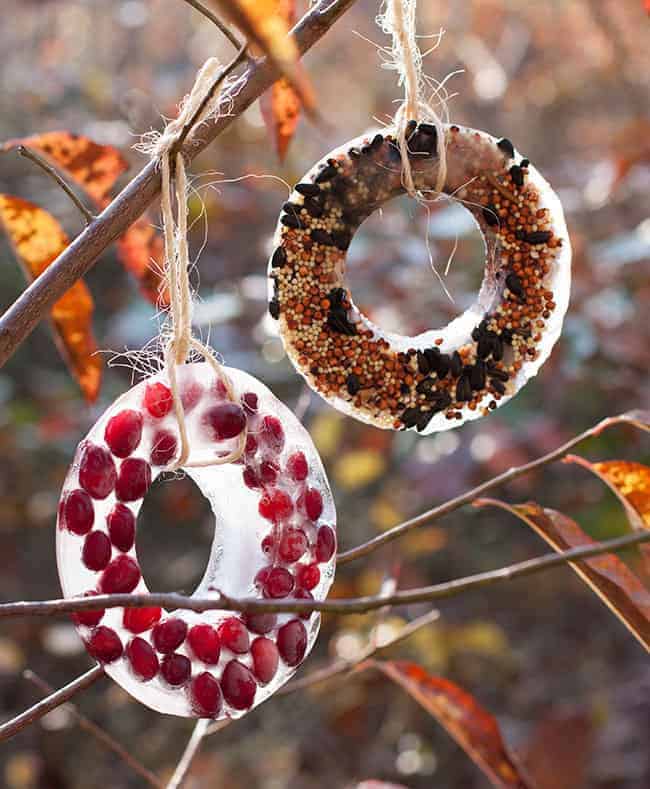 If you love looking at birds during the fall/winter season, just hang these lovely ornaments on your trees. They will come to your yard right away. They are very easy to create, gather up bird food, berries, add water, and make ice ornaments. The birds will come to your yard and eat all day long!
10. DIY Hanging Teacup Birdfeed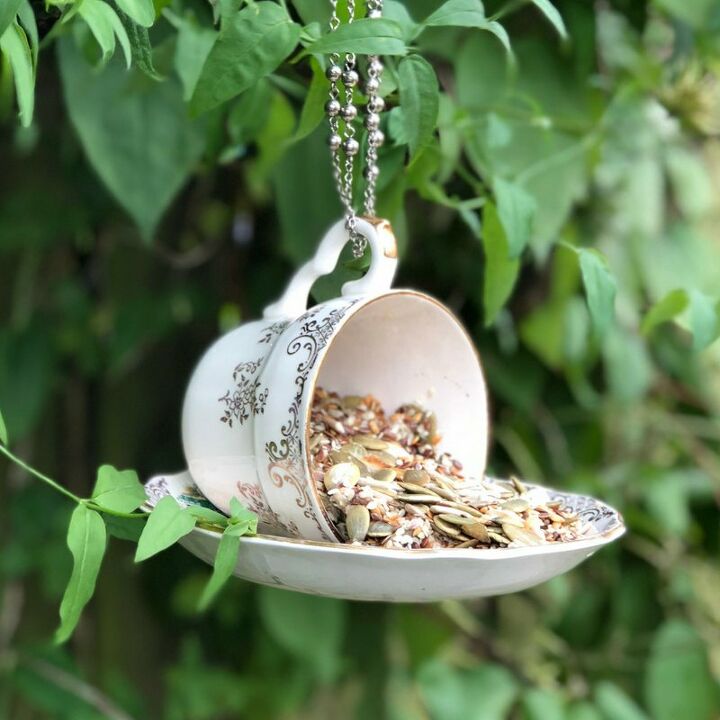 Such a vintagey look! If you have a spare set of teacups that you don't intend to use, this is a great idea to get creative and help out the hungry birdies. All you need to do is glue the teacup sideways to the saucer. That way the bird can have a ground to stand on and grab the food. Interesting and decorative, isn't it?
11. DIY Rustic Log Bird Feeder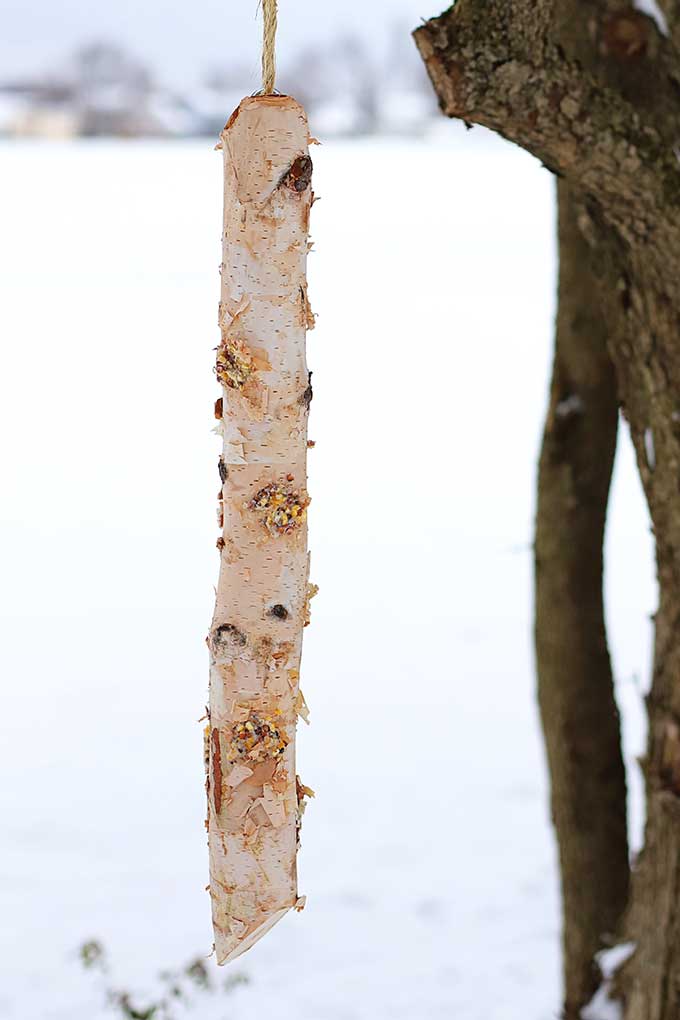 This design blends perfectly in the environment. It's made out of a log. Once you get the log, make holes in it, and fill it with food. Because of its natural tree-like look, the birds will take up to it immediately, especially woodpeckers!
12. DIY Paper Bowl Bird Feeder
If you enjoy taking care of your local birds, this is another creative idea for you. The big surface of the bowl can please a lot of hungry birds at once, and the cheerios add a variety to the menu. Simple and crafty, yet so attractive and tasty!
13. DIY Juice Carton Owl Bird Feeder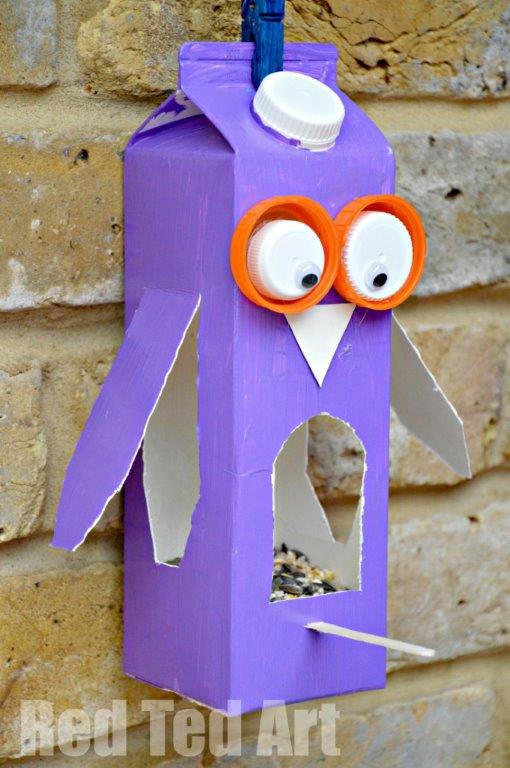 Who wouldn't want this adorable design in their home? And imagine when the little birds are feasting off it! Pure happiness in a few simple steps. You can attach it everywhere you please, and refill it without a problem. This owl design is lovely, but there are no rules in creativity, you can create any bird you please. Enjoy!
14. DIY Cookie Shape Bird Feeder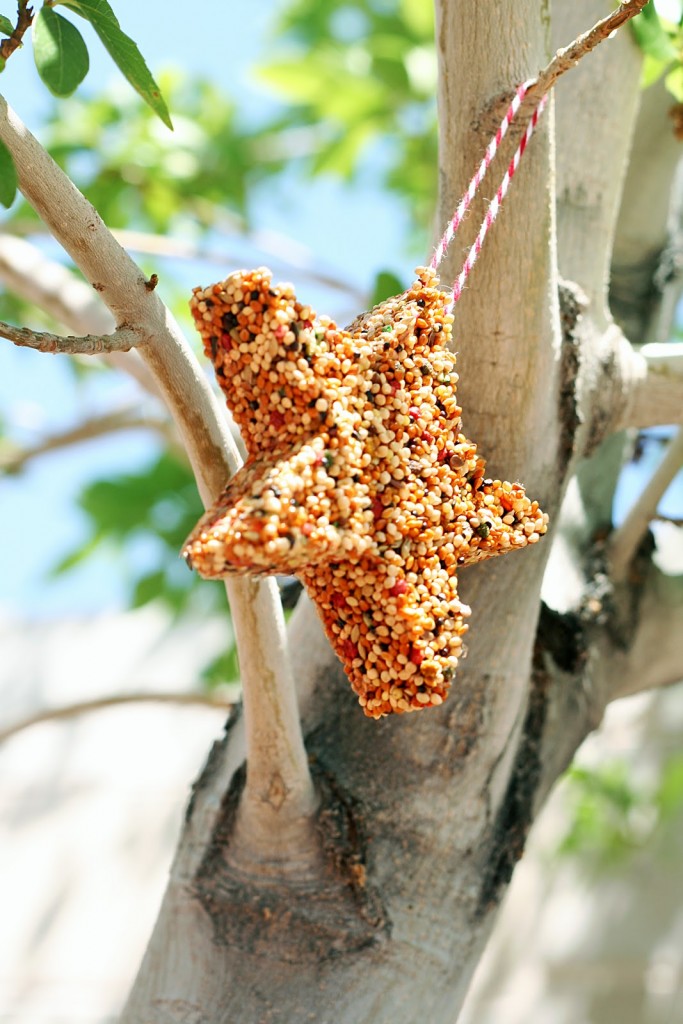 If you have cookie cutters, feel free to use them for creating these bird feeders. The birds will be forever in your favor for your good deed. On top of that, your garden trees will be beautiful, looking like decorated Christmas trees!
15. DIY Plastic Bottle Bird Feeder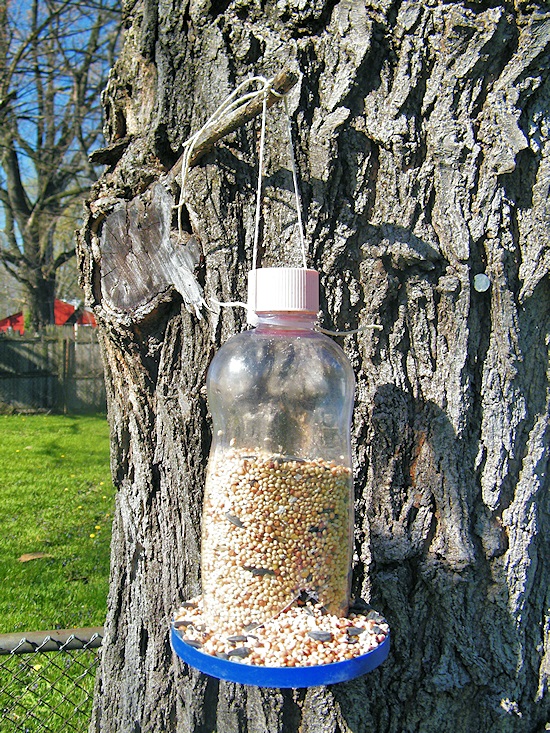 A plastic bottle makes a great bird feeder. Instead of throwing the plastic bottle, you can make Mother Earth a favor and recycle it, while simultaneously living up your garden. In a few simple steps, you will create a haven for the birds and a melody to your ears.
So many great ways to invite birds into your gardens! Satisfied birds, lovely view, and beautiful melodies. Who doesn't want that in their back yard? What's your favorite DIY bird feeder craft? Leave a comment below.