The hair dye pallet hasn't changed for so long, that in an enormous explosion of rainbow ranged hair dyes is as amazing as it is overwhelming. From just having to choose blond, brunette, brown, or ginger, now we can have all the colors of the rainbow, at some times all at the same time. Some hair colors trending today were even considered hair disasters in the past. Case in point, the orange hair.
The most common way for a home-dyed blonde hair is with hydrogen peroxide. However, when you use too much of it or maybe have red hair pigments you didn't know you have, you just might end up with a surprising shade of orange instead of the desired blonde. Names like "carrot-top" probably have ensued. Those hair raising hair color mistakes are now a vibrant head-turning hair trend that more and more women are willing to try out.
In the hands of capable hairstylists, you don't have to worry about being mocked for your bright orange color. Of course, as with all colors, there are plenty of orange shades and combinations that will appeal to all willing to try this bold look.
Let's see some of the orange shades that might end up being your next hairstyle.
1. Straight Bright Orange Hair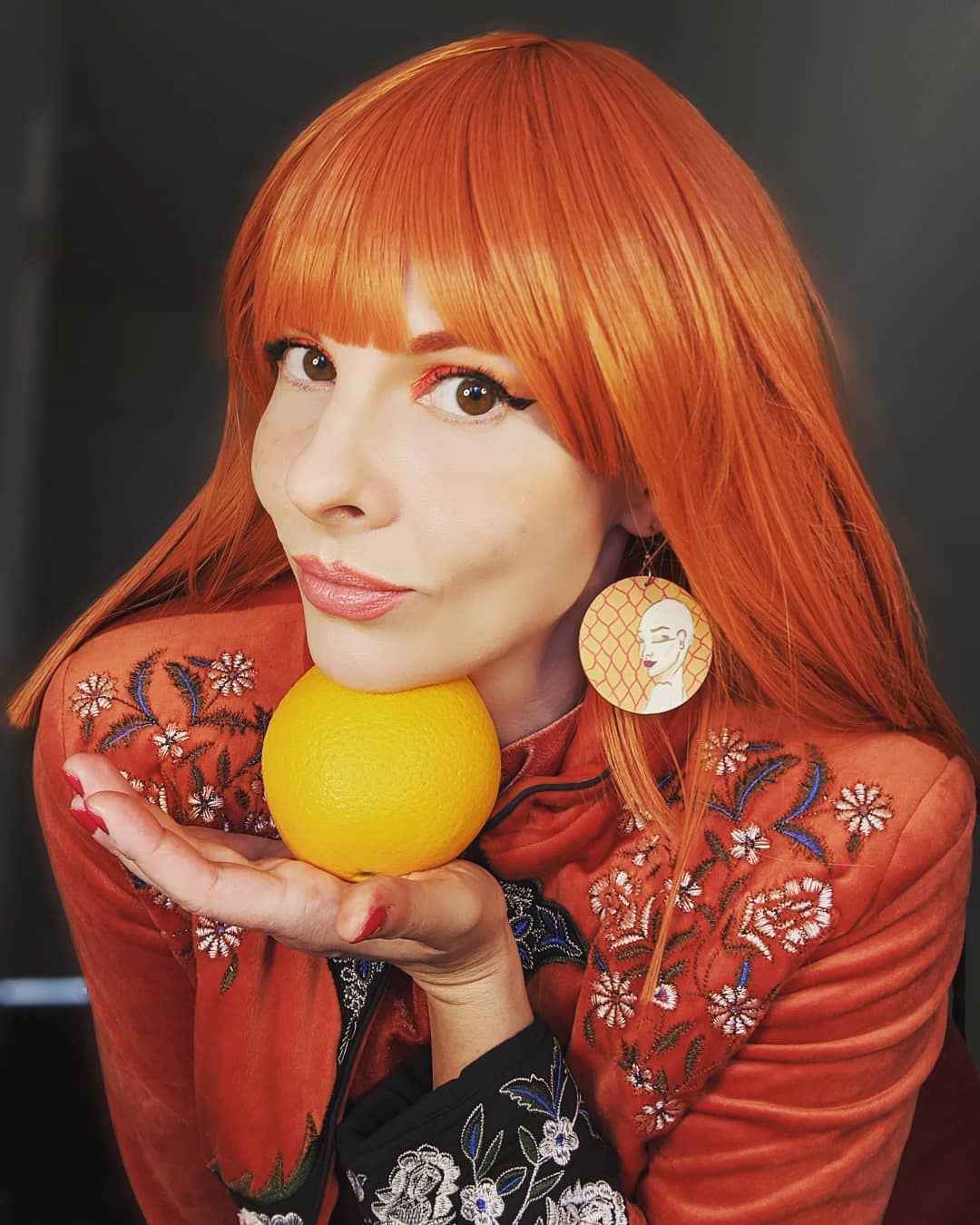 Starting with a nice, even orange hue. Nothing too fancy and a nice easy test run for new hair color. Straight hair with straight bangs and straight-up orange color, creating a sweet, yet vibrant look.
2. Mahogany To Orange Curly Waves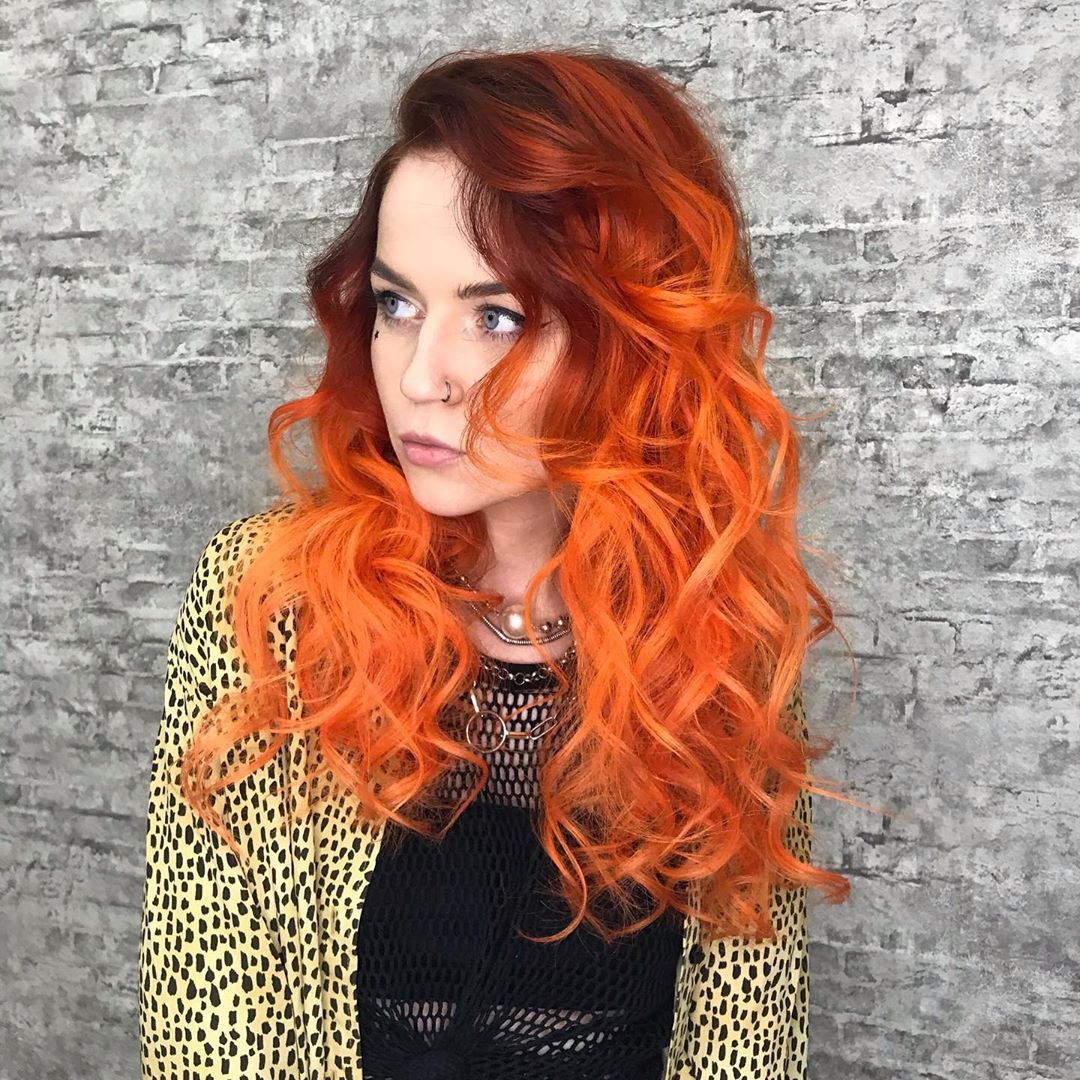 Loose wavy curls deserve an equally vibrant hair color and this can certainly bring out the fire in you. Dark roots gradually blended into bright orange tips, that on these waves look just like a playful bonfire.
3. Amber Orange Elegant Waves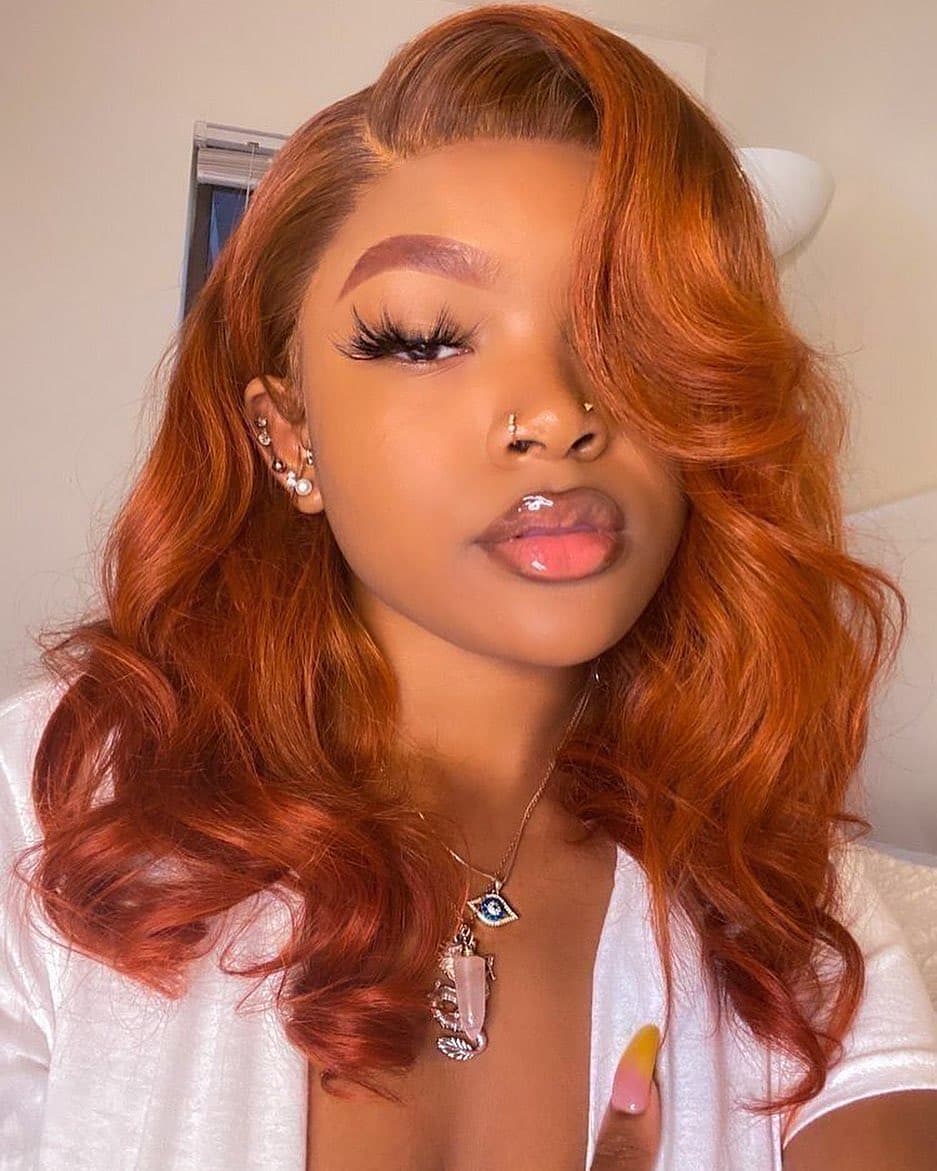 It is really unfortunate that dark-skinned people are not natural gingers. Because they look amazing with hair in red and orange hues. Just look at how this dark orange with reddish tips hairstyle complements a dark skin tone.
4. Cantaloupe Orange To Platinum Ombre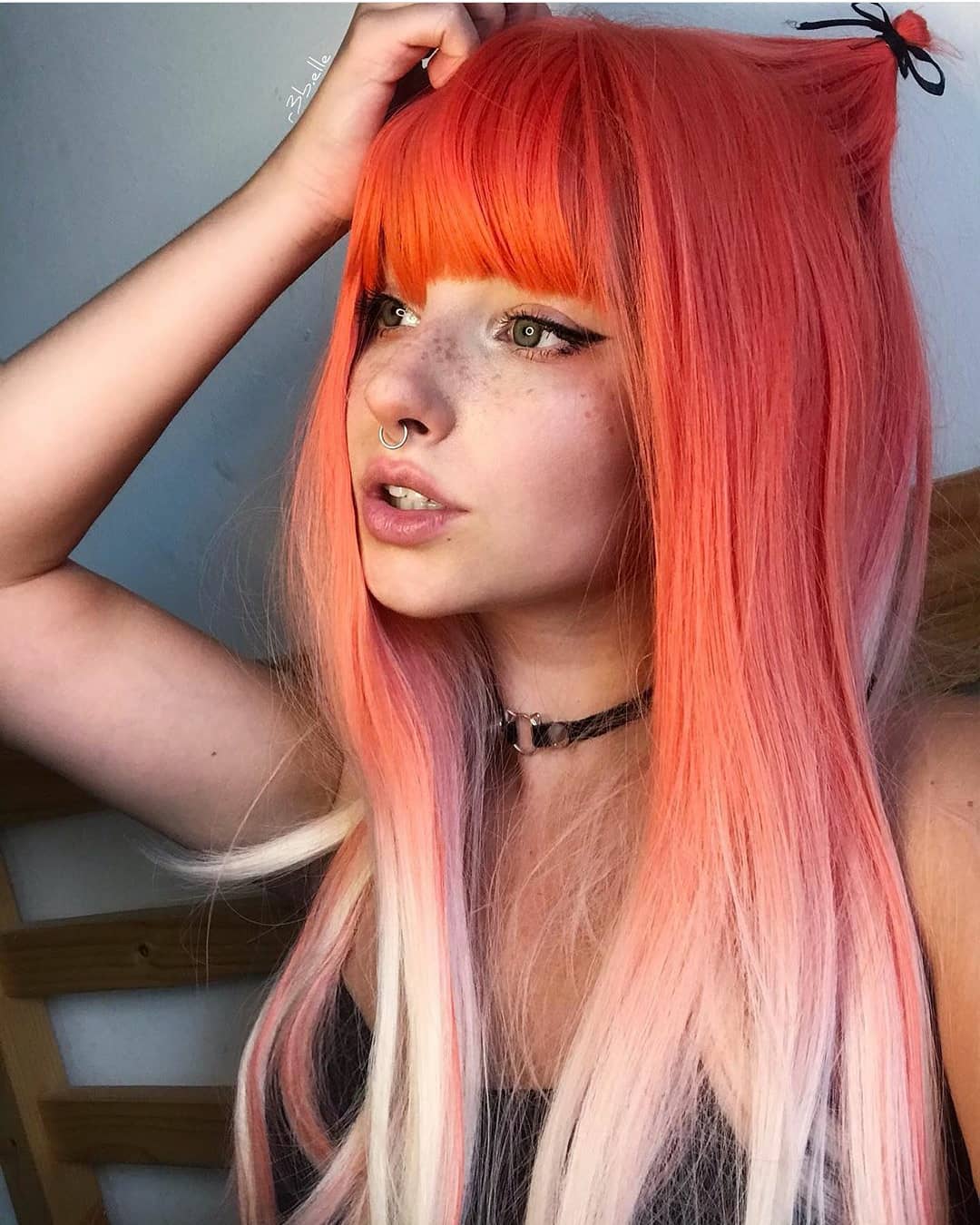 When it comes to blending different orange hues it is easier if you already have a blonde base, preferably platinum blonde. Then you can achieve a cutesy orange color combo that will doll you up in no time.
5. Apricot Orange Puffy Top Bun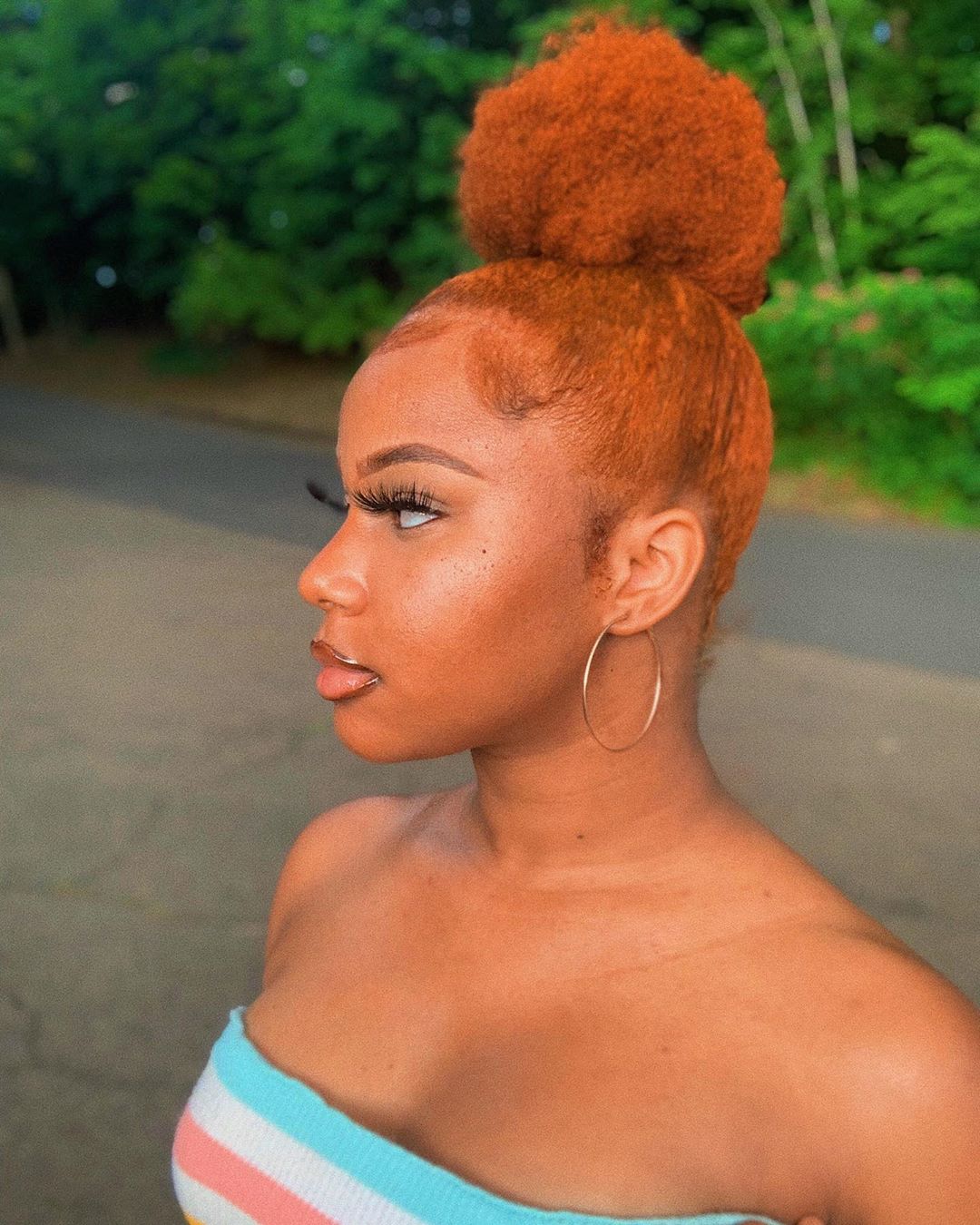 Hair that is full of texture doesn't really need too much color blending. Usually, one color is enough and the magic comes from the hair itself. Like with this lovely dark orange natural afro-curls wrapped up in a puffy top bun. Sometimes less is more.
6. Magenta And Orange Streaks On Dark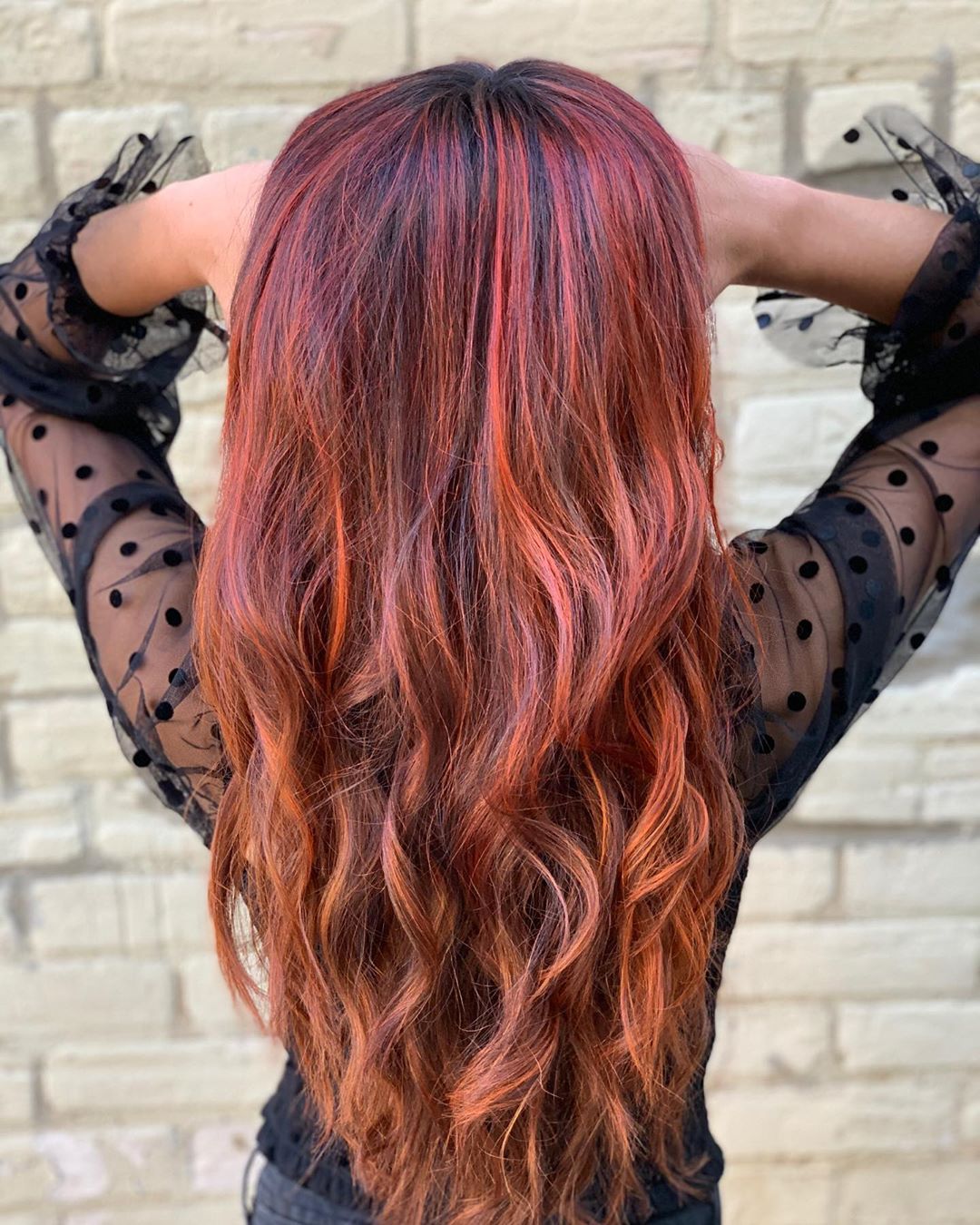 How are we doing so far? Too much orange? Don't worry, there are ways to try orange out more discreetly. Dark brown highlighted with some toned-down hues of magenta, caramel, and orange. It all blends in nicely, giving you an idea if going full orange is up to your speed or no.
7. Sunflower Color Scheme Hair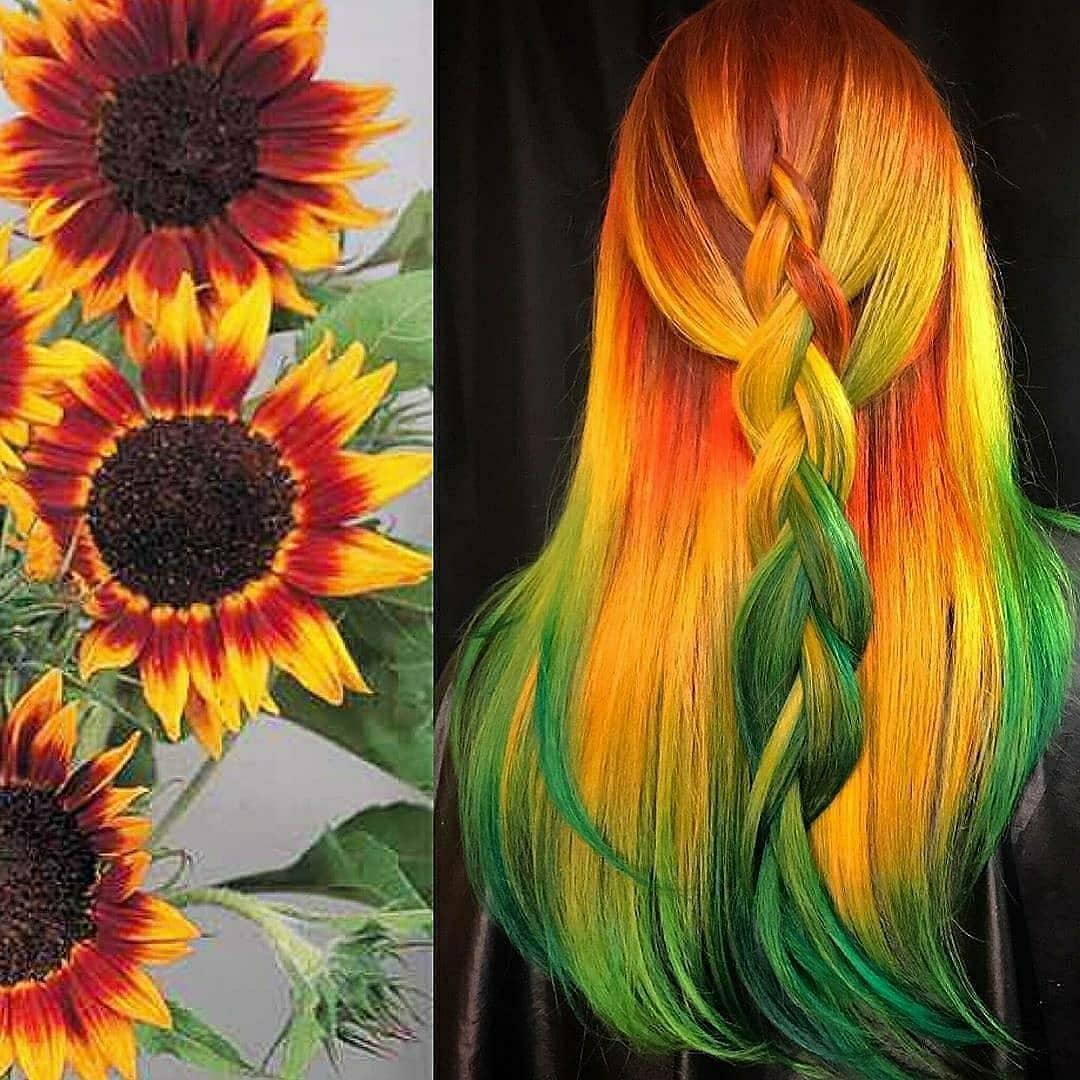 Sunflowers are among the topmost favored flowers,  with roses probably at the top. This level of sunflower adoration might be a bit too much, but you have to admit that it's unusual but utterly beautiful.
8. Orange, Yellow Pink Galactic Hair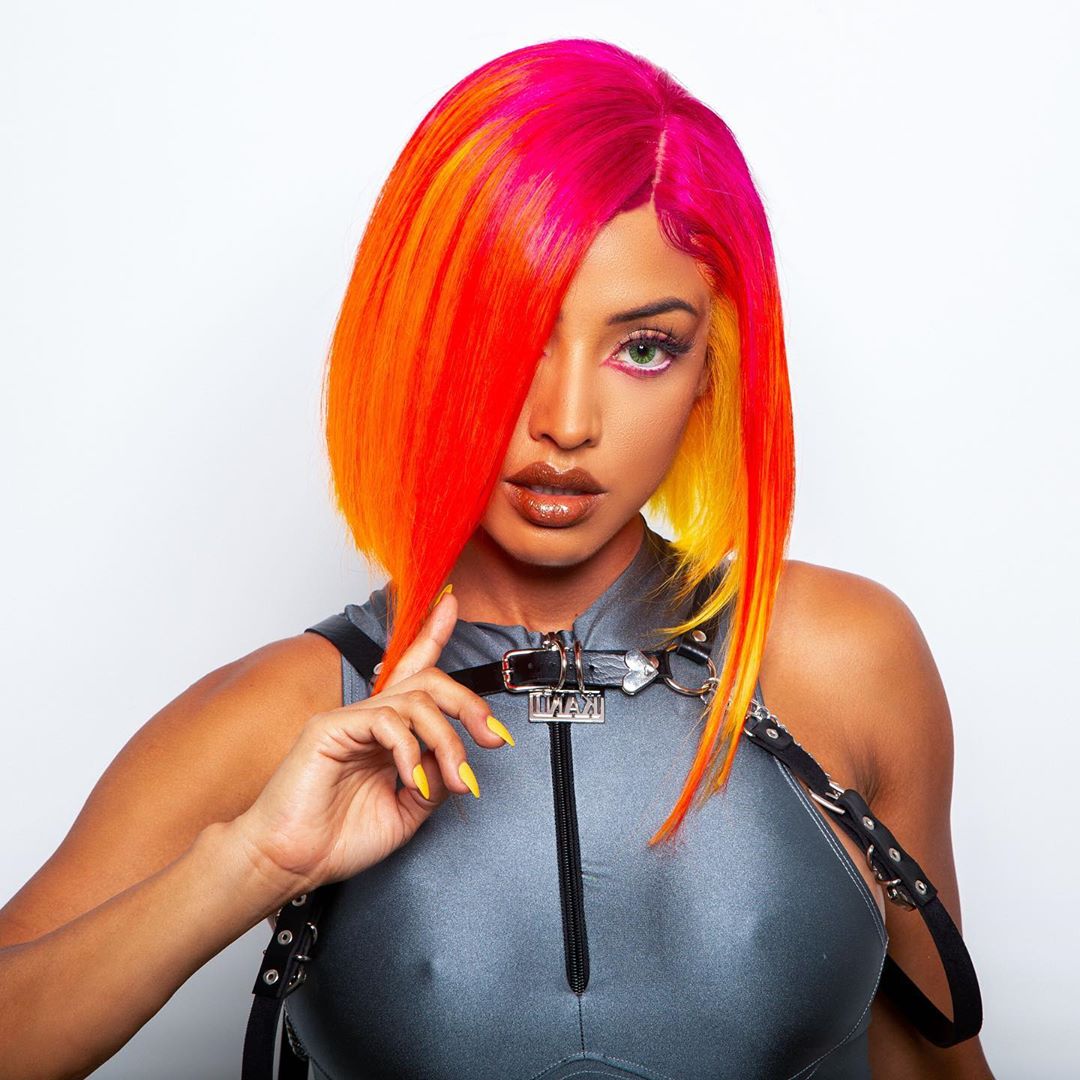 In the right combination, orange can also help you achieve that futuristic look. Neon orange with some yellow and bright pink roots and you're set to save the galaxy. A hairstyle out of this world.
9. Short Orange Spiraling Locks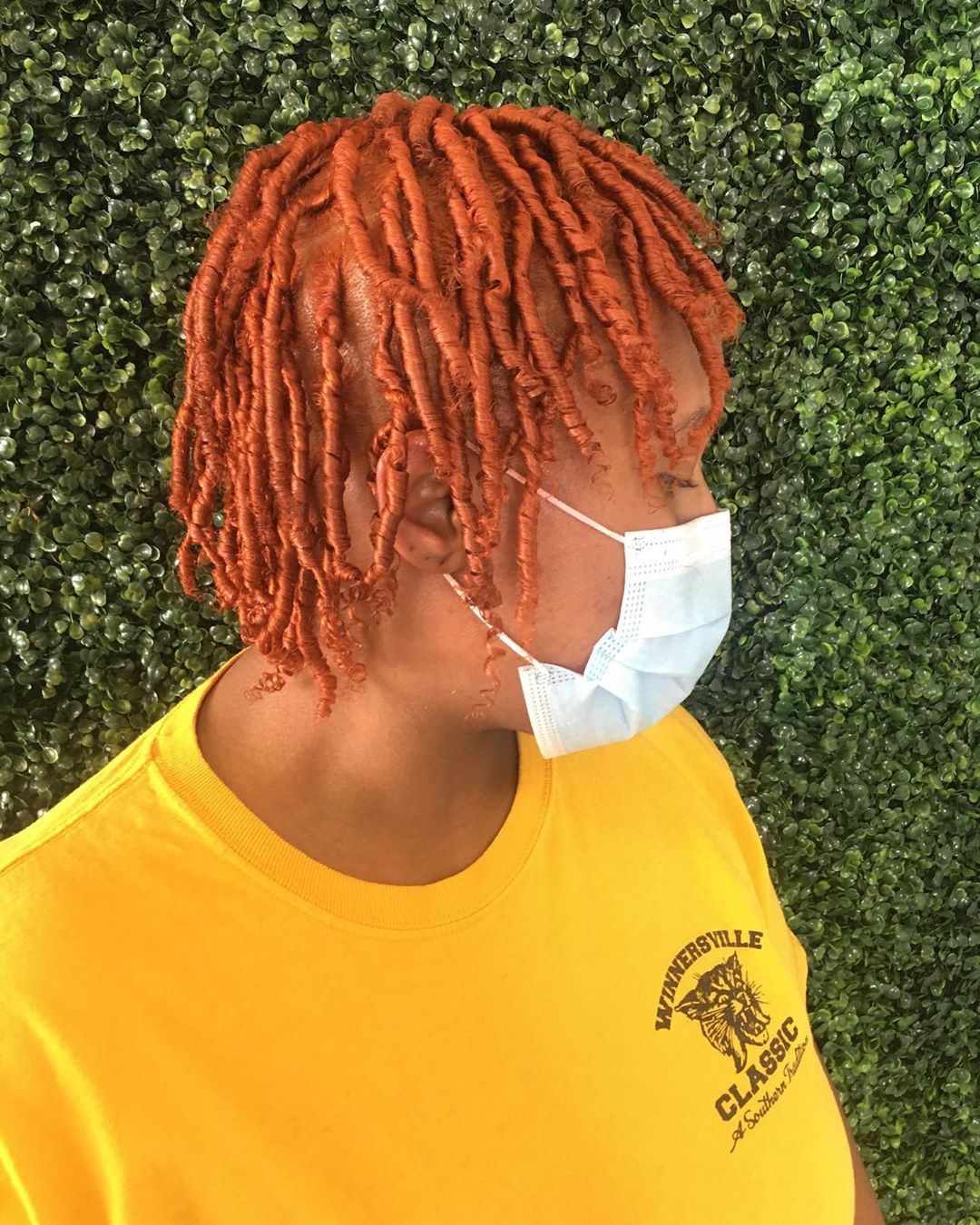 Corkscrew curls are very fun hairstyle to have. They're so springy and playful, you can't help but move to see them bounce. A vitality like that deserves a vivid hair color, and this reddish-brown orange hue is perfect for balancing things out.
10. Red And Orange Waves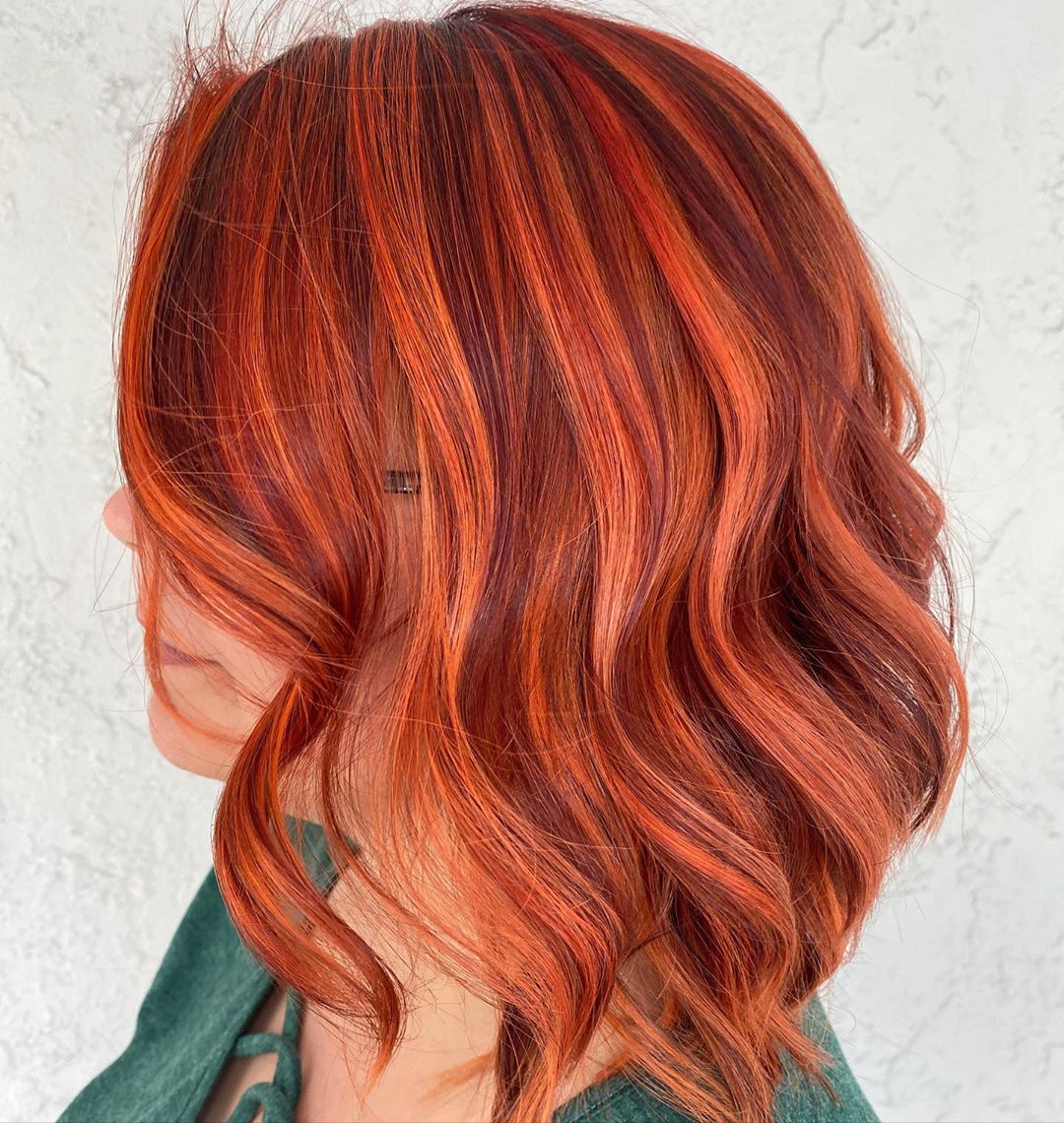 Reds and oranges are necessary to get that hairstyle that look's like it's on fire. It's a wild, bold hair color that needs to be done right. and this one is. Not too much in your face, not too dulled done. The reds and oranges blend seamlessly together, giving you a moving wave of fire effect. Nice.
11. Blonde Orange Pixie Bob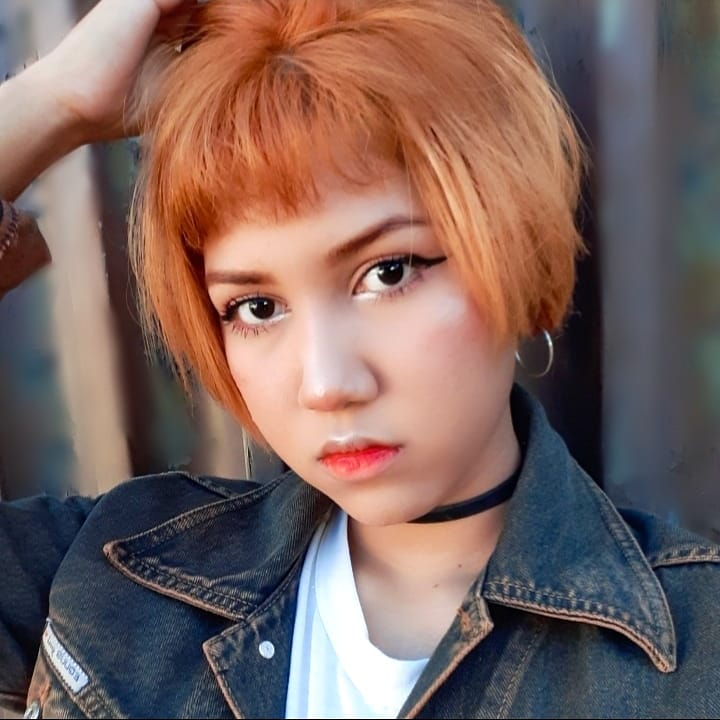 If you were wondering, orange looks good on pixie hair too. With pixie haircuts, bright colors can have very fantasy-themed effect, so a muted down orange hue with a brighter blondish splashlight is a very smashing combo for short haircuts.
12. Honey Orange With Pinkish Streaks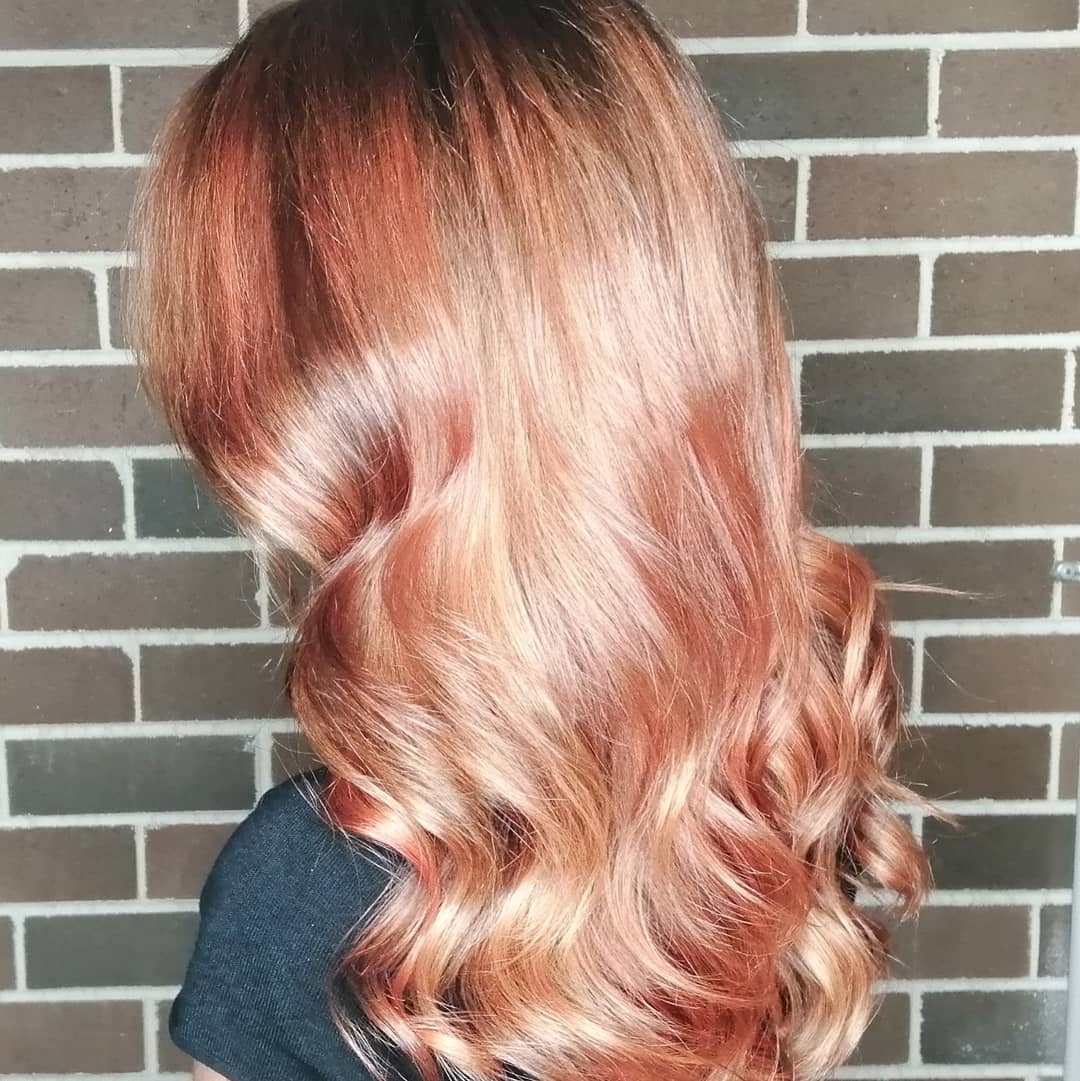 Honey blonde is a very popular hairstyle with a wide variety of ways to spice it up. If you want to stand out without looking outlandish, you can try adding some subtle orange and baby pink balayage highlights. It is the girlish grown-up version of blonde hairstyles.
13. Curly Orange Pompadour With Black Side Cut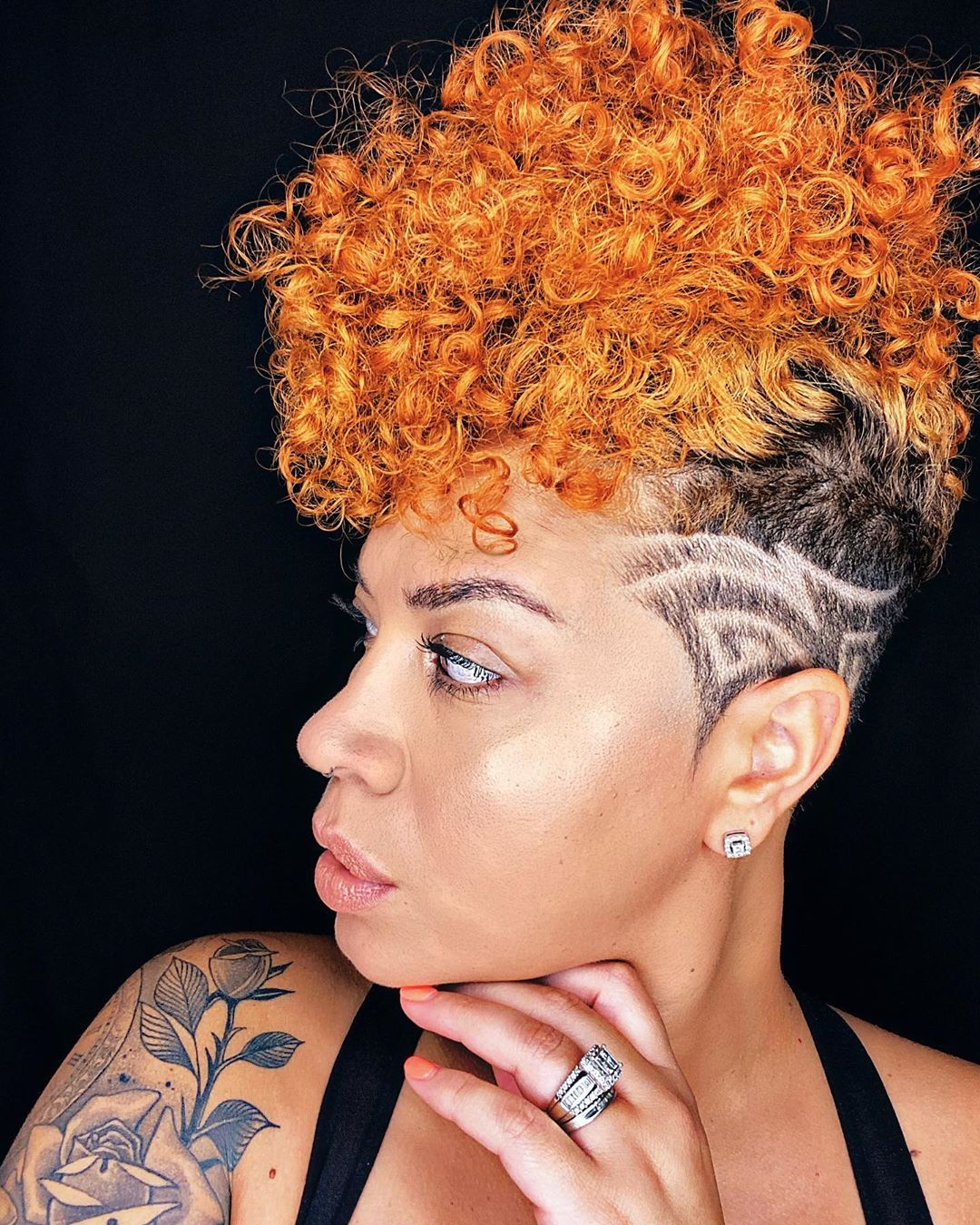 Curly pompadour with buzzcuts is a rocking hairstyle already. But when they're done in bright orange with yellowish highlights, and you know you have a person there that's fun but don't want to mess with.
14. Orange And Dark Maroon Prism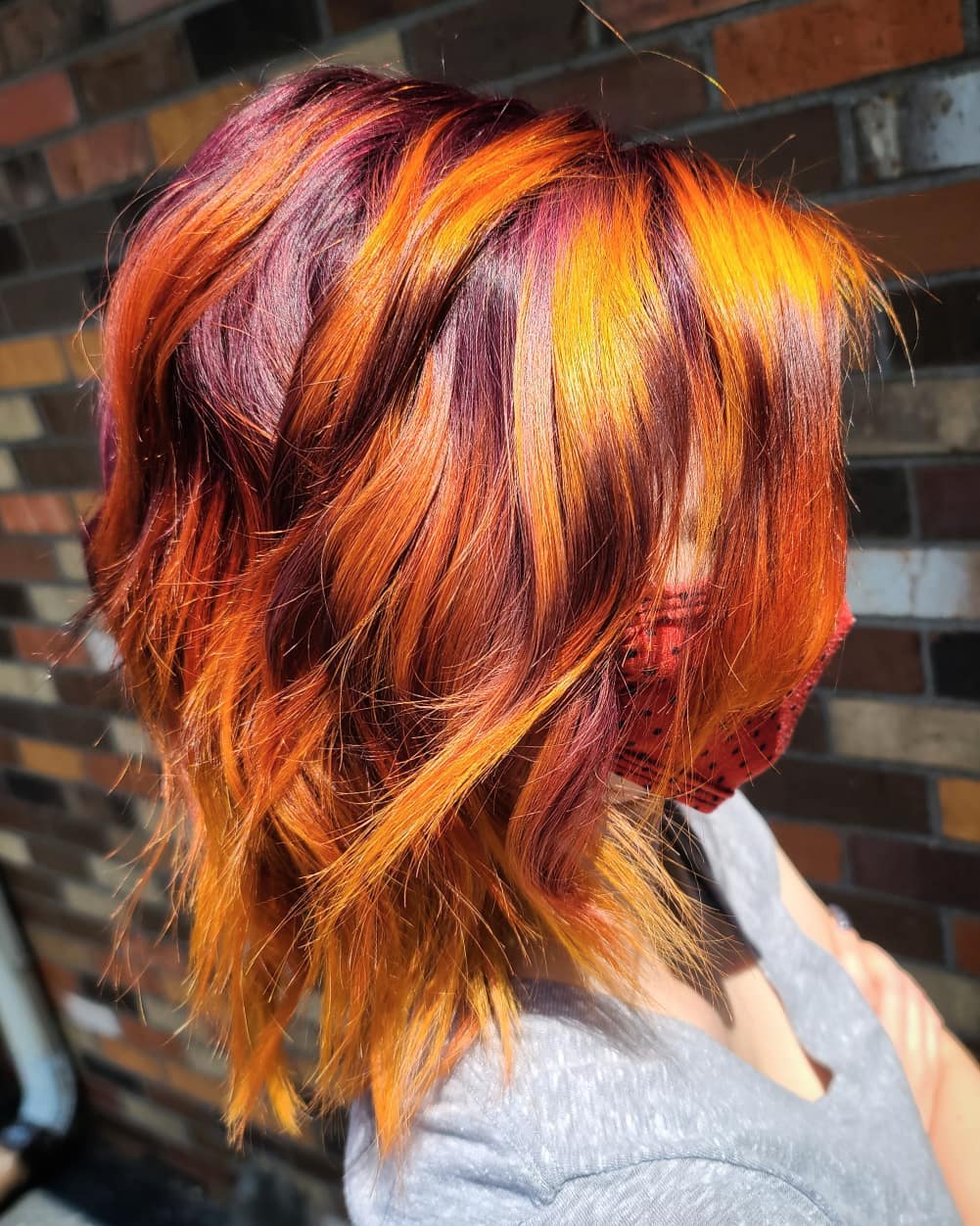 Autumn is around the corner, meaning Thanksgiving and Halloween are coming too. To get into the spirit, you have to get a hairstyle like this one, or at least something similar. Orange and dark maroon prism. A fine example of fall colors.
15. Black To Orange Box Braids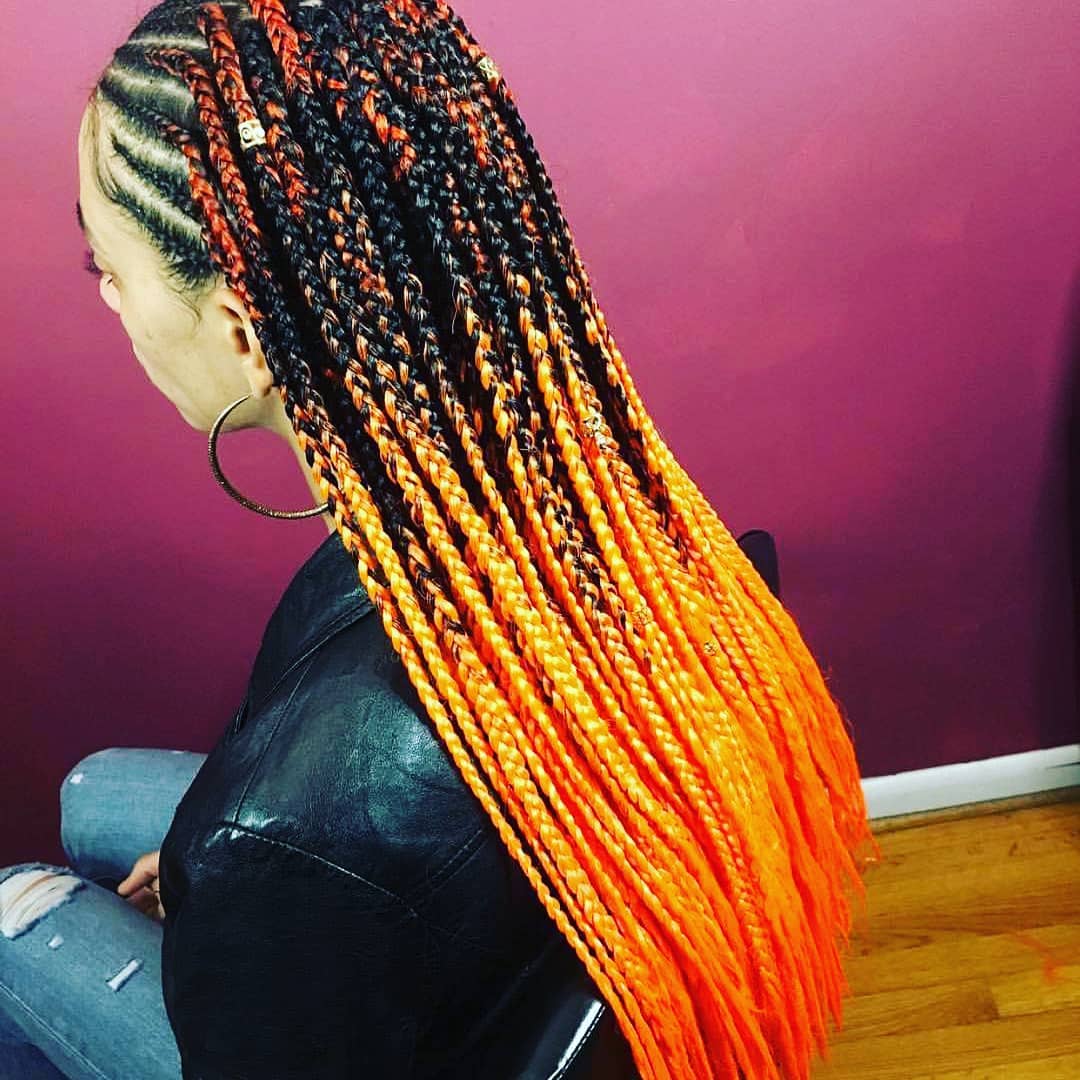 We've already shown you that bright orange ombre tips with darker roots look pretty lit. And now you can see that it looks even better on locks. It is a burning hot look you can't miss out on.
16. Dark Purple With Orange Framed Bangs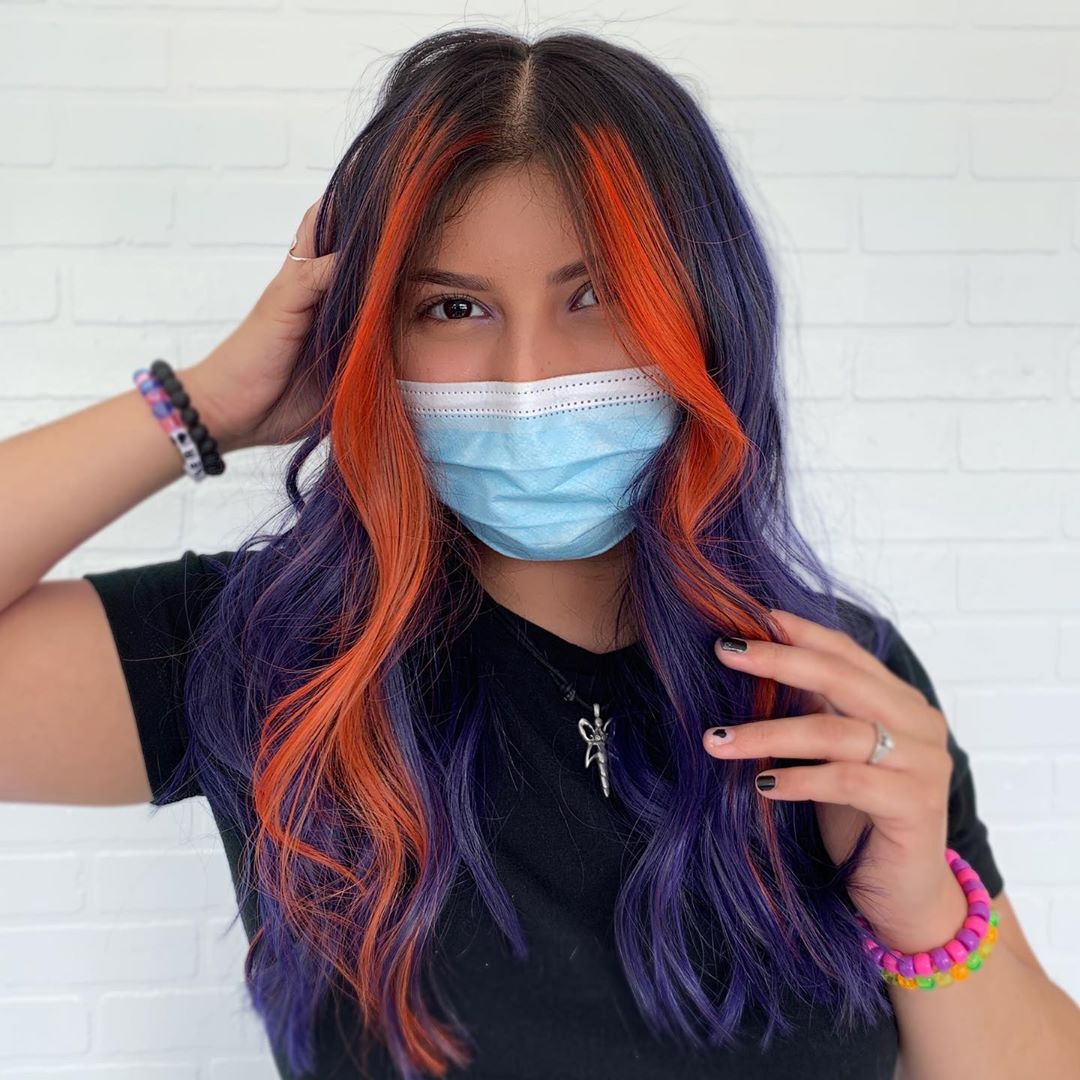 Since purple hair is a bit more popular than blue and close to it in the color spectrum, purple and orange are just a good complementary color combination you can get. And this example proves it. Arent these face-framing orange fringes are the best for purple hair?
17. Blonde Orange From Dark To Light Ombre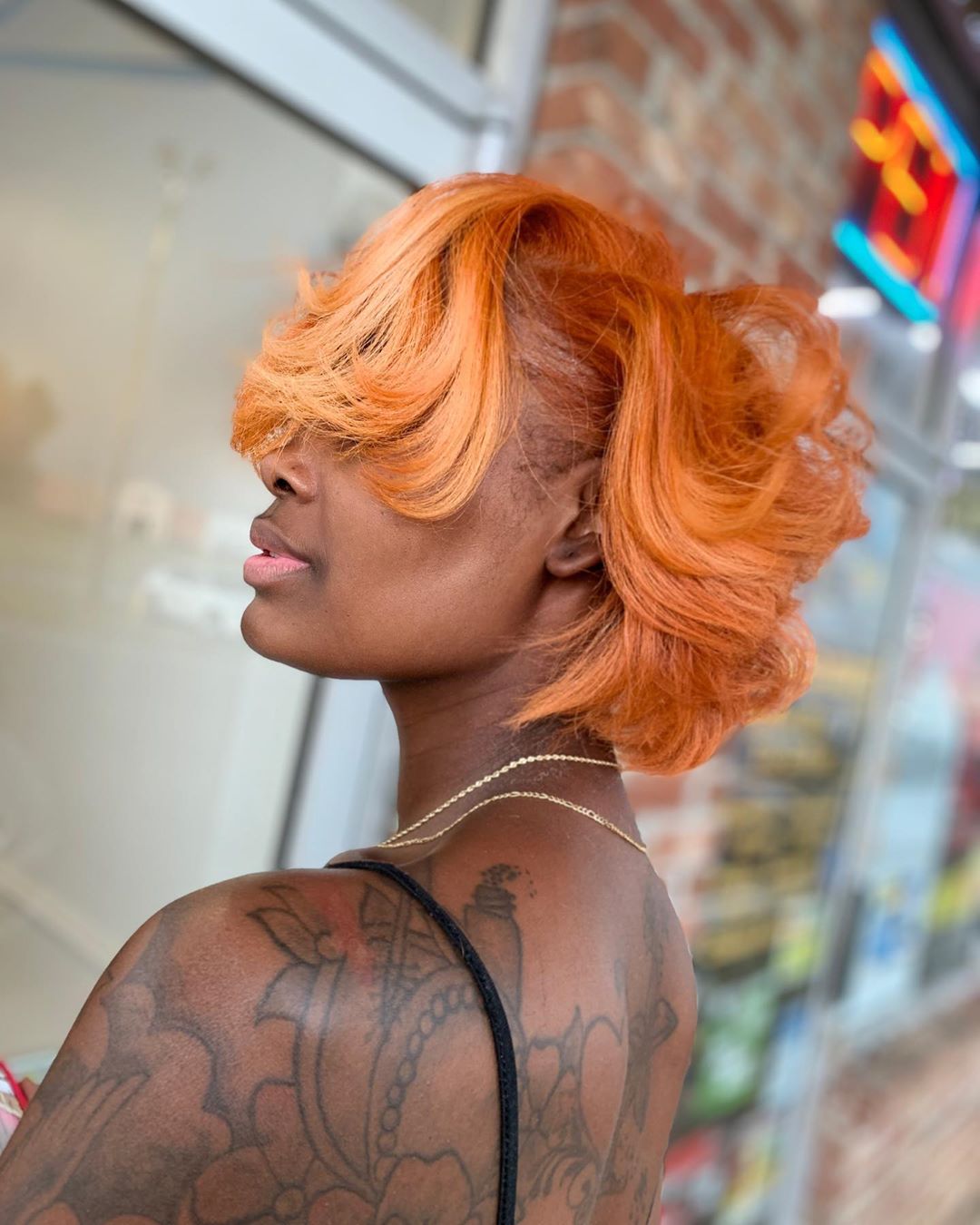 Just like with every color, you can do ombre or gradients from dark to light and visa versa. It is a good way to add more vibrancy to your hair color, without mixing different colors.
18. Brunette With Peek-A-Boo Orange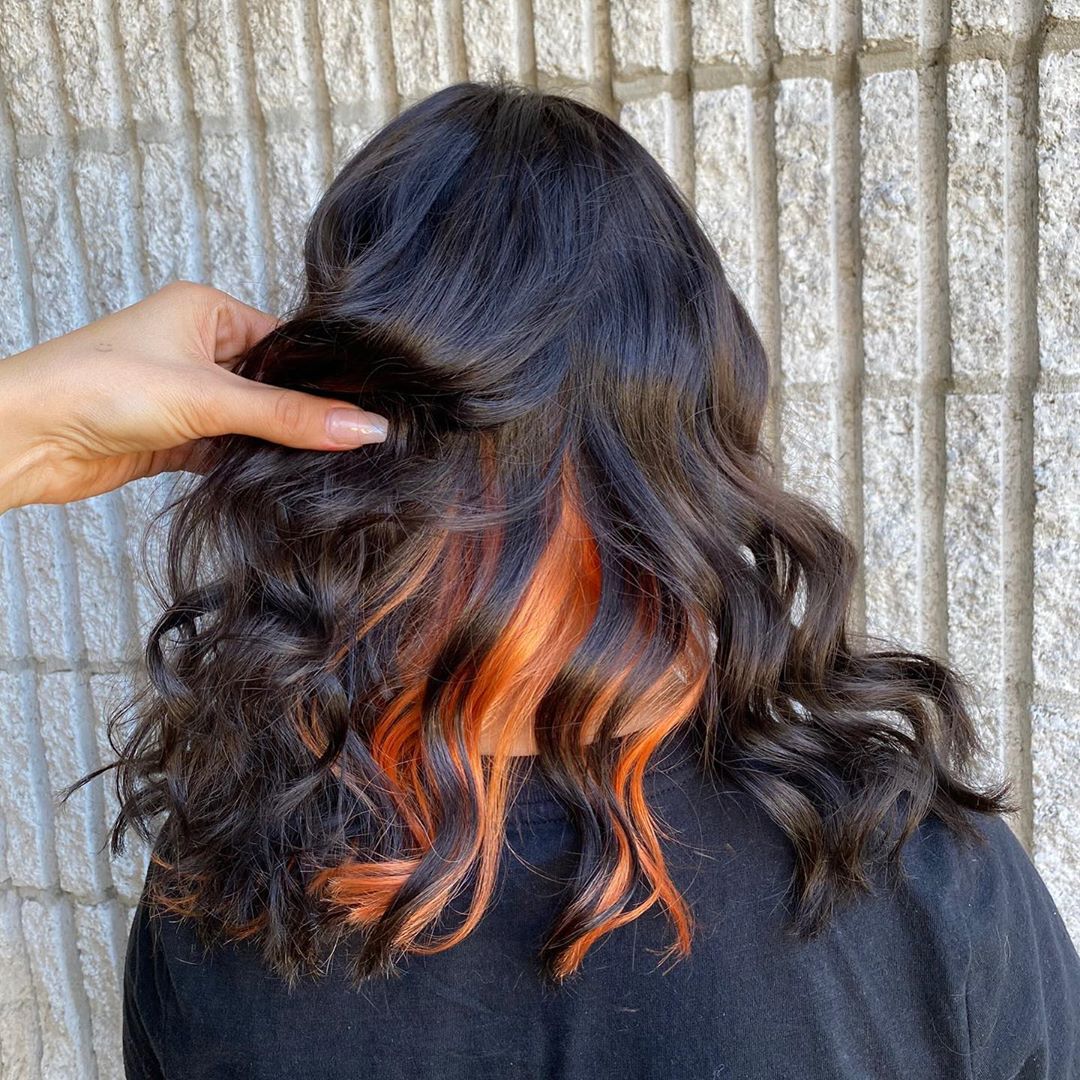 So far, you're loving how the orange hairstyles look but are not sure if you can get away with dyeing your hair this color in front of your boss. If that's the case, there's always the peek-a-boo hairstyle. Sneak the fun in.
19. Dark Sandy Blonde With Orange Tips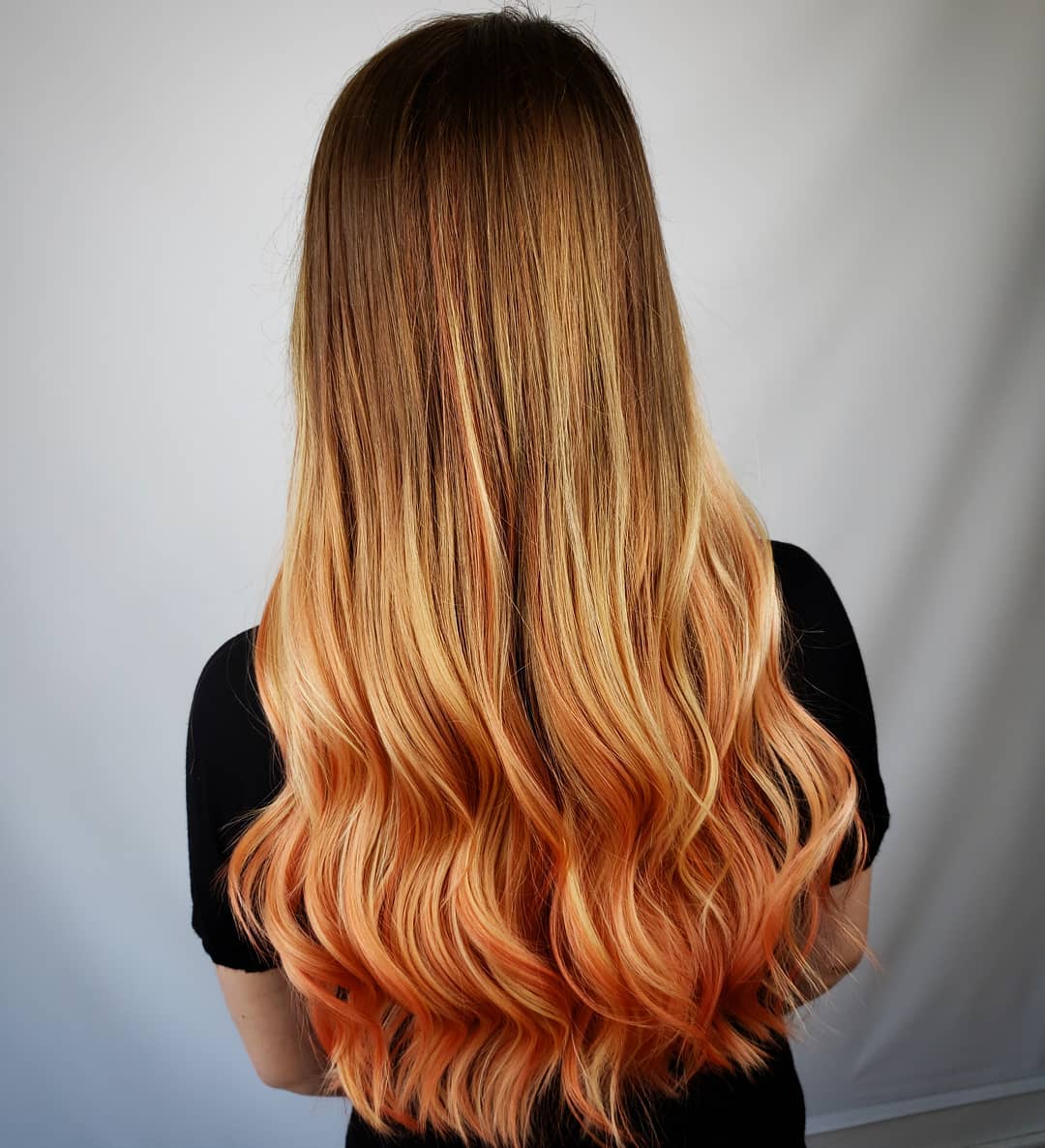 Like we mentioned before, you don't have to rush into trying out new hair dye and do your entire hair. If you're not sure, always start small like adding it to this cute chestnut to blonde ombre hairstyles, doing just some highlights on the tips.
20. Fire Orange Loose Soft Medium Lenght Curls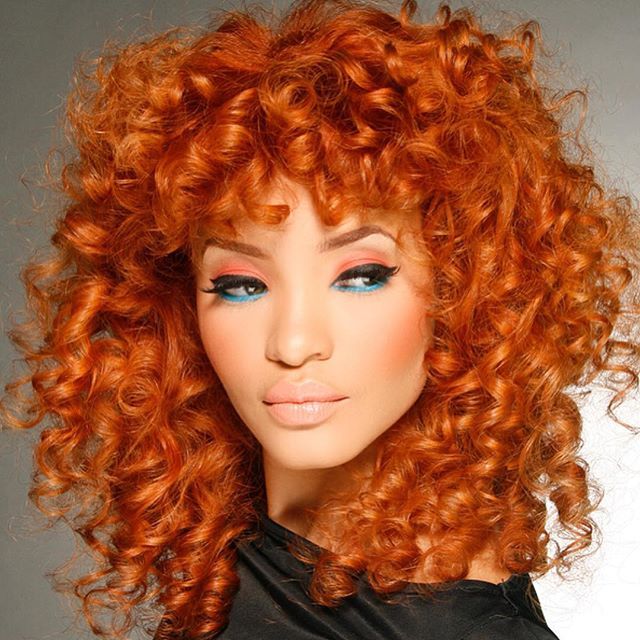 And last, but not least, a reddish-orange hairstyle. It is a great way to spice up and revitalize your hairstyle if you're already sporting some of the red shade hairstyles. And if you happen to have some nice curls, you can be sure to turn heads wherever you go.
That's was our introduction to some awesome orange hair ideas. We hope this gave you some idea of what to expect from deciding to go for a warm or vivid orange hairstyle. What is your favorite hair color? What orange combo would you do? Leave us your thoughts and ideas in the comment section below.