To keep their skin flexible and hydrated, everyone needs a certain amount of natural oil. The type of skin is determined by how much oil the skin develops on your face. Thus, you can categorize your skin condition as dry, mix, and oily.
The extra oil on the face creates a persistently sticky or greasy look. An oily skin condition is just as it looks like. If the oily skin is not treated, the pores can get clogged and swollen, and dead skin cells may build up. With this kind of skin, blackheads, pimples, and other kinds of acne are also common.
Face masks can help draw oil out of the skin to make the face seem smoother and healthier and sound cleaner. Face masks with fragrances, additional moisturizers, or harsh chemicals can be avoided, however. The skin may be irritated or dried out by these ingredients, making it react by producing still more oil.
We are here to show you that you can use raw, organic face masks to cure your oily skin. You'll say farewell to oily skin once and for all, thanks to its rich nutrients. Here are our top 15 choices for dry skin from the most helpful homemade facemasks. Enjoy! Enjoy!
1. Banana + Honey + Lemon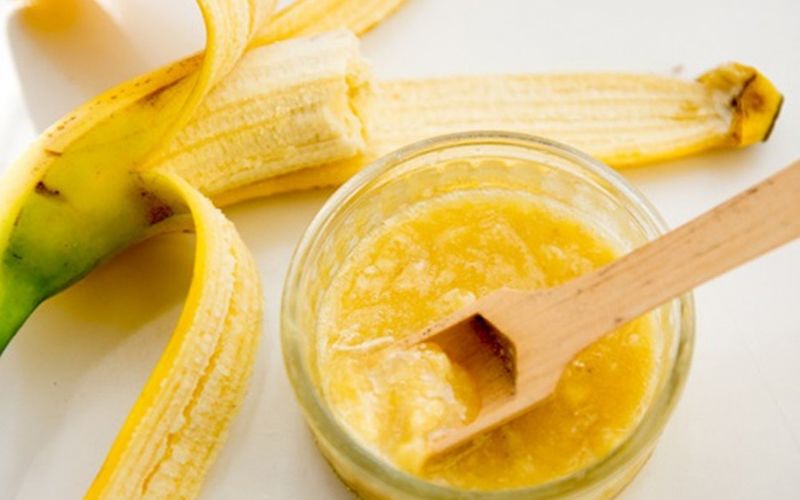 Who knew that the humble banana can offer so many beauty benefits for the skin? It's rich in strong phytochemicals, vitamins, and moisture. Using a basic banana face mask with lemon juice and honey if you have oily-greasy skin. Banana is a fantastic exfoliator that helps to slough off excess sebum on the surface of the skin. Moisture, calcium, and vitamins E and C are all used and included, both of which support bright radiant skin.
2. Purple Tea + Lemon + Banana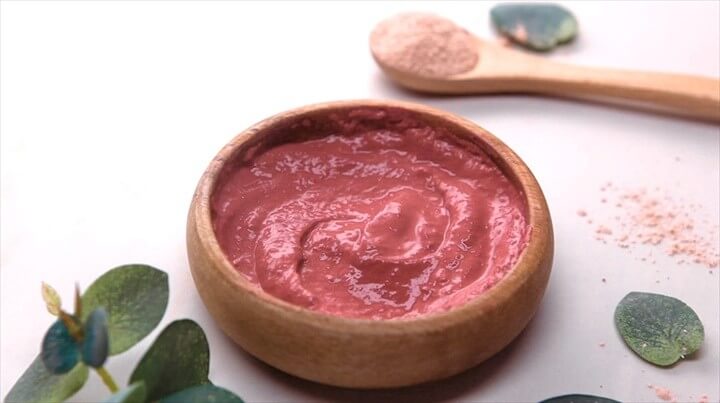 The rising star in organic medicine is purple tea. Purple tea, known as the "magic tea" or the "tea of the future," contains more antioxidants than other traditional forms of tea leaves, such as green tea and black tea. It is filled with vitamins and minerals that are helpful in keeping the skin from sagging. This rejuvenates the skin, helps combat acne and the production of unnecessary oil.
3. Raw Cacao + Yogurt + Honey + Banana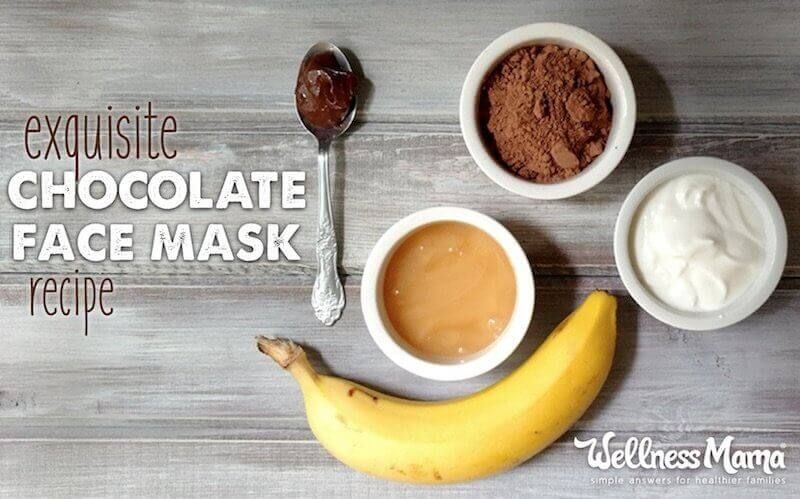 Chocolate is unbelievable in and on the body. There are more than 300 recognizable compounds in the cacao bean, including vitamins, minerals, amino acids, and phytonutrients. Cacao powder contains these and other nutrients rich in magnesium, zinc, iron, calcium, beta-carotene, and omega 6 fatty acids so that the body and skin function at optimum levels. These elements can protect the skin against environmental stressors when applied topically, feed the skin, and create a healthy glow.
4. Eggwhite + Lemon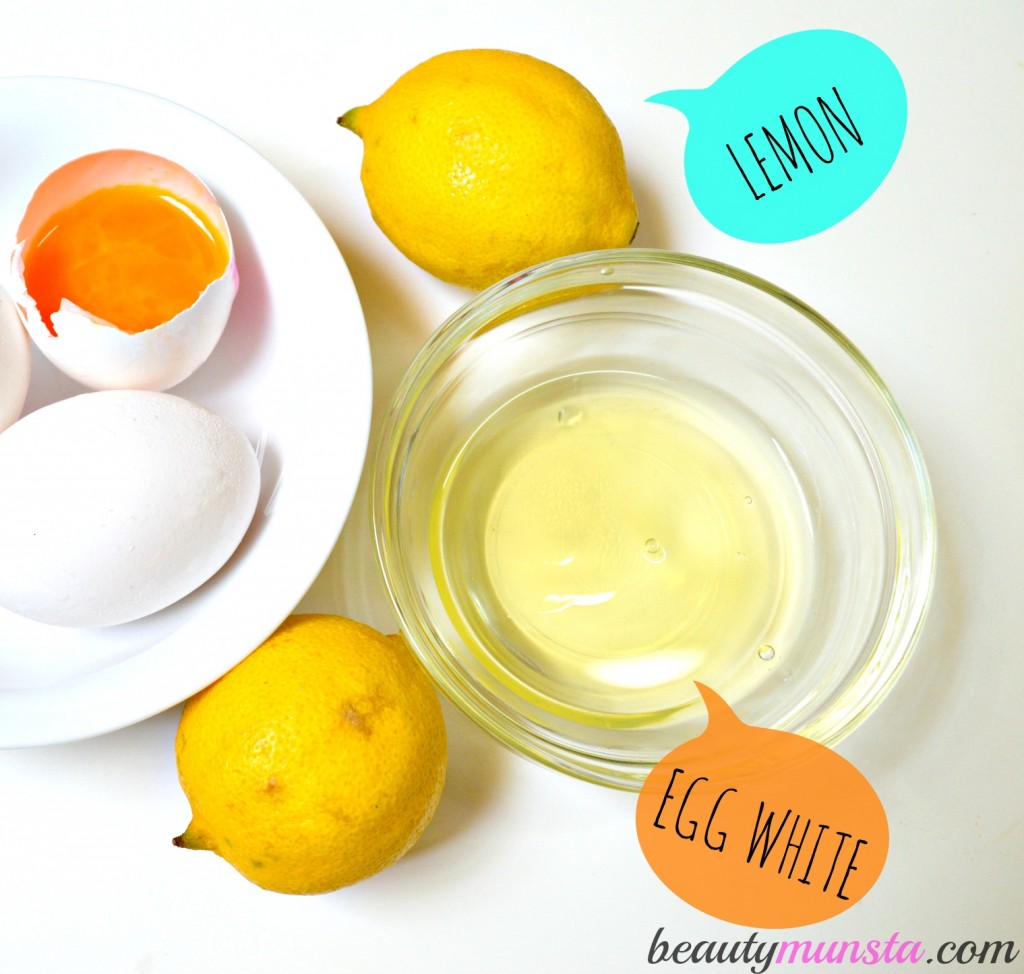 Egg white performs fantastic on dry skin. It makes the skin tighten and large pores diminish. This mask will leave your skin tight and glowing. Lemons have antibacterial effects, so treating dry skin is the right option. Since it's made with just two ingredients, it's a very basic face mask. For dry skin, though, these ingredients are super-helpful.
5. Oatmeal Powder + Milk + Egg White + Lemon + Olive Oil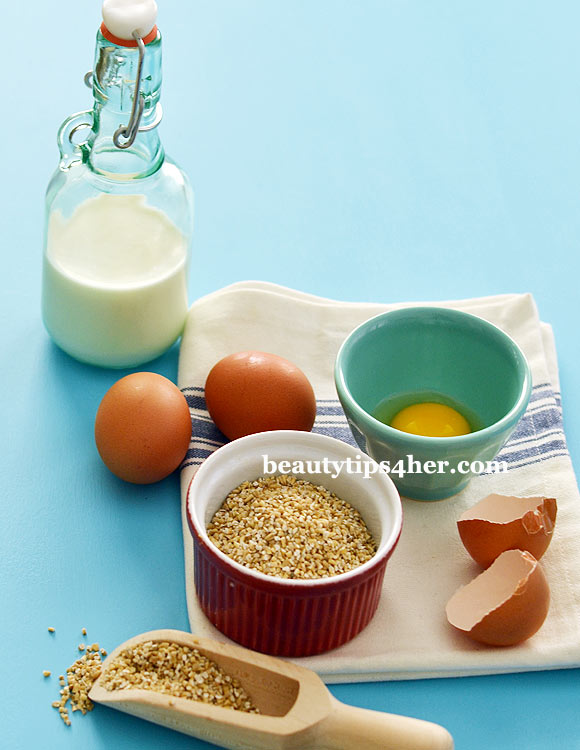 Using oatmeal as a mask is one of the easiest ways to suck up oil from the scalp. Its absorbent properties easily minimize the output of excess sebum, leaving your skin clean, bright and matte in appearance. Oatmeal is often really hydrating, so dry skin is fooled into creating less oil. Using an oatmeal face mask will minimize inflammation and redness and soothe acne breakouts that are inflamed, angry-looking.
6. Green clay + Spirulina Powder + Kelp Powder + Lavender Powder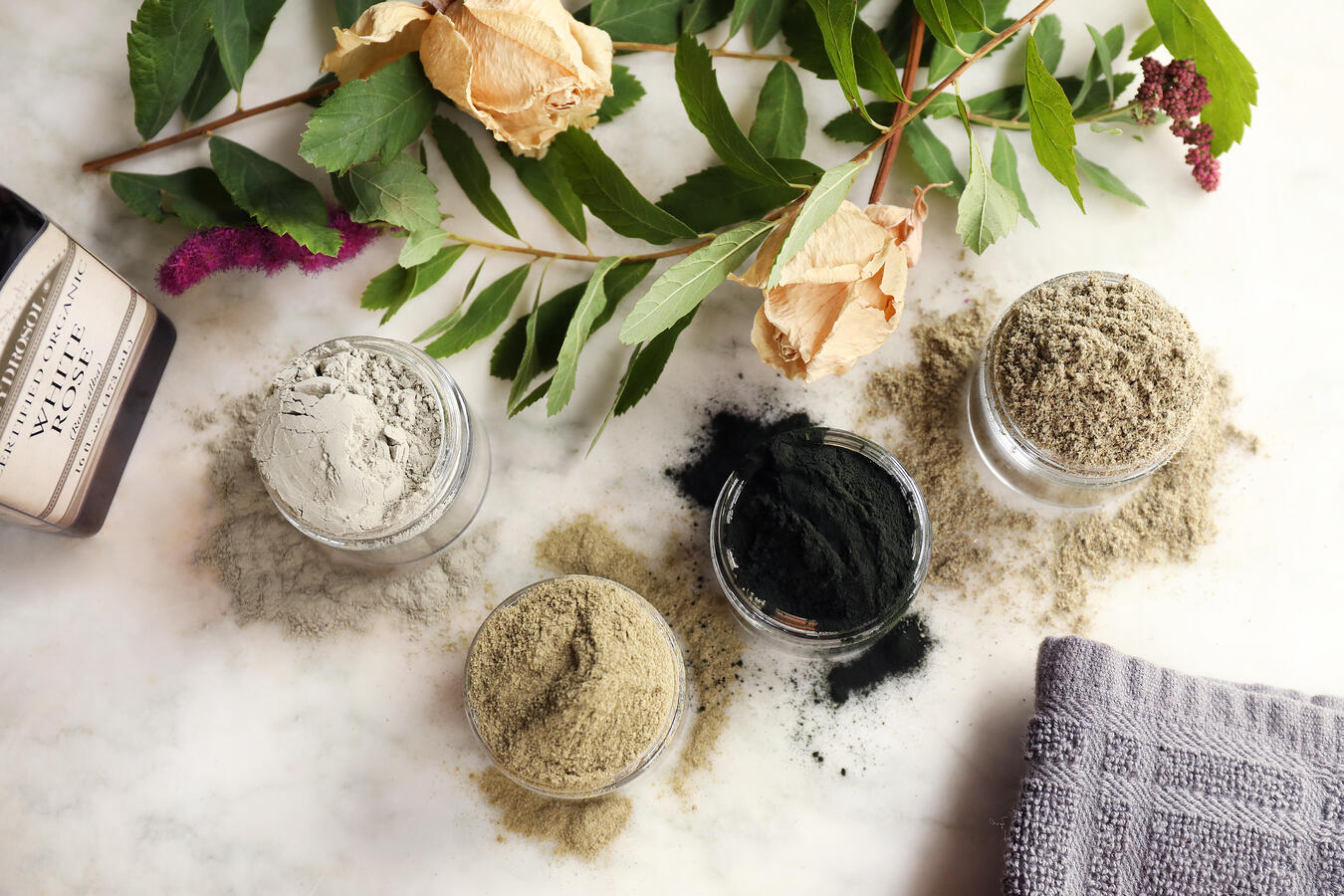 This mask is considered a mask consisting of seaweed. "Seaweed" is a term that contains a wide number of species of marine plants and algae. Most of the prime composition of seaweed is full of additives that work wonders for the skin. The skin advantages of seaweed are abundant. Maintaining dry skin, for instance, and helping to address conditions such as clogged pores and acne. In addition, with the nutrients it requires to look vivid, supple, and stable, it will nourish your skin.
7. Apple Cider Vinegar + Clay + Witch Hazel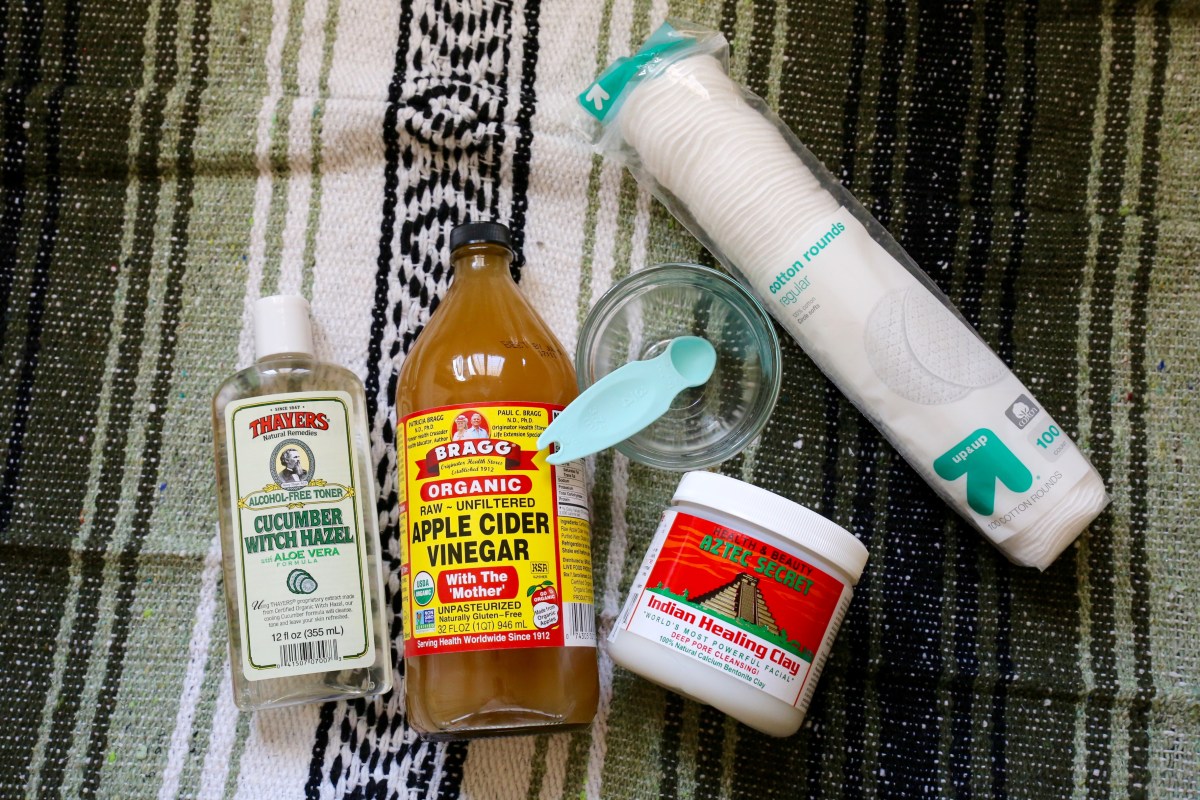 Apple cider vinegar is an ingredient with many nutritional benefits as well as skin advantages. It is rich in vitamins, nutrients, and mineral salts, and is rich in acetic, citric, malic, and amino acids. These astringent properties tend to increase the supply of blood to the skin and reduce pores. For those with oily skin, it is a perfect treatment and also influences the skin's pH level. Witch hazel is a natural astringent that helps to extract extra oil and soil, giving a matt texture to the skin, making it suitable for skin that is oily or acne-prone.
8. Pink Clay + Rose Water + Witch Hazel + Raw Honey + Lavender/ Geranium Essential Oil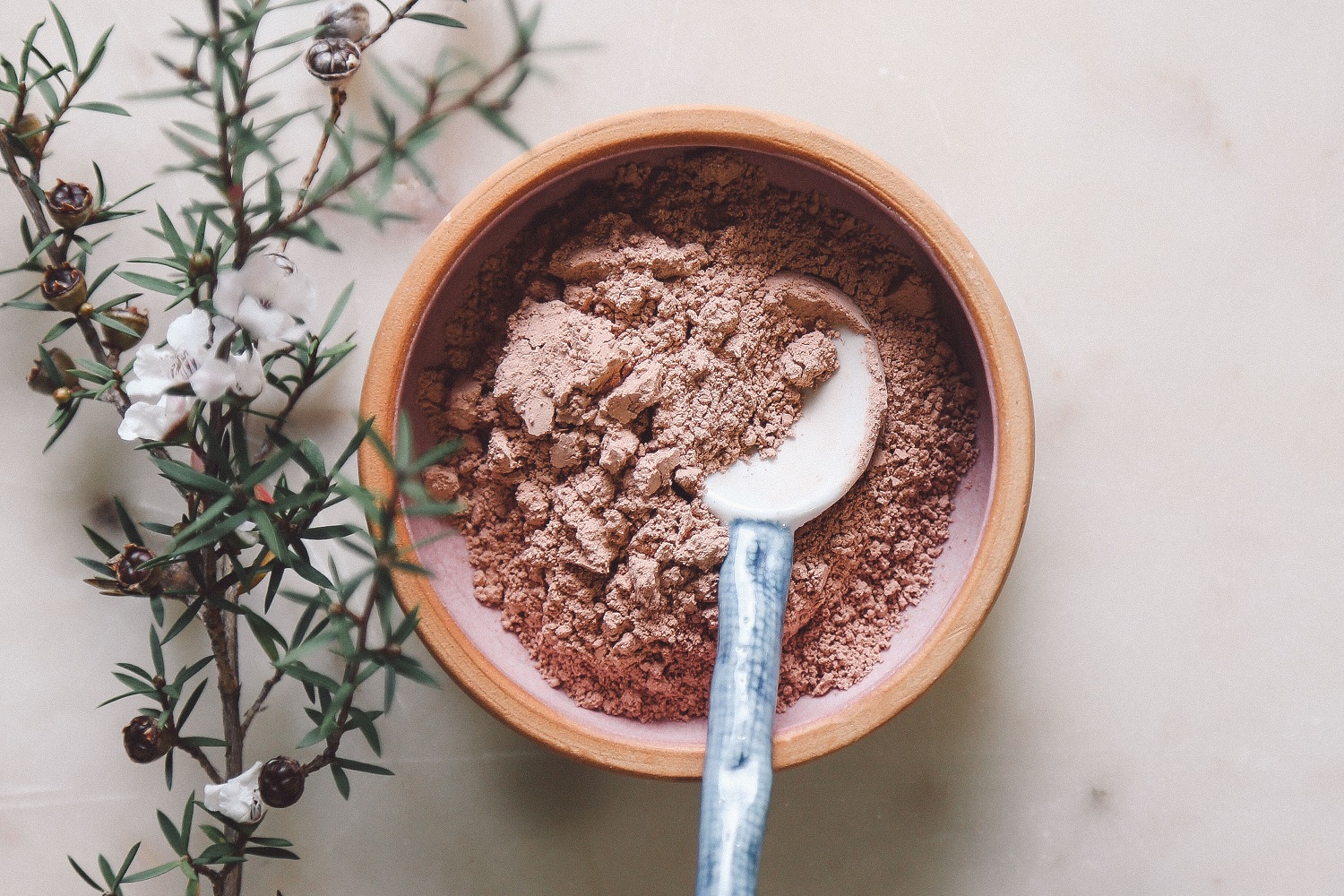 Using clay masks has been a pampering requirement that dates back centuries of popularity. For any skin type being able to use them with total ease, the advantages of pink clay are especially remarkable. Pink clay is a very soothing ingredient that, instead of drawing out the gunk like most masks, has a more softening solution to clogged pores.
9. Charcoal + Tea Tree Essential Oil + Witch Hazel + Clay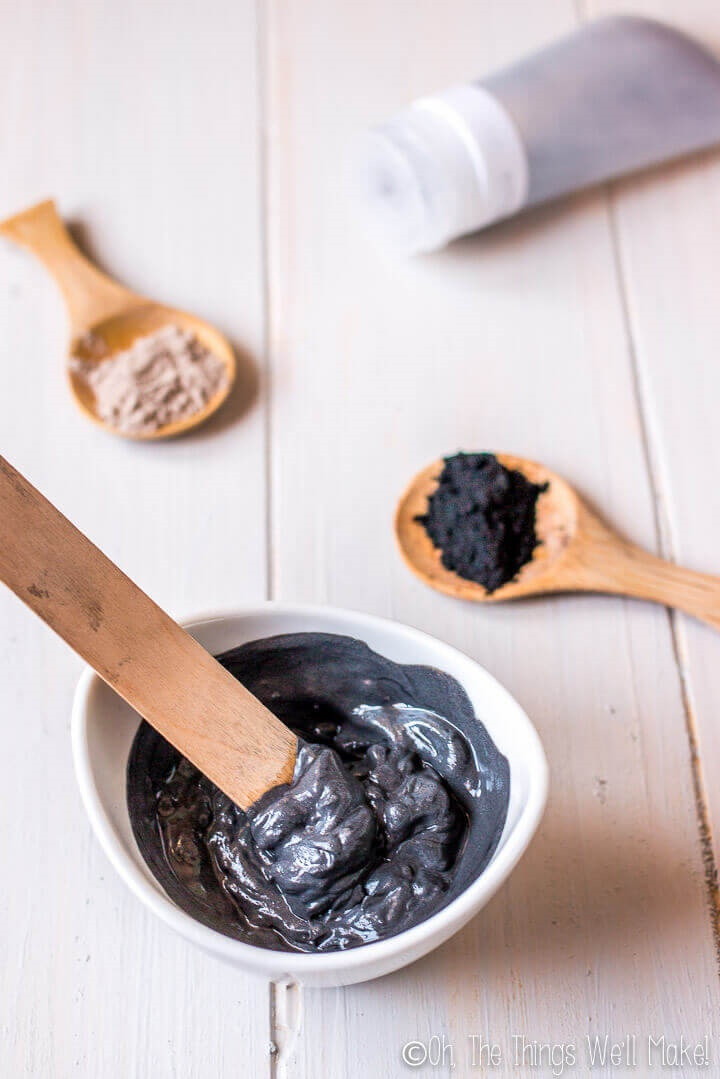 It's important to use the correct products to cleanse and moisturize your skin when it comes to oily skin. Although preserving supple, hydrated, and healthy-looking skin, you are attempting to remove excess oil. An effective ingredient is charcoal for that. On oily skin, charcoal will work well as it eliminates excess fat, decreases the occurrence of current blackheads, and prevents the production of new acne. It gives your pores a deep clean, removing dirt and bacteria.
10. Orange Peel Powder + Yogurt + Honey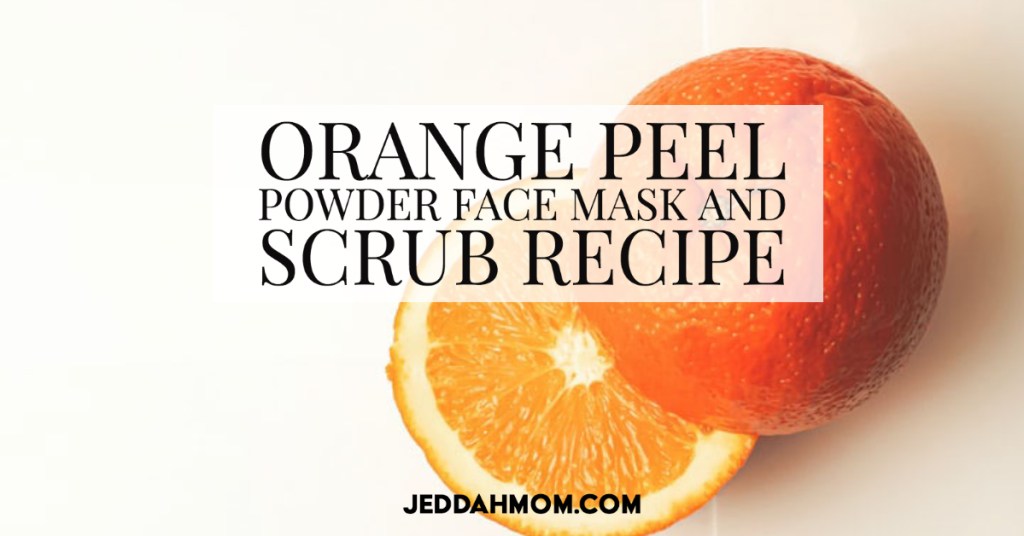 Bright, glossy, and tangerine, the orange peel contains antioxidants and can give you clean and clearer skin in no time if you use it daily. The peel has anti-bacterial and anti-microbial properties that make it excellent for acne and dry skin care. In powder shape, orange peel is better used. The peel itself has even more vitamin C than the orange itself.
11. Rose Water + Pumpkin Seed + Clay + Honey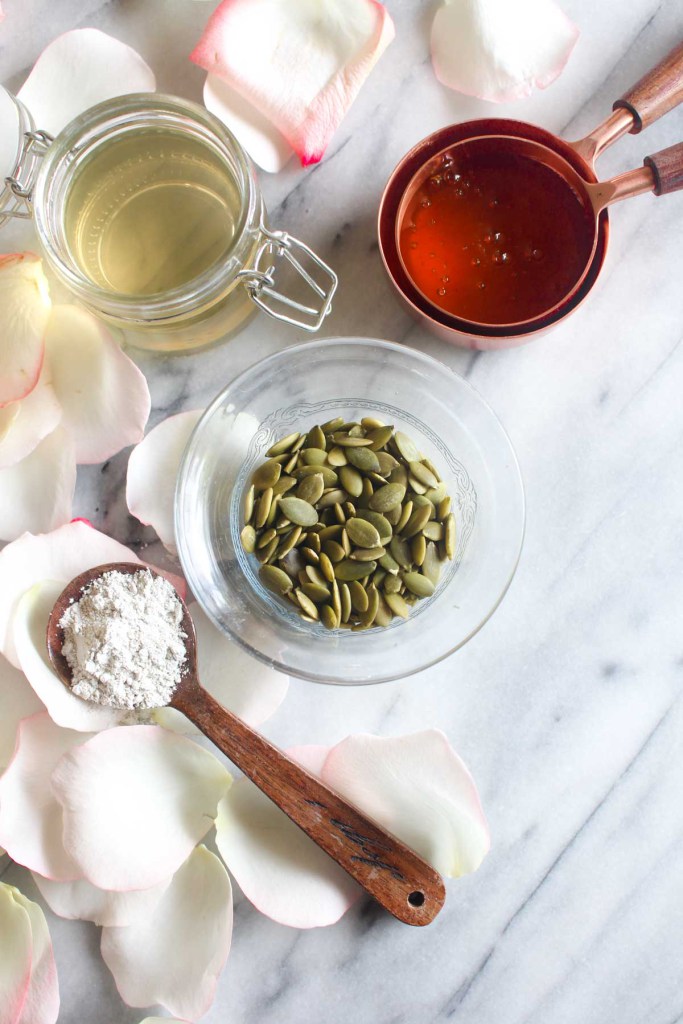 Rosewater has antiseptic and antimicrobial properties that make it an important ingredient in the fight against acne. The ingredient is exceptionally soft on your skin, unlike most topical acne therapies. It also helps unclog the pores, restricts the production of oil, as well as decreases the pores' size, avoiding potential breakouts. Pumpkin seeds contain essential fatty acids, nutrients, enzymes, vitamins, and zinc. This same zinc works with dry skin along with natural selenium, allowing it to appear good and smooth.
12. Tomato + Potato + Cucumber + Honey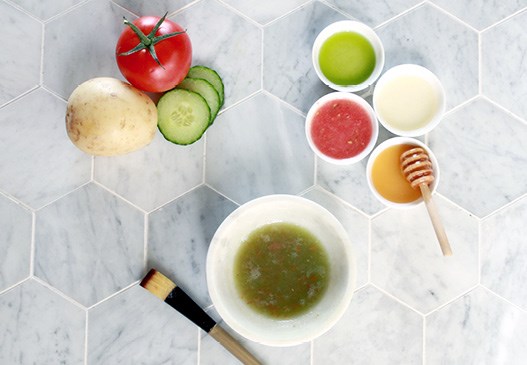 Give the skin-friendly tomato a shot if you're tired of spending time and cash on fancy goods with huge statements. The superpower of this humble fruit is stopping acne by unclogging pores. This also means no whiteheads or blackheads. Tomato pulp or juice also helps to minimize oiliness and to make the skin clearer. The potato can dramatically enhance the health of your skin, eliminate black spots, and control the excess fat. Cucumbers are somewhat astringent, helping to cleanse and tighten the pores of the skin.
13. Turmeric + Honey + Coconut Kefir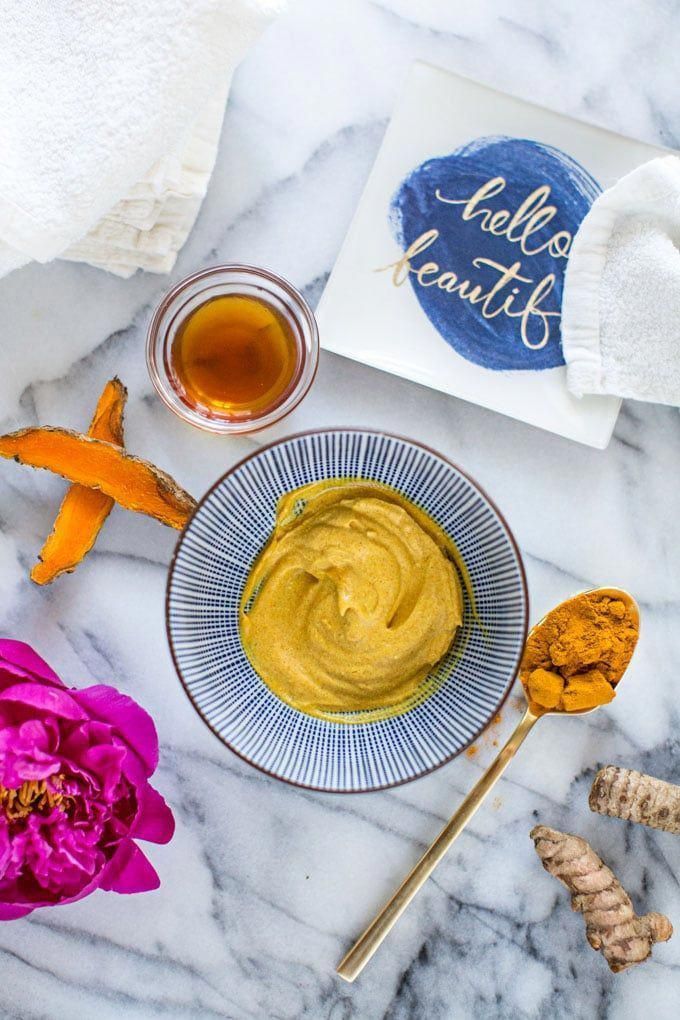 Like turmeric, it's impossible not to love spice, mostly because it feels like it cures everything. What makes it its yellow-orange hue is the active ingredient, curcumin. That's what makes it such a strong anti-inflammatory as well. Turmeric is good for oily skin because it helps control sebum production, making it less oily and naturally healthier for the skin.
14. Papaya + Honey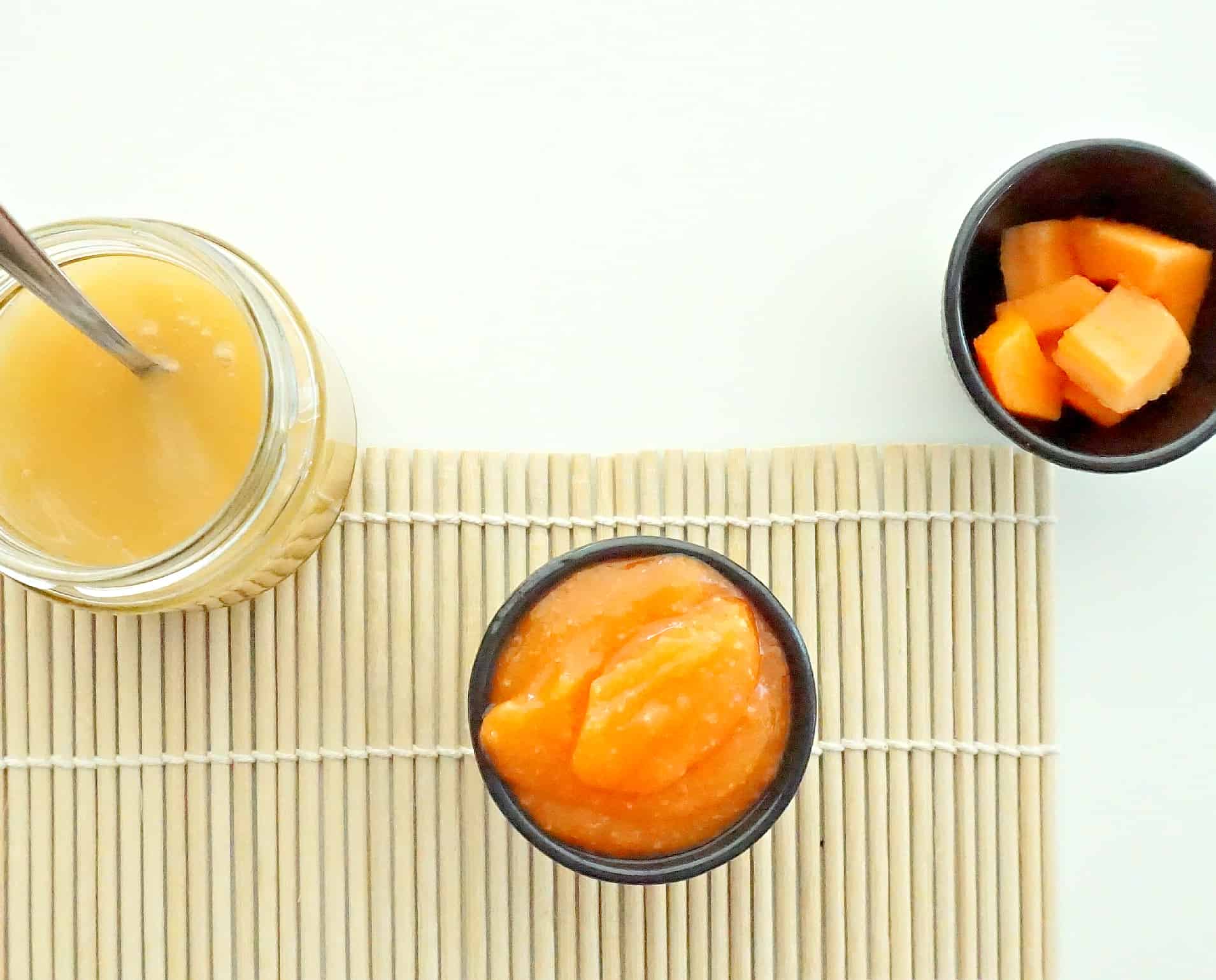 Papaya is well known for its anti-aging and skin lightening effects, so it is a common ingredient for face masks. Orange and papaya contain vitamin C, and it is assumed that the juice acts as a natural astringent, reducing excess sebum production. It will leave the skin moisturized and soft with a good amount of this fruit.
15. Brown Sugar + Honey + Coconut Oil + Lemon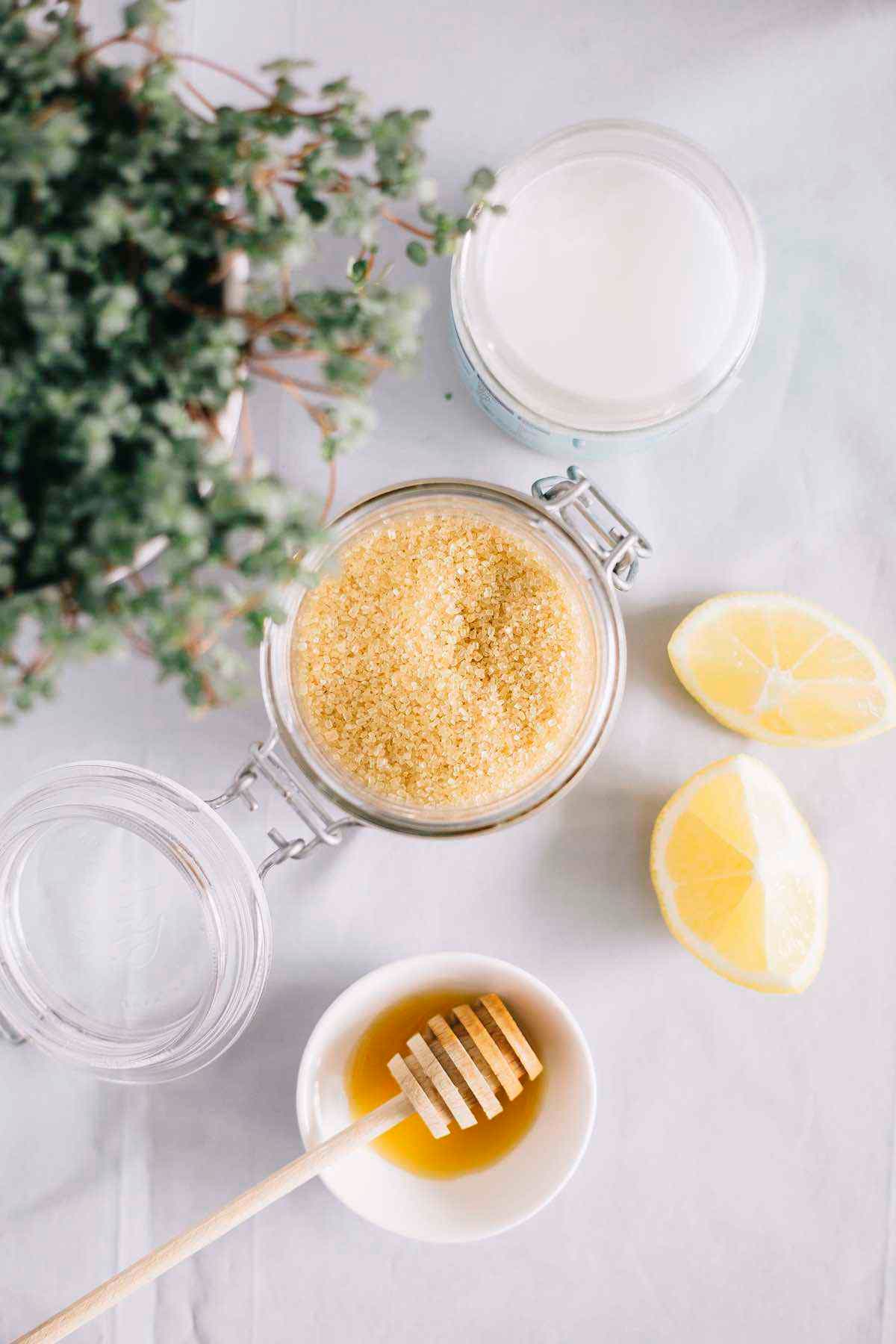 This face scrub does an outstanding job of getting rid of dead skin cells and decreasing the skin's excess oil. Brown sugar exfoliates and extracts dead cells naturally. It hydrates the skin and facilitates the washing and circulation of healthy skin. Honey helps open pores, helping to clear soil and oil out. In addition, honey is antibacterial, so it is very helpful in preventing unwanted acne and curing it. Lemon helps to extract fat from the skin and even get rid of your skin's dark spots and lighten them with time. It keeps the skin hydrated as well.
16. Aloe Vera + Honey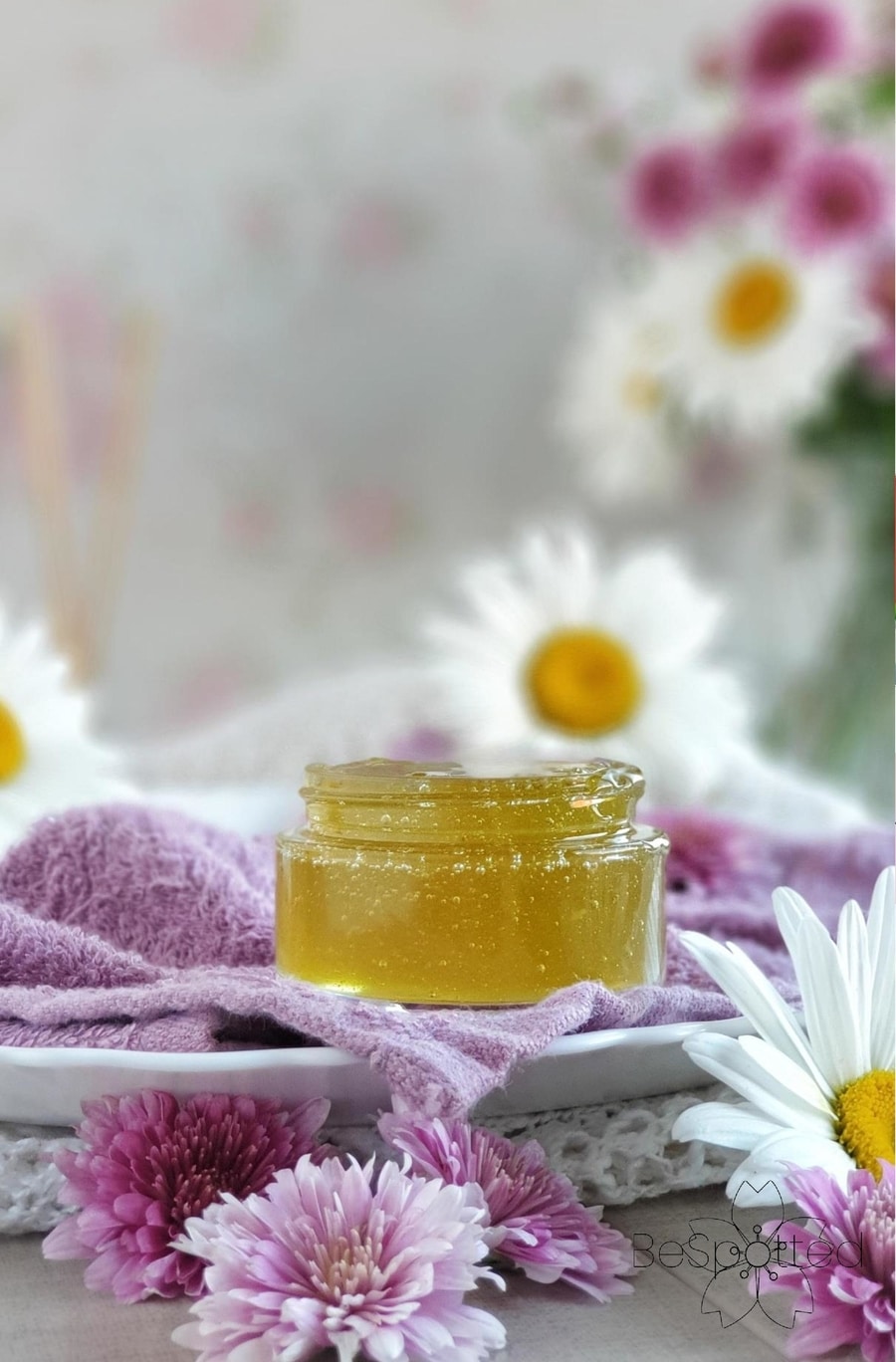 Aloe vera serves as an astringent and extracts waste moisture from the pores of the skin. It also hydrates the skin as it contains 90 percent water. It is mixed with honey, which serves as a moisturizer, moisturizing the skin without making it oily. You'll improve the odds of healthy skin that is acne-free by mixing these ingredients for an at-home spa treatment.
17. Multani Mitti + Rose Water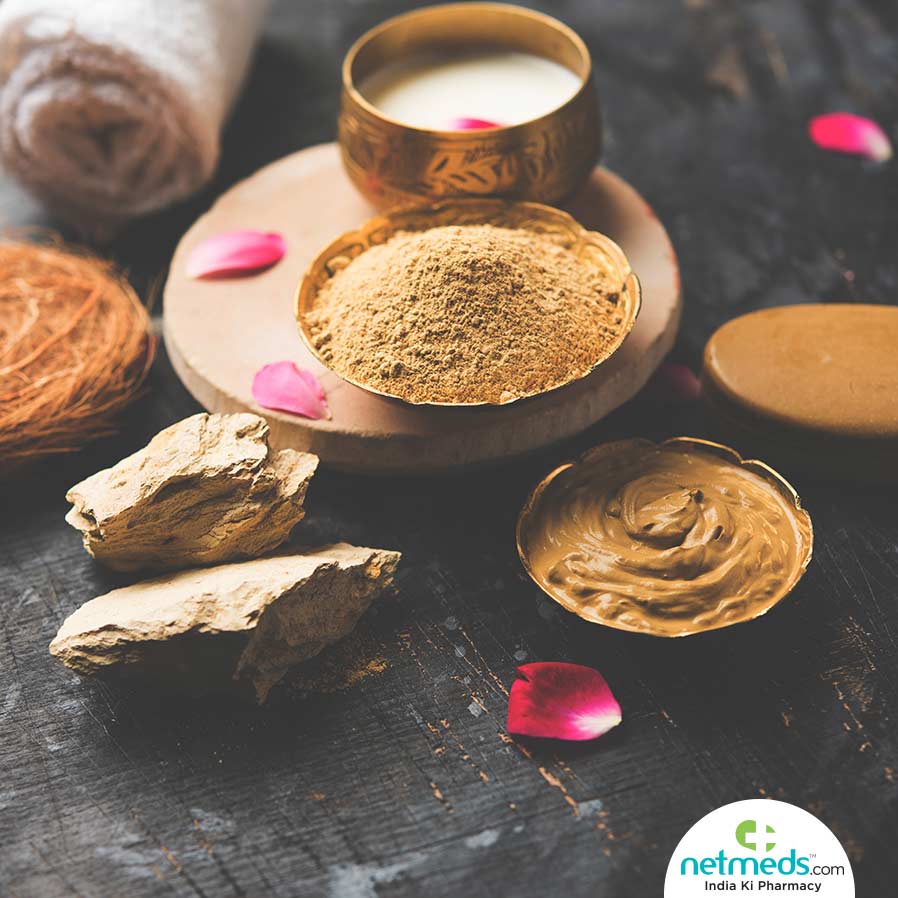 Multani mitti can extract from the skin extra fat, soil, sebum, sweat, and impurities, which ensures it helps to cleanse the pores from the inside, further helping to avoid acne and pimples. The clay can absorb excess oil and draw out blackheads for those with super oily skin. Rose water is a perfect ingredient for mixed or oily skin because of its hydrating and astringent qualities, in addition to helping oily skin. Rosewater has astringent properties that act to tone the skin, lift dirt and oil softly and maintain the normal pH balance of the skin.
18. Avocado + Honey + Cider Vinegar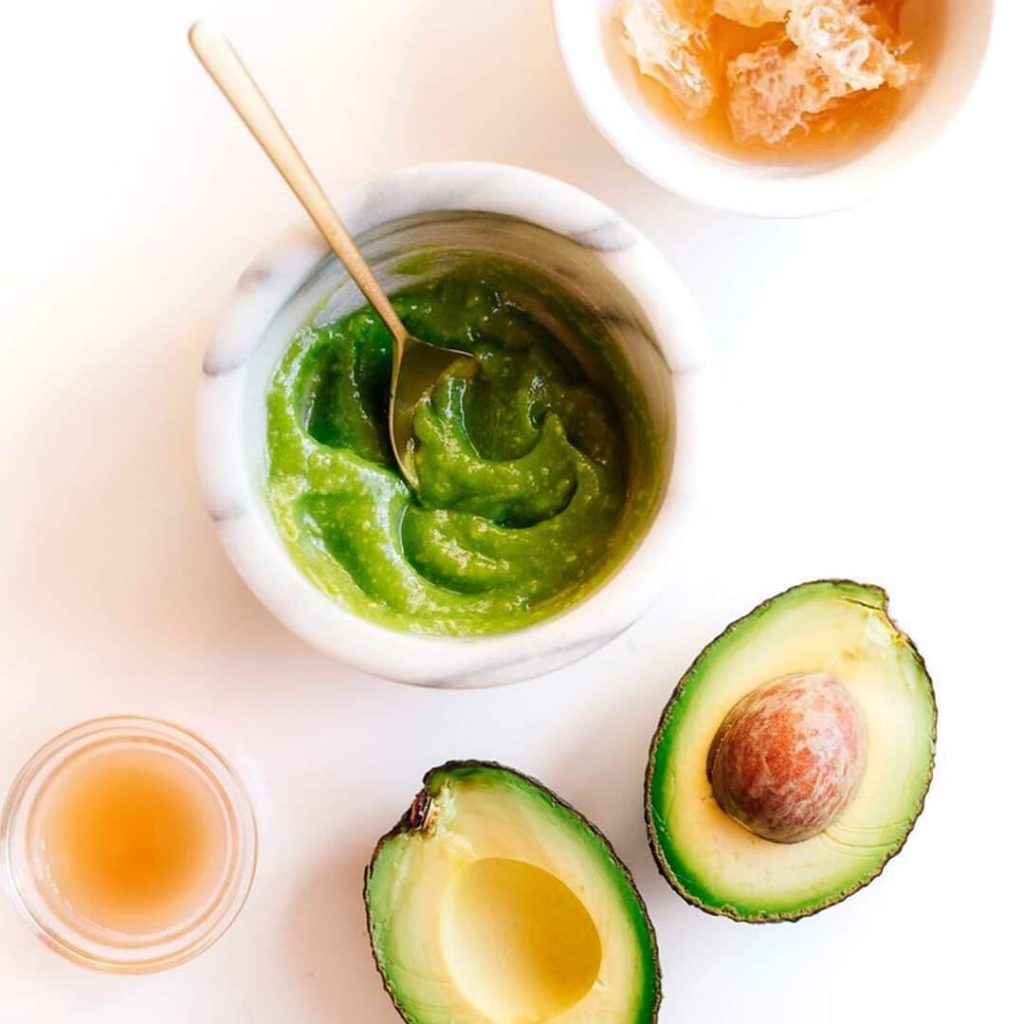 Avocados are a good nutrient gem. Since it eliminates excess sebum, the avocado face mask has also proved effective for oily skin. They also provide nutrients that promote the skin, such as folic acid, omega 3 fats, and essential proteins that are important for the protection of the skin. A gorgeous-looking skin is promoted by daily intake of avocados as part of a balanced diet schedule, as well as by outward application of the fruit.
19. Gram Flour + Water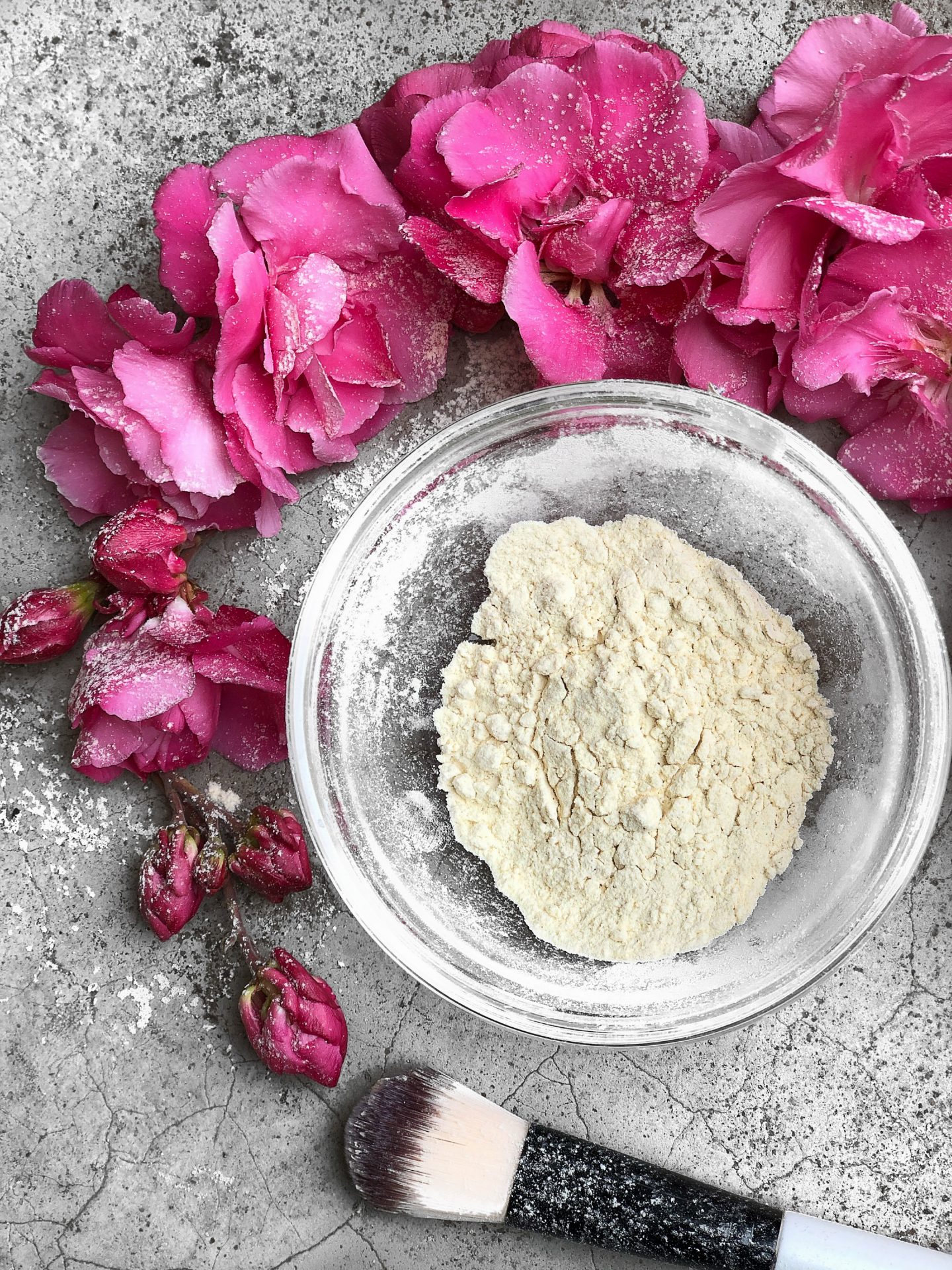 Gram flour has amazing absorption properties, and this is mainly why oily skin performs so well. Gram flour has certain properties to treat acne and has been used in India for centuries for this reason. For one, it has been proven that zinc in gram flour battles infections that cause the skin to erupt with acne. Secondly, excess sebum production is also regulated and inflamed skin is soothed. Gram flour reduces the extra oil found on the skin as used topically in a face pack or shampoo and helps to keep the skin oil-free for a long time.
20. Strawberries + Honey + Milk Yogurt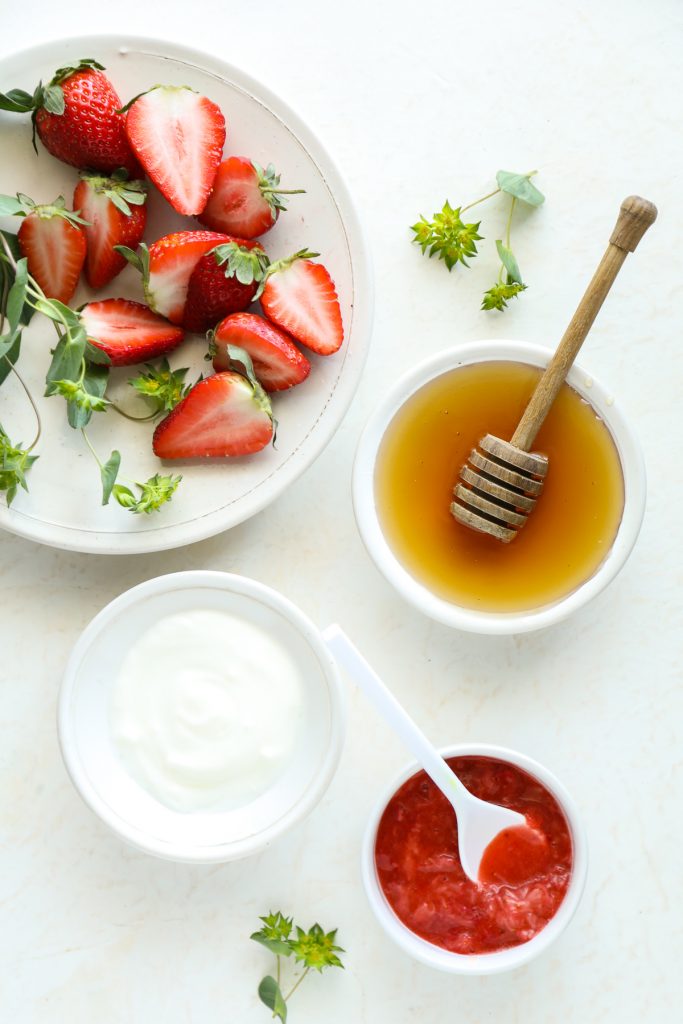 Strawberries are superfruits, overflowing with solid anti-oxidants and vitamin C loads that will provide healthy and happy skin with nourishing nutrients for your skin. To treat oily skin, these fruits can be used to make excellent face masks, as well as to nourish and revitalize the skin. Strawberries are acidic and the residual sebum on the skin is easily eliminated. The juice is very efficient in lightening blemishes and acne scars.
We hope you are satisfied with our homemade remedies for treating oily skin. Do you have a favorite face mask? Feel free to leave a comment and let us know whether it's helpful.