It's summer and therefore time to pick up some festival looks for the upcoming parties. Every festival-goer wears some sort of flashy, colorful outfit to the valleys and venues, be it colorful clothes, or electric neon nails that are out of this world. And you can't go on a rave without a neon manicure now, wouldn't you?
Speaking of raves, what type of festival person are you? Are you rather 'the flower power girl' with the soft but colorful neon nail polish that prefers relaxing on large festival meadows or ' the gloving girl' that's always dancing at the front row with striking nail art? Or do you, rather see yourself dancing at the bays of Ibiza?
Neon is the color of summer and endless parties, but if you're not feeling bold enough to inject some color into your wardrobe, inject it into your nails. From orange, pink, green and yellow, to tie-dye, aliens, and rainbows, don't do your rave manicure without reading this first.
1. Neon lightning bolts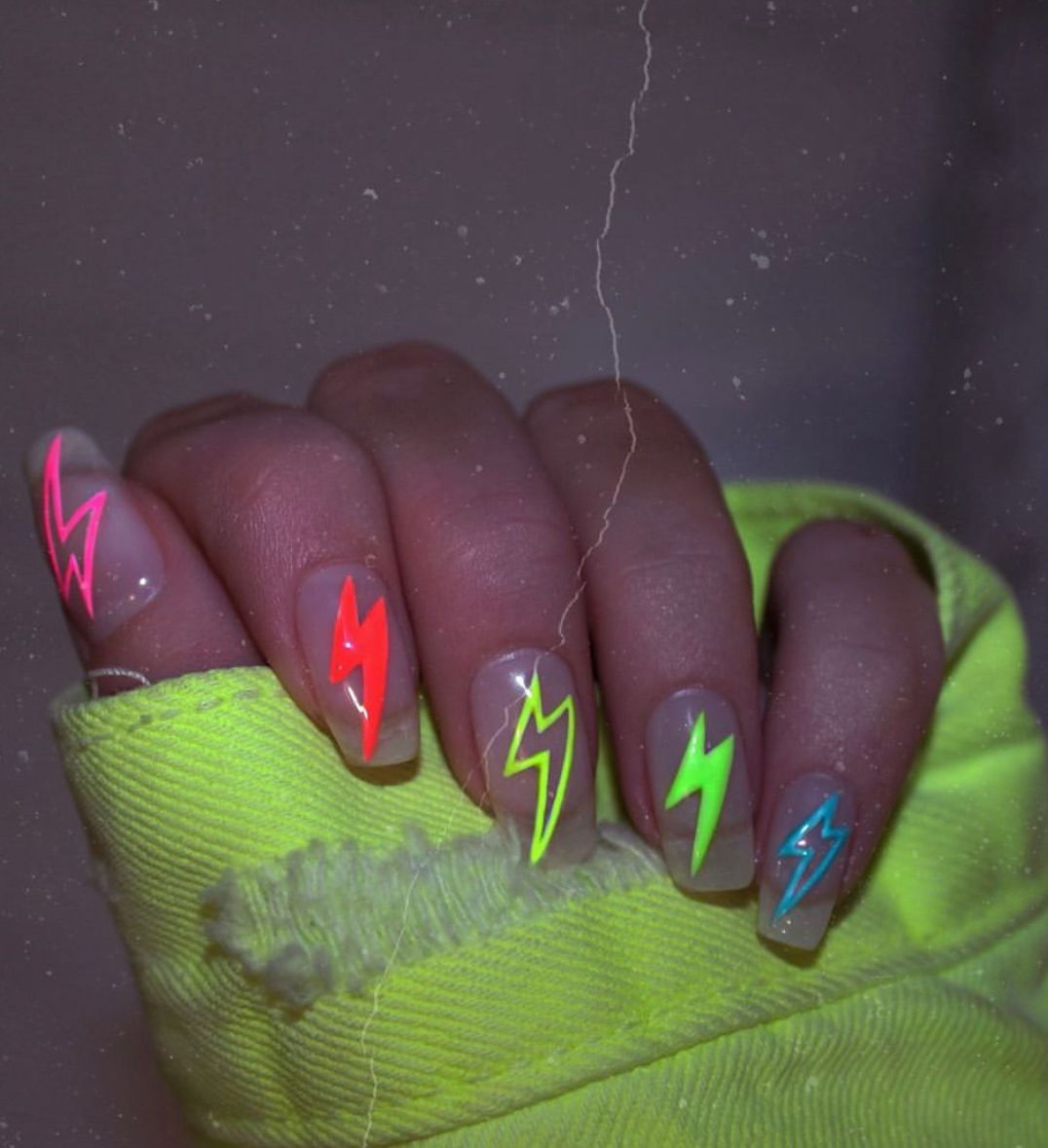 As a first idea, we introduce this neon manicure with lightning bolts. This is a very clever way to put neon color without looking over-the-top. The reason for that is the nude or transparent base coat which leaves room to experiment with different patterns and colors. Electrify the people around you, and have fun on the dancefloor!
2. Accent-neon-green alien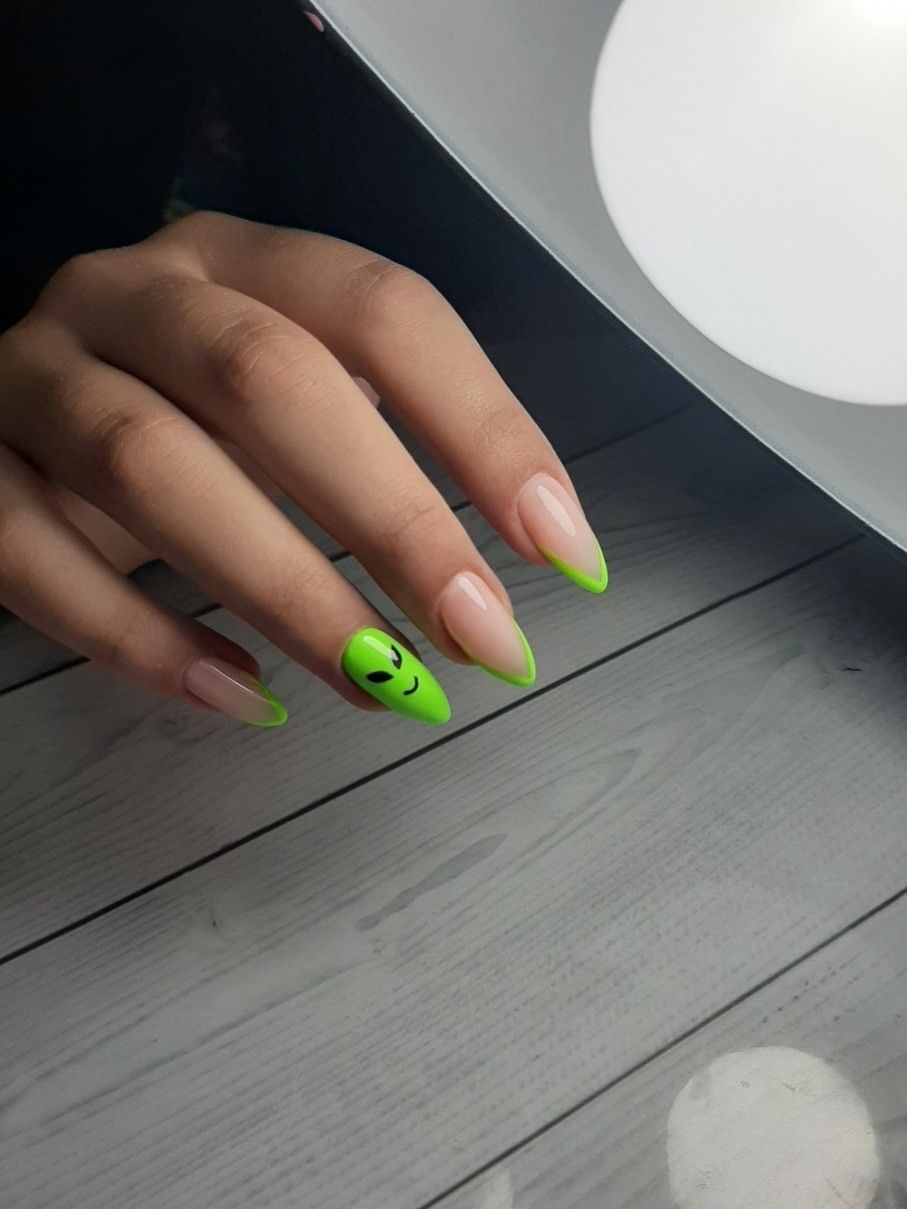 Accent nails with aliens? Yes, please. Everybody is feeling like an alien on a rave, so why not put one on your nail designs? The nude nail polish in combination with the neon green looks so delicate and eye-catching at the same time. We would call it, a perfect balance.
3. Melted neon rainbow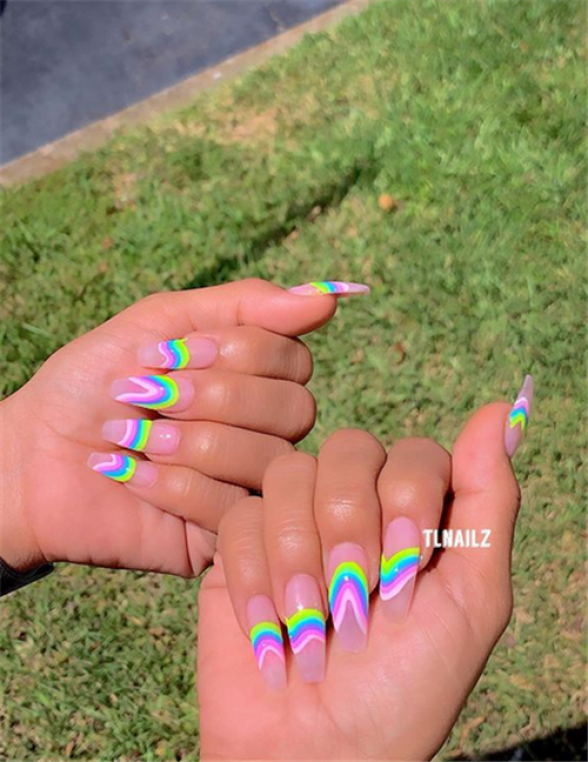 Not sure what color to put on your bright nails for the upcoming party? Why don't you go with all of them? Create an illusion of a melted rainbow on your nails with a nude base. Express your feelings through your nails. Why not, right? after all, it's a well-known fact that everyone is melting to the beats.
4. Third eyes with neon outlines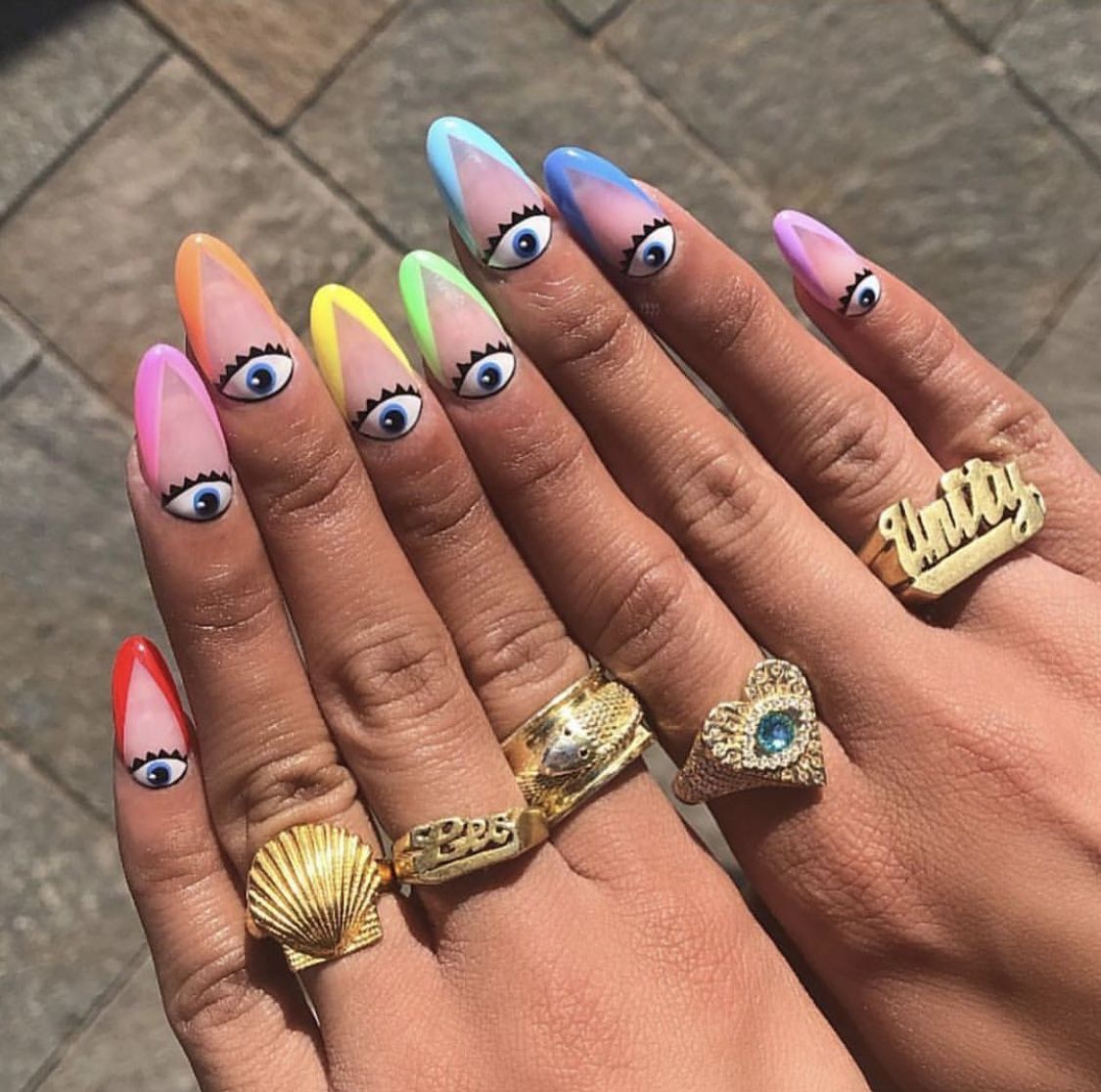 An endless line up of your favorite DJs, loud and hard-knocking beats, and dancing till the morning sun. A mind-opening experience that you wish to last for a lifetime. For the next rave, wake-up your third eyes with this nail design idea. Colorful and fun, right?
5. Neon pink aliens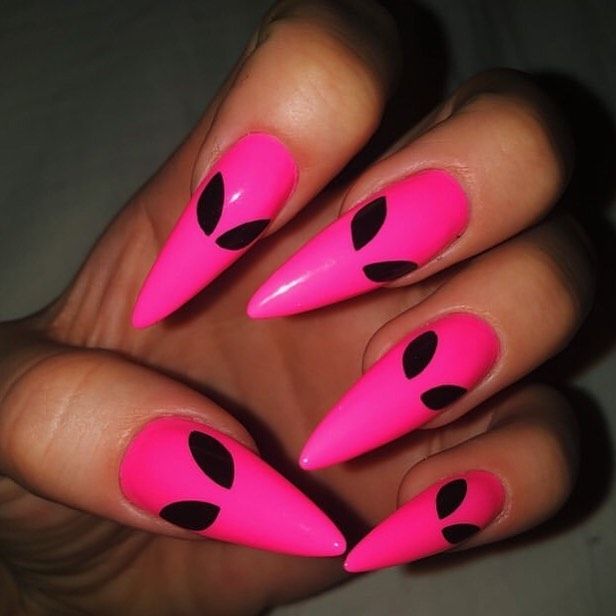 A hot-pink neon nail polish is an eye-catching, bold choice. But you must admit that this alien nail design is out of this world! Wake up your inner alien inside you and create this manicure idea. The alien eyes are pretty simple to make and everyone can create them, even those without any skills.
6. Neon-green abstraction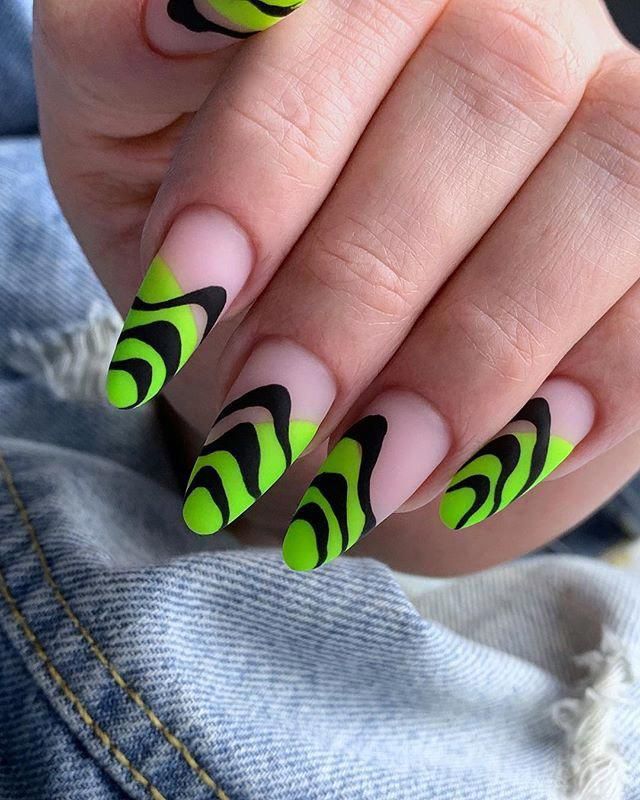 The great thing about a nude/transparent base is that leaves room to experiment with multiple shapes and colors. And for this idea, black and neon green nail color is the choice. Create this trippy design which requires no skills at all. Shine bright with your nails and dance hard under the midnight sky.
7. Ombre neon nails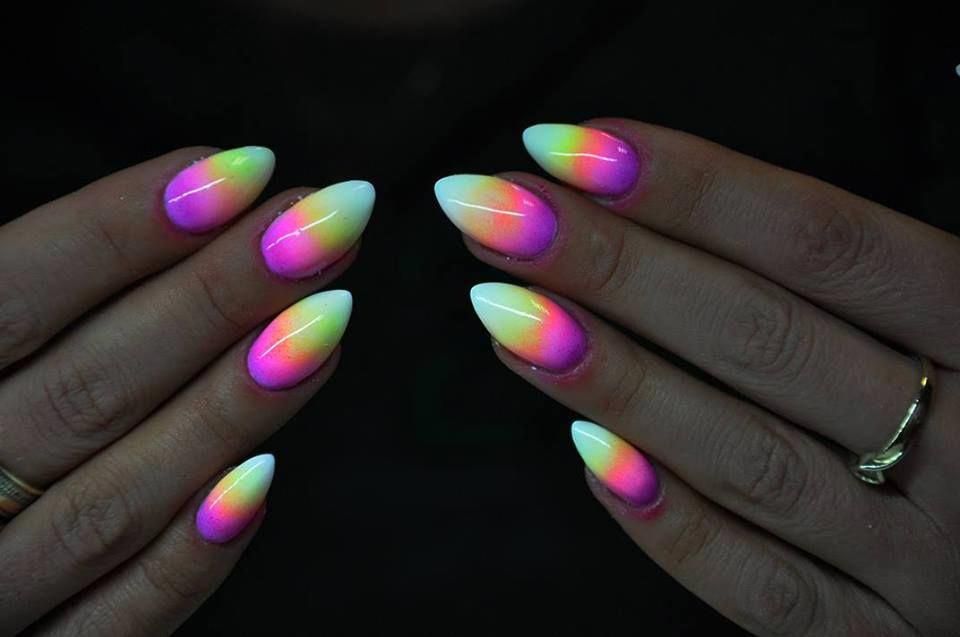 Why are short neon nails such a great outfit companion for festivals and raves? Because they glow in the dark, of course. Master the ombre nails design and create a mini-universe onto your nails. Why pick one neon shade when you can use all of them, right?
8. Chessboard pattern with neon-green flame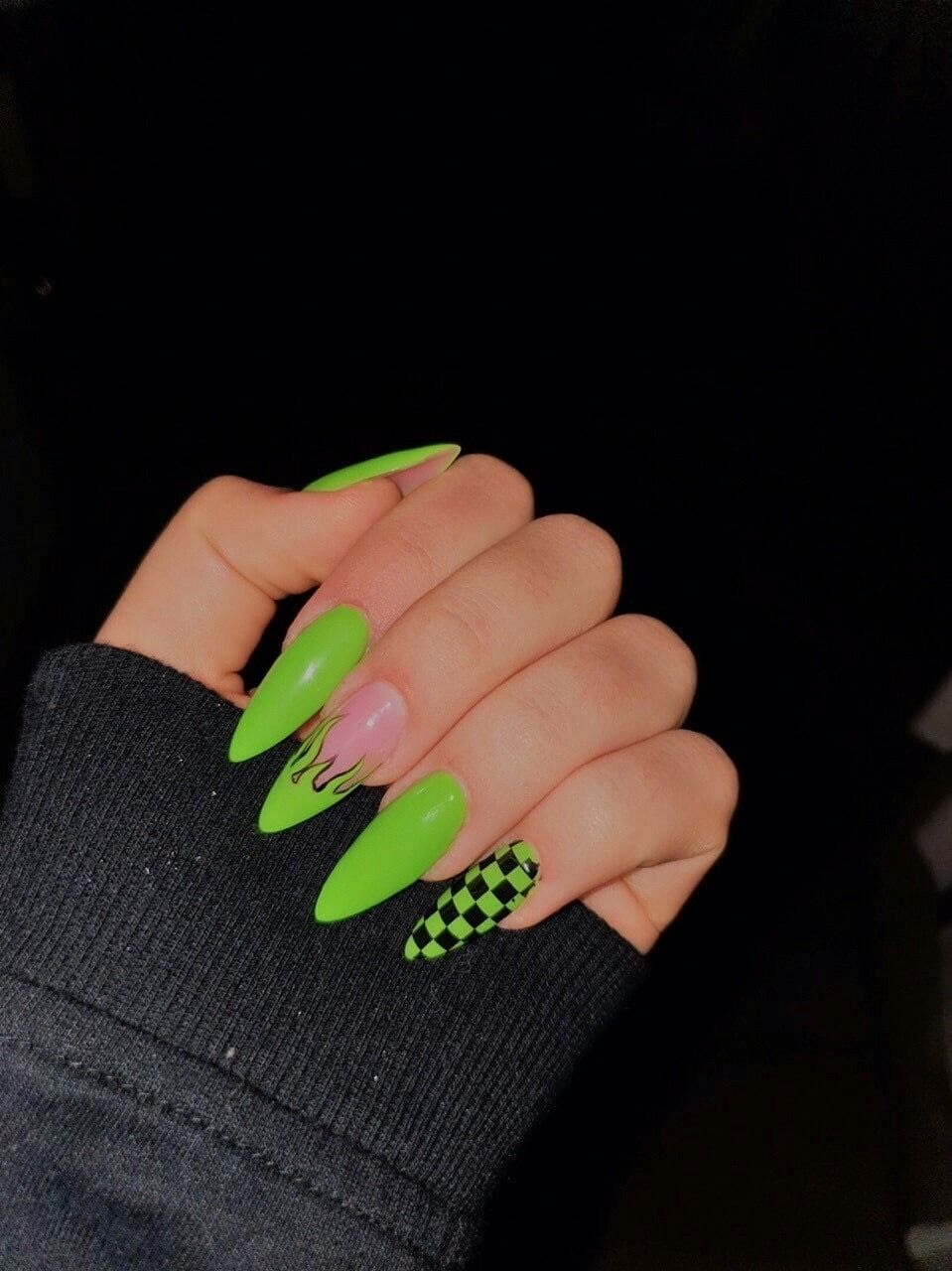 Treat your nails like a piece of canvas and create this catchy manicure idea. Experiment with patterns and be the glowy raver ready to dance in the front rows. The design is eye-catching and a great way to combine to patterns into one manicure style.
9. Neon clouds and stars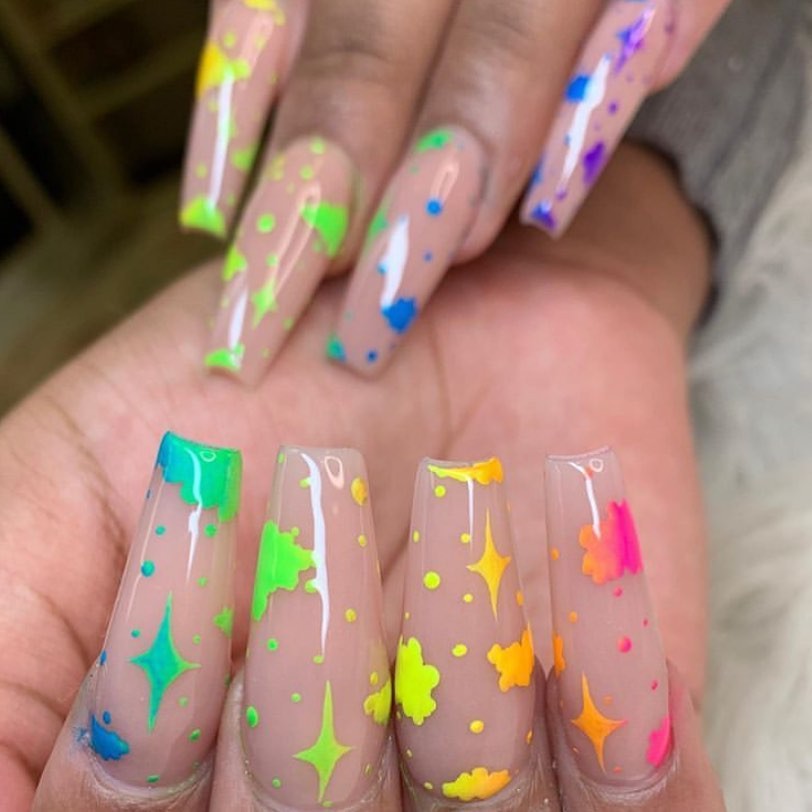 When you are at a festival, even the clouds and stars are looking like they have been soaked into rainbow colors. That's exactly the kind of vibe these nails are giving. Colorful, fun, and cheerful. That nude base color gives enough space for those neon nail color options to pop and accentuate the overall manicure.
10. Neon-green flames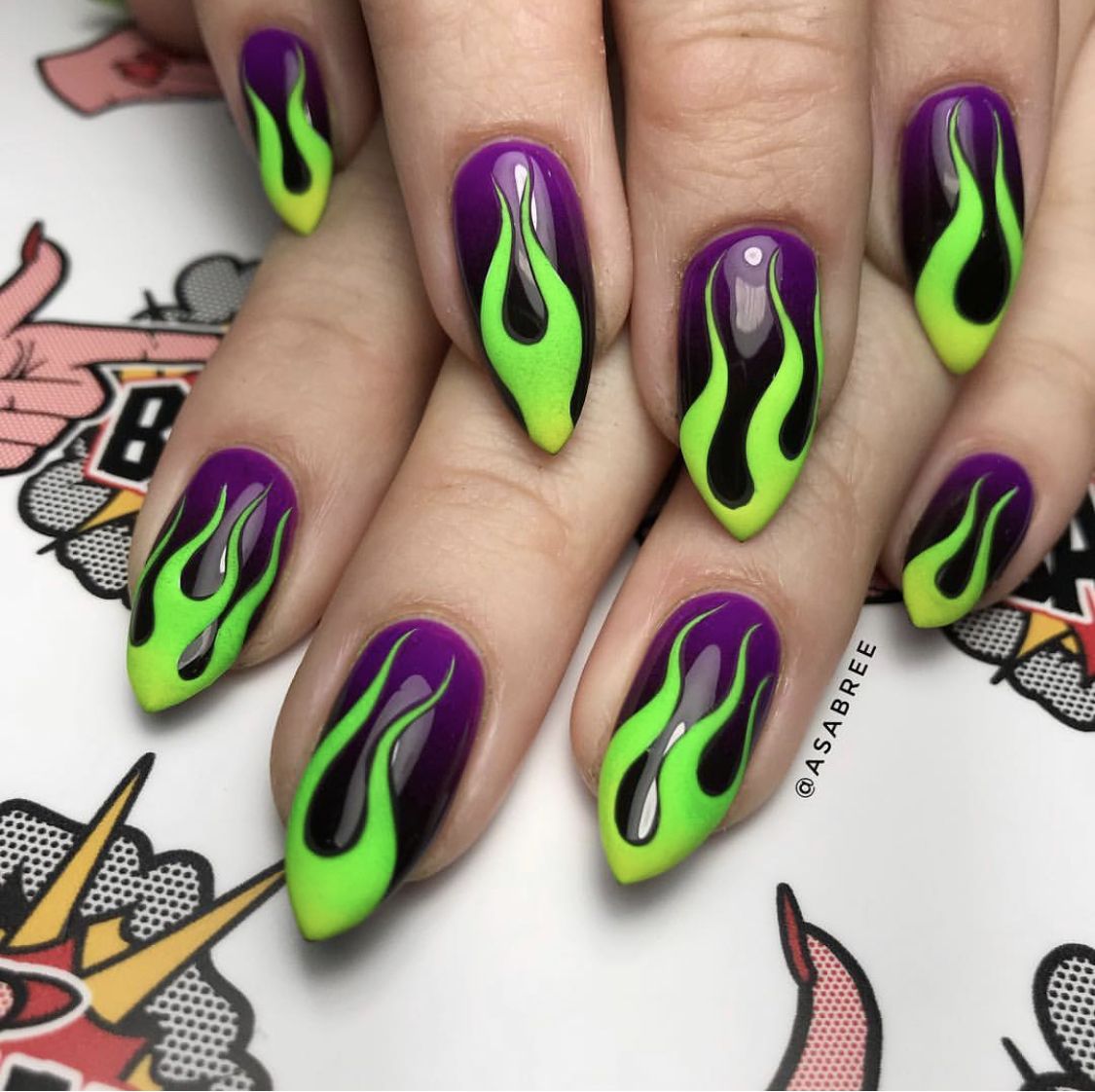 Flaming hot! Be on the same level as the music, right? Spark up the fire inside you and create this flamy nails. Your hands will look like they've caught on fire from all that hard dancing. And that's the point, right?
11. Neon tie-dye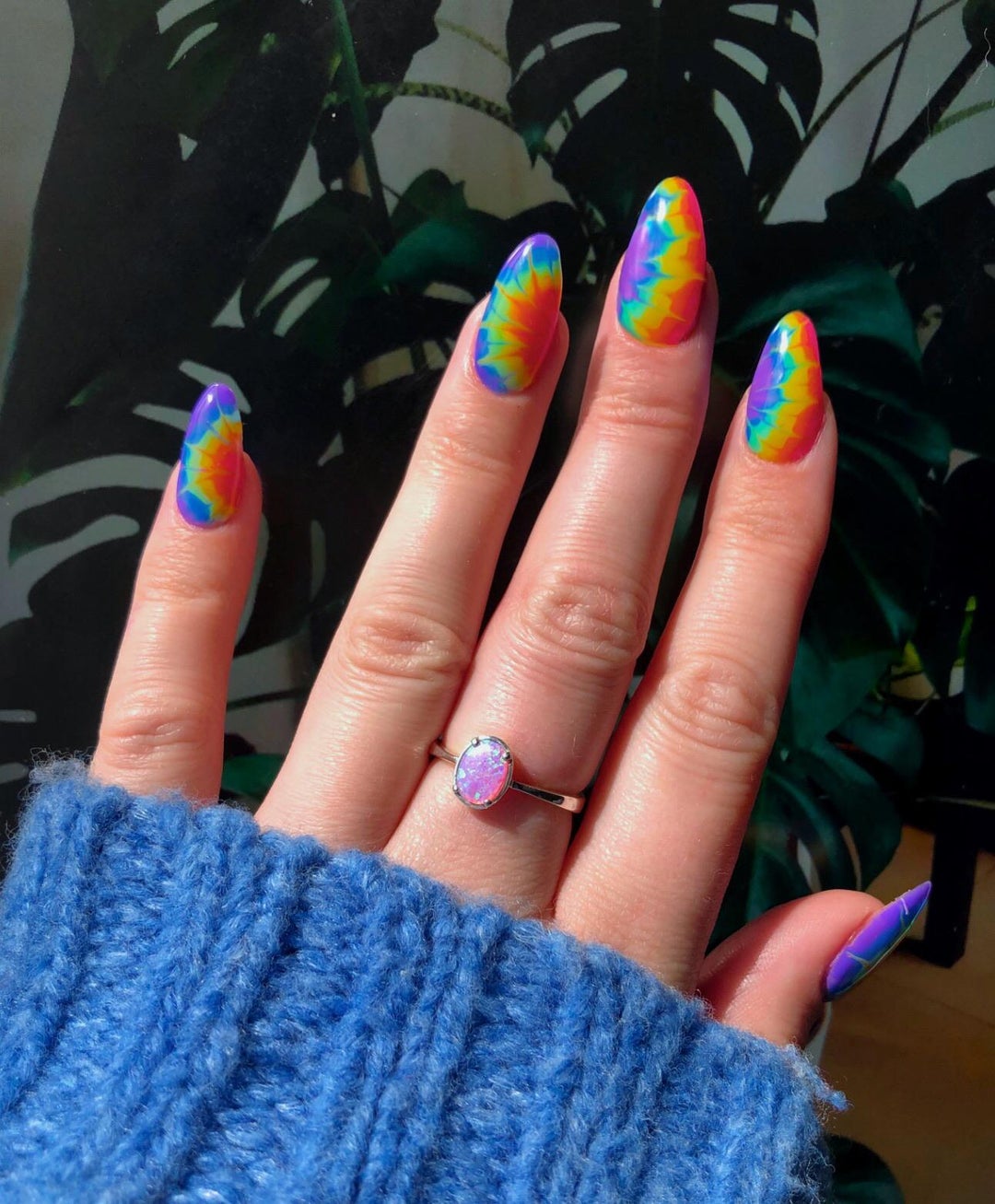 Tie-dye everything is trending for summer—on matching sweat sets, on accessories, and yup, even on nails. And what is more psychedelic than a tie-dye pattern? Be in tune with the colorful lights and decorations and create this nail idea for the next rave.
12. Partial neon tie-dye
Another way to get in on the neon nail trend while also embracing nude colors is with this partial tie-dye design. The nude base creates a stark contrast against the bright tips in a way we can't stop staring at. And the tie-dye design is something that not one girl can resist, right?
We talked before that you can have short neon nails. And here is another neon nail design that is a proof of that.
13. Neon stars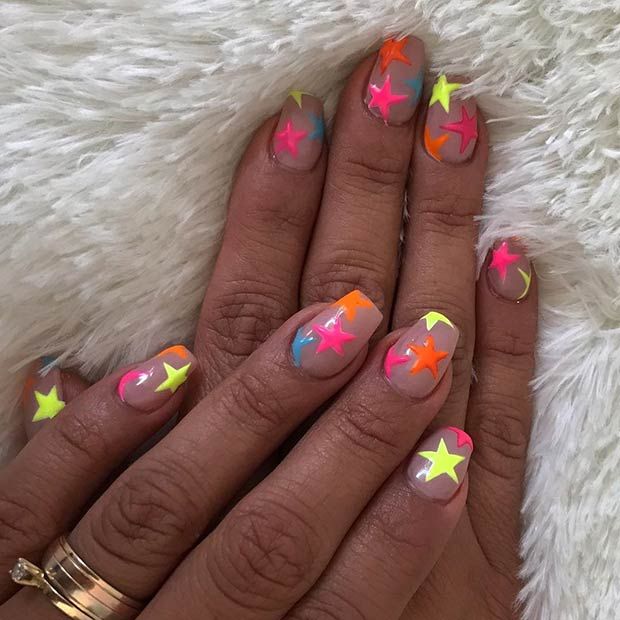 It's no secret that we're obsessed with star-print nail looks. Pair the print with ultra-bright neon and get ready for that striking glow that everyone will notice, and surely compliment.
14. Retro neon swirls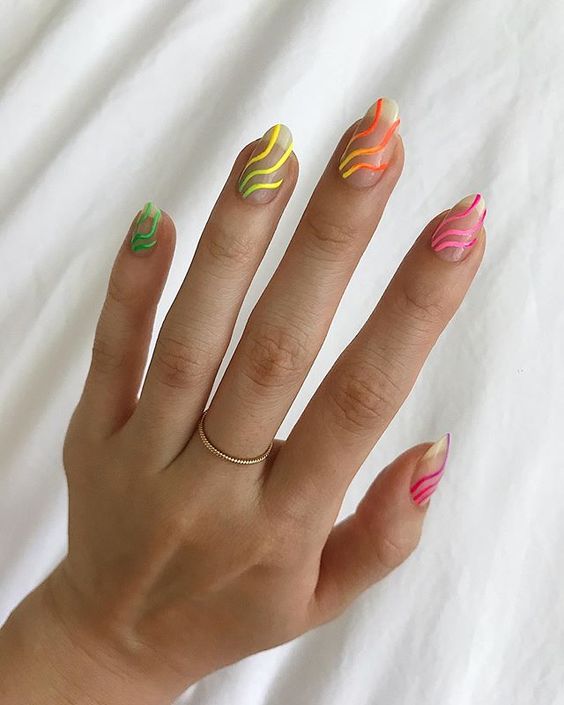 Graphic yet simple nail art will be your best friend this summer. Give it a retro vibe with a nude base, multi-colored swirls that will glow at the next party you attend to. Even the most unskilled ones can create this idea, and the result is super cool!
15. Multi-colored neon flames
Can't choose a single neon shade to showcase on your fingers? With this idea, you can paint your nails in different neons. Decorated with flames in a darker shade, this manicure is a must-have for the next party. Trendy and colorful, bringing smile every time you look at them.
16. Minimalistic neons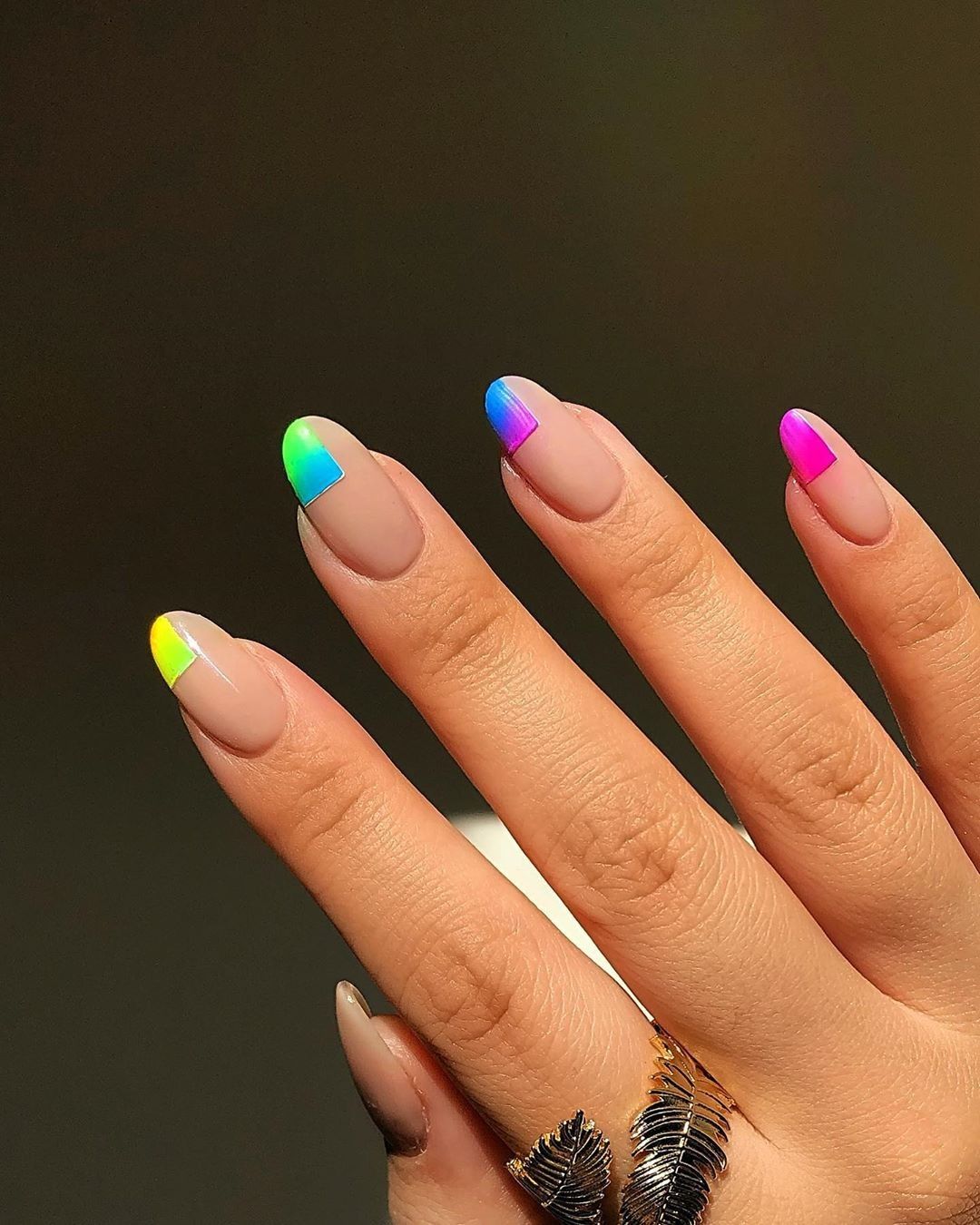 These neon nails are the contrast we need in our lives. Accompanied by a soft nude, this manicure is minimalistic with a psychedelic touch. So, if you are fond of minimalistic designs, but searching for a little bit of color, these nails are for you.
17. Happy, neon flowers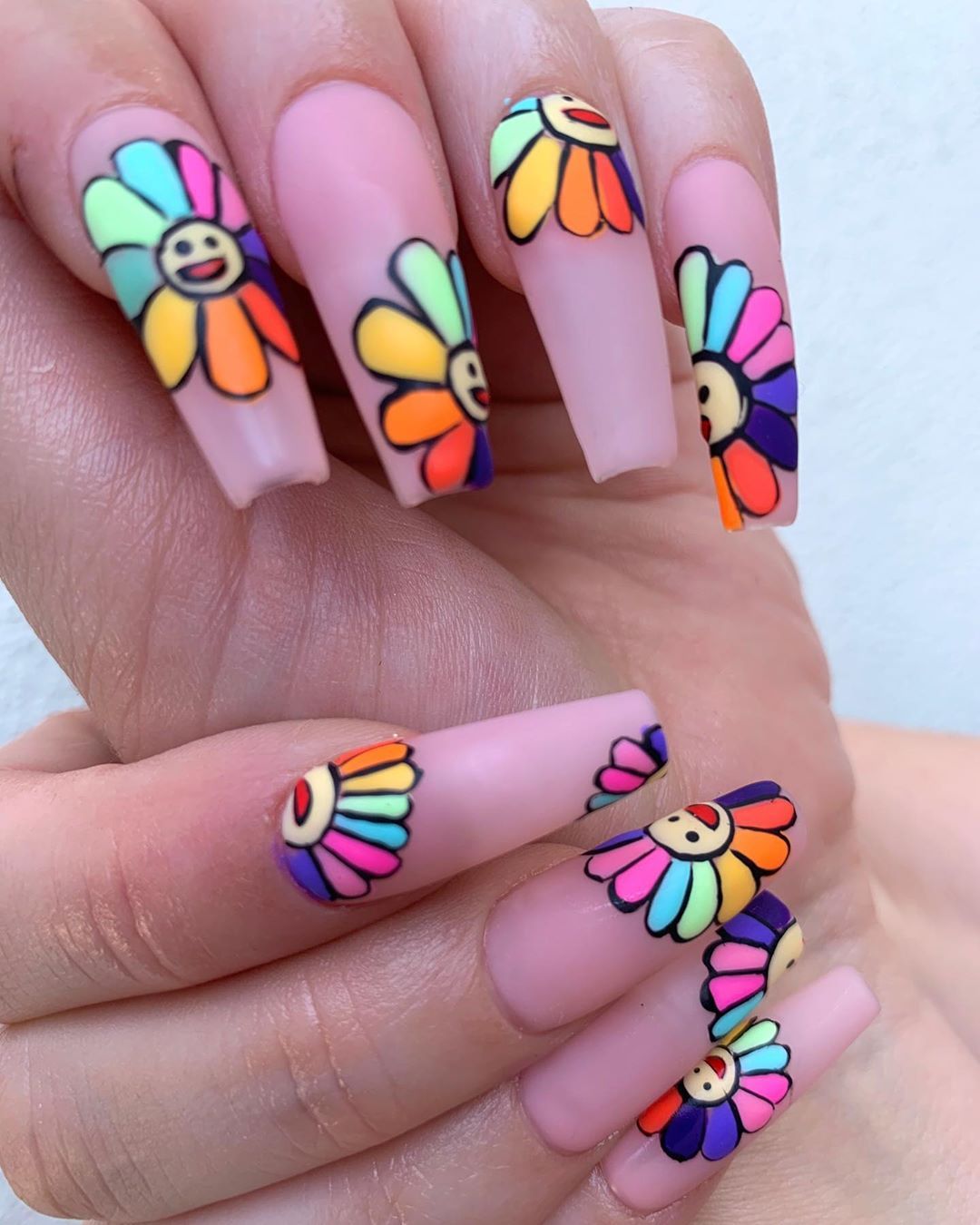 These happy flowers make our hearts skip a beat. With neon accents and happy smiles, this mani is simply one of a kind. You can't be in a bad mood with these. The nude base creates a striking appearance of the flowers and the neons glowy enough to be noticed from miles.
18. Hippy neons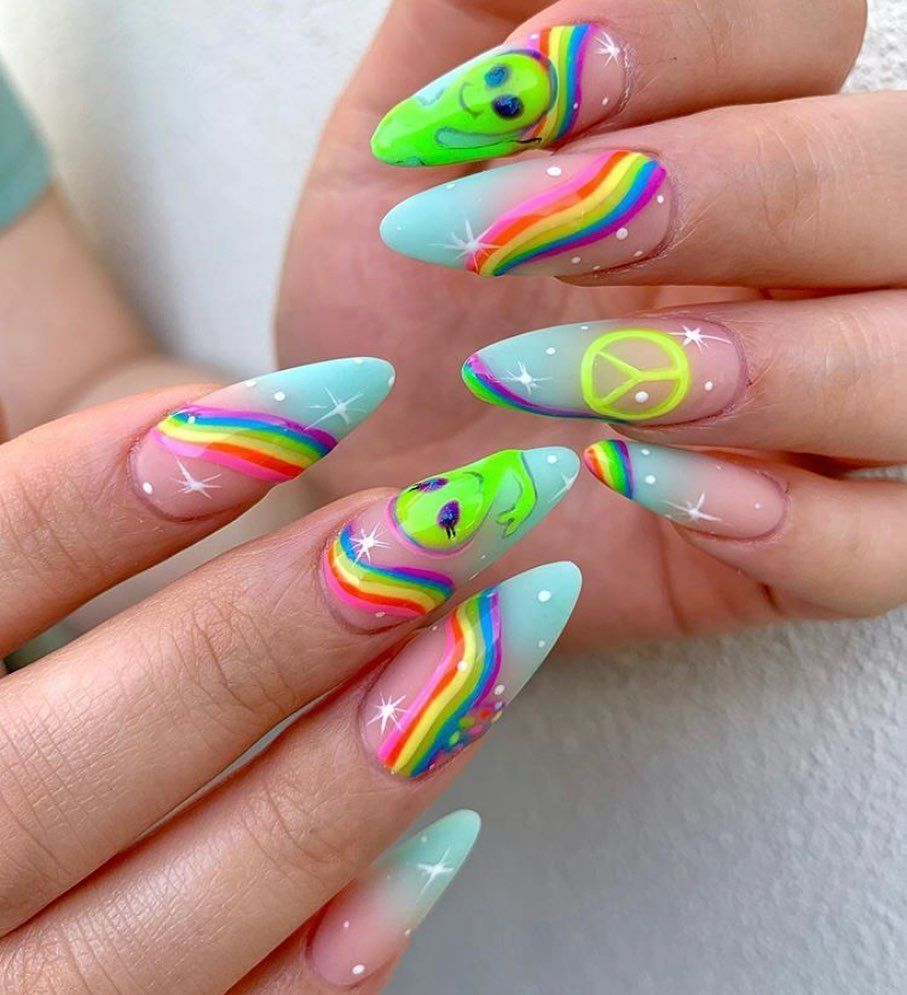 These neon-hippy nails feature intricate designs that require lots of patience to create but, once complete, are bound to earn you endless likes. Of course, creating them will likely require the help of a pro, so bookmark this page for inspiration for your nail appointment.
19. Neon leopard pattern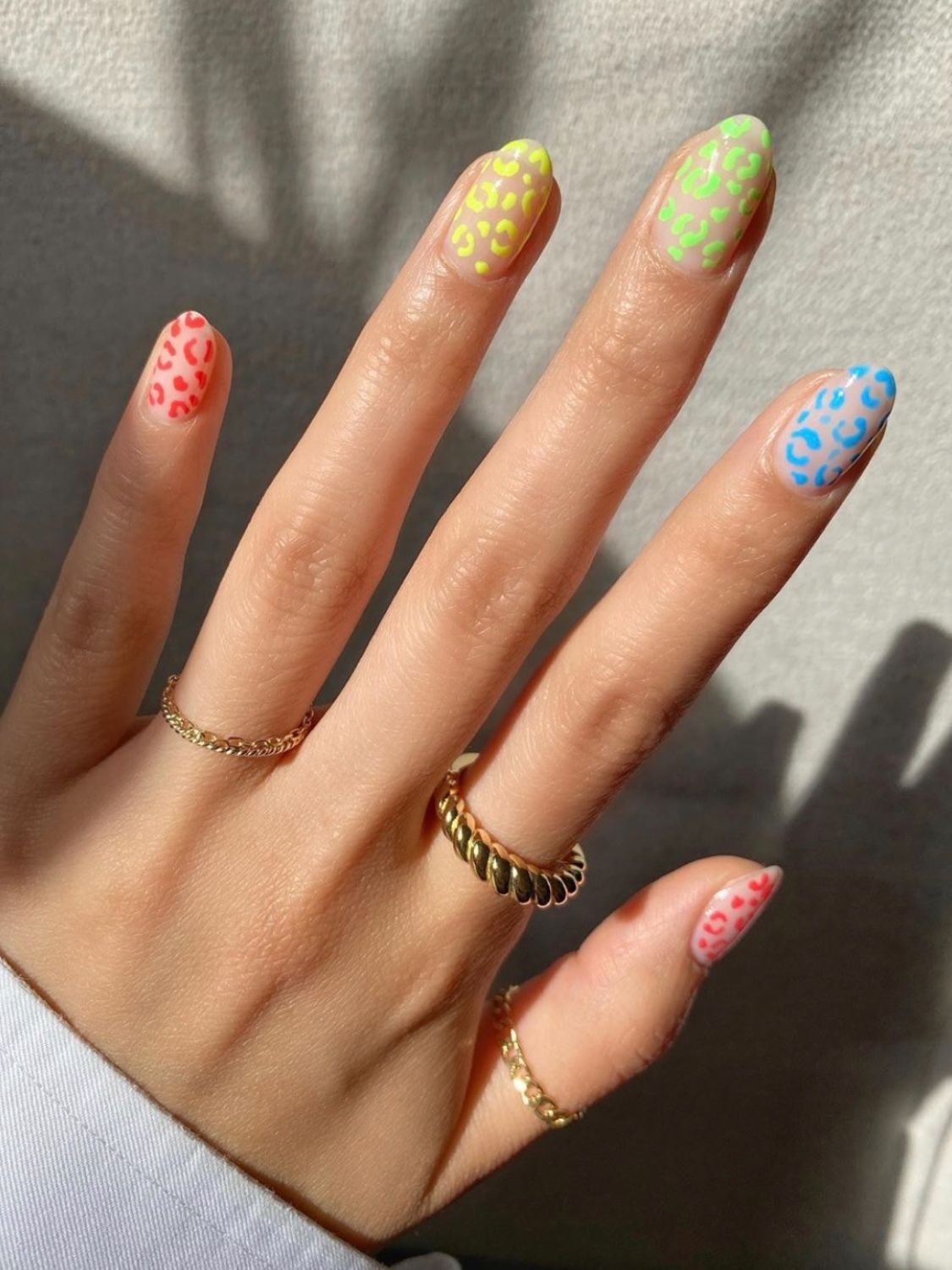 These neon leopard nails are guaranteed to garner likes online and compliments in real life. They're not difficult to DIY, either. Start with a nude base, then use a thin brush or toothpick to create small turquoise circles and blobs across your nails. Finish with topcoat and get ready for that rave under the UV lights!
20. Neon polka dots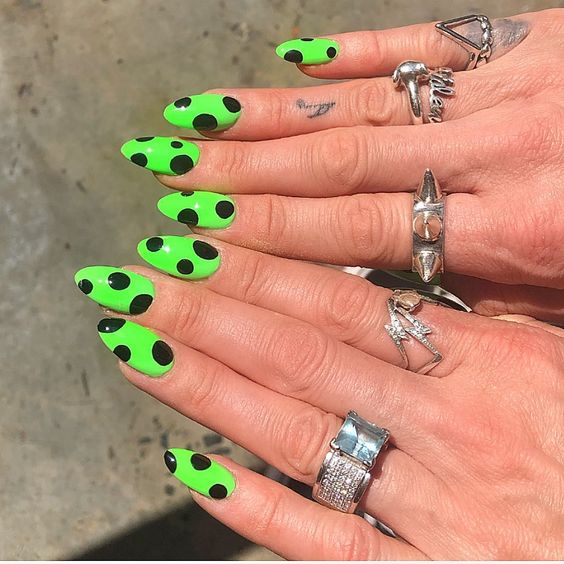 Neon-green nails with black polka dots? Sure, why not! At the end of the day, when doing to a party you need to shine inside and out! And that includes your manicure too. Black always goes great with neons, since it accentuates the design in a striking appearance. If you don't know what kind of neon design to use, here's a solution!
Are you ready to glow up your manicure and dance under the stars? If so, which idea would you use? Feel free to leave a comment below and share your thoughts.