Nude is the latest trendy shade and sits somewhere among the brown tones. The nude color is categorized as a neutral tone because it doesn't belong to any particular tone. The Nude shade represents elegance and modesty. Additionally, according to color psychology, nude shading is straightforward, real, and authentic. It identifies with the dedicated and dependable. It is arousing, delicate, and warm, overwhelming one of a sentiment of smoothness and comfort. It is a functional and reasonable shading which infers good judgment.
Thanks to its ambiguous trait, we can match nude lipstick, eyeshadow, or nails with whichever outfits we wear, whether it be work outfits or hangout outfits. The nude color is categorized as a polite color, which goes well with every person and every occasion. And this is what's called "slay in style".
It's a well-known fact that a new manicure is a wonderful mood enhancer. So, we present yo you 15 nude nail polish designs for all of you, manicure enthusiasts. Enjoy.
1. Nude Nails With Red Hearts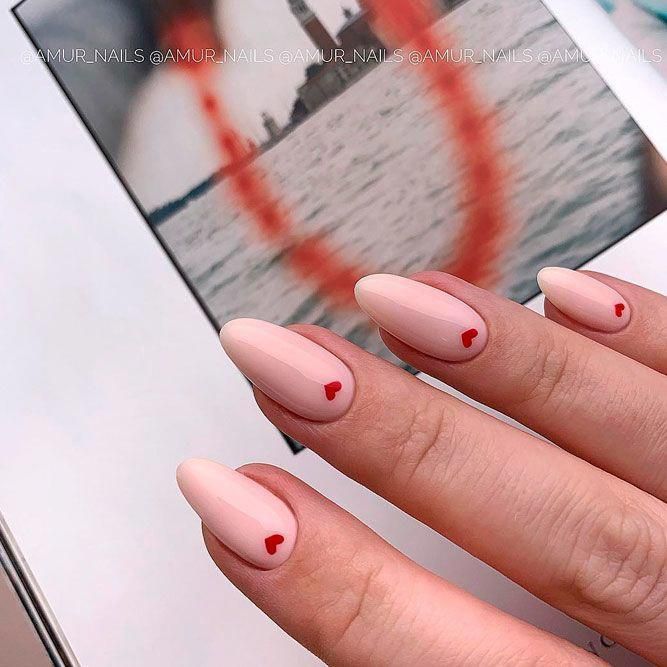 As a first manicure idea with nude nail polish, we present to you this irresistible romantic design. Perfect for every person and style, especially soothing for Valentine's day. Thank's to its light tone, it goes perfectly with every outfit and occasion, and the small red hearts are enough for the nails to POP.
2. Nude Nails With Iridescent Polka Dots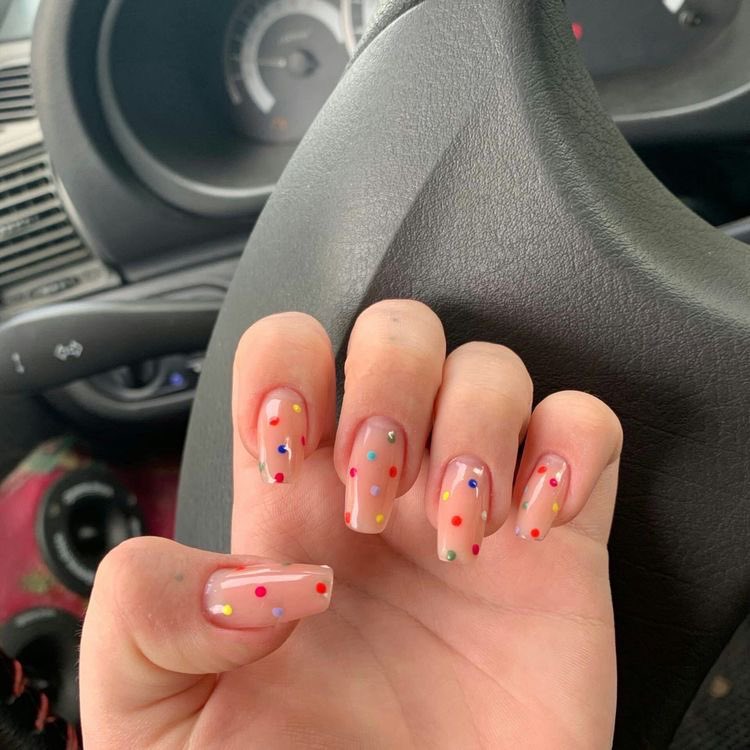 There is no nail polish that can do exactly what nude nail polish can do…Perfectly blend with every color, and yet, the end result is delicate and harmonious. And this design proves that. Create these nude nails with a touch of colorful vibrance. Simple, sophisticated, and very easy to do!
3. Nude Nails With Tiny Diamonds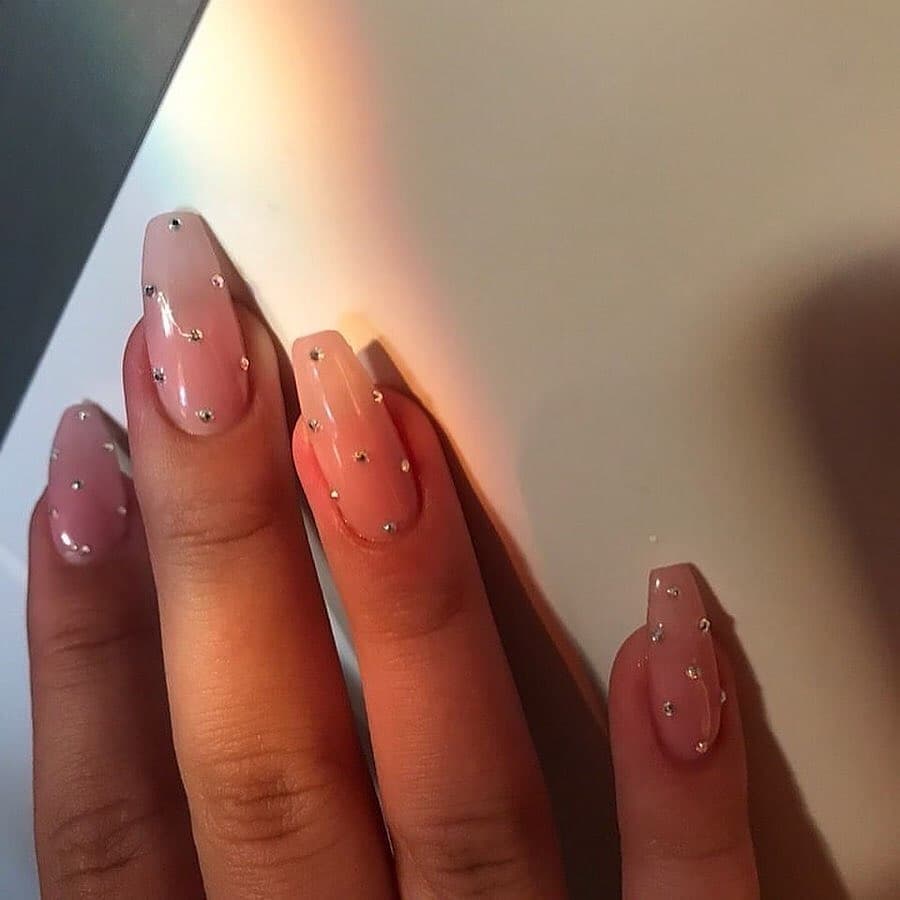 Nobody hurt a little glistening. Sparkle up your nude nails and create this lovely look. Nude nails are always a great idea. They look great, no matter the outfit. And this design gives you just the right amount of glamour.
4. Nude Pop Art Nails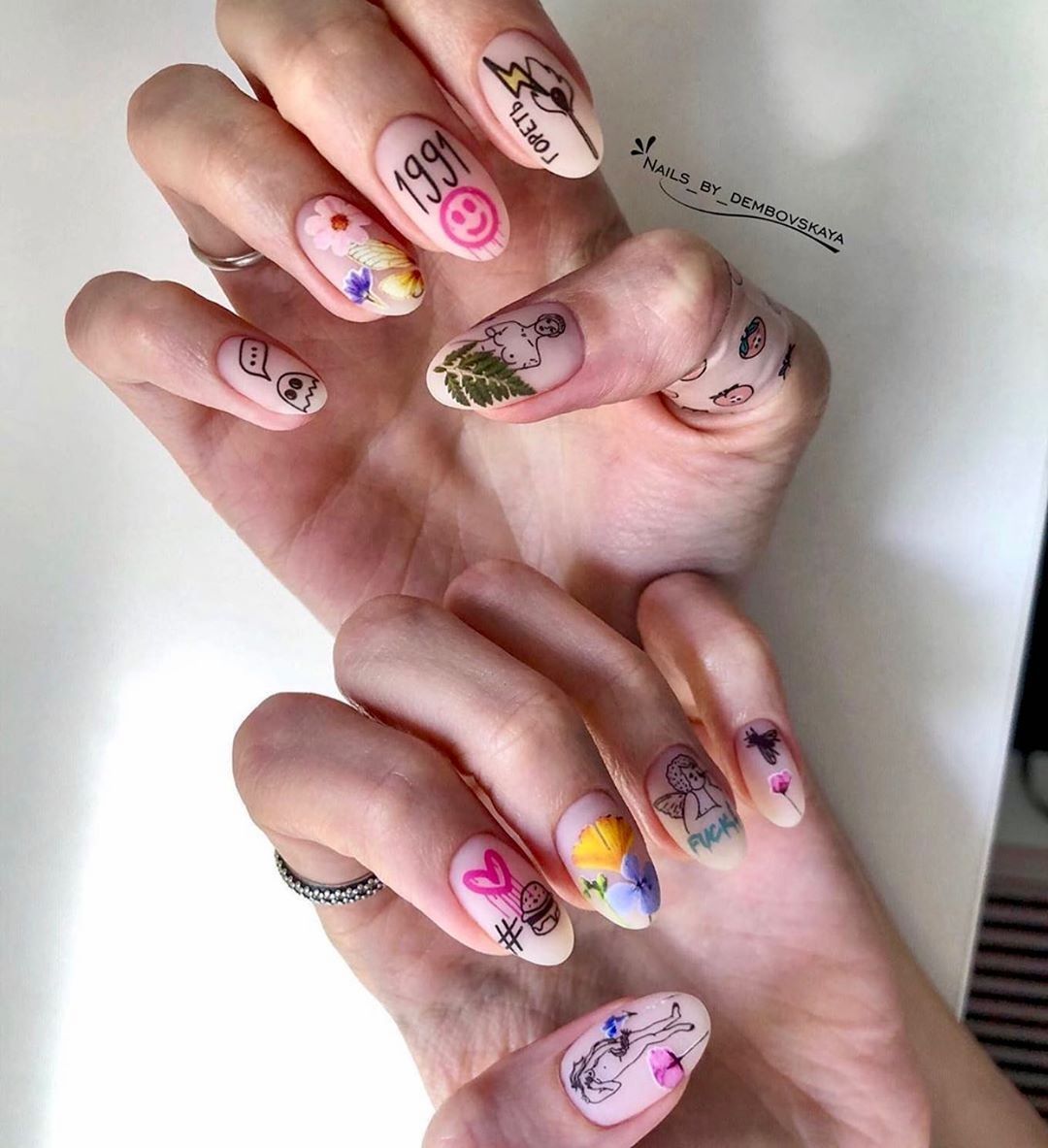 The best thing about nude nail polish is that you can combine it with every color, shape, and style. Or better yet, you can mix all of that into one and come up with this brilliant design. This "pop art" type of design is very trendy, unique, and eye-catching. And the nude color balances out the vivid colors and shapes, which makes it soothing to the eye.
5. Nude Tarot Nails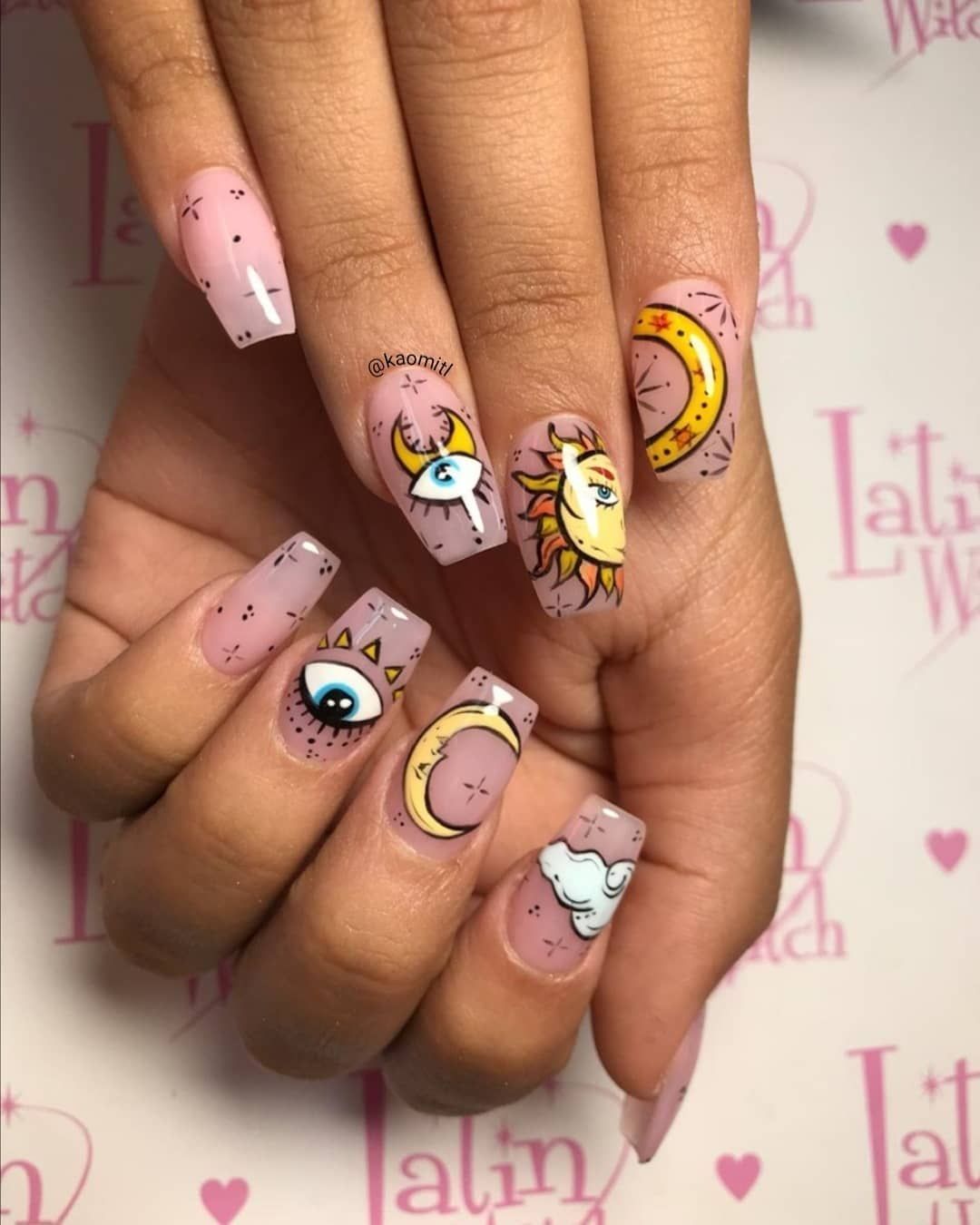 Glam up your manicure and create this look! Sometimes, all you need is a little spice on your nude nails. And this is the right amount of spice. They are unique and artsy, vividly expressing your colorful state of mind. Try them out, they are perfect for any occasion and style.
6. Nude Marble Nails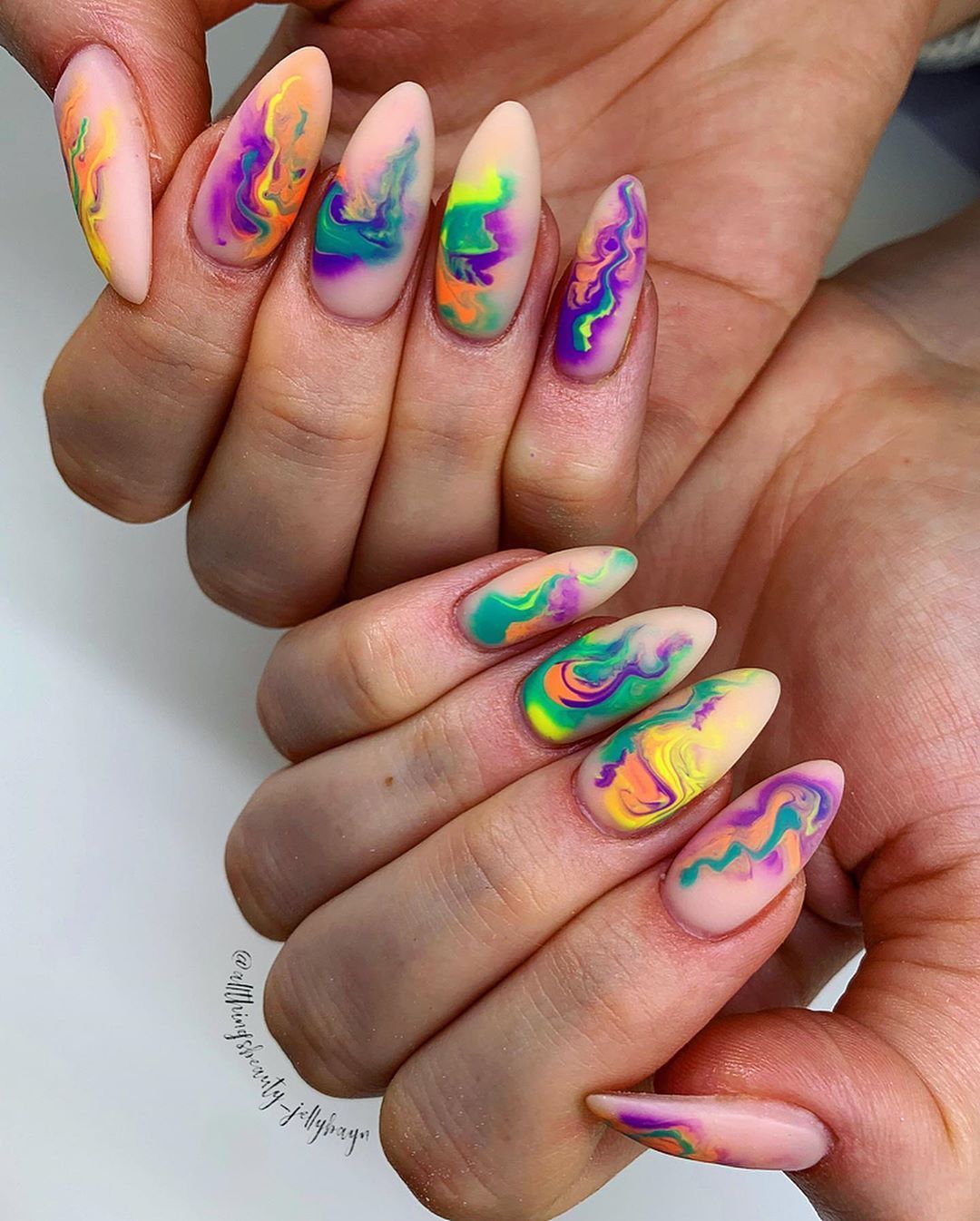 Ablaze your nude nails with this interesting marble design. Nude nails are the perfect canvas for creative details. And the matte nail polish is always a great idea. Eye-catching, but at the same time and eye-pleasing…perfect balance.
7. Nude Nails With Rainbows & Hearts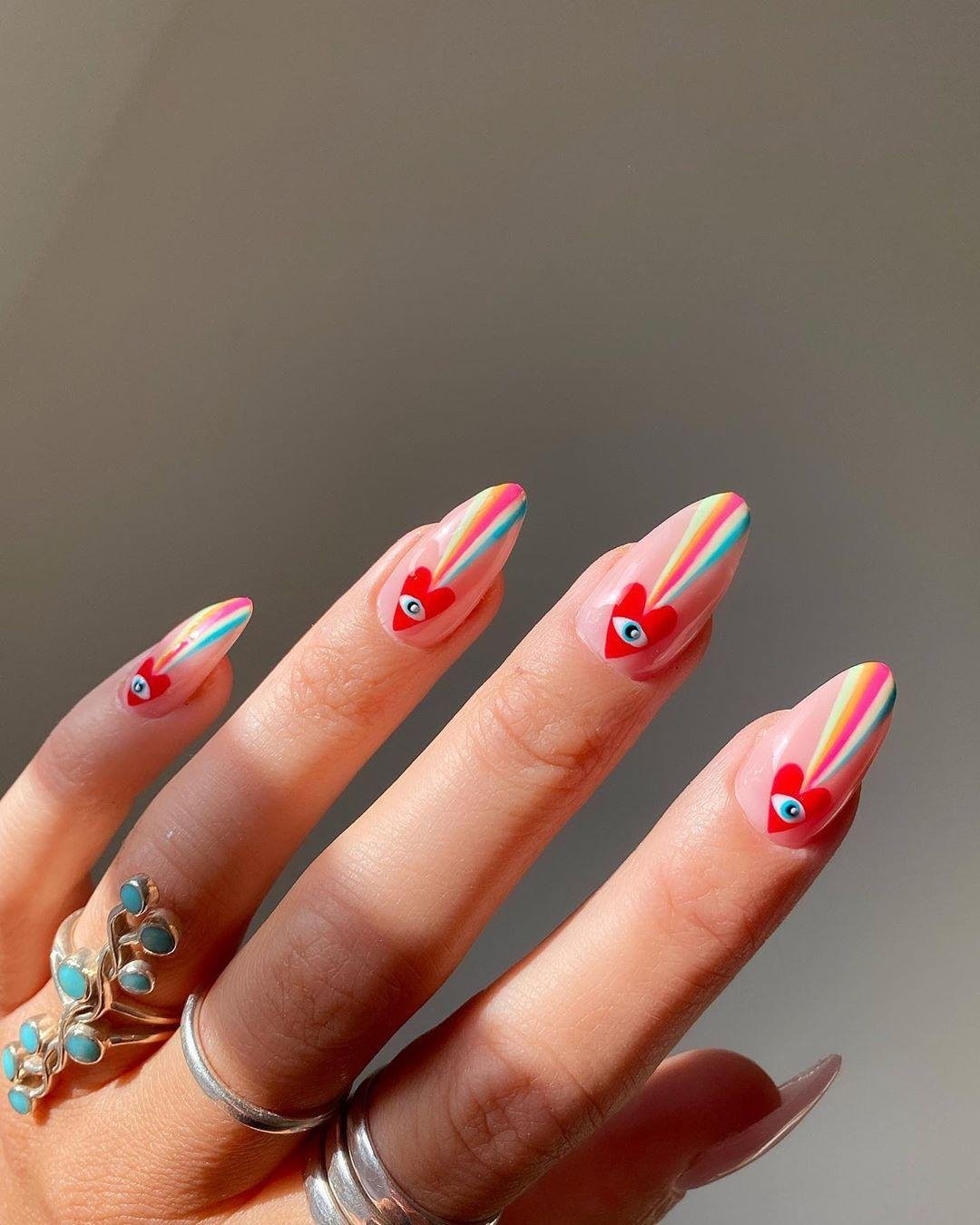 This manicure design yells love & happiness! It's so vivid and vibrant. And the nude nail polish balances out all of the colorful festivity. Perfect for summer, and easily blending with almost every outfit. Give it a try, you'll love them!
8. Nude Nails With Faces
It's always a fun way to express your creativity through your nails. This delicate design shows just that. Share with the world a glimpse of your artistic soul and create this look. They are glittering with simplicity and elegance. Just what everybody needs, right?
9. Nude Nails With Sunflowers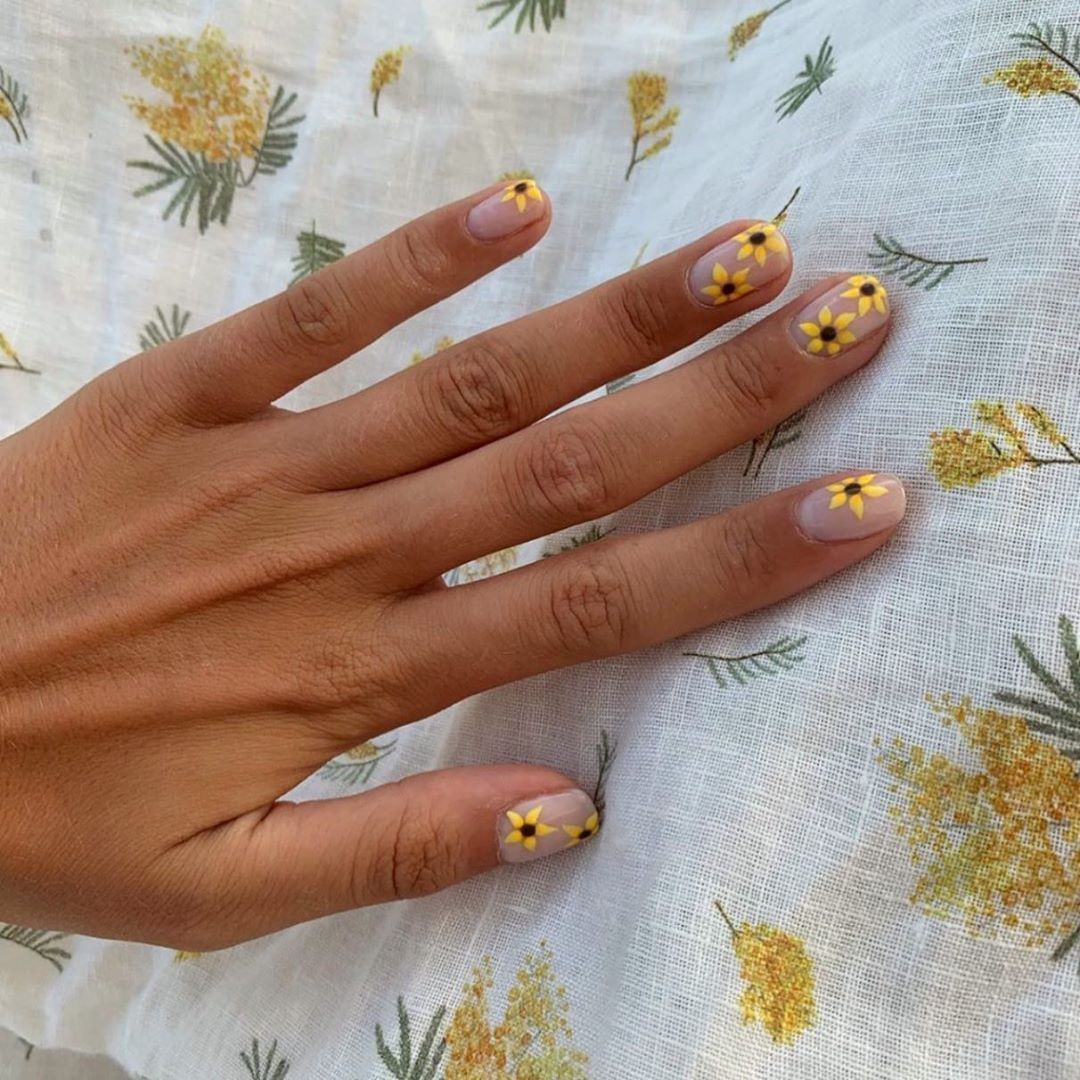 How cute is this design? Floral designs never go out of style, especially sunflowers. If you want to create this look, all you need to do is paint your nails with a nude color, followed by painting sunflowers. So, go ahead and try to make them. You will get a lot of compliments, that's for sure.
10. Nude Nails With Abstract Design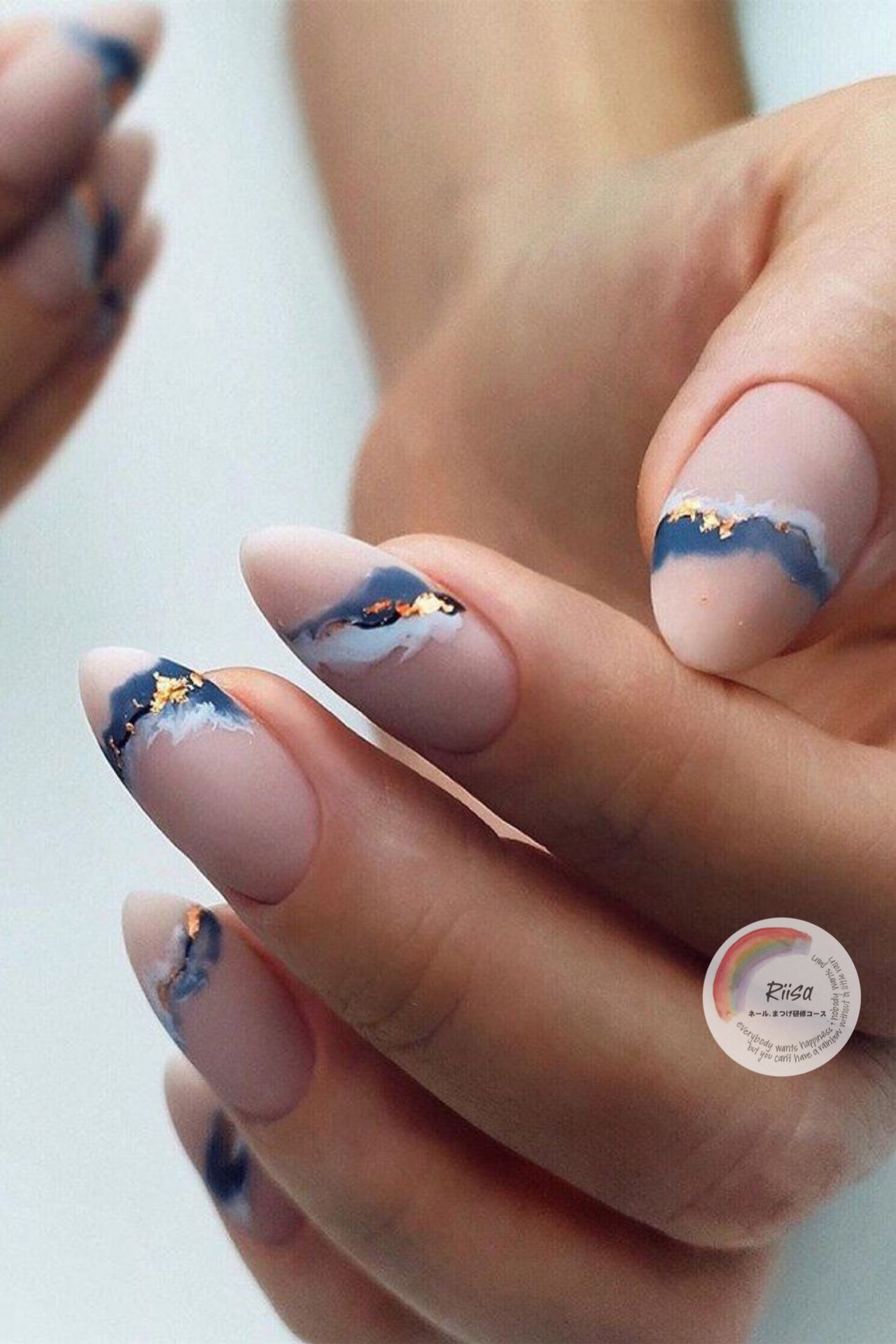 Spice up your nude nails with a touch of this abstract design that is to die for. The perfect mix of white, blue, and golden details creates a look that is perfect for every occasion. The golden details make the nails electric, but delicate at the same time. A perfect blend, right?
11. Nude Floral Nails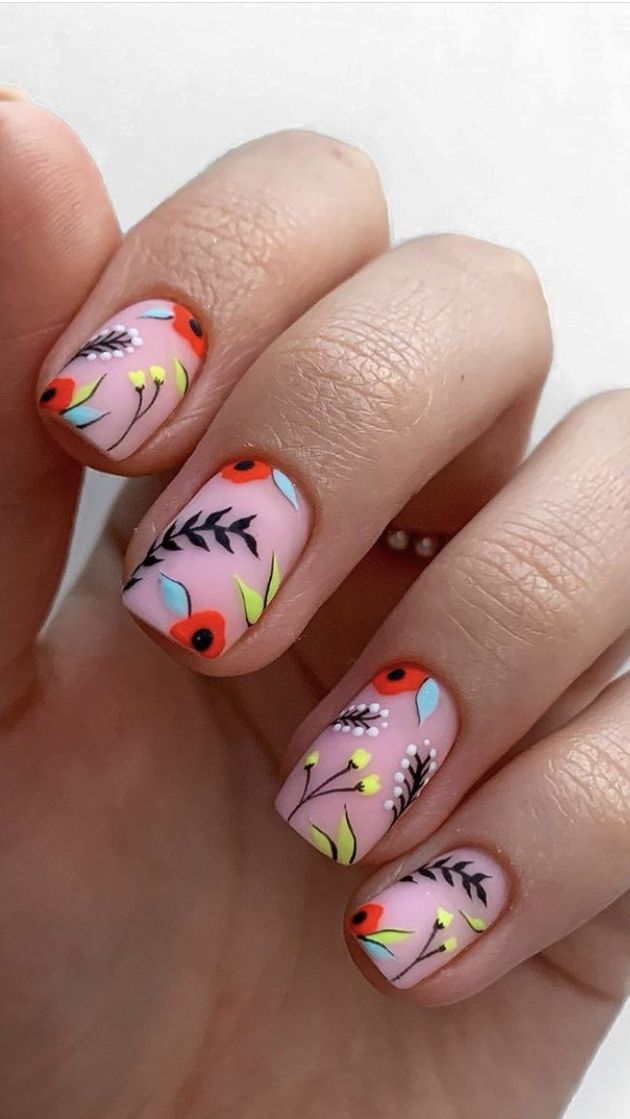 Get ready for spring with this nude floral nail design. They are absolutely adorable. When you don't know that kind of pattern to do, go with floral, it's always a great idea. And it goes perfectly with every outfit.
12. Peachy Nude Nails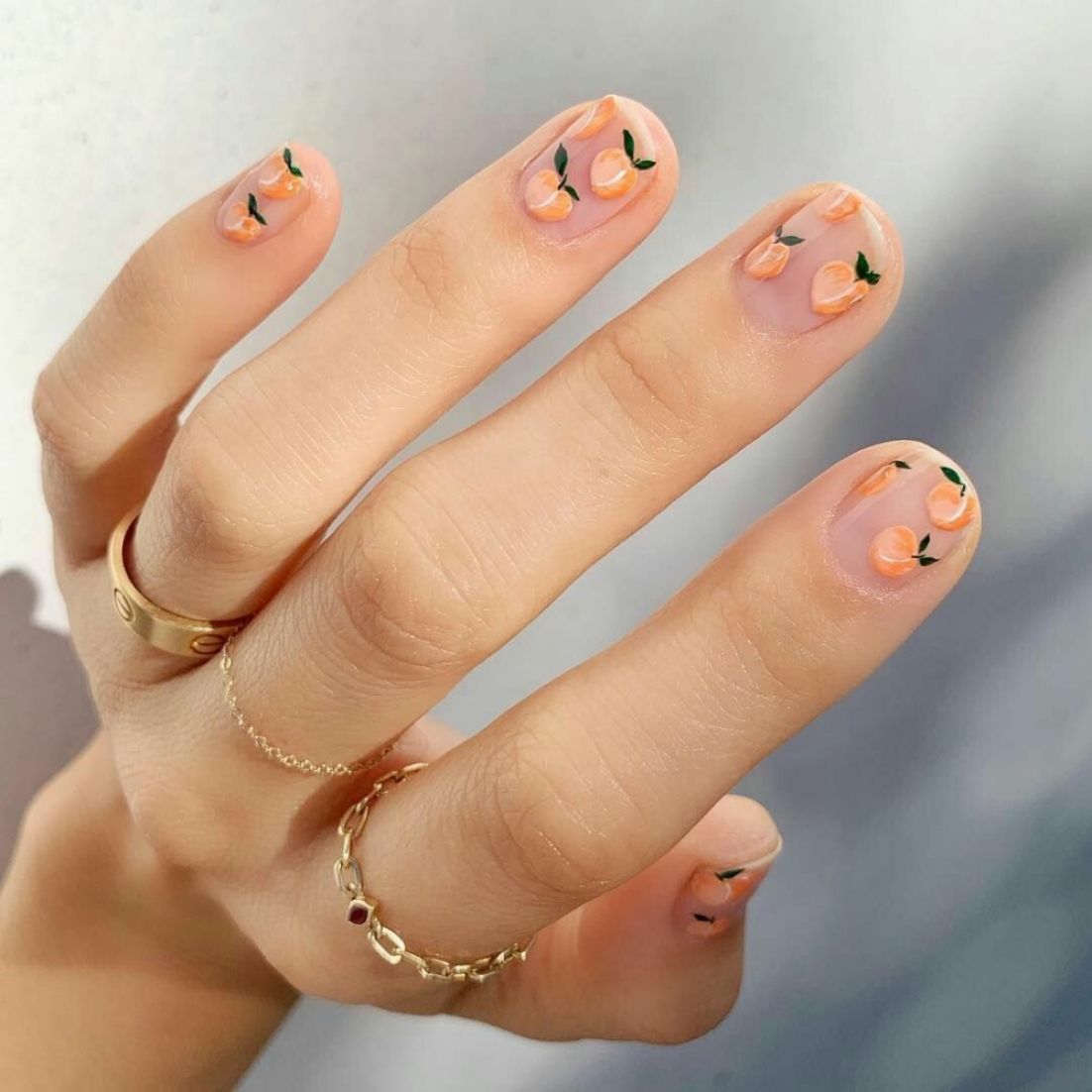 Seeking inspiration for your next manicure? Look no further, because we've found the perfect design. These peachy nude nails are what every girl needs to try out. A perfect blend of colors, with the perfect peachy pattern. Fresh up your nails and try out this look.
13. Nude Dinosaur Nails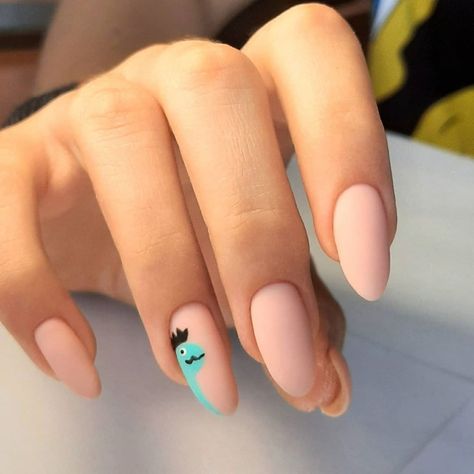 What does a girl need to do when nude starts to feel meh? You draw a dinosaur, of course. Accent nail on a nude base is always a great idea. And this dinosaur with bright color creates the perfect vibrant look. If you are looking for something new and artsy, try this nude nail design.
14. Papaya Nude Nails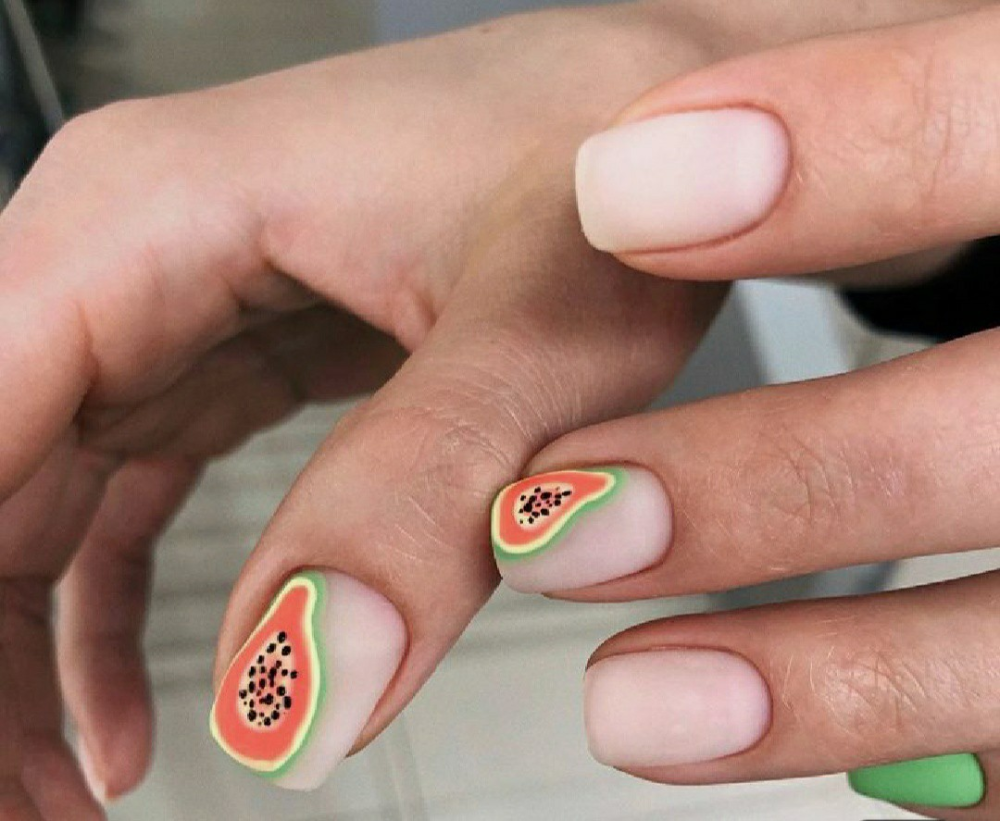 No one ever said that nude nails had to be consistently the same color! Mix things up a little by adding a pop of color on accent nails. Paint your nails with your favorite nude color and create these papayas! You are ready for the summer, vacations and the beautiful beaches!
15. Colorful French Manicure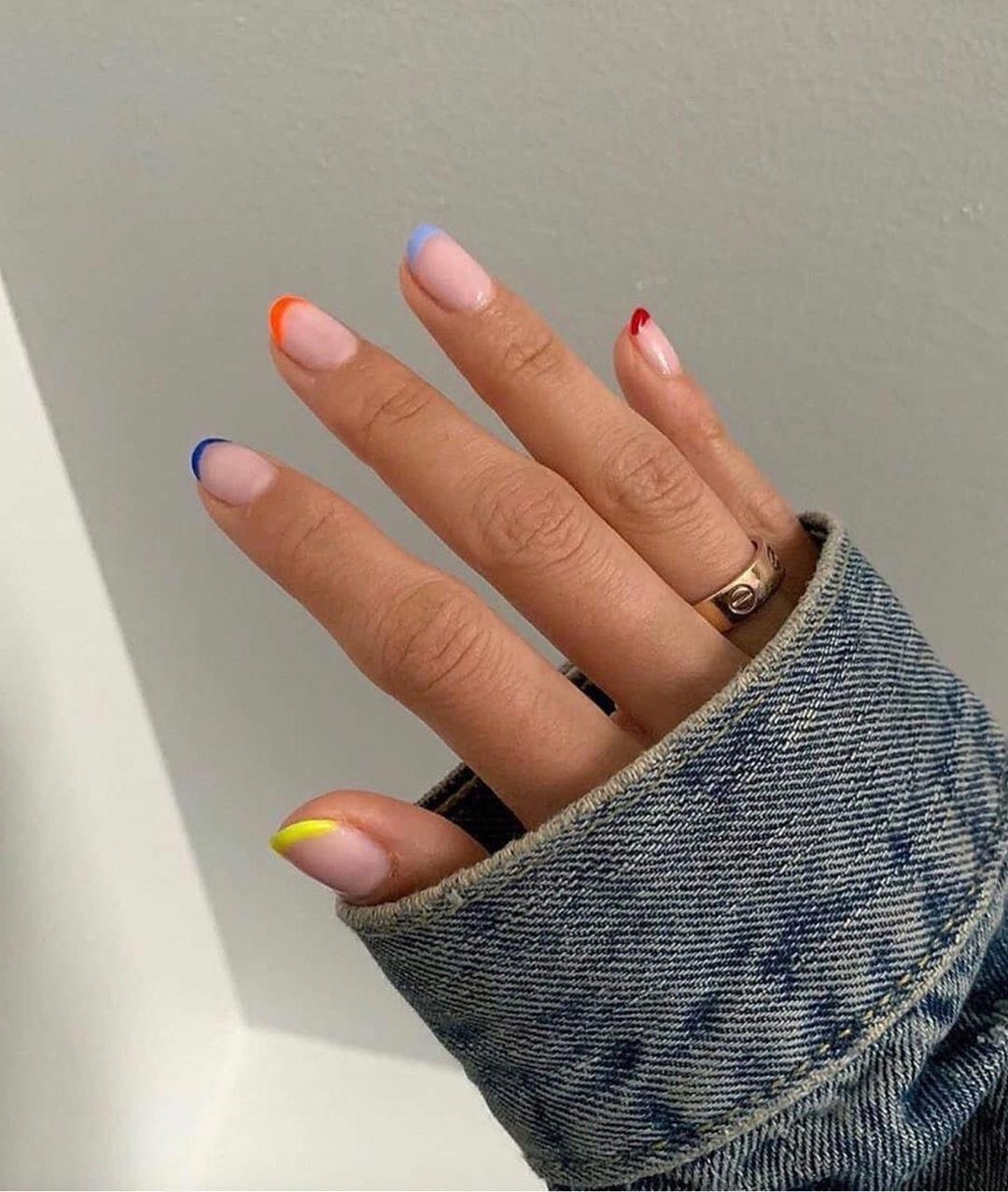 The clever thing about nude nail polish is that it makes a great neutral base for delicate nail art designs, like the one on the picture. If french manicure is too boring for your taste, here's an idea to brighten up your nails with a flash of rainbow polish. Eye-catching, right?
Even those of us who favor a classic look want to spice things up sometimes, right? Did you like our ideas? Feel free to leave a comment below. Life is too short to have naked nails.