A mudroom is a place in the house that really lives up to its name. On one hand, it's a really neat thing to have, isolating the dirt from the clean haven of the home and putting pressure on everyone coming into de-filth themselves. On the other hand, as the name suggests, it is a place nearly constantly filled with dirt, that, as we know, finds ways get scattered to places next to godliness unless taken care of immediately. In other words, a mudroom needs to be cleaned all the time.
But the omnipresent mess doesn't mean that it can't be a cute little nook that imbues both hosts and visitors with positive energy. For that purpose, we urge you to try and make your mudroom a place that's the object of envy of the entire neighborhood (and beyond). And here are the ideas found amazing and would like to share with you so you can make it happen.
1. Basic Welcoming Small Mudroom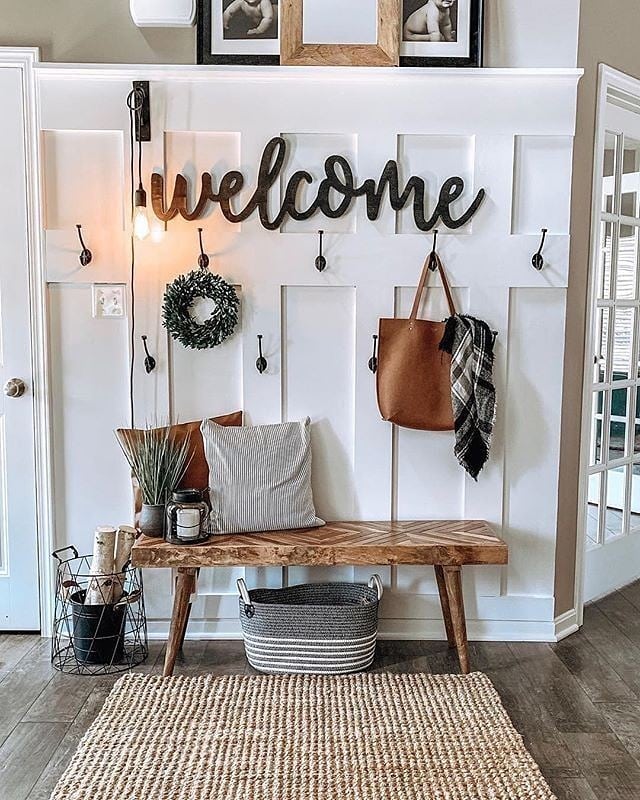 There is nothing wrong with going for something basic. In fact, for a mudroom, it is somewhat expected, though not always. Even by keeping it simple in this manner, the result is a simple, yet cozy and homely entryway that promises a warm home.
2. Faux Mudroom With Wire Baskets And Hooks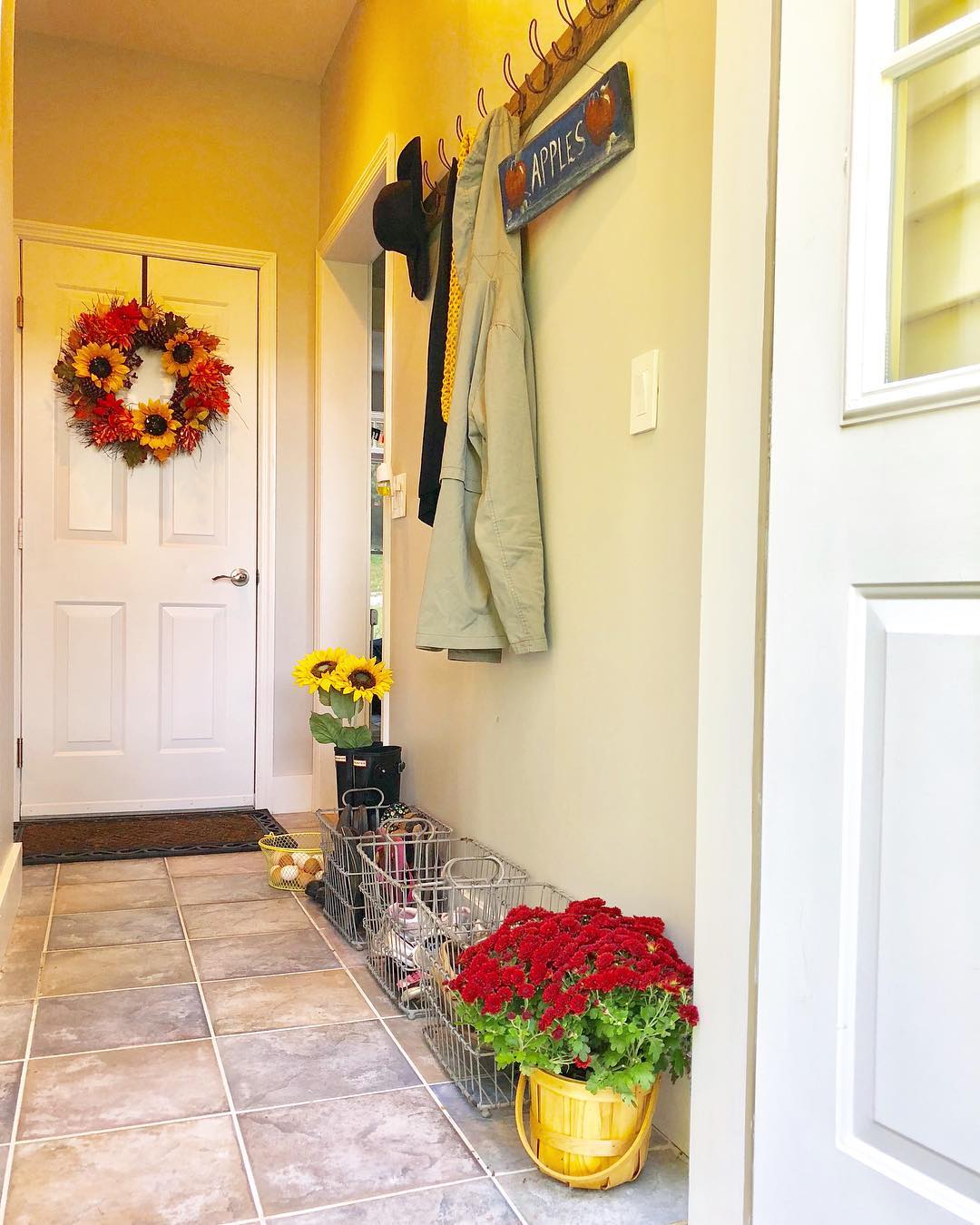 If a house has no mudroom per se, you are then free to let your creativity loose by turning a hallway (or another space) into one. With a little touching up, and some baskets and hooks, everyone will find it easy to sort themselves out. Improvise, adapt, overcome.
3. Walnut Shelves With Hanging Wall Baskets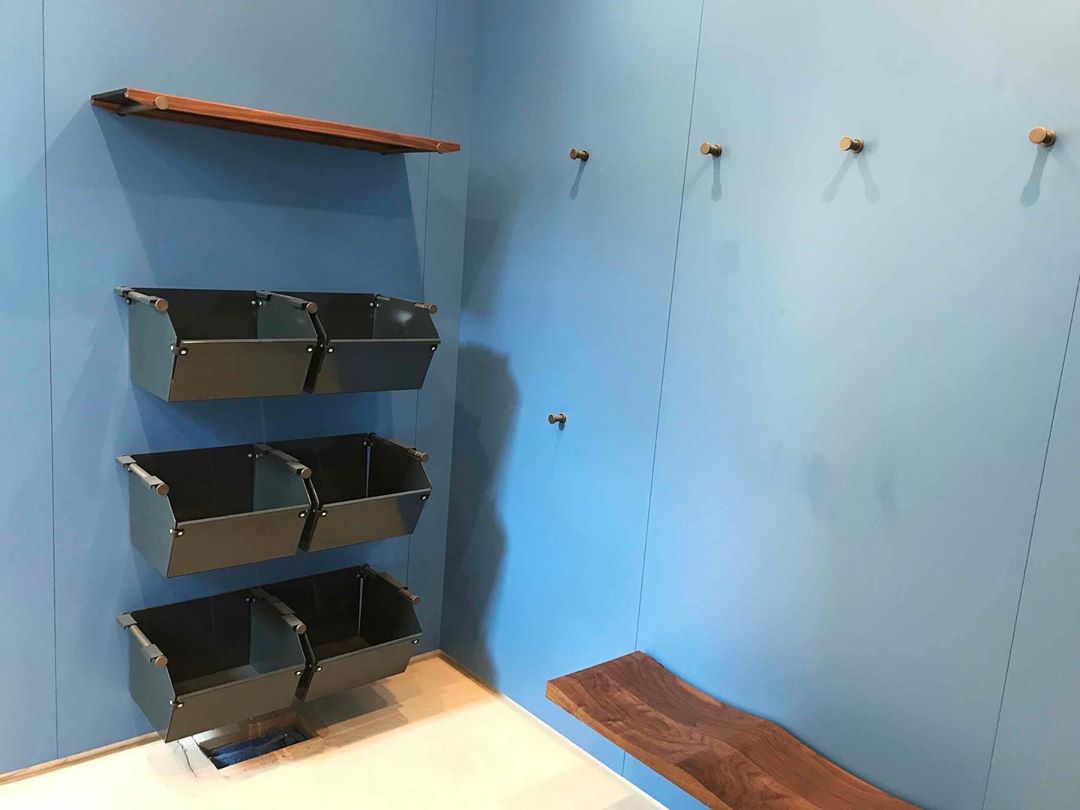 We know what you might be thinking. What will just a few boxes do, when you have a multitude of shoes to store? The key to saving space in such a situation is to install boxed shelves. If you still have too many shoes lying about, you may need a new closet.
4. Natural Light Sectioned Mudroom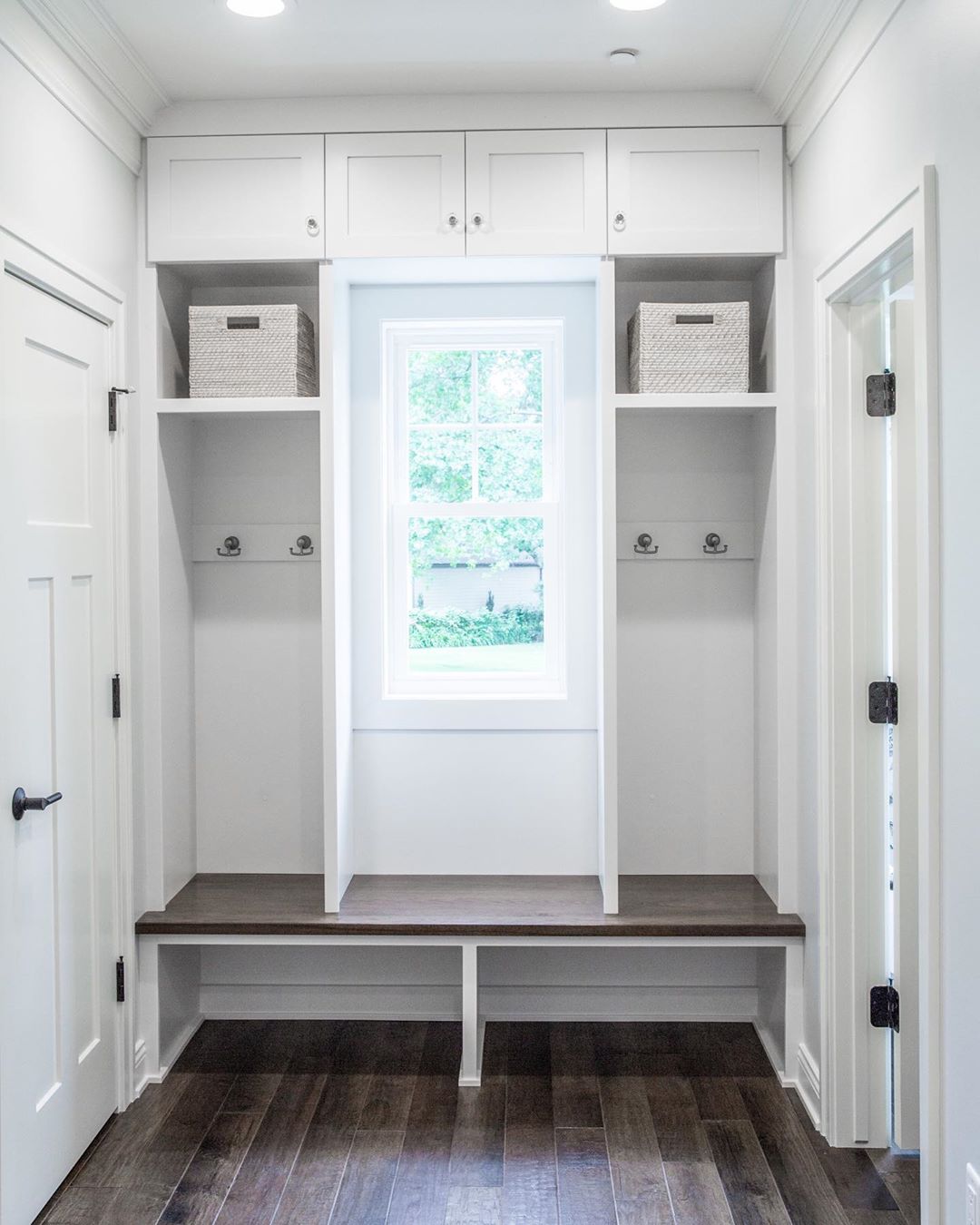 When it comes to being organized, this mudroom has it all. A bench, shoe space underneath it, as well as shelves, hooks, and storage cabinets. The window is quite an added bonus that provides enough natural light. And really, nothing beats that bright whiteness.
5. Bench And Shelves Mudroom With Gold Geometric Background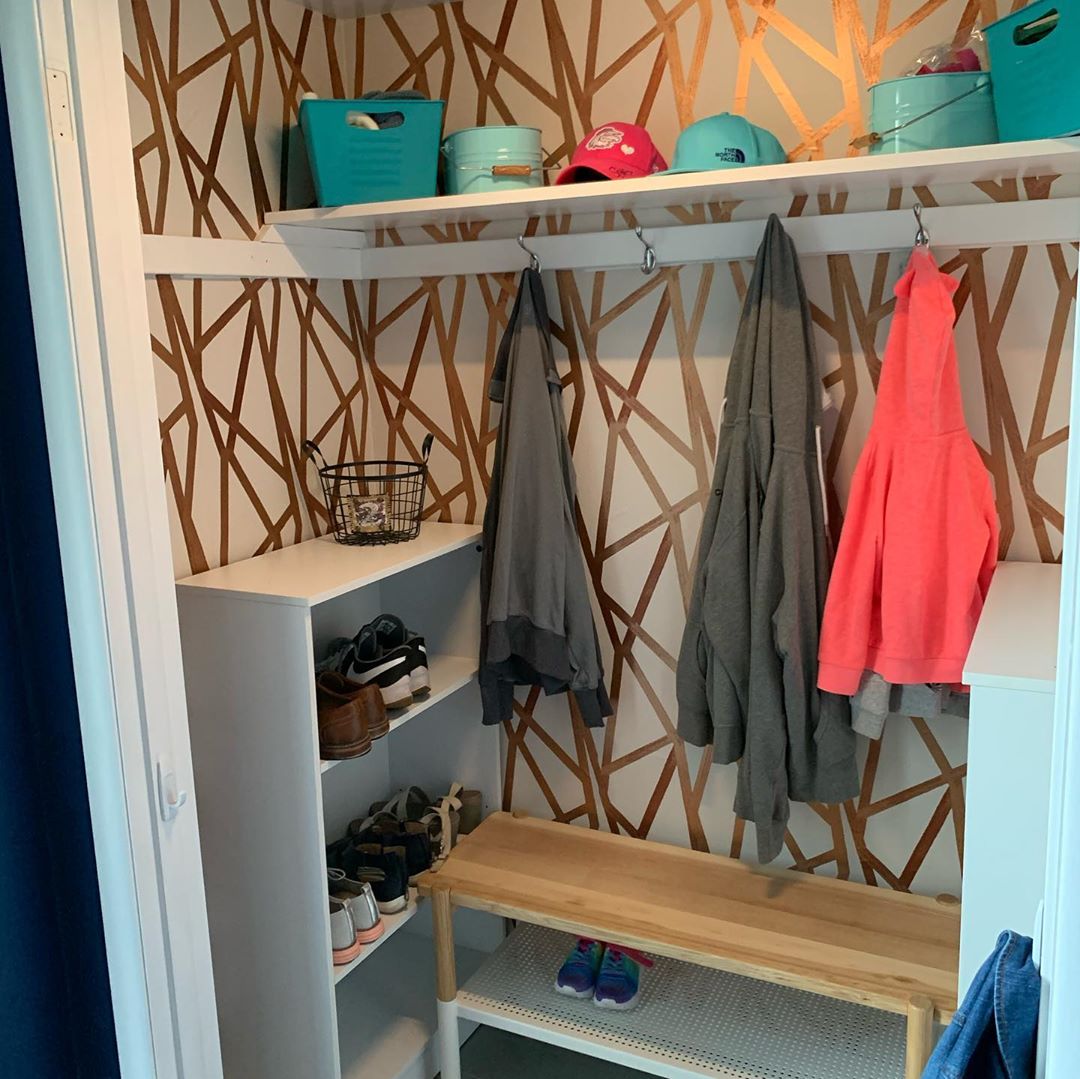 Here is another all-in-one combo. We know it seems a bit cramped, but it's a great example of what can be achieved when you only have a little space at your disposal. Hopefully, those of us who are dealt a similar hand will take a few pointers from it.
6. Minimalist Warm Wooden Plank Mudroom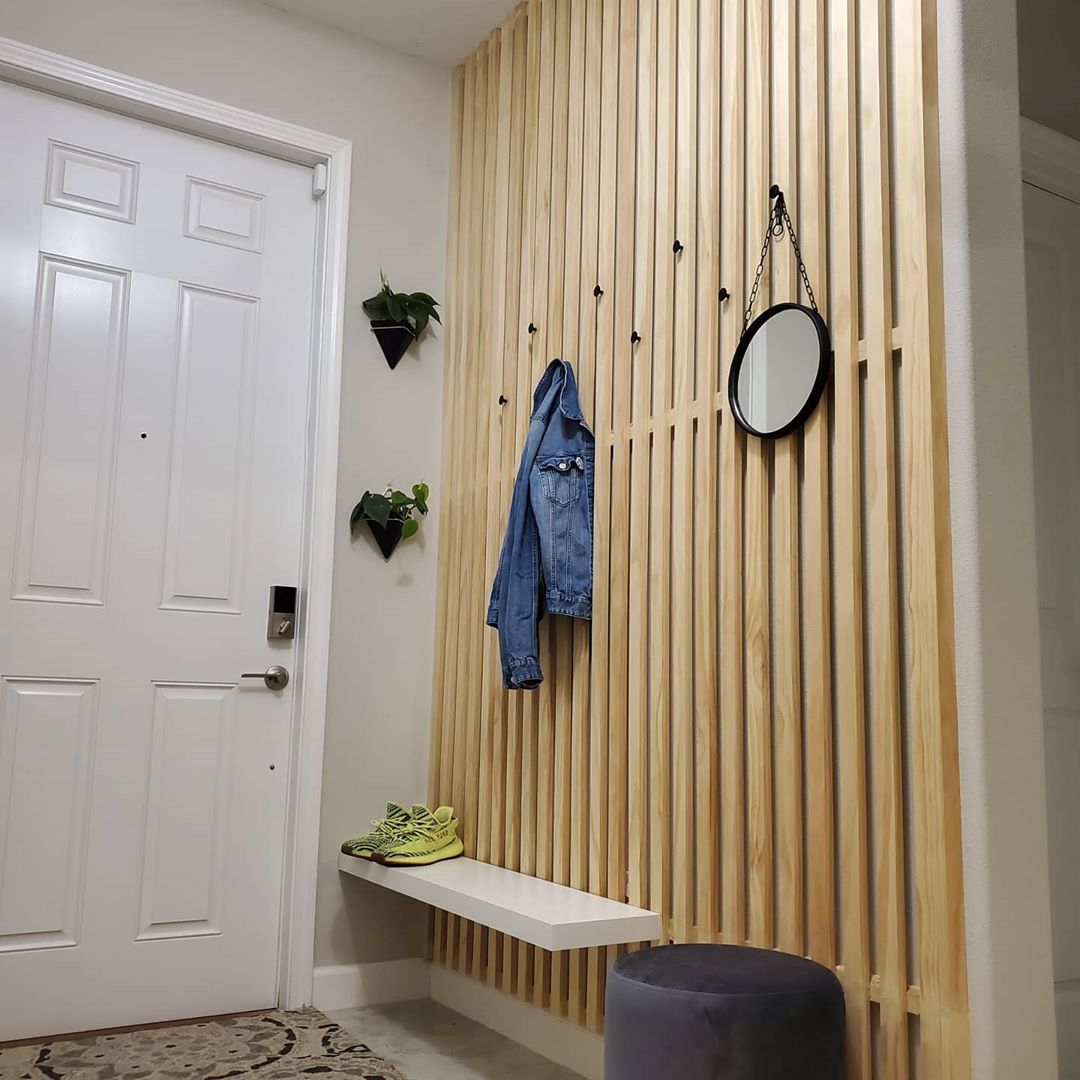 Did someone say 'minimalist'? Whoever did, they may have had our curiosity, but now they have our attention. Ideal for keeping it simple, the minimalist style is a superb way of freeing the space, unless you have too much stuff around. Still room for a mirror, though.
7. Hole-In-The-Wall Mudroom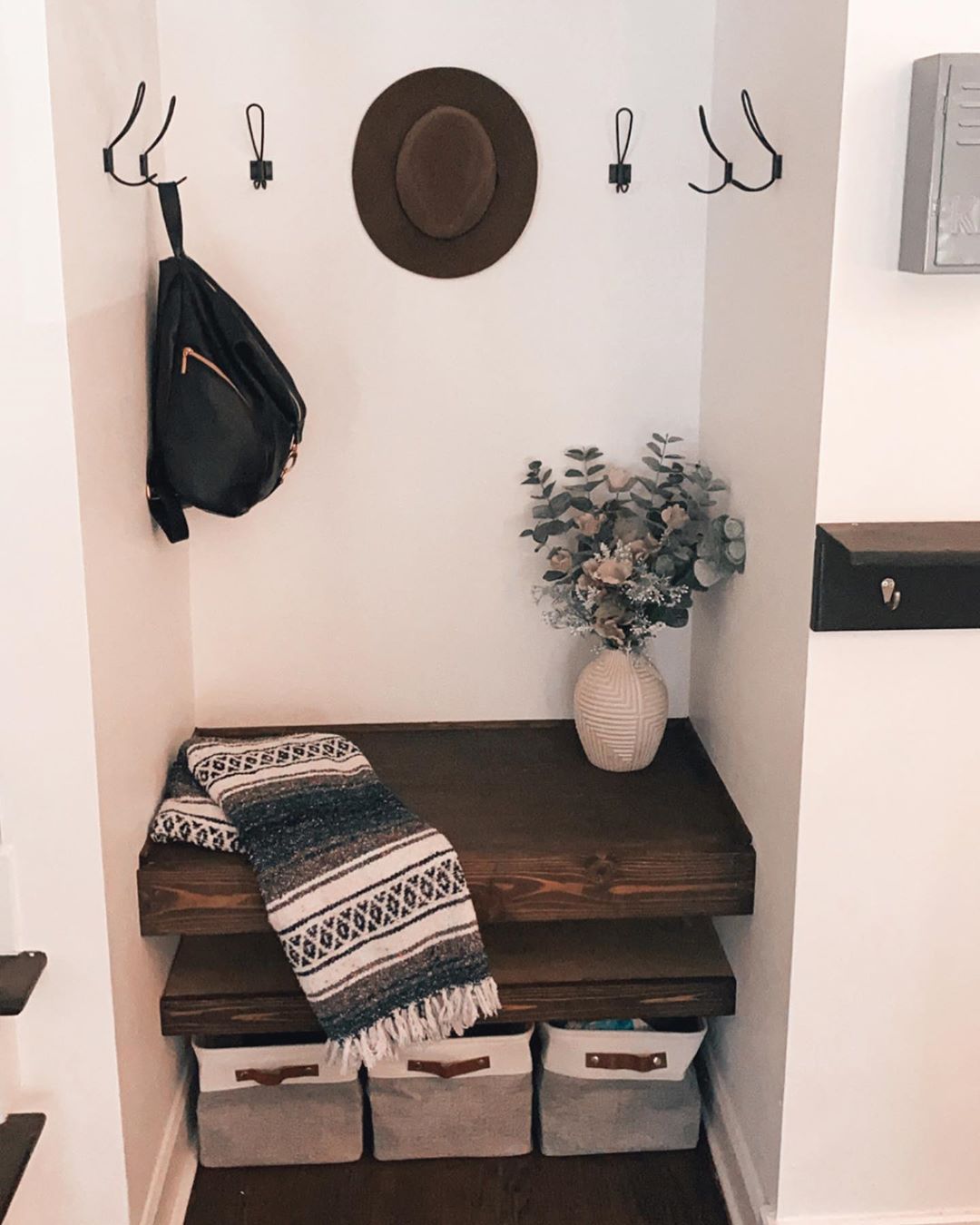 Fire in the hole! Actually, what we mean is that this hole in the wall is so hot, it's on fire! Moreover, it's yet another example of what can be accomplished even in such a small space, and this time without it looking cramped or crowded. Enjoy the storage!
8. Mini Mudroom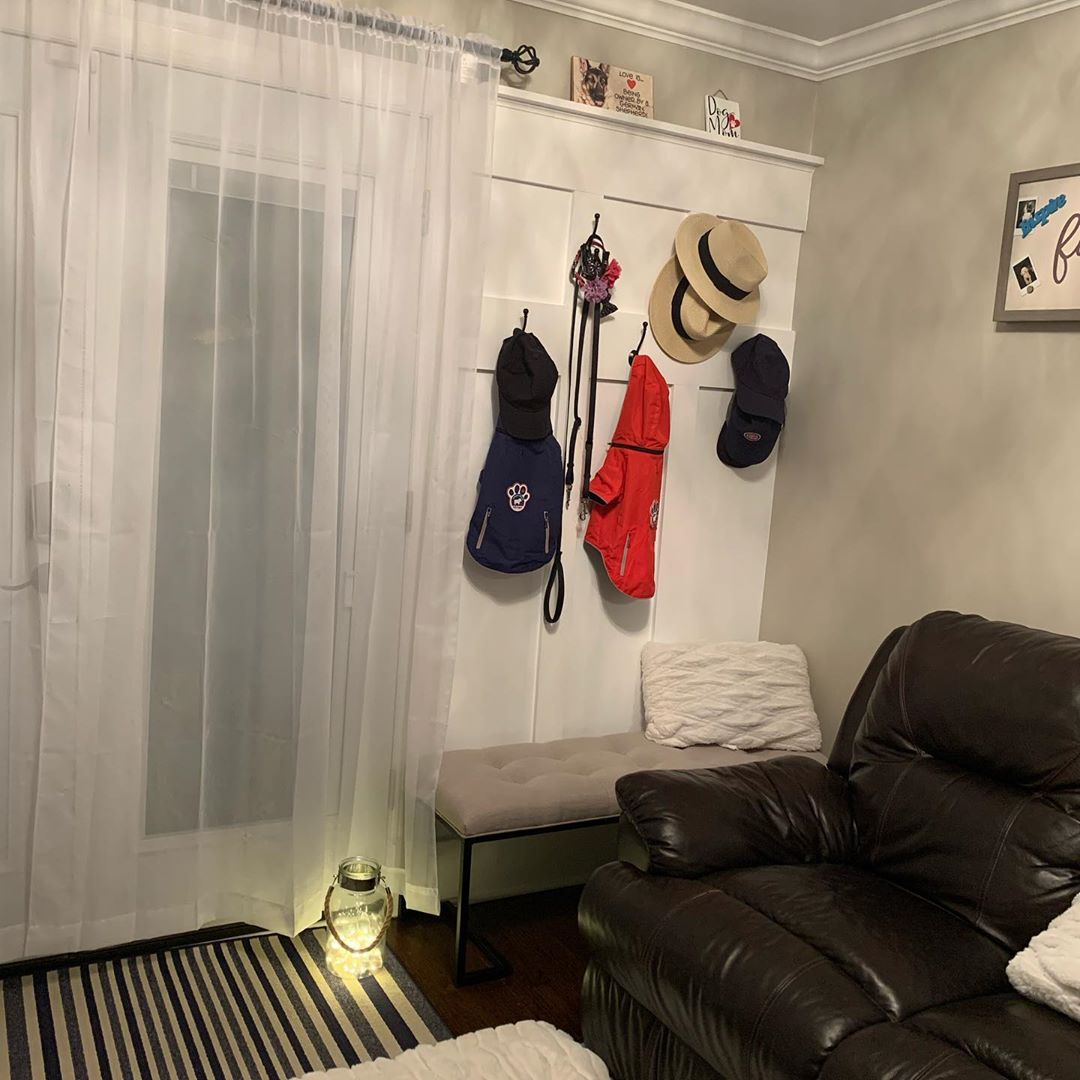 Here we have another mudroom that is not a mudroom at all. In fact, it's not even a separate room, but a nook in the living room that is dedicated to hanging and leaving your baggage. On top of that, there is also a little ledge for pictures and signs.
9. Half And Half Blue Mudroom
We know we spoke so highly of bright colors not so long ago. That's not to say a color like blue has no place in a mudroom. Quite the contrary, depending on the rest of your interior, it can be a perfectly wonderful fit. It just oozes with freshness, doesn't it?
10. Tiny Corner Mudroom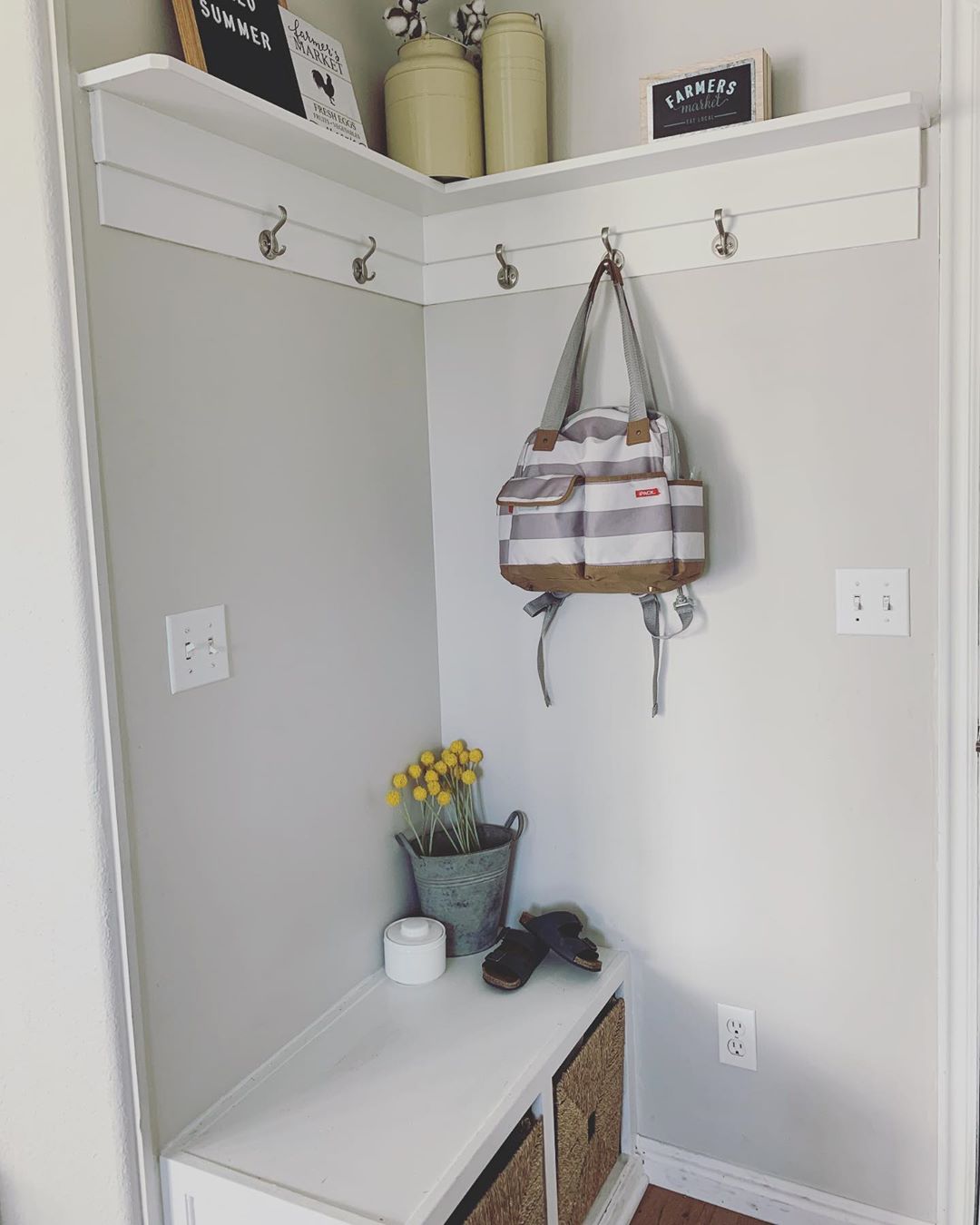 This is another take of the 'mini mudroom', located in a corner right off the kitchen. It may not have a shiplap wall, but it definitely captures the Fixer Upper farmhouse style Chip and Joanna Gaines would be proud of. Not to mention, it does the job.
11. Beachy Boho Style Mudroom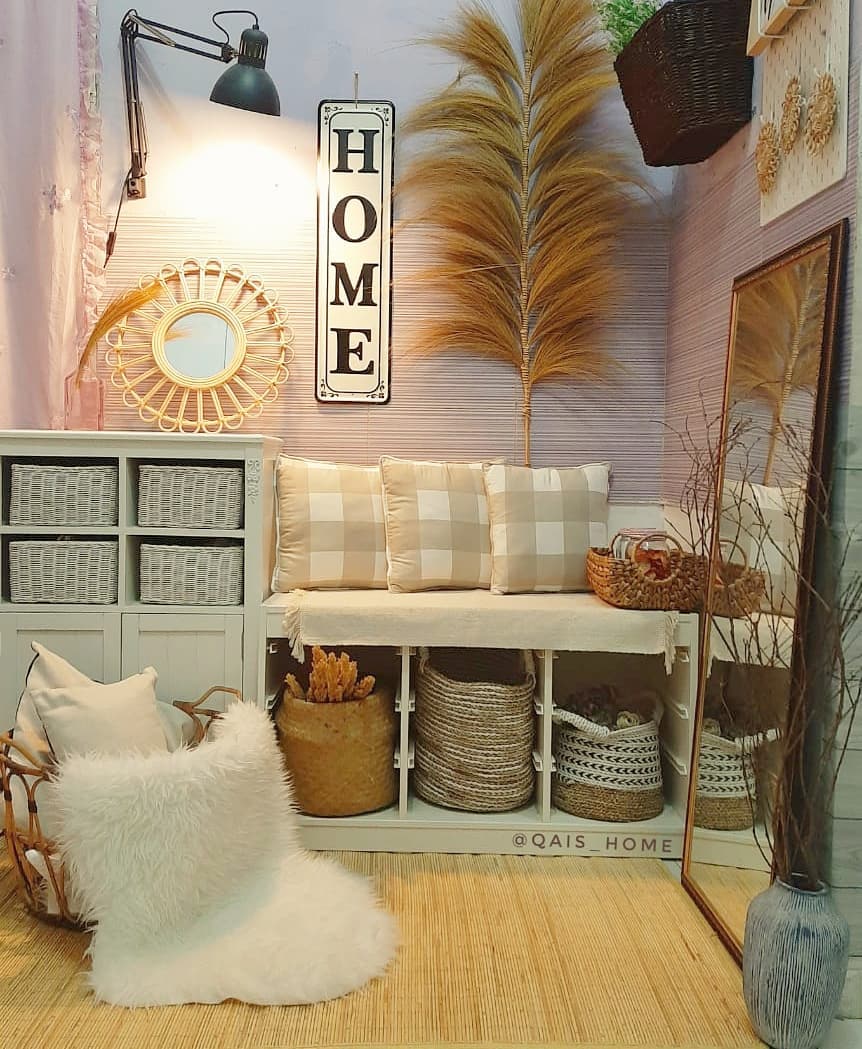 But we are well aware that not everyone is into the farmhouse look that has become quite a craze these past few years. Ergo, we give you an unorthodox beachy boho style mudroom. In this basking of homely coziness, may your chakras ever be opened and bursting with positivity.
12. Cushioned Dark "Shadow Box Frame" Mudroom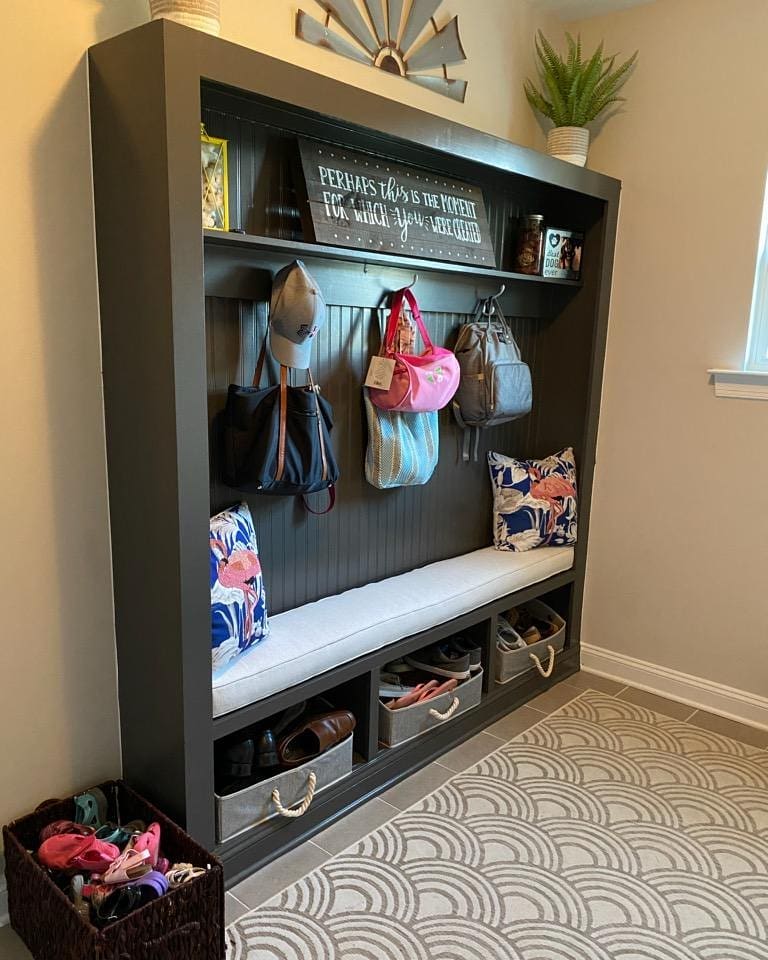 Your mudroom's bench could and should be cushioned to ensure that pleasant feel of coming (back) to a real home. Even if you think it's just an extra thing that is probably more of a nuisance than helpful, we assure you that it just adds to the mudroom's functionality. You will know when you try it!
13. Tucked In Mudroom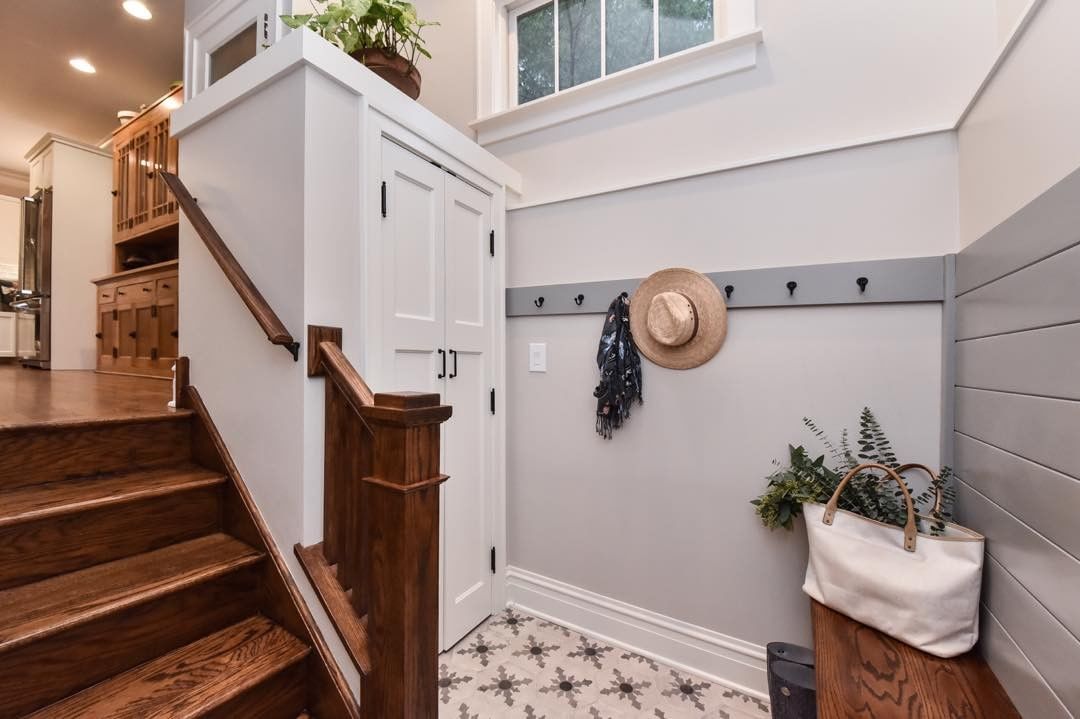 One big issue with typical mudrooms is that they tend to be in the way. Or rather, the stuff in them, such as benches, shelves, cabinets, and even hooks, make the passage space narrower. Therefore, it might not be a bad idea for it to be tucked in.
14. Coastal Shiplap Wall To Wall Mudroom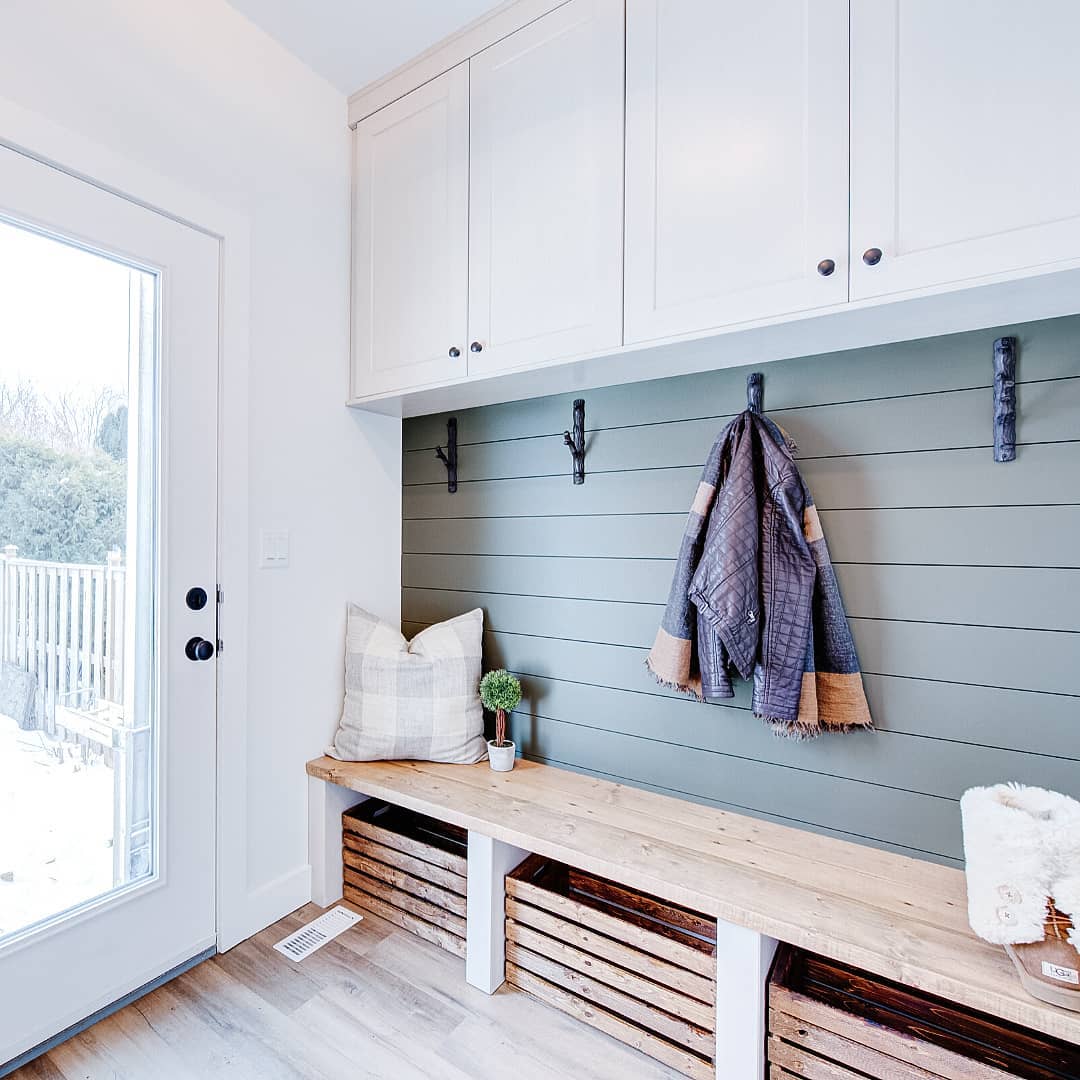 Drum roll, please. It's time for the king of interior decoration mode de jour. The mighty shiplap. Talk about combining style and functionality! Its versatility, among other things, makes this mudroom the perfect landing spot for the whole family.
15. Outdoor Bench And Storage Mudroom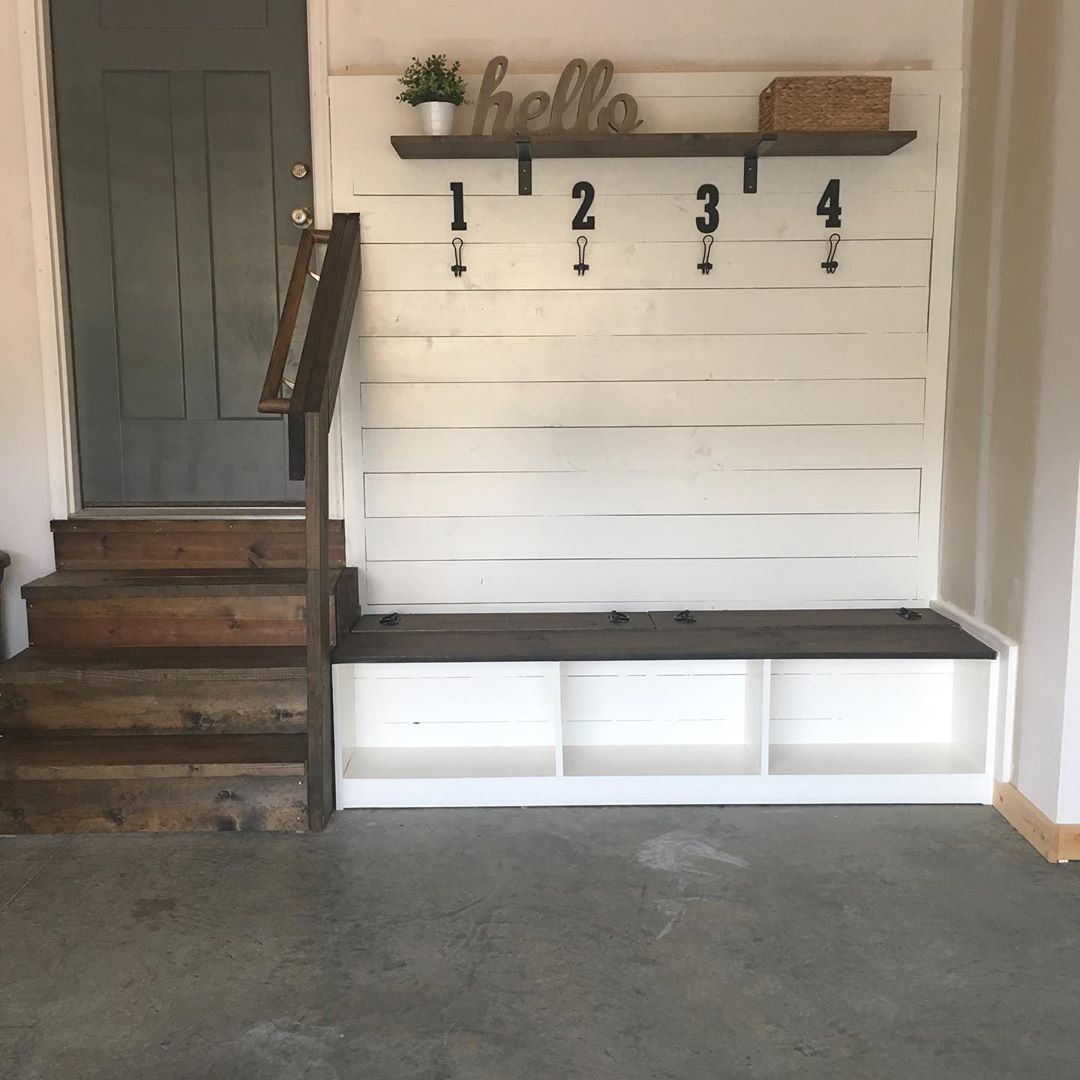 Now for a concept that is a little out of the box. To be more precise, it's out of doors. It has shiplap and everything, the whole shebang. We know it seems a bit weird and unusual, but if you think about it, having your mudroom outside the house is not a bad idea.
16. Mudroom With Hidden Pet Space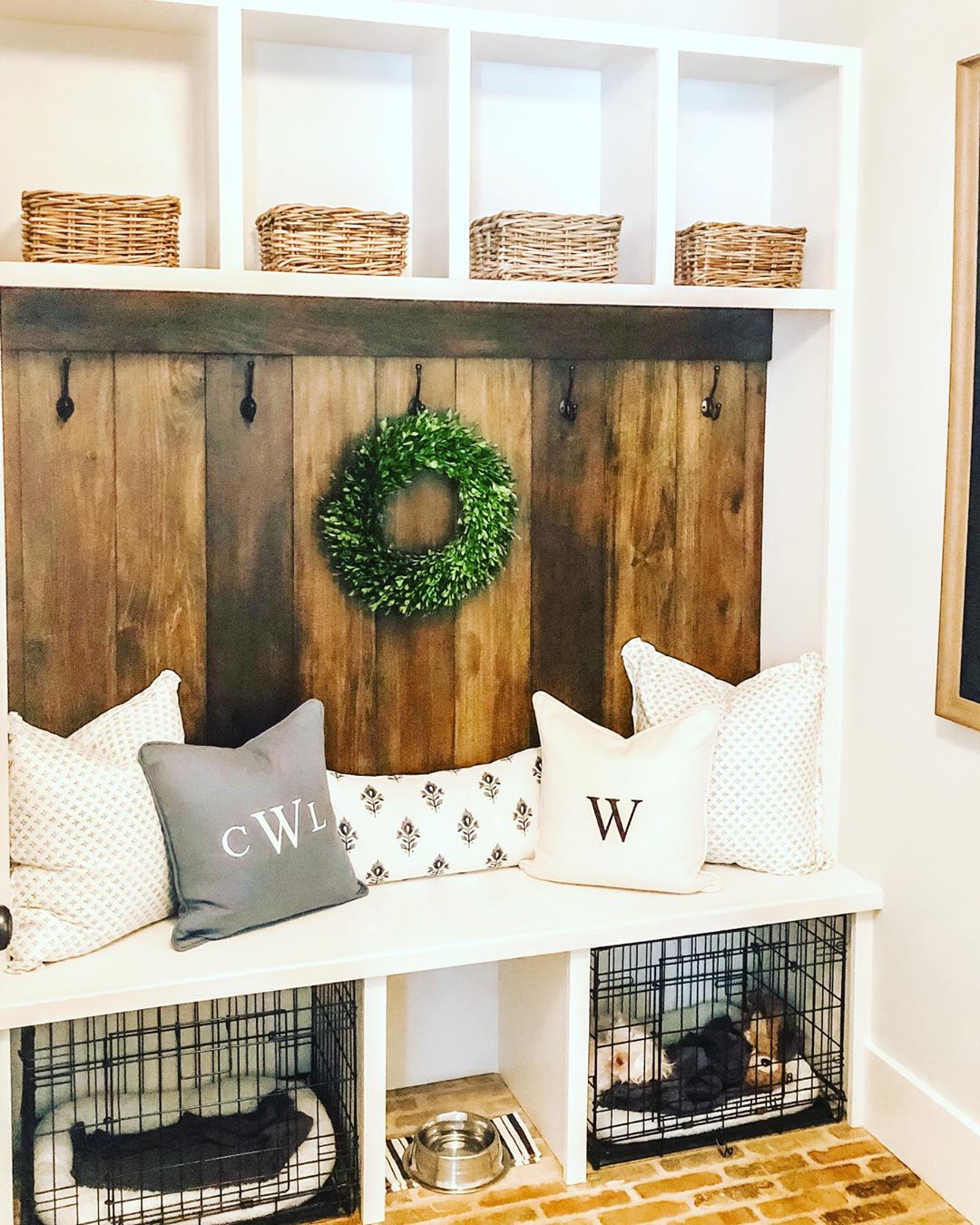 Anyone with a pet knows that our furry friends also need their own space. If it were up to them, that would be pretty much everywhere. In any case, it wouldn't hurt anyone if it were in the mudroom. Some would say it is the perfect place for them.
17. Blue Cabinet And Wood Wall Decal Mudroom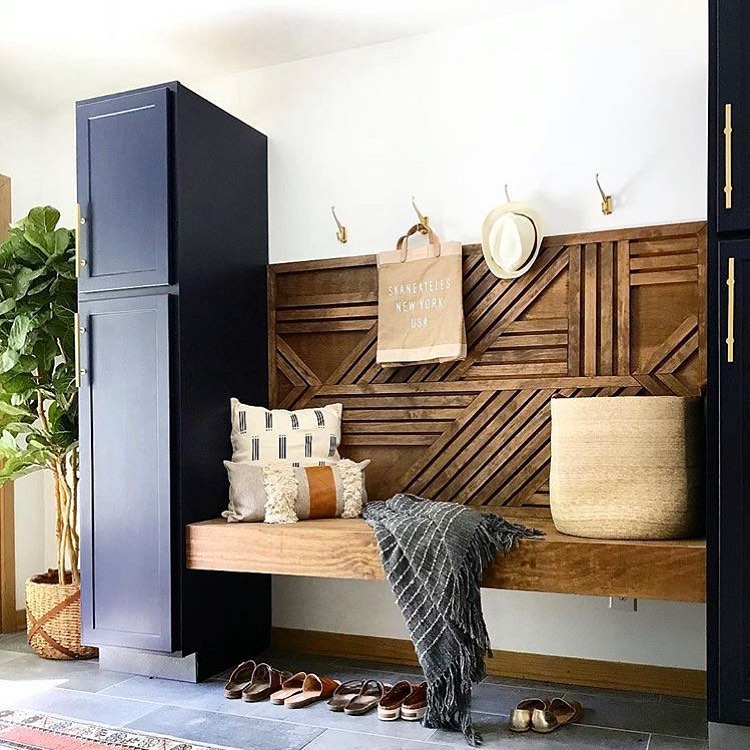 Here is an extravagant option, in the sense that it combines styles and colors, making it pleasing for different pairs of eyes. One way or another, we are sure that everyone will fall in love with that floating bench and the unique backboard. Have you?
18. L-Shaped With Corner Storage Mudroom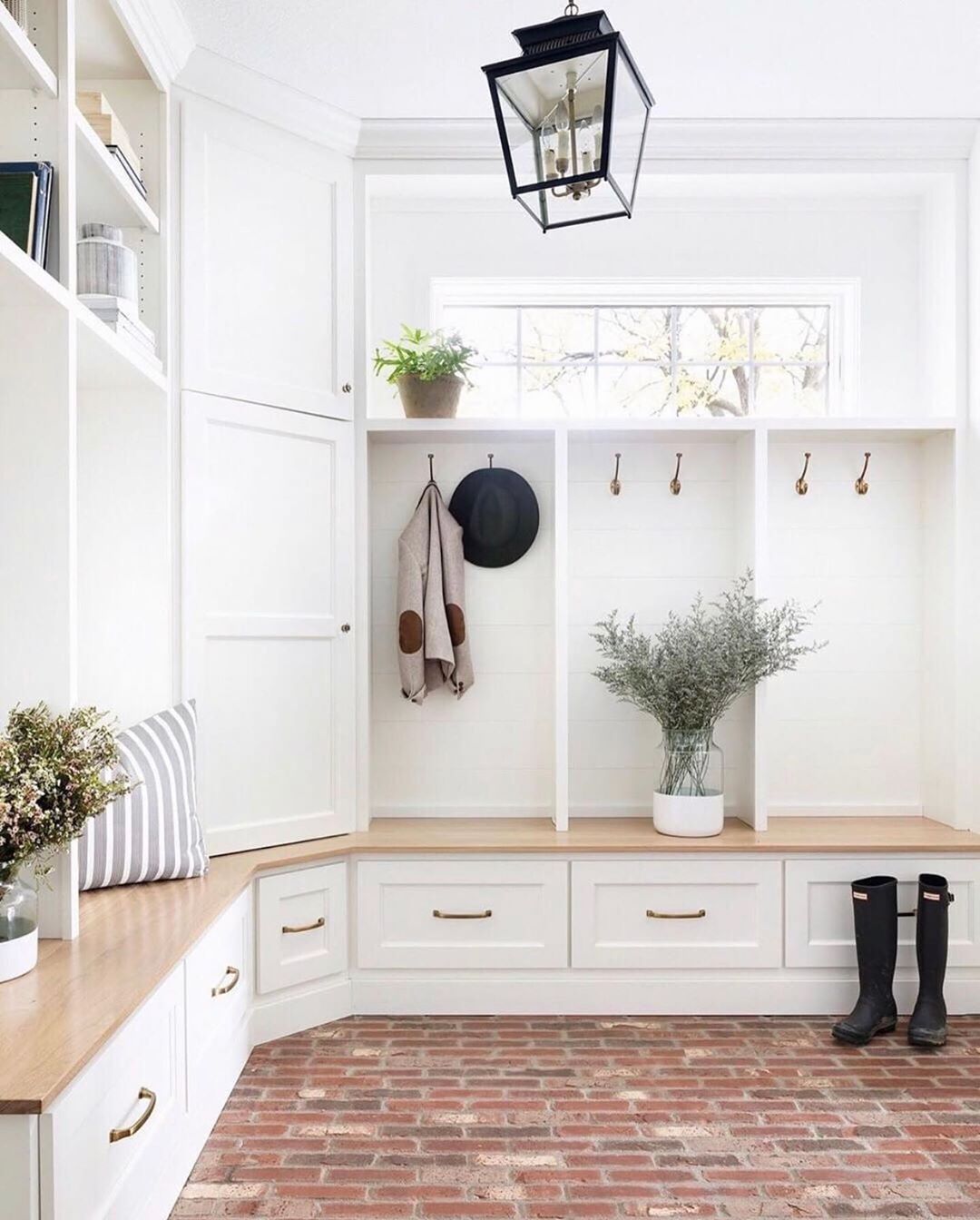 There is nothing wrong with utilizing the space you have at your disposal. In fact, we welcome it. So, why not use both the corner and the walls, giving it an L-shape? And that lantern-like light fixture is the cherry on top of the cake.
19. Rustic Mudroom With Sliding Barnyard Doors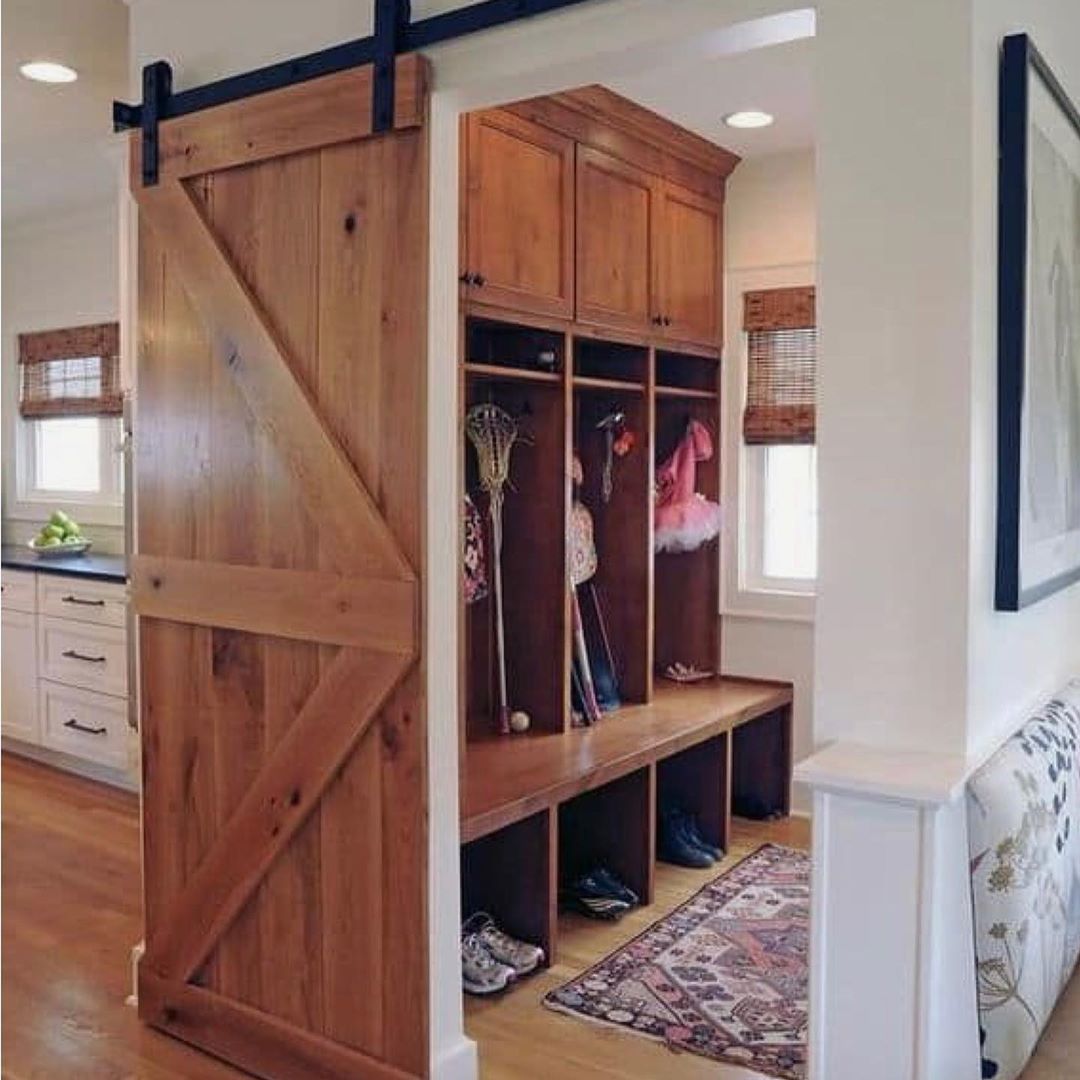 Despite the many farmhouse examples, we are well aware that the typical rustic style has been underrepresented in this list. We are sorry for it, and hope that this makes up for it in some way. No matter where it is in the house, it will enrich that part.
20. Black And White Mudroom With Window Nook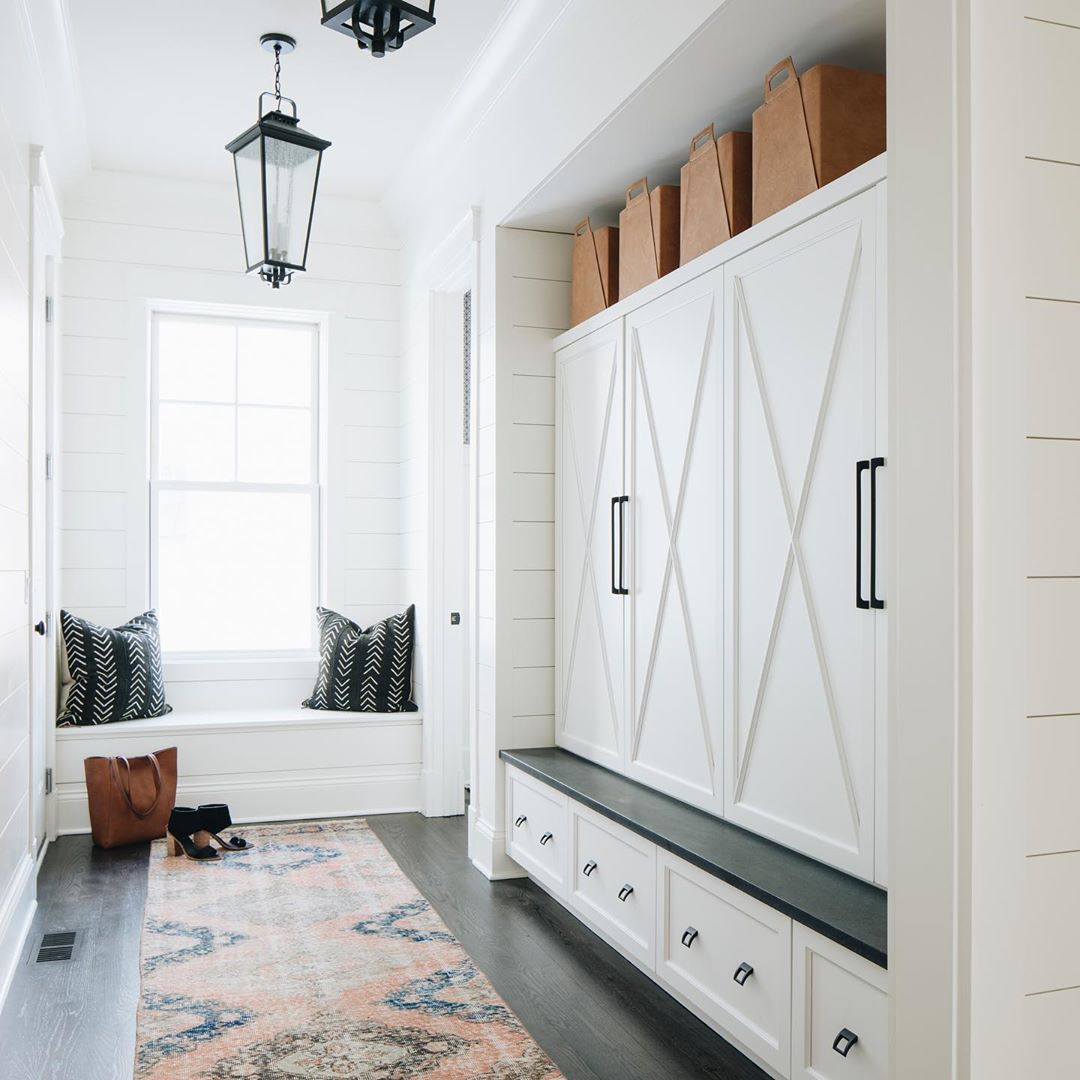 Once again, we know that the color white has been quite prevalent all over. To mix things up, we are hereby presenting you with a black and white contrast with all its smooth slickness. And finally, it's as inviting as any room could be. Don't you agree?
Space or no space, a mudroom nook, no matter how small, is a must-have for most households, especially busy ones. If you had any dilemmas so far as to how to make your mudroom, or in what part of the house, we hope this helps in resolving them. What do you make of our selection? Any idea that makes your jaw drop? By all means, leave a comment and tell us all about it.