We live in a stressful society. Stress lurks from every corner. We get stressed at work, and on our route to work. How many times have you gone crazy while driving to work? Or while traveling to work? In the era we live in, one thing that we have to have is a place where we can find our inner peace. Today, we will talk about meditation room ideas.
Imagine having a room that helps you heal your mind, body, and soul? One where you can achieve Zen? Well, it is all possible.
Everyone should create a meditation room or at least a meditation space where they can practice mindfulness. The benefits of meditation are many. For starters, you reduce stress. But some studies also show that meditation has the power to change the way our brains work.
There are no specific rules that you need to follow for your meditation room décor. But we have some ideas on how to create that personal space for meditation practice. The most important thing is to follow your mind and heart when creating this room.
It's your own space for meditation, so make it something that will reflect your personality and help you feel relaxed when you enter. Consider using calming colours, soft fabrics, and comfortable furniture. You might also want to add some special items that have personal meaning to you. Candles, essential oils, and crystals are great additions to a meditation room. In particular, Unakite can be a great addition to your mediation room décor. In terms of Unakite crystal meaning, the stone represents the balance between the mind and body. This balance is essential for promoting inner peace and harmony. The goal is to create a space that feels safe and tranquil, so don't hesitate to experiment until you find what works best for you.
You might notice, as we look at some of the tips for meditation room design, there are a lot of similarities to Feng Shui-designed rooms. Let's go.
How To Decorate A Meditation Room
Choose The Space That Feels Good
The most important thing in decorating your meditation room is choosing an area or a place in your home where you feel good. This can be the living room, the dining room, the bedroom, or any other room.
The trick is to choose a place where you instantly feel good and relieved after walking in. It is a place that makes you smile.
There is always the option of an outdoor meditation room. If you cannot find a spot in your home, you can consider outdoor space.
Clean The Space
As you probably know, one of the first aspects of Feng Shui is to live in a clean and uncluttered space. That same principle applies to your meditation room design.
Try to remove any distractions from the room. You want only your mind and spirit. Any distractions and clutter can be stressful and bring stressful thoughts. And you definitely do not want that.
Play Meditative Music
Music is a very important aspect of achieving mindfulness and Zen. Choose music that is relaxing and calming. There are a ton of YouTube playlists of meditative music.
Make sure to play it quietly in the background.
Aromatherapy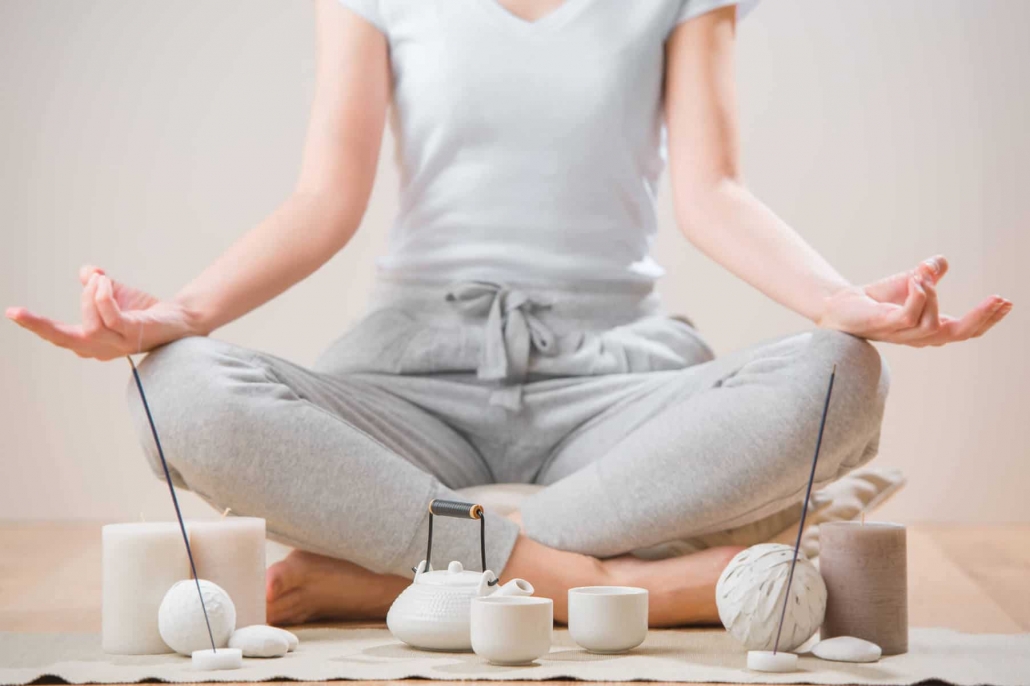 If you have ever been to a spa, you have noticed the scent. Aromatherapy is a big part of meditation. For this purpose, we recommend a few scented candles in your meditation area. You can use essential oil as well.
Some of the best calming essential oils are chamomile, peppermint, and lavender. They soothe the mind, soul, and body.
Soft Furnishing
Comfort is a priority for any meditation room ideas. That floor pillow, cushion, yoga mat, sheepskin, and everything that makes you feel comfortable.
You cannot enjoy your meditation if you do not feel comfortable.
Connect With Nature
You can add a plant or two in your meditation space to improve air quality and connect to the natural world. This makes the space even more inviting.
Be Mindful Of The Colors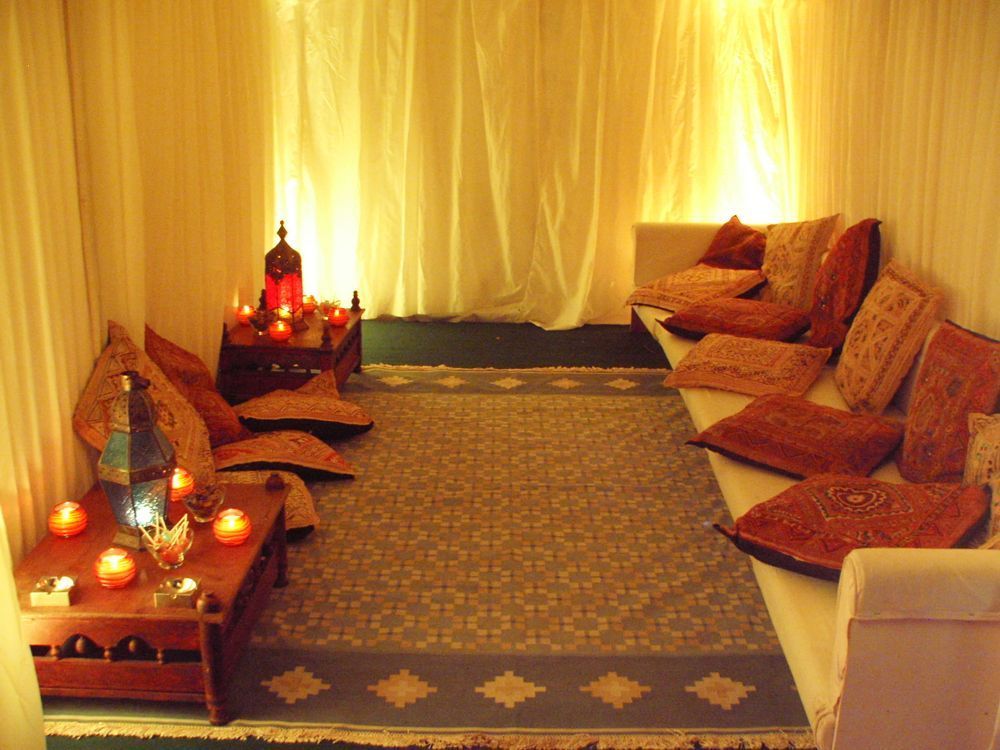 Another underrated aspect of the meditation area is light and colors. It would be great if you can have access to natural light in your area for meditation.
But speaking of colors, we recommend chalky whites and earthy tones. Do not add many accessories. Only a few from natural materials will do the trick.
Add A Personal Touch
When you create a meditation room, the key is to make it as personal as possible. You want your own personal touch at the end. You can do that with any element, be it smell, sound, or any other object that soothes your body and helps you calm your mind.
For example, some people opt for an essential oil that makes them feel great about themselves. Others go for scented candles. You can add a personal touch with a photo of some great master that inspires you. Or anything else that makes you feel like, "this is my place". Only by doing that you can find inner peace.
Remove All Technology
You cannot have technology in your meditation room. It is just not possible. Technology is a distraction. And you definitely do not want those vibrations and sound waves in your room. No electronics aside from the music player for meditative music.
If you leave a phone in that space, you are leaving yourself vulnerable to messages, emails, and phone calls. Nothing is that important. Give yourself 30 minutes of me-time.
Best Meditation Room Ideas
Now let's take a look at a couple of meditation room interior design ideas. You can steal some of these ideas. Or combine elements from different rooms. Some people even add a meditation chair. If that is something you feel comfortable with, go for it.
Simple, Yet Effective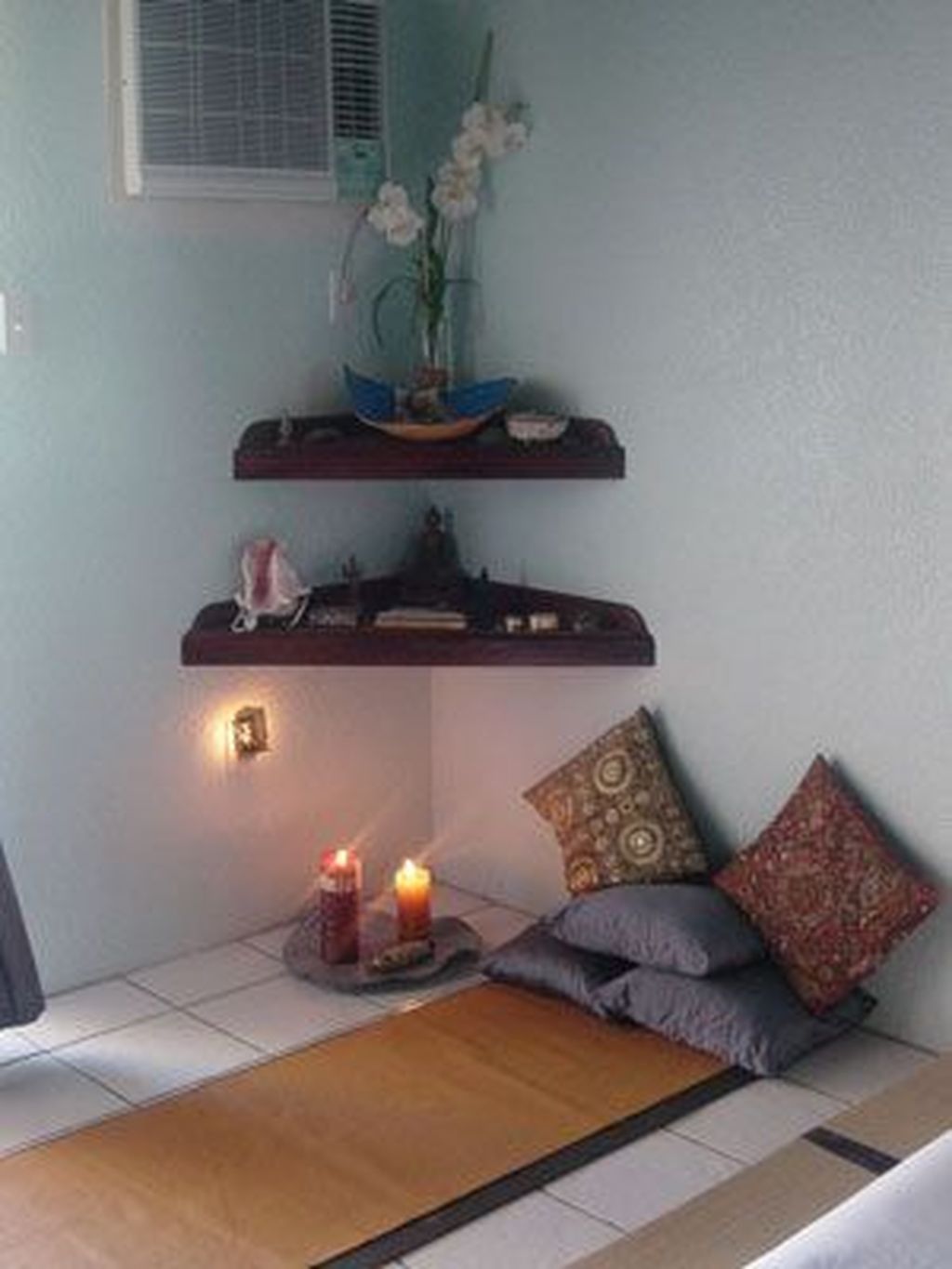 As you can see, in this room, scented candles are the main feature. This guy or girl added a personal touch with a special scent. You do not need anything special, just a simple mat for yoga and some candles.
Light And Natural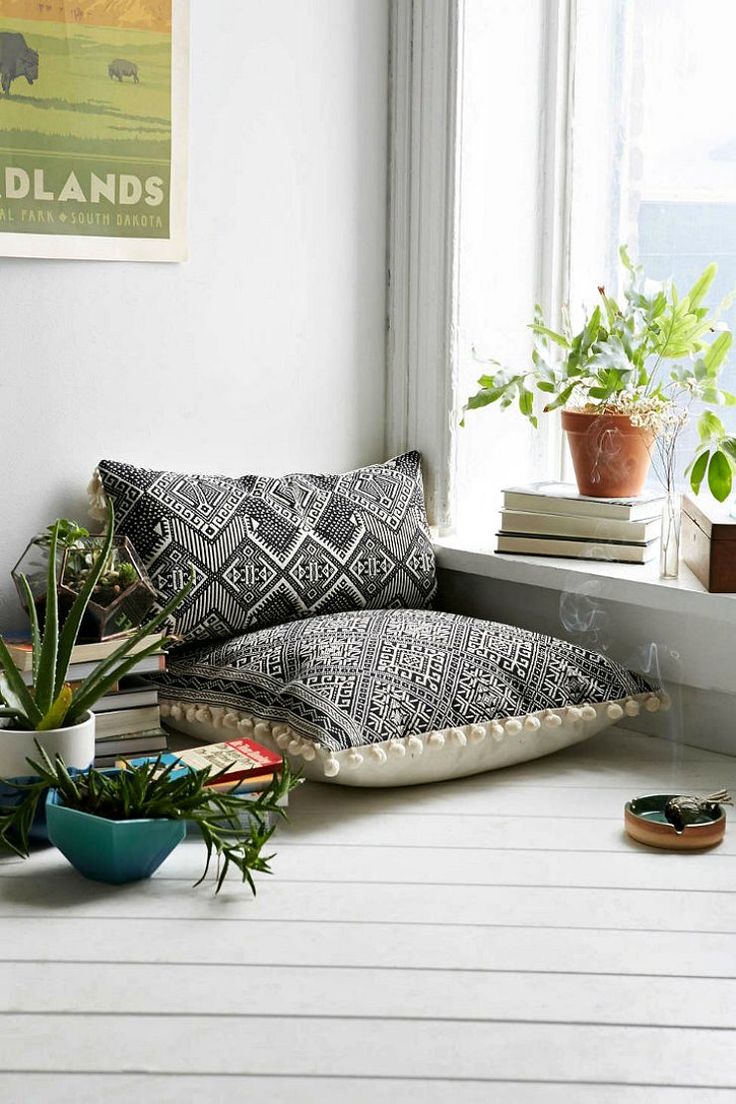 We talked about how important is natural light to your room for meditation. Plants bring fresh air and with natural light, you have a refreshing room you can enjoy.
Meditation Temple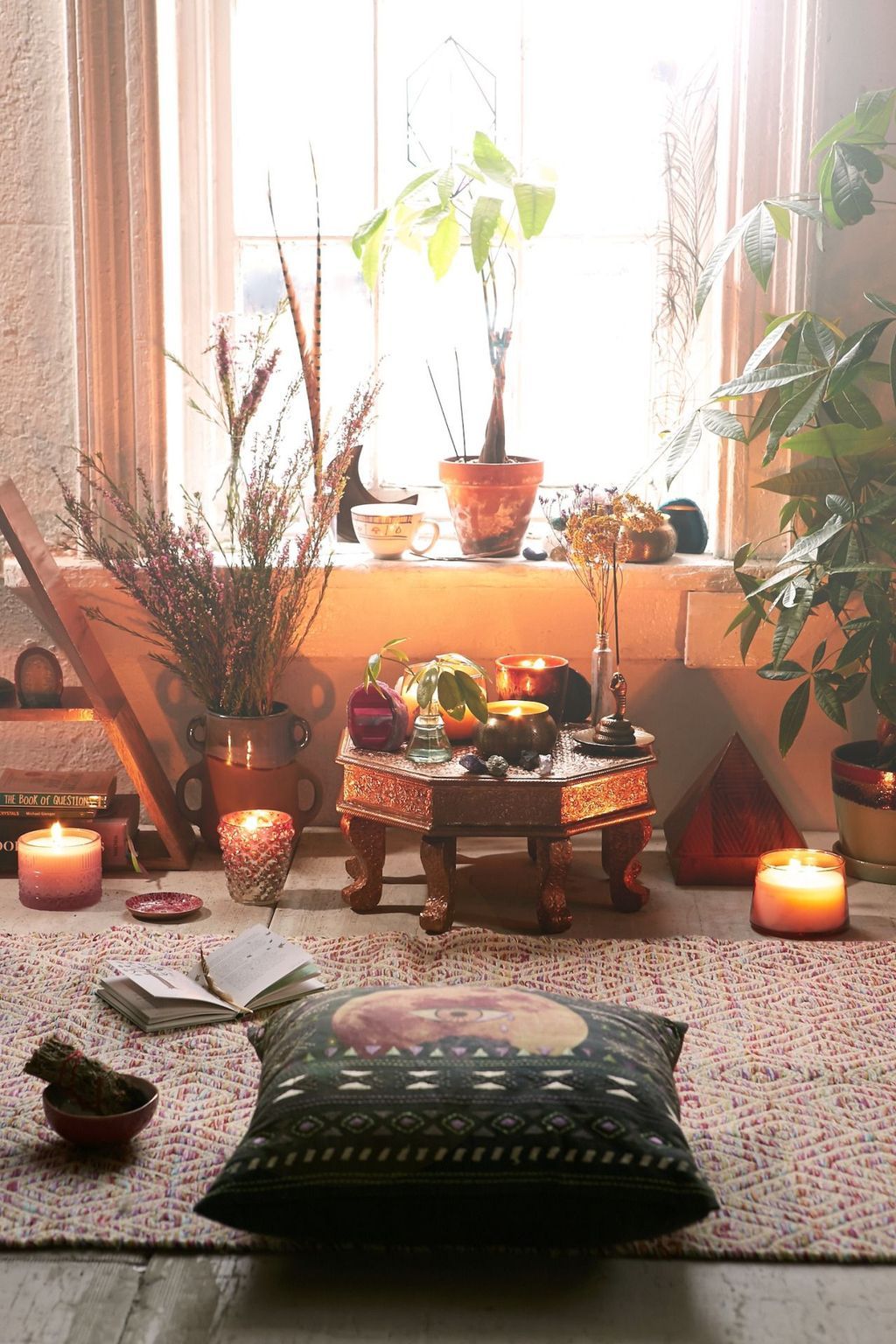 This room looks like a meditation temple. While there is no mat on the floor, you can enjoy sitting on soft pillows. The thing we love is the bevy of natural elements.
Small Space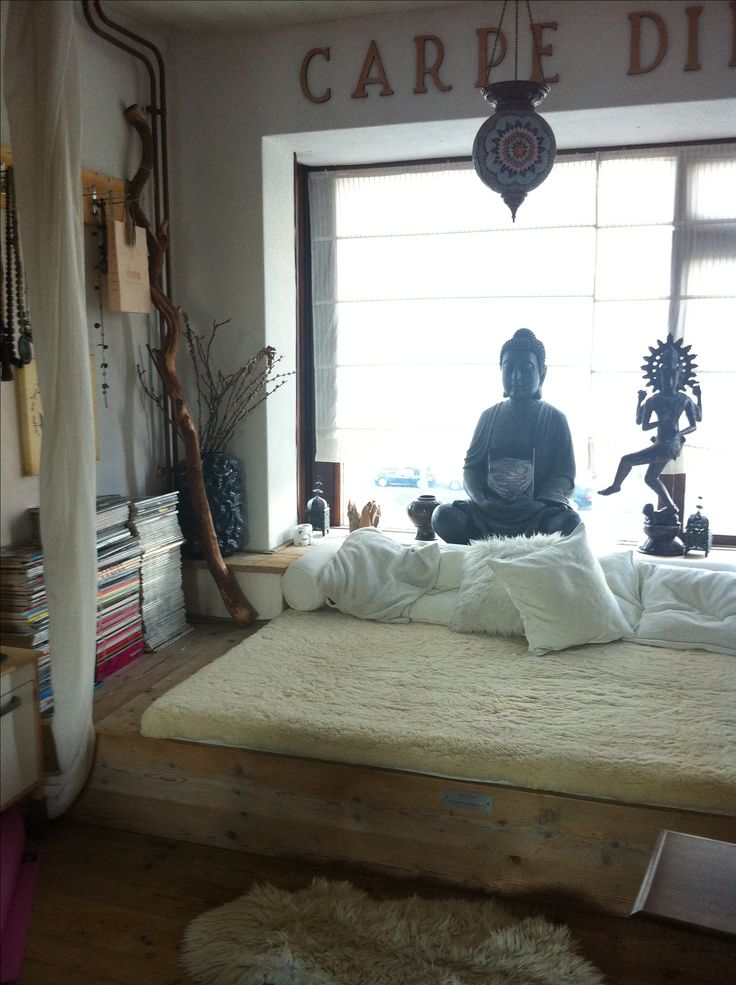 We talked about how you do not need a special room for meditation. You can use any corner in your home. As long as you make it comfortable and enjoyable.
Lots Of Cushions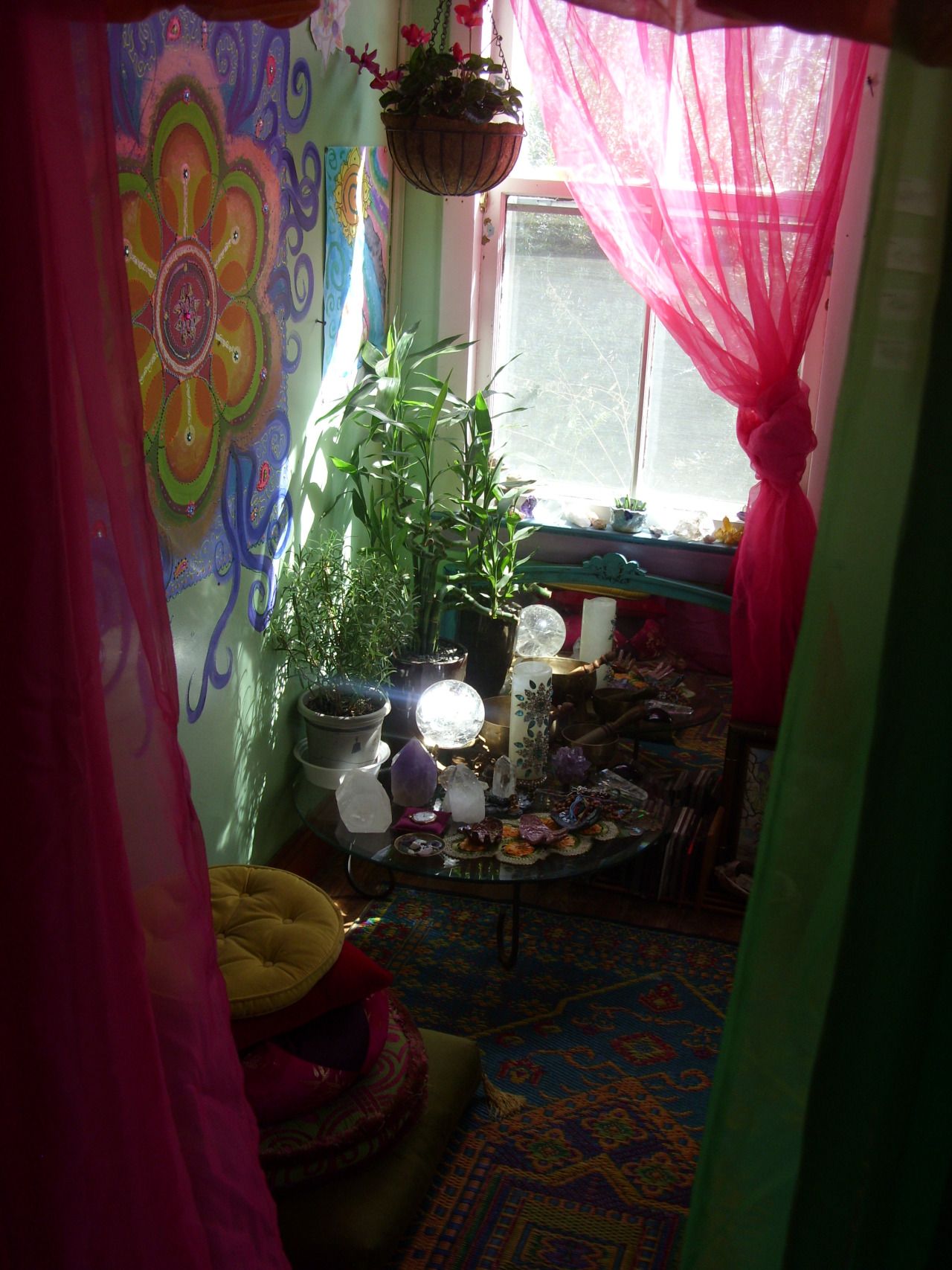 This room also utilizes soft pillows and a similar meditation cushion on the floor. The colors might not be as bright, but they work.
Moon Therapy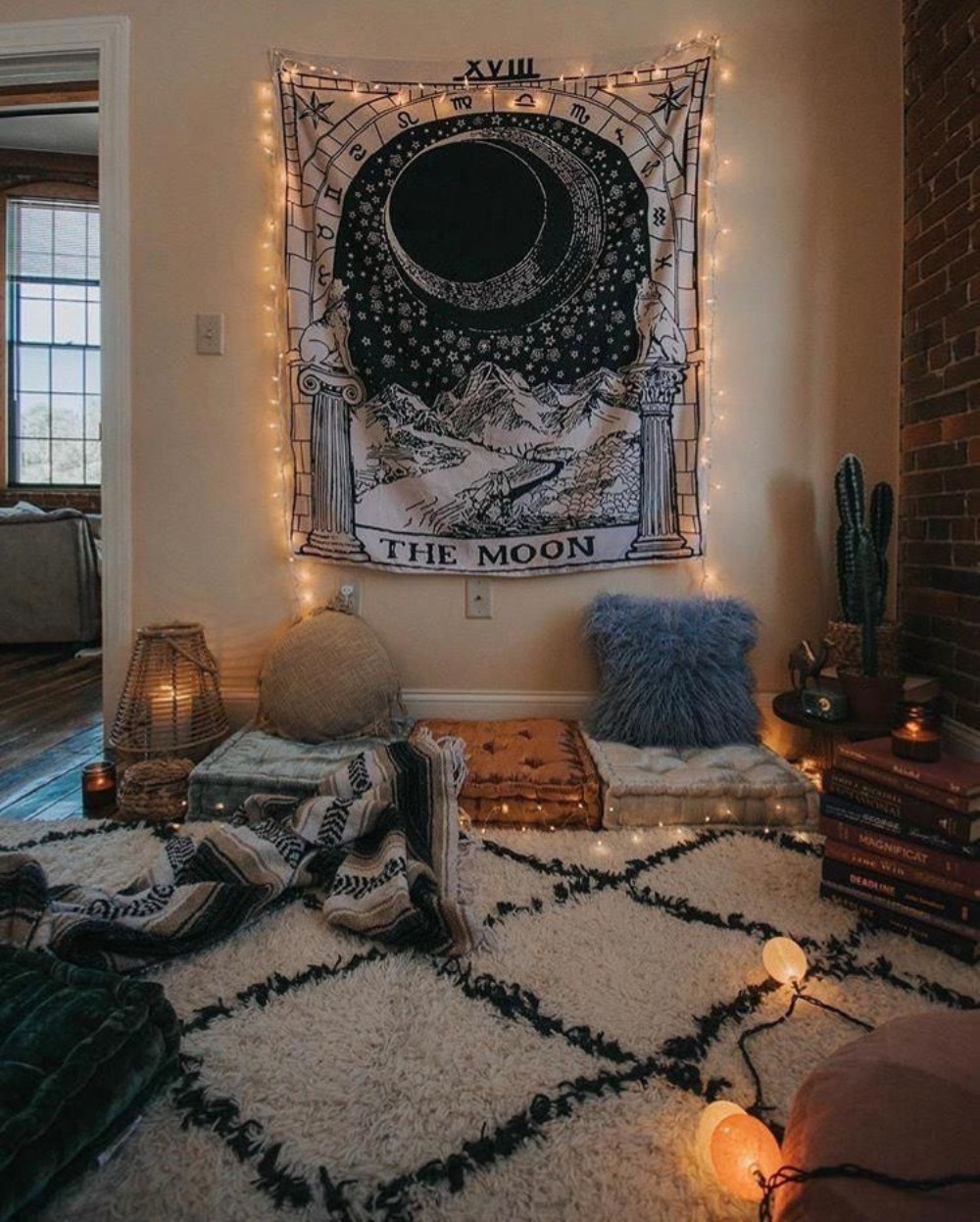 Think of meditation as therapy for the mind. If you like, you can also try some guided meditation. And add any personal touch that makes you feel comfortable.
Light And Simple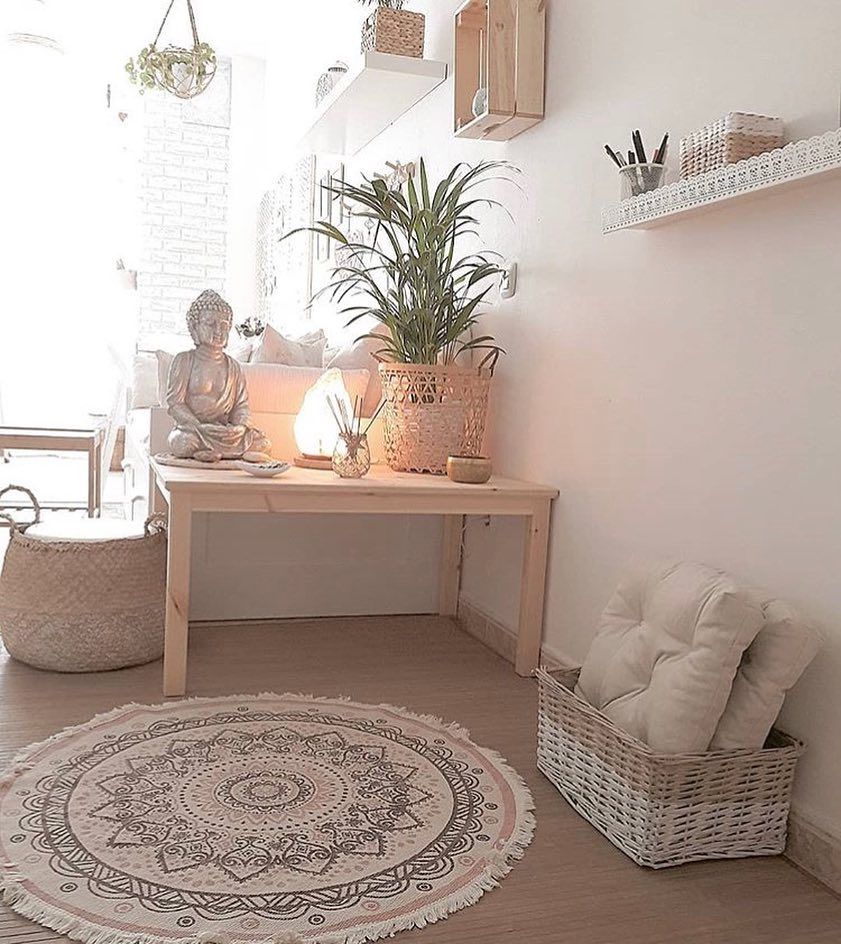 We preached simplicity when it comes to meditation room space. Some people love adding a statue to their space. And as long as it makes you comfortable, it is a good idea.
Connect With Nature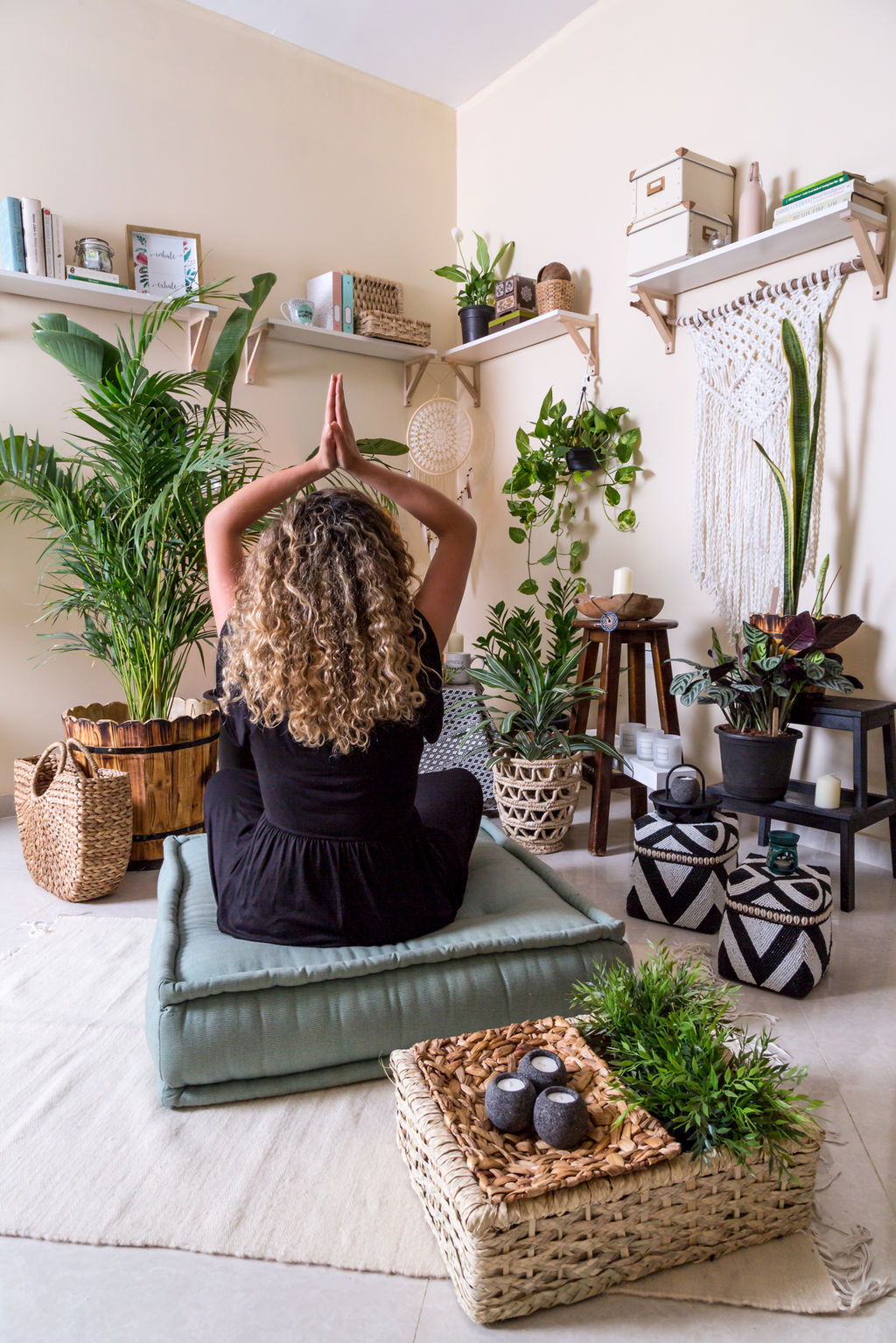 This is another meditation room idea where you can easily connect with nature. Just look at the plants and greenery. Our lives have become more stressful by the day, and nature heals us.
Boho Meditation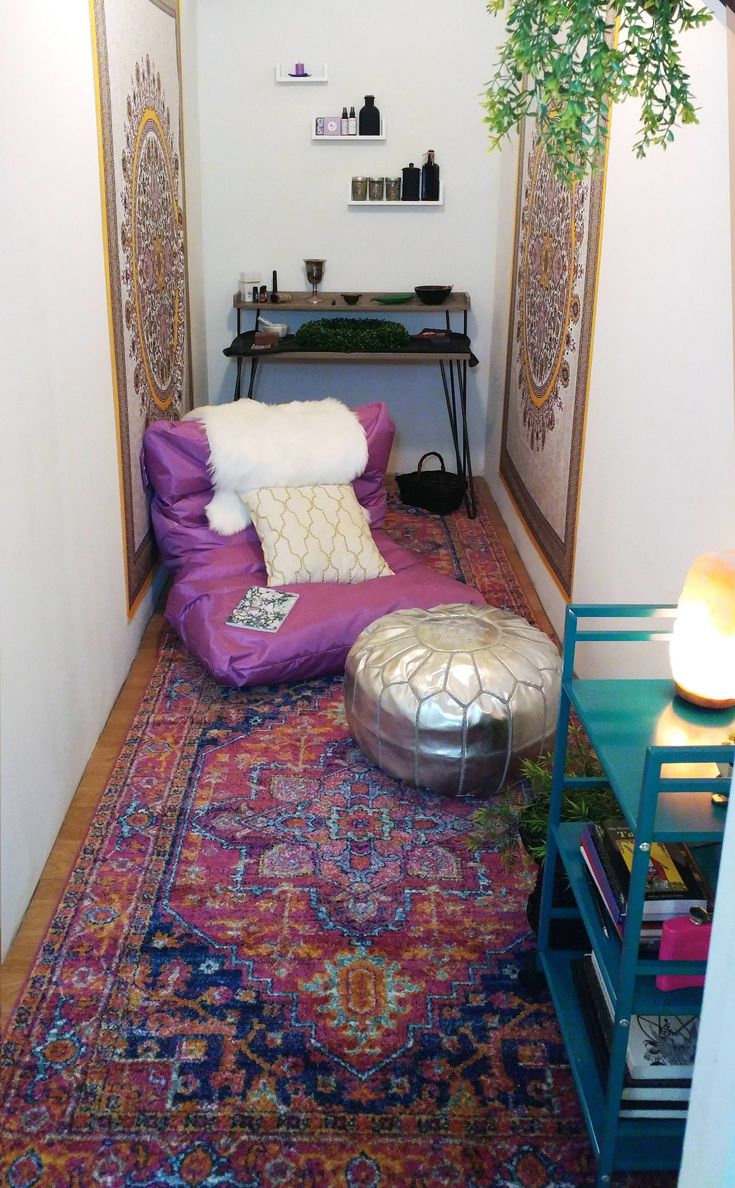 This is not a room. It is a meditation closet. But remember, we said you can put your mat and meditate anywhere you like. You just need to feel comfortable there.
Yoga Meditation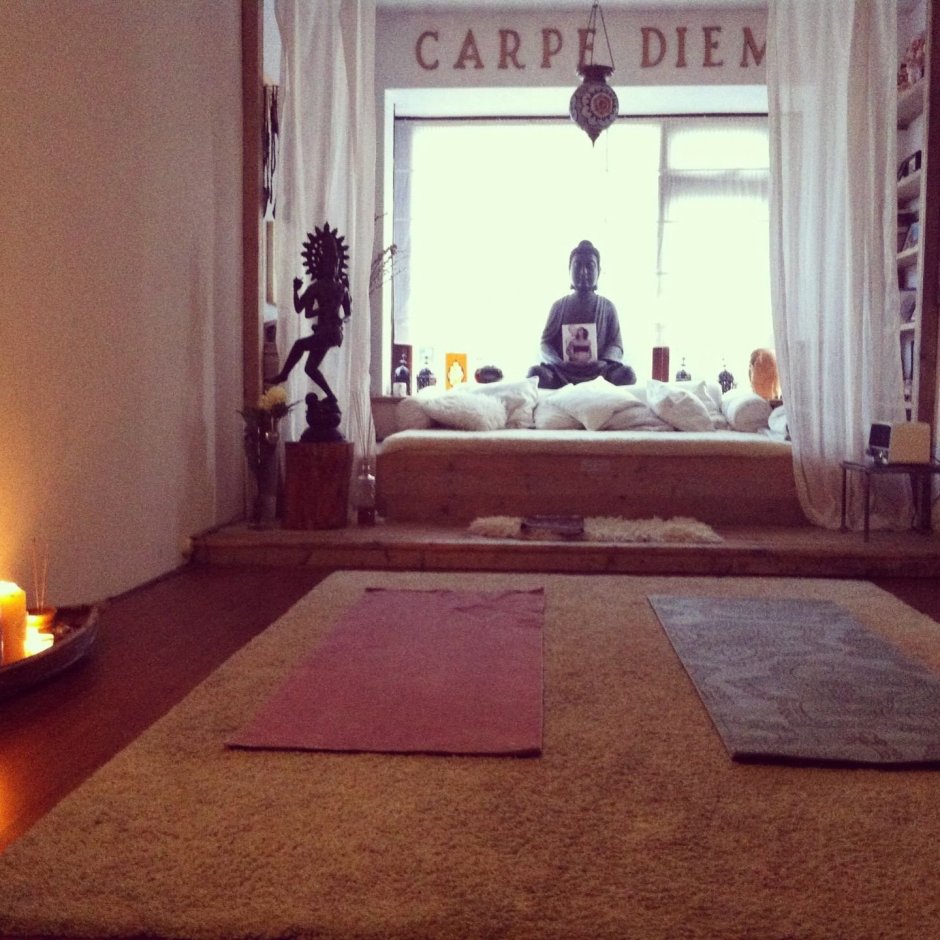 Yoga and meditation are two terms that go hand in hand. Both help you clear your mind and reach inner peace. This room brings the best of the worlds together.