What do you need for a great maternity shoot? Well, there are two things. The first one is a great maternity dress that shows off your body in a great shape. And the other is the perfect setting for a maternity shoot.
Today, we will discuss about the first thing. What is the best dress for a maternity shoot? Usually, the maxi dress is great for the shoot. It is super comfortable, light, and looks amazing on a photo. But let's take a look at a couple of options.
1. Black Maternity Cocktail Dress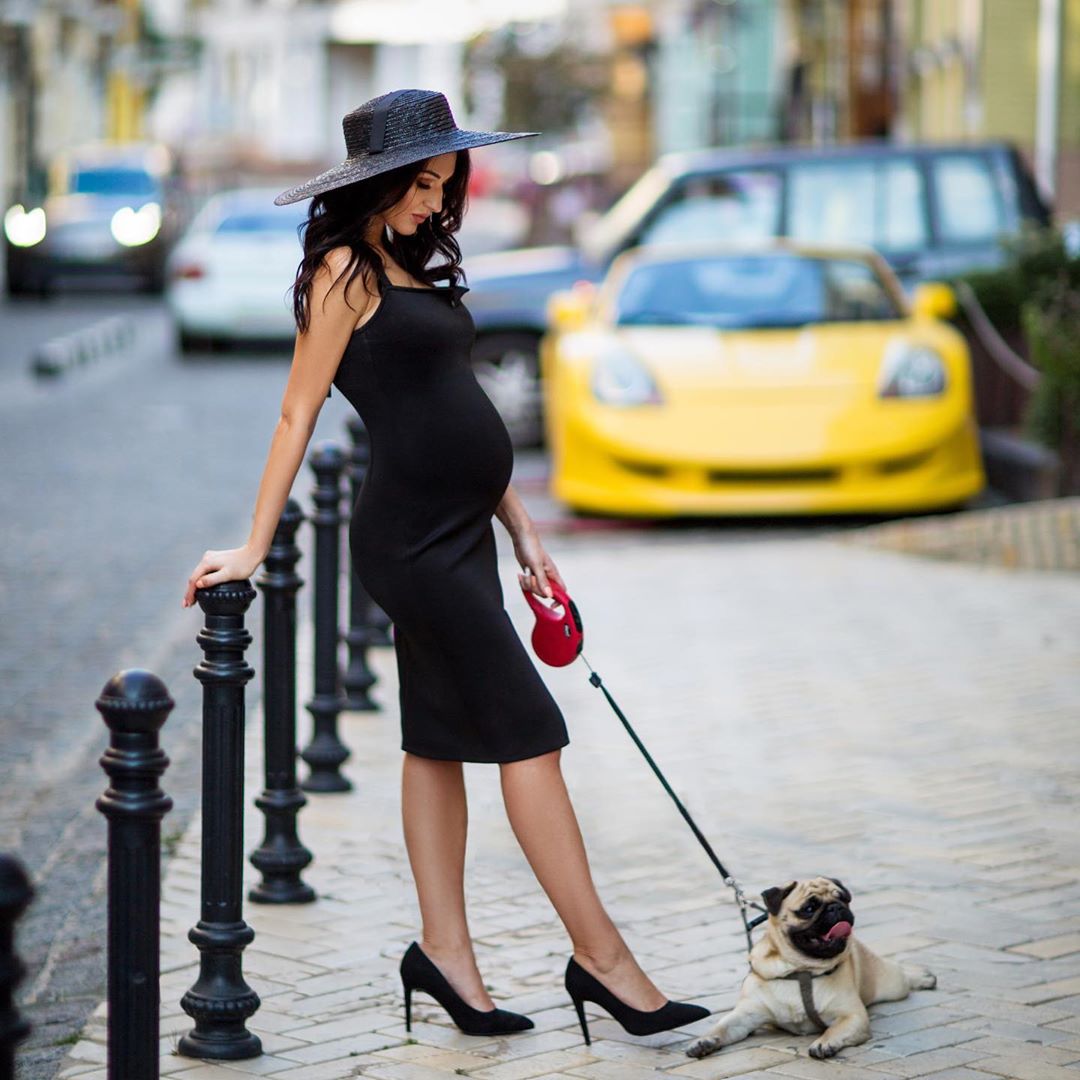 If you want to show your sexy side during maternity, you can never go wrong with a black cocktail dress. The little black dress is always an option. Just be careful to get one with a stretch material.
2. Laced Mermaid Dress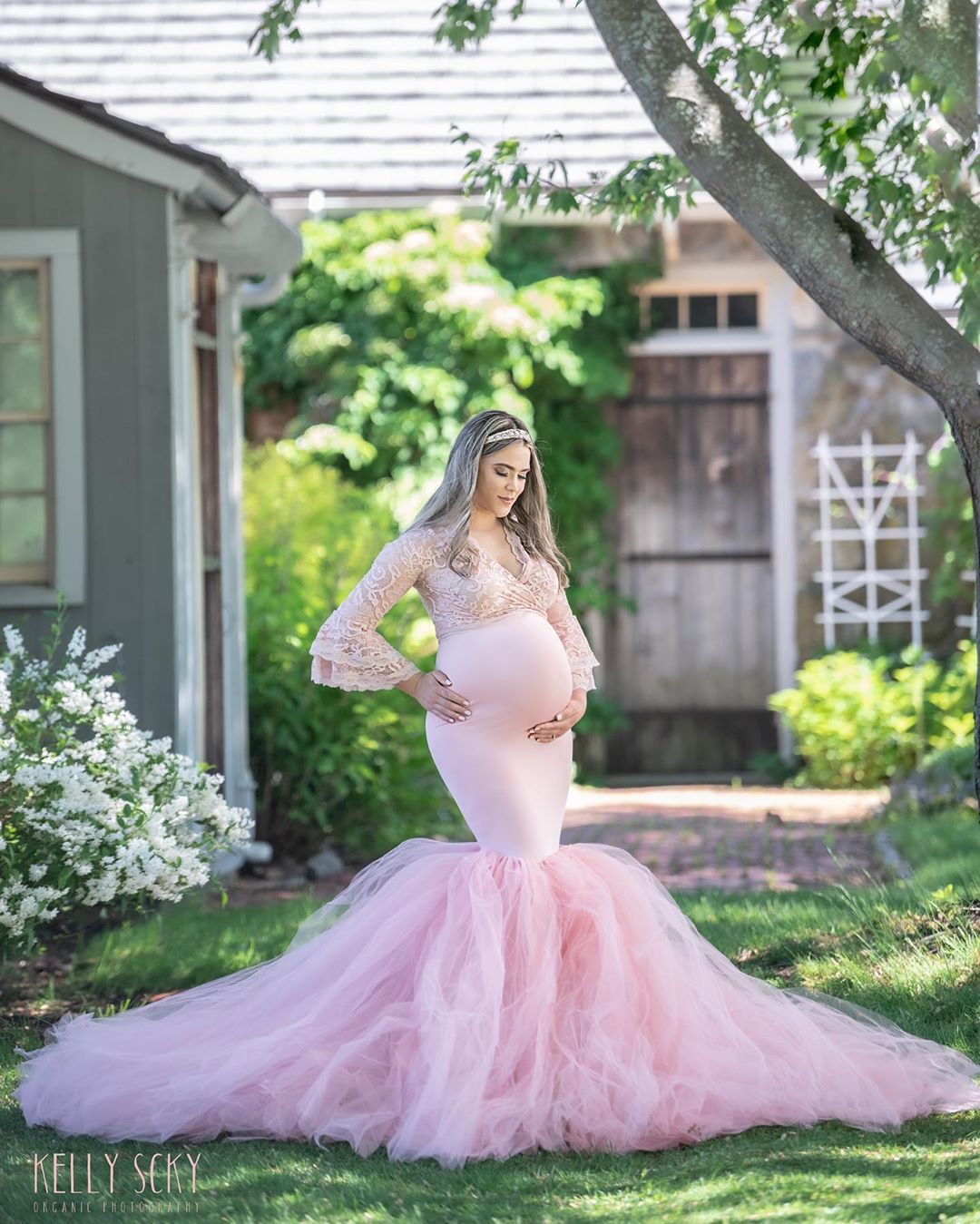 Do you want to get an editorial and magazine-style picture? Well, if that is your goal, this is the dress for you. Lace adds a feminine side to the photo. And the pink color will make you look like a princess.
3. Shirt Dress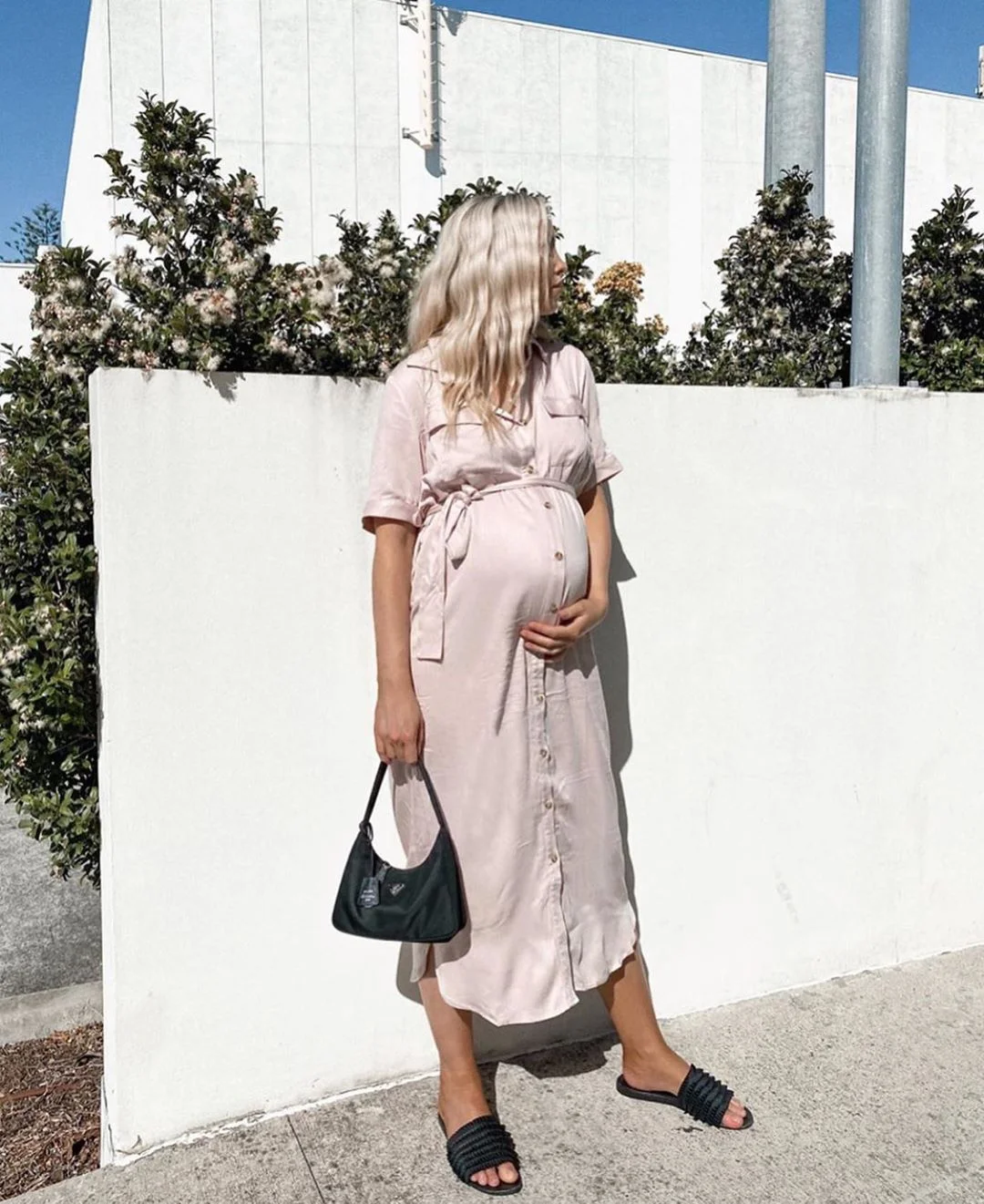 Some women want elegant and stylish look, others go for a casual and everyday look. If you fall into the latter category, any shirt dress will do it. It shows you are not taking pregnancy too seriously.
4. Pump Sleeved Dress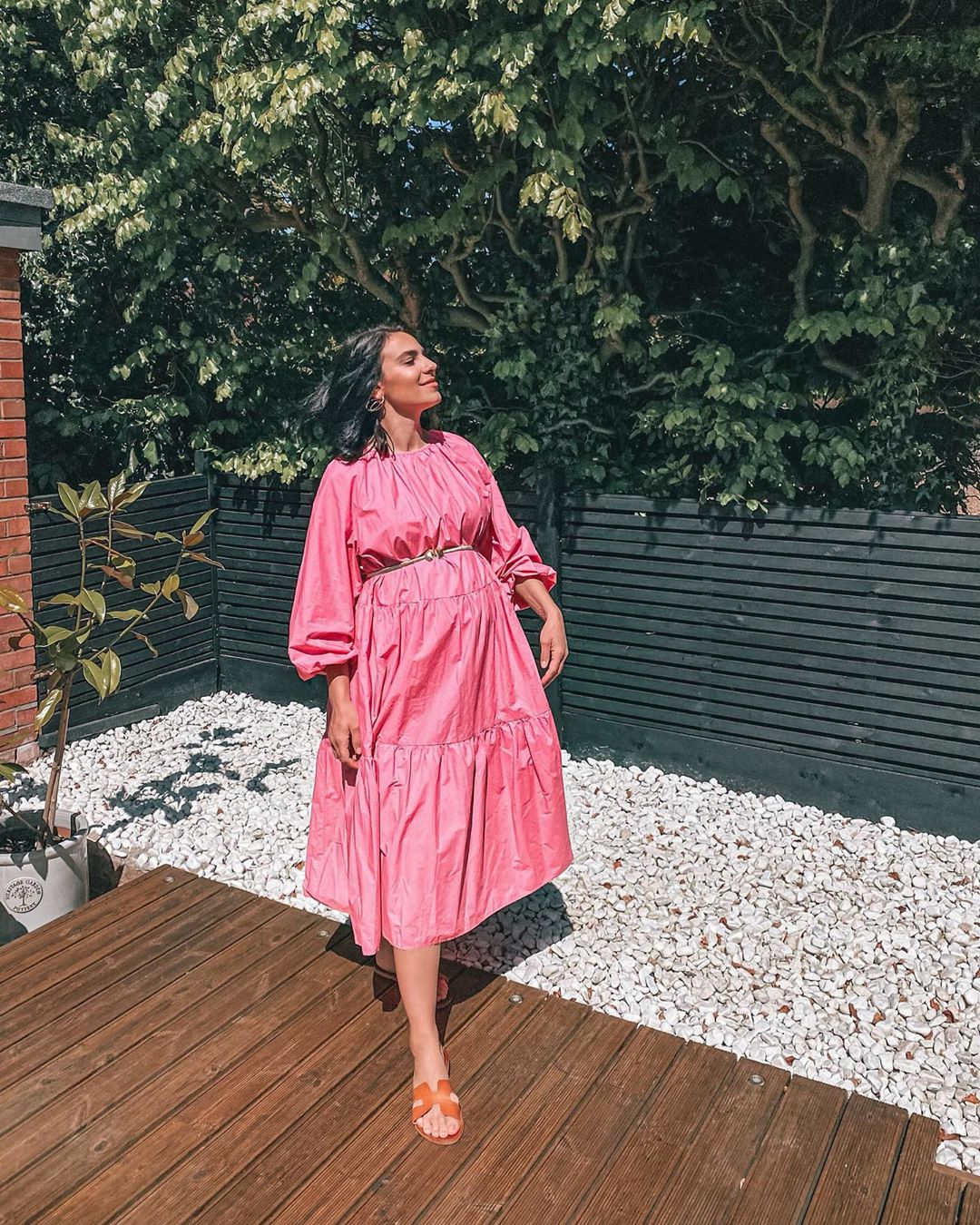 Massive sleeves are the biggest trend in 2020. And now you can use it to your advantage. Pump sleeved dresses make you look a bit normal, and hide your extra weight. Casual, yet elegant. How can you go wrong?
5. Modern Midlevel Dress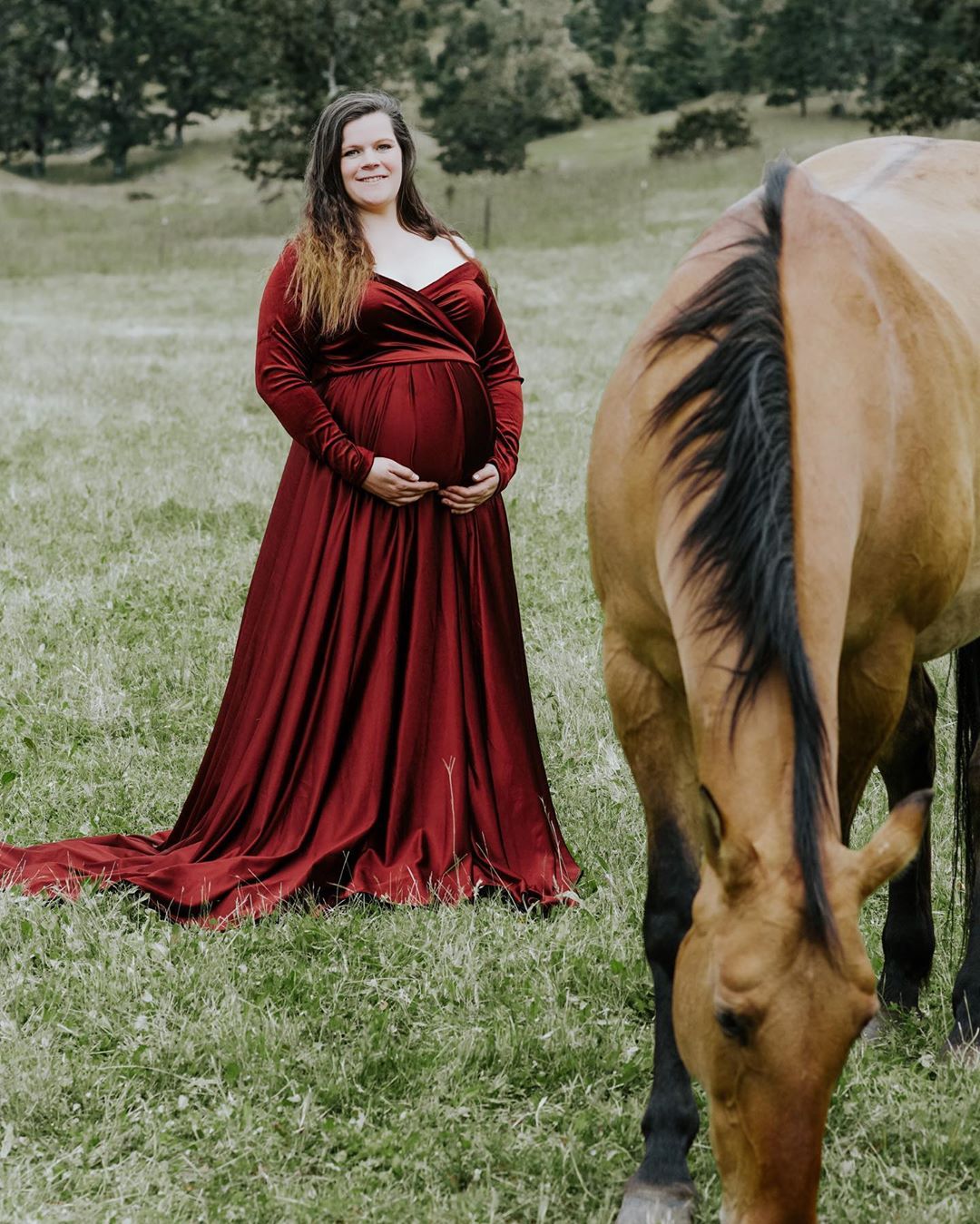 Midlevel dresses put more focus on your pregnancy bump. While most women try to hide their bump, others want to show it proudly. What we love about this dress is the color and texture. And it fits amazing on the body. Like a fairytale.
6. Lacy Off-The-Shoulder Long Dress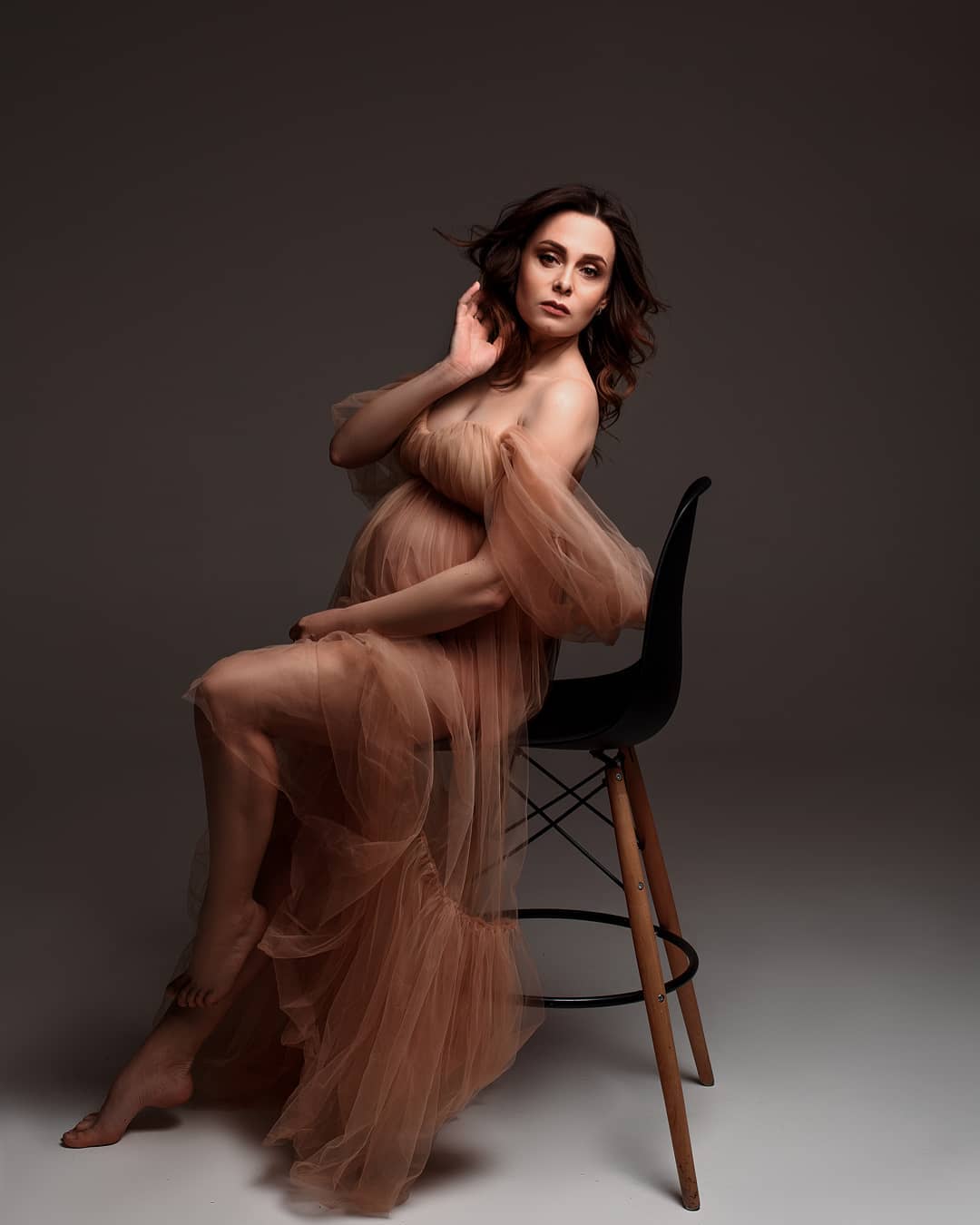 Who says you cannot look modern while pregnant? Asymmetric dresses are trendy, stylish, and elegant. And lace adds the feminine touch. What more can you look for?
7. Earthy Short-Sleeved Maxi Dress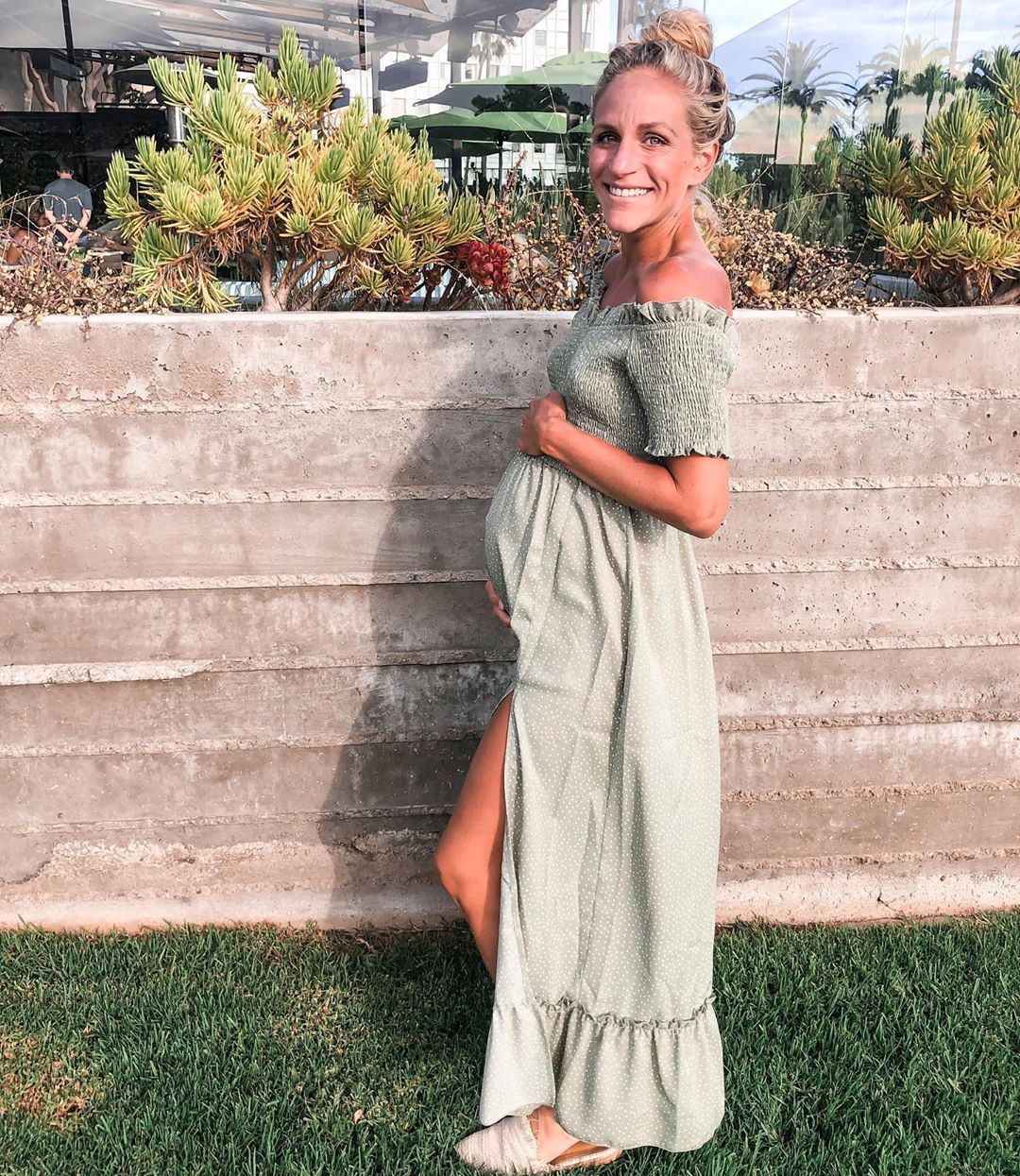 We said in the beginning that a maxi dress might be the best thing to wear for a maternity shoot. Maxi dresses are comfortable, they do not press your bump, and cover your entire body. Don't worry about any cellulite or stretch marks showing on the picture.
8. Sporty Mini Dress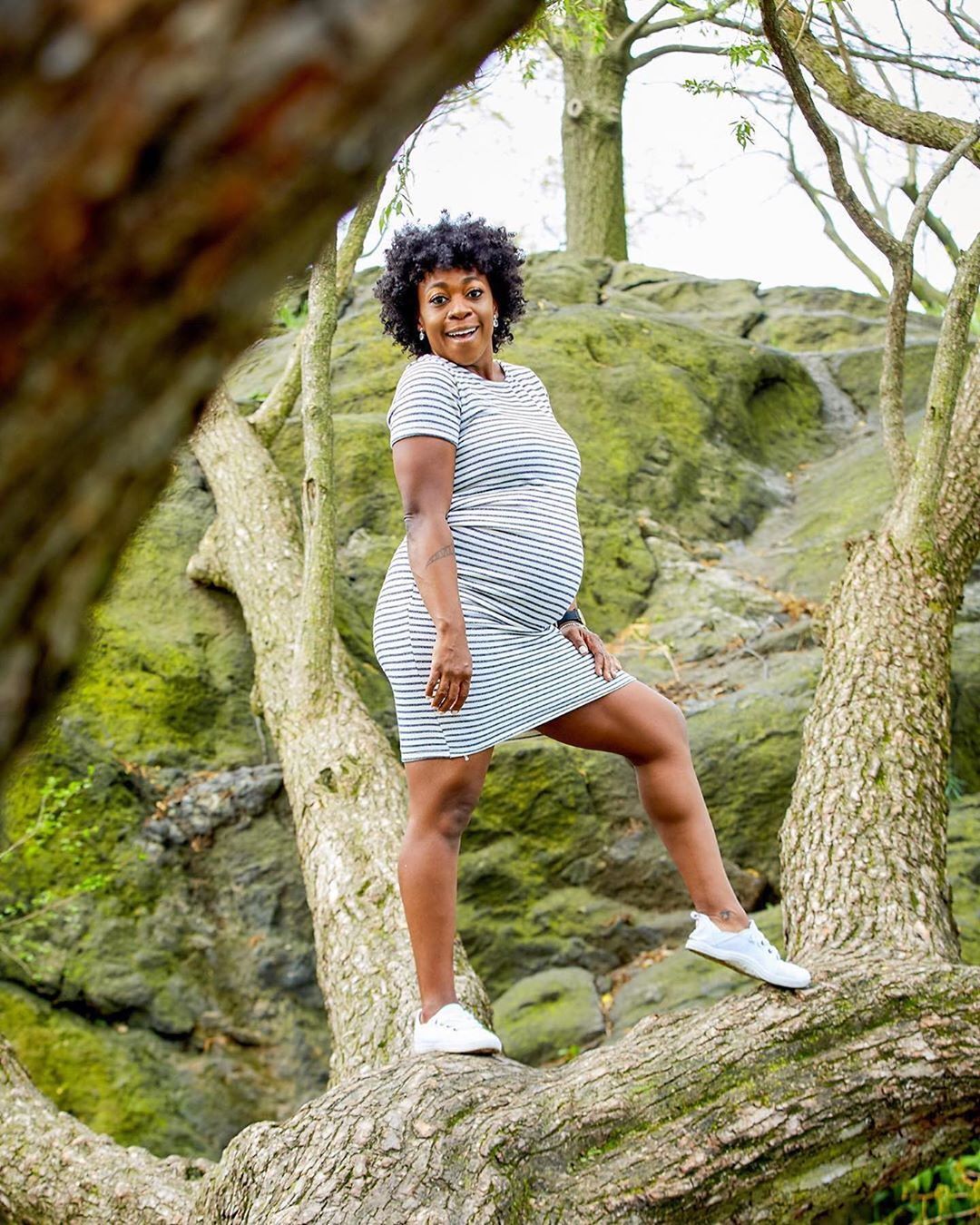 Some women want to proudly display their pregnancy. They do not care about the extra weight. They do not care about stretch marks. And if you want to show your casual view on pregnancy, go with a sports dress. It looks even more fitting if you make the maternity shoot in nature.
9. Ancient Greek Style Dress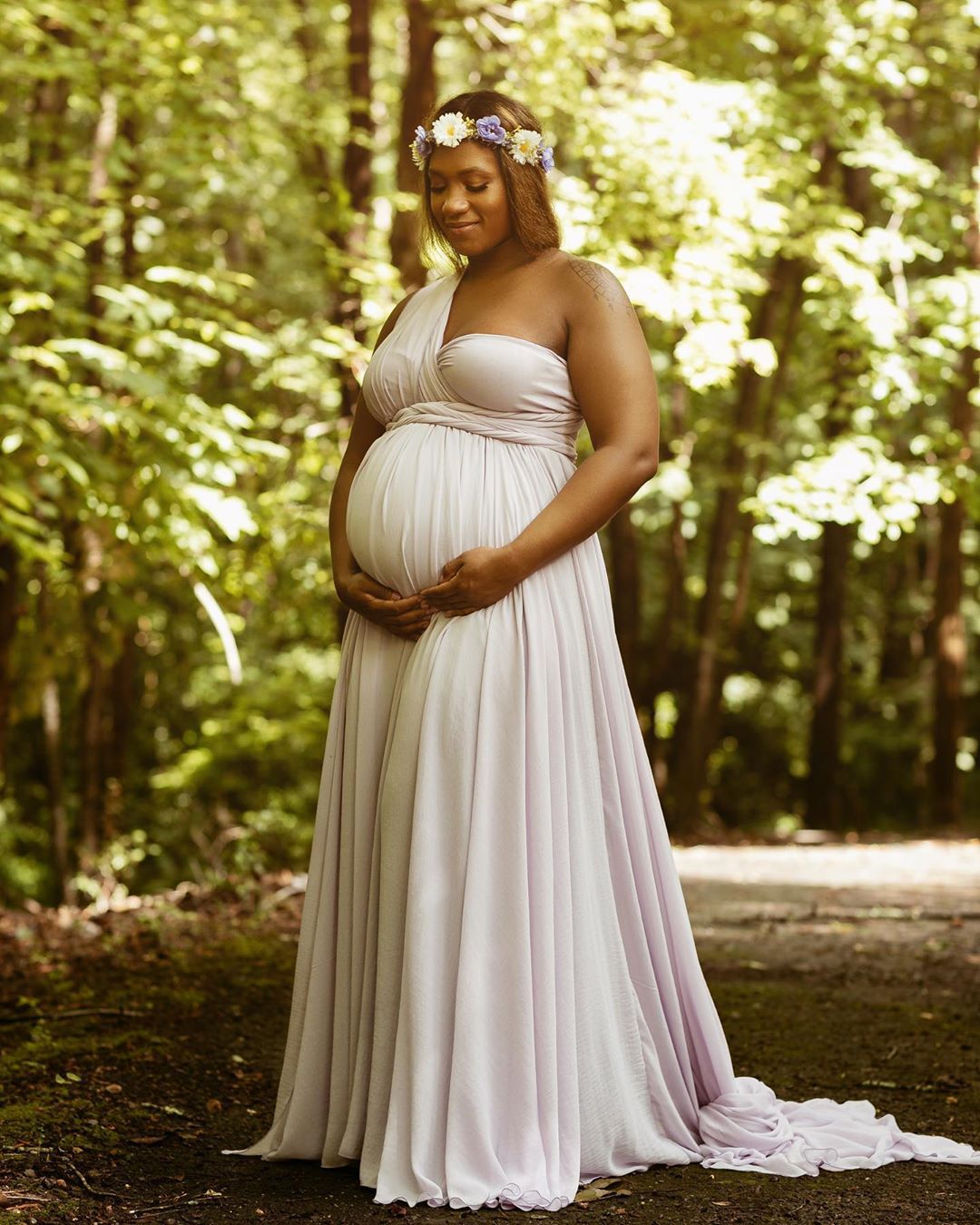 Do you want to feel like a Greek Goddess? Well, that is easy nowadays. All you need is one long dress. Hey, a woman can dream, right?
10. Floral Long Sleeved Maxi Dress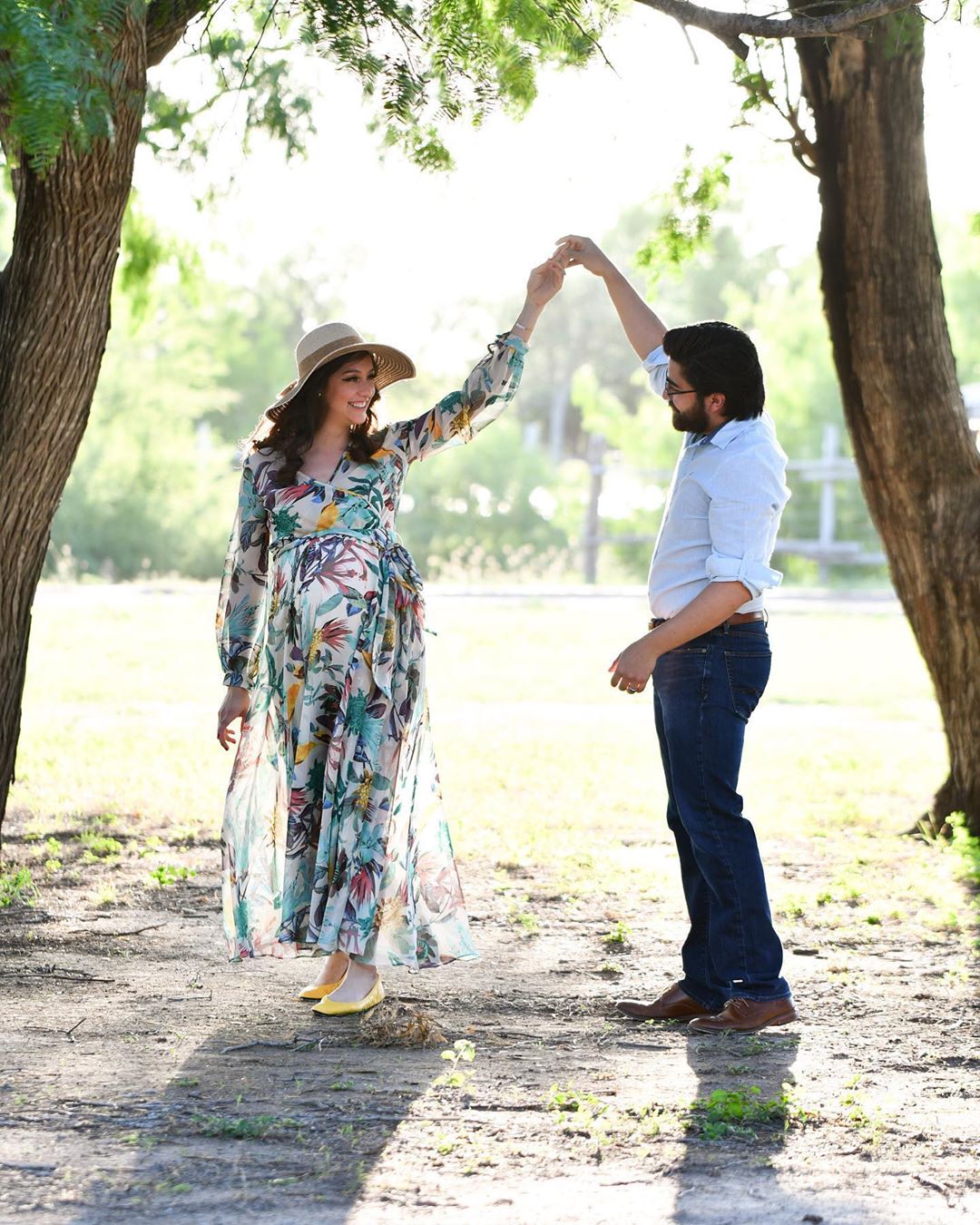 Taking the maxi dress to the next level. Colorful and floral patterns make you look cheerful, joyful, and in high spirit. Not a single sign of pregnancy depression.
11. Babydoll Dress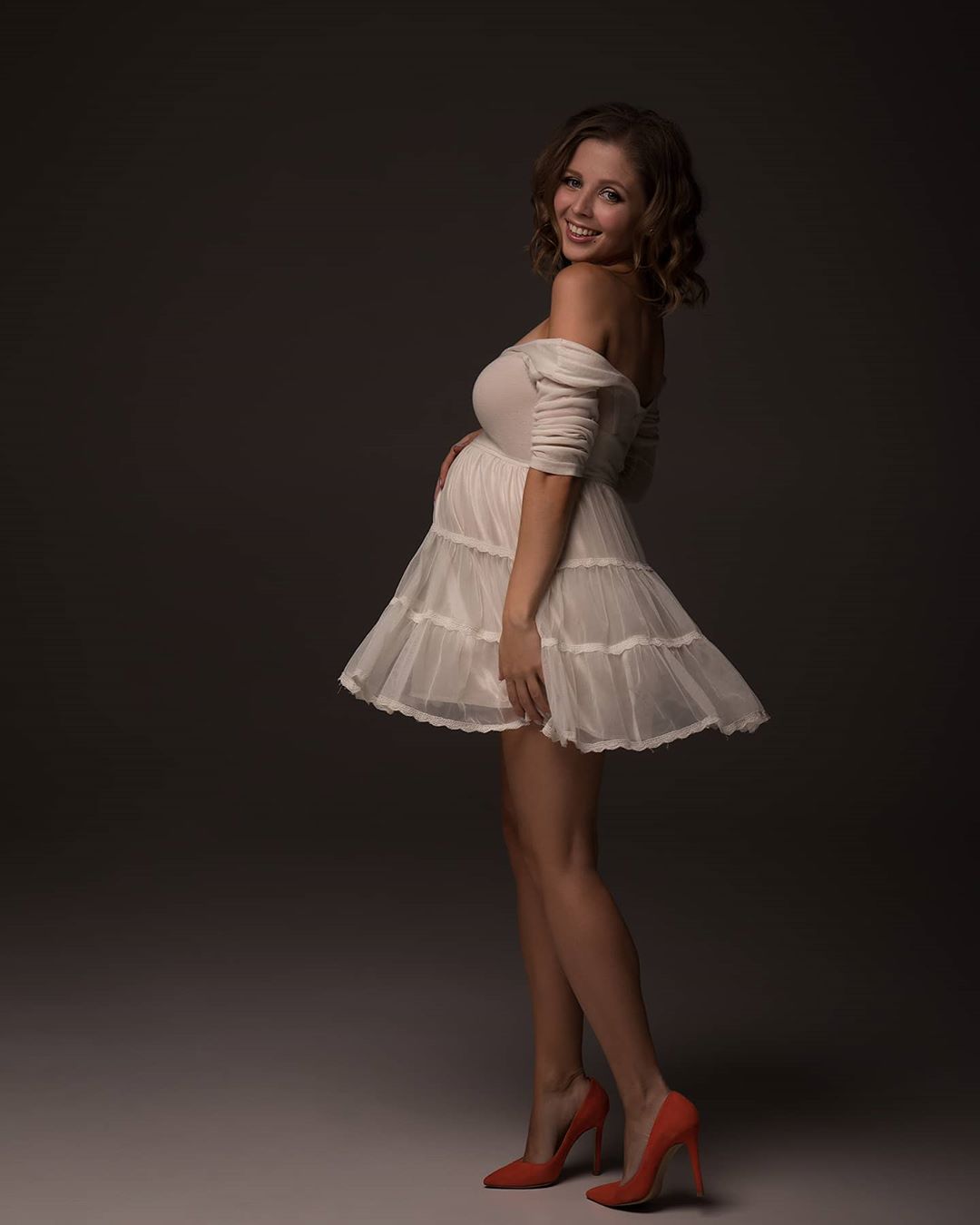 Babydoll dresses are flattening. It is a loose-fitting dress with an empire waist. The length reaches above the knees. These dresses are similar to strappy dresses. You can wear them in simple monochrome design, or go with some beautiful embellishments.
12. Colorful Indian-Style Maternity Dress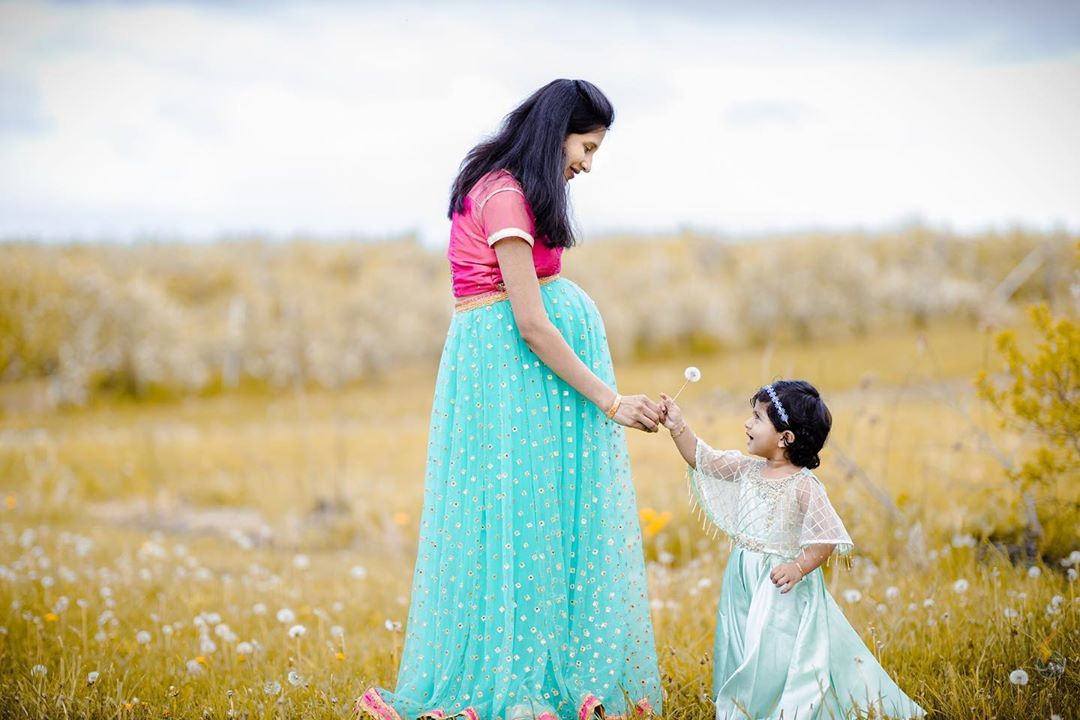 The Western world started accepting more cultures lately. And people dress like other cultures, no matter they are Americans. This is not a classic Indian dress, or a saree. But it is inspired by it. You can see it in the colors, polka design, and rich purple top.
13. Jumpsuit Dress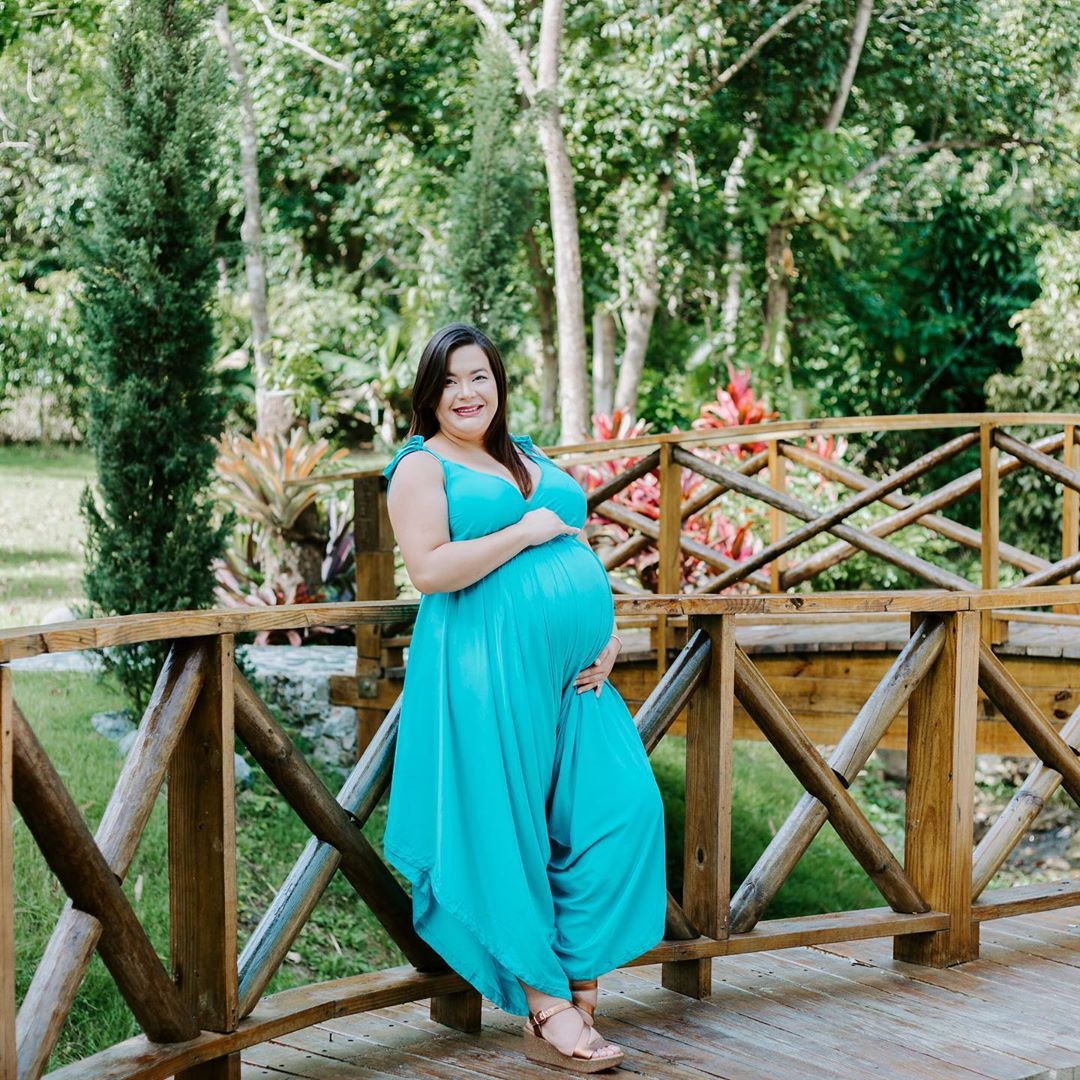 If you want to look slimmer than you actually are, wear a loose-fitting dress. That is a simple rule. And this case, we go with a jumpsuit dress.
14. Flowy Dress With Opened Front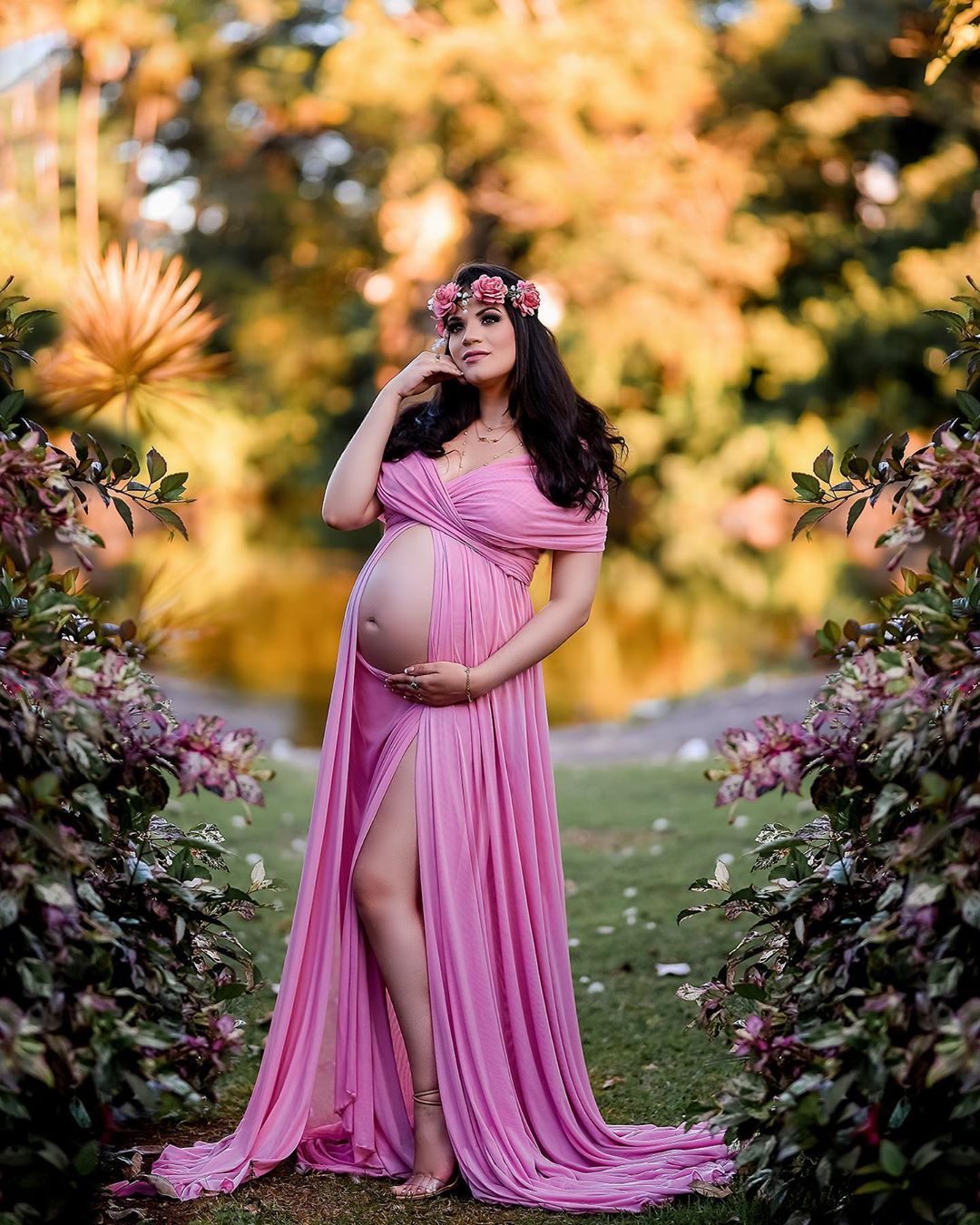 Even a maxi dress can show off some skin. There is no reason to hide your body if you wear a maxi dress. This open dress shows your bump, long legs, but hides everything else. Perfect combination.
15. Boho Maxi Dress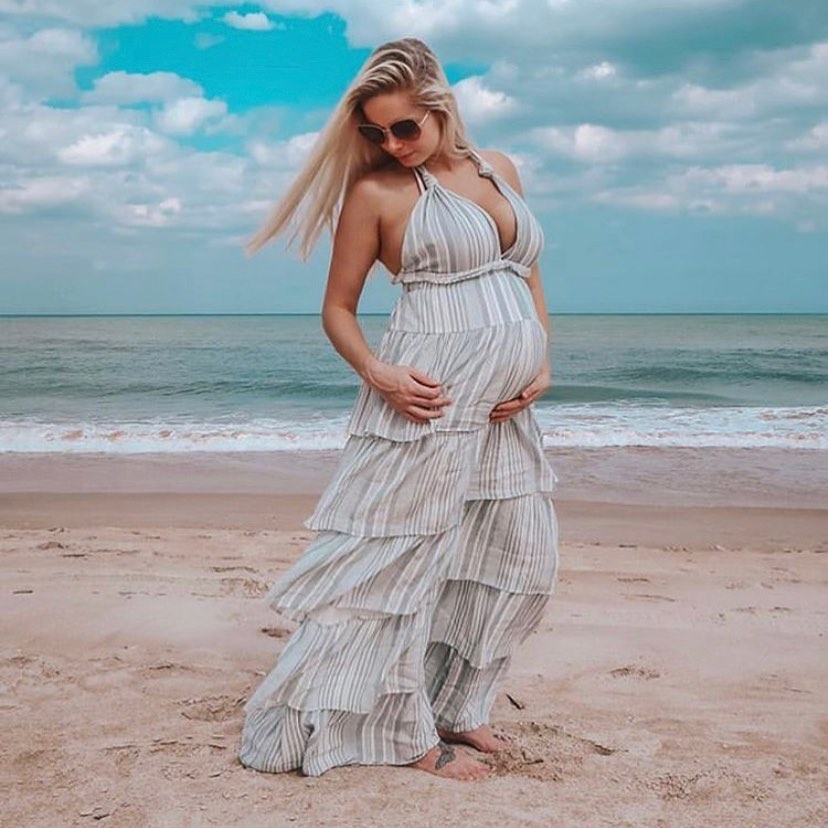 Boho style made a comeback in the early 2010s. And it is here to stay. Characterized by long flowing or tiered dresses, embroidery and embellishments, boho is a casual and free-spirit style. Perfect for women who want to show their wild side.
16. Puff Sleeved Long Dress With High Slit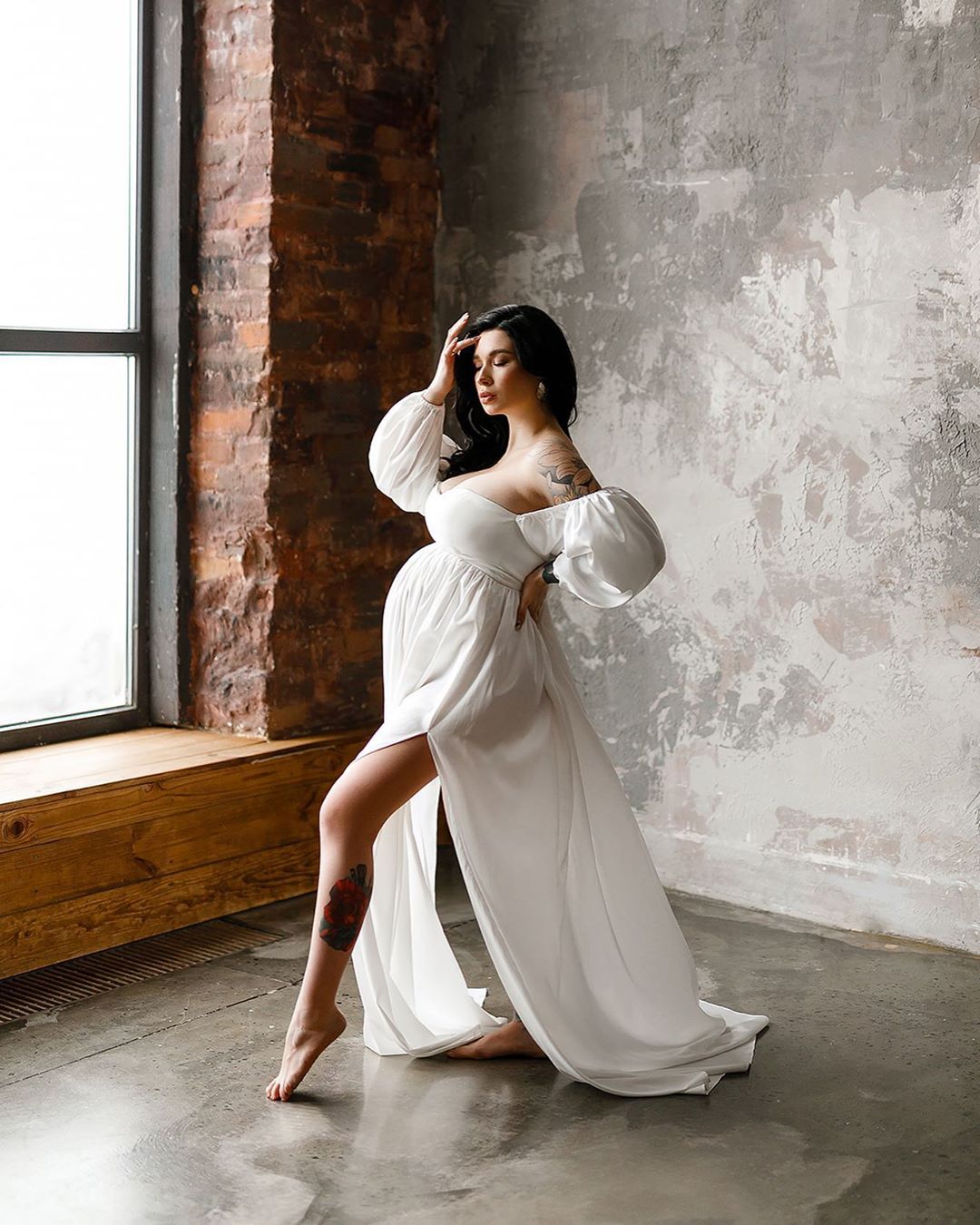 We said before that some women want to look sexy during their pregnancy. And a high silt helps you achieve just that. This dress is a perfect contrast. You have puffy sleeves on one hand, and then a sexy and tight dress from the waist down.
17. Long Kimono Style Dress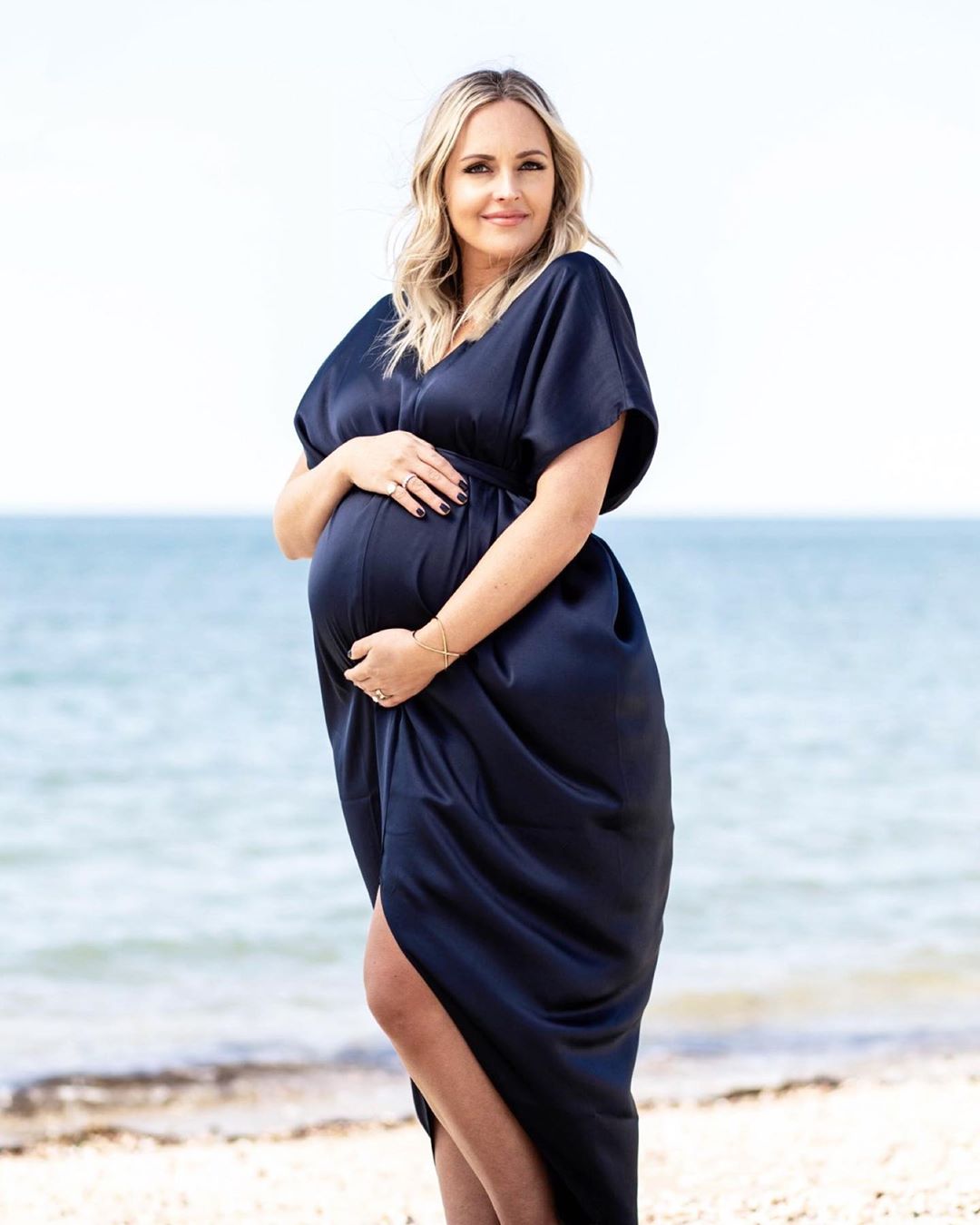 In modern Japan, women wear kimono as an everyday dress. In the Western world, the Kimono dress is an outfit for elegant outfits. It also gives you a bit of an oriental touch to your style. Time to be different!
18. Frilly Dress With Lantern Sleeves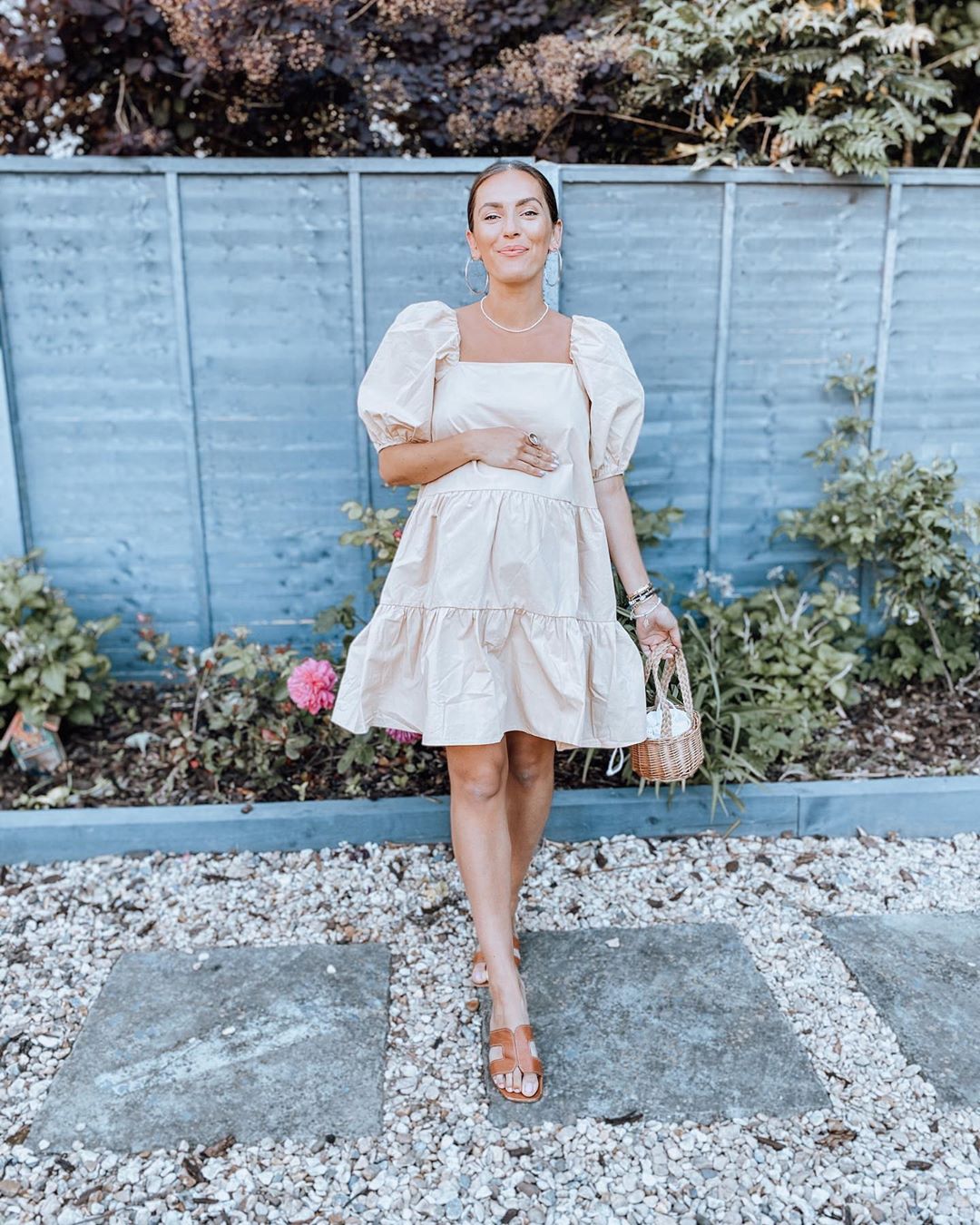 Frilly dress is something little girls usually wear on their first day of school. It is something you wear instead of overalls to look cute, adorable, and casual. But who says you cannot wear the dress once you get older. It is just a perfect dress for summer. Light and flowy, you can wear it when it is too hot outside.
19. Embroidered Lace Sleeved Dress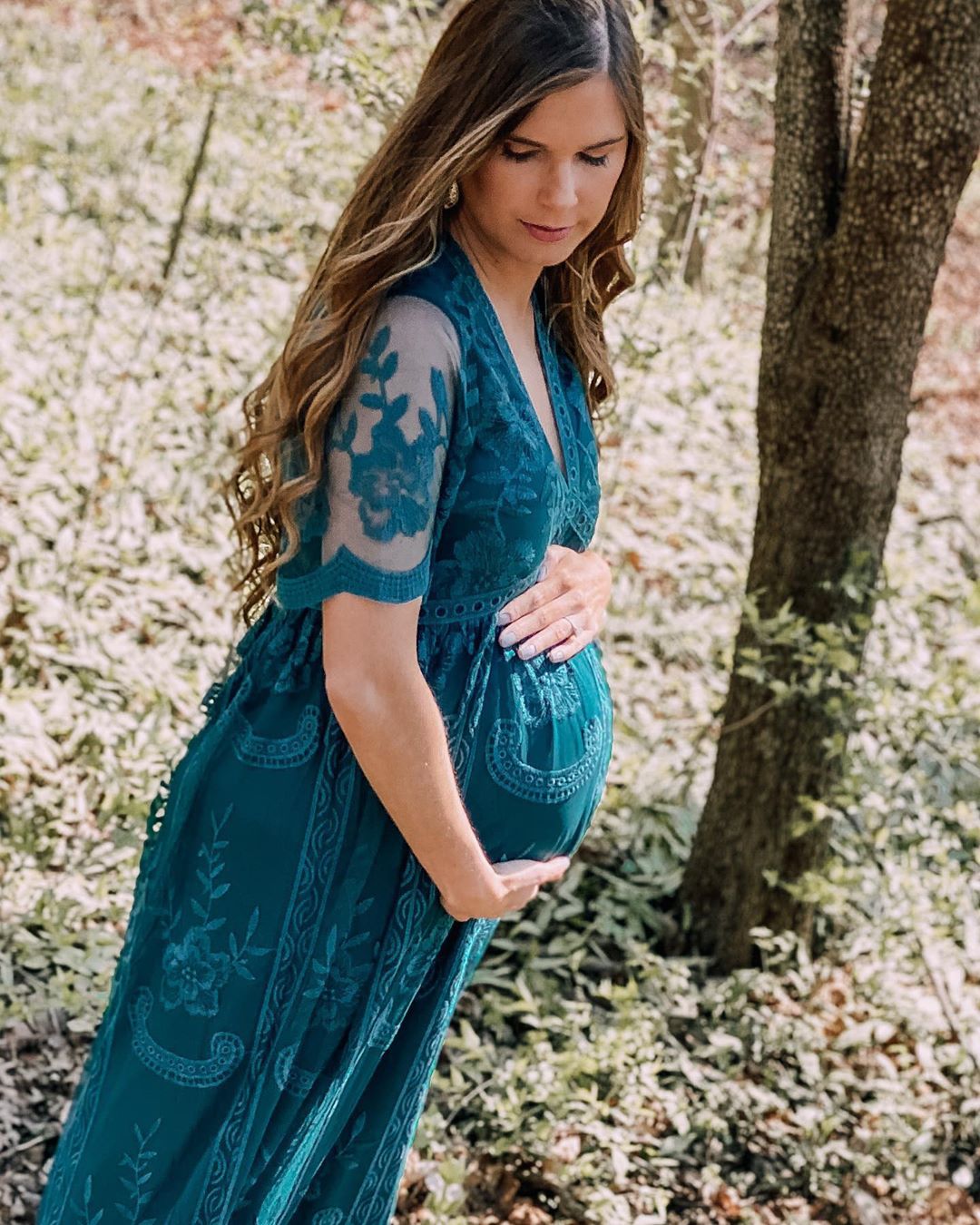 We usually find embroidery and lace on wedding dresses. But in the past few years, we've evolved long pass the cocktail and wedding dresses. We now use embroidery and lace on everyday dresses as well. They add style, elegance, and character to the dress.
20. Satin Long Dress With Long Laced Sleeves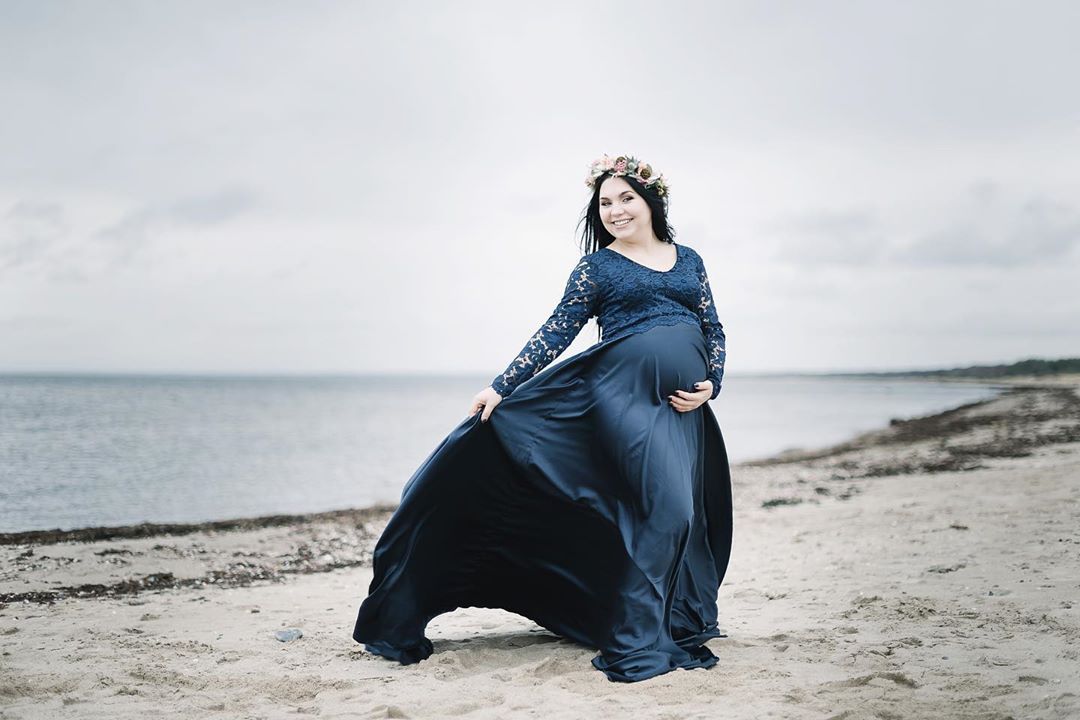 If you are into something that will look like glued to your body, opt for sating. The material is great when you want to accent your fit body and muscles. Usually pregnant women avoid the satin dress because it shows their bump and bigger body. But if you want elegant look, there is nothing better.
21. Sleeveless Dress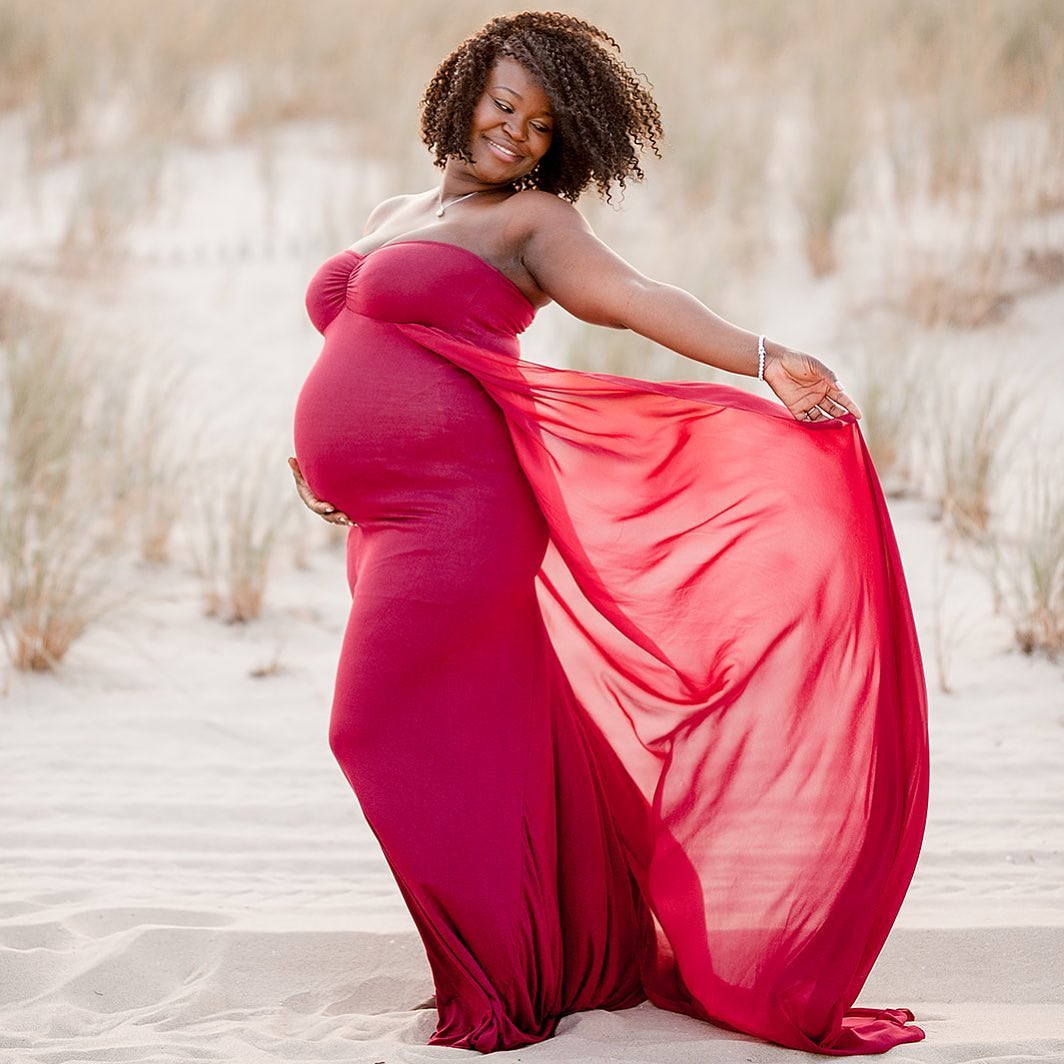 When you want to strike the perfect balance between business/elegant and casual, a sleeveless dress is the way to go. It looks professional, yet casual at the same time. This type of dress can work in both ways. Add a thicker strap and you have a professional-looking dress. But the best part about the sleeveless dress is you feel mobile and flexible.
22. Body-Fitting Mermaid Dress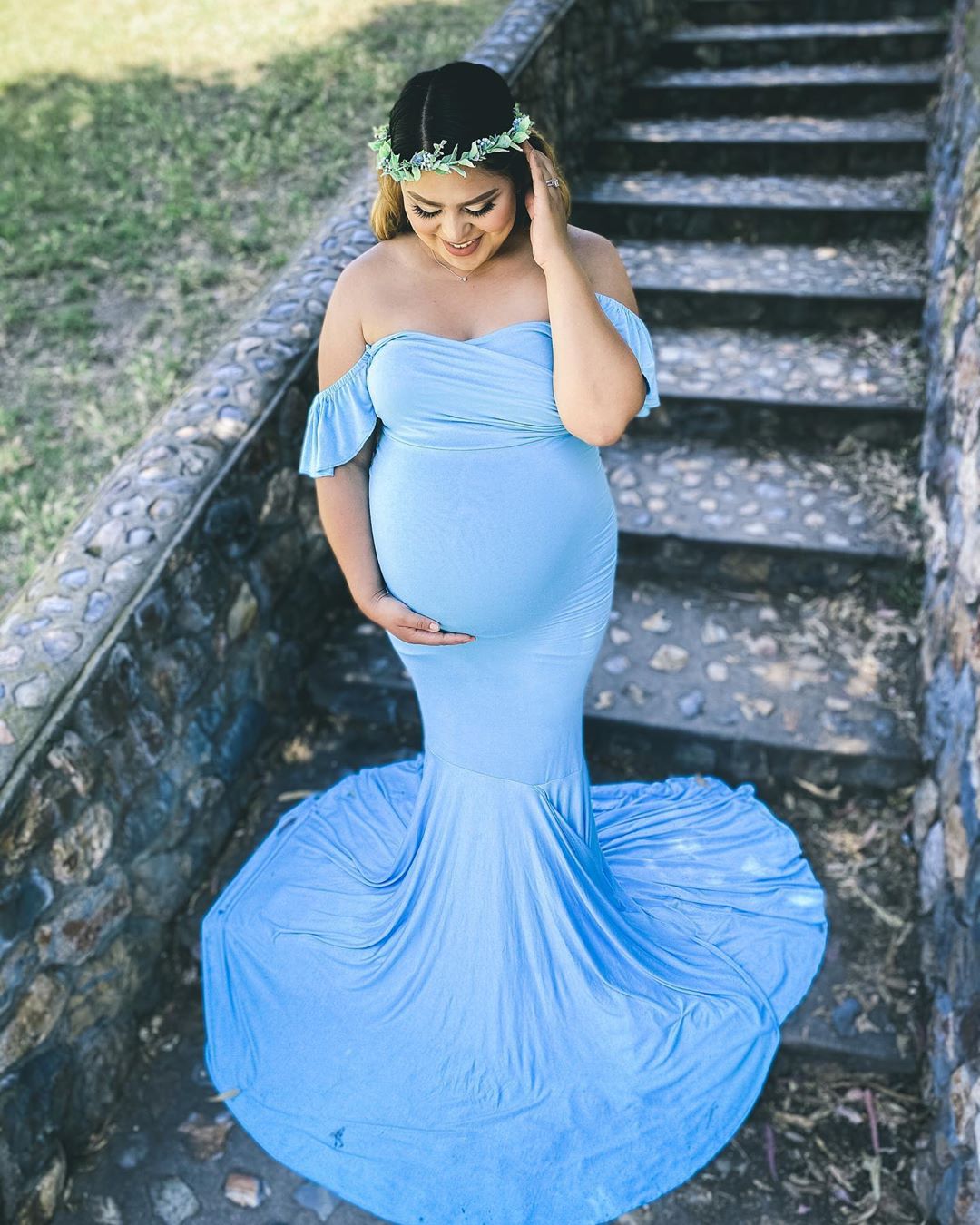 We talked before that most women avoid body-fitting dresses during pregnancy. They are not comfortable showing their bigger body. But if you want to stand out proudly and look gorgeous with your baby bump, a body-fitting dress is the way to go.
23. Long-Sleeved Train Dress With Cape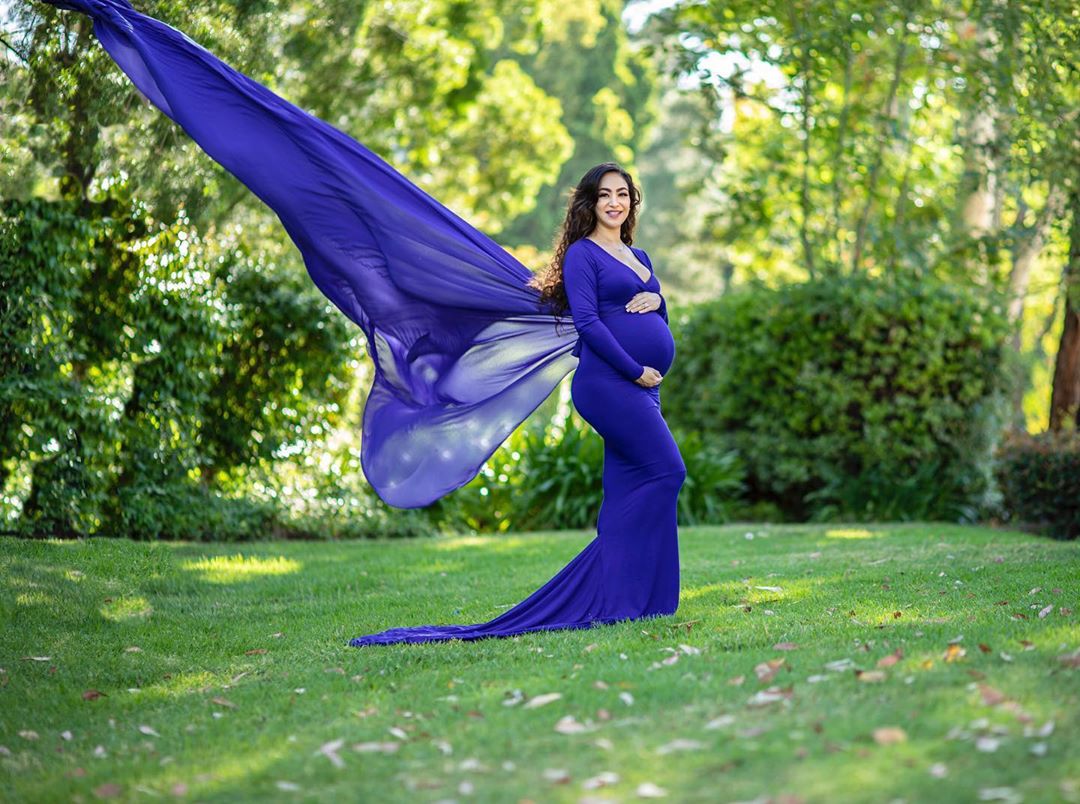 We finish off our list with an editorial-style dress. After all, every woman deserves to feel like a celebrity, no matter her education, income, and social status.
With that in mind, we hope you found something ideal for your big day. The maternity dress can make or break your maternity shoot. So, make sure to pick the one suitable for your character and mood.