Many people enjoy being in the garage on a Sunday afternoon, either taking care of some chore or just chilling and pretending to do so. Still, there never seems to be an end of things that need doing in the garage, or simply getting some tools to fix something in the house. The garage can also be a place where one could teach the little ones a thing or two that will certainly come in handy later in life. A garage is so abundantly useful, that a house without a proper garage is like a bear without a cave.
Yet, despite its enormous potential for it to even be a place of great enjoyment, we find that it's too often packed with stuff you just can't seem to get rid of, or at least get around to sorting it out to get it off your mind. If the mess alone isn't enough, an untidy garage means it's a smaller and more crammed place to do anything. At the end of the day, it's up to you. It's your garage, your house, and it's you who would have to take the time, effort, and expense to undertake any real change in it. Whatever you do, we hope that your garage becomes or keeps on being a place of comfort, great use, while also being tidy and easy on the eye. Luckily, when there is a will, there is also a way. So here are a few ways that will help you save more space, give you room to maneuver, and ultimately make it a more enjoyable place.
1. Beer Fridge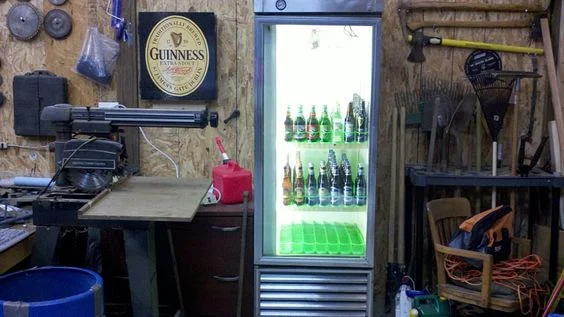 Did we mention that chilling is allowed? Then why not be able to treat yourself by opening a cold one occasionally, while pondering the complexity of the next task at hand. If nothing else, the state of relaxation after the first beer is sure to give your mind the inspiration it needs to get the rakes and garden tools in order.
2.
Workbench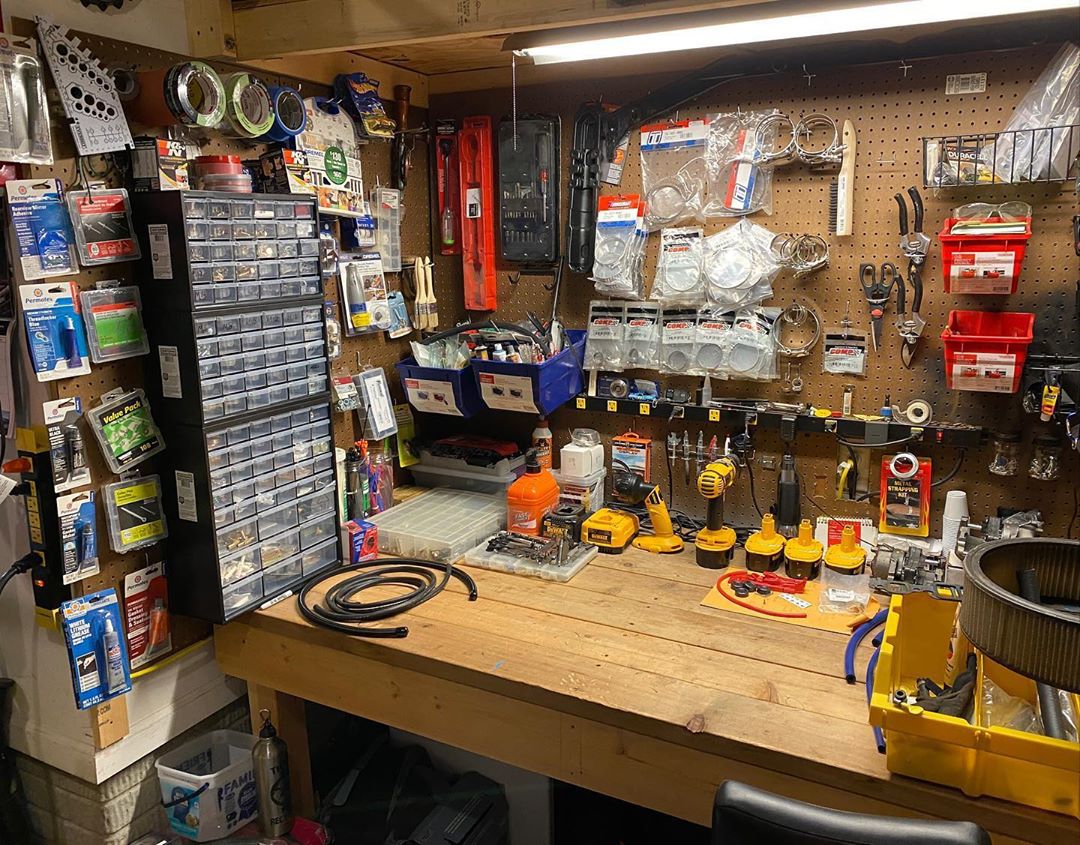 But it's time (and the place) to get serious. If you're handy around the house and into DIY, the first thing you need is a decent workbench. Because if all else fails, good old sturdy wood will still hold. Even though the garage may already seem too full, it will help you save space in ways you couldn't imagine.
3. Pegboard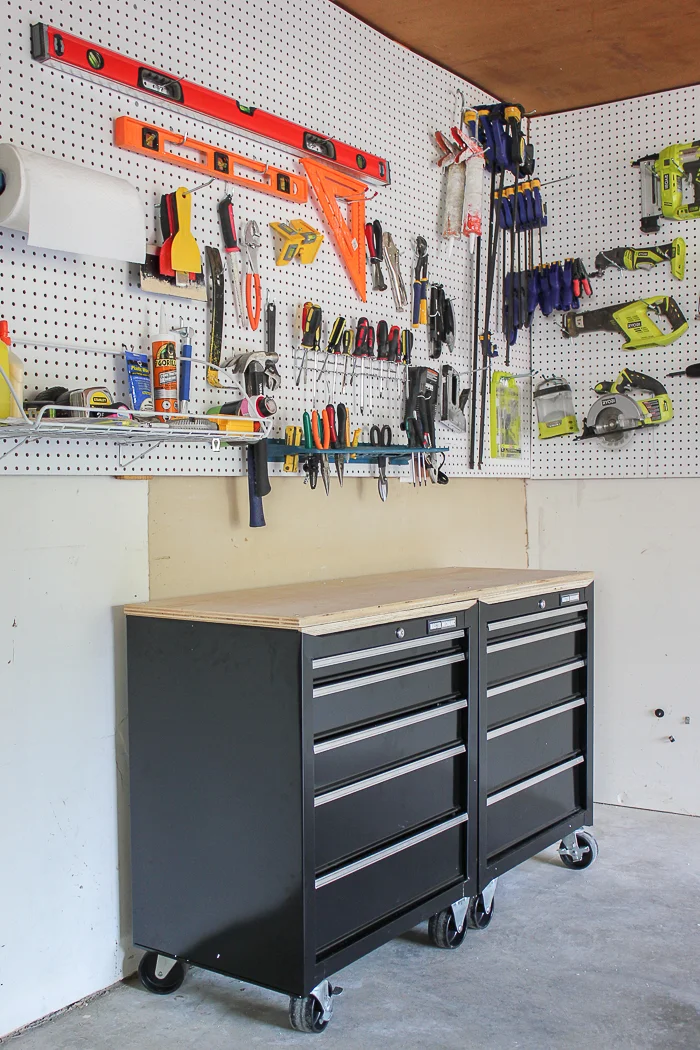 Next, a good way to keep the tools and thingamajiggers close at hand and well organized is the pegboard. Not only are they in line (literally), but they are also all plain to see. And the best thing is that they can be used to hang just about anything. Really, there is no end to their use potential.
4. Wall Shelves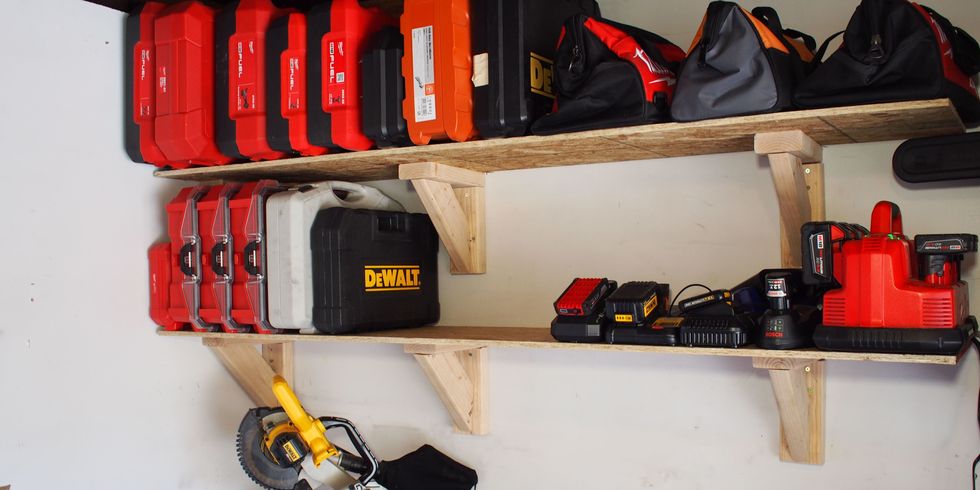 Now, for the bigger stuff, shelves are a must. Not only do they enable you to save tons of space, but they also keep you from tripping on bigger stuff on the ground. And we know how annoying that can be when getting out of the car with groceries.
5. Itemized Boxes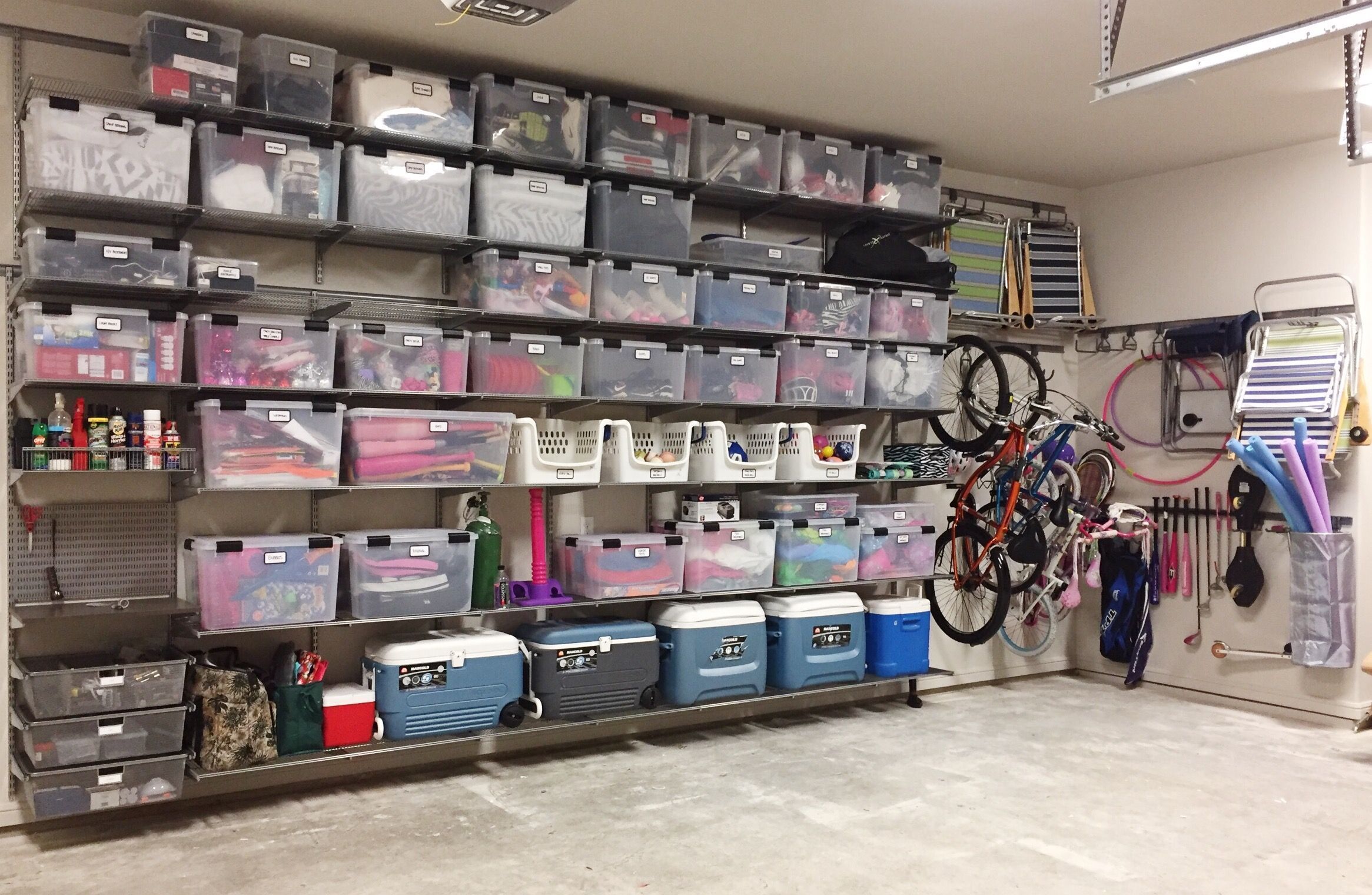 Just having shelves in your garage, though, might not be enough. It's always a good idea to keep your stuff neatly in boxes, preferably with name tags. They don't even have to take the whole wall. There might still be some room on the wall left for a bike rack.
6. Wall-mounted Bike Rack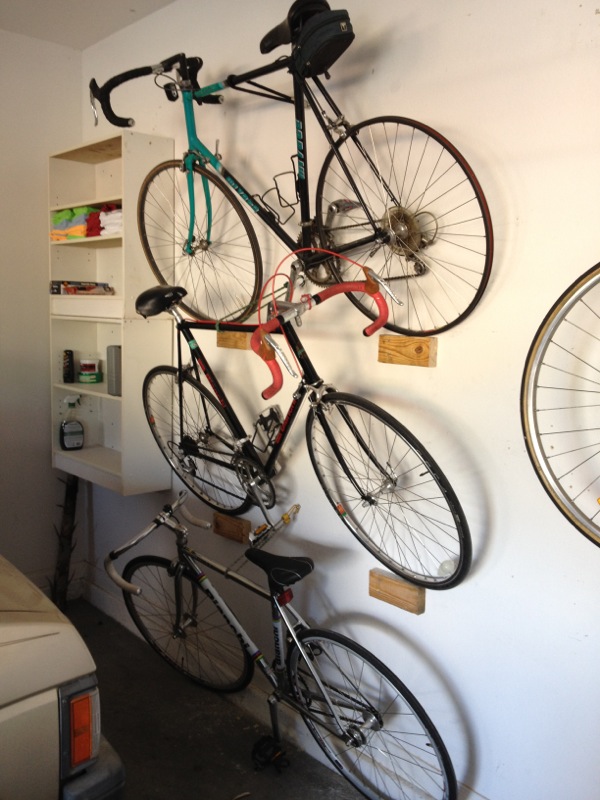 Speaking of bike racks, you can set them in such a way that the bicycle takes up a minimum amount of space and gain your neighbors' envy. And you thought it's impossible to stack them on top of one another, didn't you?
7. Hanging Bike Rack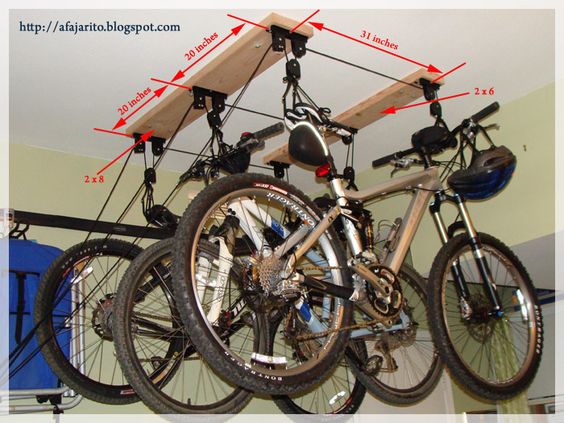 However, that's not to say that you are confined to the wall. You could also hang your bikes from the ceiling for maximum efficiency. Though you might want to give it a little think as to how you would like to hang them.
8. Jar Shelf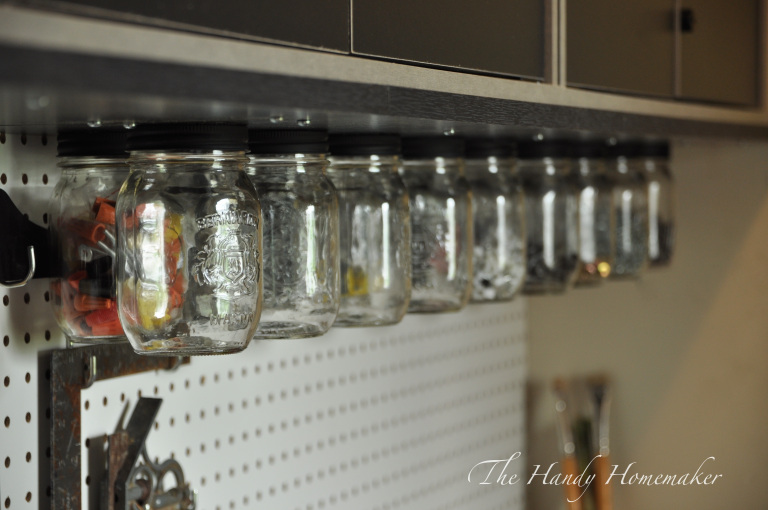 Another neat trick worth having up your sleeve is the jar shelf. What makes it special is that the jars' lids are actually bolted to the shelf, so you just twist the jar off to get whatever you might want to keep in it.
9. Cabinets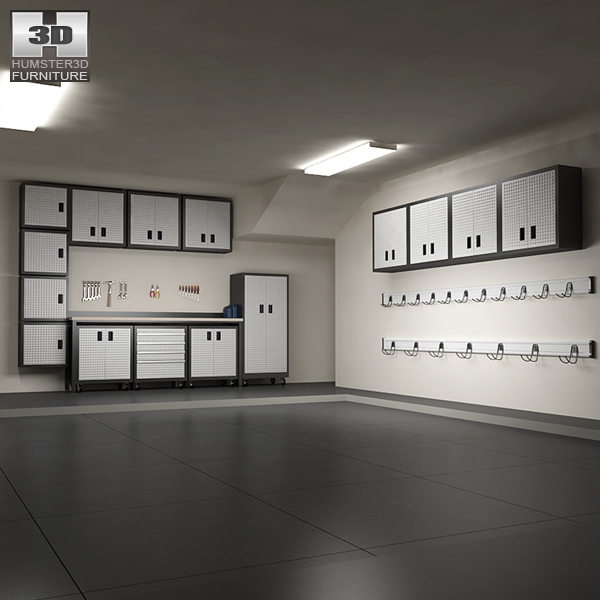 And, of course, if you want to go above and beyond in keeping your garage spick and span, there is no better way than cabinets. The good thing about having them made is that you can have them in any way, size, and function you want.
10. Repurposed PVC Tubes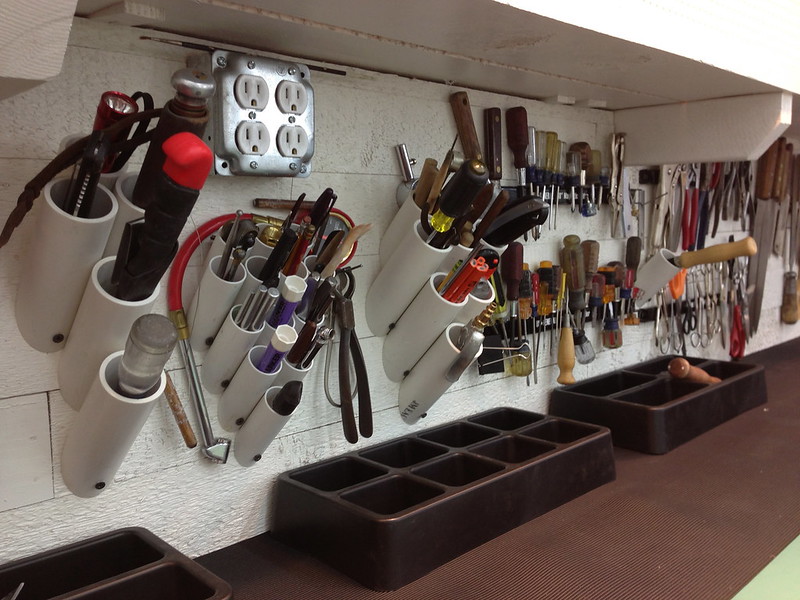 But, if you're not that hardcore, a great way to keep your items organized is by using repurposed PVC tubes. That will keep any surface beneath them clear and free for other uses, though the tubes themselves could prove tricky to clean.
11. PVC Tool Rack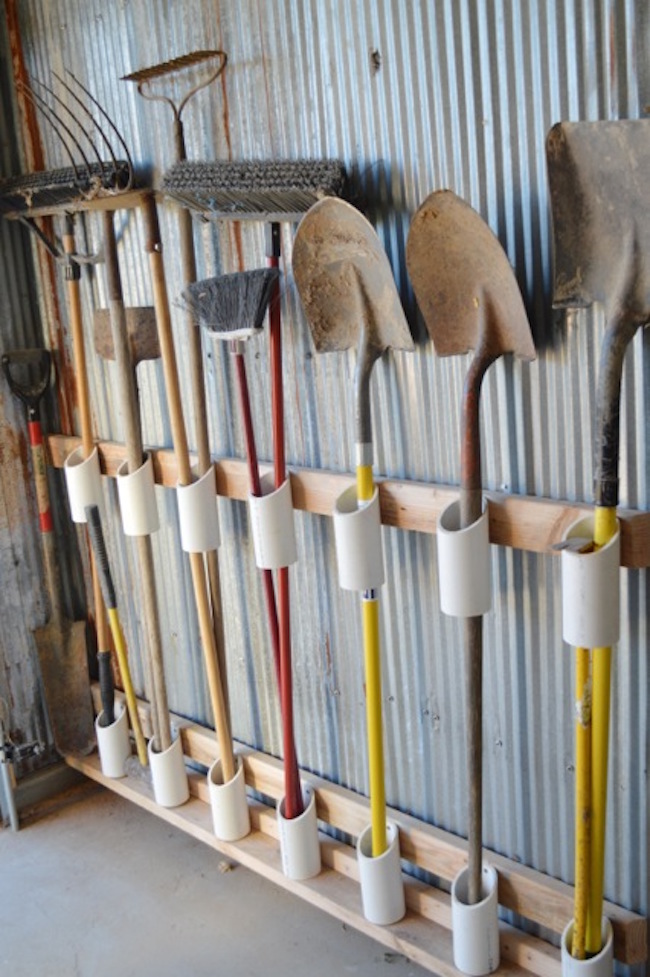 But PVC tubes are by no means suited only for small tools and trinkets. You can also use them for larger garden tools like this. Why should rakes and shovels be a menace and a nuisance anywhere, instead of the useful tools people barely use?
12. Overhead Storage Shelves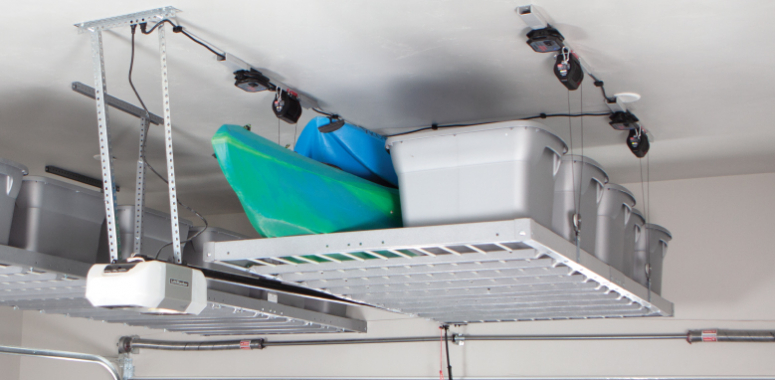 But when it comes to storage, you shouldn't necessarily stick to the walls for support. Overhead ceiling shelves are a fantastic way to keep your walls free(-ish), which is particularly handy for stuff you use very rarely.
13. Above-door Hanging Shelf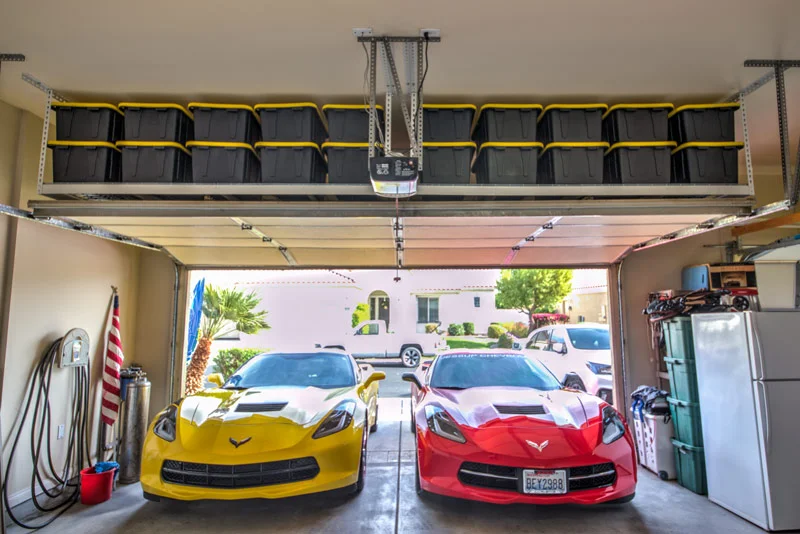 This could be particularly effective if such shelves are mounted right above the garage door. That way, it's not only efficient, it's also much more out of sight, with your stuff being neatly tucked. Still, this is best if you have a ladder for when you need to get something from there.
14. Shelf Cabinets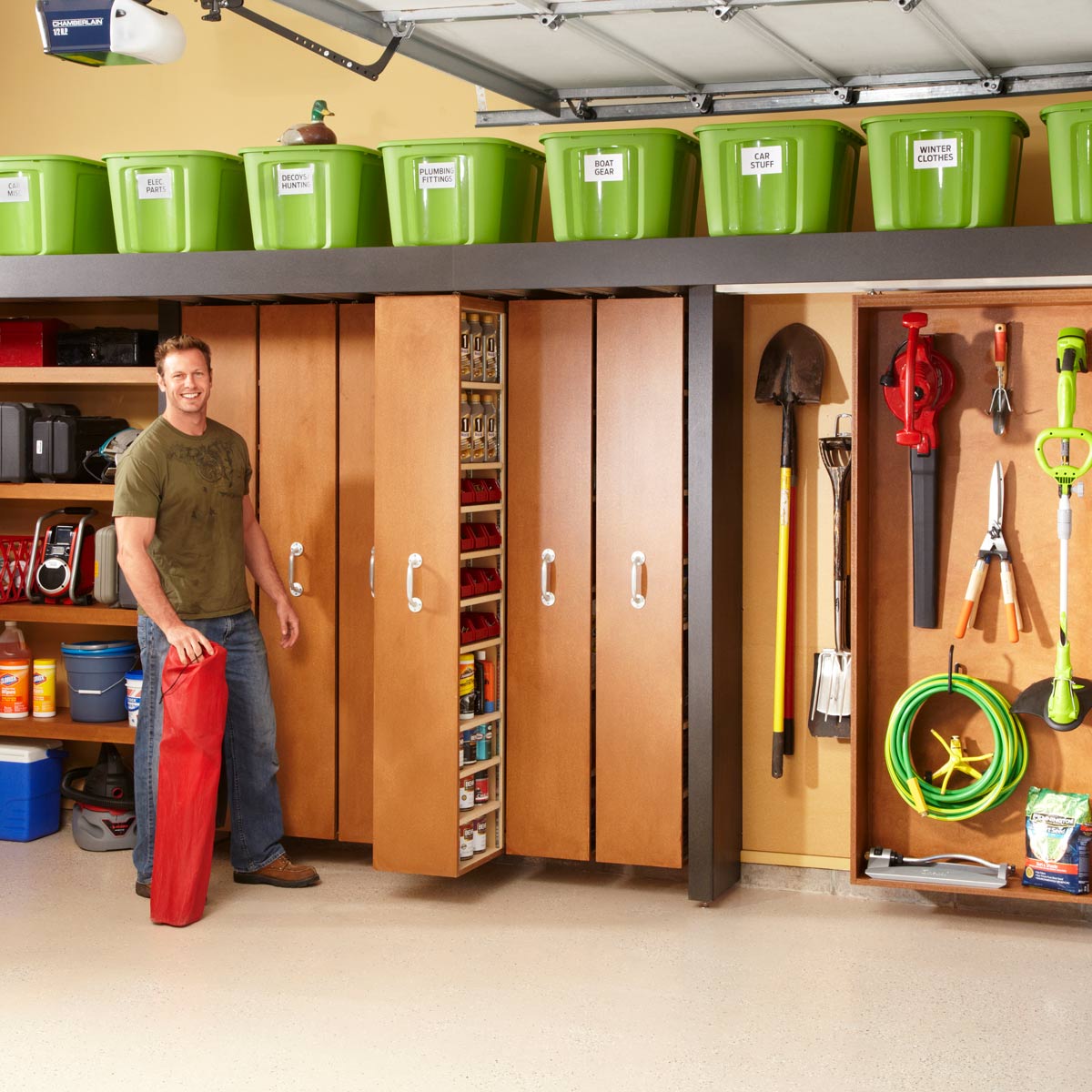 If you like shelves and cabinets, there's no reason why you shouldn't combine the two. These sliding shelf drawers will keep the garage more organized, and the items even safer from the elements. That might mean doing some extra work on the wall, though.
15. Outdoor Shed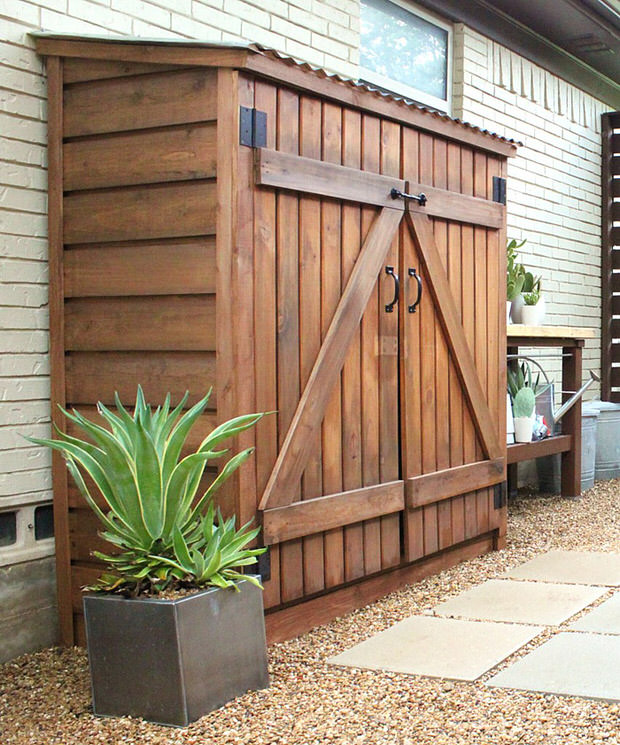 The garage is, after all, intended to be the place where you park your car. As such, there actually needs to be room to park it and get you and your loved ones out of it without a hassle. With that in mind, an outdoor shed adjacent to the garage sounds is always a useful solution.
We all know that getting the old garage in shape is no easy task, and doing any of these things we suggest is all easier said than done. But while the ways of doing so might be many, some of these things can be too complicated or too expensive, or perhaps even both. Also, cabinets and pegboards might not be everyone's cup of tea.
That's why we suggest that you keep it simple. After all, simplicity is the end goal here. So we recommend that you make sure to install wall shelves in any case, preferably in combination with some racks for your bicycle(s) or garden tools. What do you think of our ideas and suggestions? Leave a comment and let us know.