Day in and day out, our skin is put to the test. We nurture our skin with the utmost care and attention and carefully devise a regimen that becomes our holy grail and then, bam. A brand-new season starts for our skin, to contend with!
As we're heading towards the Winter months, here in Australia, you'll notice that dry skin is making a comeback. The dry skin that we spend all year long trying to avoid, due to our Australian harsh climate… Because let's face it, who wants a dry and dull complexion? That's why we've created this one-stop guide on how you can nurture your skin all year round – combatting dry skin, oily complexions and dehydration as each one arises.
We're going to provide you with some of our top tips and product recommendations that can help alleviate your skin concerns as they arise. Products that have been created by none other than Fresh Face Skin's founder Amelia Goff, who has over a decades experience treating skin and various skin conditions and who knows more than a thing or two about protecting your skin against the seasonal conditions!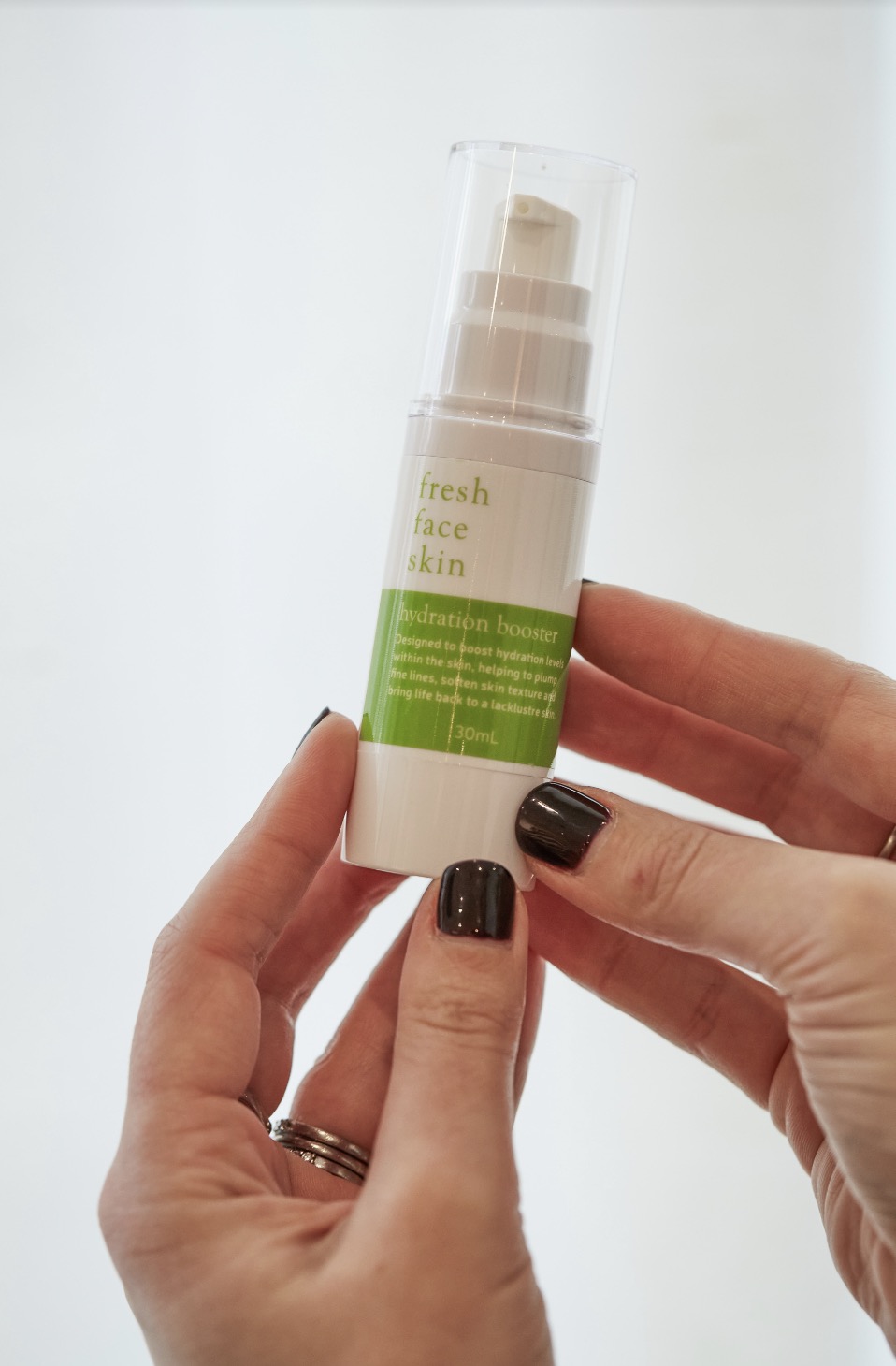 Spring – who knows what's going on?
During springtime, you'll notice that the air is all about humidity, and warmer winds. Both of these, alongside an increase in temperature after the cold winter months, can affect your skin in various ways – whether that's through a new onset of acne development, barrier impairment or sunburn.
With the spring season we would recommend facing the gradual changes by ensuring that, first and foremost, you have your day-to-day, basic skincare routine nailed. This means cleansing morning and night, moisturising morning and night and applying sunscreen each and every morning! If you're unsure where to start – Fresh Face Skins Hydrate me starter pack is a great option for all skin types and concerns.
Combine your regular routine with a treatment serum to target your specific needs. If you're suffering from dry skin you might want to try Hydration Booster, to replenish water content in the skin – allowing the skin to function at its best, while improving surface skin dryness. Whereas if your particular problem is acne based or sensitivity and irritation, you could benefit from our Soother Treatment, to strengthen the skin while calming surface irritation. Springtime is a season that will very much vary from one person to the next, so read the signs, listen to your skin, and find the right treatment to suit your individual skin needs during spring!
Summer – sweat, sunshine and sebaceous glands
We all look forward to the Summer months. Bikinis, beaches and hitting the waves with our friends. But with this, comes those glorious Summer rays and a rise in temperature.
The combination of intense heat and humidity can increase the activity of our sebaceous glands  (where our skin oil comes from), which will affect different skin types in different ways. If you've got a naturally oily complexion to begin with, be prepared for it to appear even oilier during Summer. For this, you might want to look at gel based cleansers that will help cut-through the excess oil for a deeper clean and look for products that will help clear surface congestion and bacteria, while balancing oil production – something like the Fresh Face Skin Healer cleanser and Healer treatment. Whereas those dry skin sufferers will notice that their skin may feel a little more nourished and balanced during the warmer months, due to the increase of sweat glands and therefore the increase of natural oil production within the skin. This may mean that you pull back on your heavy oils or moisturisers and look at a lighter option like the Fresh Face Skin Soother treatment – to balance oil, without feeling too heavy or clogging the skin. Again, the best product to treat overall skin dryness and dehydration, while balancing oil flow, for all skin types, is the Hydration Booster.
Whatever your skin type, you want to ensure you are applying and reapplying your SPF daily, all year round, but especially during the Summer months, to ensure your skin is protected and you are preventing cellular damage, premature ageing and pigment from forming within the skin in the first place! Prevention is key!
Autumn – it's not just the leaves drying up!
Just as with those glorious Spring and Summer months, now you'll notice that – just as your skin has adapted to its new regimen, the colder temperatures are here to wreak havoc on your skin once more! The lower humidity levels throughout Autumn time tend to cause dry air which causes (you've guessed it!) dry, dehydrated skin.
Amelia Goff, who is the founder and creator of Fresh Face Skin has done her research and from experience, knows that this particular combination of dry-inducing weather conditions, can lead on to aggravate other skin conditions such as eczema, dermatitis and psoriasis. So it's key that as soon as those Autumn months begin to set in, you face them head on with your trusty Hydration Booster, as well as the Soother treatment, to ensure your skin has a protective barrier of water and oil, to ensure it is protected for the coming cooler months ahead!
Winter – goodbye hydration!
Ah, winter. Whilst here in Australia we don't tend to suffer quite as badly when it comes to the chilliest season of them all, our skin still faces all the debilitations that come with the colder weather. With the harsh Winter weather, you're likely to come across the driest skin that you are likely to face all year round.
Then, add in the fact that we crank our indoor heating up to max and have hot showers to warm ourselves up – that lead to further skin dehydration and dryness due to moisture loss.
Winter is the season where re-hydration is key. Whilst your skin adjusts, make sure to take extra care in avoiding product use that could potentially add to your skin's dryness – like eliminating retinols from your routine for the time being and avoiding activities that could cause further moisture loss within the skin like having a post-gym sauna, which unfortunately only adds to the problem.
The things you can do to combat the dryness are to invest in the Hydrate-me starter pack from Fresh Face Skin, to ensure your skin's hydration levels are looked after, as well as balancing your skins oil levels, to ensure your skin is nourished and protected during the cooler months, alongside applying your Fresh Face Skin Hydration Booster to a damp skin and as soon as you've showered, to support water content within the skin. A little tip from us to you – for dry cracked lips during the harsh Winter season – the bright eyes product is perfect for! It is an eye treatment that conveniently doubles up as a lip treatment for extra skin support – gently exfoliating surface dryness, while nourishing via the avocado oil and shea butter ingredients.
Throughout the year, we face a multitude of varying weather conditions, each of which play their part in wreaking havoc on our regular regimen. Whilst each season brings a new potential skincare problem, you'll have noticed by now that the most common side effect from one season to the next is dehydrated skin. It seems never ending and sadly, that's because it is.
Our skin is constantly exposed to harsh environments, whether that be indoor cooling or heating, hot showers, sun and wind and this ultimately leads to water evaporation and skin dehydration. When our skin is dehydrated and lacking water, it cannot function properly, which is what then leads to surface dryness, delayed healing, inflammation and a dull skin tone.
Whether it's down to an increase in temperature during the warmer seasons in Spring and Summer, or as the weather begins to cool in Autumn and Winter, it's something you need to address all year round. That's why Amelia Goff developed our infamous Hydration Booster, designed for all skin types and skin concerns and to be used alongside your regular Fresh Face Skin products, applied to a damp skin, after cleansing. A simple to use product that no matter what the season, can give your skin a much needed hydration boost, allowing it to look and feel good, all year round!