When witches go riding, and black cats are seen, the Moon laughs and whispers, 'tis near Halloween!
According to tradition, the spirits of the dead were able to come back to life to harm people and crops in the physical world. People tried to appease the restless spirits on Halloween, and these practices led to many of today's Halloween traditions. For example, people used to wear costumes of monsters, ghosts, and devils to scare away the harmful spirits. People still celebrate by wearing scary costumes. However, today they also dress up like popular celebrities, children's show characters, princesses, superheroes, and much more.
Halloween is just around the corner, and everyone is starting their search for sick decoration ideas. However, the most important part is the mask we are going to present on that night. And the expectations are: to look like a magical piece of art.  Every one of us is searching for an outfit that's the perfect amount of scary vs sexy, but apart from the costume, we also need our makeup and nails to be on point.
May your nails vibe with the spirit of Halloween. We like to think that October 31st is the perfect excuse for snapping with wild costumes, dazzling makeup, and festive nails! Enjoy our list of ideas!
1. Pink & Blue Zombieland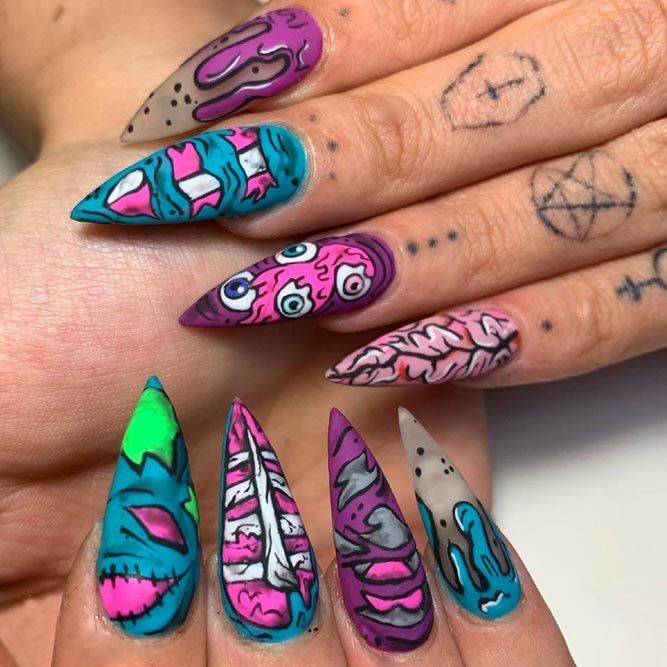 Although we can't celebrate Halloween like usual this year, nothing is getting in the way of our festive and spooky manicures. Go freaky with this Halloween idea for your nails and create a mini Zombieland on your fingers. Brains, eyeballs, bones…it has it all! So, this is a great idea to get in the spirit of Halloween. The vivid colors make this manicure super-fun without being grossed out.
2. Nude Terror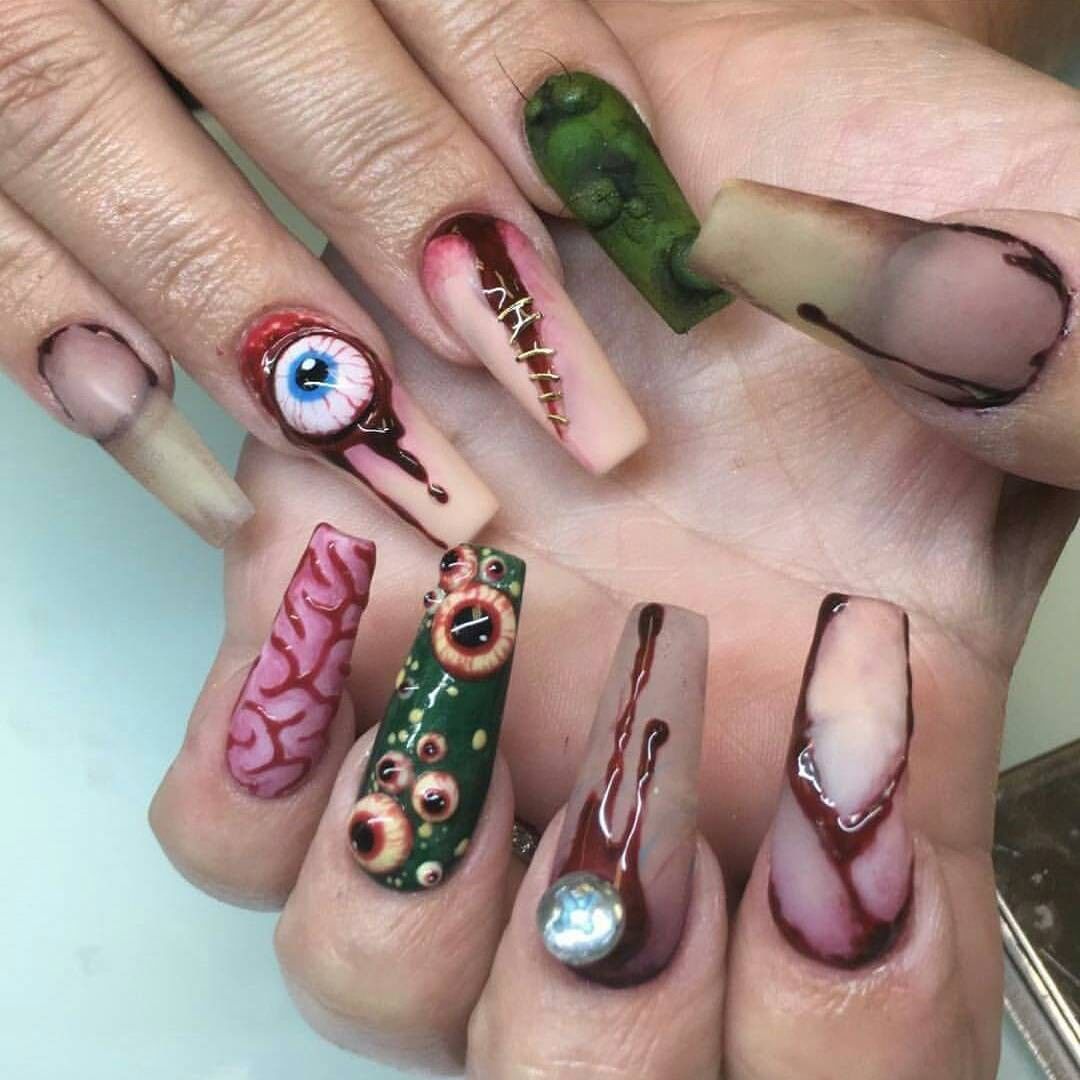 This is another zombie-themed manicure, this time is more realistic and nude, however, it's not delicate at all. The illusion of dripping blood is so realistically on point. But that's not all. Do you see the brain? Or the eyeballs? Everything about this manicure screams Halloween (literally screams).
3. The Bosses of Horror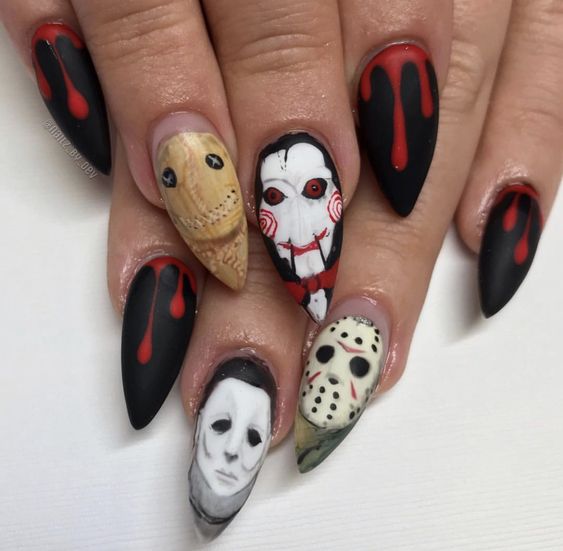 Nails to die for! Horror movie fanatics would kill for this murderer-themed manicure. And with a good reason, these faces are legendary in the horror world! To have them for a Halloween manicure design would be an absolute pleasure. And the dripping blood is a great idea to present the serial killer mood.
4. Beetlejuice Vibes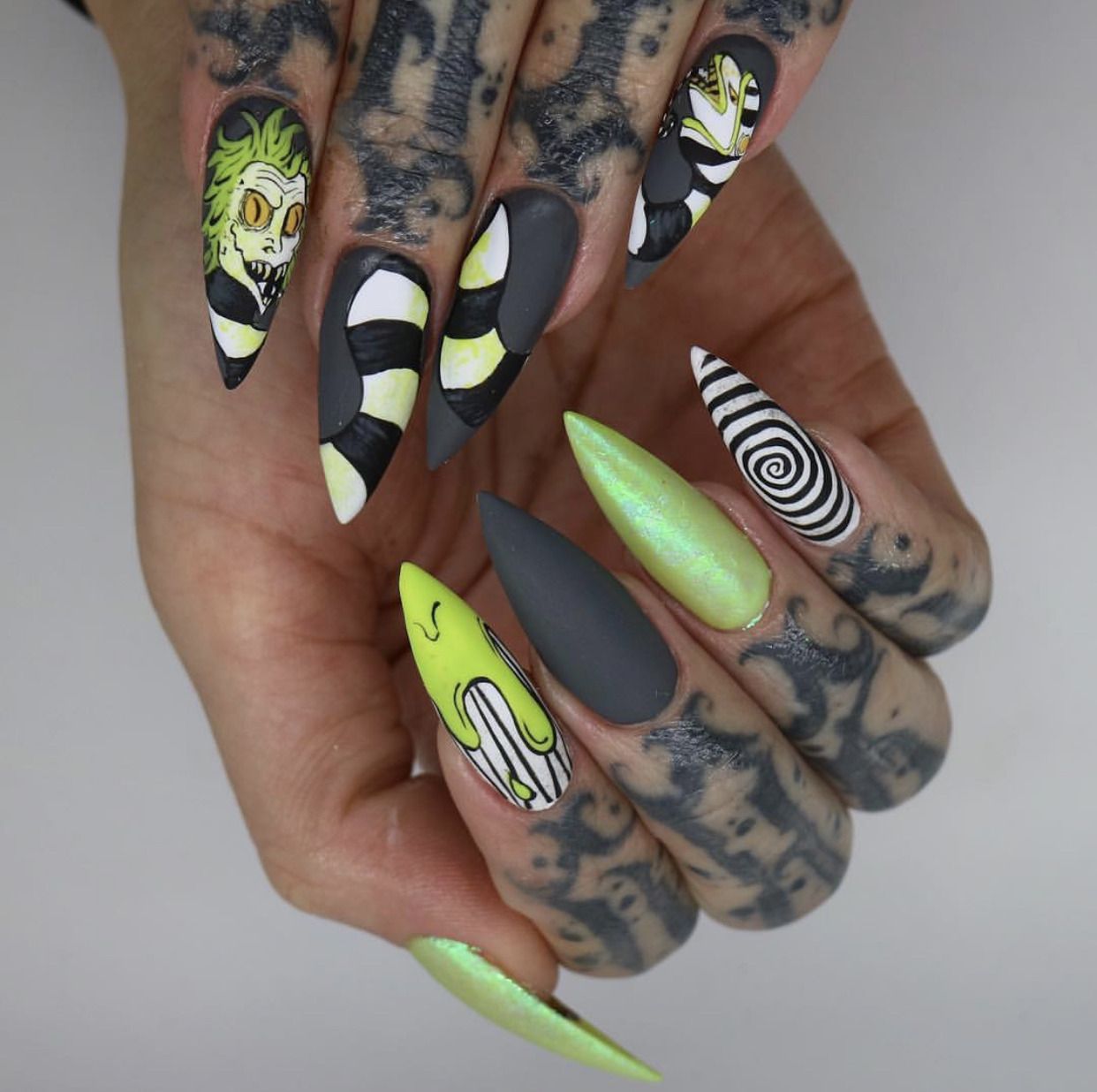 This nail art design will help you celebrate the fall's most fun holiday, no matter the occasion. And what's more, fun to celebrate Halloween if not with Beetlejuice? The neon-green color is the trademark of the movie, and in this manicure as well. This is a marvelous and spooky piece of art, with each nail having its own story and purpose, and a dazzling design!
5. The Addams Family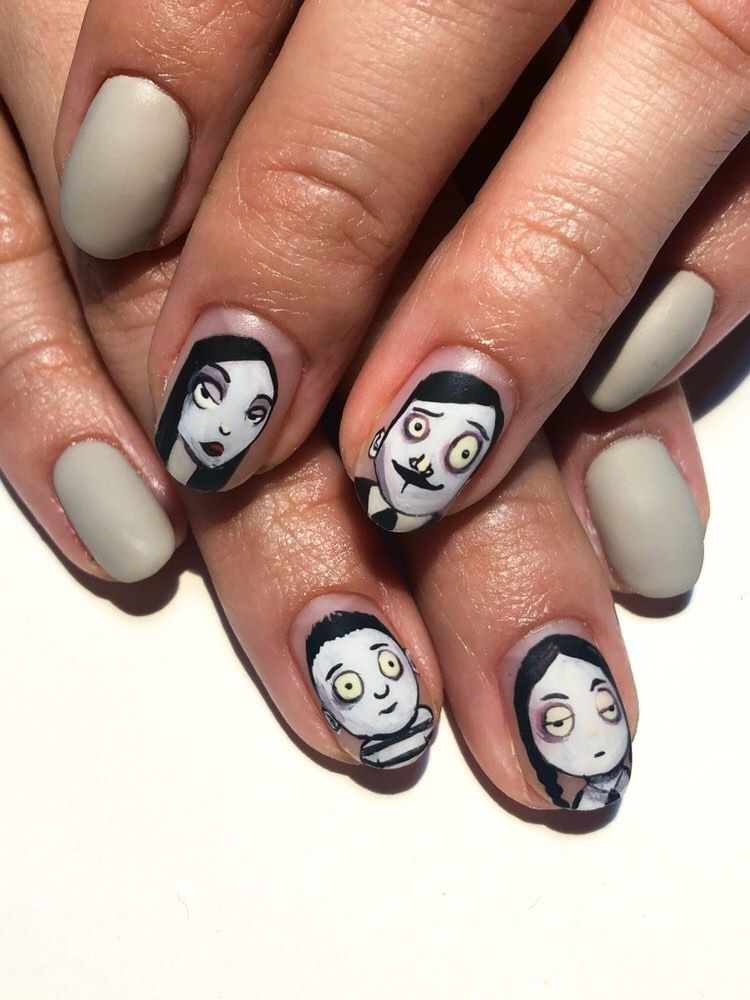 The Addams Family is an all-time classic movie that has a special place in our hearts. In the Addams Family, every day is Halloween! They thought us that black is such a happy color after all and sometimes you need to have a spooky side in you. You should never be afraid to try something new, no matter how frightening or outlandish it might be. So, Halloween is the best day to start with that!
6. Disney's Villainous Side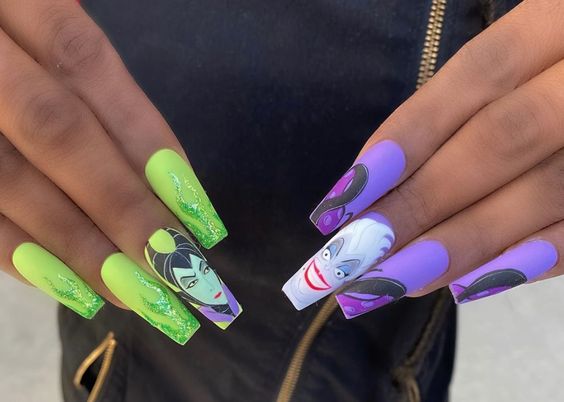 Disney's villains are making a serious comeback these days. Somehow, as adults, we sympathize with the villains that we hated so much as kids. And Disney is trying to showcase their side of the story through new movies. So, in the name of the best villains in history, we present to you this awesome manicure.
7. Neon Zombie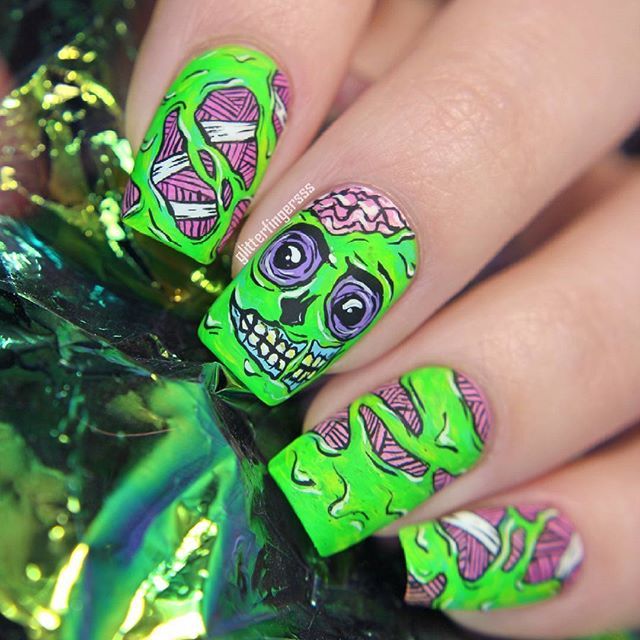 Neon nails are very much on-trend at the moment, and we're vibing this green and pink combo. And can we all take a moment and look at this zombie? That's a professional level of artistic skills right there! Get freaky, glowy, and spooky for this Halloween!
8. Witchy Claws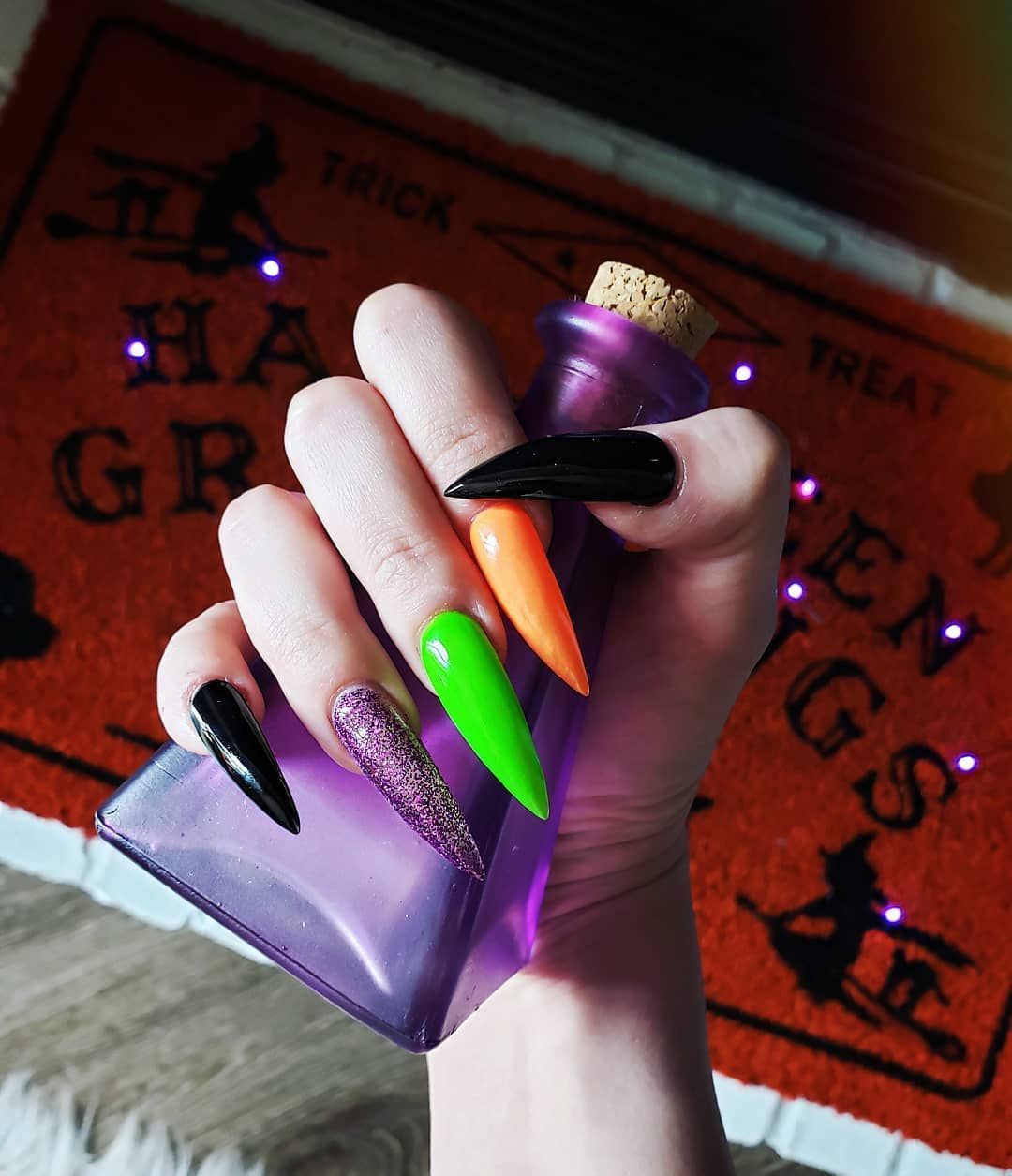 If you have witch tendencies, now's your shot to be one! But, not that old, grumpy witch with white hair and a mole on her nose. A cool one, with long trendy nails, sexy and spooky outfit, with a bombastic makeup. Mesmerize the people around you with this eye-catching claws!
9. The Sky Turned Orange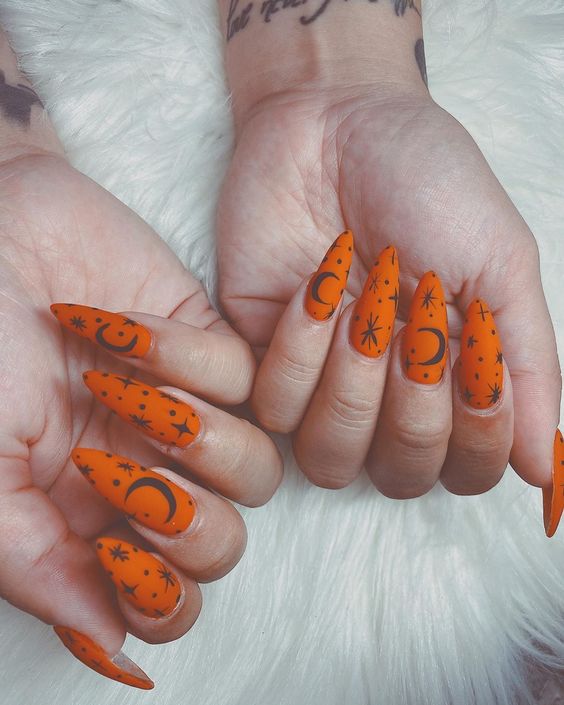 When it comes to Halloween there are endless possibilities to experiment with costumes, makeup, and manicure designs. These nails look like someone put a spell on the night sky, perhaps a witch or some powerful sorcerer. Who knows…that's up to you to decide.
10. Junji Ito's Terror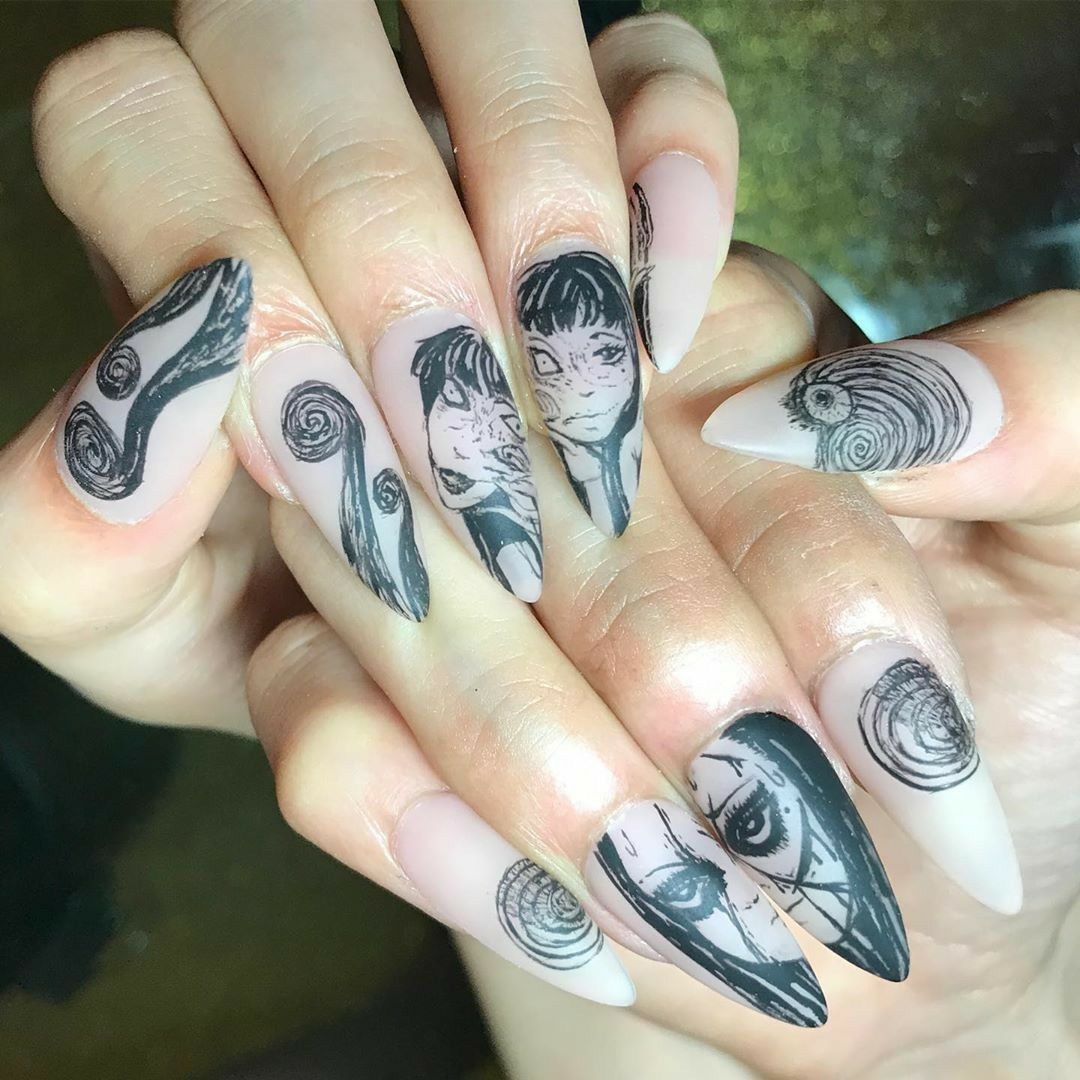 Everyone who loves watching horror movies knows how scary Japanese horror movies can be. And this manicure showcases the horrific mangaka, Junji Ito. Props for the artist who made these, because there are on point!
11. Venomous Purpurina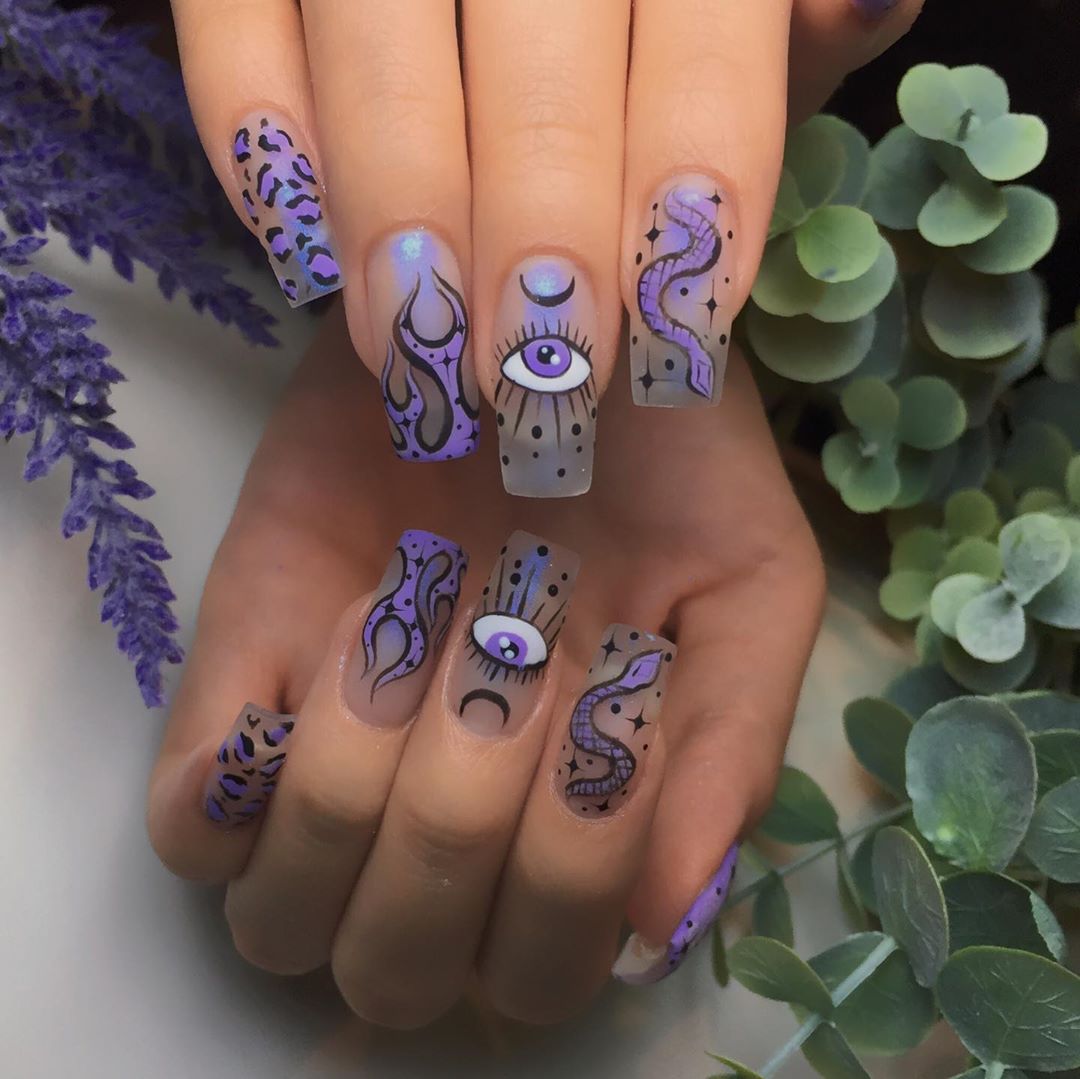 Clear nails are very much in trend right now and combined with purple enchanting designs, this nail idea is great for Halloween. Every nail has a different design, which makes it even more unique. This is a great idea that goes with a purple costume, hair, or makeup. True witchy vibes!
12. Dripping Eyeballs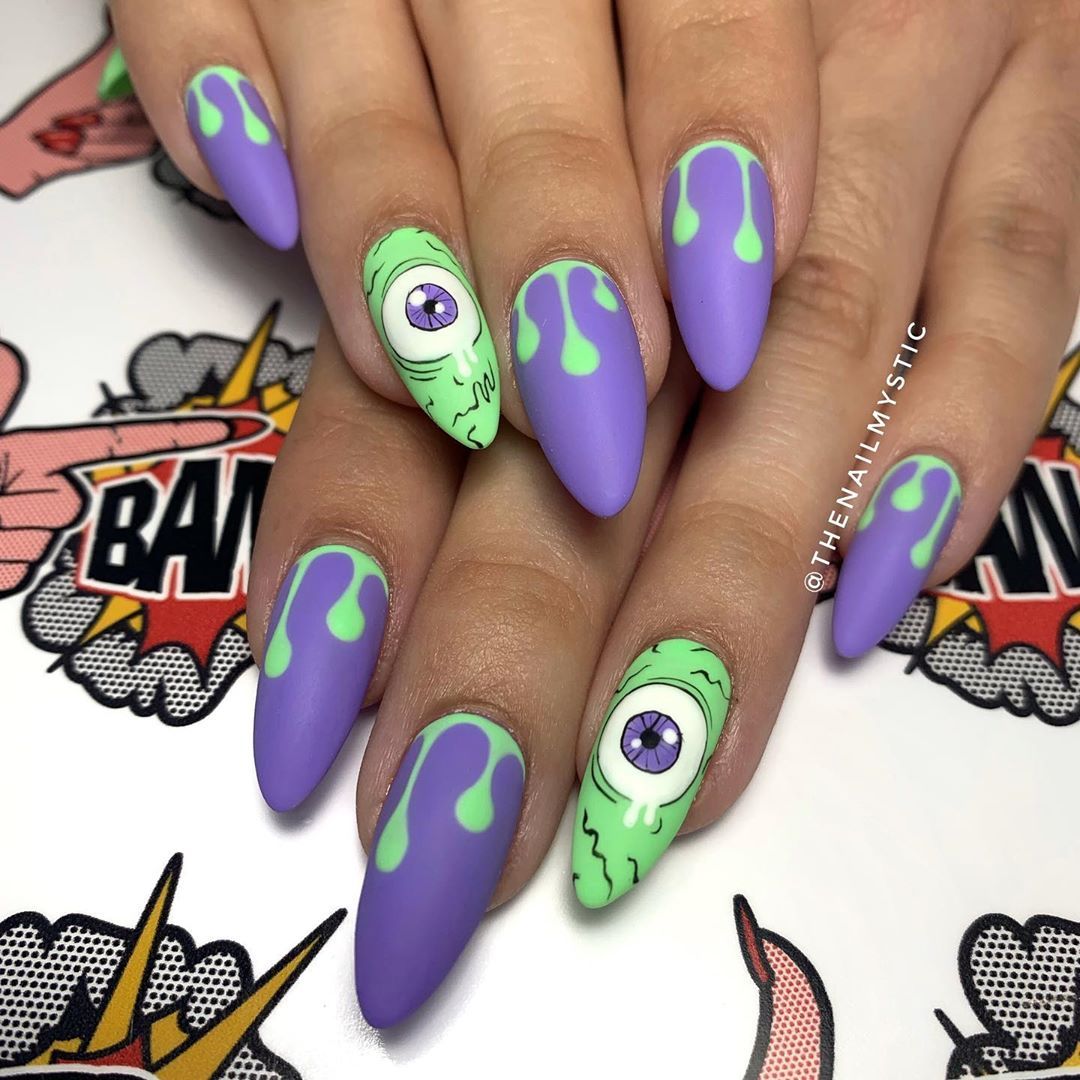 Wake up the inner freakiness in you and celebrate it on Halloween! Create this fun and spooky nails, with cartoon-ish eyeballs on accent nails. The colors are popping in this manicure! We bet that you are already thinking of a costume to match with these nails.
13. Walking into Spiderwebs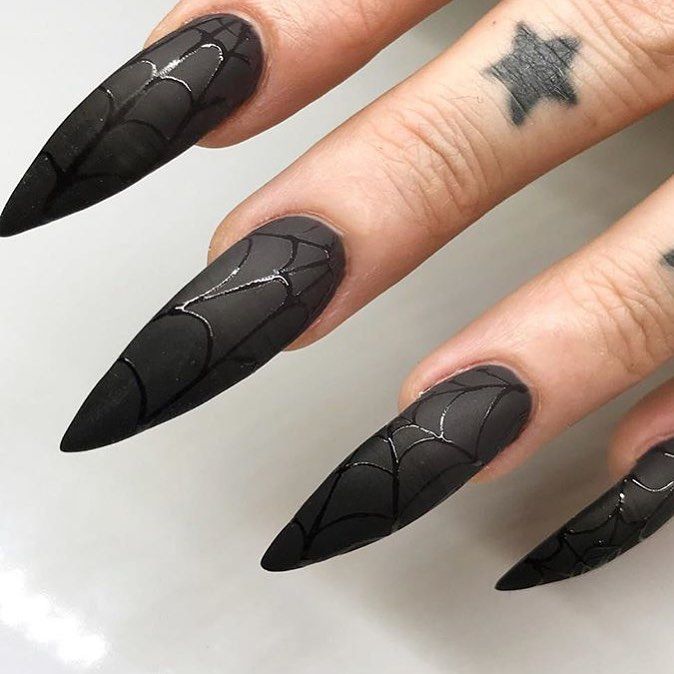 Are you in a Black Widow mood this Halloween? Well, these nails are just for you. Instead of real spider webs, you can catch the pray (or candies) with your fangs. Cool right?
14. Nightmare Before Christmas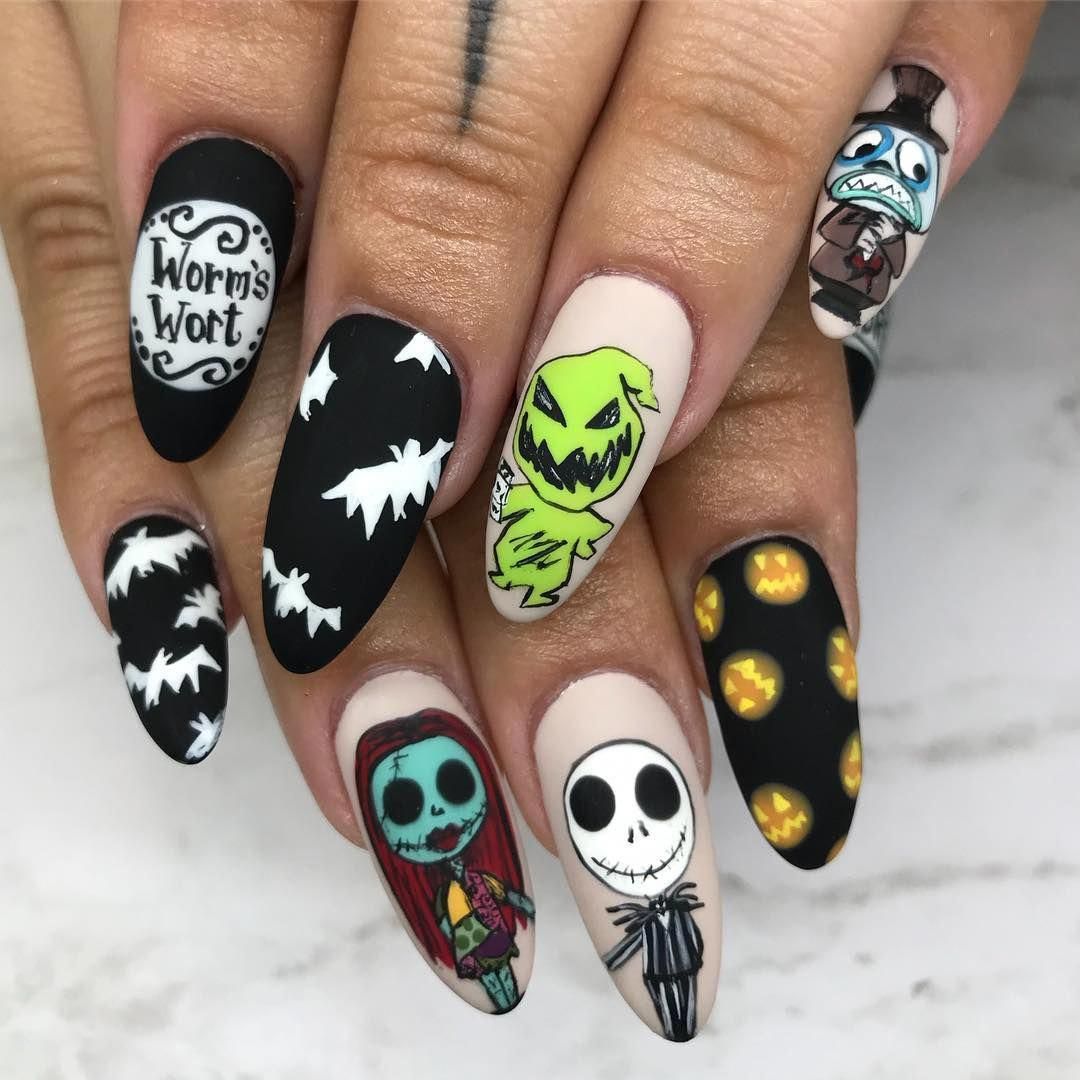 There's no proper celebration of Halloween without watching this cartoon and masking yourself in one of the characters. If you are not a big fan of masks and costumes, here's a great idea to get in the spirit of Halloween! Bats, pumpkins, it has it all!
15. Powerpuff Witches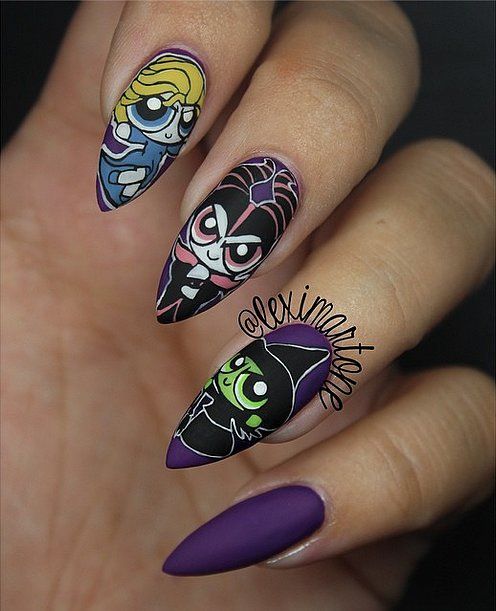 Even the Powerpuff Girls like to dress like witches! Or, at least we like to think that's the case. Never the less, this is a creative idea to combine your favorite Cartoon Network heroes with Halloween! And if you mask yourself in one of the Powerpuff witches, even better! It will be a costume to remember!
16. Hades and The Gang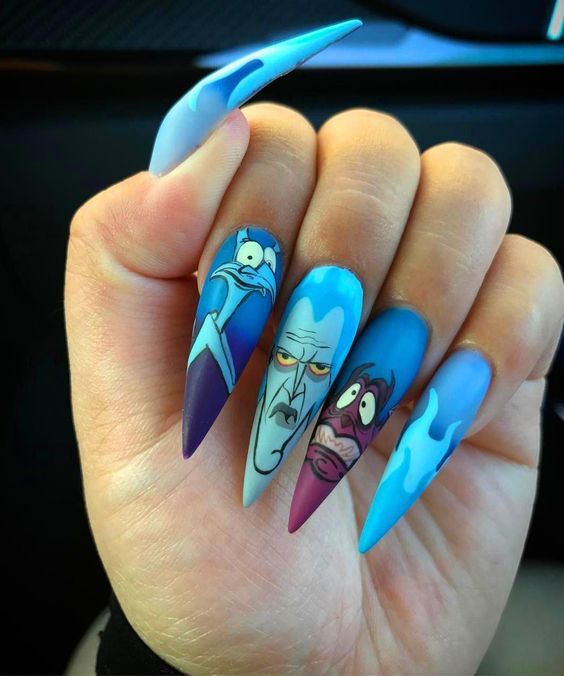 A round of applause for the nail artist that made these nails! The characters are drop-down perfect! I mean, who wouldn't want to wear Hades for a couple of days, right? It's absolutely the best Disney villain of all time!
17. Waiting for Halloween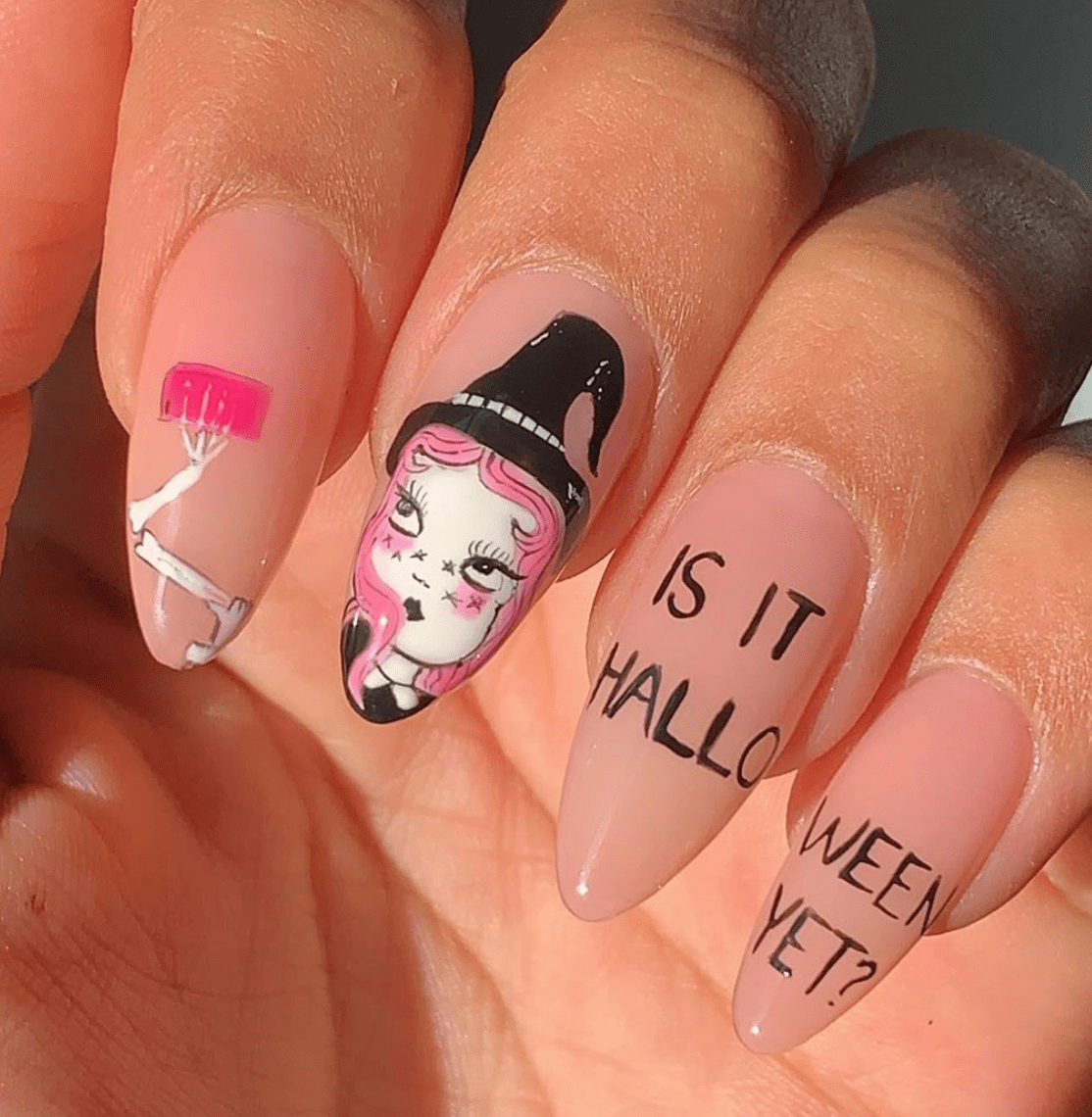 Yeah, we're all waiting for Halloween to come. Our inner witches are losing patience right now, they need to come out ASAP! If you are vibing with this manicure great! Because Halloween is right around the corner and you can use this idea on your nails!
18. Freddy Krueger's Claws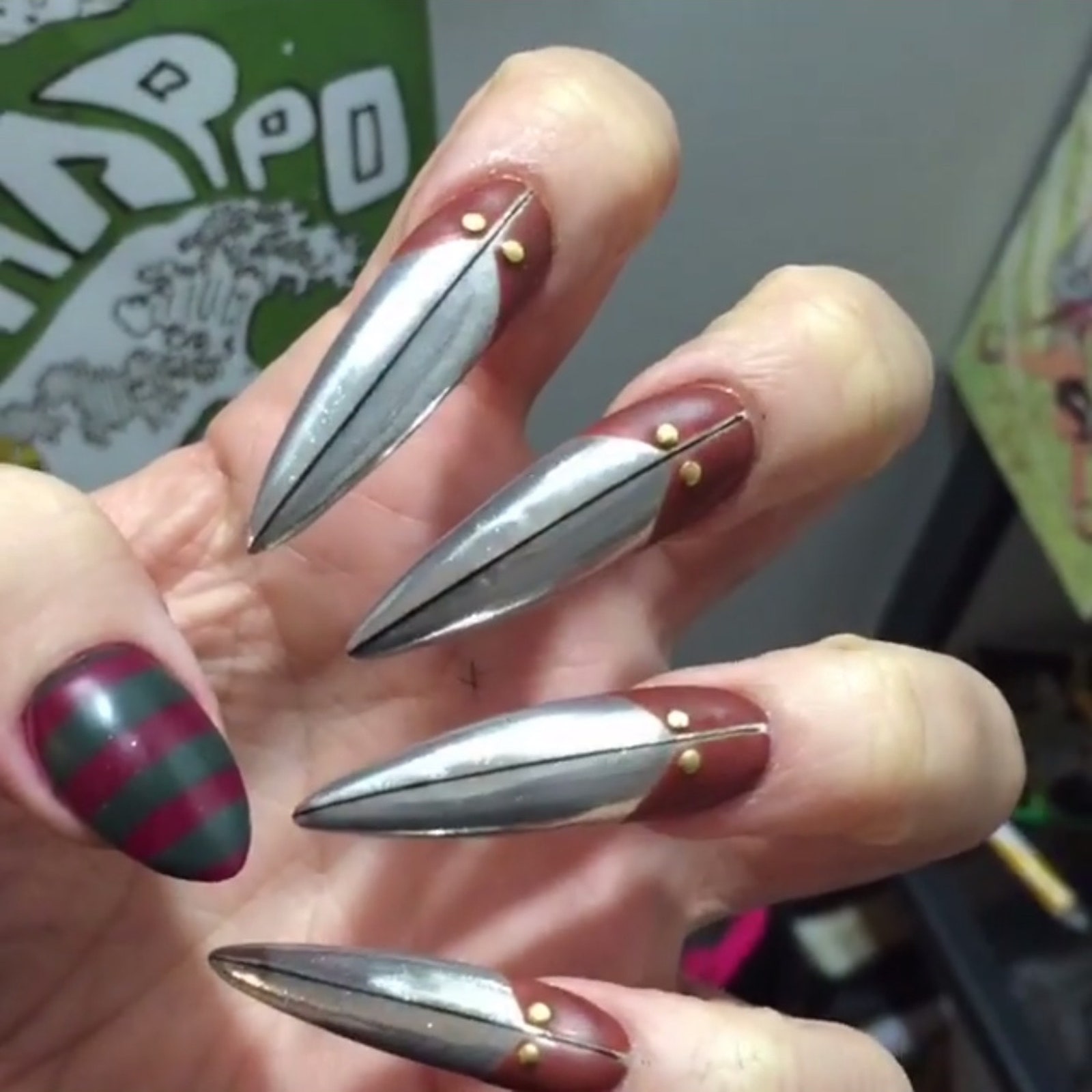 If nails could kill! Paint sharp silver knives onto stiletto nails for a murder-worthy manicure. By now you should know which serial killer has these. Well, on Halloween you'll have the pleasure of having his claws. Who knows, maybe your mask will be so horrific that you'll appear in someone's nightmare. Just don't forget to wear a hat and a red and black striped sweater.
19. Holographic Skull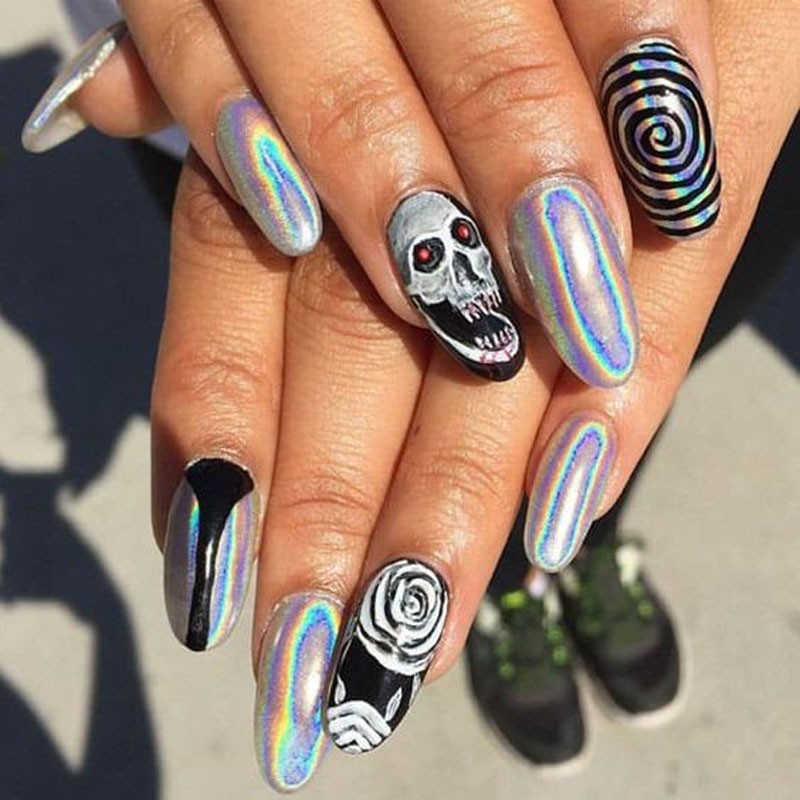 Holographic nail polish and skulls? Yes, please! They are so magically spooky! That skull with red eyes is such a good eye-catching accent detail. The holographic nail polish ties the whole look together and gives it a modern feel.
20. Halloween in Disneyland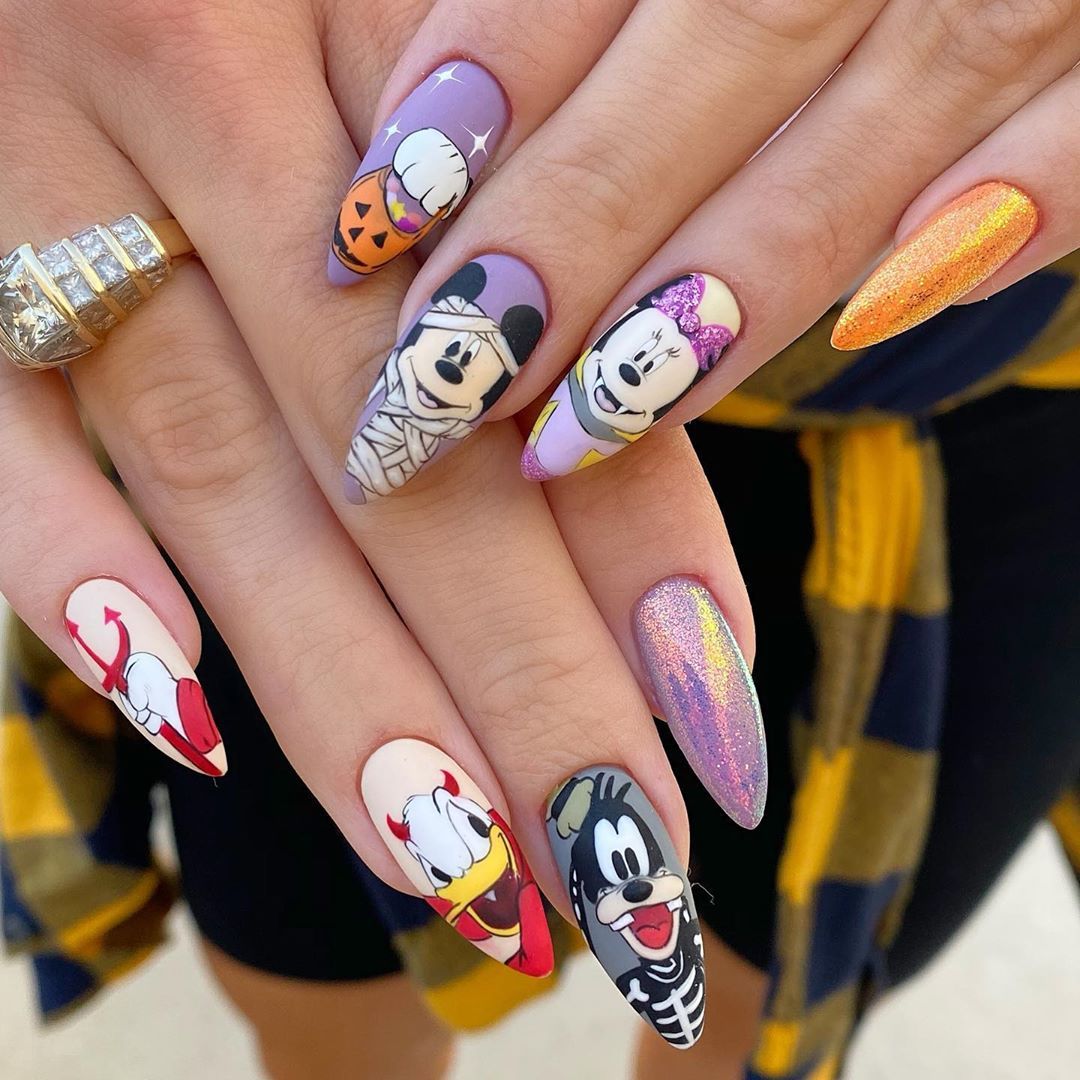 Warning! Halloween party on your nails! And made from your favorite Disney characters! This manicure brings us back to our childhood memories, watching our favorite Disney cartoons. Well, now you have a chance to wake up your inner child and to be freaky and free on Halloween!
Ghosts and goblins spooks galore, scary witches at your door, Jack-O-Lanterns smiling bright, wishing you a haunting night. We've come to the end of the Halloween list of manicure ideas, and may you have a happy Halloween!