Christmas is all about being with the family and the ones you love.
Usually, for Christmas, we gather the whole family to enjoy the most precious family dinner in the year. So, for that reason, except for the good food, we need to have the whole table set to be in the Christmas spirit. Red, gold, silver, white, green, blue, it's all in the Christmas tradition. A combination of some of them or only two of them will get you the perfect decoration you need for the holidays.
First of all, you need to check what you have and think about how to combine it. Then, you should plan the whole decoration, buy or make whatever you miss, and start the journey of perfect table decor for your perfect family dinner. Of course, the food is the top priority, but why not season it all with a great Christmas table decor. Besides plates, glasses, and tableware, an important part are napkins and decorations to go with the Christmas tradition.
Think about all things that you need and start preparing. to help you out, we have selected the best ideas for you to get inspired and creative and help you prepare easily for the holidays. Have a look at the list below to find more ideas on the table decor for this holiday season.
1. Nature Inspired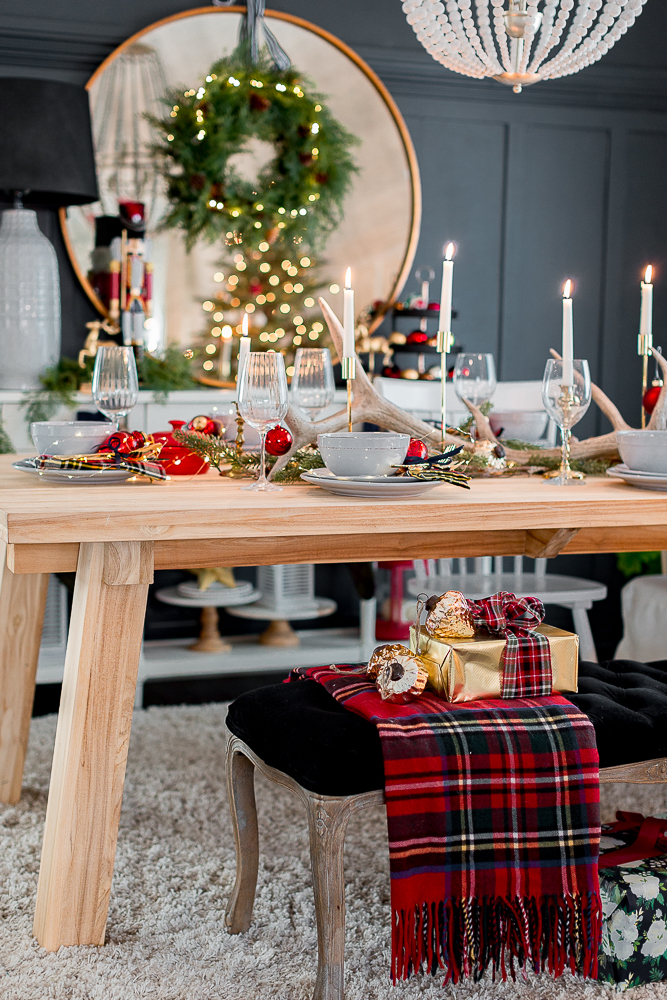 If you are struggling with which table cloth to use for your perfect family dinner, maybe you should get inspired by nature and leave the table naked. The natural wood style will complete the look of the dinner table laid with Christmas tree branches and pleated napkins, a reindeer horn centerpiece, and a wonderful Christmas wreath on the wall. It will give this Christmas the spirit it misses.
2. Furry Gingerbread Men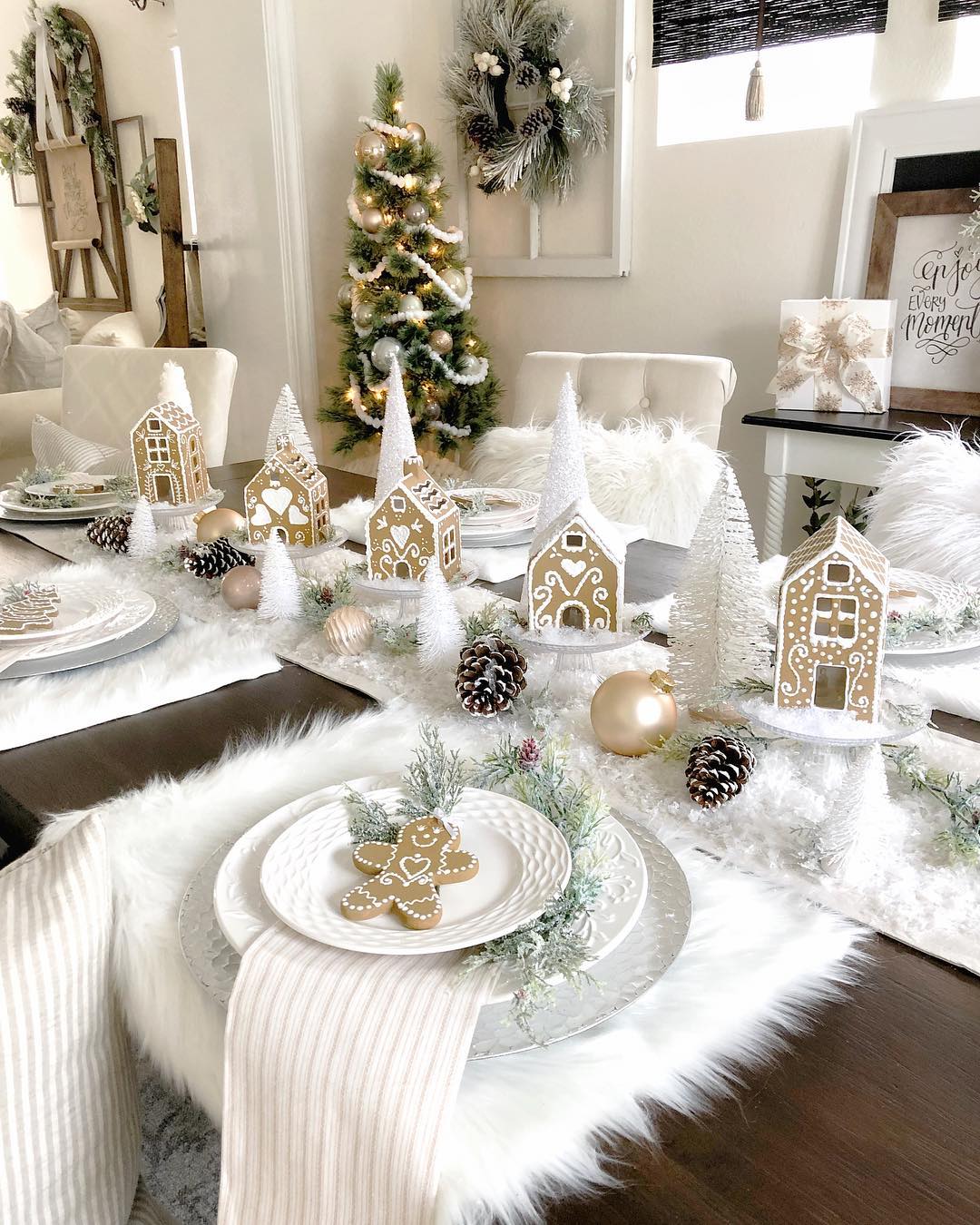 Combine white furry table mats with white plates and simple decorated gingerbread man to get this perfectly cute and stylish table decor for your Christmas dinner. Use cones coated in gold and white glitter, tree branches sprayed in white and gold-colored Christmas tree bulbs to give the table the Christmas spirit it needs.
3. Red And Green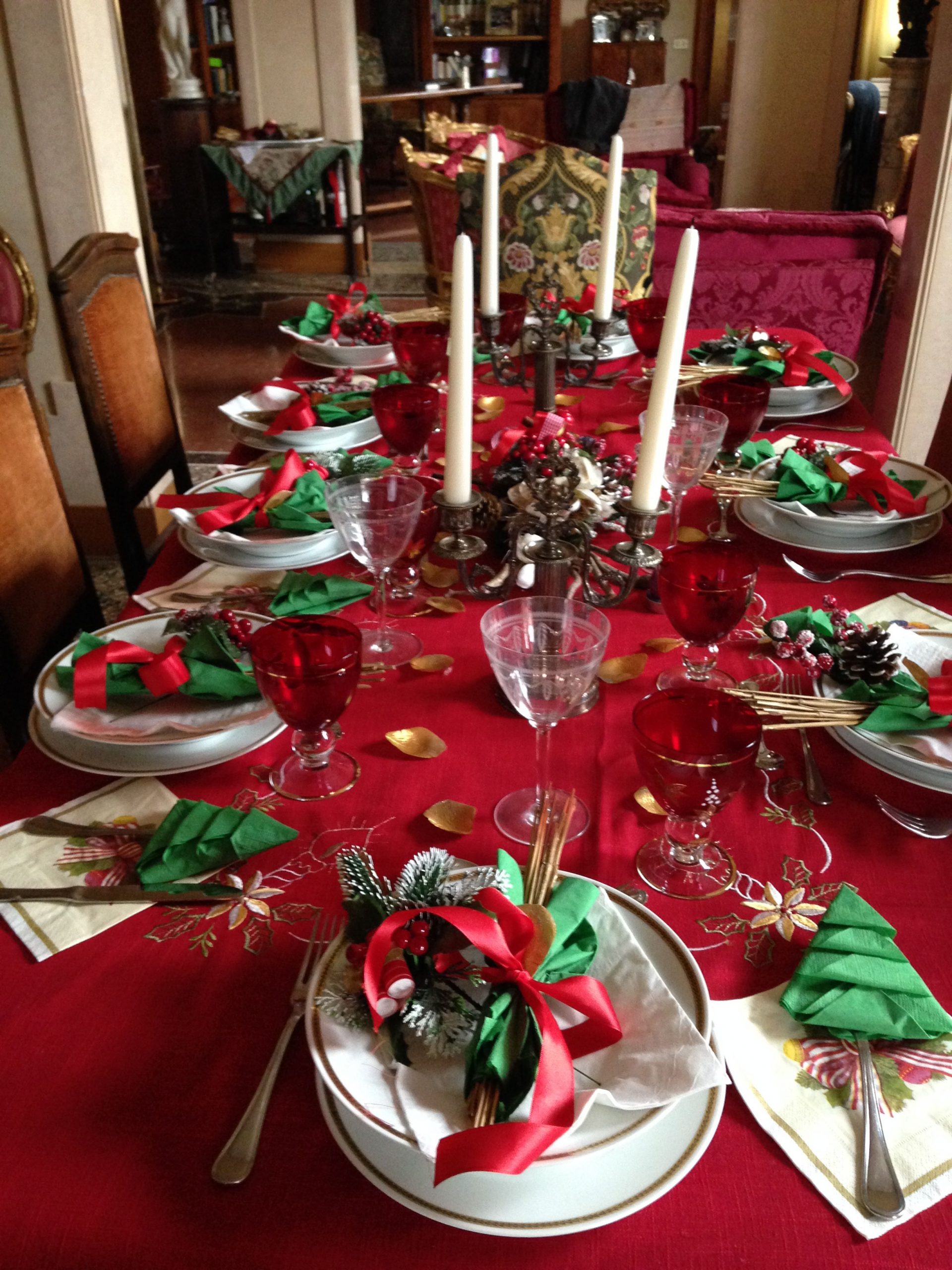 Red and Green are the ultimate Christmas colors. Just don't overuse them. If you really want to get the perfect red-green table, make sure you distract the overall look with white plates and crystal glasses to break the dullness of solid colors. Arrange green the napkins in cute trees and pair them with a white napkin underneath. The white candles will only complete the look, and the gold details will make it sparkle just like the holiday.
4. Small Tables Decor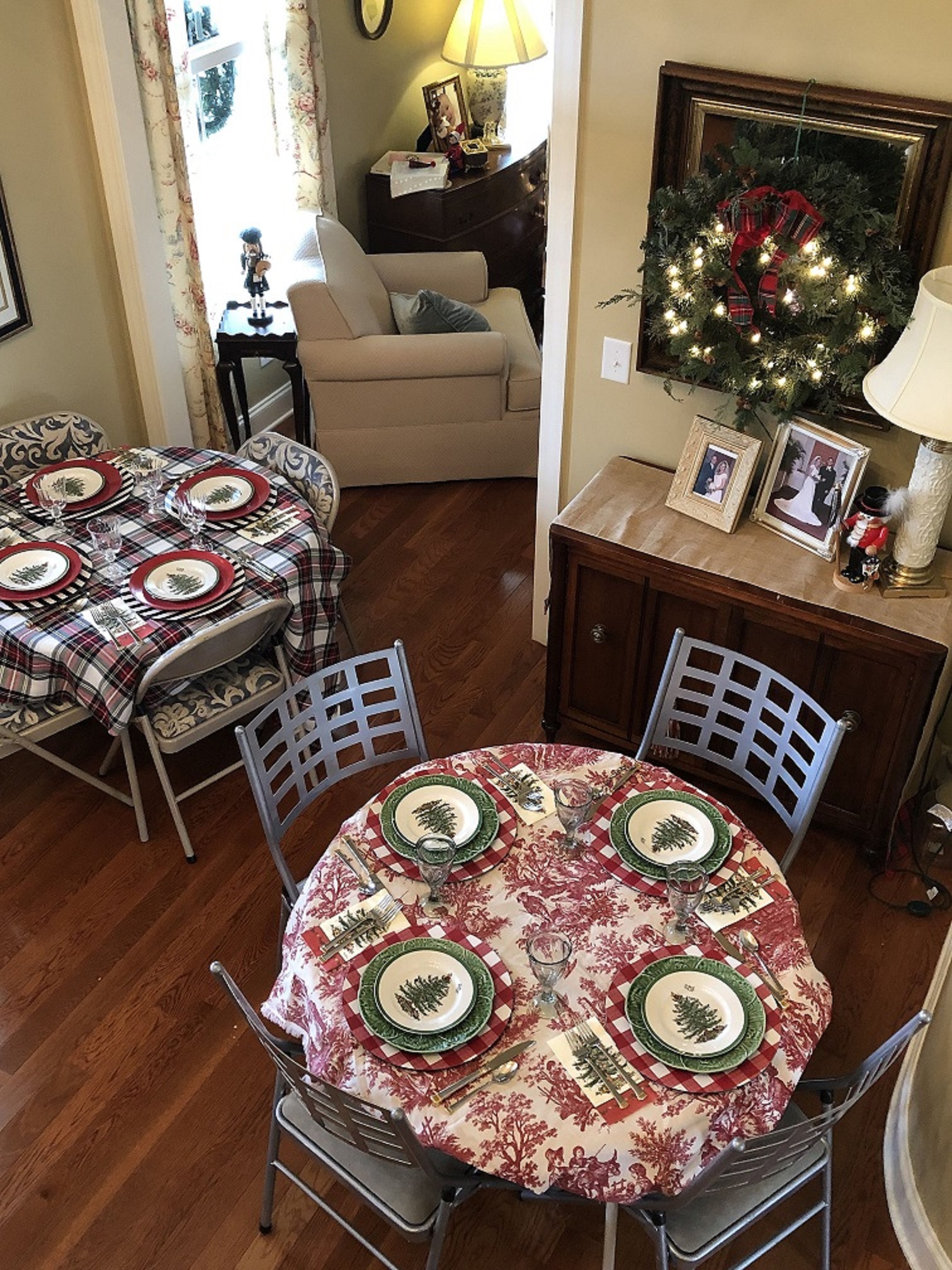 During this Covid situation, maybe you would opt for smaller tables to keep social distancing and gatherings under the rules. Here is an idea of how to decorate small tables in a smaller room. Arrange them to sit only four people with the simplest and most essential items and still feel as cozy as the Christmas itself. Set several tables like this in a couple of rooms to gather all your family and enjoy the holiday staying safe.
5. Blue Fantasy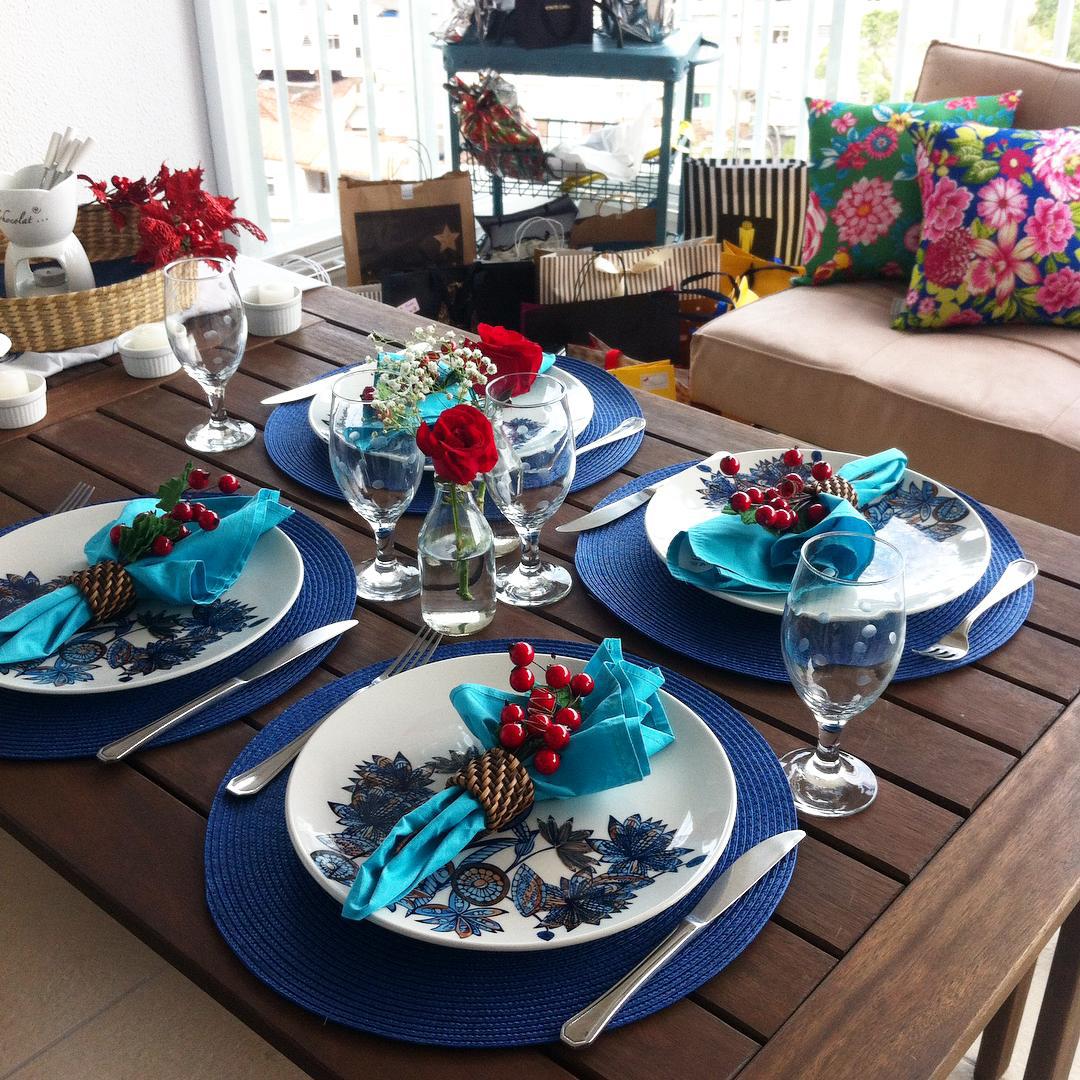 Why have it all read or green for Christmas? Not cool, right? Well, indulge in the blueness of the ocean and transfer it to your table. Choose plates with blue ornaments, sky blue napkins decorated with red fake berries, and blue table mats. It will give your Christmas dinner a unique signature charm and you will enjoy it to the maximum.
6. Nutcracker Style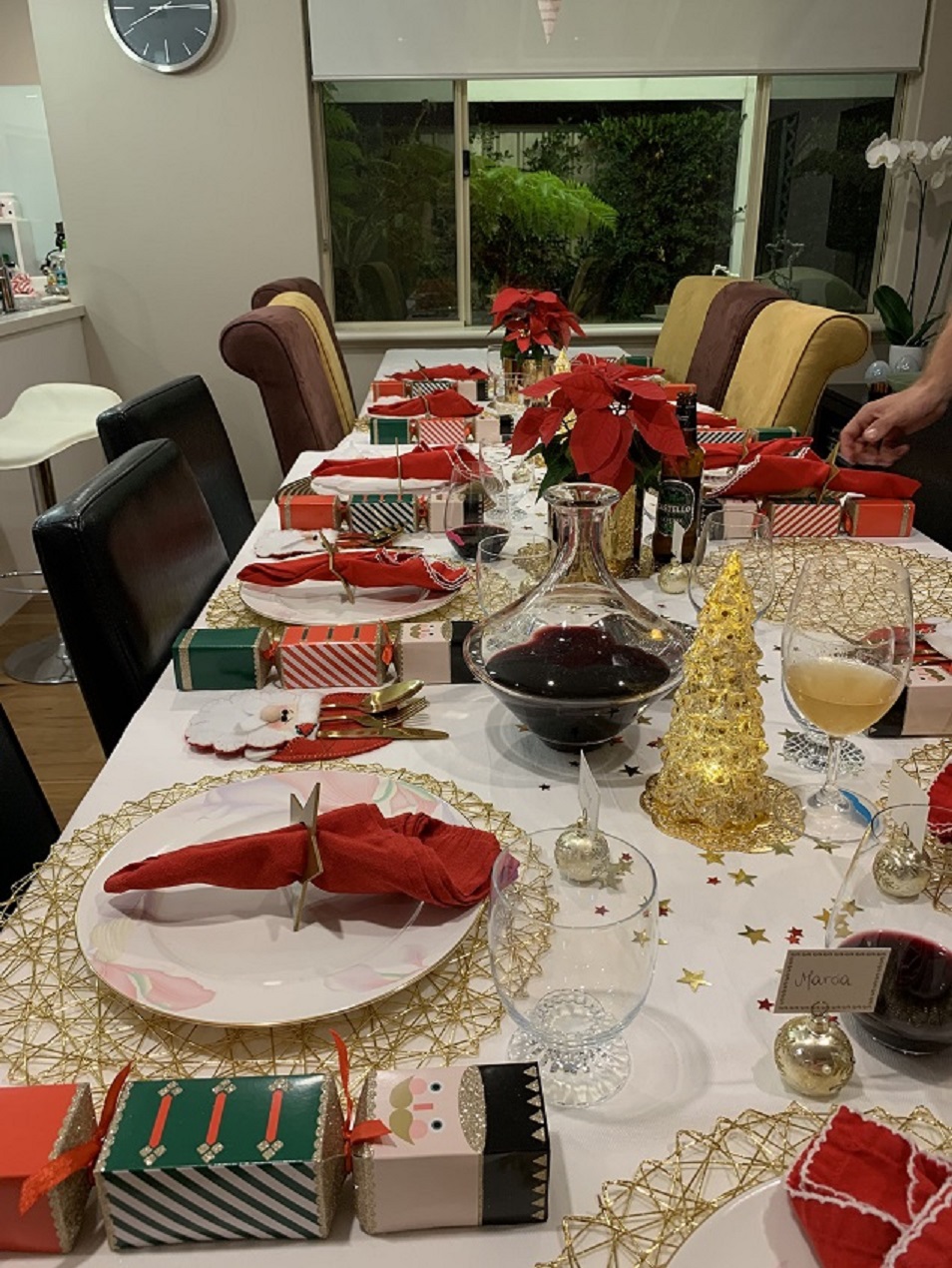 Christmas is the Nutcracker season. Every year many theatres perform this wonderful ballet to celebrate the Christmas season. For a change, you can decorate your table inspired by The Nutcracker, with stars, small trees, and paper soldier crackers to get the Christmas spirit going everywhere around you.
7. Gingerbread Christmas Trees Table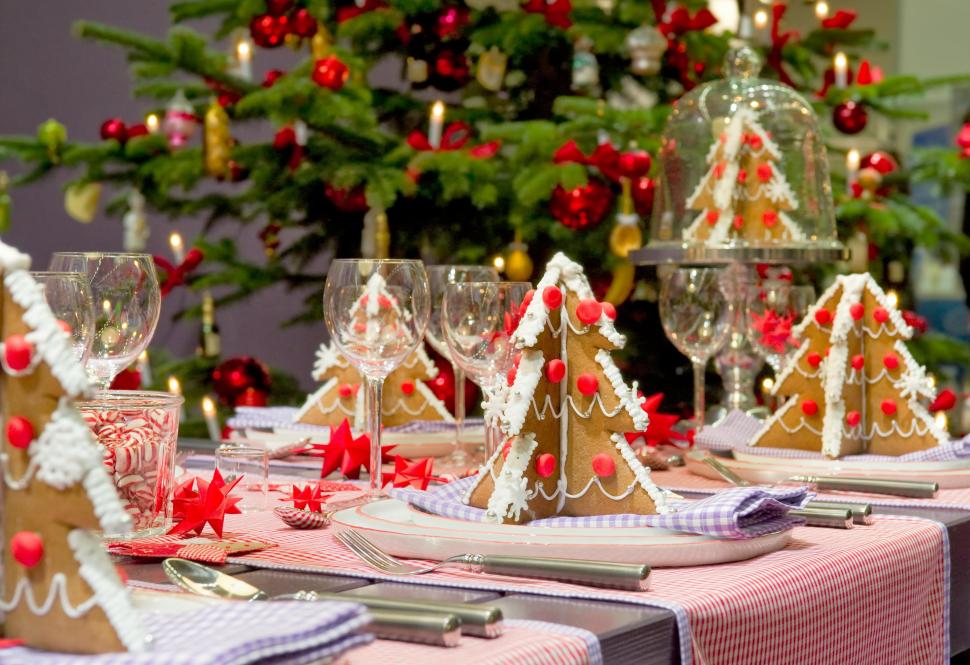 Gingerbread man, gingerbread house, why not gingerbread trees for all? It is a modern twist of the traditional gingerbread cookies, and it will make everybody happy and joyful. Simply make the trees smaller and put one on each plate. Combine it with red table ornaments and pleated table mats, crystal glasses, and white candles to complete the look.
8. Red and Gold Vintage Style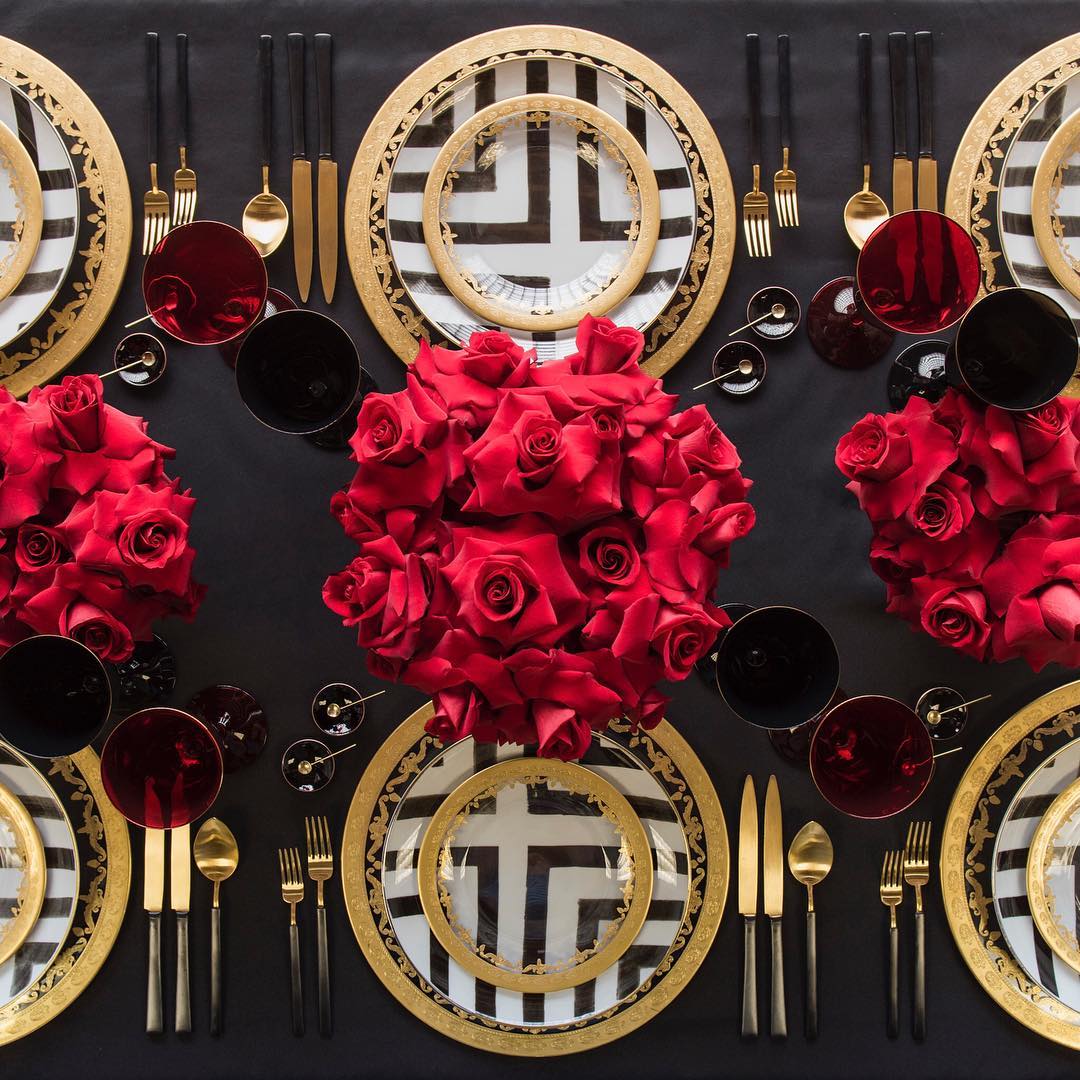 Vintage style is becoming more and more popular these days. So, for all vintage lovers, this style will be perfect for the Christmas table as well. Opt for a vintage style golden pleated plates with Versace like style, and combine them with golden tableware and red roses centerpieces. Complete the look with red and black glasses and don't use a table cloth if you want to get a perfect style.
10. Cottage White Christmas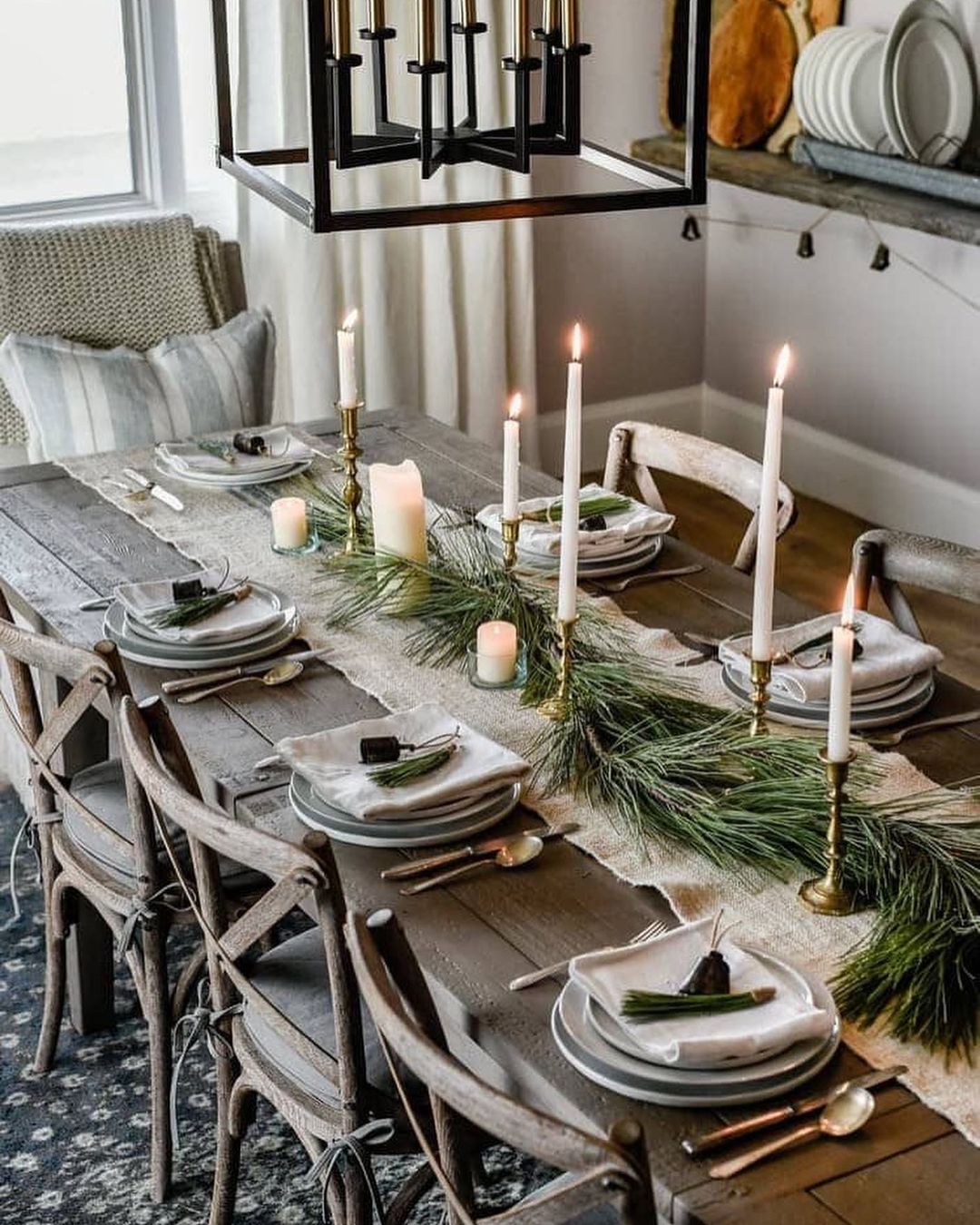 Cottage style is becoming more and more popular, as well as living in the remote mountain villages. There are many young couples choosing this lifestyle away from the city crowds. Here is an idea for their first Christmas dinner at the new home. Choose linen centre cloth under the centrepiece made of tree branches and vintage candle holders, matching napkins and simple white thick candles. It will all perfectly match the vintage table and chairs in your mountain cottage.
11. Elegant Golden Decor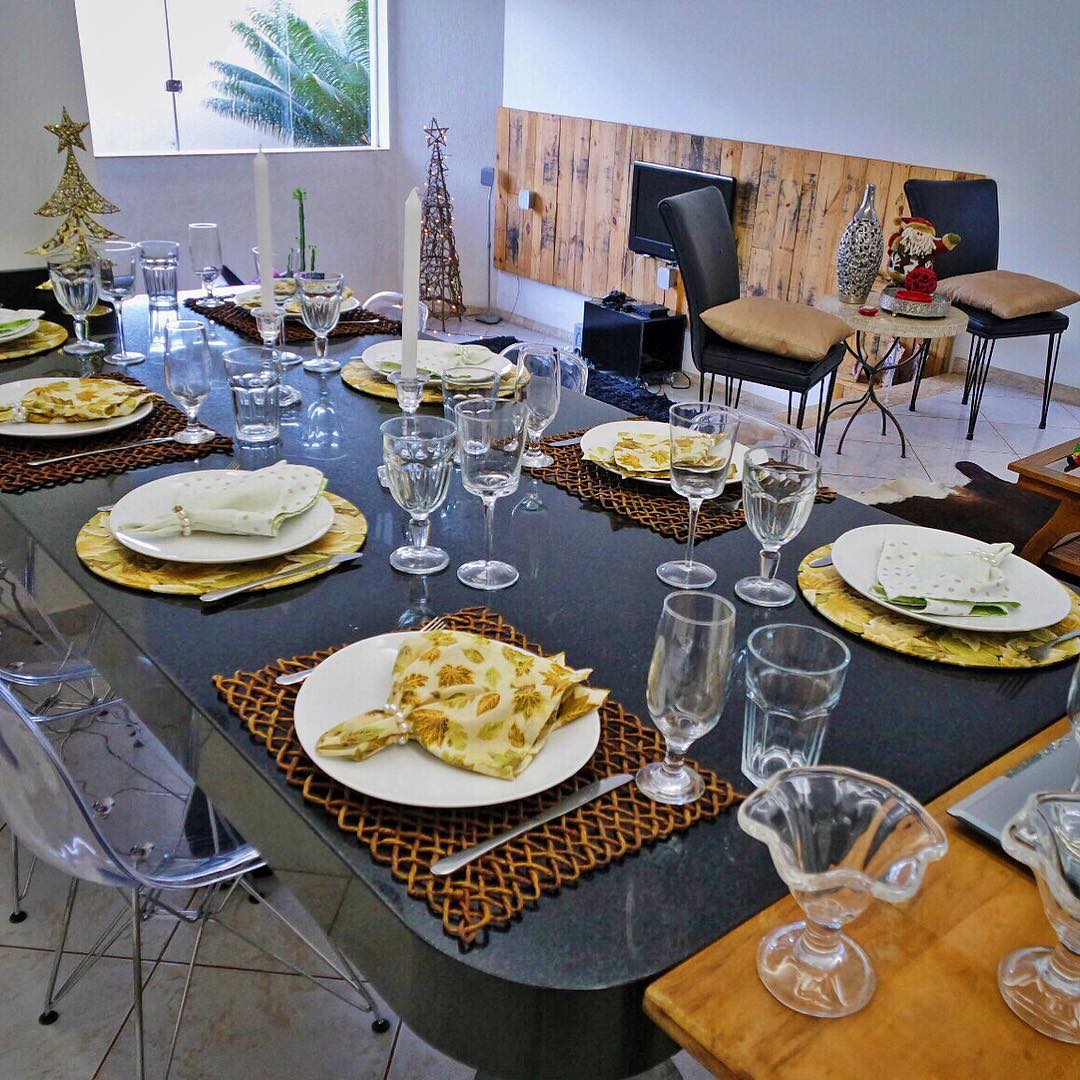 Christmas can still be Christmas even if you opt for gold. It is shiny and sparkling just as this holiday is. Choose gold table mats in a few different styles, white plates, and various gold-colored napkins. Combine them together and get this sparkling modern Christmas table decor for the best Christmas in your new home.
12. Snowman Decor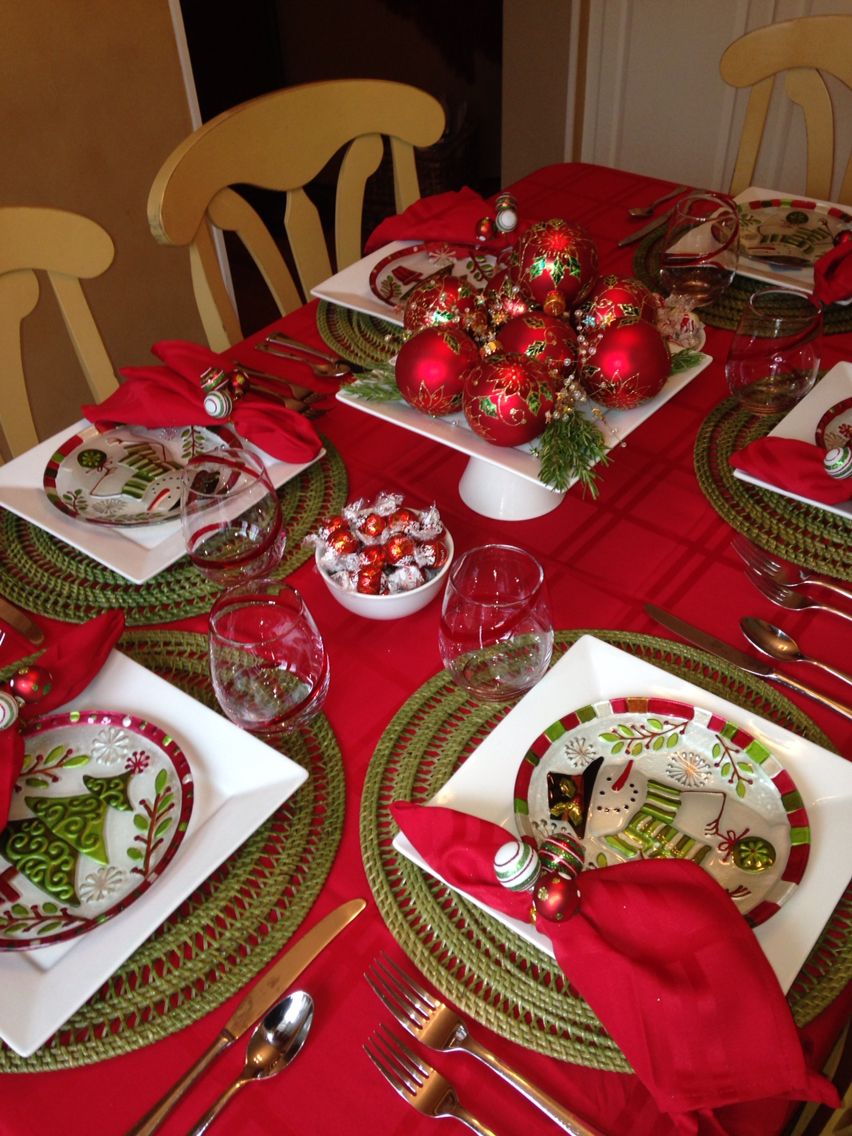 You never thought that Christmas tree decorations can be put on a plate? Well, you were wrong. They can be used as a centerpiece to brighten up your table that you have set with snowman decorated plates and simple white plates. This table decor may be minimalistic, but it is actually grand because less is more.
13. Navy Blue And Gold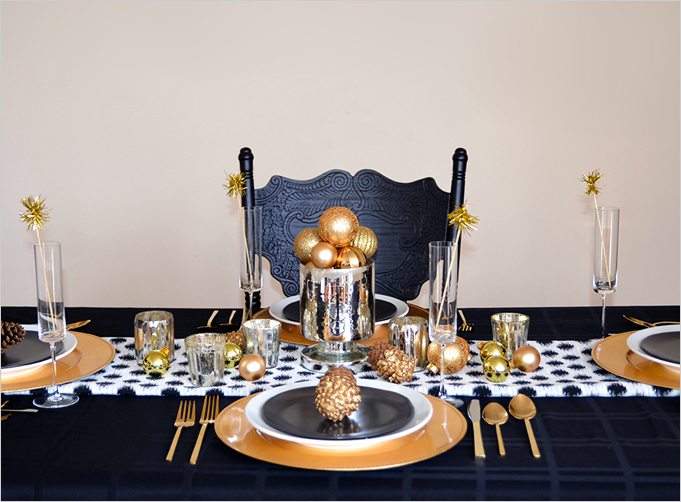 Another idea of how to combine gold with other colors than red, and still get the sparkles of Christmas. Gold is usually were well combined with darker colors of shimmering glaze, like navy blue and dark grey. Infuse some white in the navy and gold combination to make your table glow. Don't forget the golden cones and Christmas tree ornaments to give even more glitter to this elegantly posh table.
14. Red Candlelight Dinner For All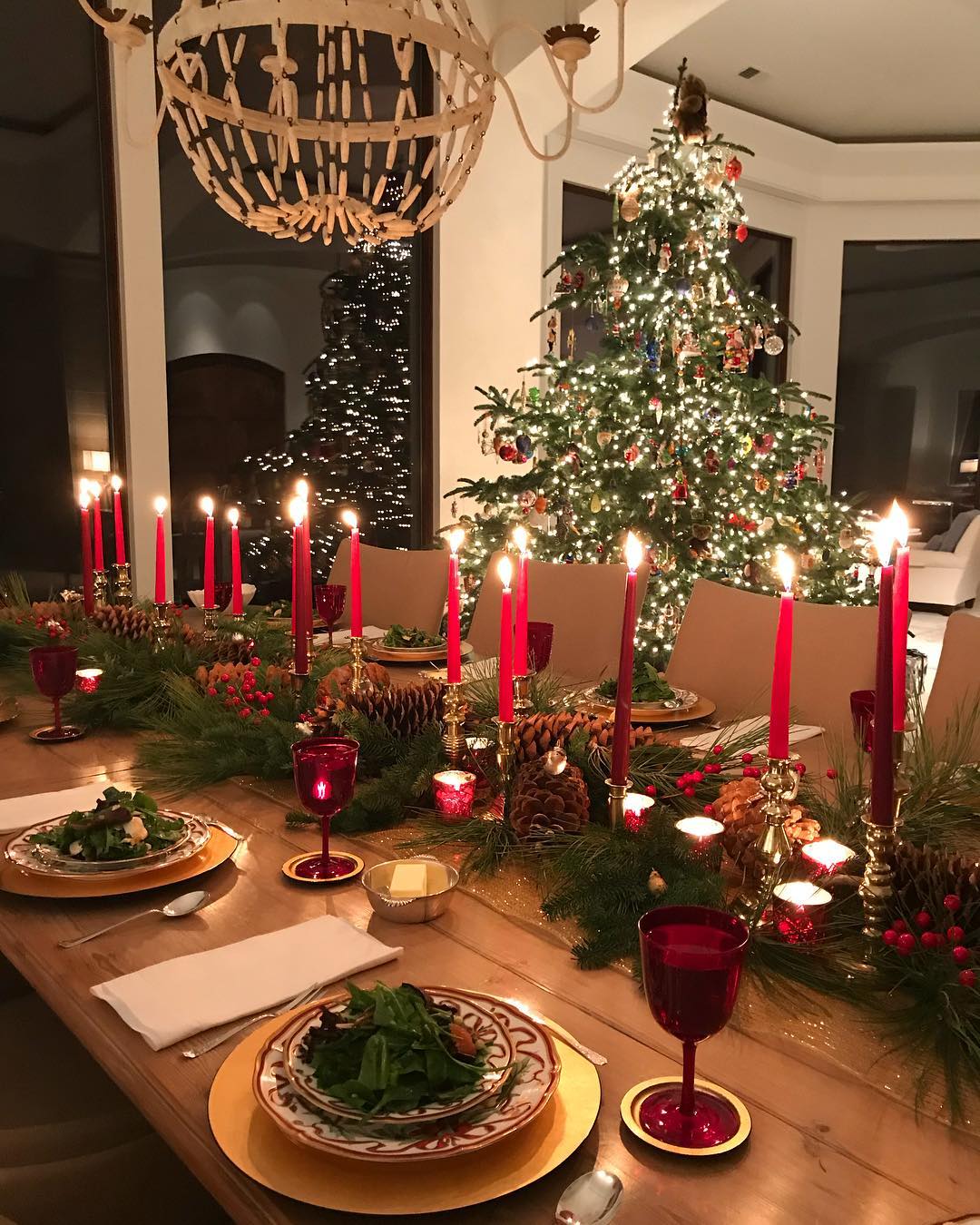 Red candles are the center of this table. Although at first, you might think that it will be best to put it on a red table cloth and use red plates, believe me, it will only make it look dull and solid. Leave the table naked, put golden tablemats under the plates, and opt for white plates with gold and red ornaments. It will brighten up the table and give a contrast to the red candles and glasses that you have chosen especially for Christmas.
15. It's All There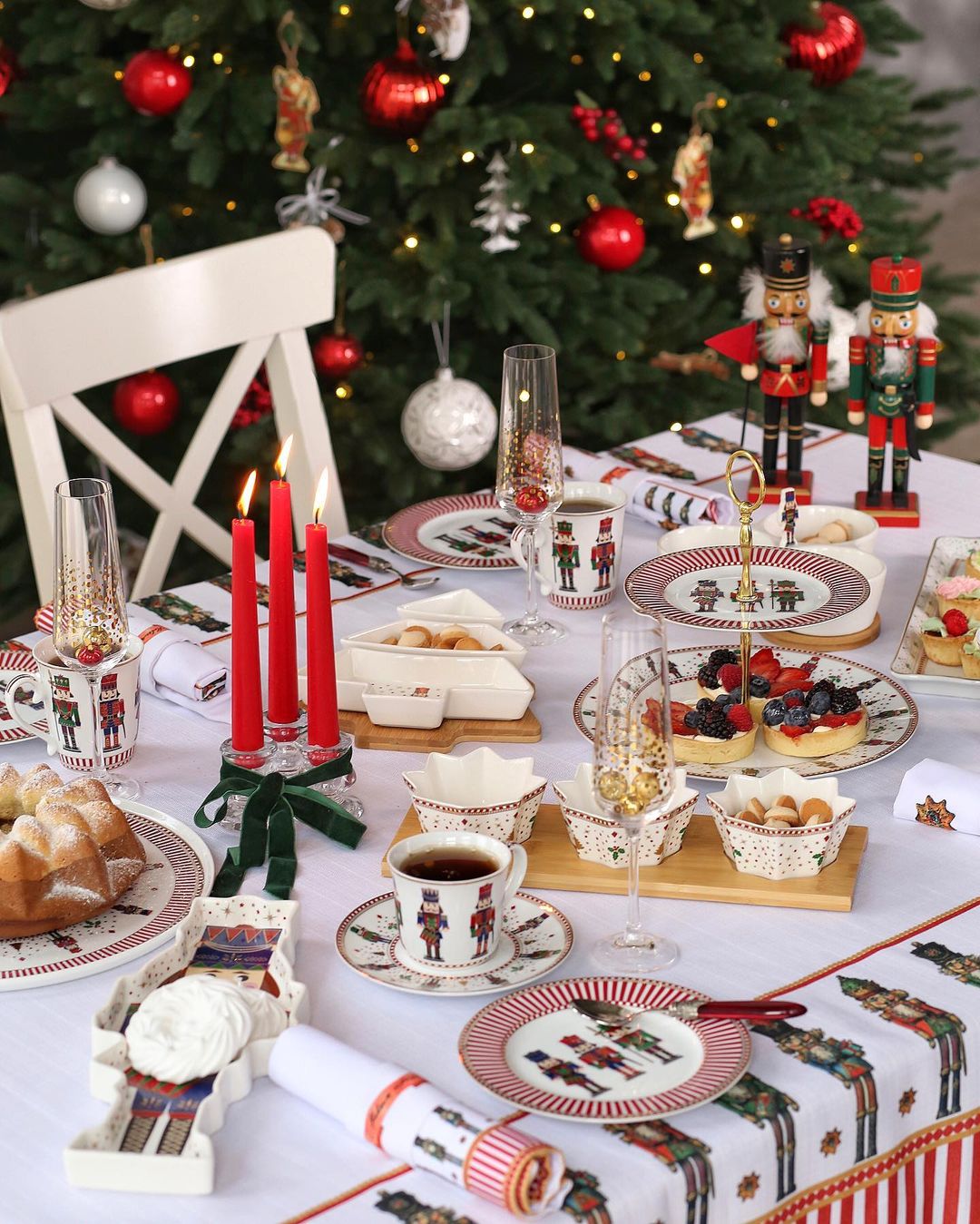 Maybe you want to put everything you have with a Christmas theme on the table. Well, why not? all you need to do is combine them carefully so that the table has a strict flow. Tablecloth with wooden toy soldiers, plates, glasses, mugs and napkins with the same decoration, and pans with different shapes can work together perfectly and make your table fun and cozy. Add red and white candles decorated with green ribbons to complete the look.
16. Cake House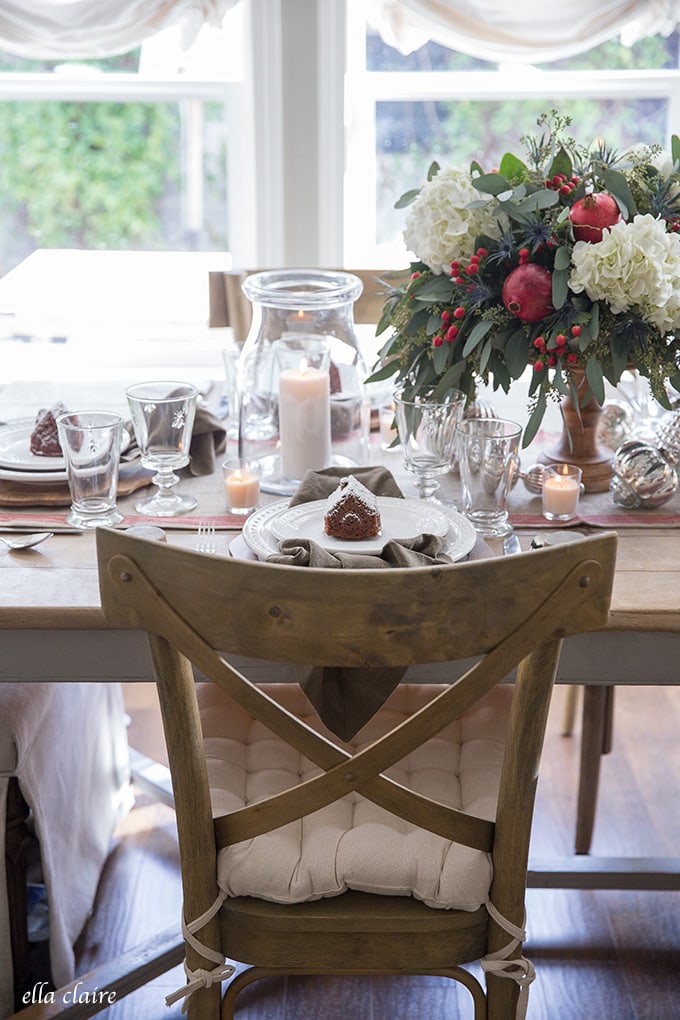 Why not decorate the plates with an edible addition? These wonderful cake-houses sprinkled with powder sugar make the perfect addition to a simple, white, yet elegant Christmas table. Combined with a colorful centerpiece and cool crystal glasses, white plates, and brown-grey napkins and chair cushions, this table will be a perfect refreshment for the holidays.
17. Kilt Napkins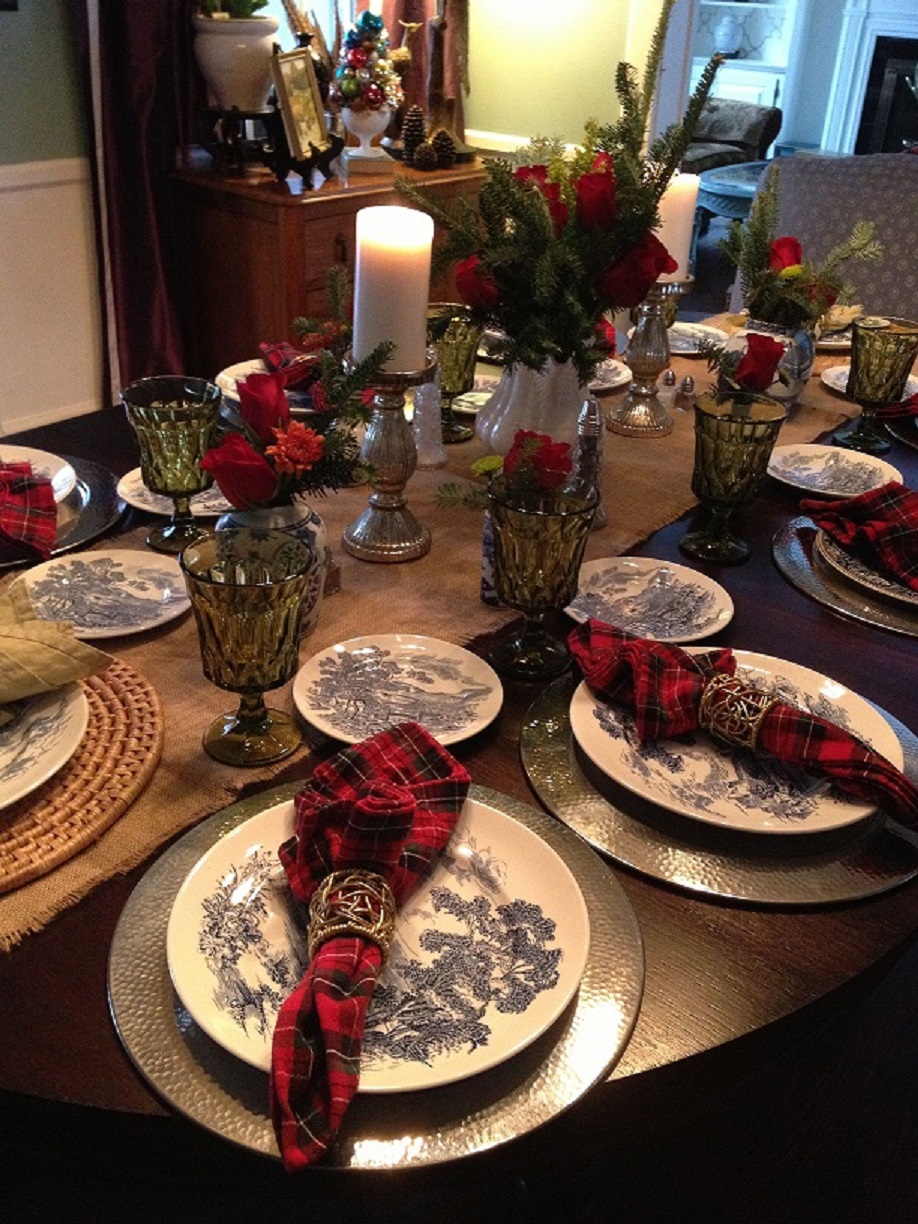 Pleated napkins can easily replace pleated tablecloth if you want to keep the Christmas tradition, but are not a fan of the pleated table cloth. Make sure you choose plates with different ornaments to avoid dullness, and shiny table mats to brighten up the look. Add some Christmas tree branches and some red flowers to complete the look.
Now that we showed you our ideas, all you need to do is get inspired and start preparing your Christmas dinner. And don't forget to leave a comment below!