Ask any child from any age, what's their favorite thing about Halloween and you'll hear these one or both of these two answers: costumes and free candy. While costumes are fun and fine for all ages, grown-ups tend to get concerned about the candy part of Halloween. While parents can't control what kind of candy the kids will get during their night out on their trick-or-treat journey, they can try at least to make the treats at home at least a bit healthier.
Making children eat healthy foods has been a struggle for parents for ages. The trick, as it turned out, is to make the food look good and appealing. It works most of the time. Unfortunately, not all of us can make mini decorative masterpieces out of food al the time. So, we have to settle with making the effort at least on special occasions, especially on holidays where candy is the norm to beat.
So how to balance out the avalanche of candy that is Halloween? There are a couple of ways to go about it: with fun fruity arrangments, salty snacks, or pastries, and if that fails, you can give in and do some homemade sweets, where at least you can control how much sugar there is in them.
Halloween offers many fun themes to play with and play with your food as well, so let's check out some of the all-time favorite healthier treats for the spooky season.
1. Eyeballs, Ghosts, And Pumpkins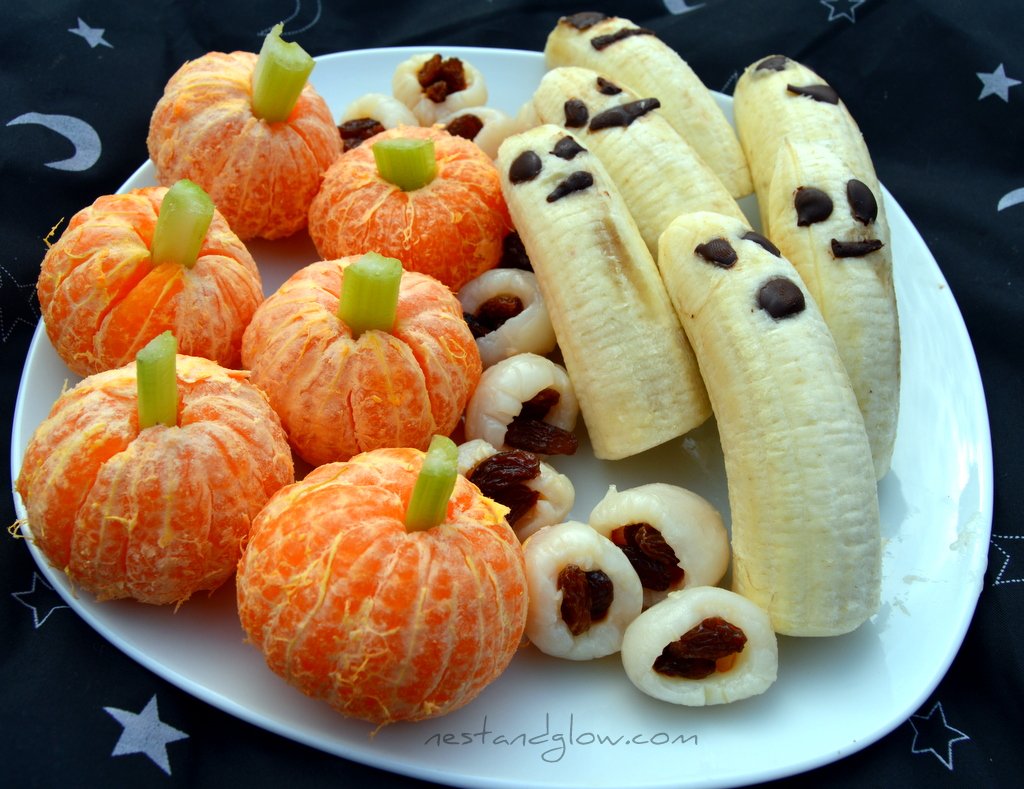 First on our list is fruit snacks. Usually difficult to make the kids eat them, but once you tickle their imagination you can be sure that your little monsters will happily devour the evil mini-pumpkin tangerines, the devilish lychee eyeballs, or the haunted banana ghosts.
2. Halloween Vegan Rice Cake Monster Snacks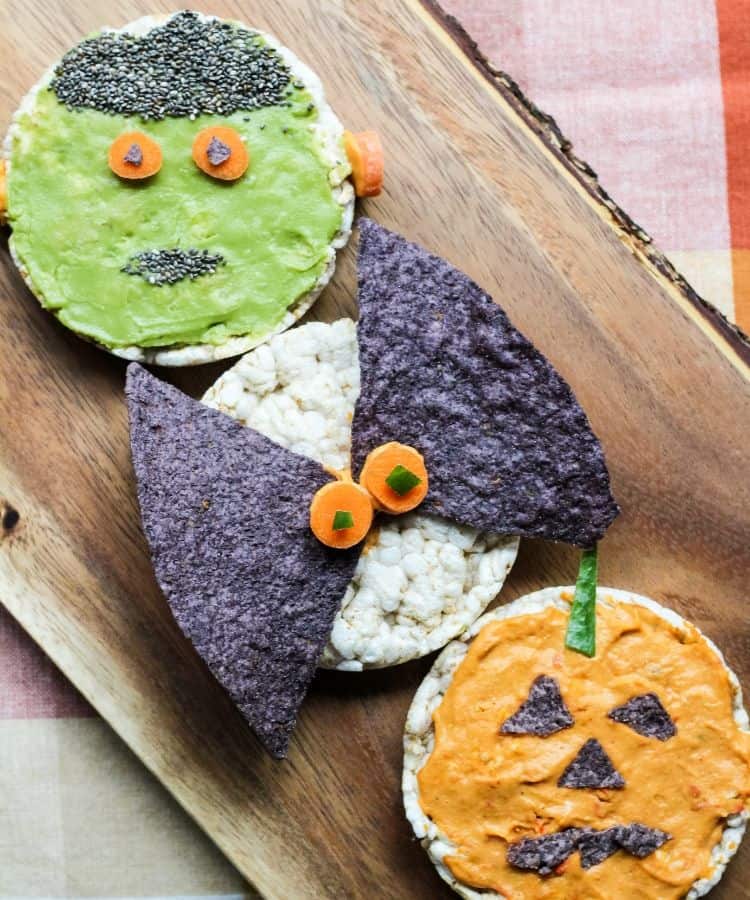 Rice cakes give cakes a bad name. Even adults ould agree that eating them is an acquired taste. You can be sure that they're among the least favorite snacks for kids, but with some spreads and creams, and tortilla chips, they can become the snack of the season. Great for kids suffering from different food allergies.
3. Pumpkin Patch Dirt Cups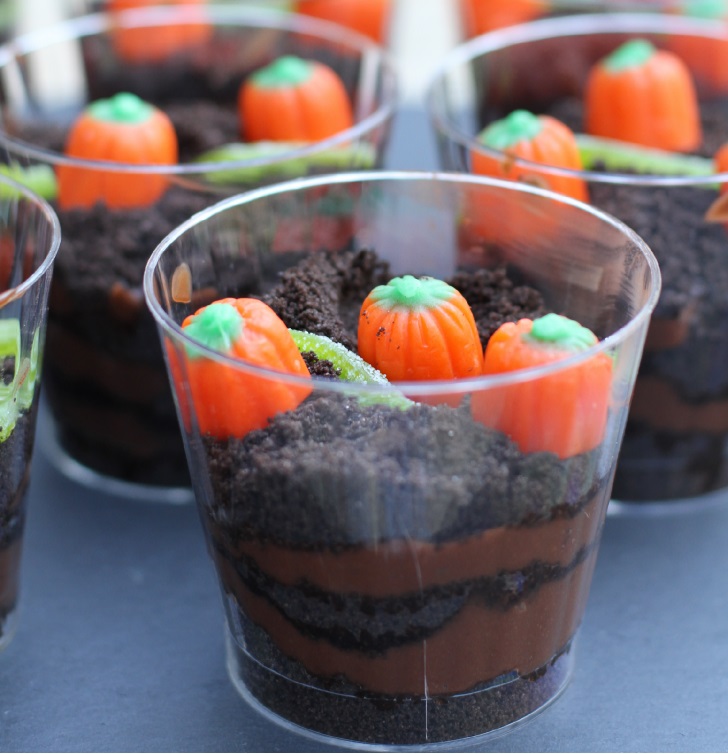 Some would say Oreos are tolerable cookies for kids, so if you want you can turn them into something satisfying and spooky for Halloween. Some ground-up Oreos and chocolate pudding in a cum make a very convincing cup of earth. Add some gummy pumpkins and you have a mini edible pumping patch in a cup.
4. Rattlesnake Bite Dogs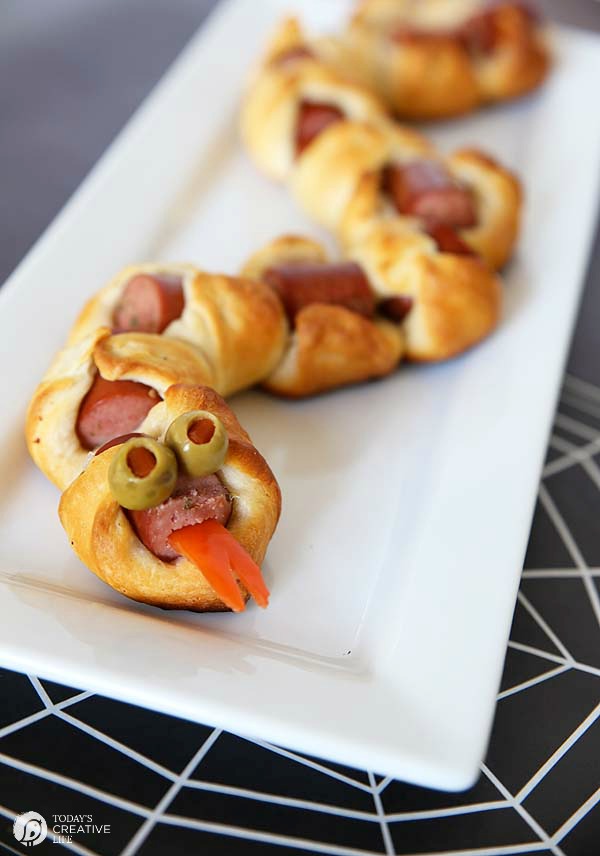 For salty snacks, there are plenty of interesting recipes to find using a hotdog.  And since snakes aren't as popular as spiders or monsters, it is exactly why we chose these rattlesnake bites for our list. This is one snake no one will be afraid of, for sure.
5. Witches Hats and Brooms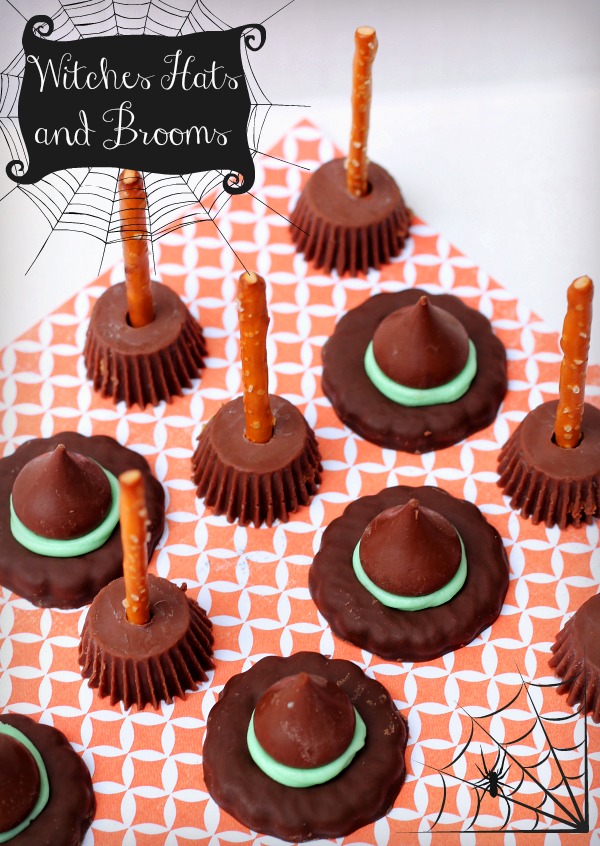 Another remake of candies you might already have at hand is these sweet one-bite witches brooms and hats. With the Hersey's kisses, peanut butter cups, plain cookies, and pretzel sticks, these are definitely not the healthiest Halloween treat of the bunch, you have to give in sometimes.
6. Pom Pom Monster Snacks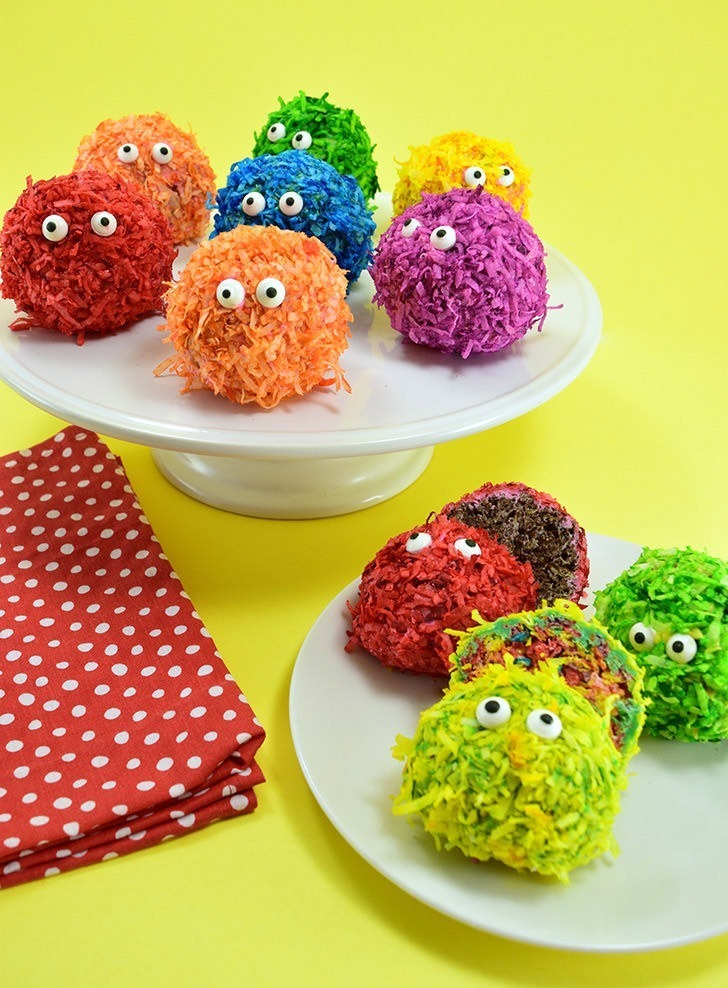 How to make the kids eat cereal during Halloween. Snuck it inside these adorable and fluffy pom-pom monsters. Done with cereal, marshmallow, and butter, these treats will be the bomb at the party.
7. Witch Finger Breadsticks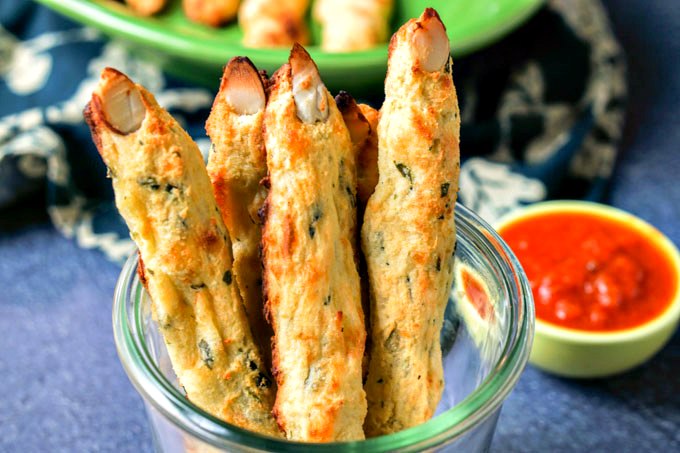 Every party needs some breadsticks for the snack table. Halloween is no different, except you might have a hard time finding them since someone seams to replace them with severed witch's fingers. Oh, well. At least they're low carb and crunchy.
8. Chocolate Caramel Apple Mummies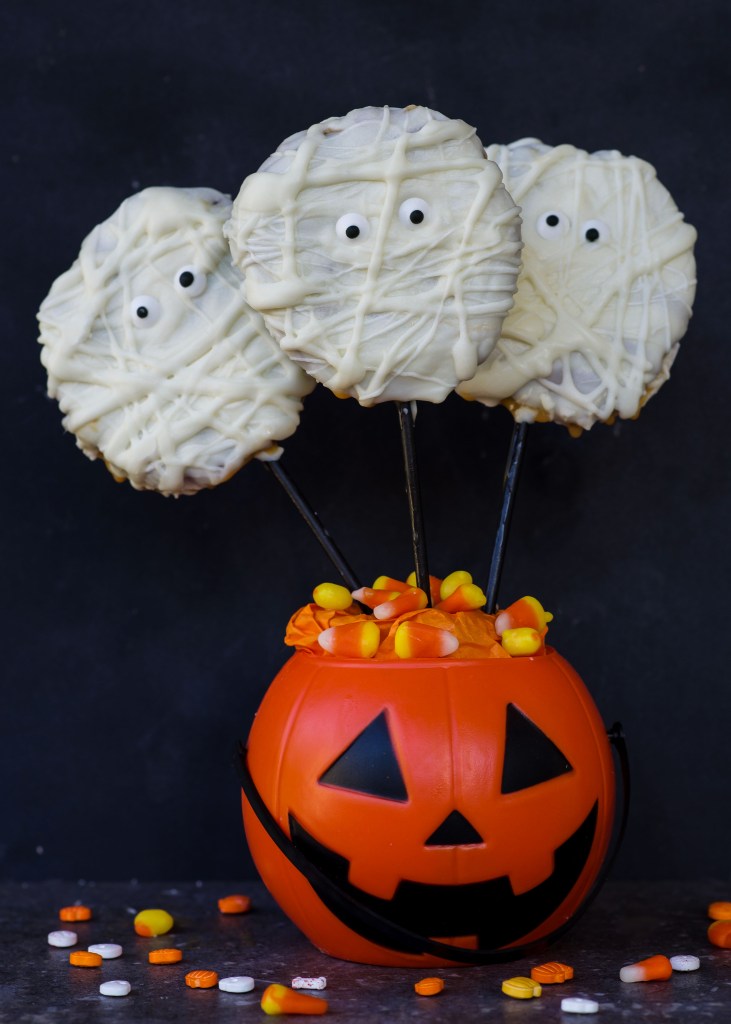 Caramel apples are a traditional Halloween snack. If we're being honest, most children, if they actually choose to get a caramel apple, would only eat the caramel part and throw the apple away. It's time for a caramel apple update, and we think these mummy caramel apple slices are one of the possible winners.
9. Ghost Meringue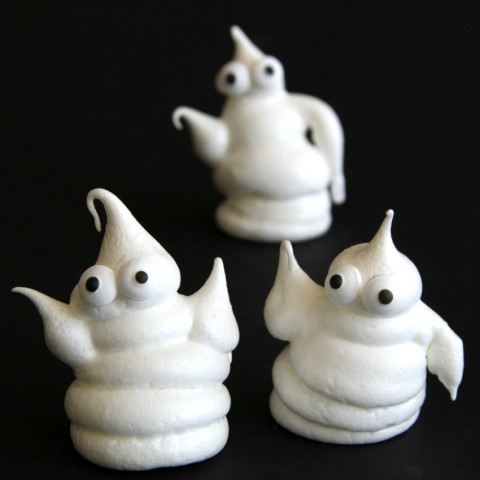 Egg whites and sugar are all you need to make a whole bunch of these fluffy ghost meringues. And they're so light and easy to eat, you will wonder where all the ghosts have disappeared to the moment after you serve them to the kids.
10. Rice Krispie Monsters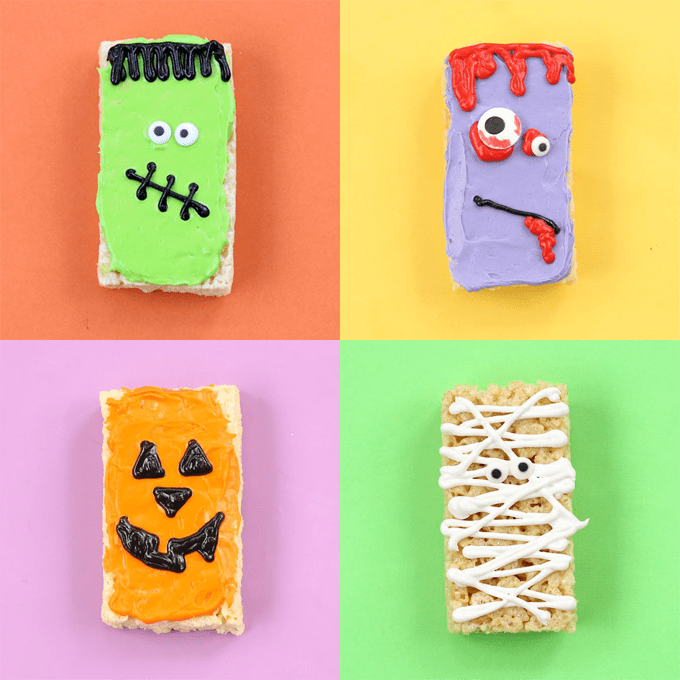 Rice Crispies, though slightly better than the rice cakes can also be transformed into a desirable Halloween snack. With some frosting and food coloring, you can make the Halloween classic characters, like the mummy, jack-o-lantern, zombie, Frankenstein's monster, and whichever other you can think of.
11. Halloween Monster Cookies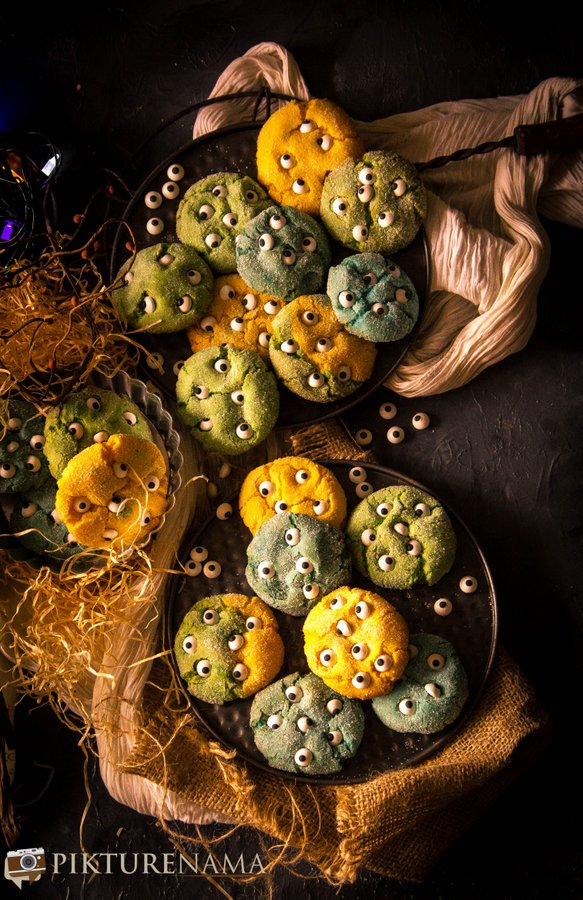 Decorating food isn't your cup of tea? Then you'll love these cookies, and your kids even more so. With a batter similar to chocolate chip cookies, instead of chocolate chips, you put some candy eyes and with a food coloring, your monster cookies will be done and gone in no time.
12. Monster Pretzel Rods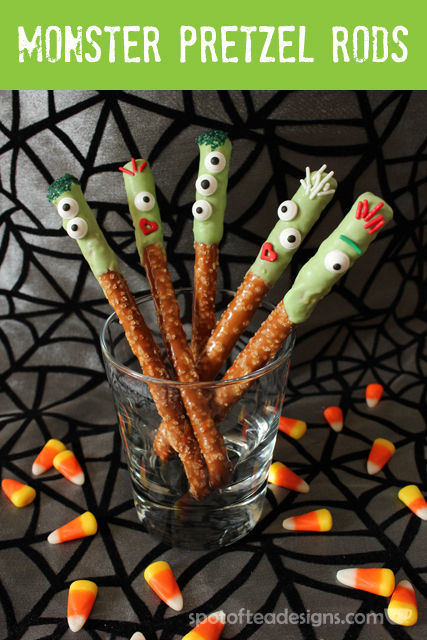 Pretzel sticks are a popular salty snack all year round, but to make it the best snack for Halloween, there's a very fast and easy way to do it. With some melted colored chocolate, a few candy eyes, and sprinkles you can turn the pretzel sticks into a horde of stick monsters the kids can devour.
13. Halloween Caramel Corn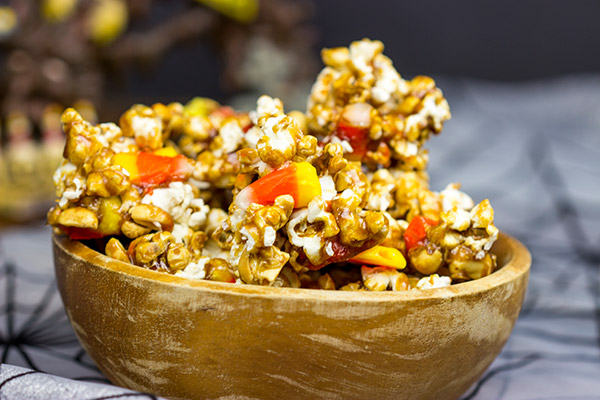 Most healthier snacks need to be made spooky or enticing to make the kids choose them instead of the sugary candies, it just needs to be fun, and nothings id more fun than popcorn. And in the spirit of All Hallows Eve, you can allow them to enjoy some sweet caramel corn with a sprinkle of candy corn, all they want.
14. Candy Corn Cob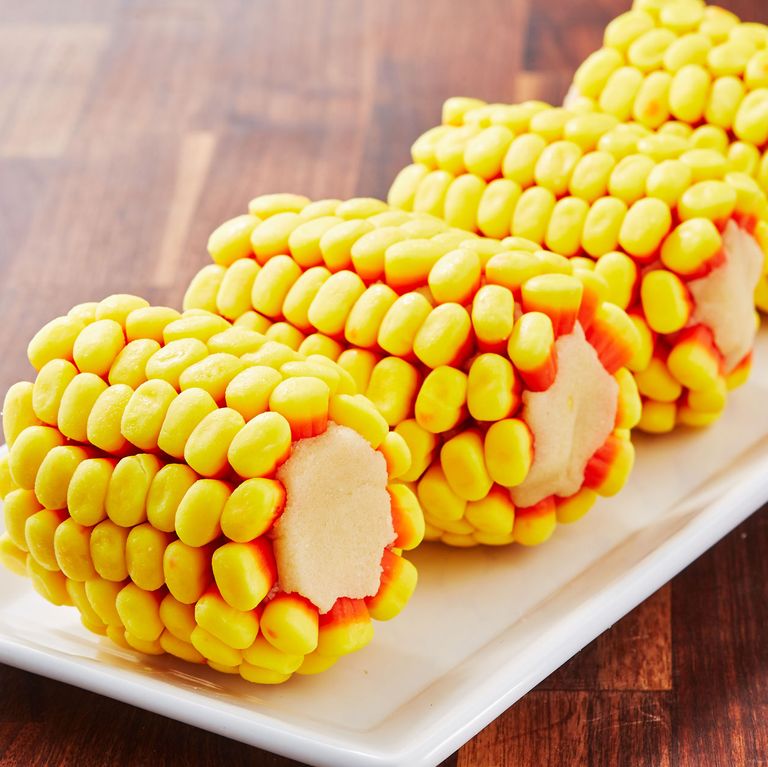 Tricking is also part of the Halloween tradition, which is why you must try making your kids eat these corn cobs. After all, with all that candy being handed around, which kid would even think of eating healthy, tasty corn on a cob? No one, unless you give them this corn on a cob. We know it's hard to tell, but this is candy corn on cookie dough. It looks and tastes amazing. It will be a sure hit.
15. PBJ Spiders And Other Snacks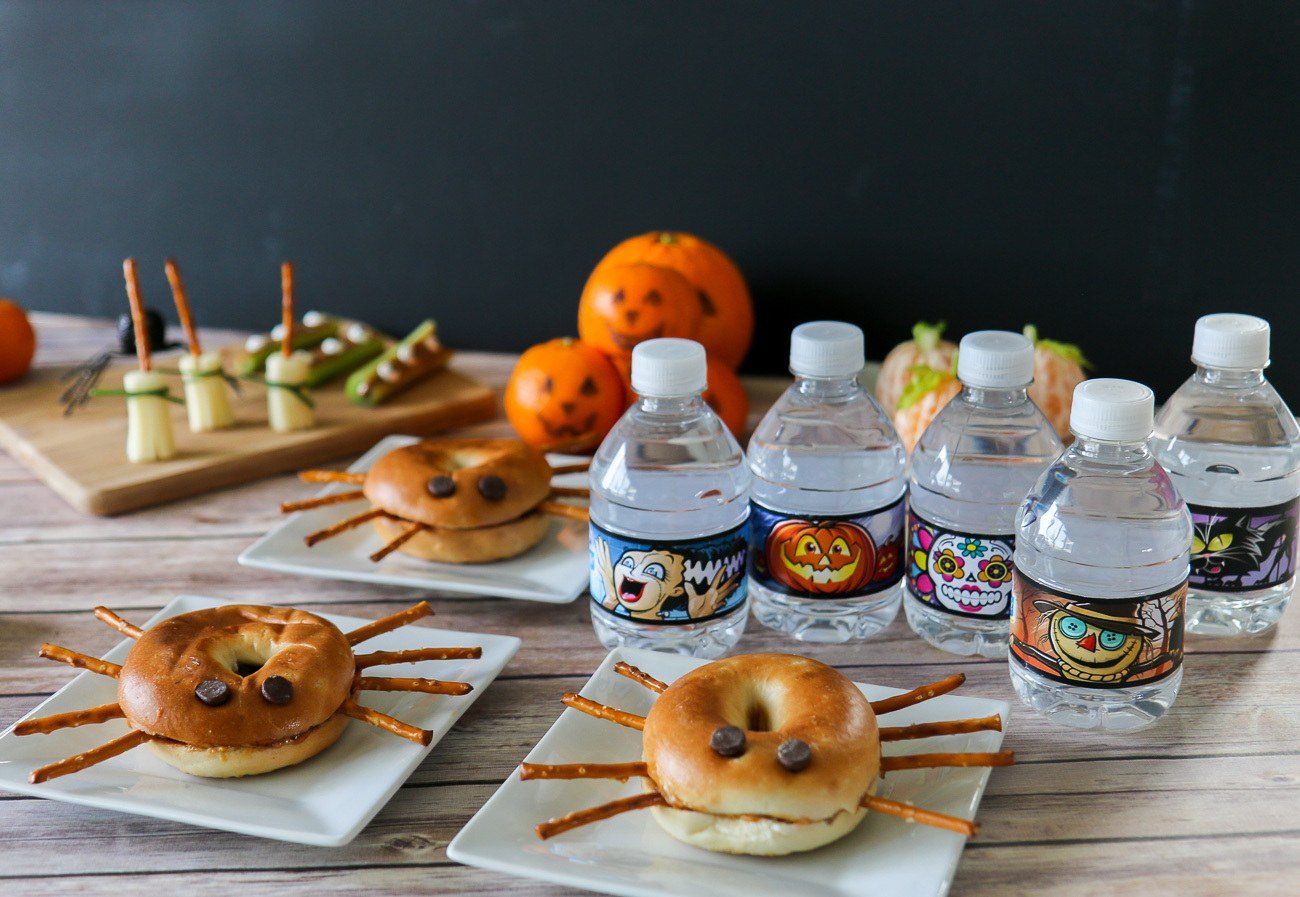 Trick-or-treaters can't go around gathering candies from neighbors fueled on candies and sweets alone, no matter how much they'll like that. They still need to eat at least a filling snack. And you can bet that they won't need to be asked twice to dig in this spooky meal combo.
16. Halloween Skewers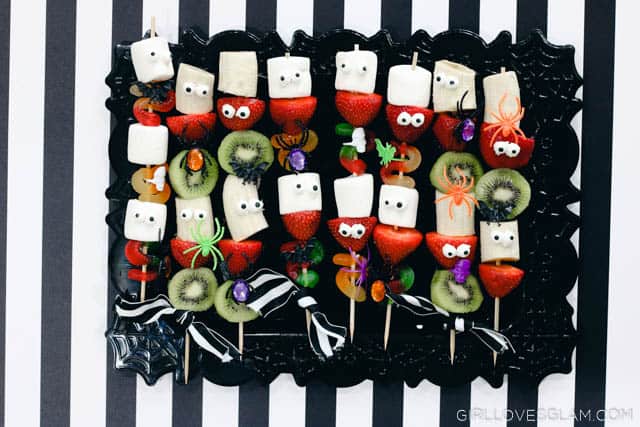 Going back to the fresh fruit Halloween snacks, here is an easy idea you can easily whip up in no time. The kids can even help as well. Make some fruit and gummy kebabs by putting different pieces of fruit and some gummies on skewers. No grill needed. Just dig in.
17. Candy Corn Pretzels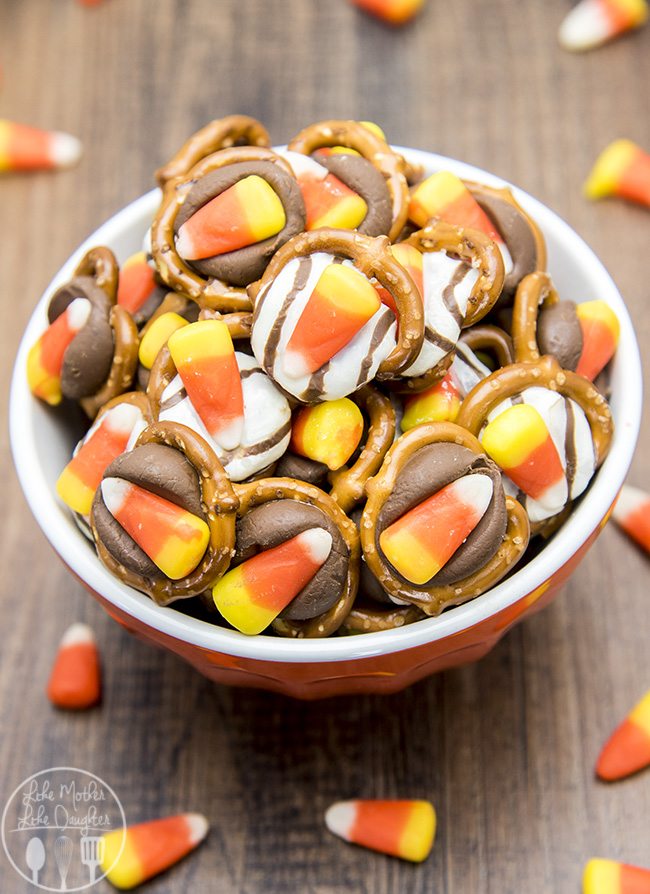 Another salty Halloween classic is the candy corn pretzel hugs. They're both colorful, sweet, and salty. A snack that has it all, and it's preparation is much easier and faster than you think.
18. Halloween Cake Pops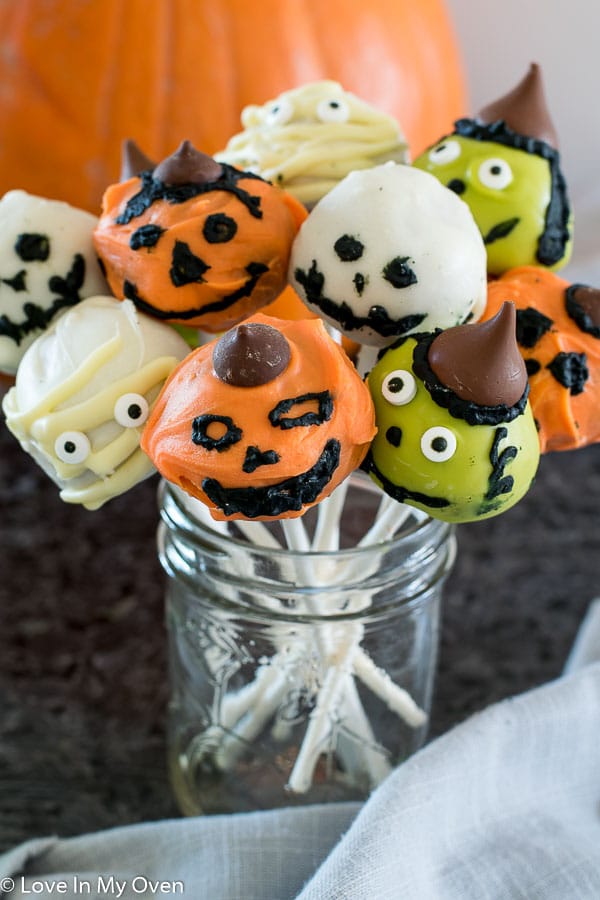 Because no special occasion or holiday can go without cake. And since Halloween already is filled with candy, making an entire cake seems redundant. however, cake pops are just fine. They're very fun, bite-sized cakes that you can decorate in whatever Halloween theme of your choosing.
19. Jack-O-Oranges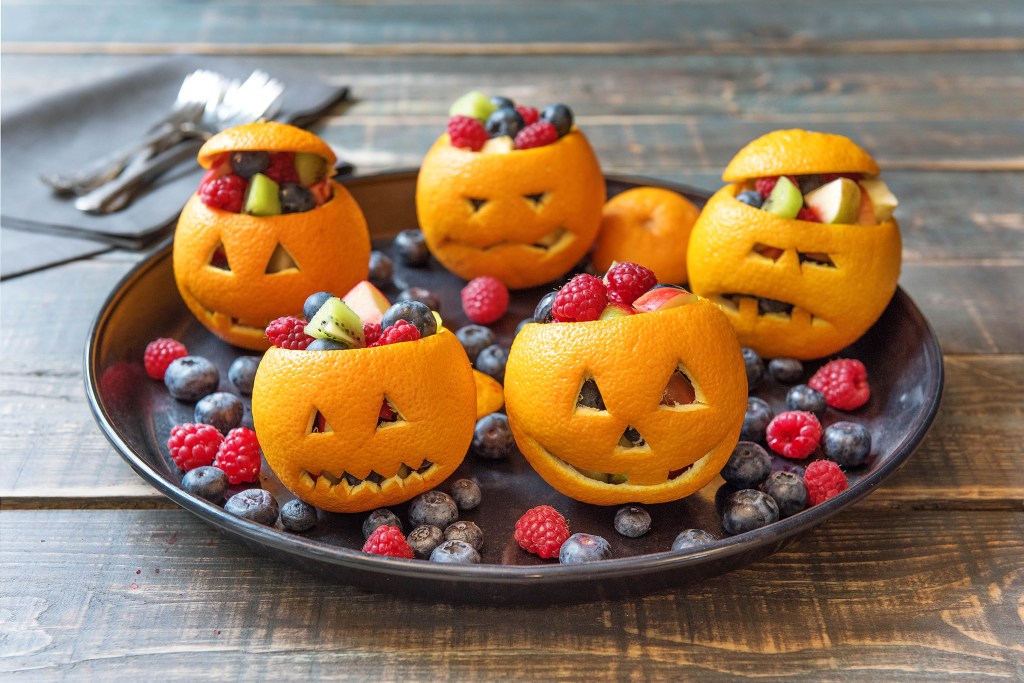 We're ending our list with the last, but certainly not least symbol of Halloween – the jack-o-lantern. Only this one isn't carved from a big pumpkin with a candle inside, but from oranges or tangerines and filled to the brim with fruits and berries. So fresh, so healthy, and so frighteningly yummy.
That's all the spooky snack we selected for you. we hope you found some you and your family would like to try this Halloween. What is your favorite non-candy Halloween snack? Share your thoughts and ideas in the comment section below.