Green hair is a high-fashion hair color that will get you the spotlight wherever you go. From vibrant emeralds to rocker neons to leafy pastels, the green hair trend has taken over the feeds of famous personalities like Kim K and Dua Lipa and is getting colorists thrilled and inspired to create similar color creations.
This hair color has become super popular because of its ability to help the wearer stand out. Green hair has taken root because of it being fresh and looking great on a bunch of skin tones. Green hair dye is being infused into highlights, lowlights, ombre, and other coloring techniques. It's an impeccable color that promises magic and attention.
So we are thrilled to show you our list of top 15 looks showcasing green hair. Enjoy our picks!
1. Mint Green Hair Look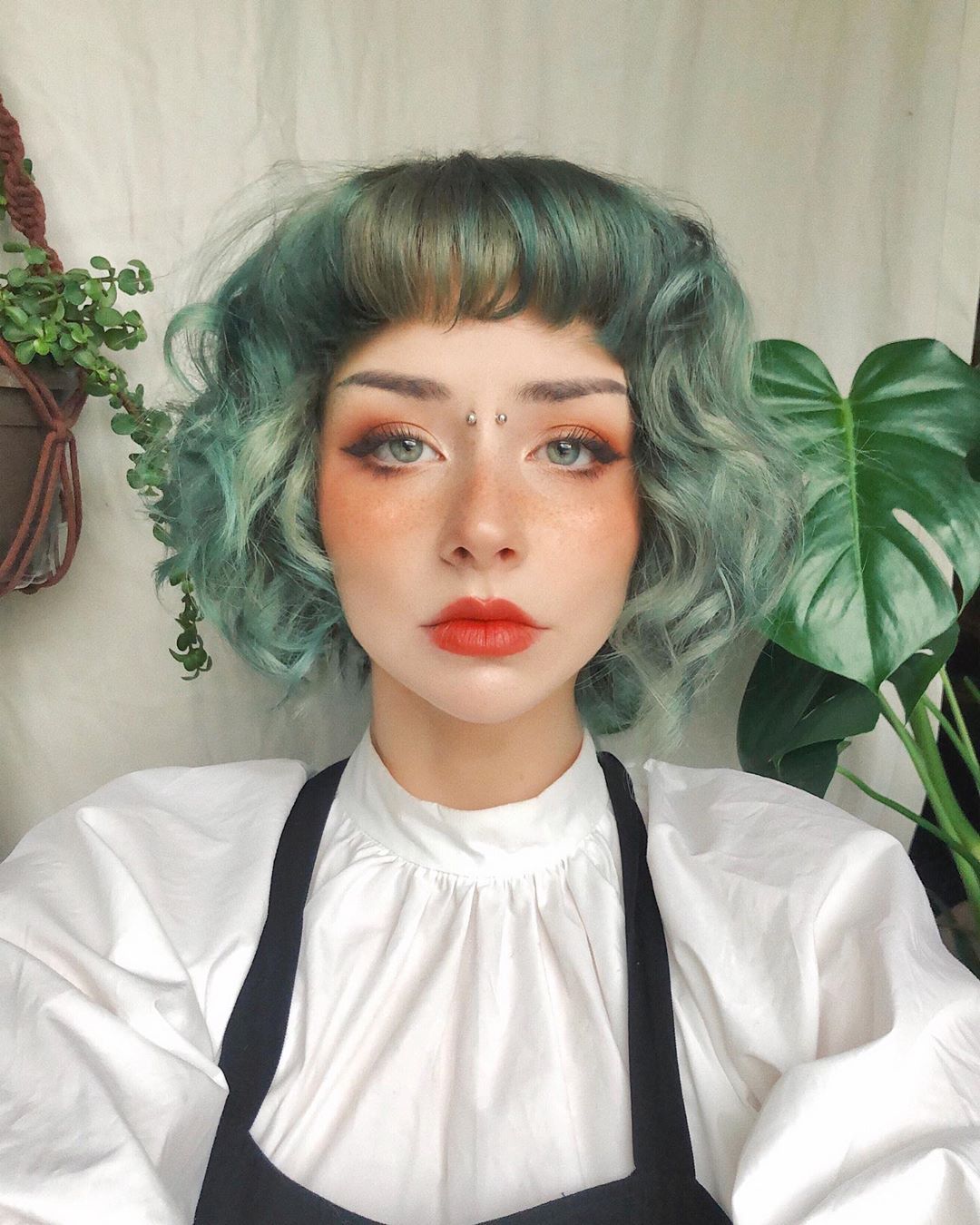 This minty, fresh pastel green color is an amazing color to rock. Green and mint tones are reminiscent of spring, as the cool starts to fade away and we start to see all the fresh new life growing in nature. It's a beautiful hue on either cool or warmer color ranges.
2. Emerald Green Hair Look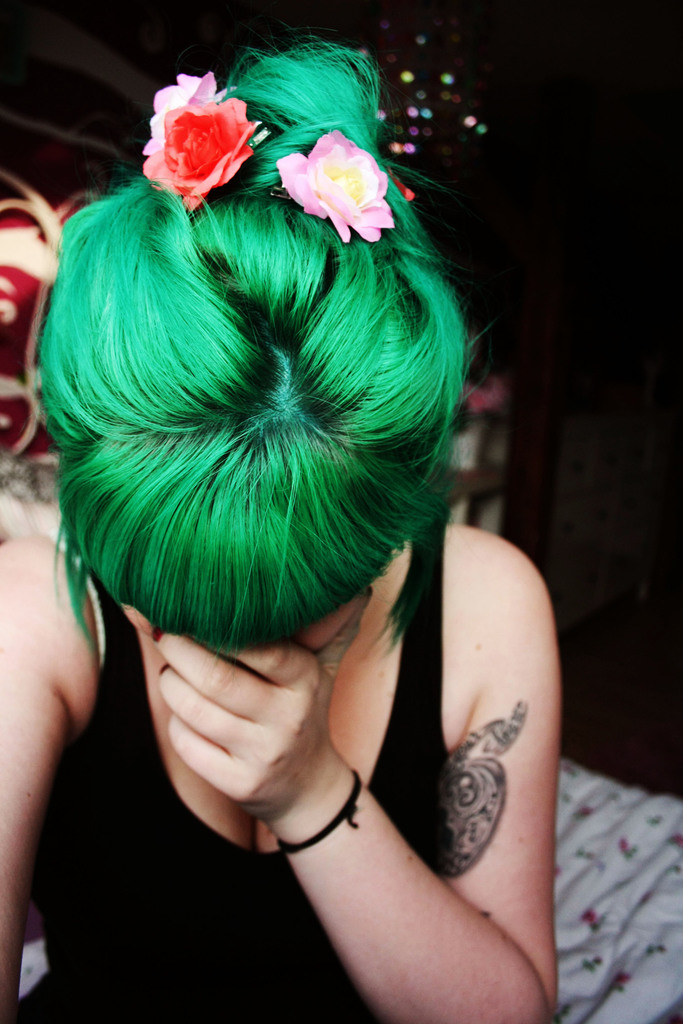 More of a gemstone girl? This jewel-toned hair look is the perfect way to get in on the green hair trend. This shade is perfect for fall and winter, and the rich color will look beautiful against medium and dark skin tones.
3. Lime Green Hair Look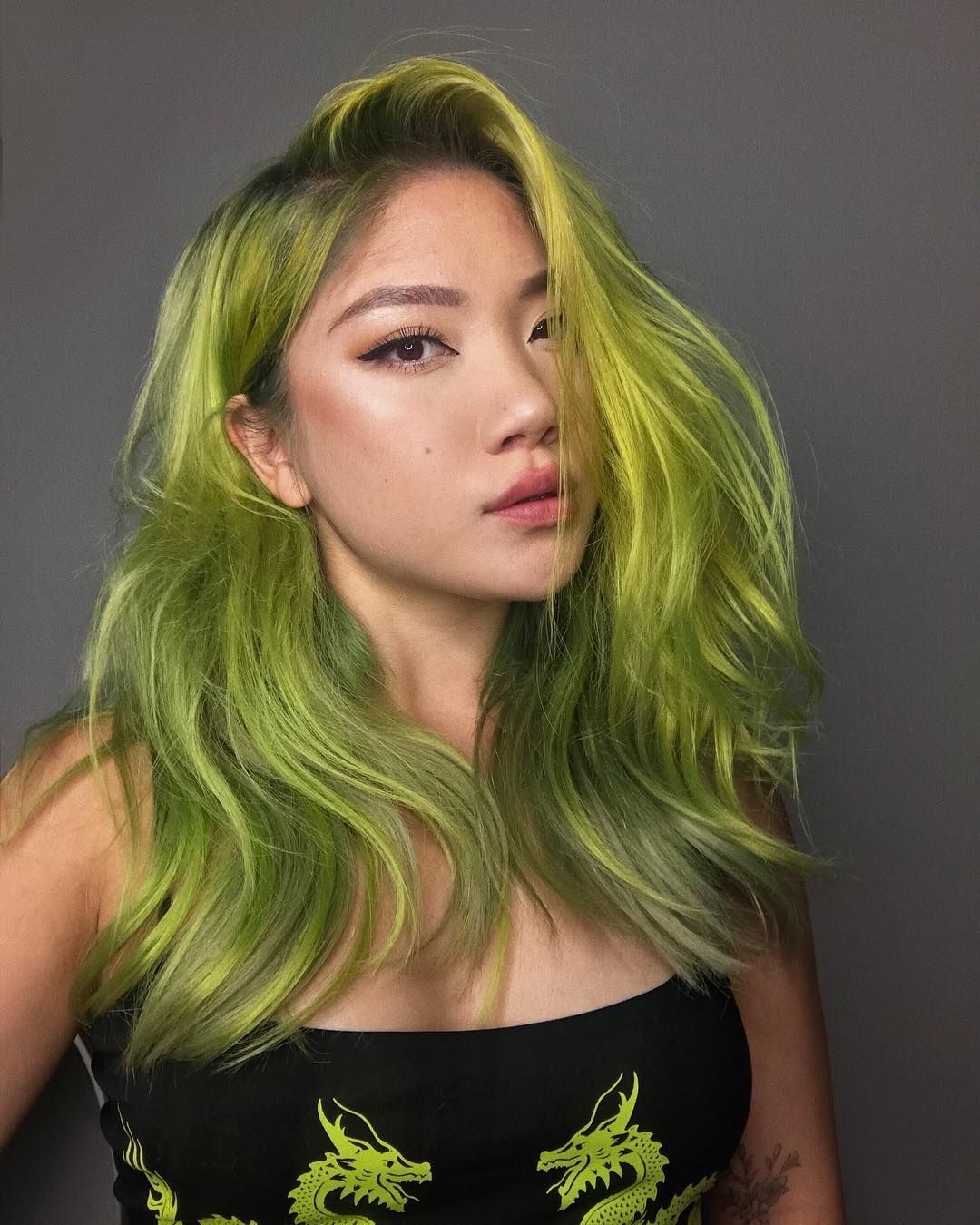 If you keep up with fashion, it won't be a surprise that lime green hair is totally on-trend. After all, fashion and beauty trends almost always bleed into one another. Of course, this bold hue isn't for everyone, but give it a try if you're feeling daring.
4. Green Dip Dye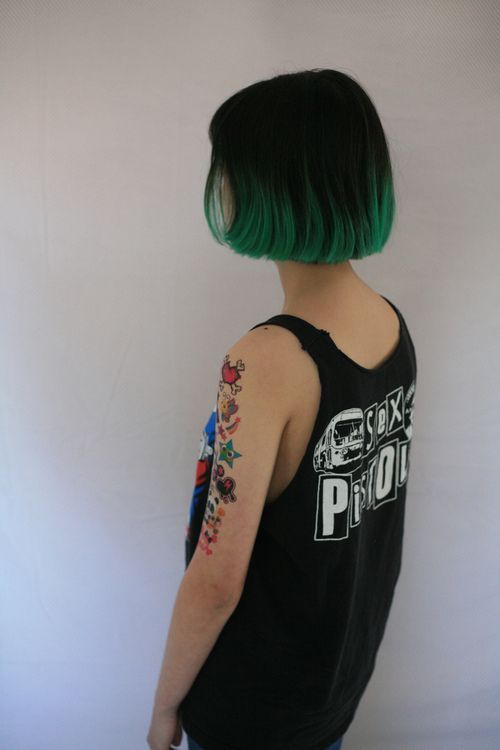 A black base with emerald green ends will fall perfectly in line with the cool-girl aesthetic. This trendy hair color adds a modern spin to your green hair and will certainly call attention to your strands. Not to mention, it takes low-maintenance hair color to the next level as there's no need for constant touch-ups.
5. Neop Deep Dye Hair Look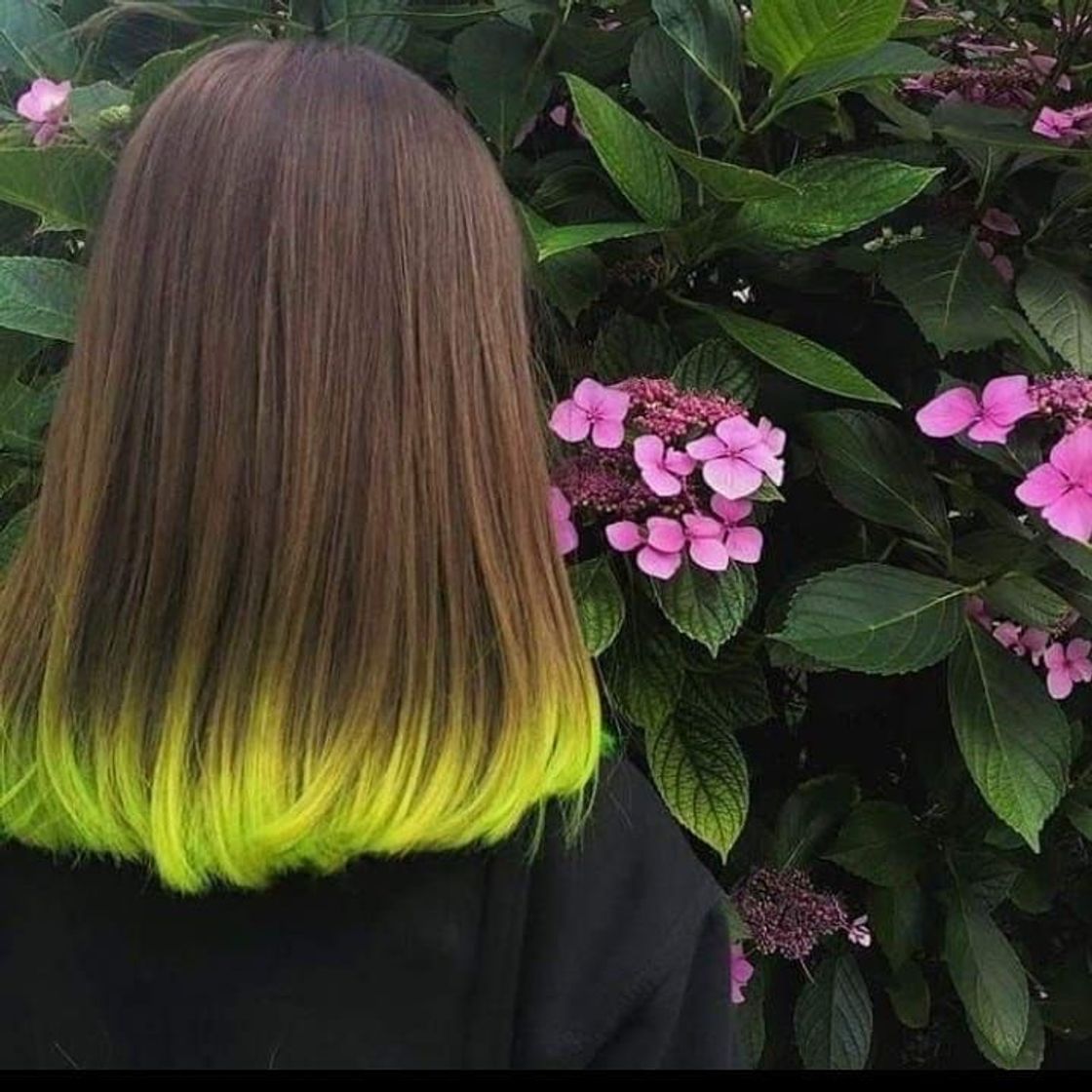 You can add some depth to your brown strands with neon green deep dye. It's a gorgeous option for those who can't resist natural but edgy hair looks, and this hair color will serve up the right amount of contrast for a winning look.
6. Neon Green Underlights Hair Look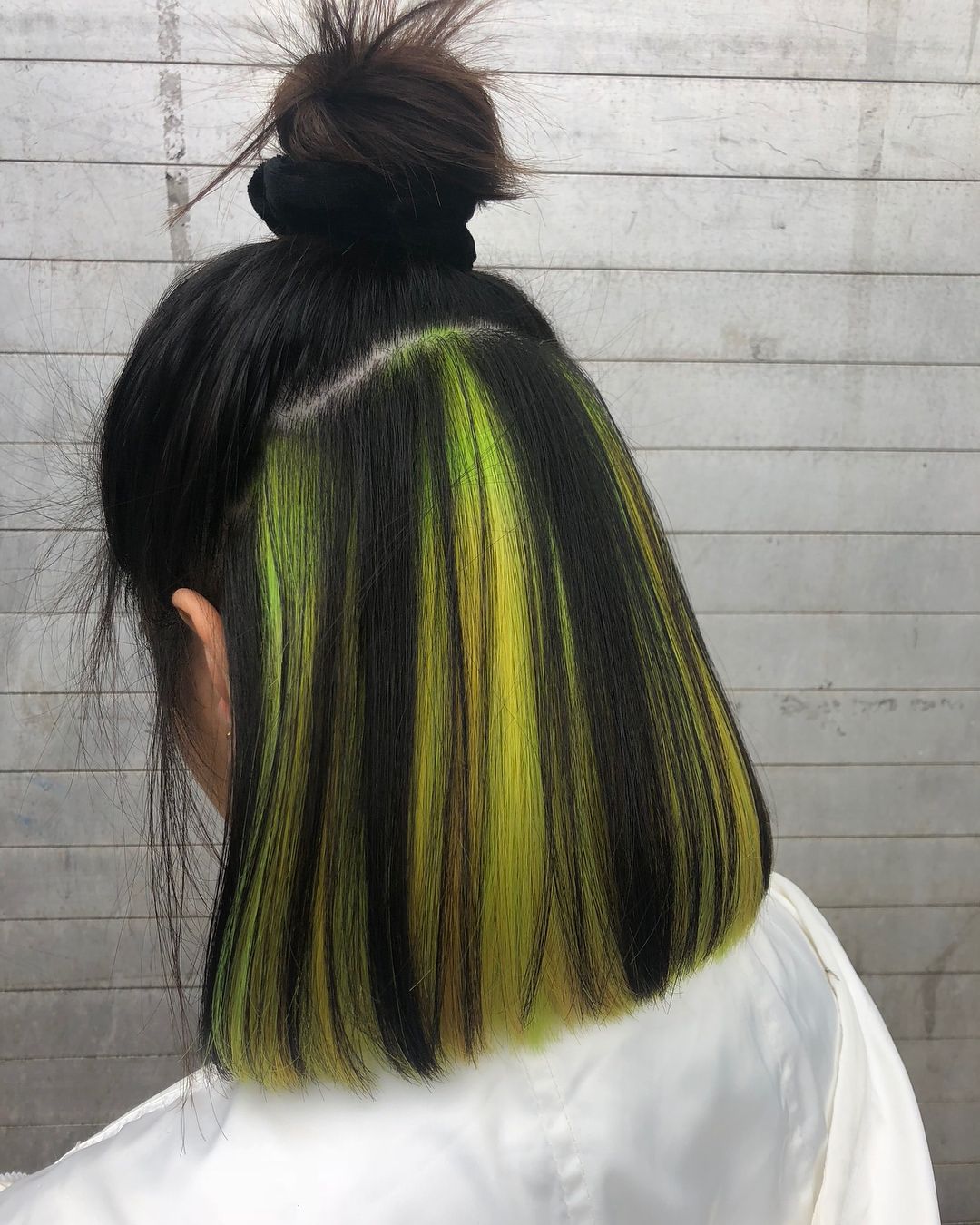 Underlights is a major trend right now, and we can see why. This look is so edgy and attention-grabbing, especially with the neon color that is used in the picture. As much as this look screams boldness, you can hide it whenever you like. Cool, right?
7. Sea-Green Hair Look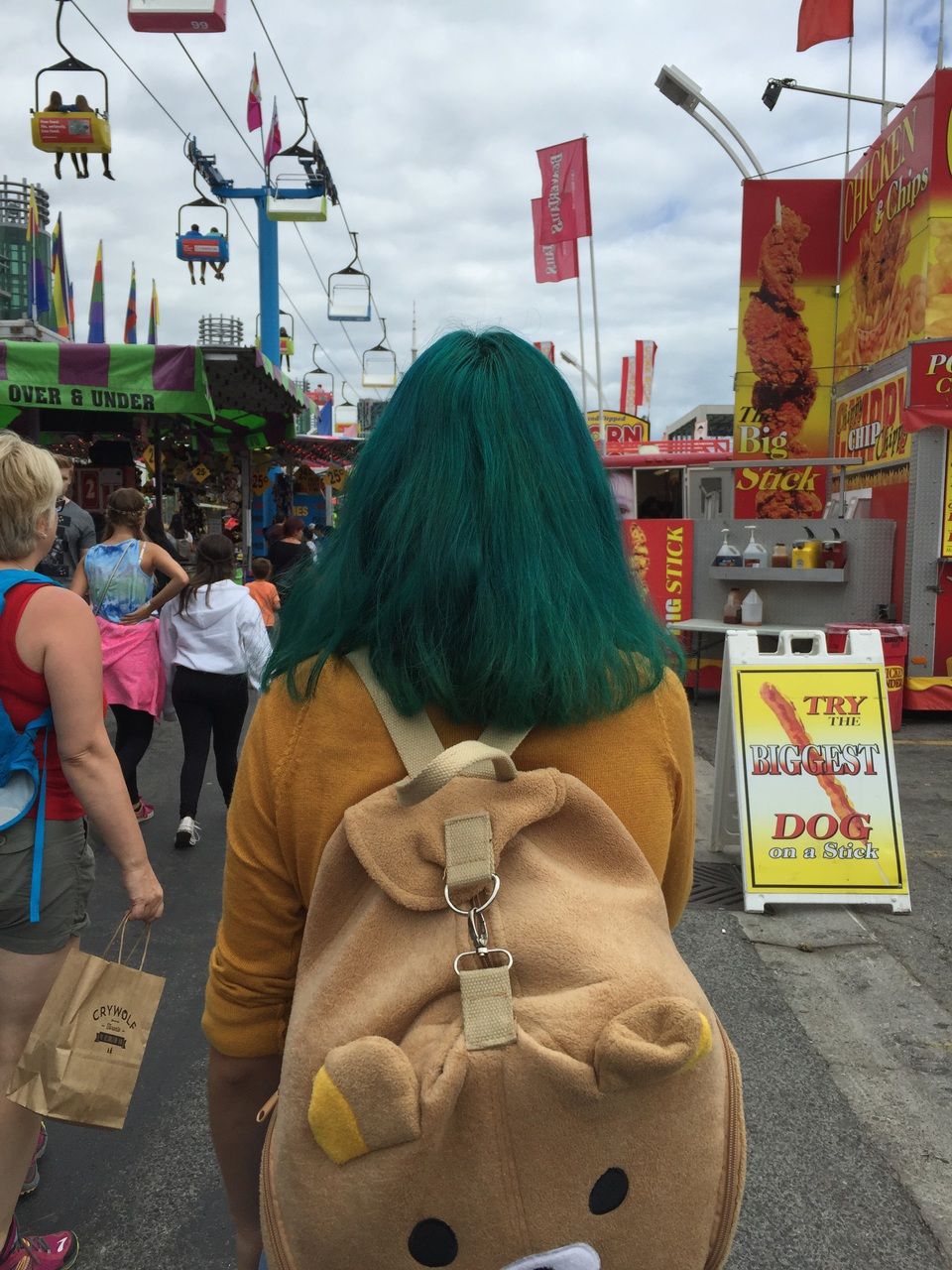 Sea green hair hits all the marks: It's not too dark and not too bright. The shade is equal parts edgy and sultry, and we love that it emulates the gorgeous green hues you admire while looking at the ocean. It's ideal for individuals who want to play with color without a bold touch—think of sea-green hair as your happy (but edgy) medium.
8. Green Hair With Blue Roots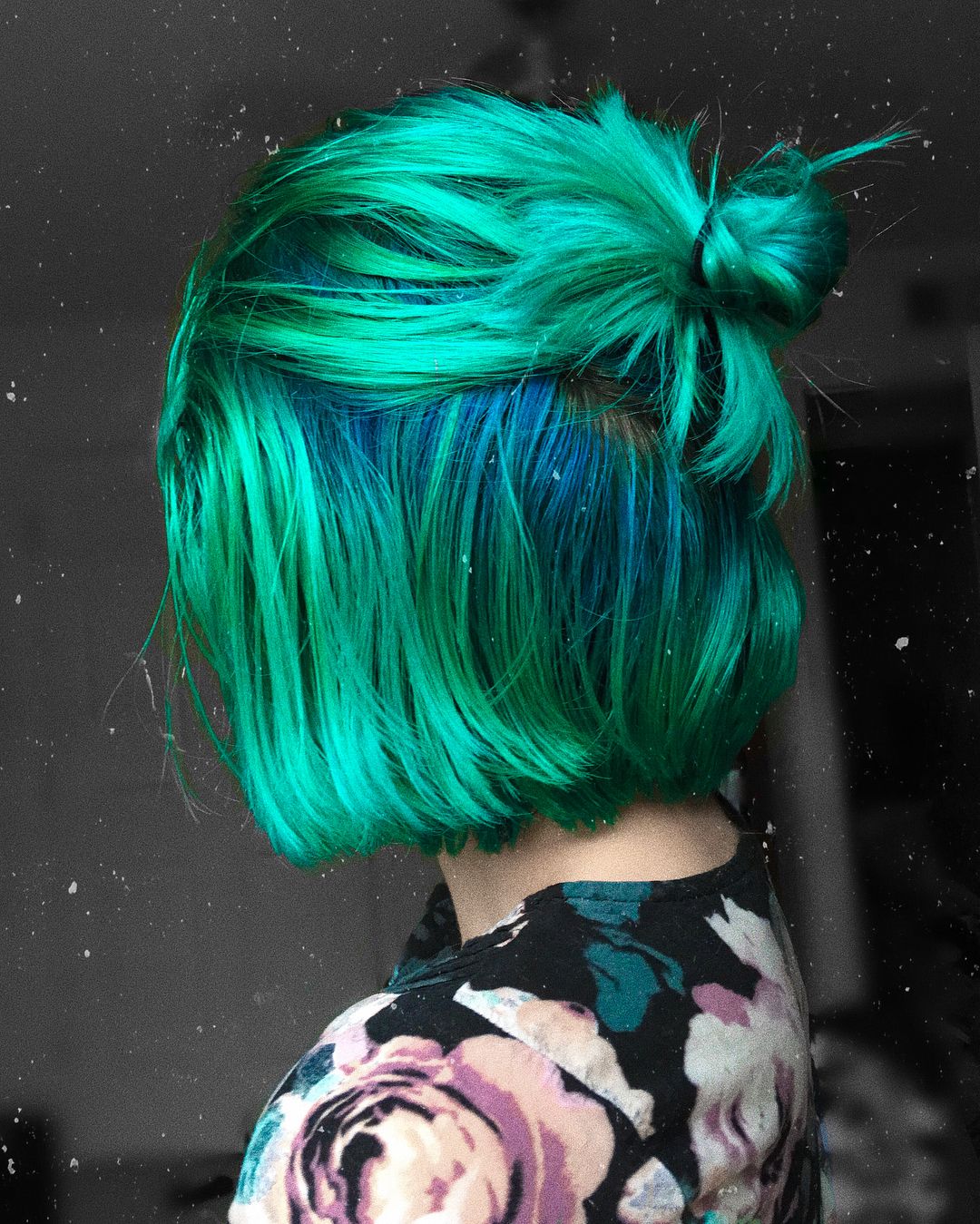 When you can't choose between blue hair color and a green one, one option is to rock a hair color that's equal parts blue and green. You can also consider mixing both shades into a beautiful transition from blue to green. Blue-green hair is super pretty and can flatter just about anyone since you can customize the color, going bluer or greener depending on your preferences.
9. Neon Green Hair Look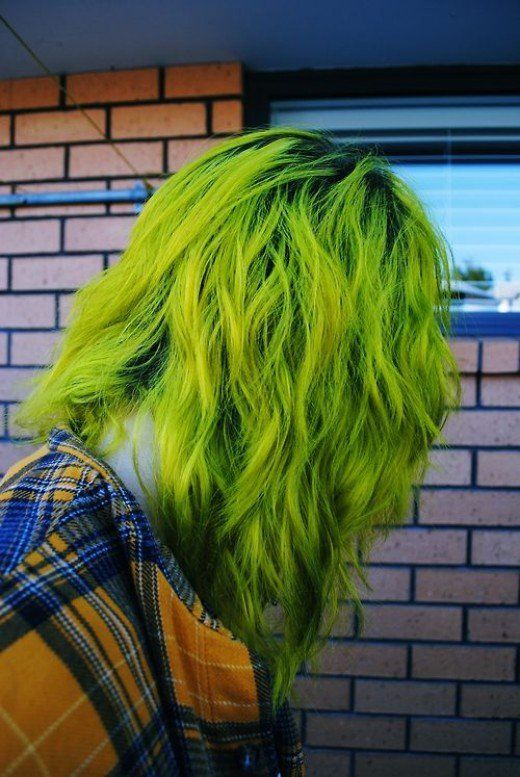 Honestly, there's nothing more eye-catching than super-bright, neon green hair. If you're looking to make a statement with your green hair color, neon green locks may be the way to do it. The daring color looks great on all skin tones.
10. Teal Green Hair Look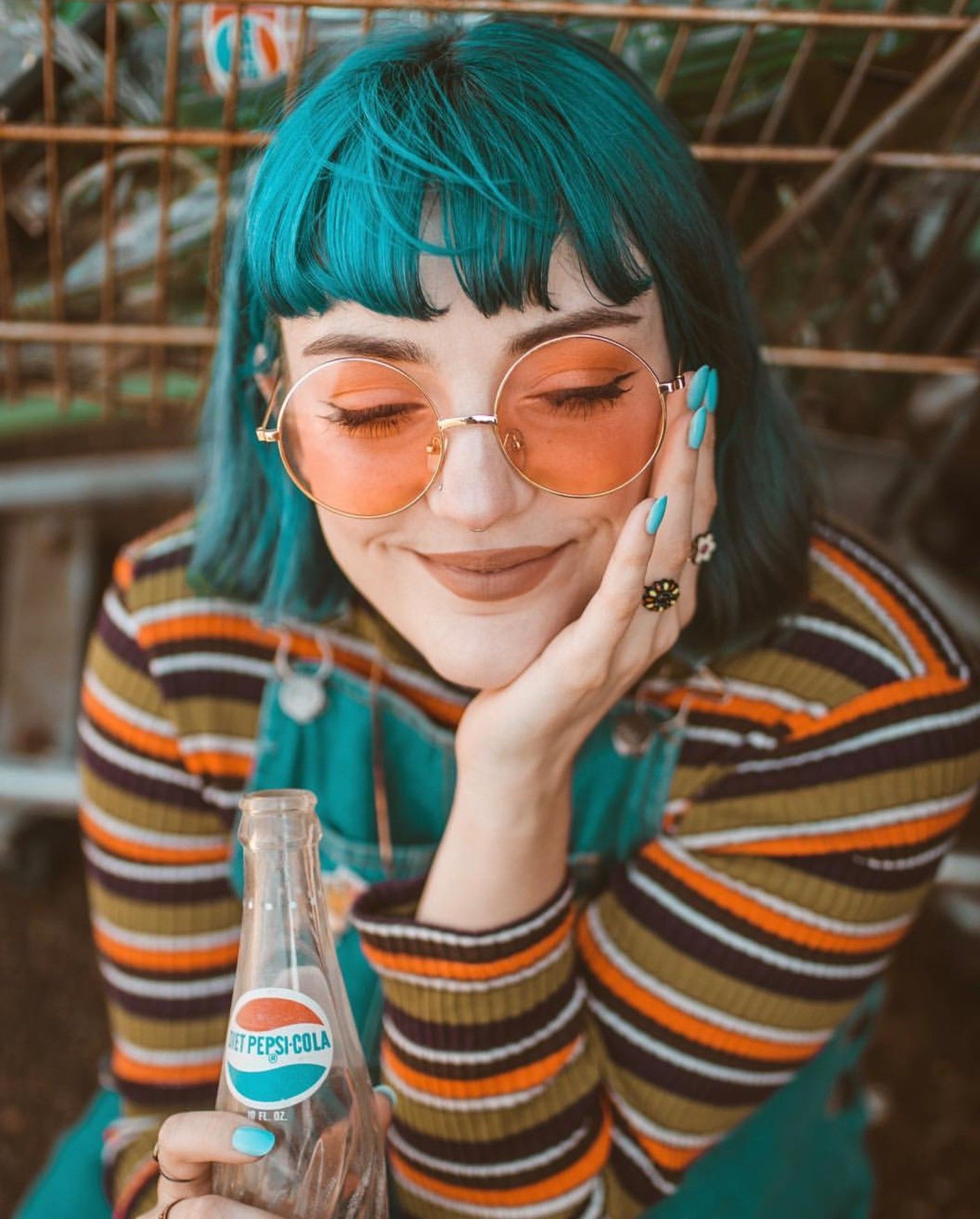 The teal green color screams mermaid vibes. Perfect for the summer days, but doable for any other season, this color looks so good on every skin type. You will definitely get a lot of compliments for doing this hair. Go for it and give it a try!
11. Teal Green Deep-Dye Hair Look
Dark green deep dye hair may seem a little too bold if you aren't used to edgy hair colors, but it's actually one of the more wearable options. If you already have dark brown or black hair, updating your look with a teal deep-dye will be just about as subtle as green hair can get.
12. Seafoam Green Hair Look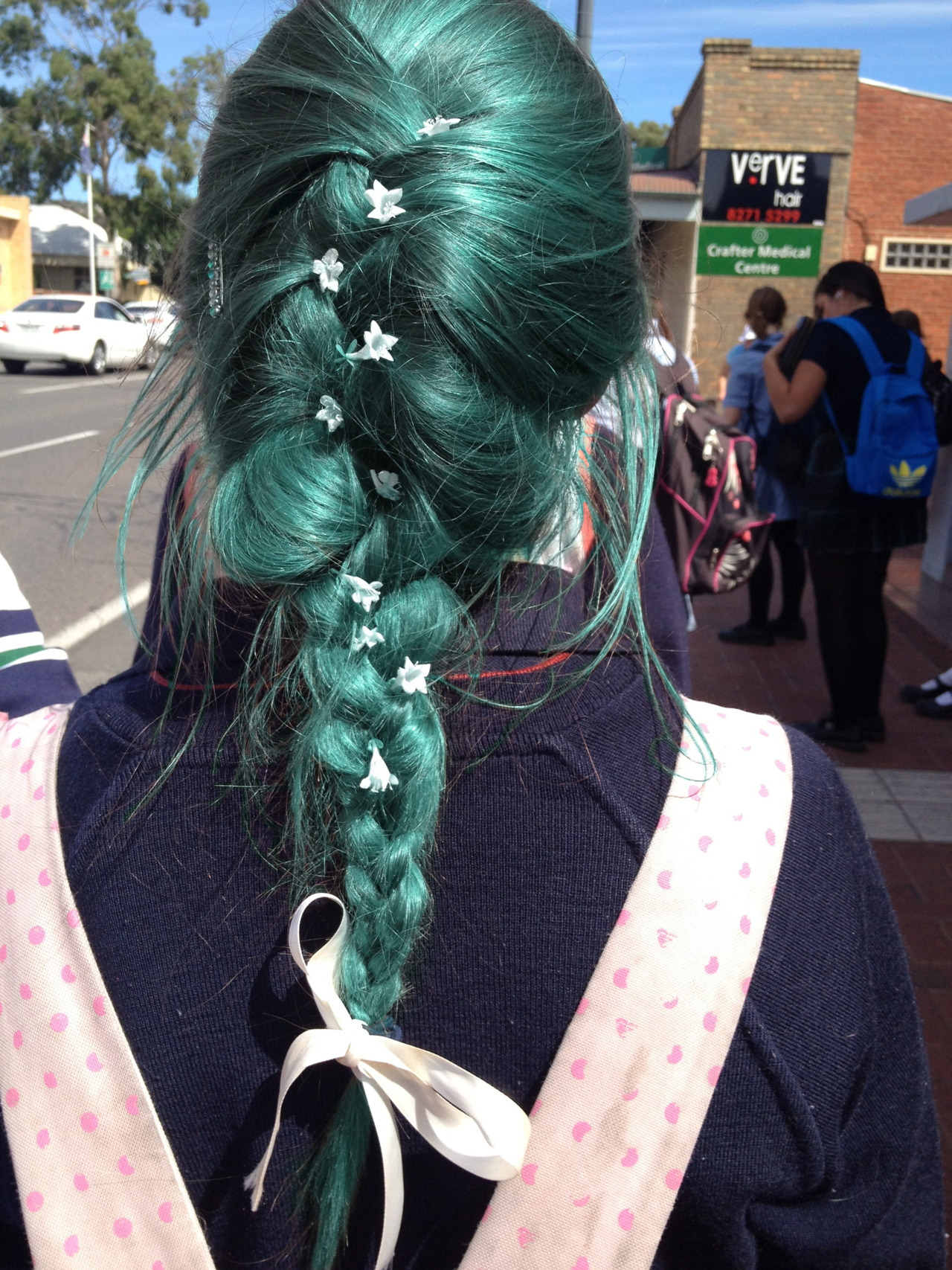 Seafoam green hair is a semi-pastel green hair color. If you have light hair, this color will be very easy to pull off and will create a look of calming peace—just like the oceans that inspired the name. Like mint, this green hair color will be most flattering on those with light skin tones.
13. Olive Green Hair Look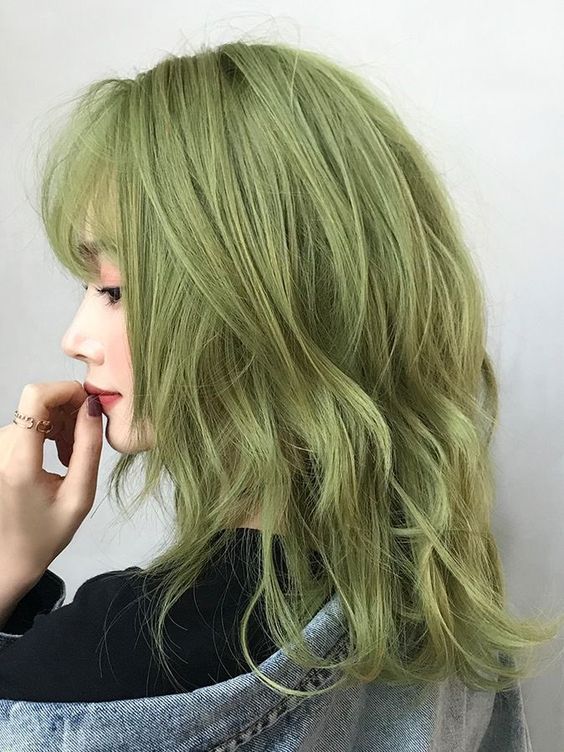 Add a vibrant yet cool touch to your beauty look with an olive green mane. This color is an unconventional green hue in every way. Olive green brings a sheen to the hair and is surprisingly vibrant and cool.
14. Green Spectrum Underlights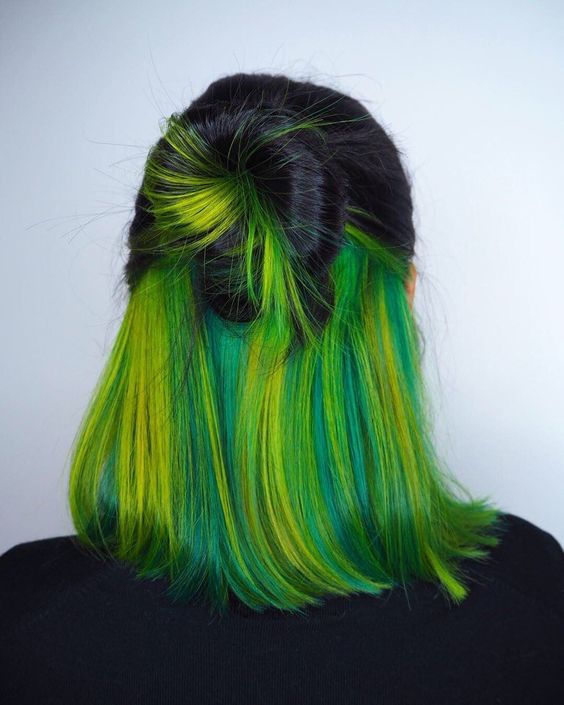 A bright green dye job is the perfect option for anyone who's searching for a rainbow 'do that still brings a heavy dose of badass. This mix of blue, yellow, and green is a combination that feels so artsy. And the best thing about this hairstyle is that you can hide the green part at any time!
15. E-girl Green Hairstyle Look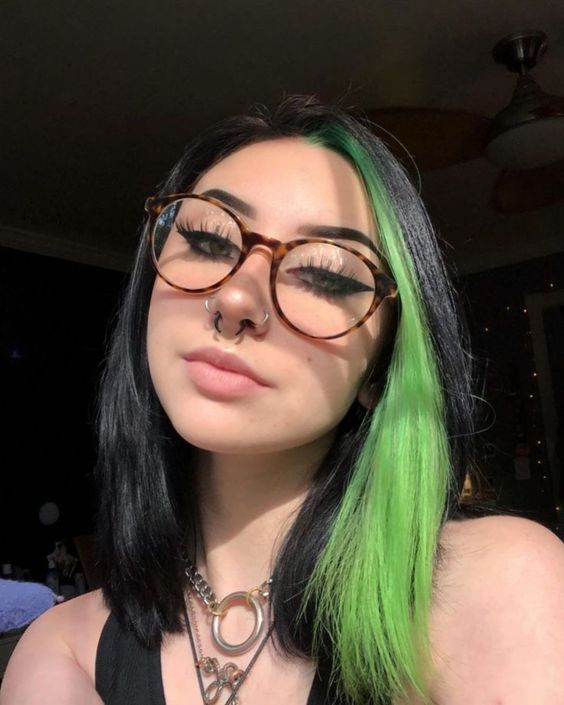 The e-girl look is everywhere online after becoming a major trend on TikTok. Inspired by anime, goth, and skate subcultures, it's a fun alternative style that combines cute and feminine touches with edgy vibes. If you consider doing this hair look go with neon bright colors, like neon green for an edgy and alternative vibe.
We all know that there comes a time in each of our lives where we feel the need for a major change. And most of the time we satisfy that change by dying our hair in crazy colors. So if you are in the mood for a major change, this is the perfect time to try out green hair. You are in luck because the green hair look is so on-trend right now! Feel free to leave a comment down below and share your favorite hair look!