The yard is always going to be an enigma for homeowners everywhere. An enigma as in thinking what to do with it and how to use the space, not as in the German coding machine. Where does one put the lilies, how to place the hedge, where do I put the roses, how do I landscape the whole thing etc. Perhaps the most headache-inducing thing we preoccupy ourselves with when it comes to landscaping is what sort of decorative fixtures to use and where to place them?
Yet one idea that comes to everyone's mind is are water fountain features. We know, there are some issues around installing those sorts of things, like the water lines, electric pumps, and cables and you might think the hassle is not worth the time, effort, and money. However, once those matters are taken care of, you are basically free to have whatever kind of water feature you want. Just think about how peaceful and relaxing your yard will become once you introduce the calming sound of bubbling water.
As always, we recommend getting your hands dirty for a custom-made element, instead of spending more money on store-bought water features and their professional installment that may not be entire to your liking. For those of you that have this sort of good trouble, we are on hand to help you figure out what sort of basin system can ennoble your yard.
1. Cascading Clay Pot Mini Fountain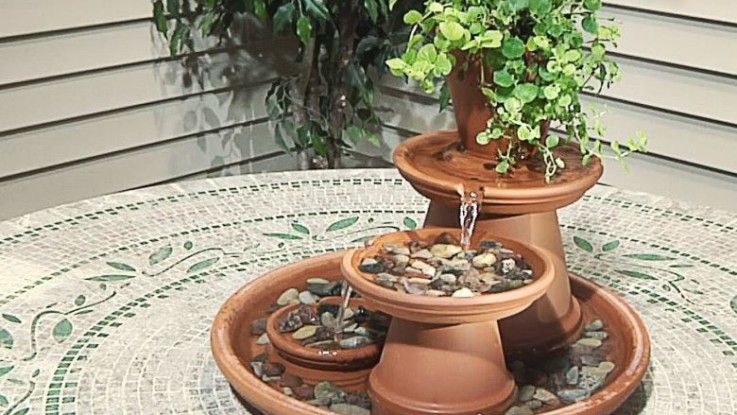 Let us start with the simplest one of all. Yes, you read it right. This one is made of clay pots, of all things. As mundane as these may be, when you put a few together, combined with some pebbles, you get quite the cute cascading mini fountain.
2. Zen Bamboo Shishi Odoshi "Deer Chaser" Fountain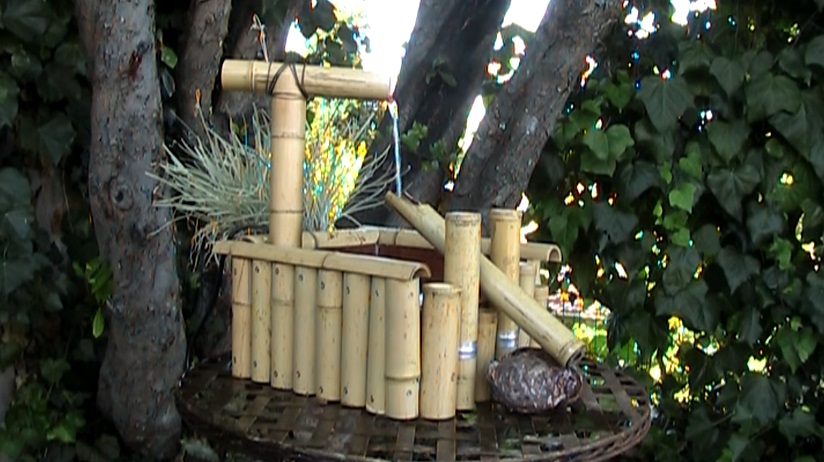 There is something about Japanese gardens that makes them ooze with zen tranquility. While making an entire Japanese garden in your yard is more than most people can chew, a bamboo shishi odoshi "deer chaser" fountain is something available to everyone. Just don't expect Mr. Miyagi to be teaching you 'wax on, wax off'.
3. Sprinkling Wall Water Feature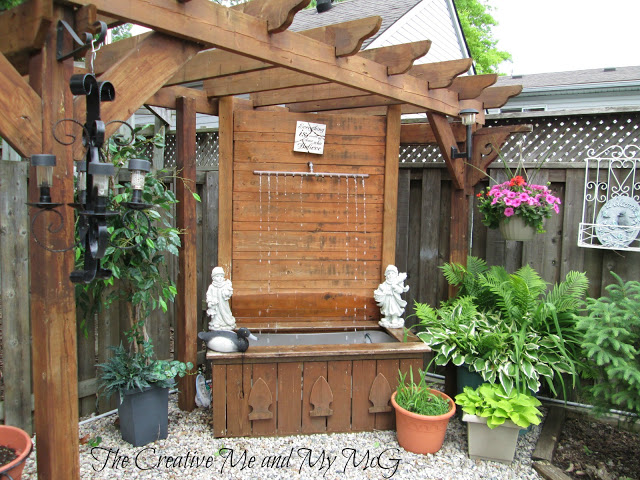 Of course, when you are already installing water pumps, you are not very far from having decorative sprinklers. Should you decide to go that extra step, you ought to consider this sprinkling wall feature. It shows much more than your average fountain.
4. Barrel And Pump Fountain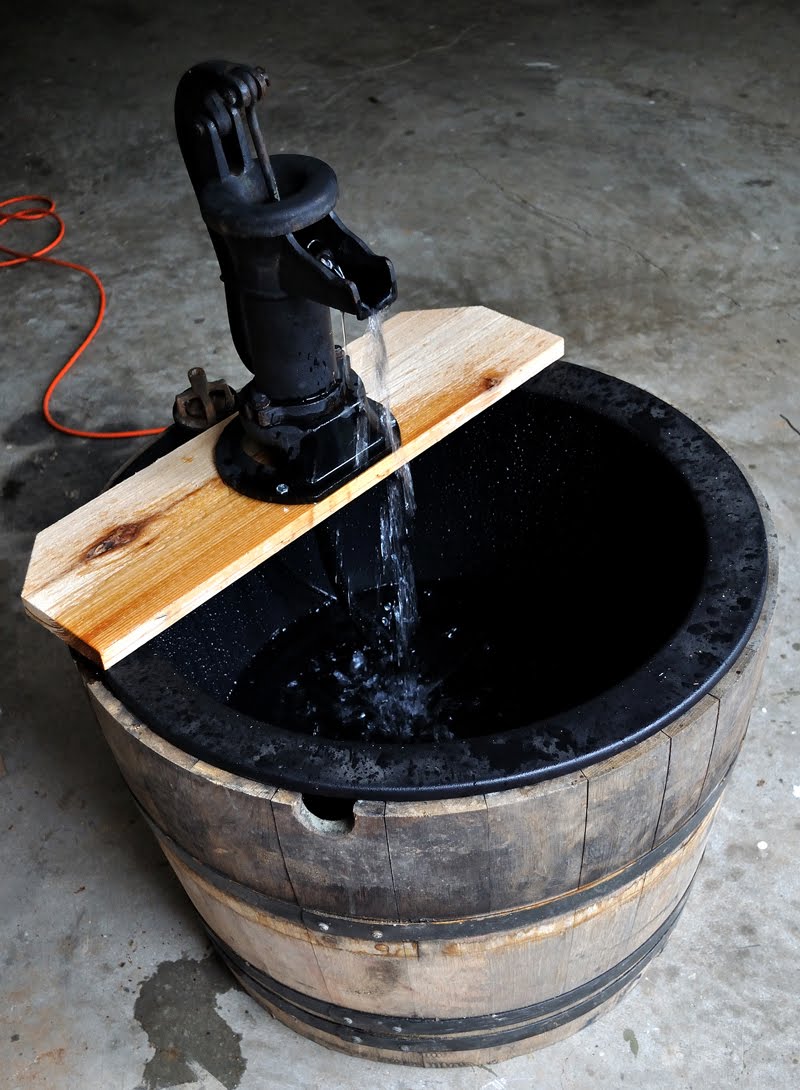 Do you ever get a feeling of vague nostalgia about older things? The predominant classic wood, the stylish wrought iron, the distant echo of the clink and clank of different age… This is how you can have a glimpse of that well within reach.
5. Glass Table Top To Water Wall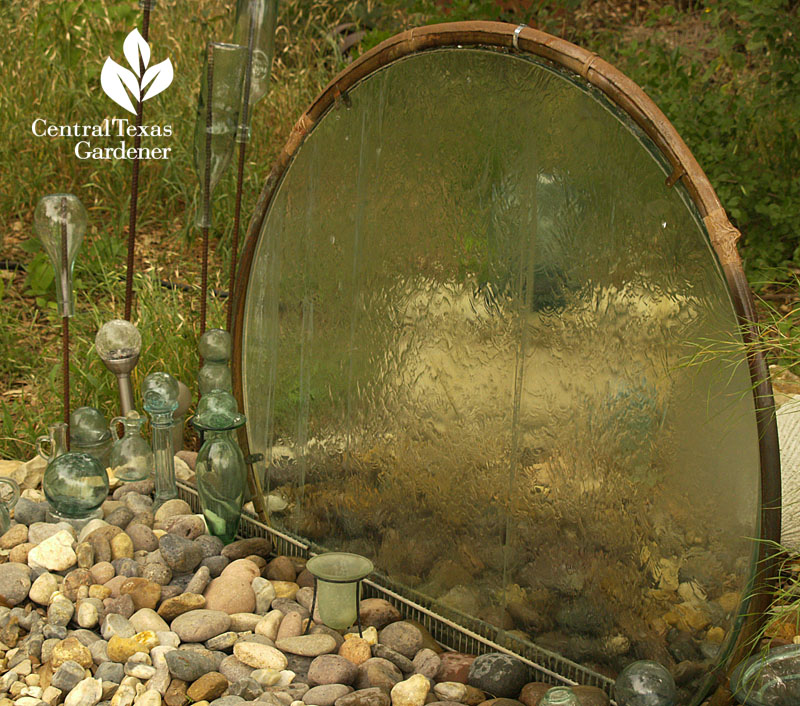 Glass tables are a thing. They make your living space look a grade or two more chic than normally. They are, however, much easier to scratch (and for those scratches to show), and infinitely more damage-prone. But rather than chucking the old top in the trash, give it a new lease of life as a water wall that masks the wear and tear.
6. Buried Water Fountain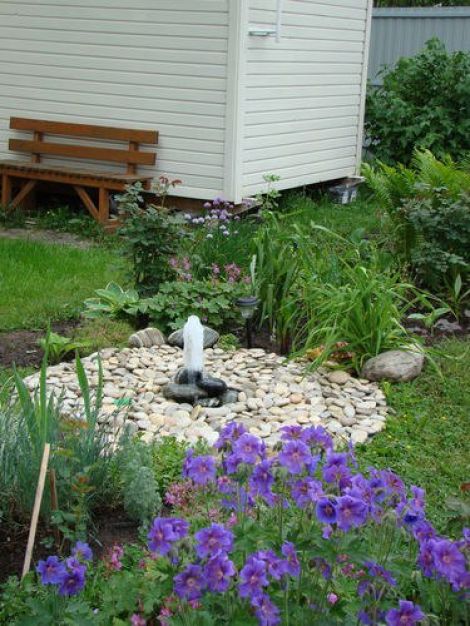 Another one in the 'simple' category. If you don't feel like setting up entire elements, you could just 'bury' the system under some rocks and it will still look good. The one major downside is that its low height means someone might trip on it. But other than that, you are good.
7. Plastic Pool And Fountain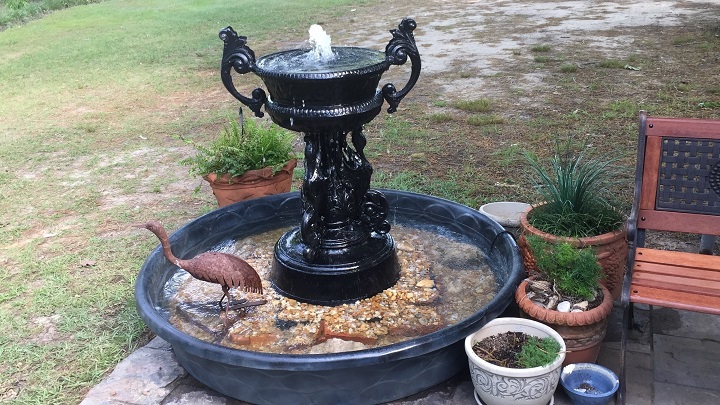 Now for an example of something looking fancy, even though it's made of materials that are so obviously cheap. Who would have thought that a plastic pool could ever form a part of such a majestic water fountain? Well, we sure believe it now.
8. Vortex Water Feature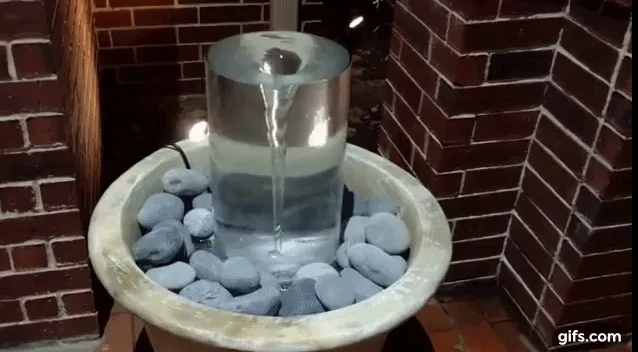 There is nothing quite like vortexes. And you know that this would look amazing in your yard, or whatever part of the house you decide to put it in. On top of that, it's a perfect combination of glass, rocks, and a cylinder vase. Prepare to dazzle everyone!
9. Tipped Watering Can Water Feature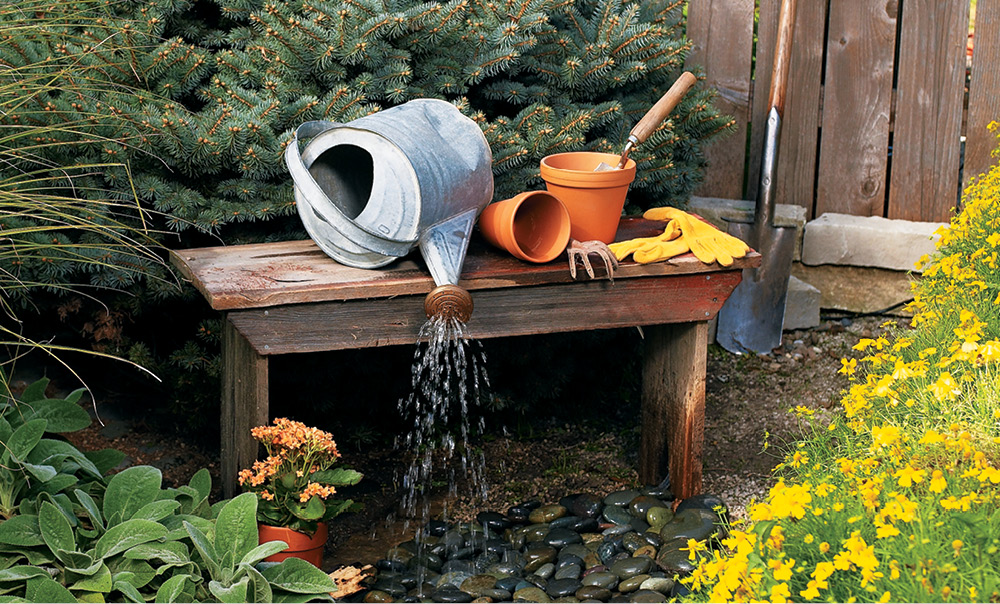 Even an old watering can will serve its original purpose, though not in the originally intended way. Having it tipped over with water constantly flowing out of it will no doubt cause some initial confusion among first-time guests, but that's all part of the fun.
10. Three-Tiered Fountain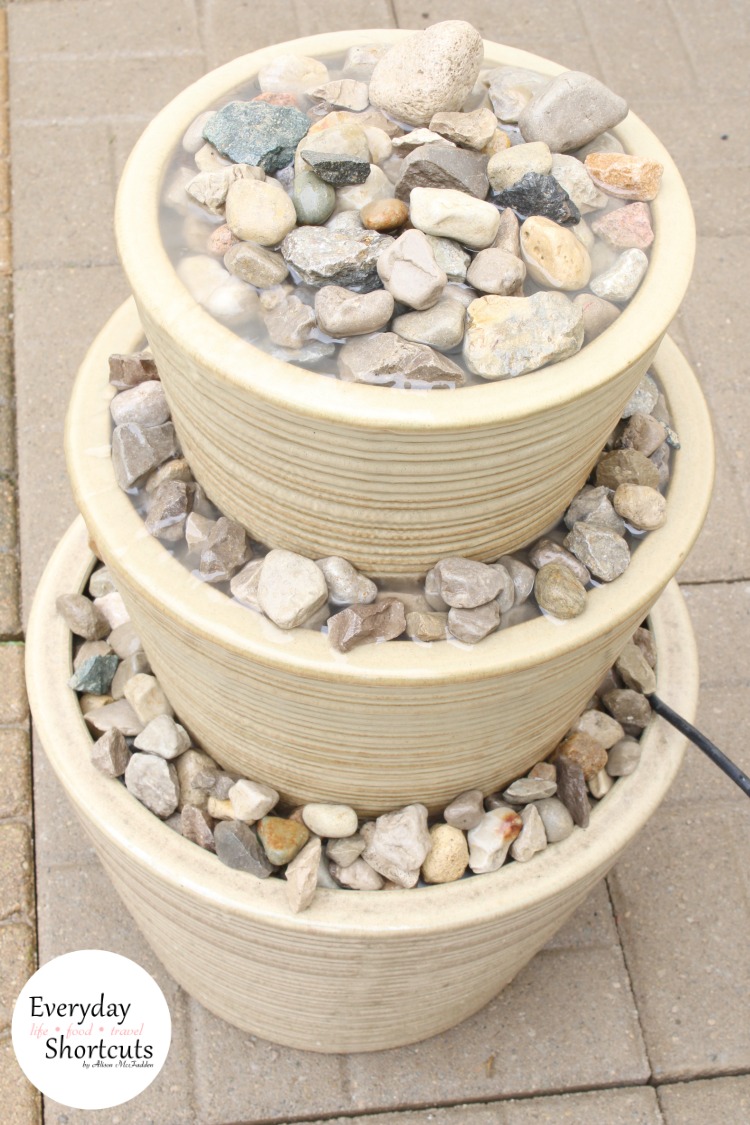 When chocolate fountains at weddings are tiered, why shouldn't your regular fountain be as well? It's not as if someone will be dipping some snacks in it, but the shape makes great sense. Yet this structure will definitely give you the calming water sound.
11. Stock Tank Rain Chain Fountain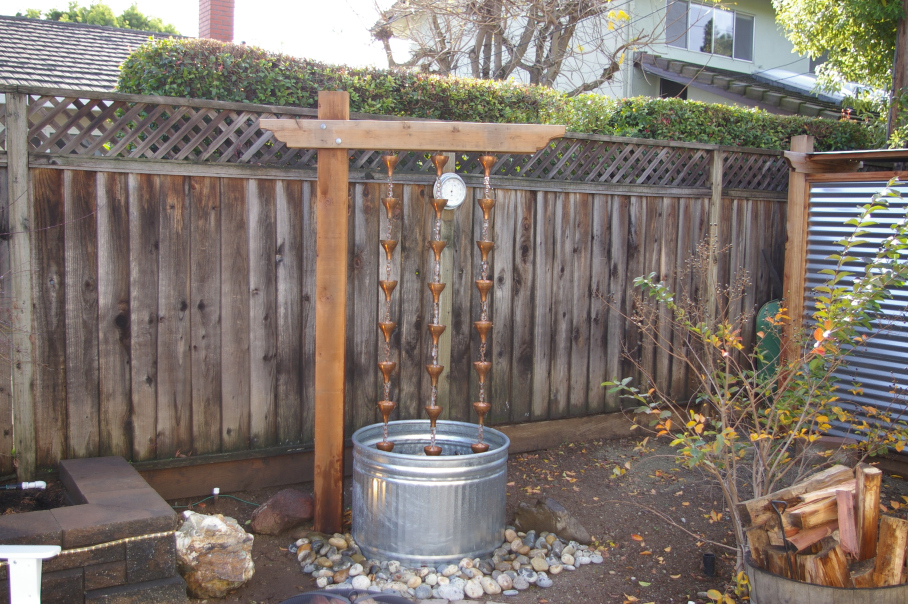 Yes, we know that stock tanks look a bit crude for something that should by definition be noble. Please keep an open mind about this, because it's incredibly handy for such use. The rain chain above is simply the cherry on top of the cake.
12. Stacked Rocks Fountain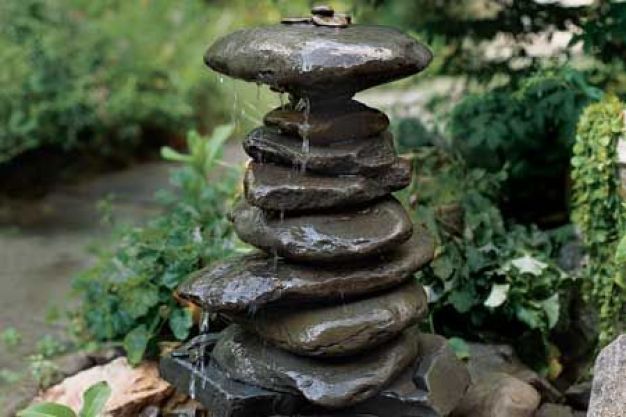 Rocks are not always easy to stack, but once done, they can be fixed and be a perfect holding structure for a serene fountain. If you think it is too single-colored for you, you could always mix it up with something else. Either way, it is going to rock!
13. Solar Powered Hummingbird Bath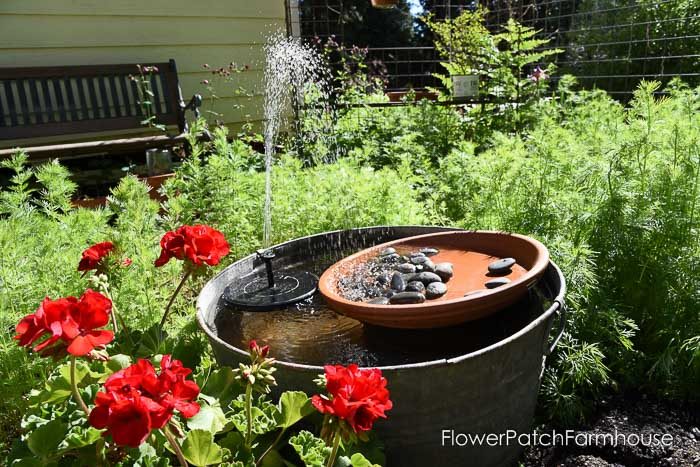 Here is something for the environment-friendly people out there. A solar-powered fountain that requires no cord being brought near the water, or anywhere in the garden. Once again, you have a good blend of fancy and crude that just makes your yard fabulous.
14. Backyard Pond Landscape With Waterfall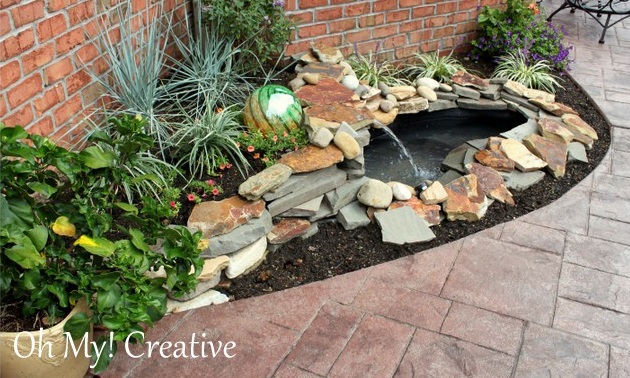 This is something we have all thought of. When making a fountain, there isn't much more work necessary for it to become a mini waterfall. And while you're at it, it would not be a bad idea for it to have a little pond. But be careful and make sure you restrict the access to such a hole, so that you avoid anyone getting hurt.
15. Recirculating Fountain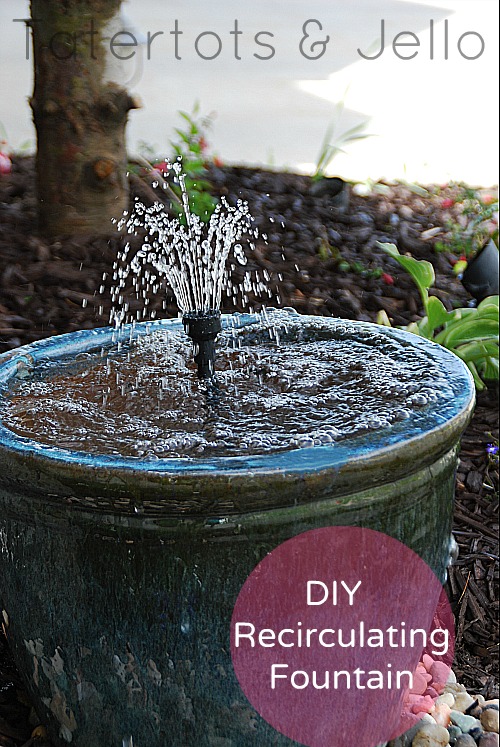 Still, with water pumps and fountain systems, one needs to be careful about the water that goes to waste. Hence, your best bet is by far a recirculating fountain that you know won't let any water go to waste. All of a sudden, your yard will be completely turned around!
16. Patio Water Wall And Privacy Screen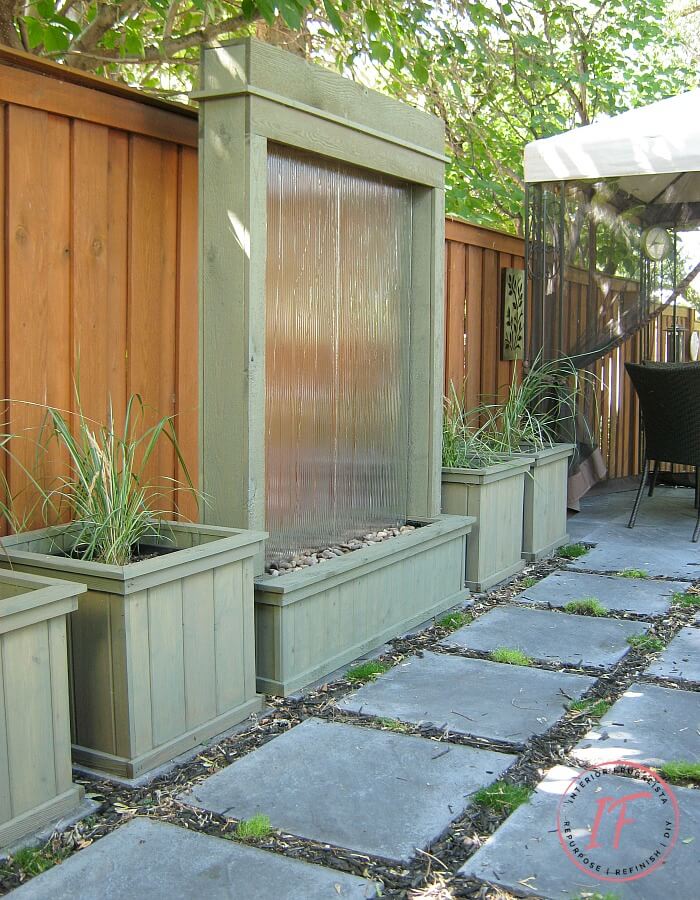 Here is another example of a water wall. Mind you, this type of thing is an ideal privacy screen, in case you need something like that for your patio. In any case, this will do a terrific job of sprucing things up, especially if you feel like the space is bland.
17. Water And Fire Fountain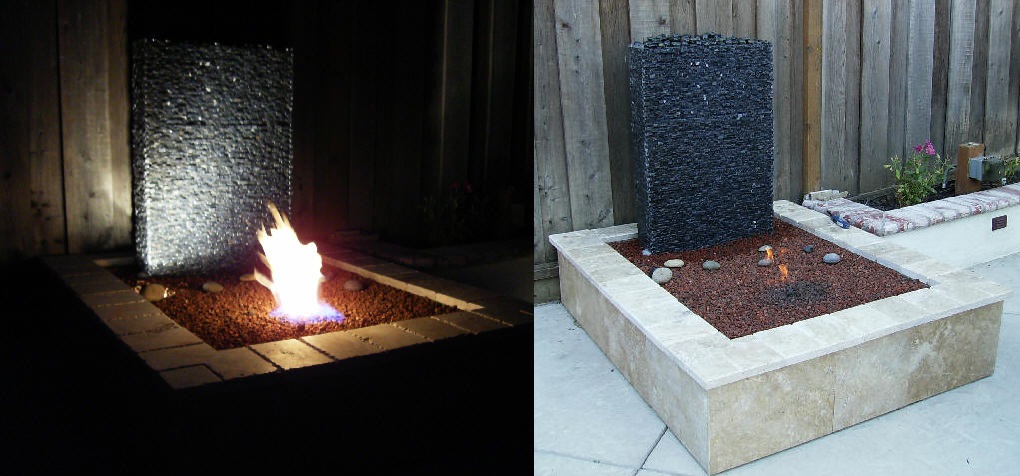 Whoever said that fire and water never go together? Well, it certainly wasn't us, because we are fervent advocates of spicing things up. As far as awesome ideas go, this one might just be one of the most awesome ever! A word of caution, though. Keep in mind that it looks a bit like a grave.
And now we have reached the end of our list, hoping that we have helped you enrich your lives in one way or another. At the end of the day, we are suckers for glass water walls and things with a classical look. When all is said and done (or, in our case, written), what do you think of the options at hand? Are any of them pleasing to your eye? Do you think that some are maybe not worth the trouble, or that they could be done better in a different way? That's what the comments are for, people.