Ask anyone which is the most cluttered and least organized space in their home, and I bet that over half if not all, will say that it is the closet or the entryway/hallway. Shoes and clothes are items we possess most of in our home and it is inevitable for them to pile up and create that chaotic mess no one wants to look at yet alone buckle up and clean it.  Clothe are arguably the bigger clutter-maker between the two, but we'll cover them some other time. This time it's all about organizing your shoes.
Fancy shoes, sports shoes, high heels, boots, flip-flops, sandals, snickers, kid's shoes… The list goes on and on, and we bet you have at least one pair of shoes for every unique occasion and season. Their designated storage is somewhere in the hallway which, for most of us, is a very limited space that can house so many shoes. And the space that we have available is most often not as tidy as we'd like.
The best way to have a nice, organized hallway is to have the right shoe racks for your space. Large or small, bought, or made, there are plenty of shoe rack designs to choose from. For now, we offer you a choice of decluttering homemade shoe racks you can make yourself, by checking easy-to-follow tutorials. It is a nice project to get you started in DIYs and a very useful one at that.
1. DIY Front Porch Shoe/Boot Rack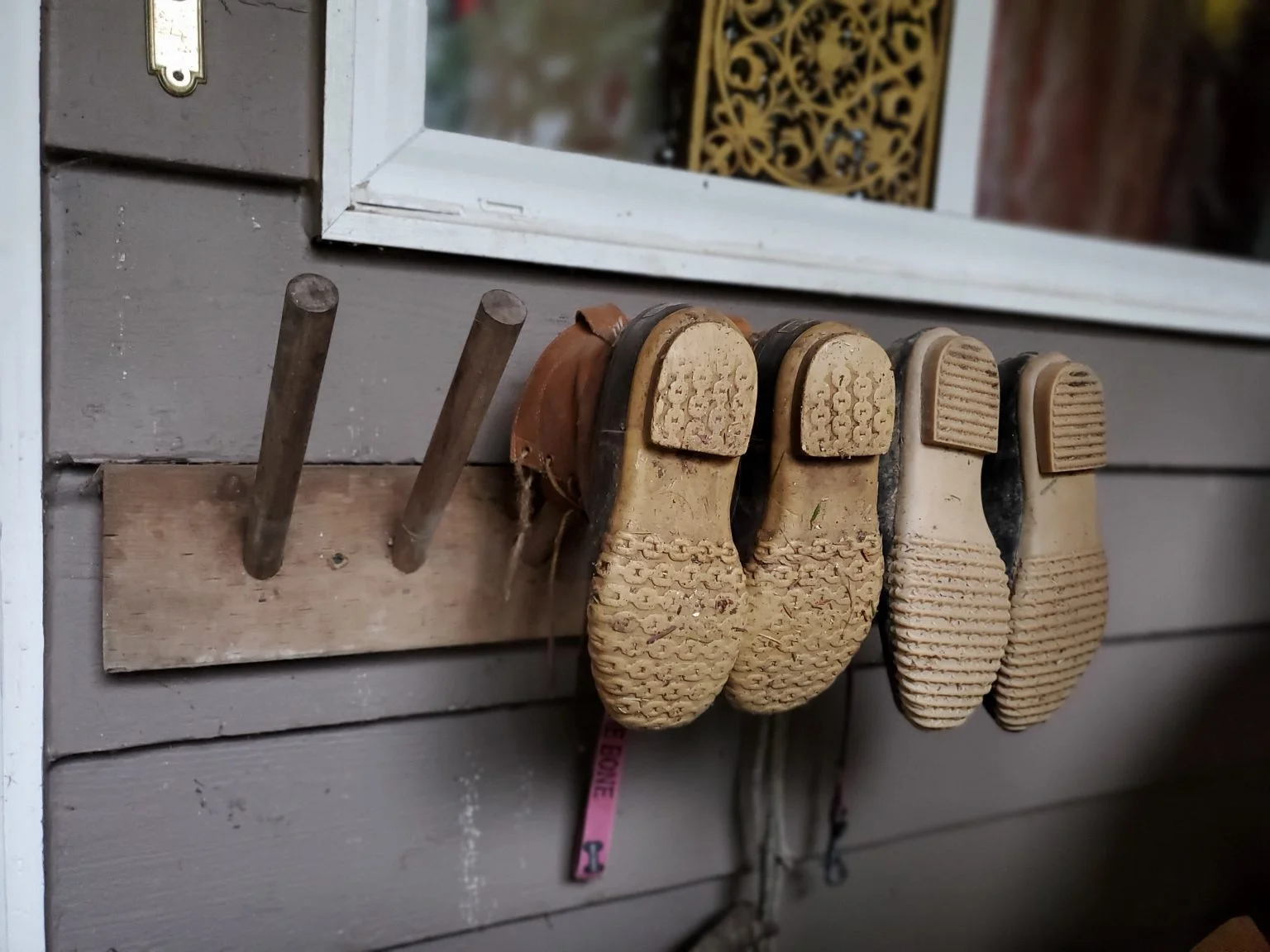 If you live in a house and have a garden you like to work in, you will definitely like this simple shoe/boot rack. It is easy to make, and the pegs that hold the footwear up to dry can also serve as hooks for other things you don't enjoy messing up your porch.
2. DIY Stacked PVC Pipe Shoe Rack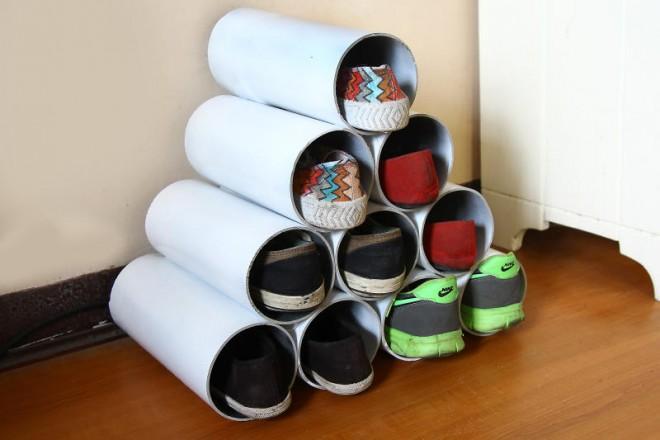 Homemade projects should be easy, and you can't get an easier DIY shoe rack project than this. All you need are a few large PVC pipes to stack together in whatever form and design you like. Get creative and make yourself a unique, easy shoe rack.
3. DIY Floating Storage Bench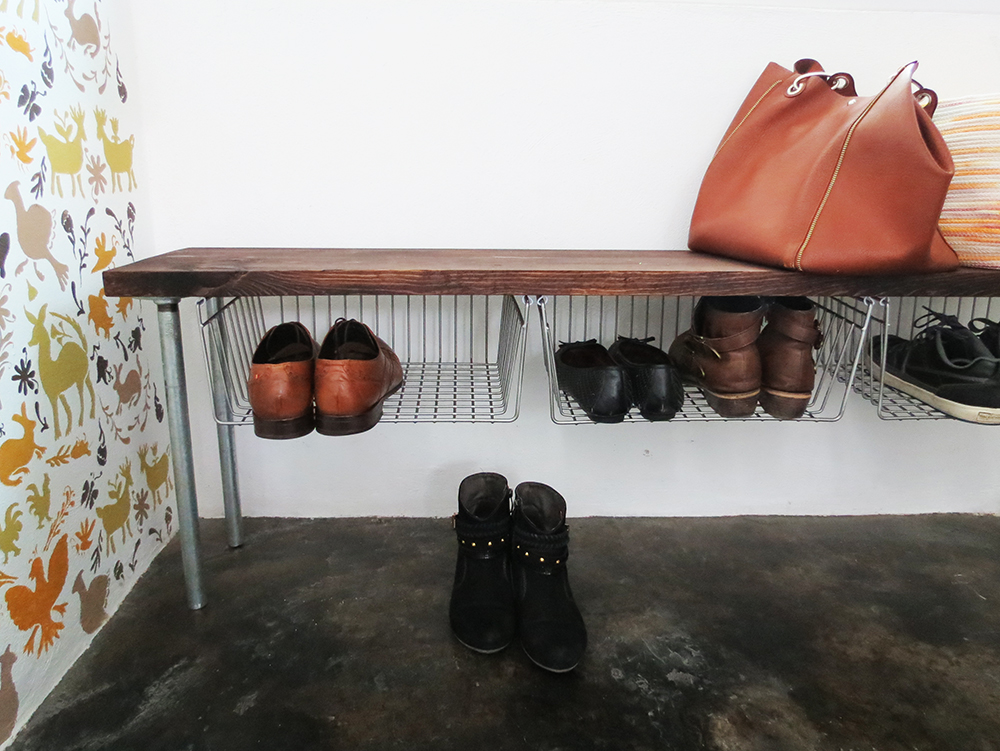 If your entryway is wide enough for a bench, you should definitely consider putting one there. It is very handy when you have both very young and elderly family members. And to keep things tidy, attach some metal storage baskets underneath the bench and you get two-for-one furniture.
4. DIY Wooden Crate Shoe Rack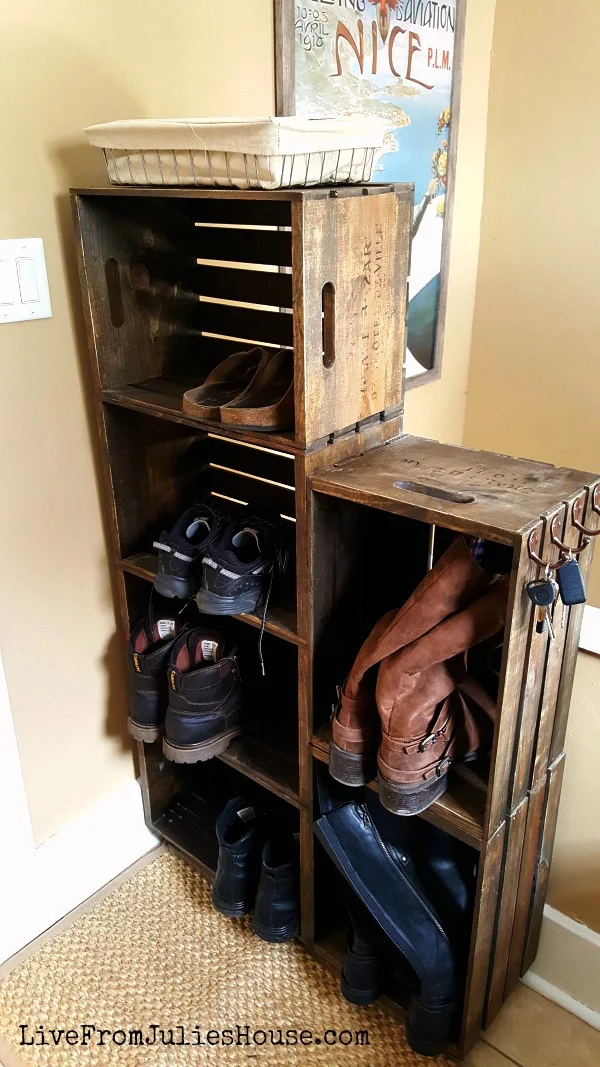 Many home designers love using old wooden crates when decorating a rustic style home. They just have that little something in them that makes them stylish and not a cliche. Wooden crates are great storage accessories and if you have some lying around, here's how to turn them into fine shoe storage.
5. DIY Wood And Metal Rods Shoe Rack For Small Spaces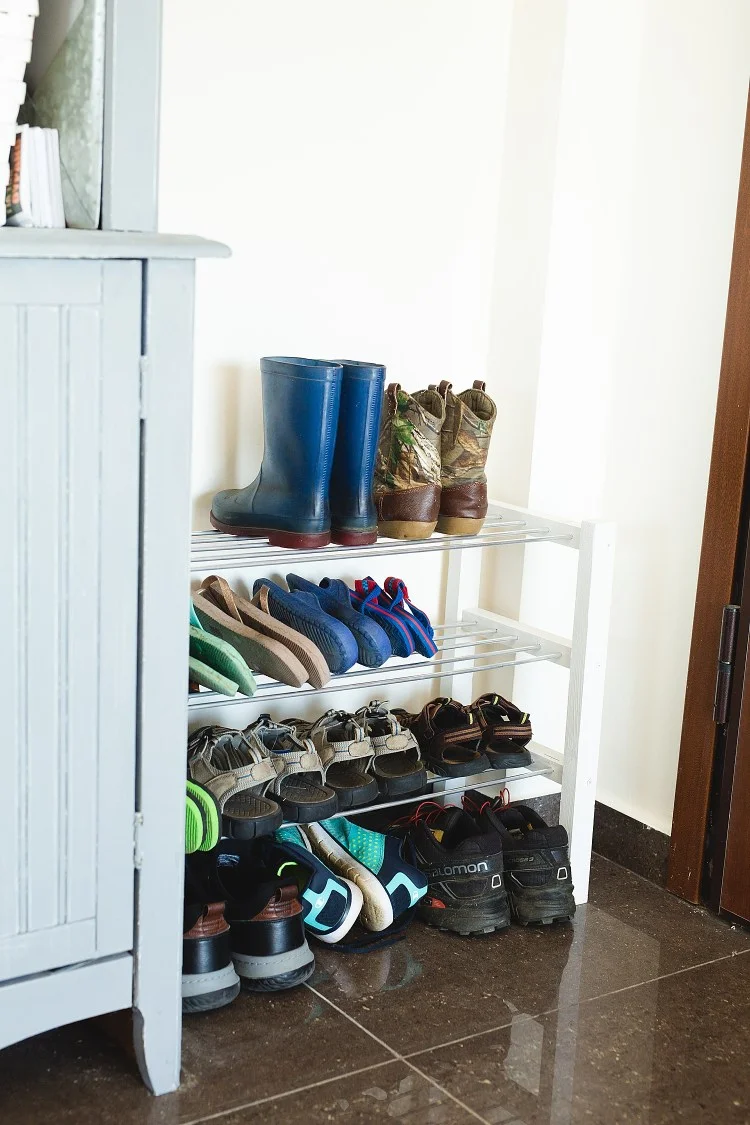 With the storage space limited in your hallway, you must make the most with what you've got. So, if you have just a few inches of free space behind the door, and you do want to have a classic shoe rack, you'll love this easy and fun project. Made from wooden sides and metal rods, it is a cute little sturdy shoe rack to house your shoes.
6. DIY Cornice Or Picture Frame Shoe Display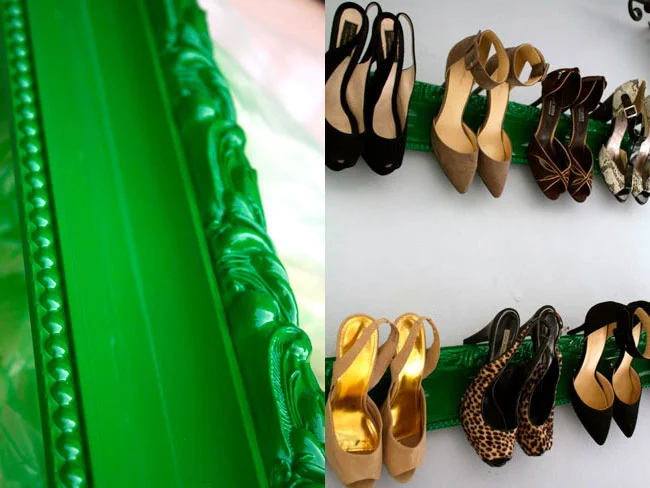 Crown moldings, cornices, and old picture frames can come in very gorgeous, regal designs. If you wanted to incorporate those lovely details in other areas than the edges of your walls, here is your chance to do so. The width of a cornice or thicker picture frame on the wall is just enough to serve as a decorative wall-mounted display for your favorite high heels. And the best part: it will look good everywhere in your home, not just the hallway.
7. DIY Wall Mounted Welly Boot Holder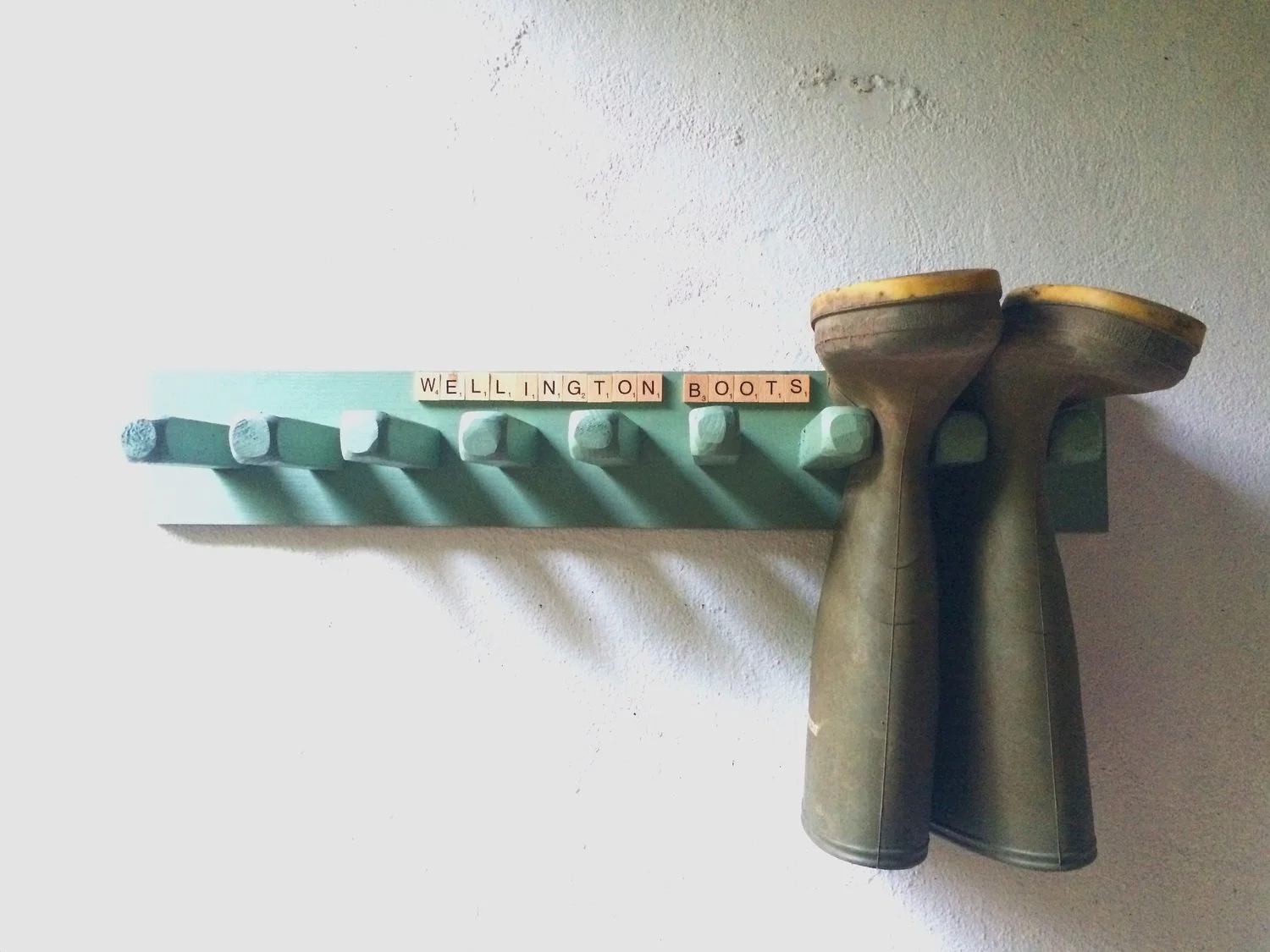 Similar to the first DIY idea, the outdoor shoe/boot rack, this one is great for holding shoes that get a lot dirtier than normal. It is definitely easier to make than the previous one, and it just a cute minor project for both indoor and outdoor.
8. DIY Shoe Rack From Metal Magazine Holders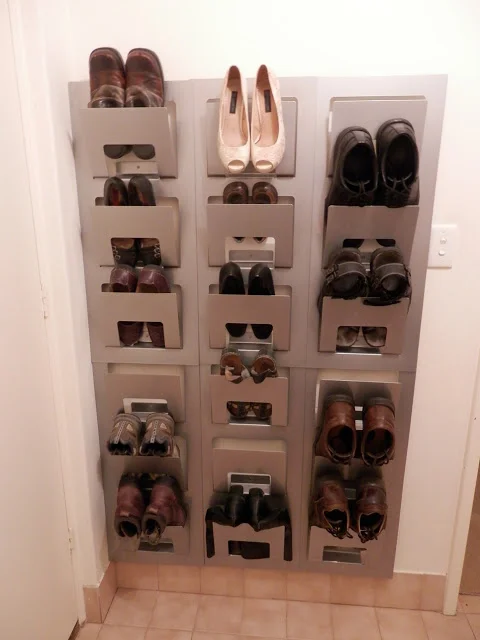 Finding new uses for common objects has become a fairly popular trend in recent years. And we can't say that people haven't found some impressive and functional reuses for old things. Case in point, these IKEA magazine holders turned into a modern wall mounted shoe rack. Isn't ingenuity fun?
9. DIY Rotating Shoe Rack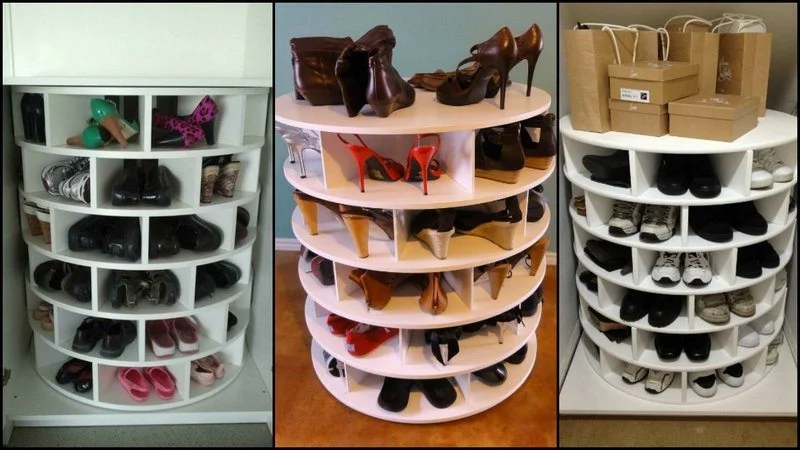 Whoever invented the lazy susan has made life easier for millions of households. And in time, people found many other uses for this principle than just a rotating serving tray. Case in point, this amazing rotating shoe rack. You might find something like this in a shoe shop, but instead of spending tens or hundreds of dollars on a shoe rack like this one, you can now have it for a fraction of the price, by making it yourself.
10. DIY Entryway Shoe Organizer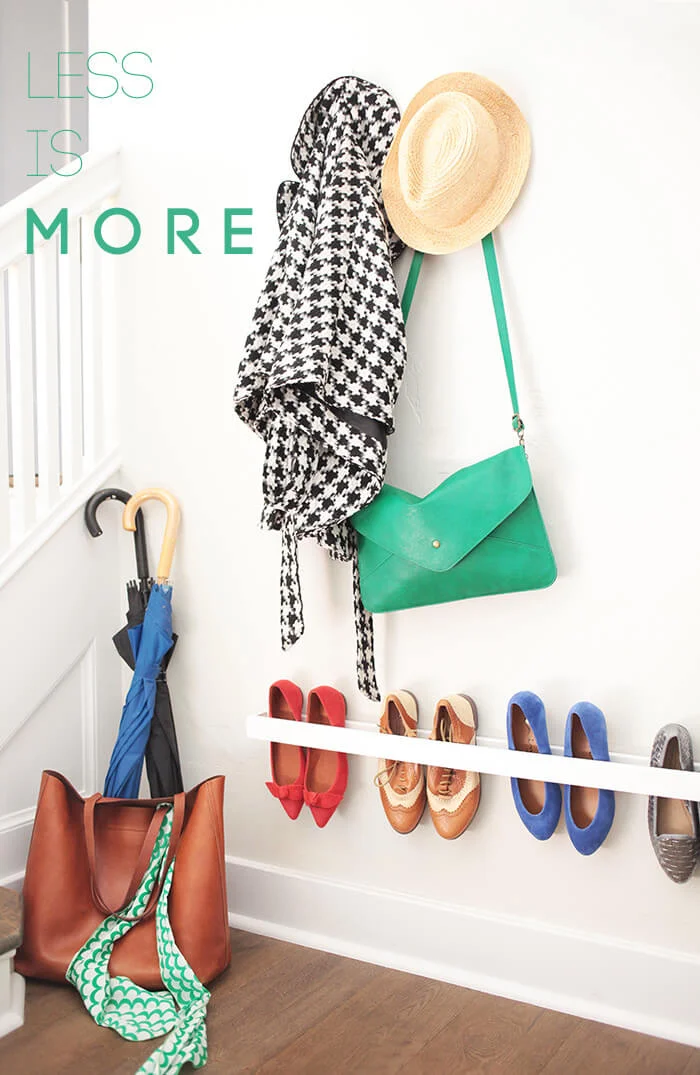 Some people prefer their home decor to be as inconspicuous as possible. Modern and hidden, blending into the background. This shoe rack not only seems to disappear into the wall, at first glance you might even wonder what those wooden planks are for. Making it is easy, it will look great in your entryway and, most important, it takes up practically no space at all.
11. DIY PVC Pipe And Fabric Shoe Rack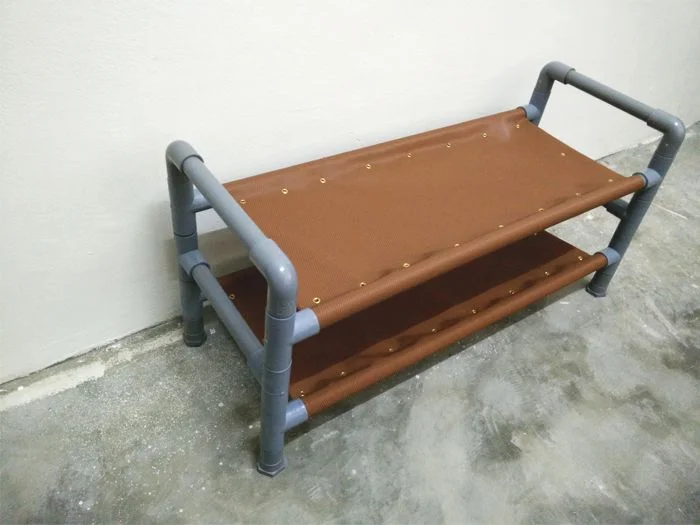 Leather and iron are a timeless combination in industrial style decor and are great for home decor projects. The downside is that leather and metal pipes can cost a bit more than other materials. Yet, can you tell that this project isn't from leather and metal pipes? Maybe. But with the right paint job, you can turn this PVC pipe and fabric shoe rack into a descent looking industrial furniture.
12. Big Wooden Shoe Organizer With Free Plans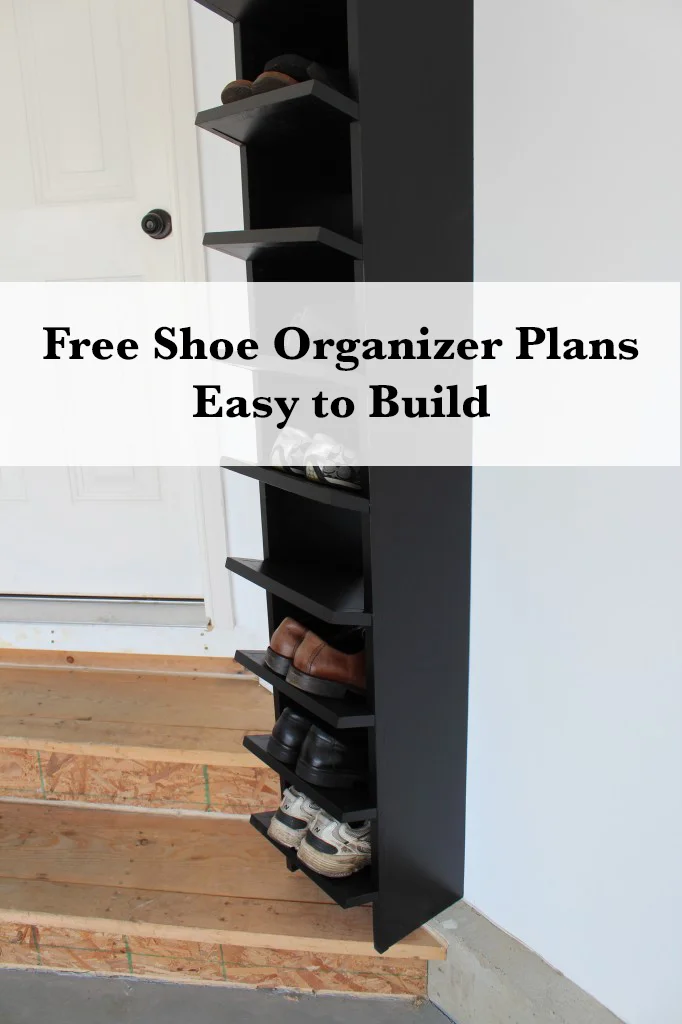 Yes, this project is more of a mini shoe closet than a shoe rack but, hey, if it keeps all those pairs of shoes nice and organized, we'll take it. It is an excellent project for those looking for a bigger building project, and you have to admit the finished product looks nice.
13. DIY Wire Basket Shoe Organizer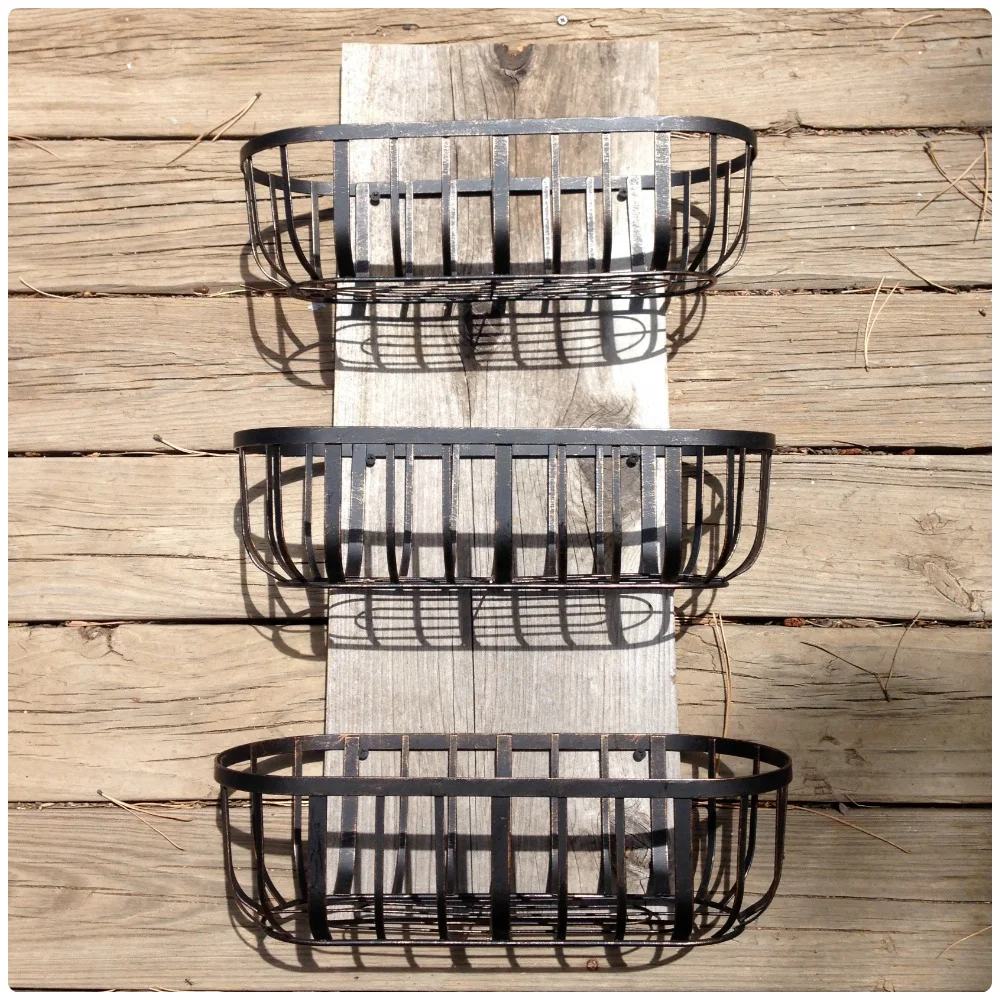 You can find wire baskets like these in all shapes and sizes and secured to a 2×4 they'll make an excellent mounted shoe rack to hang behind the front door. You might think this project won't help too much in keeping shoes well organized since it's basically a bucket to throw your shoes in, you might rethink once you see how good it works especially for your kid's footwear and other seasonal accessories that you can easily throw into the baskets.
14. DIY Hexagon Shoe Rack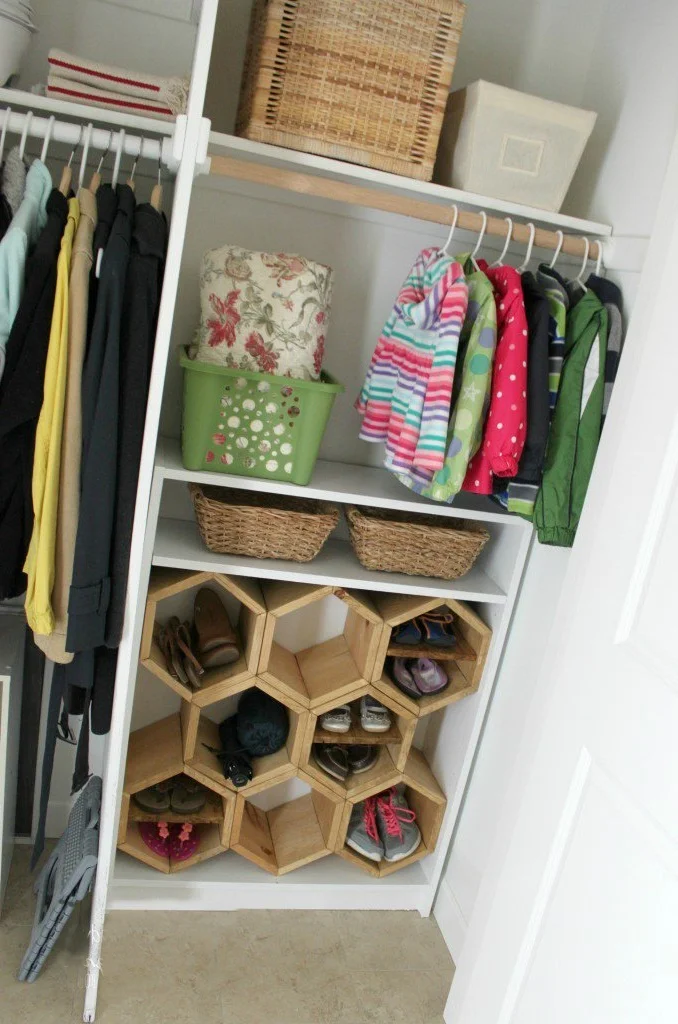 Honeycomb, hexagon shapes are gaining quite the popularity in home decor and furniture alike. This project will help you store your shoes nicely and neatly in your closet, just like the busy bees store their honey. It is not a beginners project, just to be clear, but if you're looking for a challenge, give it a try.
15. DIY Easy Tin Can And Palette Shoe Organizer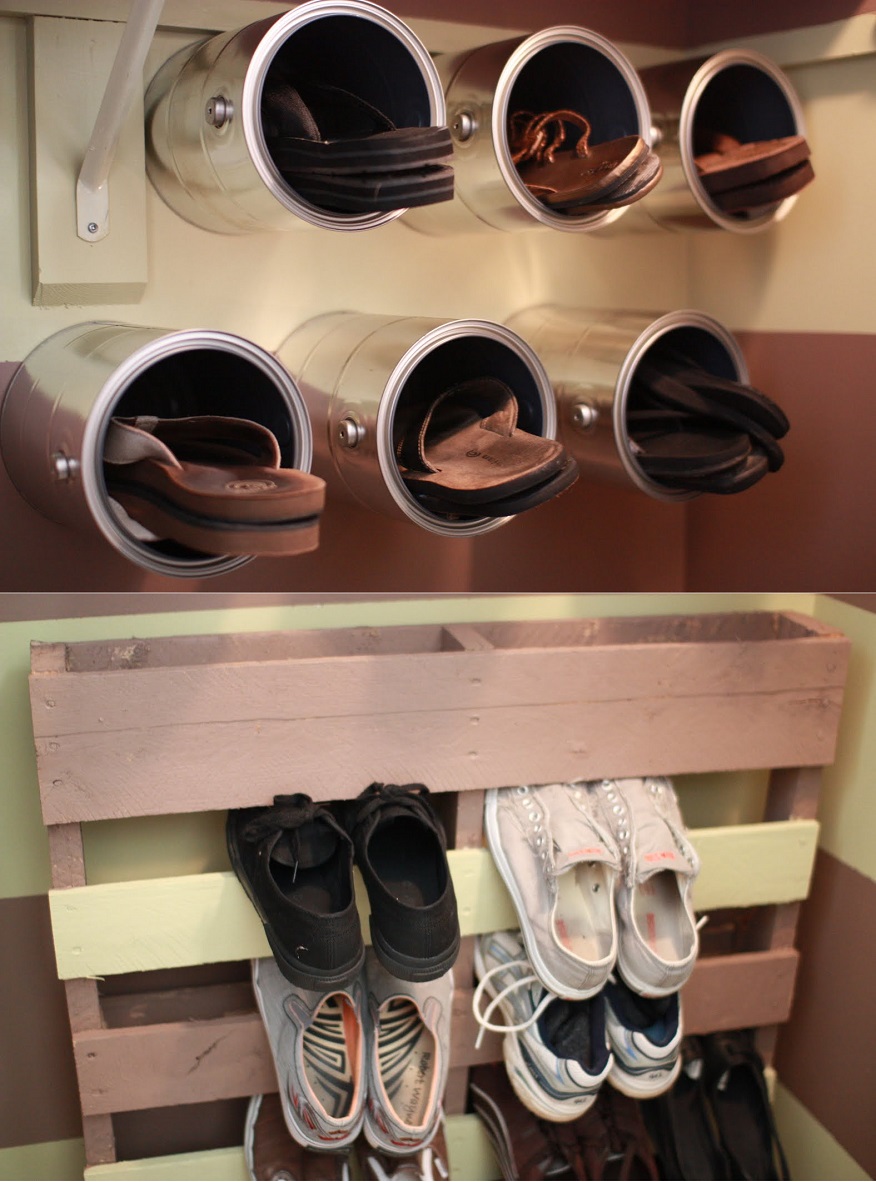 If you don't have any woodworking or crafting skills or are not in the mood to spend money on various materials, then this is the shoe rack project for you. A two-for-one, choose which is the best for you. Tin cans mounted to the wall, great for flip-flops and other smaller footwear, or a simple wooden pallette (painted or not). You can't get any simpler than this.
16. Vertical Cardboard Shoe Rack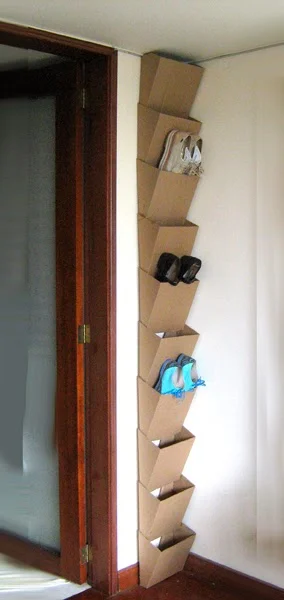 Another creative and very affordable shoe rack project is this vertical shoe rack. Those of us who enjoy recycling project will absolutely love this one, and it's so easy to make you can turn it into a family project.
17. Modern Shoe Rack Bench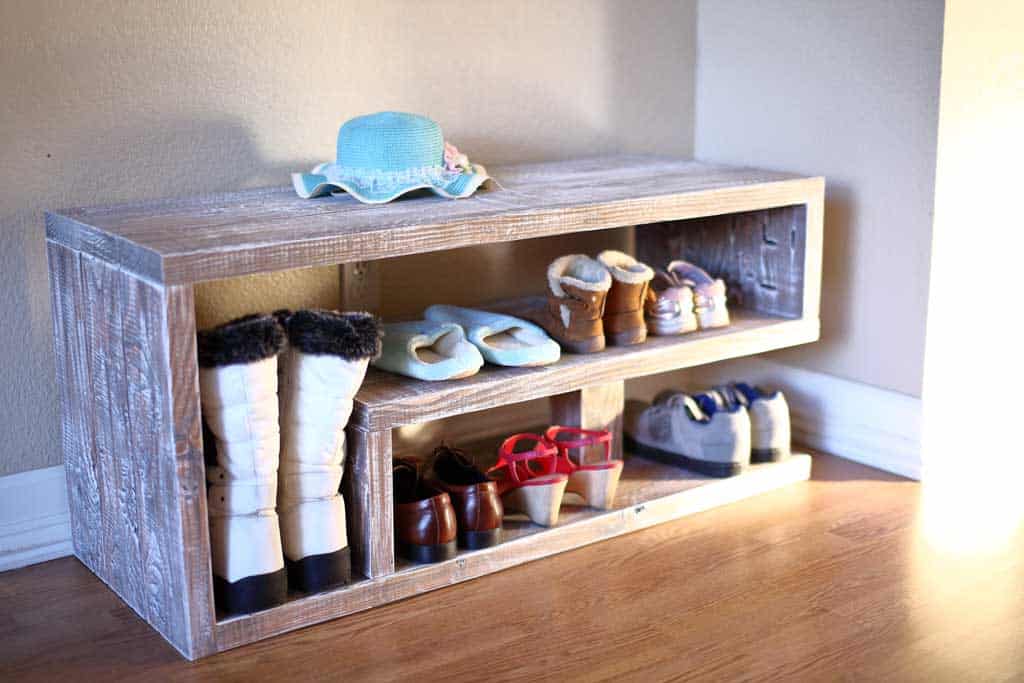 One last bench project before we go. A stylish, modern bench, fitted with enough storage space for your everyday footwear from every season. A vintage wooden bench with a modern twist in the design, it is a lovely piece of furniture to make your home feel more welcoming from the first step inside it.
That's all the ideas and tutorials we have for now. We hope we've inspired you to change up your entryway and finally get those shoes in order. We would love to hear your ideas on keeping your shoes organized, so make sure you share your thoughts in the comments.