You hear people say having pets is like having children. That statement is actually not far from the truth. If you want to be a good pet parent and have a happy, healthy pet, you need to provide them with more than just food, water, and walks. Just like toddlers, they need to be stimulated and trained. and the best way to achieve that is with toys.
Now, pet stores and companies alike are very well aware of this. It is why they have such big pet-toy collections that are grossly overpriced. If you want the best for your pets, you will end up spending a small fortune on pet products, forgetting that the pets truly like toddlers. They'll play with whatever they find interesting, regardless of the price tag attached to it. Instead of spending so much money on toys, spend that money on pet treats. Your pets will very much like that.
As for the toys, there are plenty of ways to make temporary and reusable toys for your pets, using materials you most definitely have lying around and would probably throw away, like strings, rags, feathers, cardboard, toilet paper rolls, plastic bottles, old socks, etc.
Let's see what fun, affordable toys you can surprise your pets with.
1. Rabbit Pinnata Toy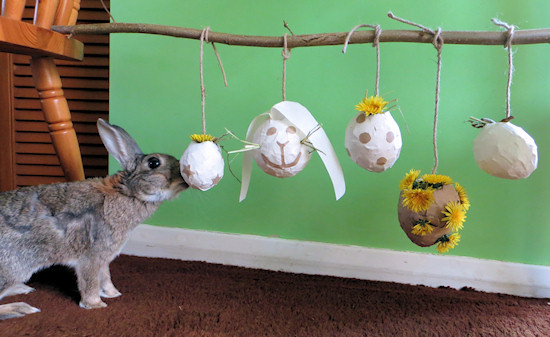 Rabbits love to play too, but being a bit skittish they need more enticing than most pets. This rabbit pinata is a great way to make your bunny explore while eating its favorite treats.
2. Toilet Paper Roll Cat Toy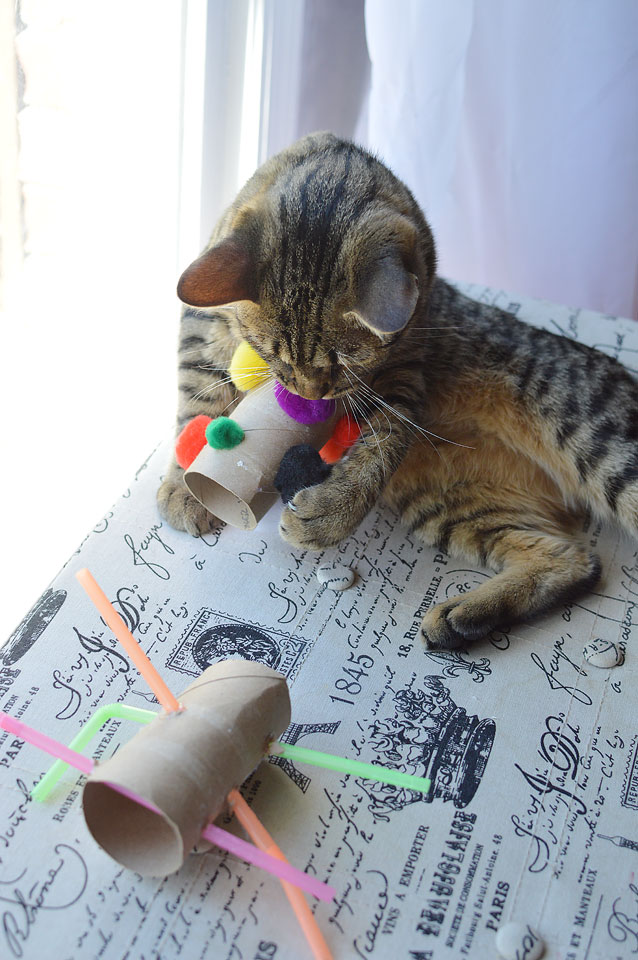 As hunters, cats love chasing things that wiggle around and grabbing things with their paws. The more movable the toy, the better.  If you don't like being chased by your cat, try making it a few of these toilet paper roll toys, with fluffy pom-poms and straws. The different texture of the material will keep the cat entertained for a while.
3. Gerbil/Hamster Puzzle Toys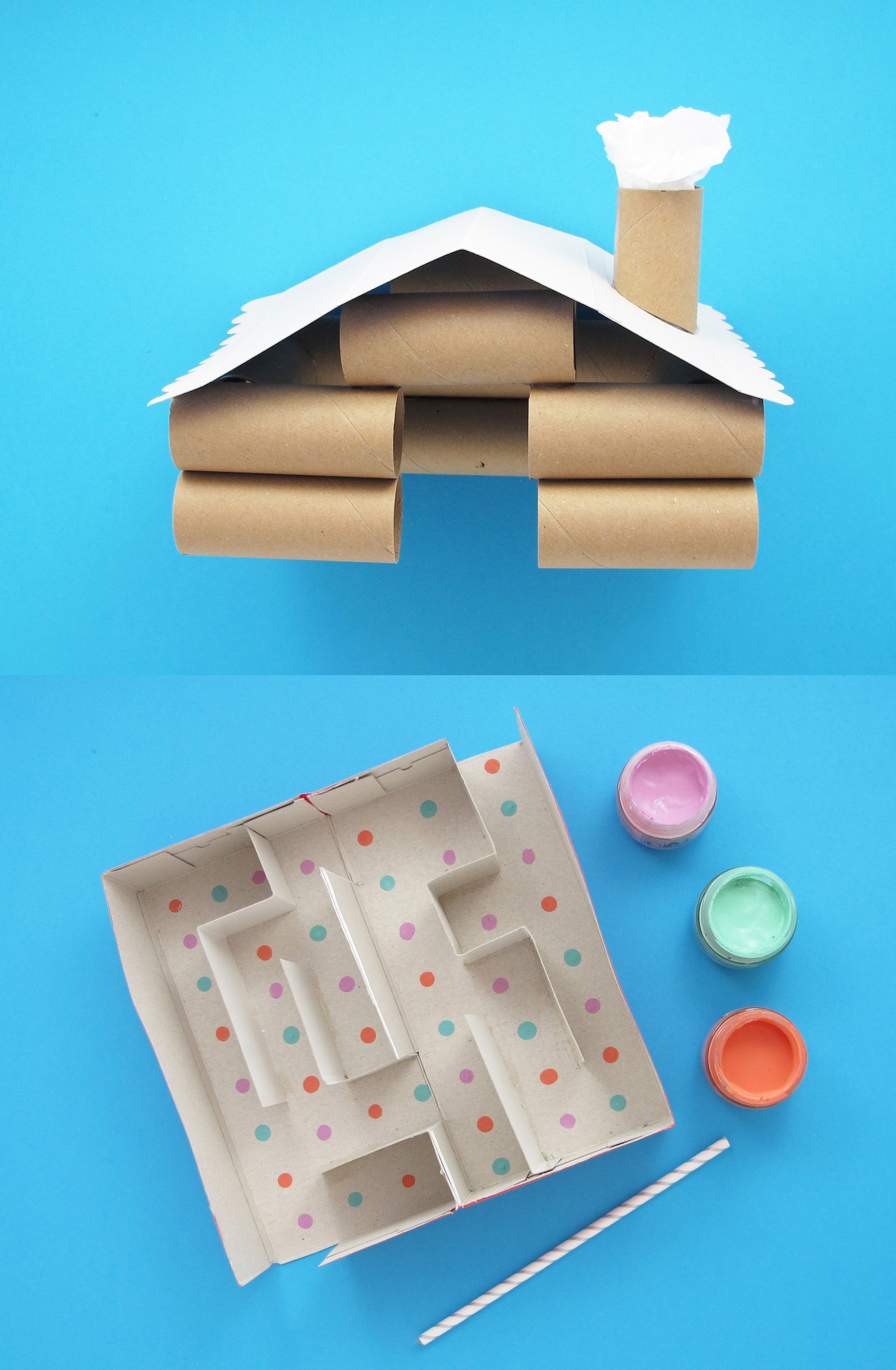 Pet rodents, especially gerbils, hamsters, and Guiney pigs love to iron on a hamster wheel, but they are also very curious creatures, that wouldn't mind a challenge. And they love getting in and out of holes. You can give them the ultimate fun with some cardboard for a maze and toilet paper rolls for a small house to explore. You'll be surprised by how active they become.
4. PVC Pet Hammock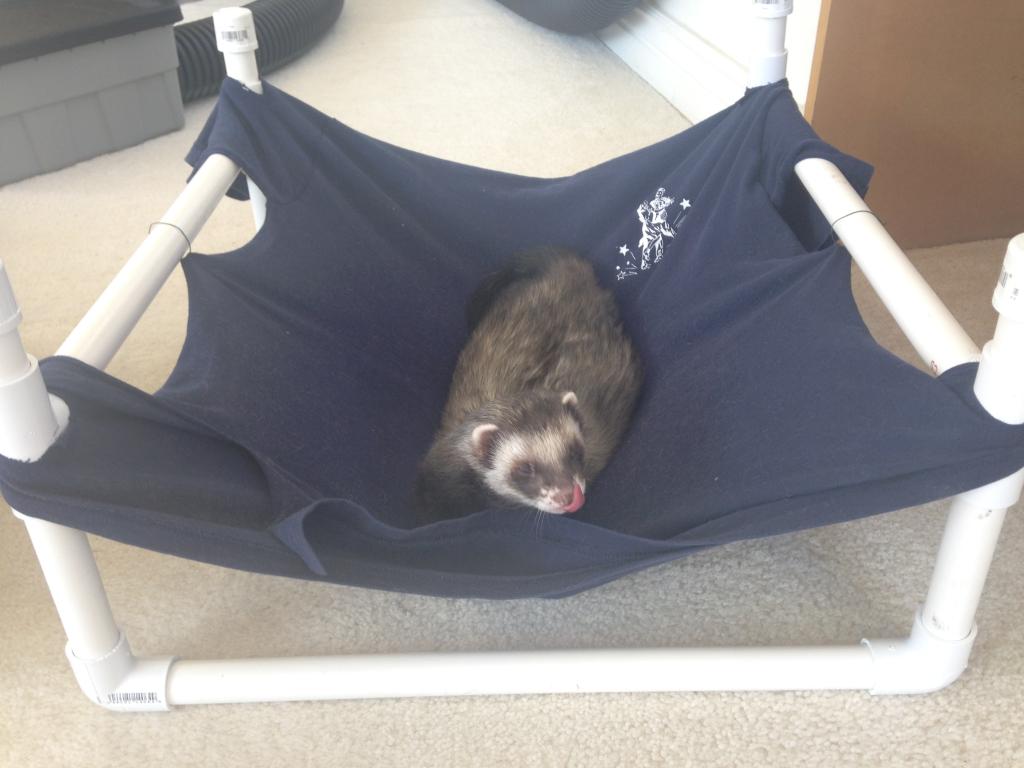 After a long exhausting day, the pets need somewhere to rest. For cats, ferrets, and even reptiles, this PVC hammock will be the perfect place to rest their little heads and paws on. And it's much more affordable than getting one from the pet store.
5. Sniffle Box For Dogs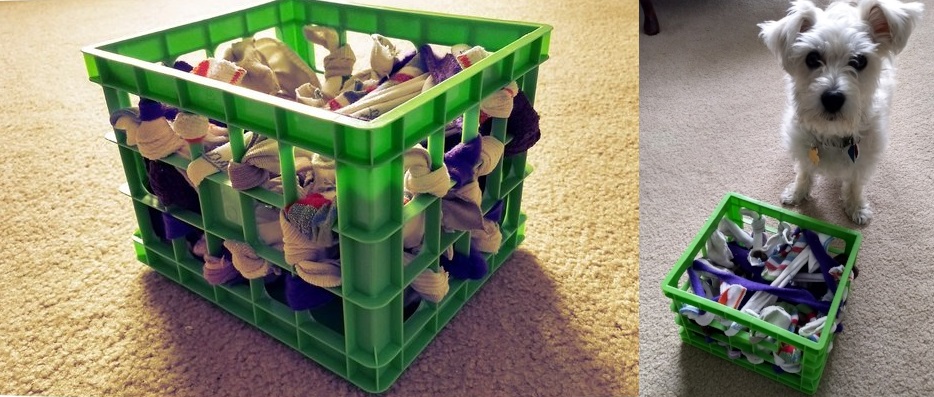 Pet owners might have heard about sniffle mats for their dogs. It is a shaggy mat you hide treats in which your dog has to sniff out and find later. This is a level-up version of that. The sniffle box offers more playability and challenge for your dog and more free time for you.
6. Parrot Foraging Toy With Metal Skewers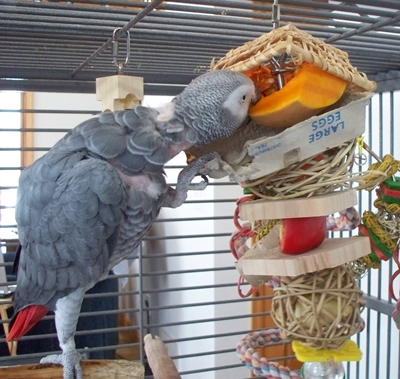 Parrots are considered among the more intelligent pets, so it is natural that they require more stimulating and engaging activities. There are many types of toys for parrots, using different materials and activities. Foraging toys are among the most sought after as well as most disposable, which is why they can cost a lot. Birds will literally eat and peck through them, so instead of getting a new toy every week or so, make your own, with different cardboard or wooden items you have around, placed on a metal skewer., At least you know the bird won't chew trough that.
7. Water Bottle Crunch Toy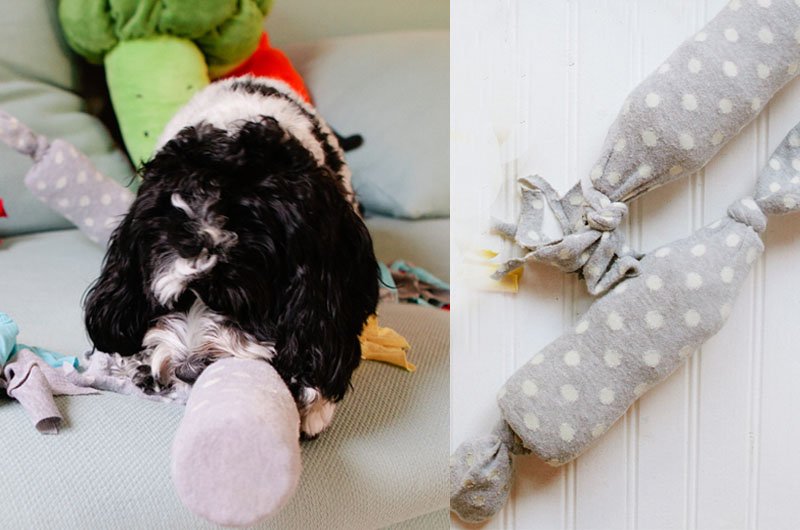 Dogs like crunchy, hard to chew toys. And since they're going to be gnawed on raw, you know that a toy like that will have to be replaced in short order. Get some old socks or fabric and wrap a plastic water bottle in it. You can even put some dog treats inside, for rattling. Your dog will love it, and you would have saved a fortune.
8. Small Pets Treat Toy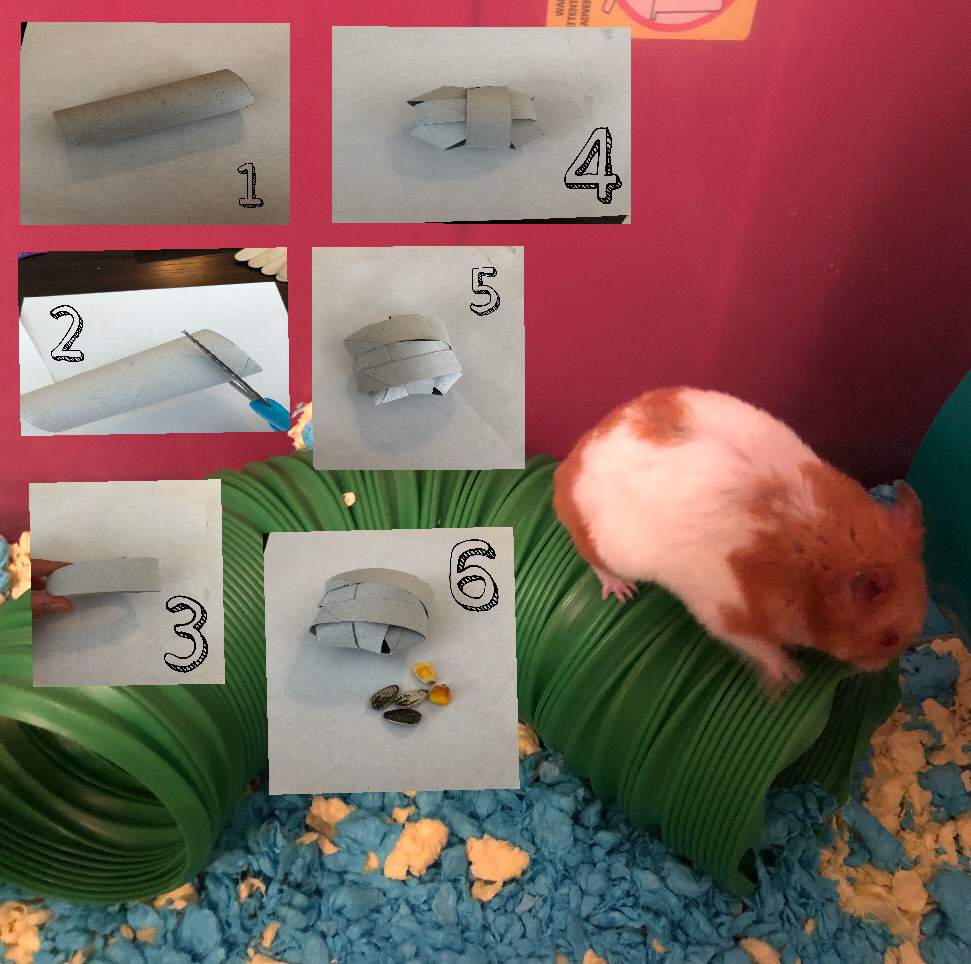 Hamsters are high energy nocturnal creatures, meaning, they're most active when you sleep. To make sure you tire out your little pet, make his chase something, like this little treat filled toilet paper roll ball.
9. Knotted Tug Toy For Heavy Chewers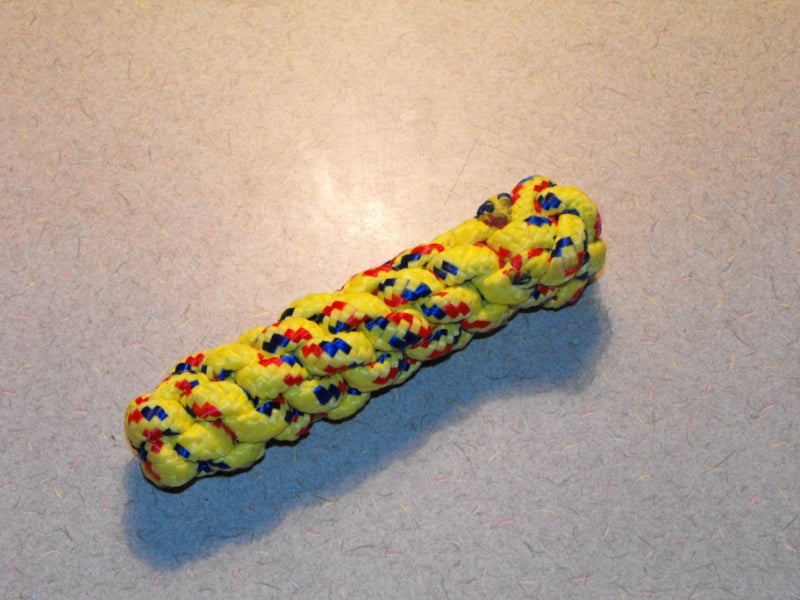 You've probably seen these cord toys in pet shops and most likely went through a few of them. They can cost a few times the price of a plain cord, but you don't know how to weave it? This tutorial will teach you and you'll never have to get an overpriced chew toy again.
10. Feather Cat Toys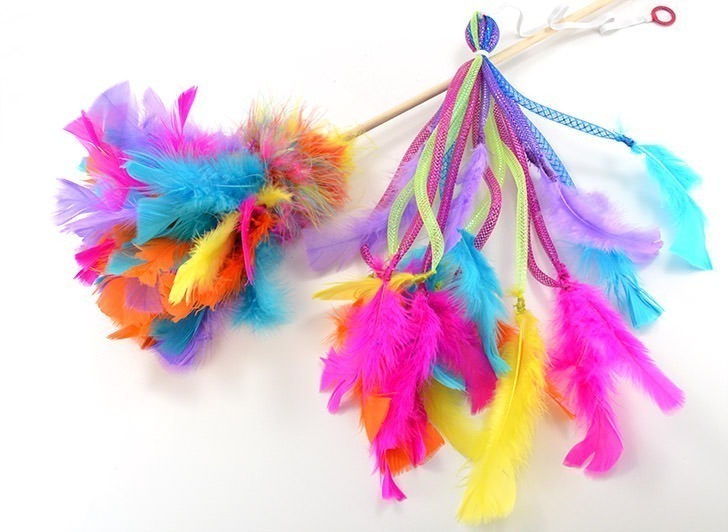 Cats love, love, love chasing feathers and strings, and everything that moves in an unpredictable way. With a few faux colorful feathers and some strings, you can create the ultimate cat you to get your cat to play and bond with you.
11. Reptile Hammock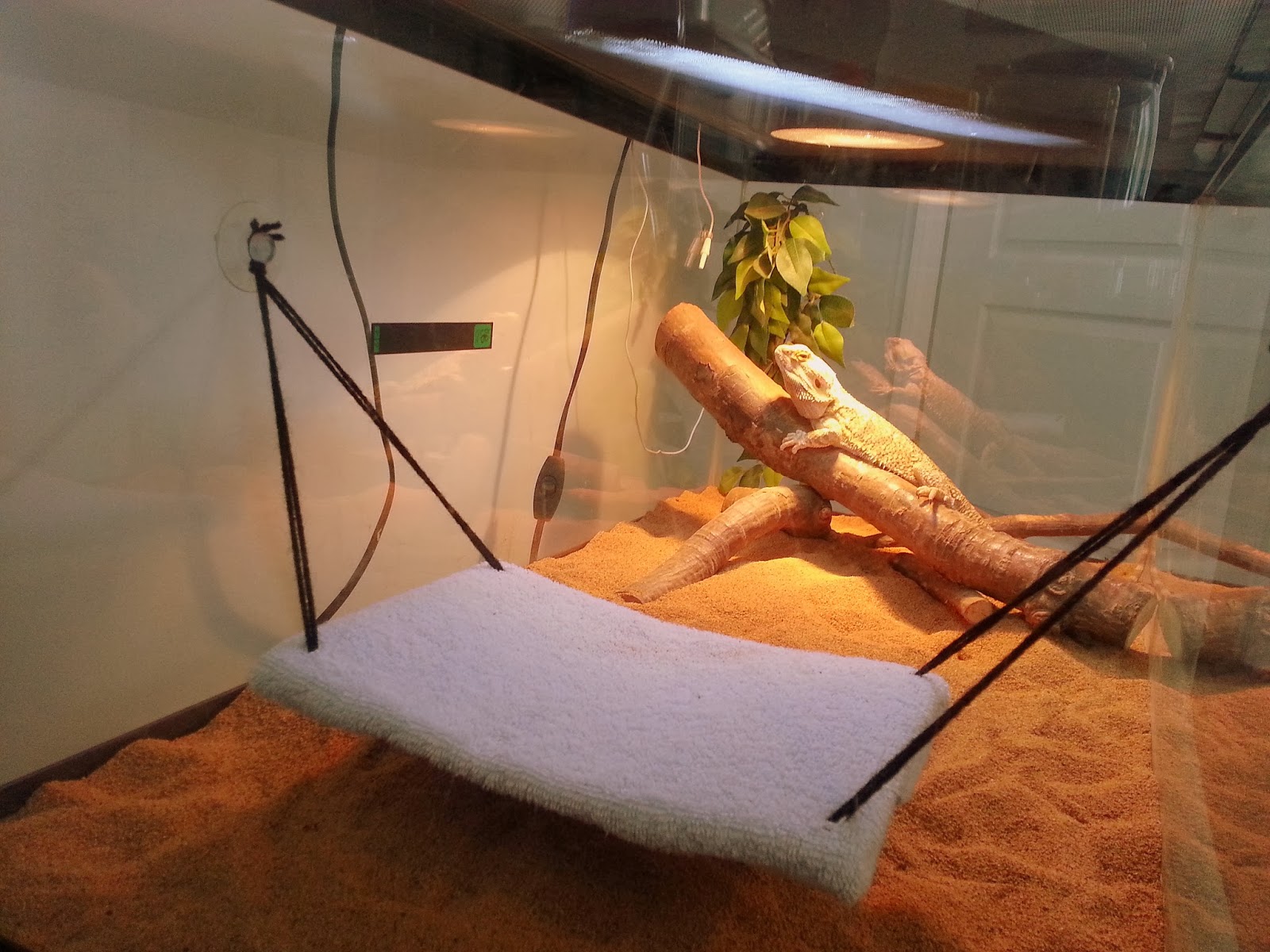 There aren't many toys out there for reptiles, but there are accessories for their enclosures. Among the more popular ones is the hammock, which you can make in less than 5 minutes. And your reptile can chill and soak up the heat in style.
12. Tappaware Cat Puzzle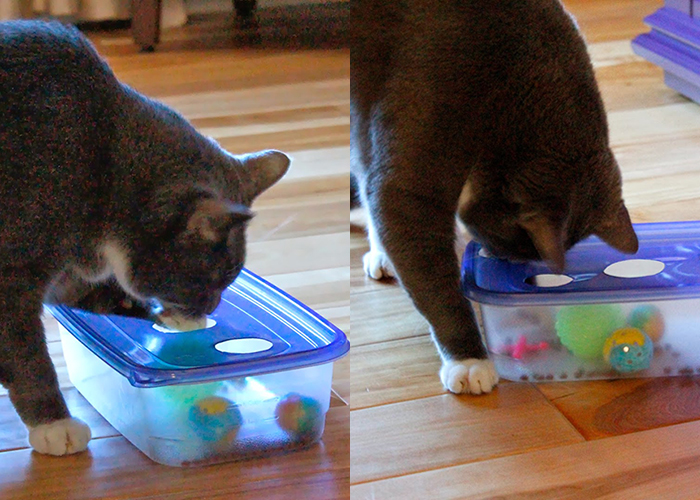 Curious kitties love to scavenge. Place a few treats and toys in a Tupperware, close it, and leave a few holes on the lid. Fun and hilarity will ensue.
13. Bar Stool Turned Cat Condo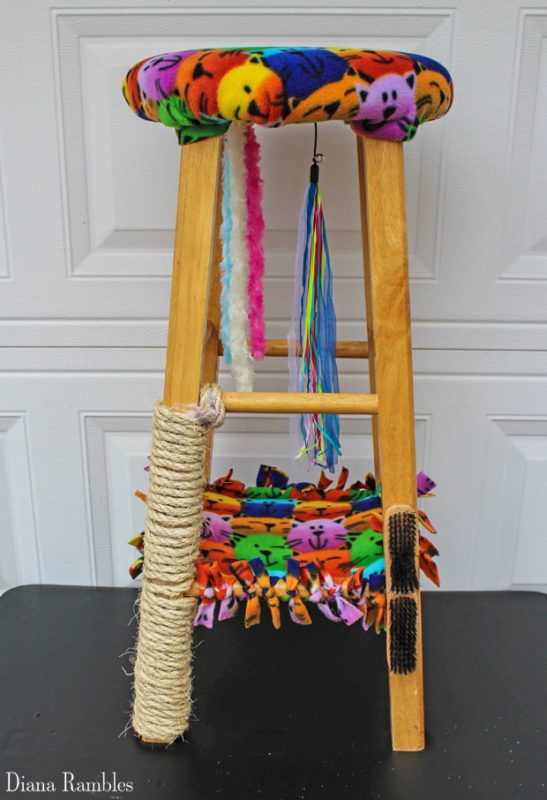 Speaking of cat habits, they also love to scratch, get scratched, climb on things, and sit on unusual places. Instead of setting aside a ton of room for various cat toys, get a bar stool and turn it into this deluxe cat condo. It's purrrfects.
14. Octopus Dog Toy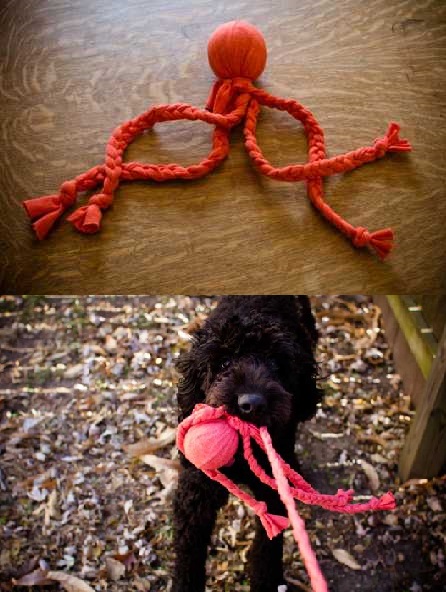 Dogs like toys they can chew, fetch, and play tug with. This octopus toy gives your dog all of it, and you only need some old t-shirt or fabric and a tennis ball. So much fun for so little, it's almost unbelievable.
15. Interactive Treat Toy For Cats And Dogs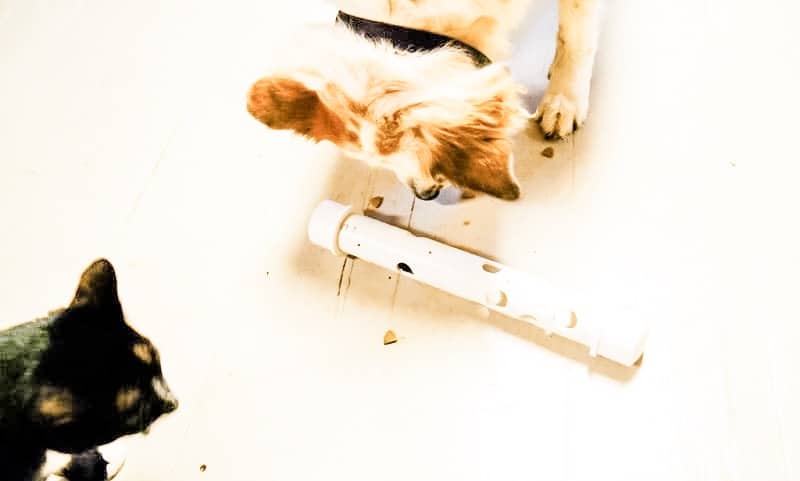 This self-rewarding toy will be entertaining for both cats and dogs. If you own both of these pets, then look no further. Get a PVC pipe, close both ends with caps, drill a few holes, and fill it with treats. Give it to your pets and watch them chase and roll the pipe around, eating their treats along the way.
16. Tennis Ball Brain Game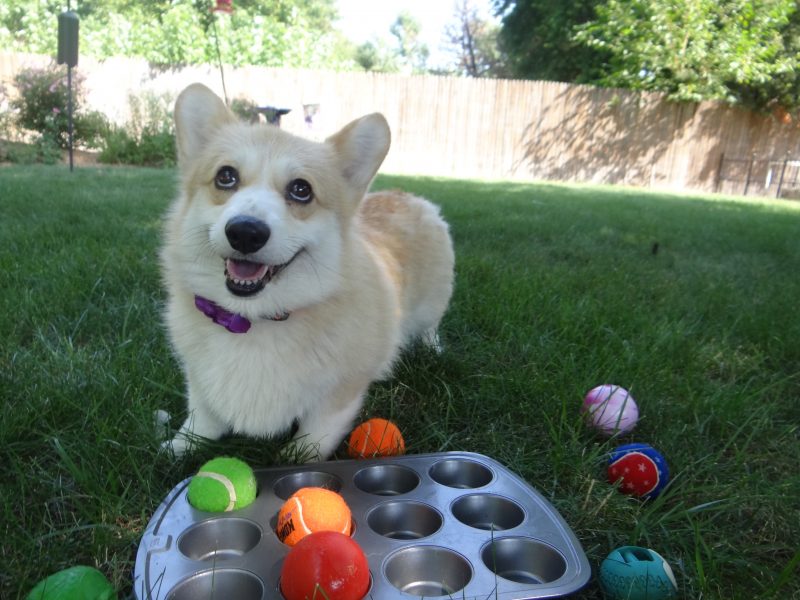 When it comes to teach and reward, here is a fun game that also costs nothing. Get a muffin pan and a dozen small balls. Hid a treat in a few of the cups and cover all with the balls. Your dog will have to use its smell to find the treat and find a way to push aside the ball to get to the treat.
Which one of these homemade toys you think would be perfect for your pet? Do you have an idea for homemade pet toys? Share your ideas and opinions in the comments section below, and don't forget to play with your pets.