When a lady's make up's on point, her life's on point. Building a makeup vanity will achieve that. A personal place where all of your makeup will be beautifully organized and sectioned, especially if your collection is getting bigger. Since a makeup vanity is an essential part of a lady's life, these DIY crafts are a propper lady-pleasers. They are simple and cute and will brighten up your bedroom.
It's always a great idea to build something that will be useful and efficient. These vanities will certainly serve their purpose and you'll be proud of your creation. They vary in style, color, material, and are compact enough to fit in every space. Some of them are not as flashy as others, but you might find them interesting.
Here are 15 creative DIY makeup vanity ideas that are easy and simple to achieve. Because ladies, home is where your makeup stash is.
1. DIY Makeup Vanity With Lights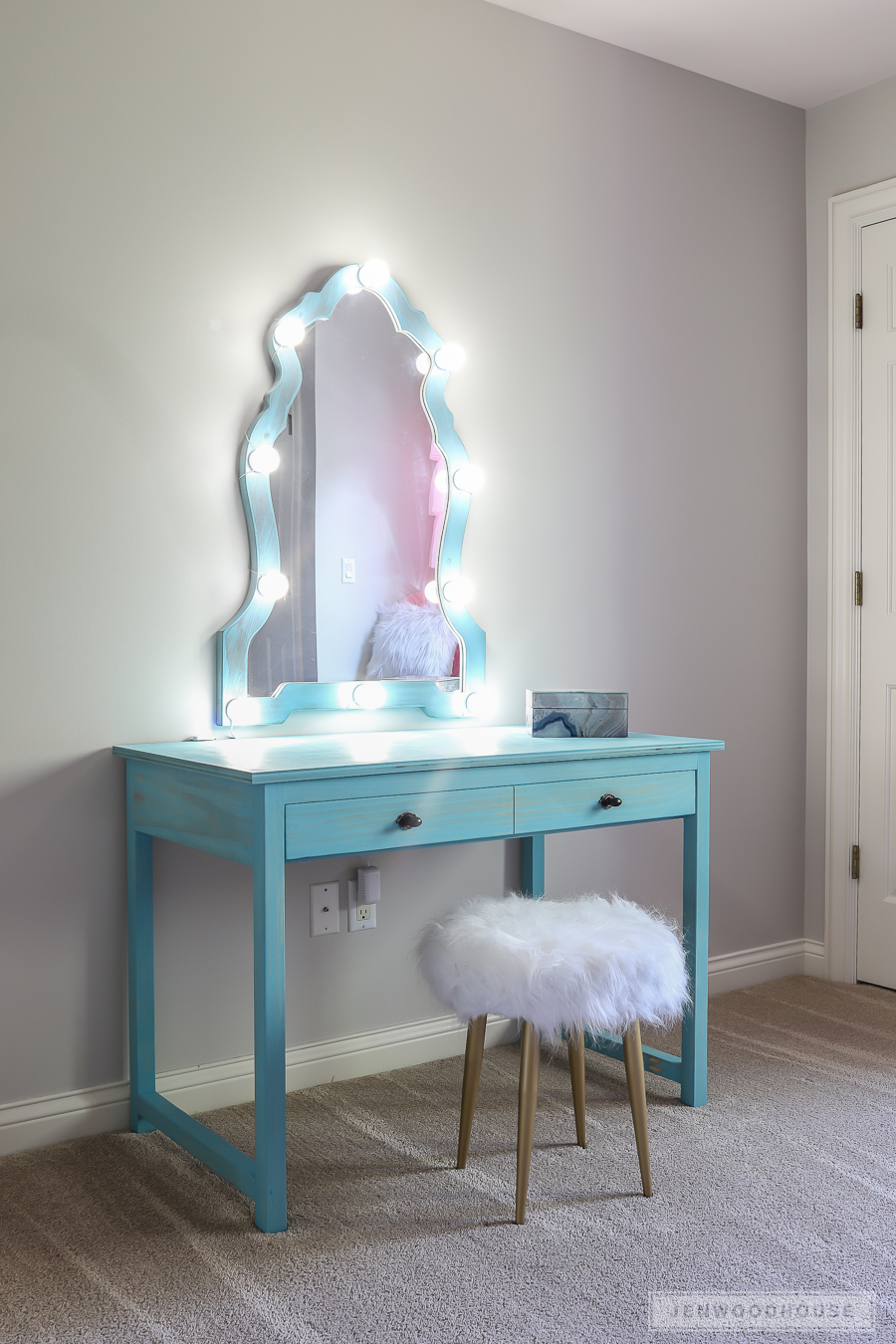 Since a makeup vanity is an essential part of a lady's life, this DIY craft is a propper lady-pleaser. All you need is a desk for your makeup, a wooden mirror on which you will install LED mirror vanity lights, a fast-dry interior wood stain, and a polyurethane protective topcoat. It's simple and cute and will brighten up your bedroom.
2. DIY Grey Floral Makeup Vanity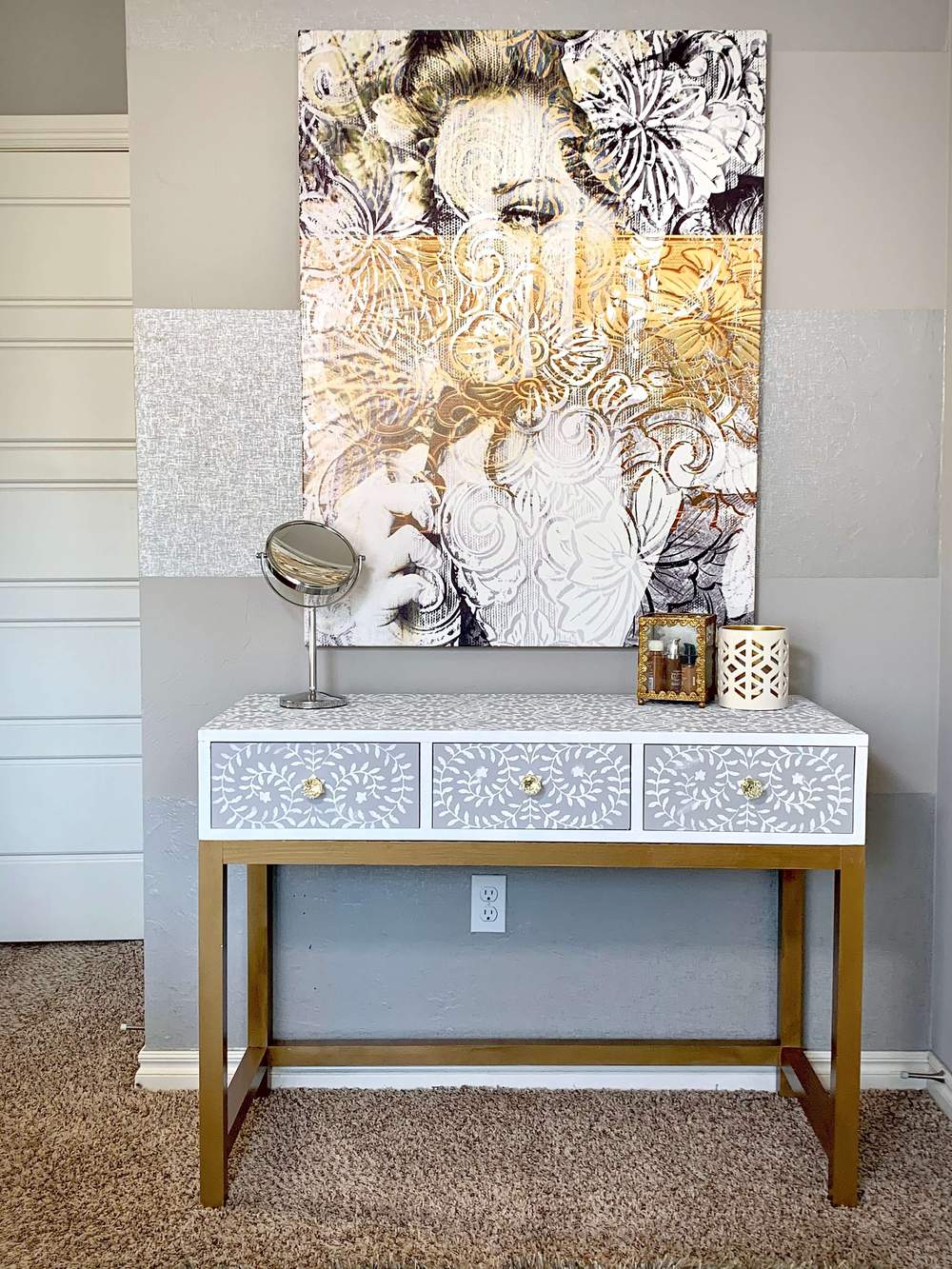 A stylish and elegant vanity puts up a special kind of energy in the bedroom and this vanity blisters with that. It's the perfect combination of colors. The floral design gives a soft touch to the wood and at the same time serves as the perfect solution for your makeup chaos. With this vogueish vanity, who wouldn't want to put a face on in the dull mornings?
3. DIY Wall-Mounted Makeup Vanity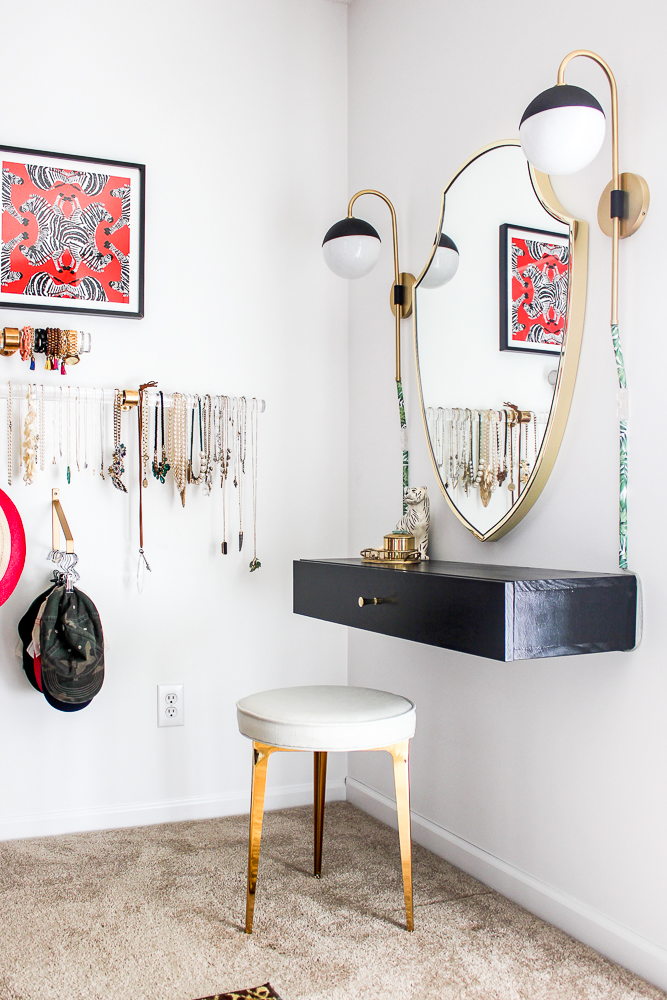 A perfect corner nook all for yourself would be lovely to have, isn't it? This vanity is very easy to build and it's quite flexible in terms of where you want to install it. The desk has a drop-down front for all of your makeup. You can put beautiful lights and even put jewelry holders beside your vanity as well.  The process of getting ready is easy-peasy when you have everything in one place. Chic and creative, am I right?
4. DIY Vintage Door Makeup Vanity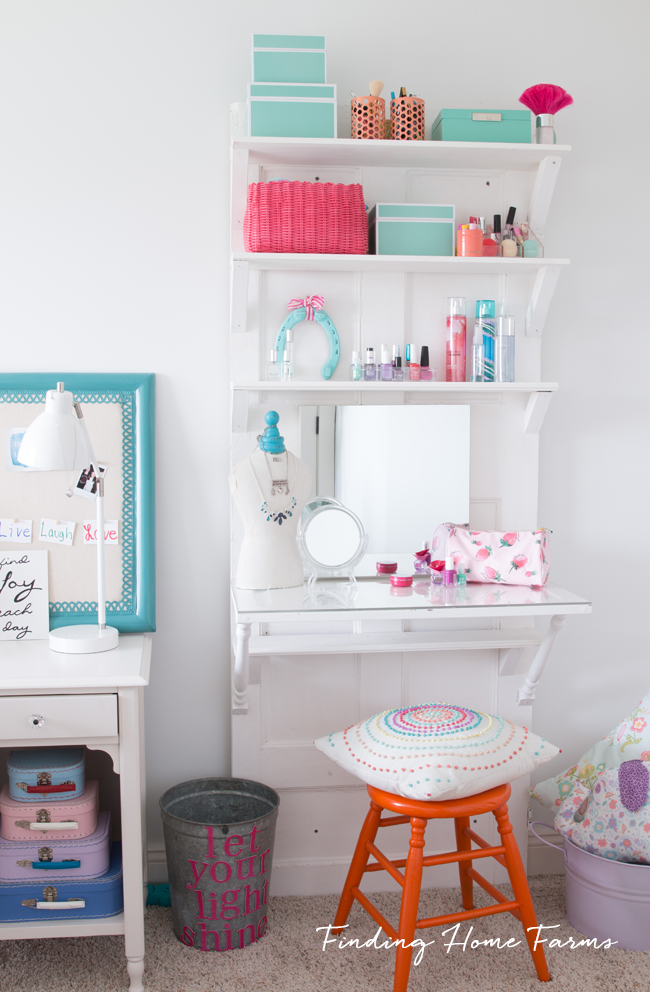 If you wish it, you can achieve it! That also stands for creating a makeup vanity out of a recycled door. It's a perfect addition to every girl's or lady's bedroom. After you sand and paint the door, install shelves on the upper part, and a broader shelf for the tabletop and add a mirror. You can paint it in any color you please and organize your makeup, jewelry, and perfumes on the shelves. Who would have thought that a door can serve so beautifully as a makeup vanity?
5. DIY Suitcase Makeup Vanity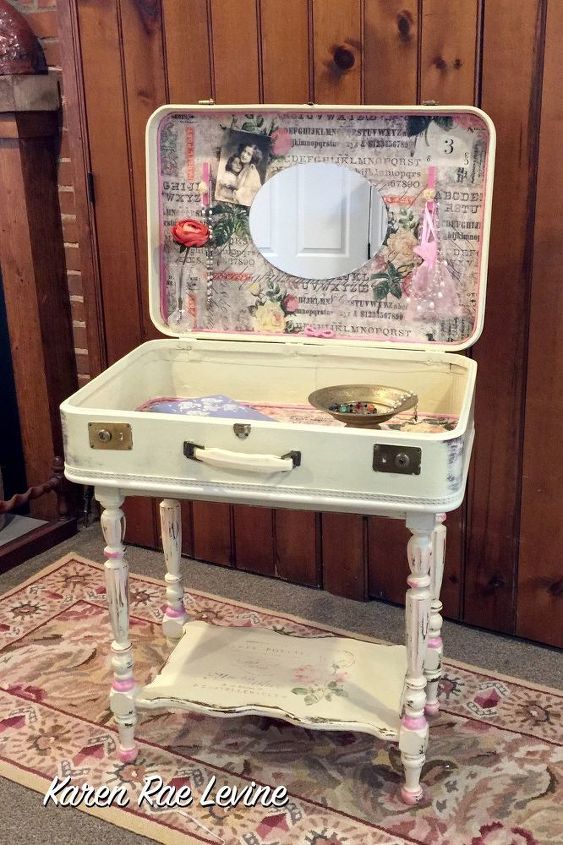 A table when it's closed, a vanity when it's open. Say no more! This is a perfect makeup solution for vintage lovers. It's very cheap to build, all you need is an old suitcase that will be connected with either a wooden frame or just fix it on top of a table.  Decorate the inner and outer surface with fabric, add a mirror and there you go!
6. DIY Flip Top Makeup Vanity With Lights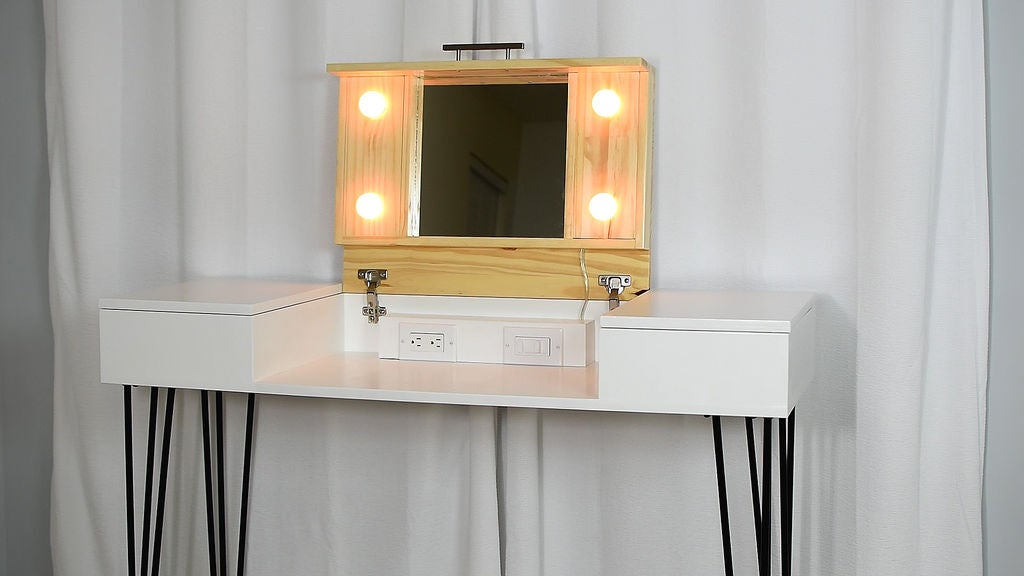 The timeless design of this makeup vanity will fit in every lady's home. The installation is demanding but once it is finished you won't take your hands off it. It provides a lot of space for your makeup and great lighting on the mirror. This vanity could also be used as a work or office desk, cool, right?
7. DIY Pine Makeup Vanity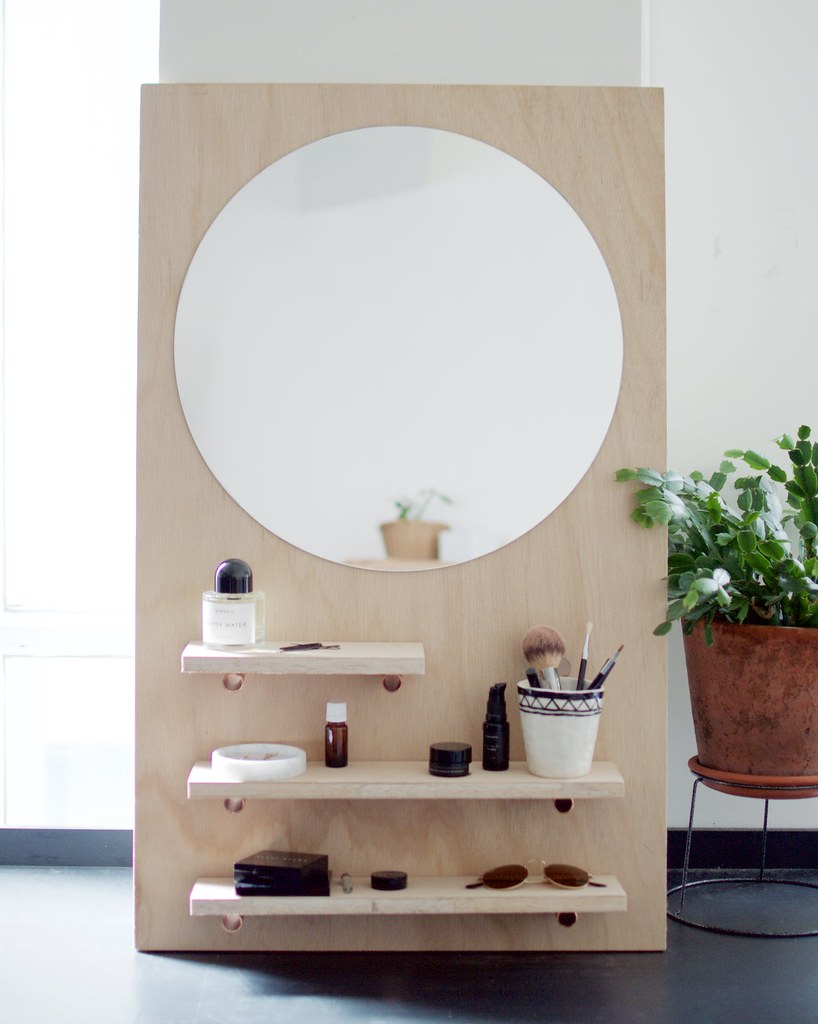 Do you love minimalistic designs? Now you can have your perfect minimalistic makeup vanity that can be placed and moved around in every part of your home. It's very simple but highly functional. The design consists of a pine board back with a huge round mirror and some manageable shelves. Once it's done, you can place your makeup, hair, and skincare products.
8. DIY Shelf Makeup Vanity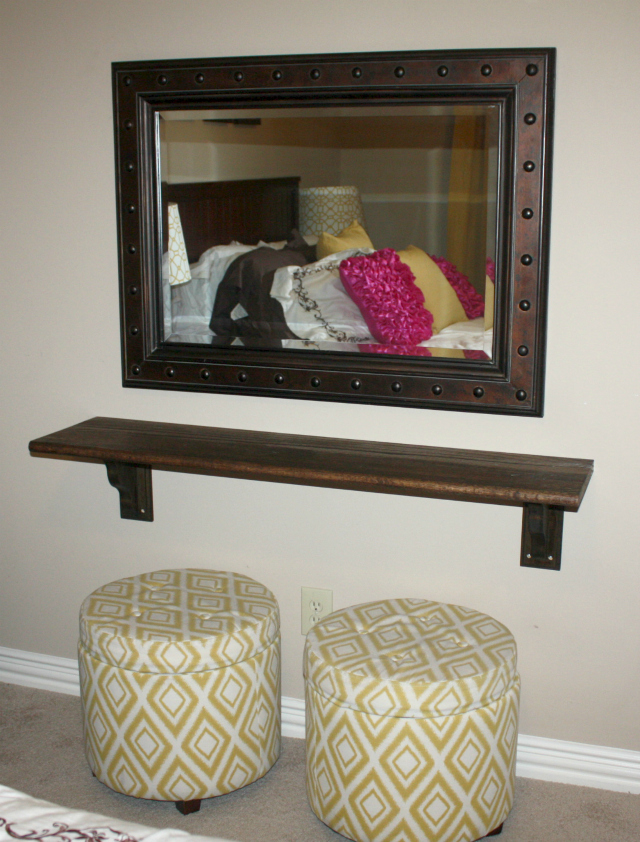 Shelves are very functional pieces of furniture, even for building makeup vanities. If you are low on the budget but fell the need to organize your makeup and have your personal getting ready section, this is your best solution. All you need is a shelf and a mirror. Problem solved, no sweat!
9. DIY Sewing Machine Makeup Vanity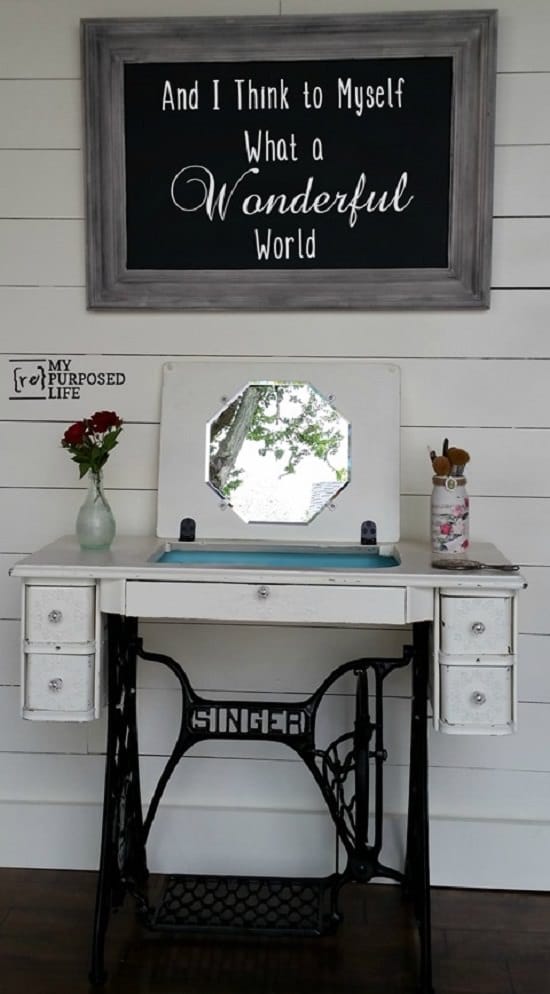 Do you have a sewing machine left by your grandmother or mother in your home? If yes, then here's a chance to bring it back to life. Once you remove all the sewing machine hardware you can place a desk with drawers and a mirror. You can also paint it whichever color you like and decorate it for a more lively look. Vintage lovers, dig in!
10. DIY Rustic Lit Pallet Makeup Vanity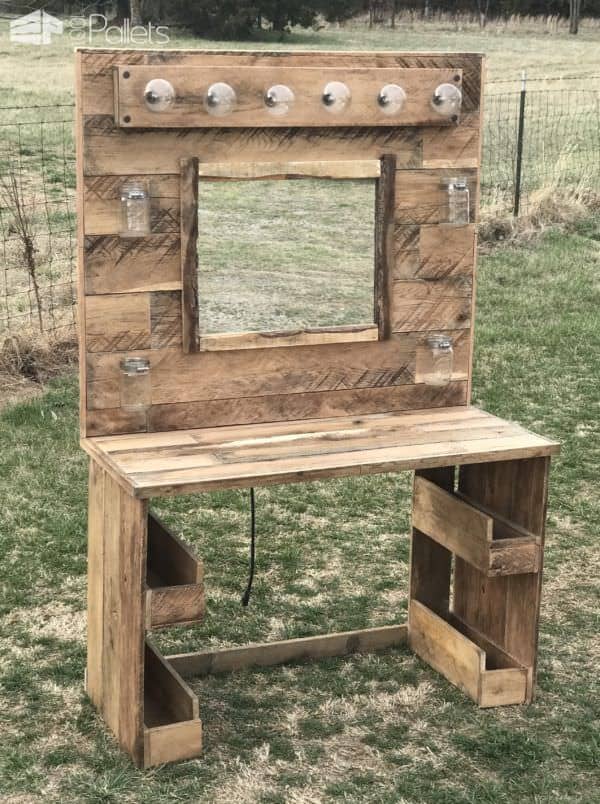 If your room is decorated in a more rustic style, here's a vanity that goes along with that. For this pallet, you will need about four pallets, a mirror, storage jars, and light fixtures. This vanity provides additional storage below the desk as well. It's a very creative, plain, and rustic design.
11. DIY Budget-Friendly Makeup Vanity
Do you feel the need to get creative, but don't have a budget for it? With this tutorial, you will please your creative needs and build this affordable, yet beautiful makeup vanity. You can experiment with colors, as well as materials. Most of the materials you can find around your homes. So gather up supplies, dig in, and build your makeup nook!
12. Juicy Makeup Vanity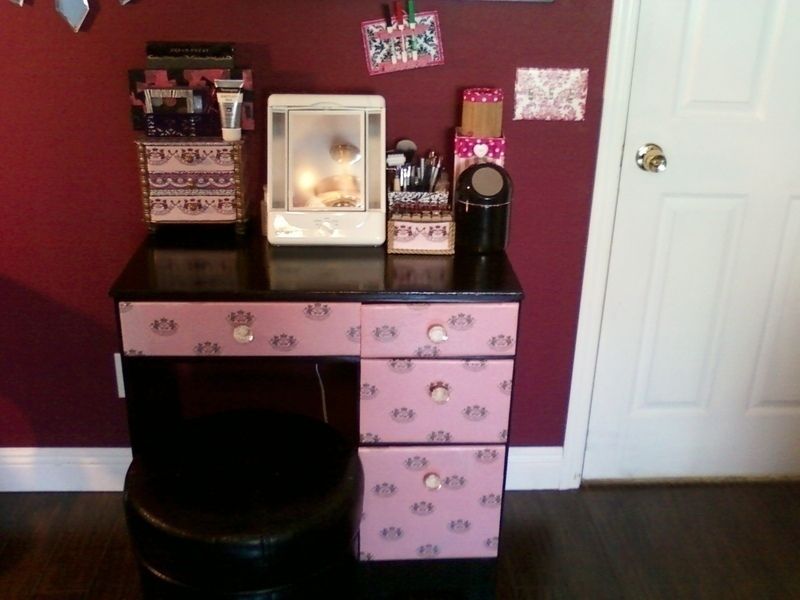 If you happen to stumble upon a yard sale and find a computer desk, you can turn it into makeup vanity like this one. The design is cheap and affordable, all you need is a decorative paper to decorate the drawers and a fresh coat of paint. Add a mirror on to of it, place all of your hair, makeup, and skincare products and see how wonderful it looks.
13. DIY Hairpin Makeup Vanity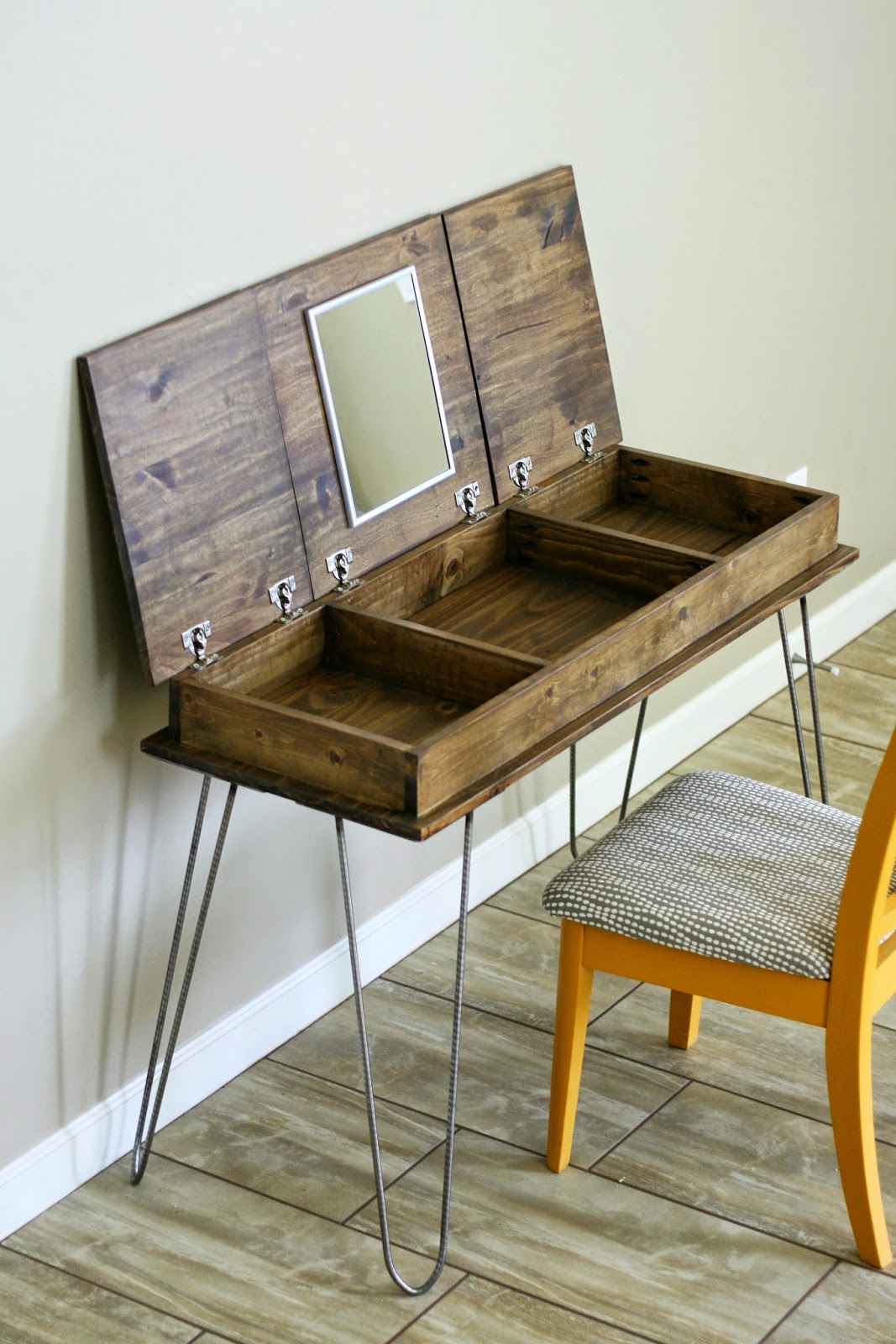 A coffee table and makeup vanity in one. Such a perfect combination for early mornings isn't it? To create this, you will need wooden planks and hairpin legs. When you raise the upper part, there's a mirror and three sections for your makeup, hair, and skincare products. So simple, yet so helpful. If you have a desire to get a makeup vanity, this table would look perfect in your home.
14. DIY Glass Top Makeup Vanity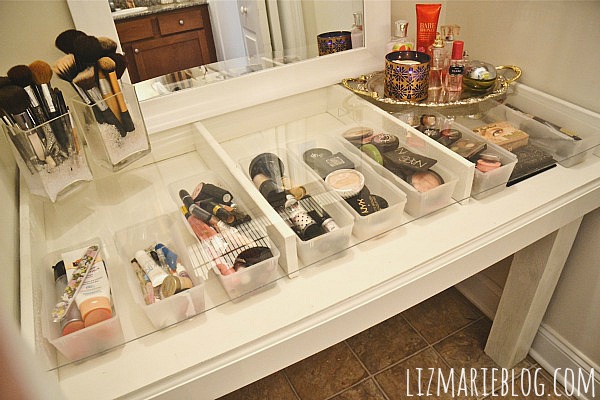 Stylish, chic, and capable of lots of space. On top of that, all of your makeup will be on your sight. It couldn't get any easier than that! You will build the desk within hours. After you get that done, all you need is to place the mirror and put the glass for completing this glamorous look.
15. DIY Dressing Table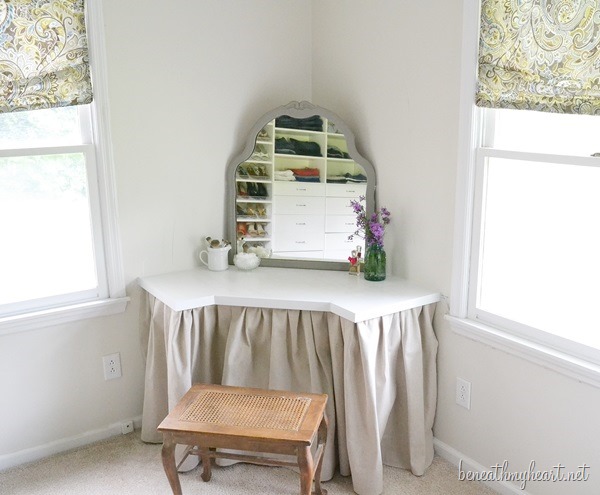 What's the best way to use an empty corner in the bedroom? With a makeup vanity, of course. The lighting will be excellent for putting up makeup and the overall look of the vanity will liven up the energy in your room. All you need to do is add a desk, a gorgeous curtain veil under the desk, and a mirror on the top.
Makeup is self-confidence applied directly to the face. Makeup vanity is the place for that to happen. Which one of these DIY makeup vanities is your favorite? Leave your thoughts in the comments below!