Oh yeah, there are vacations in the air. It's the happiest time of the year really! With the joy and excitement of shopping, parties, work, baking… It's easy to miss the stuff that makes us feel a little cheery at home.
For decorating, Christmas candle decorations are common. For interior decoration, they are commonly used because their light quickly warms up the room. Candles are a sign of light that gives to your home the promise of life. They add eye-catching color to the surrounding area when used as decoration objects. When shopping for Christmas, candles are at the top of the line. During the holiday season, they are still a favorite. There is also no trend for Christmas without candle decorations. Christmas candle decorations are a lovely light addition that will lend your holiday decor a charming shade.
You should make the centerpiece an interesting one, decorate your mantel, window sill, even your balcony. Take a look at some fun ideas for Christmas candles you should make yourself.
1. Rustic Wood Candle Decor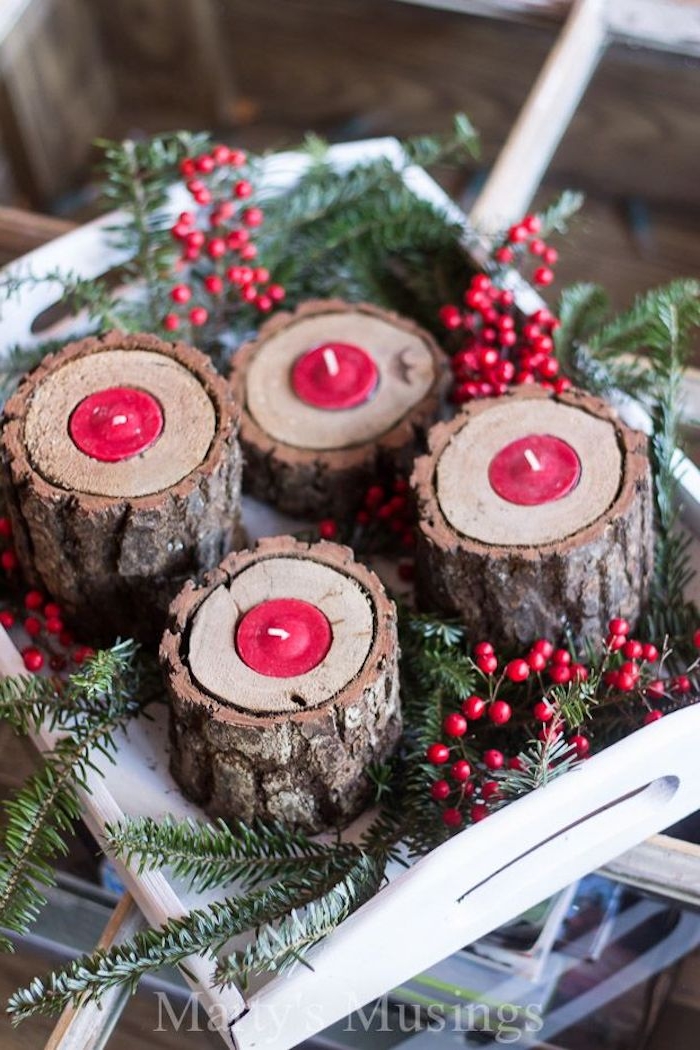 If according to the seasons, you love fascinating info, it's time to try some easy ideas that will make your home fun and exclusive. We prefer candles at the dining table as a centerpiece. It doesn't have to be something fancy, because you are going to put nature indoors during the holidays with this idea. We share with you a tutorial on how to make some rustic candle holders from logs for this season's centerpiece. Enjoy!
2. Cut-out Wooden Candle Decor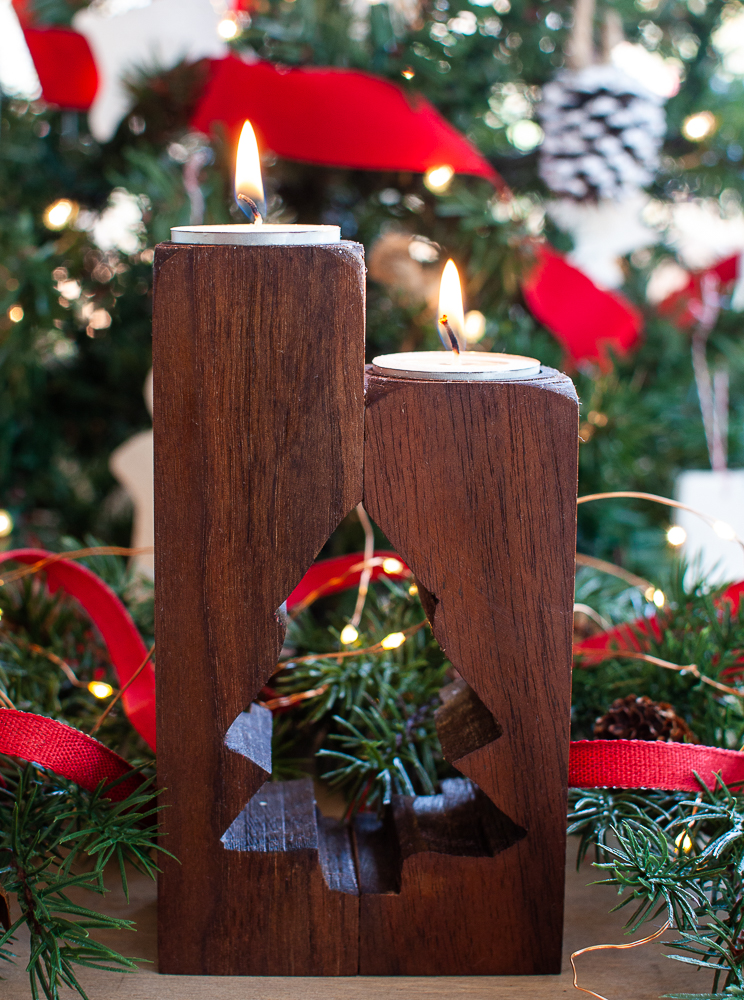 A candle holder made of wood is a perfect DIY project for you to put a bit of the world back inside, provided that the cooler weather will often make it a little less fun to experience the outdoors. It's a super basic principle that brings to every space a good bit of rustic warmth when it's a little too cold to go outside. Check out the tutorial to see how it is made.
3. DIY Pine Cones Candle Decor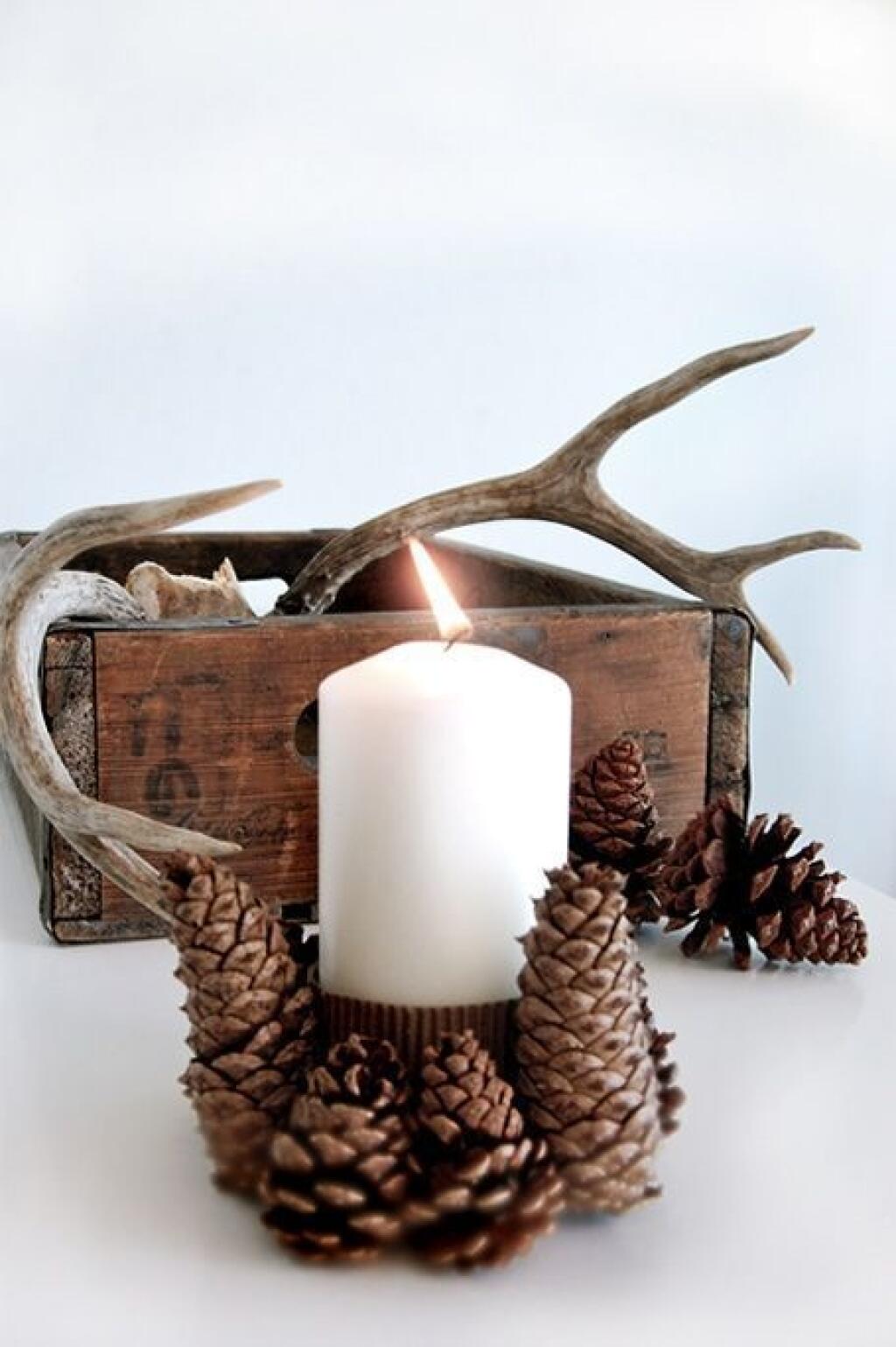 The charm of the winding days is attracted by these rustic ornaments. Outside, they mirror the changes going on. Almost an illustrative tale, telling how the bright leaves and cones leave the branches bare from their trees, only to be coated with magical snow later on. It's as easy as finding or purchasing pinecones for this DIY, and modifying them to carry candles for a discreet atmosphere. Enjoy!
4. Cinnamon Sticks Candle Decor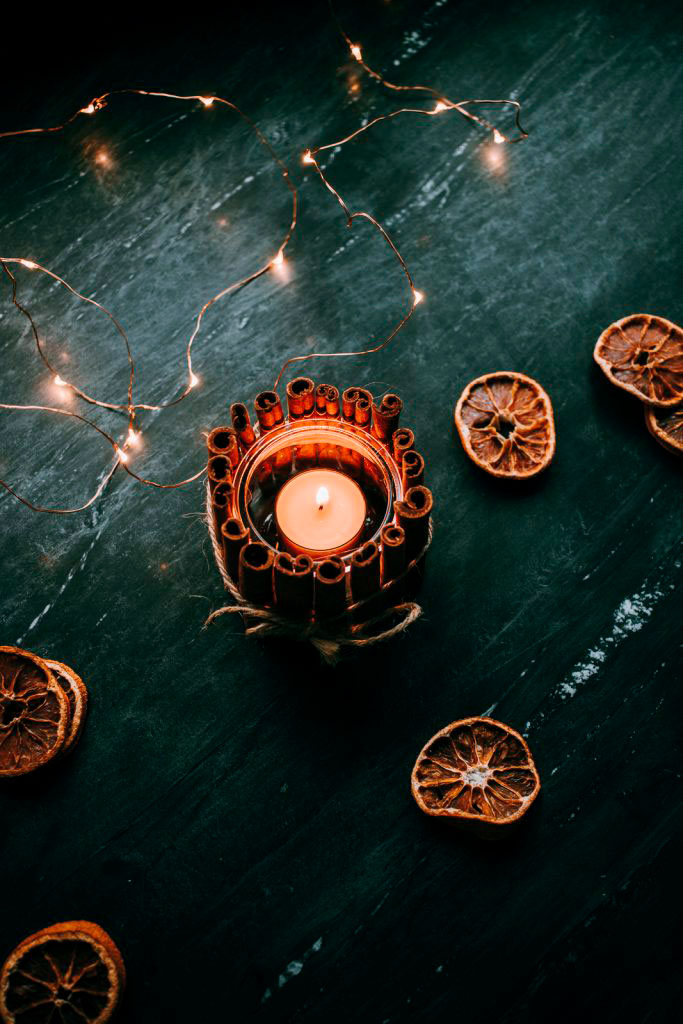 This season, indulge the senses with a homemade cinnamon stick candleholder. It's a lovely way to dress up and create a cozy, welcoming mood with a cheap candle. It also makes for the holidays or every time of the year a good present to send.
5. Sweater Candle Decor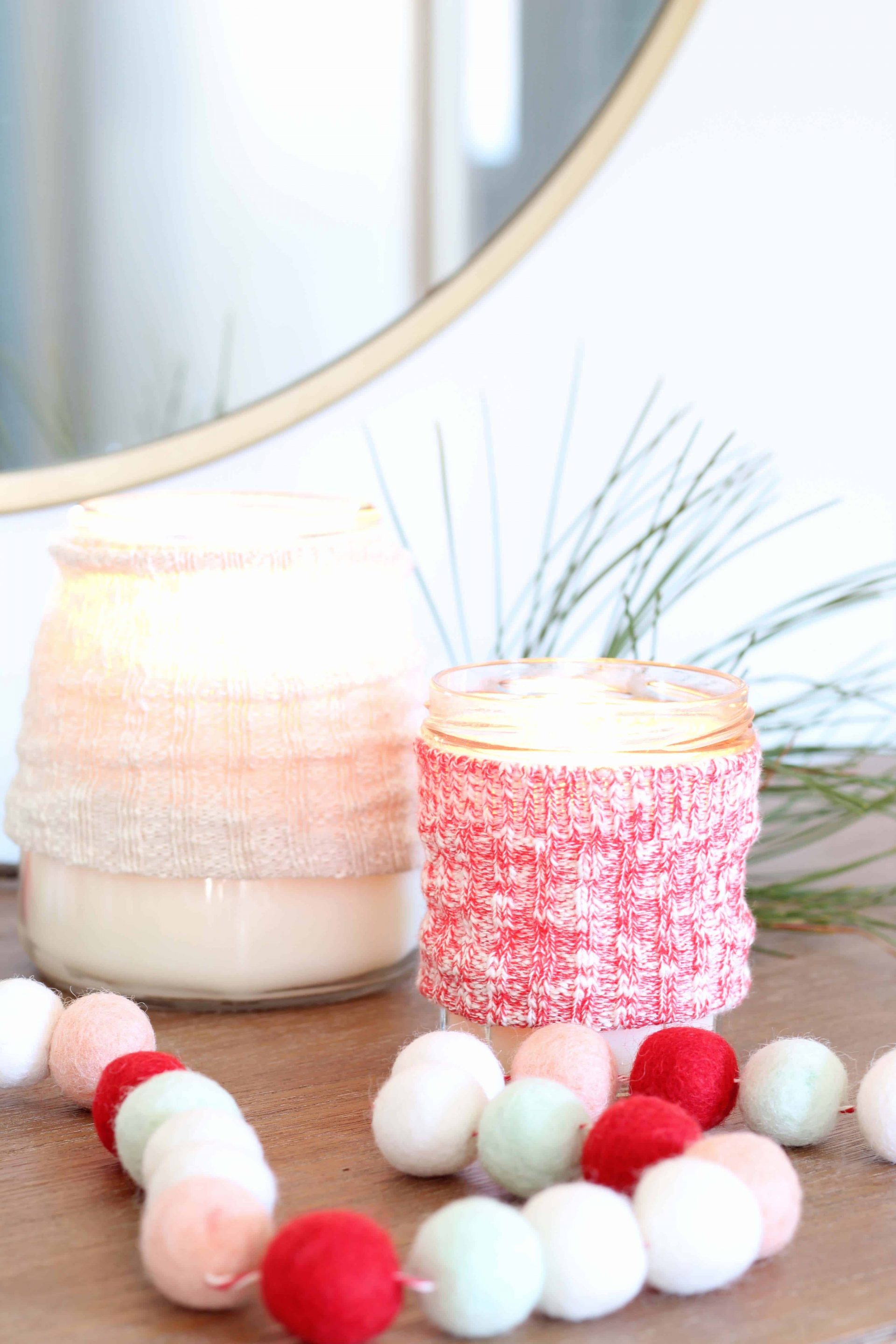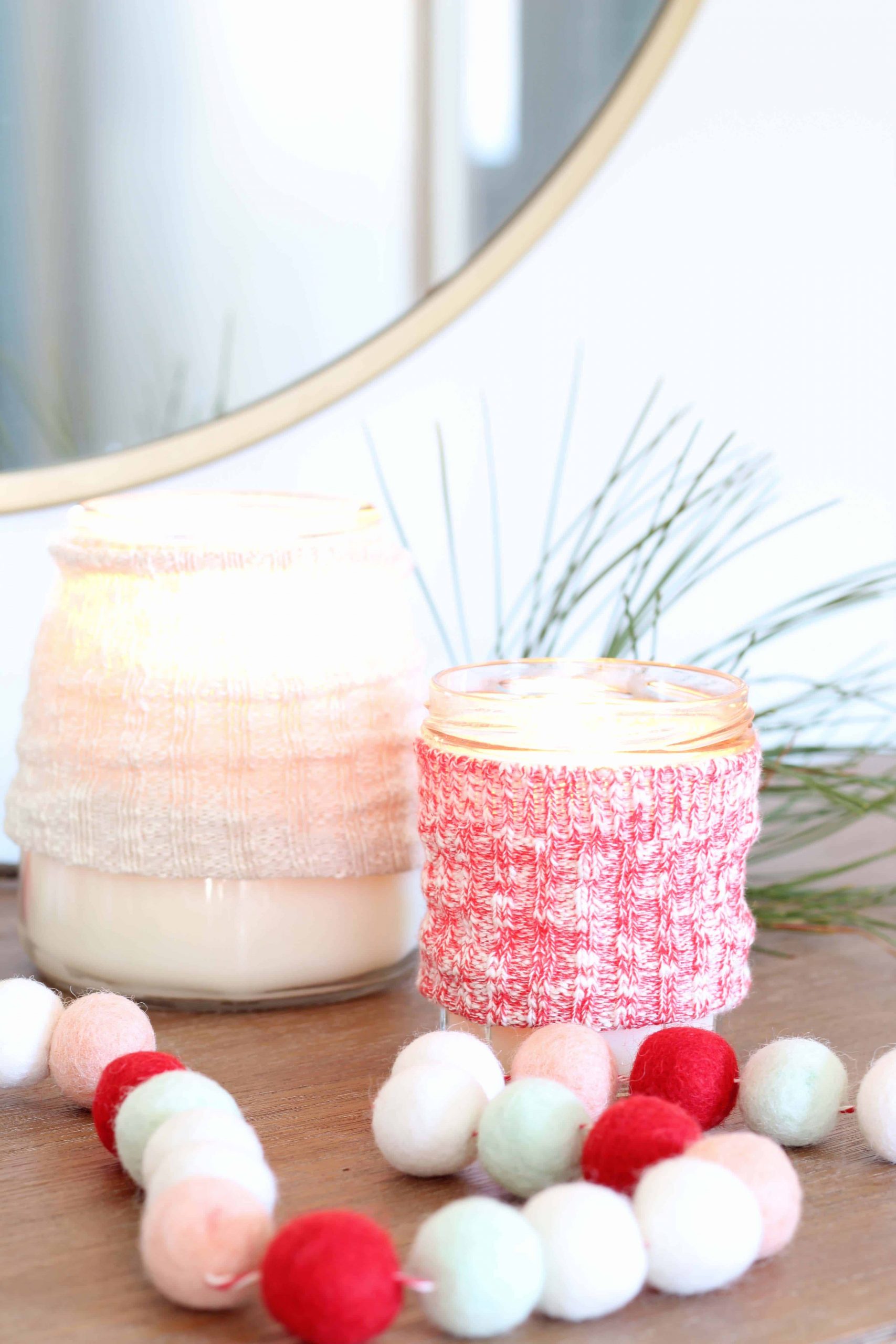 With the candlelight burning inside, these little candle holders only take a few minutes to make and look so cute! Plus, it's a perfect way to bring two things back together… old socks and old sweaters! See, this is the reason why you never throw away things! When you may need them, you just never know!
6. Mason Jar Rustic Candle Decor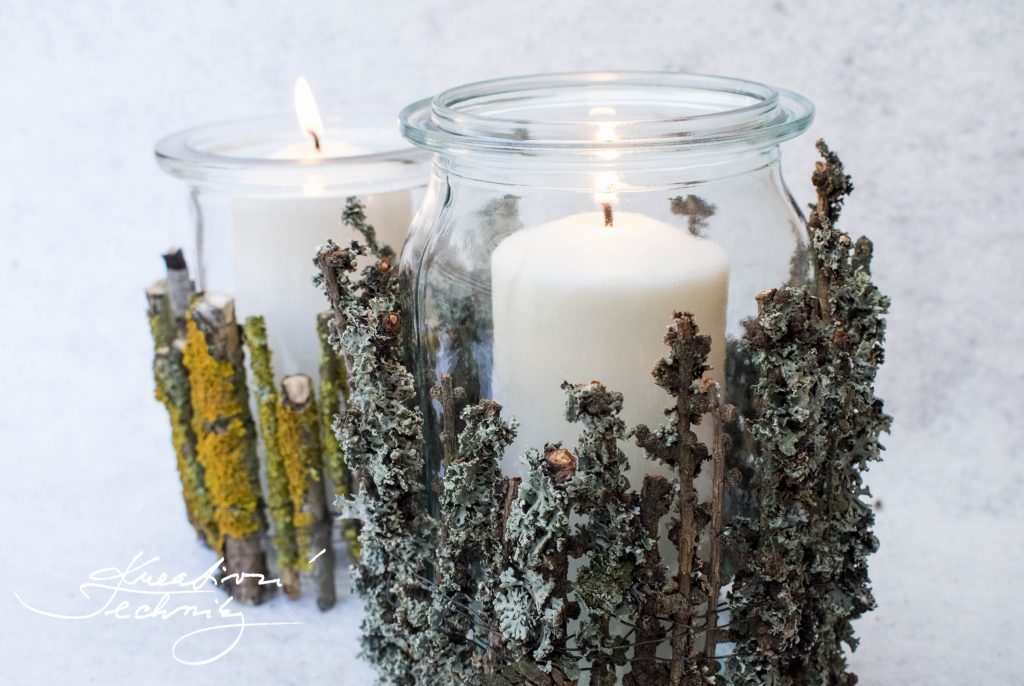 If you enjoy mason jars and candles, so the perfect handmade Christmas craft for you is the DIY Christmas Mason Jar Candle. For your parents, teachers, or someone else on your mind, these mason jar candles make great presents. You can also make a candle of your own to place in these mason jars. Your house will be packed with celestial smells before you know it, and warm light will be cast over your bed.
7. Snowy Mason Jar Candle Decor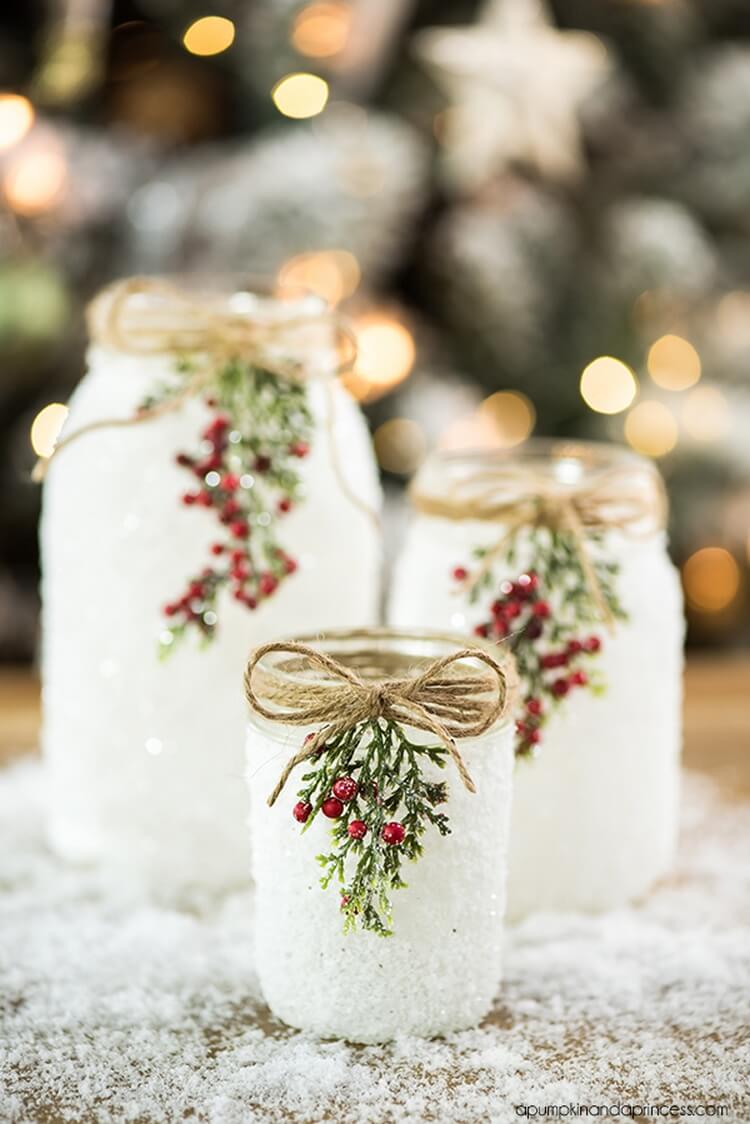 Using unexpected items: Epsom salt and glitter, these DIY Christmas Tea Light Holders are amazingly simple to make. For flameless tea lights, they are a lovely holiday show, or may also be used as a vase for holiday garland or flowers.
8. Mason Jar Oil Candle Decor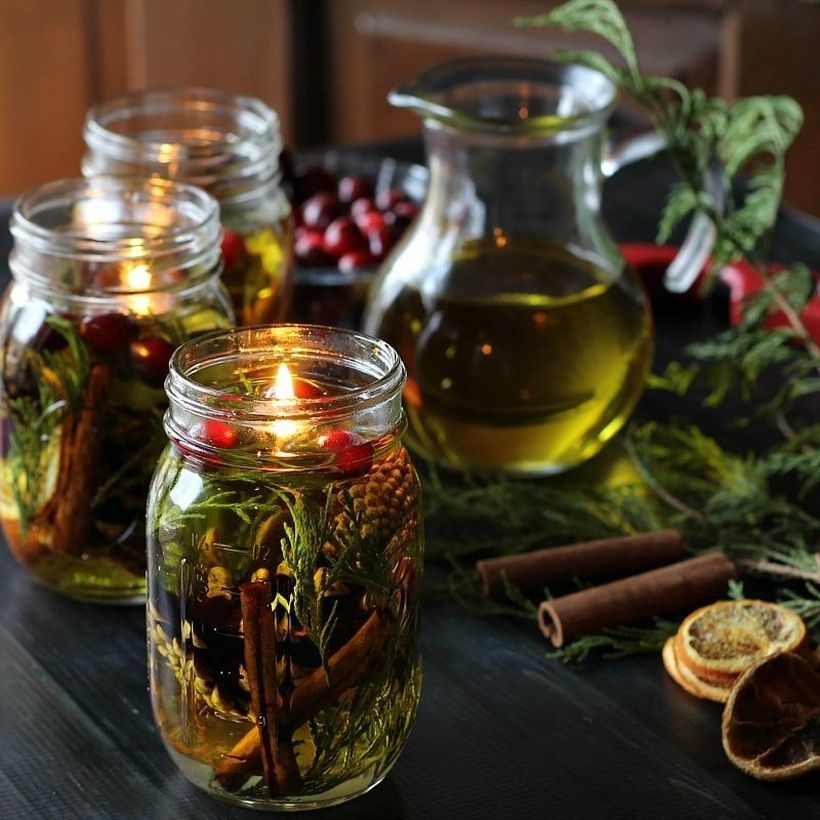 This is an outstanding use of your random mason jars and this season will bring some holiday cheer to your home. Create a couple of these candle holders and scatter them around your home (bathroom, bookshelf, coffee table.) Or for a sparkly candle display, feel free to group them together. We wish all the vacation projects had been this simple. Back to wrapping gifts now…
9. Glittering Jar Candy Cane Candle Decor
Any table would bring a festive look and scent to this DIY candy cane candle. You're not going to believe how simple this holiday decor project is to make (and fun)! Grab a bag of sparkles and let's get this fun holiday project underway.
10. Recycled Bottles Candle Decor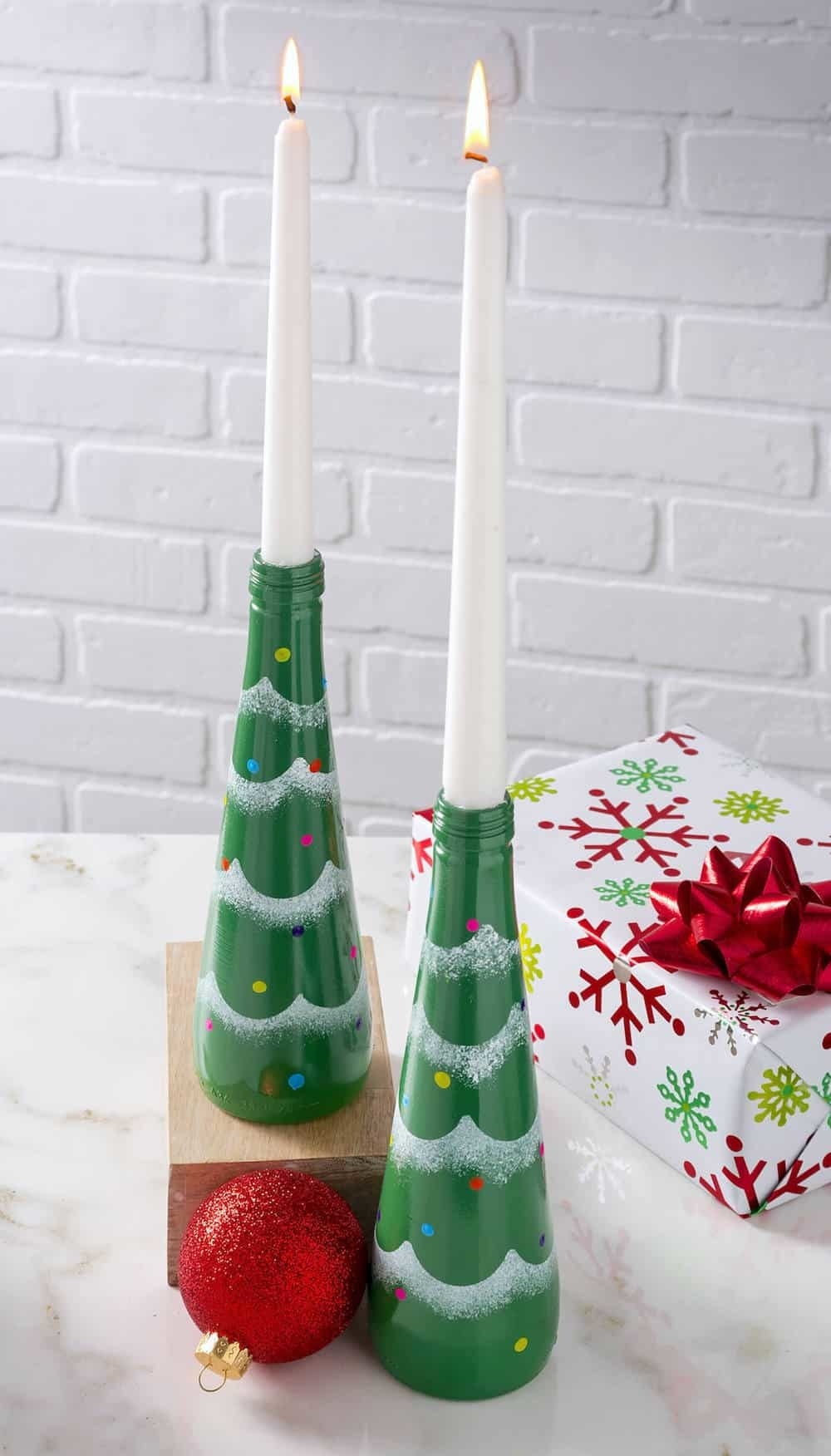 It is a simple, fast little craft to make a Christmas Candle Holder that makes the sweetest candle decorations ever. So if you're looking for an exceptional candle holder for a centerpiece or a selection of side table candle holders, take your candles and some bottles and start decorating!
11. Tin Can Candle Decor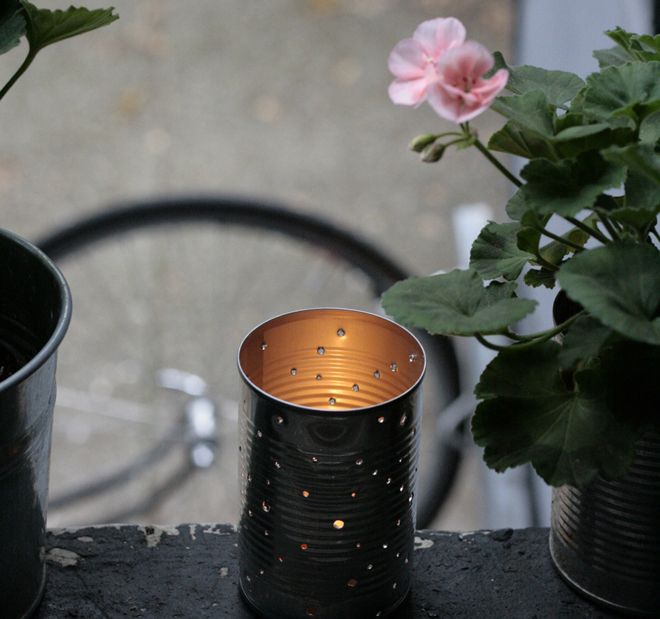 One of those nice little vacation crafts that are affordable and very easy to make is these tin can holders. You can go for one, but for your table set among holly or pine boughs, you can build five or more. Wouldn't it be magnificent? And in seconds, they are made!
12. Cookie Cutter Candle Decor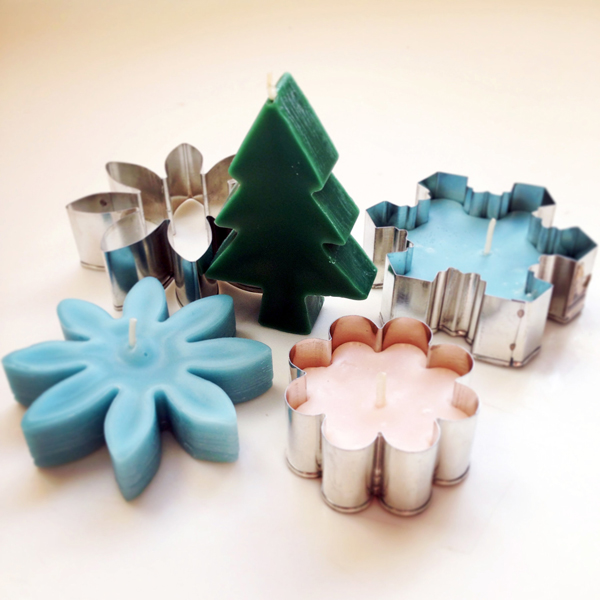 Everybody enjoys coming up for Christmas any year with creative homemade presents. So this idea will encourage you to try to create some crafty creations with cookie-cutter candles. If you have cookie cutters, awesome! For this one, that's the only thing you'll need. Chose your favorite shapes for the holiday and get to work.
13. Glitter Cloche Candle Decor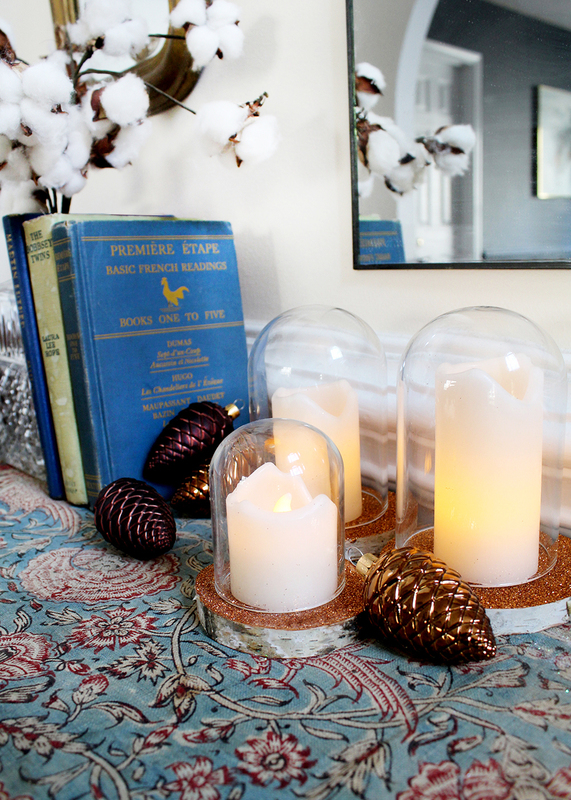 Glitz up your candle holders and let your dinner table glow softly tonight. One of the greatest simple DIY centerpieces you can make is these adorable glittery DIY candle holders. They are so easy and quick to make that you want to make hundreds of them.
14. Maple Leaf Candle Decor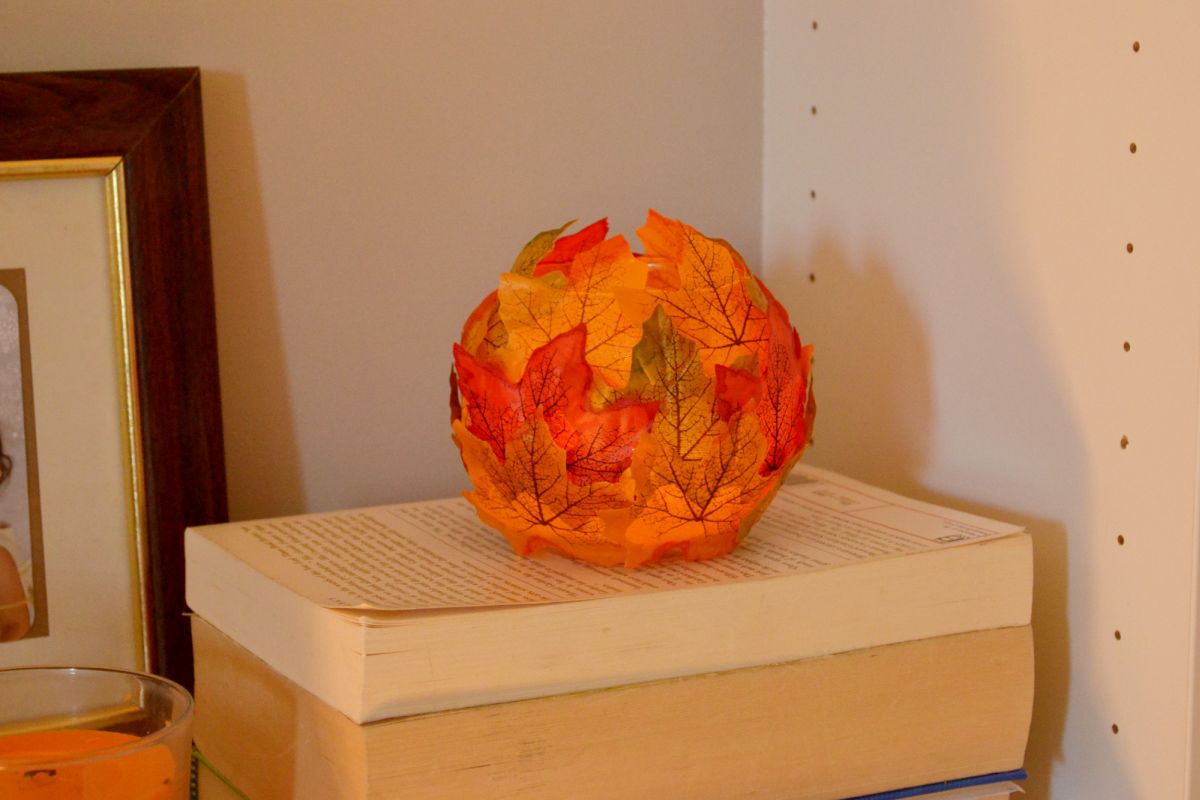 These fall leaf candle holders for your fall or winter decor are very fun to create and show. It takes a little bit of time to make them, but when they are finished, they are very festive and look beautiful.
15. Evergreen Candle Decor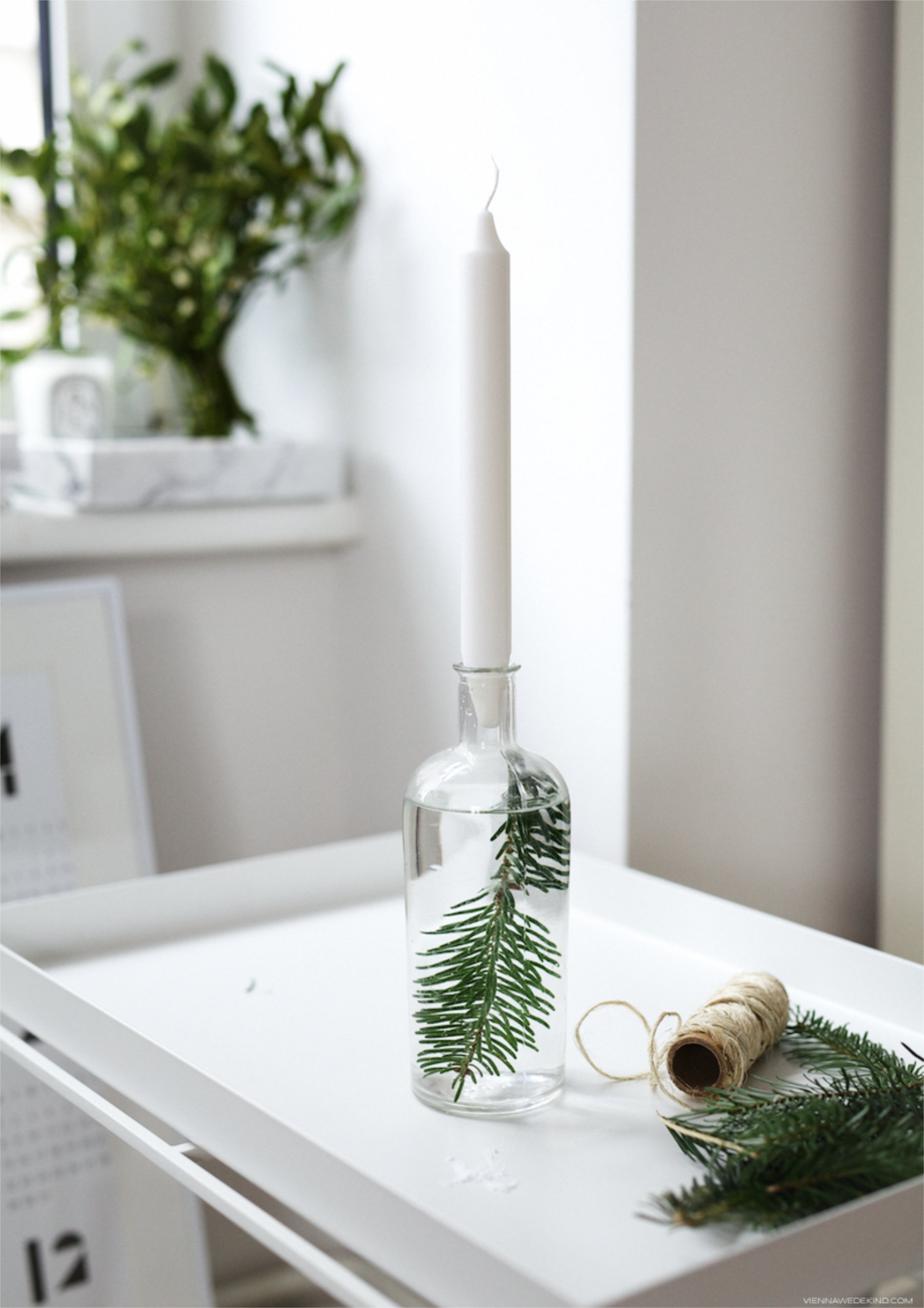 Take a pleasant glass bottle, inside it with bits of evergreen, and set candles on it to blend the freshness of greenery with the warmth of candlelight.
We want to make sure your house is lit in a special way in order to enjoy the true beauty of the festive atmosphere. If you have not yet decided how to decorate and embellish your room, make sure to use some of our thoughts on how to make your candles special holiday decorations! Which is your favorite idea? Below, leave a comment!