Seasoned crafters will agree that mason jars are probably in the top the most utilized items for making things from drab to fab. Maybe it's the fact that mason jars are such a plain and simple item, and also very cheap, that makes it such a desirable base for countess fun, creative, and absolutely gorgeous projects.
One might ask, just what can you do with a glass jar, besides storing things in ti. Well, true. Mason jars do have quite a few uses when it comes to storage and organizing but think outside of the glass jar. It can replace many decorative objects around the house and for every season and holiday all year round, if you just let your creativity let loose.
The ideas we've compiled for you here are just the tip of the iceberg of what you can do with all those empty mason jars that just take up space. From stunning vases and centerpieces to outdoor lighting and warm votives, and countless holiday-themed decor, mason jars have got you covered.
So grab your supplies and give these sweet mason jar projects a try.
1. Rainbow Fruit Mason Jars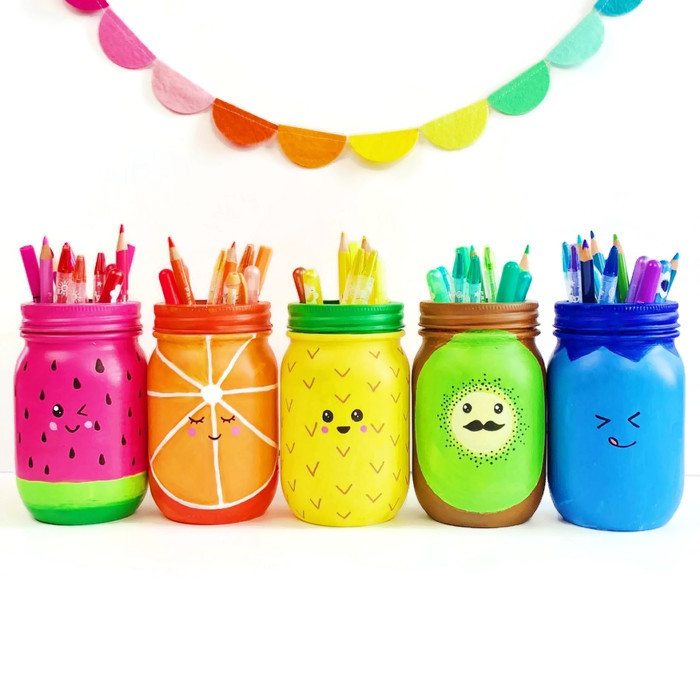 In times when you feel down working at your desk, looking at something cute and colorful can certainly help in improving the mood. Just look at these absolutely adorable fruity rainbow mason jar pen holders. How can these not put a smile on your face?
2. Solar Powered Patio Lights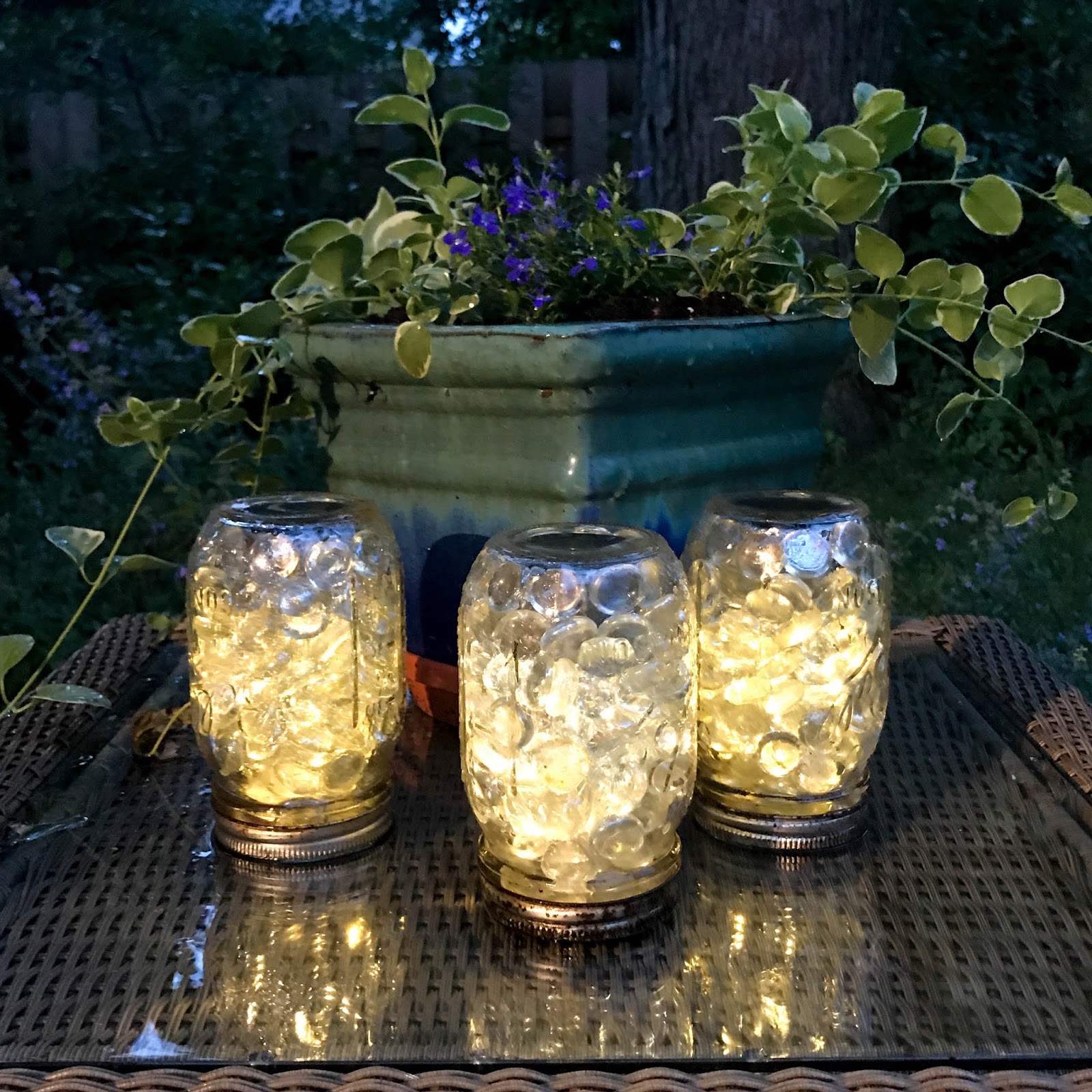 When it comes to the backyard or patio lighting, you want something more soft and subtle, not some blaring lights that turn night into day, making these sparkly mason jar lights perfectly suited for the task. And the best part, they're solar powered.
3. Mason Jar Rainbow Salt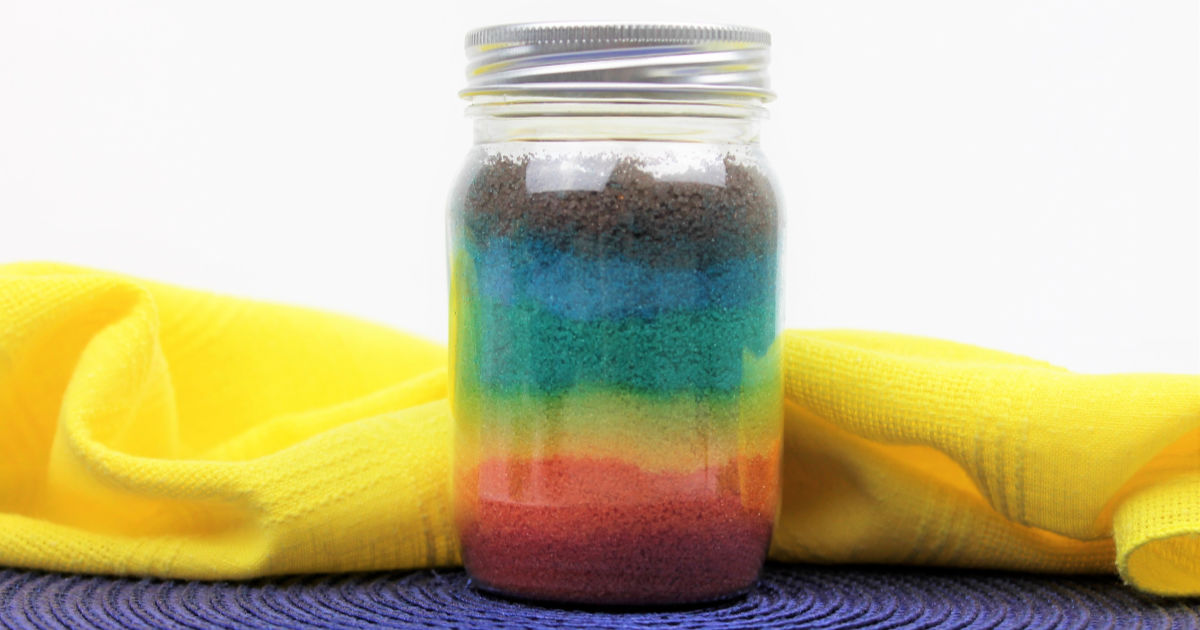 It is said that bath salts are good for the skin, and most brands are so colorfully packaged, you almost don't want to use them. If you are one of them, now you can make your own colorful bath salt jar that you don't ever have to use and will beautify your home instead of just you.
4. Mason Jar Wind Chimes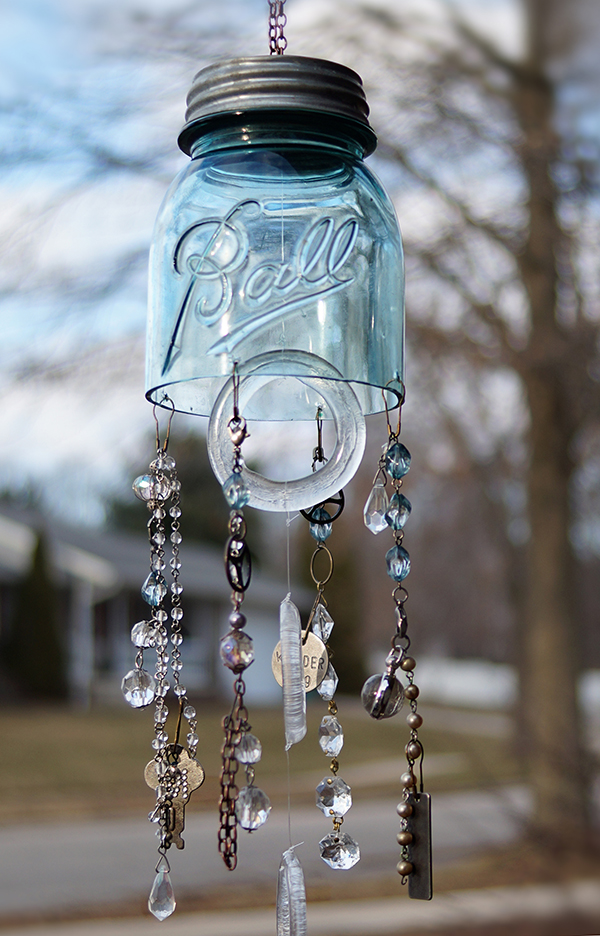 Glass wind chimes give lovely sounds, but glass being glass, they're not quite durable. Mason jar glass is a bit thicker, making it great for making your own melodious wind chime.
5. Fall Painted Mason Jar Votives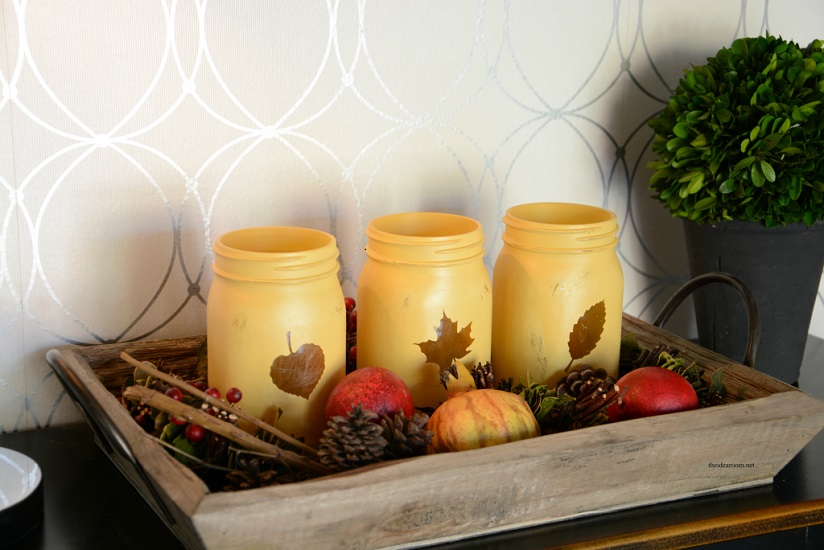 Come fall, Thanksgiving, and Halloween seem just around the corner and you might want to get a head start in fall decor without seeing too tacky. An easy way to do that is with more neutral decor, like these yellow peek-a-boo decorated jars. Use them as candle votives, vases, or just plain decor. They'll look good either wat.
6. Rustic Wall Lantern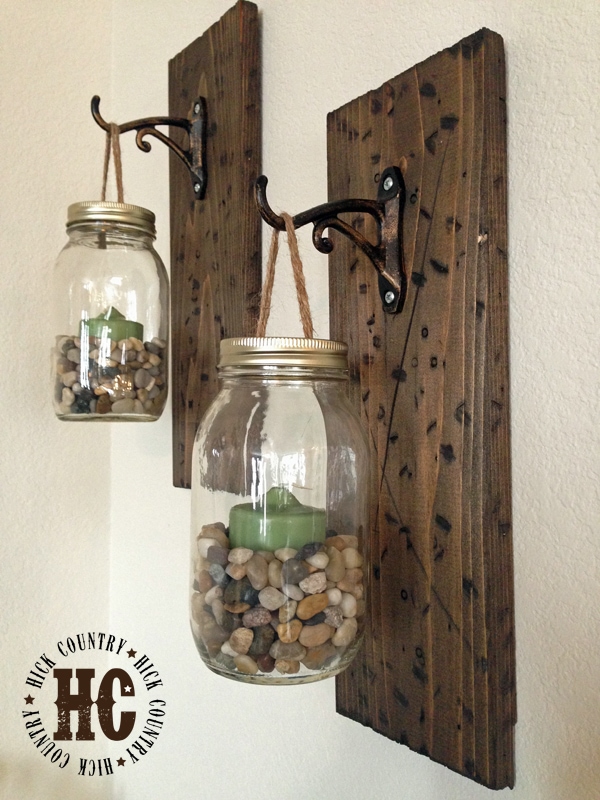 Wall hanging lanterns are a popular rustic decor piece and can hold quite a big price tag.  Making one is way easier than you'd think even if you've never built anything. With some planks, hooks, chain, and mason jars, you can have this lovely decor piece in your home ready to hang in an hour, tops.
7. Glass Jar Terrarium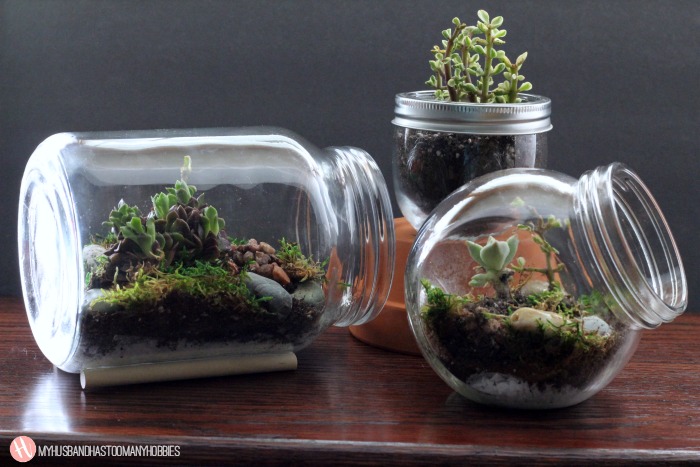 The appeal of terrariums is that they're like having a miniature piece of woodland nature in your home. Some think that a terrarium will only look good if you have the right container to create your terrarium in.  Look at majestic jar terrariums and say they don't look fabulous.
8. Patio Mason Jar Chandelier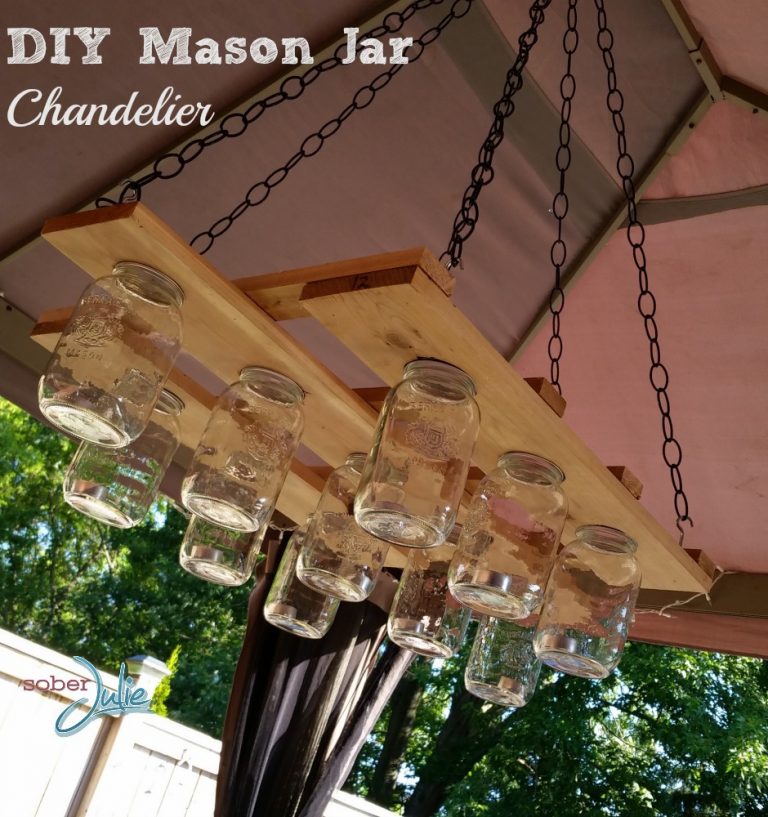 As we mentioned, outdoor lighting is important, and here is another great and grand mason jar idea. An outdoor chandelier, powered by either candles or fairy lights, either way, it will make you feel pleasant and comfortable while relaxing in your yard.
9. Thanksgiving Tree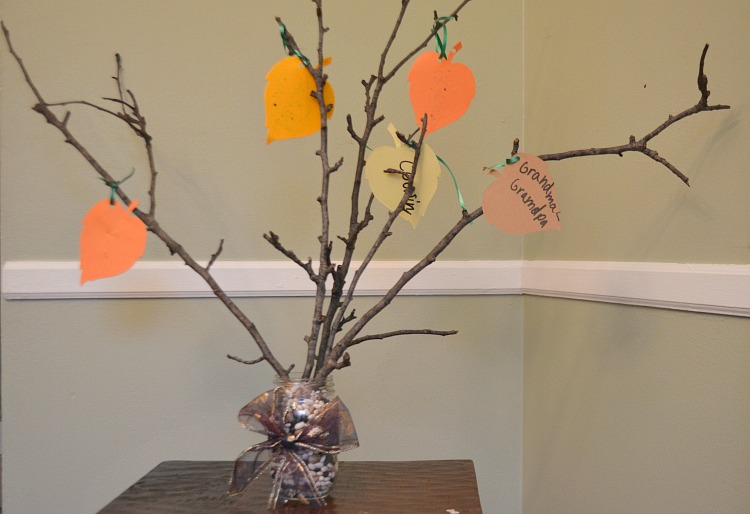 The Thanksgiving Tree or The Thankful Tree is a sweet Thanksgiving tradition who's popularity should really be more than it is. It is always good to remember something to be thankful for and see what others are thankful for as well. And making one is as easy as picking up a branch and placing it in a jar. Yet, the value it holds can never be measured.
10. Gold Glitter Fingerpaint Jar

Children love glitter, grown-ups love gold. We never seem to grow out of that fascination with shiny things. Here is a cute project to try with your kids and one you will definitely place front and center on your shelves, instead of hiding it with all the other keepsakes your kids' made. A gold and glitter vase, A truly priceless keepsake.
11. Mummy Mason Jar Luminaries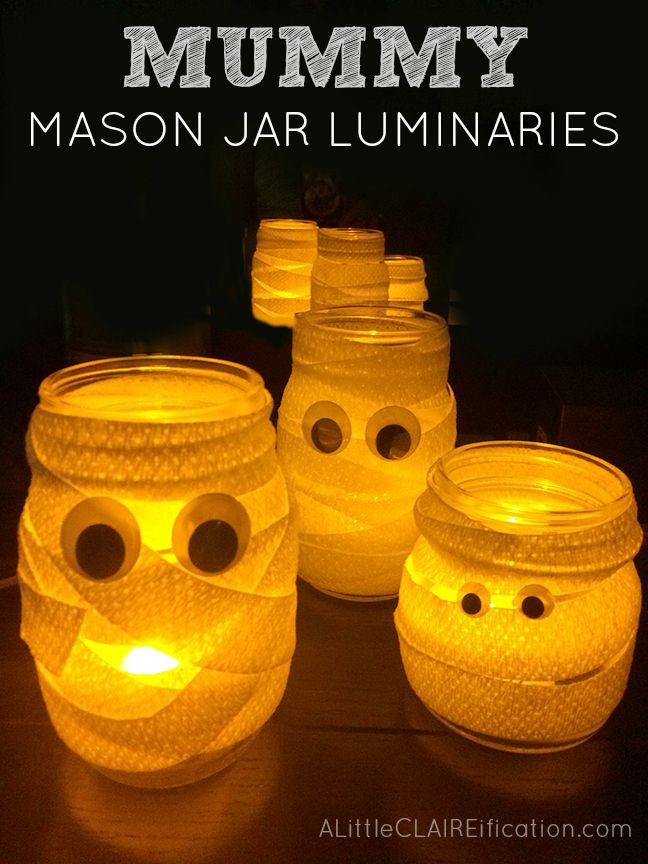 Who gets tired of Jack-o-lanterns on Halloween? Probably no one, because nothing's better than getting messy by carving out the face that will watch over all around the holiday. just to stir things up and if you're looking to stir things up, then you can give these Mason Jar Mummies a go. Great for lighting up the walkway without taking up too much space.
12. Fishnet Wrapped Mason Jar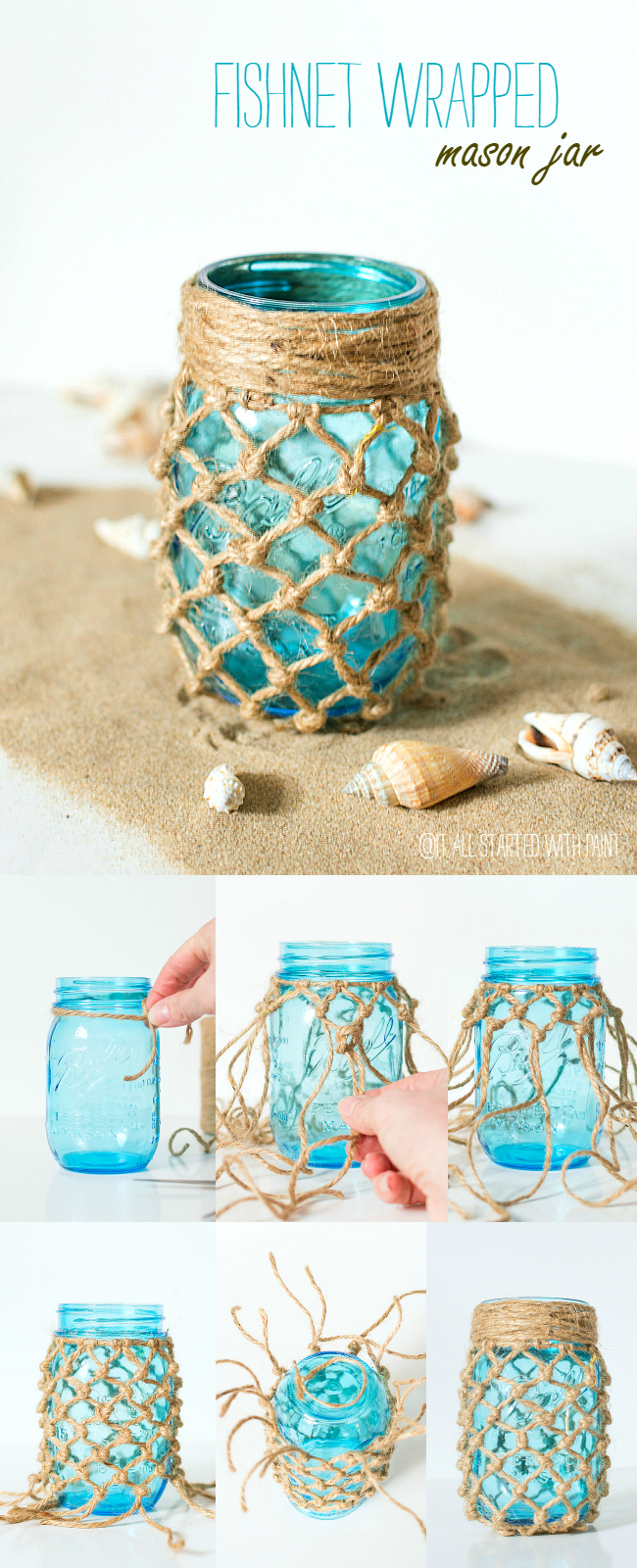 Fans of the nautical decor must know the yarn wrapped decor items that always seemed so intricate and difficult to make. Actually, they're much easier to do than it might seem and this tutorial will prove that. Used as a vase or votive, this project will surely make you feel like you're relaxing by the ocean.
13. Mondrian Mason Jar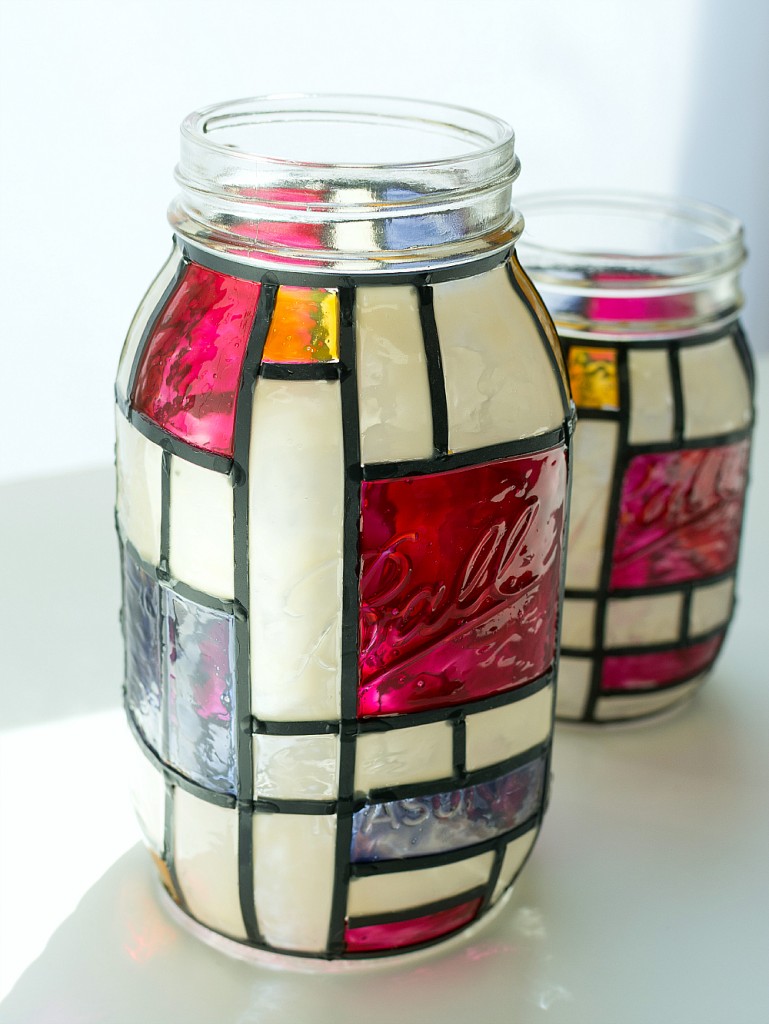 Not really into that rustic, old-school school decor? Are you more of a modern or post-modern art type? Maybe you're more into geometric art. Then you certainly would appreciate the works of the famous artist, Mondrian and you can even have a go at this delightfully decorated mason jar honoring his most famous painting.
14. Summer Flower Vase Done 3 Ways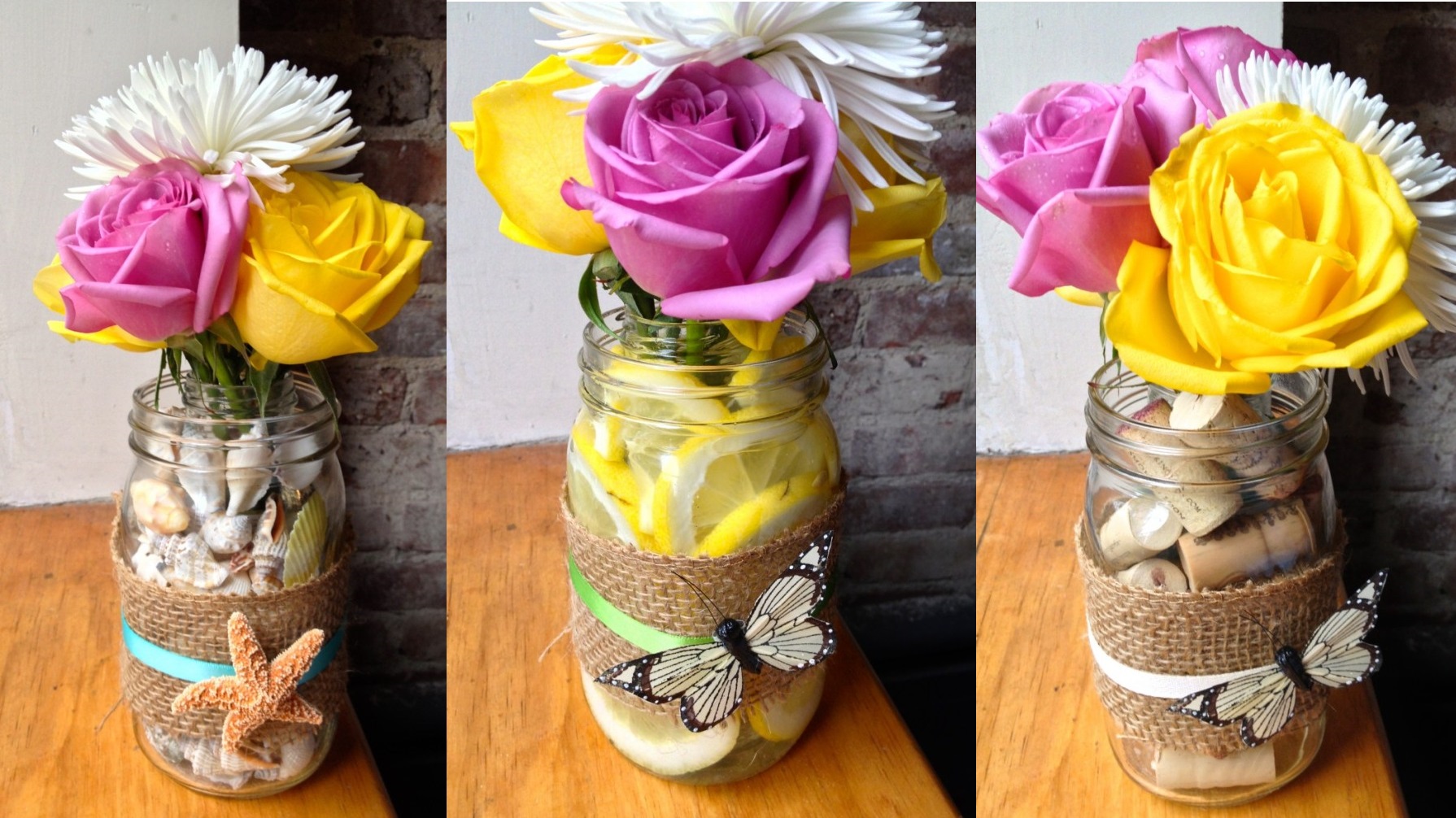 As you've probably already noticed, it doesn't take much to transform the plain mason jar into a chic vase. Here's another sweet way to add to your summer decor with some burlap and either shell, wine corks, or lemon slices. Plan sounding items enough, but the effects are quite stunning, wouldn't you agree?
15. Citronella Mason Jar Candle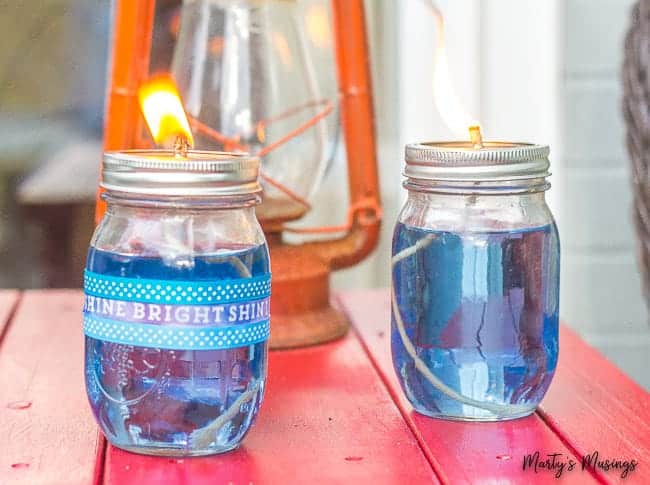 The one thing that everyone hates in the spring and summer months are the painful and annoying insect bites. In spite of those, we still want to stay outside and enjoy ourselves. Of all the homemade insect repellants, diffusers and scented candles are probably among the most popular choices. And this citronella candle is one of the more affordable, effective and easy to make among them.
16. Easter Centerpiece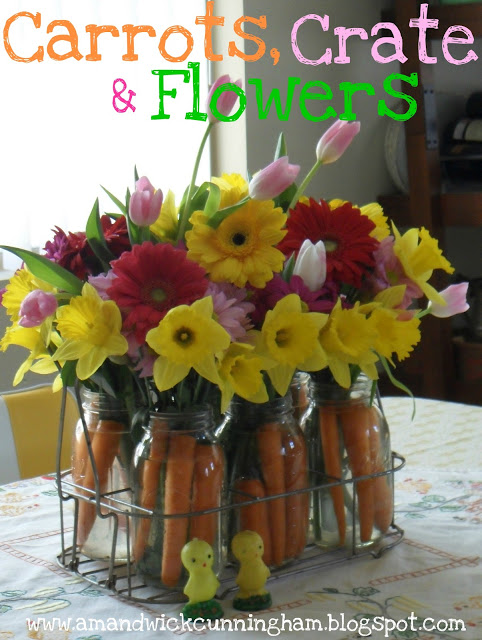 Themed centerpieces can be quite tricky to make, and most people give up before even trying. Don't forget that you don't need much to create something gorgeous. Like this carrot, crate, mason jar, and flower Easter centerpiece. Lovely.
17. Hanging Mason Jar Planters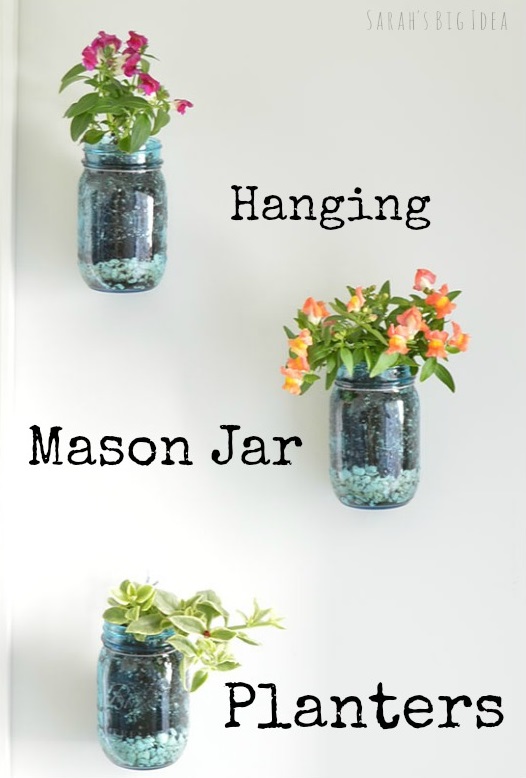 Wall planters are becoming a new favorite choice for filling up empty walls. Not only do you get to have a living plant in the home, but it will also not take up any space whatsoever. And the best part: you don't need special planters, just a mason jars, and a few hooks.
18. Mason Jar Snow Globe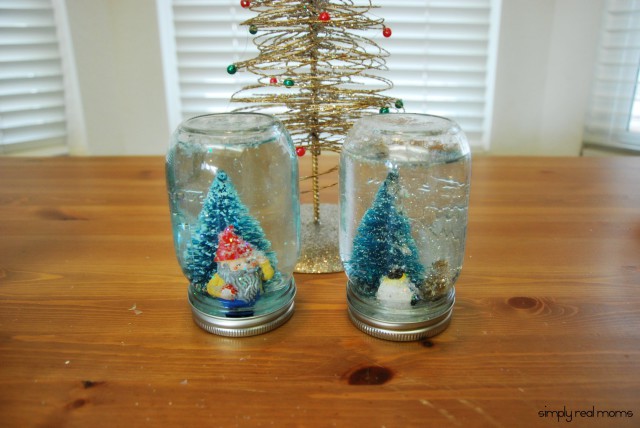 Even if kids today aren't very impressed with simple toys, like the magical swirls of a snow globe, most of us still enjoy shaking and gazing at these miniature winter wonderland. If your last snow globe broke or you don't have one, here is how to make a new and sturdier one that is sure to bring you joy for the holidays.
19. Mason Jar Fairy House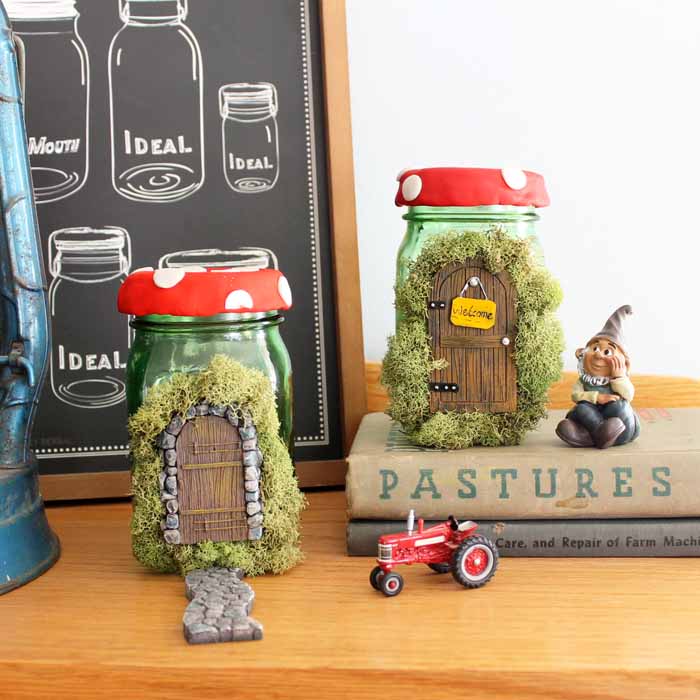 Speaking of miniatures, how can you not want to have a little fairy house in their home. There are many tutorials floating around for creating your own fairy house, but this is probably one of the more adorable ones. Doesn't it make you want to make it right now?
20. Picture Frame Vase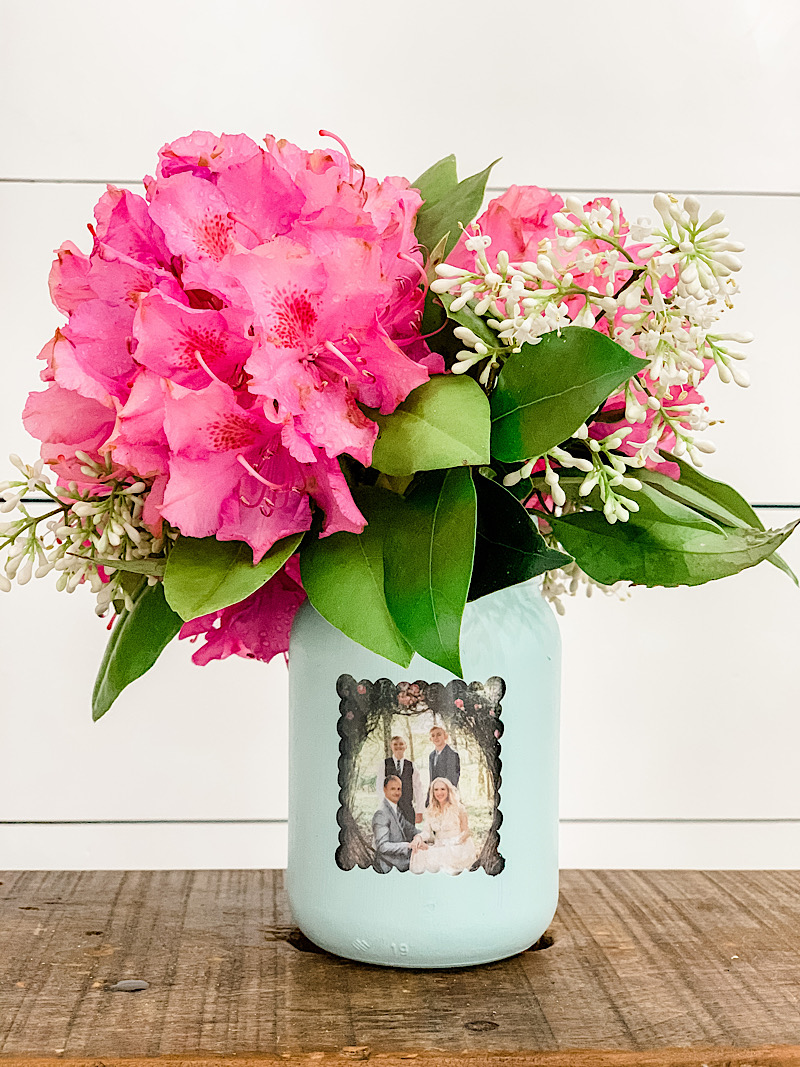 Thanks to technology, we rarely frame pictures anymore. It is truly a shame since it is proof of the memories we've experienced plain to see and revisit at every time you gaze at the picture. To bring back printing and framing pictures, here is a 2-in-1 project that just might make you want to frame your favorite picture yet.
That's all we have for now. Have we convinced you of the beauty a mason jar can help create? We hope we've sparked some creativeness in you and that you'll share your ideas and thoughts in the comments.