Manicures aren't just nailed care. With all the different techniques, shapes, and designed used in a nail salon, and by ordinary nail enthusiasts, manicures have become a true art form.  Long, short, stiletto, or square, there are shapes and designs fit for everyone's taste and occasion.
Among all these amazing nails styles, there is one that stands out in a very clear way. Since the nails are actually clear, like see-trough clear. Unlike the ordinary acrylic nails made from acrylic powder, these are made entirely from a special gel and the neat thing about them is that they give out the illusion as if your mails are made of glass, or at least that the designs on your nails are floating above your fingertips.
A whimsical description, perhaps, yet the fact remains that this nail art looks quite elegant and unique. It is a great choice for brides to be since most clear nails look spectacular with some crystals and rhinestones on them, or if you just want to give that not-so-fragile-as-they-look vibe.
So, let's take a look at some really magical crystal clear nails.
1. Rainbow Explosion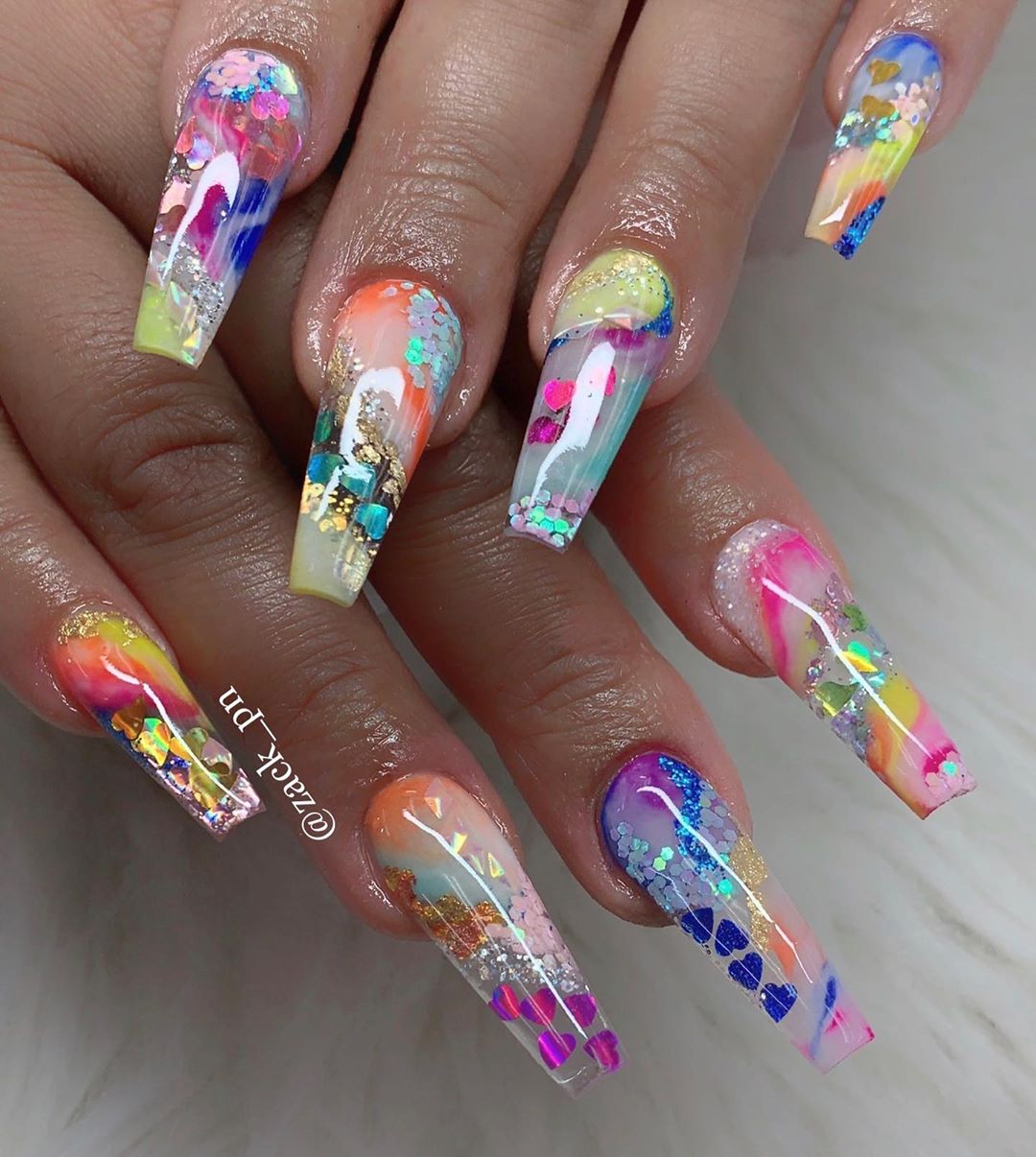 To start of this amazing list, we show you a glimpse of just how awesome crystal clear nails can look when done right. As you can see, you can incorporate in the nail different medium, colors, and textures, ending up with some mesmerizing nails.
2. Holographic Butterflies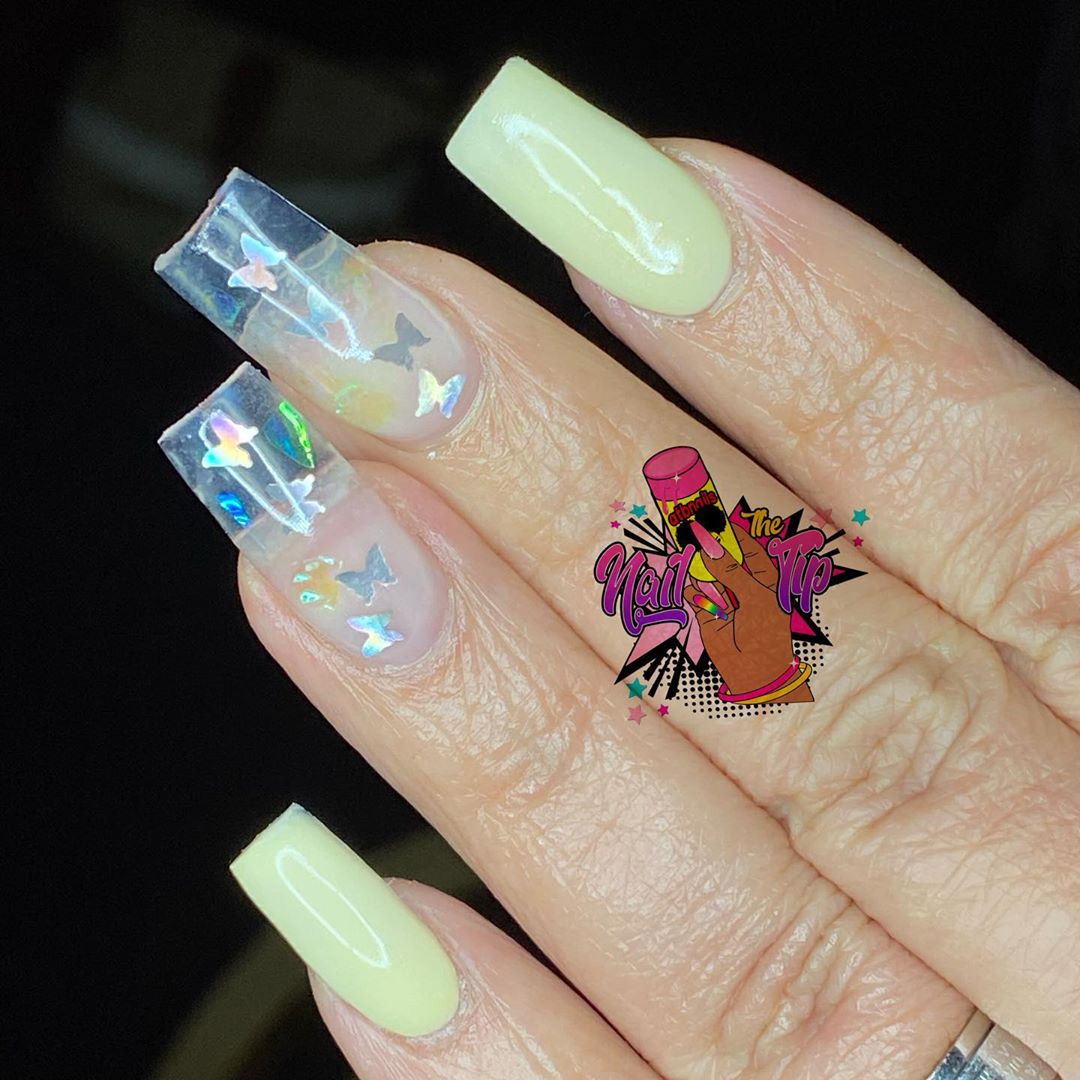 Your nail art design doesn't have to be very loud to be noticeable. You can achieve interesting effects with subtle decorations, like these holographic butterflies that look like they're flying away off the finger. Sweet.
3. Stiletto Sunflowers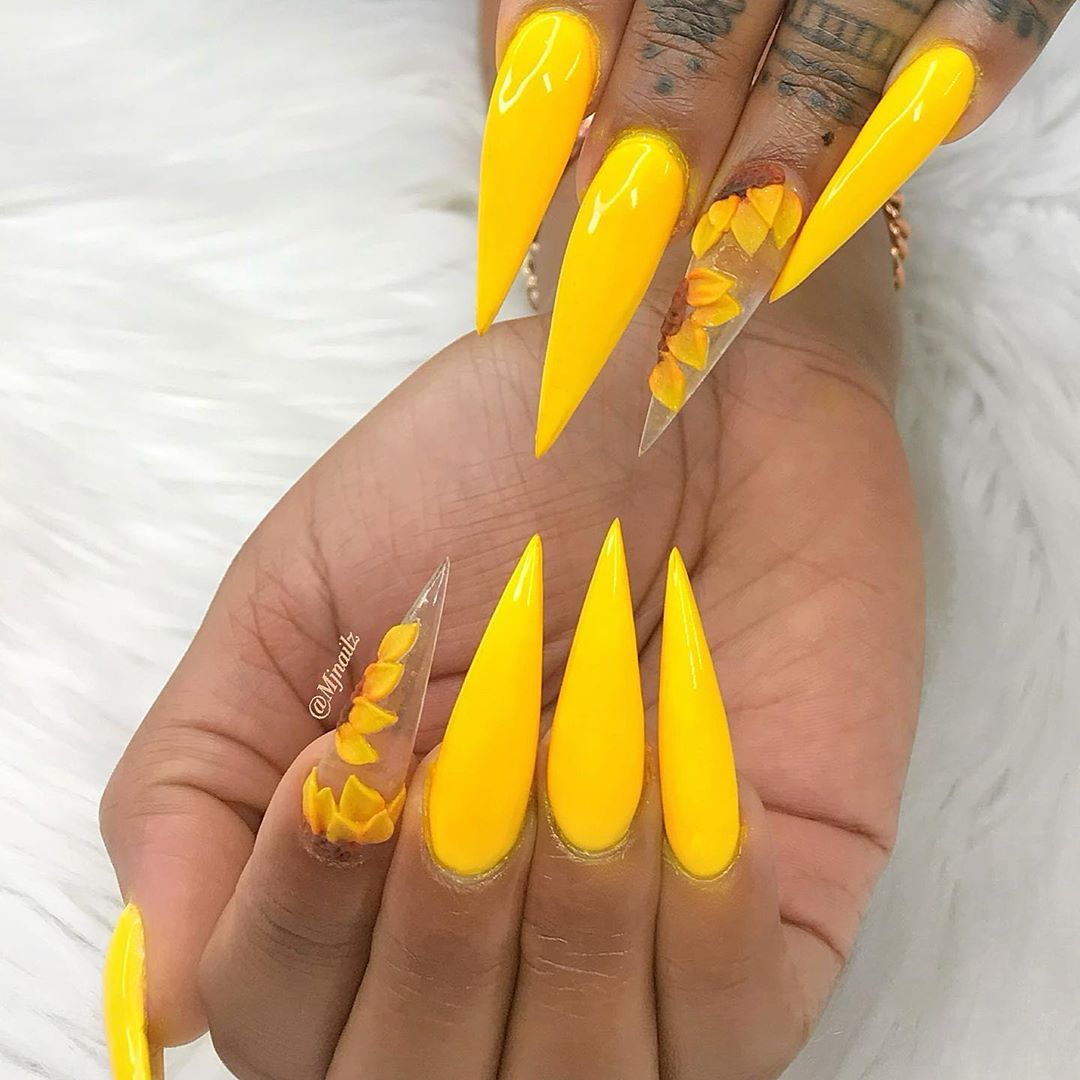 Sometimes a good combo can turn overused designed into something striking. The sunflower design is a spring favorite, and in this one, the flowers on the clear accent look like they're actually turning towards the sun-colored ones. And the stiletto nail treatment captures that sunflower petal vibe as well.
4. Black and White Sparkle Lines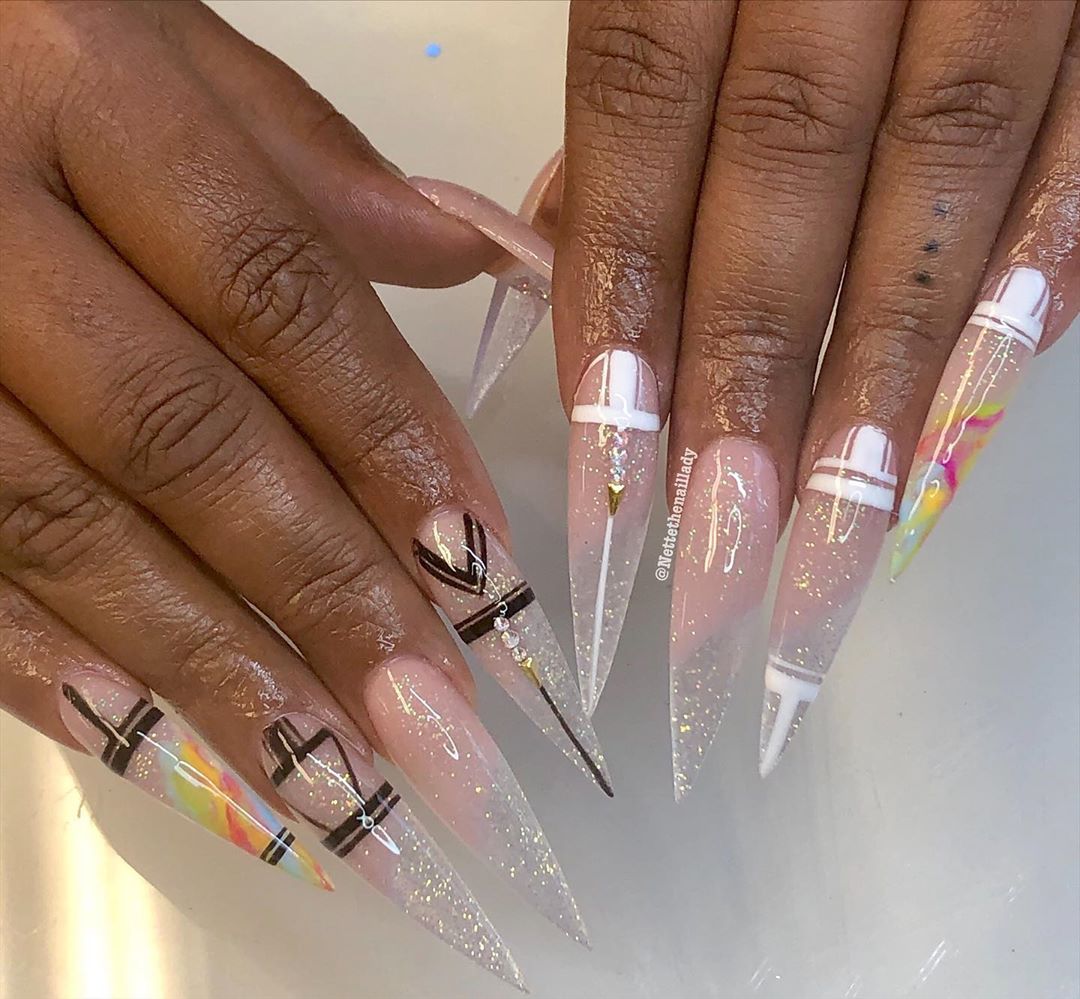 Since clear nails show off the nail tip underneath, you can choose to get your nails done in a different shape than that of the clear nail extension. Here you have a pinkish lipstick shaped nail base with glittered stiletto clear nails, tipped with some subtle white and black lines. Perfection.
5. Matte Red Leaves With Gold Flakes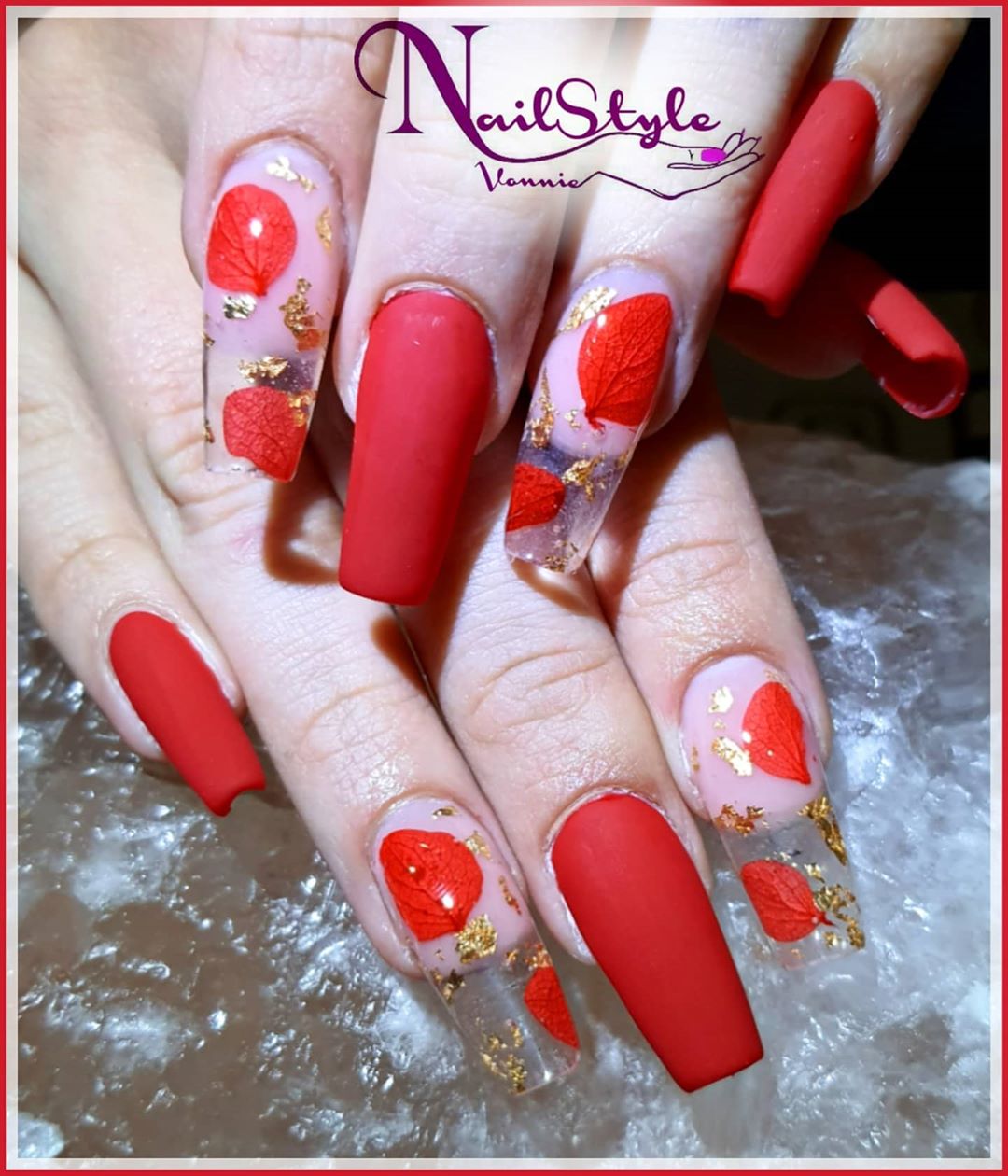 Red nails have long been considered the color choice of someone bold, strong, and passionate. Or you just might like the color red. Whatever the case, you can rise clear nail accents with some tiny red leaves and gold incorporated into the nails to spice up this hot look.
6. Blue Flames and Glitter Confetti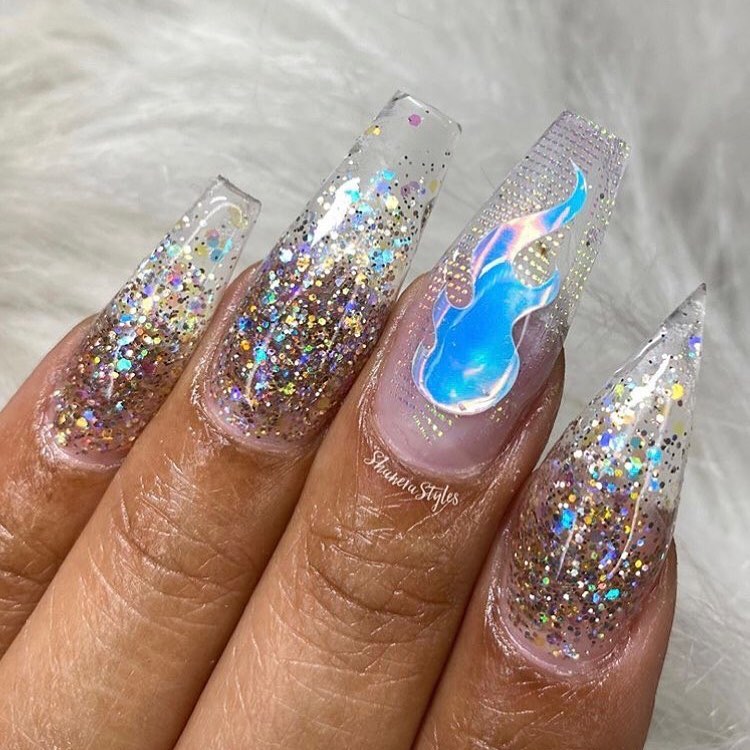 This clear nail design reminds us a bit of an energy surge waiting to be released, like from those anime/action cartoons, wouldn't you agree? Regardless, they look splendid and the blue flame sticker and different shaped nails are a cute touch.
7. Purple Glitter Clouded Sky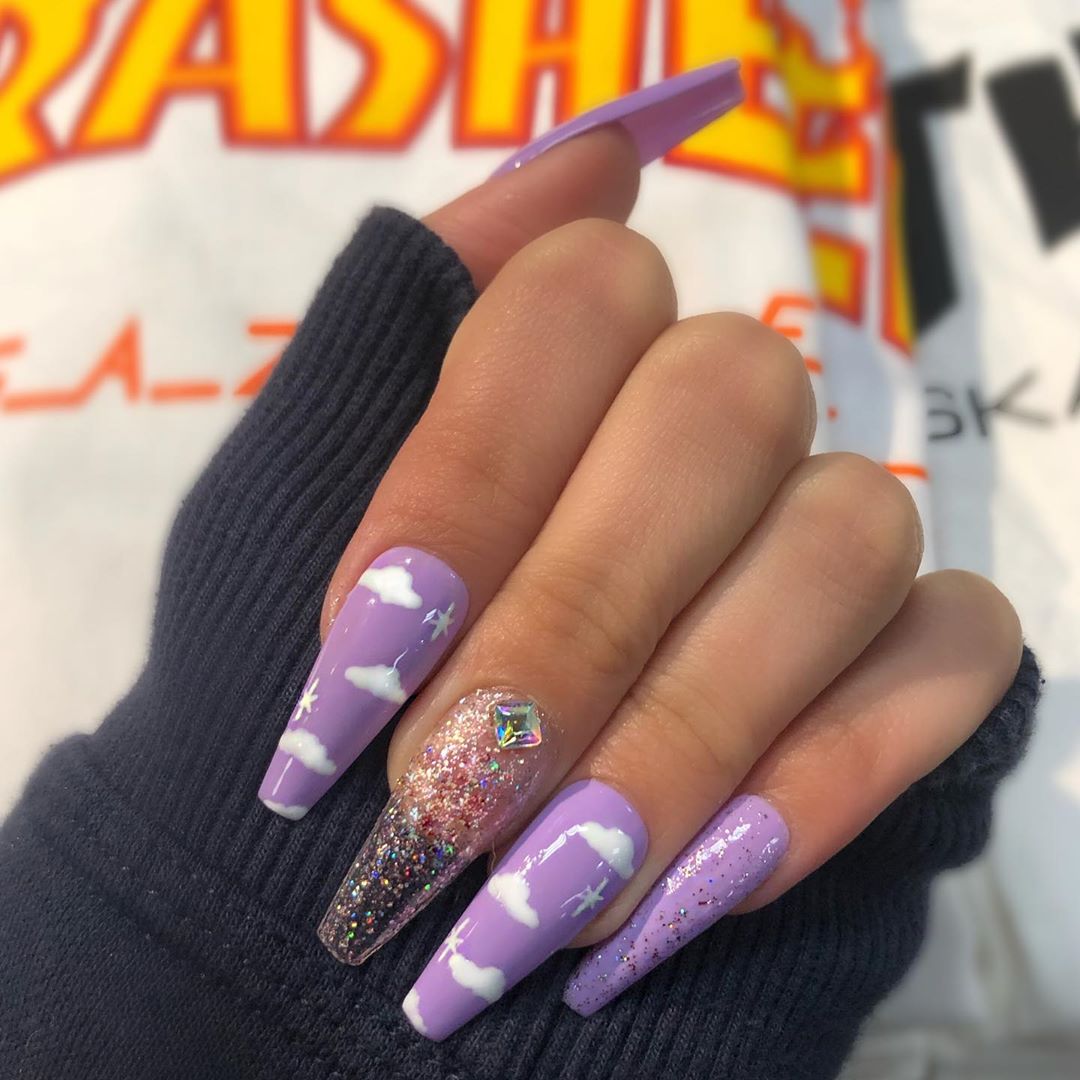 Night sky with clouds is a nice, calming pattern, especially when you make the night sky purpulish like in this design. Coupled with a sparkly clear accent nail and looking at your nails will be like looking at a warm Milky Way in the sky.
You see, acrylic powder nails and crystal clear nails can be combined for a wonderful nail treatment.
8. Icy Frosted Nails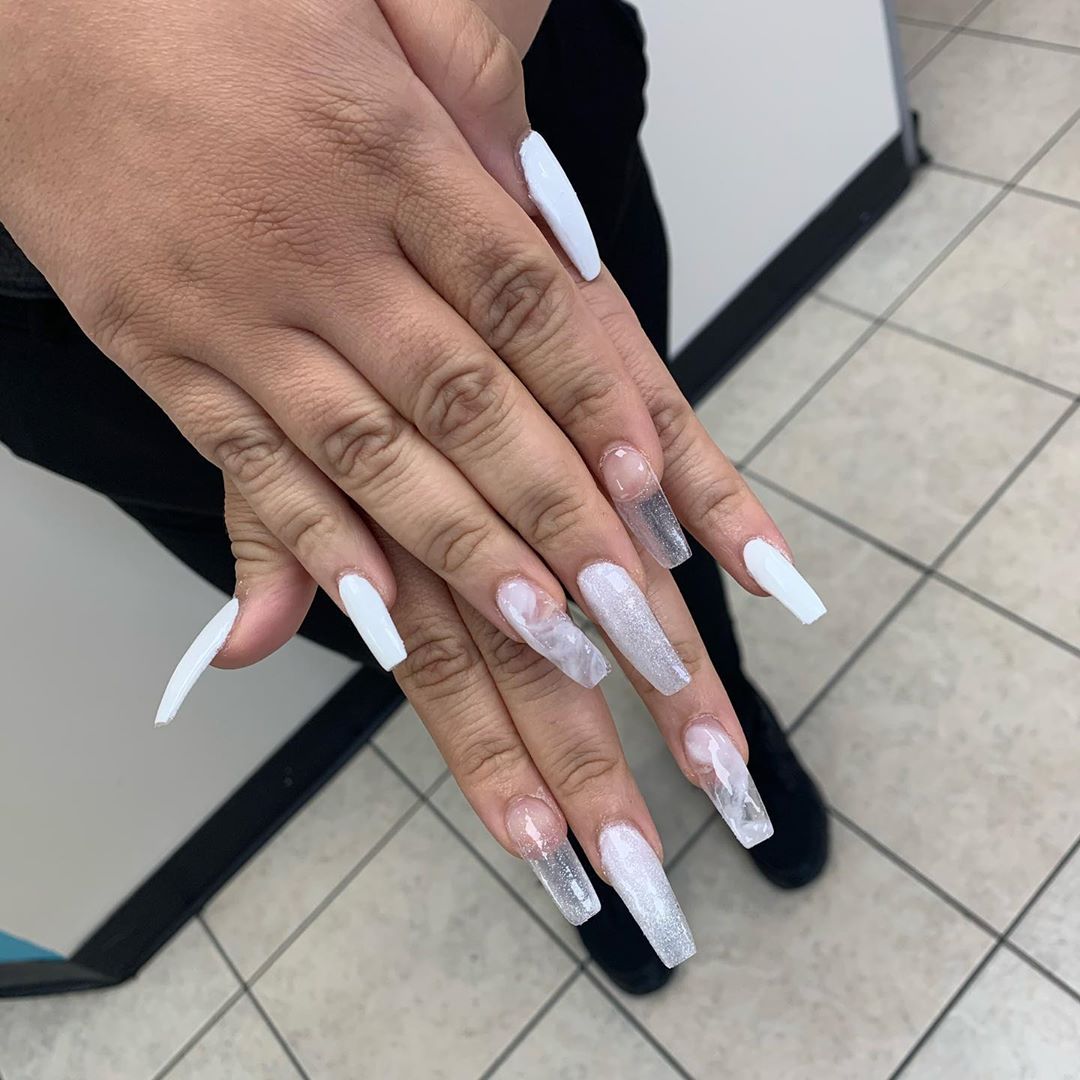 Since Disney's Frozen took over the world, for small and big kids alike, you can find a Frozen themed anything. We agree that this crystal snowstorm icy sculpted nails may not be Frozen themed, but you have to admit that the design is so good, even Elsa wouldn't want to let it go.
9. Yellow And Purple Smilies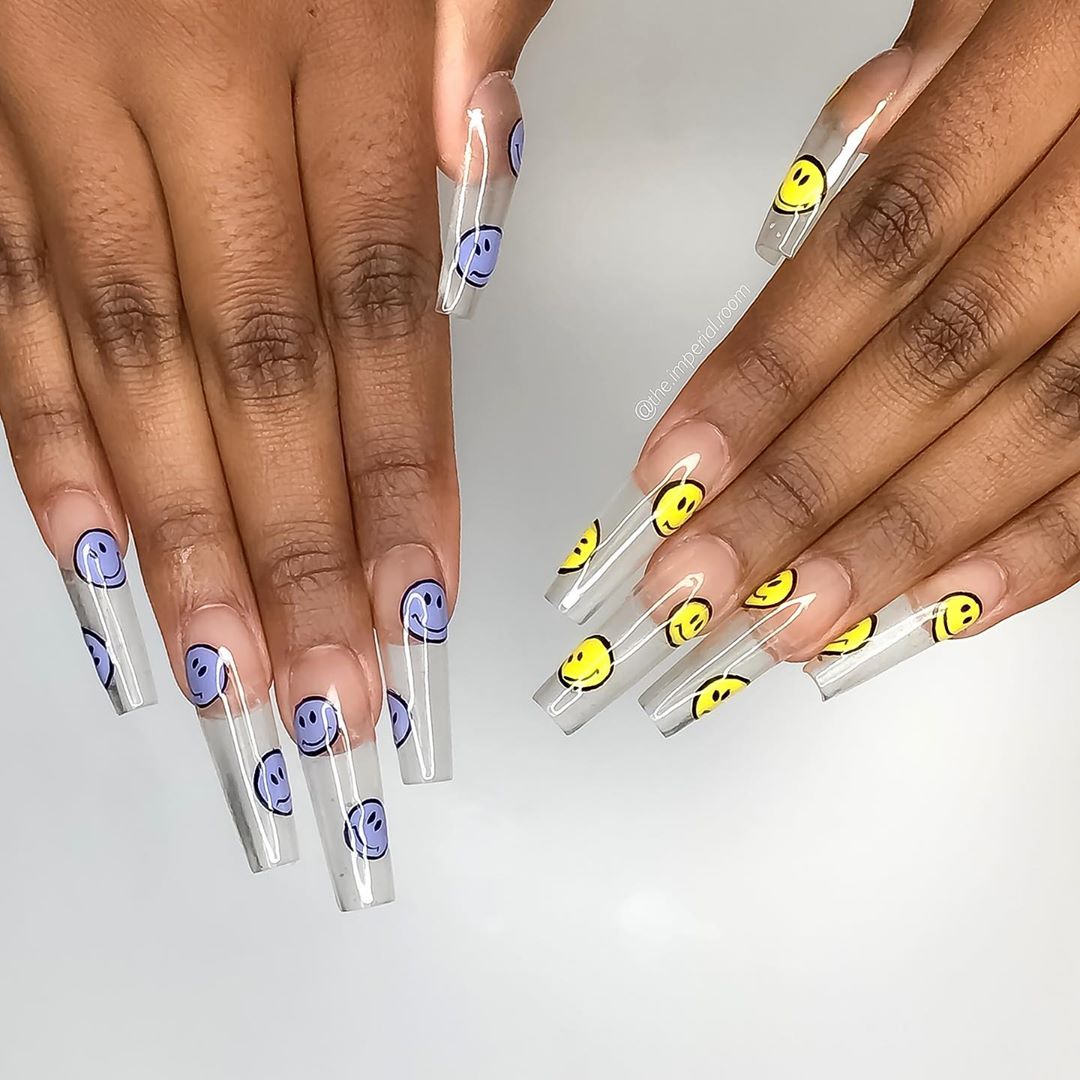 They say smiling is contagious, that when we see someone smiling, we can't help but smile back. So if you need an even a small piece of positive energy throughout the day, you can give these cute smiley-face nails a try. And since the nails are see-trough, here's an idea you can try: try matching the smiley face of the nail with face of the  person in front of you. That will definitely put a smile on your face.
10. Long Glitter Stardust Sparkle With Diamond Flowers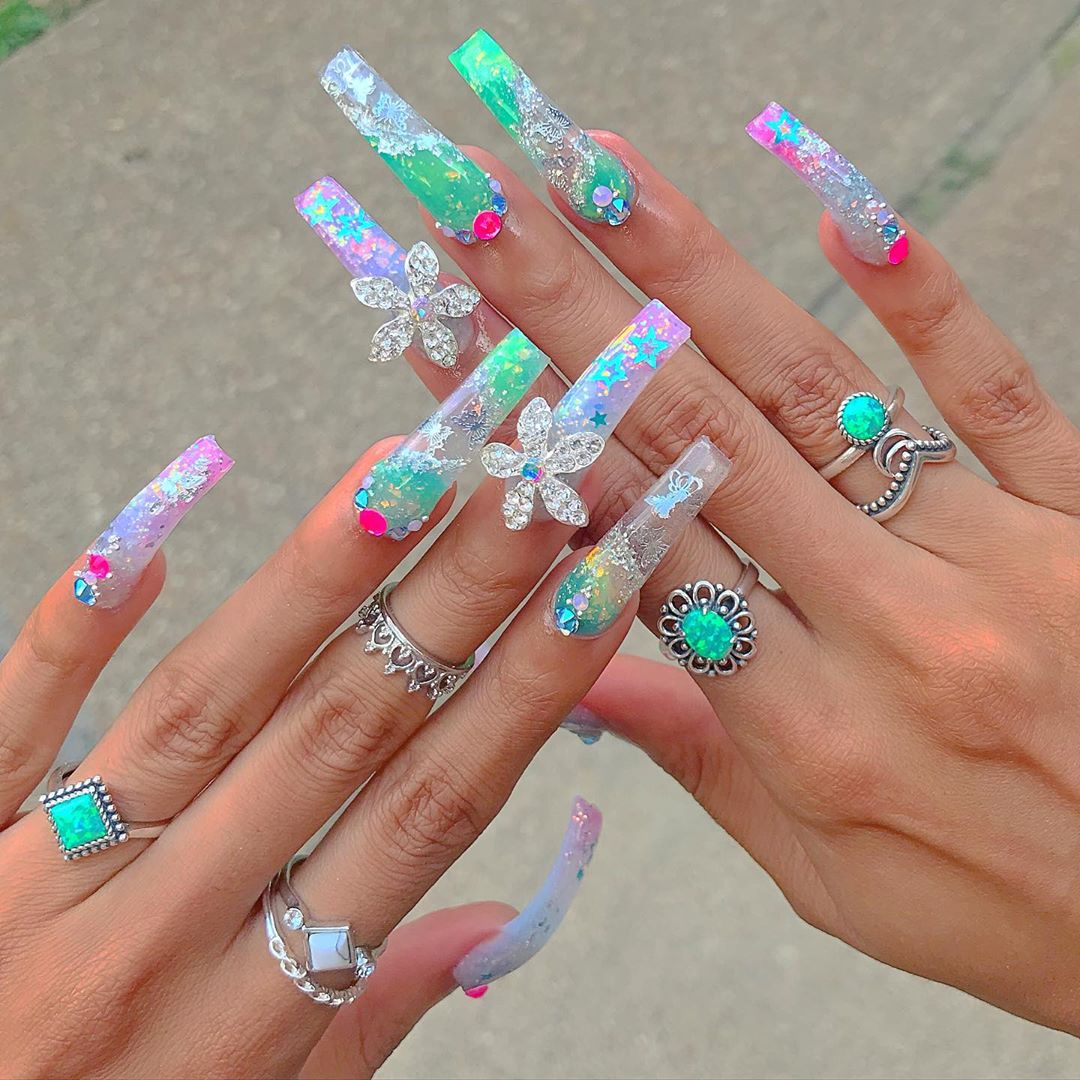 Never be too afraid about going over the top. Of you want sparkles, rhinestones, stars, and all the colors of the rainbows at once, you should do that. You just might end up with something amazing, like these. Are the rhinestone flowers a bit too much? Not at all. The clear nail makes the manicure look so light, even if it has everything on it.
I would only suggest to do them at a professional nail technician. There is too much decoration here to risk it on your own.
11. Stained Glass Rainbow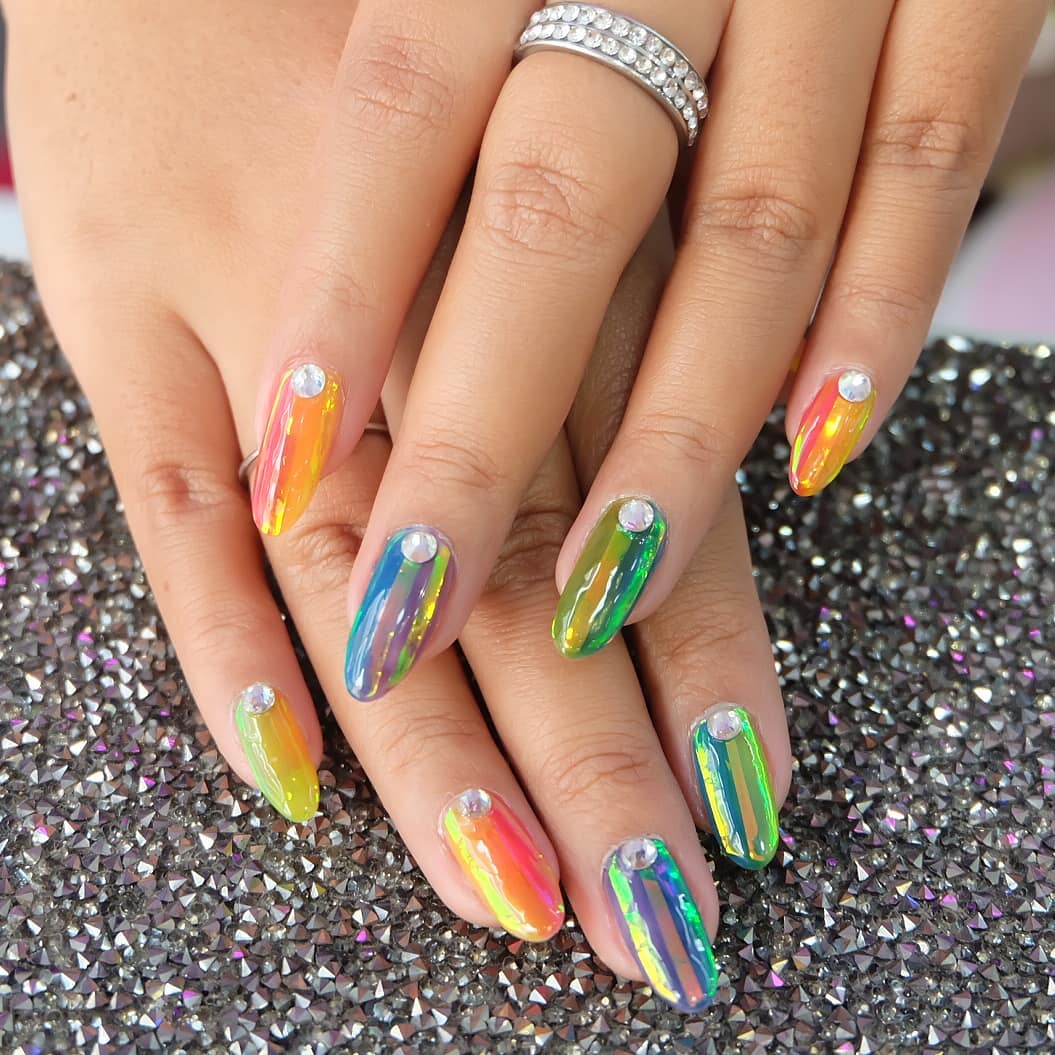 The art of stained glass is to day appreciated by many. You can have e piece of that colorful look and appreciate it daily by doing a gel nail enhancement design like this one.
12. Gold Rimmed Nails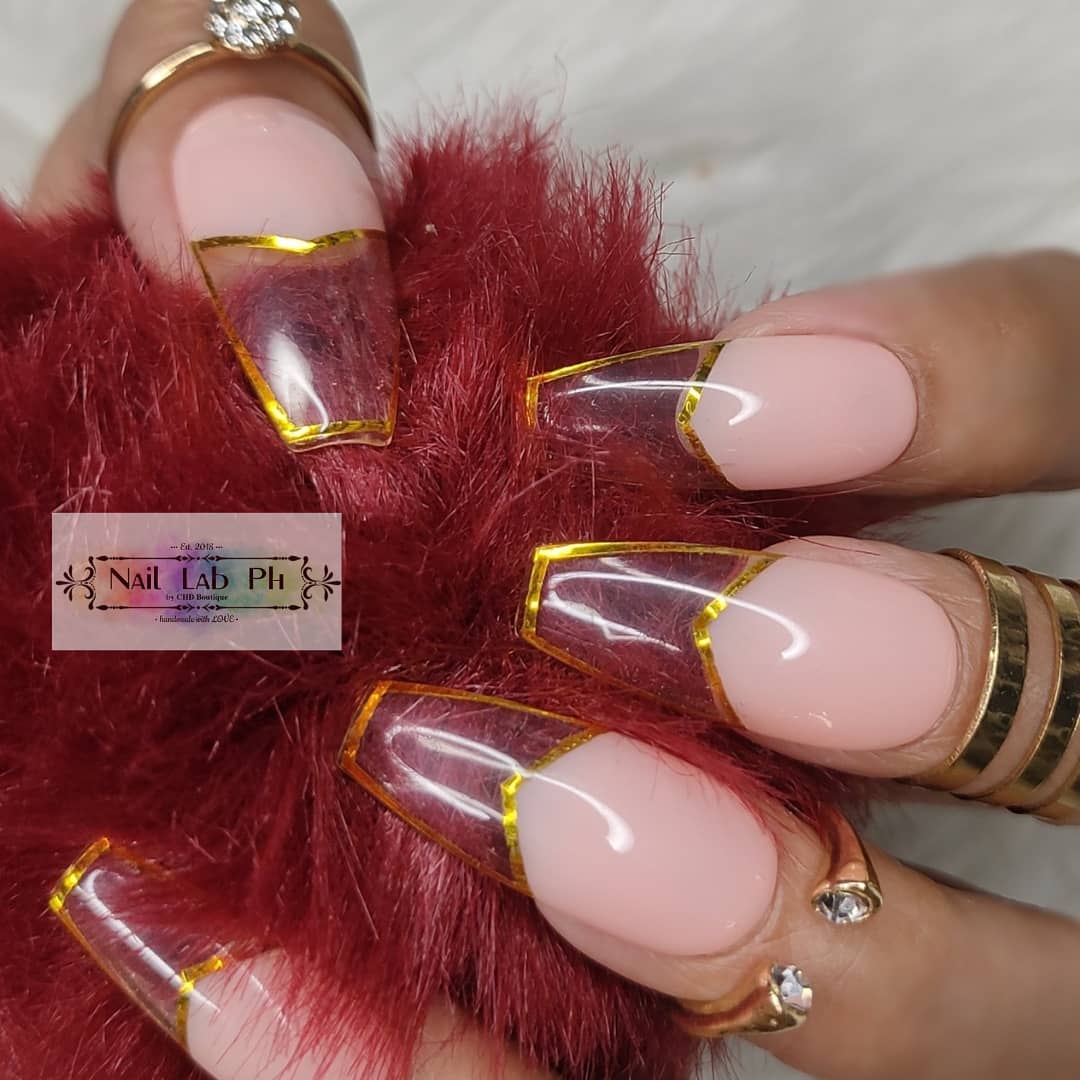 Sometimes less is more. If you want some rich elegant nails, a simple gold thin layer line along the edges and the base of the nail to accentuate the clear portion and you can have matching nails to everything you place your hands on. Neat.
13. Marbles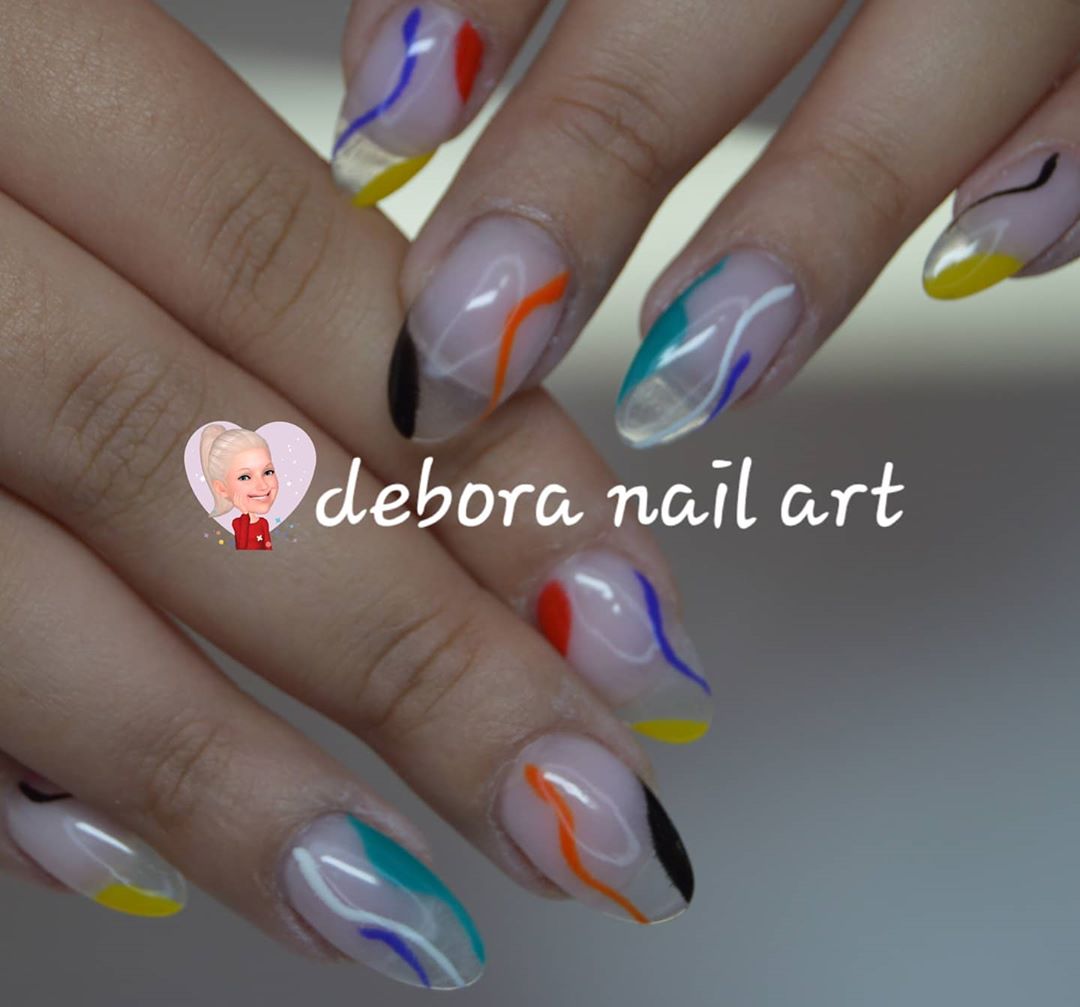 Playing with marbles is not something the kids from Gen Z might know or even heard of, but Millenials and Gen Y must remember the fun times of spending hours in the dirt playing marbles with your friends. And the marbles collections were the best. If you remember that time, here's a nostalgia inducing design you can't pass out on.
14. Red Mist With Rhinestones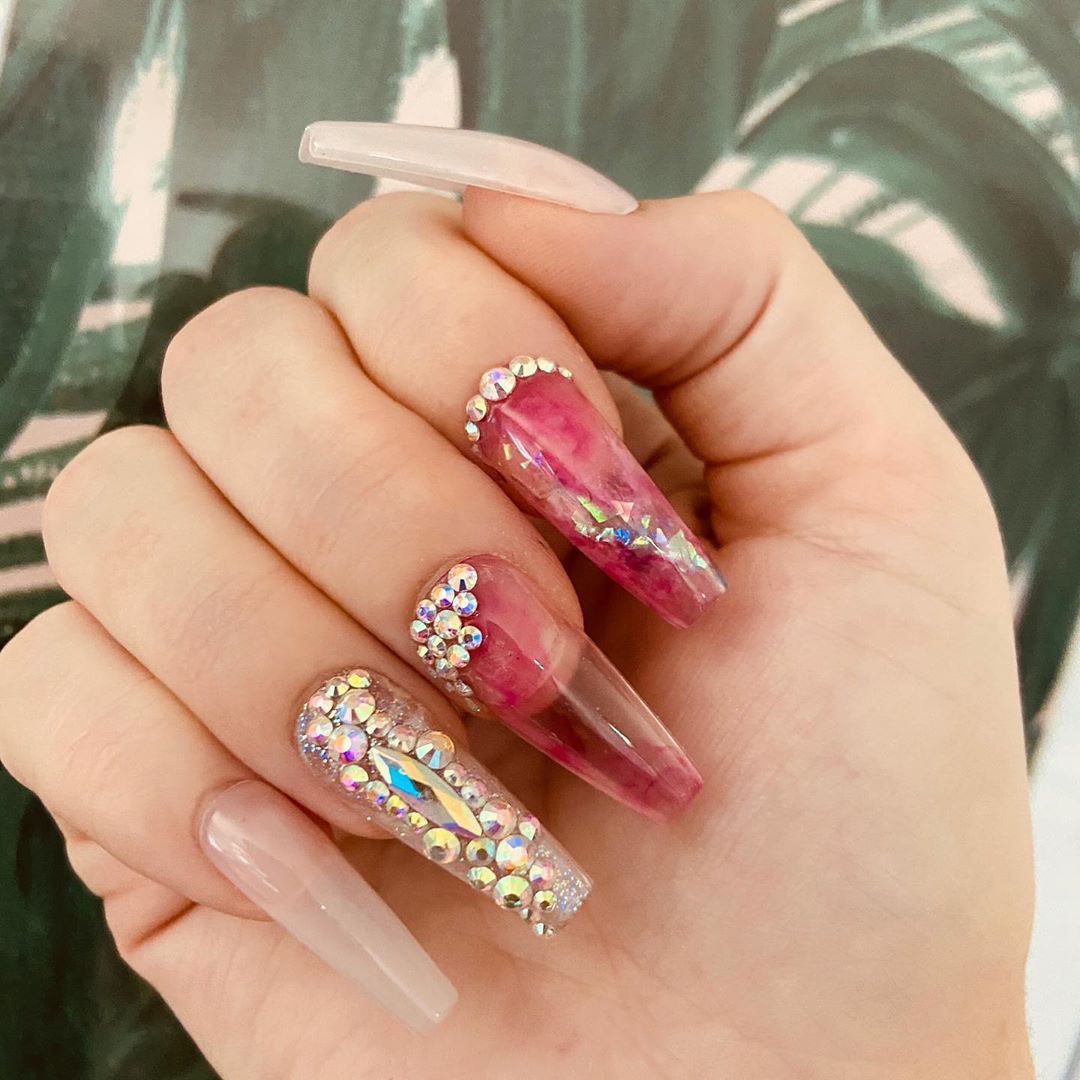 Another neat thing with clear nails is that when done right can look like they have mist trapped in them, giving an even lighter feel to them. That's why you can top it all off with some different shaped rhinestones and not look like it's too much.
15. Pressed Flower Display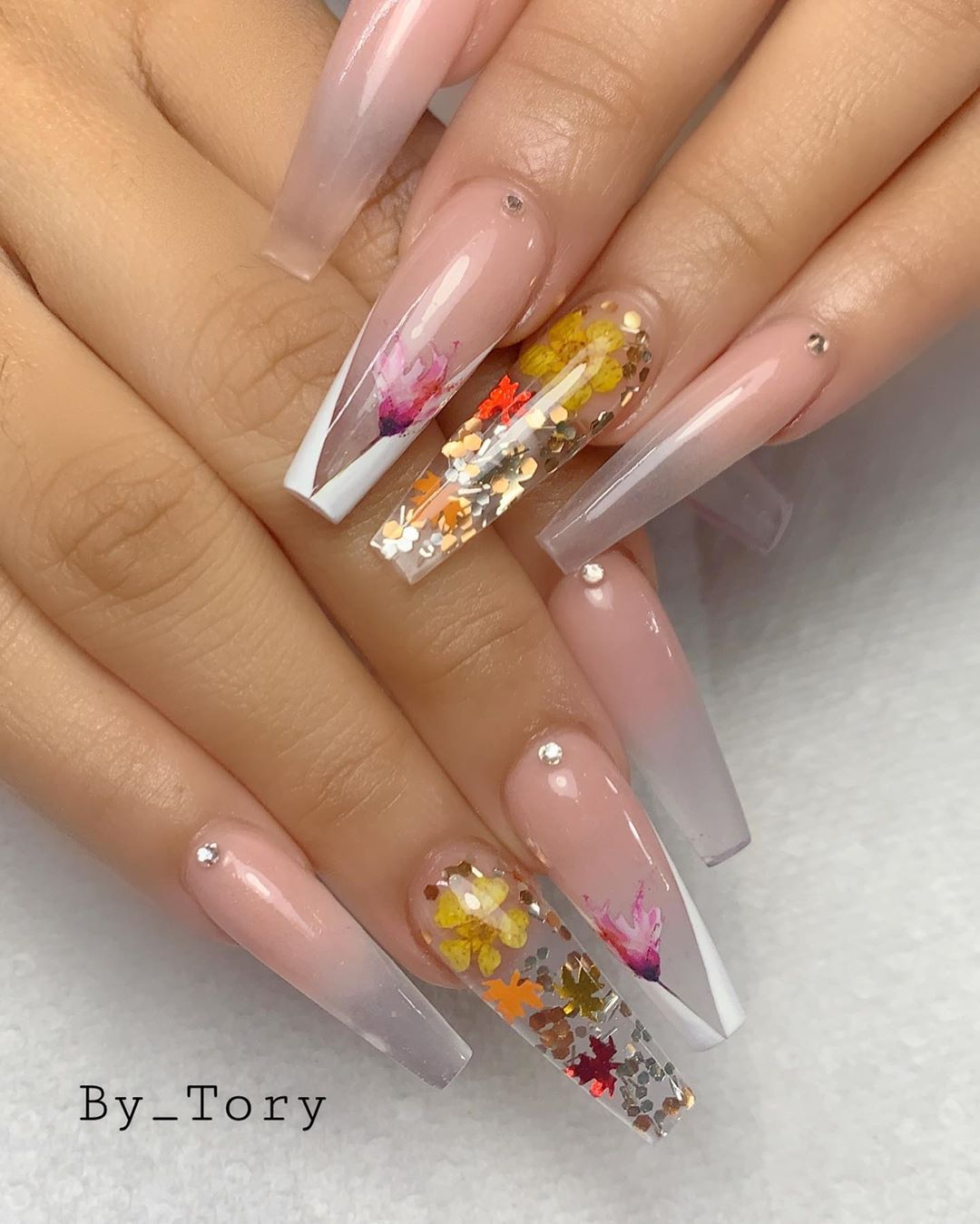 Pressing is one of the best way to preserve plants and flowers forever, and pressed flowers are often used in many crafting projects and art. And yes, there even put some in nails. With some white V-shaped french mani gel polish and some gold and silver confetti your nails will we ready for a full botanical display.
16. Clear Clear Nails I'm DIfferent Shapes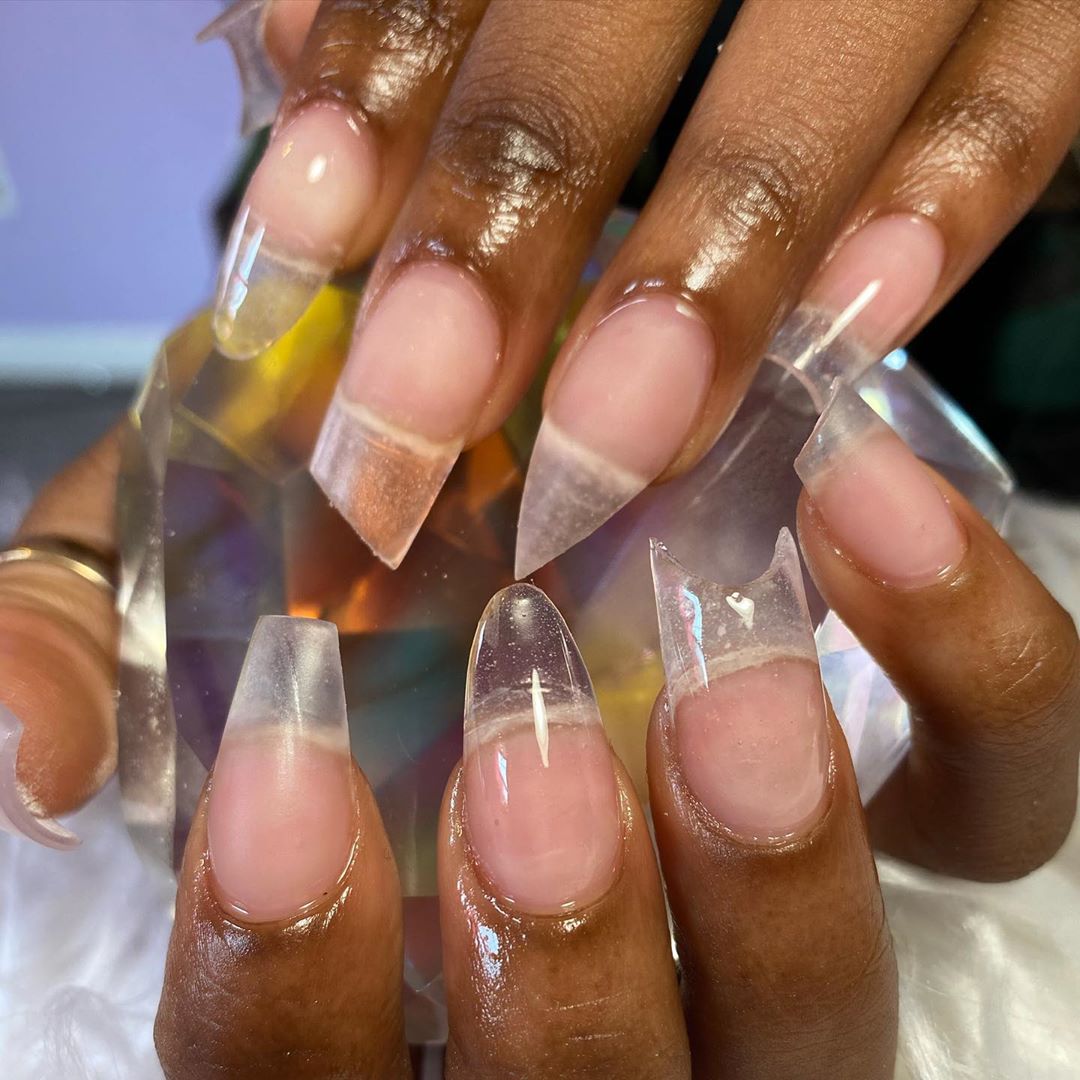 Believe it or not, someone can actually have clear nails naturally. That can't be a very good sign, healthwise. However, if your nails are clear or want to make some extensions without attracting too much attention, you can forget all about nail polish color and play around with different shapes for the nails. The results are quite interesting.
17. Sparkle Bubble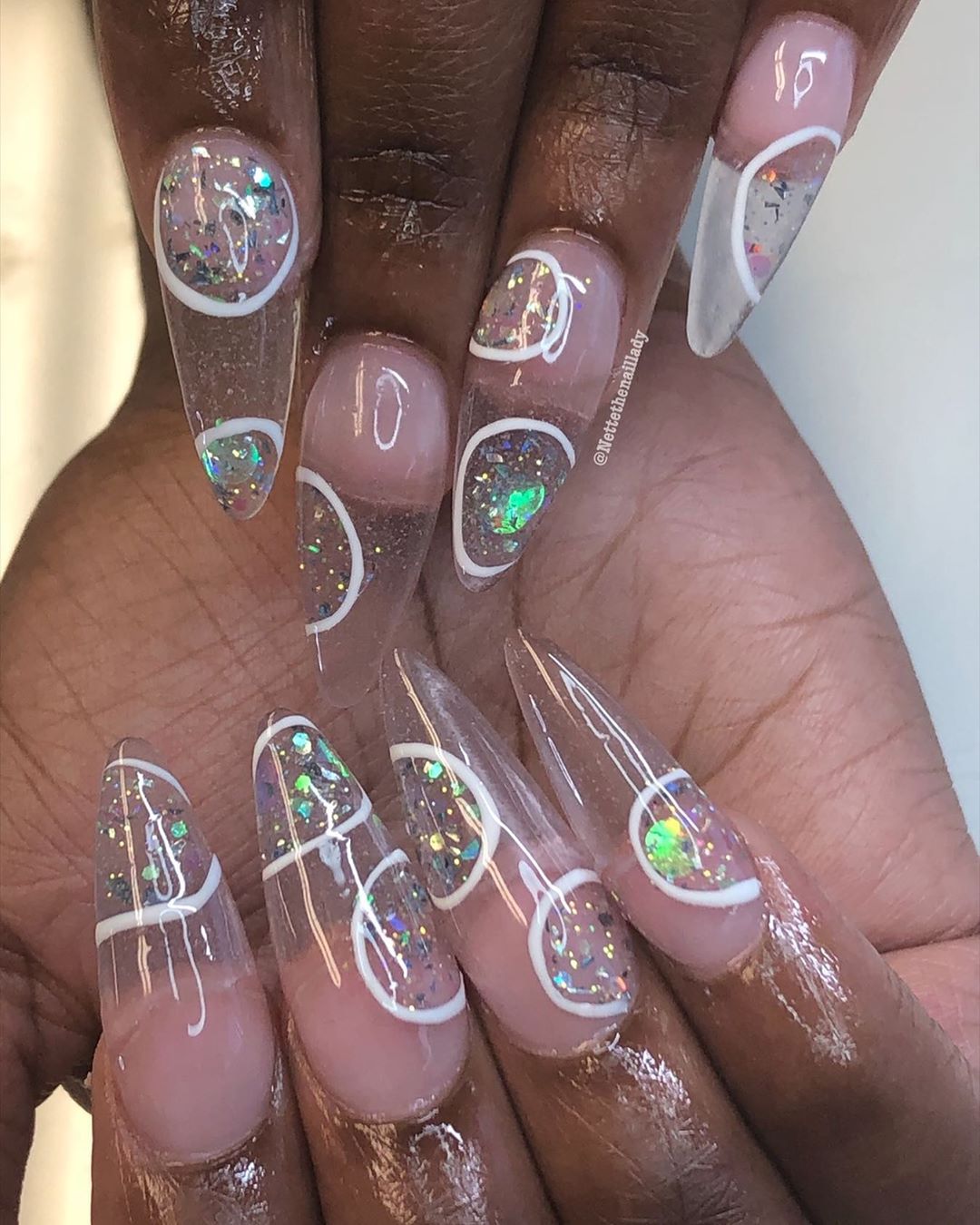 As you might have noticed, glitter, sparkles and rhinestones often go hand in hand with the crystal clear acrylic powder nails, maybe because they look like they're floating. But did you know you can trap them in a bubble on your nail? Still fun, either way.
19. White With Gold Flake Butterflies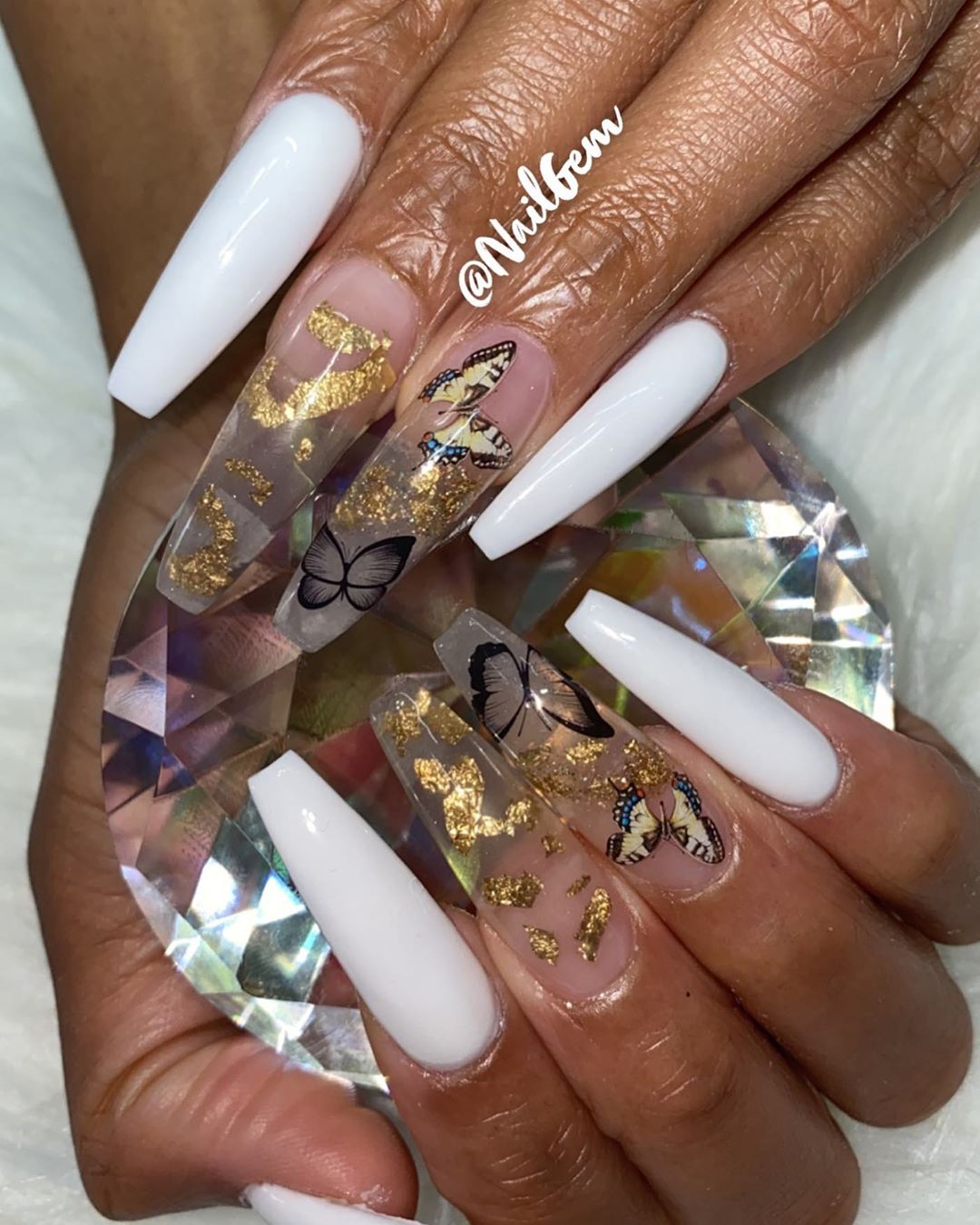 White nails are nice and clean but always need that something extra so your nails won't look like you've put on the base and gave up on the design. So try a double accent nail with gold flakes and butterflies stickers or whatever design you like. But these do look playful and elegant., A true gem.
That's all the ideas we have for you for now. What was your clear nail design? Whether we've convinced you to get them on or you've already got them, we would love to hear your ideas and suggestions in the comment section.