Basements are probably the least utilized areas of the house with the greatest amount of potential. Do you have an unfinished basement in your home? What do you use it for? If you don't have an attic, we're guessing the probability of using your basement for storage is pretty high. It is a shame. Su much square footage wasted on old items, which their only value is that of the sentimental kind.
Why throw all that potential away when you can create a room that is actually of use for you and your family? Think about it. We've all dreamed about that one room in the house that is perfect for our needs. A sanctuary where one can destress, space, and relax after a hard day, or gather for some peace and quality time with the family. If you have a basement, you already have that room, you just need to make it a reality.
The ideas on how a basement can be transformed are endless. The project itself can be big and even pricey, but it will all be worth it in the end. If you're looking for ideas to turn your basement from a dump to a dream room, here are some to start you with.
Let's see what we have prepared for you.
1. Spa Gym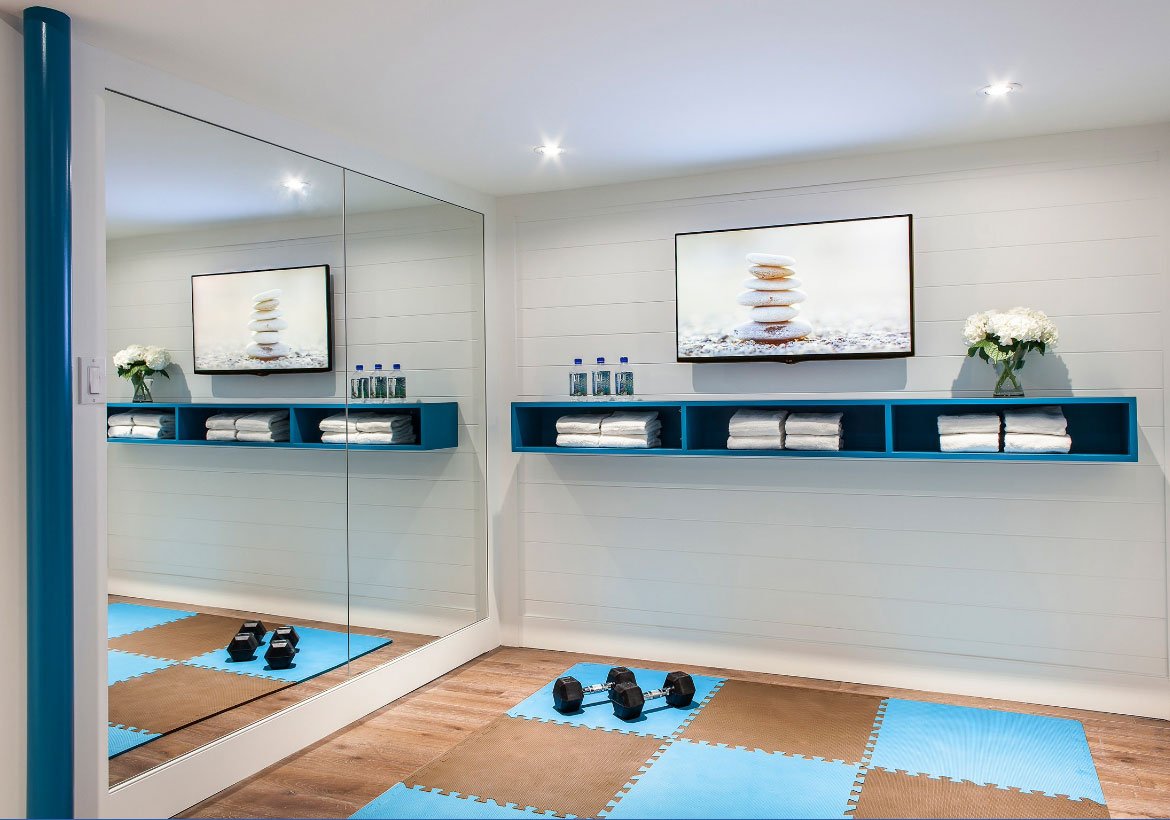 Keeping in shape is always a good habit to have and uphold. More often than not, the excuse for not exercising is not having the time to go to the gym or not being comfortable working out with strangers. Then bring the gym to you. Making a basic gym is not as expensive as you might think. A decent flooring, basic exercising equipment, a rack for towels, and a floor to ceiling mirror. A shower is optional. You can always add more and more equipment as time goes on.
2. Extra Bedroom/Guest Room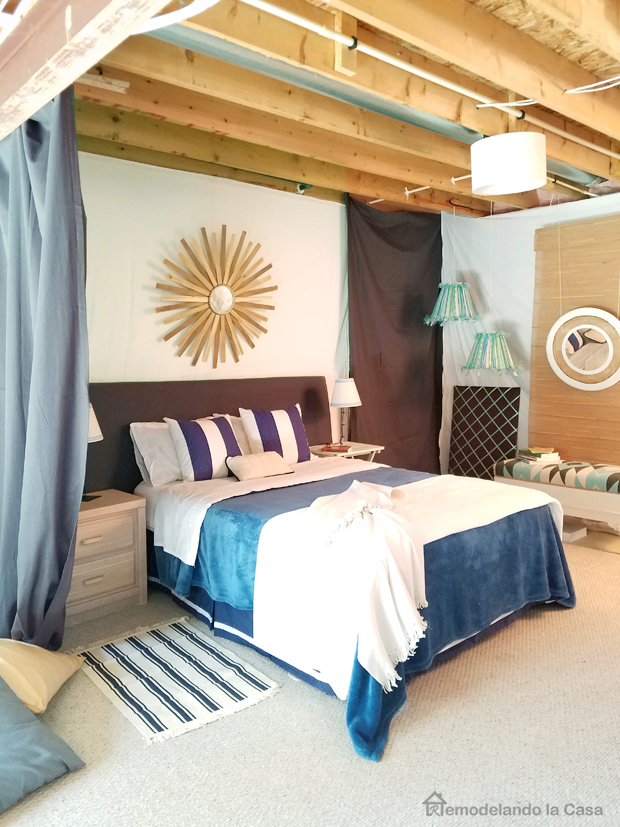 If you have children, the time will eventually come when they'll ask for their own private space, one that they don't have to share with the siblings. Or maybe you're looking to trade your noisy bedroom for a more peaceful place to sleep. The basement is there for the taking. Depending on the size, you can even make a whole living area with a small bathroom and kitchen, alongside the sleeping area. Just make sure you have the area has proper heat and water insolation since that is one of the major problems with basements.
3. Laundry and Half Bath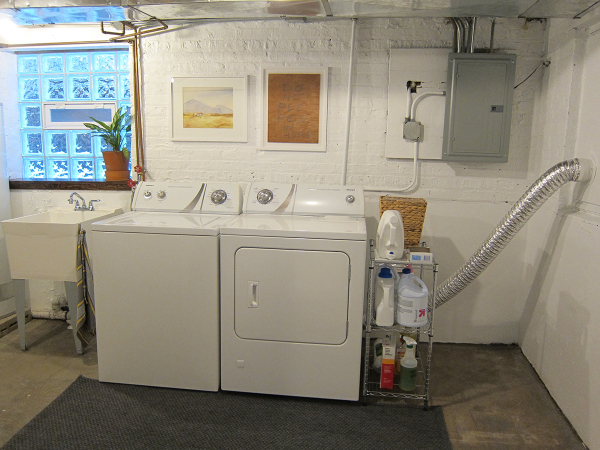 Everyone hates doing the laundry, but like many things in life, it is something we all just have to do, like it or not. Washing, sorting, ironing, and folding clothes can take up a lot of space. Not to mention that there are always piles of laundry waiting to be washed at any point in time. Not a good picture to see when unexpected guests come. Having the laundry room in the basement is a very smart choice and one that won't break your budget.
4. Basement Bar/Hosting Area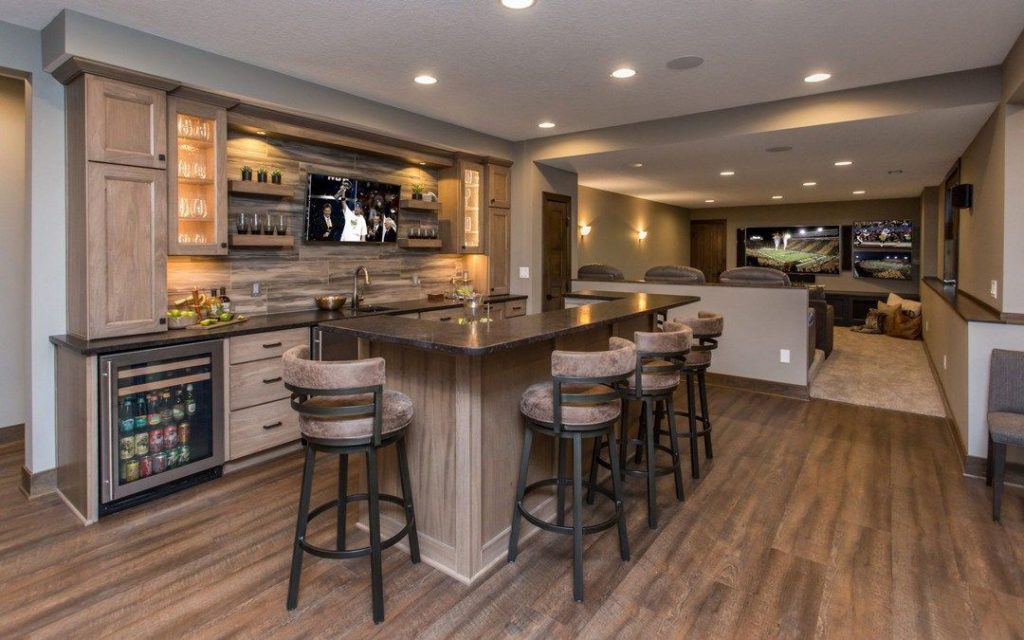 This chic basement family room includes a wet bar, plenty of seating, and a home theater with flatscreen TV for movie nights. The wooden interior gives warm and cozy touches, while the delicate lighting fixtures create a cozy and relaxed space in this contemporary bar/ hosting area.
5. Kids' Area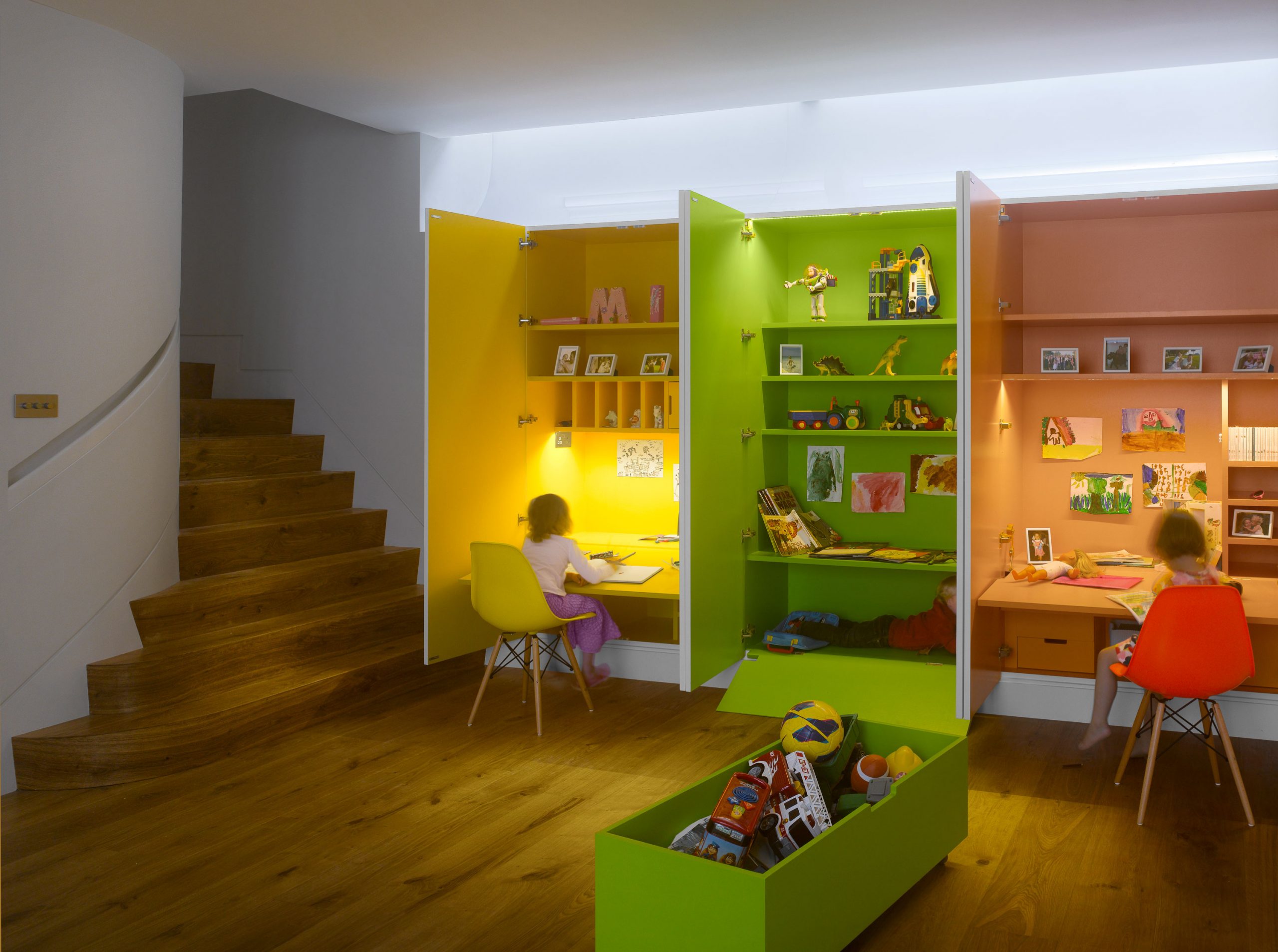 Finishing your basement is an excellent way to add value to your home while also making the most of the space it has to offer. So why not make the most of it and built a kids' area? A room where they can play with their toys, write homework, draw and get creative. The sectioned wall area is a cool way to provide a personal space for each kid. Cool, right?
6. Art And Craft Studio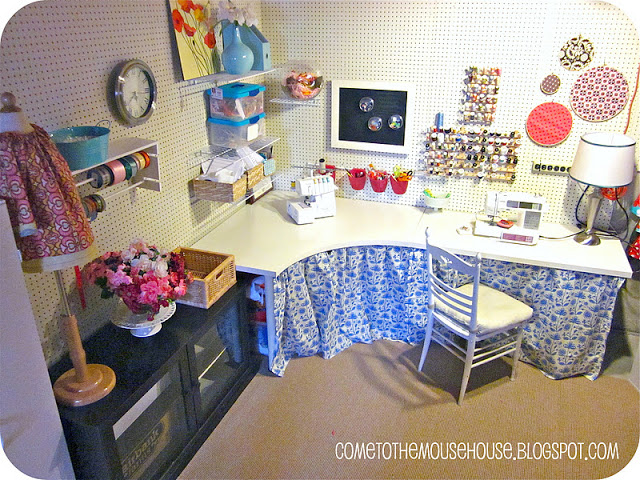 If you want to build a creative corner nook for your little ones, it's time for the basement to come in handy. It's always a great idea to create something for your kids, a place where their creativity will run wild. And the best thing a parent can do is to embrace that creativity, right?
7. Storage Space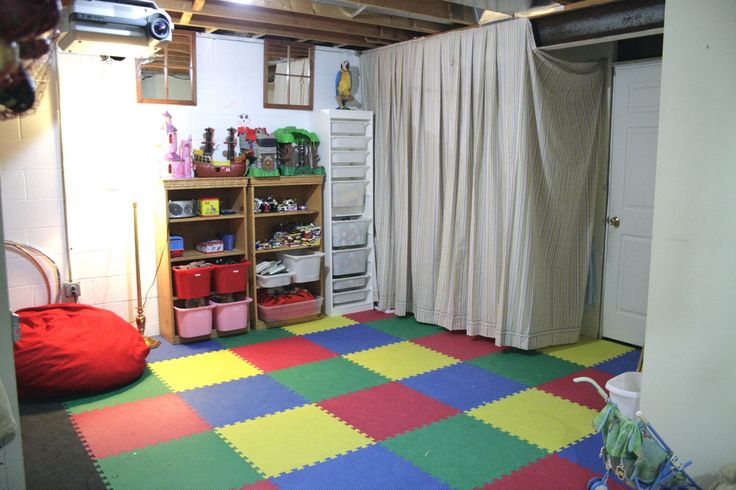 Do you live in a house that is overflowed with household items? Oh yes, everyone has those kinds of items, to valuable to be thrown away, but no free space for them. So, the basement is here to save the day. Transform your basement for storing old toys, tools, clothes… Section and organize the room, and create a space for every household item. And the next time you will need something, you'll know exactly where to look.
8. Men Cave/Pool Bar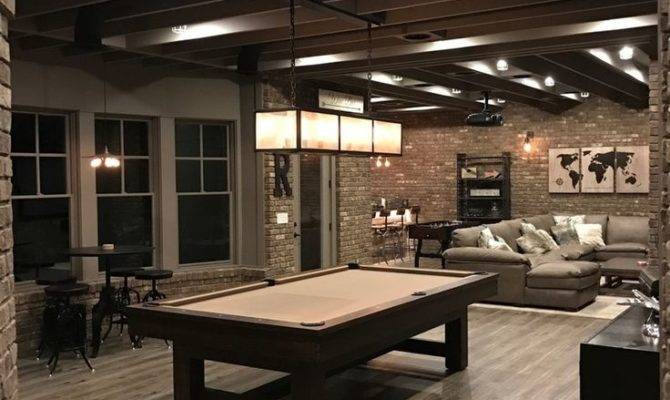 The ultimate man's dream is one day to have its man cave. A place where he can get away from the kids and wife, during beer and catch a breath for a couple of hours. And this man cave has everything you need for ideal entertaining: plenty of seating space, a pool table, neon signs, a TV area, a beautiful brick wall, and warn and cozy lighting. Your friends won't want to leave even after the game is over.
9. Home Cinema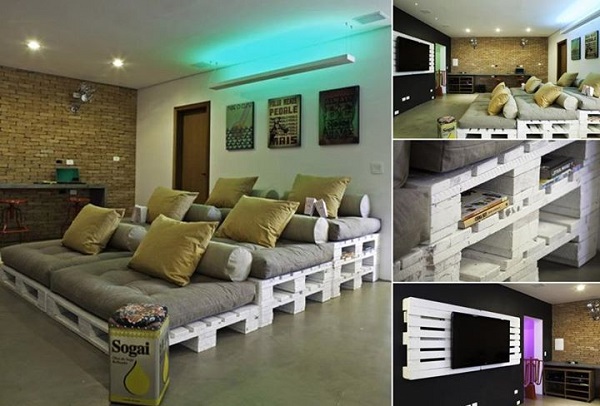 Large, unfinished basement space is like a blank canvas with endless possibilities, waiting to be transformed to complement your home. Do you want to put in a home theater in the basement with a large projector screen pictured above? If so, now it's a good time to start. It is a great space for friends and family gatherings, where you can catch up with one another while eating pop-corn and watching a fun movie.
10. Gym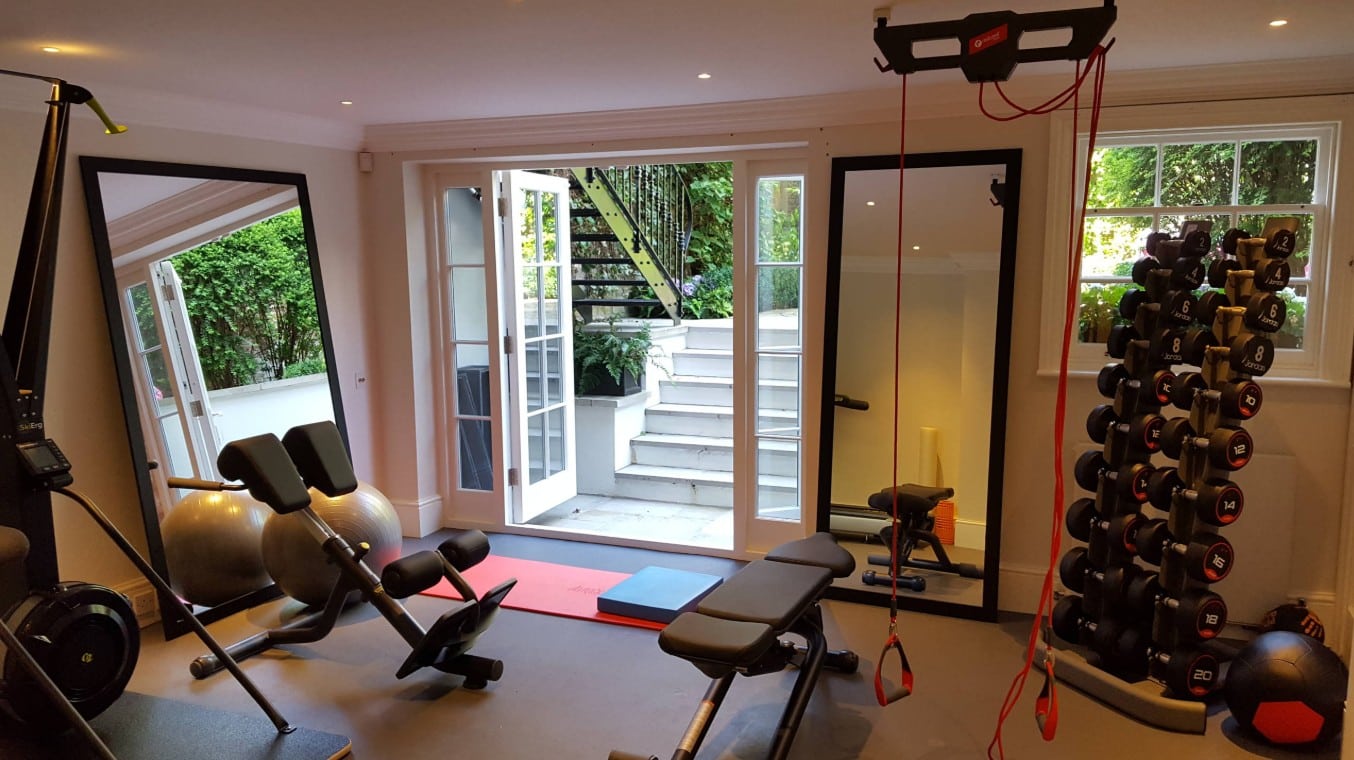 A basement is a great space for building a gym. It's always a great idea to build something for yourself that will serve your needs and purposes. In the basement gym, you can acquire your fitness goals, and you'll waste no time in driving to the gym. It will be under your home, designed and created specifically to please you and your gym-goals.
11. Home Office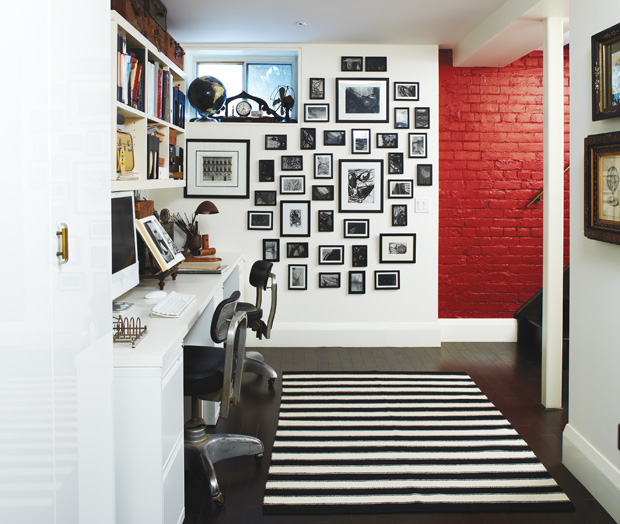 Another great idea for renovating your old basement into something that will come in handy. And what's handier than a home office in the basement? A place where you can isolate from the rest, concentrate, and focus on your work. This is a great idea, especially if you work remotely. Transform your basement into a room where you will get motivated to work and be active, a room where you'll never get bored, nor tired staying in it.
12. Workshop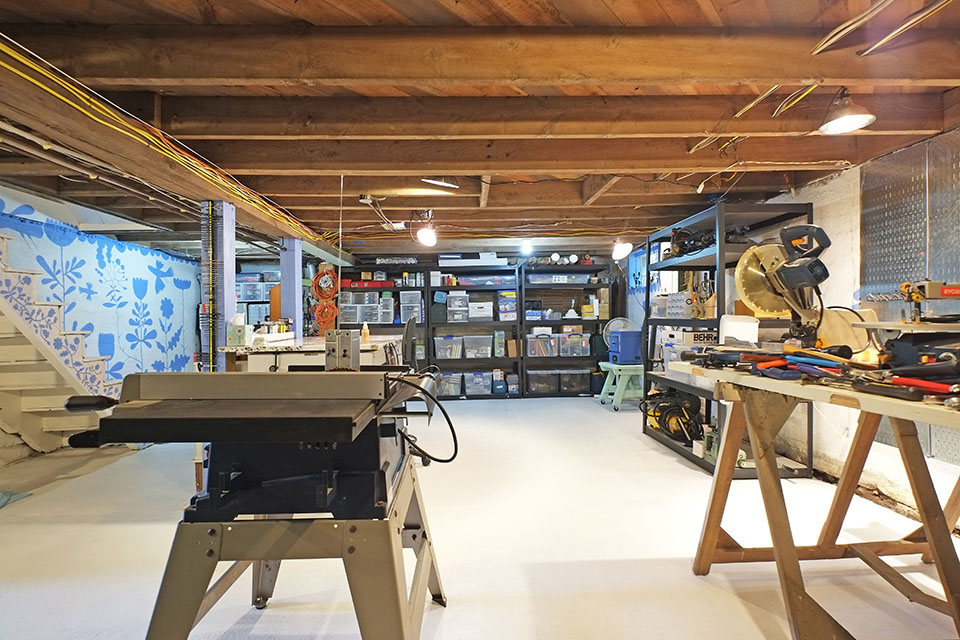 Are you feeling frustrated by not having enough room to work, not being able to find the right tools and supplies, and spending way too much time looking for things? Don't worry, because we have a solution for you. Clean out a basement utility room and build a workshop. A place where you will store all of the tools and supplies, a place to build new things and fix old ones. In simple words, a heaven for every man.
13. Band Practice/Music Area/Recording Studio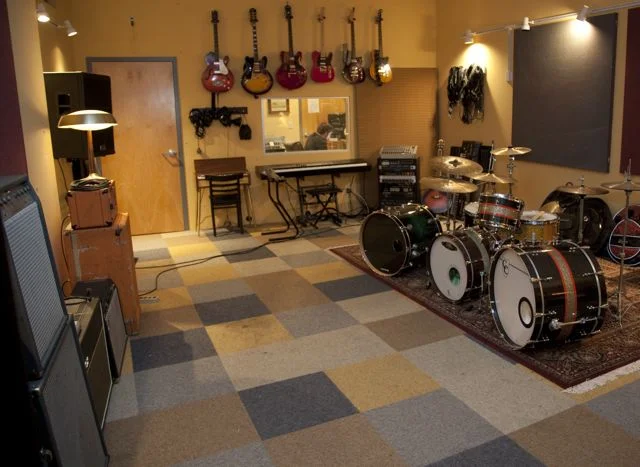 Here's some major inspiration for anyone who thinks they can't do their basement renovation. If you are musically gifted, this one's for you. Gather your friends and renovate the basement into a musical area where you can practice songs, record new ones, or just hang out and catch up.
14. Photo Studio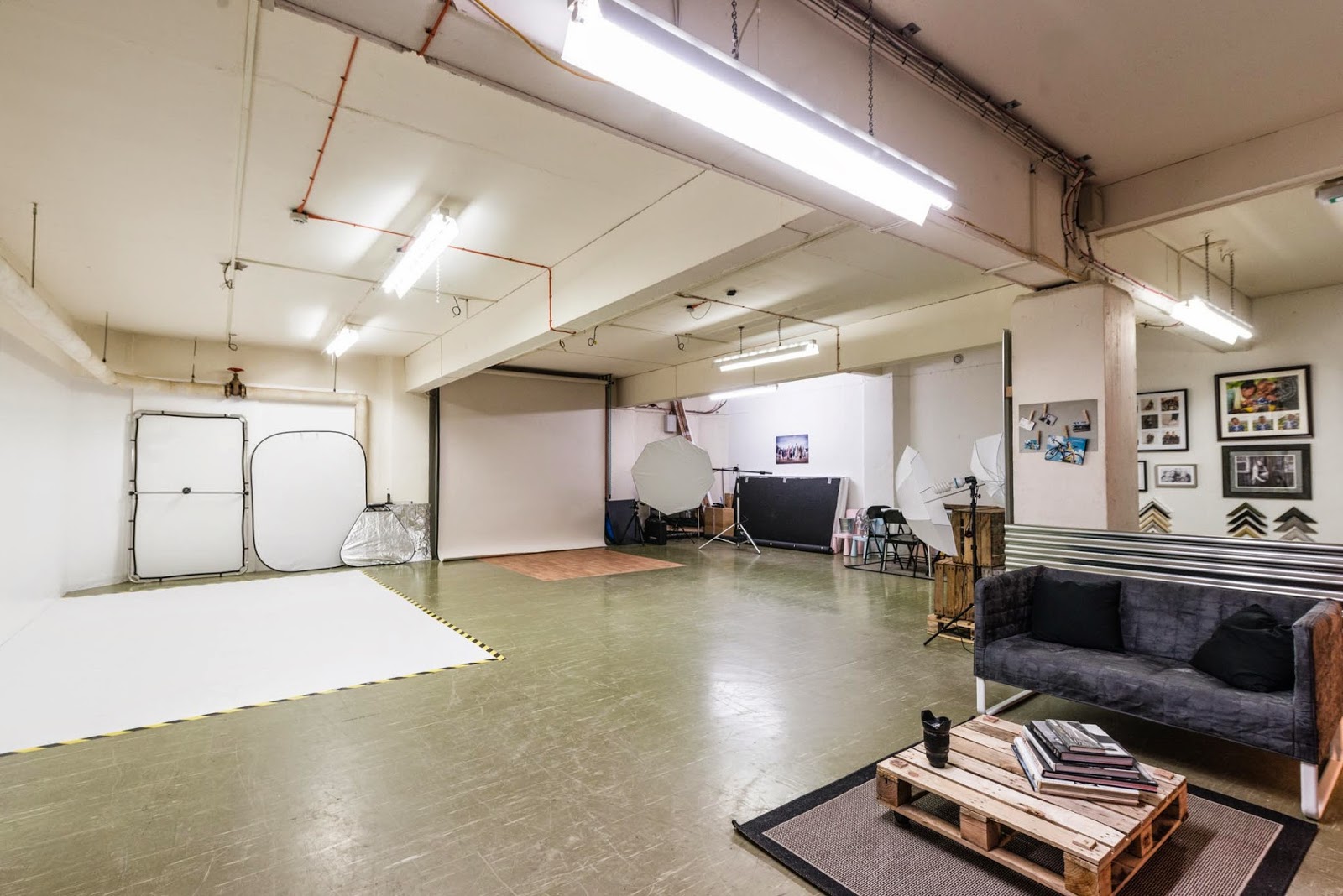 Do you dream about having a home photo studio, but never thought you had space? Sometimes, our homes don't provide the best light for making that perfect photo. And outside on rainy days there's is no chance to snap a photo.  So, what if you could set up a photo studio in your basement? It's a fantastic idea for really anything you wanted to photograph on days when the weather is doing exactly the opposite of what you want. It will give you the perfect little space for headshots, portraits, food photography, flat lays, product photos…
15. Kids' Playroom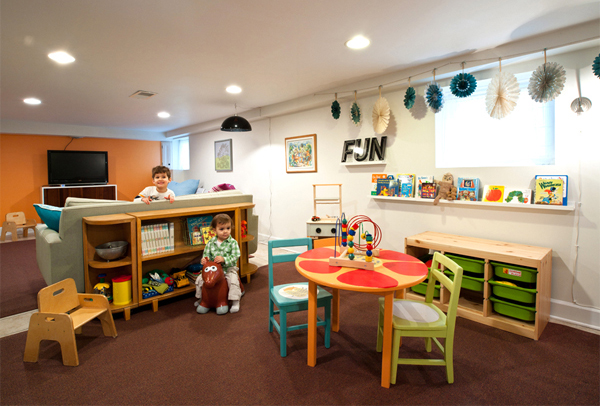 Generally, most people have unused basements. Or some of them are not used properly. If you have a basement, and it is still not used properly, we have an amazing idea for you. You can remodel your basement, and turn it into a beautiful and joyful playroom for your kids. That way, your basement always will be clean and organized, and your kids will have their room to get wild and play endless games.
If you liked our ideas, or have some of your own, please feel free to leave a comment in the comment section below.