Holidays are coming! Holidays are coming! 'Tis the holiday season.
Although this year the holidays will be spent within the family, it is always necessary to look great wherever you are. Christmas is a holiday that we usually spend with family and closest friends. It is the warmest time of the year, and the happiest as well. It marks the end of a year and the beginning of a new one. We all wish health, happiness, and prosperity to the ones we love the most.
However, many of us opt to spend Christmas eve partying with friends at a special place. And even if you don't plan to party the night away, you want to be perfectly dressed. Many ladies do their best to look the best during the holidays. Sometimes they can't make up their mind about a single outfit, or can't find the perfect combination. To help you out, we selected some ideas with the best Christmas outfits for the perfect holiday season. Choose for day or night occasion, or simply get inspired to become the best version of yourself.
1. Classic Red Ball Gown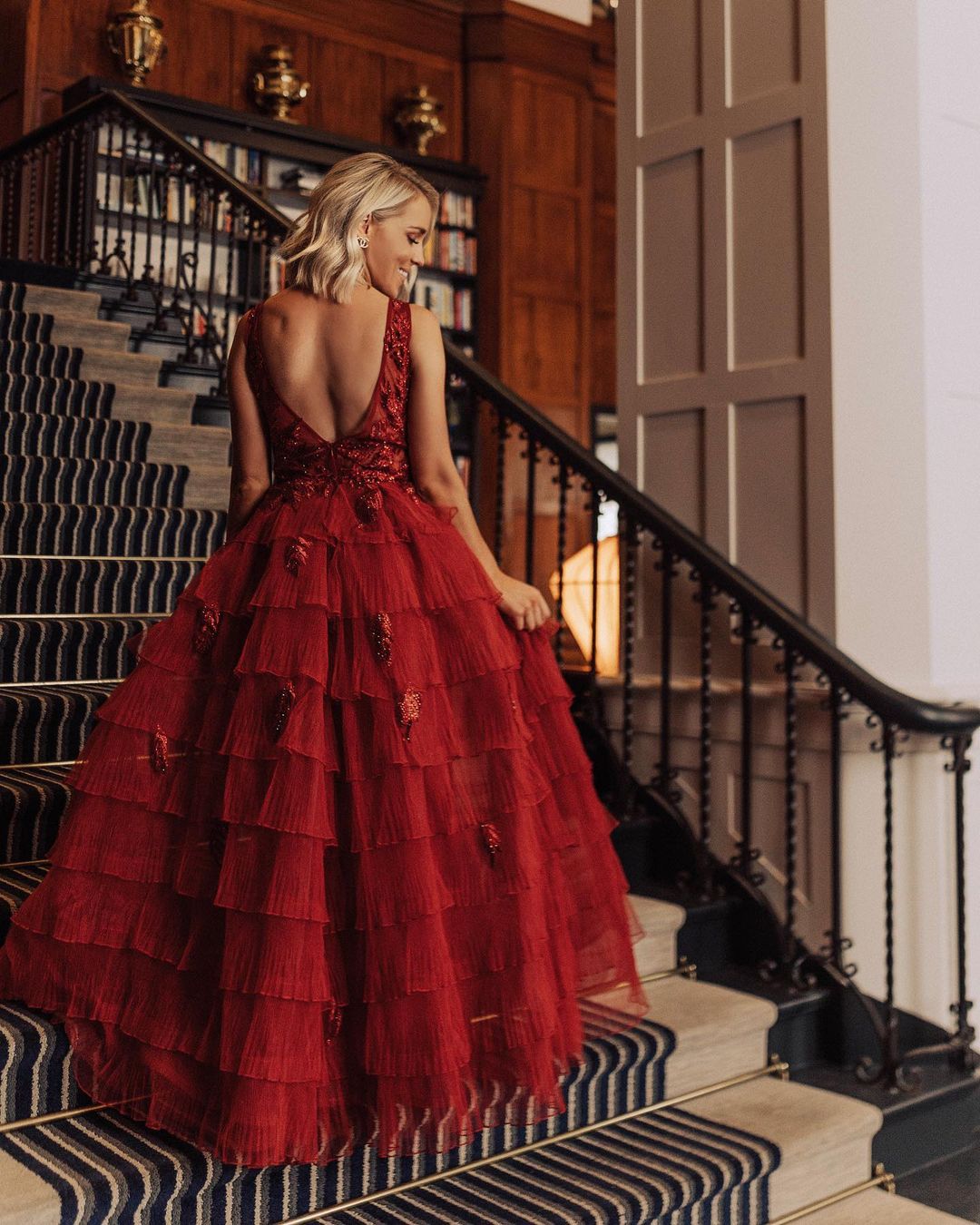 What is a Christmas party without a ball gown? Especially if you are not at home but in a fancy restaurant. This low back fluffy gown is the perfect signature dress for any posh and stylish lady. Combined with the right jewelry, a simple hairstyle, and perfect high heels will make you shine throughout the night. Cinderella will turn into the legendary Lady in Red.
2. Little Black Dress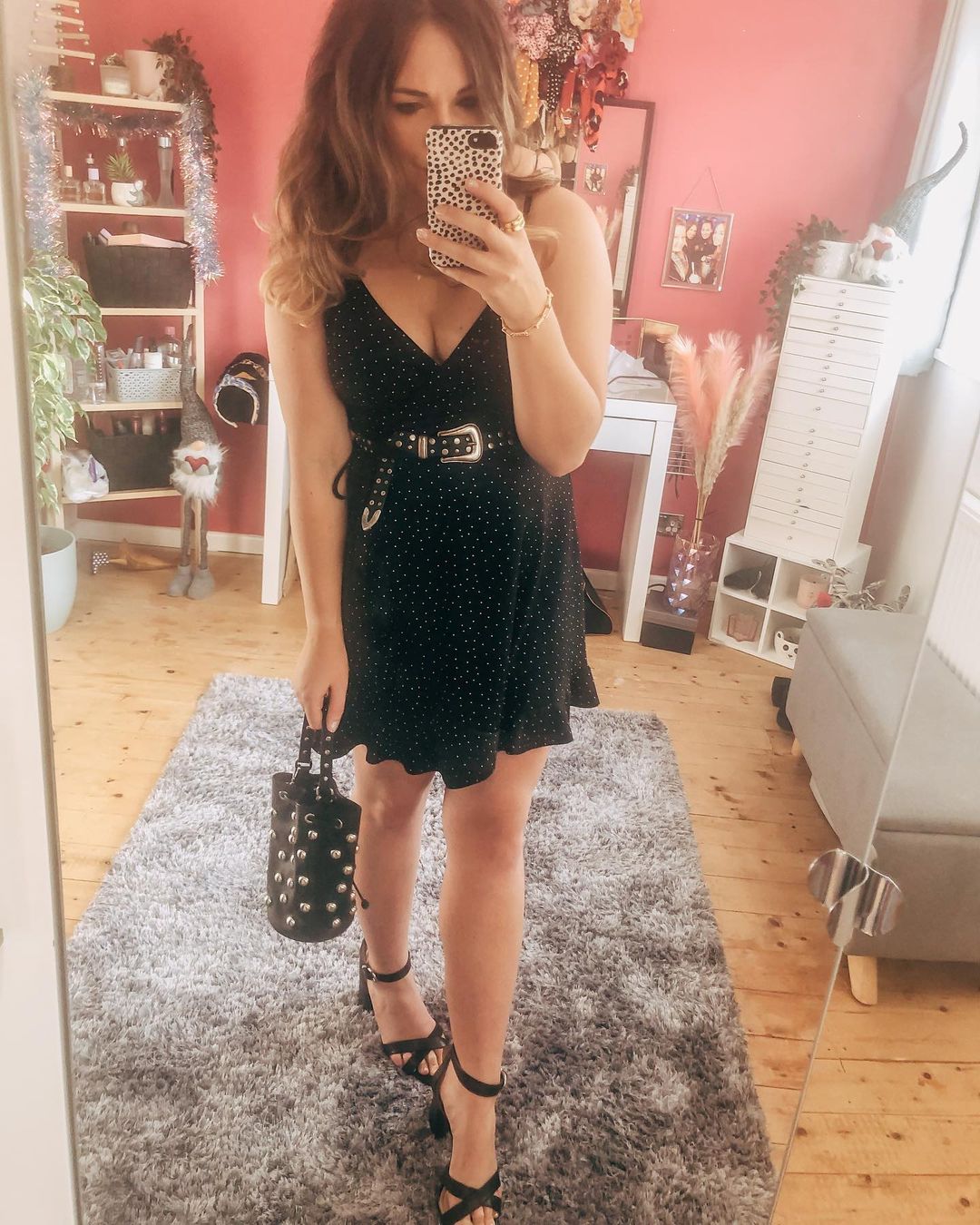 Another perfect outfit for a great Christmas party is the little black dress. It is inevitable and always popular, so if you have made a last-minute decision or were invited at the last minute to go to a party, simply grab your little black dress from the wardrobe, pair it with high heels and a matching bag and you're ready to go.
3. Golden Glitter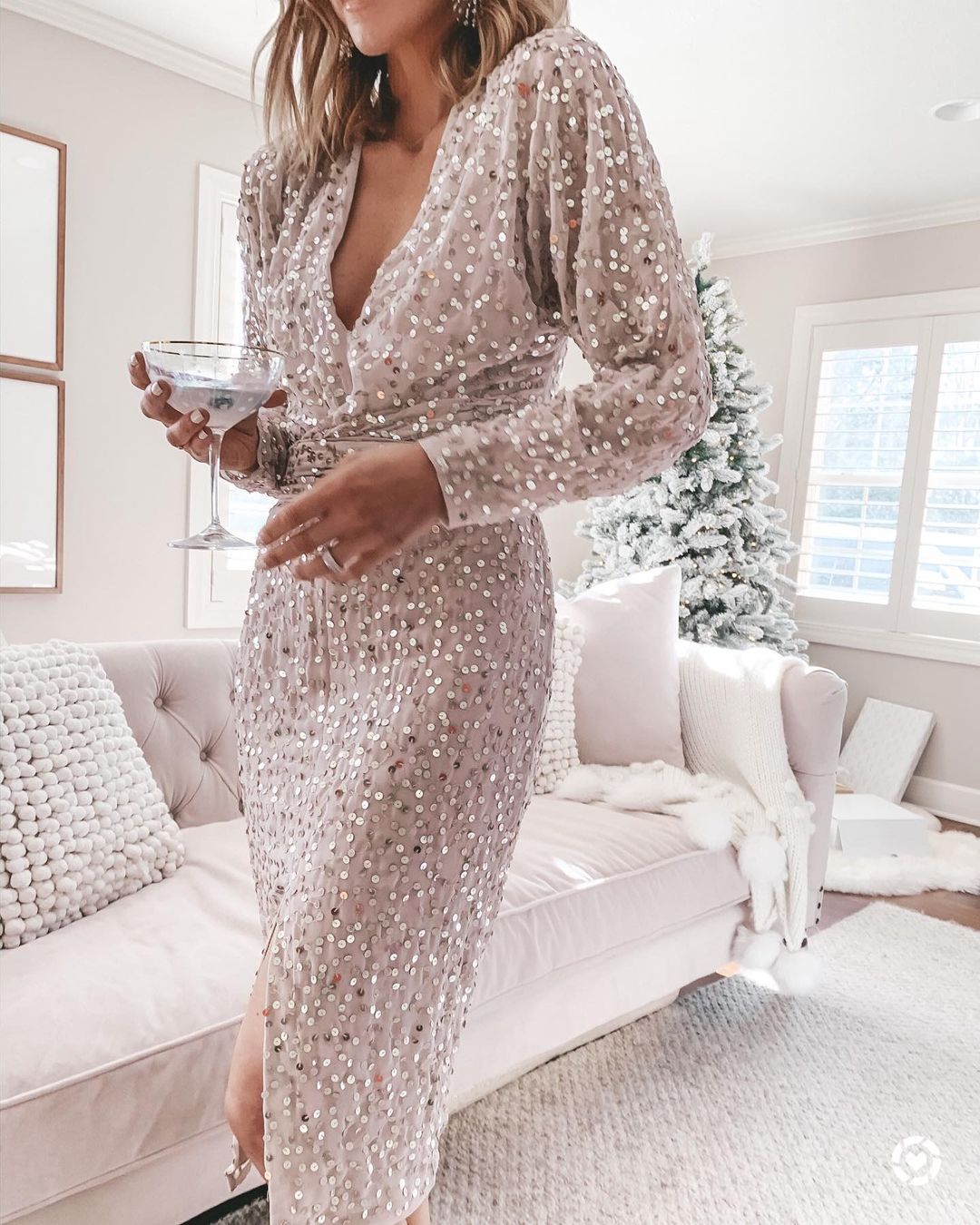 Christmas is not always about red and green. It is about sparkles, glitters, and bling. These last few years show great popularity of silver and gold glitters, besides the red and green. So, if you like to look posh and elegant, and avoid red, choose this wonderful gold glitters and combine it with white or beige to get the maximum effect.
4. Green Gorgeousness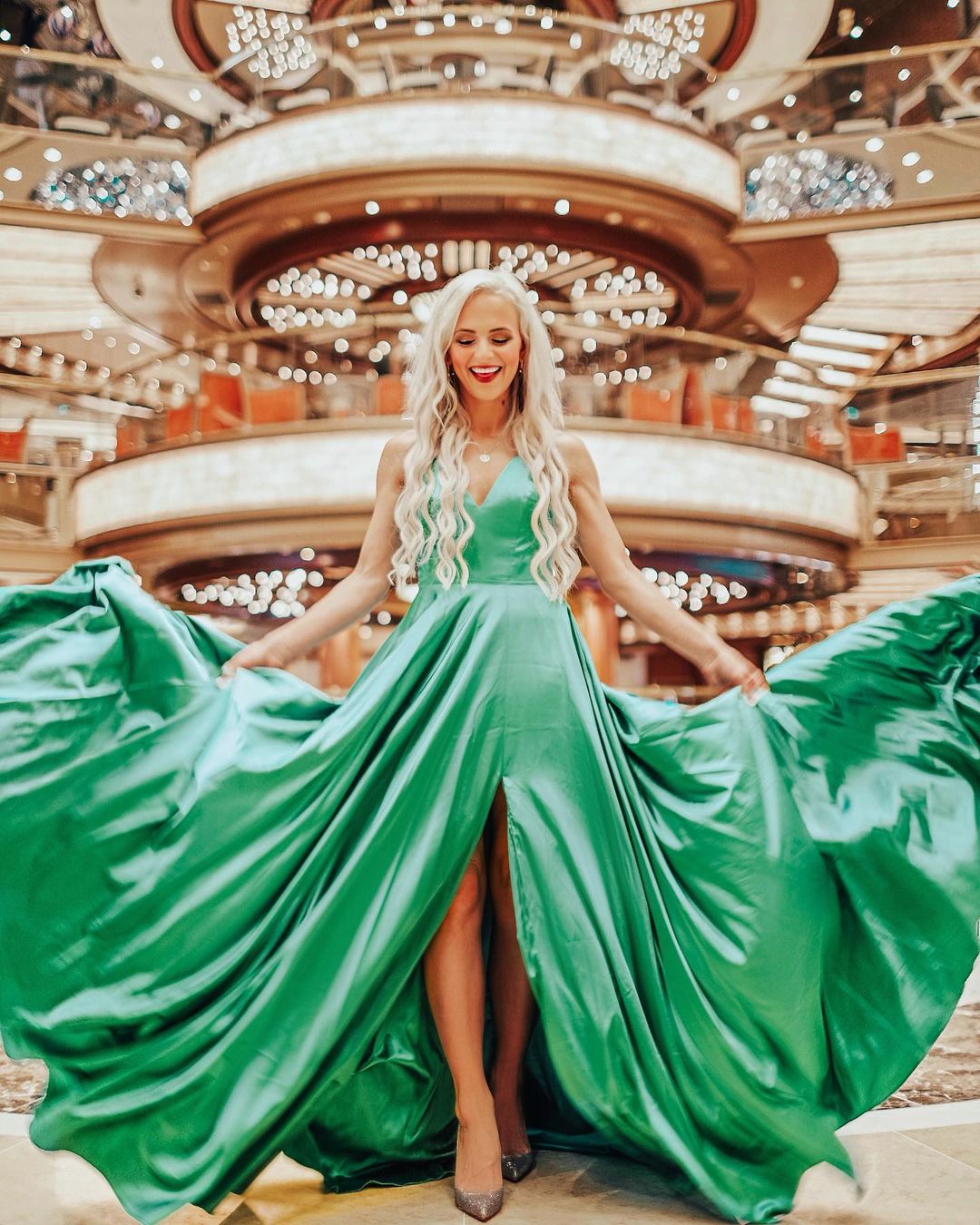 Shine the night way in this gorgeous light green dress. Who said that you need to match the Christmas tree color? This gorgeous green dress is proof that you can look perfect in any color you want. All you need to do is to choose the style, the jewelry, and the shoes. Don't forget the red lipstick. It's still Christmas.
5. Green Top, Red Skirt, Leopard Shoes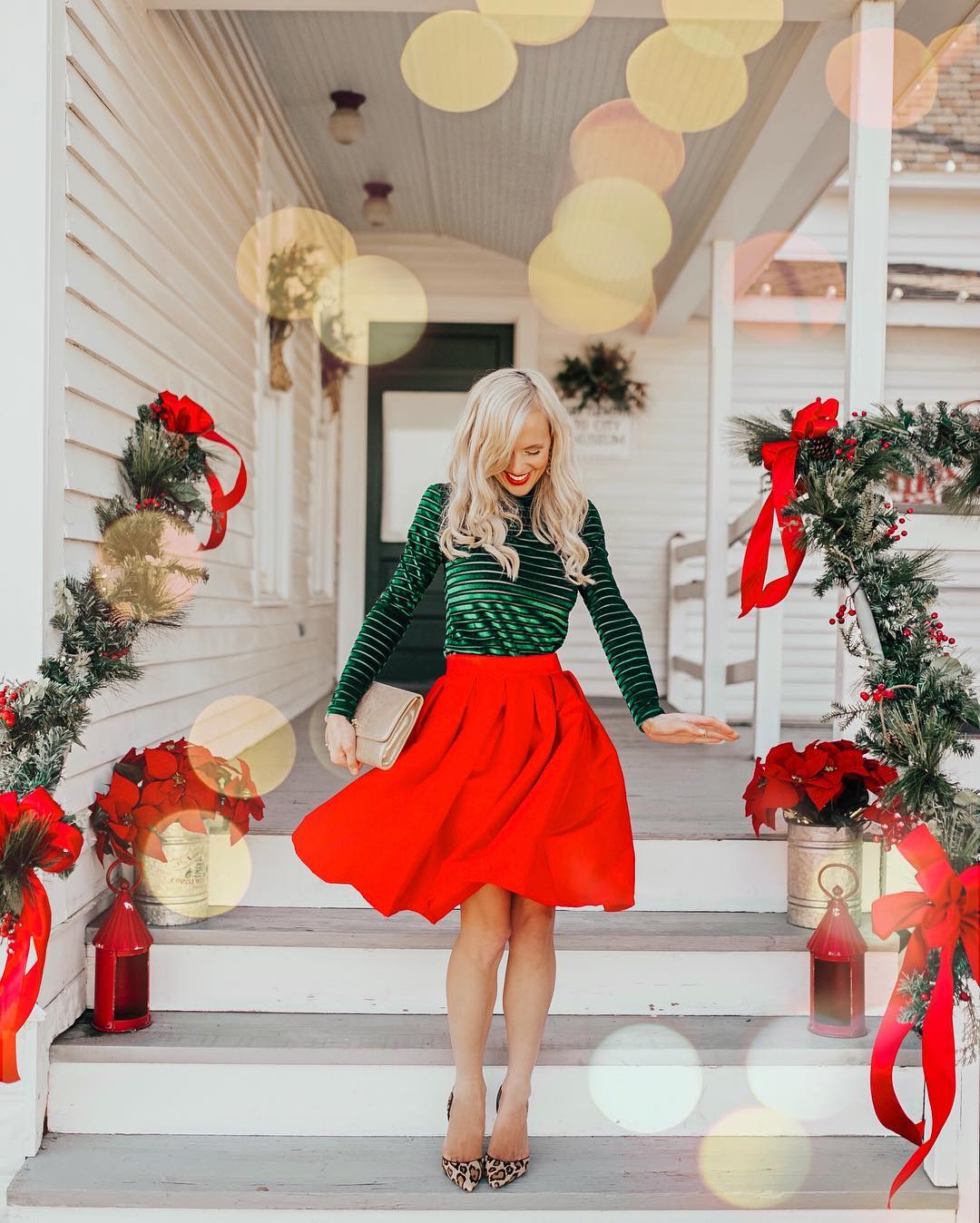 If you want to avoid the all-solid color and glitter, try a combination of different colors. Combine a red skirt with a strapped see-through green top and leopard-print shoes. The combination might be unusual, but the match for the holiday season is great to push through the greenness and redness around you. Matched with the perfect beige clutch, it will make you sparkle wherever you are.
6. Christmas Jumpsuit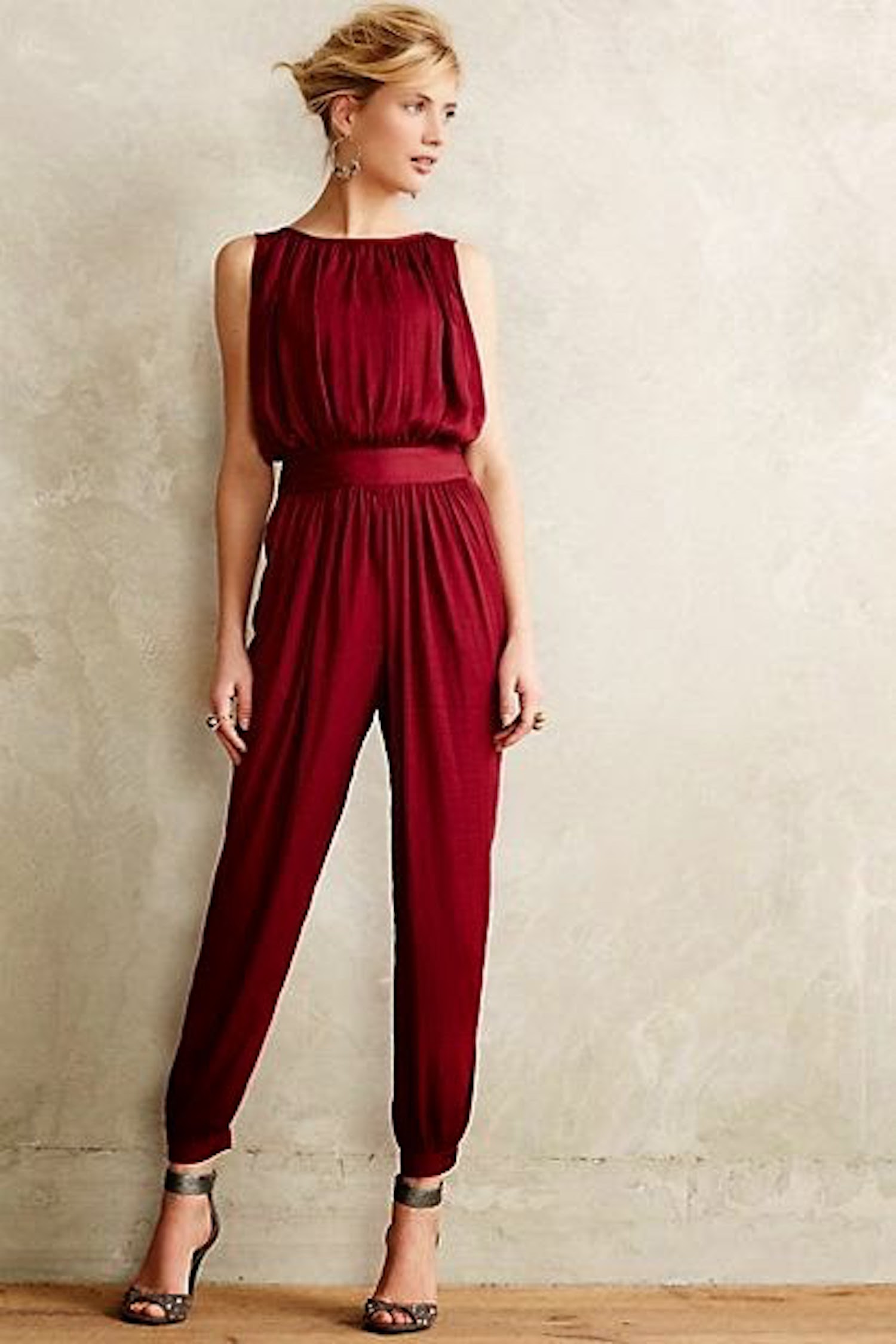 Who said that Christmas outfit must be a dress or a skirt? Look at this perfect jumpsuit and the elegance it gives if you want to look cool and stand out from the crowd. If you feel comfortable in pants, this might be the perfect solution for you.  Paired with the right jewelry, a perfect clutch, and great shoes, it simply becomes the most stunning Christmas party outfit you've always been dreaming of. Enjoy it!
7. Photo Shoot Outfit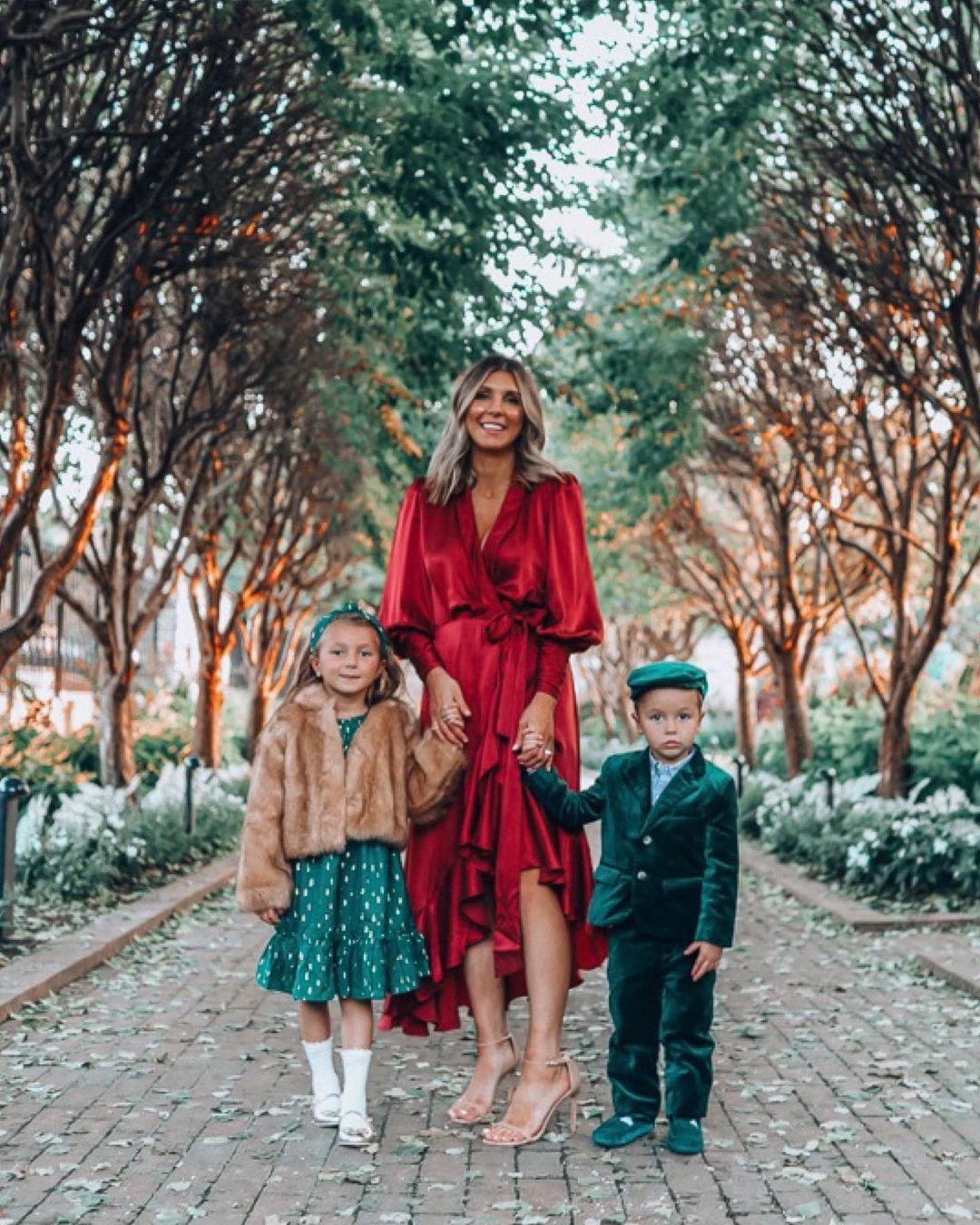 Photoshoots are very popular these days. Usually, you need to be dressed perfectly for a perfect photoshoot. So, choose carefully your and your kids' outfits to get the perfect combination for all of you. It is wise since it is Christmas, to have them wear something green and you to wear a wonderful red dress. Make sure you combine everything before the shot and keep your kids warm in a jacket or a suit. And don't forget the perfect shoes.
8. Vintage Dress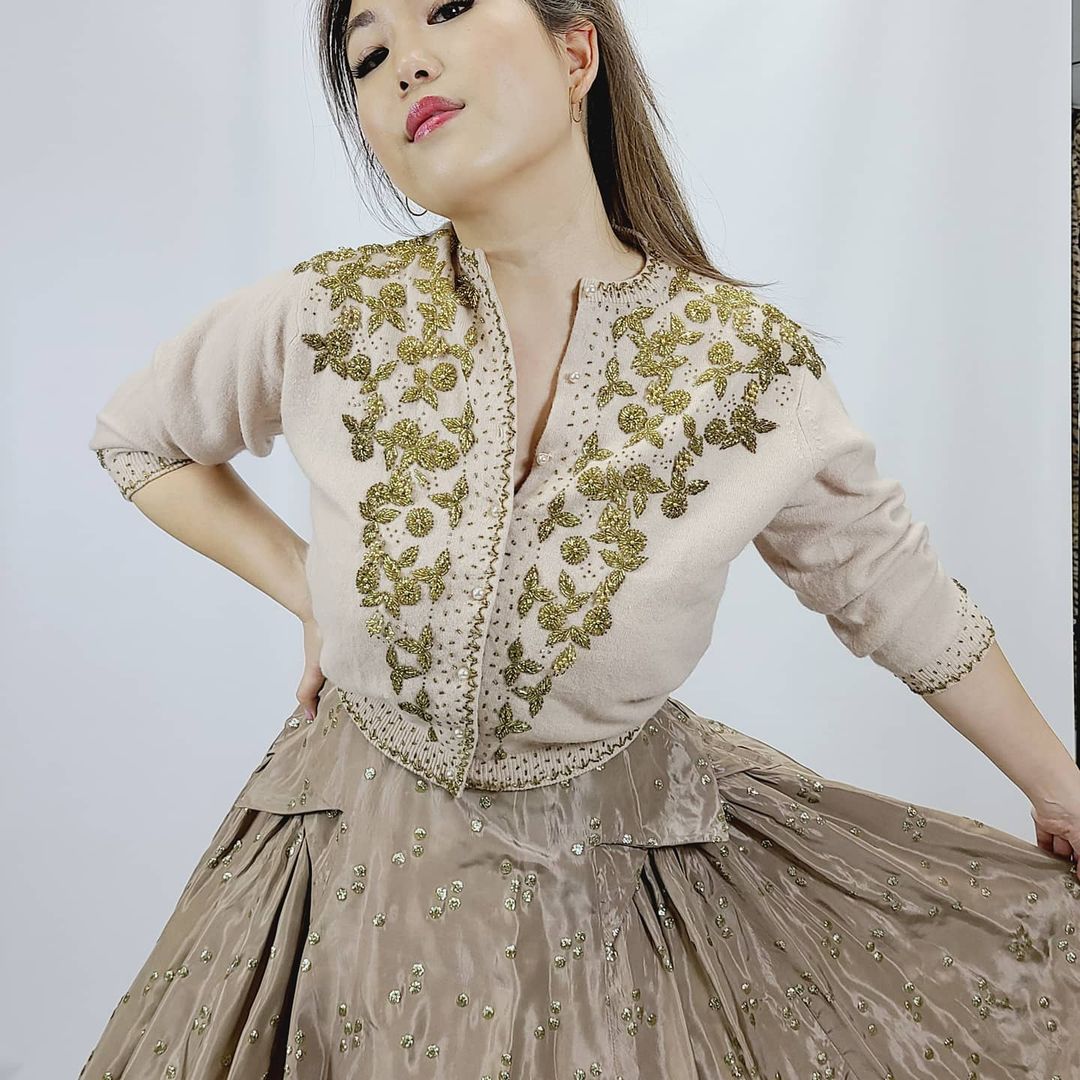 For all vintage lovers, this is a perfect combination. A golden-beige skirt in flare style, with bling decorations all over it, combined with a beige sweater with a green embroidery is a perfect combination for a vintage Christmas party. Even if the party is not themed vintage, you will stand out from the crowd and shine with all your glittery style.
9. Green Lace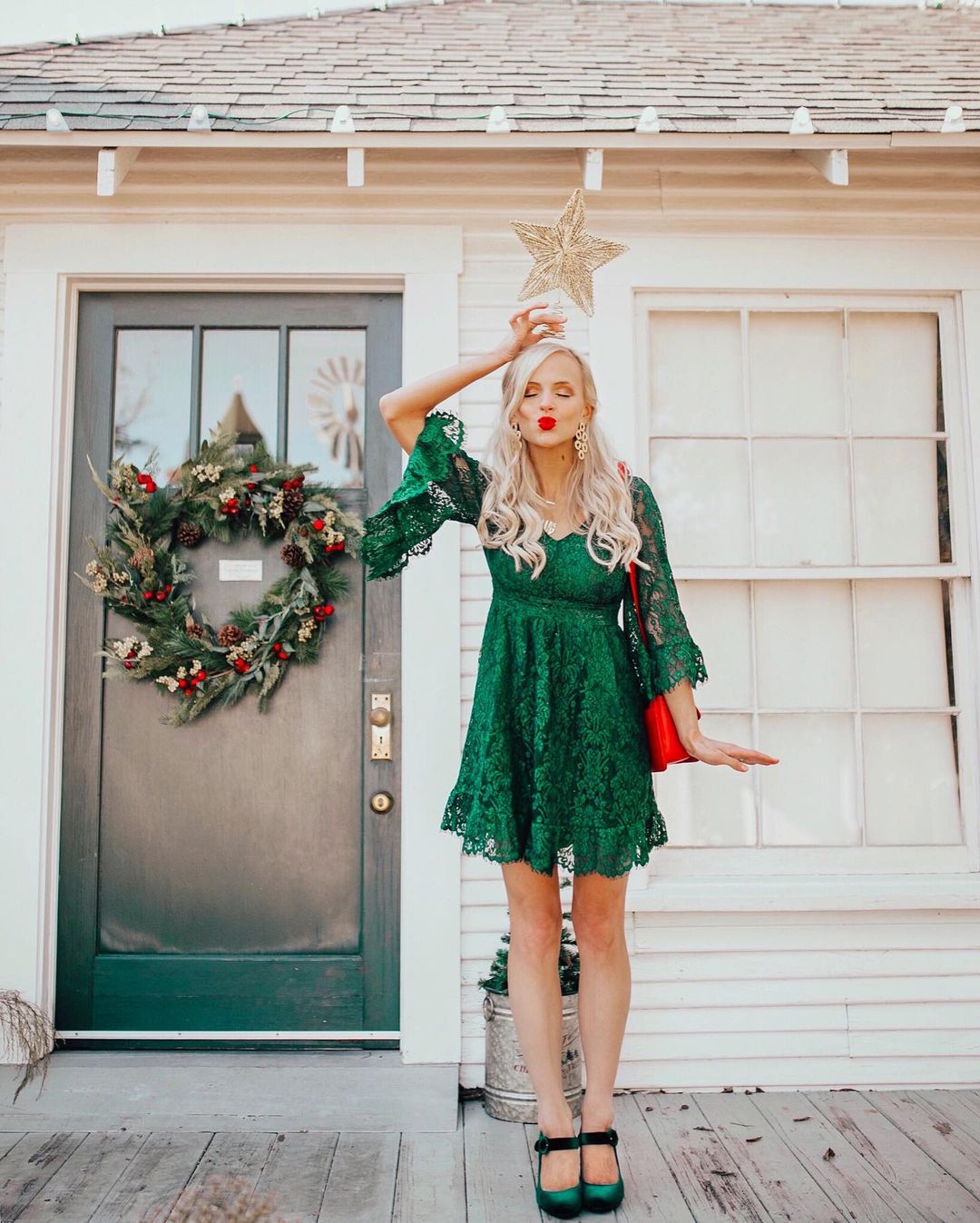 Green fantasy is sometimes better than being all in red for the Christmas holidays. This green lace dress suits Christmas perfectly, and yer stands out of the crowd of all red. It is posh, it is unique, it is sexy and cool. Combine it with red details to make it even more Christmasy. Paired with the right shoes, it will be your perfect match for the day.
10. Silver Combination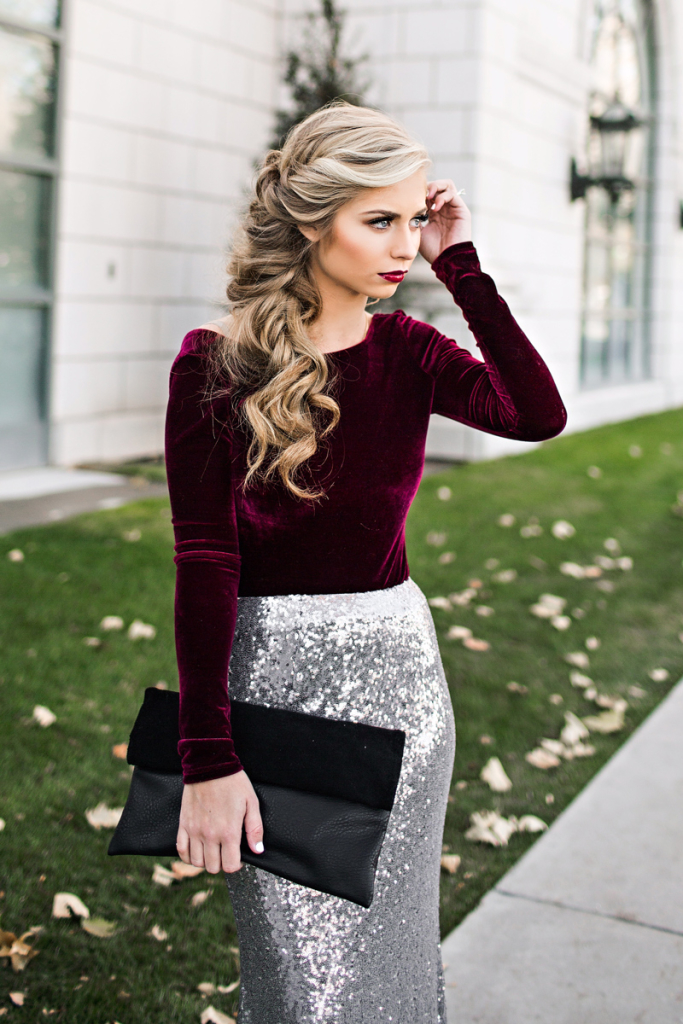 How about getting out of the normal and still be shiny and glittery for the holiday? Take a look at this combination of a silver glittery skirt and dark red top. It is elegant, simple, and posh style, and stands out of the red&green crowd. Paired with a black clutch and black stilettos, it will be the perfect combination for an elegant Christmas.
11. Christmas Sweater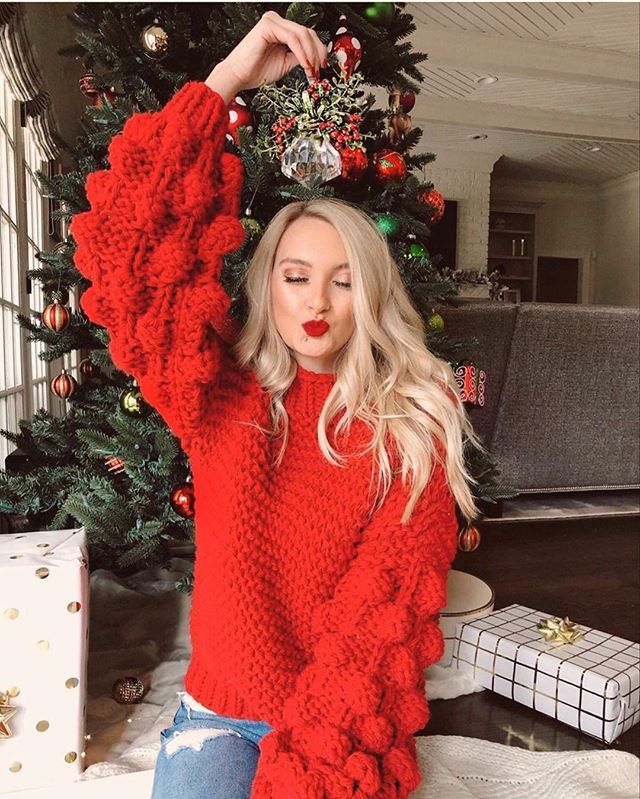 Sometimes keeping yourself warm is all you need for Christmas. Especially if you spend it in the mountain house with the one you love. However, you can still look elegant and stylish in a sweater. This idea is the perfect answer to this. Red sweater with ball-shapes on the sleeves and high neck to go with your favorite pants or jeans. You don't need anything else.
12. White Pants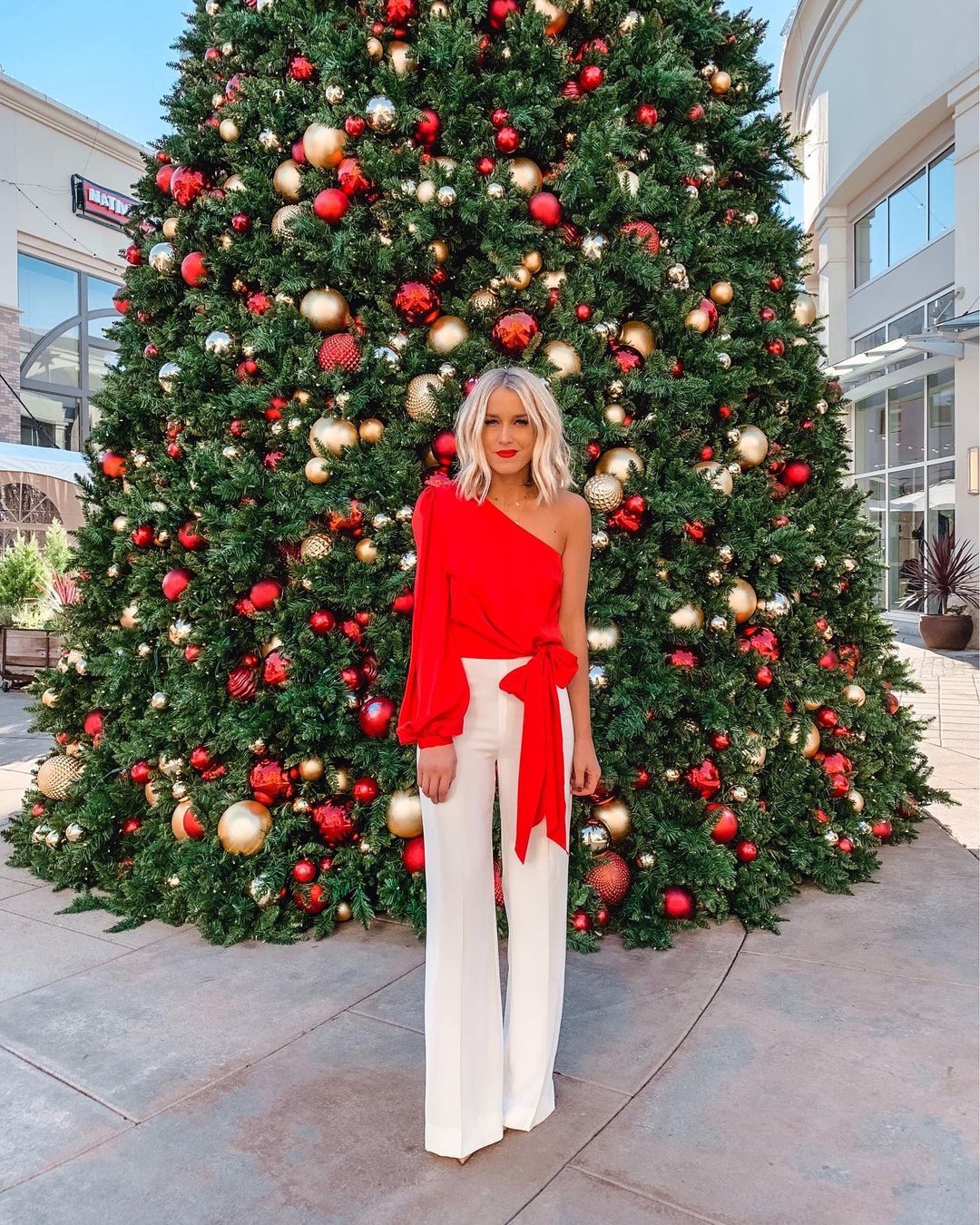 After having a great night out for Christmas eve, it is time to shine on Christmas day as well. Check out this unusual combination of white flare pants and a gorgeous red shirt to go with your perfect rose-gold shoes. It is elegant, it is sexy and cool, just what you need for a family Christmas lunch.
13. Christmas Snowhite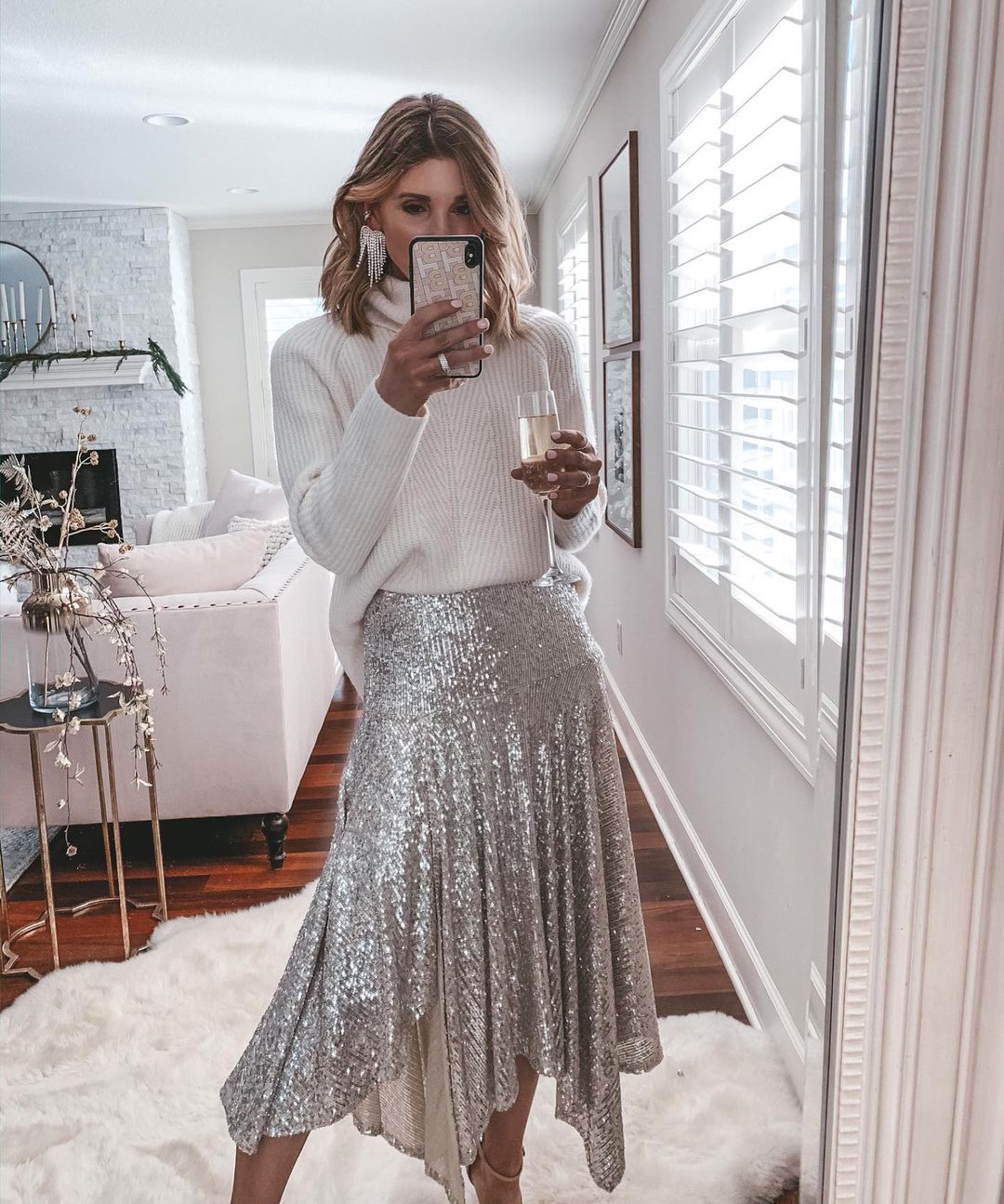 Snowhite celebrates Christmas as well. With, or without her dwarves, she can be the star of the night. Aas any little girl that has grown up into a grown woman, you can also get inspired and create this "Snowhite" look for the perfect Christmas day. It is cool, it is warm, it is something you don't see every day. It is not a red & green combination, rather modern white & silver, and it is still as glamorous as Christmas.
14. Red Wine Cocktails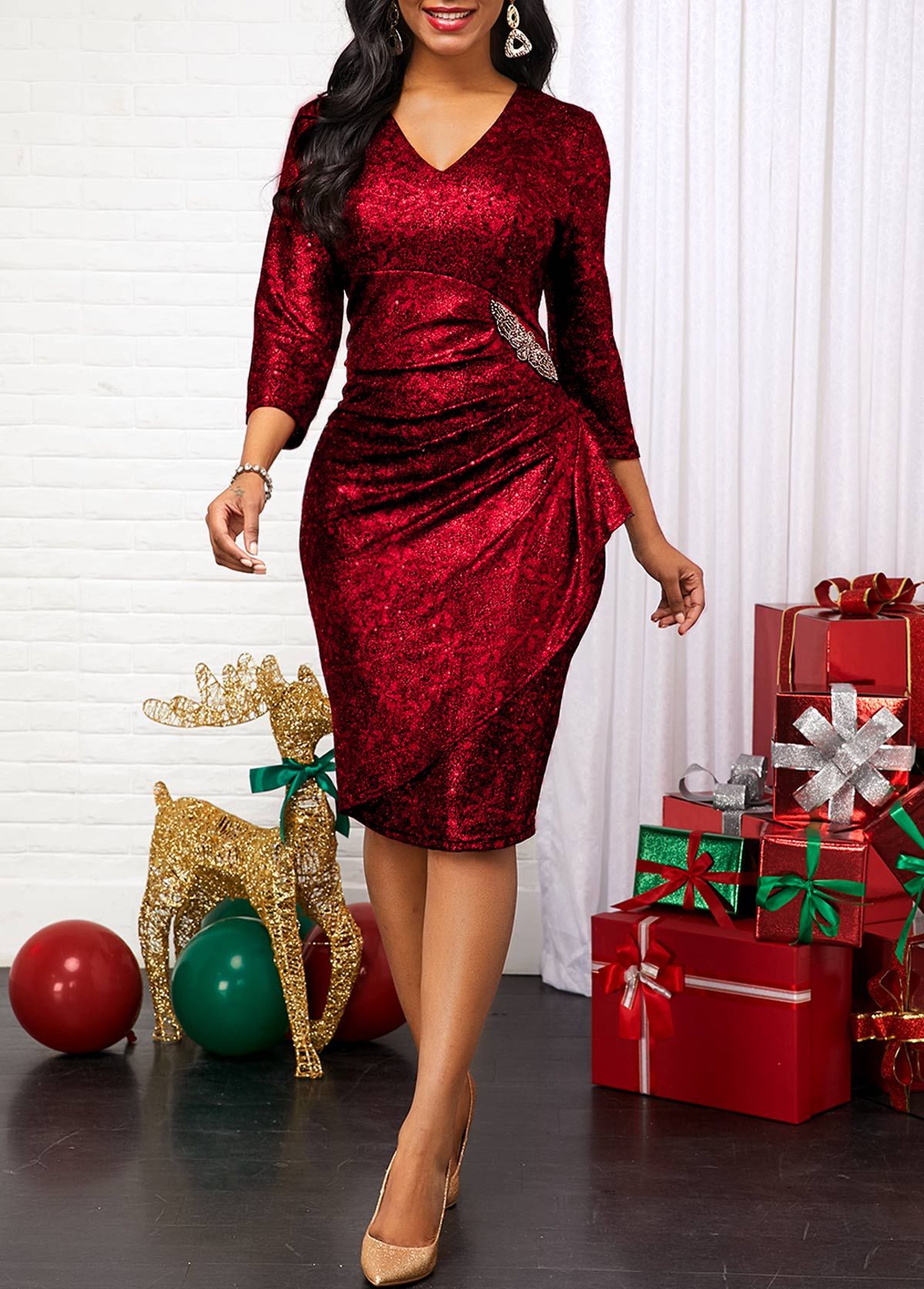 Now, cocktail dresses are always popular for an elegant Christmas party. Choose this red-colored cocktail dress with a silver (or gold) waist pin as a unique decoration of a simple dress. Combined with beige (or silver) stilettos, and the right jewelry, it will make you shine at your most important corporate party if you choose to wear it there.
15. Golden Dream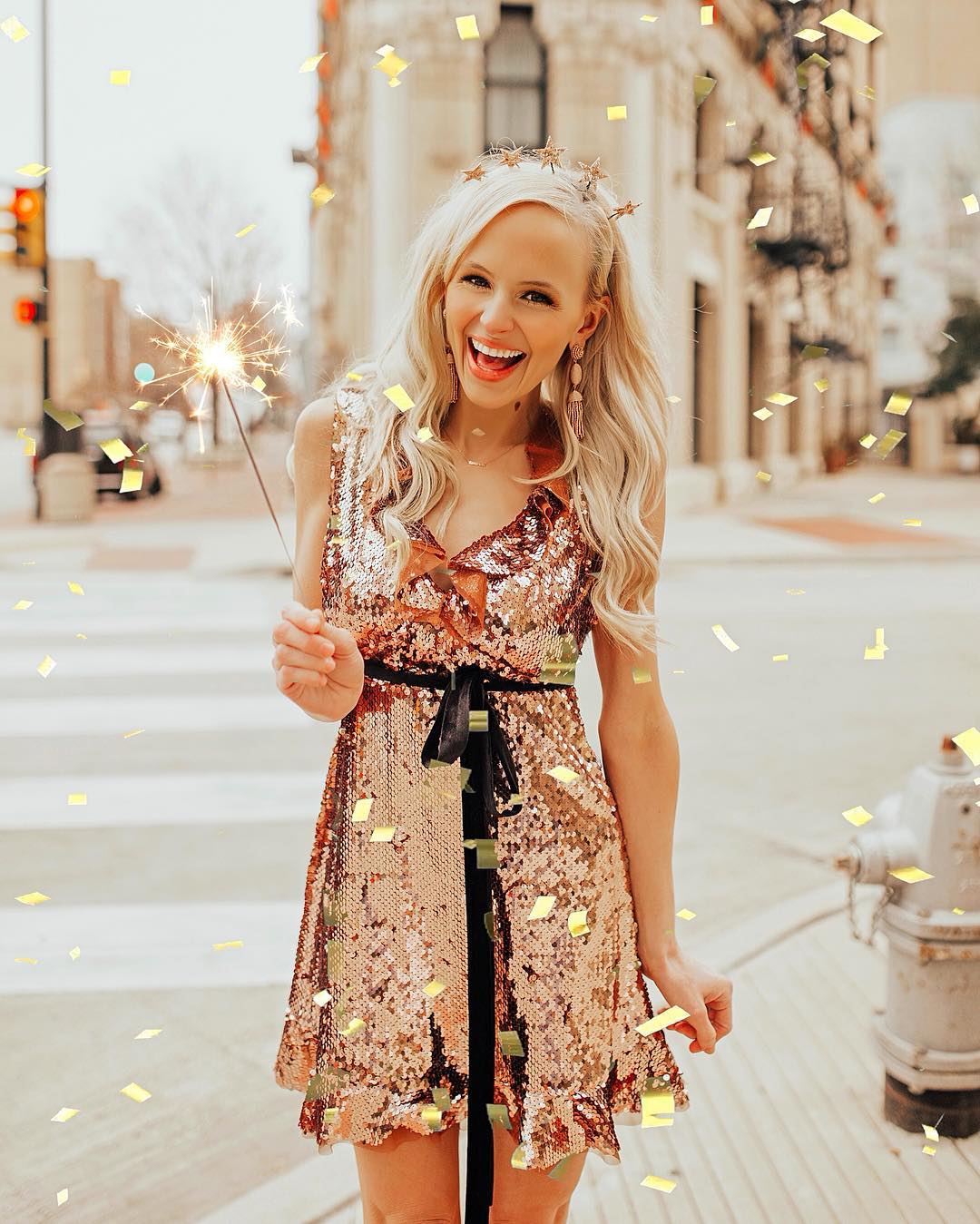 All gold lovers will love this simple and unique golden glittery dress. It is cool, sexy, and unique for the best Christmas party ever. You will glow into the night and stand out of the crowd wherever you are. Combine it with great shoes and add a star crown on your head to complete the look.
16. Fall Lace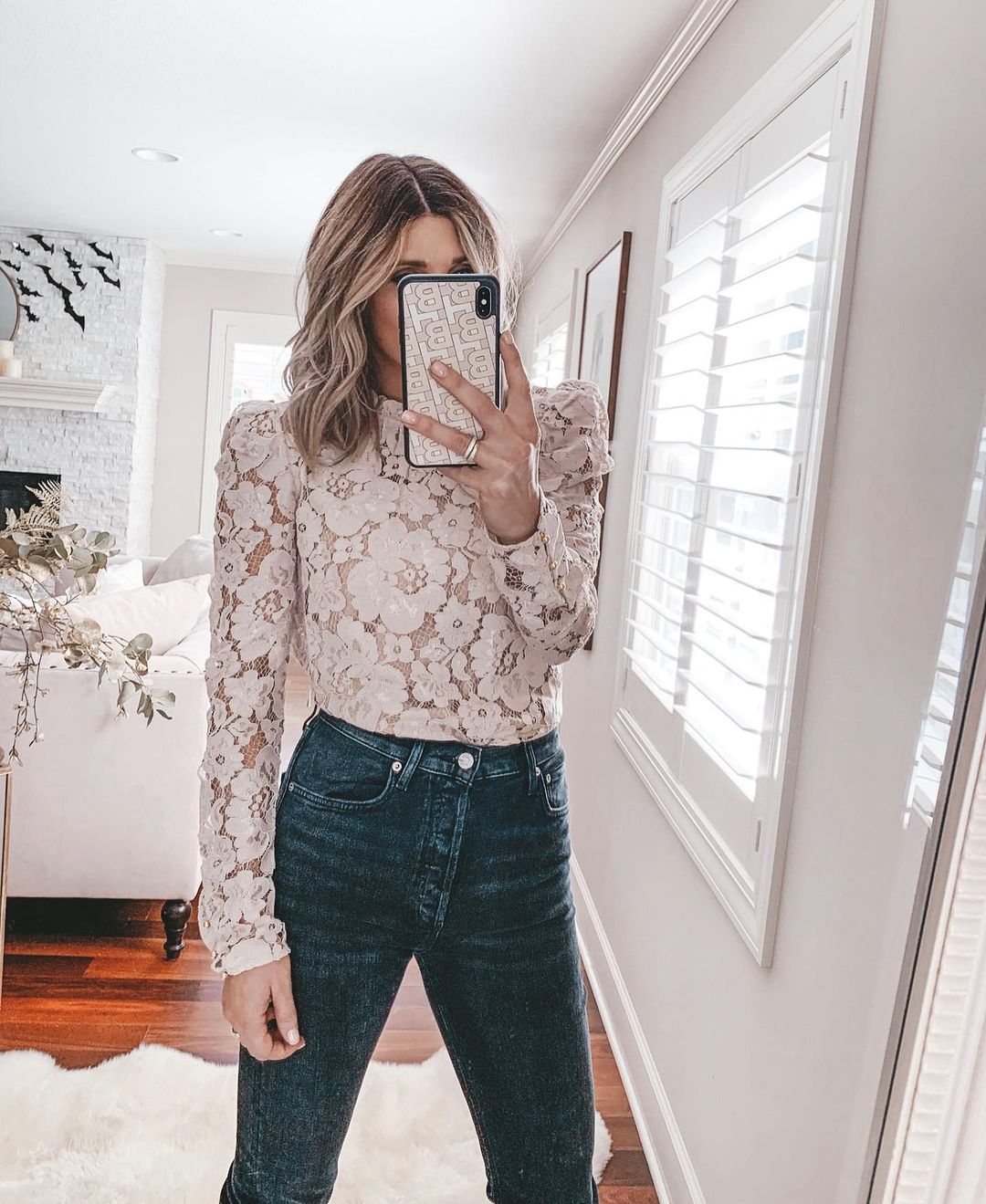 Sometimes even your favorite fall lace top can be the best choice for Christmas day. And why not? It is elegant, lacey, posh and if paired with your favorite skinny jeans, it will be the perfect solution for the most wonderful Christmas day spent with your family and friends in a cozy, laid-back atmosphere. Don't lose it, reuse it!
17. Christmas Day Lace Top Outfit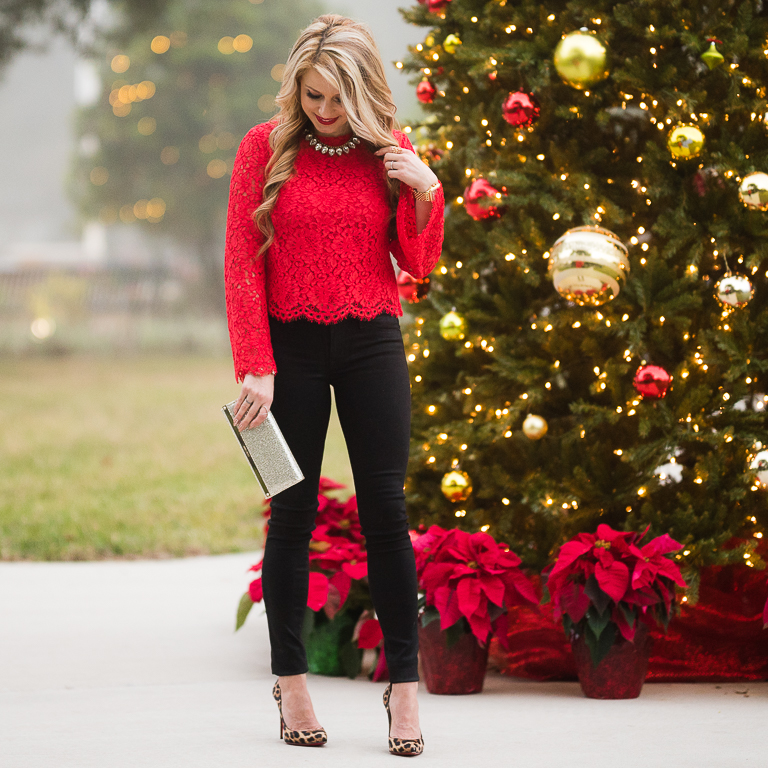 Red lace with black pants and animal printed shoes? Hell, yeah. It is Christmas in 2020. You have every right to be modern and combine different and unusual styles. Now, pair this combination with a blinding purse and cool neckless to complete the look. Enjoy your day under the Christmas tree with the ones you love the most.
Now that we have shown you our ideas, you have a lot to think about and decide on your best outfit. Or, maybe, you have some ideas of your own to share with us. Please leave a comment below and tell us some of your thoughts about the best Christmas styles.