Ben's bargains offers a large selection of expertly-picked deals, coupons, and freebies you can buy for your home and business. The website also provides details like deal alerts, price history, product reviews, and much more.
Looking at the reviews of the brand, you see Bensbargains is quite a popular website. What the website strives for is good customer ratings, price competitiveness, quality of features, and much more for its loyal customers.
Websites that track brand popularity show that Ben's Bargains is a very popular source for deals.
What is it?
So, what is Bensbargains actually? Well, it is a mid-size coupons and promo codes company that operates in the e-commerce industry. The e-commerce site of the company is bensbargains.com.
The website, or the company if you like, sells the products and services in the coupons and promo codes industry. They offer discount codes and coupons for customers, but also find good deals for you.
The website competes against other coupons and promo codes websites, including Rakuten, Ibotta, Groupon, Honey, and more.
Looking at the reviews and in-depth reviews of the company, we can safely say that Ben's Bargains is a mid-range performing brand within its category. But the website offers so many good things that you should definitely give it a try.
Founded in January 2000, the website began as a DVD bargain center and then expanded to become a Bargain center, with a more general focus on electronics.
The beauty of Ben's bargains is that it is no feeds, scrapers, or anything else. Just dedicated human beings and deal experts who do the dirty work for you and find great deals. And when Black Friday comes, there are even more deals for its loyal users.
Why use Ben's Bargains?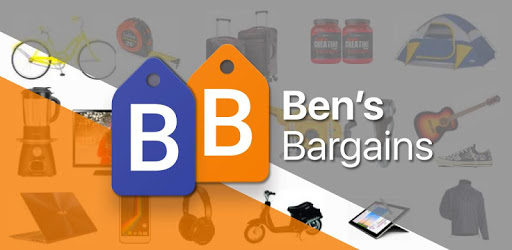 There are a couple of things that a customer wants in a website offering coupons and promo codes. We can say Ben delivers on it.
The website has good interface usability, making it easy to navigate through. There is no chaos, something you might find on other websites in a similar industry. Once you are at Ben's Bargains website, you can navigate and use the friendly interface to find what you like.
Another factor is dependability. Ben delivers on this as well. Ben is a reliable and trustworthy website. More on this later on.
Do You Trust Ben?
Scamadviser is one of the most popular tools to use when checking for reliability and scamming. Scamadviser gives Bensbargains a good score and claims it is "legit and safe for customers to access".
The automated algorithm checks if a website is safe and legit. Using facts found online, this scam tool says it is safe to use.
Some of the positive rankings include a high Alexa ranking and traffic volume, a valid SSL certificate, and a website that operates for many years.
How to Use it?
Now let's talk about how to use Ben's Bargains to find the best promo code and a coupon for you. From the moment you get on the website, you can see it is easy to navigate and friendly to use.
You can sign up using your email, or with your Facebook ID.
Ben's has divided the website by categories, stores, and brands. Go to each of it, and you will get a dropdown menu to further expand your search. For example, in categories, you have things like apparel and fashion, computers, entertainment, gaming, mobile, kids and baby, pets, travel, and more.
Stores give you a menu of stores like eBay, Amazon, Best Buy, Macys, Target, and more. And of course, when you click on Brands, you can see narrow your search to a specific brand.
Most products come with a green price (this is the deal), gray price (which is price history), and the option to go to a store and set an alert.
If you want to set an alert, you can get an email as soon as the same product appears on the website again. Sometimes, products re-appear with a new price.
When Ben posts about a specific product multiple times, the website tracks the history over time. And you get access to that data, making you confident that you actually get the best deal.
And if you like, you can also join the deal hunting community and discussion by commenting on posts and sending deals.
How long do deals last on the website?
Well, there is no certain answer to this question. Ben's Bargains tries to keep the details updated, and they mark it as expired or sold out when that happens. It is the same with a physical store. You can never know when the sale will stop or the item will be sold out.
Bear in mind that websites like Amazon change prices at a fast rate. Oftentimes, deals last only 30 minutes. Sometimes, yet, they can last a day or a week. You can never know in the shopping industry. Prices change all the time.