Al Sharpton knows the perks of losing weight. He says, "I've been able to get a very nice wardrobe". But good clothes are not the only reason to lose weight. There are also some health benefits. Rev. Al Sharpton managed to lose more than 170lbs, which is an astonishing number to think about. Nowadays, he is a "shadow of his former self".
In four years, Al has gone from 305 to 129lbs. And he didn't do it because of an illness or something. He did it for the love of his daughter.
The civil rights activist has gone through several body transformations in his life. For example, he lost 30lbs while going on a 43-day hunger strike in jail in 2001. But then he put the weight back on during his presidential run.
The turning point for Sharpton came when his daughter criticized him. In 2006, she poked him in the stomach and said, "Dad, why are you so fat". That served as a turning point for the civil rights activist.
Today, we will take a look at his complete transformation, how he got there, and what can you learn from him.
Determination Is The Key
On a regular day, Rev. Al Sharpton eats three slices of whole-wheat toast with green juice and English breakfast tea. For lunch, he has a salad, plus one banana, and some tea.
Fun fact: he always consumes almost the exact same salad. Al combines lettuce, tomatoes, cucumbers, onions, two or three hard-boiled eggs, and balsamic vinaigrette dressing. Because his doctor recommended protein and carbs, he added whole-wheat toast.
With such a diet, things can get boring quite quickly. But not if you have the determination to go through it. Sharpton says determination is the key to make it work.
In one interview, he revealed, "I think the first week, maybe week and a half, I would get hungry every now and then. But the key to it is determination". He keeps his cravings in the normal range and says he doesn't miss any of the foods he ate before.
For example, Al loved fried chicken. He says, "I was a fried chicken junkie. I used to eat it for breakfast, lunch, and dinner, but after about three or four weeks, I didn't have a longing for that either."
And he doesn't want to give up on his lifestyle anytime soon. He says he has much more energy and focus, which is the best part of the diet. He is now totally in charge of himself.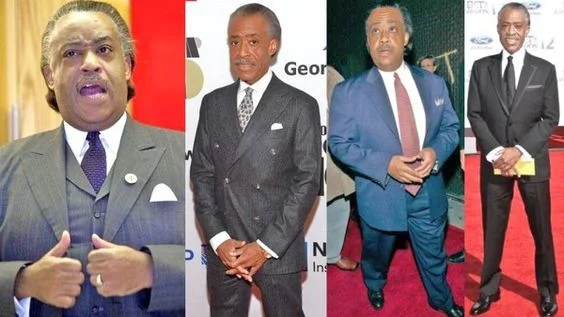 The Crazy Diet of Al Sharpton
You might think you can lose as many pounds as Al Sharpton. But do you have the same determination? And can you follow his principle? Take a look at the crazy Al Sharpton diet.
Back before starting his new journey, he weighed 305 pounds. He added fried chicken to all of his meals. He could eat grits and eggs and fried chicken.
And one day, after his daughter criticized him, he stopped eating. Nowadays, this is how his menu looks:
– For breakfast, three slices of wheat toast and a Doctor Earth green juice
– For lunch, a salad consisting of lettuce, tomato, onion, chopped hard-boiled egg, and balsamic vinaigrette
– Dinner, another green juice, usually a different flavor
During his breakfast and lunch, he also drinks breakfast tea sweetened with stevia. It is basically a calorie-free beverage. And during the weekends, he might indulge in some grilled fish.
Sum it up, and he consumes up to 1,000 calories per day and 26g of protein. That is less than half of the normal recommended diet.
You might ask yourself, is that healthy? Or Al Sharpton has an eating disorder. Well, for someone at his age, that kind of low-calorie diet might work.
But for people in their 20s and 30s, such a drastic diet for a longer period might be too much.
In the past few years, he has made some additions and changes. Now, he eats one banana before his workout at 4:15 am. He mixes it with a protein powder and gets a salad between 11 and 12.
Instead of three slices of toast for breakfast, he has one slice with his salad, and two more slices in the evening around 6' clock.
One day a week, he will eat fish for his meal. And he hasn't eaten chicken in several years. Talk about determination, right?
Nothing Without A Good Workout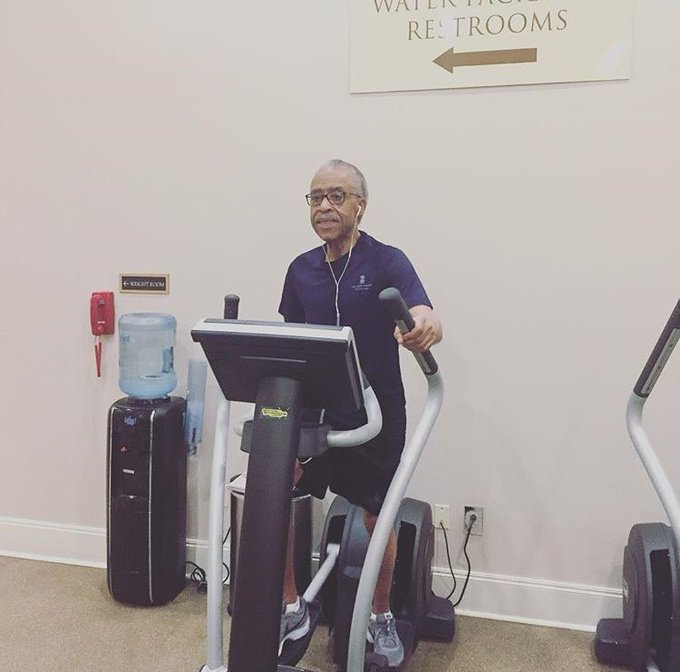 If you thought you can lose more than 170 pounds without a good workout, think again. Yes, his diet is the biggest reason he shed pounds. But nothing works without a good workout.
Sharpton has added exercise to his routine, usually walking on the treadmill for 20 to 30 minutes, five times per week.
He says, "I am not trying to run the marathon. Just tone up. I work out to keep my blood flowing and to stay active. I didn't want to be flabby since I lost a lot of weight."
And we know that as we get older, we have to strengthen our bones. For Sharpton, exercise is the next frontier. He wants to try weightlifting and elliptical. He now finds it a calming thing. He mixes things up. For example, one morning he will do 20 minutes on the elliptical and try to do 2.5 miles. And the next one he will do two miles on the elliptical and two miles on the bicycle.
Sharpton also does weights, rowing, and pull-ups. When he goes on the road, his scheduling makes sure the hotel has a 24-hour gym.
He can do all of this thanks to his early start of the day. He says, "I always was an early riser. For as long as I can remember, I woke up at 5, 5:30". But now he gets up at 4 so he can hit the gym at 5. For the first hour, he reads some bible scripture or looks at some inspirational stuff.
And his inspirational morning messages definitely inspire others to get in the gym. Al is now famous for daily inspirational messages from his workouts on Instagram. Those came as a response to Jay-Z's lyrics, "Al Sharpton doing selfies, so who's gonna help me".
So Al went, "The selfies can help you, I'll give you a message". People enjoy his photos, and they make you feel good about yourself. Al can definitely reach generations of different ages. While he is in his 60s, Sharpton definitely knows how to deal with our kind of communication.