How do you choose a haircut for your toddler boy? Well, for starters, you need to consider his hair type, his personality, and his style. Do not try to impose a haircut that doesn't fit his style.
And keep in mind it is a good idea to get your kid's hair trimmed three to four times per year. This keeps it healthy and encourages hair growth.
Now let's take a look at some cute, trendy, and stylish toddler boy haircuts. They work for fine hair, curly hair, long hair, or straight hair. These are our inspirations for a toddler haircut in 2020.
1. Number 5 Buzz Cut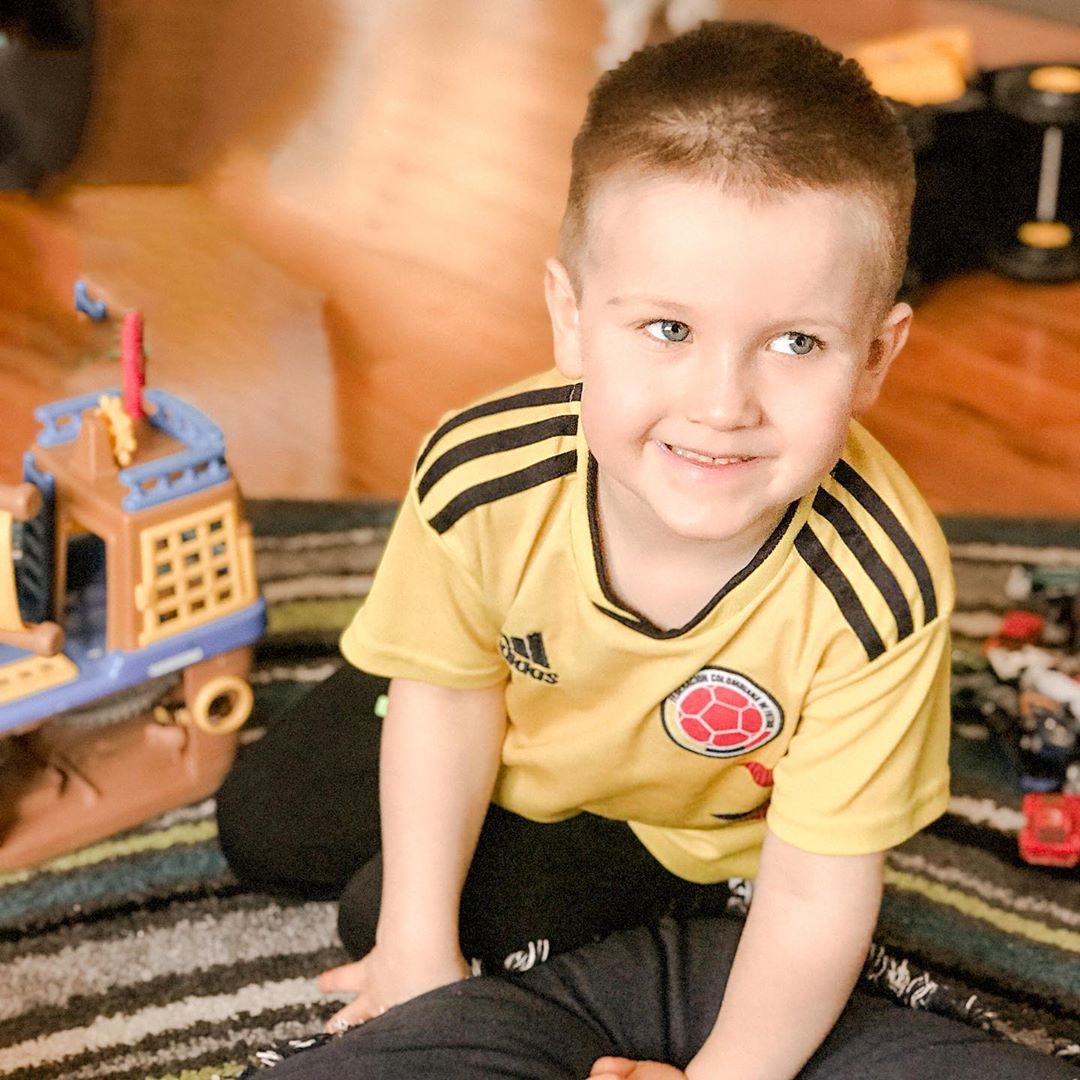 The buzz cut is a simple and easy haircut for boys. The only problem might be maintenance. You need to cut his hair more often to keep the buzz cut looking cute, and not boring.
2. Sharp Side Swept Bangs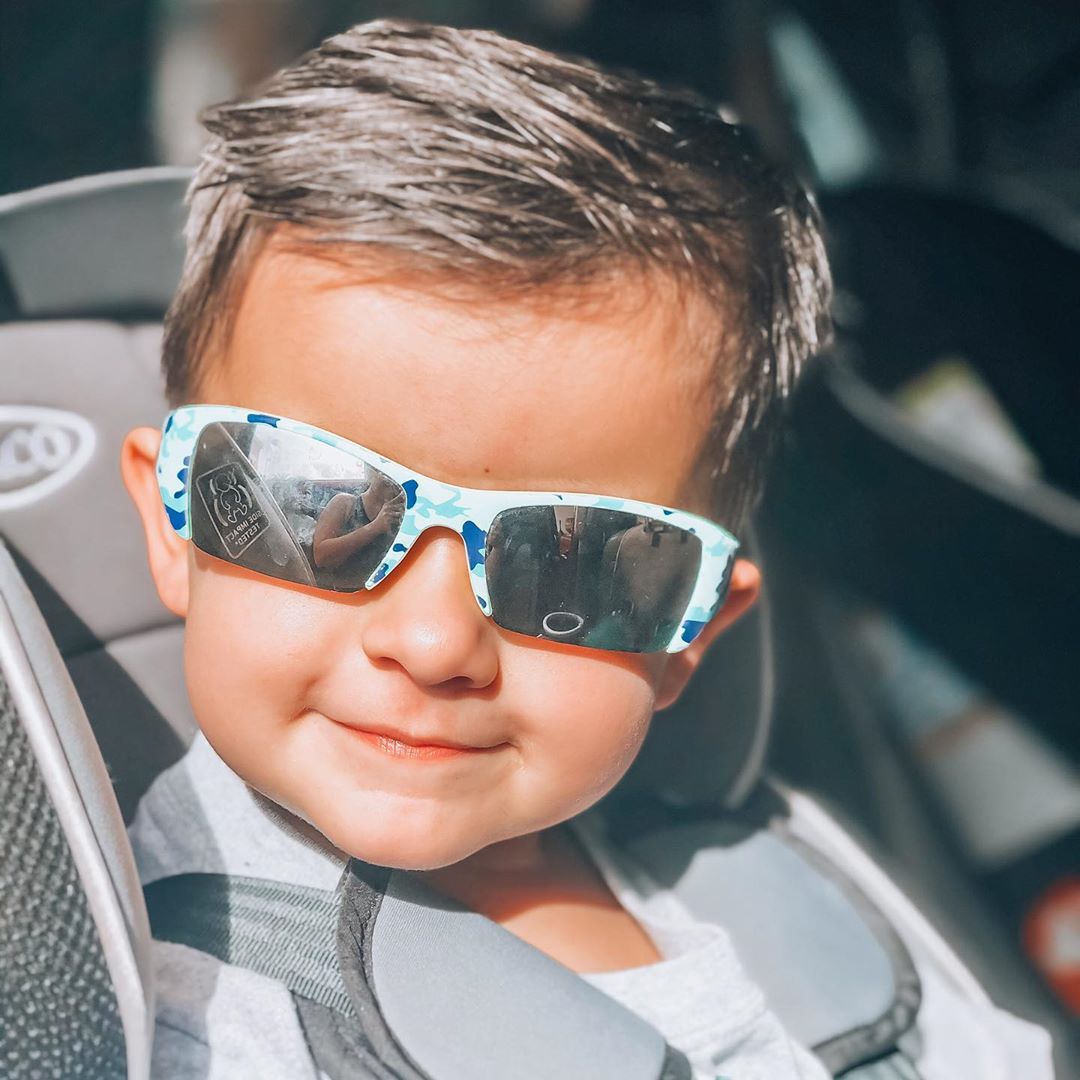 Boys look cute with bangs as well. Bangs are not only for girls. Side bangs are a signature haircut for a fancy, stylish, and urban looking boy. Time to make your baby boy the prince of the daycare.
3. Shot Even Cut With Uneven Micro Bangs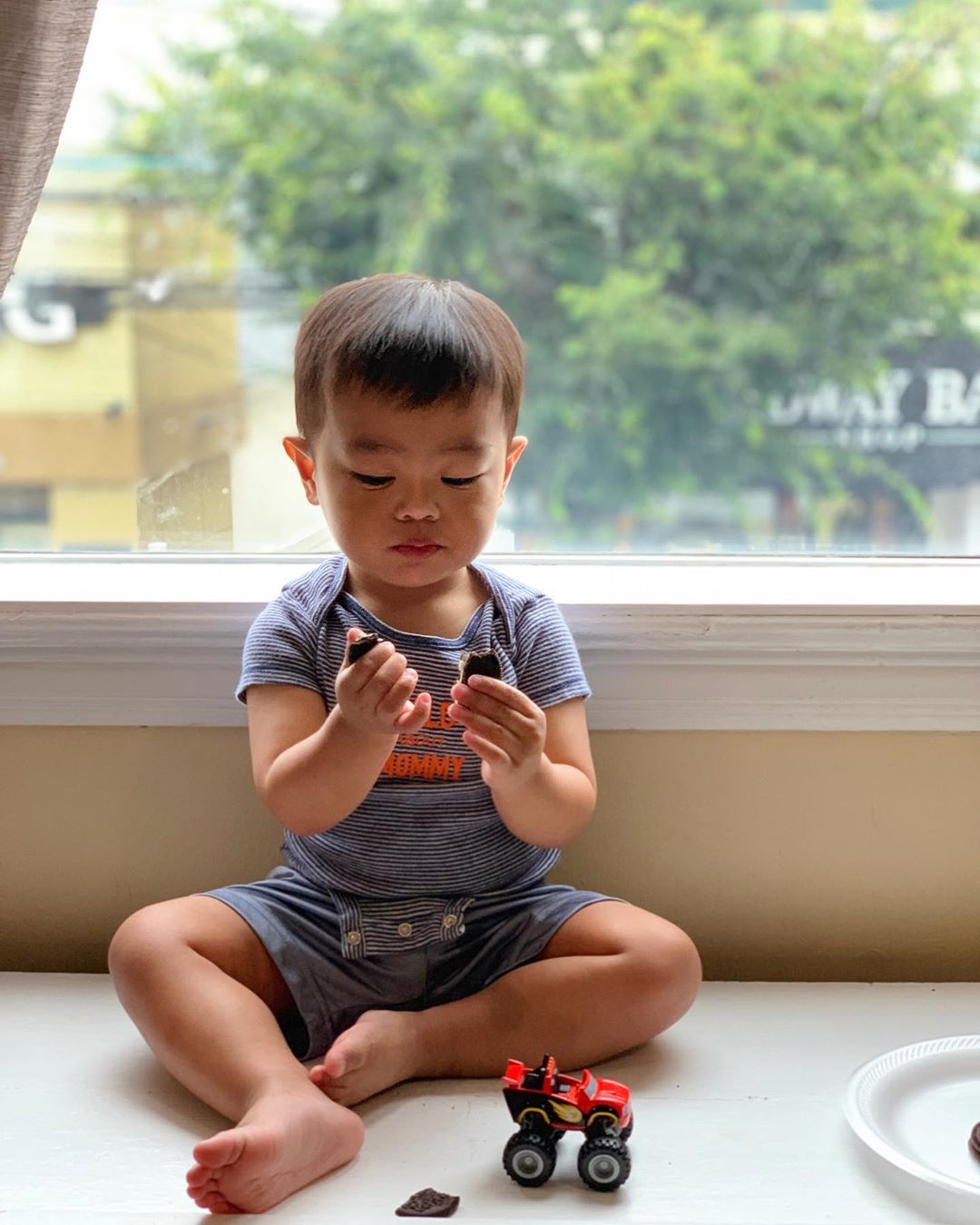 Some parents want an Asian looking haircut for their toddler. If that is your goal, this haircut might be the best option. It is a classic Asian-cut. And it looks good on Caucasian boys as well.
4. Side Parted Crew Cut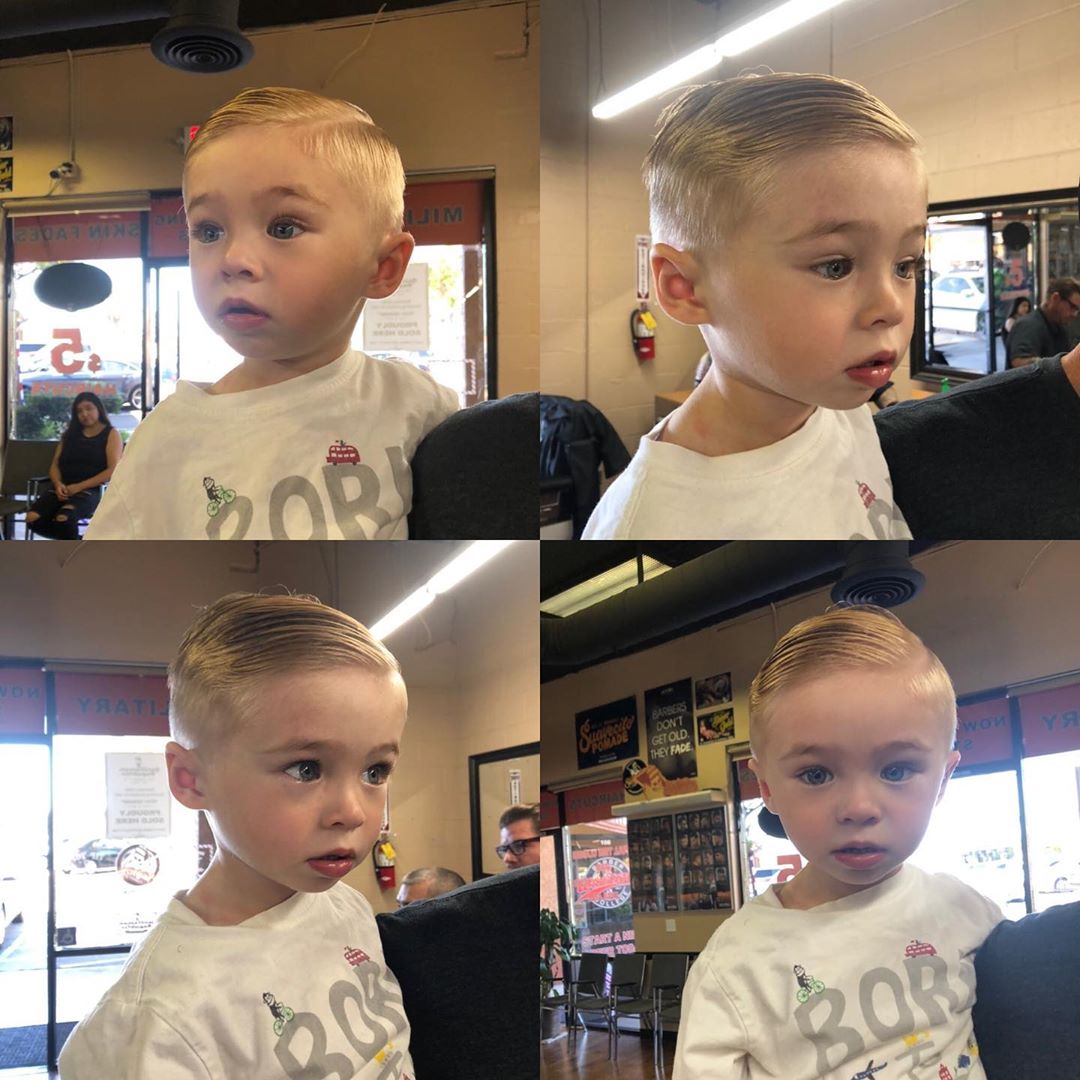 The crew cut is a great geezer man haircut. You cut the upright hair on the top relatively short, graduated in length from the longest hair that forms a short pomp at the front. The description might look complex, but it is basically hair gel to the side and that is it.
5. Shaved Sides With Top Cornrows And Bun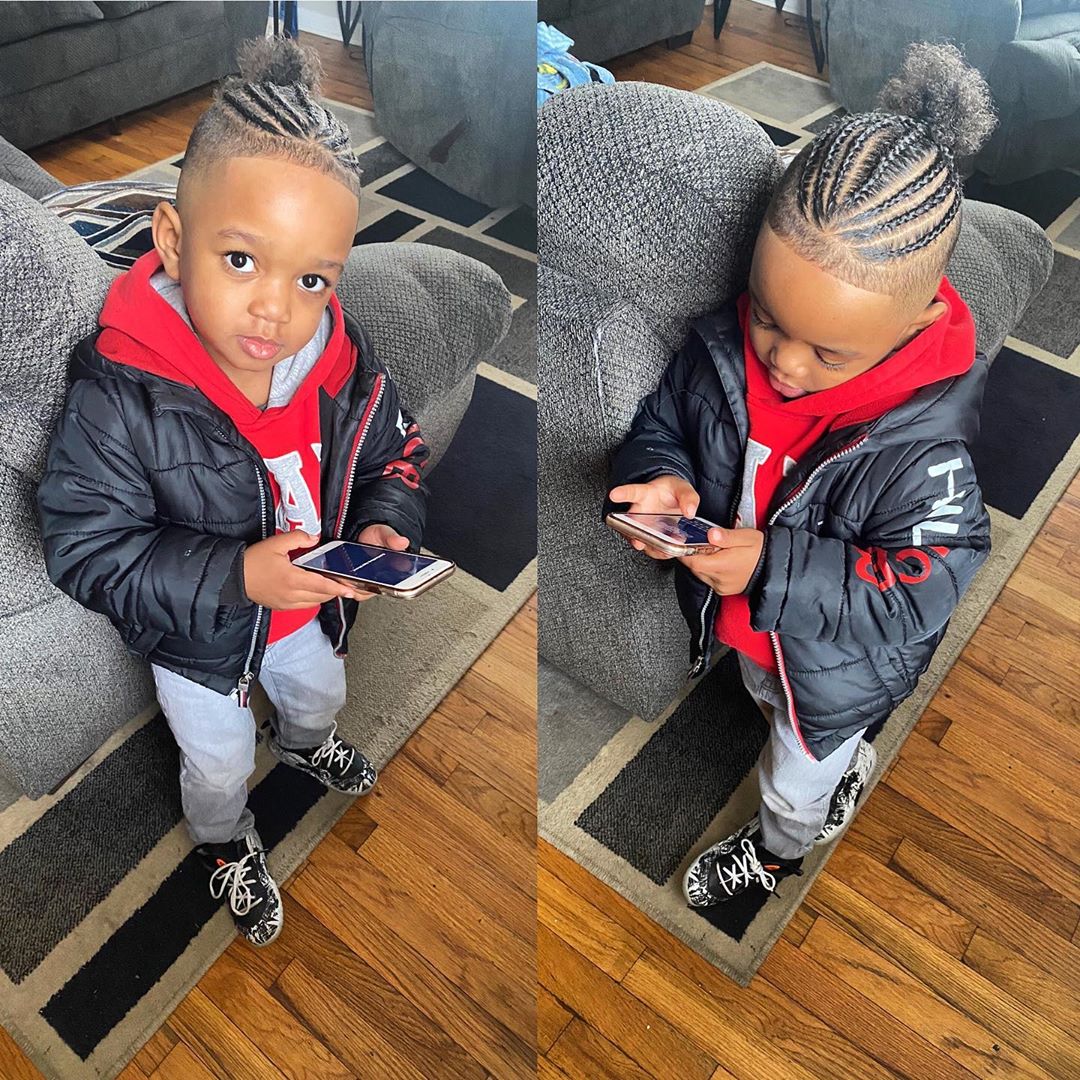 Allen Iverson popularized this haircut years ago. And it is still one of the favorites among little boys. And if your kid loves basketball, he definitely loves this haircut. The only problem is you have to grow it for a while before you can make the cornrows.
6. Longish Shaggy Curls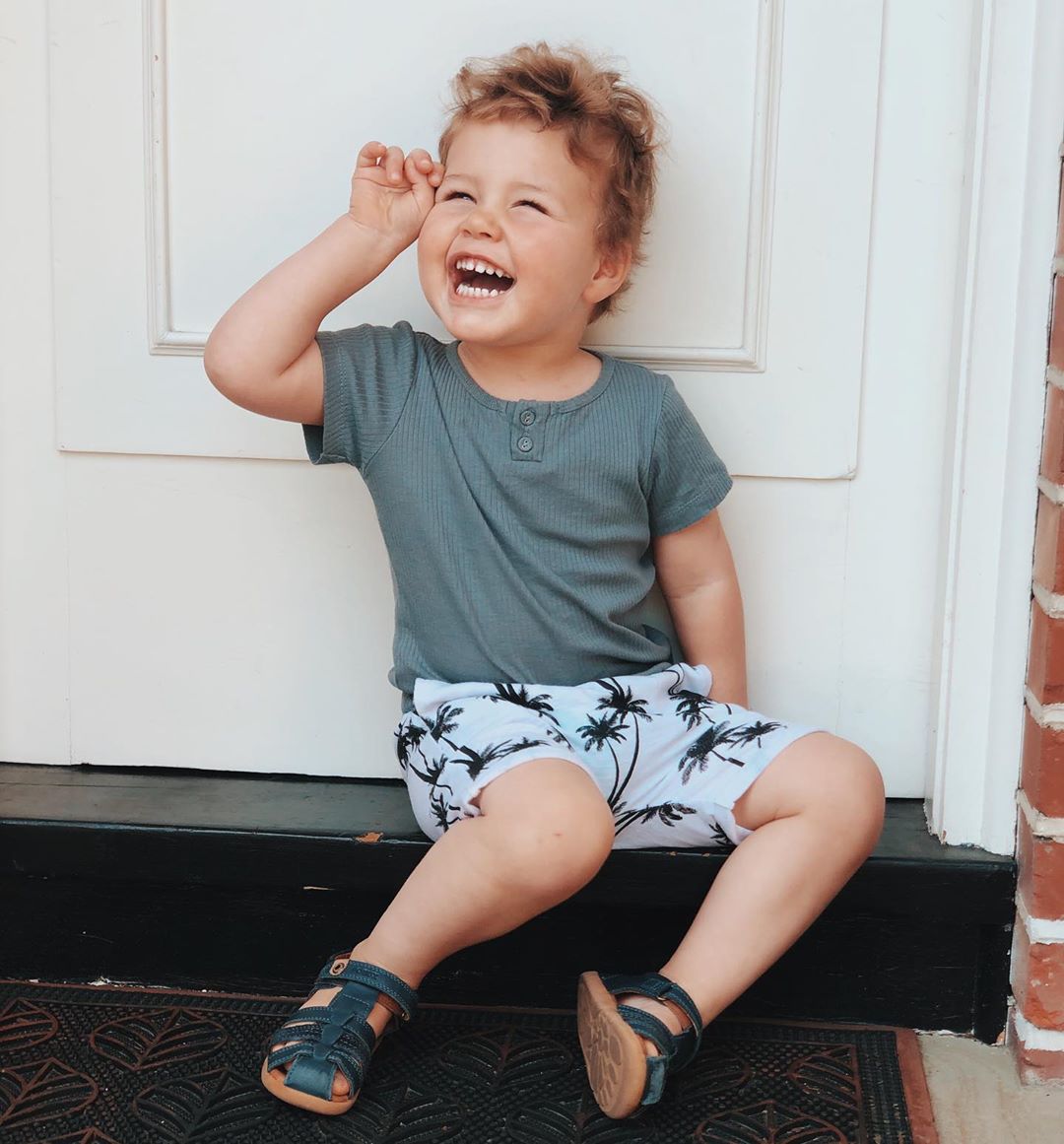 The curly haircut is a blessing. Do not try to hide your kids curly hair. If your little baby boy has curly hair, let him wear it with pride. He will be unique in every sense of the way.
7. Multicolored Brush Taper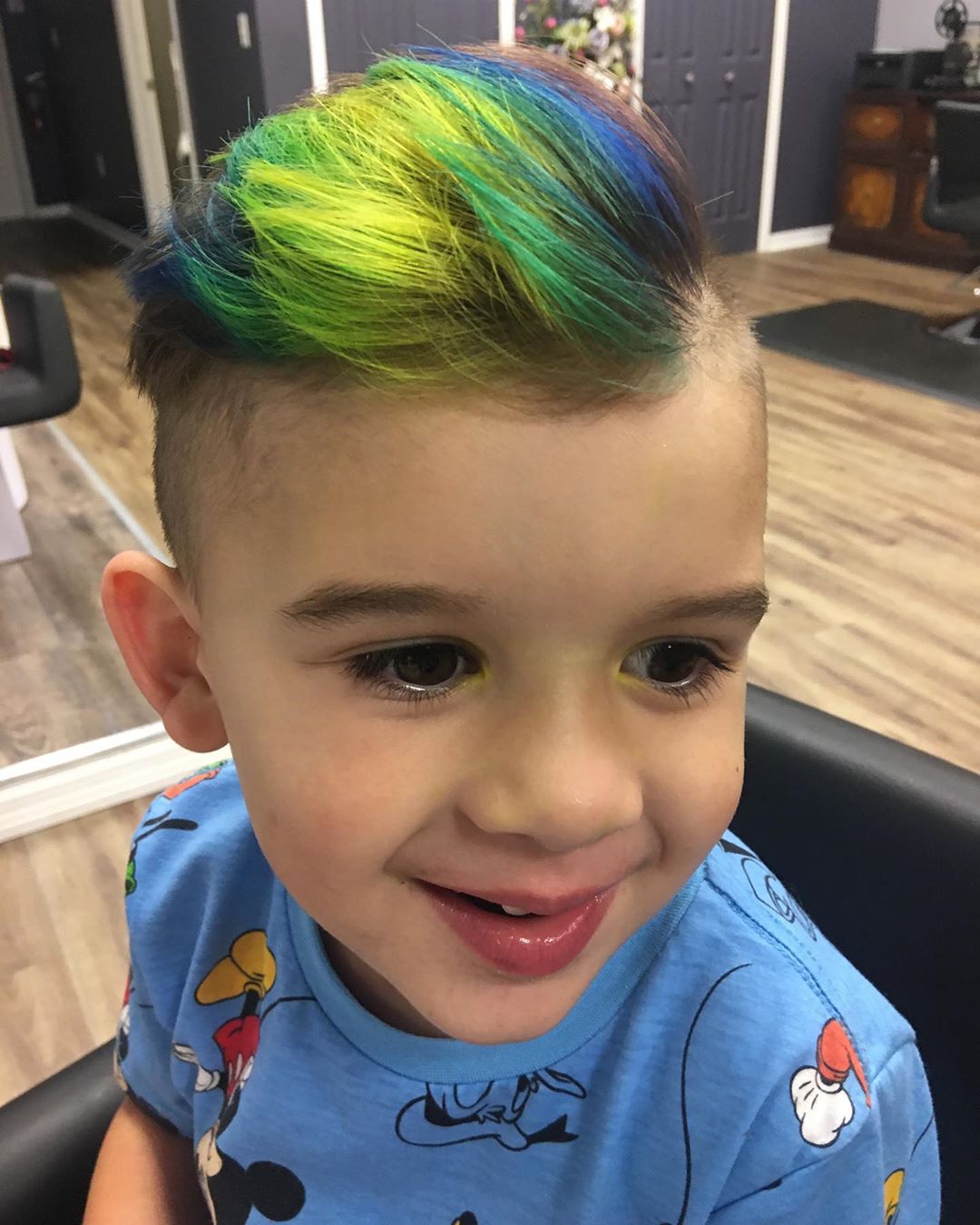 Young boys are a bit too young for lots of coloring. But hey, if you like it, it is a good idea. Just don't do it too often. You don't want to damage his hair from young age.
8. Viking Haircut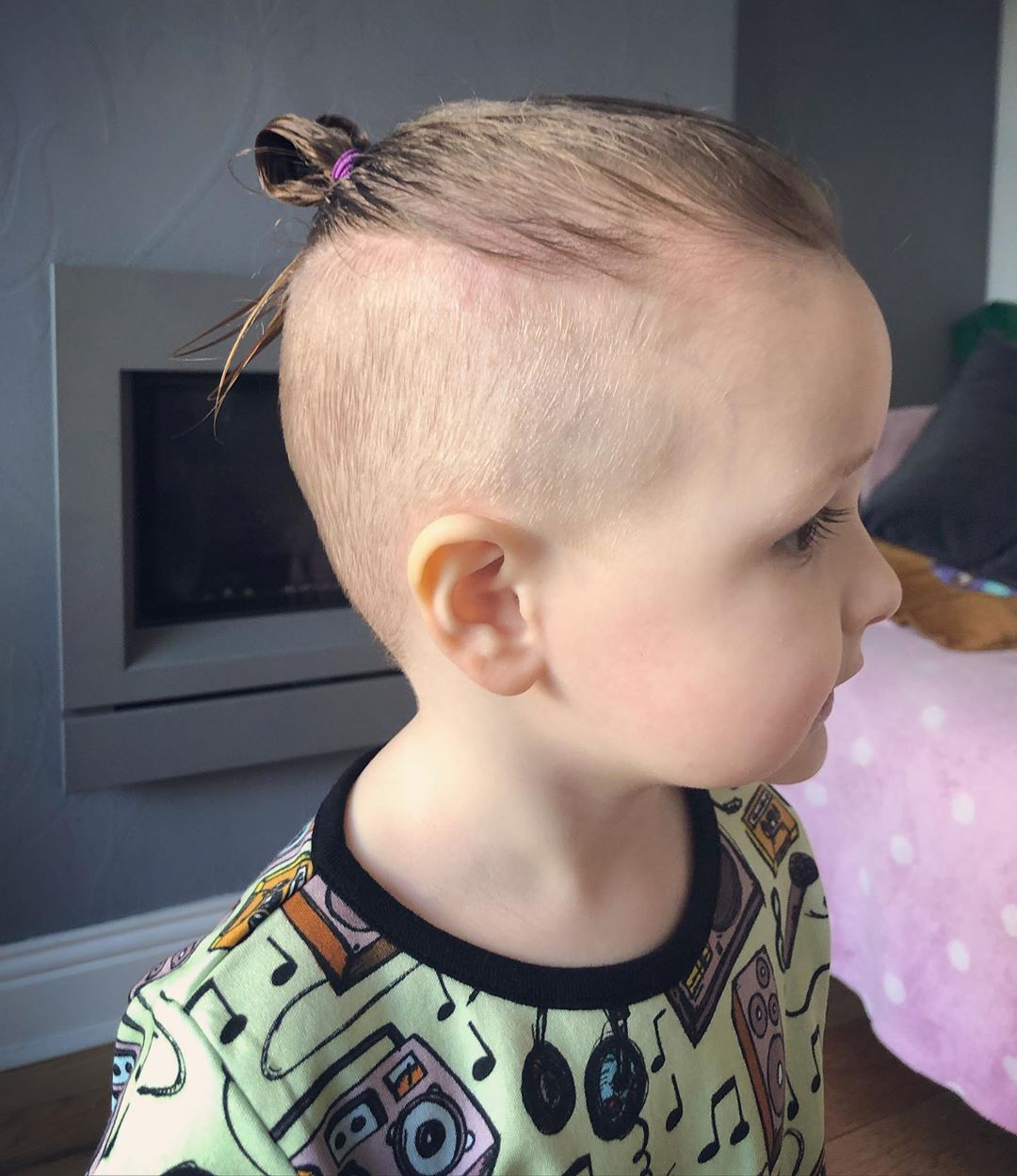 In the past few years, the viking haircut is among the most popular. Its popularity rose thanks to shows like Vikings, and men like Leonardo Di Caprio rocking the man bun. Well, it is a toddler bun as well.
9. Crew Cut With Wavy Comb Over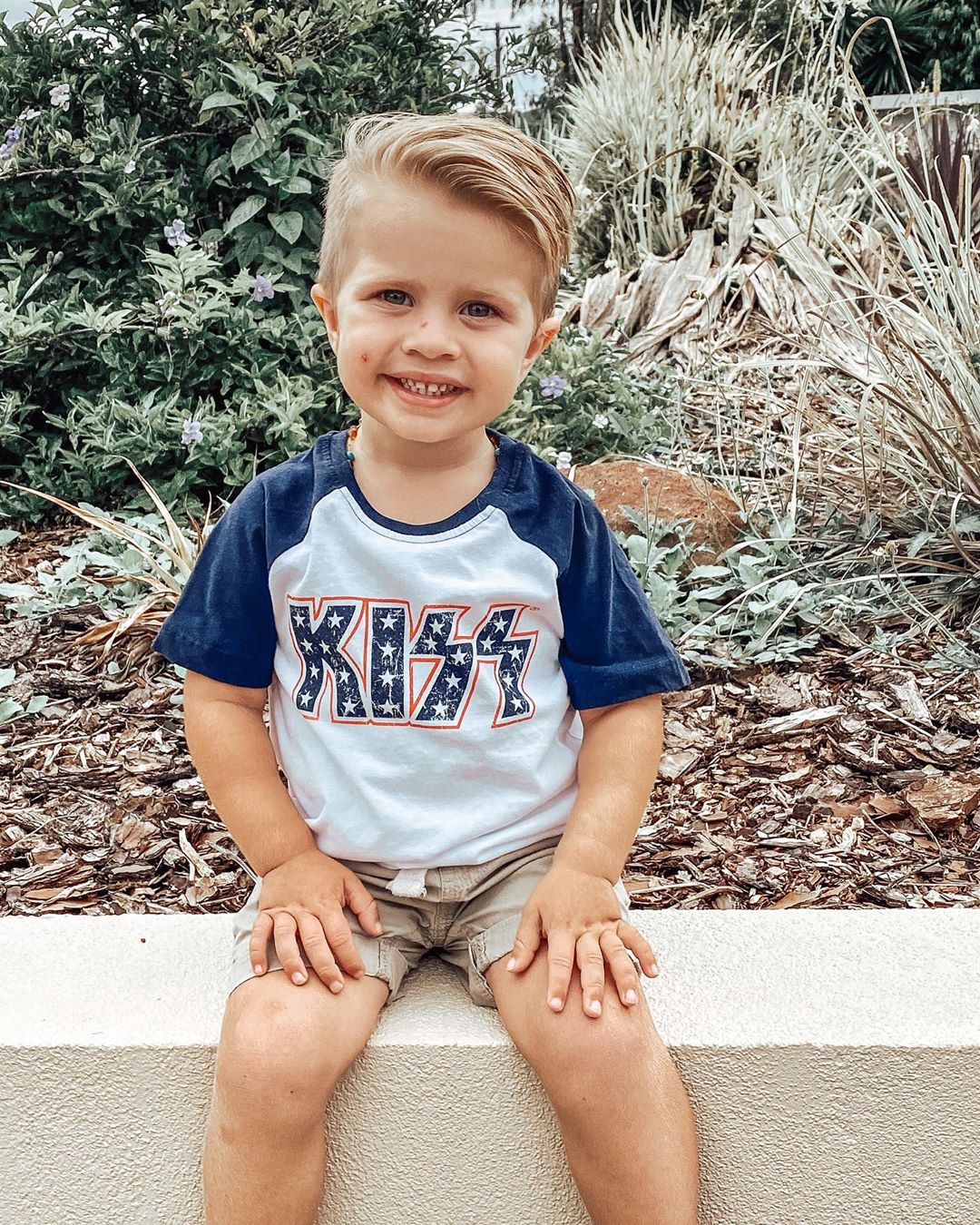 We had a crew cut before. But this time, we have some comb and hair gel as well. Basically, it is the same haircut, but done in a more loose way.
10. Low Taper Fade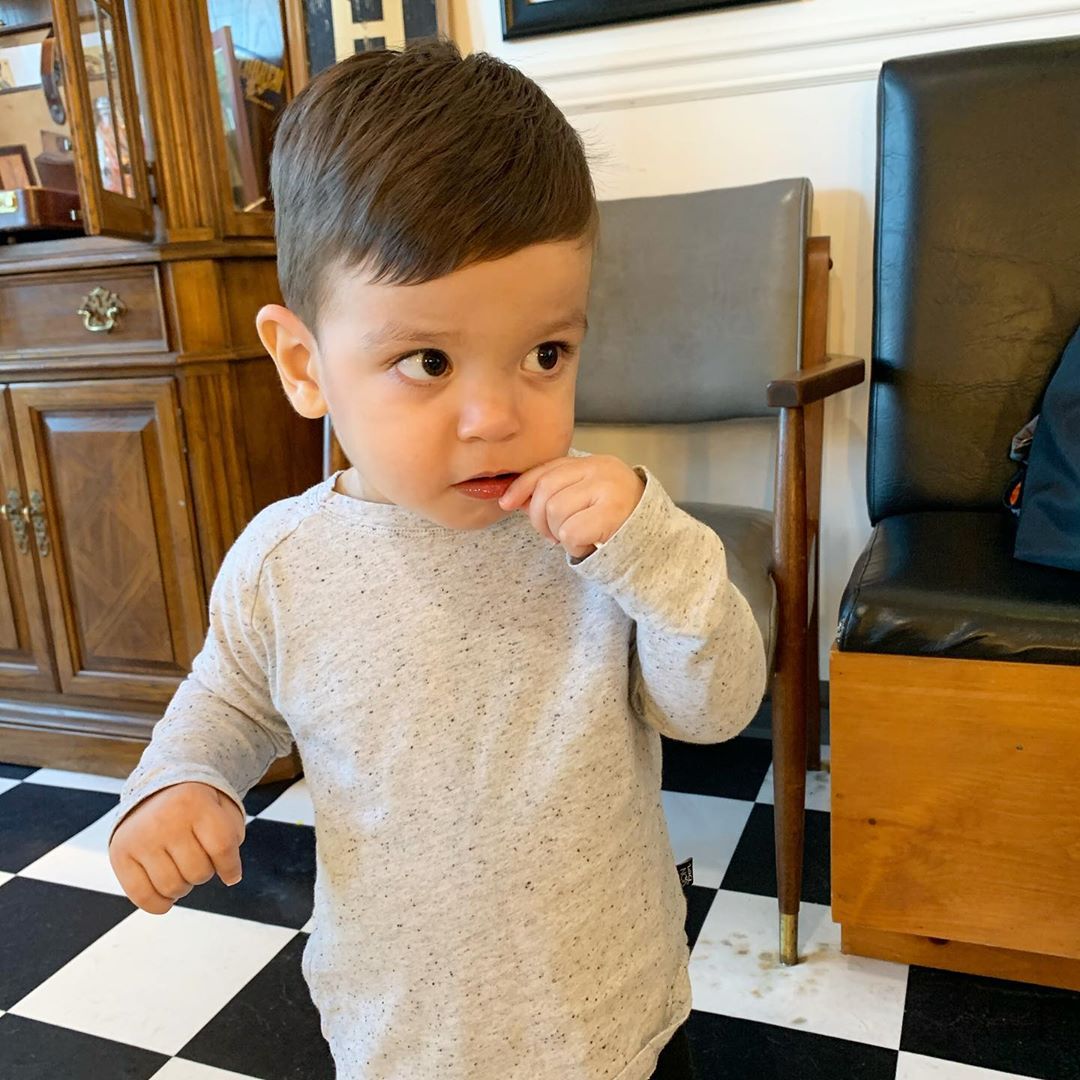 The taper fade haircut got its popularity in the early 2000s. And it is still a popular haircut. The lower taper fade is a haircut where the hair gets gradually shorter starting from a lower level above the ears. Some people choose the fading to be too close to the skin, others do not.
11. Bushy Pompadour Curls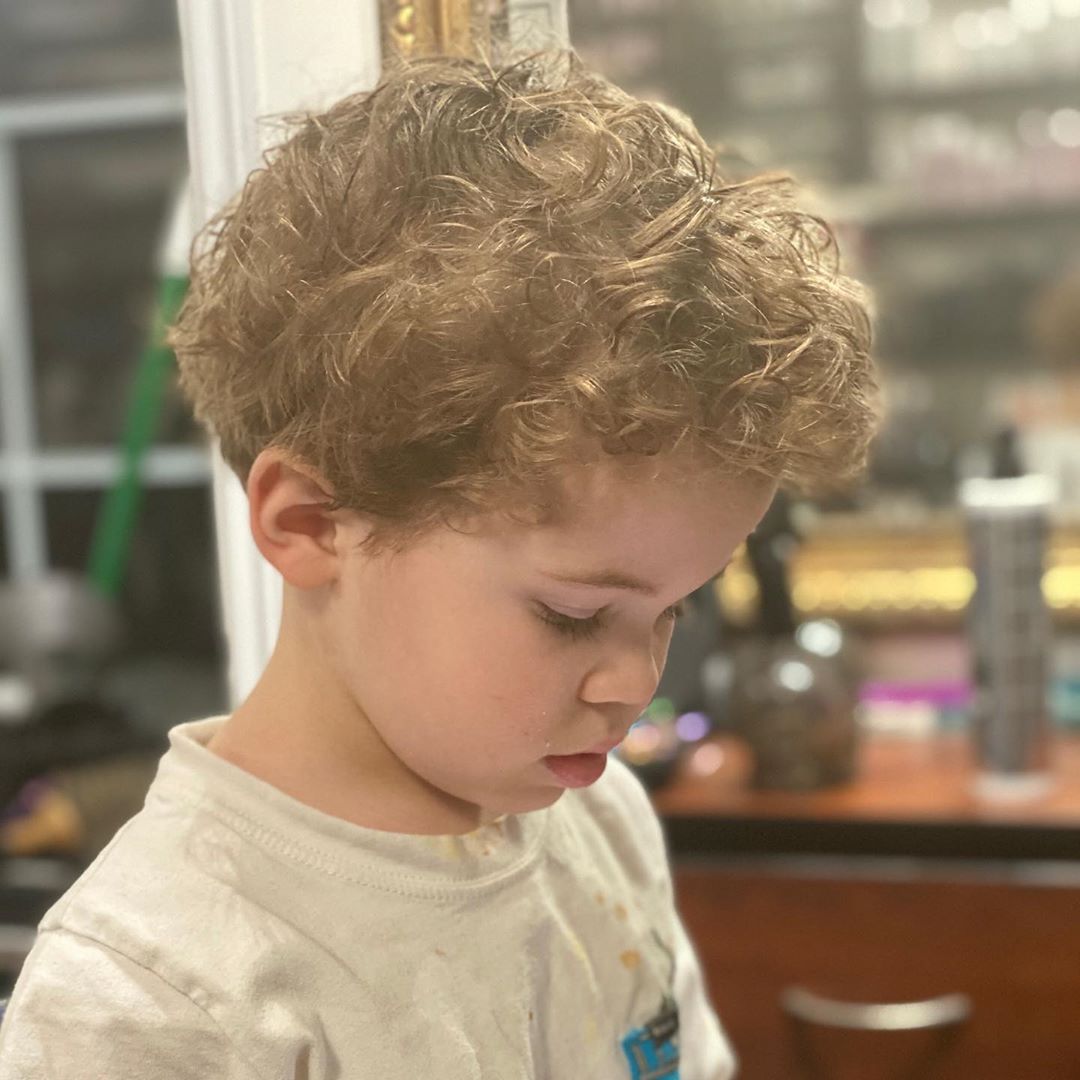 We talked before that you should leave your baby boy's curls as they are. But if you like to take things to the next level, the Pompadour is a really urban haircut and hairstyle. Definitely one that will make your boy modern and stylish.
12. Short Faux hawk With Side Star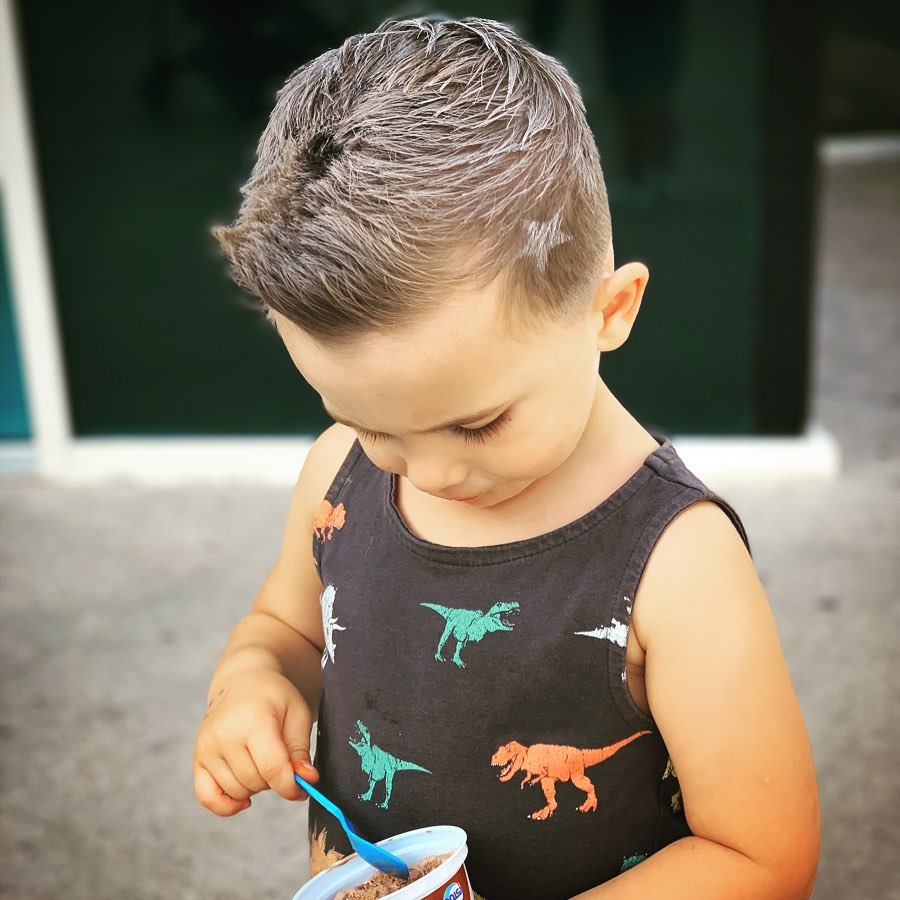 Or as some people call it, the David Beckham hairstyle. But that was ages ago. And the haircut is still popular. That speaks volumes about Beckham and his popularity. It is one of the most common haircuts for toddlers.
13. Flat Top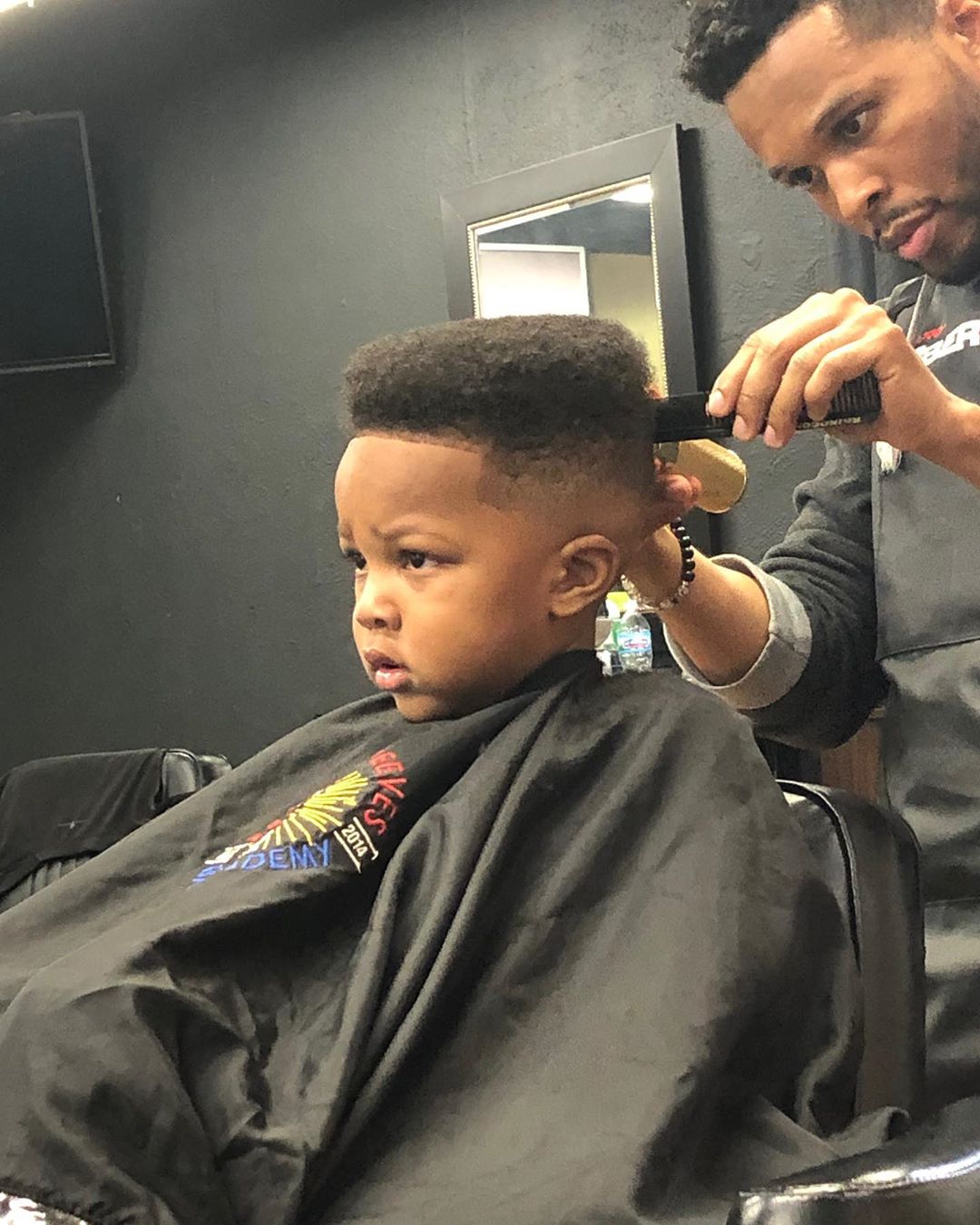 The flattop is another haircut that came out of Hollywood. It is a type of short haircut where the hair on the top is standing upright and cut to form a flat-appearing deck. Often, African-American celebrities try this hairstyle. But do not be a racist. It works on white people as well.
14. Spiderweb Side Cut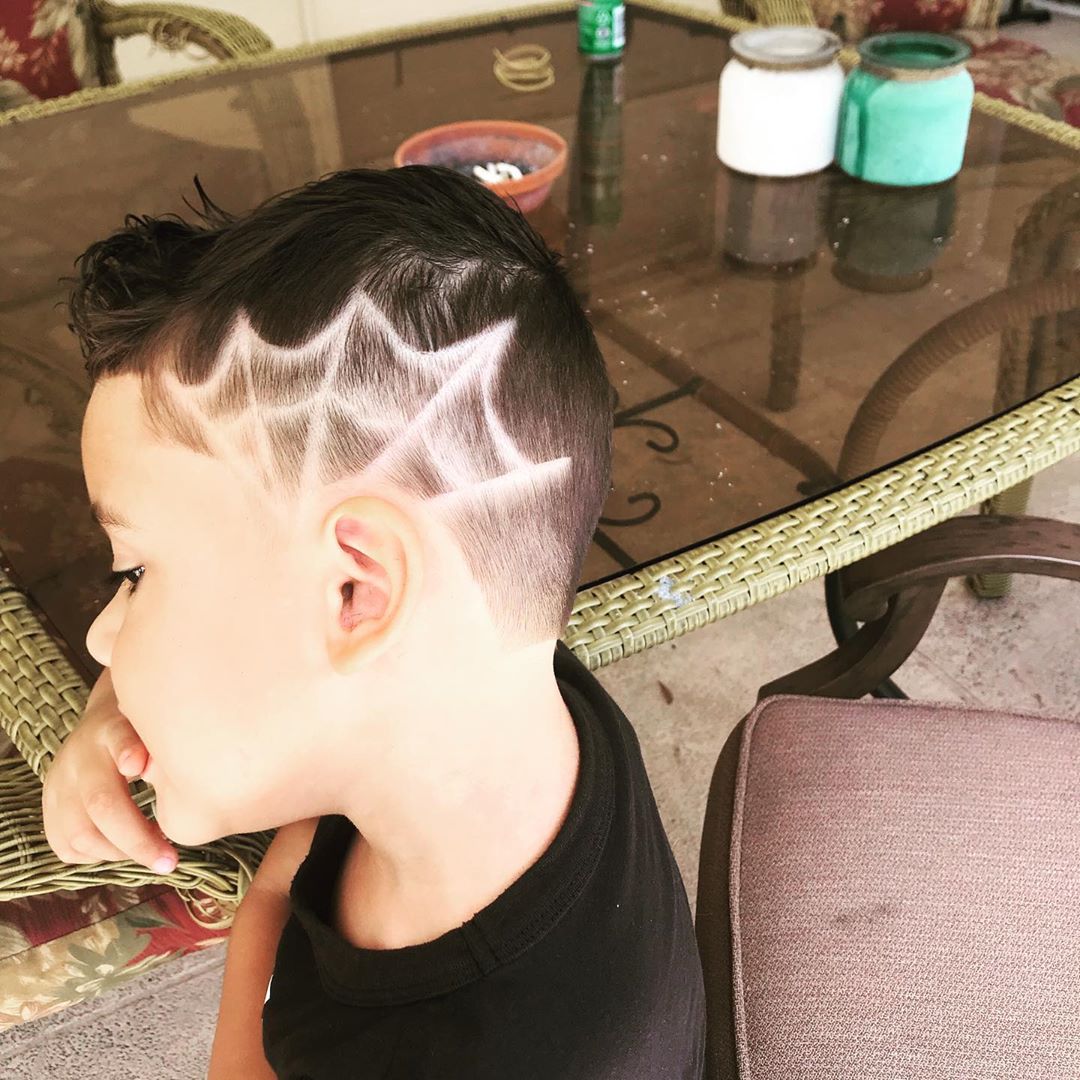 Some 20 or 25 years ago, the Nike sign was the trick to cut into the hair. Nowadays, kids love everything from movies, music videos, and even some strange symbols. In this case, it is a spider web. No surprise there, Spider-Man is one of the most popular comic book heroes and characters.
15. Low Taper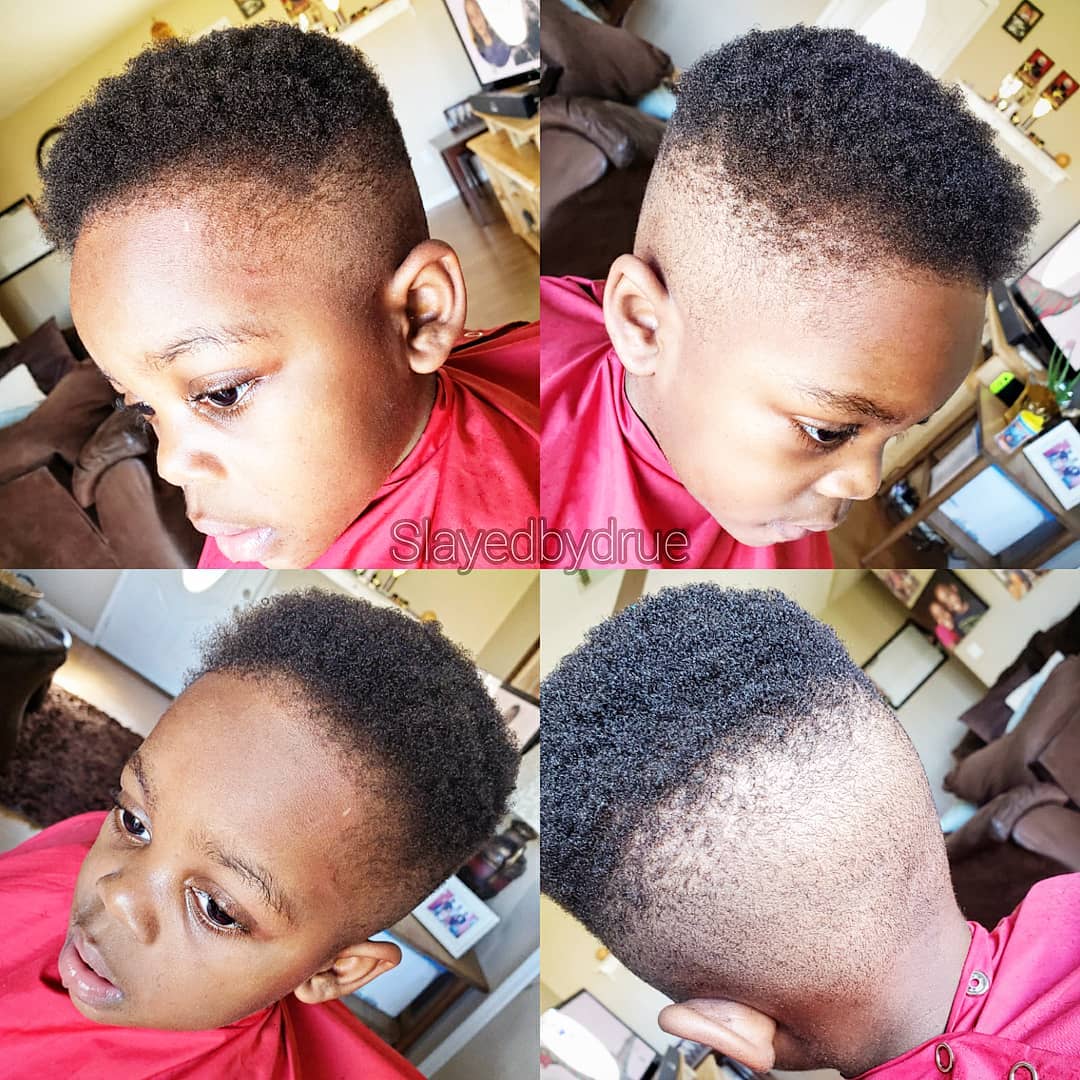 We had a low taper fade haircut before. But there, the fading was not as prominent as it is here. As we said before, you choose the level of fading you are comfortable with.
16. Red High Fauxhawk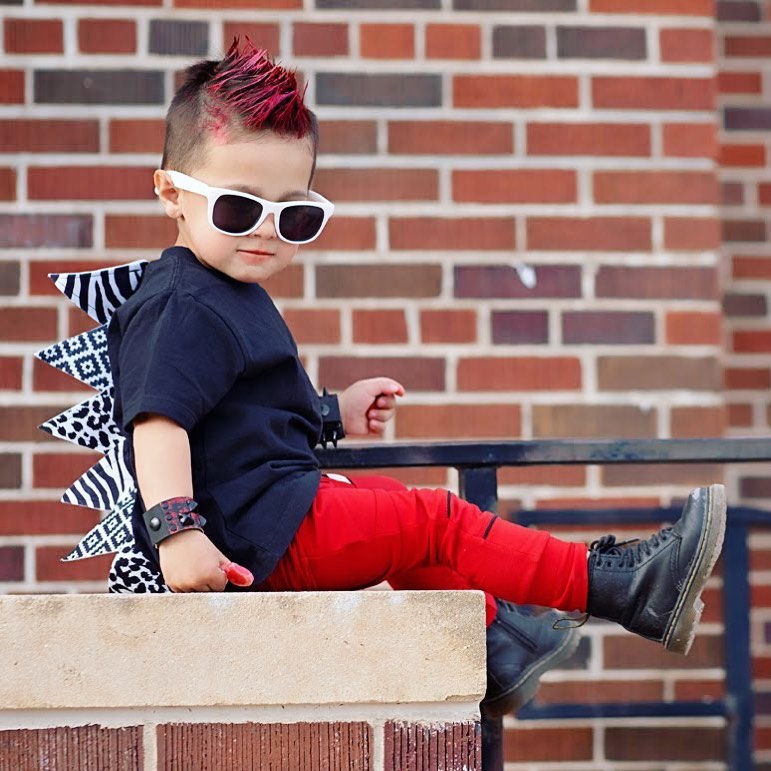 The Fauxhawk is a type of hairstyle popular dudes wear. It takes a lot of pride, dignity, and courage to wear a Fauxhawk. Dye it red and you have even more bold haircut. Great for an urban toddler.
17. Curly Fohawk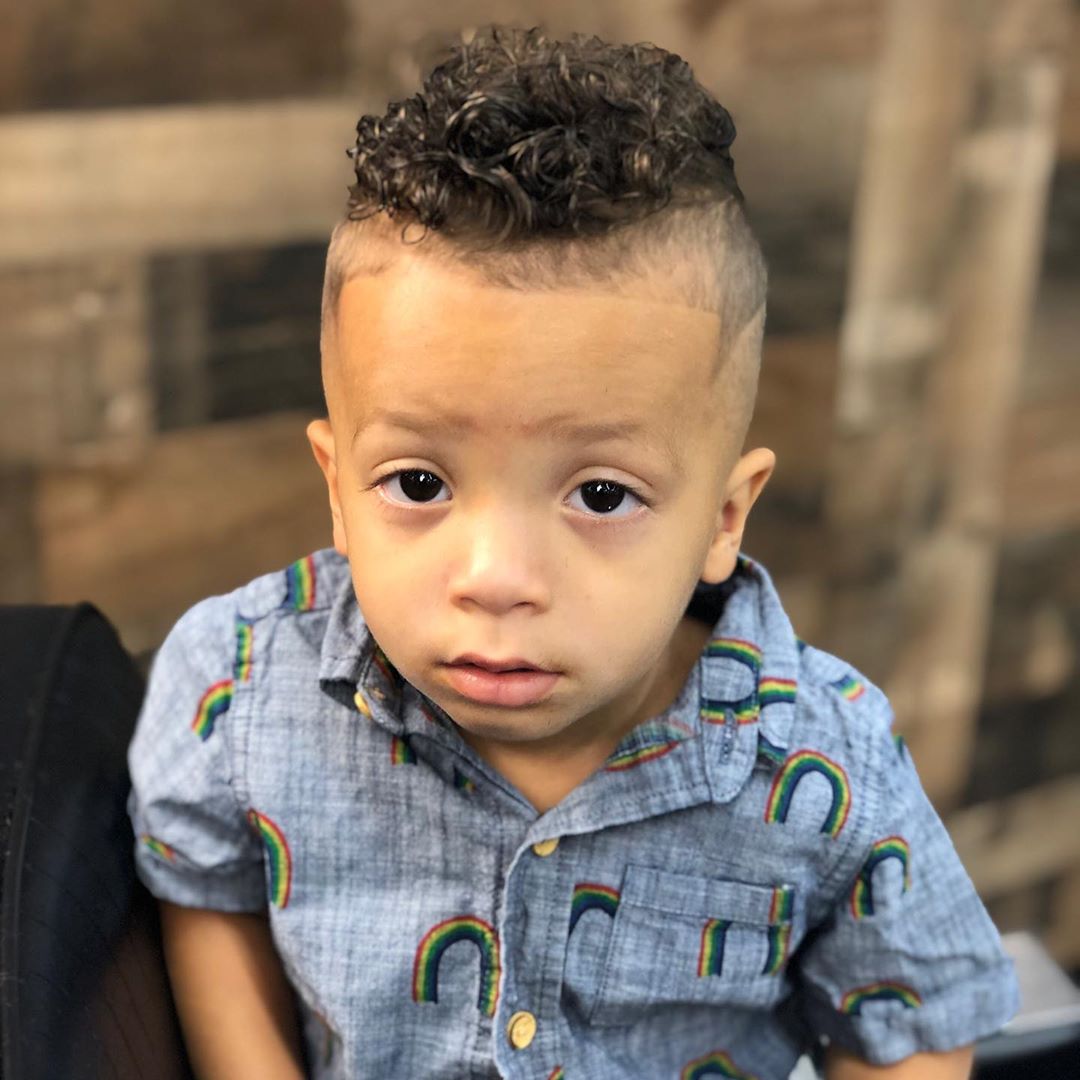 The fohawk is the shortened version of faux hawk. It is popular among males providing a laid back and cool look. There are a couple of ways to style a fohawk. And when you have curly hair, it looks even more amazing.
18. Short Burst Fade with Defined Hairline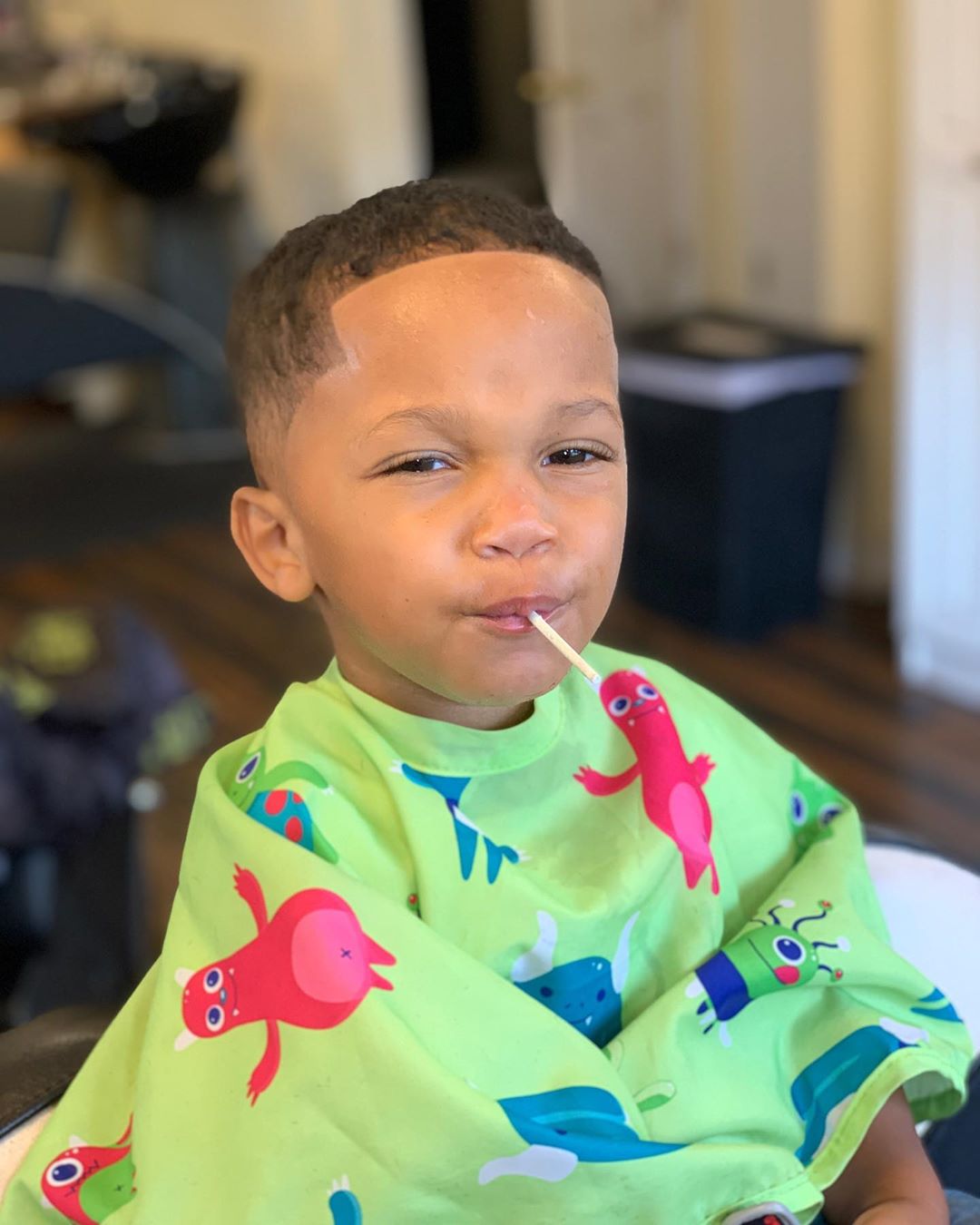 The burst fade haircut looks great when combined with other hairstyles. For example, with a Mohawk. The burst fade merges the taper own the nape and around the ear. It is an ideal variation of fade for the Mohawk.
19. Mini Pompadour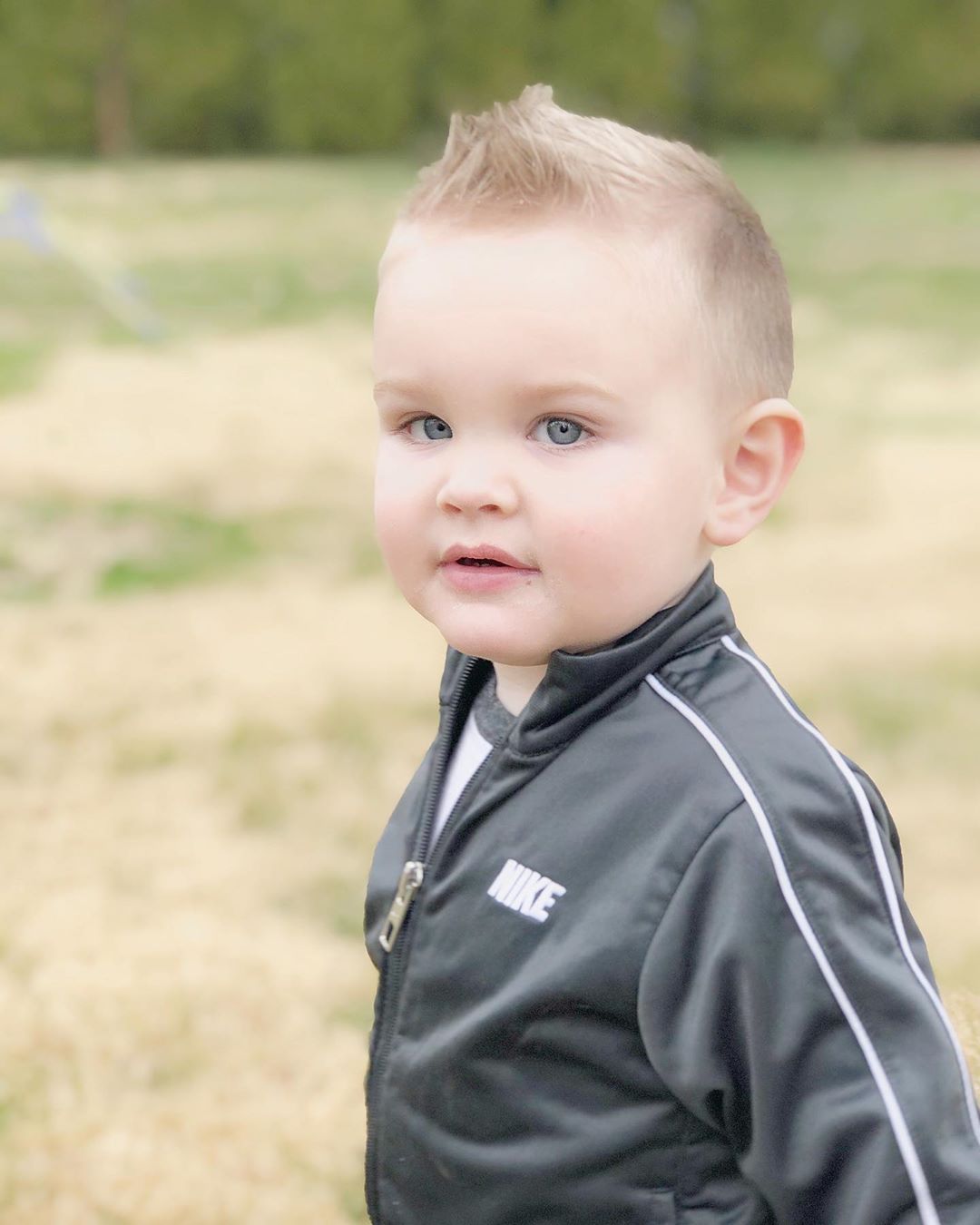 You don't have to have a large Pompadour to be a cool dude. Even a short one gets the job done. This little boy will turn eyes anywhere he shows up.
20. Long Curls With Shaved Sides And Surgical Lines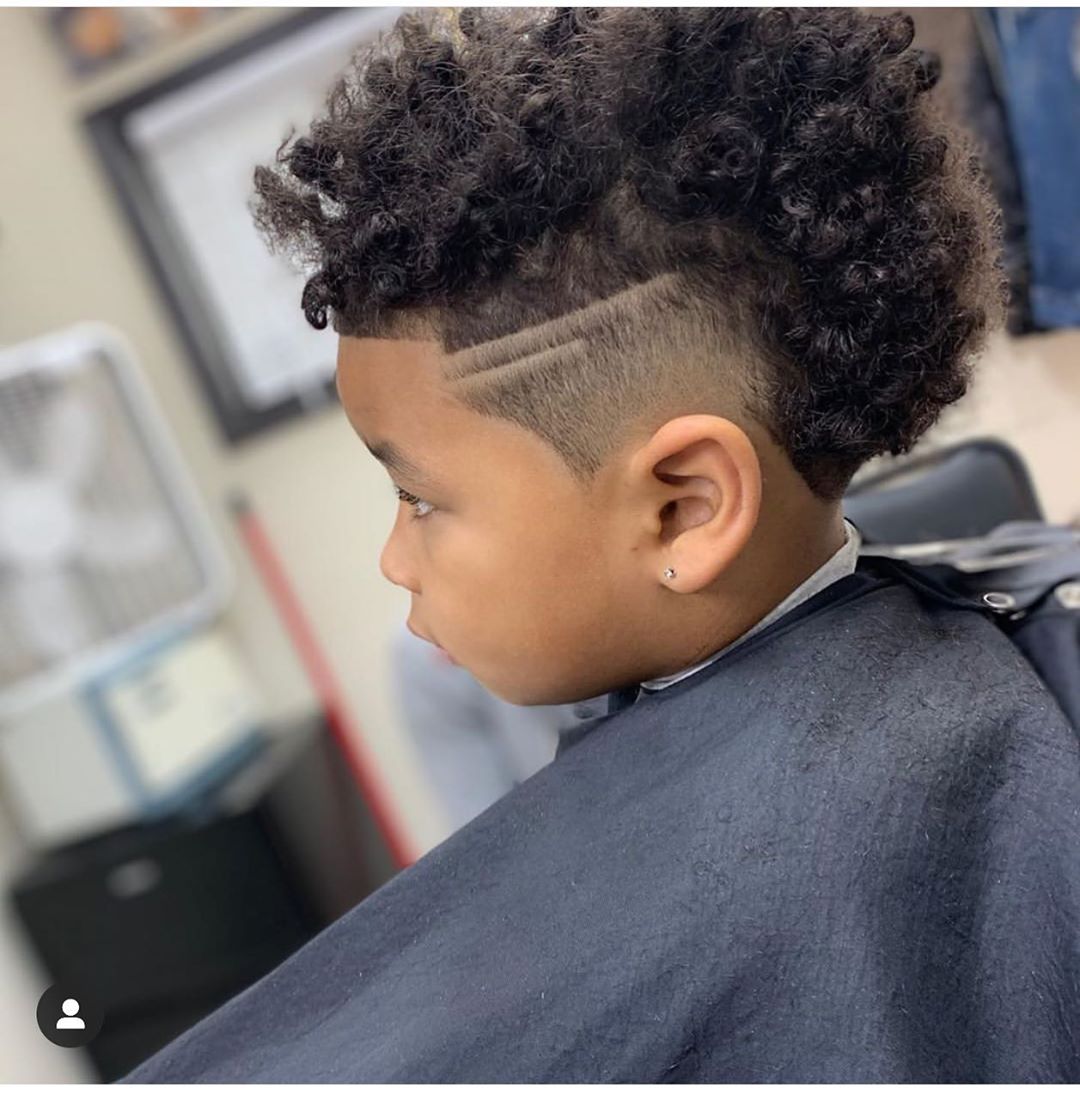 Curls are just amazing. And one way to make them more prominent is to shave the sides. This puts even more focus on the curls. And as amazing as they are, they flourish.
21. Short Side Slicked Crew Cut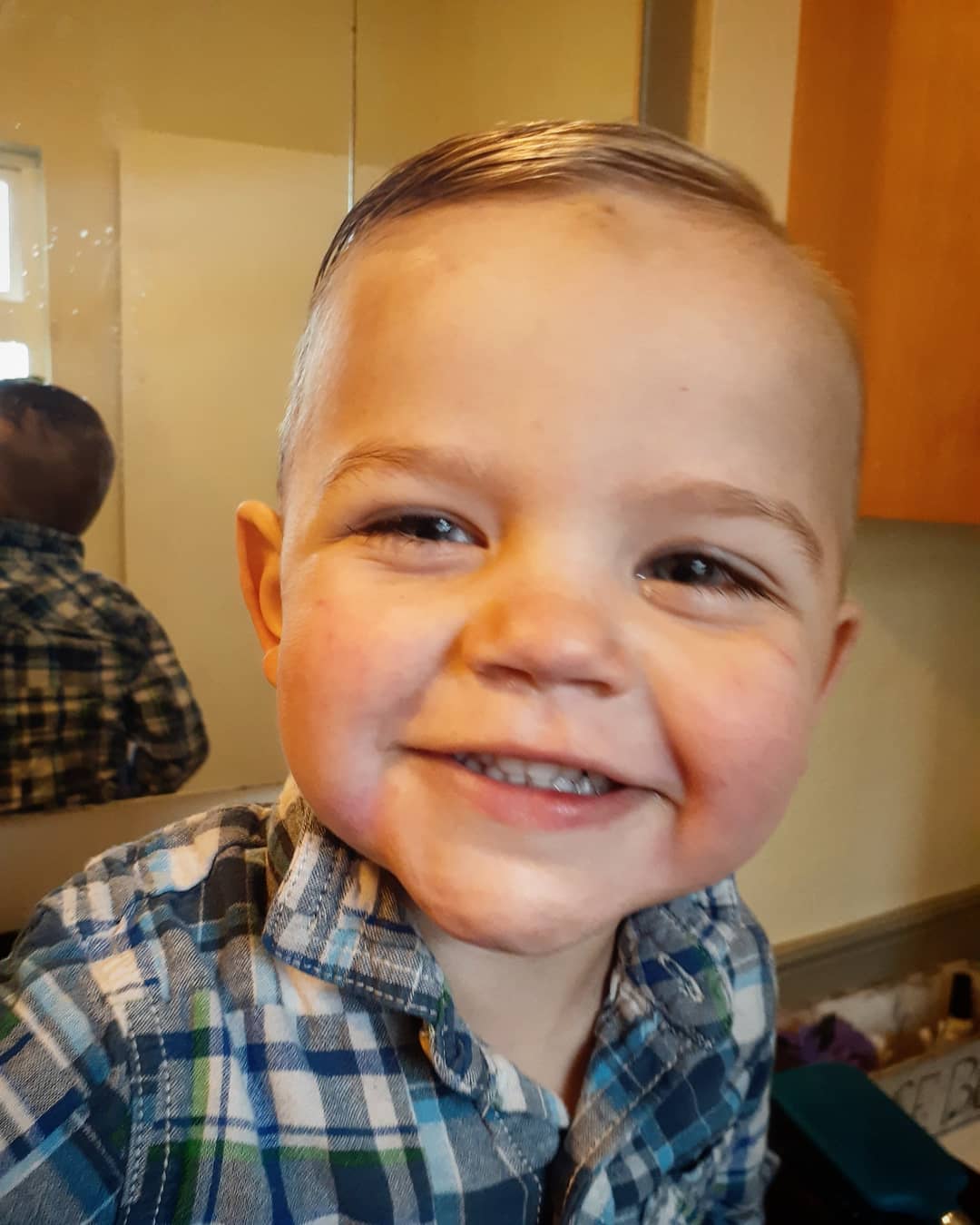 The crew cut is among the most popular haircuts for little boys. And that is why we have a couple of variations of the haircut. This is our third crew cut on the list. And every one is different. Choose the one best for your toddler.
22. Fohawk With Twists And Faint Solid Line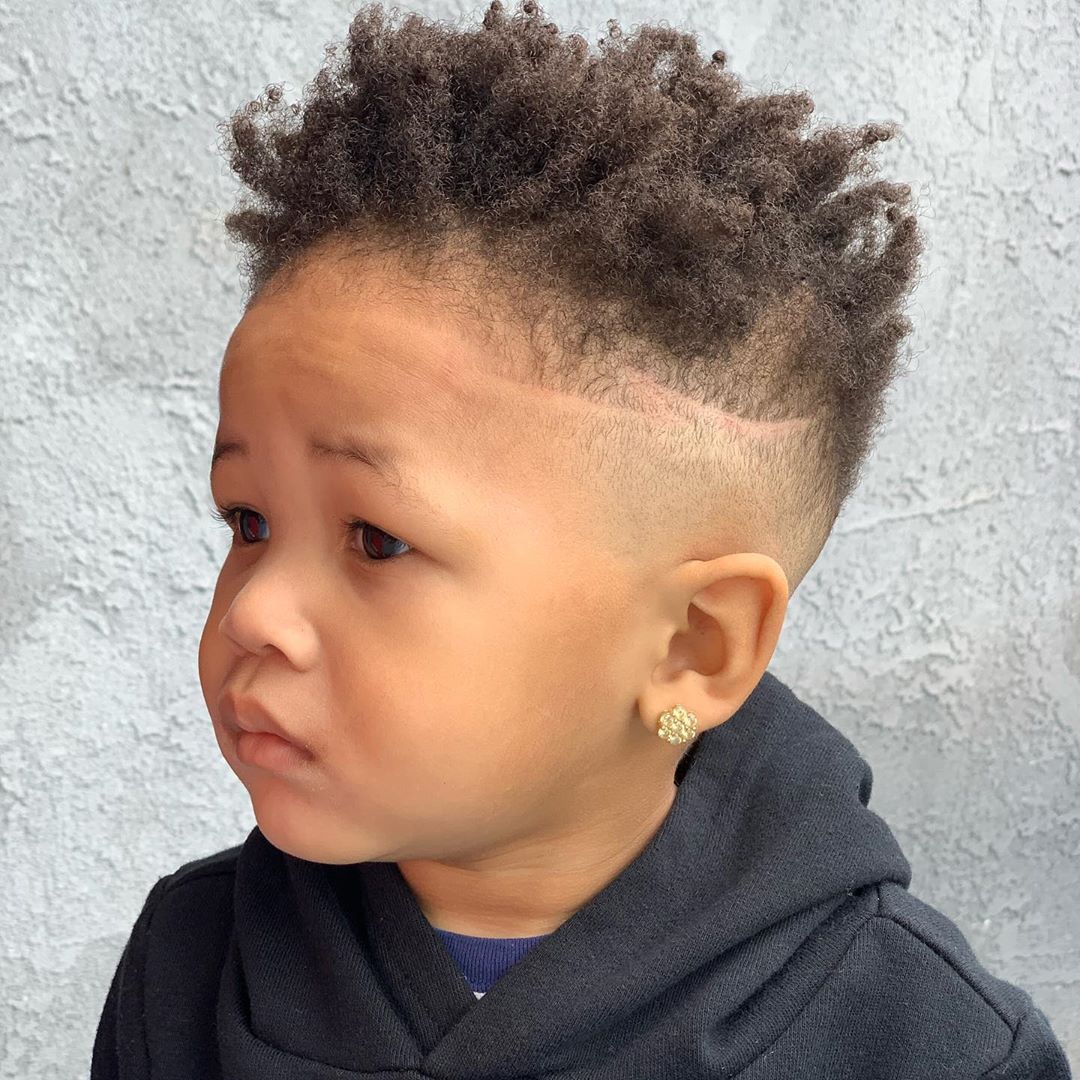 We just love it when you can combine a couple of hairstyles in one haircut. Curly hair works best for that. You can style it in different ways, and it will still look amazing.
23. Clean Crew Cut With Defined Hairline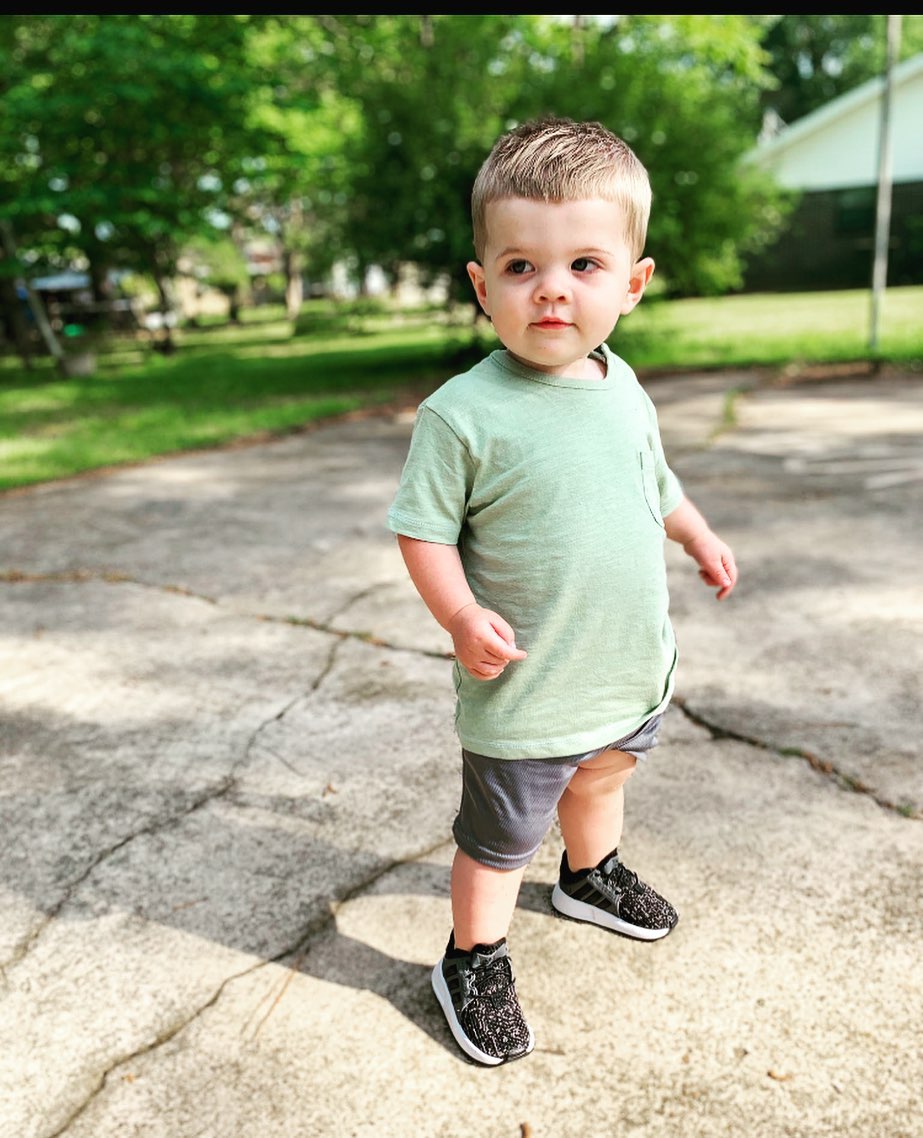 For our last toddler boy haircut, we go with a crew cut again. This time, we have a clean crew cut. Hopefully, you enjoyed some of the haircuts on the list. And we are sure you will find one suitable for your baby boy.