The history of the Dr. Martens boot is full of surprises, but what remains inevitable is their enduring utilitarian appeal and fearless attitude. Their inception was in the late 1940s and since then, Dr Martens has been adopted by a sub-culture as part of their identity. Starting with the skinheads in the 70s, punks, and new-wave artists in the 80s, and the grunge movement of the 90s, this humble eight-holed work boot has won over everyone from postal workers to teens to today's celebrities and influencers.
The famous footwear is currently a catwalk staple and favorite of the modeling elite. If you've been wondering how to give the edgy boots a try, we've got you covered. Whether you style a stark white pair with plaid pants or toughen up your classic black boots with a leather jacket, there are countless ways to wear 'em. And we are here to show you our favorite streetwear fashion picks featuring these bold boots. Enjoy!
1. Go with a checked skirt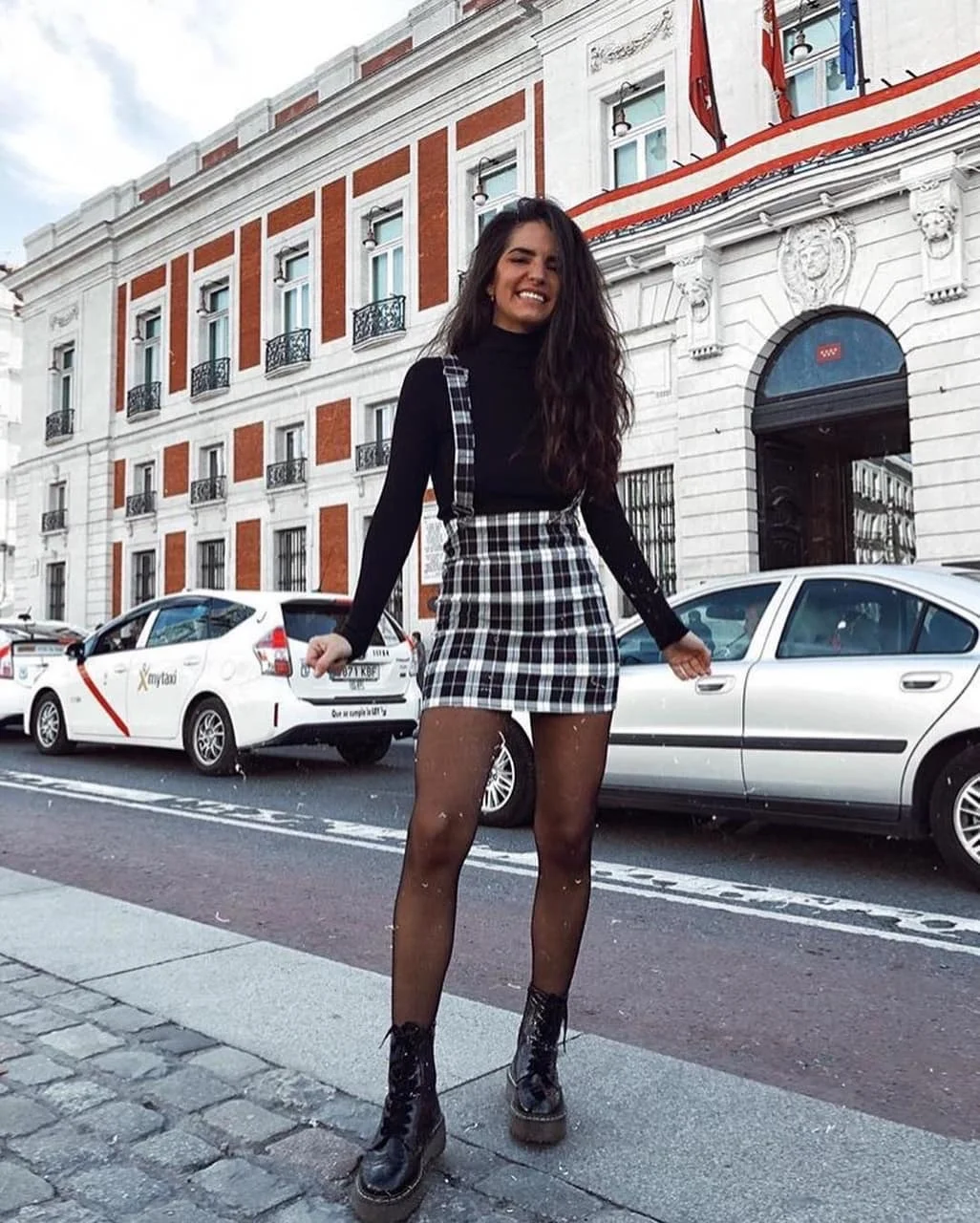 Doc Martens can go a long way when you are trying to create an outfit that is striking, yet girly and fun. The girly element in this outfit is the checked skirt, combined with a fitted black turtleneck. This outfit has charm and personality, with an awesome and undeniable edge.
2. Dazzle with a white dress and leather jacket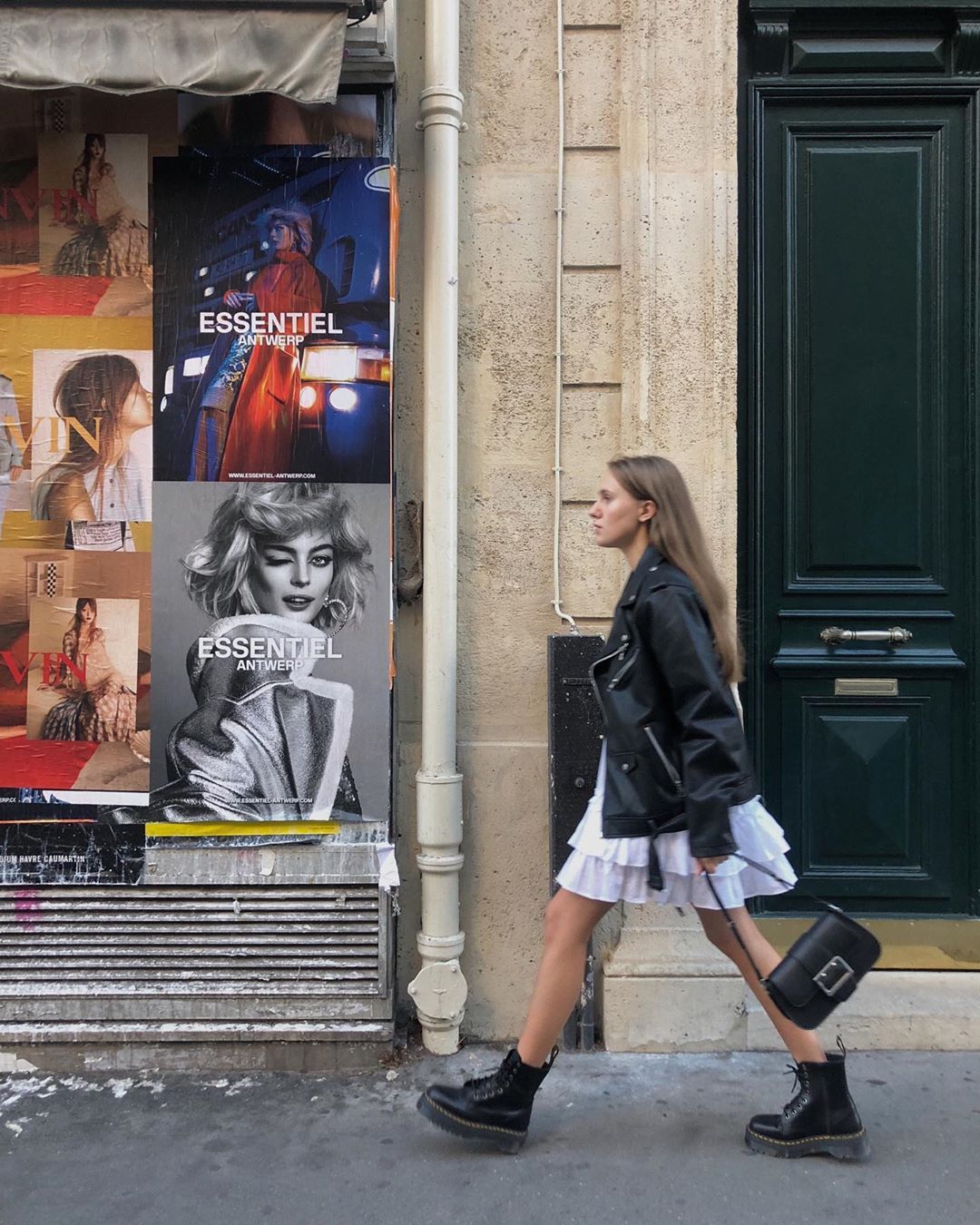 Doc Martens are the kind of boots that go well with everything, even with surprisingly elegant dresses. Here we have a beautiful white dress combined with a black leather jacket and Doc Martens to edge up the look to the next level.
3. Softer appeal and a cozy shirt-dress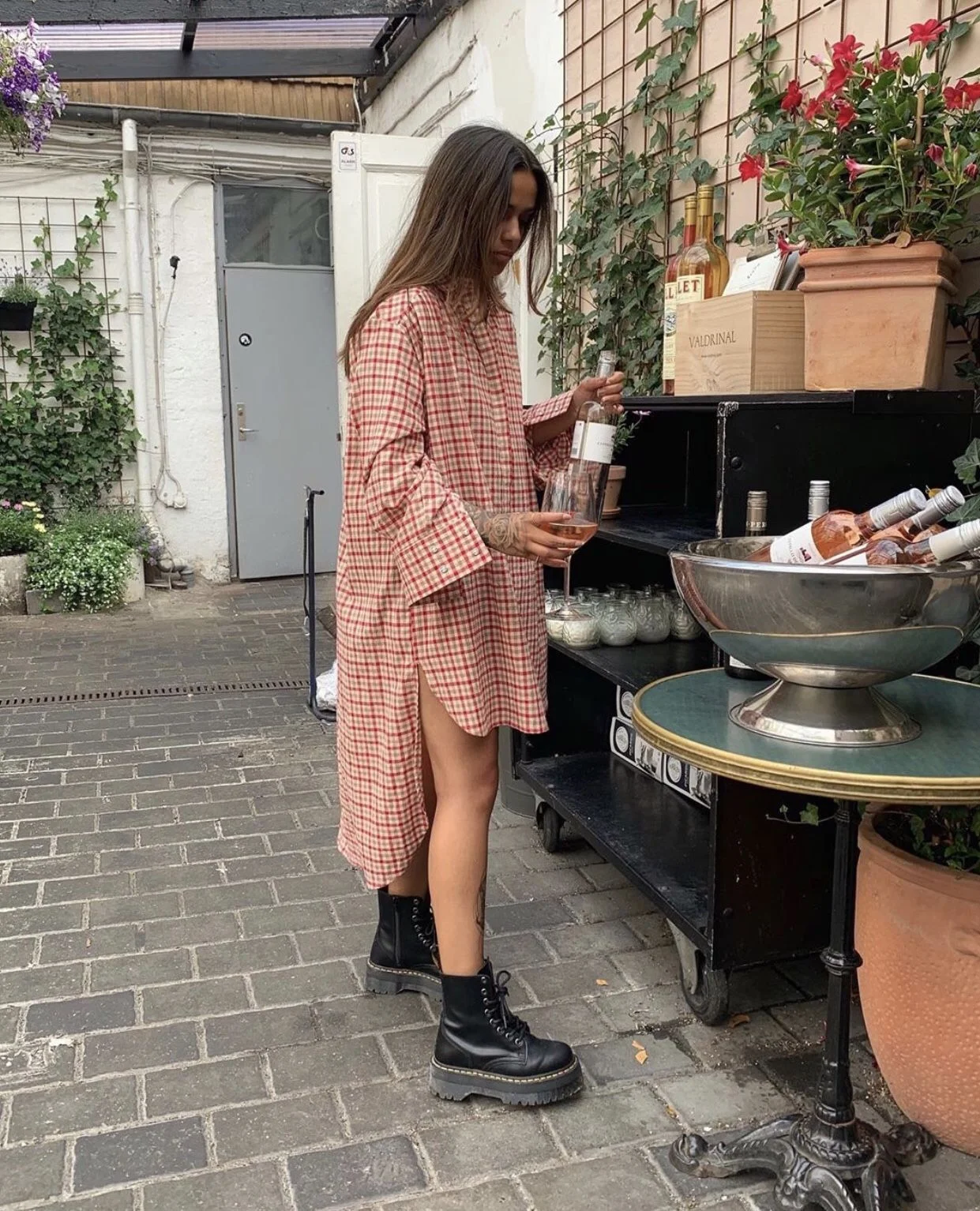 Doc Martens don't have to be necessarily worn during winter or fall. You can totally wear them in spring and summer, with fun and adorable dresses and skirts. In this picture, we have a very flattering checked shirt-dress that looks oh-so-modern with Doc Martens.
4. Try them out with dreamy, multicolored pieces of clothing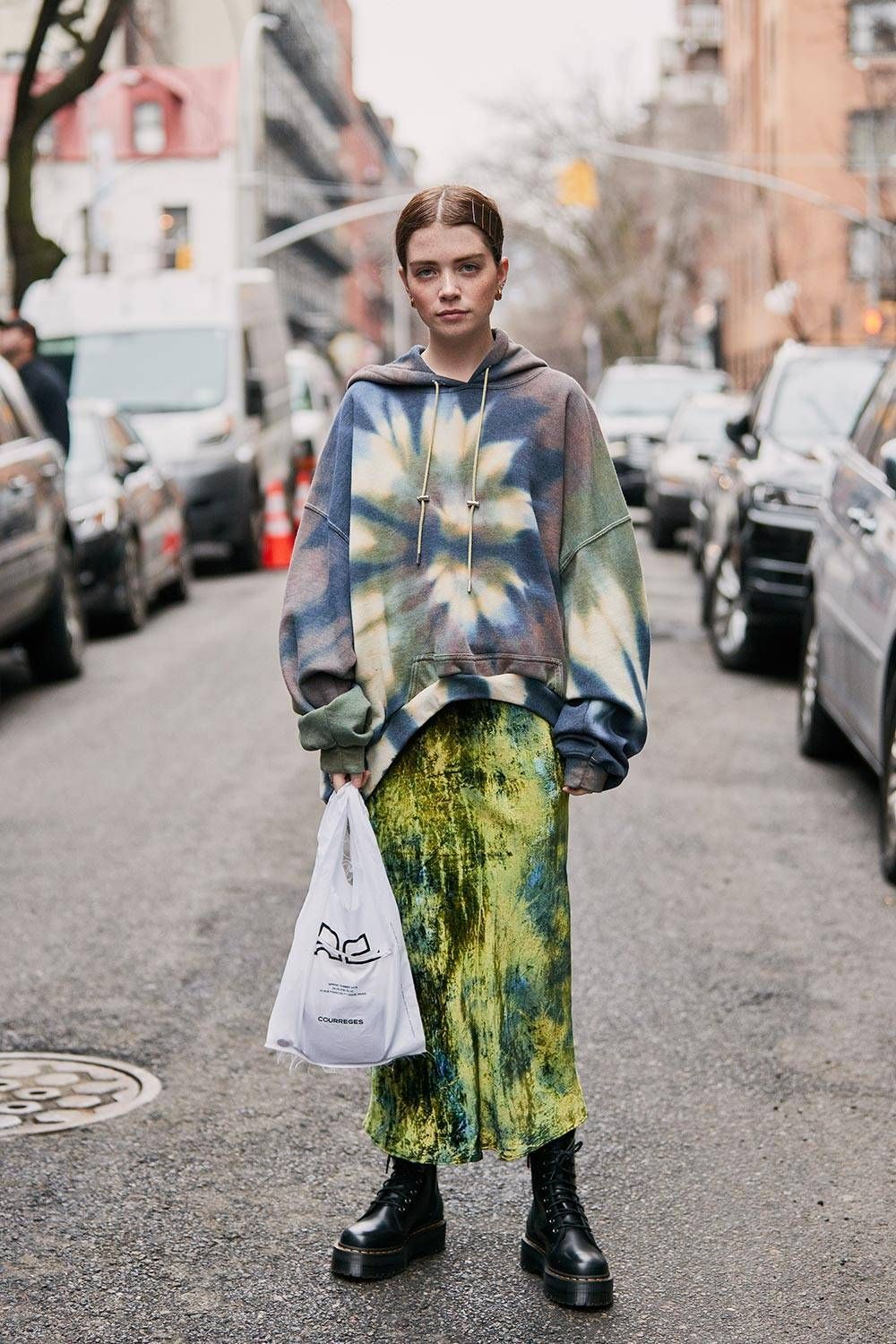 If you search for fashion outfits with Doc Martens, you will come across tons of pictures from fashion weekends and models on the streets fearlessly wearing these legendary boots. This look is for the ones with an adventurous style, and the results are astounding. Who said that a tie-dye shirt and skirt wouldn't go well together with Doc Martens?
5. A leather trench coat goes a long way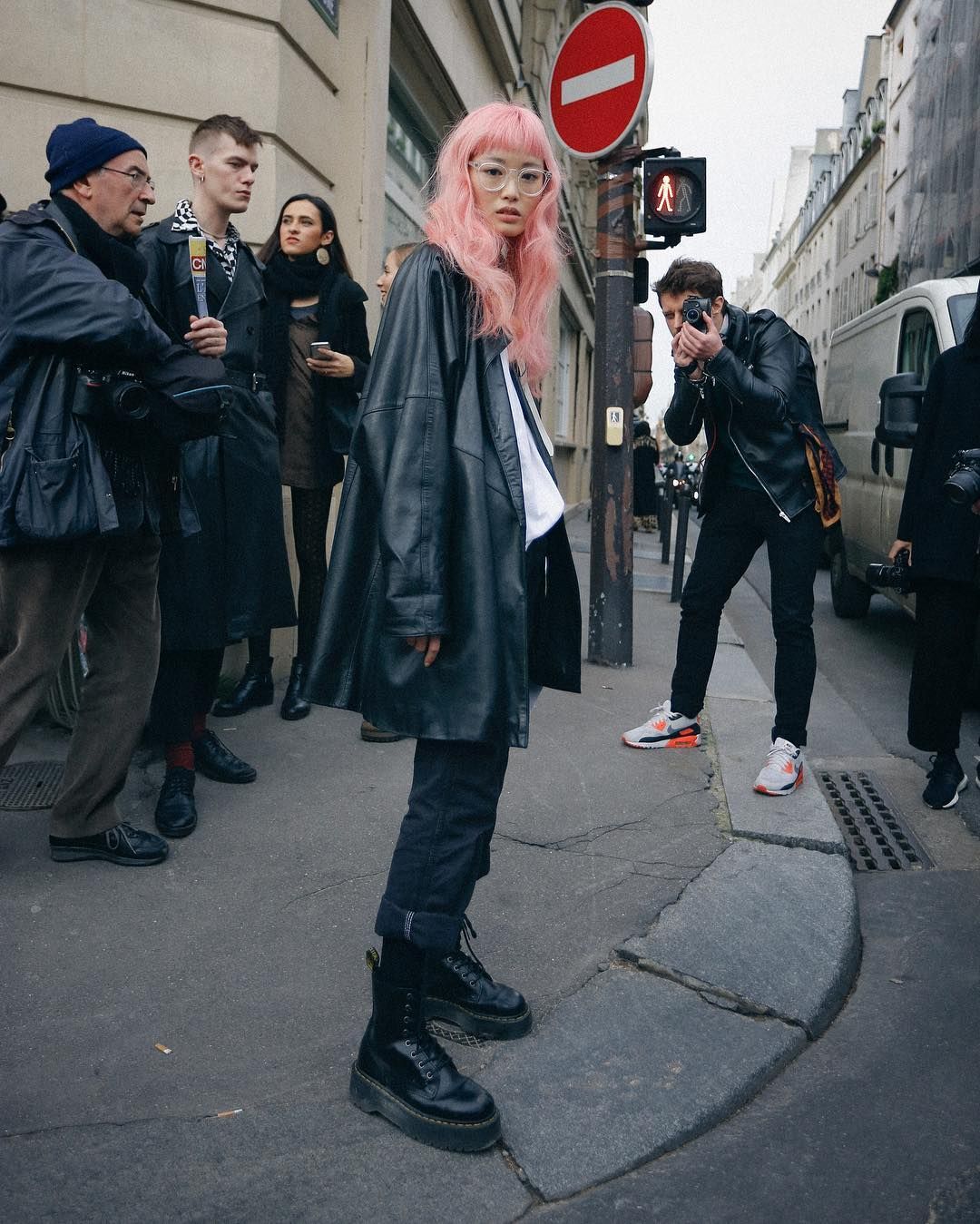 When wearing Doc Martens, your outfit is anything but boring. However, the fearless edginess is definitely in the spotlight. Basically, Doc Martens go well with any kind of jacket, but with leather, they go well as peanut and butter do. Combine them with some jeans and a simple shirt, and you'll have an outfit that is striking and stylish.
6. Excellent combo with cargo pants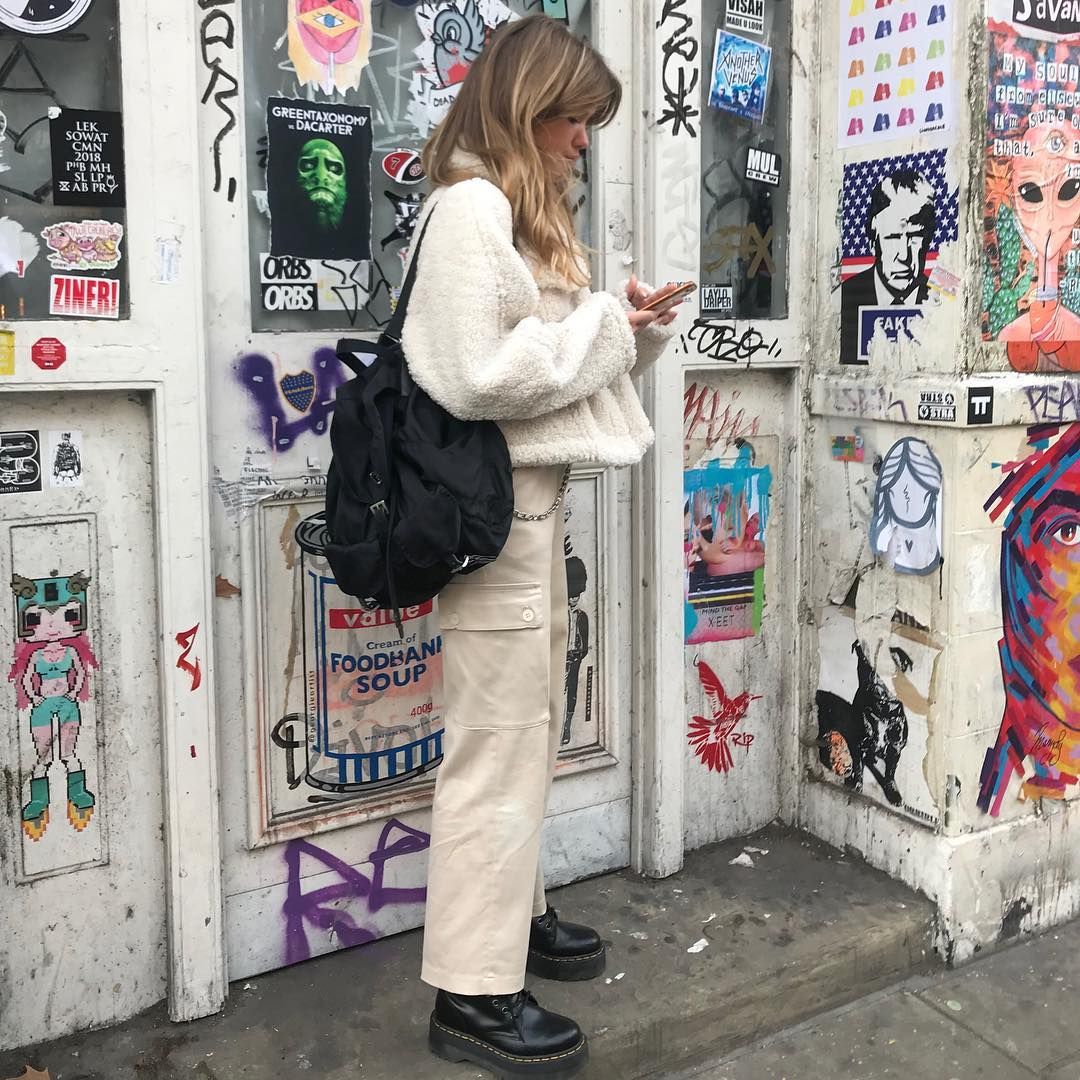 You can pull off a stylish look with Doc Martens if you combine them with cargo pants. To lighten up the mood, go with soft beige pants and a faux fur coat of the same color. Finish the look with a pair of Doc Martens for a modern and edgy twist.
7. Have fun with a denim skirt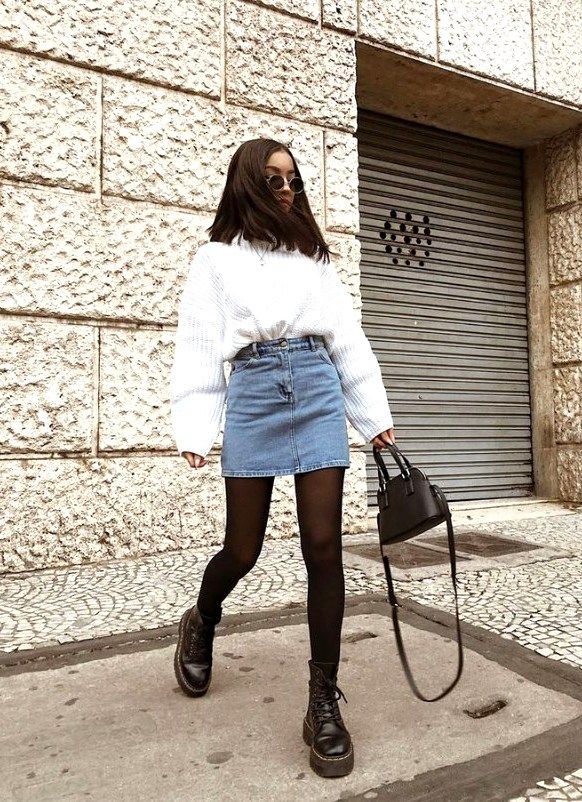 Doc Martens does wonder when combined with miniskirts and dresses. Because of the fact that the boots' platform is big, your legs appear longer and thinner, and who doesn't want to have model-like legs for a day, right? Take your Doc Martens, your favorite denim skirt, and a simple knitted sweater, and walk the streets like you are on a fashion runway.
8. Dress in denim shorts and a loose shirt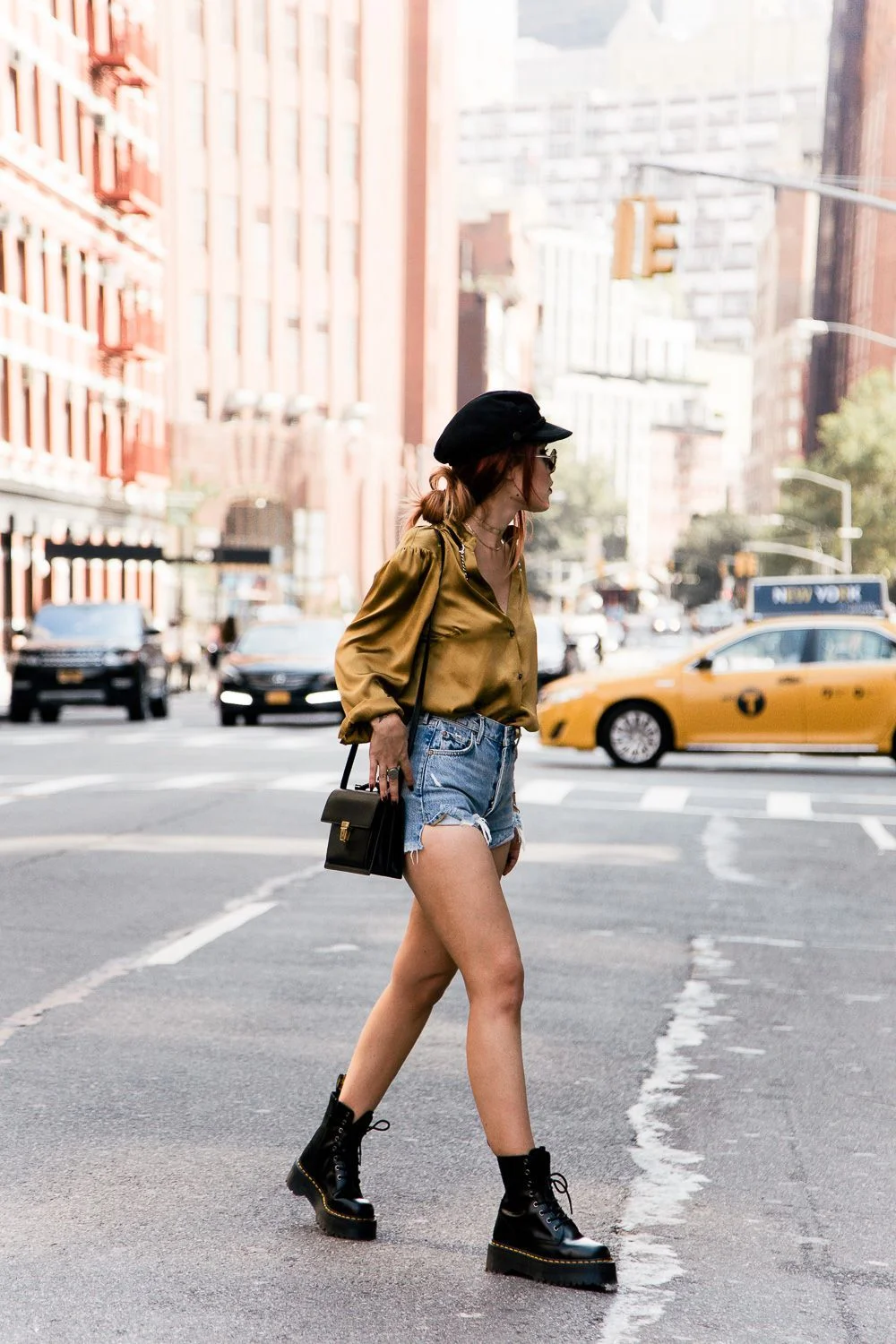 By now you already know that Doc Martens definitely go well with everything, and this outfit is no different. Pair your boots with simple denim shorts and pick out a loose, fun, and colorful shirt. Delicately accessorize your look with a couple of necklaces and create a look of an adventurous, urban diva.
9. Style them with a floral skirt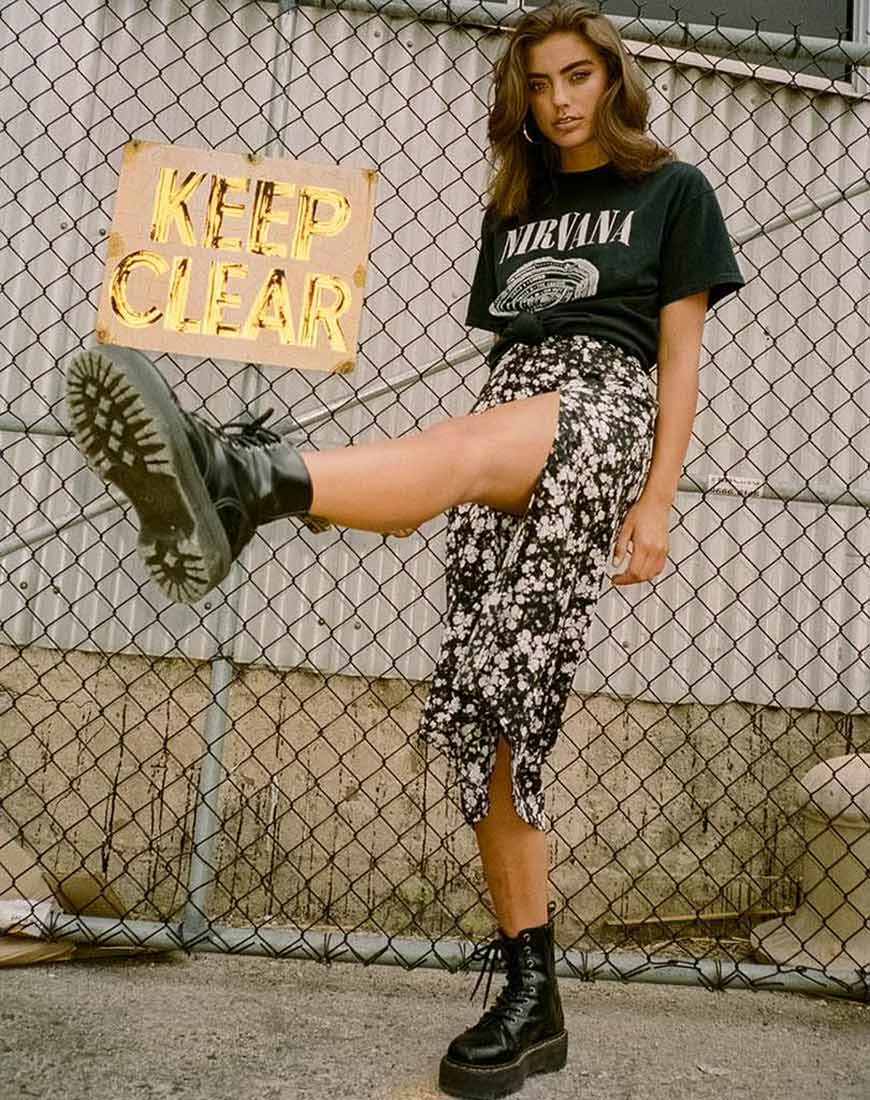 Doc Martens go super-cute when combined with floral skirts. To accentuate the edgy factor, combine the skirt with a t-shirt of your favorite rock n' roll band. You will look very modern, with an edgy factor that is not too overstated.
10. Parallel lines and Nike sweatshirt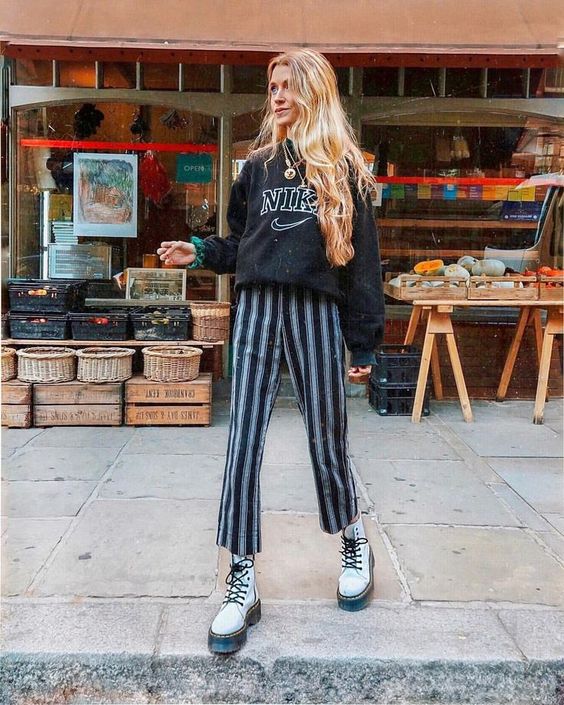 White Doc Martens have the ability to create a cool and versatile outfit with edgy and streetstyle vibes. You can totally wear your pair of white Doc Martens with pants with parallel lines and a vintage Nike sweatshirt. Combine it with some jewelry, and you've mastered the technique of creating unique and edgy outfits.
11. Stand out in a checkered skirt and bucket hat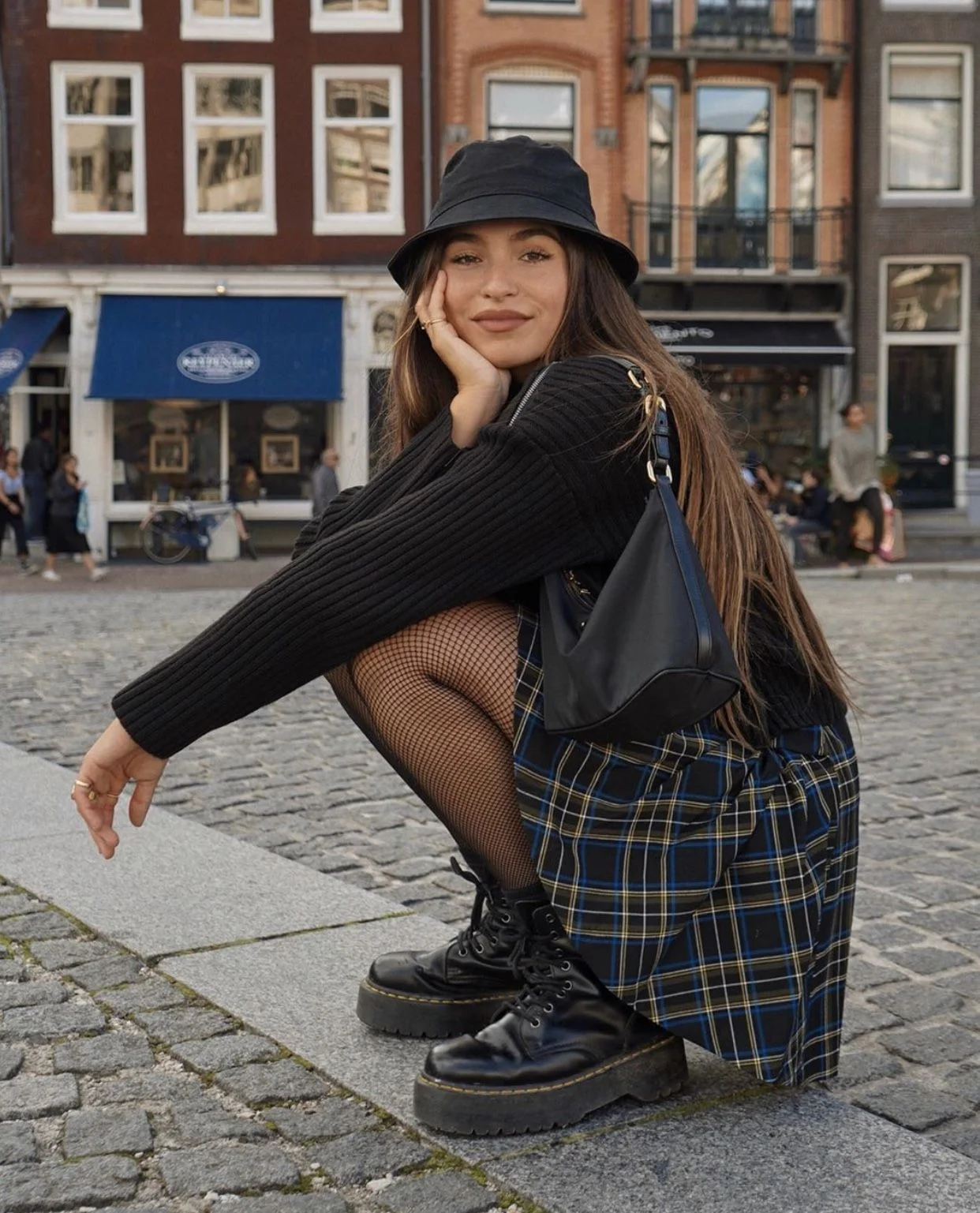 The checkered pattern is s loyal companion of Doc Martens since forever, and punks and skinheads can confirm that. And it seems like this combo is very much alive in today's fashion. If you happen to have this kind of skirt, you can totally combine it with a cozy sweater and to spice things up, put on fishnet tights, and a bucket hat.
12. Keep cozy in jeans and a puffer jacket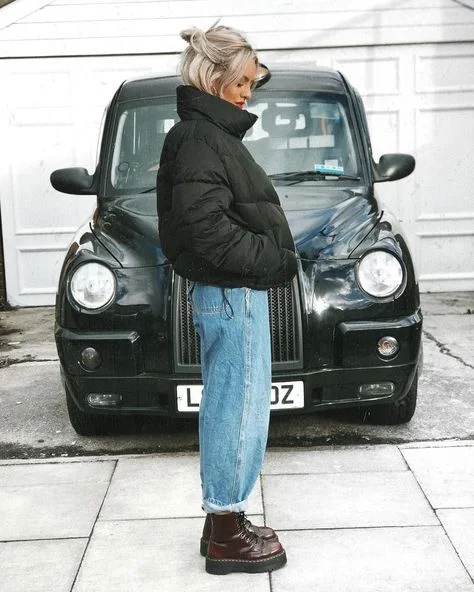 Puffer jacket is so trendy these days and combined with a pair of Doc Martens definitely makes one hell of an outfit. Go for an ultimate cozy mood and grab your boyfriend jeans. The dark red Doc Martens are the focal point in this outfit that adds a little pop that won't pass unnoticed.
13. Go for a vintage diamond sweater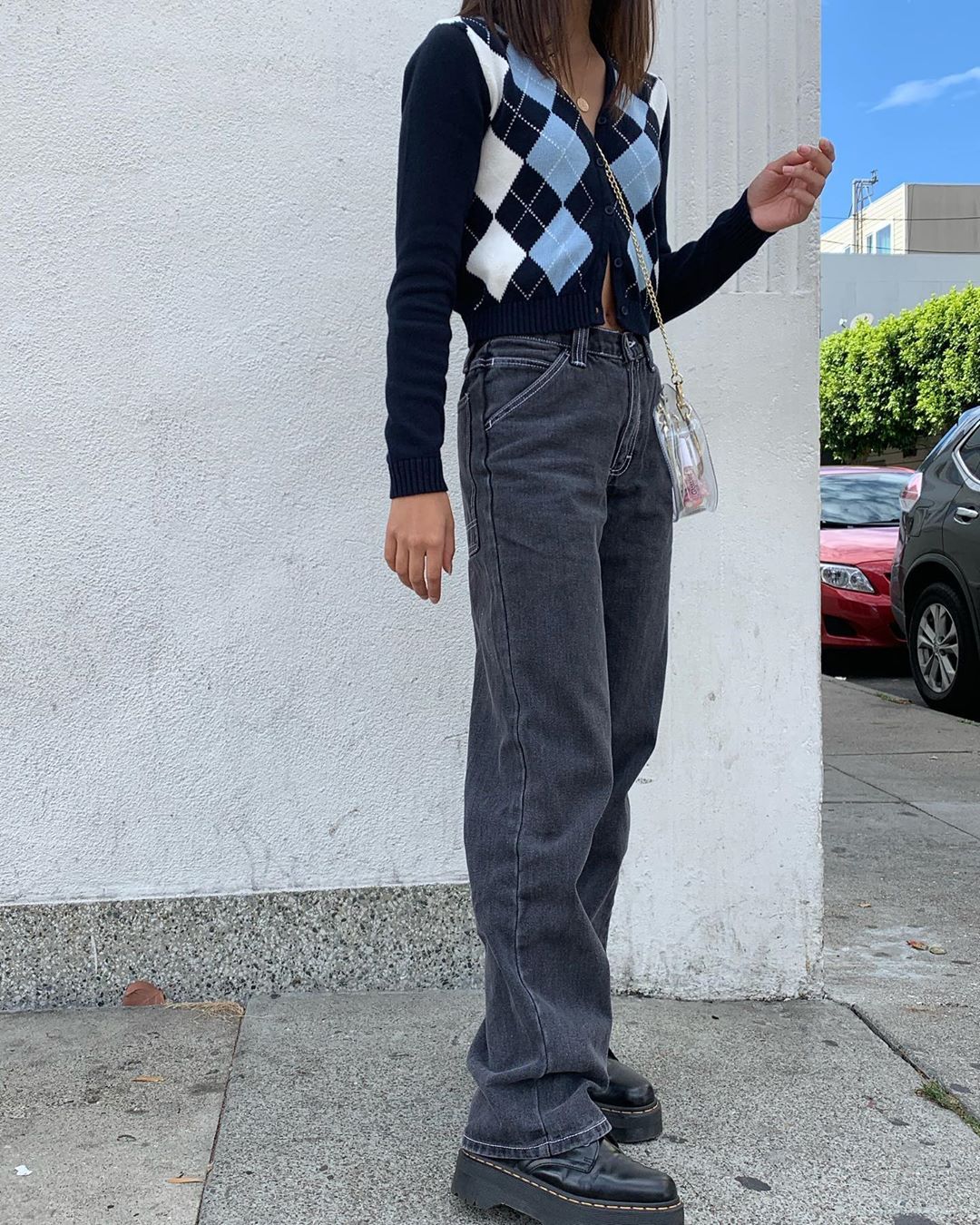 Keep it casual and classy and go for a diamond sweater and a pair of 90's loose jeans. Tie the whole look together and combine them with a pair of Doc Martens that transform the whole outfit into a more edgy and striking one.
14. Show off in a floral dress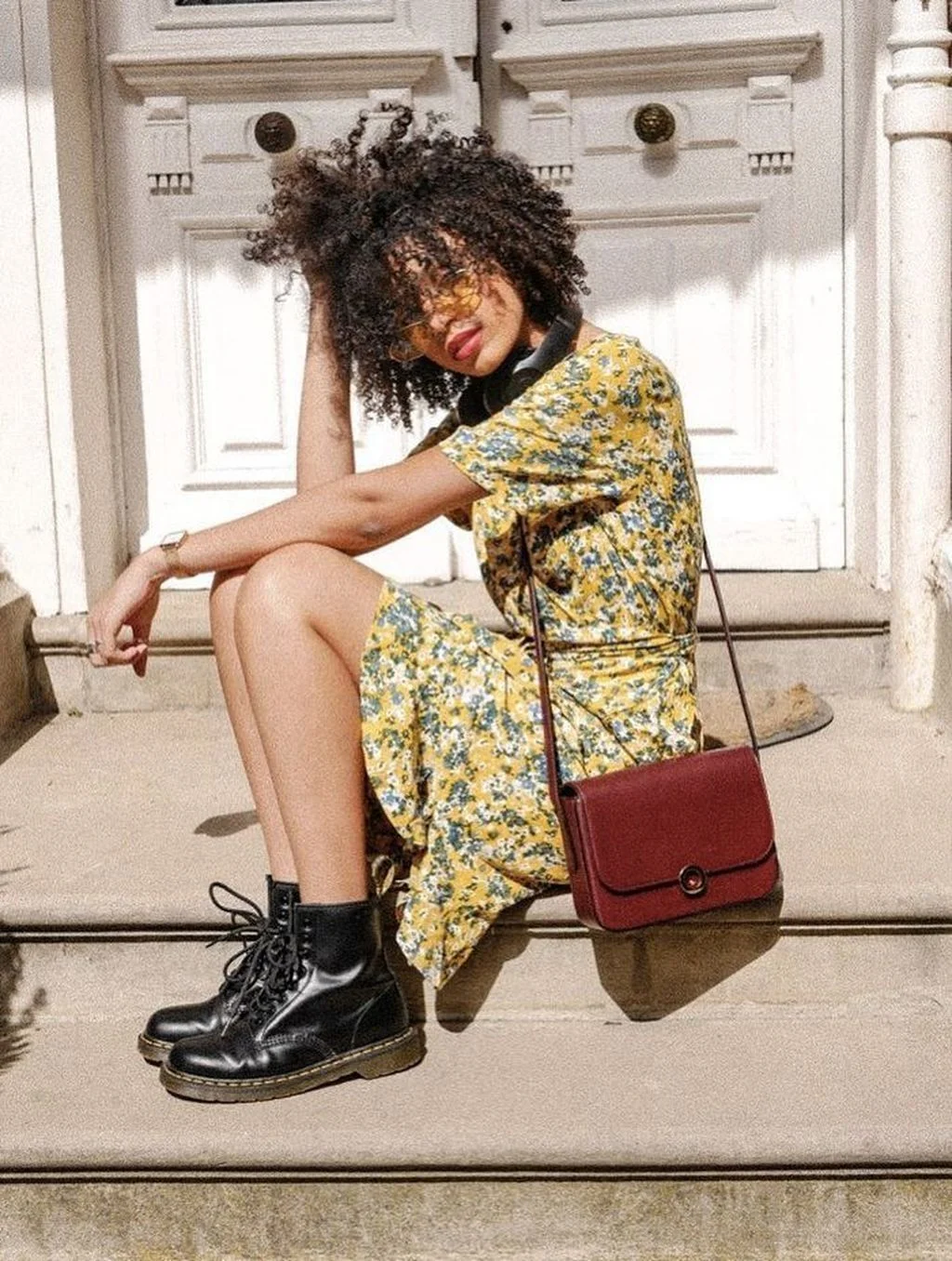 Create one dreamy outfit perfect for spring or summer, with a pair of striking Doc Martens boots. Step outside the comfort zone and combine girly dresses with these boots, like a yellow floral dress and a pair of black Doc Martens.
15. Pop off with leather pants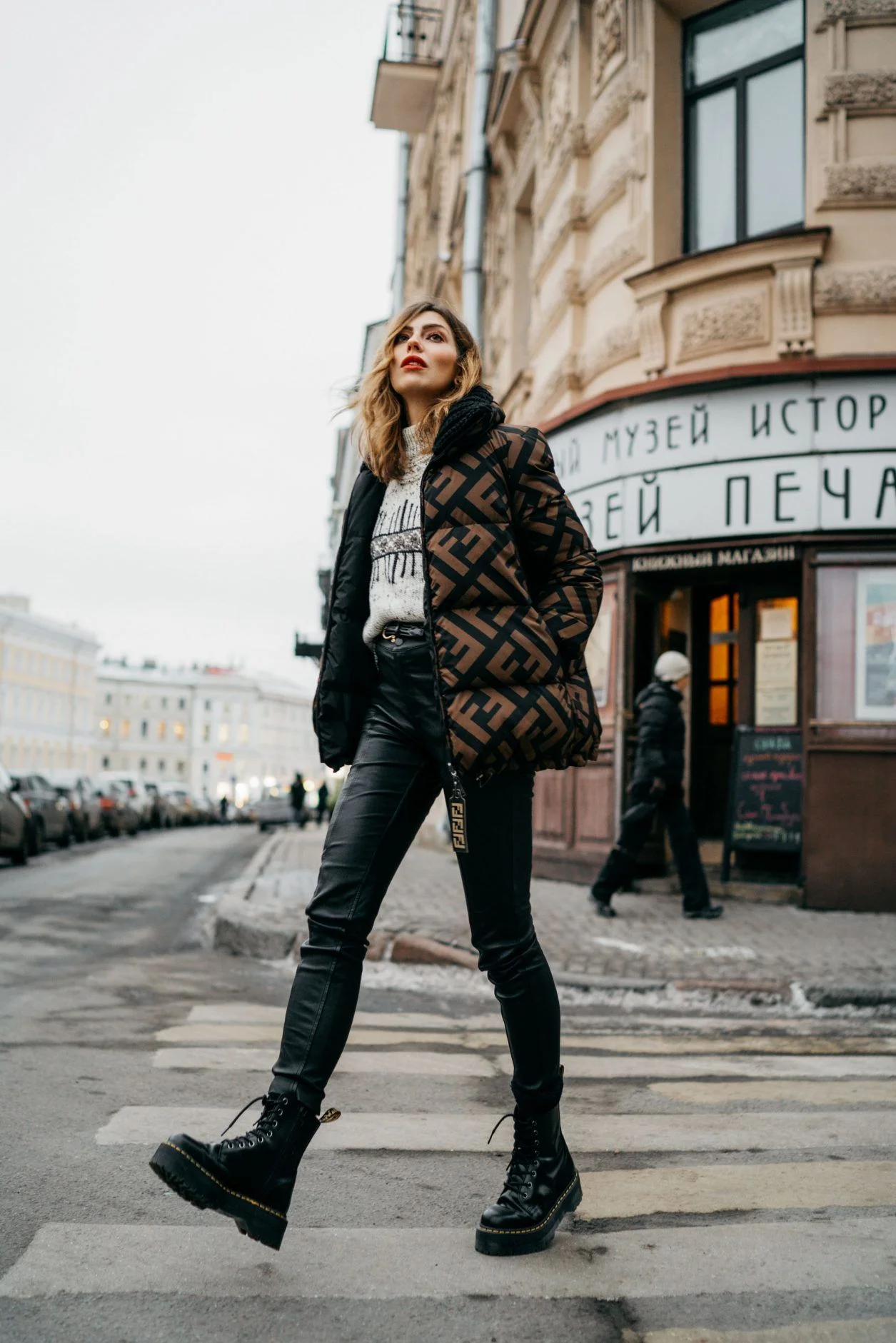 Make no mistake, Doc Martens at its best is attention-grabbing. Work in some playful drama and combine them with a pair of leather pants. If you are one of those fearless ones, you definitely won't be afraid of a statement fashion outfit like this one.
Now you know the reason why Doc Martens boots are so well known. We hope you like our choice of ideas and we wait for you in the comments section to write which outfit is your favorite one!