You all have a closet full of old and unused T-shirts. Some are your favorites, some never worn. Some were too big, some were your boyfriend's. However, they make a pile in your storage and somehow, you neither give them away nor throw them away. You can now upcycle them into new and modern pieces of clothing.
This popular fashion trend is an uprising in the world, especially in these difficult times. Those piles of simple shirts you bought or got as a present can be a great DIY project to express your creativity and ideas. It will also save you money and space in your closet. Here are some good shirt cutting ideas on how to transform them into your new favorite piece of clothing to match your style. Grab your scissors and start.
1. Bottom fringed shirt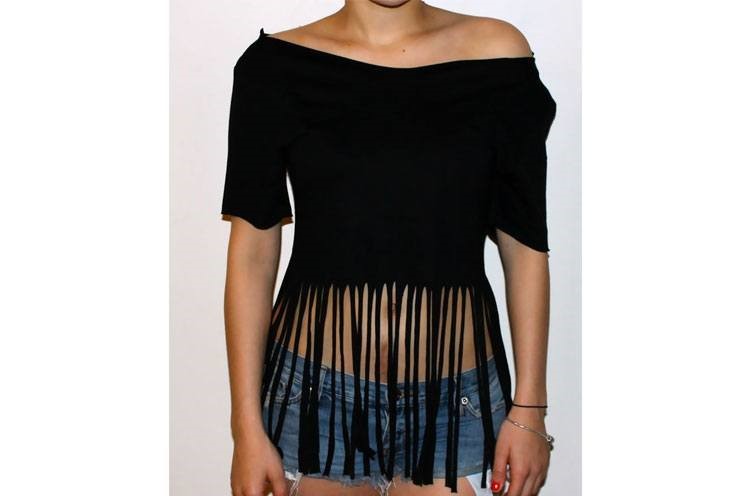 This shirt was made from a man's shirt. Transform your simple old t-shirt into a new modern and cool shirt using only scissors. Fringe the bottom up to above your belly button to make this cool looking style and show your great stomach and waist.
2. V-Back T-shirt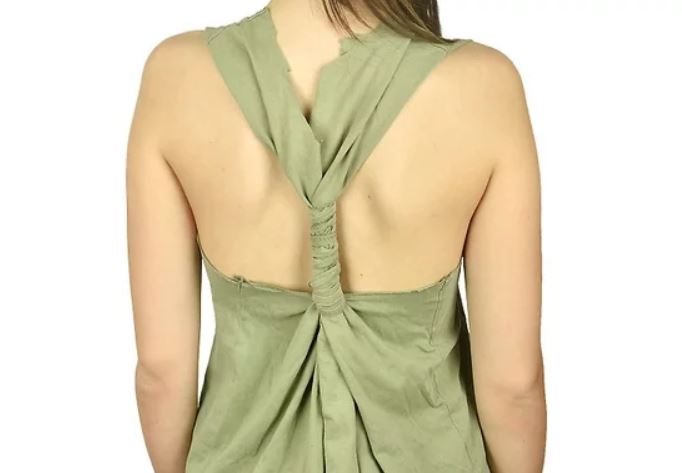 You have a great back and need to show it off? You need a new shirt with braided back, but don't want to get rid of the old T shirt? Well, here's an idea of how to transform the old one into the new one you need now. Cut the sleeves, and tie the pieces of the back with them to form a V-back. Your back will look lovely in your new V-back shirt.
3. Classy back and side cut-out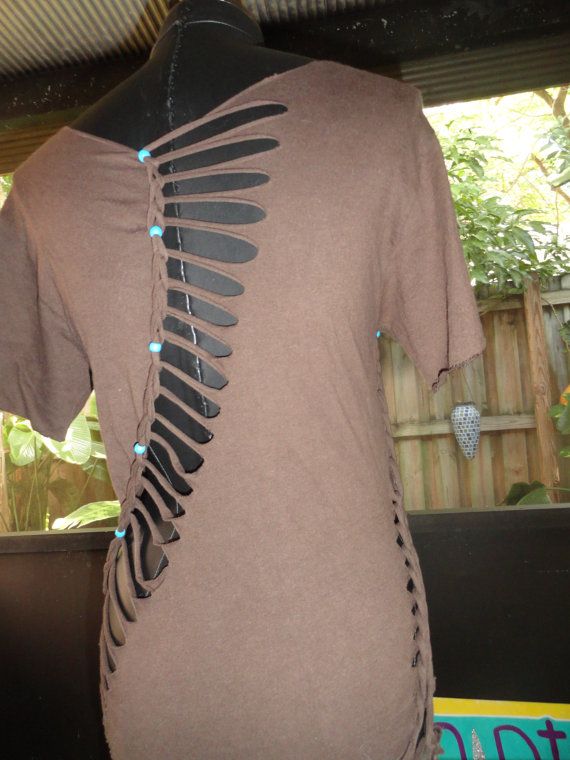 Show your sexy back and waist with this T shirt cutting technique. Cut some fringes on the back and side of the shirt, and braid them to be more fashionable and elegant. Decorate them with beads in different colors on the back. Tie the side ones in a fish-bone pattern to look even sexier. Now, you have a new and comfortable shirt to make you glow.
4. Elegant & Classy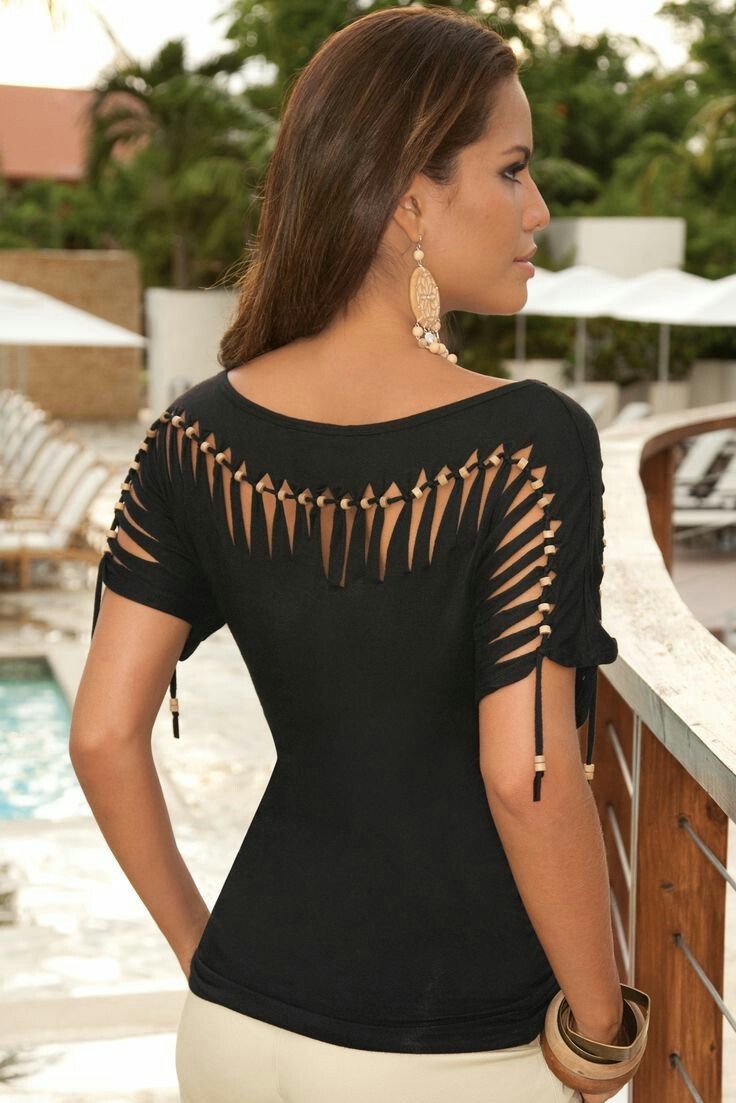 Look elegant and classy in this simple, yet interesting cocktail shirt. Cut some holes in the shirt up just above your mid-back and insert a string. Add beads between every second hole to make it even more elegant. Pair it with large earrings and a simple bottom. Add to the glam with big bracelets and high heels.
Of the many shirt cutting ideas, this one is all about being stylish and modern. Like you are ready for a party.
5. Butterfly on your back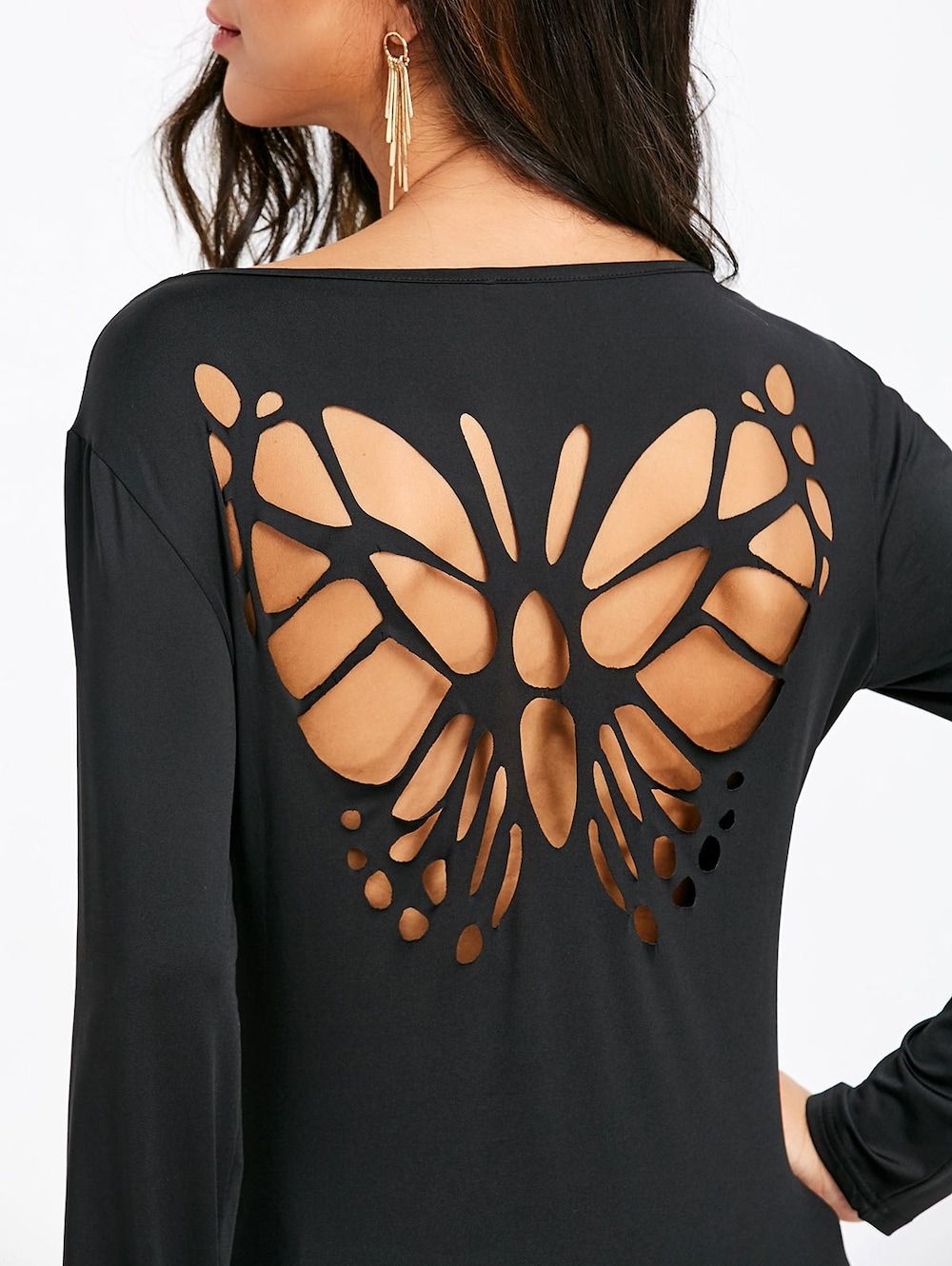 Create this wonderful modern butterfly image on the back of your old tee for a young and cool look. It will take you a bit more time, but it's worth every second. You can layer it with another old T shirt in different colors to get a cooler look. Or you can add lace to make it more sophisticated than ever. Or you can wear it as is. You will look cool and sexy anyway.
6. The big shirt turned classy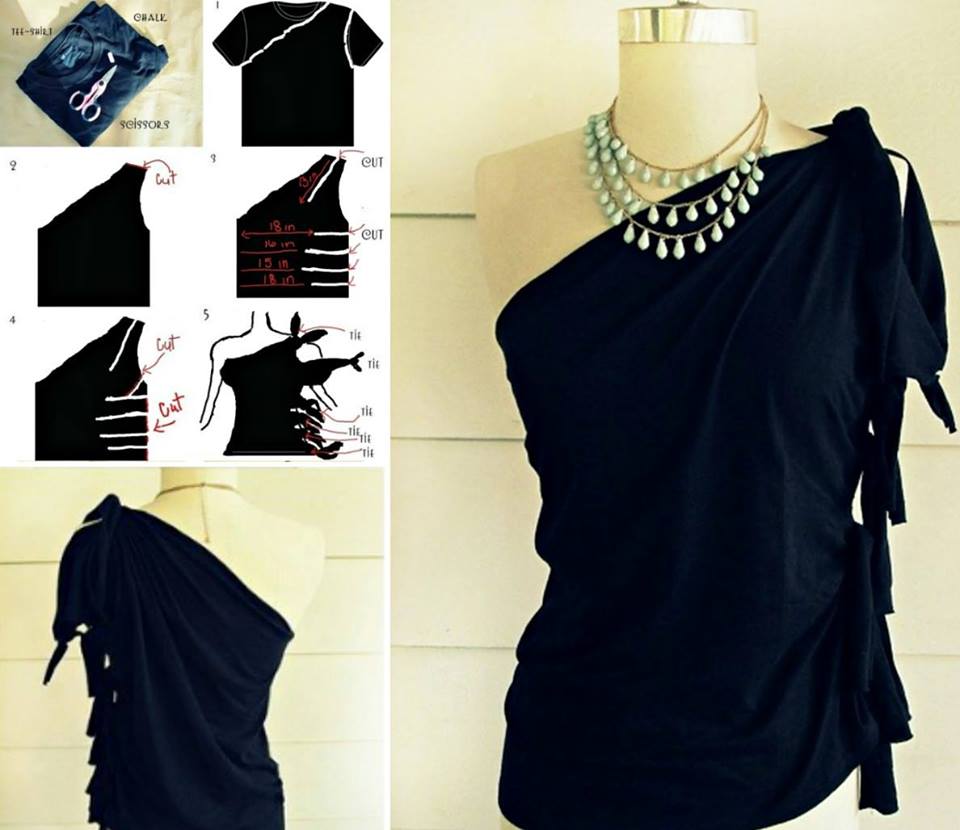 Turn your big black T-shirt into a classy off the shoulder T shirt. Cut one sleeve, and cut the opposite side up to the sleeve. Tie the cuts in small knots up to the shoulder. Pair it with bold sexy jewelry. Your old tee has just become new and trendy. Wear it to a party or to any ordinary occasion, like coffee with friends.
7. Cool sporting gown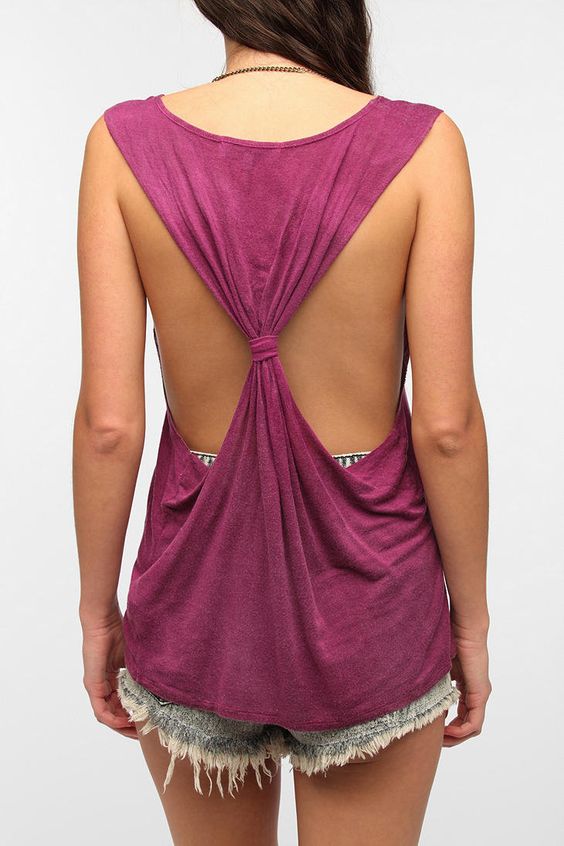 If you go jogging every day, it doesn't mean that you need to look chubby. Be cool, yet fresh in this back-stripped DIY T shirt and a pair of denim shorts. Cut the sleeves and tie the back with a piece of remaining cloth. You will get a fresh look and yet feel comfortable jogging. All the girls on the jogging lane will envy you.
8. Elegant shirt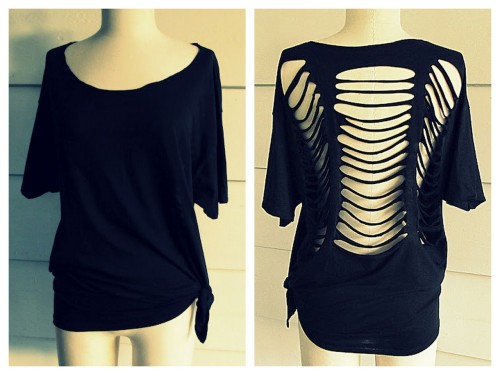 Turn your old shirt into an elegant one with this lovely T shirt cutting technique. Get an old black T-shirt, cut one side to make a bow. Then cut three columns at the back and cut them as in the photo to get beautiful three-row lines that will be loose on the back to cover your bottom.
9. Layered cut-out shirts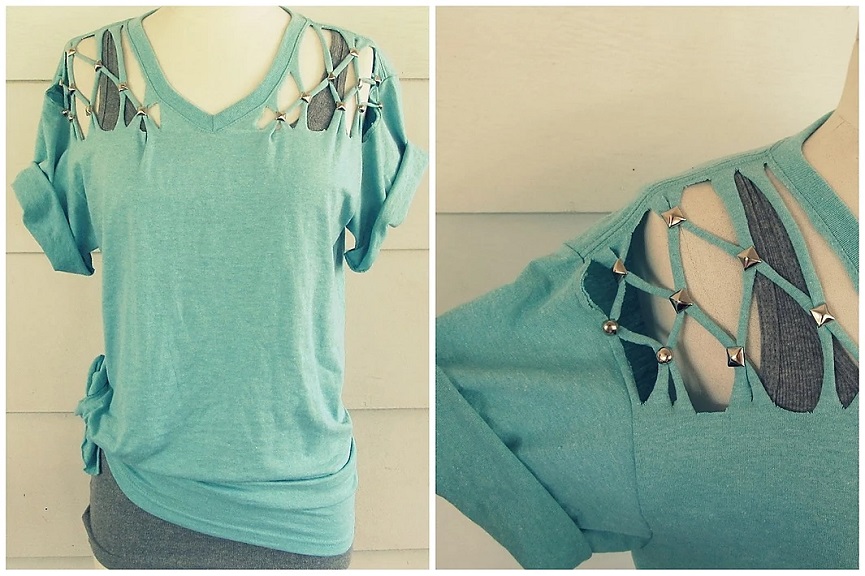 Fan of layers? Why not make it cooler. Cut the top of the shirt in holes or fringes and decorate them with silver beads. Cut the bottom at the side and tie a little knot to be even sexier. Wear this lovely cutout shirt over a sleeveless shirt to make it layered and cool. Combine different colors to be even cooler.
10. Strappy with a net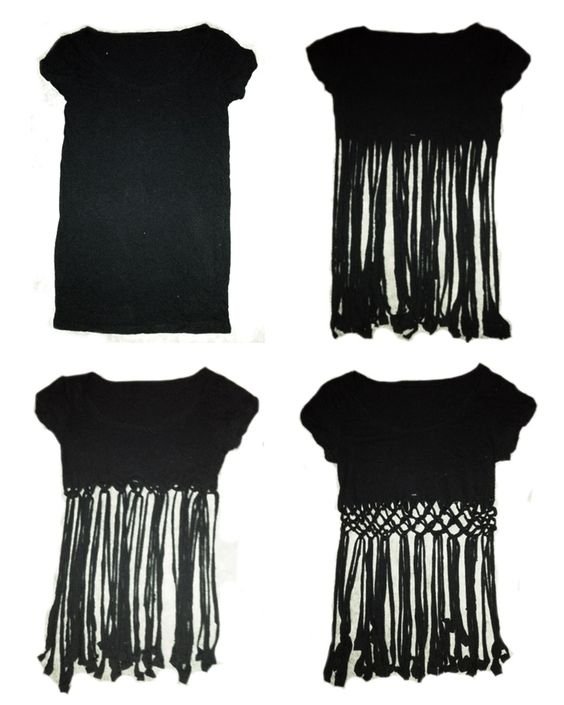 Another idea for a strappy shirt. With a net.  Cut fringes up to bellow the chest, and tie them in a net to above the belly. The shirt will become shorter and sexier. It is easy to make and will certainly be fun to wear. Pair with jeans or shorts or long skirts and flats. Complete the look with cool earrings and big bracelets.
11. Butterfly bow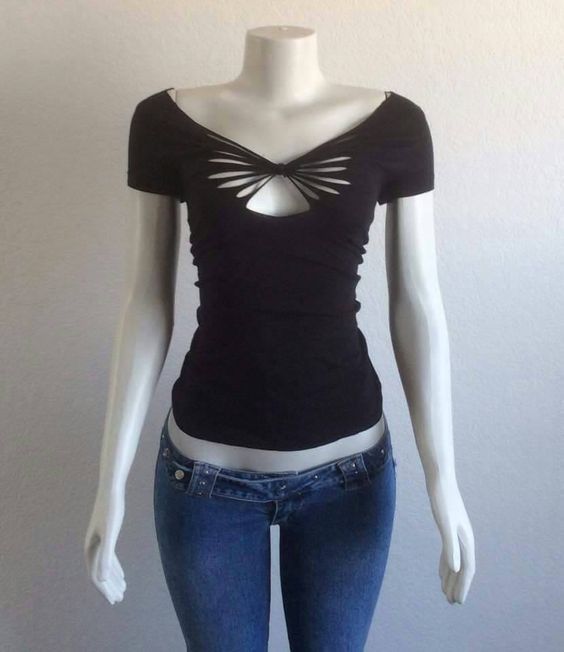 Look elegant, cool, and sexy in this DIY T shirt with a front butterfly bow and a pair of jeans. Cut the front into a V-neck and striper and then tie the strips to form a bow/butterfly effect. It is sexy, but not too revealing. Pair with jeans or skirts and flats to be comfy and sexy.
12. Classy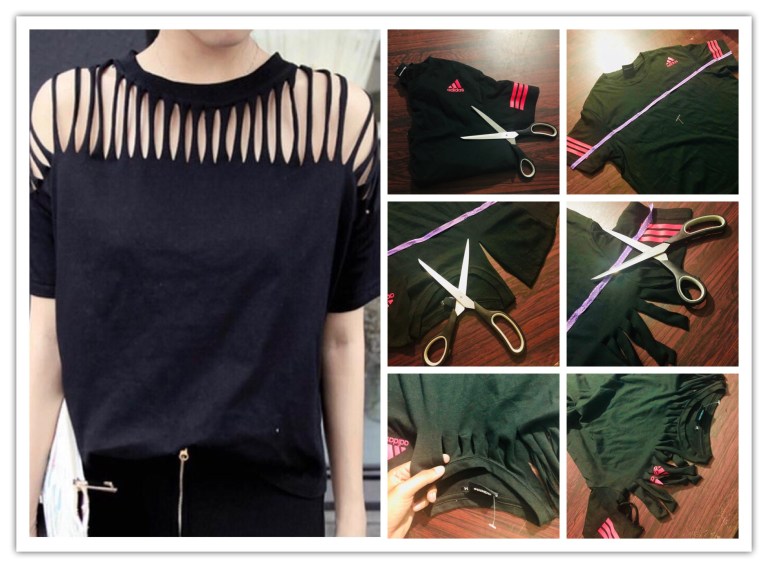 How classy is that? Just cut holes on the top of the shirt up to the middle of the sleeves and leave the neckline as it is. Pair it with jeans or black pants. Wear it for a cocktail party or a daily coffee break with your girlfriends. An interesting purse will complete the look and make the shirt stand out.
13. Simple, yet cool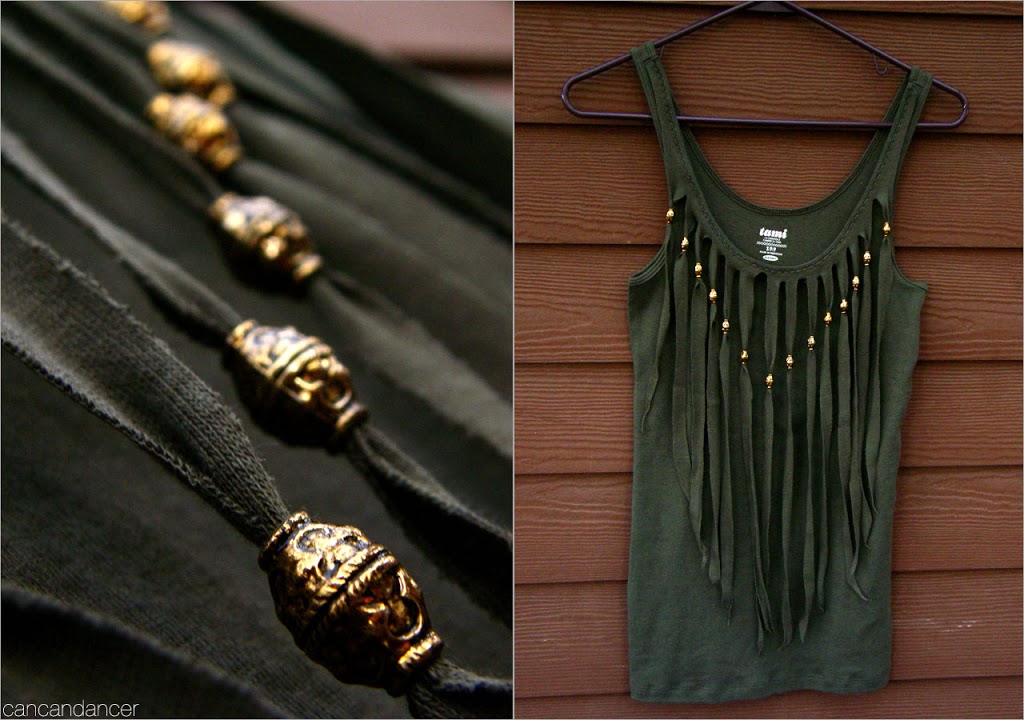 Turn your old sleeveless shirt into a cool fringed shirt for the whole summer. Cut the front in strips and decorate it with beads in different colors layered asymmetrically. Wear it to the beach or for a walk on the coast. Pair it with shorts and flip-flops to complete the look.
14. Back bow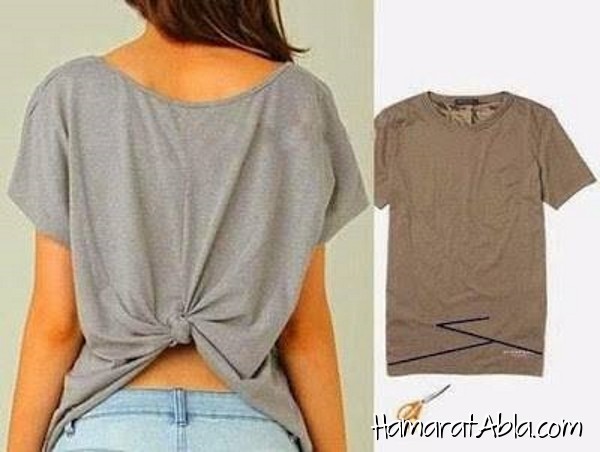 Tired of a front bow? Tie one on your back to look even sexier. Cut the shirt at the front, and put it on backward to bring the small knot on your back. It will create an image of a bow, and you'll look sexy and cool. Also, you can wear it both ways as you please.
15. Fish-tail shirt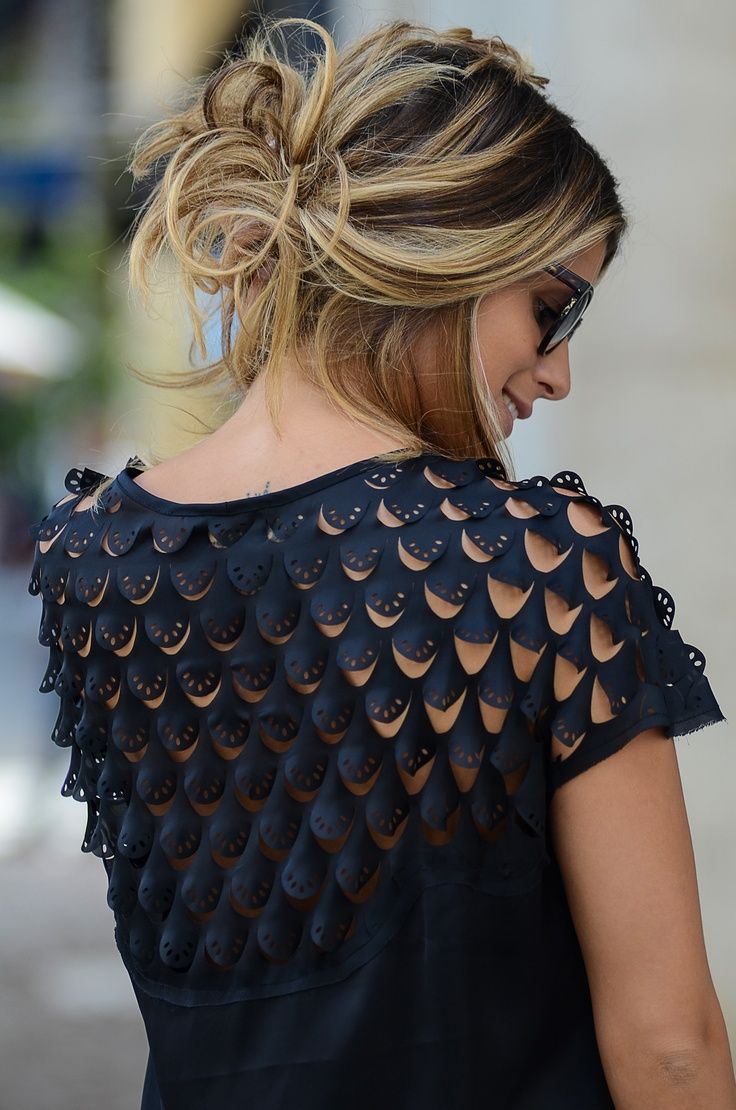 This wonderful fish-tail patterned shirt will make you look glam even in the simplest occasions. Grab some fabric scissors and turn your old shirt into a new and elegant one to shine every time. High heels, pencil skirt, and a pair of earrings with your hair up will complete the look.
16. Sexy cut-out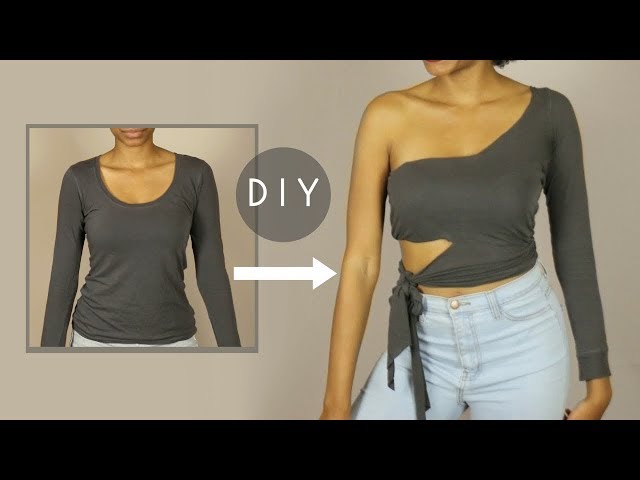 If you're tired of your old shirt, turn it into a one-shoulder, cut-out, tie-knot shirt using fabric scissors only. Cut one sleeve, cut a hole at the bottom, tie the knot and you're ready to go. It will give you a fresh, modern, and sexy look of your dreams. Wear it with denim shorts or jeans and cool sandals.
Liked our shirt cutting ideas? Feel inspired to transform your old shirts? Maybe you have some ideas of your own. Tell us what you think in the comments section below.