Since the invention of photography, framing pictures was the best way to decorate your walls. You would walk into any house, and those lucky enough to be able to get developed photographs would have them proudly displayed all over the house. It gave the house a warm, homey feeling, the family surrounded with the memories they'll look back fondly upon. Today, we take hundreds of pictures a day, yet we rarely choose to frame and display them. That honor belongs to a few chosen ones, marking some significant events in our lives. And even then, we just might keep those pictures in a photo album instead on the wall.
Like many household items, picture frames are evolving too, becoming sleeker, smaller, more modern. Those old, large, chunky, engraved picture frames you might see at your grandparent's house may not match the rest of your interior, but don't be too quick to throw them out to the curb. Old picture frames still have charm and quality that's rarely found in our mass-production society, and they also make a great base for creating something way more cool and useful for your home.
People have been using picture frames for creating other things around the house for years, and here are some of the most popular DIY projects that just might make you say: "I'm gonna try making that." Let's begin,
1. Towel Bar From Frames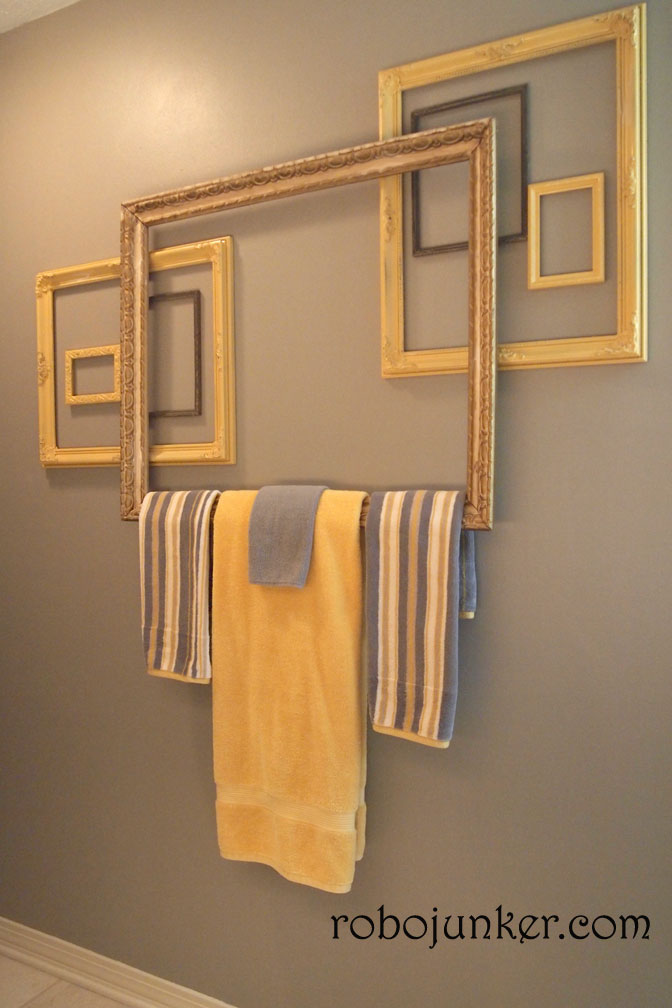 not many people would think of putting something that's artful or overly decorative in the bathroom. And why not? Usually, the problem is a lack of space. With this project, however, you can have something both practical and beautiful in your bathroom. A few well-placed picture frames and you have wall art and a towel rack all in one.
2. Picture Frame Wreath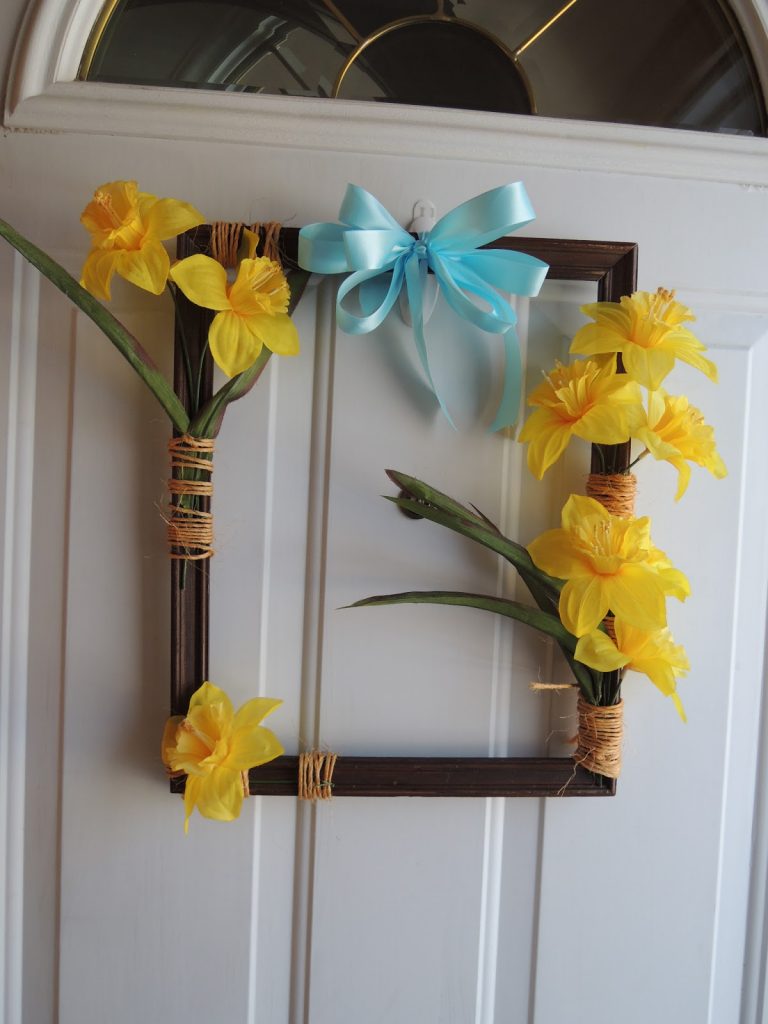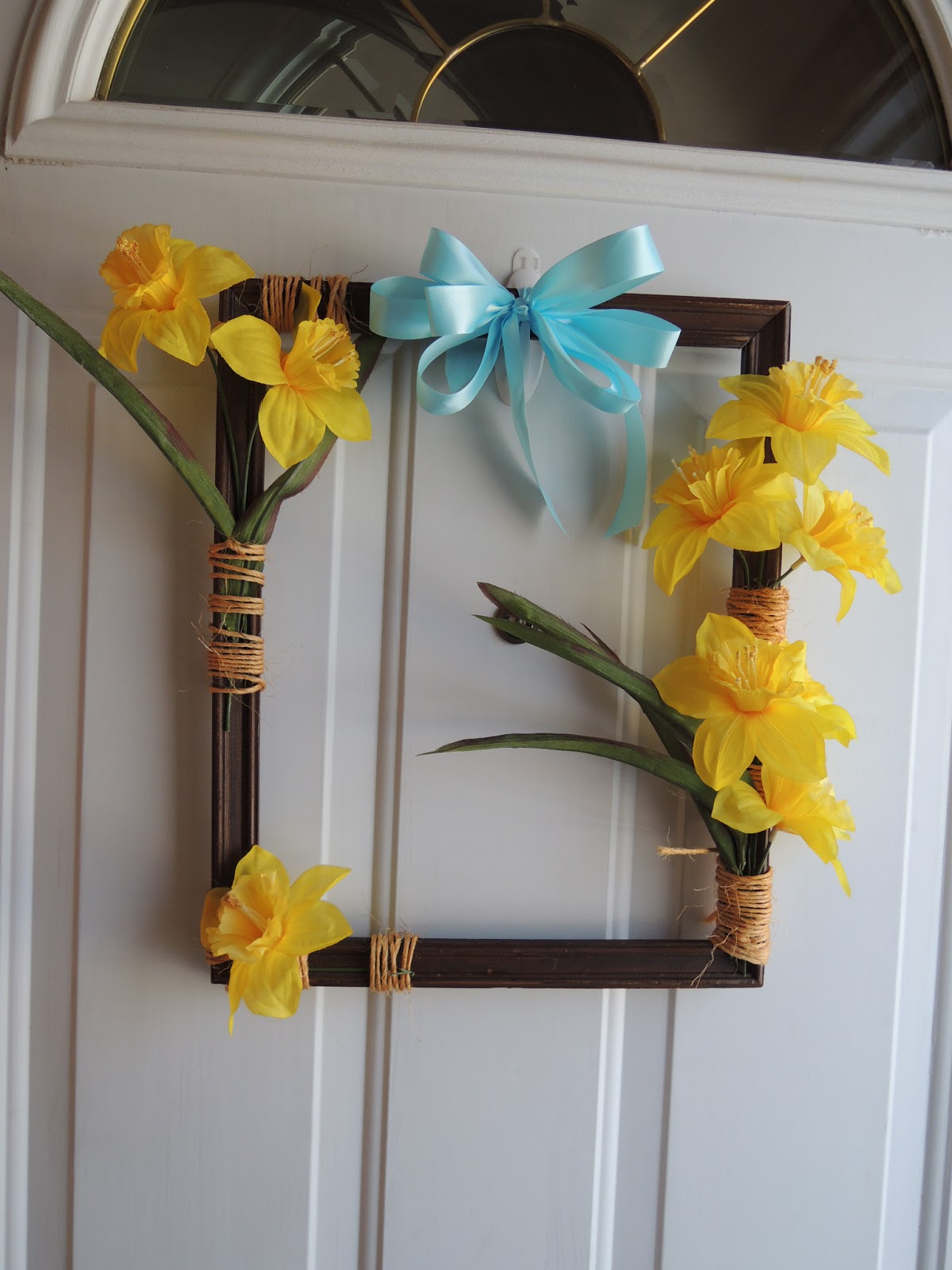 Wreaths are lovely decor pieces, yet many are unwilling to make them because getting the base right can be a bit tricky. It's not when you have a nice old picture frame around. Square ones are good, round ones are even better, and they are easily transformed into a wreath for any season, like the one shown here. Just use whatever decor you like.
3. Framing Vertical Garden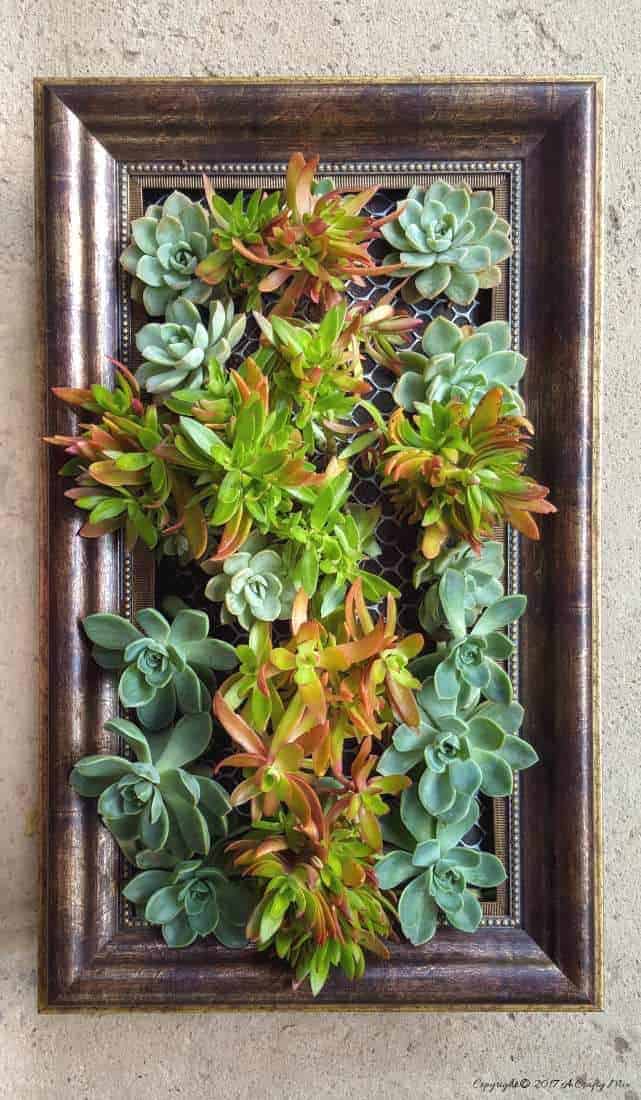 Succulents are becoming a very popular choice for people who love plants but don't have actually time to look after them properly. And they do look quite lovely. Lovely enough to frame? Why, yes. You can even do that if you want and this tutorial will show you how.
4. Picture Frame Tray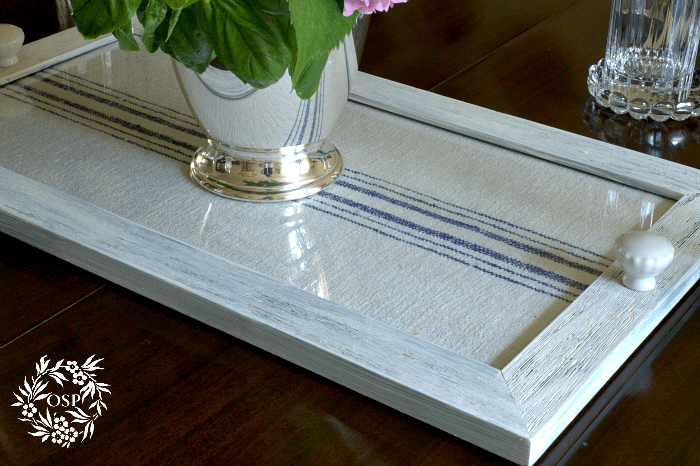 Serving trays are a staple for every household, but going out and simply buying new ones seem redundant at best. So use whatever you have at home to make a new tray. Like, perhaps an old picture frame, a couple of cabinet handles, and your creativity will get you a new fancy tray in no time.
5. Picture Frame Tiered Cakestand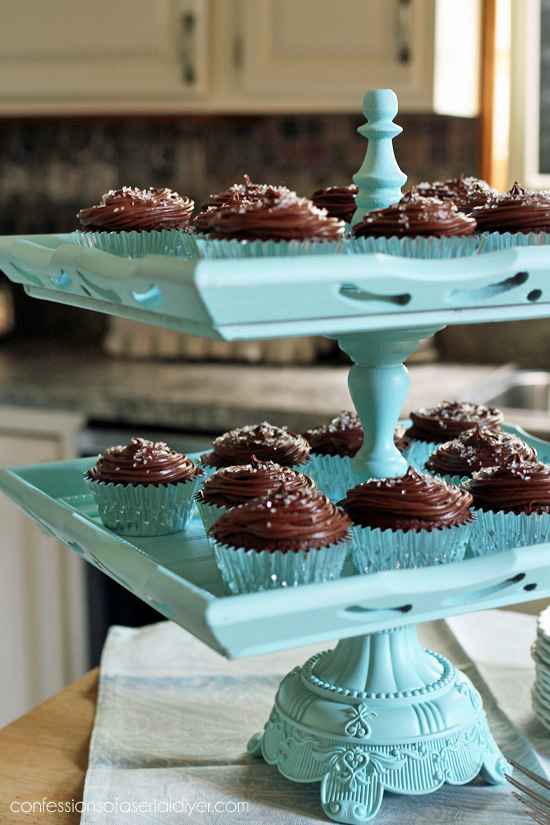 Cake stand are such a lovely centerpiece when hosting a party, or just having friends around. But, since it's so rarely used if you don't have one you probably always forget to get one too. So, here's an assignment for you. Try and make this unique cake stand with picture frames and wow your guests at the next gathering.
6. Terrarium Green House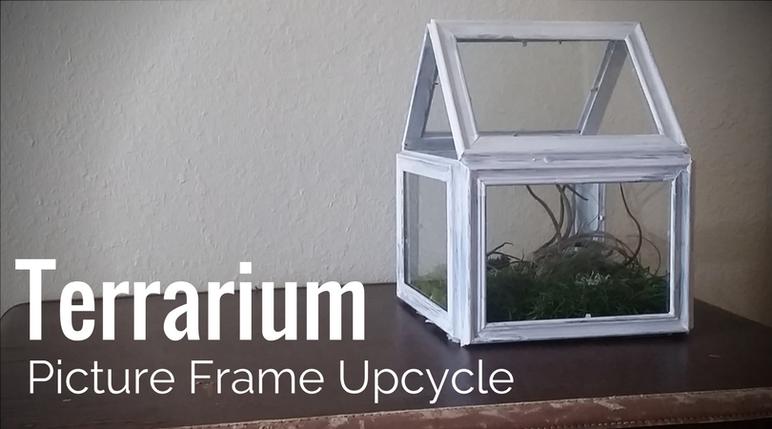 Small greenhouse terrariums are very adorable rustic decor pieces. As good as they look, you might not be all up for buying one since this small glasshouse can come with a big price tag, there's always an option of making one for just a few dollars, like this dollar-store picture frame terrarium. No one will know the difference.
7. Sunglasses Display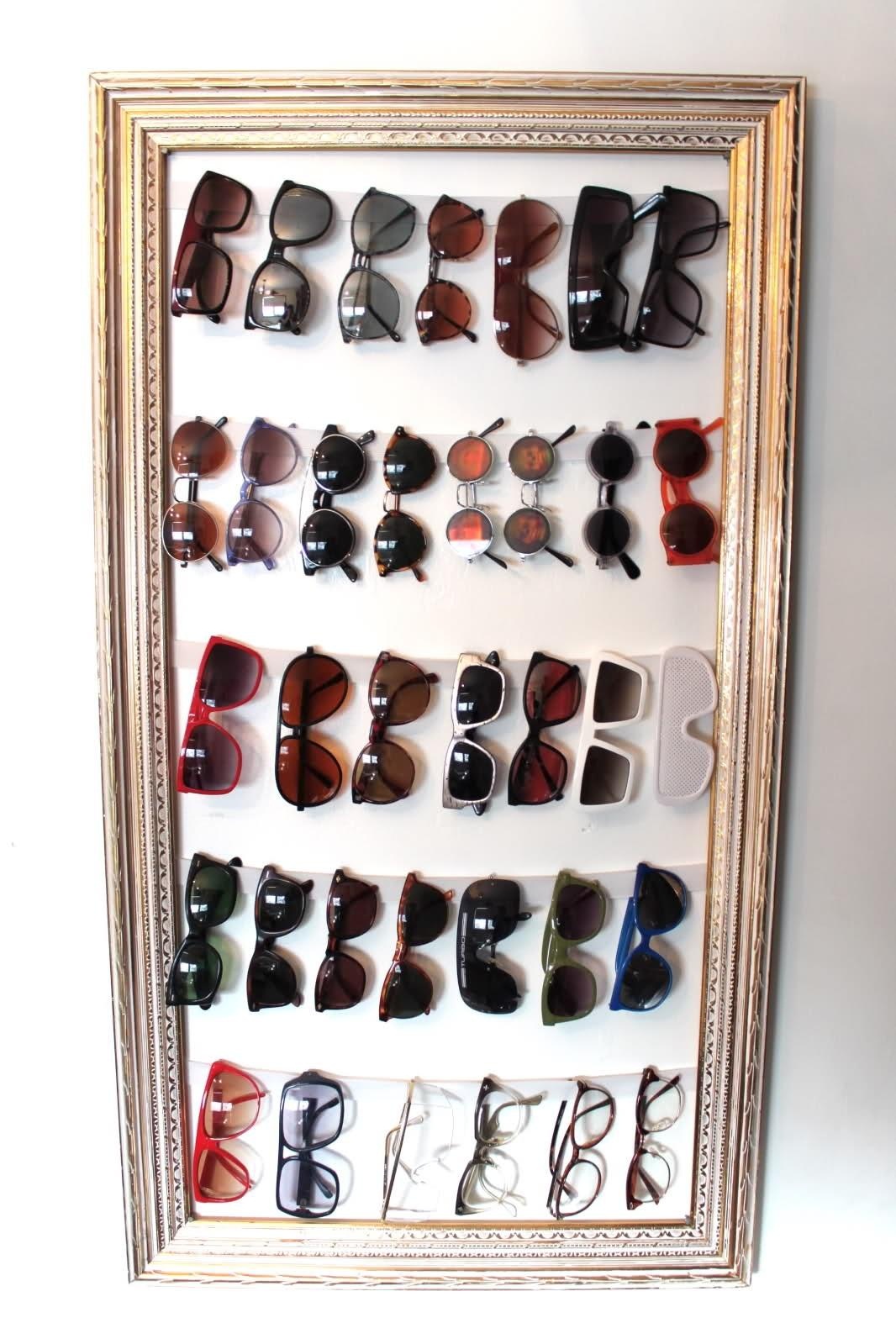 Come summertime the sunglasses collection comes out. Well, true, some have it out all year long, so how do you keep your favorite designer and regular sunglasses all safe and tidy? On a sunglasses stand? With sunglasses cases? How about a sunglass frame? Yes, you can display all your favorite sunglasses in one neat display, and it is one you probably already have at home, you just didn't know it until now.
8. Picture Frame Side Table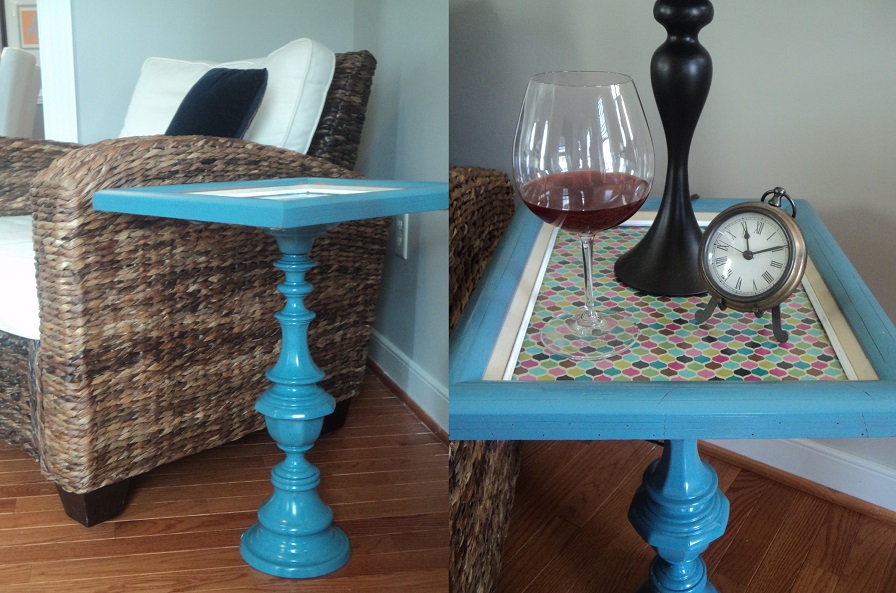 Do you have one of those tall old lamps at home, maybe stashed away somewhere, not quite willing to get rid of it? Then you'll certainly find this idea interesting since you can turn the base of that lamp into a nifty side table if you just combine it with an old picture frame. And if you don't have one, but still want to try this project, using four old table or stool legs can work as well.
9. Picture Frame Shelves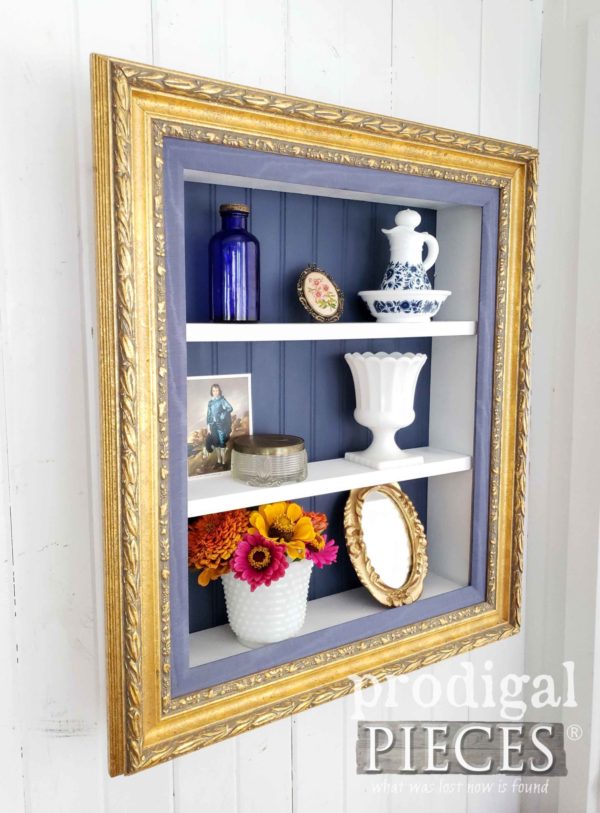 Even those who are like the modern style decorating more, have to admit that these framed shelves are totally tripping. It'slike a real-life picture you can rearrange all the time. And it is much easier to make than it looks.
10. Scrabble Magnetic Board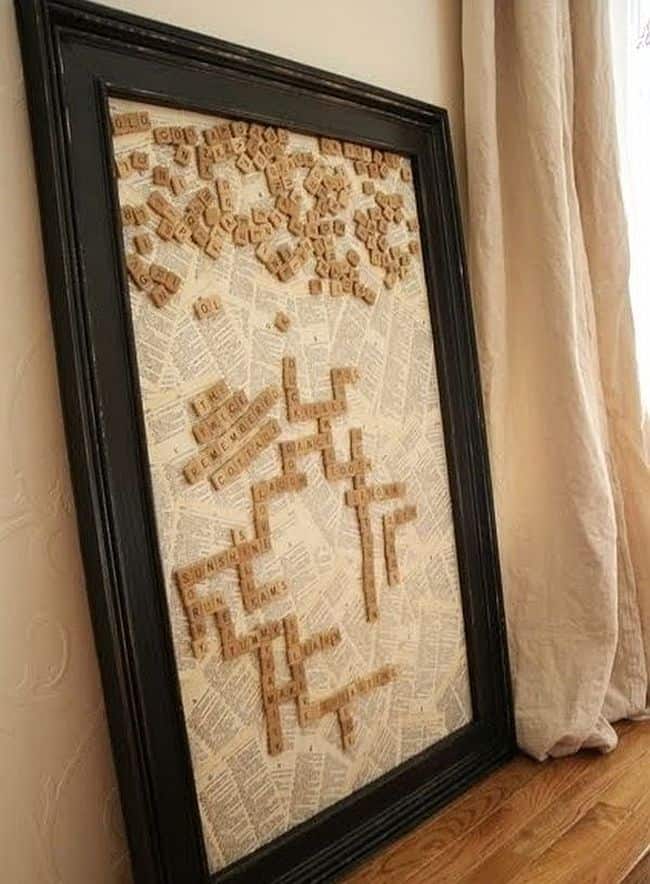 The popularity of board games is slowly but surely making a comeback. So if you are into scrabble and want to spice things up a bit, you can try making this magnetic scrabble game. It might take a while to prepare it, but the fun afterward will be just as good, if not better.
11. Framed Stick Art Welcome Sign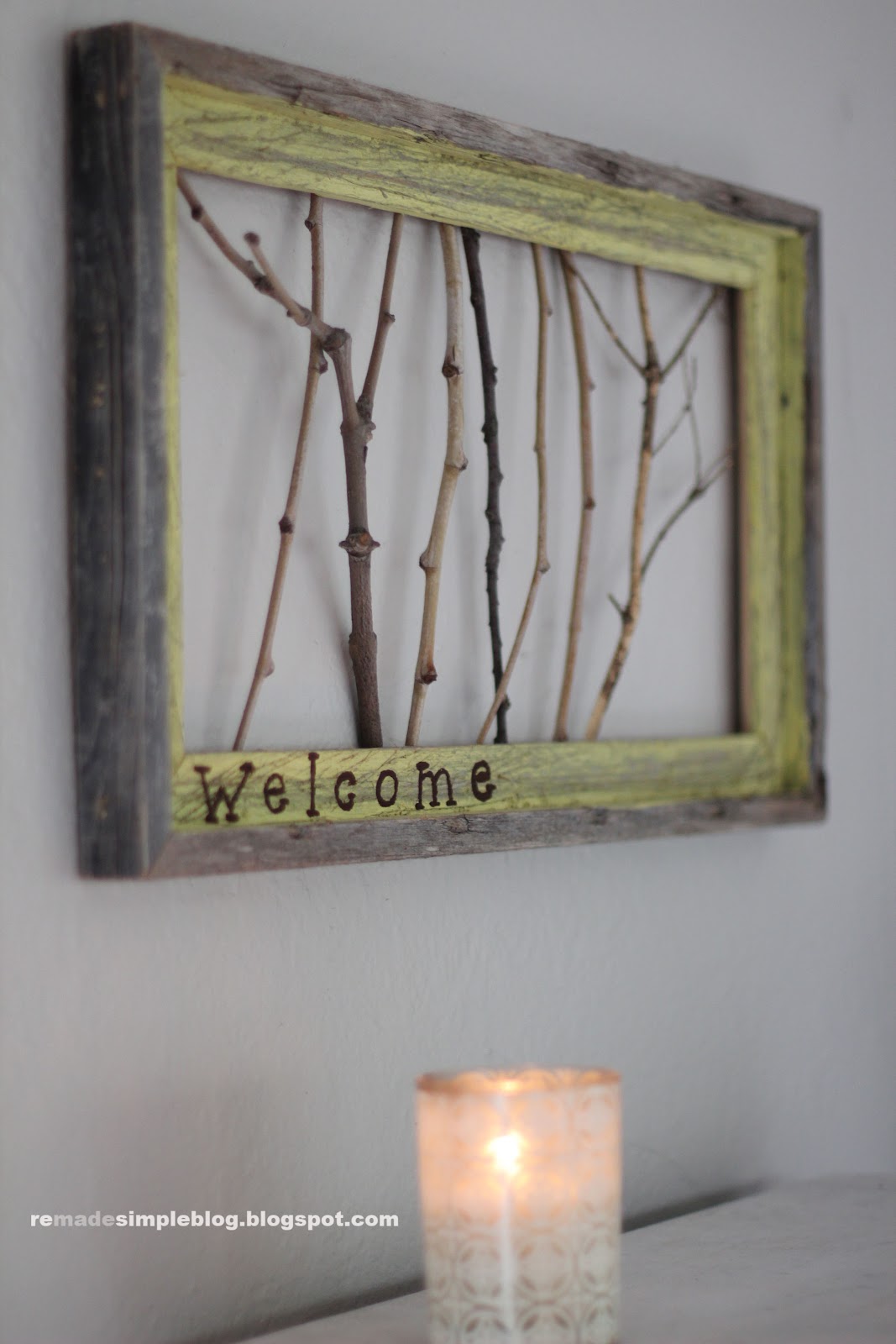 Looking for an unusual earthy decor to welcome your visitors? This one is practically free. A few interesting twigs from outside and a picture frame and you too can easily be the proud owner and creator of beautiful wall art like this one.
12. Picture Frame Jewelry Display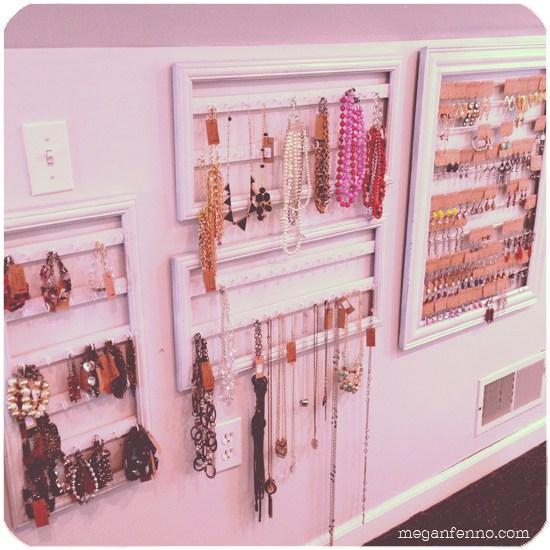 Of all the personal things women struggle with keeping organized, accessories are probably the most challenging of all. Even in well-arranged jewelry boxes, all the earrings, necklaces, and bangles get tangled up easily. That won't happen if every piece of jewelry has it's own designated space. That can't be achieved with a box, but it can with frame. Specifically, a big picture frame or a few and some hooks. You'll never want to use a jewelry box again.
13. Tiered Herb Drying Rack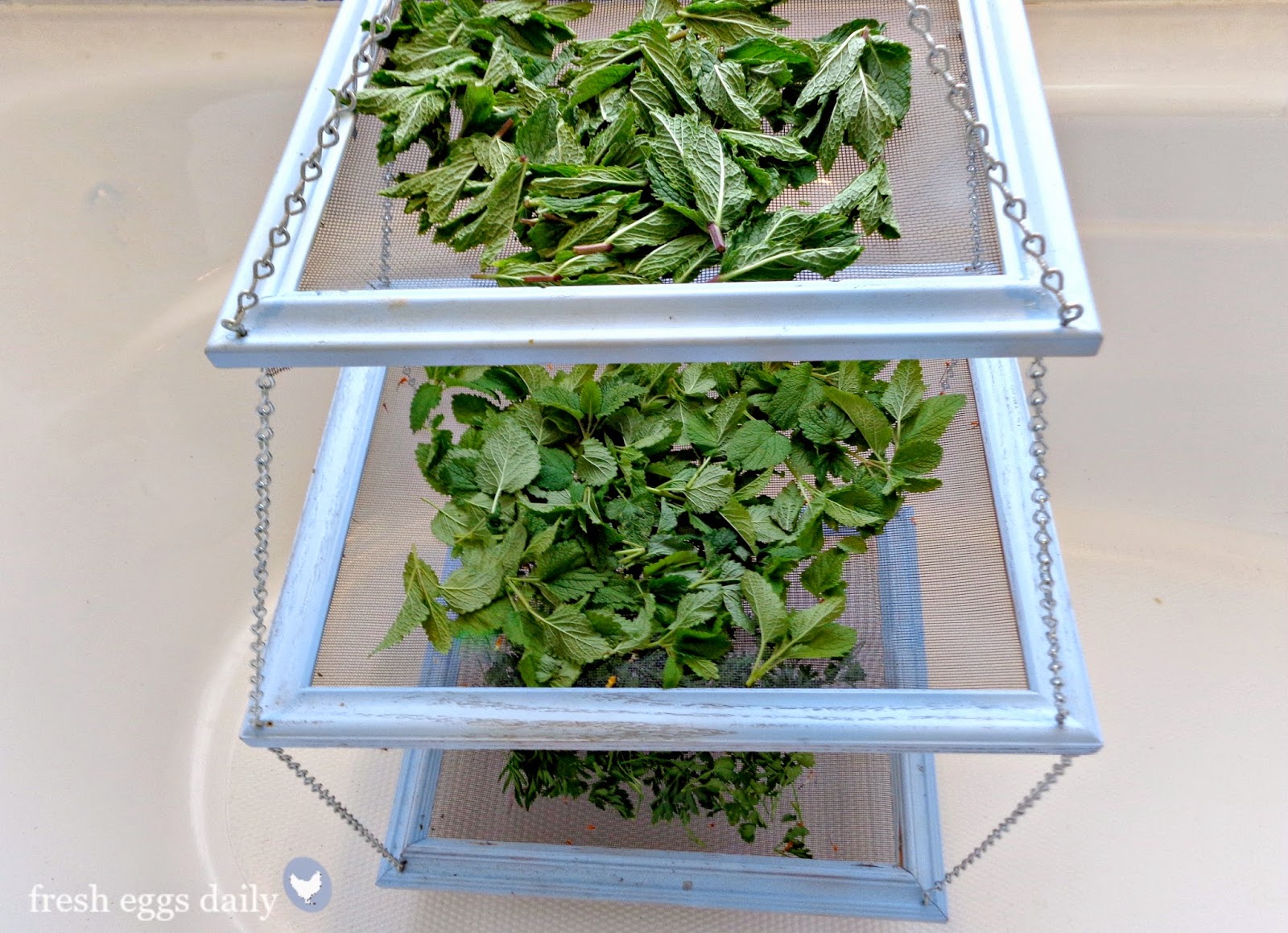 The best way for herbs to dry out properly, evenly and fast, is to hang them up somewhere where air can get to them from all sides. That's what makes this project perfect. They really appear like floating in the air, and the setting itself looks quite cool too.
14. Framed Headboard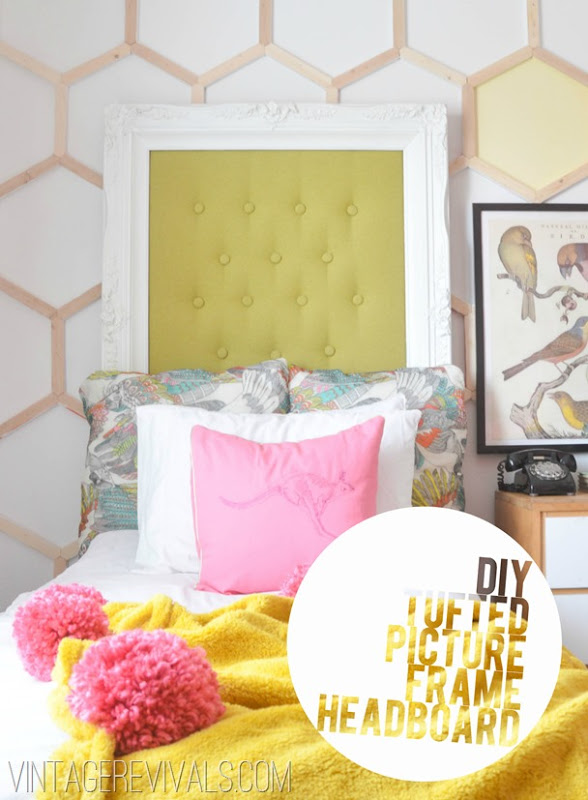 All beds used to come with headboards, in the past, now they seem like an additional, more expensive feature you can choose. Well, the good thing about that is headboards are insanely easy to make. Like this one, made from, yes, a picture frame. You can't even tell it didn't come with the bed, right?
15. Chicken Wire Frames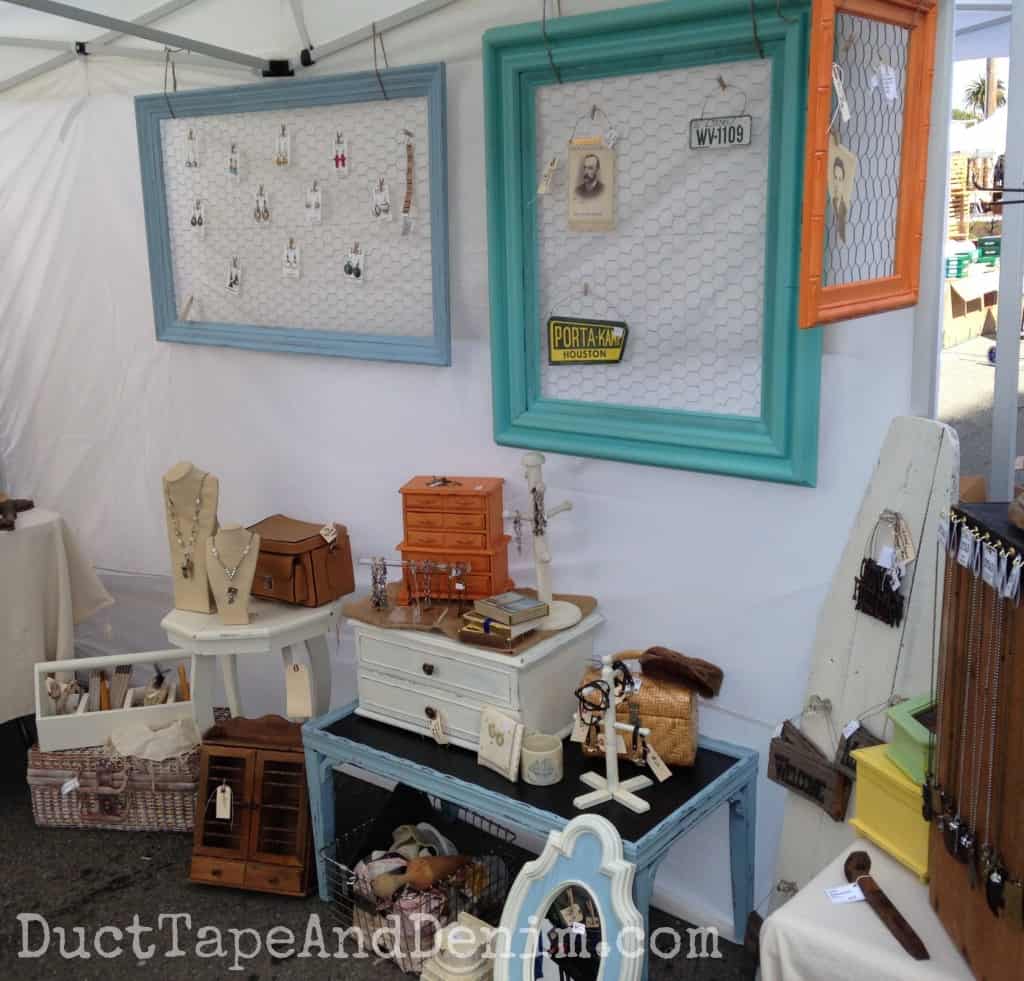 Search through Pinterest or anywhere on the Net and you'll get plenty of ideas and uses for chicken wired old frames. It is your job to choose what you'll be using the frame for, but this tutorial job to show you how to actually make it. You're welcome.
16. Ceiling Medalion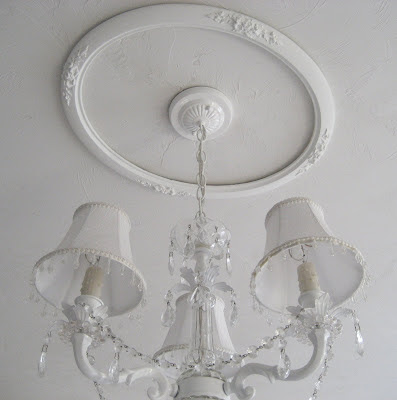 This project may not appeal to everyone, but if you live in a house with high ceilings and do have a hanging chandelier than you absolutely must try this. It will transform the feel of the room, You'll just need some paint and few nails and the effort is worth it.
17. Large Picture Frame Chalkboard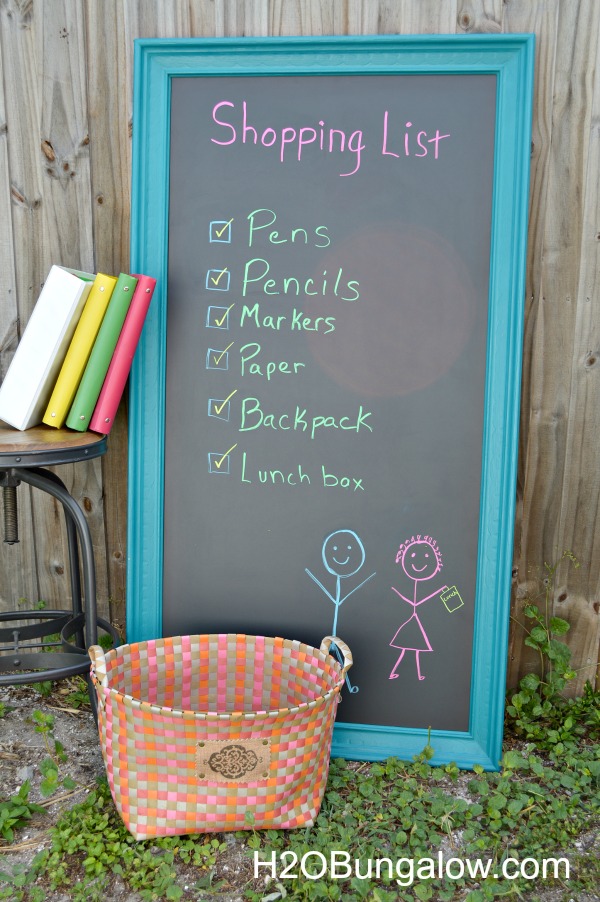 Get the kids to feel like they're back in school, by giving them a huge blackboard to write on and play with.  It is very easy to make, with just a few supplies to get, but you can be sure that your kids will have lots of fun in the end.
18. Picture Frame Charger Stand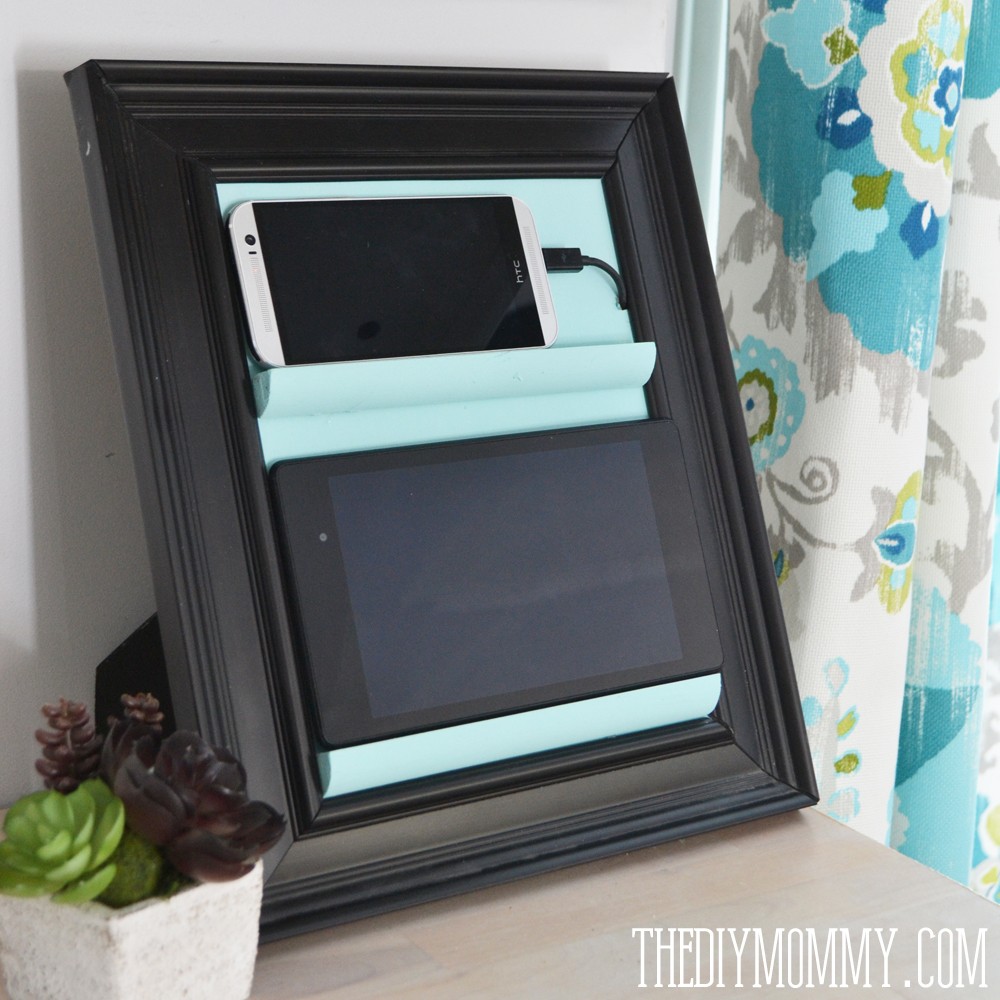 When you need to charge your phone, tablet, iPad, or any other chargeable device, you don't particularly care where the device is placed, as long as it's charged in. That's how accidents can happen. The device is pushed over the table stepped on the floor or any other way, the end result is the device being damaged. So take some time and make a charging station to keep the devices safe. And this is the project to help you do it.
19. Barnyard Style Lamp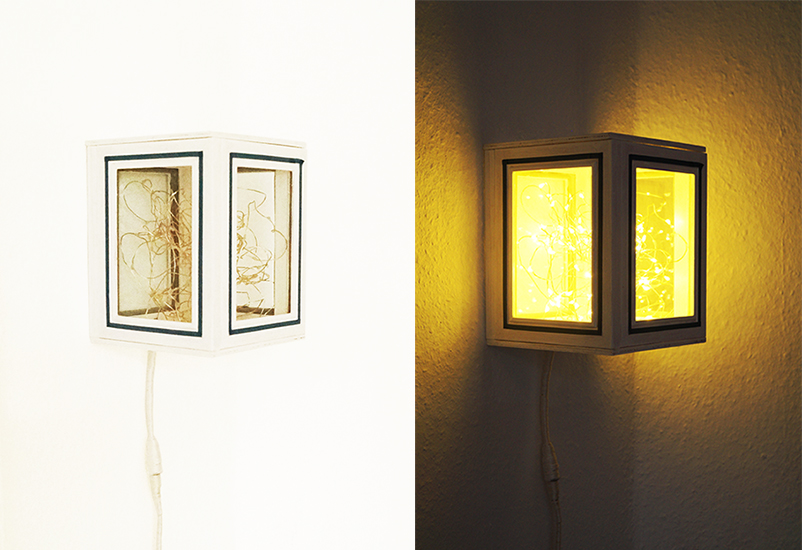 Like many rustic decor pieces, the barnyard style lamp is again becoming popular. If you too want to try out this style and see how good it will look on your porch, and don\t feel like spending a few tens of dollars, then this project will be perfect for you.
That's all we have for you for now. We hope we've inspired you to give new life to your old picture frames, just as they kept your captured memories safe for years. Which picture frame project would you try? What would you make with picture frames? Share your thoughts and ideas in the comments with us, we appreciate them.