What is a house without a patio? You must love having one.
Patios are always considered a trademark of any yard. They are practical and do not take a lot of space. With the cool designs and modern twists, covered or not, patios will be in style for long. They can be attached to the house or standing alone in the middle of the yard. However, they are beautiful in anyway.
Have you ever thought of building one yourself? Below you can find ideas and tutorials on how to construct a cool patio for your yard. It is easy and cheaper than have it built. Enjoy the work.
1. White Pergola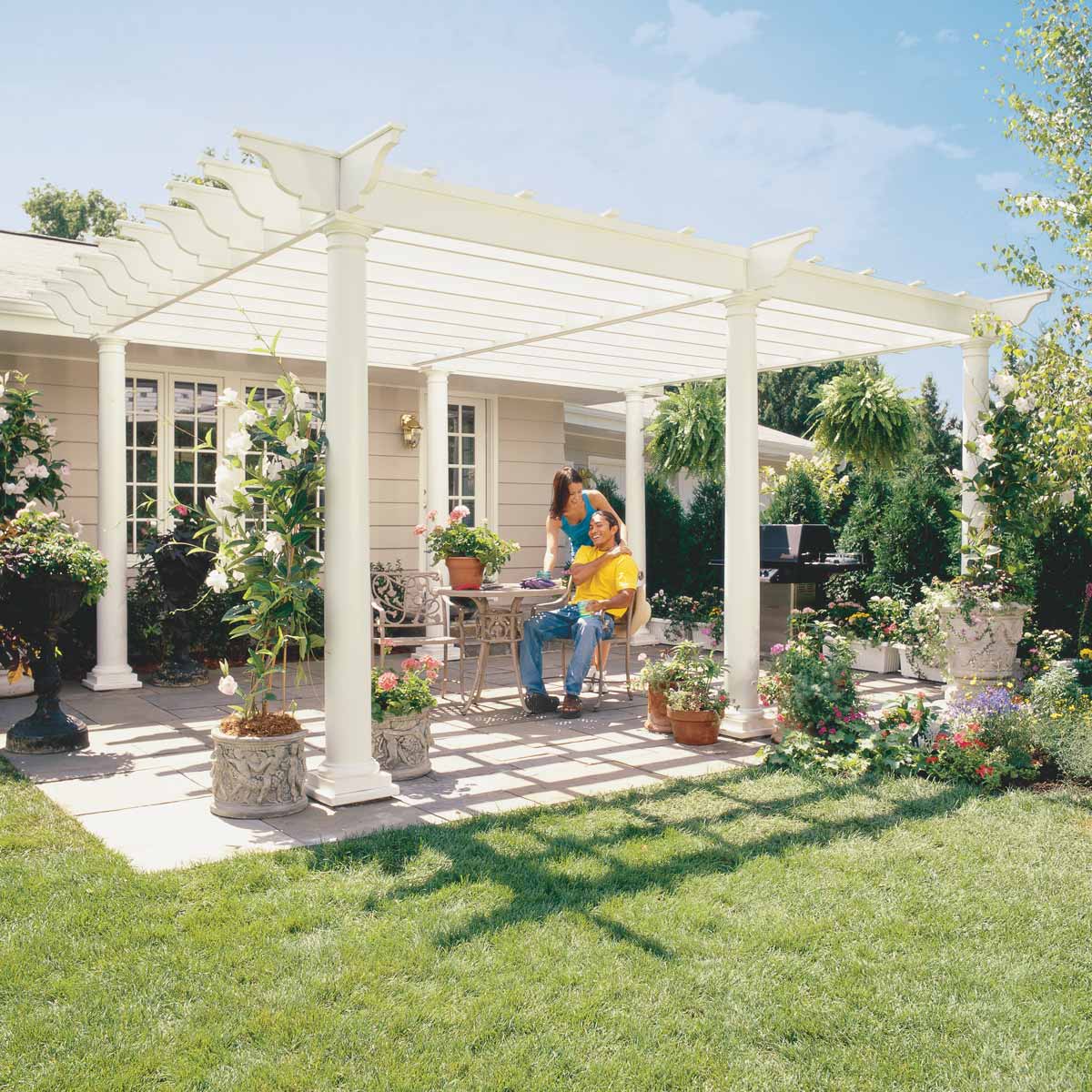 This white pergola looks splendid in the yard. It will give freshness and light to the garden and combined with flowers in different colors will be a perfect place to spend a quiet afternoon at home. Add a grill to complete the family feast.
2.  Small Pergola Garden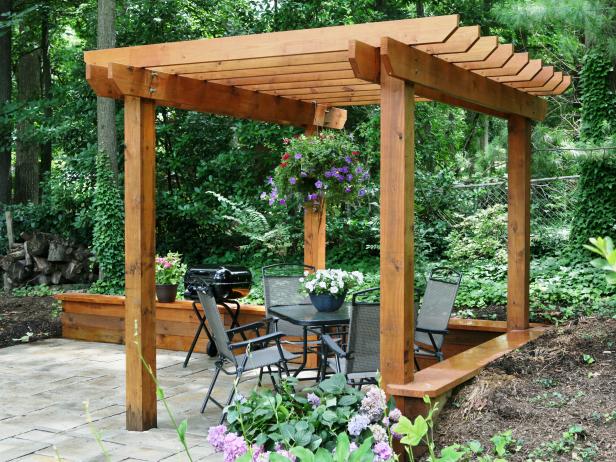 Here is an idea for a simple garden pergola to semi-cover your garden corner. Made of solid wood, combined with metal garden furniture, it will perfectly blend into the greenery of the environment. It is easy to make and doesn't cost a fortune.
3. Round Single Standing Pergola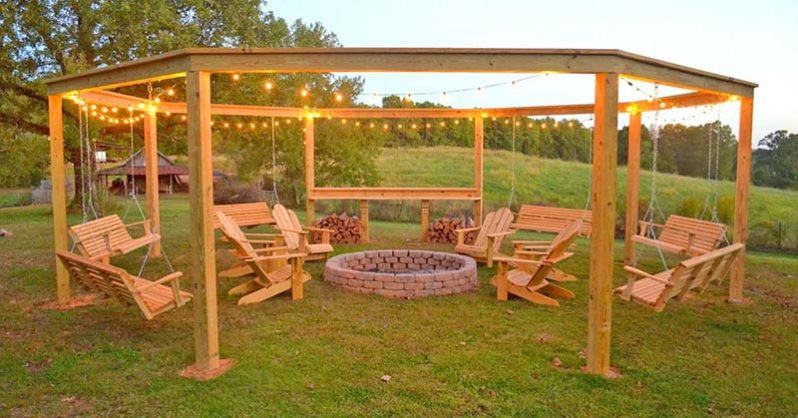 This modern round pergola is best for a large backyard in the countryside. It is so large that you can build a fire-pit in the middle of it. Combined with swinging benches, wooden chairs and topped with a string of lights, it becomes the perfect place to have fun with your friends and family and enjoy nature.
4. Fairy Tale Pergola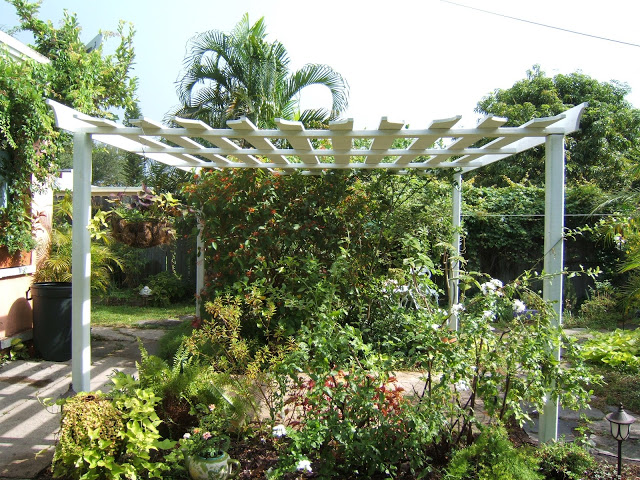 With this pergola and the greenery around it, your garden will look like it came out of a fairy tale. You can attach it to your house or put it in the middle of the garden to make it stick out. Here, you can enjoy a peaceful afternoon with your loved ones, or a great white party with your friends. Whatever you choose, you will feel like in a fairy tale.
5. Canopy Covered Patio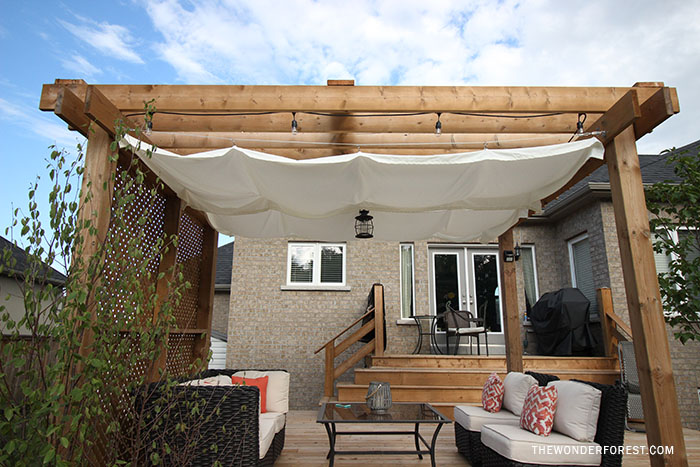 This massive wooden patio will look cozier if you cover it with a cloth on a canopy. The white cloth will make it bright, and cloth in bright colors will give it a modern and cool look. Paired with good outdoor furniture and cool pillows to complete the cozy feeling.
6. Simple Covered Patio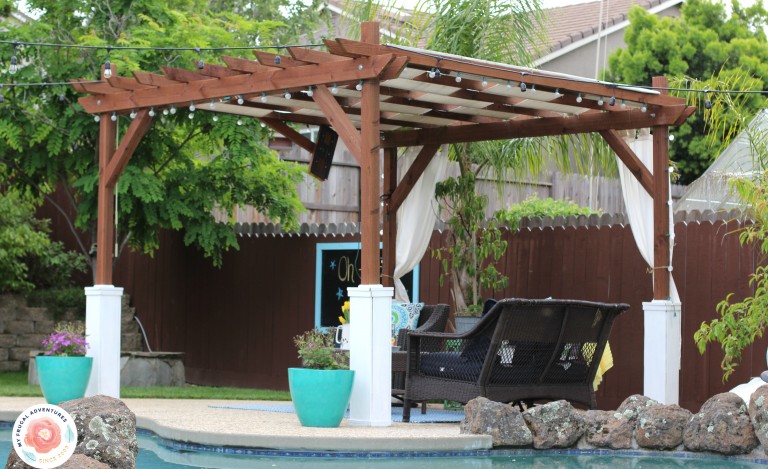 If you love simplicity, this patio is exactly that: simple and unique. You can cover it with two-colored cloth, and pair it with white curtains, to get a bright and elegant look. Combined with bamboo garden furniture and large plant pots in bright colors will make it a perfect spot for family afternoons and evening parties.
7. A Bit Different Pergola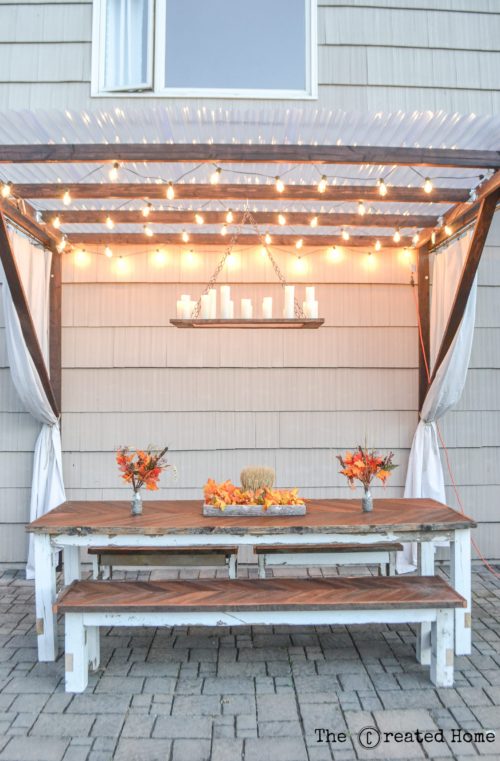 If you have a smaller yard and still want a pergola, here is a small pergola for you. It serves as a pergola and table roof at the same time. If you cover it with glass and put some lights in it, you will get a perfect romantic place for you and your love. Enjoy the whiteness and the calmness of your small yard.
8.  Attached Pergola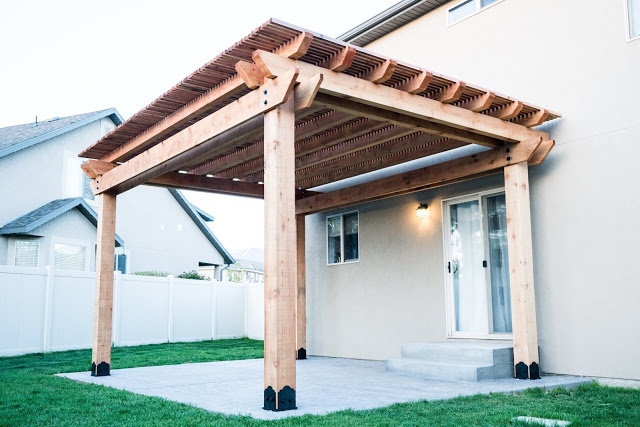 Here is an idea of how to attach the pergola to your house. It is convenient if you have an open backyard, with a backdoor without any roof or coverage. This attached pergola will cover your door and your patio and will give you a cute place to enjoy in the yard.
9. Green Pergola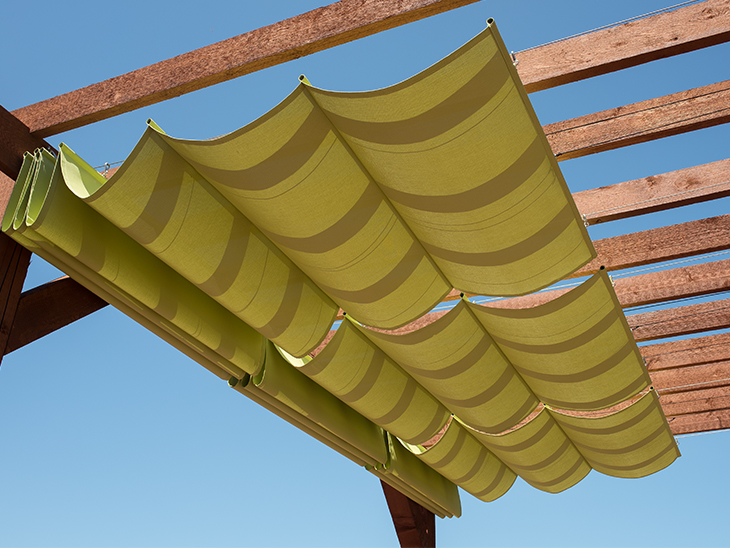 This canopy pergola is easy to make and very cheap. It doesn't require a lot of skills and doesn't cost a lot. Make sure you put it in the right spot and use the right material. Everything else is as easy and functional. Uncover the patio to let the sunshine in, and cover it to protect you from the spring drizzles while you enjoy your backyard.
10. Patio on the Porch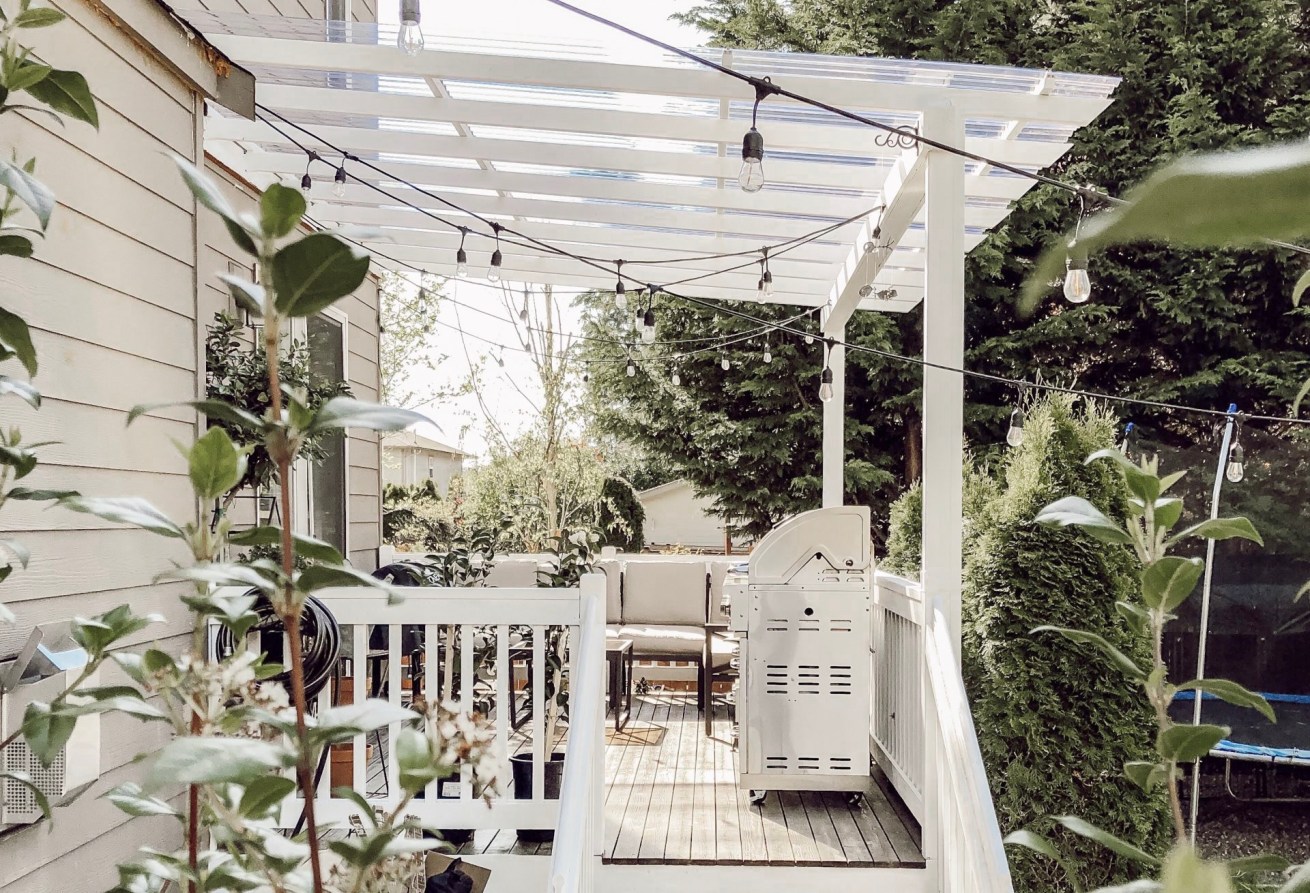 You have an open porch and don't want it fully covered? This patio is just for you. Build it on the porch up to the stairs, paint it white and cover it with glass roof. It will let the sunlight in and protect your porch from the rain. Light it with a string of light, pair it with white furniture and enjoy your time out in nature.
11. Old World Patio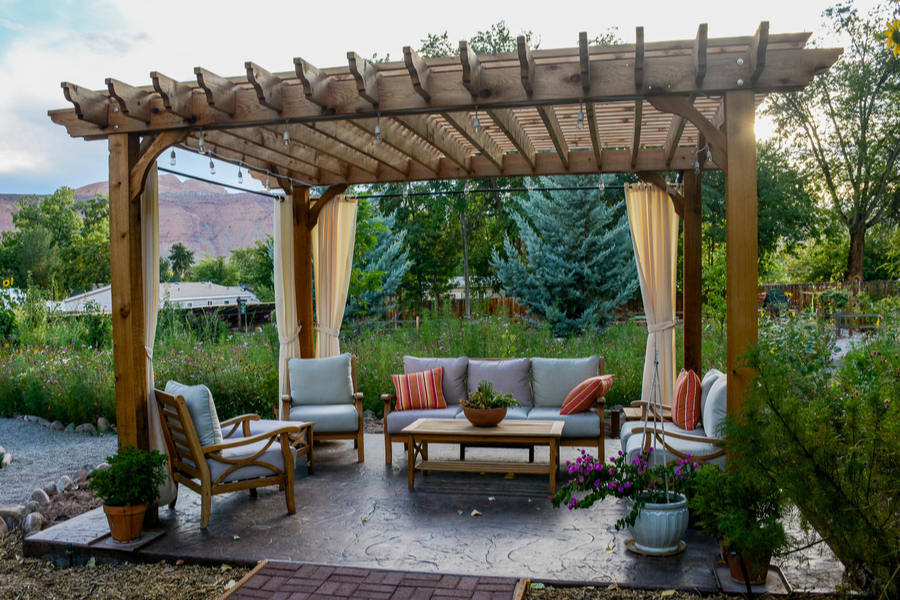 Living on the farm today can be very cozy. Especially if you have this sweet pergola in your farmyard. Right there in the middle of the greenery, the pergola will bring a modern twist to the vintage garden. Combined with modern garden furniture, cool curtains, and strings of lights, it will be the perfect place to rest in the long summer nights.
12. Backyard Summer Spot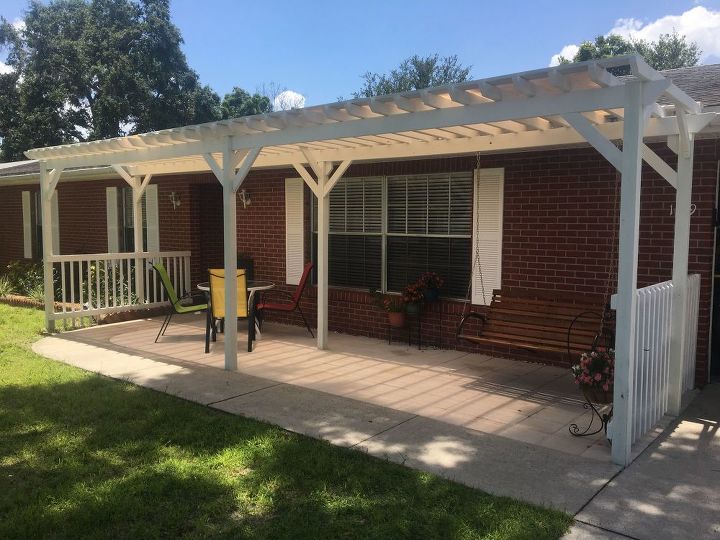 This attached pergola is great for a smaller backyard. With its simple and vintage look, it gives the house a cozy and complete feeling. It can be as large as you want and cover a part of the whole backyard. The fence on the sides makes it more private for you to enjoy.
13. Cloth and Lights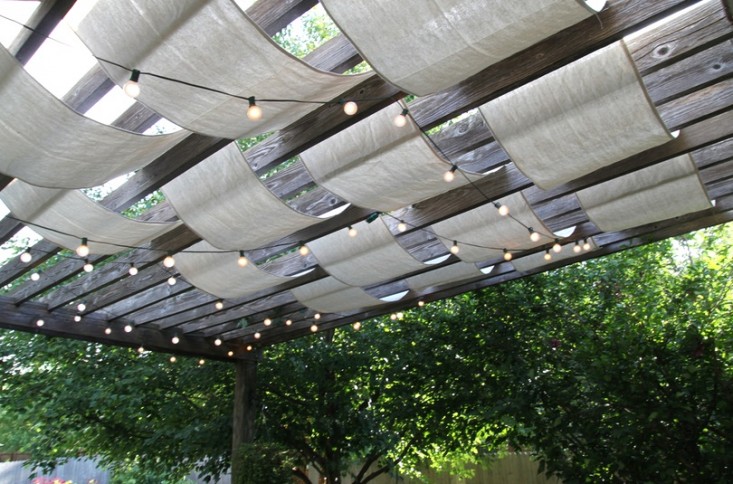 This combination of cloth and lights will make your pergola look chick. Either attached or single standing, it will have a modern twist and a chick feel. It is easy to make, doesn't cost a lot, and still feels cozy and modern.
14. Floating Pergola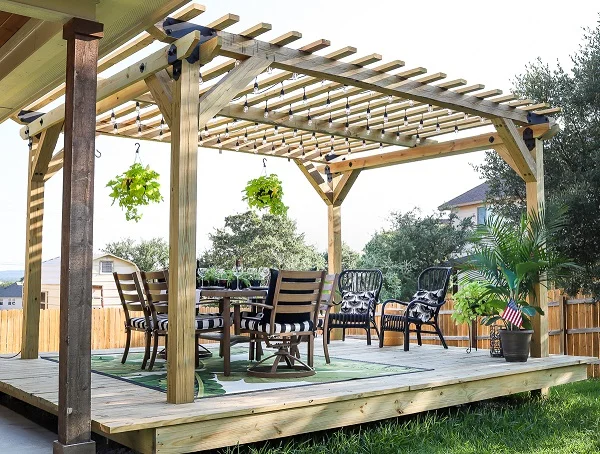 This pergola on an elevated patio looks like it is floating. If you don't want to ruin the grass and still have a patio with a pergola, here is an idea of how to build it. It can be attached to the house and covered with lights to make it more comfortable for your whole family and friends. The potted plants will give it freshness and coziness.
15. Roof Addition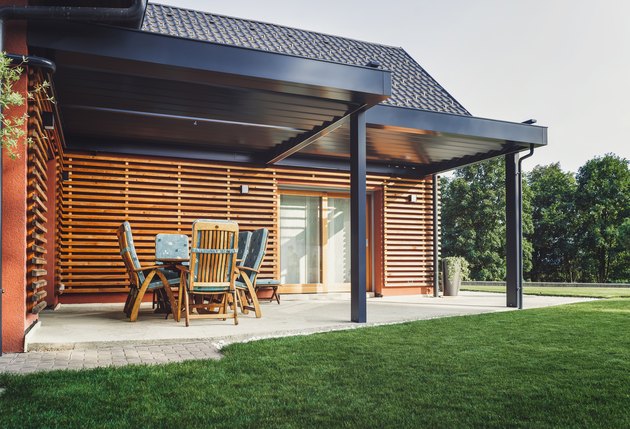 This semi pergola is very good to attach it to the house to cover the patio. It will give sunlight and still keep shade to both your house and the sitting area outside. The dark colors will make it pop from the surroundings and have a modern twist. Pair it with wooden walls to give it a more cozy feeling.
16. Modern Patio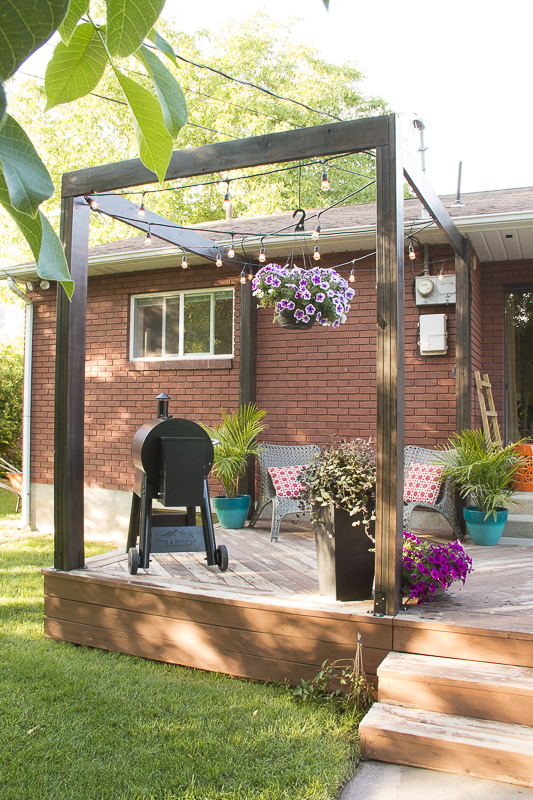 What is more beautiful than a simple modern pergola for your patio? Very easy to make, with only four pillars, combined with lights and flowers it will give the modern twist to your backyard.
17. Family Pergola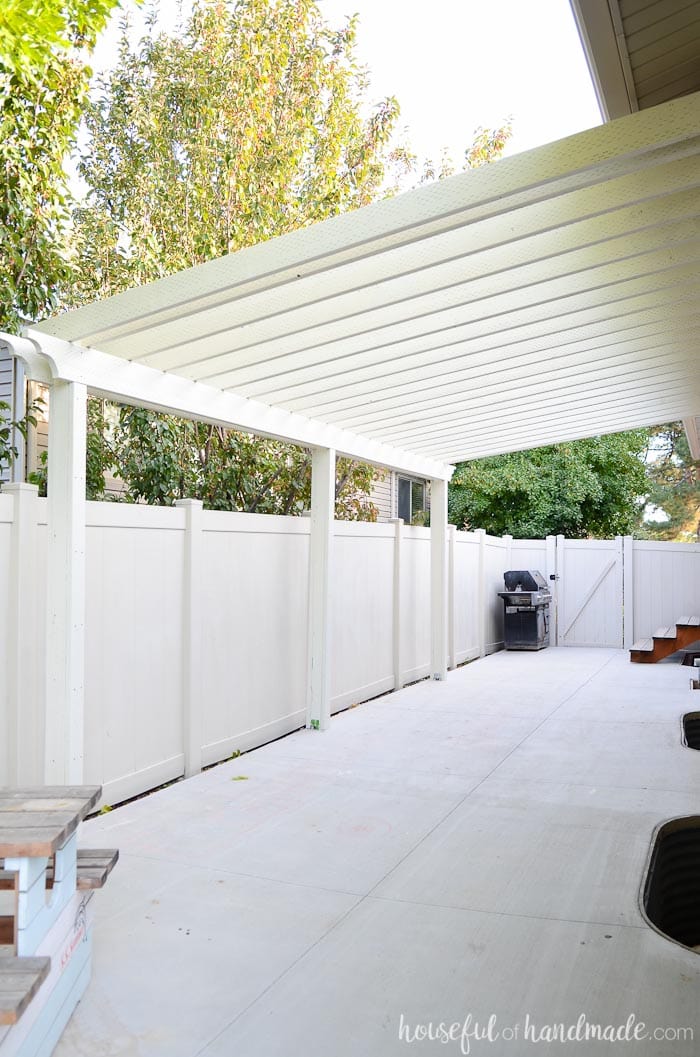 This white addition to your family house will make a perfect place to enjoy and entertain. Built with white wood planks and combined with white thick fence it brights the surrounding gives it a clean look. Entertain your friends and family with the grill station and enjoy the sun and good times.
These ideas might help you find inspiration for your home. If you like what you see, please comment in the comment section below.