The most wonderful time of the year is upon us, and there's no better way to infuse your home with the enchanting spirit of Christmas than by adorning it with twinkling lights. From the soft glow of fairy lights to the vibrant hues of stringed bulbs, these luminous decorations have the power to transform your space into a magical wonderland.
In this guide, we'll delve into the art of creating a mesmerizing Christmas atmosphere with lights. Whether you're a holiday decorating enthusiast or a newbie looking to sprinkle a little magic around, we've got tips, ideas, and inspiration to help you illuminate your festive season like never before. Let's get started.
Choose the Right Lights
Selecting the appropriate Christmas lights is the foundational step in creating a magical holiday atmosphere. Opt for LED lights, which are energy-efficient and long-lasting. The choice between warm white and multicolored lights sets the tone for your decor.
Warm white exudes a cozy, traditional ambiance, while multicolored lights create a lively and playful atmosphere. Consider the size and style of the bulbs, whether traditional, mini, or globe-shaped, to suit your overall theme.
Additionally, think about whether you want twinkling or steady lights to add variety to your displays. Picking the right lights forms the basis for a stunning and enchanting Christmas decoration scheme.
Engage Installation Experts
Engaging holiday and Christmas light installation experts can alleviate the stress and ensure a professional touch to your festive decor. These professionals have the experience and equipment to safely and efficiently hang lights both indoors and outdoors. They can help design and execute elaborate displays, including intricate roofline lighting, tree wrapping, and intricate yard decorations. You can click here for their portfolio of past installations, pricing options, and customer reviews to make an informed decision and bring the holiday magic to your home or business. Hiring experts also means you won't have to deal with the hassle of untangling lights, climbing ladders, or troubleshooting electrical issues. Moreover, they can provide guidance on the most suitable lighting options and trends, ensuring that your home shines brightly and impressively throughout the holiday season.
Light Up Your Home's Exterior
To create a captivating Christmas atmosphere, it's essential to light up your home's exterior. Outdoor Christmas lights are key in setting a welcoming and festive tone. Start by outlining your rooflines with string lights, creating a stunning silhouette against the night sky. Consider adding pathway lights to guide visitors and enhance the magical ambiance. Decorate your yard with illuminated reindeer, snowflakes, or other festive figures for a whimsical touch.
To complete the look, wrap lights around trees and bushes. Outdoor lighting not only showcases your holiday spirit but also spreads joy to neighbors and passersby, making your home a beacon of warmth and celebration during the holiday season.
Create a Cozy Indoor Ambiance
Indoors, the magic of Christmas truly comes to life when you create a cozy ambiance using lights. String lights or fairy lights can be artfully draped along mantels, staircases, and windows, casting a warm and inviting glow throughout your home. Twinkling lights bring a touch of whimsy to your indoor decor, enhancing the overall enchantment.
Consider using candlelight, real or electric, to add a romantic and nostalgic element, perfect for intimate gatherings or quiet moments of reflection. Whether you're hosting a festive get-together or enjoying a peaceful evening by the fireplace, the soft and radiant ambiance created by indoor Christmas lights will fill your home with the spirit of the season.
Use Candlelight and Luminaries
Candlelight and luminaries hold a special place in the heart of a truly magical Christmas atmosphere. The soft, flickering glow of candles, whether traditional or electric, imparts a sense of warmth and nostalgia to your holiday decor. Place them in window sills, on dining tables, and mantels to create a cozy and intimate ambiance, perfect for sharing cherished moments with loved ones.
Additionally, luminaries, whether crafted from paper bags or decorative containers, can line pathways, driveways, or porch steps, guiding guests to your festive home with a gentle, welcoming luminance. The combination of candlelight and luminaries adds a touch of enchantment that captures the essence of the holiday season.
Get Creative with Light Displays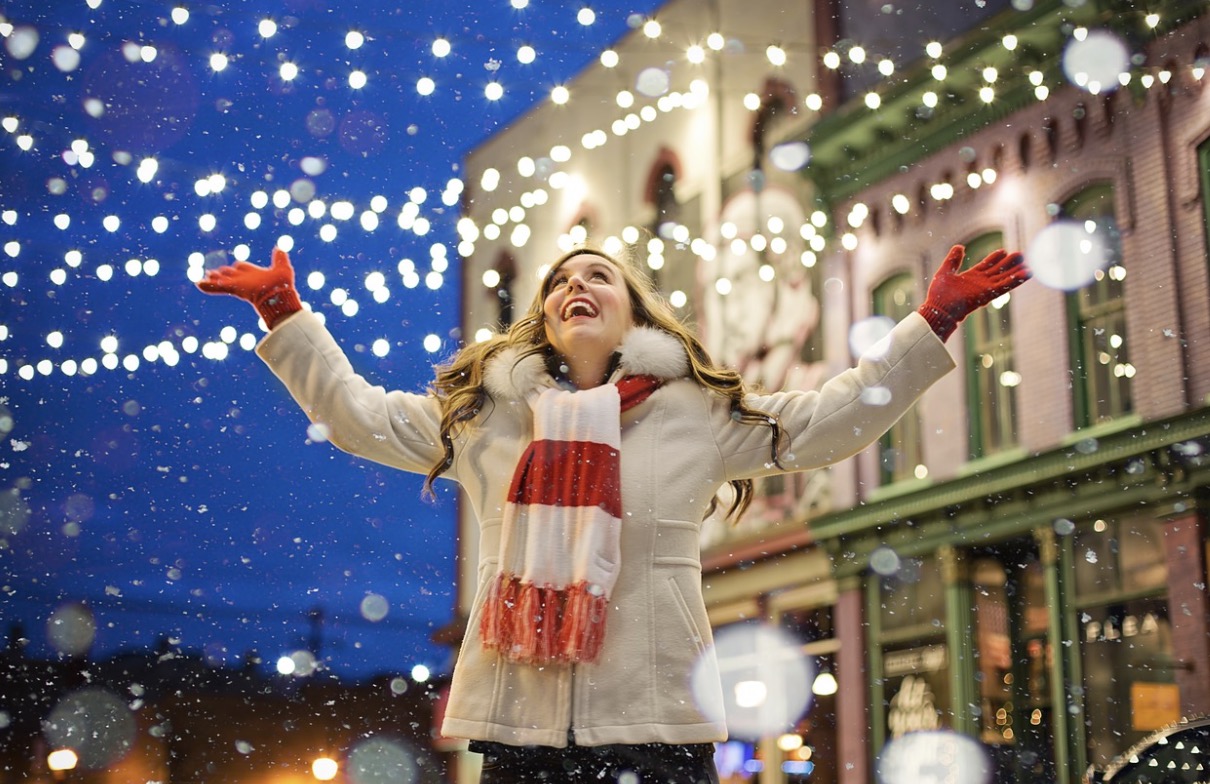 Getting creative with light displays is where your holiday decorations truly come to life. Beyond the traditional Christmas tree and outdoor string lights, you can infuse your home with a sense of wonder. Experiment with lighted garlands that adorn staircases or doorways, adding a touch of elegance to your interior.
Window silhouettes bring festive scenes to life for all to enjoy from the outside. Don't hesitate to add unique lighted outdoor sculptures, such as shimmering snowflakes, reindeer, or even a nativity scene in your yard, making your home a neighborhood standout. Let your imagination run wild, and watch as your creative light displays transform your space into a mesmerizing winter wonderland.
Incorporating the right lights, both indoors and outdoors, is the key to crafting a truly magical Christmas atmosphere. From the warm, inviting glow of indoor fairy lights to the captivating outdoor displays that captivate onlookers, lights have the power to infuse your home with the spirit of the season. Whether you choose to keep it classic or get creatively festive, the result is a warm, enchanting space that beckons all to share in the joy and wonder of the holidays. Light up your home, and let the magic of Christmas shine bright.