As the days grow longer and the temperatures rise, spending time outdoors becomes increasingly appealing. Your patio, regardless of its size, can serve as a sanctuary where you soak up the sun, dine alfresco, or simply retreat from the hustle and bustle of daily life. Whether you're a city dweller with a small balcony or a suburbanite with a sprawling backyard, creating a cozy patio space can transform your outdoor area into an inviting, personalized oasis that you'll love spending time on. Let's explore how you can design an outdoor haven that harmonizes with your lifestyle and aesthetic preferences, offering a perfect blend of comfort, function, and beauty.
Choosing Your Patio Furniture
Selecting the right patio furniture is a critical step in creating your outdoor sanctuary. Start by considering your space limitations and how you plan to use the area. For small balconies, multi-functional pieces like a bistro set that can serve as a dining and work area are ideal. Larger spaces can accommodate sectional sofas, fire pits, and dining sets. Remember, your furniture should not only be stylish but also durable and weather-resistant. Opt for materials that can withstand the elements while retaining their aesthetic appeal, such as teak, wrought iron, or all-weather wicker. Your seating should be comfortable, so invest in plush, outdoor cushions and throw pillows. Finally, ensure your furniture arrangement fosters conversation and relaxation, creating a warm, inviting ambiance.
Incorporating Plants and Greenery
A patio without plants is like a canvas without paint – it lacks character and vibrancy. Adding potted plants, hanging baskets, or creating a vertical garden are excellent ways to introduce greenery into your outdoor space. Consider the amount of sunlight your patio receives and select plants accordingly. Succulents and cacti thrive in sunny areas, while ferns and begonias do well in shadier spots. Incorporate a mix of textures, heights, and colors for visual interest. Adding an herb or vegetable garden not only adds to the greenery but also provides fresh ingredients for cooking and entertaining. If you're short on space, consider using wall-mounted planters or creating a mini garden on a tiered stand.
Selecting the Appropriate Outdoor Cushions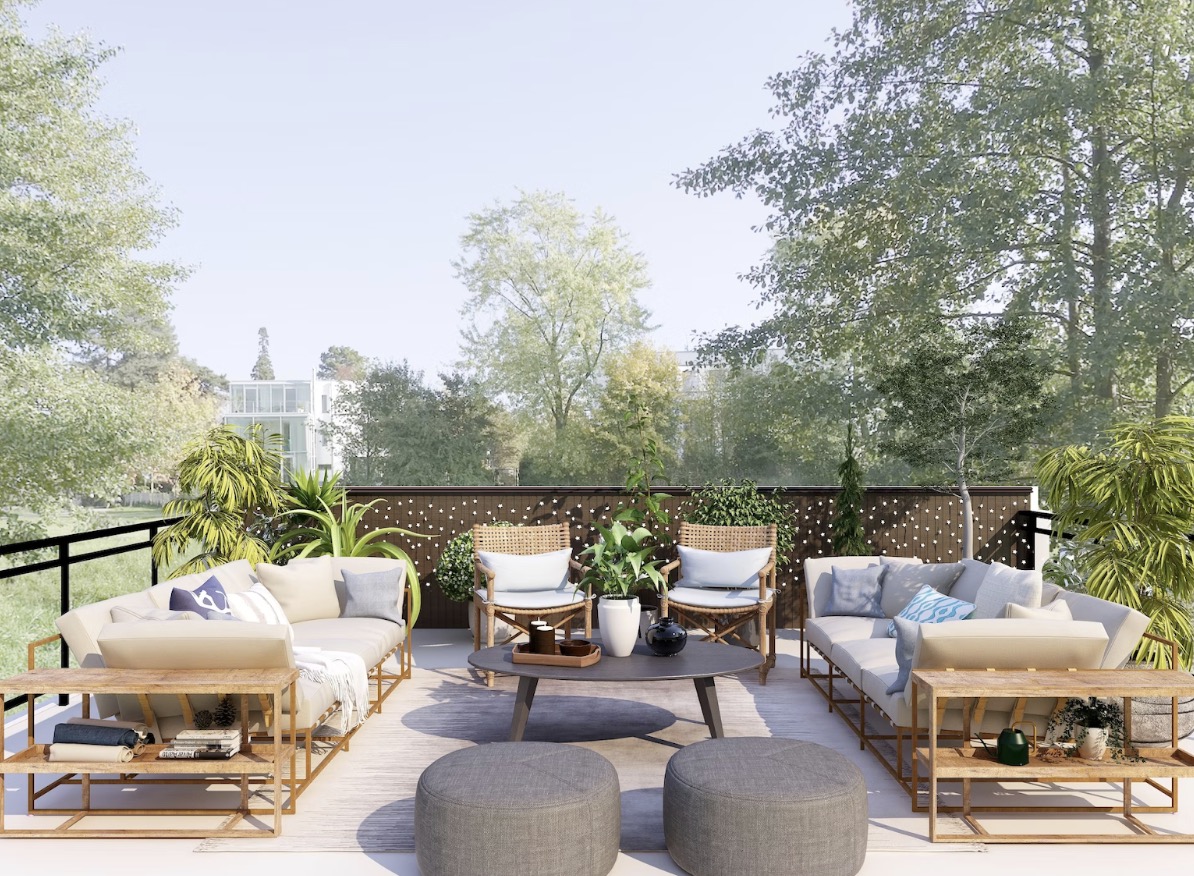 Choosing the perfect cushions can make a world of difference in both the comfort and aesthetic of your patio. When it comes to outdoor cushions, durability is paramount. They should be able to withstand the elements, resist fading, and maintain their integrity over time. But comfort is equally important. Your cushions should be plush and inviting, providing the utmost comfort for those long sessions of outdoor lounging or dining. And let's not forget about style. The style and color of outdoor cushions should harmonize with your outdoor furniture and overall patio decor. They offer a wonderful opportunity to infuse your space with personality, whether it's through vibrant colors, bold patterns, or unique textures. So, choose wisely and create a patio that is both inviting and visually stunning.
Enhancing with Lighting
Adding lighting can create a cozy ambiance while extending your patio's usability into the evening hours. String lights, lanterns, and candles are all popular options for outdoor lighting. Opt for solar-powered or LED lights for an eco-friendly and cost-effective solution. Lighting can also highlight architectural features, plants, and focal points in your patio design.
On the other hand pits and outdoor heaters can provide warmth and a cozy atmosphere on cooler nights. They also add to the aesthetic appeal of your patio while allowing you to continue enjoying it even when the temperatures drop. Fire pits and outdoor heaters can provide warmth and a cozy atmosphere on cooler nights. They also add to the aesthetic appeal of your patio while allowing you to continue enjoying it even when the temperatures drop.
Personalizing Your Space
Don't be afraid to infuse your personality into your patio design. Adding personal touches such as artwork, decorative pillows, or unique accessories can make your outdoor space feel more inviting and curated. Consider incorporating elements of your favorite hobbies or interests, such as a hammock for reading, a mini bar for entertaining, or an outdoor movie screen for film enthusiasts. Your patio should be an extension of your home and reflect who you are.
For instance, if you're a green thumb, create a mini garden on your patio with different plant varieties and unique containers. If you love to entertain, invest in space-saving furniture that can easily be moved around for different occasions. Get creative and have fun personalizing your patio to make it truly feel like your own cozy oasis.
In conclusion, creating a cozy patio that you'll love spending time on is all about personal touches, functionality, and comfort. Whether you have a small balcony or a large backyard, these tips can help you transform your outdoor space into a personalized oasis that suits your lifestyle and aesthetic preferences. Remember, the key is to create a space that invites relaxation and enjoyment, a place where you can retreat from the world, soak up the sun, dine alfresco, and enjoy the great outdoors. With a bit of planning and creativity, you can design a patio that is not only beautiful but also offers a perfect blend of comfort and function.