Halloween parties are becoming more and more popular nowadays since Halloween is no longer considered a holiday for kids only.
Many people are really putting a big effort and a lot of time into organizing their best Halloween party. Celebrities organize big, posh parties where they present their skills in creating great costumes and competing whose mask is the best. These high-level parties are never without great food and drinks. Sweets, treats, desserts, drinks, everything is spookily decorated and served in the spookiest way possible.
However, these food and drinks do not taste as bad as you might think. On the contrary, they are very delicious. Especially the cocktails. They can be named after a disgusting event or thing, and even decorated as such, but you'll see that the Dracula's Blood actually tastes very good. These cocktails can be spooky, and great at the same time.
Below is a list of a really small part of these cocktails that you can easily prepare at home, especially if you are a cocktail person. The ingredients are simple, can be found anywhere and a cocktail lover usually has all of them all the time. So, prepare to get inspired and start mixing the spookiest cocktails you have ever made.
1. Hypnotc Cocktail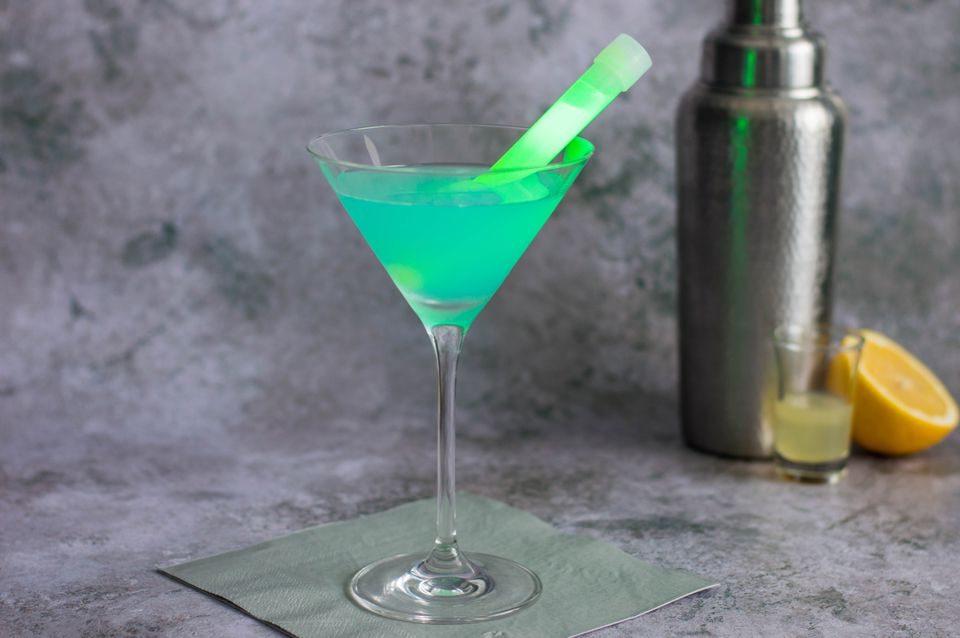 This cocktail, as the name says, will hypnotize you immediately with its color, and then with its sweet and strong taste. It is vodka with Hpnotic liqueur combined with a splash of lemon juice. The decoration of a glow stick makes it perfect not only for Halloween but also for any other splash-of-color party. Simply stunning!
2. White Shivers Cocktail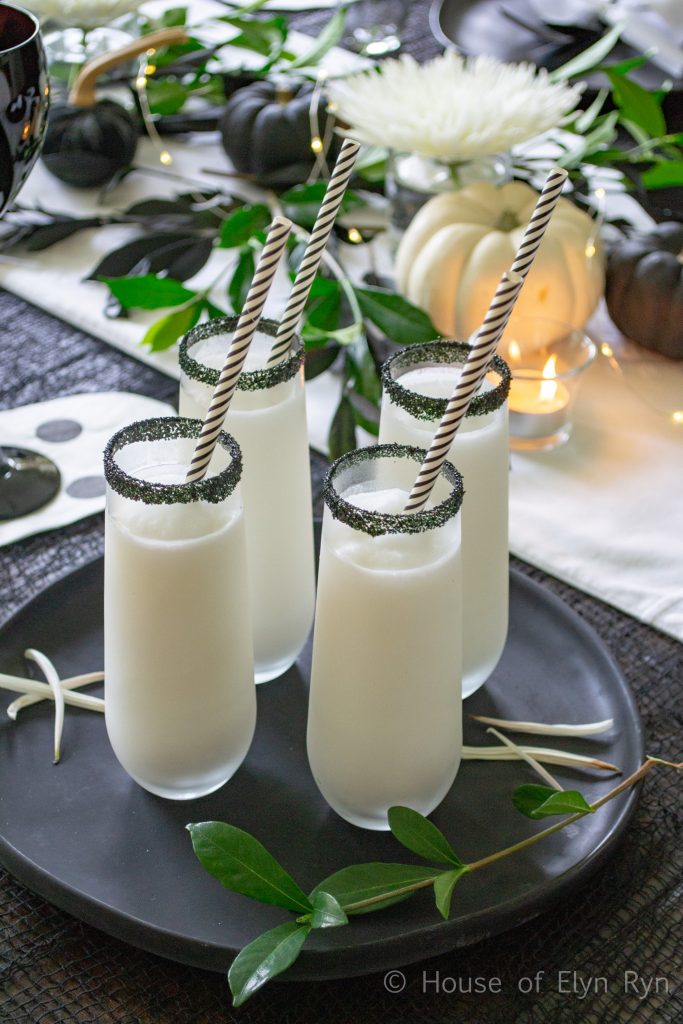 White on the Halloween table? Why not. It will give the blackness a big shine, and it will make the whole table even more sparkling then it already is. The coconut flavor of this cocktail makes it different from what we are used to in cocktails, but it is so unique that you will want to have it all year long.
3. The Witch's Heart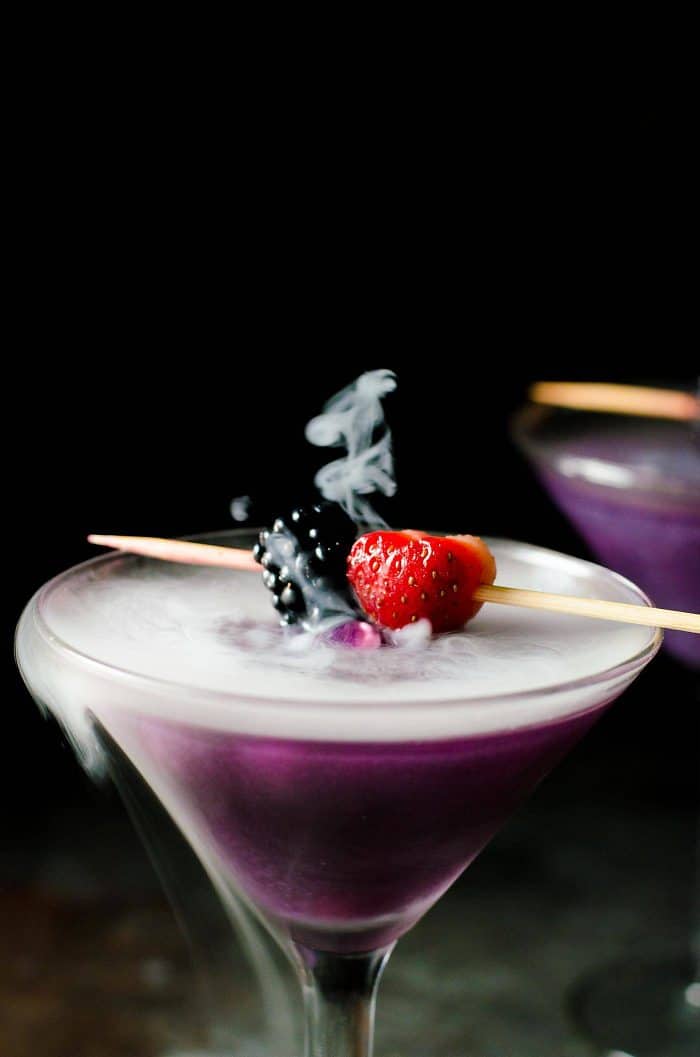 The heart of a witch is purple, instead of red, according to this cocktail. And it can easily capture your heart and soul only if you try to taste it. Apple brandy, Grenadine, and blackberry liqueur, what's there not to like? Add some dry ice to get the smoking effect and add strawberry and blackberry on top to complete the look.
4. Poison Apple Cider
The color of this cocktail really resembles a wax apple that one might see around the candle shops. That's why it got the name after the Snowhite's poison apple. It is actually a combination of apple cider, rum, pomegranate juice, and Grenadine, but the addition of gold edible luster dust makes it unique and shiny.
5. Potion de Muerto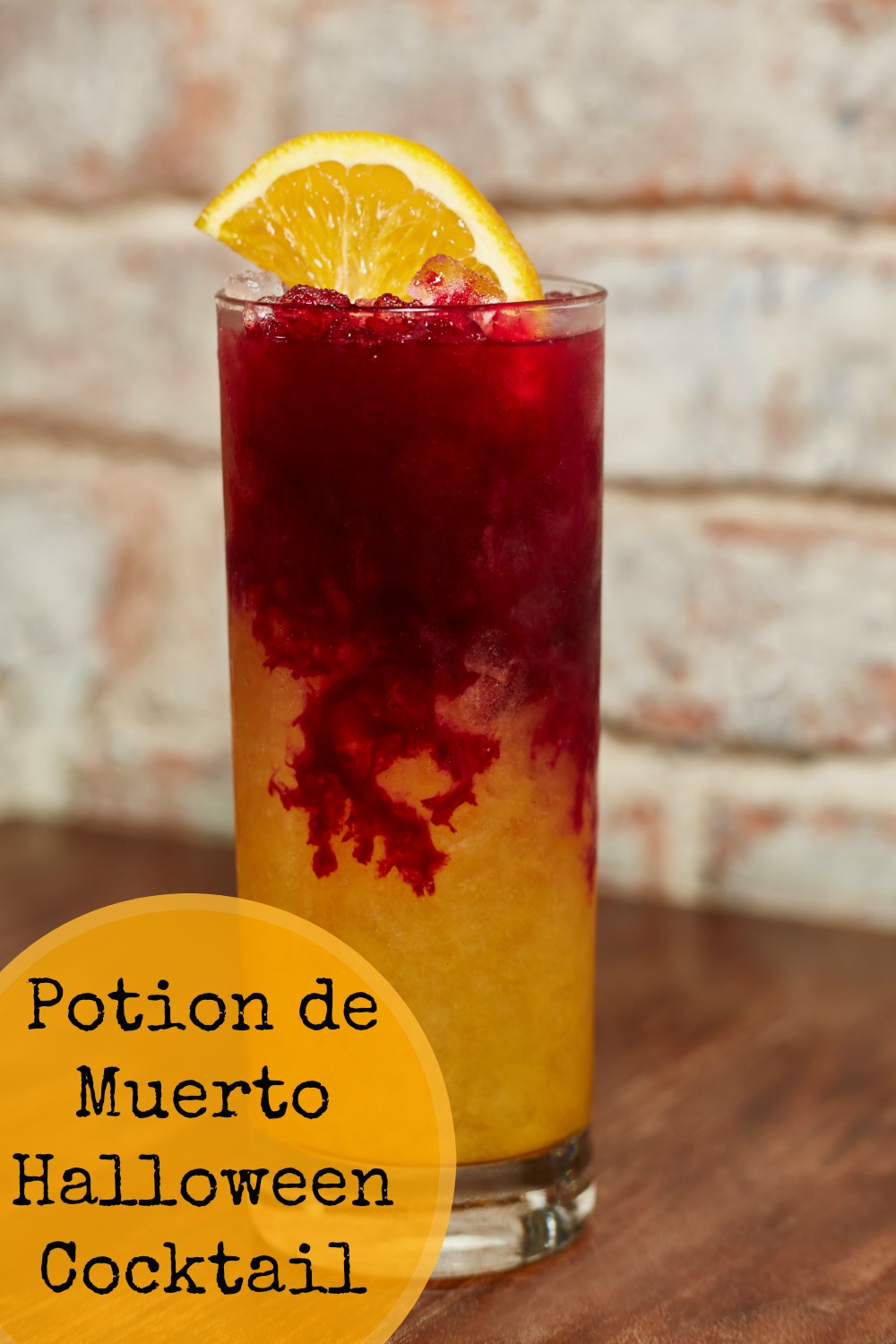 Potion de Muerto combines the two very popular holidays in the south of the country, Halloween and Dia de Muertos in Mexico. Thus, the name Potion de Muerto. It is actually a combination of orange juice and tequila for the base and topped with red beet juice floating above to create a bloody look.
6. Haunted Chocolate Death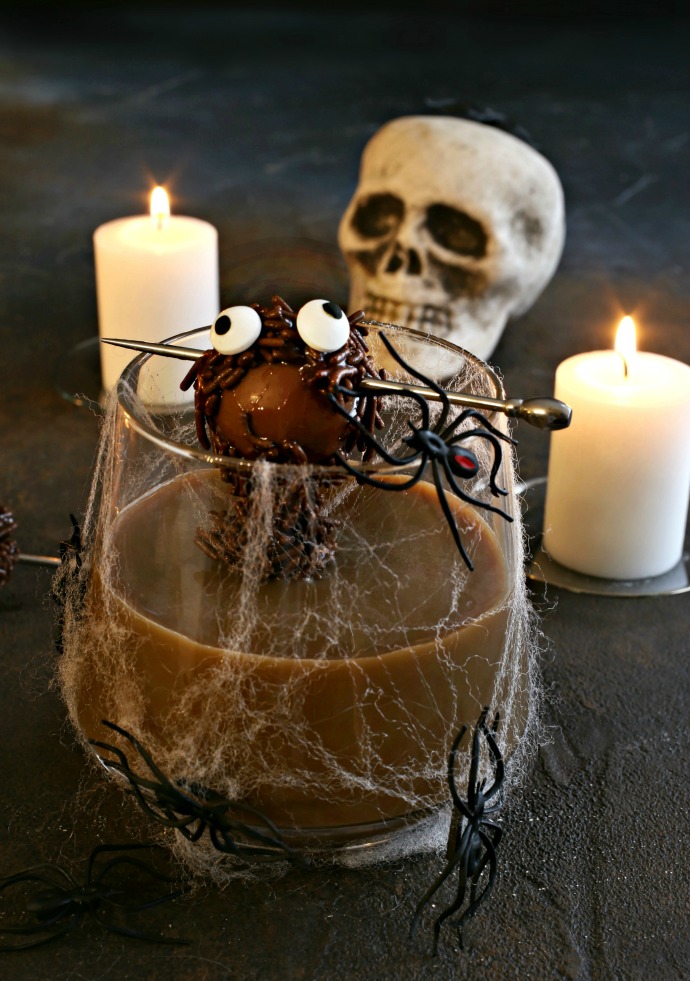 This cocktail is perfect for chocolate lovers. It is all chocolate or chocolate-like drinks. Bourbon, coffee liqueur, chocolate liqueur, creme de cacao, combined with a chocolate chips pop will take the chocolate lovers into heaven this Halloween. The name of haunted is because of the spider web decoration.
7. The Harley Quinn Cocktail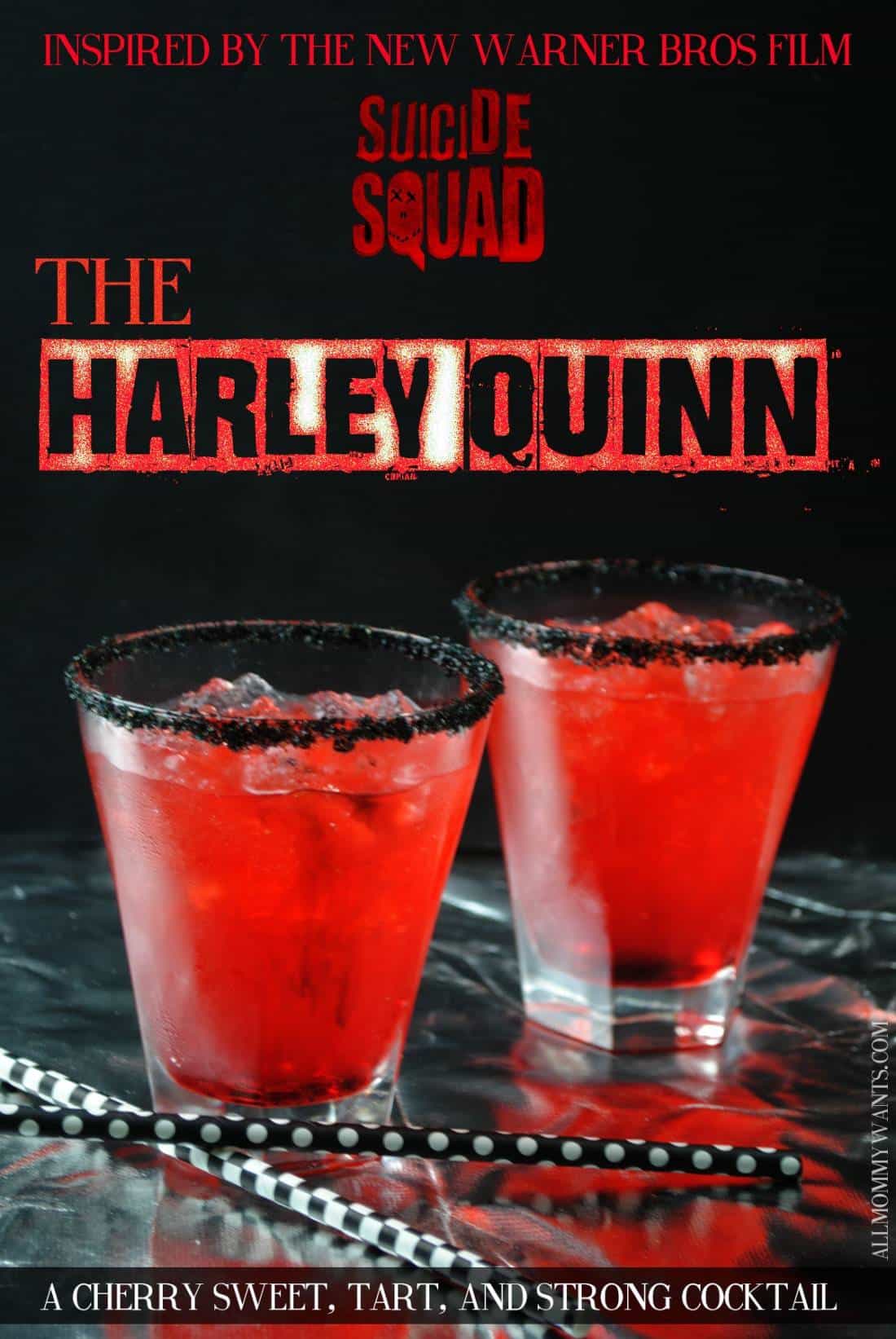 This cocktail was inspired by Harley Quinn and her Suicide Squad. The name itself is as gross as possible, not the cocktail. The cocktail will keep you going through the night and get you partying all night long. Enjoy its wonderful red color and fresh vodka-tequila-juice taste. The black decor is a plus.
8. Color Changing Margaritas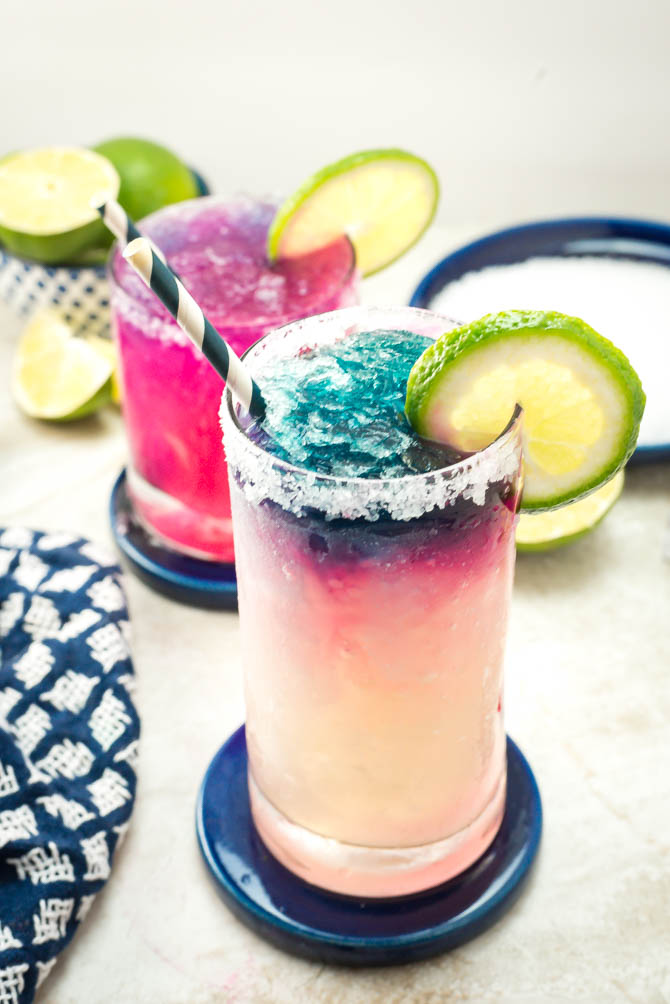 The effect of these color-changing margaritas is achieved with purple ice-cubes dyed naturally with red cabbage. Simply pour hot water over roughly chopped red cabbage and let it sit for a while to get the blue color out. Pour the water into ice shaping cubes and add the blue ice cubes into the margarita. AS it melts, it will change the color of the drink. Enjoy it!
9. Dracula's Blood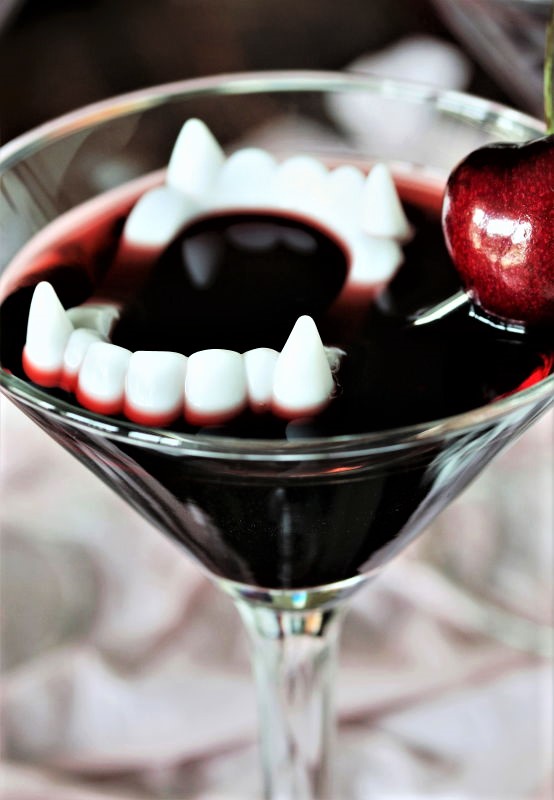 The most famous vampire in the world must have his own cocktail. So, the Dracula Blood cocktail is called by this name mainly because of the dark red color and the teeth candy in it. Despite the scary looks, it tastes sweet and makes you feel warm in your own blood and skin.
10. Haunted Graveyard Cocktail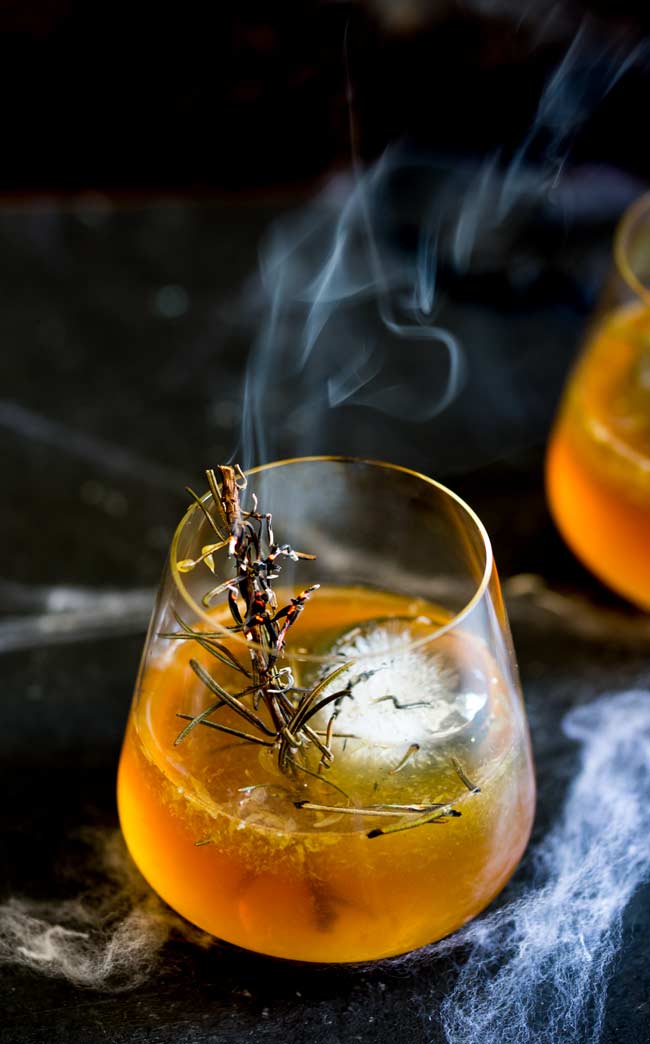 Graveyards are the ones related to ghosts and zombies, especially at Halloween. This cocktail is only named after them. In the core, it is apple juice, bourbon, and spices. Why it was named after the graveyard, you'll have to ask the one who invented it. However, it is tasty and great for parties.
11. Bloody Eyeballs Cocktail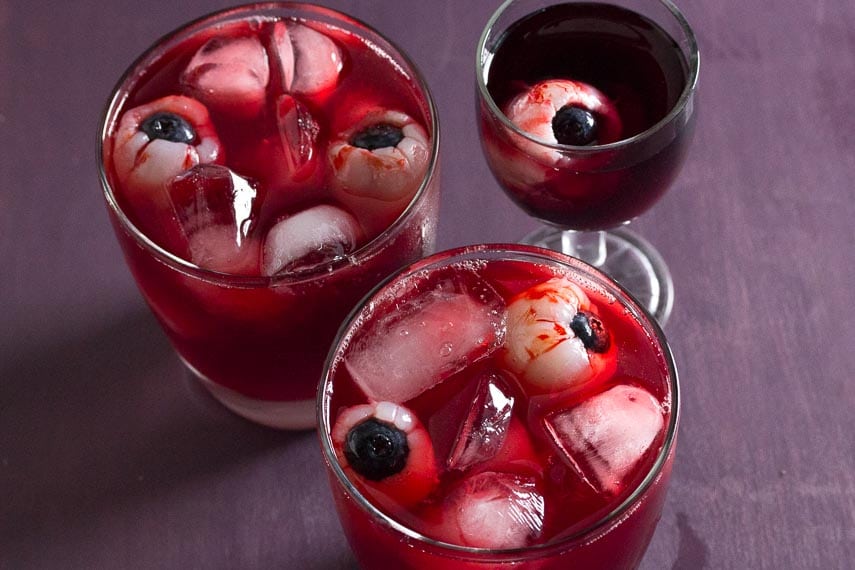 The most important in this cocktail is to prepare the lychee to look like an eyeball. The cocktail is basically red wine, sparkling water, and cranberry or strawberry juice, but the lychees colored with blood-red food color and equipped with blueberries makes it look like a bloody eyeball floating in your glass. Creepy, right?
12. Pumpkin Punch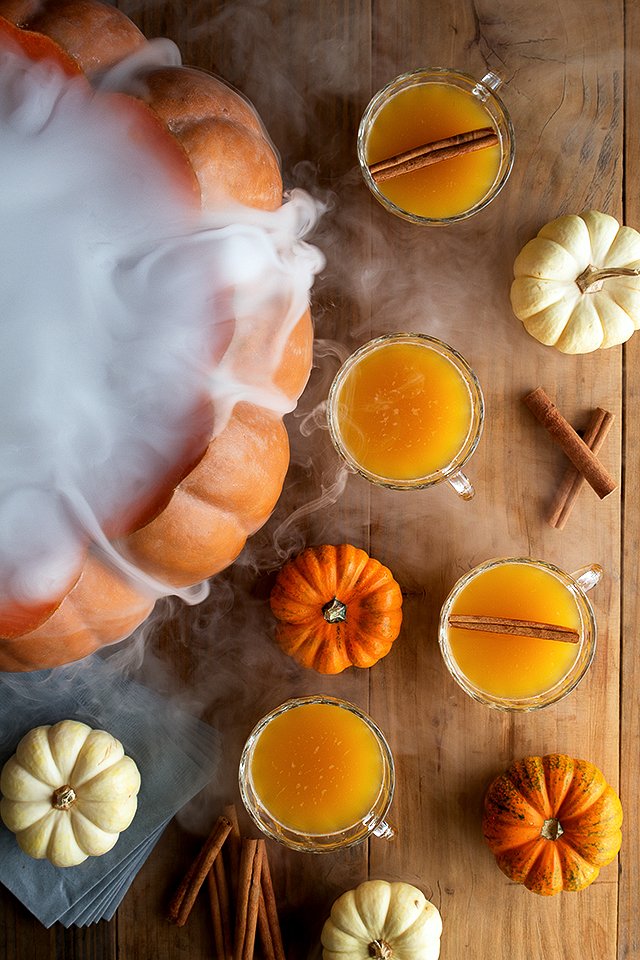 Punch is always a party drink. But, for Halloween, it is a must to make it from the pumpkin. Simply pour a bottle of rum, some lemon and orange juice, and sparkling water into a bowl, add pumpkin puree, spices and mix it well. Decorate it with cinnamon sticks and use some dry ice to get the smoking effect.
13. Zombie Brain Shot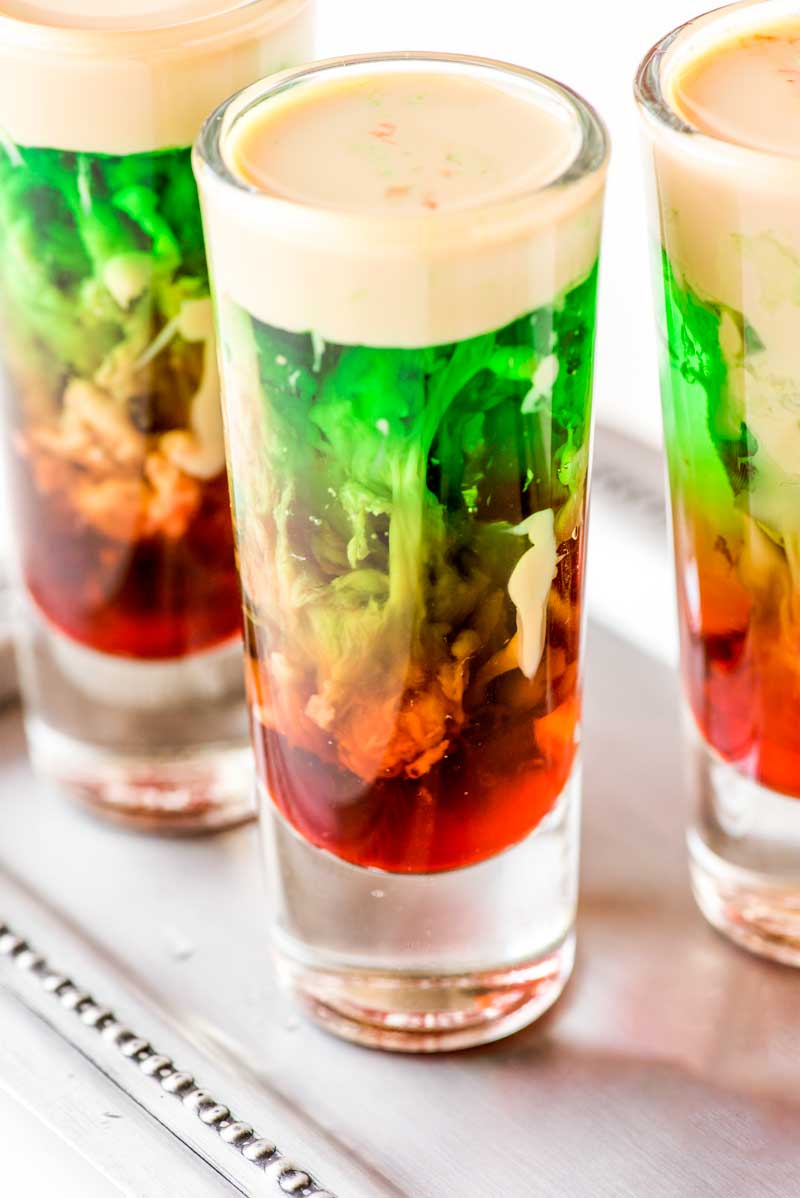 These shots are becoming more and more popular lately. They look ugly, but actually have a great combination of drinks and flavors to boost your party spirit. All you need to make it are two liqueurs, some grenadine, and a lot of patience so that you don' mix everything up and make the drink blur. Enjoy it.
14. Green Bloody Mary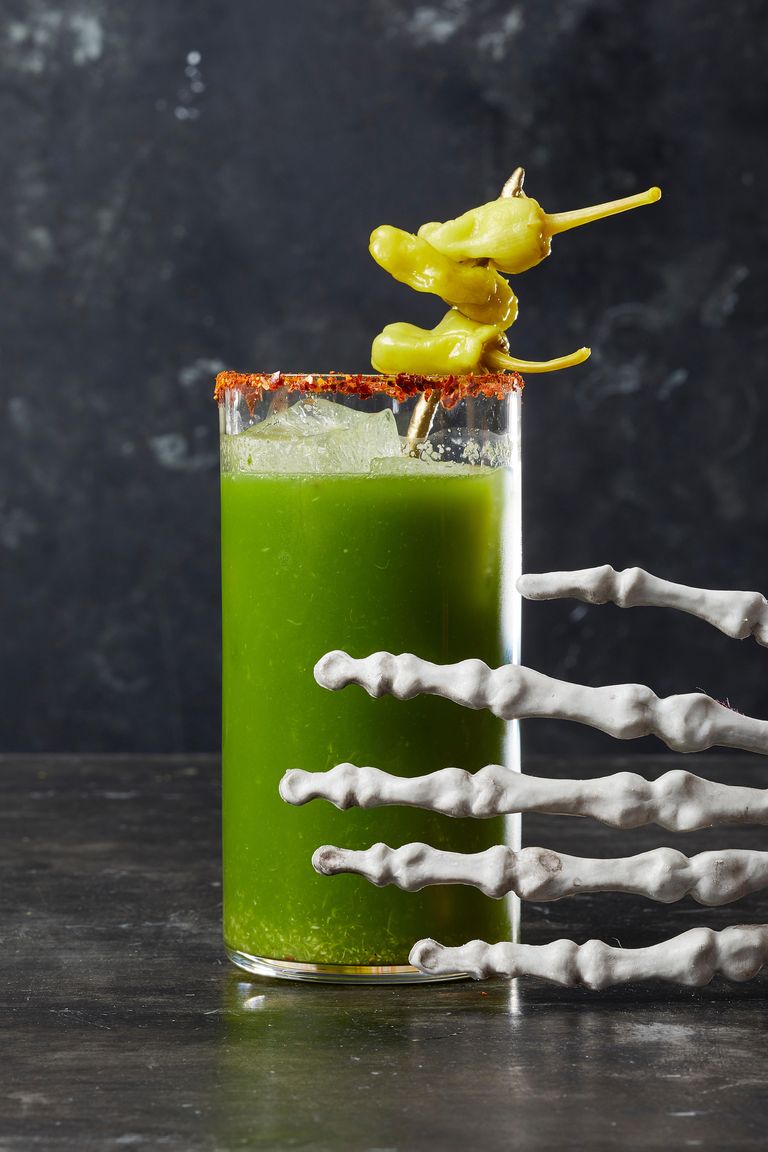 This version of Bloody Mary can be also called Greeny Mary, because of its green color. It is made of green tomatoes, green peppers, and jalapeno, to make it look like slime. It might be gross to look at, but if you like spicy and hot than you better taste it because it's perfect for you. You'll never gonna go back to the old Bloody Mary.
15. Walking Dead Sangria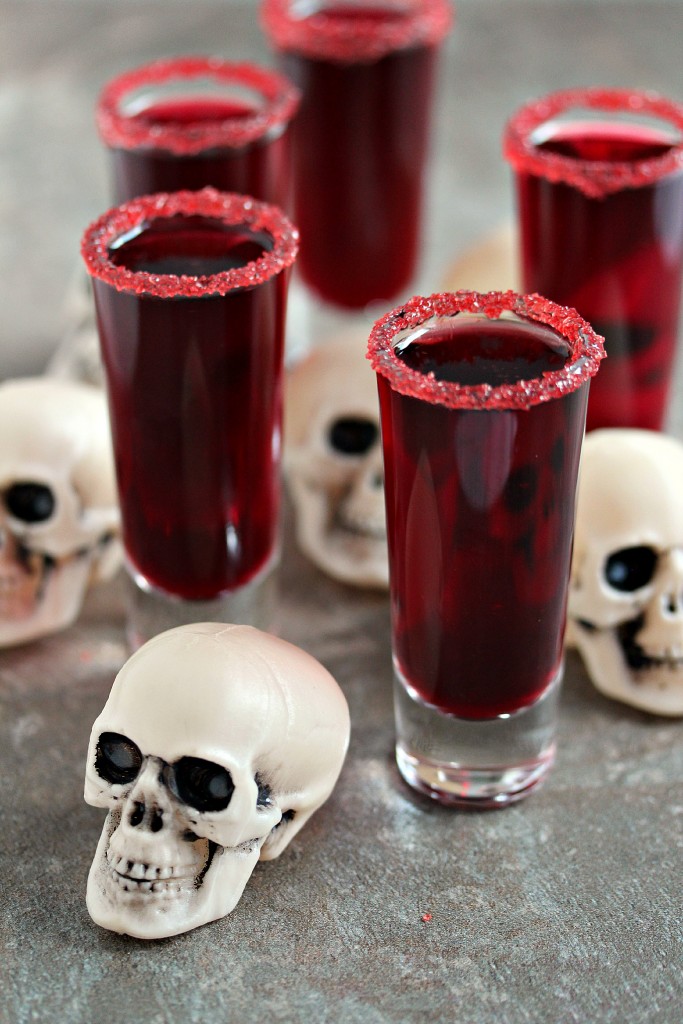 This bloody sangria inspired by the Walking Dead has a great red color and gives your Halloween table the splash or bloodiness it really deserves. Topped with red color sugared glasses and decorated with little skull candies, it will be one of the most attractive drinks for Halloween. You better enjoy it!
16. Pumpkin White Russian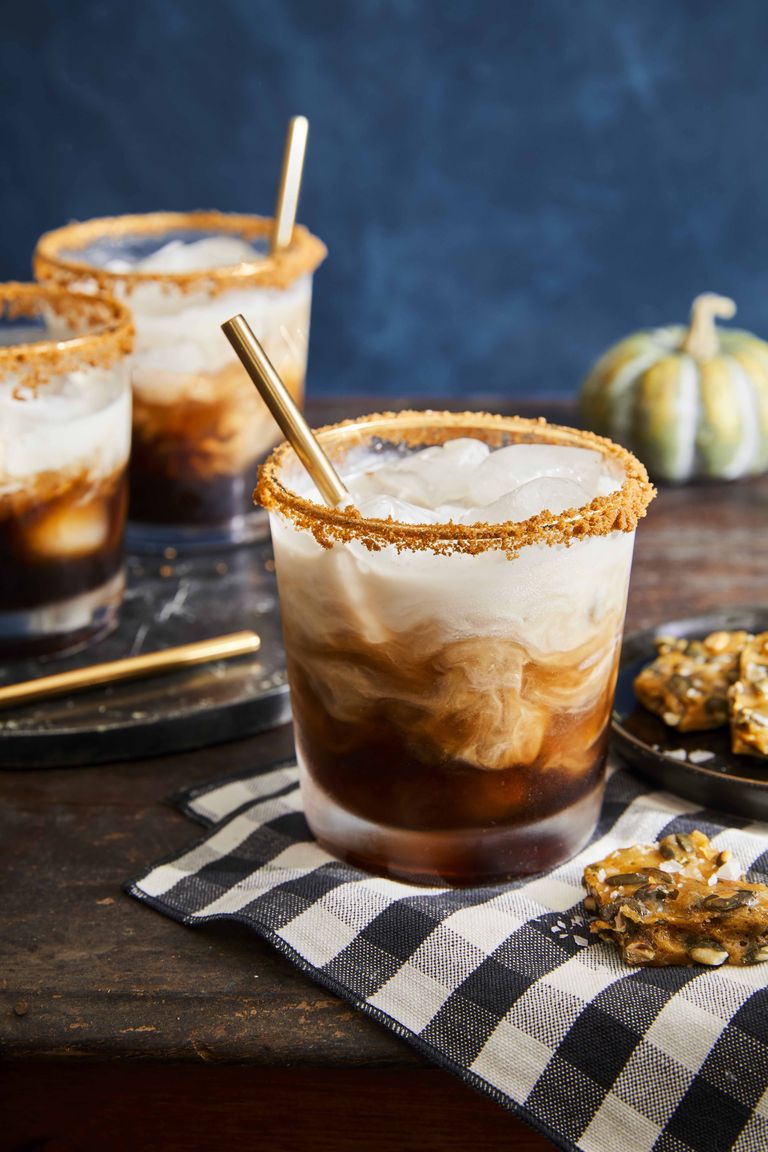 Vodka, coffee liqueur, and cream are the basic ingredients for this cocktail. But if you add some pumpkin pie spice and crumbled ginger cookies, you'll get this version of Halloween White Russian that is best to include the variety of your Halloween party drinks. It is not heavy to drink, yet makes it best for the cooler autumn evenings.
17. Black Mojito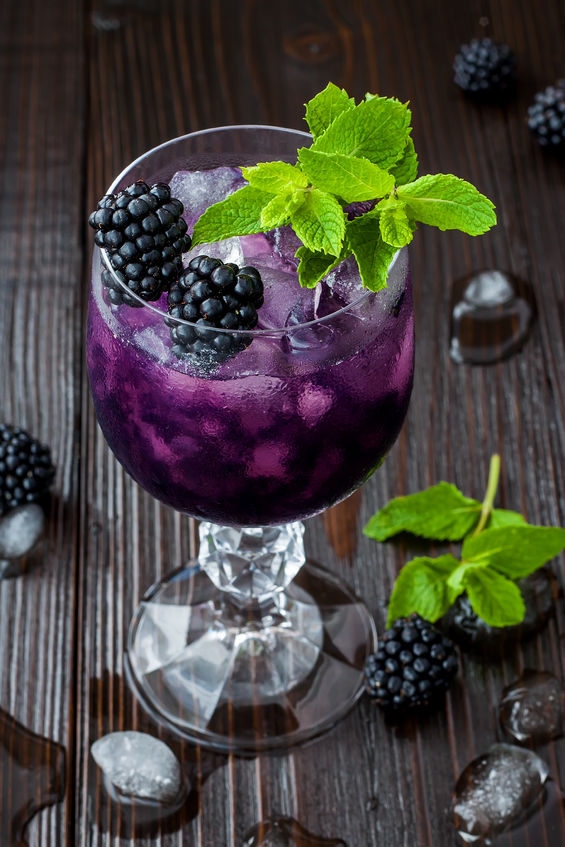 The blackness of this mojito comes from the blackberries it is combined with. Top the usual mojito combination of lime juice, white rum, and sparkling soda with some fresh blackberries and let them spread their wonderful color in the mojito. It will give it a great dark purple color, almost as black, and make it sparkle on the Halloween party table.
18. Zombietini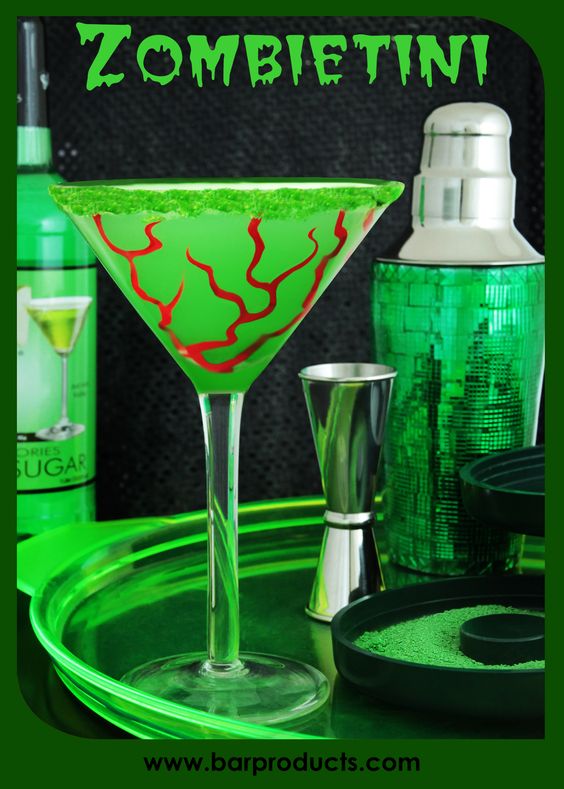 Zombies are a must for Halloween. So is Zombietini on the cocktail table. Its uniqueness lies in its green color, and when served in a red decorated glass, it is the best martini you have ever tasted. Enjoy its sweetness and its zombiness as much as you like.
19. Black Widow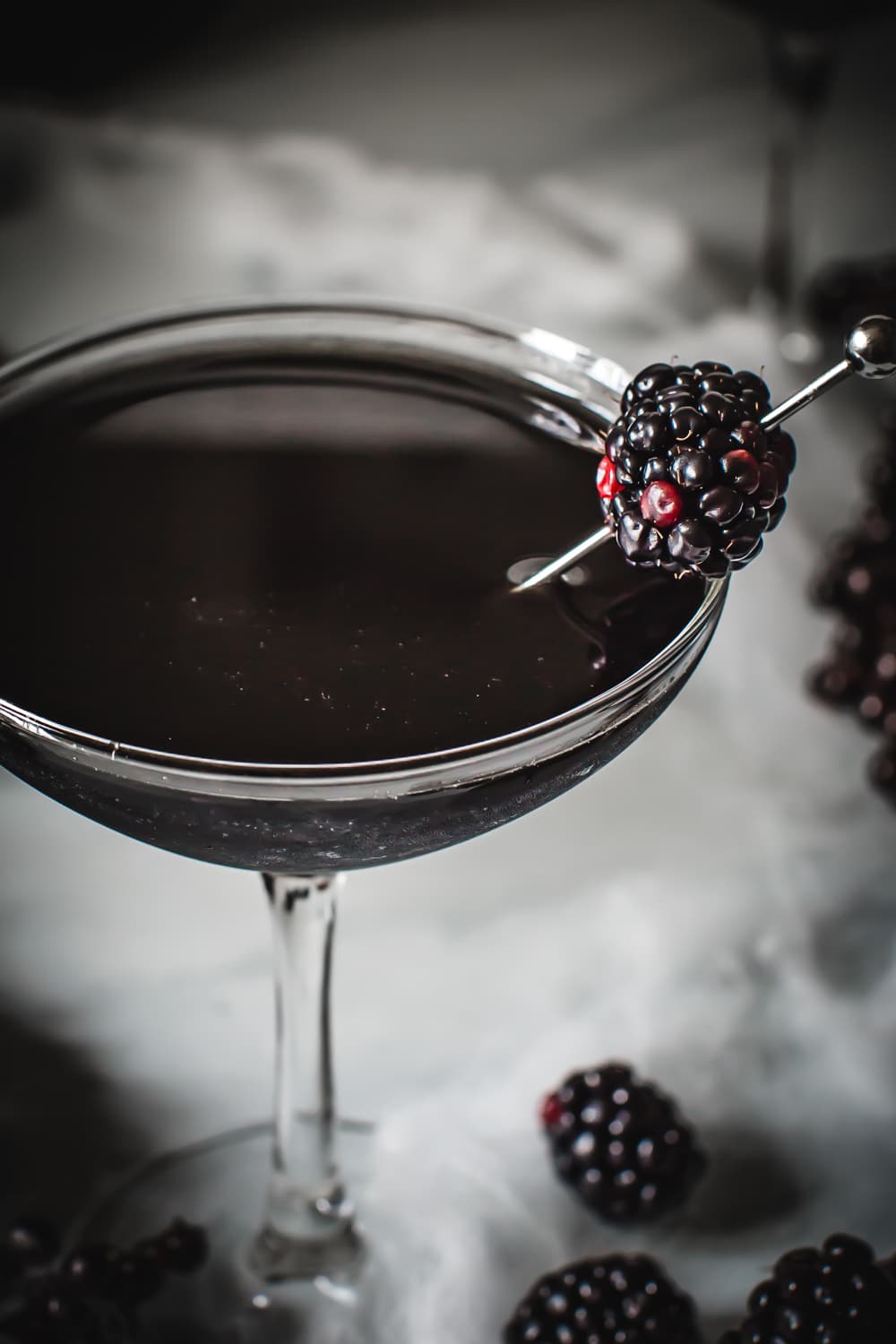 The Black widow is the most dangerous and scariest spider in the world. This cocktail was named after the spider because it is as black as a widow. It gives the Halloween table the darkness and the elegance it deserves, and at the same time makes it spooky for you to enjoy the scariest nights of all. However, it is not that dangerous to drink.
20. Unicorn Blood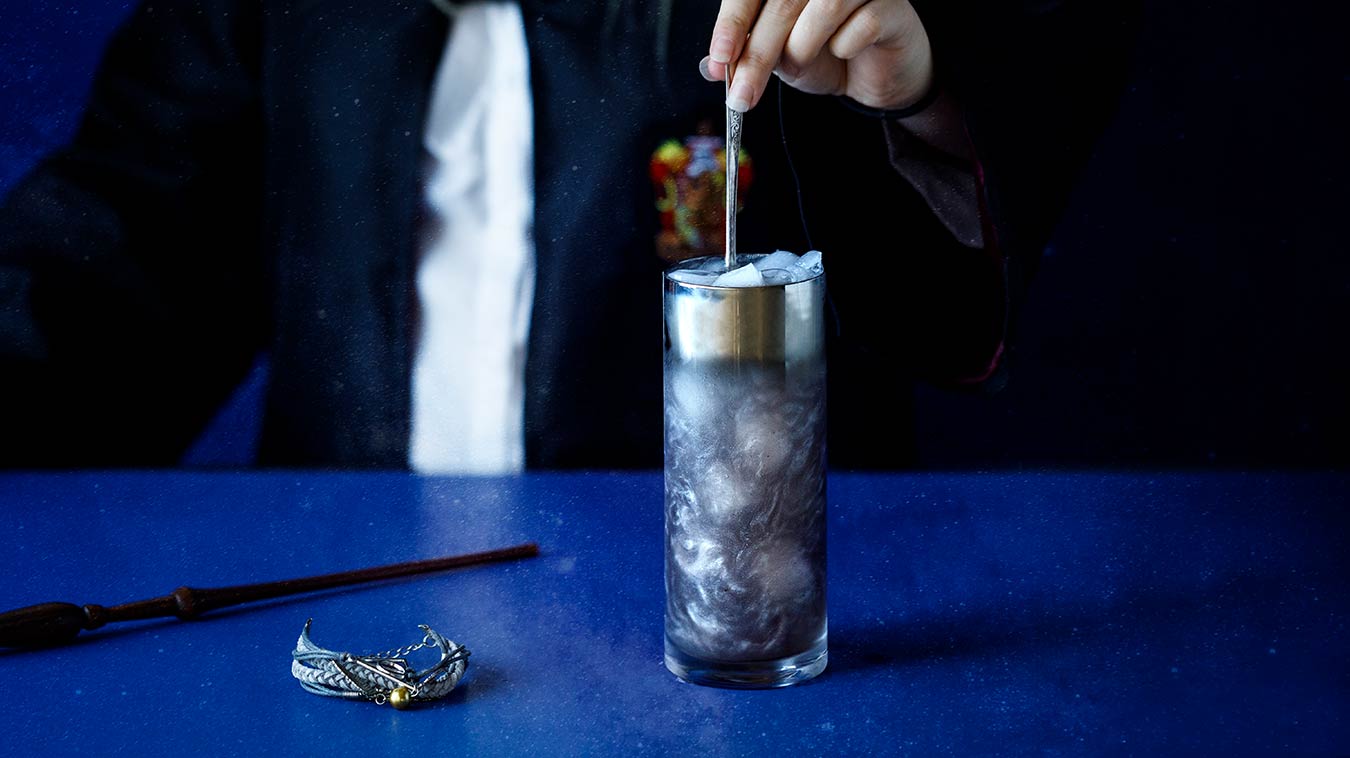 It is assumed that unicorns are the royalties of the horses. And all royalties have royal blue blood. Thus, this cocktail is named exactly like that, Unicorn Blood. It is greyish-blue, combined with white ice cubes and served in a silver-topped glass with a silver spoon and silver straw. Enjoy its uniqueness and royalty.
This is what we have chosen for you from the great cocktails we found online. If you liked them, get preparing, but don't forget to leave a comment in the comment section below. Thank you!