Wedding is the most important day in a girl's life.
Even as a child, every little girl dreams of her big white princess wedding. She imagines her gown, her veil, and her hair. Should she wear beads, glitter, or flowers, should her hair be up or down, should the gown be white or in a different color, it is all there in her little head.
In today's modern times, bridal hairstyles have changed and evolved, like everything else in the world. Now it is not only about the bun, a simple bun is so out of style. It is about wearing your hair up in any possible way you can imagine. Hairstylists play with hair to create a real art piece for the most important day in a women's life. And they do an amazing job. Braids, low buns, high buns, messy, elegant, stylish, you name it, they'll make it.
If you have no idea how to style your hair, and you still want to wear it up, have a look at the selected ideas below. These styles are not simply buns, they are masterpieces of hair creation. Decorated with the hair design, or beads, or flowers, your hair will complete the look of your dress, because it's not all in the dress.
This is your day. Let's make it perfect!
1. Elegant Low Bun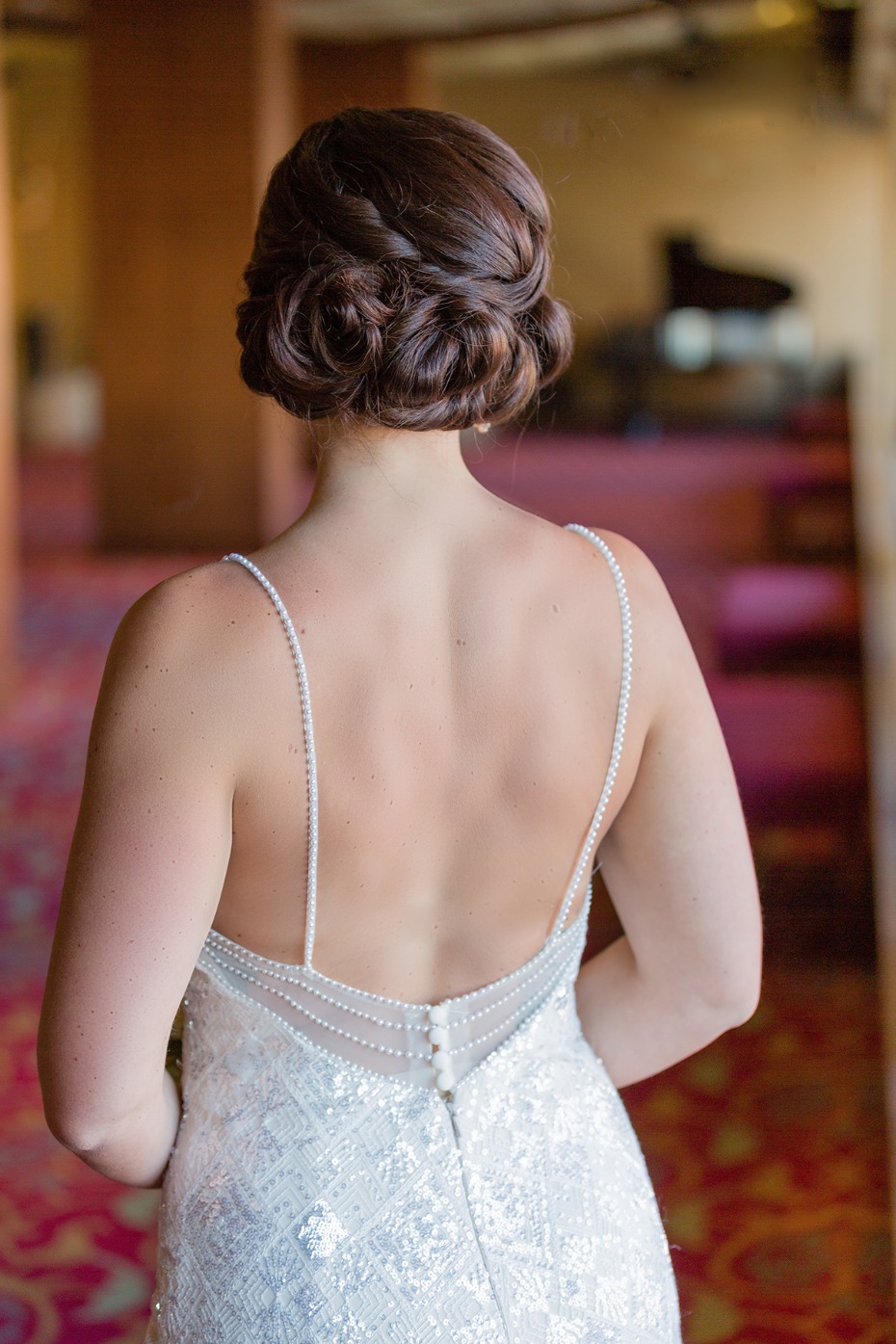 With an elegant dress, you need an elegant hairstyle. Low bun combined with simple discreet braids is one of the solutions for your big day. Choose three smaller flower buns,  instead of one big low bun to achieve the elegance and uniqueness of your style. Decorate it with pearls, beads, or small flowers, or simply let your hair be your decoration.
2. Side-Braided Updo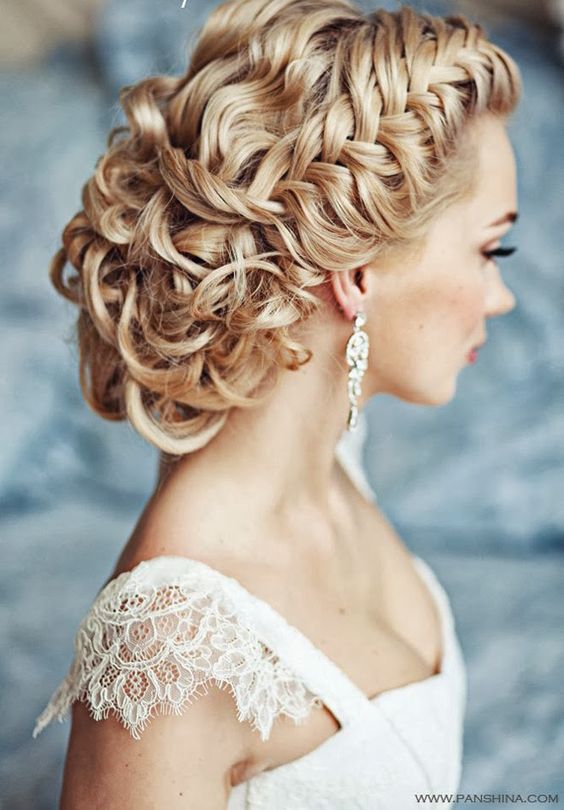 Curly hair is not always easy to style, especially if you want an updo. If you struggle with your curls, and still want to have a loose, but stylish updo, braid a braid on one side and end it in a loose low bun to both show your curls and still make your hair look clean and elegant.
3. Curly High Bun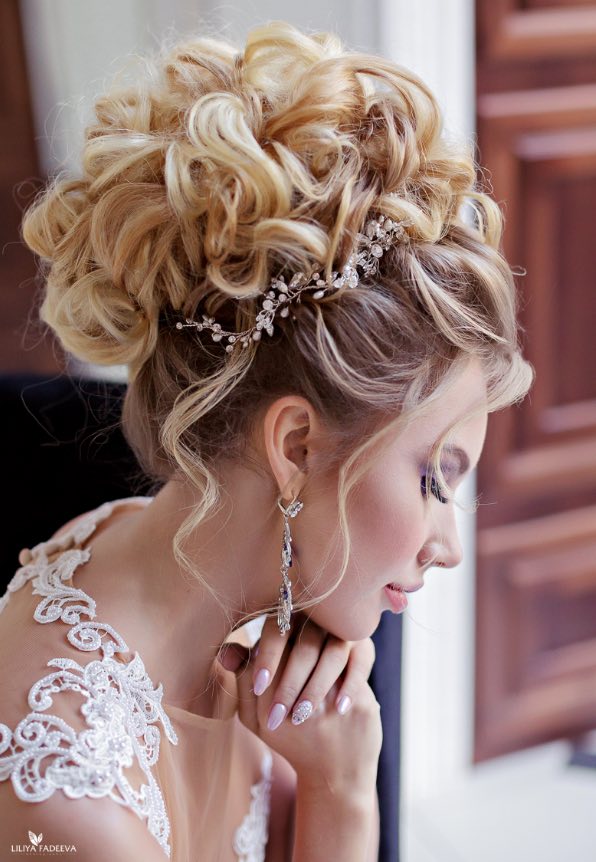 Here is another idea for curly hair. Pull your hair up loosely enough, and let your curls form their own path into a bun. Fasten the bun with few hairpins to give it some firmness and form to avoid getting a ponytail instead. Let some locks down to get an even more elegant and stylish look. Decorate it with an elegant hairpiece to complete the look.
4. Elegant High Bun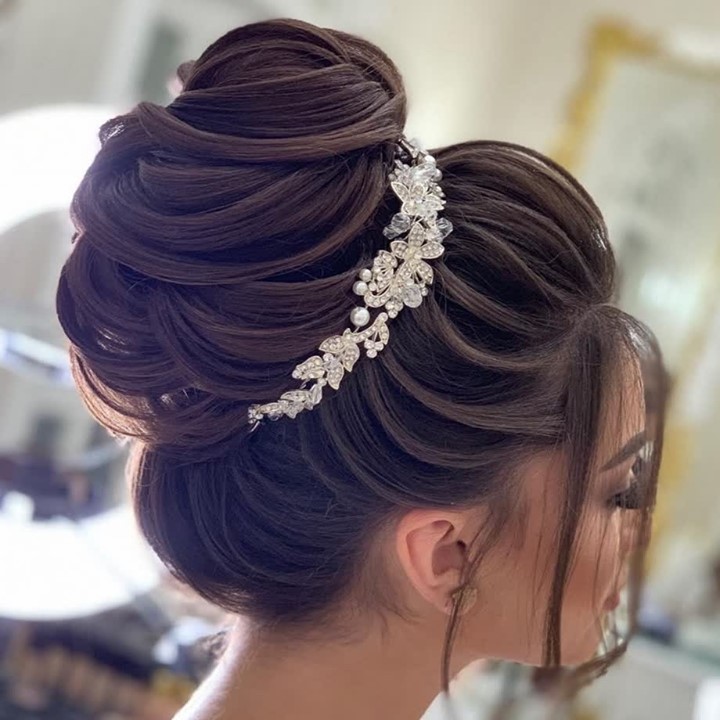 Sometimes putting your hair up high can make you look taller and more elegant. This high bun is one of those ideas to make you look great and tall on your wedding day. Loosely pulled up, showing every layer of your hair perfectly styled in a bun, decorated with a very elegant headpiece and combined with the perfect makeup will make you look stunning on your big day.
5. Messy Beads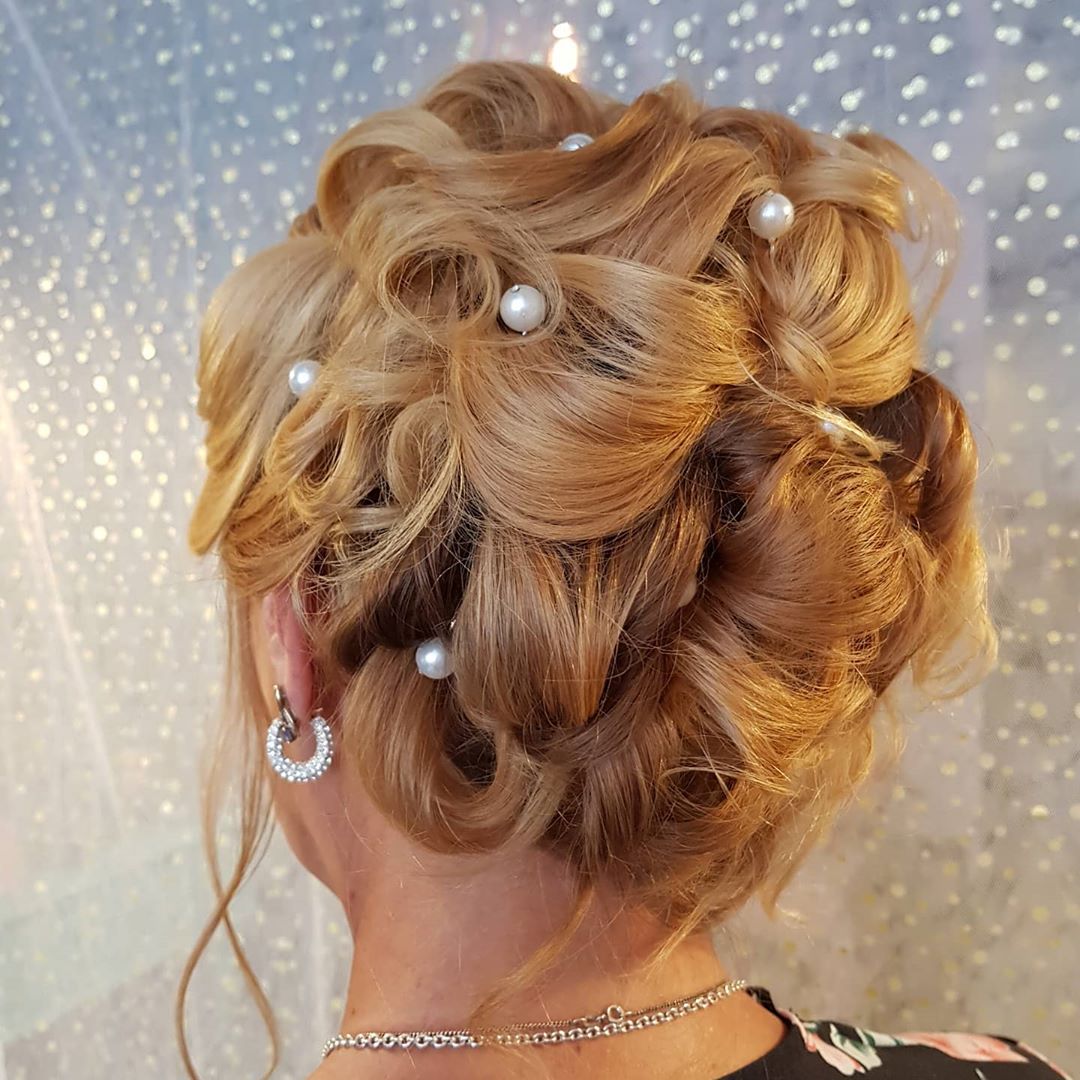 This is one of the most classic bridal hairstyles, but it is still popular and elegant. This seemingly messy style is actually perfectly styled and combined to make you look stunning. Decoration with beads and pearls brings the elegance it needs to make you the most stunning bride you have ever seen.
6. Two-Strain Braided Low Bun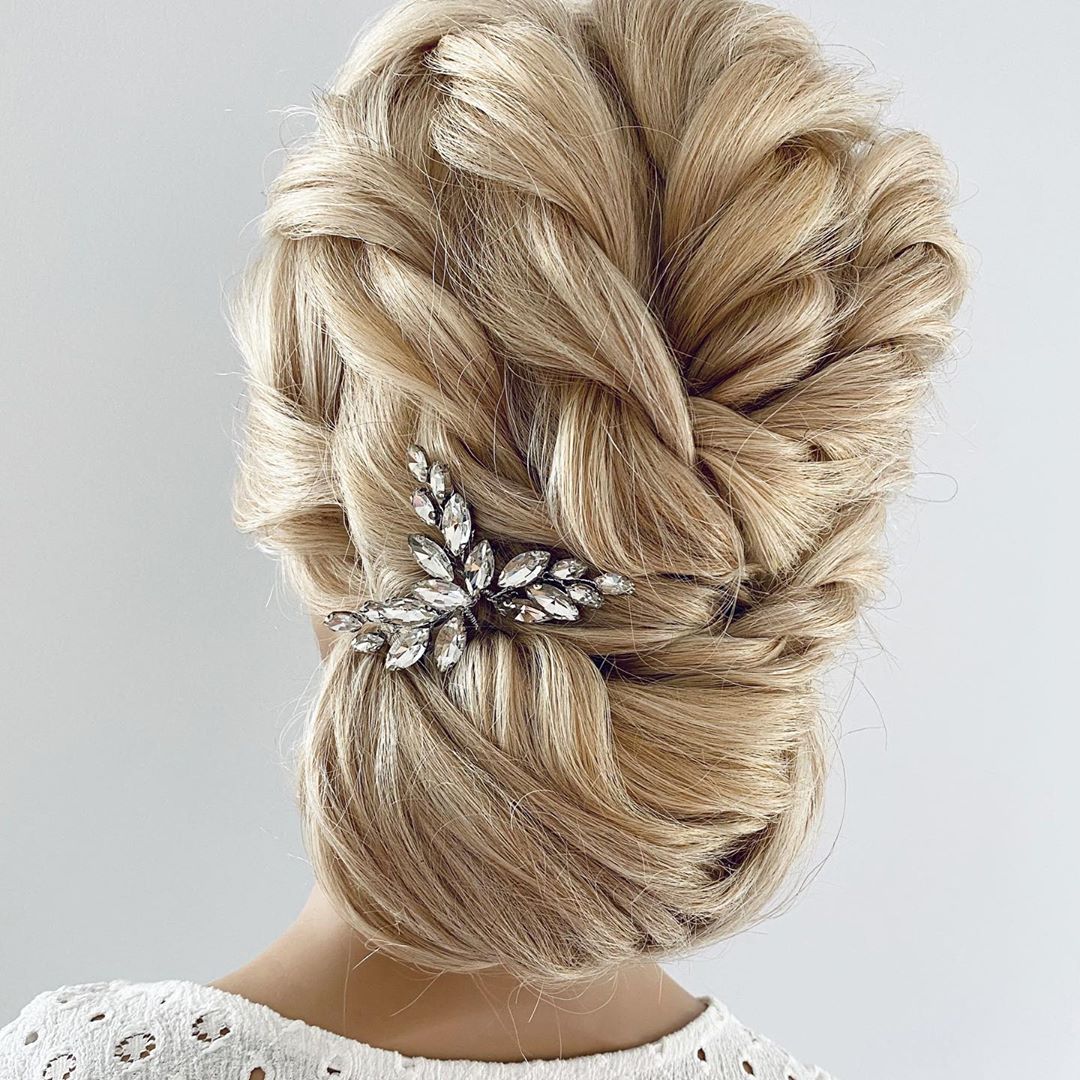 If you love braids, but would still prefer something different for your wedding day, think about the possibility of getting different braids. This idea will show you how to combine two-stringed braids into an elegant low bun. It will completely combine your biggest desires and give you the elegance and style you need.
7. Crown Braid Low Bun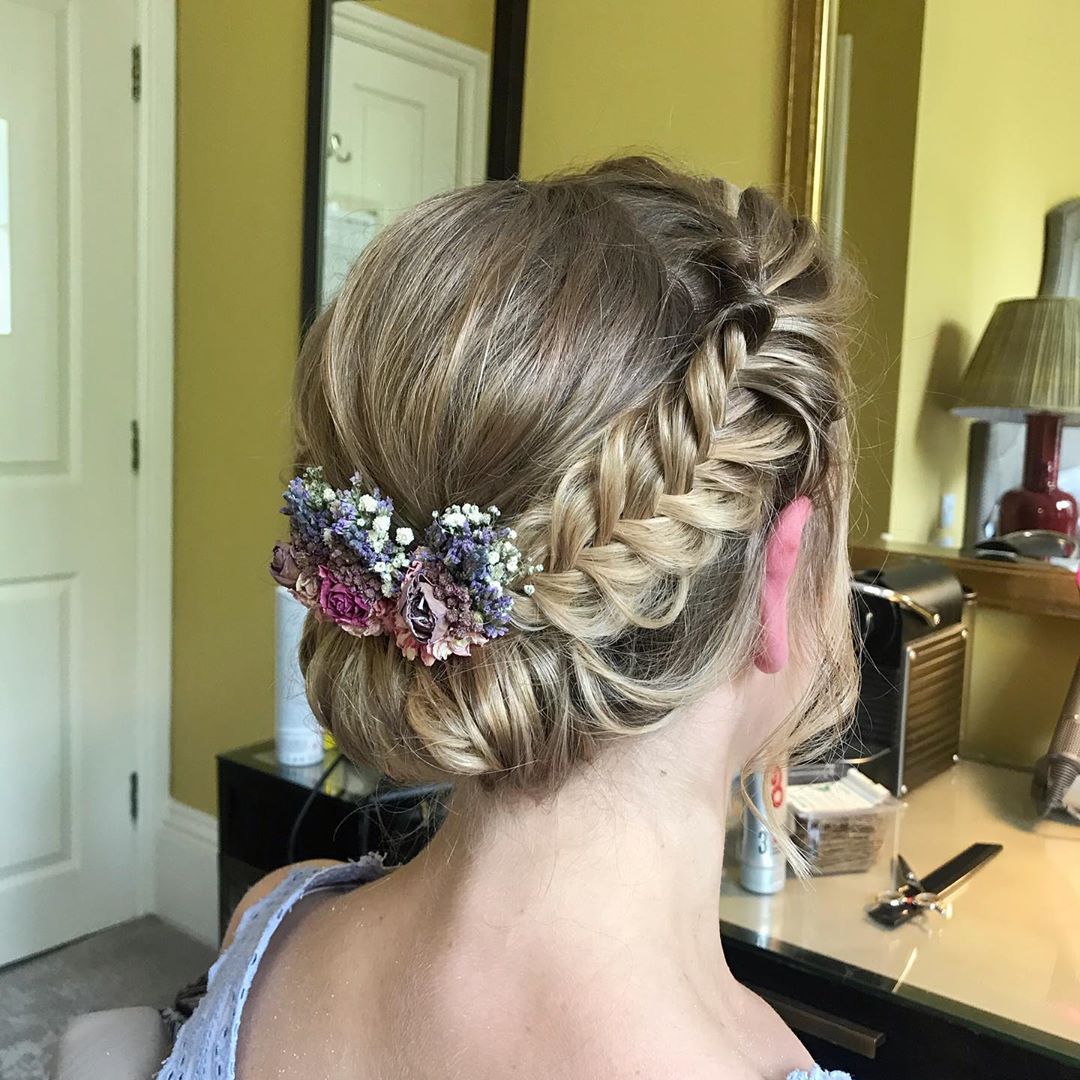 Create a crown braid at the front of your hair and continue with a loose braid on the side. Make a loose braid on the other side of your hair and combine them together in a low bun decorated with natural flowers. It is unusual, cool, and stylish. It perfectly fits a farm wedding, but it is also great for any type of outdoor wedding style.
8. Beaded Umbrella Bun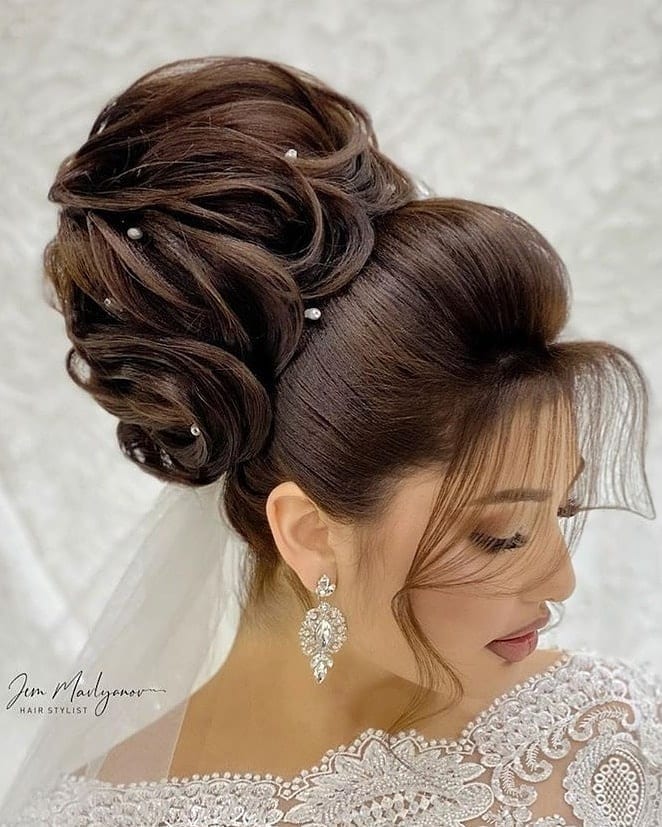 Who said that umbrella bun is only for a casual style? This idea perfectly shows that if properly styled and decorated it is perfect for any occasion, even weddings. Decorate it with pears or flowers, add a veil underneath and enjoy the elegance this style brings to your big day.
9. Braid Turned Into a Bun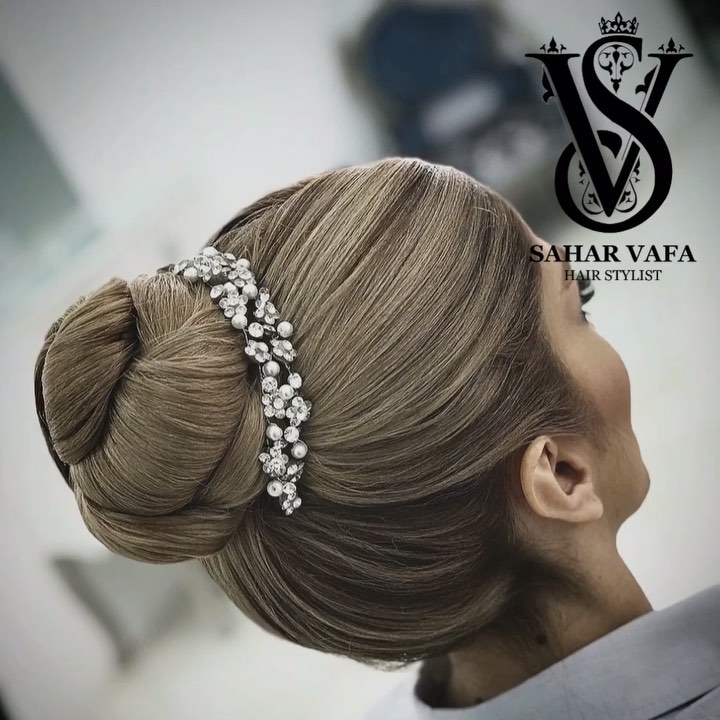 An ordinary ballerina bun can be boring for a wedding. But if you give it a twist with a braid, it will become a completely new and elegant style. Pull your hair in a ponytail, braid the ponytail in a simple braid, and twist it in a bun. Secure it with hairpins and decorate it with a lovely sparkling hairpiece.
10.  Asian/Indian Bun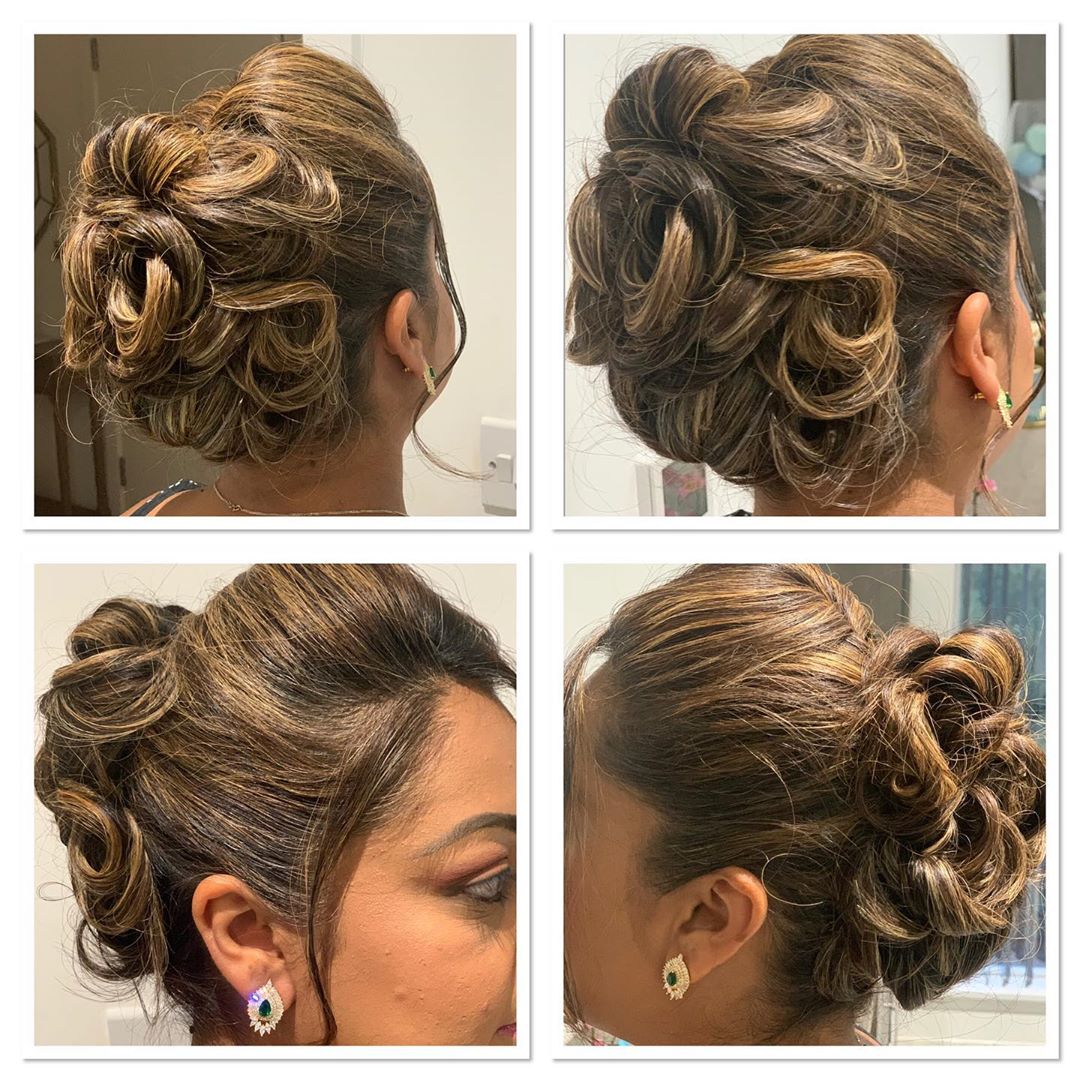 This Asian or Indian bridal hairstyle is popular in many corners of the world. It looks messy, but it is still stylish and elegant. Decorated with a simple bridal hairband, or a discrete hairpiece, it will emphasize the bun and give it even more elegance to complete the overall bridal look.
11. Messy Wedding Bun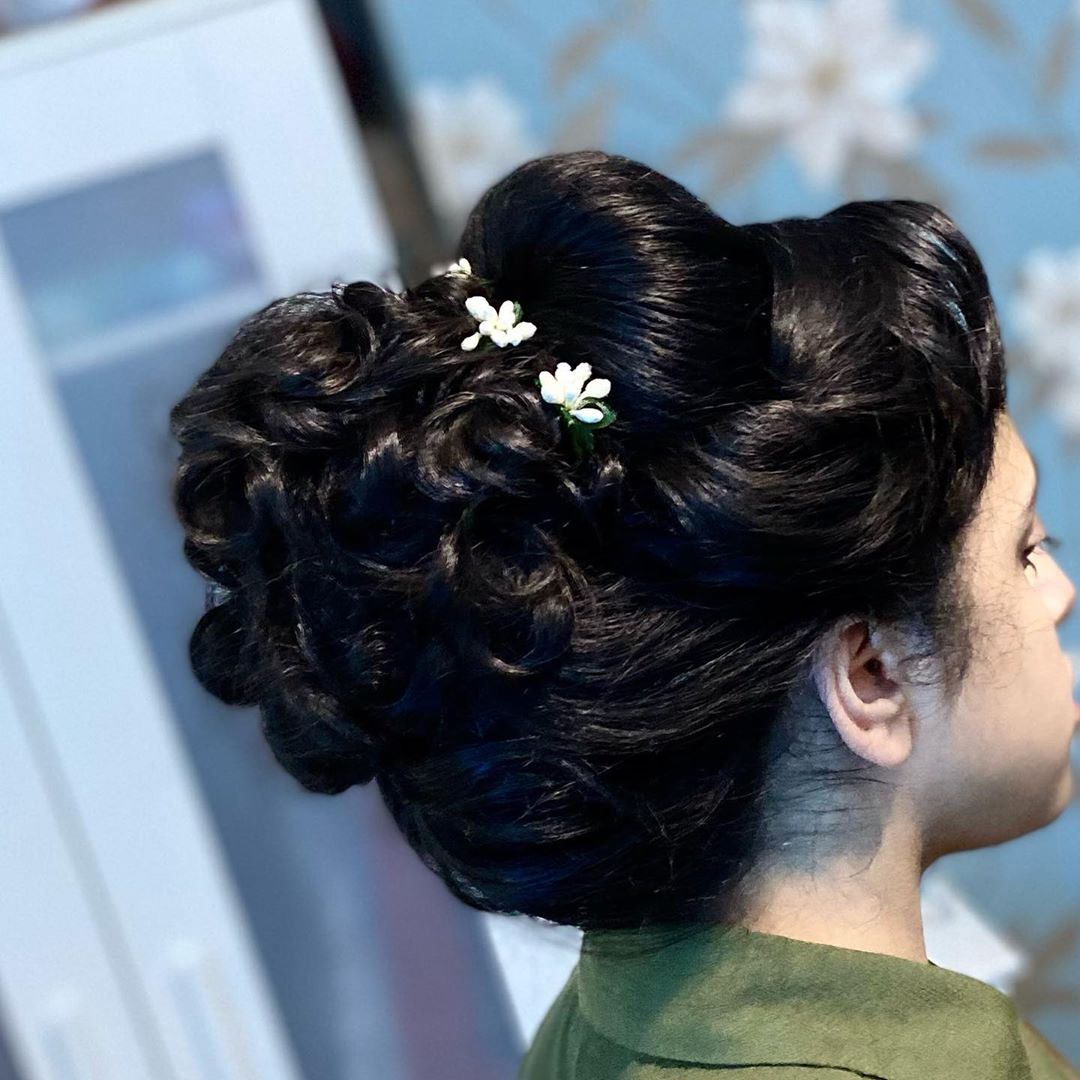 This bun is called messy, but it is all but messy. It is perfectly styled to suit a bride, and still not make her feed stiffen and rigid. Decorate it with tiny flowers to accentuate the look or an elegant headband and veil below the bun.
12. Glamorous Low Bun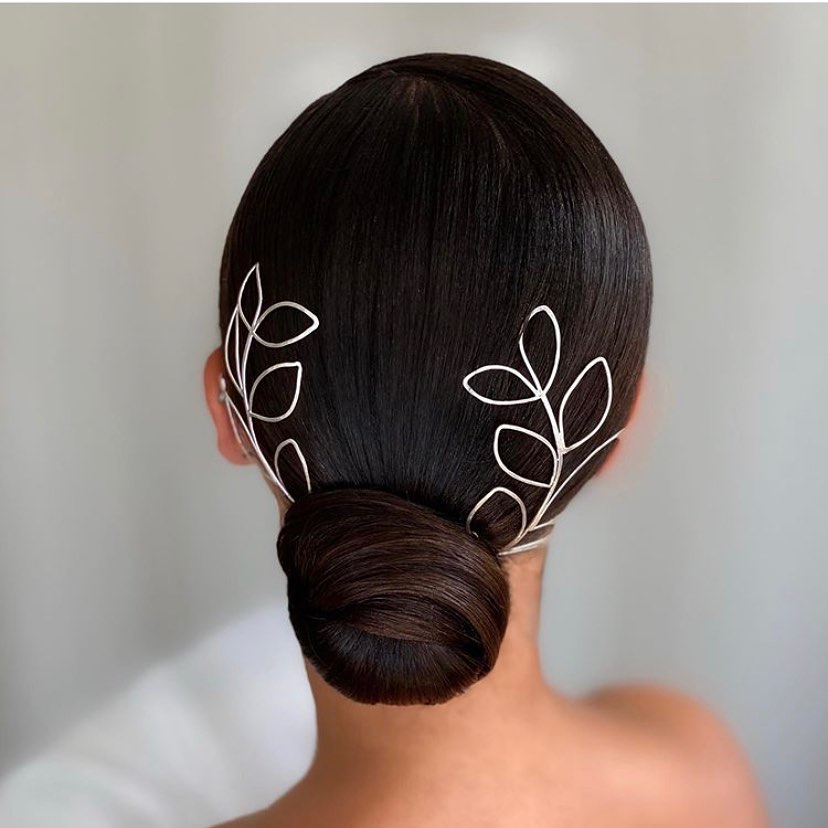 Less is more. This is proved with this elegant, yet simple low bun. It is decorated only with silver leaves and still looks elegant and stylish. So, if you love minimalism and simplicity, this style is perfect for you. Enjoy it!
13. Crown Braid Messy Updo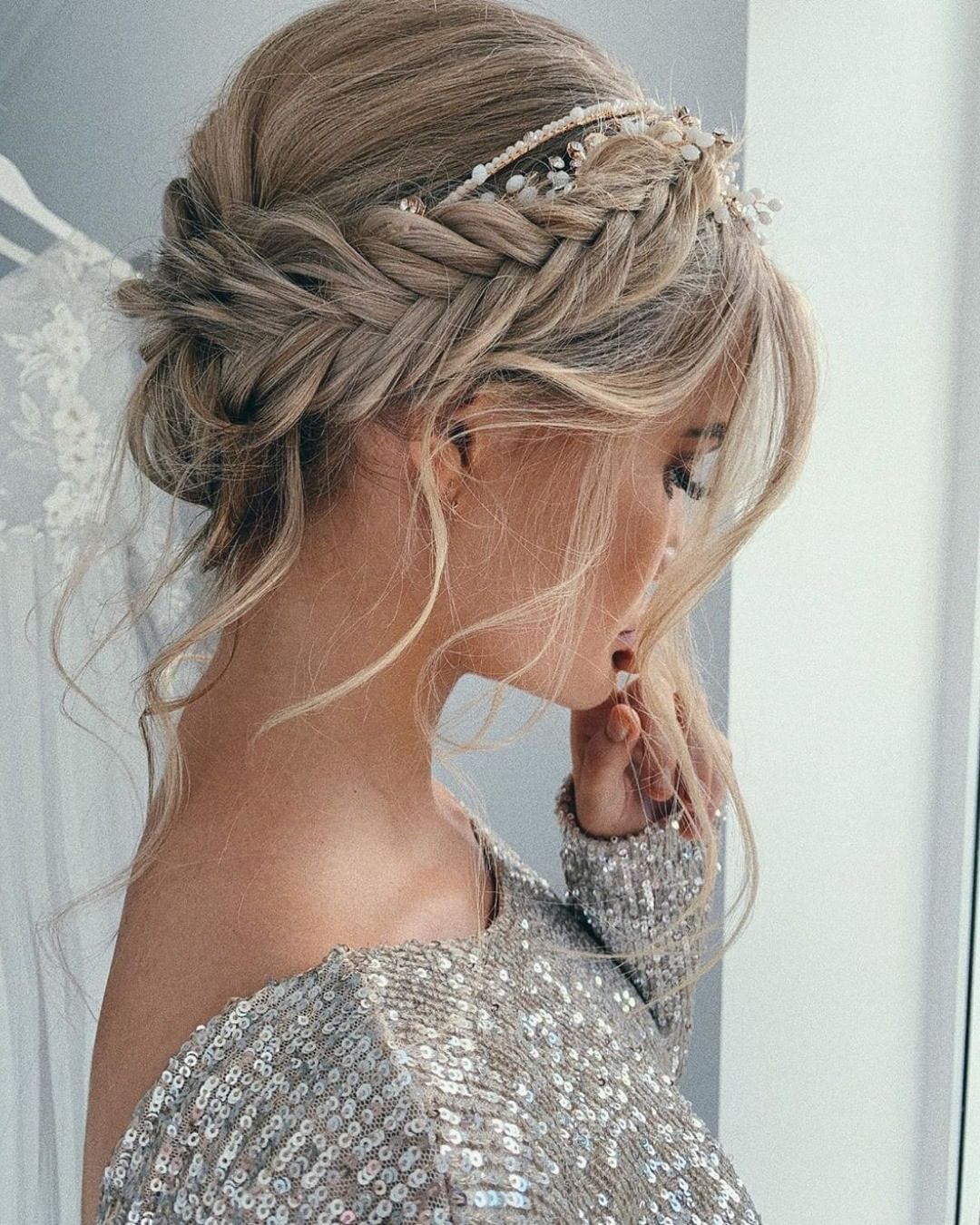 Even messy hairstyles can look elegant for your big day. This style is so messy, yet so elegant that will make you wish you had seen this idea before your wedding. Make a simple braid, turn it up, and secure it near your forehead. Let some locks down if you wish to make it even messier, and decorate it with an elegant flowery headpiece.
14. Soft and Romantic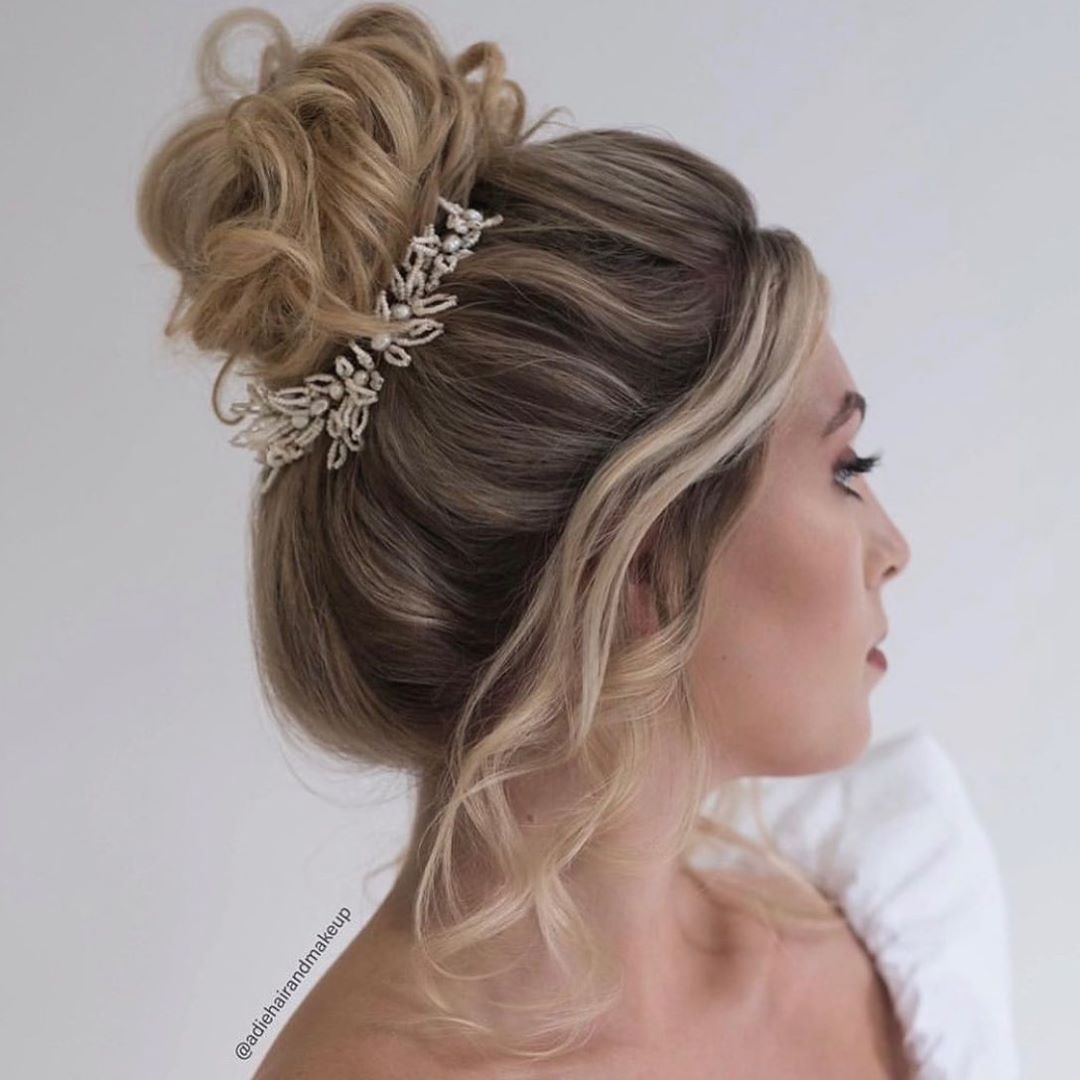 This is the most romantic look of a soft bun for your wedding day. Your hair pulled loosely up, as usual, your bun soft and not messy, and a gorgeous headpiece to complete the elegance. Let some locks down to get an even softer look if you wish, and you are all set! Enjoy your big day!
15. Stylishly Decorated Bun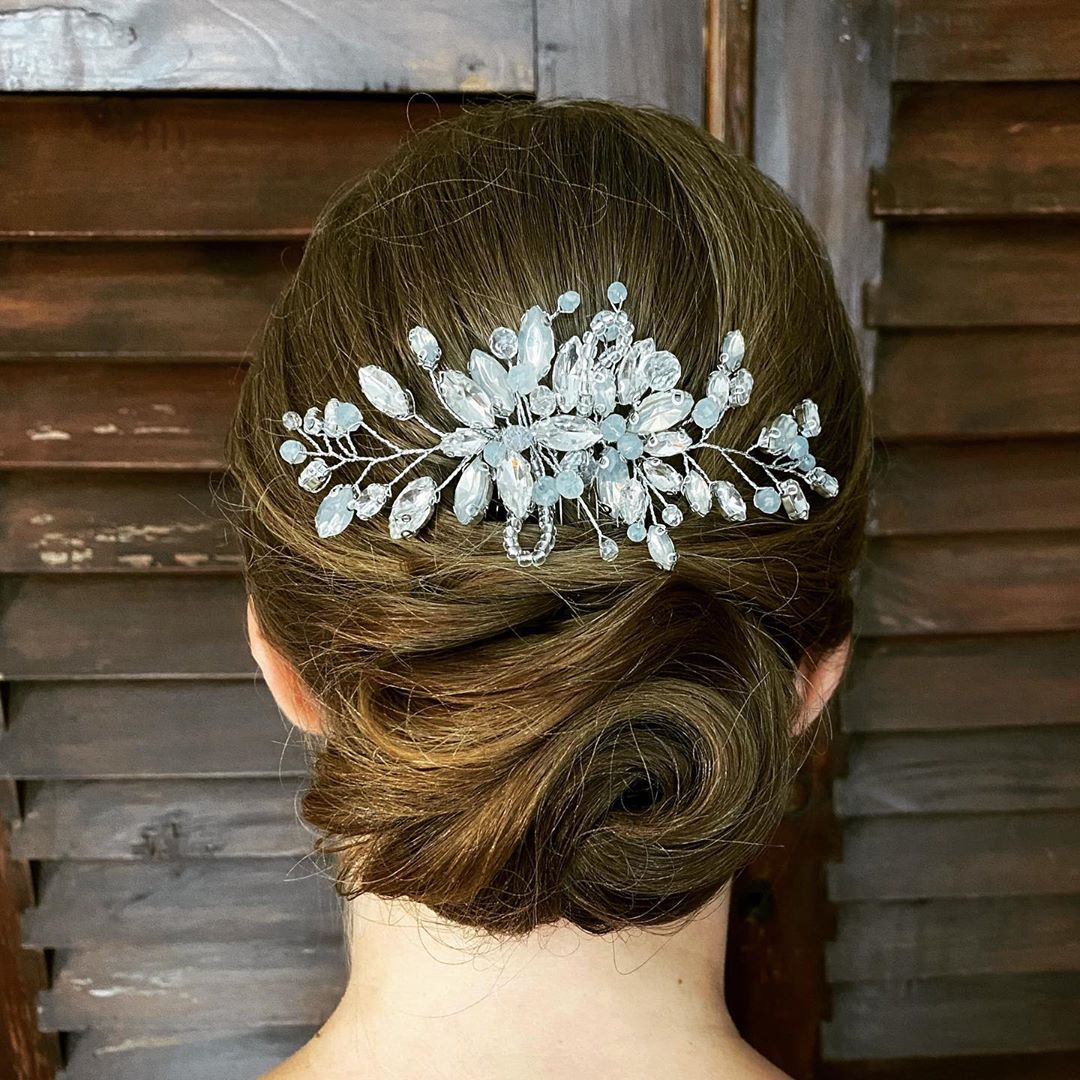 Low knotted bun decorated with an elegant headpiece will bring you the joy you need for your big day. It is simple, it is stylish, it is elegant. All you need to do is carefully pick the headpiece to get the right elegance you have imagined.
16. Stylish Curly Updo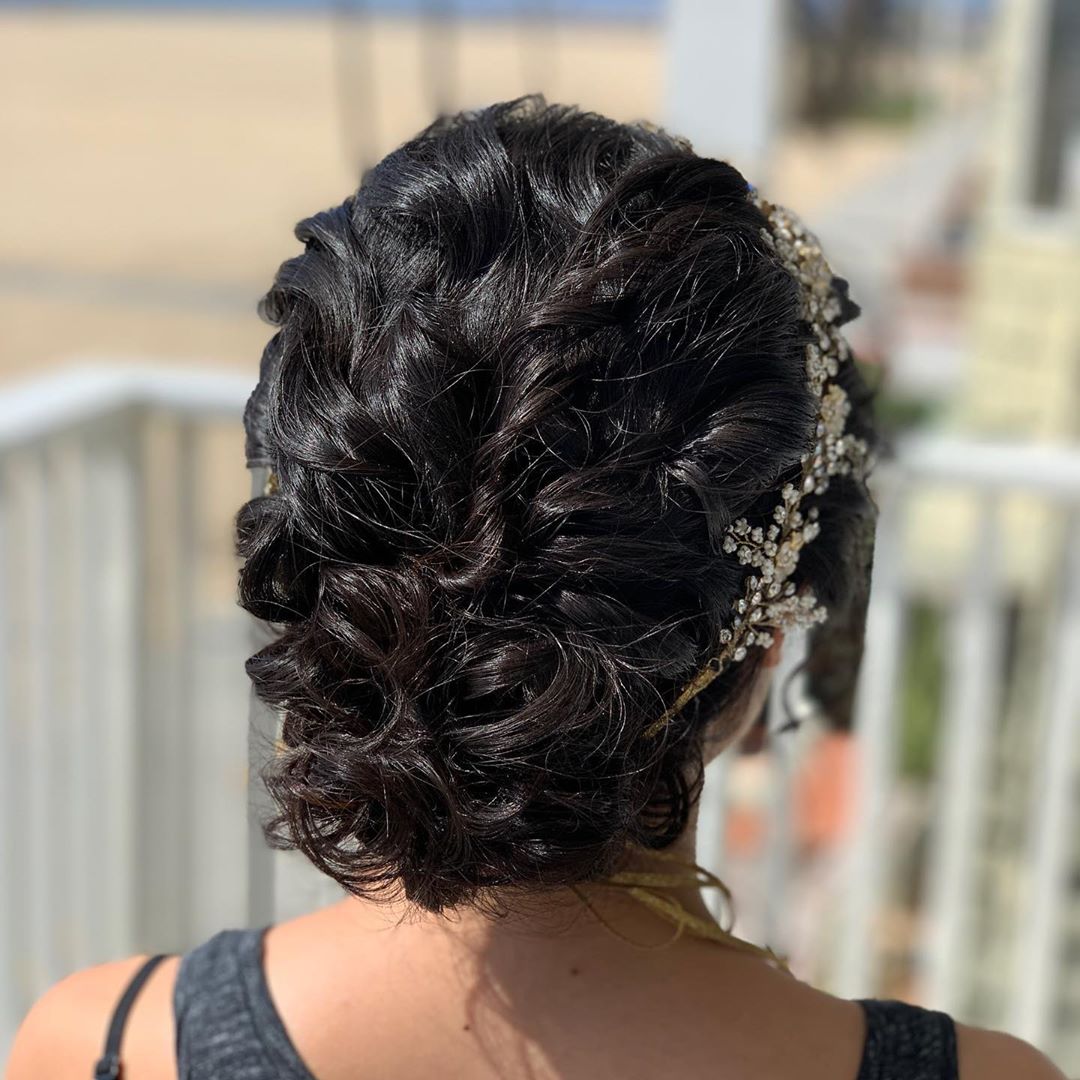 Curly hair can easily be styled in a simple, yet elegant updo. All you need to do is pick an elegant headband, put it around the front of your head and under the back of your hair, and secure your curly locks into an elegant updo. It is not messy, it is elegant, it is simple.
17. Side Braided Twisted Low Bun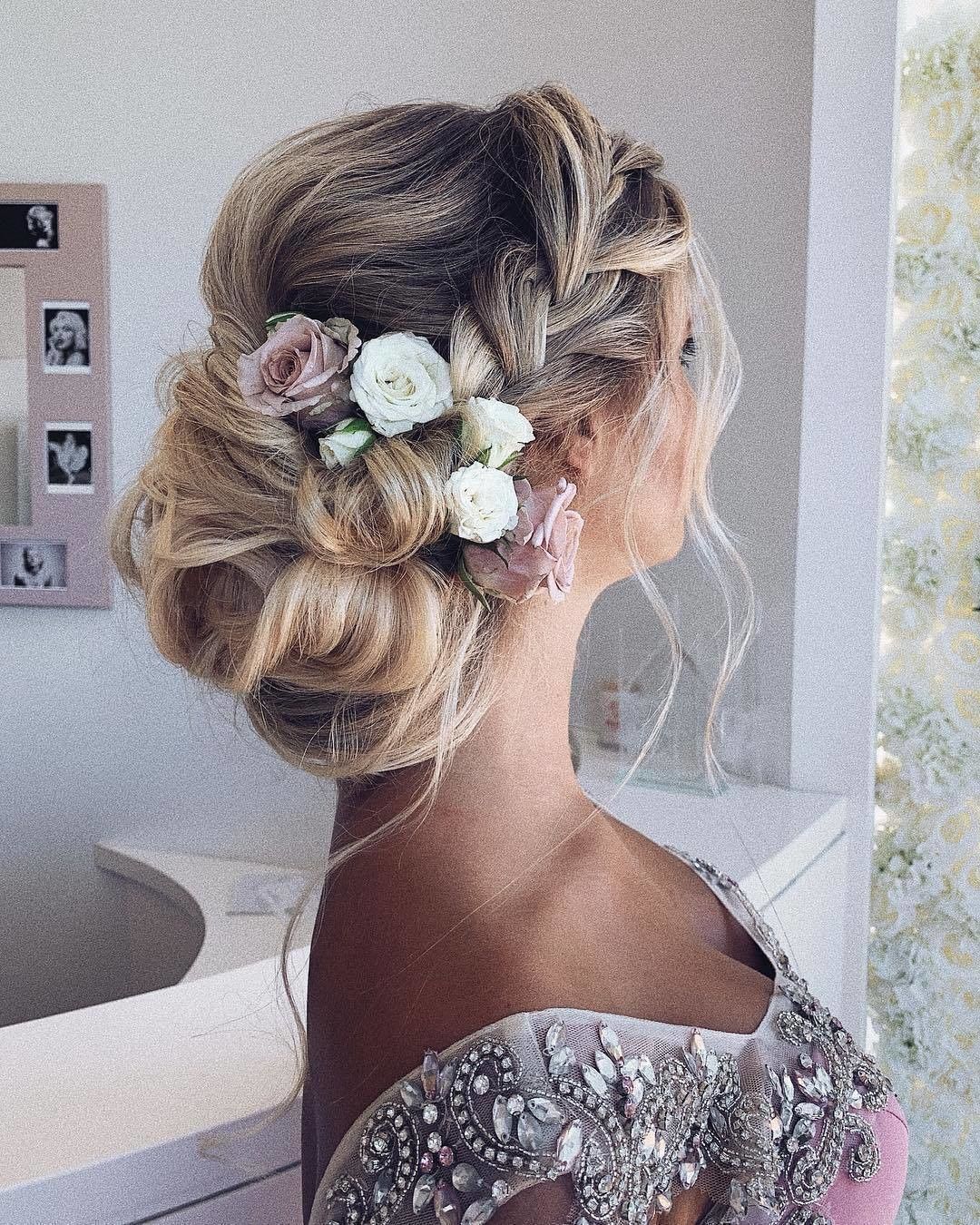 Side braids are so popular these days that you cannot avoid one in your wedding style. And that's good because they are so elegant that will turn your simple updo into an elegant bridal hairstyle. If you don't like your whole hair in braids, twist the rest of your hair in a low knotted bun and add the braid to it. Decorate it with real roses to get an even more unique look.
These were the styles we chose for you to get you inspired and help you get the best look for your wedding day. If you have enjoyed them, please let us know by leaving a comment below.