Cute accessories always help bring out your outfit and pull it all together. The perfect jewelry can make the difference between looking casual and totally to die for. Because beauty is who you are…Jewelry is simply icing on the cake.
A stunning necklace is a woman's armor. However, sometimes me not be able to afford to buy the jewelry we have set our sights on the jewelry we like. But don't worry, where there's a will, there's away. Are you interested in DIYs? Why don't you try and create your dream necklace? And don't you think that you don't have what it takes to create jewelry. And we can prove that with a little patience and the right materials you can unique jewelry that will be the envy of all your friends.
Here we have 15 DIY tutorials of bold, beautiful, and chic necklaces that will transform your whole look. The tutorials are easy and, as you will notice, the materials you'll need are quite cheap and easy to get a hold of. And remember, you don't have to be rich to get your bling on. You got this! You have some jewelry that needs to be shown off!
1. DIY Painted Wood Bead Necklace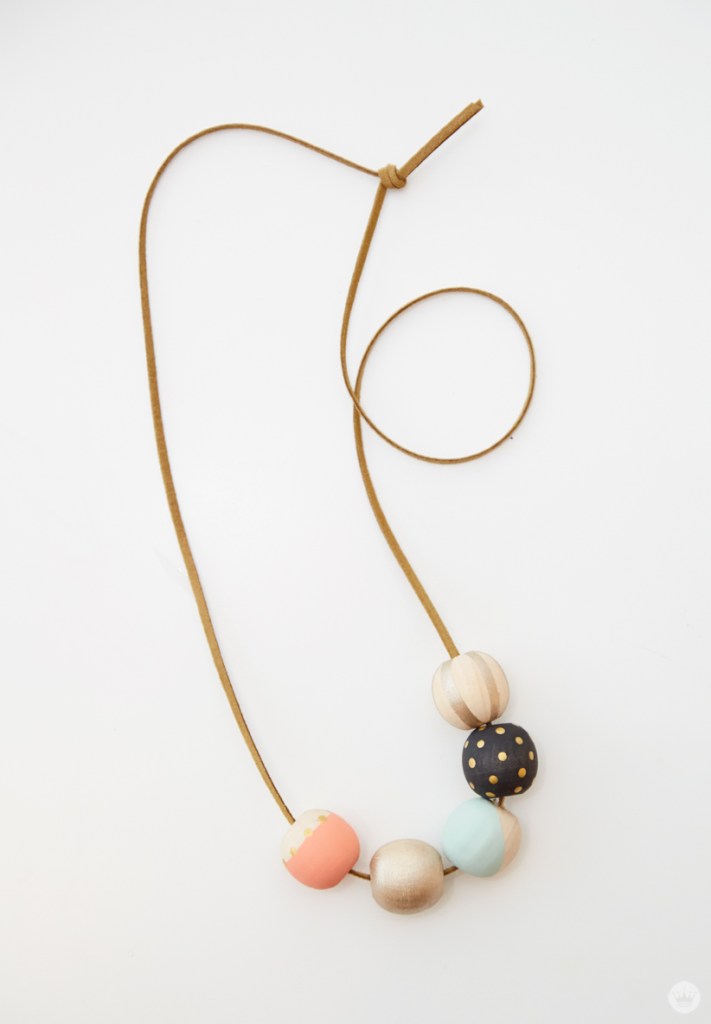 Life is too short to wear a boring necklace and this design is not even close to boring. Such a lovely string of different patterns and colors. There are no rules for designing this necklace and every pattern will have beautiful results at the end. You can paint it with your favorite colors, or with more neutral ones if you want to combine it with more outfits from your closet. Follow the tutorial and see how it's made.
2. DIY Bohemian Suede Fringe Necklace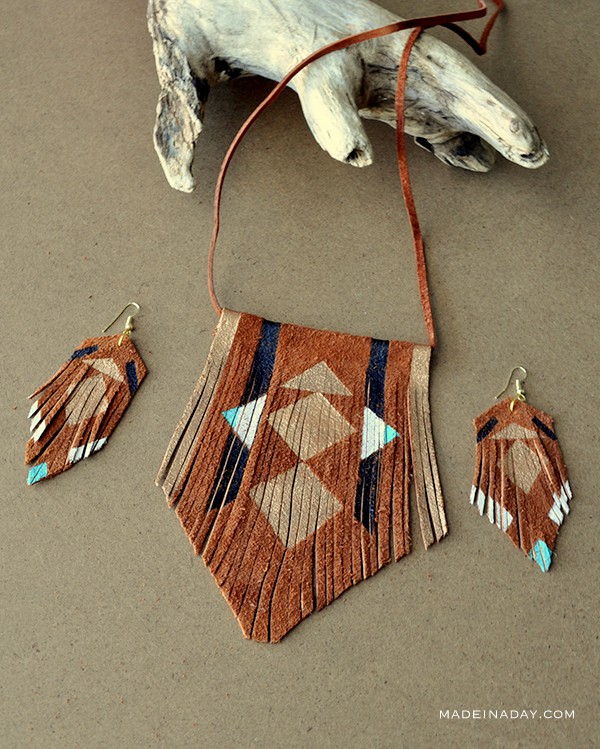 Are you a fan of leather jewelry? If so, check this tutorial. This necklace is perfect for summer days, festivals, or parties on the beach. Plus, the bohemian trend never goes out of style. It's super fun and easy to create, just follow the steps in the tutorial and you'll finish it in no time. All of your friends will love it!
3. DIY Polymer Clay Necklace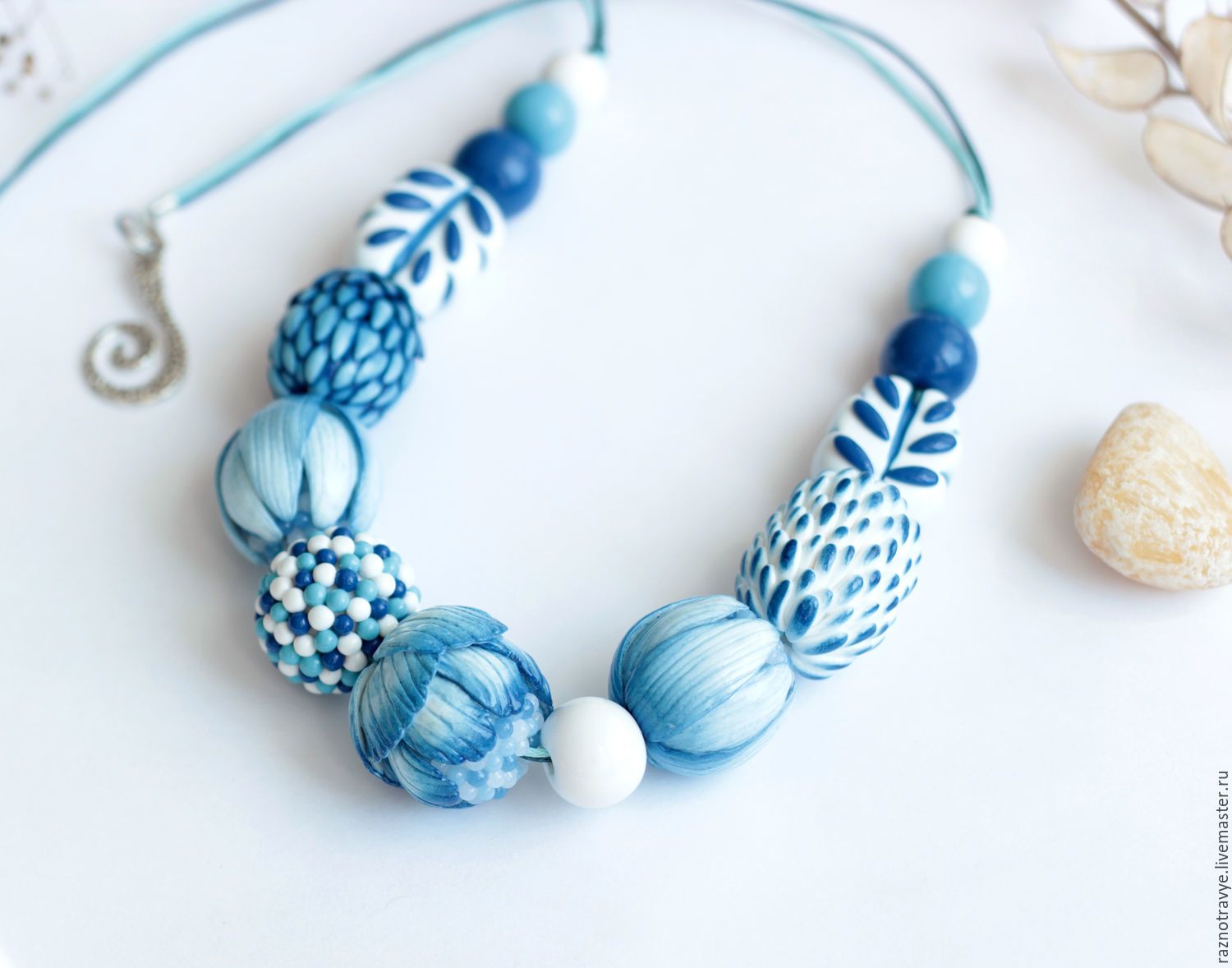 This is the "main attraction" type of necklace. It's almost impossible to believe that it is handmade. Are you up for a challenge? Follow the tutorial and create this eye-catching necklace that everyone will adore! You'll be proud of the ending result, we promise!
4. DIY Triangle Pendant Necklace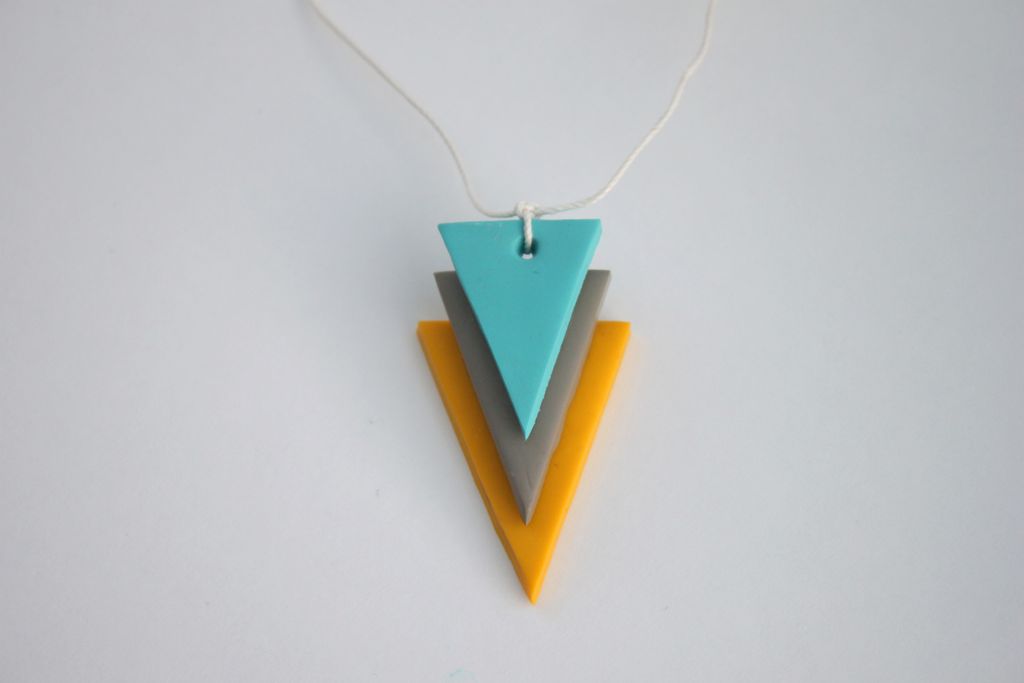 Here's another DIY idea for a handmade necklace. This is so subtle and minimalistic design that everyone falls in love with. It is made from clay, very simple and quickly done. Pick a combination of three colors, shape the triangles, bake them, glue them together, and add a string. Easy, right?
5. DIY Geometric Necklace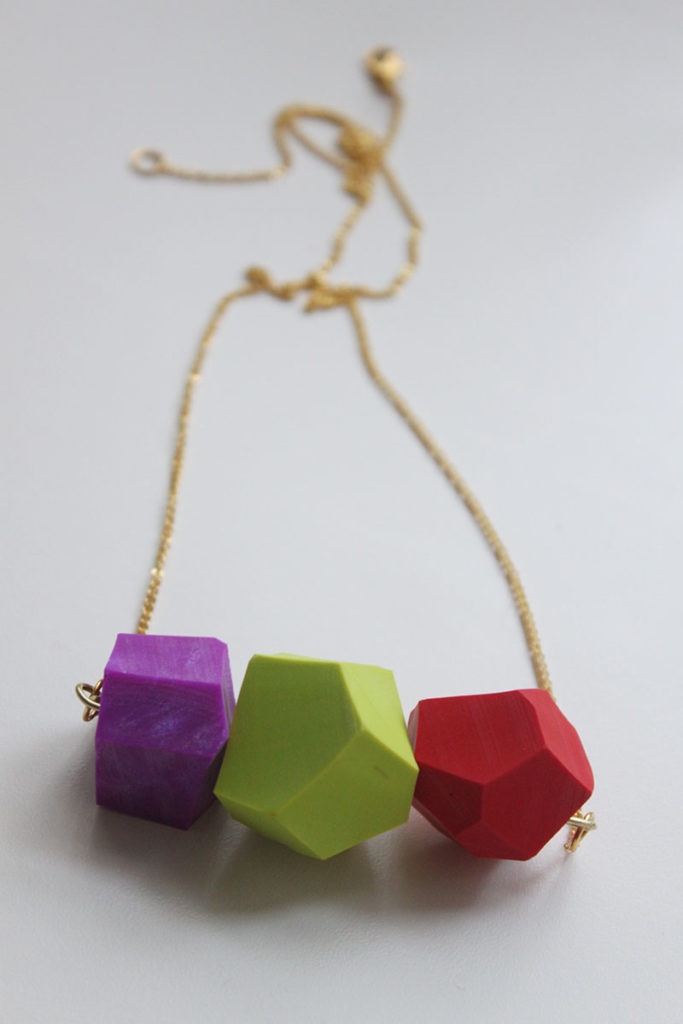 Such an interesting and innovative design. A great way to put an accent on your outfit. And the color-pop shapes are to die for. This handmade design is very easy to create, just follow the steps on the tutorial. Liven up your look with this splash of boldness. Have fun!
6. DIY Sea Stone Necklace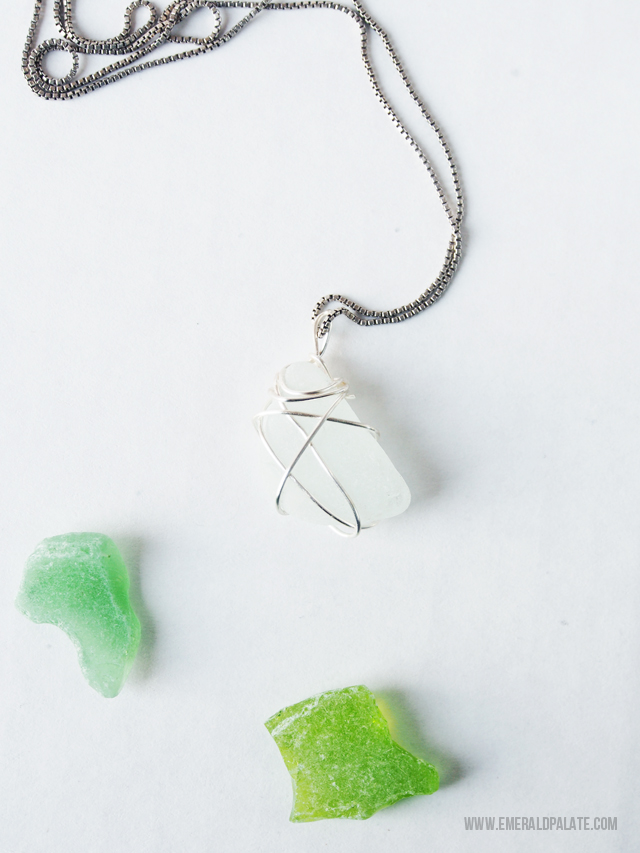 Do you like this necklace? Well, next time when you go to the beach, search for seashells, sea glass or sea stones, because that's all you need to make this necklace. It's so simple and cute. You can wear it every day and it will blend perfectly with every outfit.
7. DIY Dagger Necklace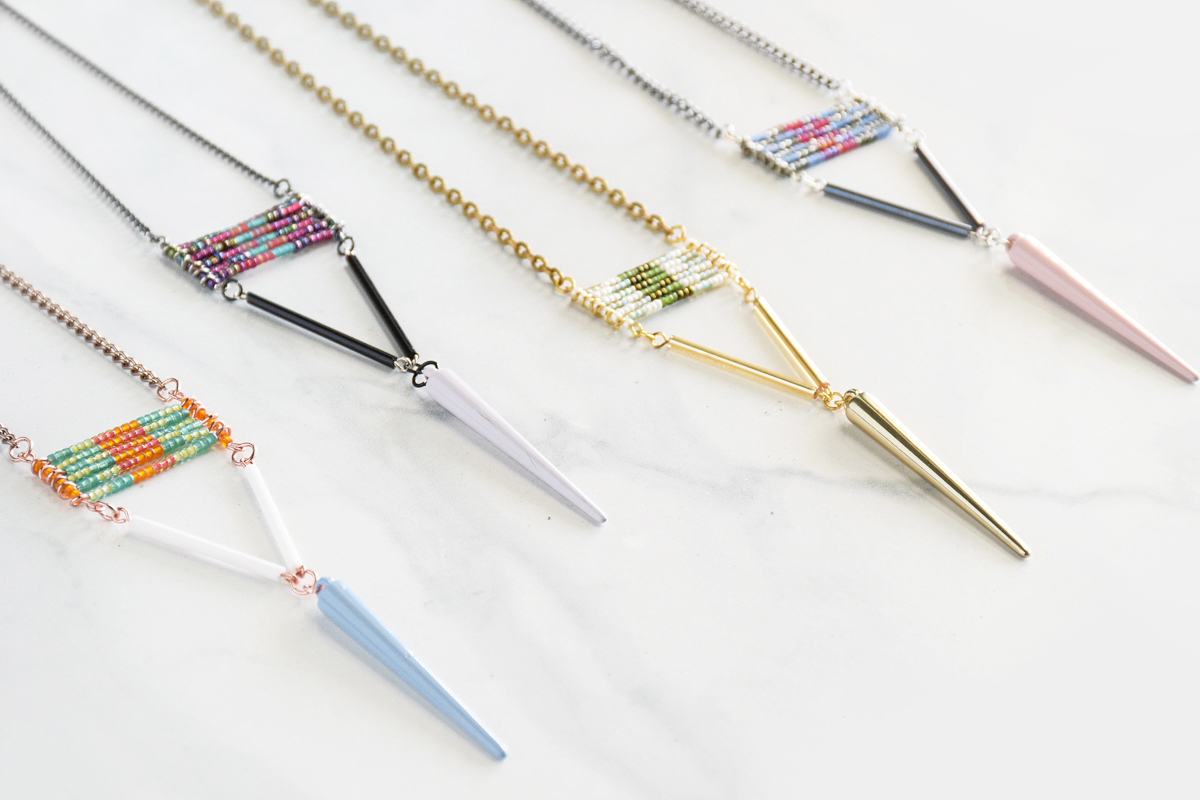 Such a beautiful and creative mixture of shapes and colors. Spikes are so trendy and combined with an interesting combination of colors they make the perfect jewelry. Go to the link to see the tutorial. It's a piece of cake, we promise!
8. DIY Lava Stone Necklace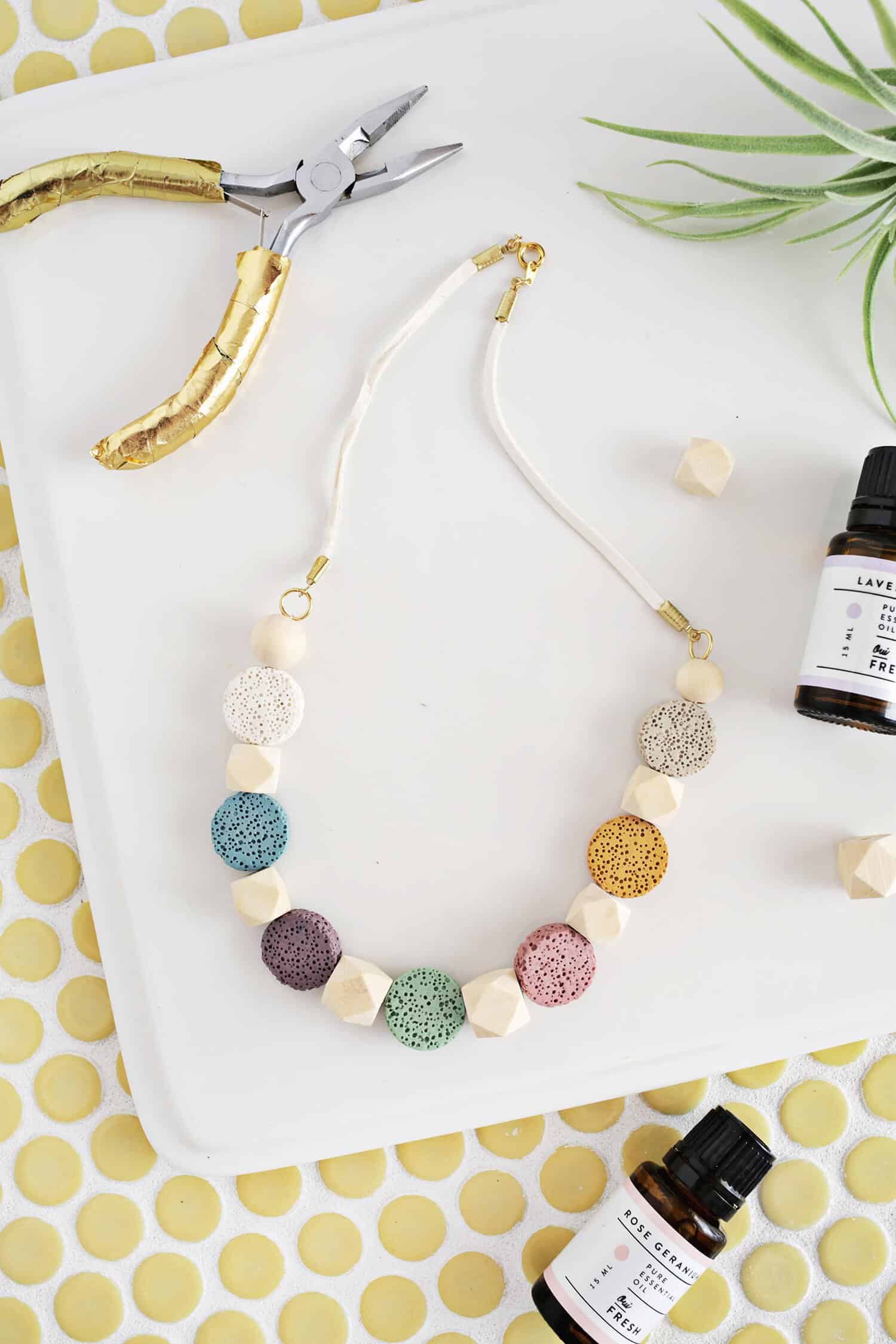 Isn't it cool that lava stones can be used as an accessory? But that is not all. Lava stones are porous stones, so here's an idea for you. Pour essential oils into the pores and let the scent mesmerize you, and those around you throughout the whole day. This necklace is super easy to do, and the result is fantastic! Beautiful necklace with a lovely scent. Who wouldn't want that?
9. DIY Feather Necklace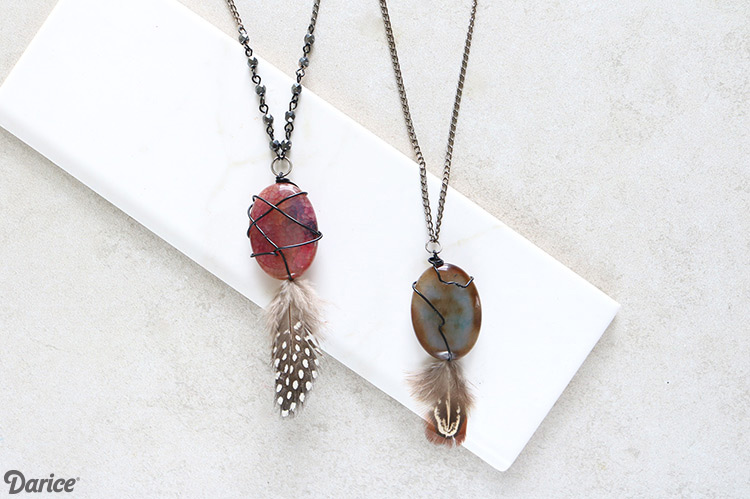 Another exquisite design made out of interesting parts. With this necklace, you can experiment all you want. The ending result will depend on you and what kind of stone and feather you will pick it's completely up to you. Never the less, there's no room for errors. It's going to look great either way.
10. DIY Wooden Cubes Necklace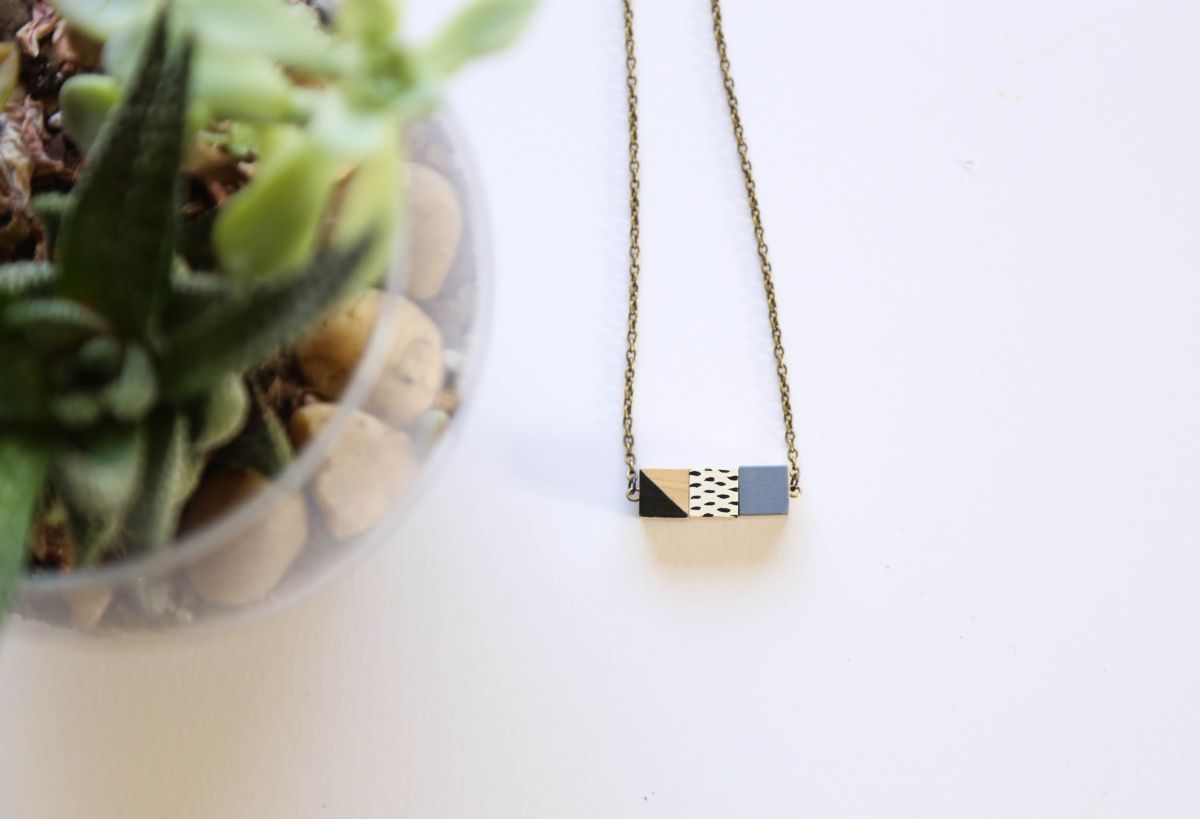 Here's another easy DIY necklace for you to try. The materials are super-cheap and very simple to design. You can experiment in terms of patterns and colors.  Either way, the design will be stunning. It's a very minimalistic accessory that blends in with every outfit. Super-easy and done in no time!
11.  DIY Pineapple Necklace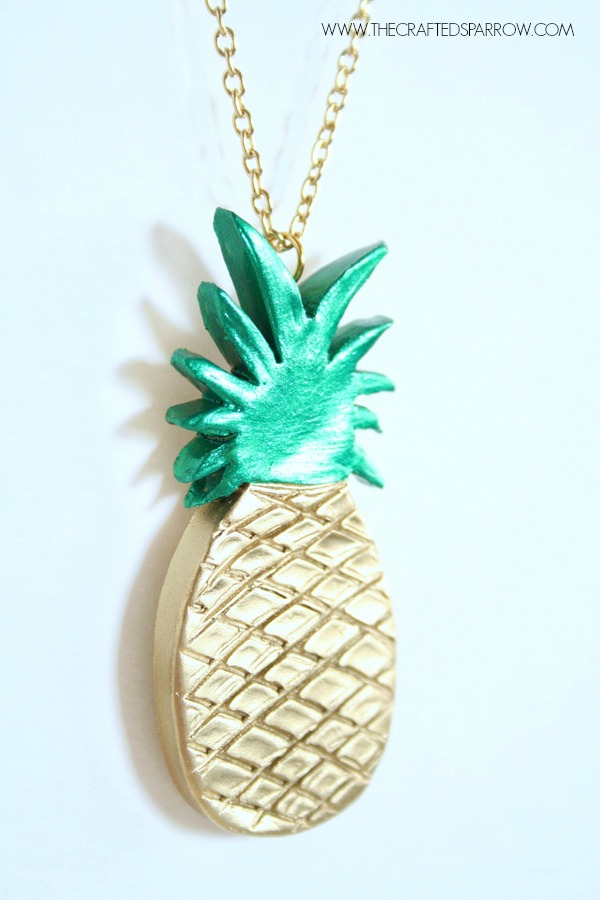 Pineapple is so trendy these days. So, why don't you keep up with the trend and make this cute necklace? It is perfect for summer days and beachy vibes. The design is very easy and simple to make. And it's incredibly cheap too!
12. DIY Faux Terrarium Necklace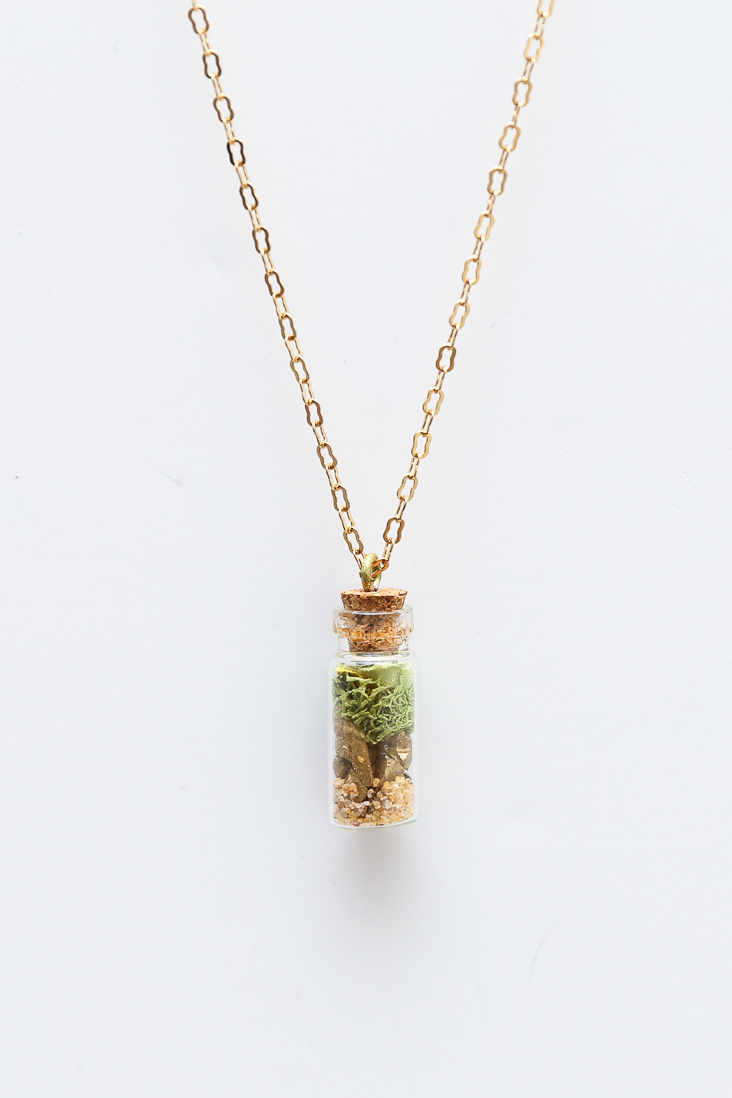 Here's a creative idea for all the plant lovers. Such a unique piece of jewelry. This design is simple and easily crafted, yet the result is magnificent. You'll wear a little piece of greenery wherever you go. Try it, you'll be amazed!
13. DIY Book Necklace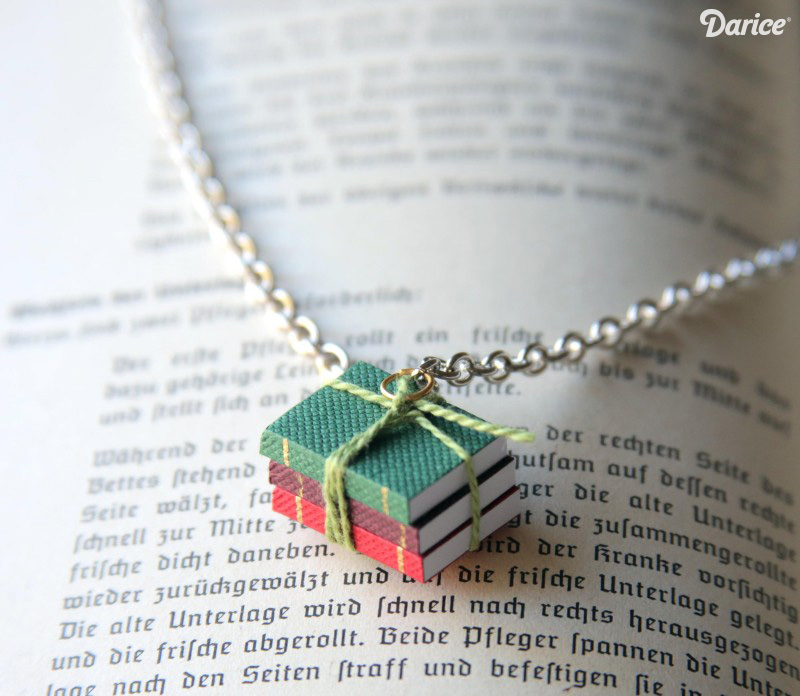 Isn't it the cutest necklace you've ever seen? A perfect present for book-lovers, teachers, and librarians. If you want to create this lovely necklace, go to the link and follow the few simple steps. You'll instantly fall in love and never take it off!
14. DIY Triangle Prism Necklace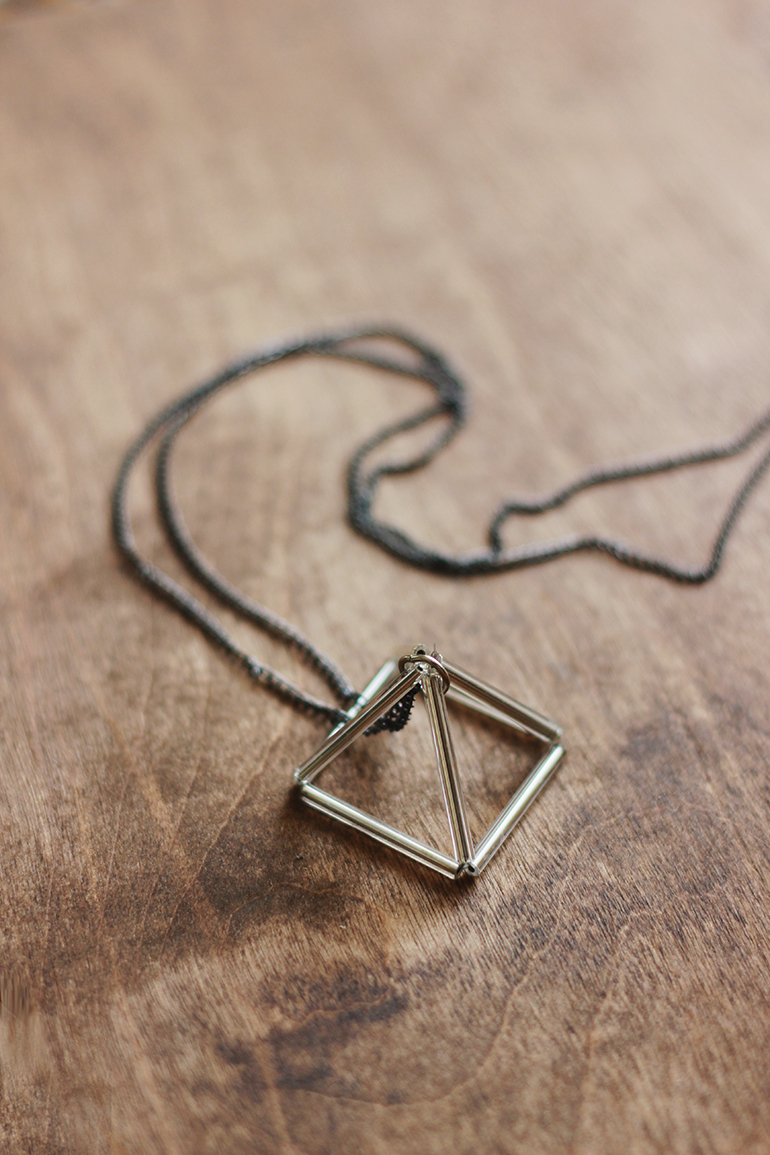 Geometric-shaped necklaces are so wardrobe-friendly. The minimalist style goes with everything and looks great along the way. Subtle, but very artsy. Follow the link and see how easy is to make it. Go ahead and give it a shot. Because there is no such thing as too much jewelry.
15. DIY Two-Tier Necklace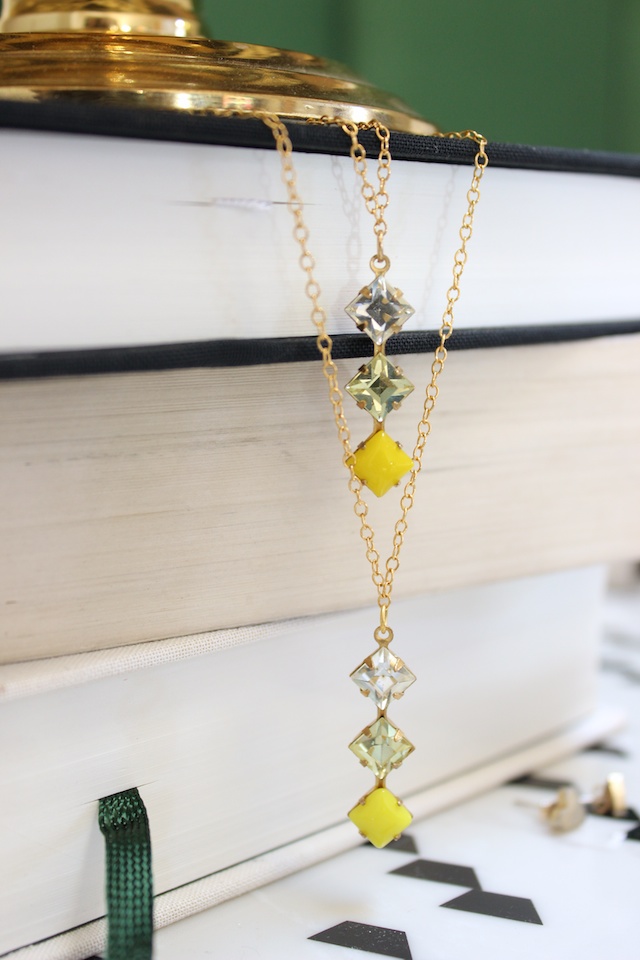 Jewelry is like ice-cream. There's always room for more. Here's a design for you that screams with elegance. It's so subtle, with a touch of shimmer and glamour. You can make this necklace design in only four simple steps. Go to the link and follow the instructions.
Everybody likes to be casual and comfortable, but we also love the easy glamour of wearing jewelry. And who wouldn't want to have these kinds of necklaces? You'll be so proud of your creations that your friends will ask you to make ones for themselves!  So, which one is your favorite? Leave a comment and let us know!