All would agree that nothing is better than a pool in the summertime, but for colder weather, a hot tub is the ultimate in enjoyment and relaxation.  Hot tubs, although smaller in size than an above ground pool, or even a classic pool, can't actually be described as being on the cheap side. That doesn't necessarily have to be the case, though. For those of us that don't mind rolling up their sleeves, applying some elbow grease and creativity will get you across the finishing line without always having to spend big time. So, here's our variety of ways for it for a variety of budgets.
1. Stock Tank Propane Pool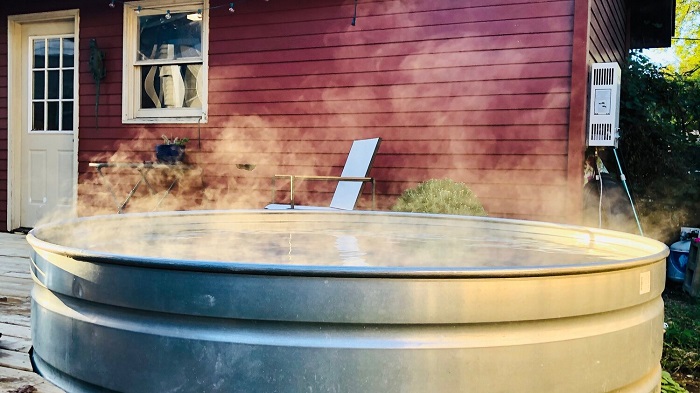 There are times when something sounds complicated, but in reality is really simple. This is one of those times. With the simple combination of a stock tank and an outdoor water heater easily found online, you're basically good to go.
2. Inflatable Pool And Hot Tub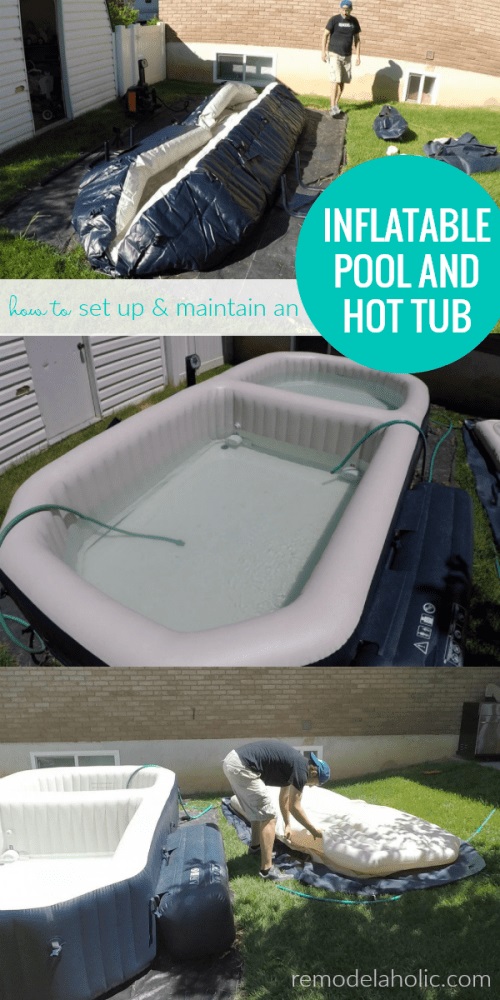 Still, there are lighter and more portable ways than giant metal kegs. Make sure the space in your backyard is easily freed at will with this inflatable wonder. Also, unlike most fixed options, it is fairly easy to set up and enjoy at any time of the year.
3. Get Steely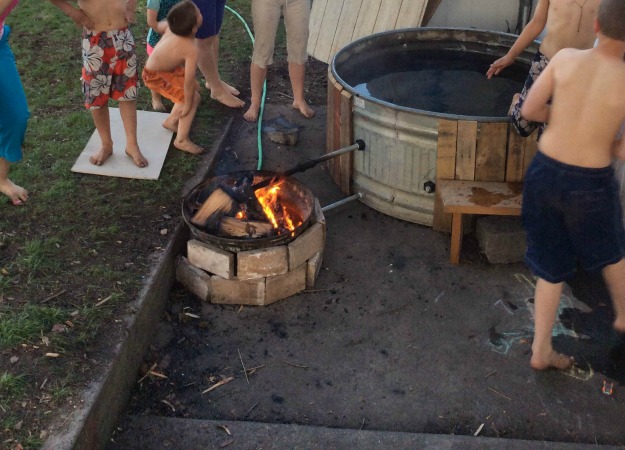 Putting together a hot tub from mixed materials doesn't mean that whatever heating system you choose to use needs to be a complicated setup. All it takes is a couple of pipes connected to a fire hole (or ring, in this case). Even when it's not eye-catching, it does the trick.
4. Concrete Hot Tub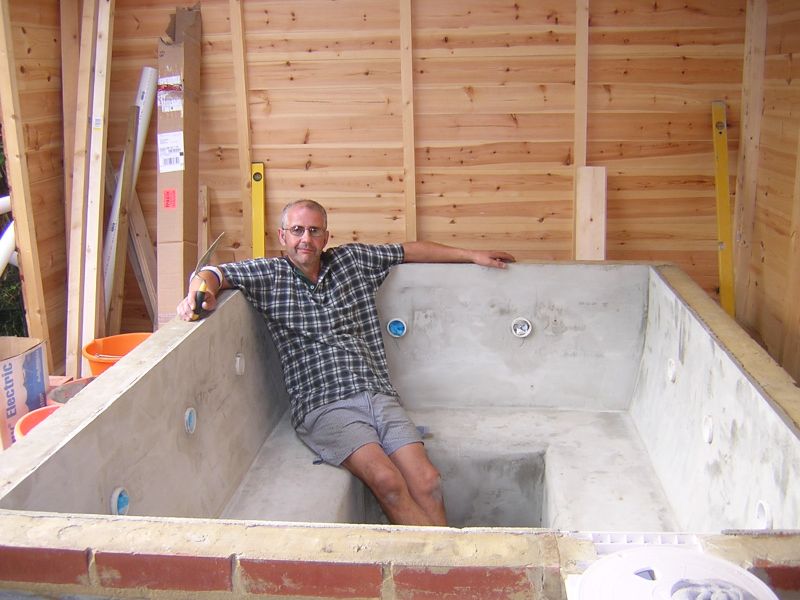 But, let's be honest. Some of us want nothing less than good old sturdiness. That's the cue for going all out with a proper concrete structure that you know will handle anything you throw at it. And the best thing is you can make it in any shape and form you want.
5. Homemade Hot Tub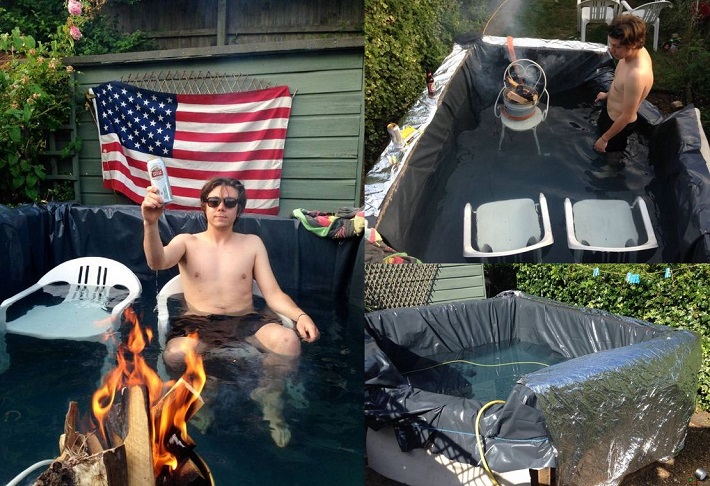 However, if you don't feel like getting fully invested (financially and emotionally) in this project and fear it might be just a fad or a phase, who's to say you can't improvise a bit? When you have a crew that has no problem with some tarpaulin, you can get the party started!
6. Pallet Hot Tub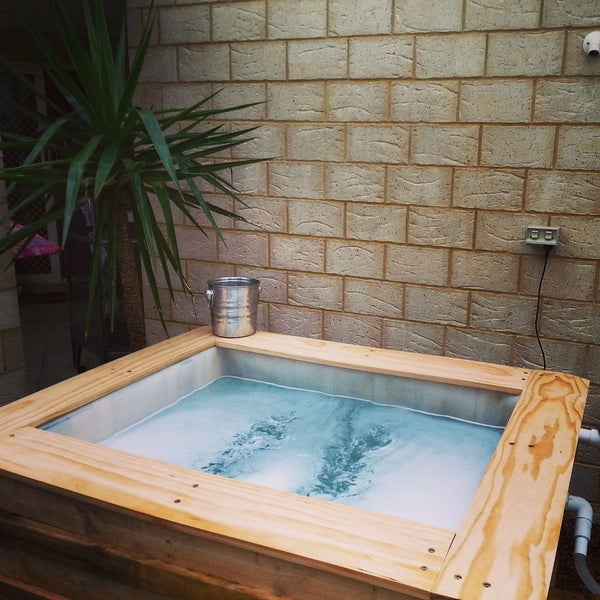 Improvising nevertheless leaves room for Scandinavian style simplicity too. And that can also be achieved with something as crude as pallets. Bring the IKEA atmosphere to your neck of the woods without actually driving all the way to an IKEA store and reading gibberish instructions, all for a lean budget.
7. Wood Fired Hot Tub
Have you ever thought that as much as you want a hot tub, there's no way one could be a good match for your log cabin? Well, think again. What if I told you there is a way for your backyard unwinding tool to fit your homely place? And it logs again that will keep you warm and cozy.
8. Cedar Hot Tub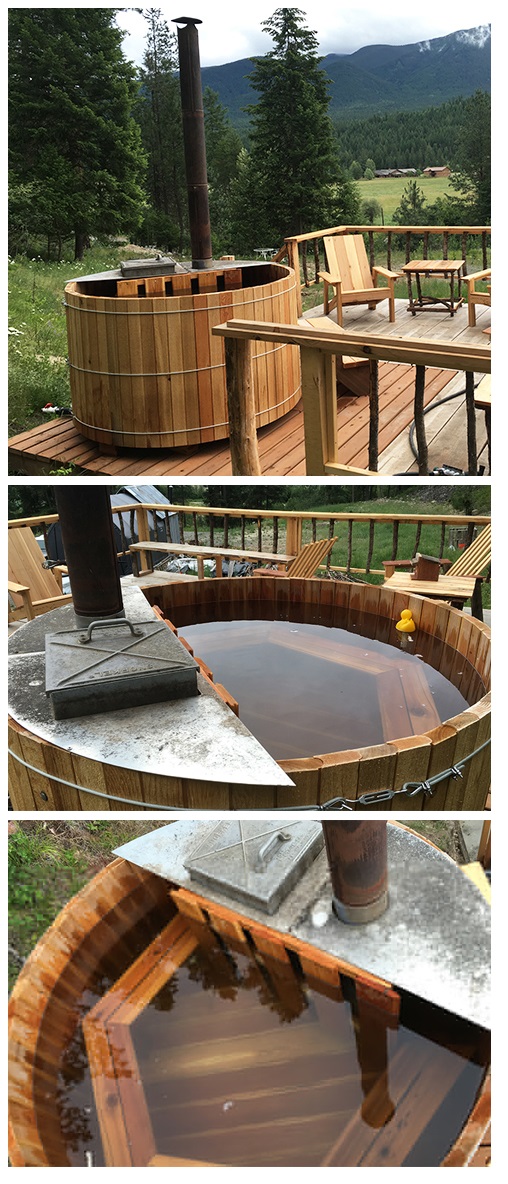 Having a wooden, barrel-looking hot tub is all well and good, but if you really want to nail that rusticity, go for the cedar wood that will make your yard, deck, or patio the object of envy for miles around. Gaze at the starry sky sheltered by well-heated water without a care in the world.
9. Wood-Fired Ocean Hot Tub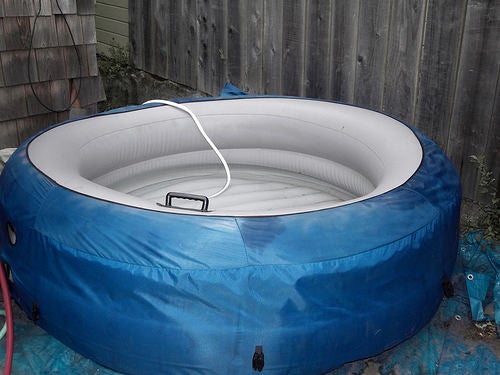 If firewood is your preferred method of providing heat, that's not to say the actual tub needs to wither wood or metal. It's also possible to get the best of all worlds by setting up an inflatable tub filled with seawater and hooking it up with a heat exchanger.
10. Covered Wood Fired Hot Tub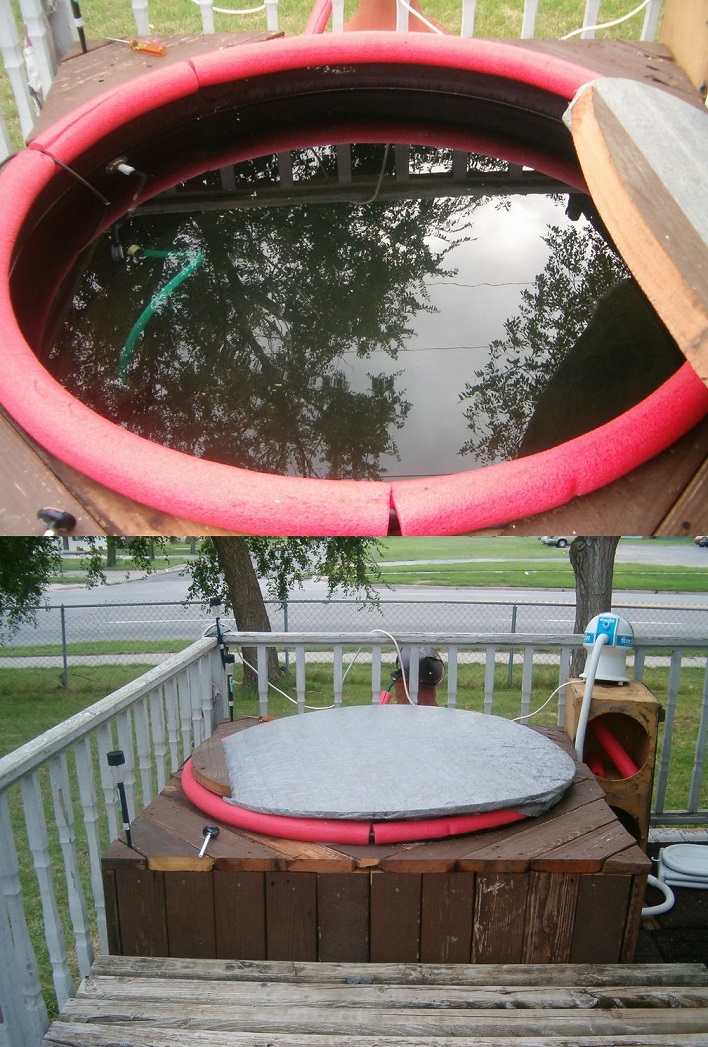 Even though hot tubs are small and thus easier to clean than pools, their maintenance can sometimes be a drag. The best way of getting around this nuisance is by making one with a cover, to keep the water and the internal construction free from the elements, as well as pesky animals.
11. Solar Hot Tub In A Day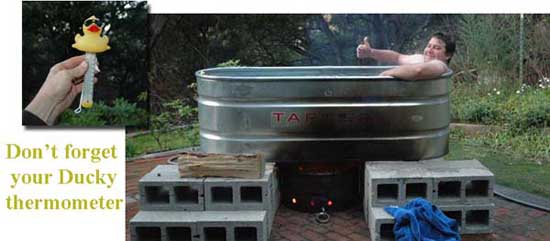 Speaking of maintenance, there's far more to it than cleaning. We all dread calling repairmen for every little thing and the last thing anyone needs is another potential reason for repairs. Which is why this is just about as low maintenance as it gets.
12. Survivalist Hot Tub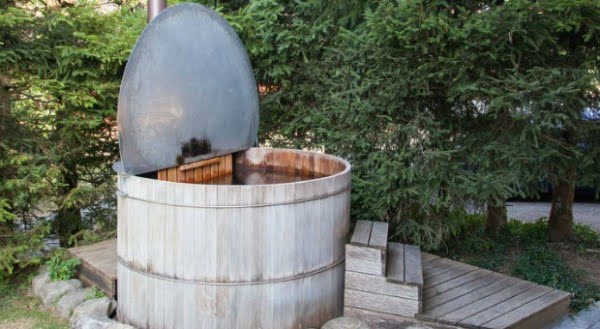 If you're someone who wants things that aren't only for enjoyment but also serve a practical purpose, a homemade hot tub can be the ideal means of ensuring personal hygiene at even the rowdiest of places. Get ready to fuse your desire for enjoyment with some survivalist know-how.
13. Decked Out Hot Tub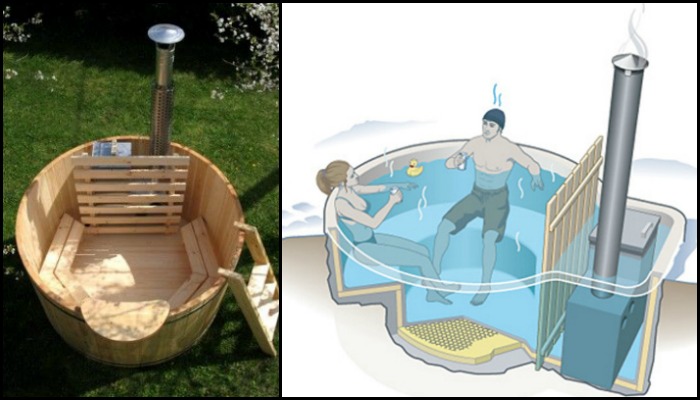 Going rustic and using wood may be an inconvenience, as this type of hot tub can prove to be either too shallow or unsuitable for sitting relaxed. That's why I would also suggest decking out a bench-like contraption to allow you maximum comfort.
14. Back Country Hot Tub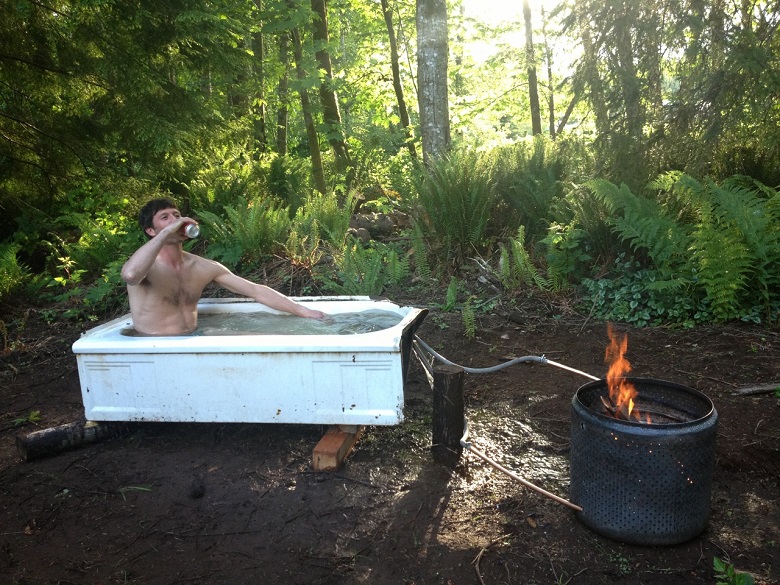 Then again, your creativity shouldn't be restricted to placing one of these wonders of enjoyment in your yard. Embrace the call of the wild and you can relax in somehow water anywhere! Why sit in a neck of the woods, when you can be smack dab in the middle of it?
15. Stock Tank Hot Tub Pool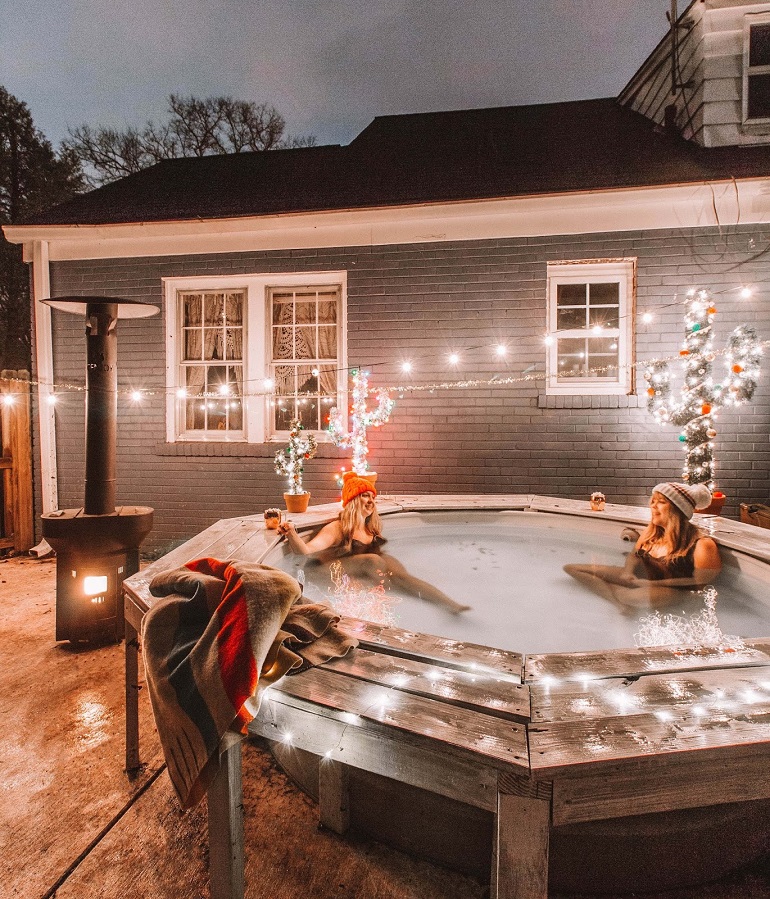 And finally, never be afraid of going big, because there's no such thing as too big. Some stock tanks are large enough for whatever size group you want to have planned. Get ready to heat up some water and rumble in it any time of the year!
So, there you have it. Those are the ways I would make my very own hot tub in my very own way, and I have a soft spot for the rustic feel of wood. What would you do if you had to compensate for a limited budget with an abundance of creativity? Would you pick one of these ways, or maybe go a completely different way? Leave a comment and let us all know.