It is amazing how with nail art you can come up with a varied number of forms and designs that execute your ideas on point. The inspiration is everywhere and you just have to choose the right one. So for today's idea, we are choosing our furry best friends and life companions – PETS! And here we have the best ideas you can ponder upon to show your admiration for your playmate.
We can't think of a greater gift in life than the love of an animal. They live in our houses, don't speak our language, but somehow, they are our best friends. Pets are our furry children who will never ask for money, a car, or a phone. And they are always glad to see us! And here we have the best ideas you can ponder upon to show your admiration for your playmate!
Animal themed nail art shows our wild side and it also depicts our love towards the animals or our pets. Here we have the best ideas you can ponder upon to show your admiration for your playmate. Because we all know that happiness starts with a wet nose and ends with a tail!
1. You had me at woof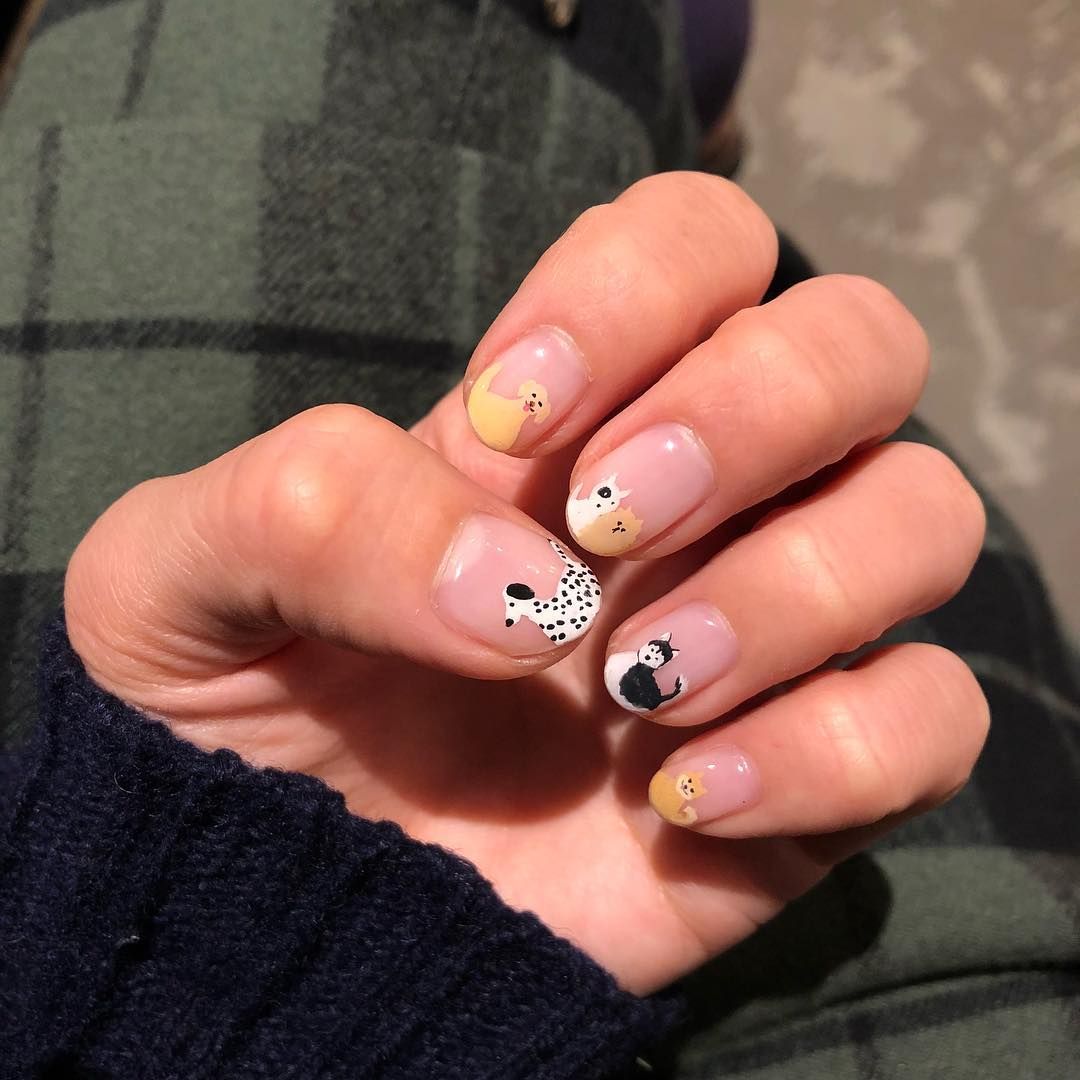 Are you an animal lover? Well particularly do you love dogs and go crazy whenever you spot one? Now you can opt for this cute dog nail art design and express your love. The base is nude, which is a great subtle option when you want to go with more creative shapes and patterns on top. And do we need to say something about the dogs beside a round of applause for the nail artist?
2. Curious cats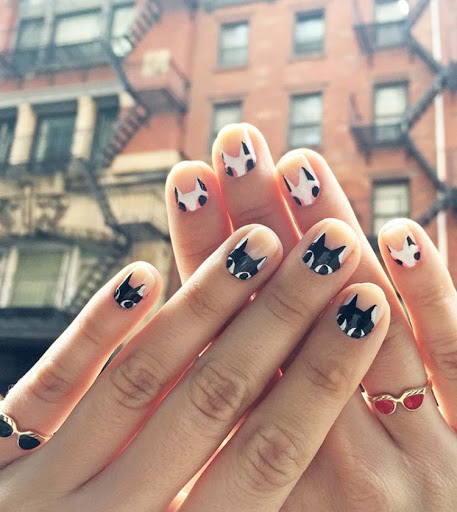 Get creative and put your art mode ON by portraying lurking cats on your nails. This nail design is very cool and versatile, it spreads artistic flair and your admiration for cats in a big way. To spice things up, create different types of cats on each hand. It gives that modern twist we all look in a manicure.
3. Vintage world of cats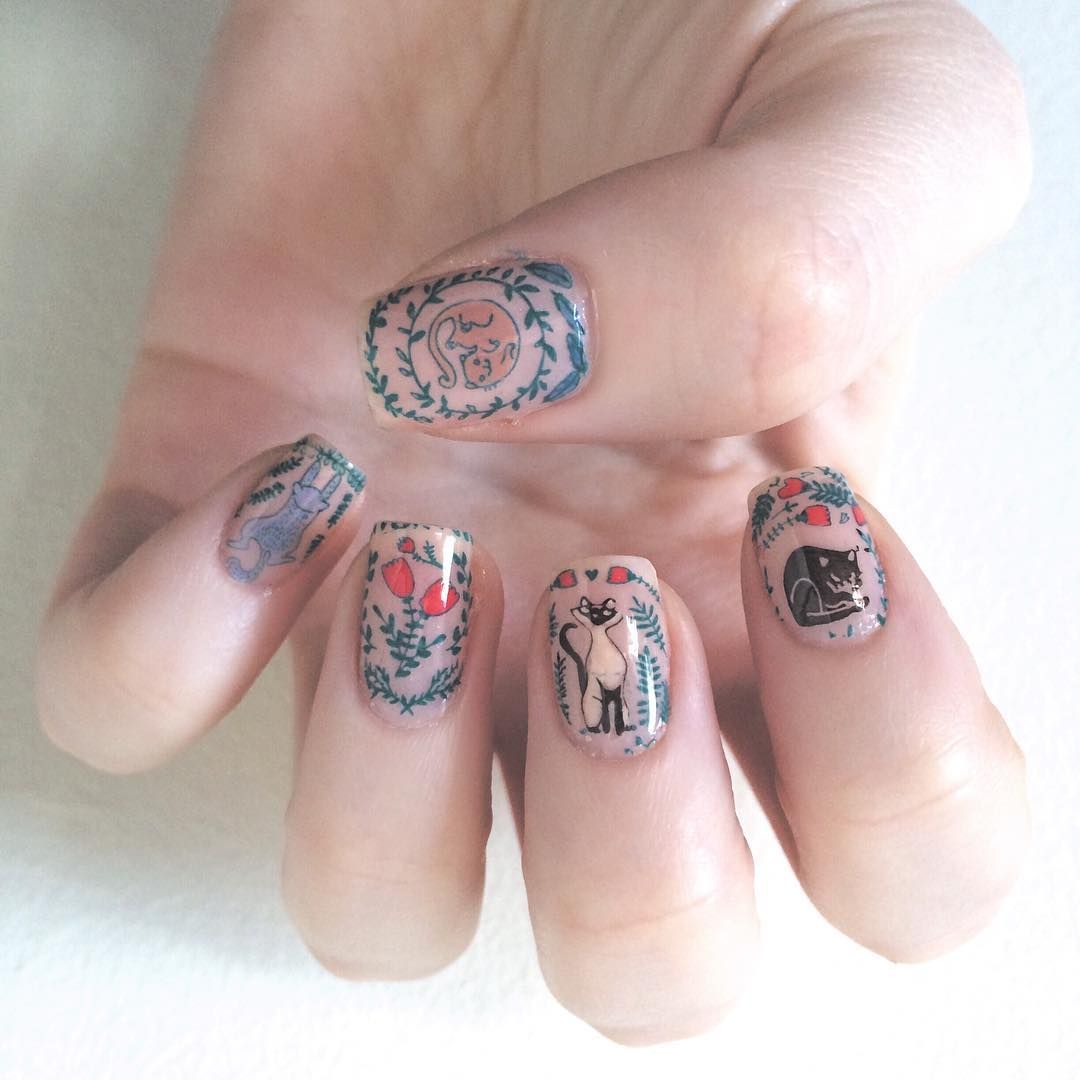 Think of a way to accessorize your nails? Why don't you go with these vintage-themed nails with fabulous cats? The base is in a delicate nude shade, combined with lovely floral designs and adorable cats. This nail art is anything but boring, making it an awesome statement accessory.
4. Doggy accents
If you want to go with dog-themed nails,  you can simply draw the face of a dog on just one or two accent nails, thereby leaving the other nails plain and simple. That way the dogs will be the main attraction in your manicure, especially when combined with nude, matt base color.
5. Home is where your dog is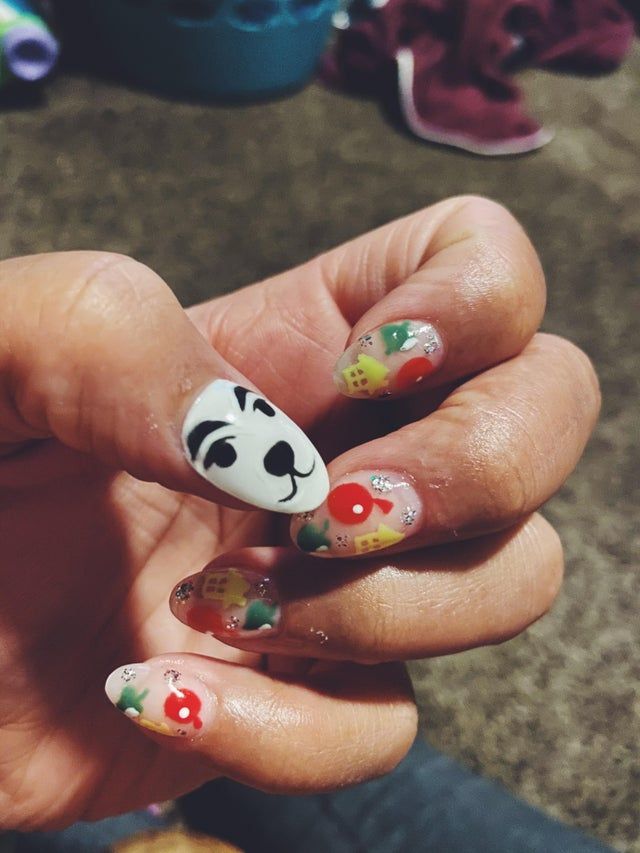 There's nothing more welcoming than an adorable dog waiting for you to open the front door. And this manicure brings out those vibes. A combination of rich and vibrant colors, house patterns, sparkles, and apples. The accent nail creates a trendy feel to this manicure idea with a touch of a modern twist that only a few can resist.
6. Bat-bunny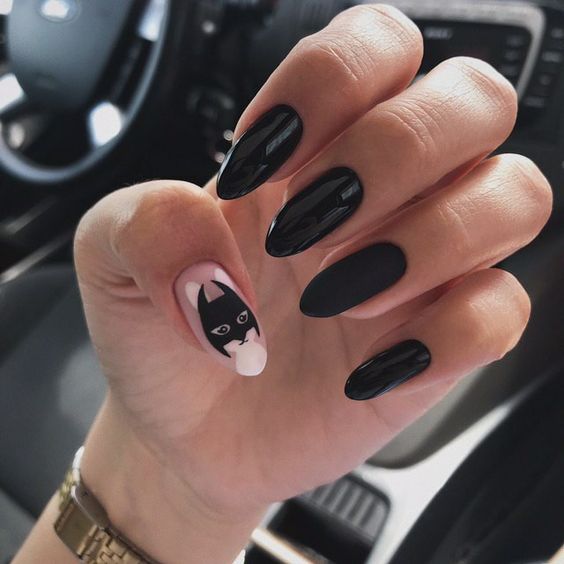 This manicure is so interesting! The black nail polish creates an awesome and undeniable edge that goes with every outfit and occasion. The star of the night is, of course, the Batman bunny. Yeah, you've heard it right…BAT-BUNNY! This design is definitely a work of a true artist that is universally flattering and super-cute.
7. Chubby pug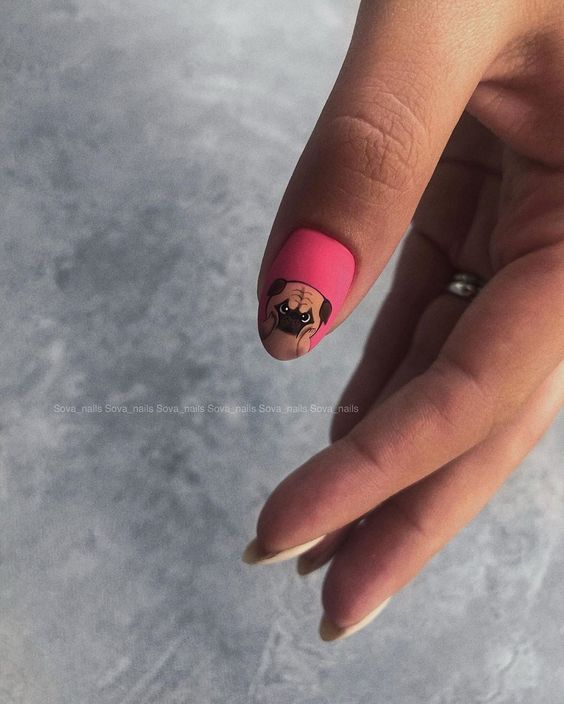 Attention! Cuteness overload! Pug-lovers, this one is for you! These nails are very stylish and interesting, the nude matt color is combined with a rich and vibrant hot pink accent nail. And the inserted pug on the accent nail is to die for. This is a very cute and totally astounding design!
8. Cat Heaven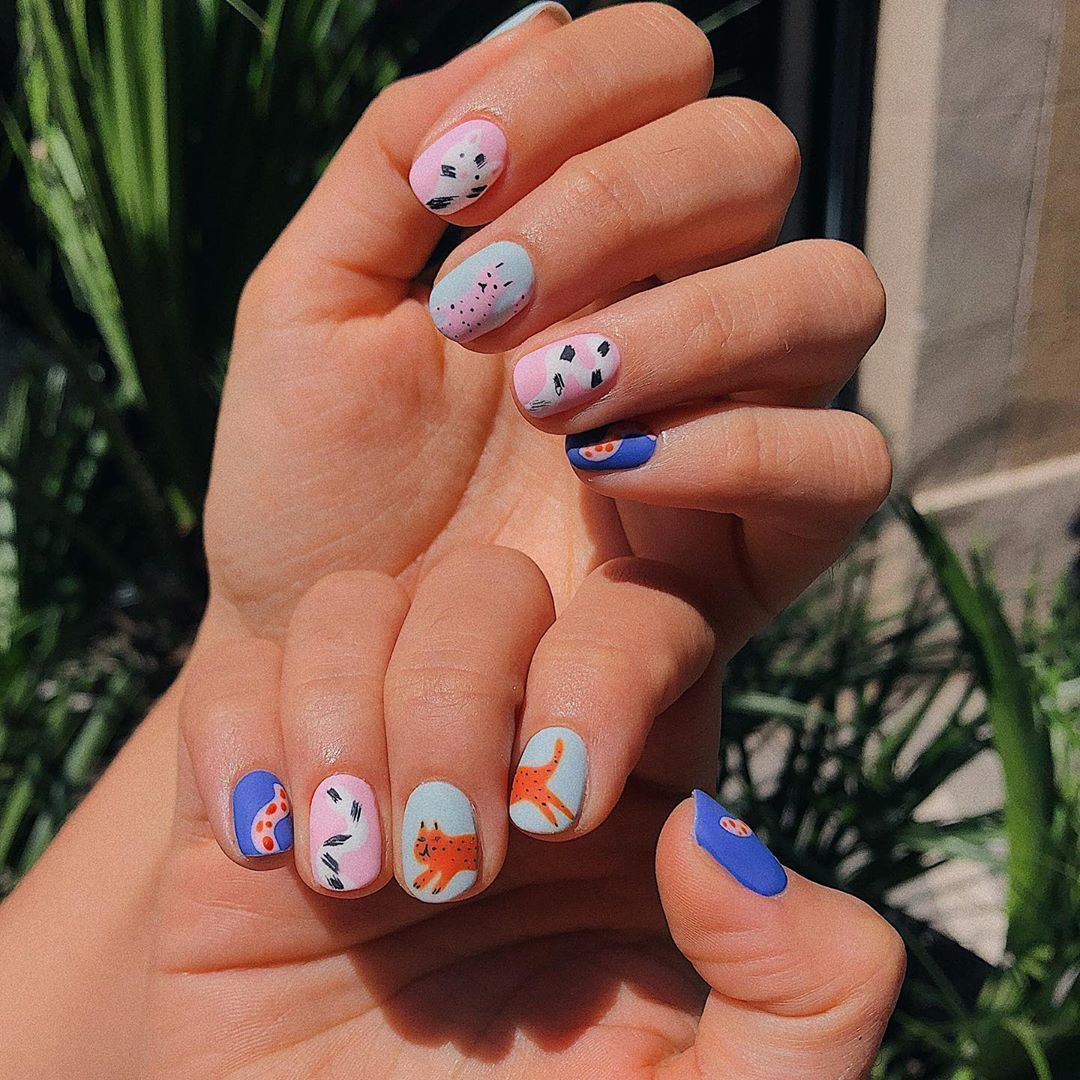 To be honest, nail art is an absolute piece of art it is one of the truest forms of art. Just look at these nails and you'll get the point. This is colorful heaven for cat-lovers! The cats are very artsy interpreted on the nails, and the combination of colors adds to the refined look this manicure gives. This manicure is a must-do!
9. Dalmatian flair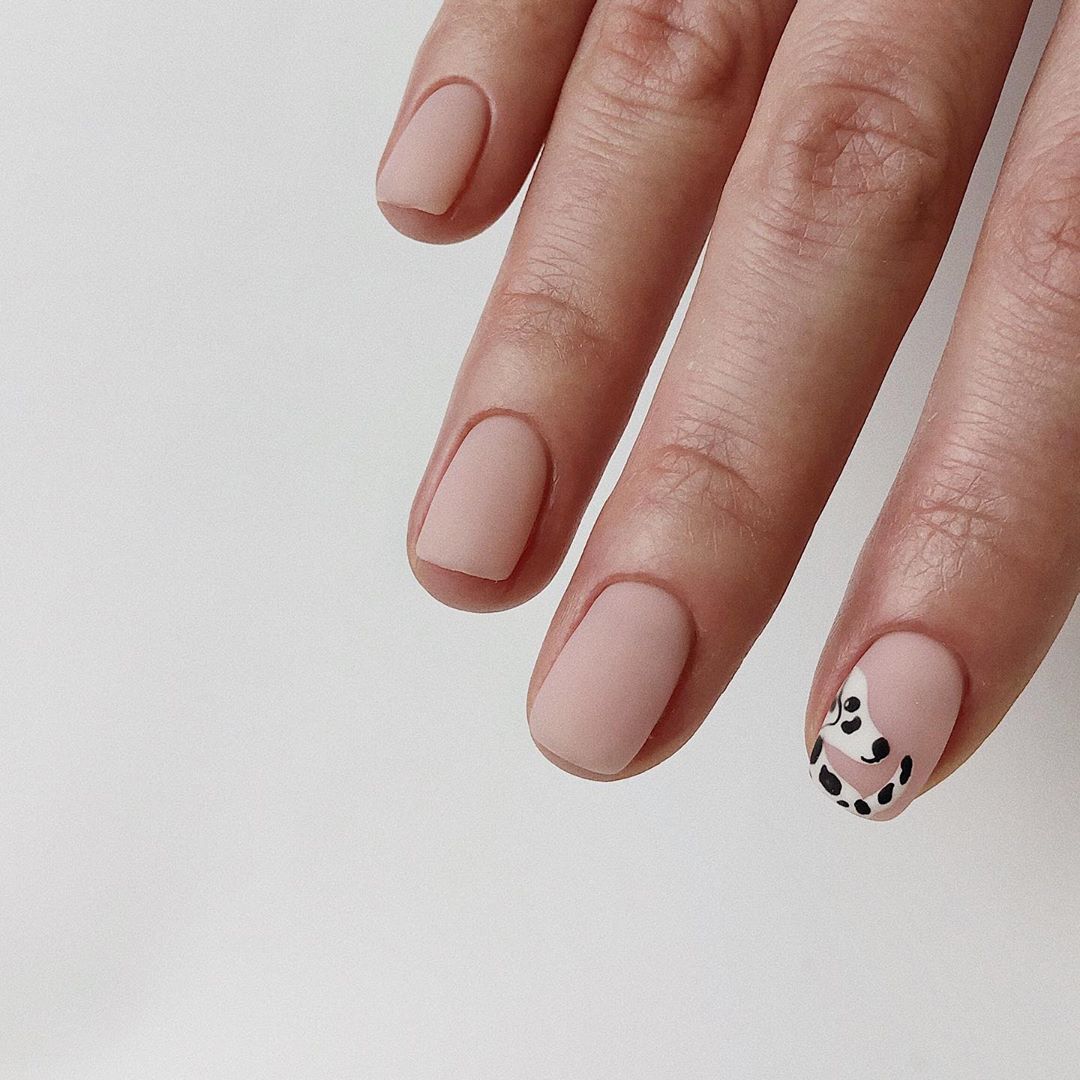 This is a very trendy dog nail art that includes using a base color for all the nails and along with that a subtle pop of a pup, in our case a dalmatian. Simple, classy yet elegant. The neutral nude is an excellent choice for this design, as it emphasizes the minimalistic style and the cute doggo is the main attraction of the look.
10. Life of a cat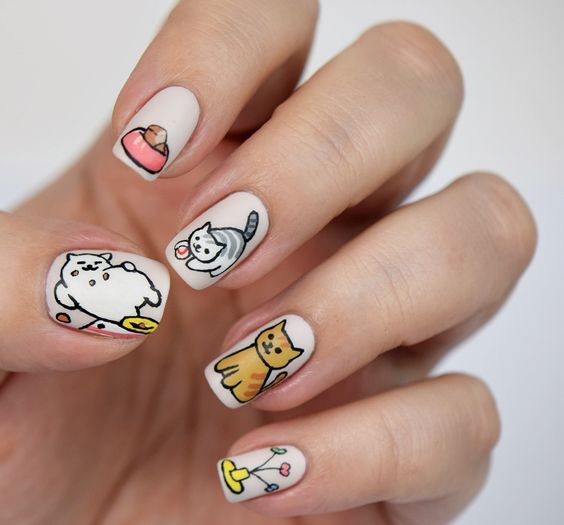 The animal patterned nail art is one of the most popular and trending nail art designs, and of course, includes some cartoonist designs. This cat-themed nail art design presents the interesting life of a cat. It spreads girly and fun vibes that will definitely be adored by many. Give it a try, you'll love it.
11. Yoga pug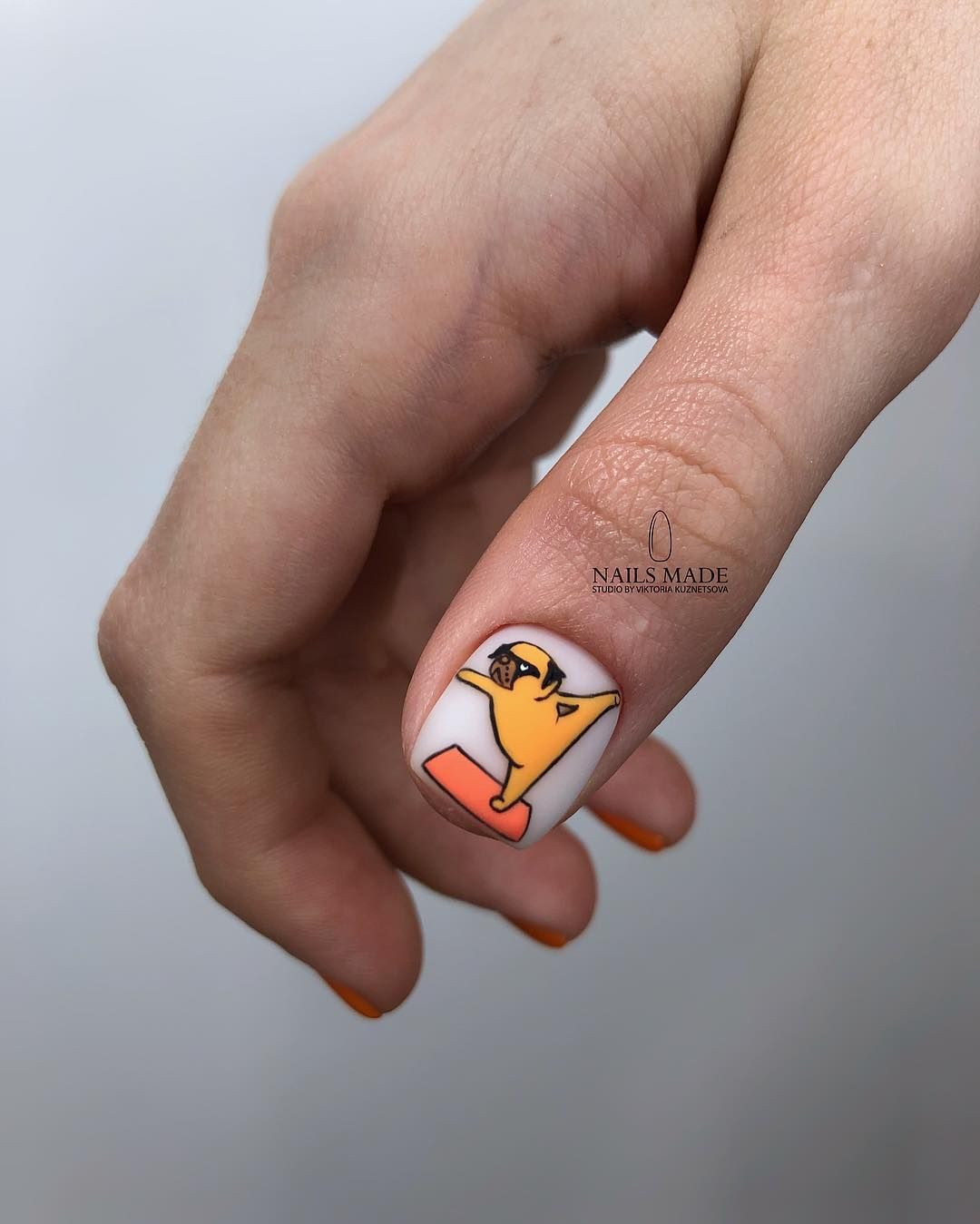 Rich, vibrant colors, velvety matte, and YOGA PUG! Yeah, this nail design is definitely a must-try! The accent nail gives enough pop and leaves space to be combined with a number of outfits and occasions. This nail design definitely grabbed us right by the faces and made us look!
12. My cat is lost in Space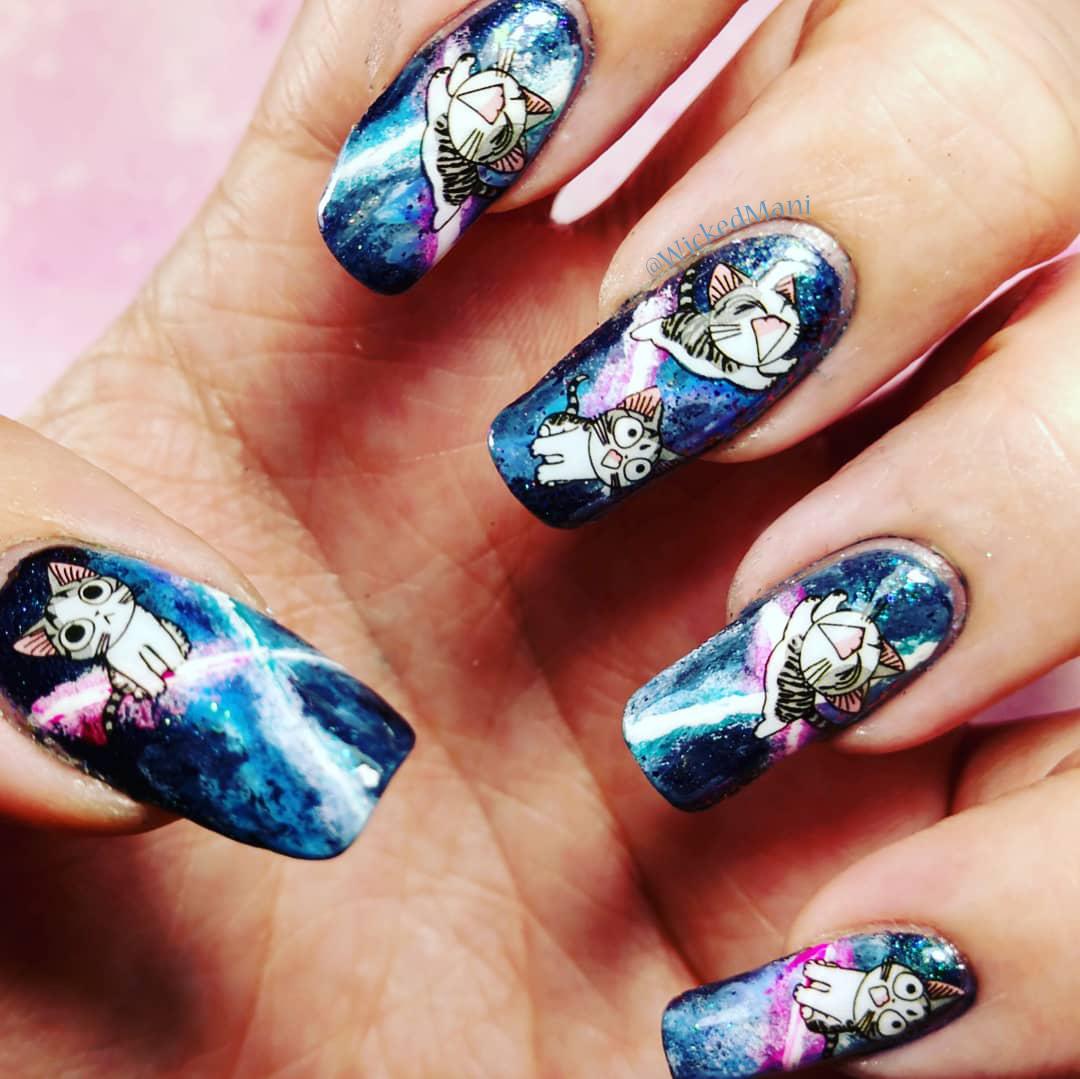 Can we all agree that no detail was spared on this manicure? Starting from the dreamy colors that perfectly portray the Universe, to the adorable "lost in space" cat that shows up on every nail. A true work of art that will definitely be noticed and complimented. Do you like it?
13. Dreamy bunny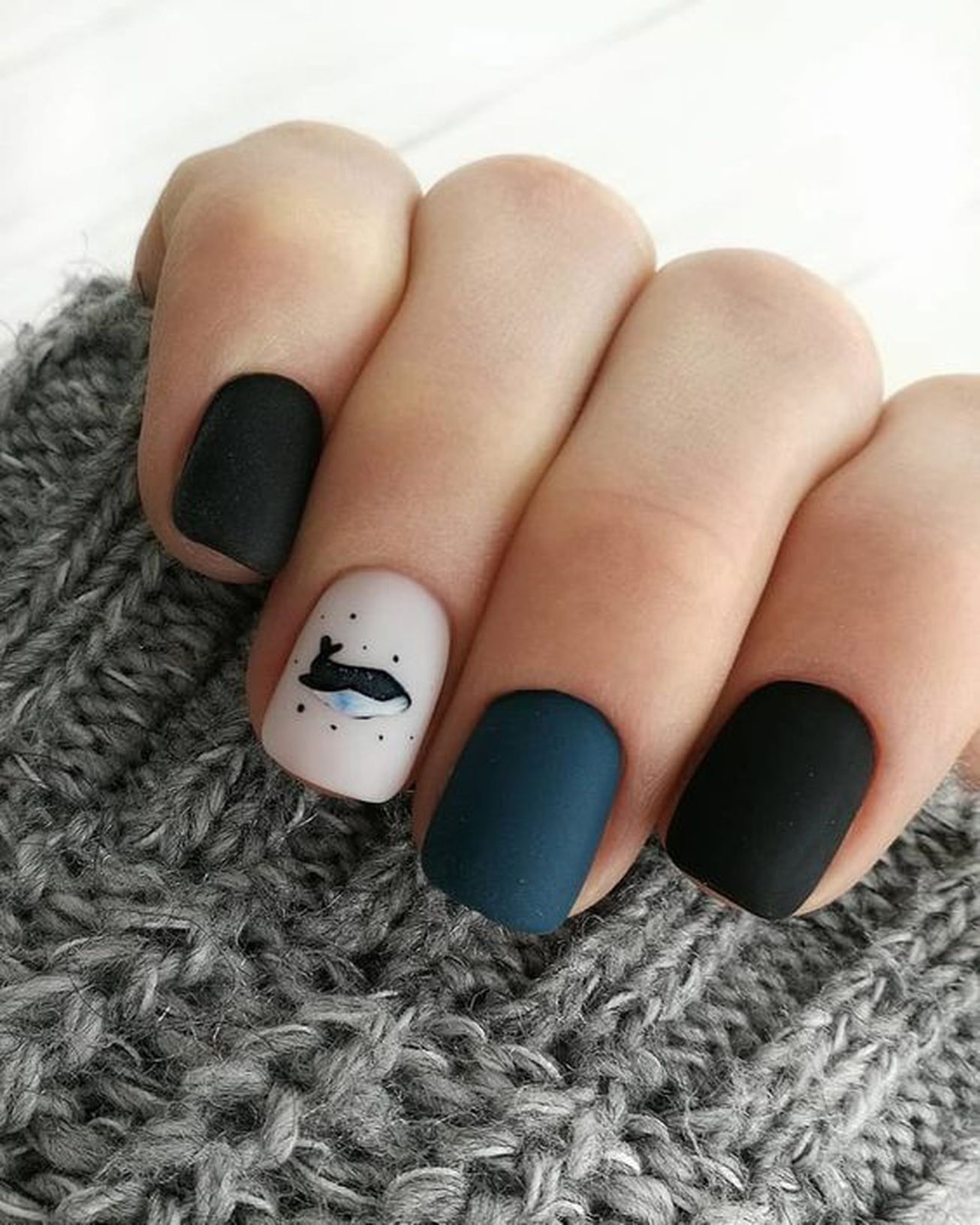 Here's another great manicure idea for all of you, animal lovers. This nail design is for anyone who loves and/or has a bunny for a pet. The combination of colors is very flattering, with a touch of edginess. And the accent nail is the focal point in the look that portrays the adorable bunny design. Cute, right?
14. Farm family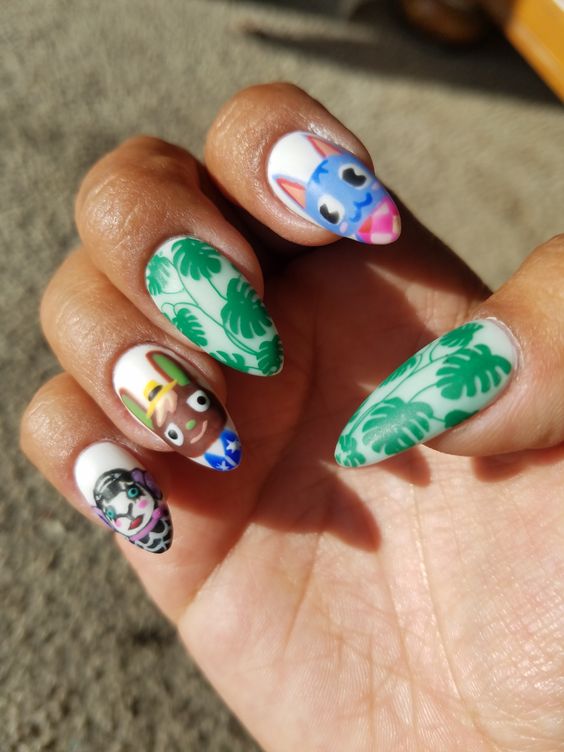 This nail art idea is definitely one of a kind. A sheep, bunny, and a cat? What else could you ask for, right? This is a masterpiece and a serious work of art. And the green leaves ties the look together, giving it a modern feel.
15. Floral world of rabbits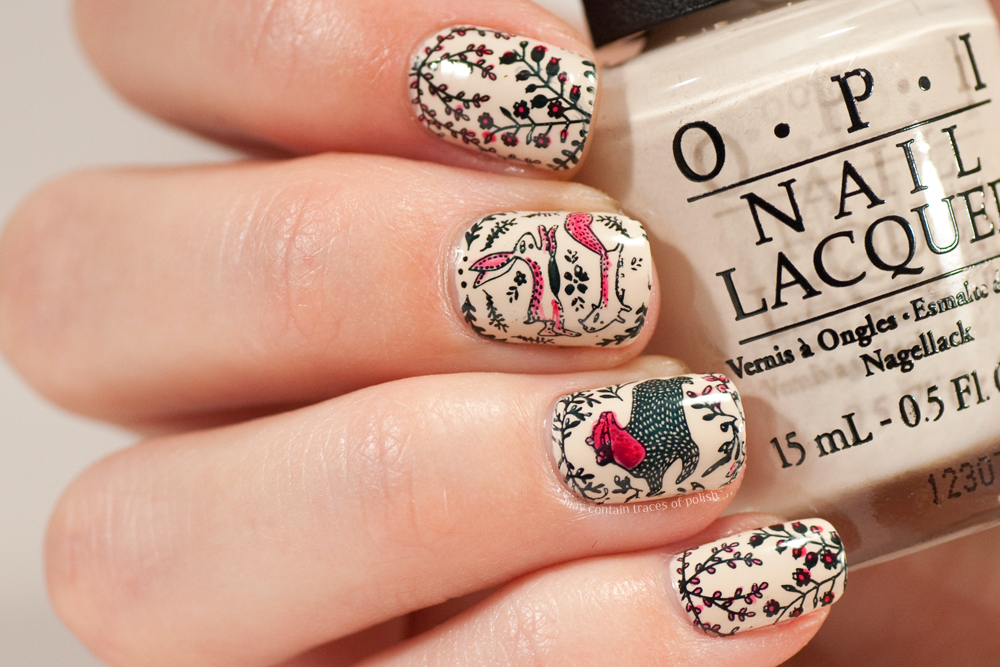 We present a very cute and feminine idea that channels the love for animals. Execute an artsy aesthetic on your nails and share it with the world. The best thing about these nails is that they can be worn on every occasion, as the base is nude and very easily combinable.
Do you like our choice of pet-themed nail ideas? Feel free to leave a comment below!