Your nails are as much an accessory as your handbag, shoes, and jewelry. So, it's important to keep them looking chic and on-trend. To complete your look in style this season, there's no better choice than coffin nails. So what are coffin nails? For as long as people have been getting manicures, there have been two primary shapes: round and square. And now we are ready for different nail designs.
They're named for either the angular shape of a coffin or the flat toe of a ballerina's slipper and have a tight C-curve, tapered sides, and a straight free edge. Long coffin nails are bold and stylish. Unlike other styles, such as almond-shaped nails, coffin nails feature a flat tip, which achieves a striking and edgy appearance.
But, choosing to rock coffin nails is only the beginning of your nail decisions. Once you have your shape, you also have to select a design to complement it. Here are 20 trendy coffin shape nail ideas to try out and combine with your best collection of sneakers.
1. Coffin Nails With An Orange Tip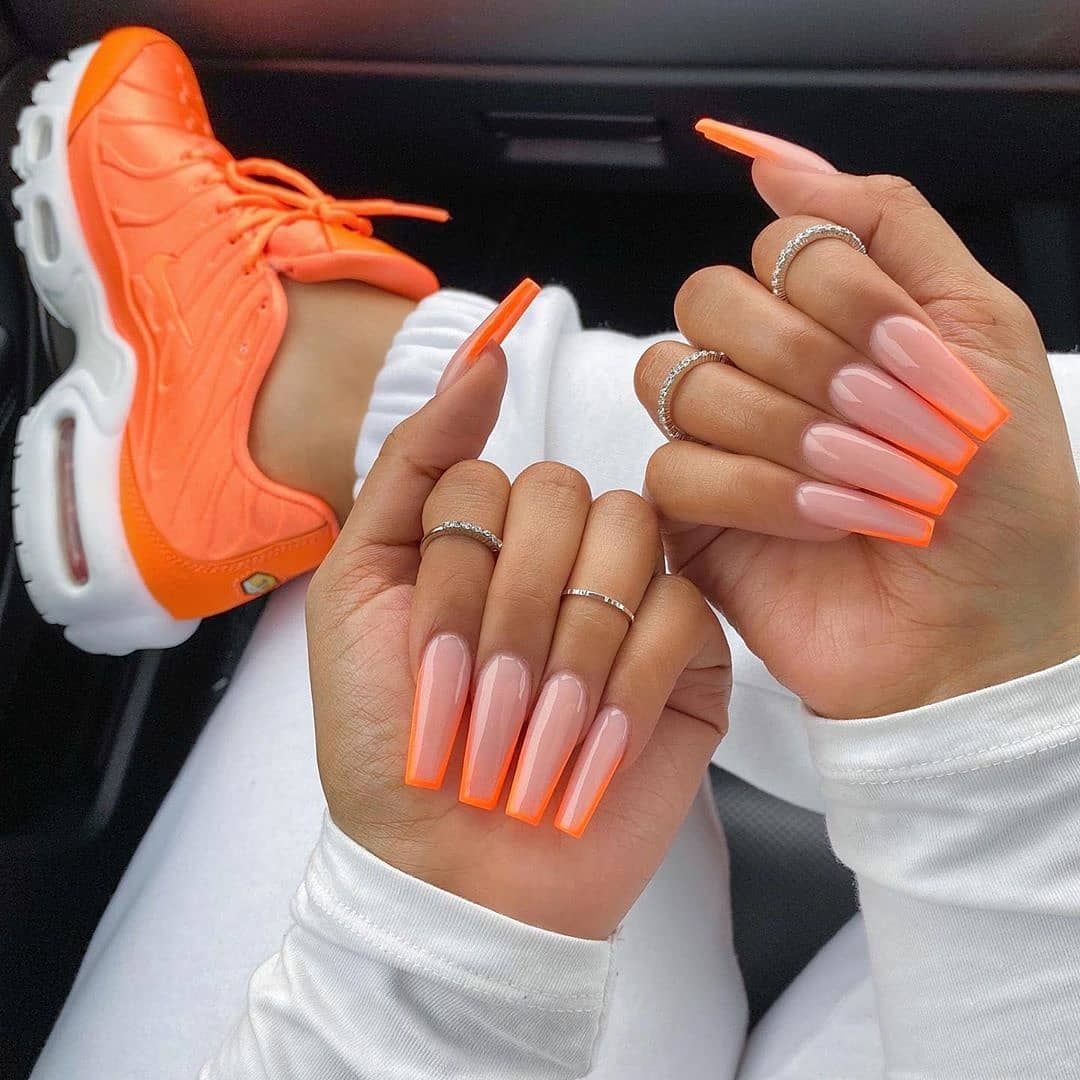 This coffin nail design is perfect for someone who loves nude shades, but also loves neon. You don't have to choose this one! Keep your coffin-shaped nails simple by covering them in iridescent nude color, then outline them with neon orange to make the nail shape pop.
2. Menthol Matte Coffin Nails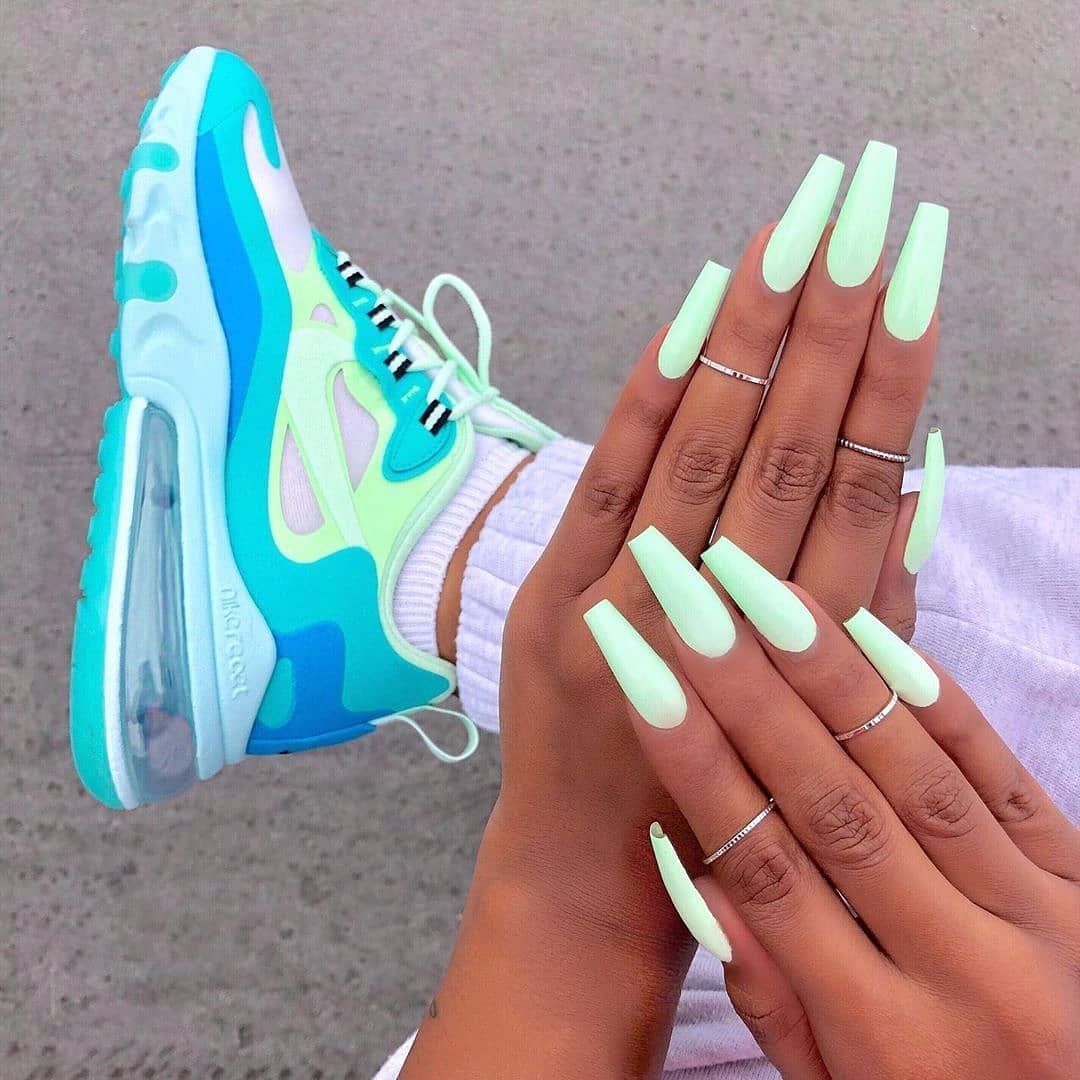 What is more fun than combining a manicure with your favorite pair of snickers? If you want a modern and on-trend look for your fingers, you can't go past matte coffin nails. And this menthol shade is incredibly eye-catching. A dramatic and edgy nail shape with beautiful nail polish shade. A win-win situation, right?
3. Red Coffin Nails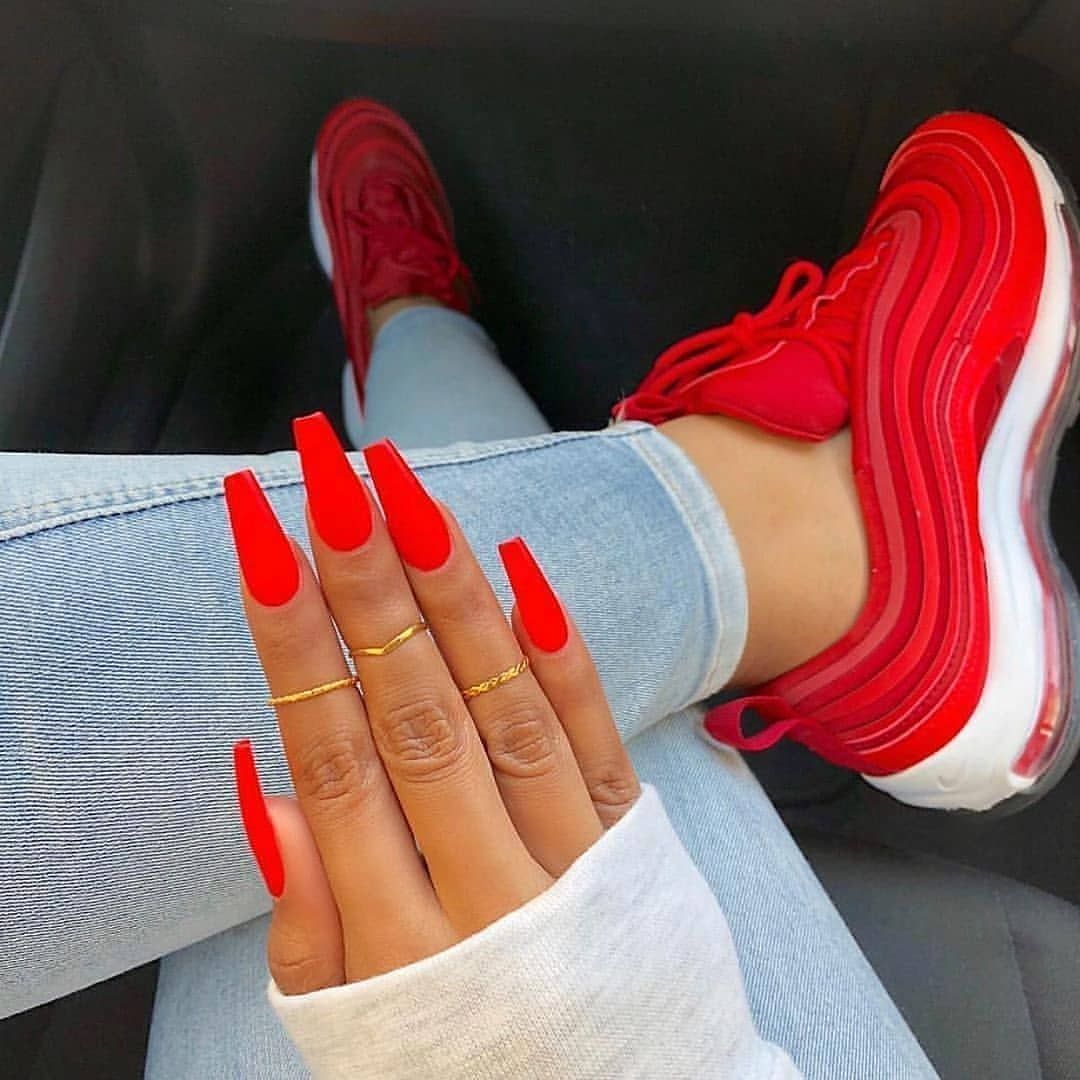 Got a hot date coming up? Or perhaps it's a girls' night out with your besties?  Whatever the case, an exciting evening event calls for fierce nails, and we know just the style: red coffin nails. Not only are they dramatic and sexy, but they're also sure to attract plenty of admirers.
4. Pastel Coffin Nails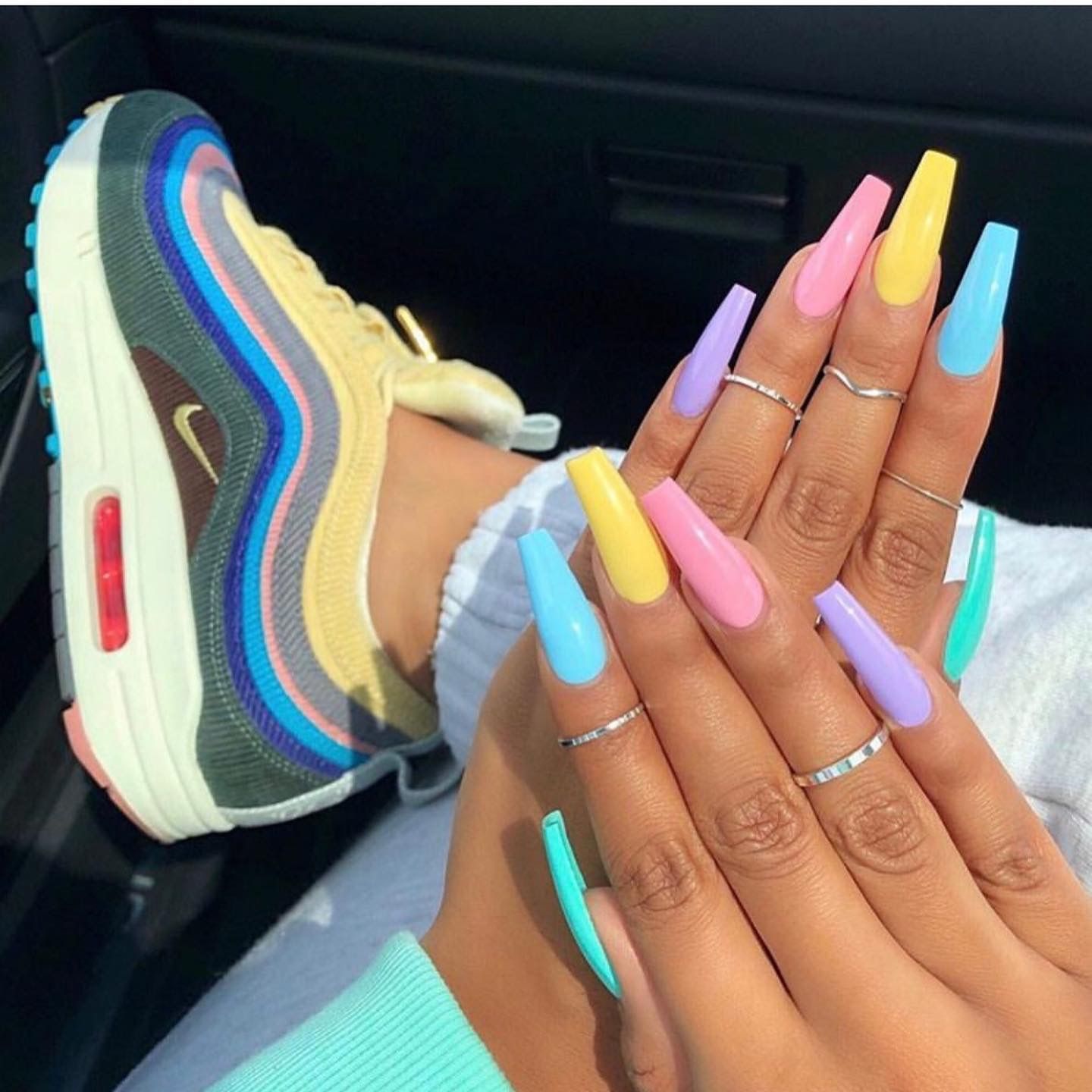 Lighthearted manicures are a nice change from work-appropriate natural nails or more dramatic nighttime manicures. These nails let loose from all the expectations with fun, non-repeating colors in a semi-gloss. They're sherbet colors, all bright and fun. Combined with these fire-looking snickers, they are a match made in heaven.
5. Ombre Coffin Nails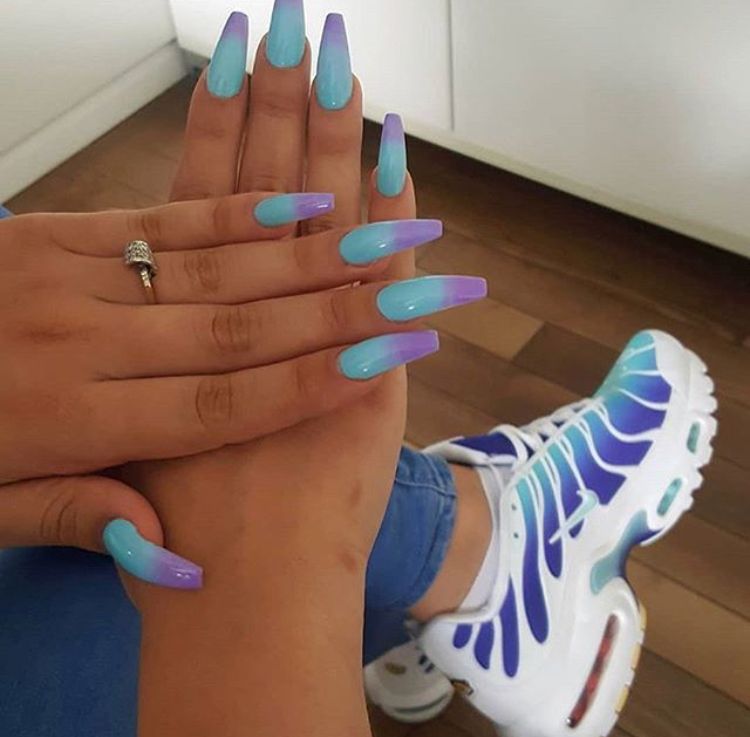 Sometimes, everyone stumbles upon what type of manicure design to put. So, next time when you are in doubt, take a look at your snickers, maybe they have the right inspiration. And this picture is the perfect example of that. The beautiful transition from blue to purple looks so fun and charming and suitable for many occasions.
6. Black Coffin Nails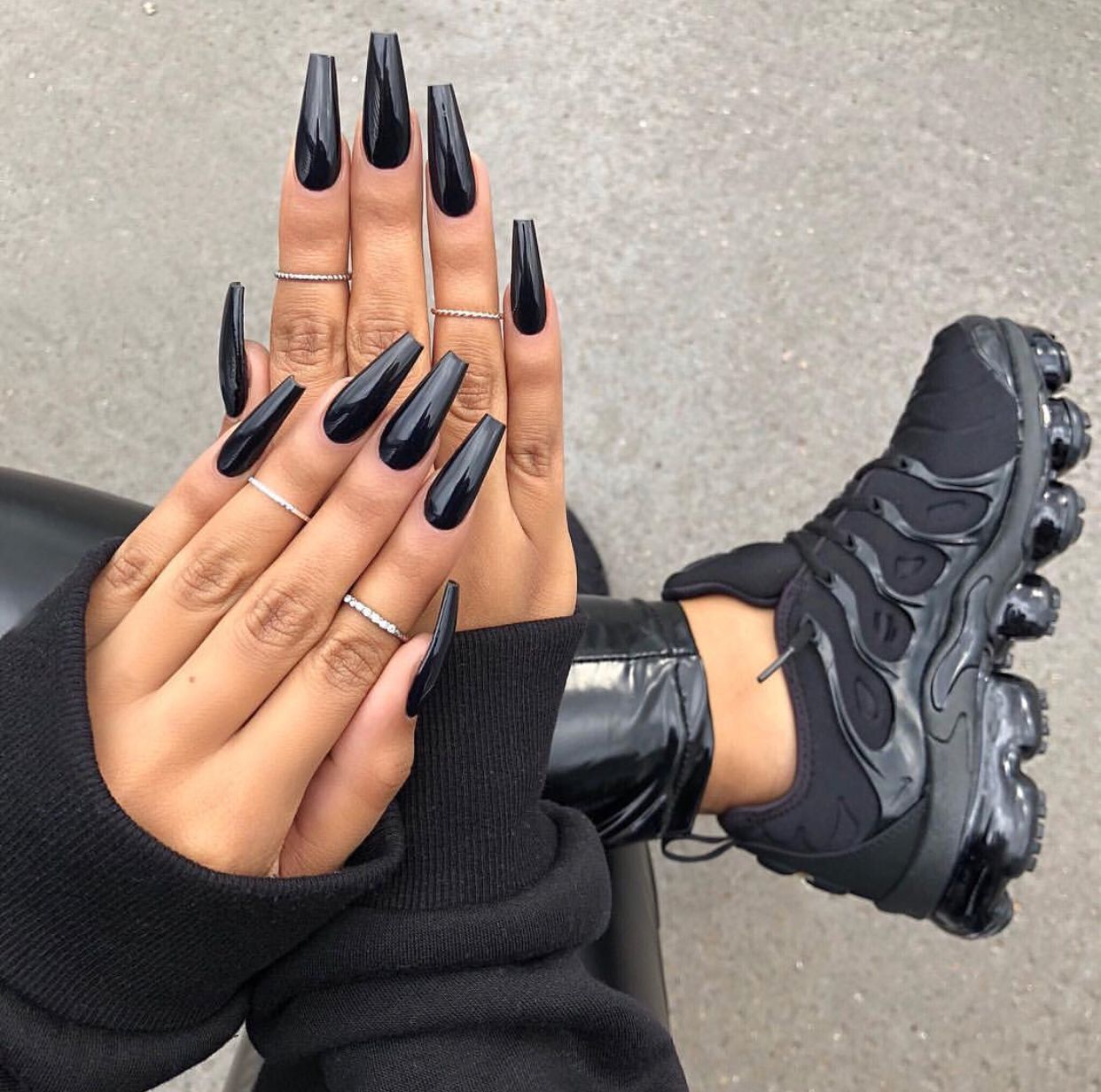 For ladies who like a bold and edgy appearance, black coffin nails are an excellent option. As striking as they are chic, these dark nails look great with both matte and shiny finishes. When you are in doubt about what shade to use, black is always a great option. You can never go wrong with black nails, as well as snickers.
7. Neon-yellow Coffin Nails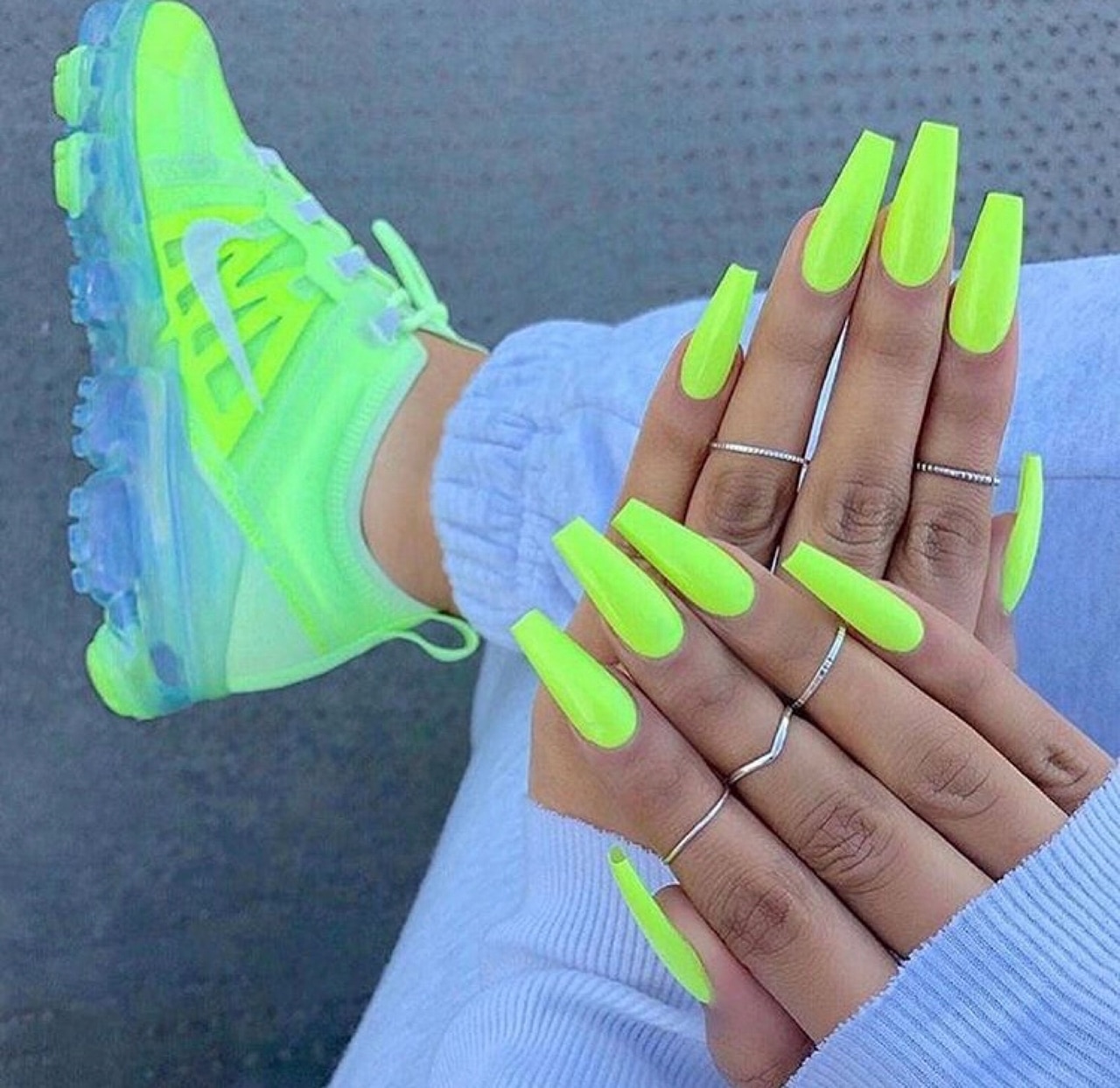 If you are an enthusiast of neon shades, then surely these coffin nails have caught your eye (not gonna lie, the sneakers too). Go with neon-yellow nail polish and transform your coffin nails into electric ones!
8. White Iridescent Coffin Nails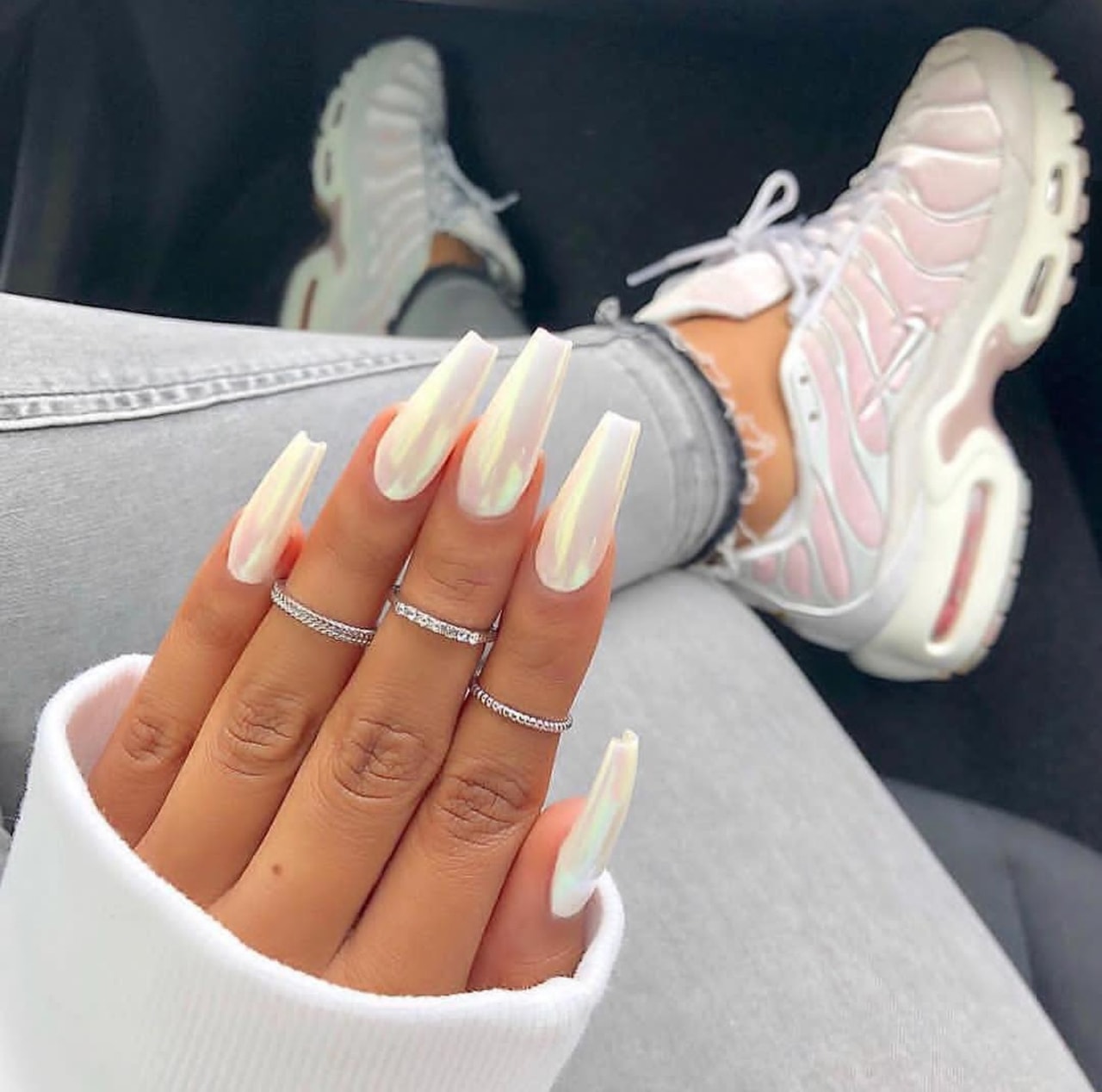 Delicate and soft, these coffin nails are what every girl needs to try out. That touch of iridescent shimmer transforms the design from basic into a unique, and delicately colorful design. Perfect for formal occasions, weddings, and cocktail parties, as well as for a walk into town together with matching sneakers.
9. Neon-green Ombre Coffin Nails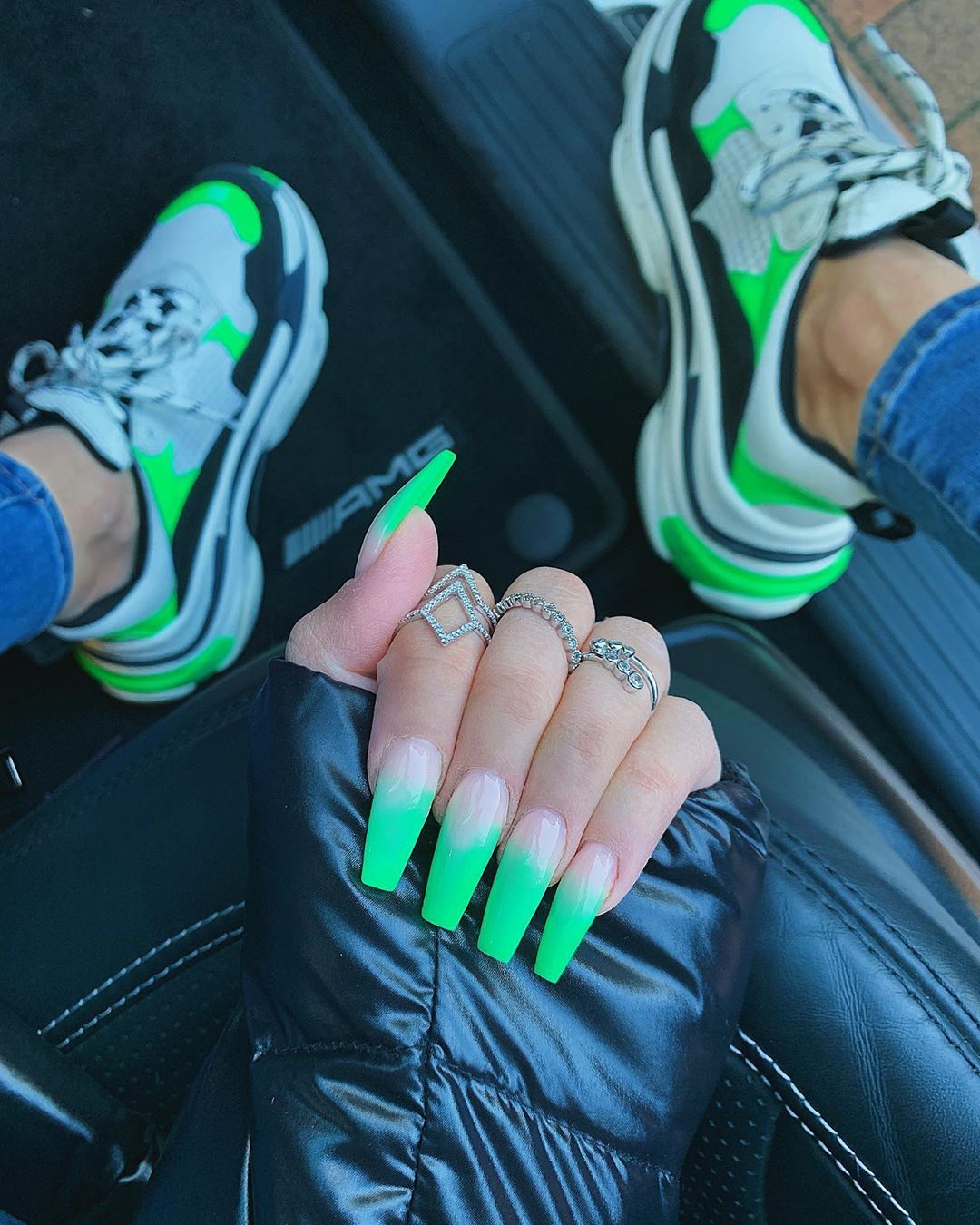 There's a lot of talk about hard lines when it comes to coffin nail designs, but these ombre coffin nails completely change the conversation. The neon green softly fading into the nude nail polish is gorgeous. Combined with a pair of neon-detailed sneakers will be an eye-catching combination.
10. Nude Spectrum Coffin Nails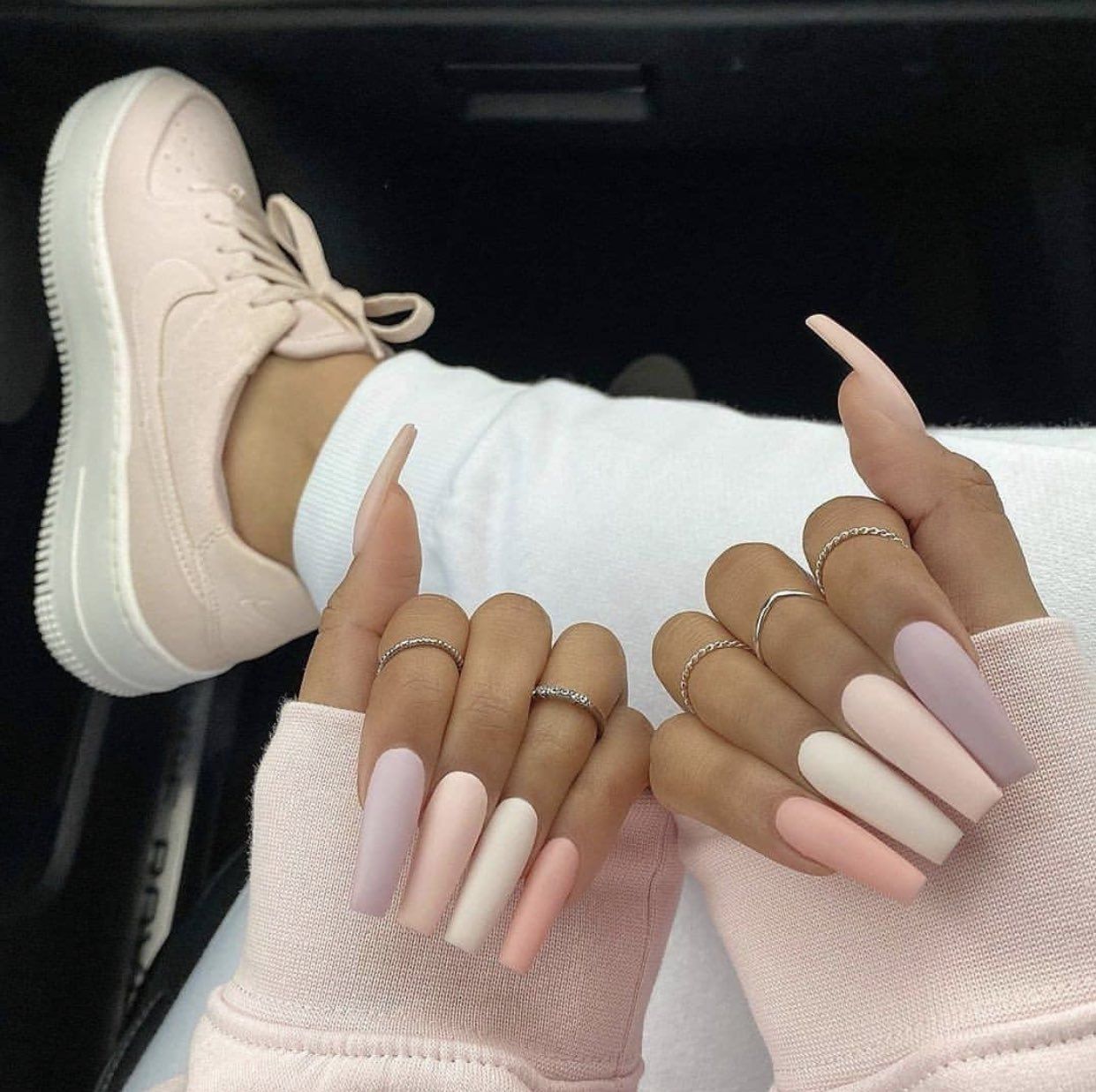 For those who want their coffin nails to appear sophisticated and chic, nude makes an excellent color choice. Subtle yet utterly stylish, the subdued hue is a fantastic option for office days and formal functions. A matte topcoat is always a good idea, but can't we take a moment to talk about how good are those sneakers with these nails?
11. Glass Coffin Nails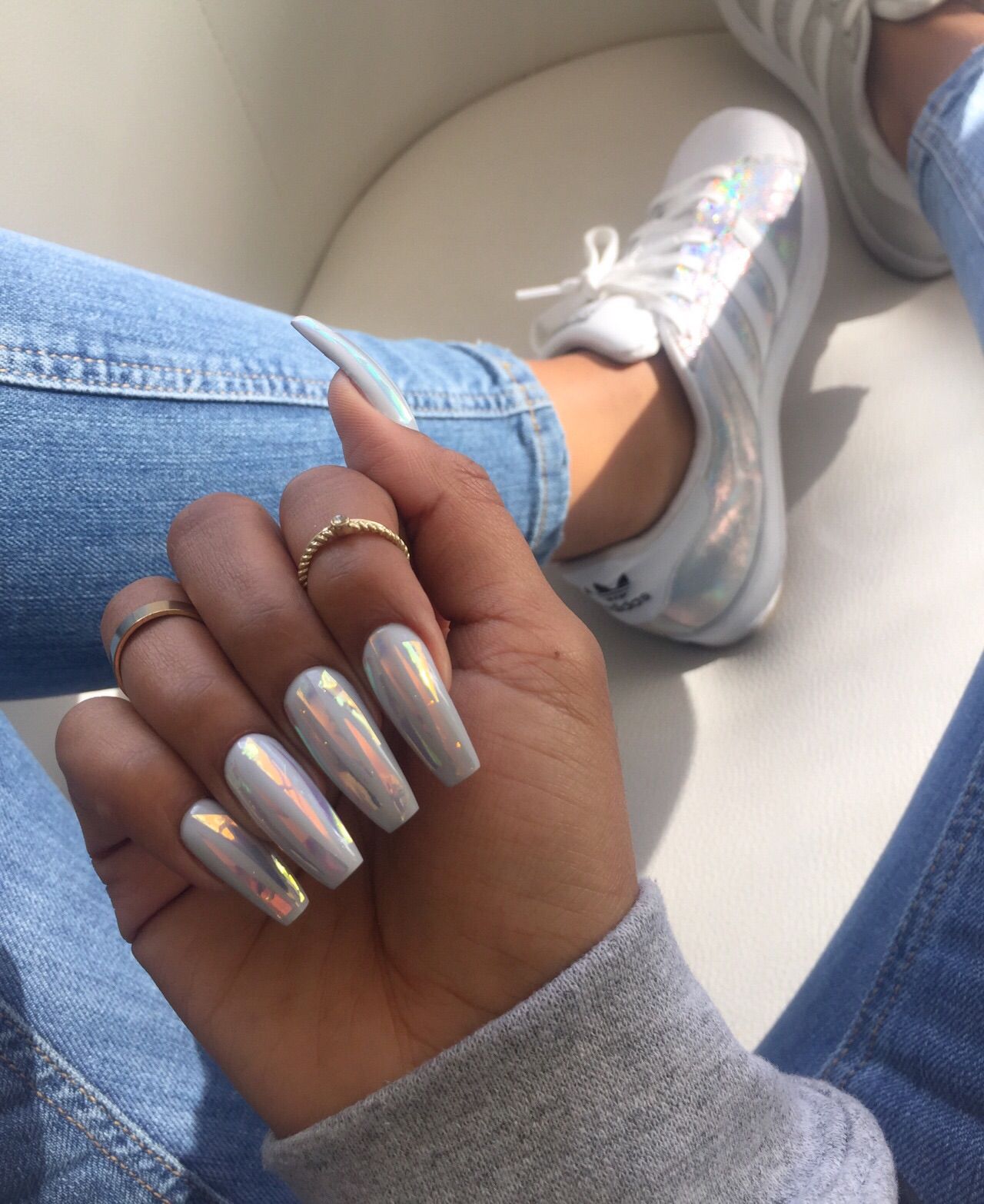 When it comes to creating a striking nail design, sometimes less is more. So, before you cover your entire nails in polish, consider opting for stylish glass design. The beautiful pattern of "a broken glass" will accentuate your nails and the iridescent shimmer is so delicate and stylish.
12. Pink Coffin Nails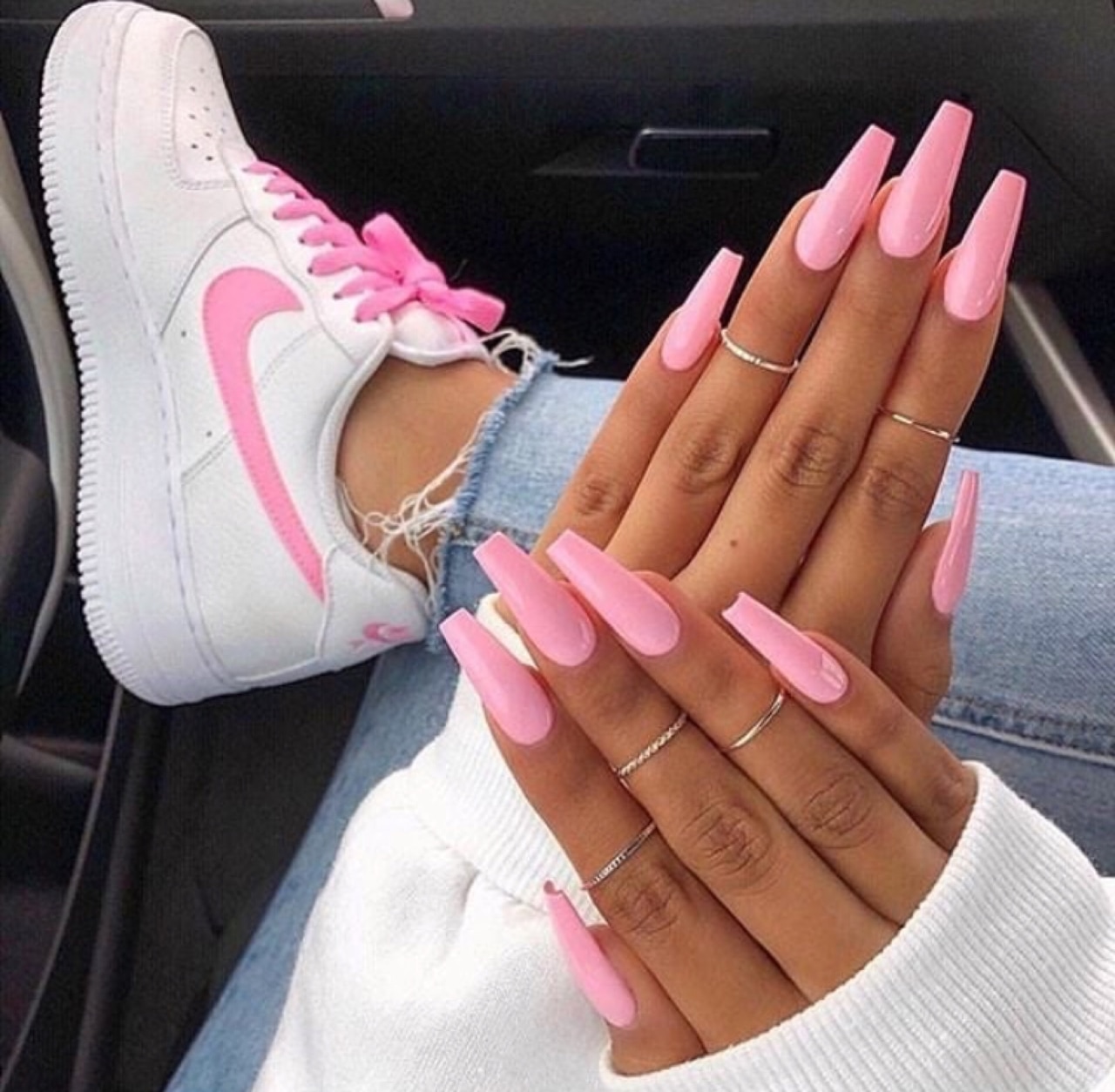 Due to their flat tips, coffin nails can often appear strong and edgy. So, if you usually prefer a subtle look, you may want to opt for a feminine shade of polish to balance the bold shape. A baby shade of pink is a great option and appears perfectly pretty on fingertips.
13. Peachy Coffin Nails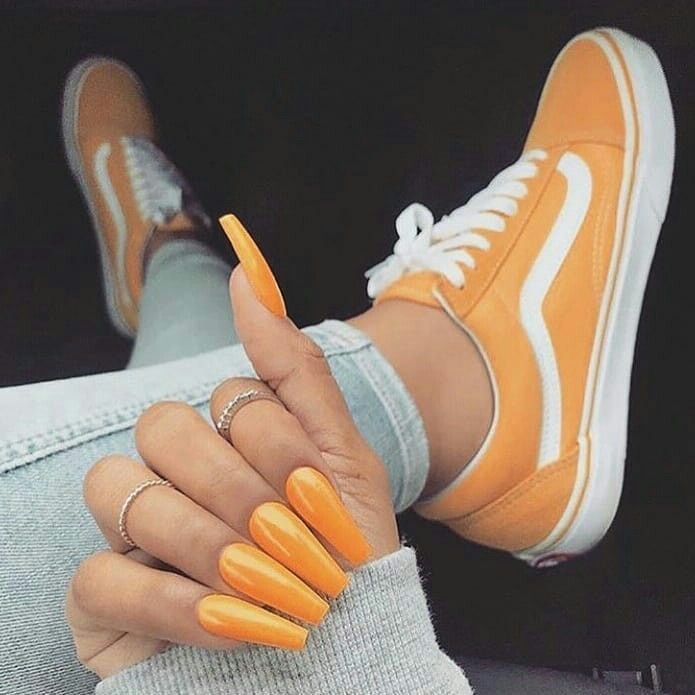 Summer is back with unexpected colors and designs in manicures. We had neons and pink earlier on the list, but now the peach color is something we are just loving. It's fun. It's carefree. It's unexpected. It's bold. More and more people display peach shade, so go big or go home on this one. Keep the nails long for the biggest impact.
14. Holographic Coffin Nails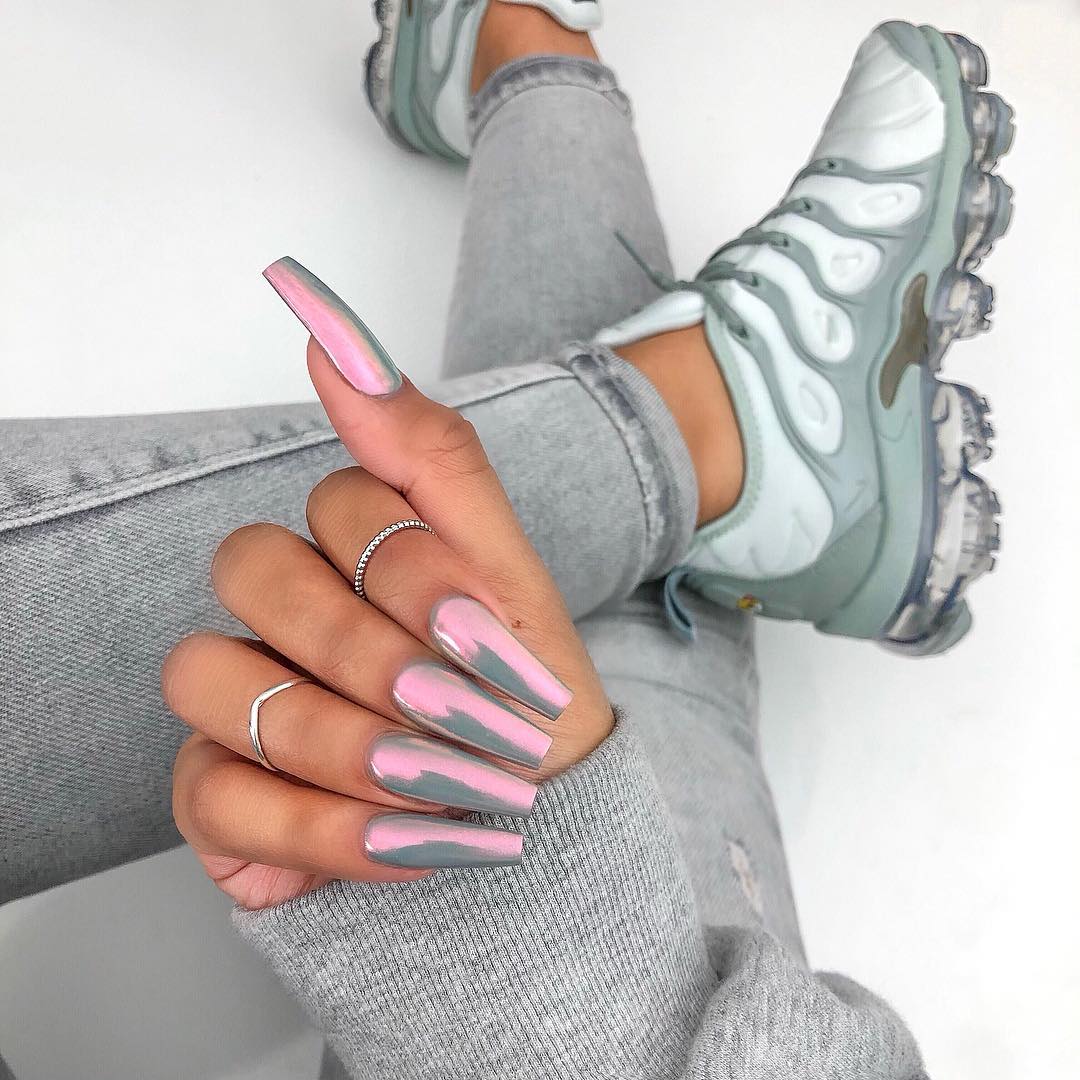 Get inspired with this holographic nail design idea and spread "out of this world" vibes. The best thing about coffin nails is that they leave room for beautiful patterns and shades. So, if you are a lover of the holographic, this one's for you. Perfect for every occasion, especially when you want to rock a casual outfit. A touch of glamorous nails and eye-catching sneakers is all that you need.
15. Romantic Coffin Nails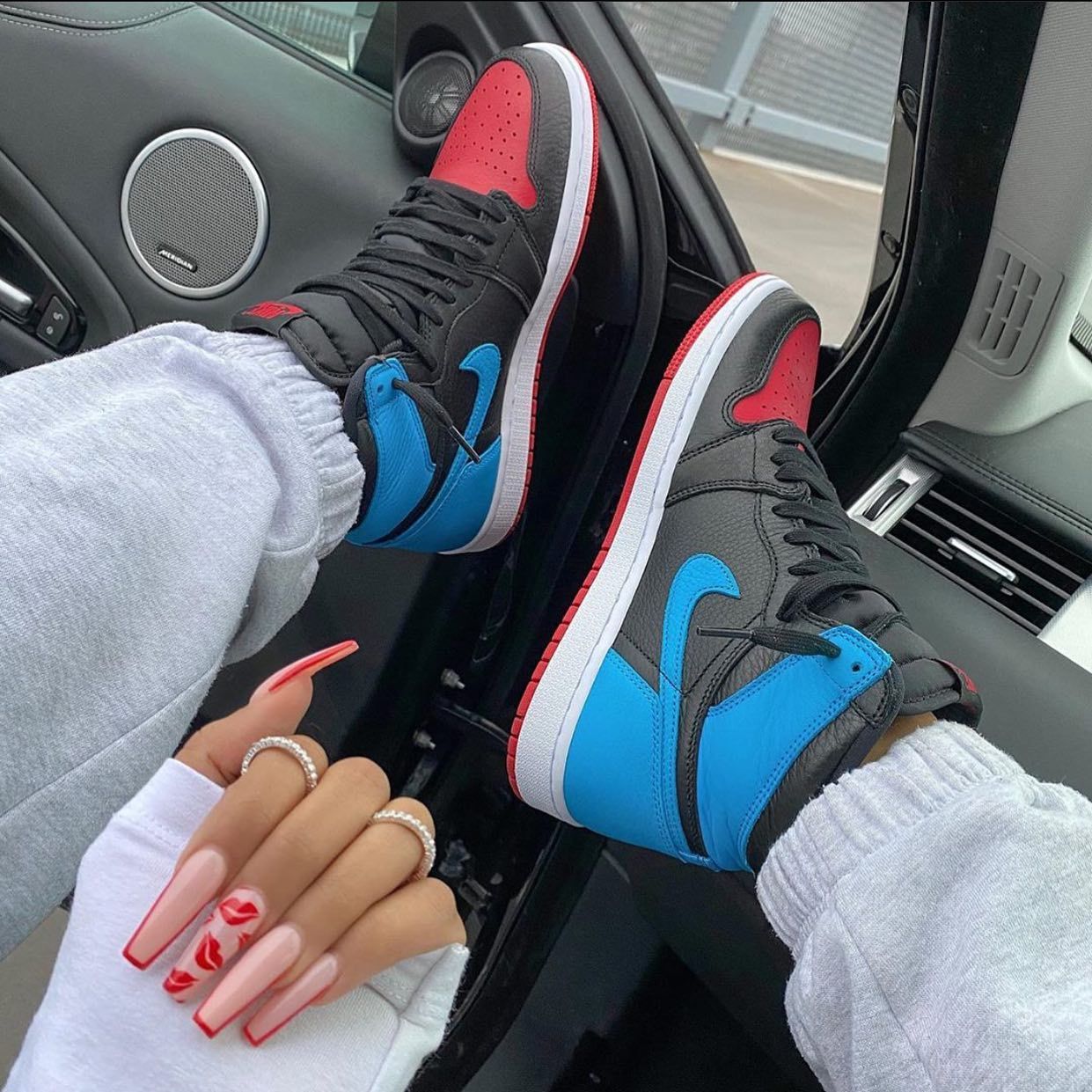 Accent nails are an excellent option for adding excitement to your fingers without overdoing things. For simple accent nails, try decorating one nail on each hand in a contrasting color to the rest of your fingers. Use nude nail polish as a base color, therefore decorating one nail with red lips. Romantic and cute, right?
16. Olive Coffin Nails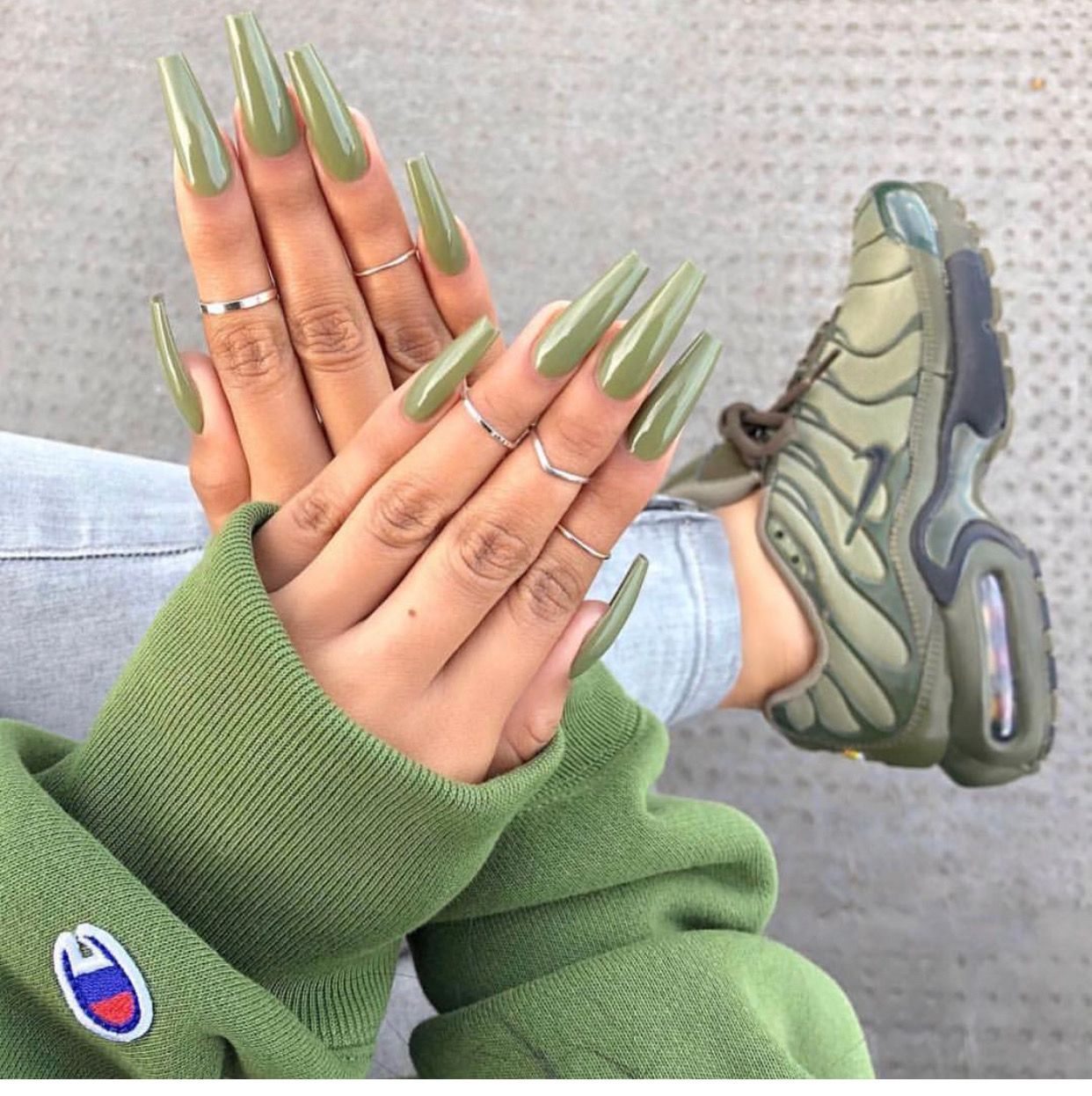 Olive is such a great color and vastly used for makeup, manicure, and clothing. It a very cool-looking shade that is easily combinable for different occasions and moods. And you have to admit that with these snickers they make are a killer combination, right?
17. White Ombre Coffin Nails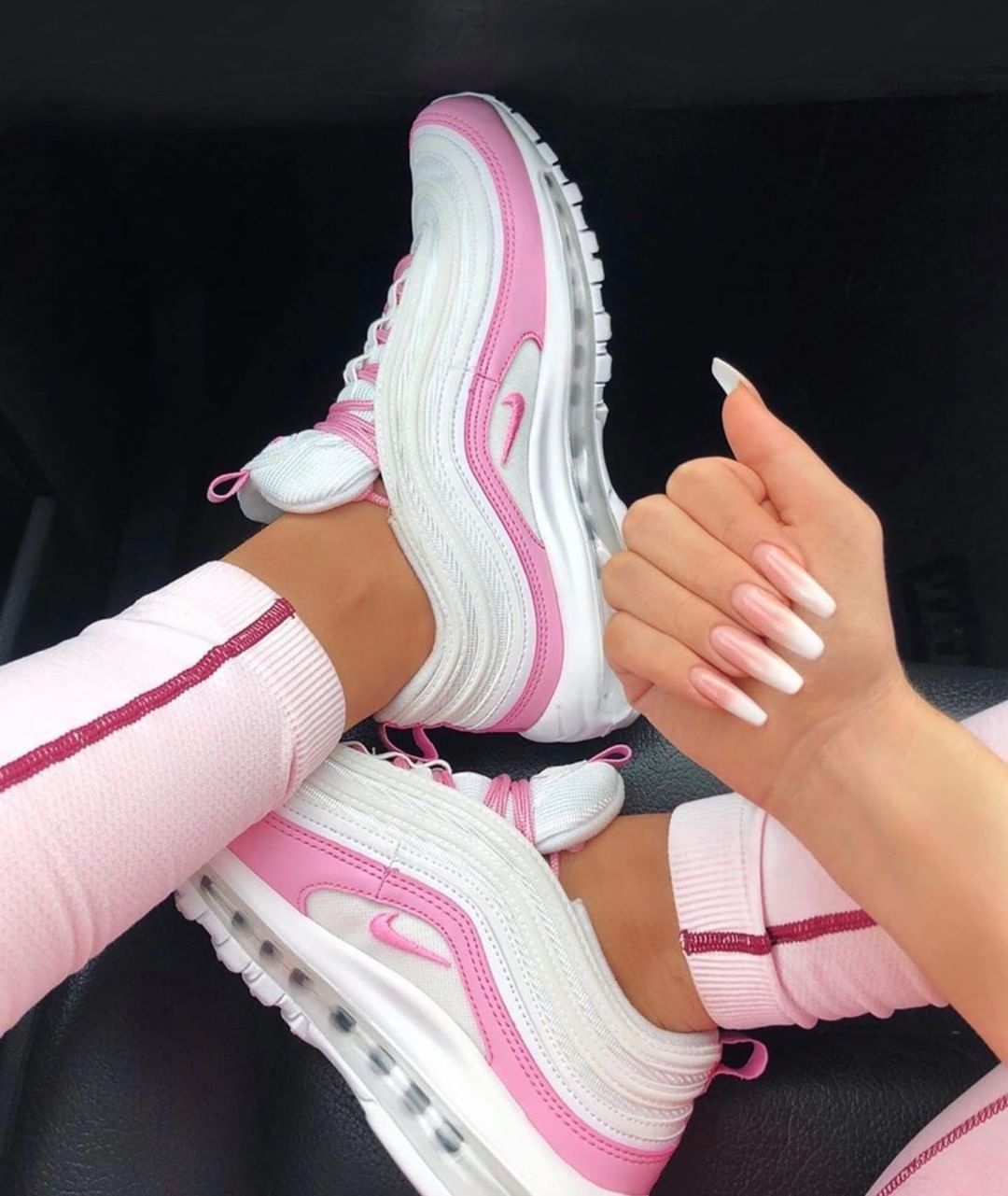 For a chic white tip nail look, consider trading in the usual French style for an ombre design. Also known as baby boomer nails, this faded look appears sophisticated and chic. It's also perfect for almost every occasion, from a day at the office to a wild cocktail party.
18. Blue Coffin Nails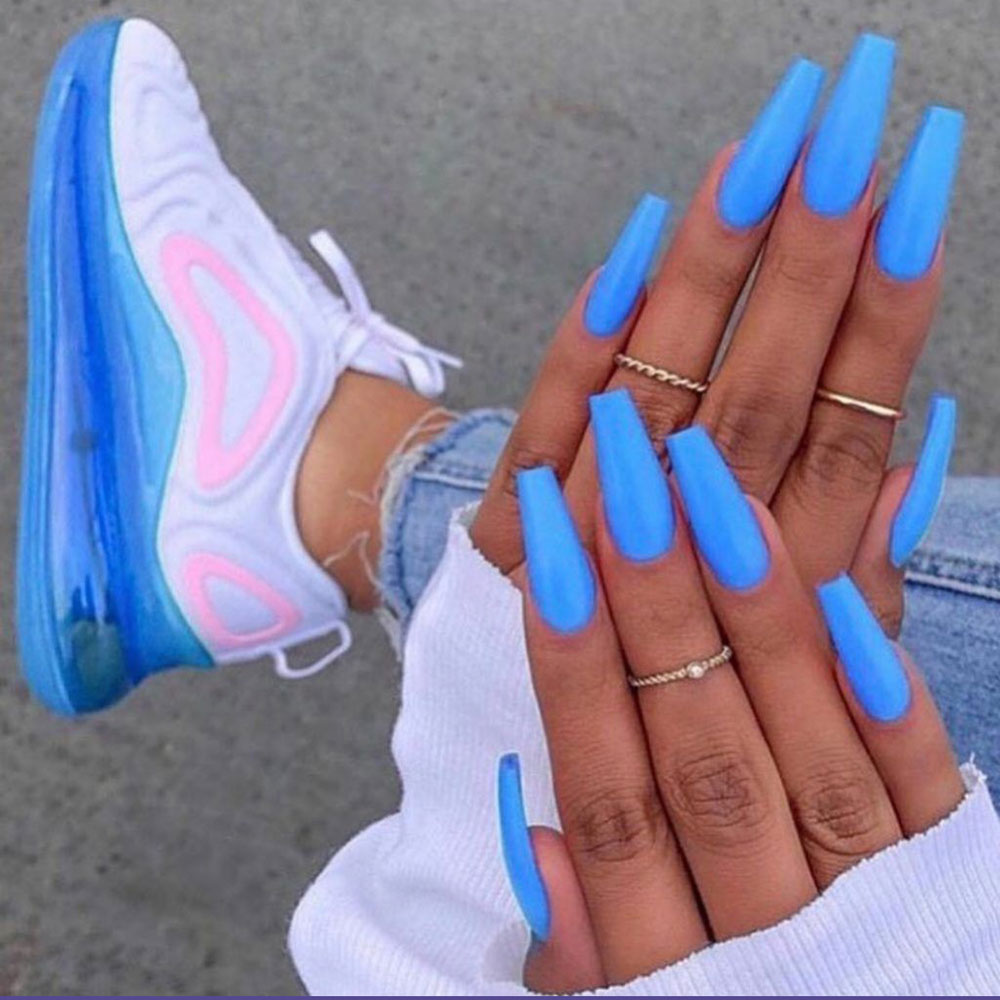 Non-traditional nail colors are in, and they look amazing with coffin nails. Choose a cool color like blue for an edgy manicure that fits well with different types of fashion and occasions. Blue is classy, cute, and unexpected. This manicure is cute and easy,  and you can do it yourself.
19. Cherry Coffin Nails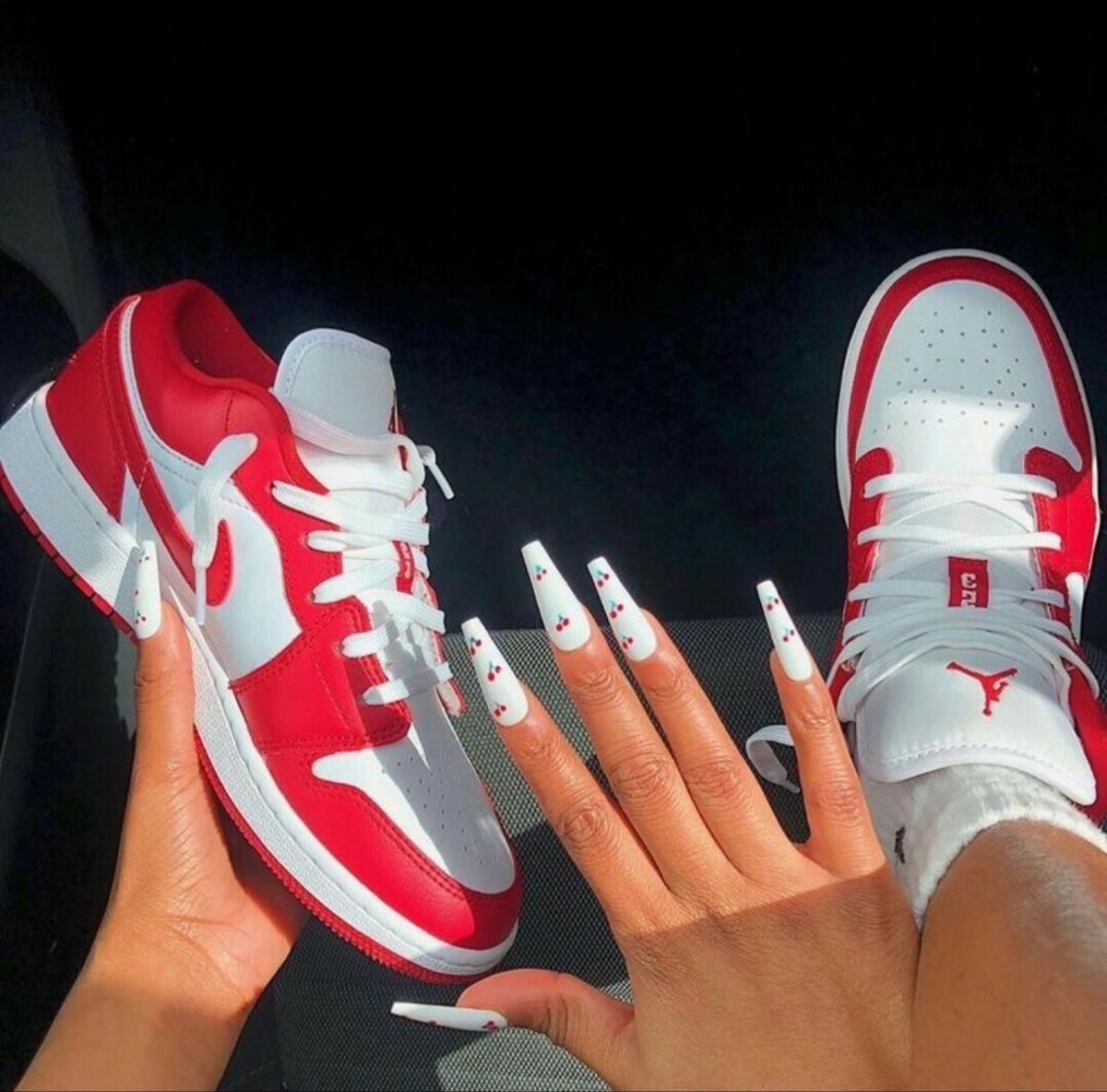 White can be a striking color, especially when paired with coffin nails.  To rock the pure hue on your nails, decorate them with cherries for a fun and luxurious look. As a finishing touch, add a matte top coat for a contemporary and cool appearance.
20. Rainbow Coffin Nails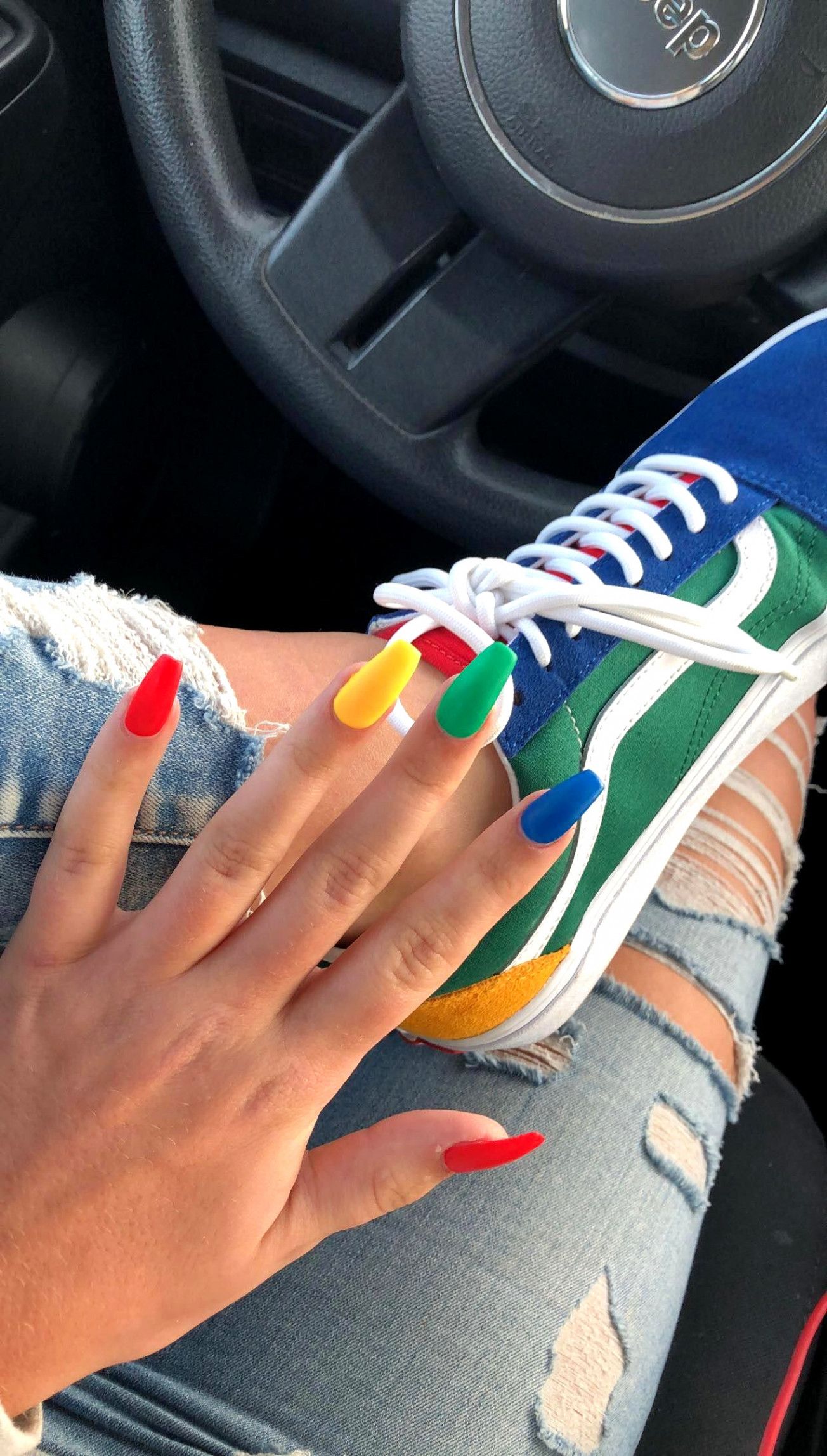 Feeling colorful? Well, your nails are your canvas, so get creative! Get a manicure that is full of rich colors, so rich that you will never get bored looking at them. Finish them with a matte top-coat and seize the day!
Feeling inspired yet? Go ahead and create your favorite idea from the list. Put on your favorite sneakers, and take a picture with your freshly made manicure. Have fun!