What is a baby shower? Well, it is a party for celebrating the impending birth of a new baby. And what are the best baby shower signs? Well, we will talk about that as well. But we will also talk about some cards you bring to the baby shower to celebrate the birth of a baby.
What Is A Baby Shower?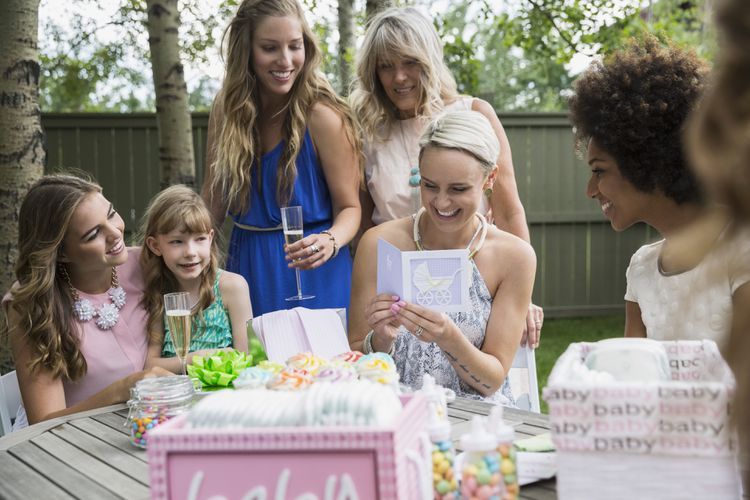 The simplest explanation is that a baby shower is a party you throw for celebrating the impending birth of a new baby. It is a way for friends and family to help new parents get everything they need. We know babies need a lot of stuff, and that bill can get quite expensive for expecting parents. Friends and family are there to help
History of Baby Showers
Baby showers are a relatively new invention. But that doesn't mean that the practice of giving gifts to new parents is new. New babies have always been a source of joy and celebration.
But in past times, these celebrations were different than we know today. For example, ancient Greeks and Egyptians held rituals to celebrate the new baby and its mother. And during these rituals, they offered gifts and good wishes to the gods and goddesses.
Then, during the Middle Ages, baptism served as an opportunity to give gifts to new parents. At the time, it was common for gifts to have religious significance.
During the Renaissance period, mothers received lavish gifts upon the birth of their babies.
Baby shower celebrations as we know them today started to take shape during the Victorian Era. Pregnancy and childbirth were not discussed publicly, so celebrations took place following the birth of the baby.
At the time, baby showers were tea parties including games and gifts for the new mother. After World War II, baby showers became a widespread celebration, especially in the United States.
Who Can Have A Baby Shower?
Any new parent expecting a child can have a baby shower. This includes single parents, adoptive parents, and anything else you can think of.
Usually, a pregnant mom is the one organizing the baby shower. But we strongly believe that these are appropriate for anyone welcoming a new child into the home.
Can You Have A Baby Shower For a Second or Third Baby?
Many years ago, baby showers were organized only for the first child. But while some people stick to that rule, others have adjusted. It is now acceptable to organize a baby shower or baby sprinkle for the second or third baby, even the fourth, fifth, or how many you have.
We have to note, the essentials for a second baby are different than the ones for the first baby. Her house should already be baby-ready.
For the second and third baby, you can shift the focus of the celebration and turn it into a special event with the expectant mother.
For the second one, you can have a baby shower theme. Say, for example, ask guests to bring books. And make sure to find a proper baby shower sign for the theme.
Who Should You Invite?
The guest list for a baby shower is different. Usually, expectant parents invite their close family members and friends. Yet, the planner should keep in mind that the mom might want to keep some people off the list.
It is always the best idea to ask the mother about the guest list and then send a baby shower invitation.
For a long time, these celebrations were an all-female affair. But now, co-ed baby showers have gained popularity.
Many years ago pregnancy and birth were taboo topics only discussed among women. Now, it has become increasingly acceptable for male parents to be involved.
What Is A Baby Sprinkle?
A baby sprinkle is basically a baby shower party that is lighter and more low-key. Usually, parents throw a baby sprinkle for the second or third child.
This celebration doesn't have all the bells and whistles of a baby shower. And the guest list is smaller. Only the closest friends and family members are invited to attend.
The gift registry is different as well. You do not buy big-ticket items anymore. Instead, parents are sprinkled with diapers, wipes, and some other must-haves for a baby.
And yes, baby sprinkle events can have baby shower signs as well.
When Should You Throw A Baby Shower?
Baby showers usually happen during the third trimester. As a general rule of thumb, four to eight weeks before the due date is a good time for a baby shower. Some parents also use it as a gender reveal party, telling their friends whether they have a baby boy or a baby girl.
Holding the shower sometime before the expected arrival gives expecting parents time to prepare the nursery. They can use all the gifts they get to prepare the baby's room. And then, purchase anything they didn't get from the baby shower.
You also have to consider how comfortable the mother is with her big belly. If you have a complicated pregnancy and you cannot move and stand all that much, it is a good idea to have a baby shower earlier.
When To Send Invitations?
According to baby shower etiquette, you should send invitations four to six weeks before the party. If you send the invitations too early, your guest may forget. If you send them too late, they might not have enough time to prepare for the big event.
So, when you plan your baby shower date, make sure to send the baby shower invitations in time.
Classic Baby Shower Signs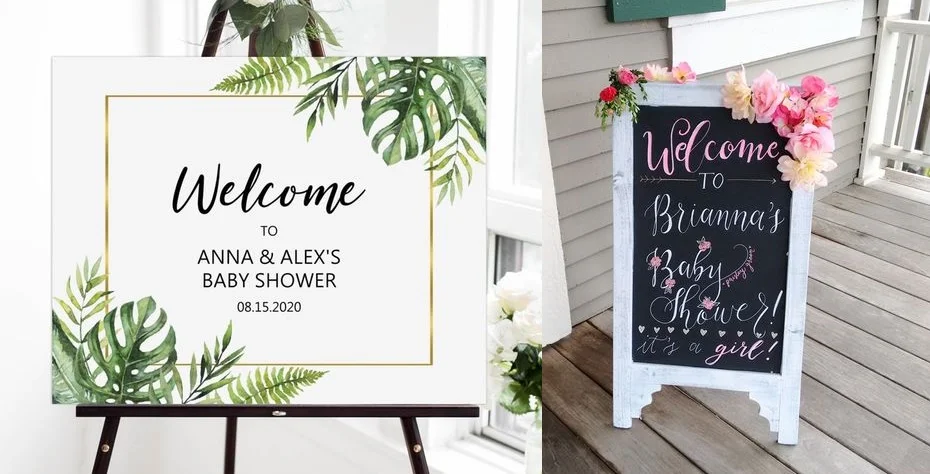 Most parents opt for the classic message when it comes to baby shower signs. You should not try to sound too smart or too witty here. A simple welcome to (insert baby name) baby shower will be enough. So, with that in mind, here are some quick ideas. You can find many more on social media platforms like Pinterest. Or you can try and find some free printable baby shower signs.
Guest Book, Please Sign
Babies are Sweat, Take a Treat
Baby It's Cold Outside, Welcome XXXXXXX's Baby Shower
Favors, Please Take One
Celebrating Baby (Enter Name)
Please leave your wishes for the new Mom and Dad
Simple gender reveal baby shower yard sign, saying it is a baby boy or a baby girl
Thank you for Coming
The Aftermath of The Baby Shower
You might also want to immortalize the baby shower too. If it was great and you all had a good time, why not put all of the pictures into photobooks so that you can remember the baby shower properly. If you put the pictures into a photobook, you can gift the photobooks to those who attended…almost as a thank you. They make for nice decorations up on bookshelves and windowsills and the quality of the pictures inside are far better than the digital photos you might see on social media. You can continue the theme of using photobooks for key life events, too like the birth of the child, weddings, graduations, etc., and you'll end up with quite a nice collection of perfect photobooks that you can look at whenever you want.