All bird lovers must have some old cage left somewhere in the corner. Or, if you are not a bird lover, only a cage lover, you may buy a new cage and turn it into something else that will be practical and useful for you.
Sometimes old birdcages can give a cool vintage look to your room, decorate your vintage style wedding, or become practical planters or lamps and chandeliers. All you need to do is be creative and practical. These small and big bird homes can really become magical in your hands and let you find out that they are the most practical thing you have in your home. They are long-lasting, yet cool and interesting. Made in different designs, shapes, and sizes, birdcages are a must for all rustic and vintage styled rooms, spaces, and decors.
Below, you will find ideas on how to recycle, repurpose, and reuse your old birdcage into something new and practical. Find your inspiration and start creating.
1. Birdcage Mirror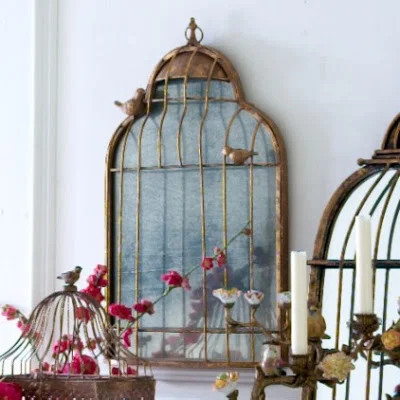 Use an old birdcage to create a mirror for the wall in your hallway. Cut the cage in half and put the mirror on the cut side creating a beautiful image-like mirror. It is vintage and cool, and practical at the same time. It will lighten up your hallway, and complete the look of your home in the way you never imagined it could.
2. Romantic Center Piece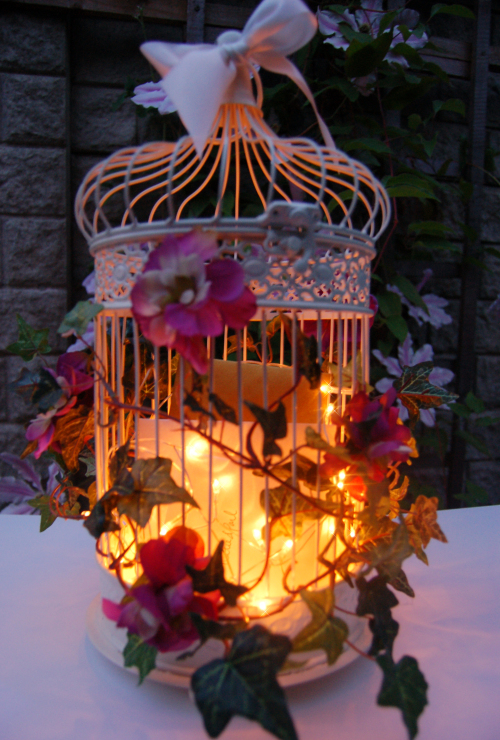 Use this cool shaped birdcage to create this wonderful centerpiece for a romantic dinner or a romantic wedding. It will discreetly lighten the space and give you a cozy feeling. The guests will be amazed by the romantic feeling they get and feel cozier on your big day. Make sure the food is good too. And don't forget the ice-cream!
3. Terrace Flower Planter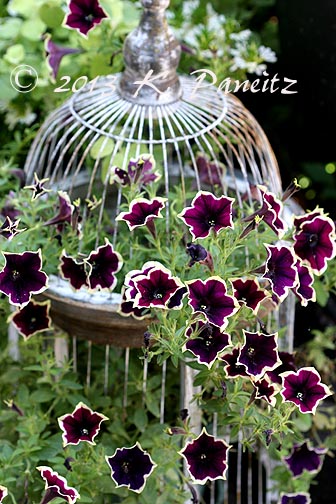 This wonderful idea is perfect for flower lovers who do not have a lot of space to plant everything. Consider using the vertical space and create this wonderful birdcage planter to hang it to a corner of the terrace and make it cozier. The birds outside will love it, the bees will use it to the max, and you will enjoy its beauty and charm.
4. Hanging Cage Lamp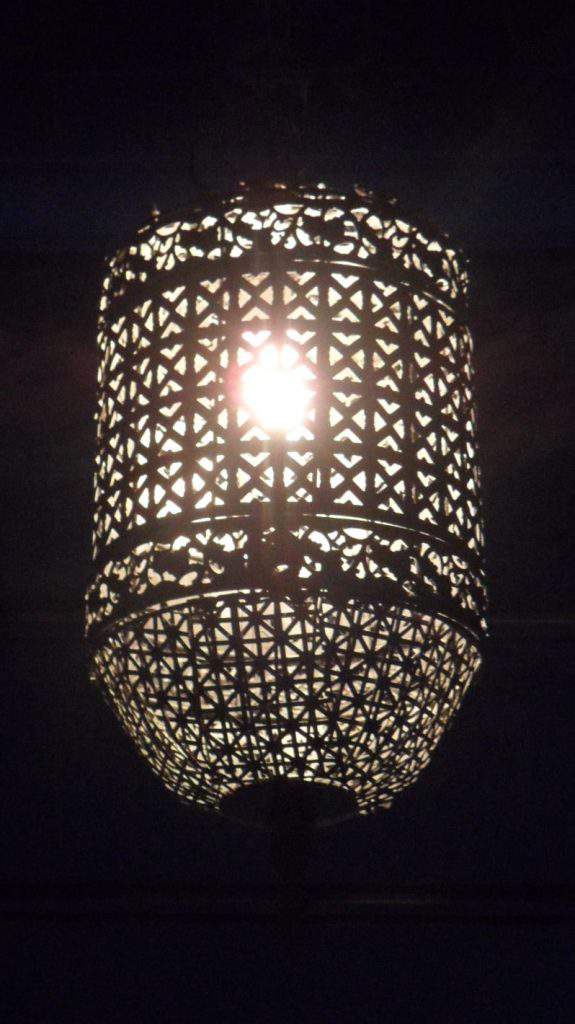 This old cage was turned into a hanging lamp to decorate the porch or the patio. It is durable and cool, yet vintage at the same time. Paired with vintage furniture, it will turn your backyard in a cozy place to be in. If you are a gothic type, this lamp can certainly take central place in your living room and make it pop.
5. Porcelain Holder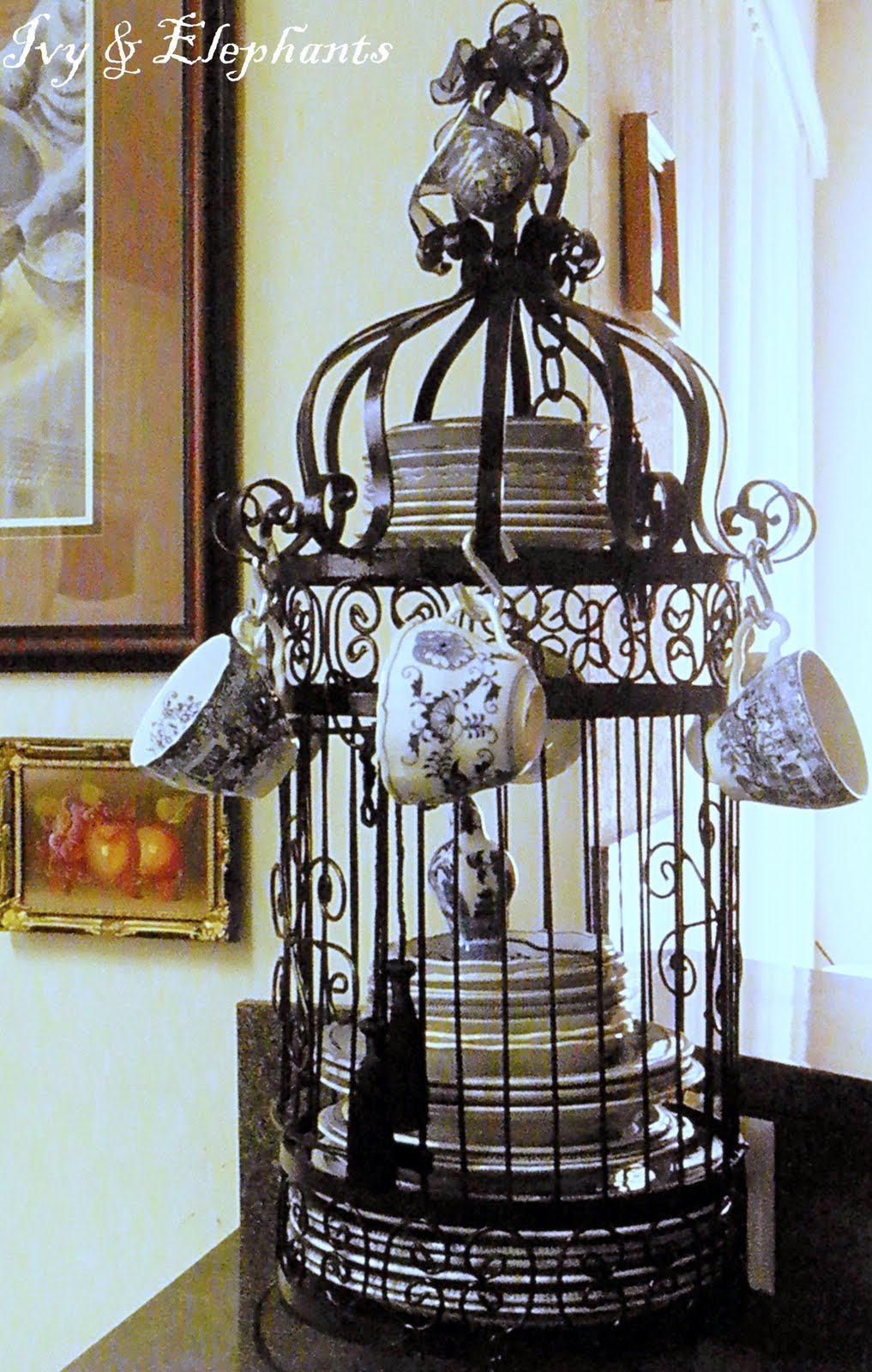 This is a good idea to turn your old birdcage into a porcelain holder. Paint the cage to renew it, and place the plates inside, and hang the cups on the upper rim. The bird inside is only a decoration. Let your friends and family admire your inventiveness and inspire themselves in recycling.
6. Birdcage Corner Lamp
Use an old birdcage to make a cool corner lamp. Repaint the birdcage in the stain of your choice, make it black, gold, or silver to suit your style and fill it with led-lamp string to turn it into a lamp. Place it in the corner to get a beautiful romantic light.  Put a ribbon to complete the look.
7. Hanging Garden Planter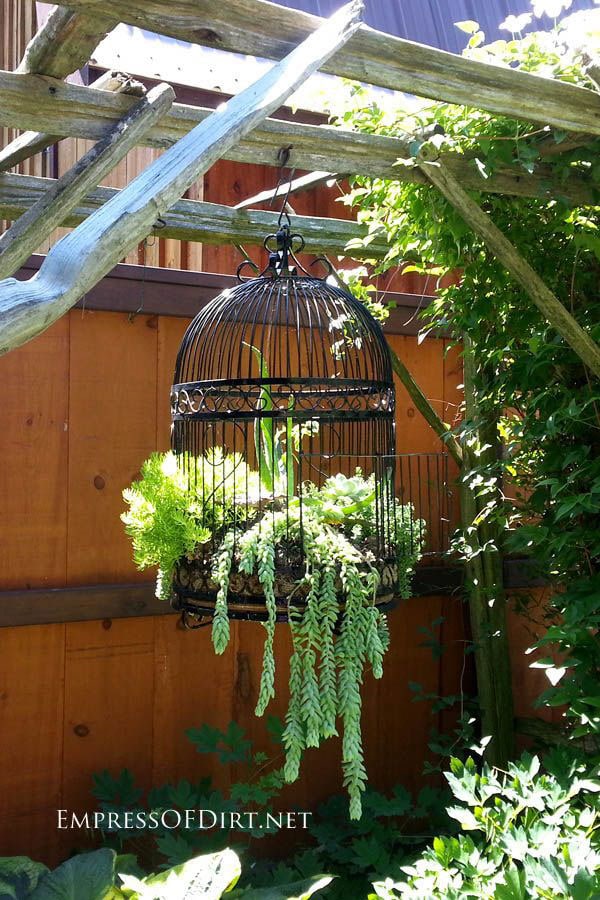 This old birdcage can be easily turned into a hanging garden planter. Painted in the color of your choice, open the small door and put small flower pots inside with your favorite greens. Or fill it with dirt and plant the greens directly in the cage to get a real hanging garden. Place it in the corner or next to other greenery to make it pop.
8. Punch Holder Cage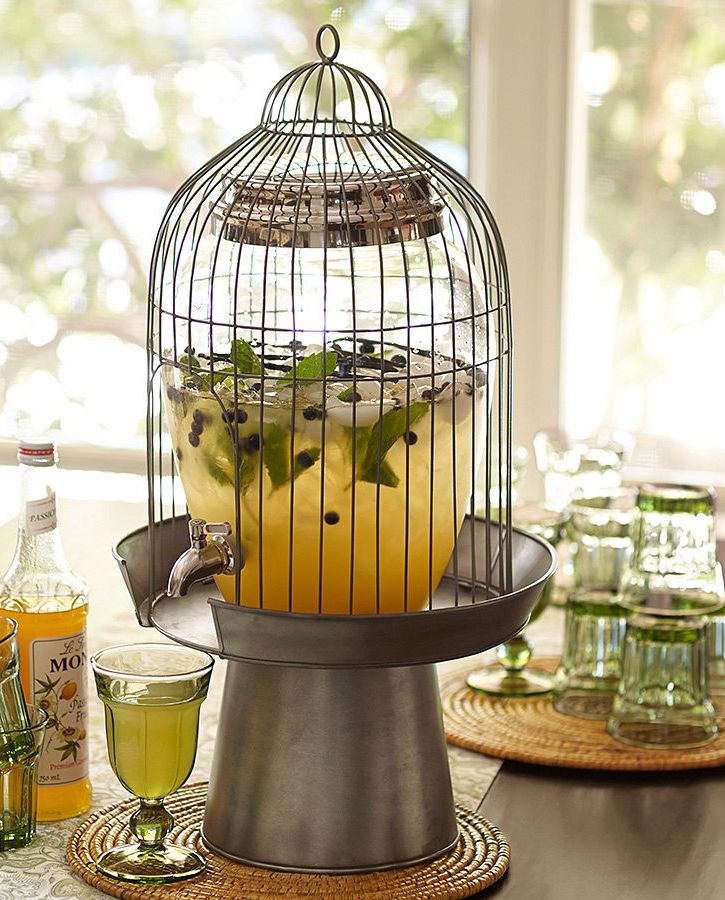 Here is an idea of how to turn your favorite birdcage into a cool punch holder for your party. Take out the little door and the bottom of the cage, place the punch bowl on an elevated base, and put the cage over it. Make sure you have a punch tap to pour out the punch into a cool glass.
9. Birdcage Clock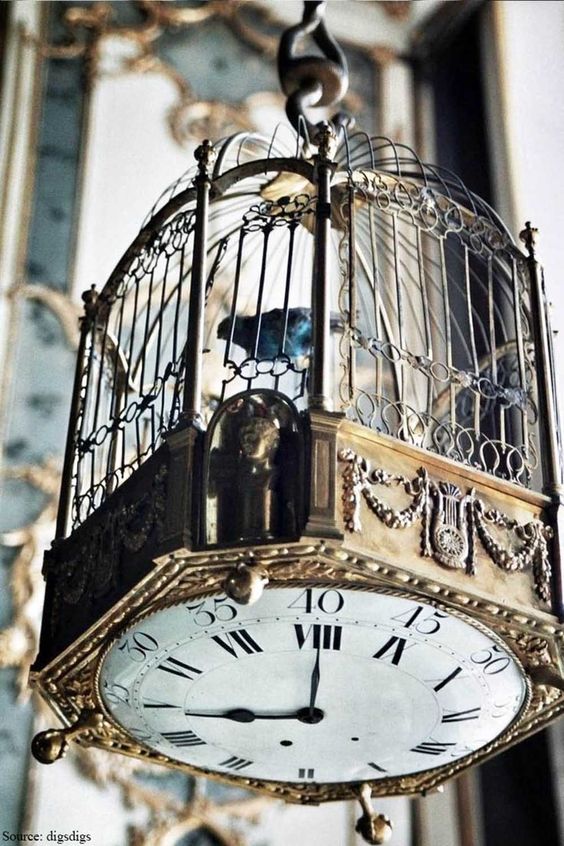 If you have a room with a high ceiling or a vintage living room, this is the perfect clock for you. Simply turn an old birdcage into a hanging clock. Place the clock on the bottom of the cage and hang the cage on the ceiling. It will make your vintage style room pop even more. It is practical and fun to have, yet vintage to suit your style.
10. Chandelier Cage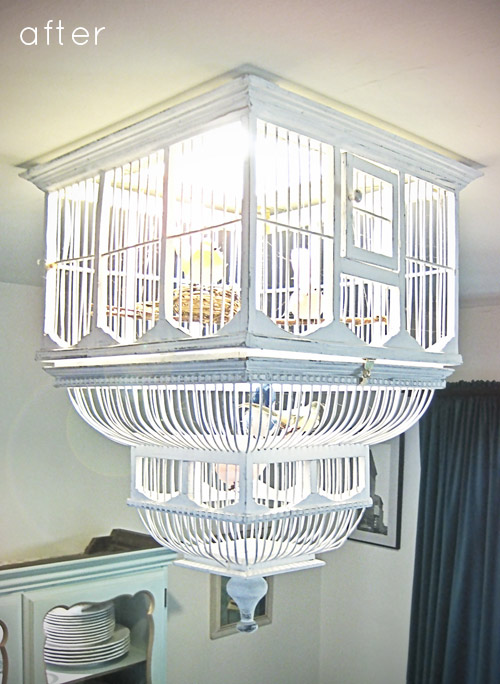 This cage is perfect to cover an existing overhead lamp or an old lamp without a lampshade. Paint the cage white or cream, turn it upside down, and mount it on the ceiling to cover the lamp and hang down as a large chandelier. It will beautify your room and make it pop your vintage style.
11. Birdcage Feeder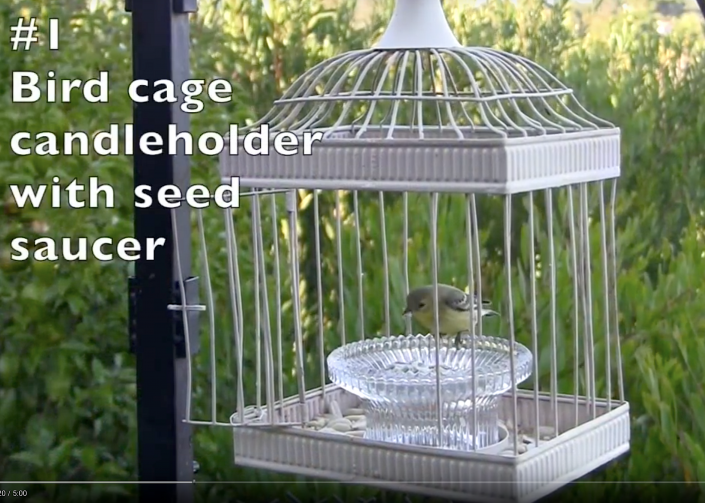 If your birds are long gone, don't waste your love for birds. Turn their old home into a wonderful bird feeder for the birds out in the wild. Simply hang the cage outside on your terrace or in the garden, open the small door, place a bowl of food and water inside, and invite the birds to have a feast. They will thank you especially in extreme summer heat or cold winter days.
12. Birdcage Chair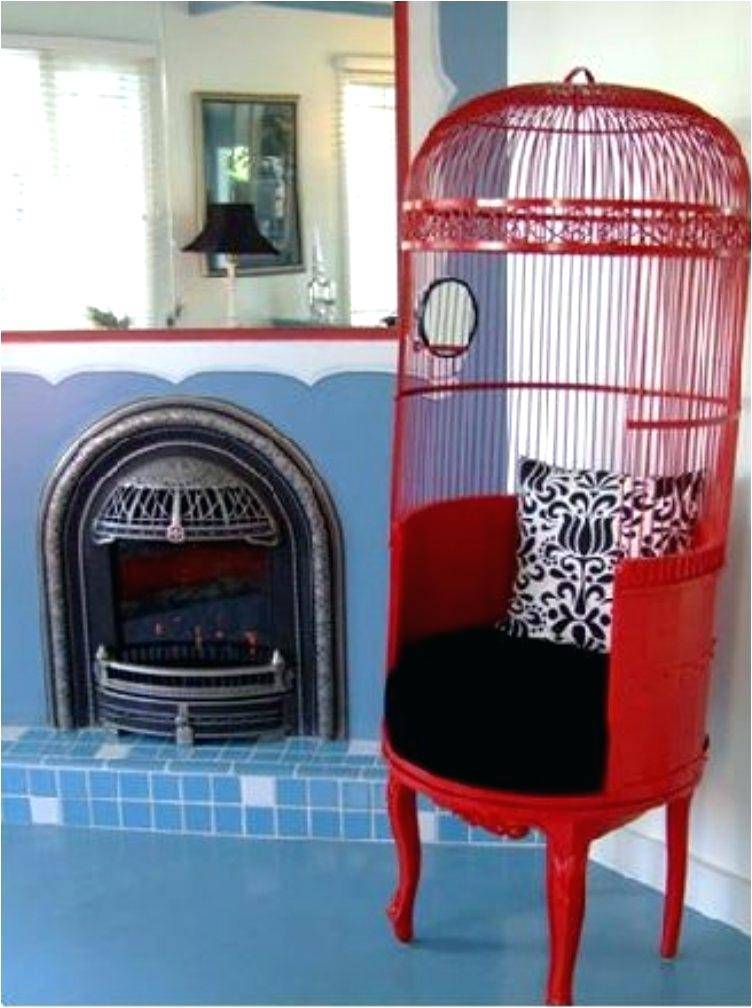 For this idea, you will need a large birdcage. It can be found in antique stores or from people that used to keep large birds as pets. Cut the bottom of the cage and one part of the side. Install it on an old chair to make kind of an armchair. Paint it in the color you want, put a cool cushion inside and start enjoying it.
13. Bread Holder Cage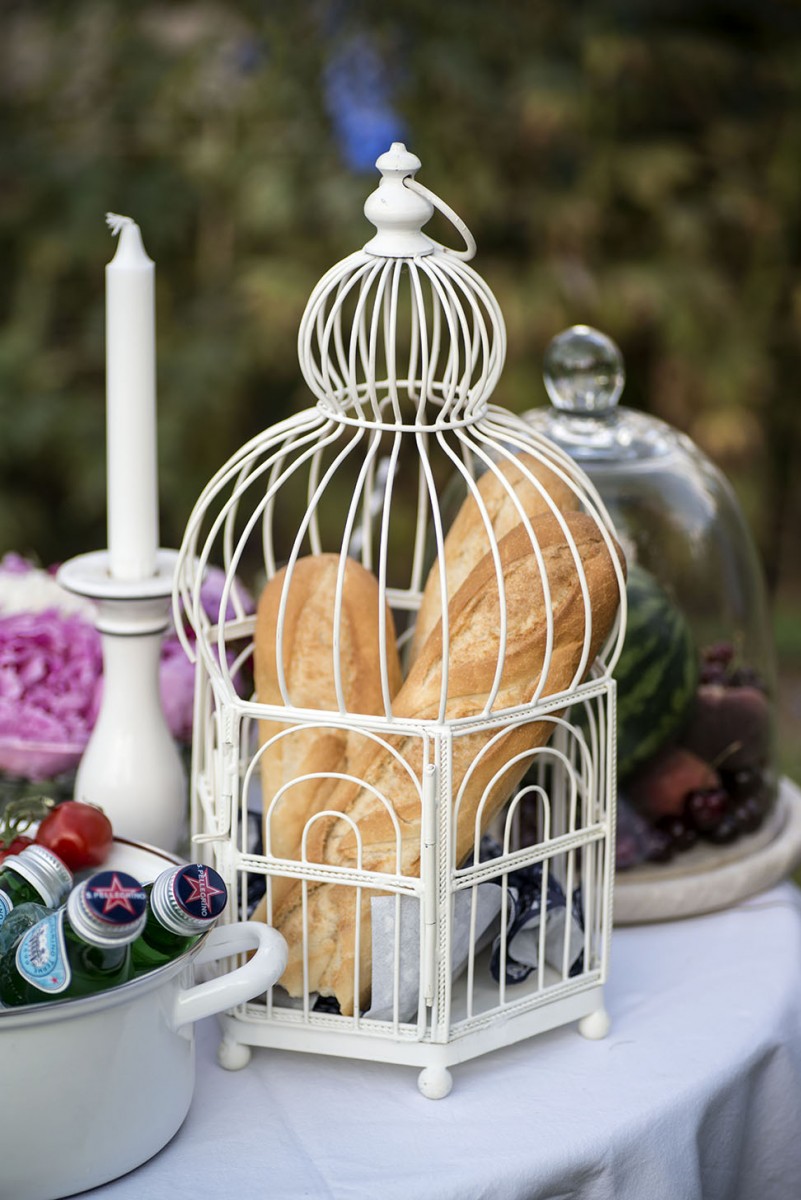 Here is an interesting idea of how to replace an old boring brad holder with this cool birdcage holder for your next picnic party. Simply put smaller bread loaves in an old refurbished birdcage and place it on the table to make it look cool, vintage and interesting. It will amaze your friends and give them a cozy feeling.
14. Birdcage Christmas Ornament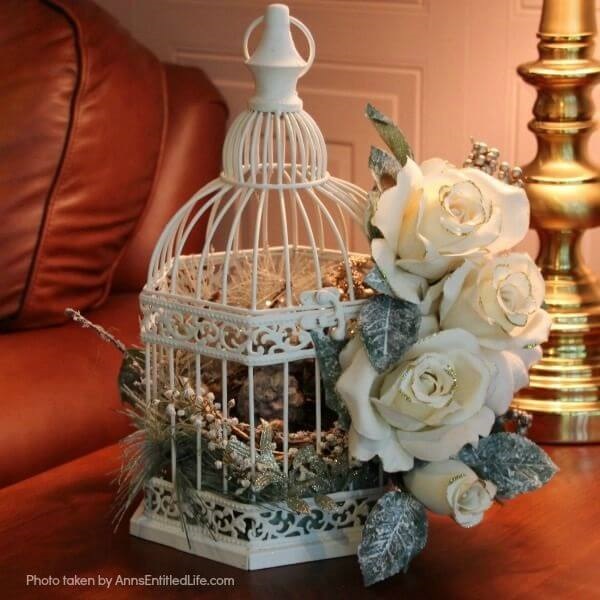 This shiny Christmas ornament is made of a small white birdcage. Clean the birdcage, sprinkle it with golden sprinkles and place white and bronze artificial flowers and greens inside. Let the flowers pop through the cage and cover one side of it, to give it a charming and romantic feeling. Place it under the lamp on the side table and let it shine.
15. Cookie Holder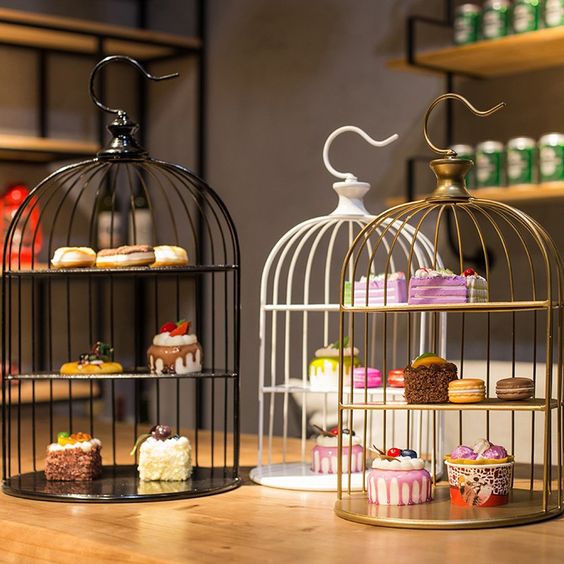 All cookie lovers will love this. Cut the birdcage in half, paint in cool colors, place some shelves on the other half, and arrange your favorite cookies and muffins inside. Place it on the side cookie table to let your guests enjoy the sweets and admire your inventive creation.
These were the ideas we had for you. Of course, they are not the only ones. The internet is full of different creations in different styles, but believe me, we chose the best for you. If you liked them, or maybe have an idea or creation of your own, please don't forget to leave a comment in the comment section below.